Rogue has the red-hot
Echo Bike
. Grab one while they last!\n
It's Black Friday 2022 all month long with Rogue's Matte Black November sale.
Who wouldn't be excited about the Black Friday Sale? Prices of your favorite products go down insanely, and your favorite brands offer great deals that you cannot resist. Here we make a list of fitness equipment with big discounts so you can now equip your garage or home gym. Enjoy!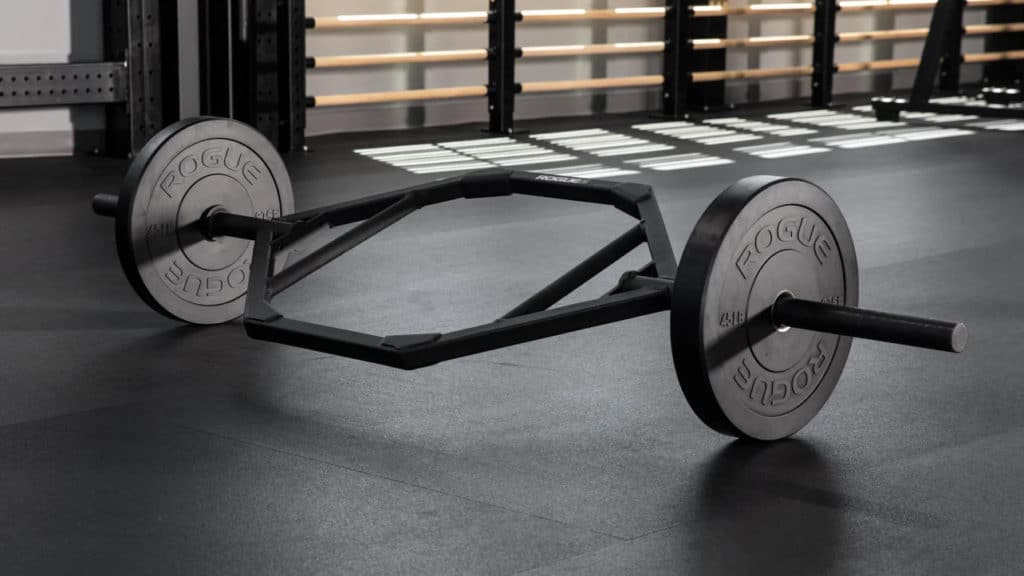 Some of these are HOT DEALS, others are HUNDO PRICING, some are MBF Exclusives, and some are 5 for $5 SHIPPING:
Rogue Black Friday Sale 2022 – Overview
Rogue Fitness is the leading producer of strength and conditioning equipment, including barbells, power racks, sleds, and accessories. Rogue product packages, like the Concept 2 Complete Package, are produced to make the highest quality, American-made equipment available with maximized shipping efficiency and lowered consumer costs. Rogue makes great deals for Black Friday, and one of them is the "Hot Deals". With Hot Deals, you can get low, bargain basement-level prices, but you have to be on the lookout as Rogue gives discounts on your favorite items without notice.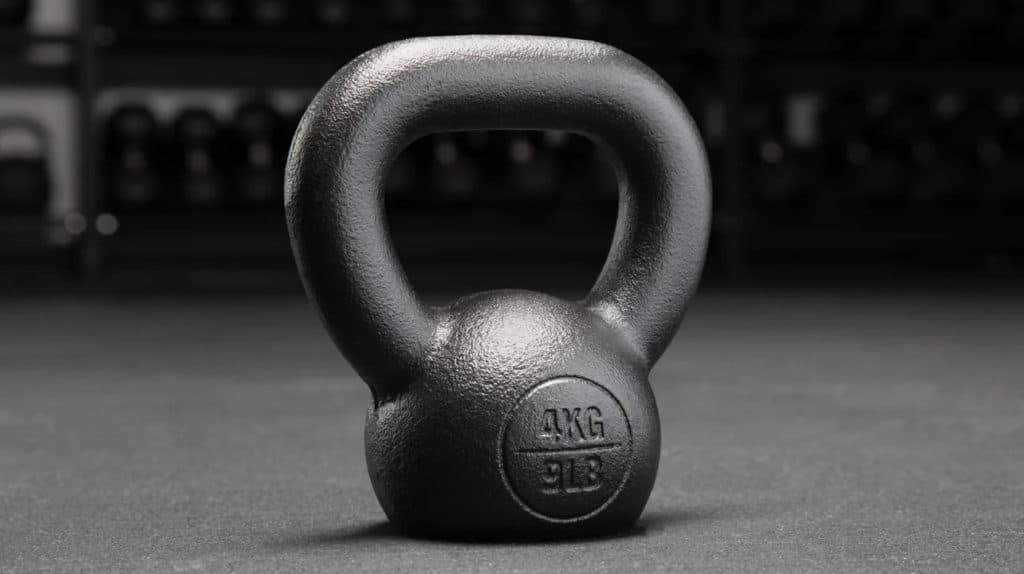 These deals won't last long, so get them immediately when you have the chance. Another great deal from Rogue is the Hundo Pricing. Hundo Pricing is the concept of bulk discounts—the more weight you purchase, the lower the price per pound becomes. This applies to plates, dumbbells, and kettlebells. You can sleep well at night knowing that the shipping fee is free no matter how heavy your order is! Take a look and know what kind of deal you'll be getting on your favorite equipment.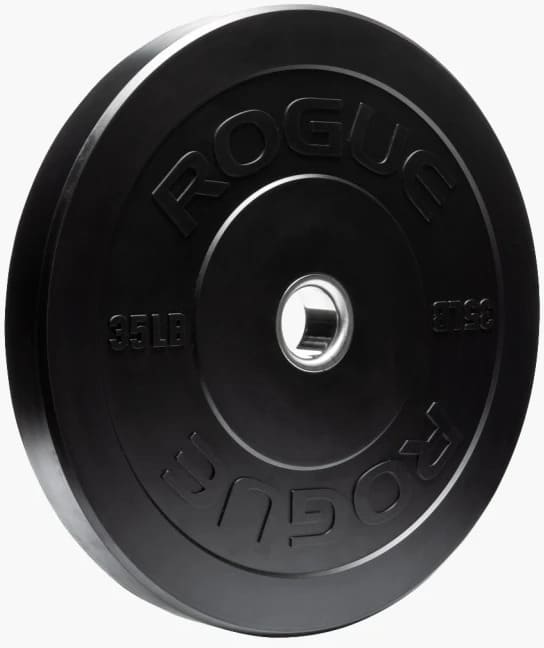 Concept 2 Complete Package (HOT DEAL)
Three of Concept 2's major flywheel resistance training machines are included in this package—the RowErg Rower, SkiErg, and BikeErg. These machines include a PM5 Monitor, welded aluminum construction, and a flywheel + damper for a customized level of air resistance. The RowErg Rower and SkiErg come standard with a Smartphone Cradle. This is the easiest way to get all three at a lower price.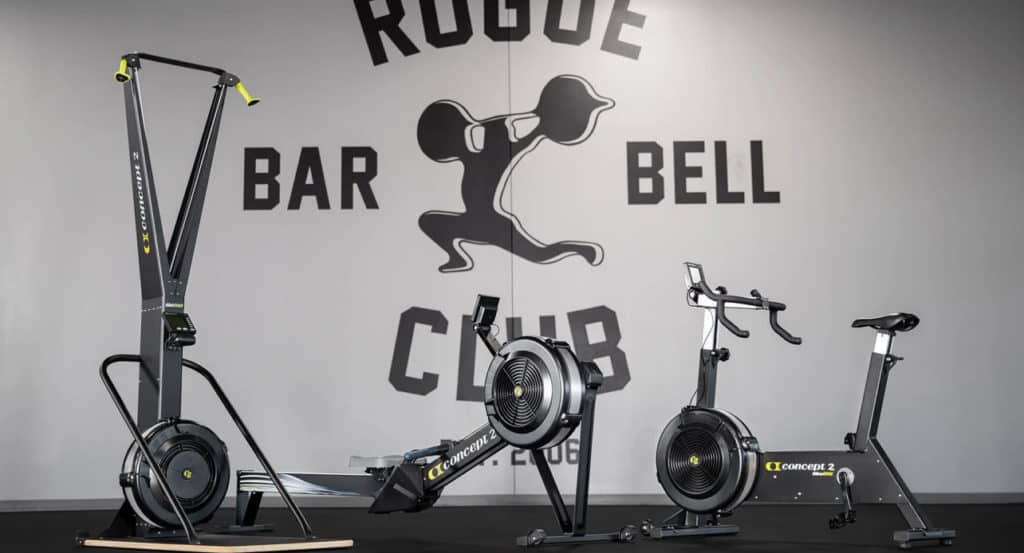 The Concept 2 Rower provides one of the most complete, full-body workouts of any fitness machine, while the BikeErg is lighter and quieter than most stationary bikes and closer in feel to actual outdoor riding. The SkiErg is a precision-engineered Nordic skiing machine that includes key indoor-rower elements like flywheel resistance and a state-of-the-art PM5 Performance Monitor. From $2,940, you can now get these three machines for only $2,860.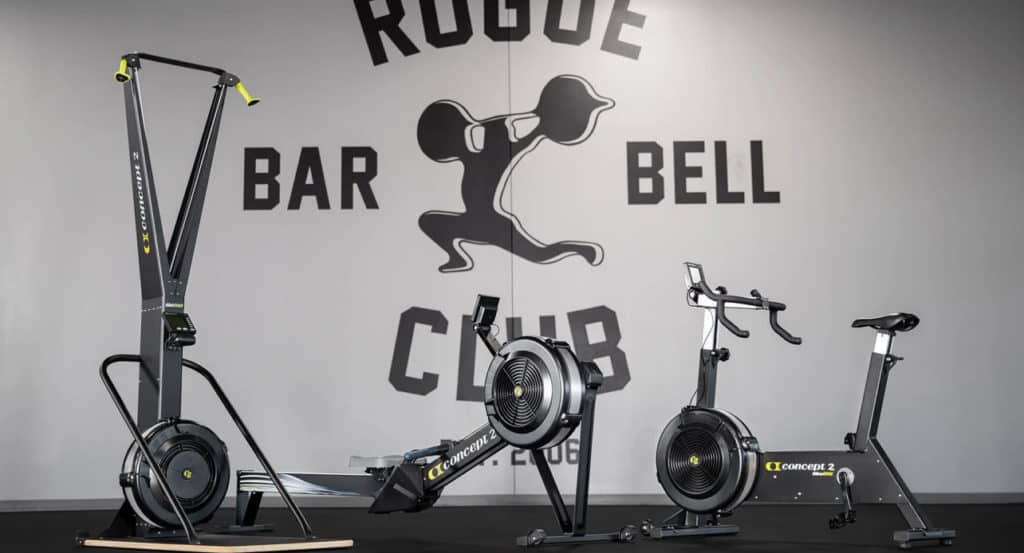 Rogue Color Training 2.0 Zeus Custom Bumpers (HUNDO PRICING)
Rogue's Color LB Training Plates 2.0 can now be ordered with your own unique logo (or a preset Rogue design), original text, and select text color using the ZEUS customization tools in the purchase area. These custom bumpers are an IWF standard 450MM in diameter, with a narrow width that enables more weight to be loaded on the bar.
REPLACE_LARGE_IMAGE
A 50.40MM collar opening and steel disc insert to keep the plates tightly in place during high-rep training and a tested Shore A durometer of 86 guarantees a minimal bounce on the drop and durable long-term performance. All plate sizes 25LB and up are color-coded (Red = 55LB, Blue = 45LB, Yellow = 35LB, and Green = 25LB) with a quality gloss-matte-gloss finish.
REPLACE_LARGE_IMAGE
Rogue Echo Bike (HOT DEAL)
The Rogue Echo Bike is designed with a range of durable steel tubing (2″ x 3″, 1.25″ x 3″, and 1.625″ x 3.125″) finished in a texture black powder coat. It is overbuilt, providing a rock-solid foundation for max output bursts while delivering easy portability around the gym through a set of 1" polyurethane front wheels. It integrates heavy-duty steel, precision engineering, and convenient customization to forge a more robust, sturdier fan bike.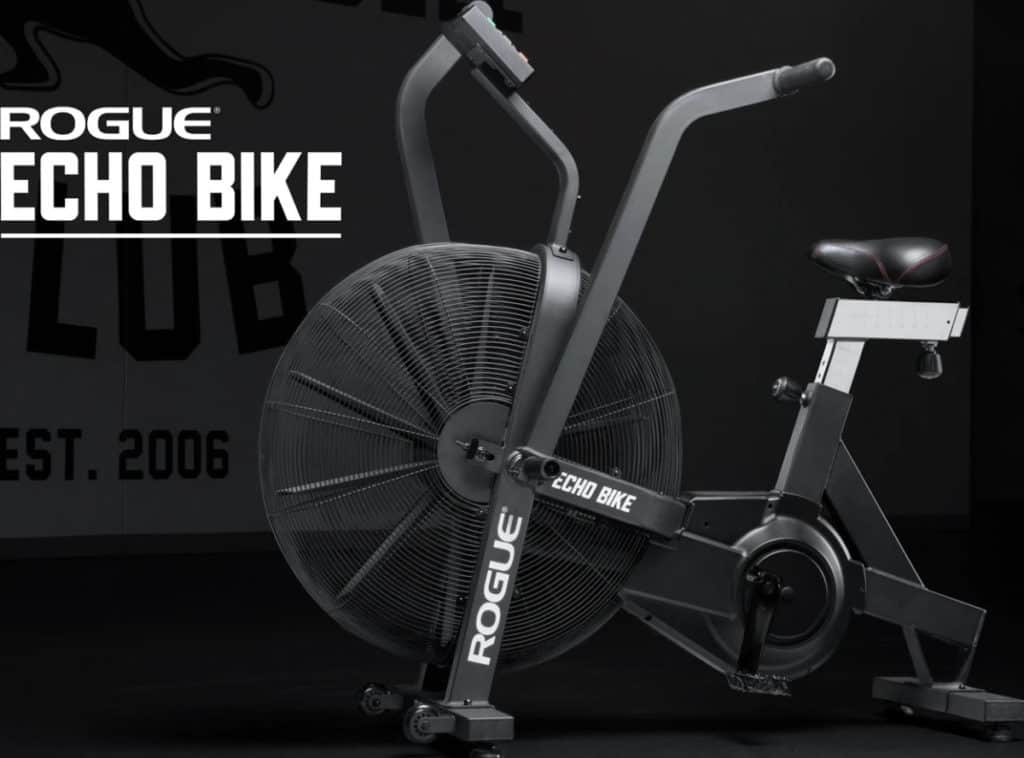 It has a quiet, belt-driven steel fan blade that produces a smooth, consistent ride, while the high-contrast, battery-powered LCD console lets you track intervals, distance, calories burned, heart rate, and more. The Echo Bike has a two-year warranty for defects in material and artistry.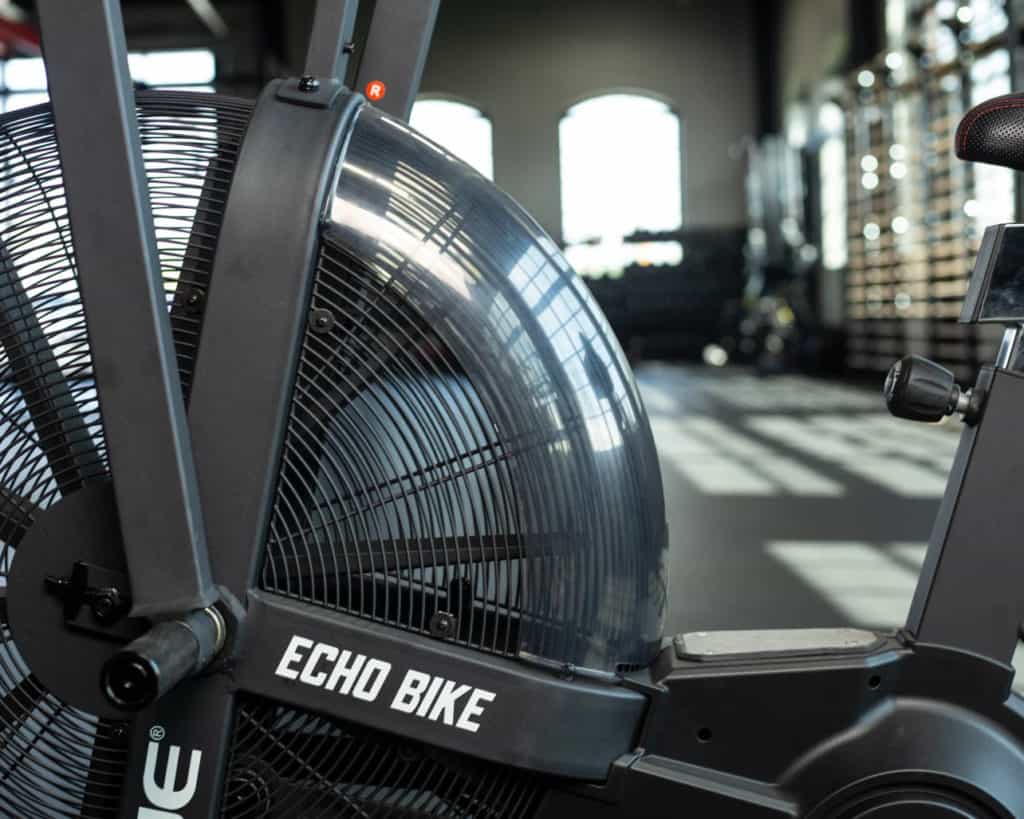 The Ohio Bar – Stainless Steel/Black (HOT DEAL)
The Ohio Bar – Stainless Steel is machined and completed in Columbus, Ohio, and highlights a 200,000 PSI tensile strength shaft, proprietary matte black sleeves, and an exclusive Rogue knurl pattern that is 100% in its original, machined form for an incomparable feel. Each barbell shaft is ground and polished before machining for a very smooth finish.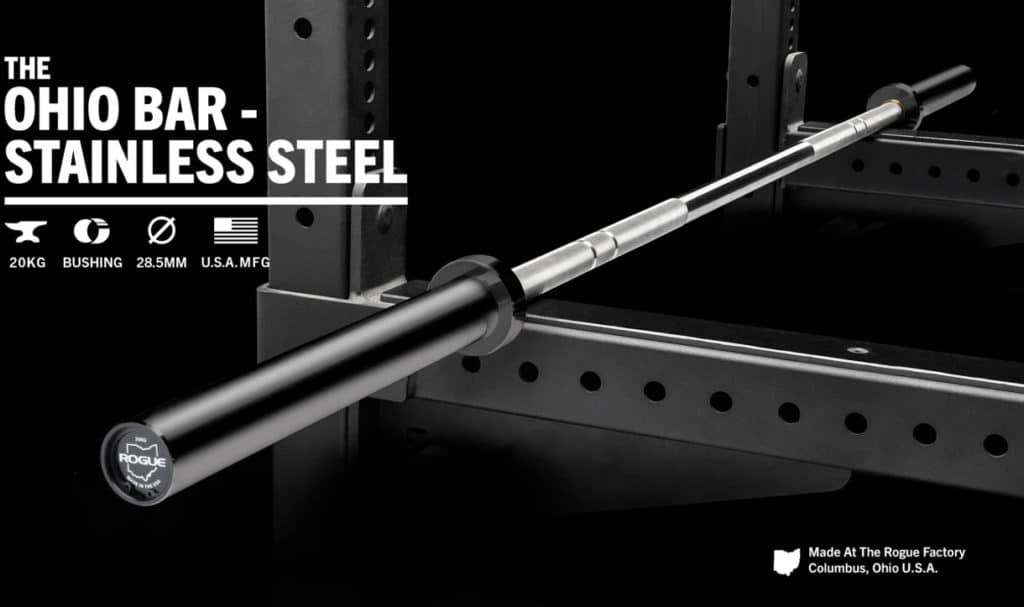 The Ohio Bar is created with bronze bushings, which serve as bearing surfaces between the bar sleeve and bar shaft. It is developed for Olympic lifts and Powerlifting—delivering a firm but a non-abrasive grip, a uniform spin, and a unique proportion of whip and rigidity. From $350, you can now get the Ohio Bar for only $275.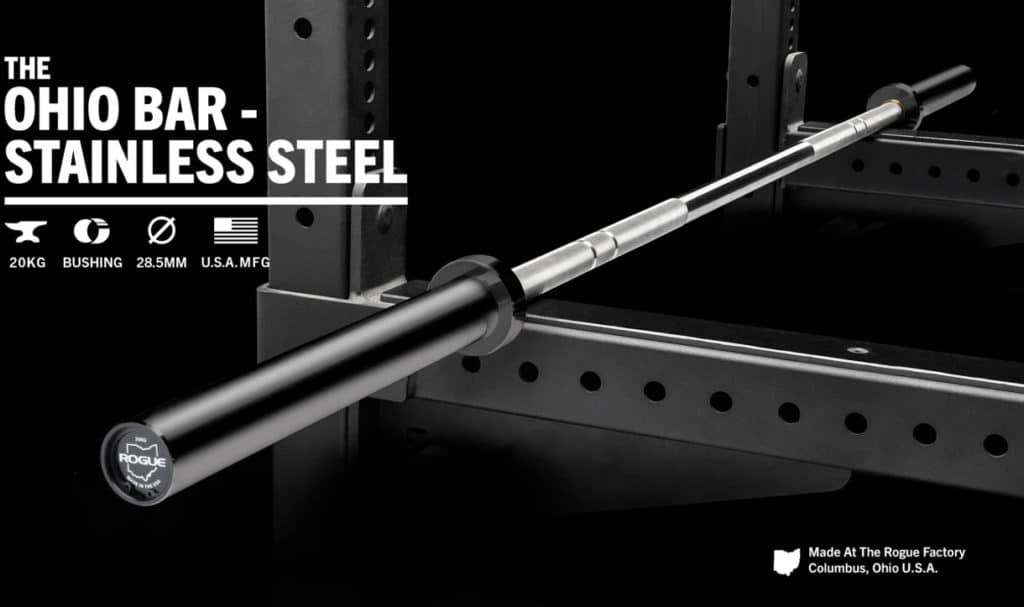 Rogue MIL Spec Echo Bumper (HUNDO PRICING)
The Rogue MIL Spec Echo Bumper highlights a quality rubber construction, stainless steel hubs, and an all-black finish with raised Rogue branding and weight indications. The plates measure an IWF-standard 450mm in diameter and have a +/- tolerance of 1% of the claimed weight. The Shore A durometer rates at 90 for the 10LB and 15LB plates and 88 for the others guarantee a consistent, minimal bounce on the drop.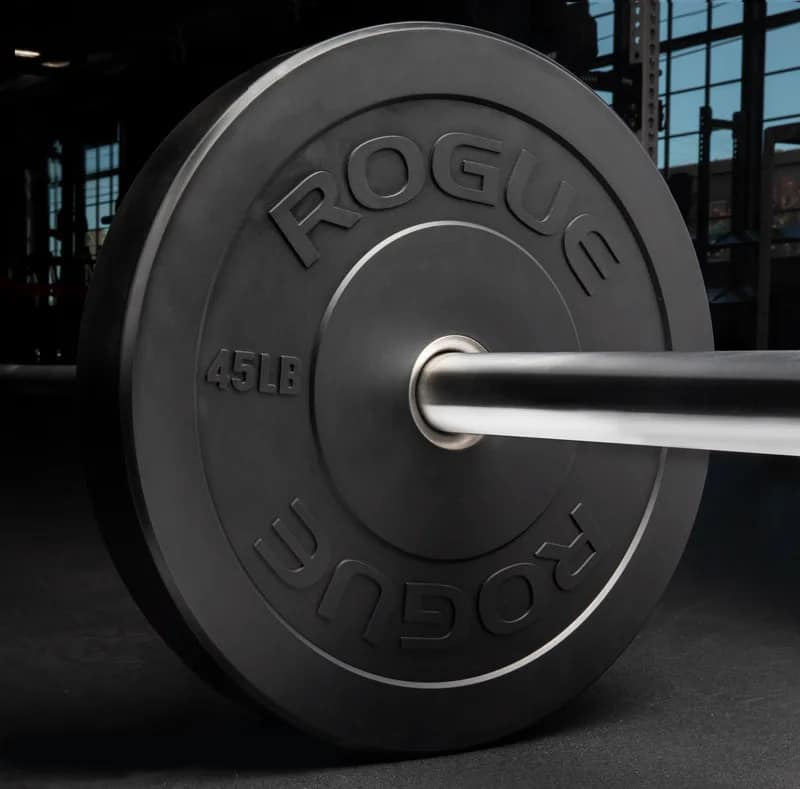 The Rogue MIL Spec Echo Bumper has been officially approved for use with the United States Army's Combat Fitness Test, a 6-event readiness assessment that includes a strength deadlift, standing power throw, hand-release push-ups, sprint/drag/carry, leg tuck, and a 2-mile run.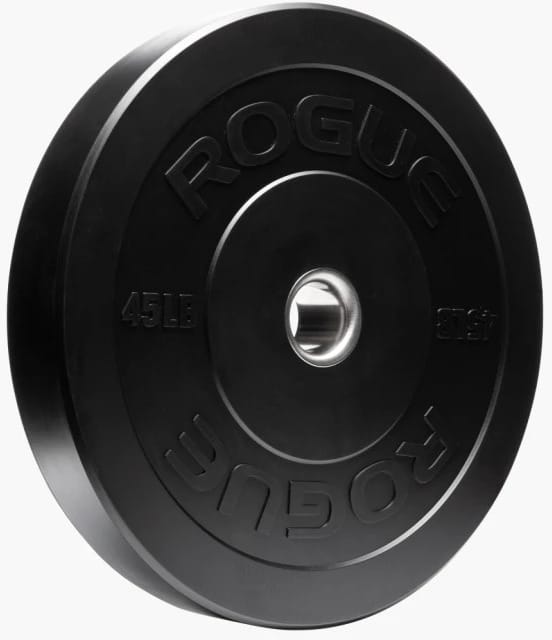 Rogue 45LB Ohio Power Bar – Stainless/Black (HOT DEAL)
Save $100 when you purchase the Rogue 45LB Ohio Power Bar. It is the exclusive power bar in the Rogue arsenal—equipped with a stainless steel shaft and sleeves for an excellent feel and unpaired oxidation resistance. Rogue's Lifetime Warranty backs the quality structure of the Stainless Ohio Power Bar against bending.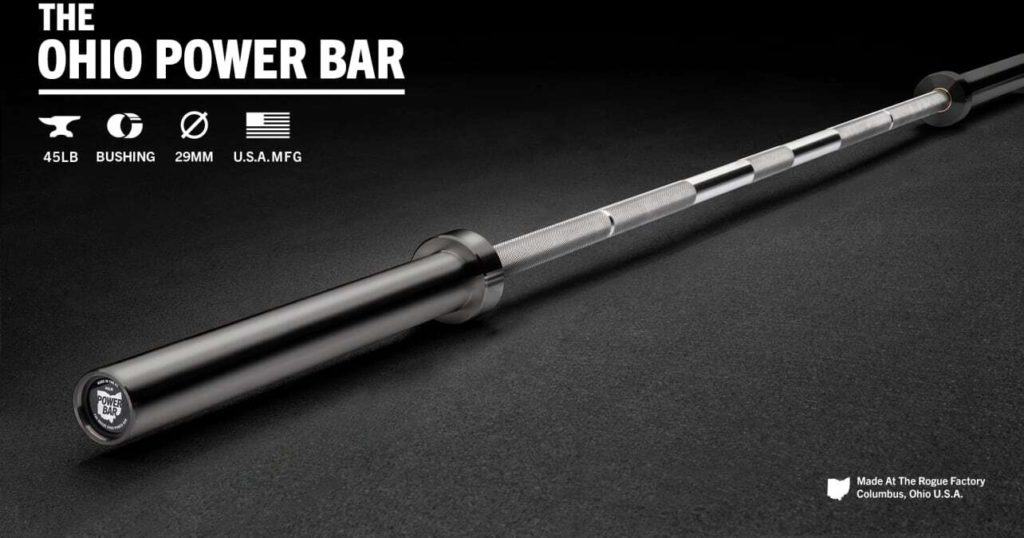 The Stainless 45LB Ohio Power Bar is made in Columbus, OH, and contains a zero-flex 200,000 PSI tensile strength shaft, quality bronze bushings, and 16.25" of loadable sleeve length. It highlights a single powerlifting knurl marks and center knurling, with a deep and coarse pattern without being harsh or abrasive.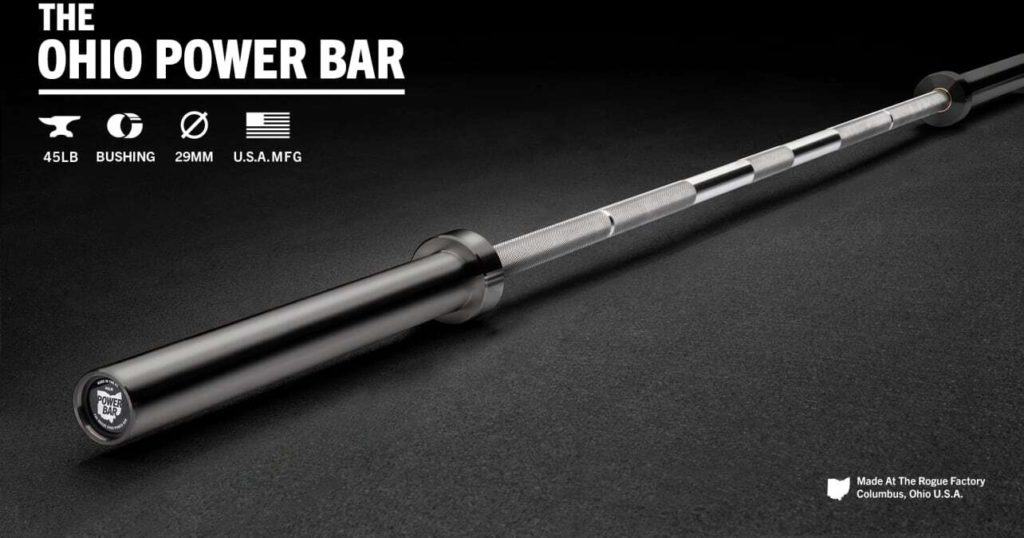 Rogue Kettlebell – Powder Coat (HUNDO PRICING)
Rogue Kettlebells are made by OSCO Industries, experts in making air conditioning and refrigeration, automotive, power-transmission equipment, and pumps and valves. They made these kettlebells with the highest standard, using Class 30 Grey Iron to create the 9LB through 44LB increments. The kettlebells are cast in Michigan by Cadillac Casting.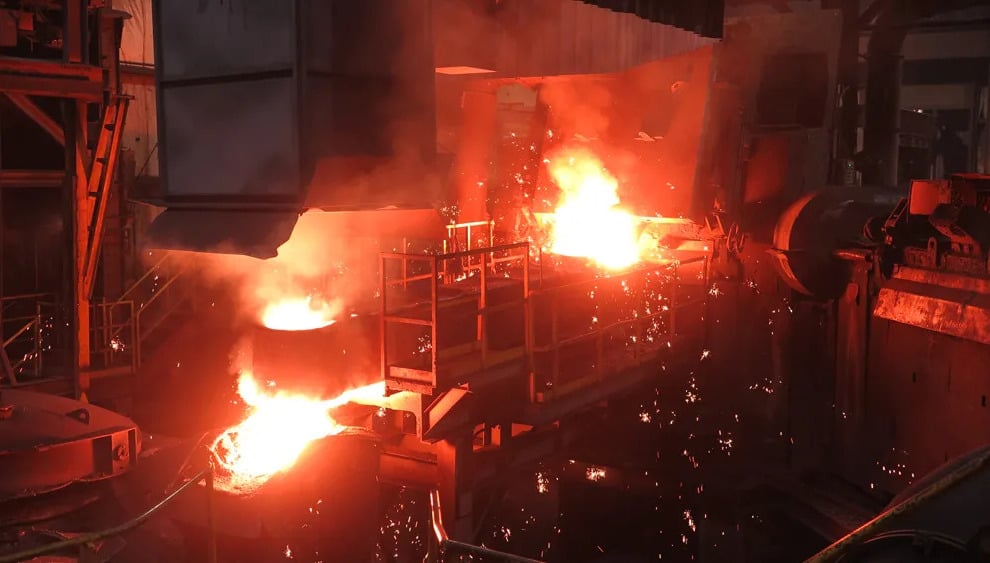 Cadillac utilizes Ductile Iron, aka nodular cast iron, which contains firm graphite nodules that give it superior tensile strength and corrosion resistance. After casting, each kettlebell is CNC-machined to precisely cut and smooth over the flat bottom and assure a weight tolerance of +3% / -0% (based on the KG measurement). The kettlebells are powder coated by Greenfield Products and CRM, Inc.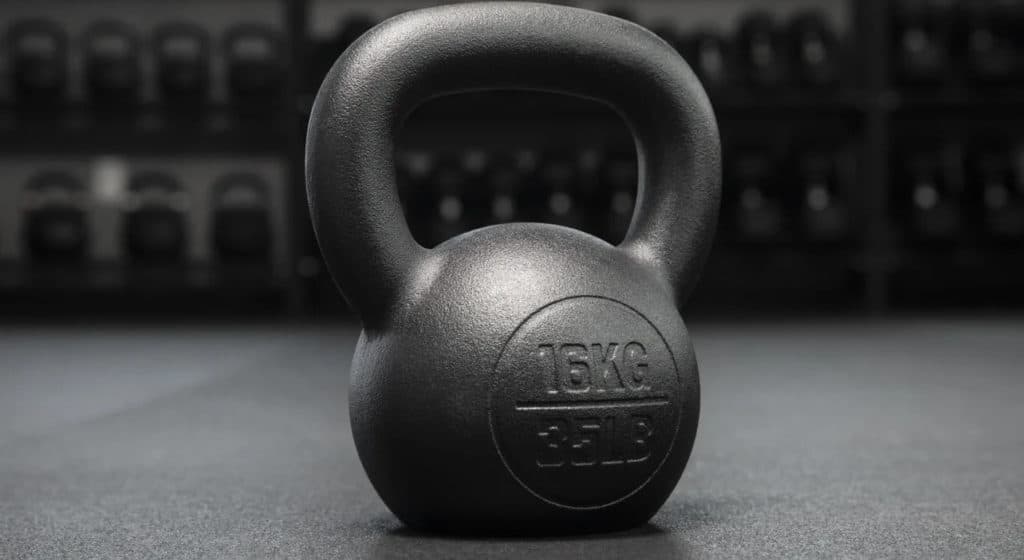 Rogue Black Friday Sale 2022 – In Summary
That's our close-up look at the Rogue Black Friday Sale 2022.
Get your dream equipment now at a lower price with Rogue's Black Friday Sale. Start dressing up your home or garage gym with new equipment and continue your fitness journey to reach your goals. Get great deals with Hot Deals, or grab more weights and save more with the Hundo Pricing.
Looking for more options? Check out these other great products:
Take a close-up look at some of Rogue's great gear – MADE IN THE USA – like the New Camber Bar from Rogue – MG-4CN Narrow Multi Grip and the Rogue RM44-4MONO 4 Post Monolift.
More Black Friday Gym Equipment Sales.
Photo Credits
Product photos on this page are property of Rogue Fitness.
This website is not affiliated or associated with CrossFit, Inc. CrossFit is a registered trademark of CrossFit, Inc.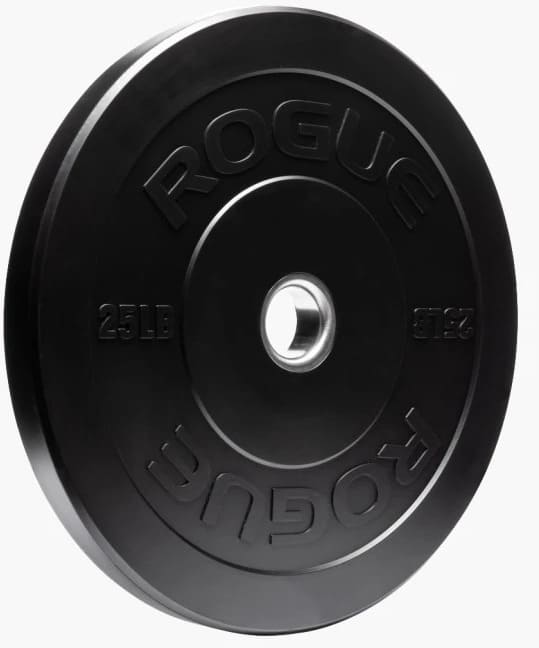 Affiliate Disclaimer
We are an affiliate of Rogue Fitness and others that sell this training gear. If you buy clothing or other training gear after clicking the links in this article, we receive a small commission at no extra cost to you. This helps us to bring you in-depth information and content on these great training products.