Here's our review of GORUCK Simple Pants.
What are Simple Pants?
They look like jeans – but they are actually a very different sort of apparel.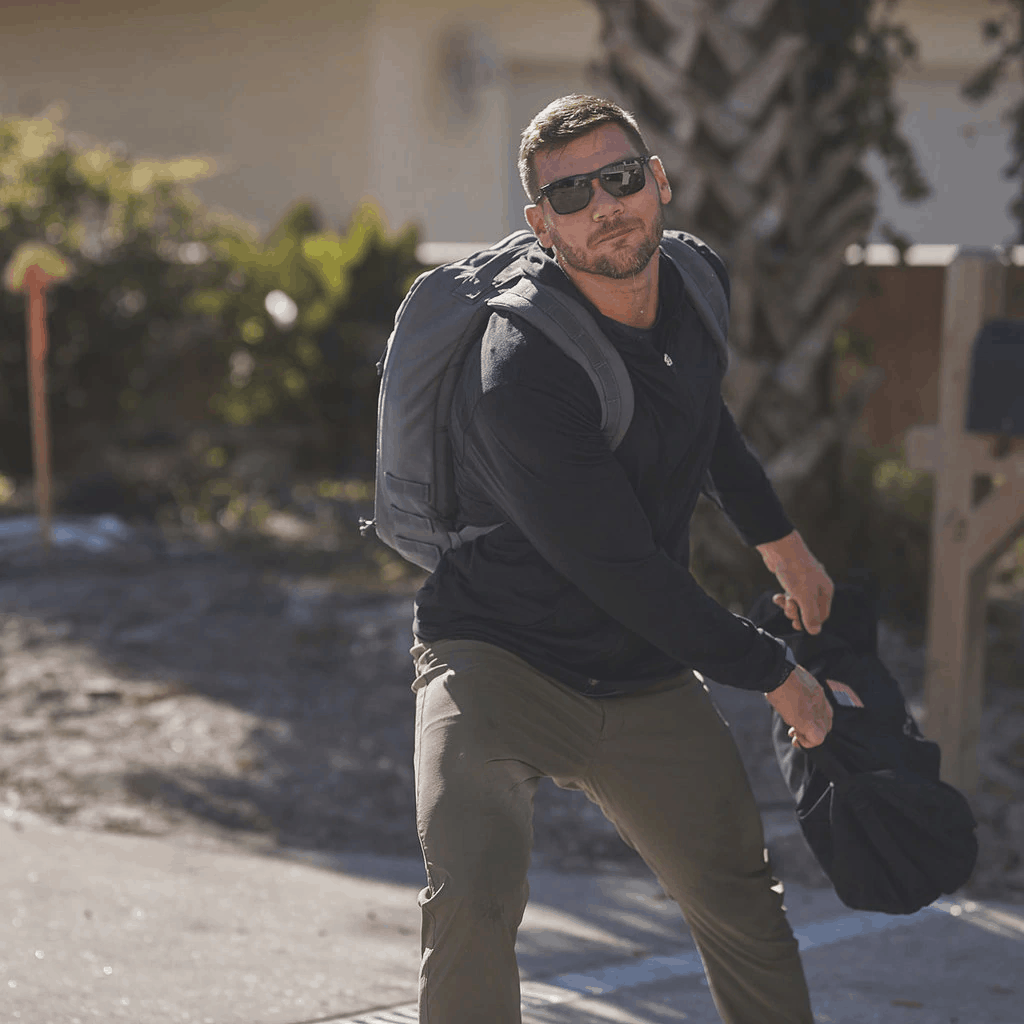 Simple Pants are lightweight, comfortable, tough and made for activity.
These are pants meant for physical activity – like a GORUCK challenge event – or just about anything else.
But given that they are cut like jeans (and have pockets and belt loops) mean these are very versatile pants you can wear in a lot of different situations.
We're going to tell you more in depth, here's the styles available now from GORUCK:
We're going to use a lot of GORUCK supplied photos here – because it is hard to take good pictures of pants. I'll upload custom photos soon.
Before we move on, let's say a quick few words about rucking as physical exercise.
GORUCK Simple Pants – Pants for Rucking
GORUCK is the rucking company.
What's rucking? It's hiking with a loaded backpack – aka a rucksack in military parlance.
Ruck marches are the foundation of physical conditioning in the US armed forces.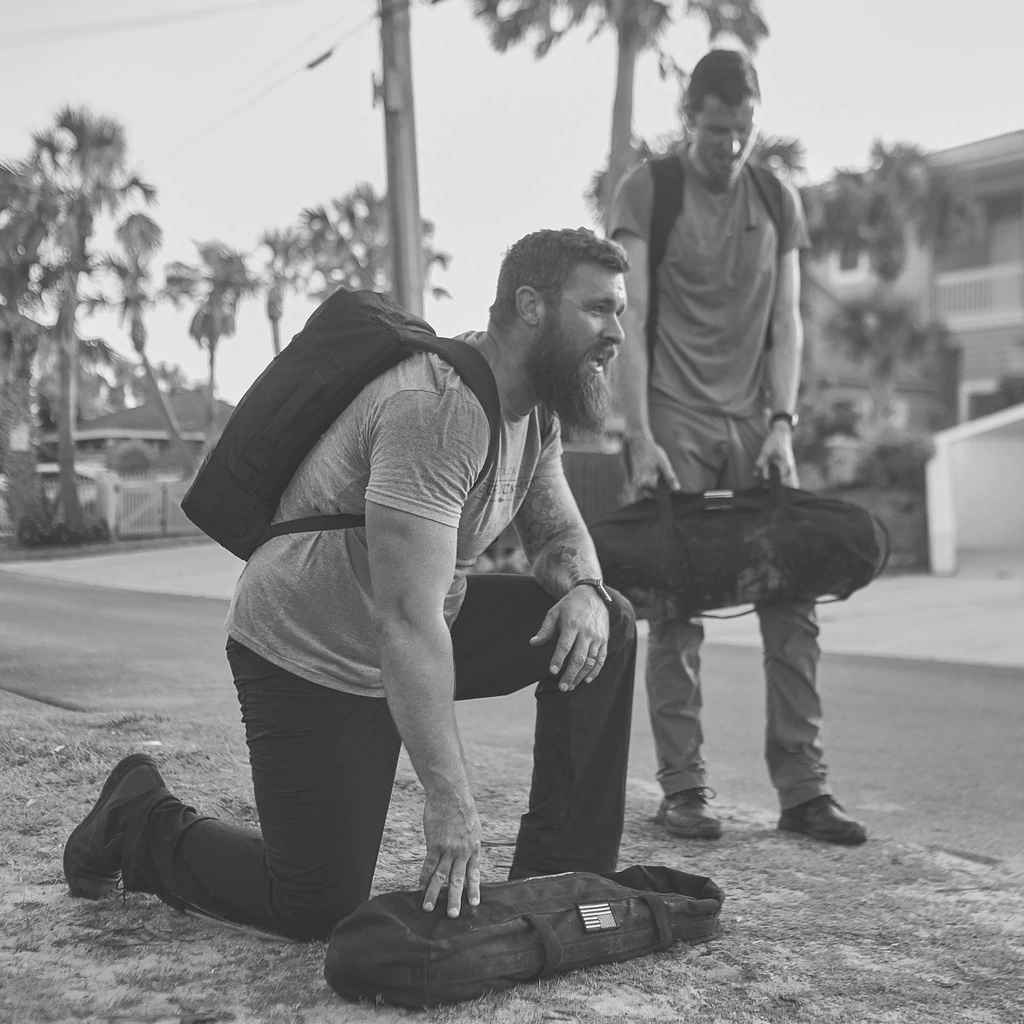 Soldiers have to be able to move themselves and their essential gear rapidly on foot.
But GORUCK has brought rucking to the civilian masses in the form of their GORUCK Challenge Events.
These combine a long walk with weight – and some team building challenges and PT (Physical Training) – all run by a very drill instructor like person known as the "cadre".
(Many of the cadre are ex-Special Forces – need we say more?)
Ok, so back to the pants.
GORUCK created Simple Pants for serious activity – and you can bet if they can stand up to a Challenge event – they'll be tough enough for you as well.
GORUCK Simple Pants – Very Comfortable
Simple Pants are very comfortable – let's explain why.
First of all, they are made with GORUCK's ToughDry material.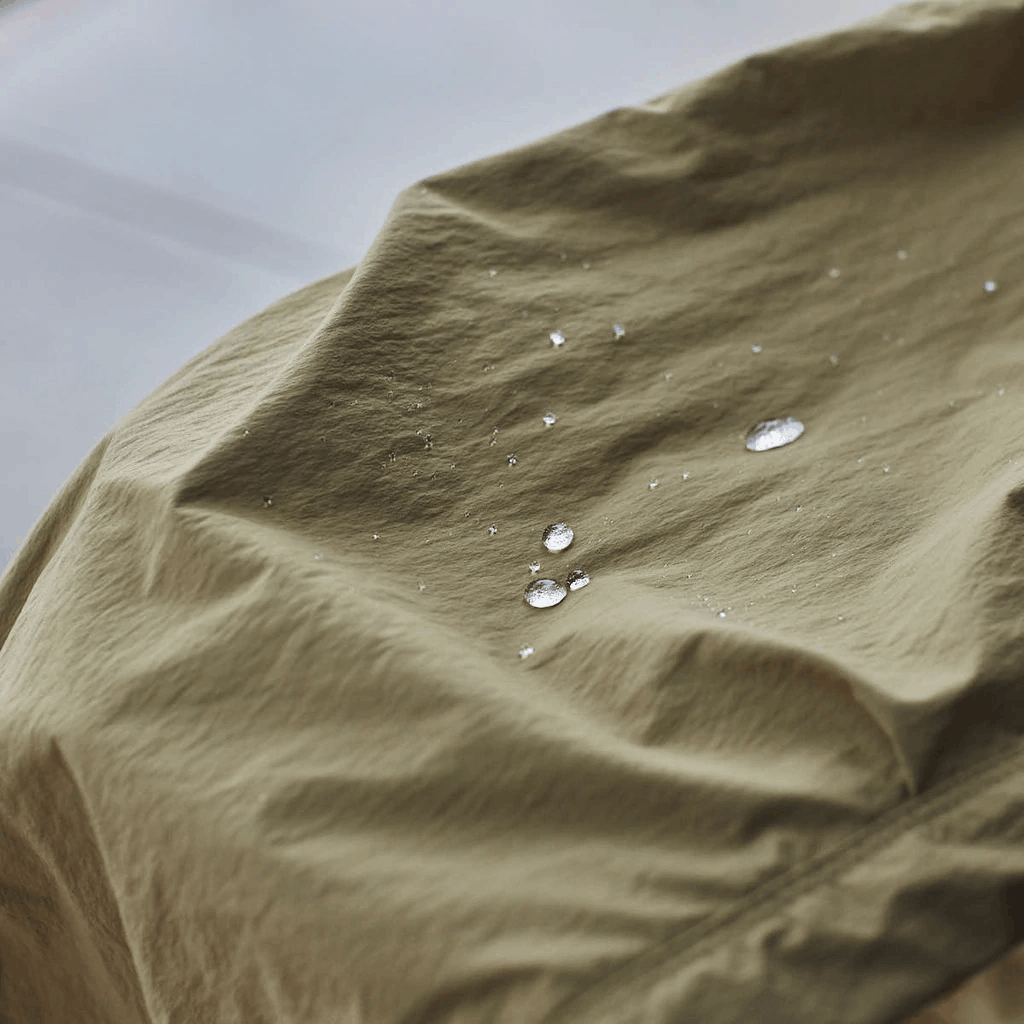 It is a 94% Nylon / 6% Spandex blended fabric. The nylon makes the material abrasion resistant and the spandex gives it a two-way stretch fit.
But, there's more – this material is crazy lightweight (and still tough.)
They just don't have to use that much material.
And that means there are no big, bulky seams like you'd have on a pair of blue jeans.
Even though these pants have 4 pockets, belt loops, a zipper fly – there's just no big bulky seams in your way.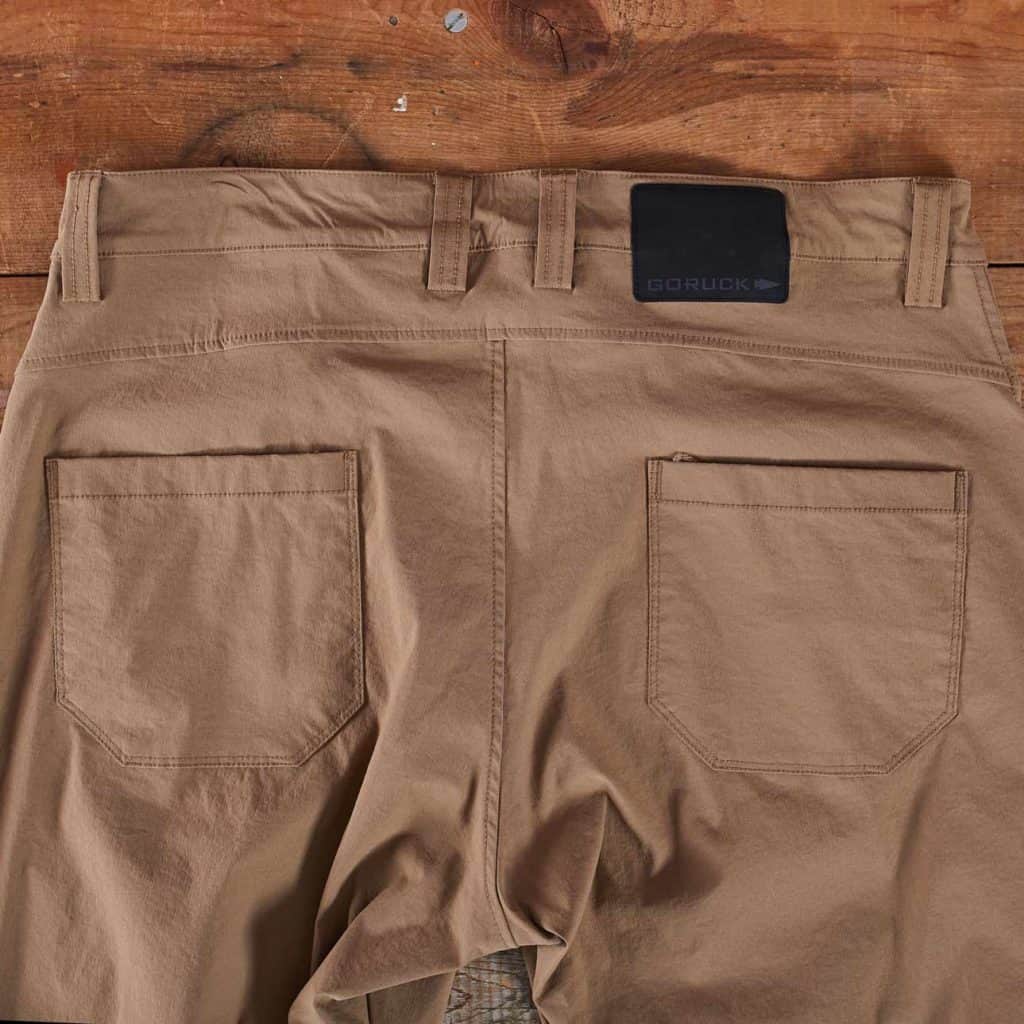 Because they are so lightweight – you have no sensation of being slowed down by bulky clothing either.
Lastly, the Simple Pants have a curved waistband – for a very nice, comfortable fit.
So, Simple Pants don't use much material, but there is one drawback to that.
GORUCK Simple Pants – Midweight vs Lightweight
Most of the Simple Pants are "lightweight" – there isn't that much material to them.
They are an athletic style pant – so they fit like a glove, too.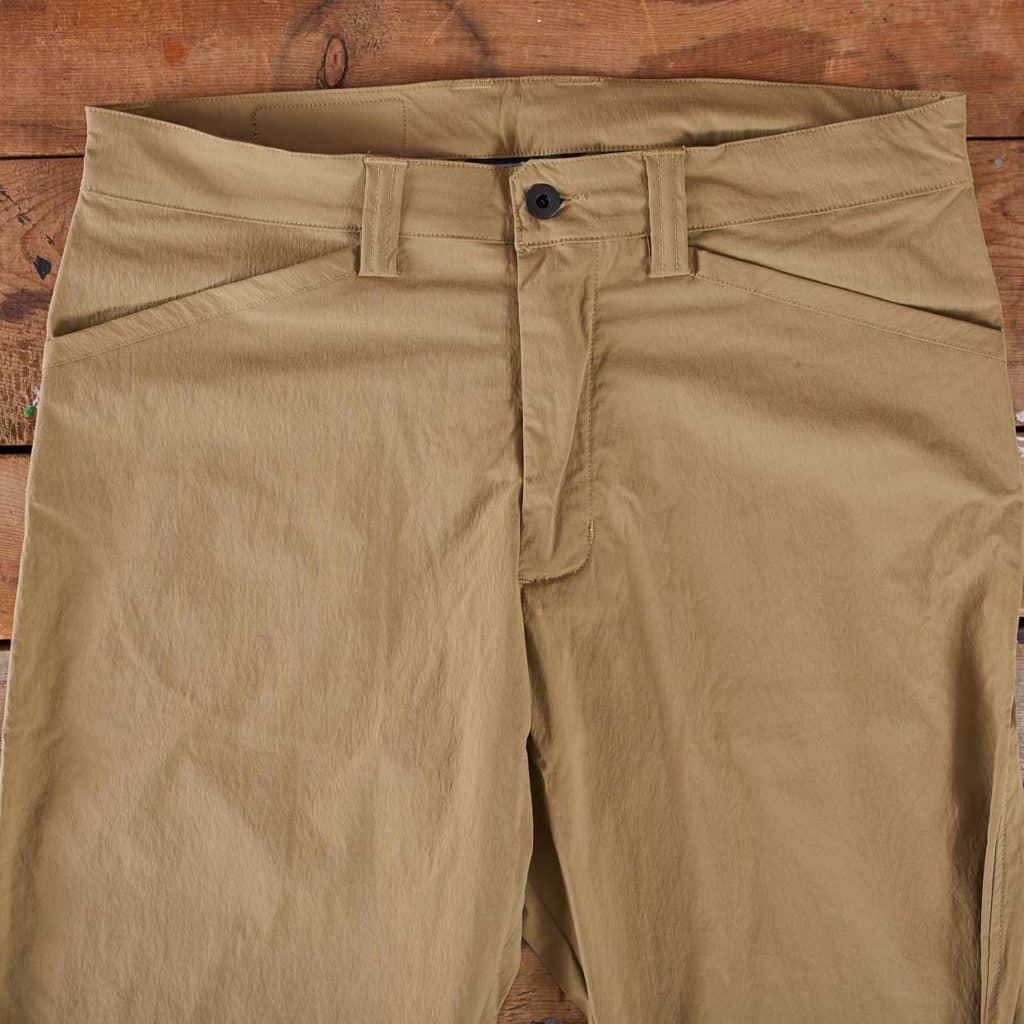 This means under certain "situations" they may be a bit too, um, revealing.
(We'll leave further thoughts on this to your imagination.)
These also might not be your best bet for cold climates either.
But GORUCK offers the Simple Pants in a Midweight version too – so that should address some of these concerns.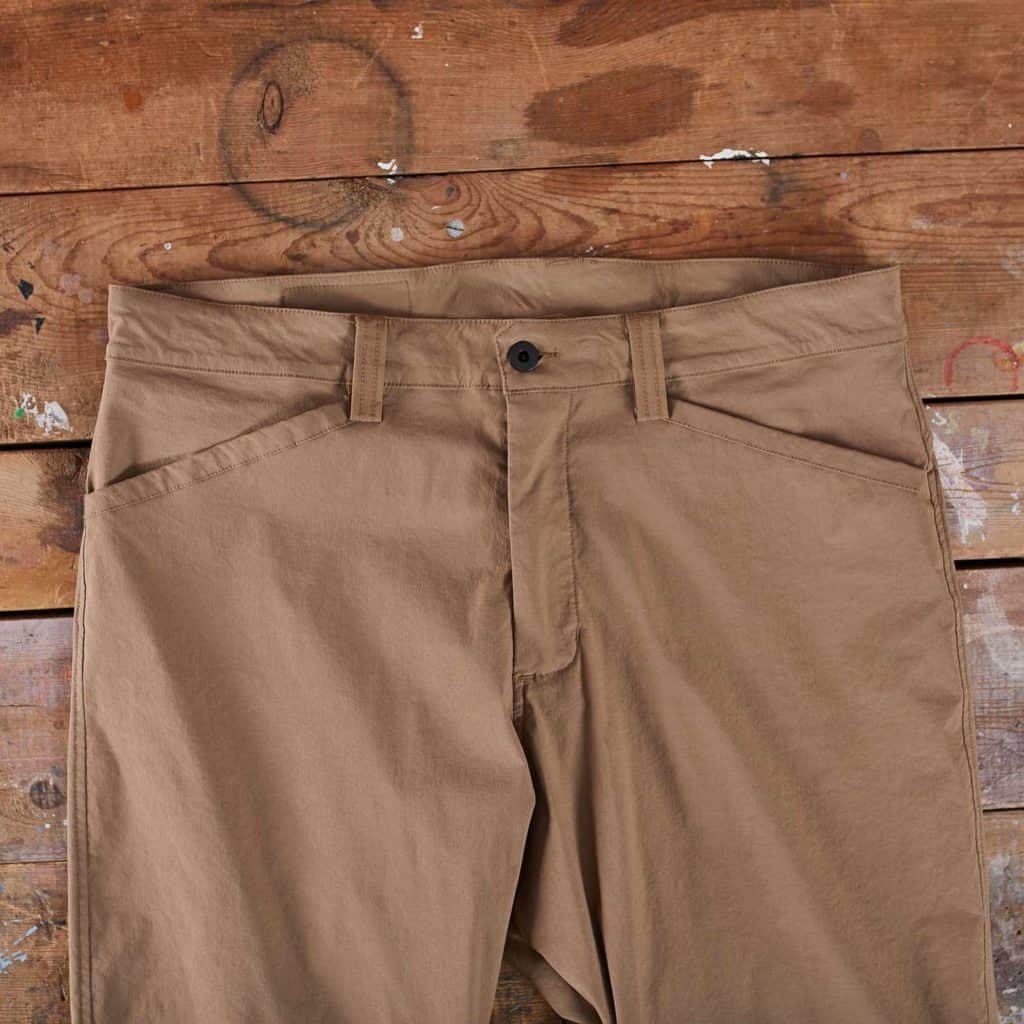 (Otherwise, throw on a layer underneath if you are too cold – or lose some of that modesty – or both.)
GORUCK Simple Pants – Better than Normal Jeans
Ok, these look like normal jeans, but they are not.
First, the good news -they have front pockets, and back pockets – just like jeans.
So, you have a place to put your phone, your keys, earbud case, and wallet.
And Simple Pants are lightweight – I don't normally need a belt with mine. But after you load up the pockets you can, of course, add a belt.
Having belt loops and pockets makes these more versatile than your average athletic pants.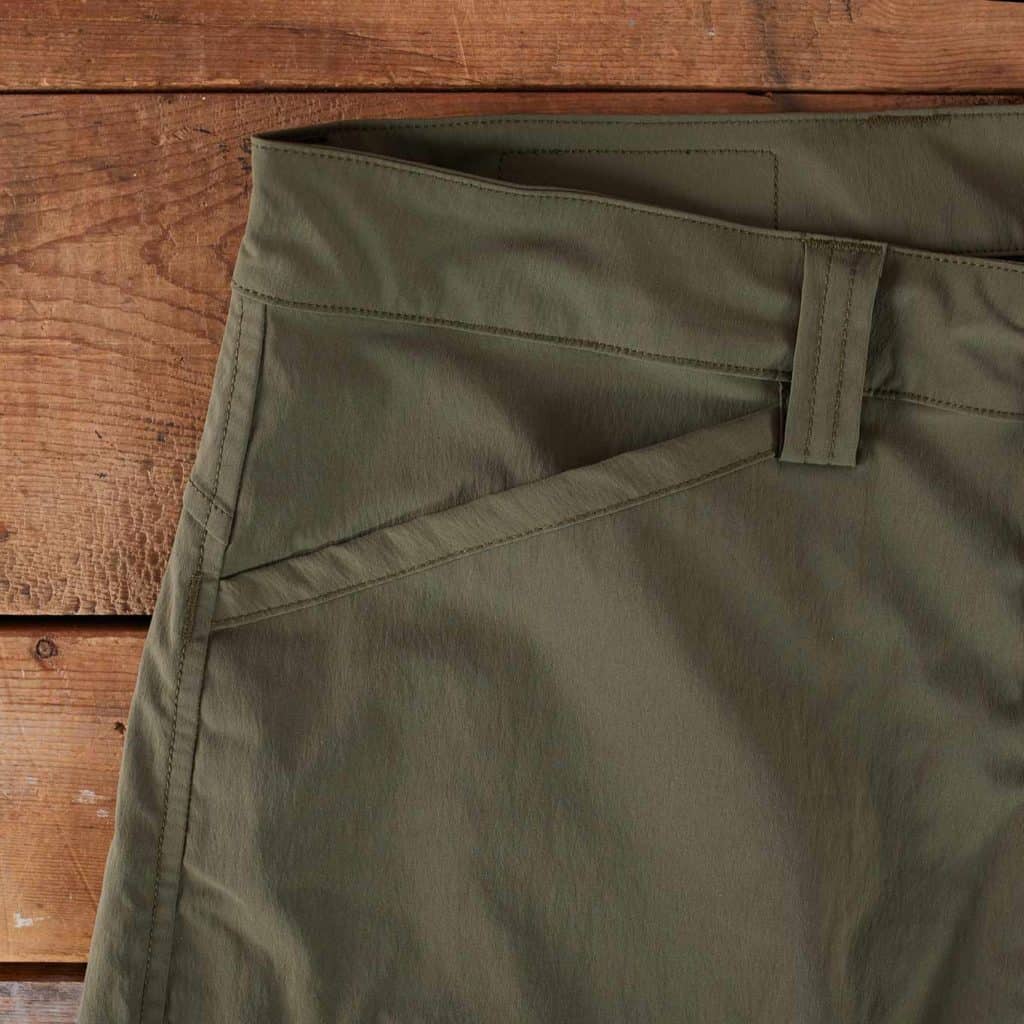 But – consider this too – because these look like jeans, they are a better match for just about any situation.
Anywhere you can wear jeans, you can wear Simple Pants.
They are crazy comfortable too -because of that lightweight, stretchy material and the fact that they don't restrict your range of motion excessively.
Simple Pants are so comfortable, after you wear them you'll dread having to put regular jeans on.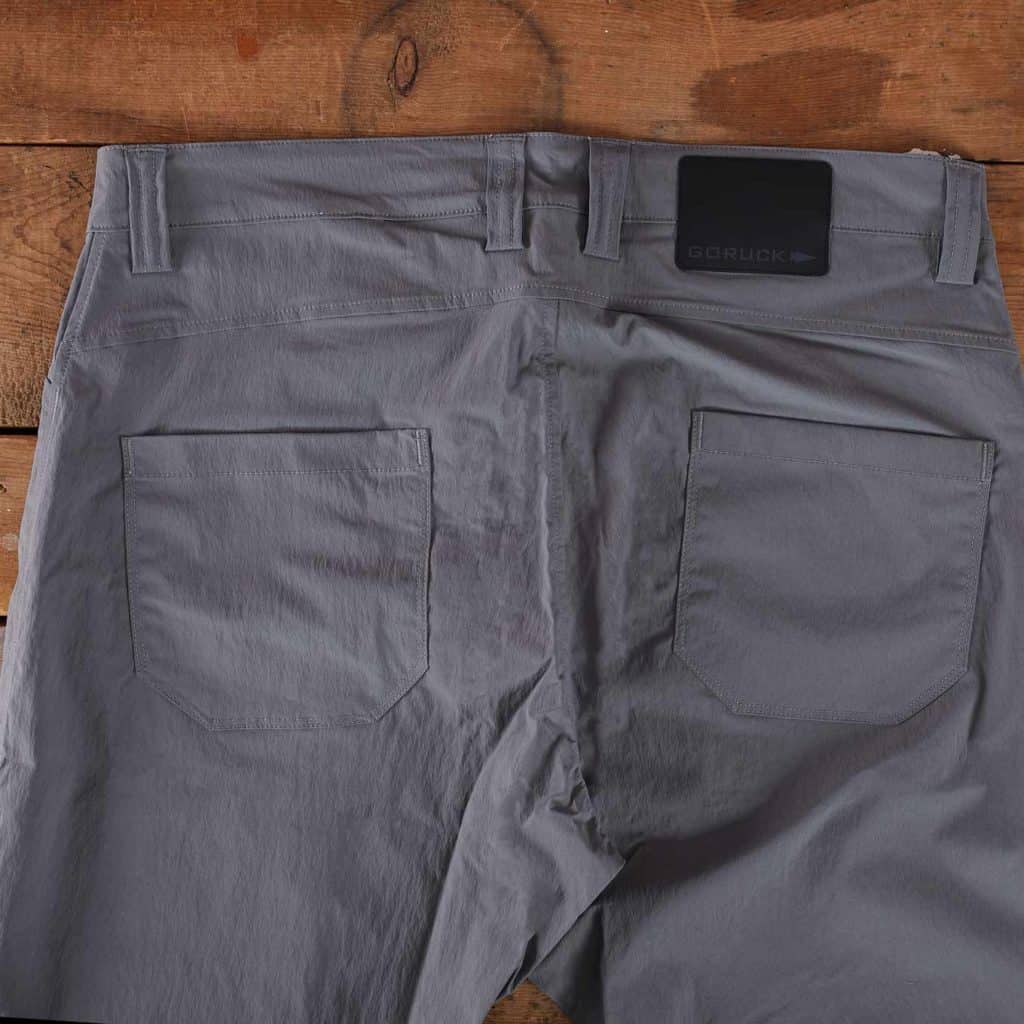 GORUCK Simple Pants HULK
We mentioned that Simple Pants "fit like a glove."
But, some lucky individuals are blessed with glutes and quads – whether through genetics or your own doing.
For those people, GORUCK makes a HULK version of the Simple Pants.
Same price, same materials, all those great features – but with more room in the rear and thighs specifically.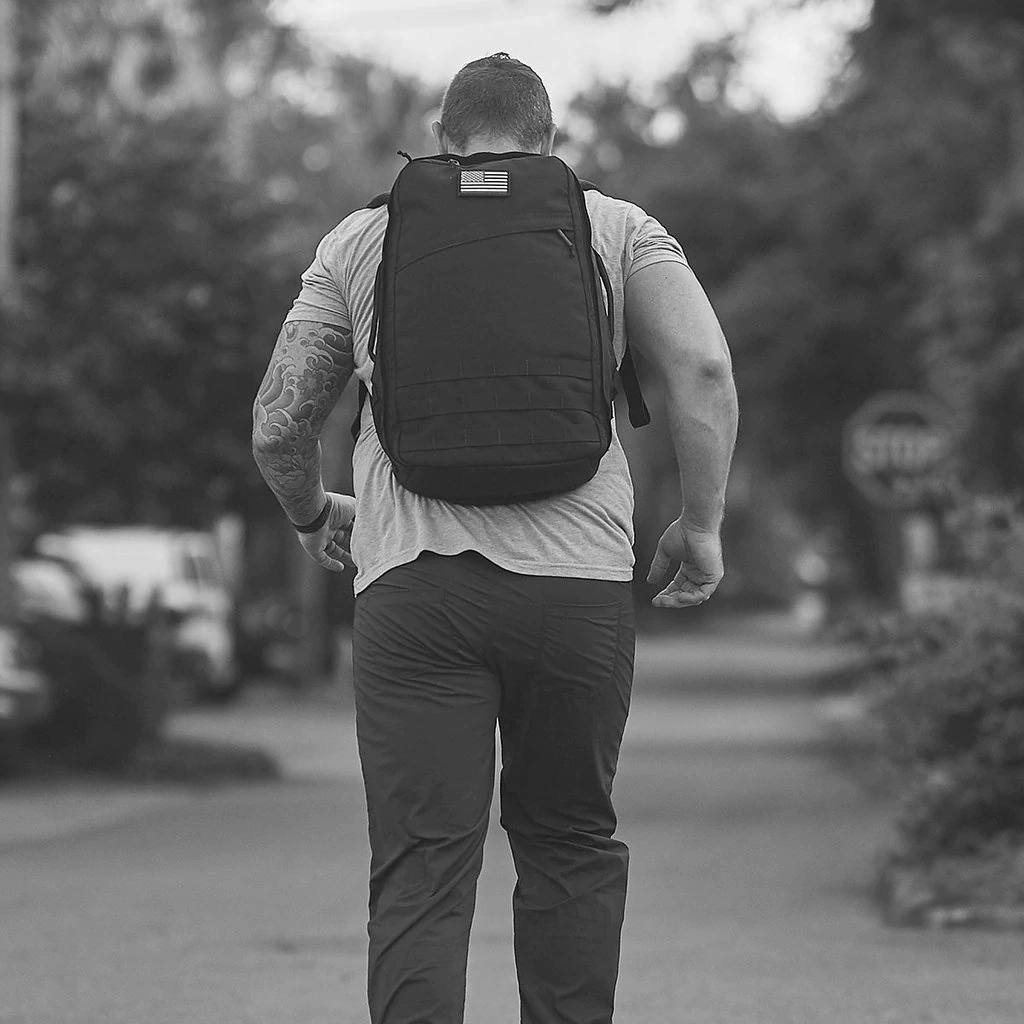 Unfortunately I can't comment too much on the HULK version. I'm just not in the target audience.
GORUCK Simple Pants versus Challenge Pants
GORUCK also makes another pair of athletic pants they call Challenge Pants.
What's the difference?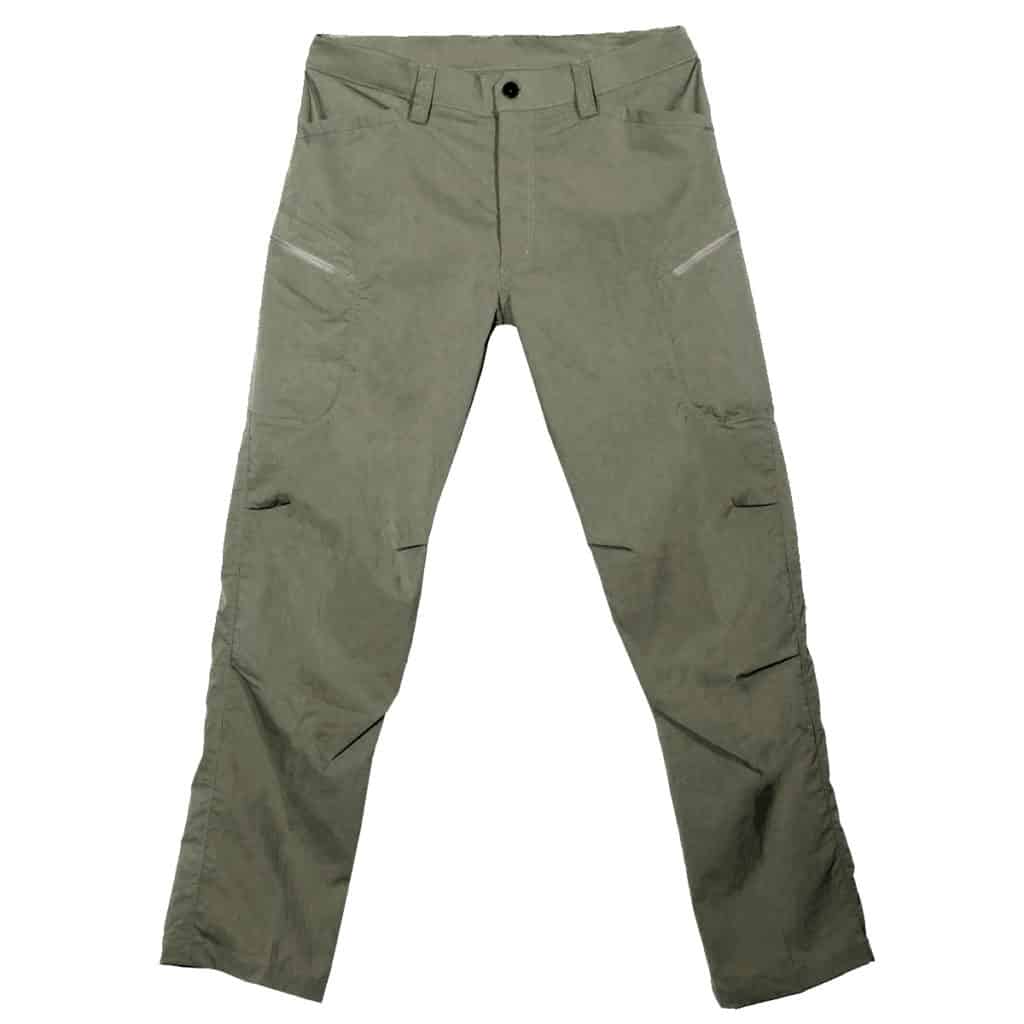 Challenge Pants look more like cargo pants – they have two zippered pockets at mid-thigh.
The zippered pockets keep your stuff secure – and they are very easy to use when seated in Economy class on a flight.
(I travel exclusively in Challenge Pants for this reason – and the comfort.)
Challenge Pants are also made from ToughDry, are super lightweight , and tough – but they do have a slight edge in comfort and freedom.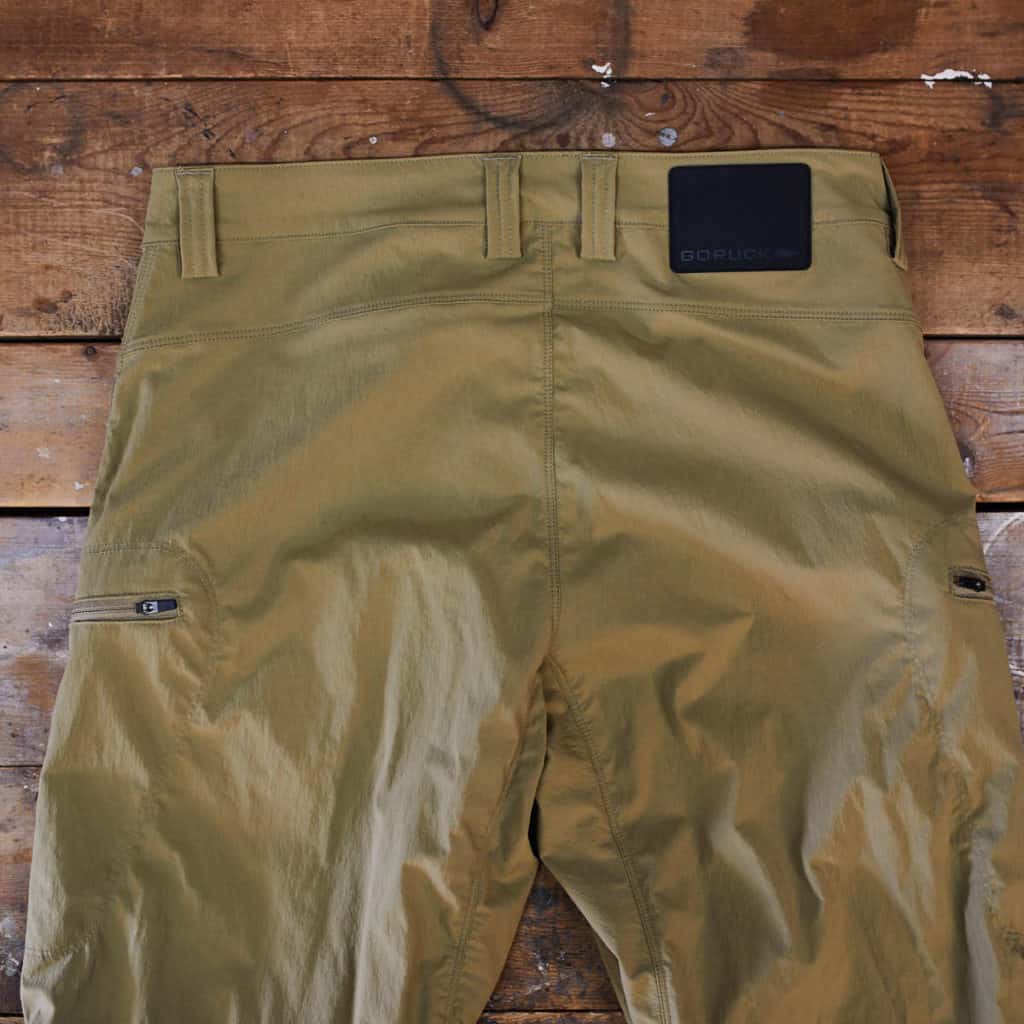 Challenge Pants incorporate what's known in the pants business as a gusset.
That's a diamond shaped piece of material sewn into the crotch – for ultimate freedom of movement.
(Seriously – you can do Yoga in Challenge Pants – or squat, deadlift, etc.)
Secondly, Challenge Pants have fully articulate knees – which means even more freedom of motion.
And lastly, just like Simple Pants there are no big, bulky seams – even though there are pockets and belt loops.
Challenge Pants are, in my mind, the ultimate travelers tool – but they do look like cargo pants.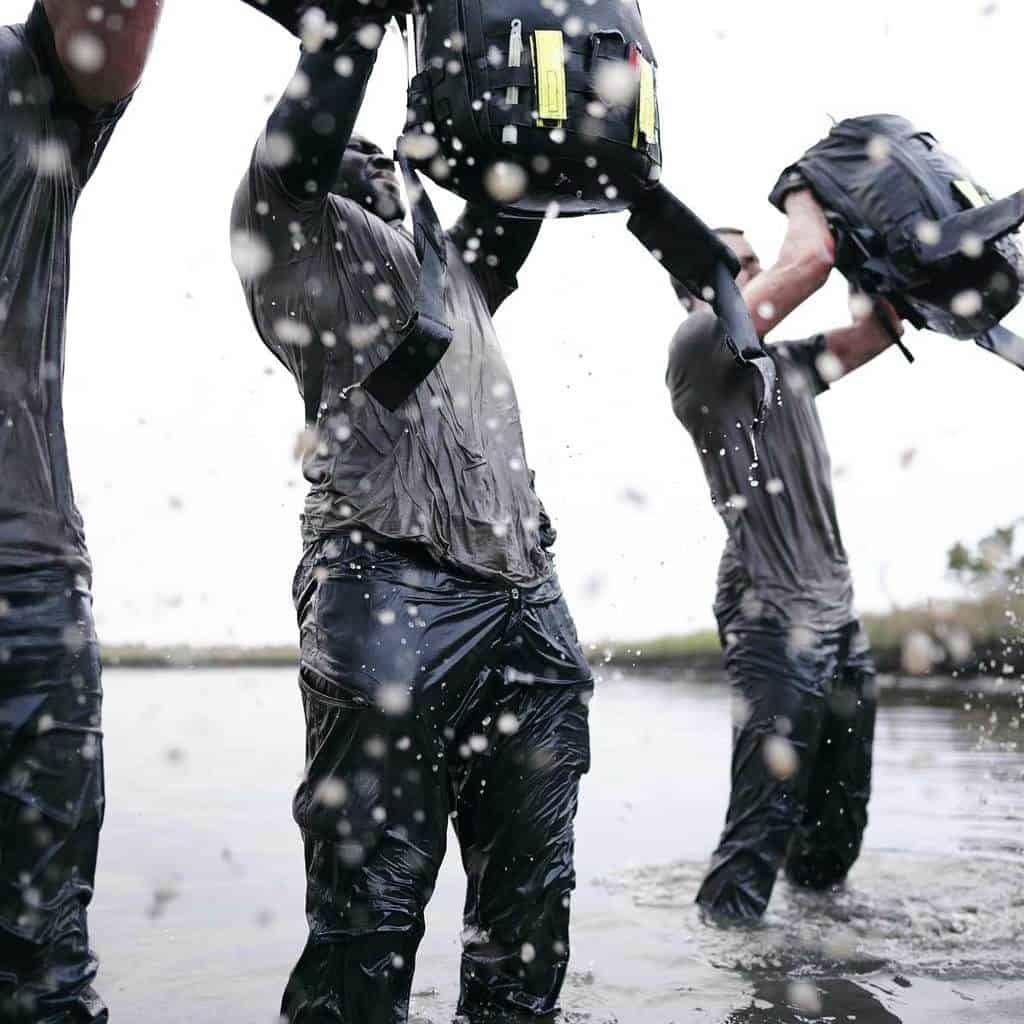 They are also more expensive.
Need pants that look like jeans? Get Simple Pants.
Want the ultimate multi-purpose active wear pants? Get Challenge Pants.
GORUCK Simple Pants – Good for Travel Too
When I first heard about Simple Pants I thought they were too expensive.
I rarely pay over $70 for pants, and Simple Pants cost quite a bit more than that.
But, these are the ultimate travel wear for me – and I travel a lot for my job.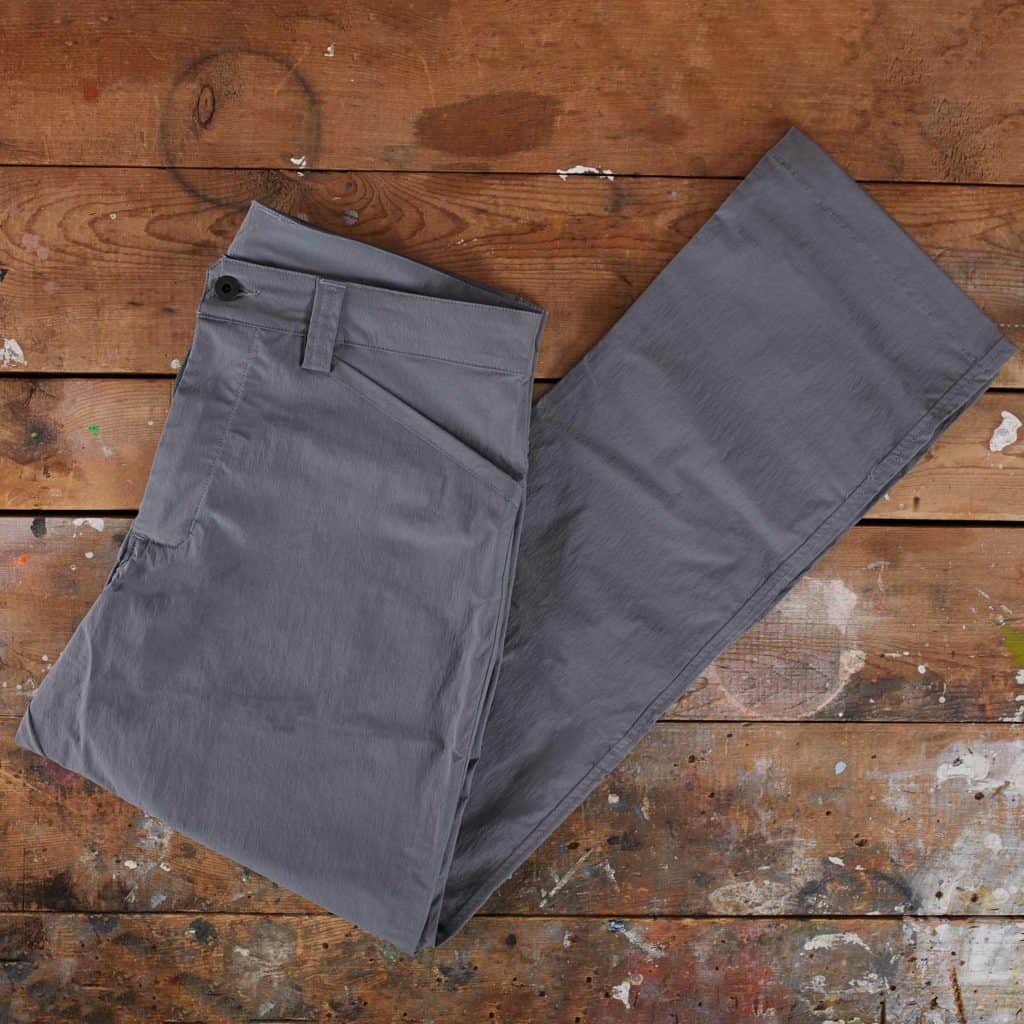 They are crazy comfortable, versatile, and I can fit two or three pairs in the space and weight that one pair of jeans takes!
The only caveat to this is that the mid-thigh zippered cargo pocket on the Challenge Pants gives them a slight edge when seated in any flight or vehicle.
But overall, Simple Pants are great for travel.
Or a GORUCK challenge event.
Or lounging around the house.
Really, they work for anything.
GORUCK Simple Pants for Men – Cons
Ok, I've praised the Simple Pants and ToughDry for several paragraphs now.
What's the downsides?
They are expensive (at time of writing $115.)
At this point we should mention these are covered by GORUCK's SCARS lifetime guarantee.
A lifetime guarantee on pants.
This is unheard of.
How can they stand behind their product like this? Well, it's that super tough ToughDry and the fact that these are made in the USA.
Simple Pants are also thin – and can be a bit "revealing" as we discussed.
And for that, you can either go mid-weight, or lose some modesty.
Lastly, these pants to make a bit of noise.
Walking, running, really any sort of movement makes a gentle swishing sound.
You aren't going to sneak up on anyone in these pants.
That's OK, totally worth it.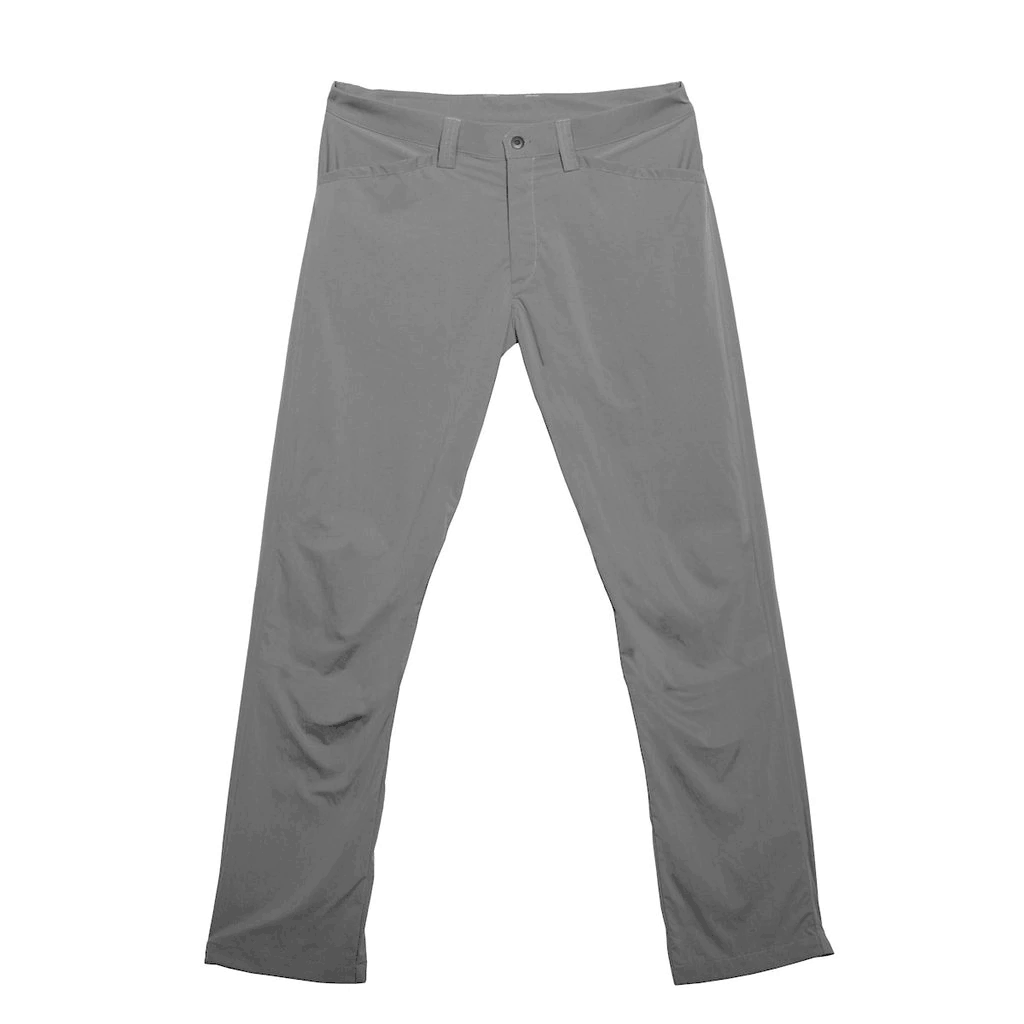 GORUCK Spearhead Web Belt
Need an awesome belt to go with these awesome pants?
Check out the GORUCK Spearhead Web Belt.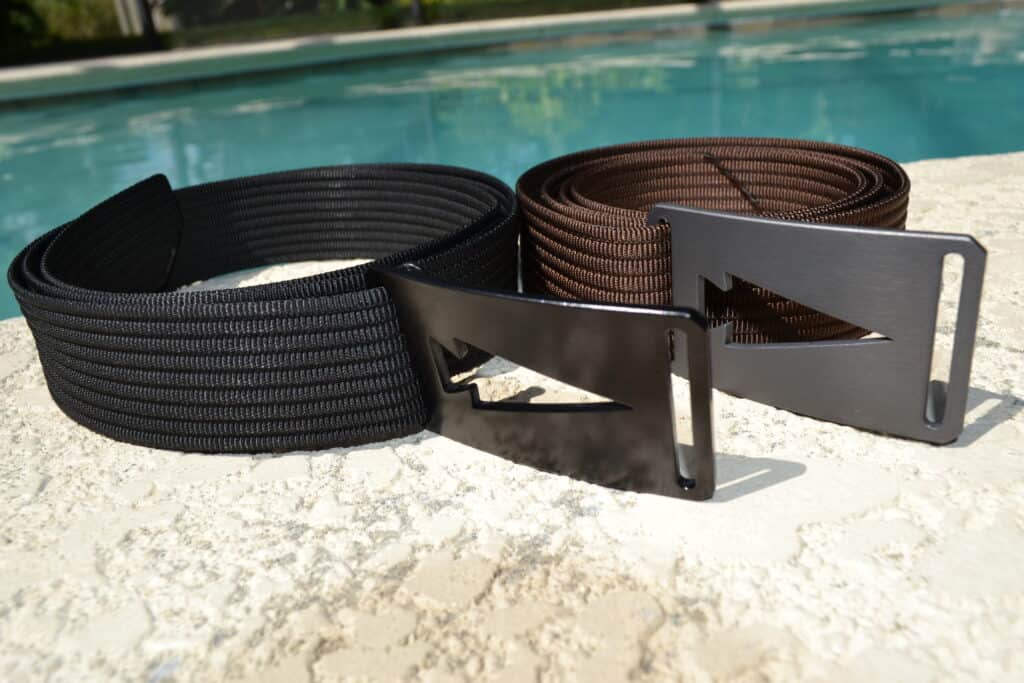 It's available in Brown or Black.
It's a Grip6 belt – made in the USA. The patented design is simple, lightweight, and efficient.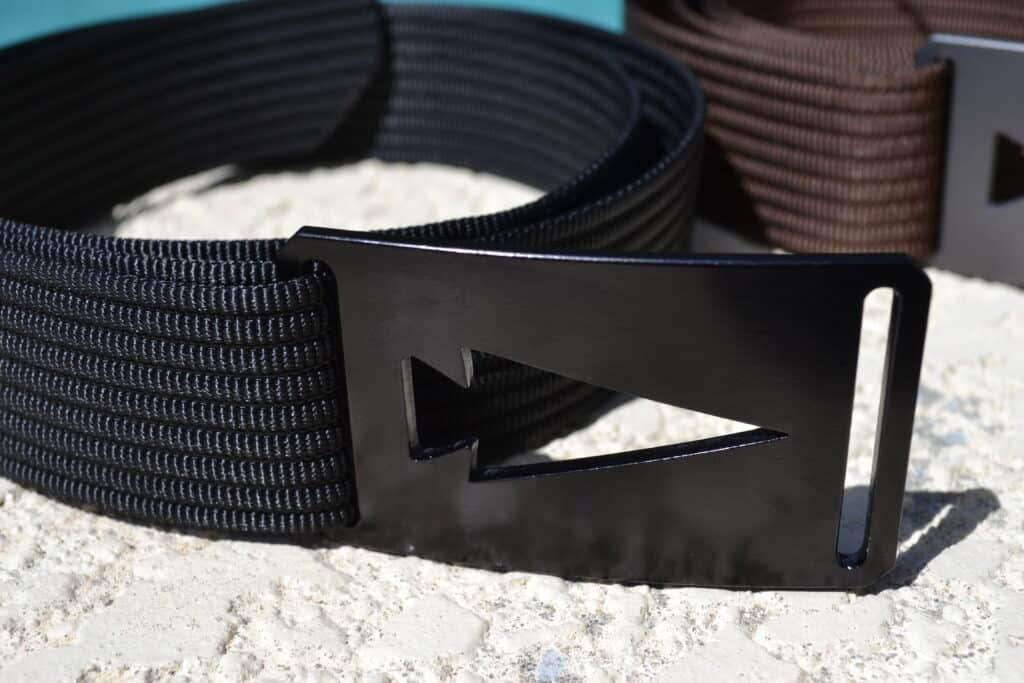 The Spearhead logo looks really sharp. The buckle is made from T6061 Aluminum.
This is a low-profile belt with minimal bulk and simple design – there's nothing to break. It'll likely last you a lifetime.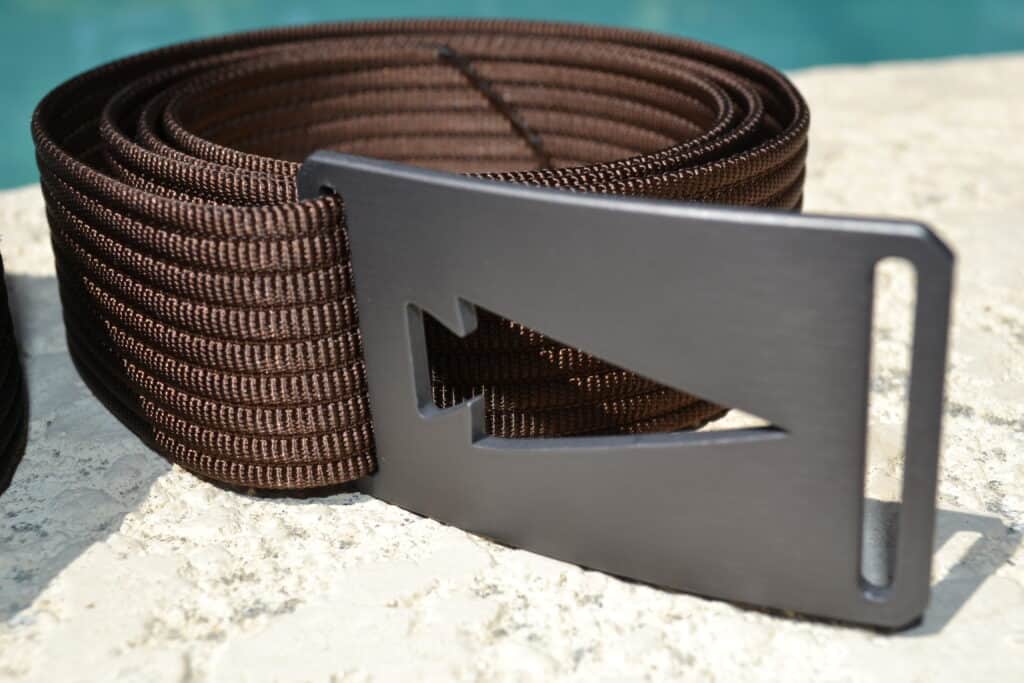 Spearhead Tactical Belt
If you have a hidden carry and have a sensitive mission to do, a tactical belt that can take all your equipment correctly is what you need. If you are looking for a tactical belt, qualities like ruggedness, heavy-duty quality, and comfort should be considered. Good thing GORUCK Spearhead Tactical Belt has it all.
It has a strap woven with high strength nylon webbing and has a no-slip locking mechanism that holds the belt in place all-day. It has a laser-cut buckle with the GORUCK logo etched to it and is made from T6061 aluminum. The 1.75″ strap is ideal for additional security while carrying a pistol.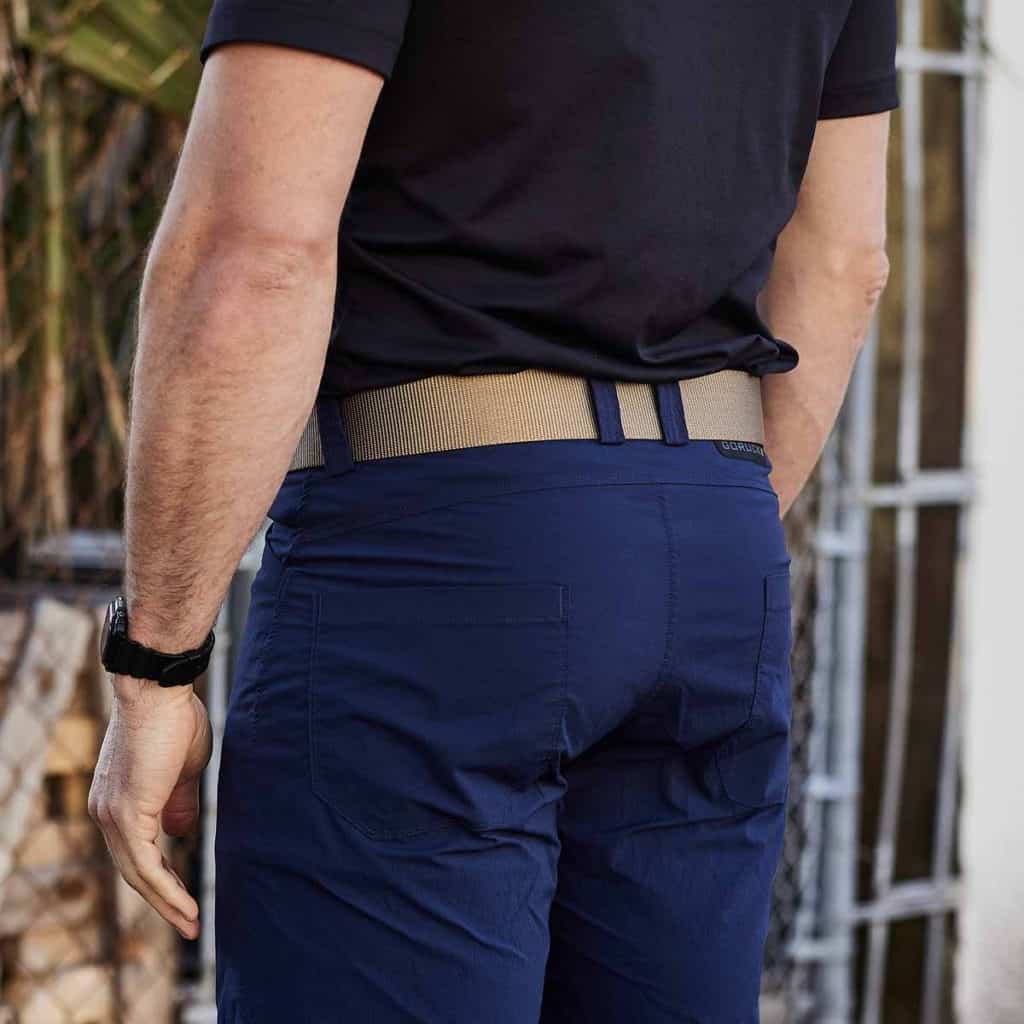 GORUCK Simple Pants for Men Review – In Summary
GORUCK has a winner with Simple Pants.
They are tough, comfortable, and great for any activity.
We look forward to what GORUCK will launch next in the apparel space.
Their philosophy of building tough, functional gear really shows in the Simple Pants.
You should probably check out Challenge Pants too – they are more expensive, but they are even better!
Why GORUCK Products?
We are a
GORUCK
affiliate – so if you order simple pants, rucks, boots, or gear after clicking the links in this article we receive a small commission at no additional cost to you. But that's not why we recommend GORUCK. It's because their equipment is innovative, built to last, and much of their best stuff is made in the USA (like Simple Pants!) They are the driving force behind rucking not just as exercise, but as a way to make people better. And that's why we love them.
Photo Credits
Some product photos on this page are provided by, and property of GORUCK.