It's Rep Fitness Black Friday Sale 2022 all month long at REP. Get once-a-year deals on racks, barbells, and of course benches!
Shop deals on your favorite Rep Fitness equipment and bring the gym to your home with Rep Fitness' Black Friday Sale. Deals frequently update, so find what you need to develop and finalize your home gym.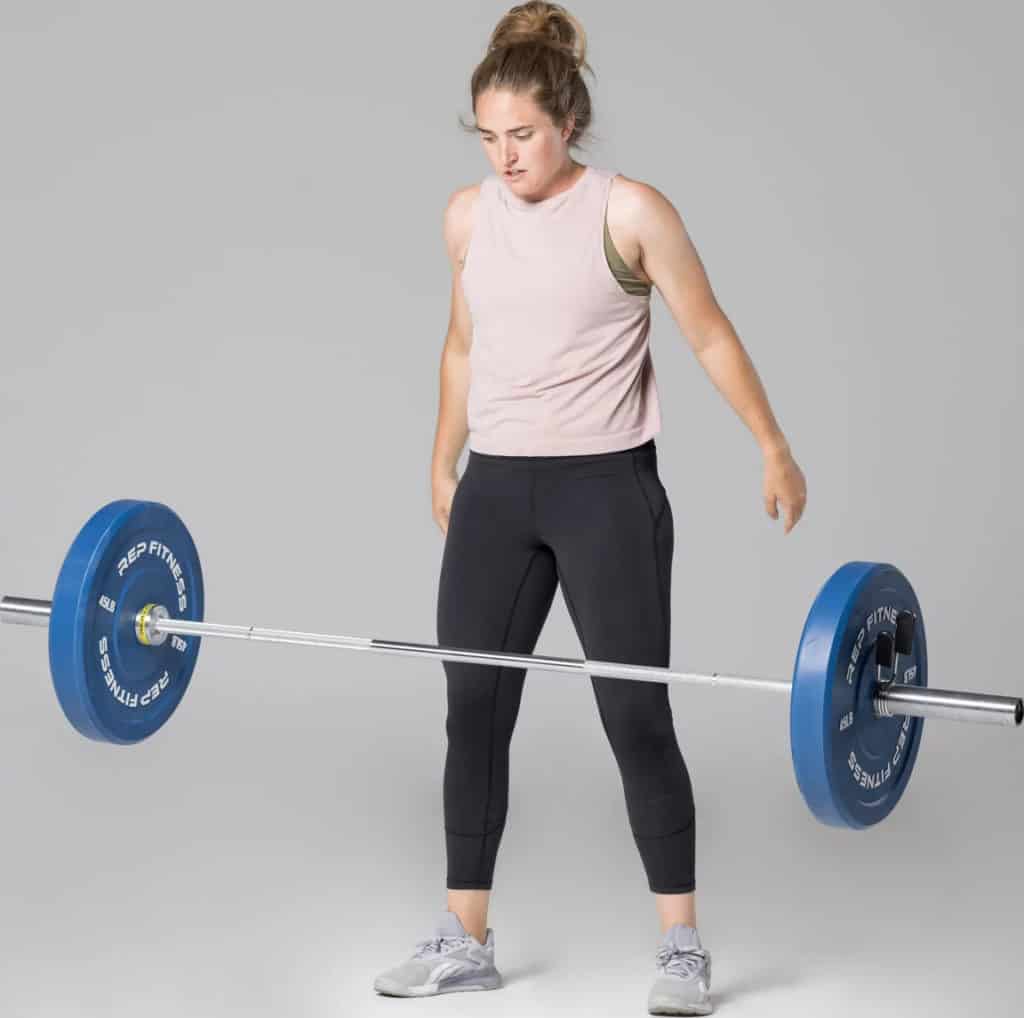 Get these deals from REP Fitness, while they last:
Rep Fitness Black Friday Sale 2022 – Overview
Rep Fitness manufactures quality home gym equipment at an affordable price. They make excellently-designed equipment such as power racks, functional trainers, weight benches, barbells, dumbbells, and more. And the best way to get them is now—at the Black Friday Sale. This is Rep Fitness' most significant sale of the year, and items sell out fast, so you got to be fast too.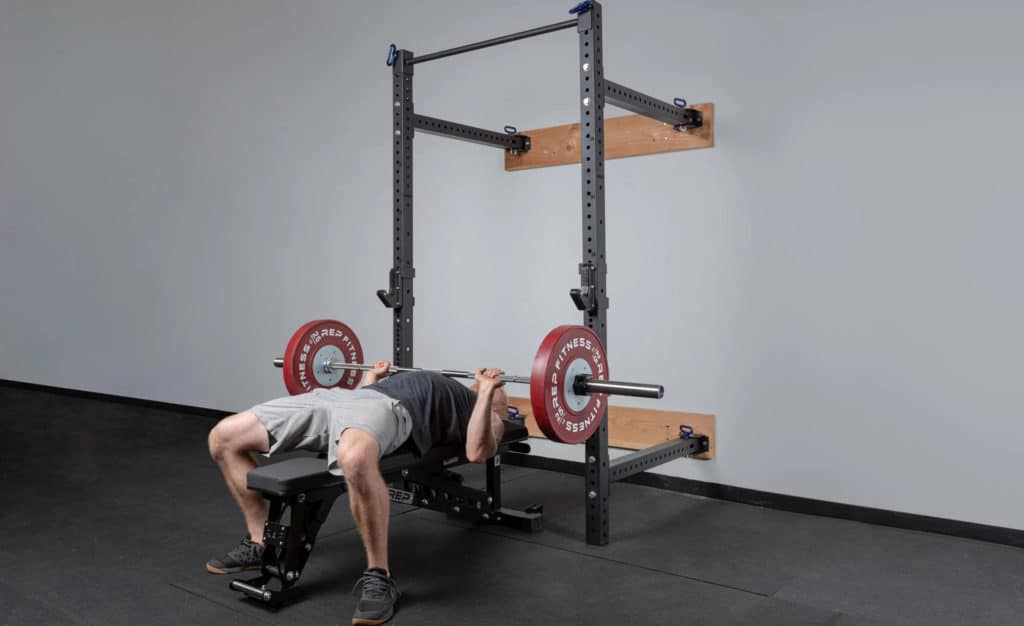 The timer at the top of their website counts down when the deal ends, and the next one starts. However, all deals are inventory limited, so they can end at ANY point if they run low on stock. You can get a 10% discount by including a minimum of four uprights, crossmembers, an LPC (logo plate cross member), and a pull-up bar on your cart.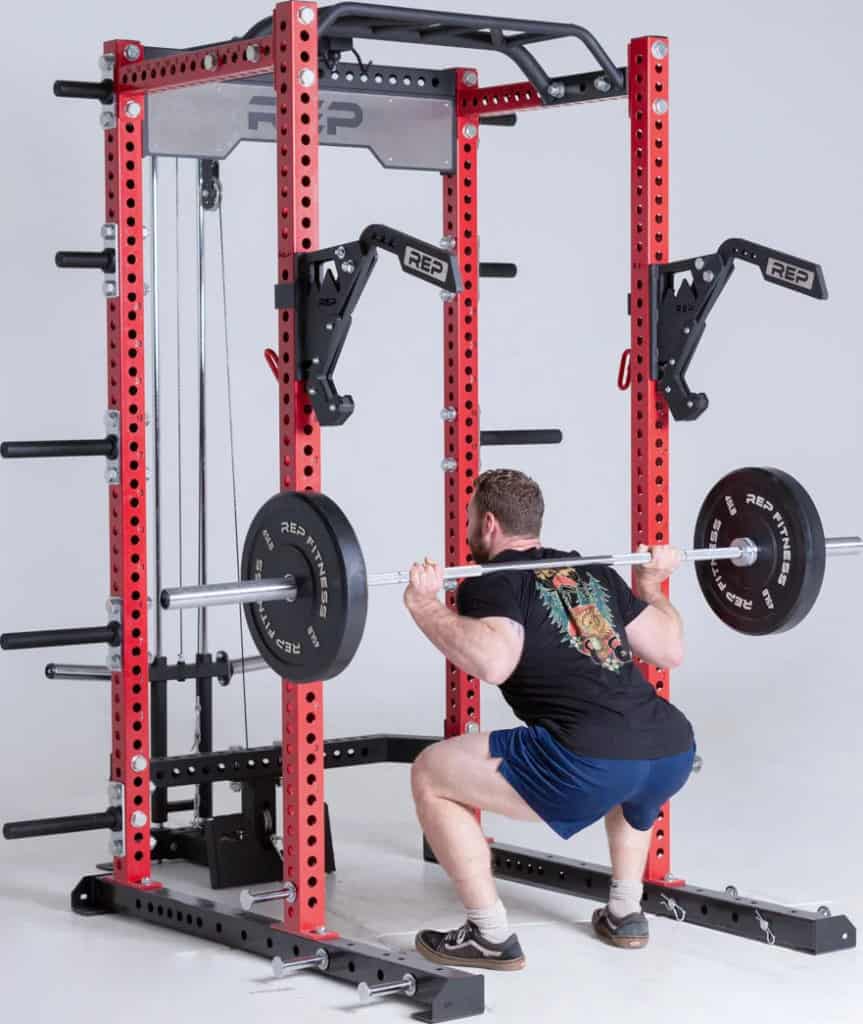 AB-3000 Adjustable Bench
The AB-3000 Adjustable Bench is versatile enough to have seven different back pad adjustments (from 85 to -12 degrees) and five ways to position the seat pad for a total of 21 possible configurations. It is a flat-incline-decline adjustable bench with a chrome ladder-style adjustment system for quick transitions between workouts. The built-in leg attachment swings out to protect your feet while in a decline position.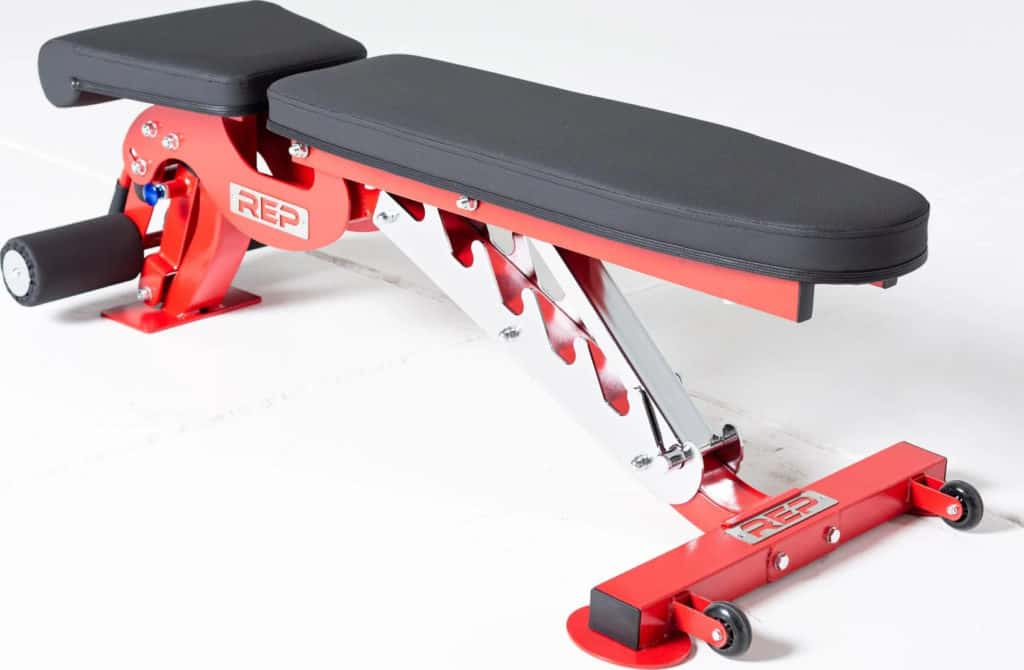 The AB-3000 is heavy-duty with a weight capacity of 1,000lbs. It is comfortable to move around your home gym at only 95lbs with back wheels. It comes standard with an 11.5″ wide non-slip pad constructed of grippy, textured vinyl but can be upgraded with a 14″ wide pad (and matching seat) for more shoulder support.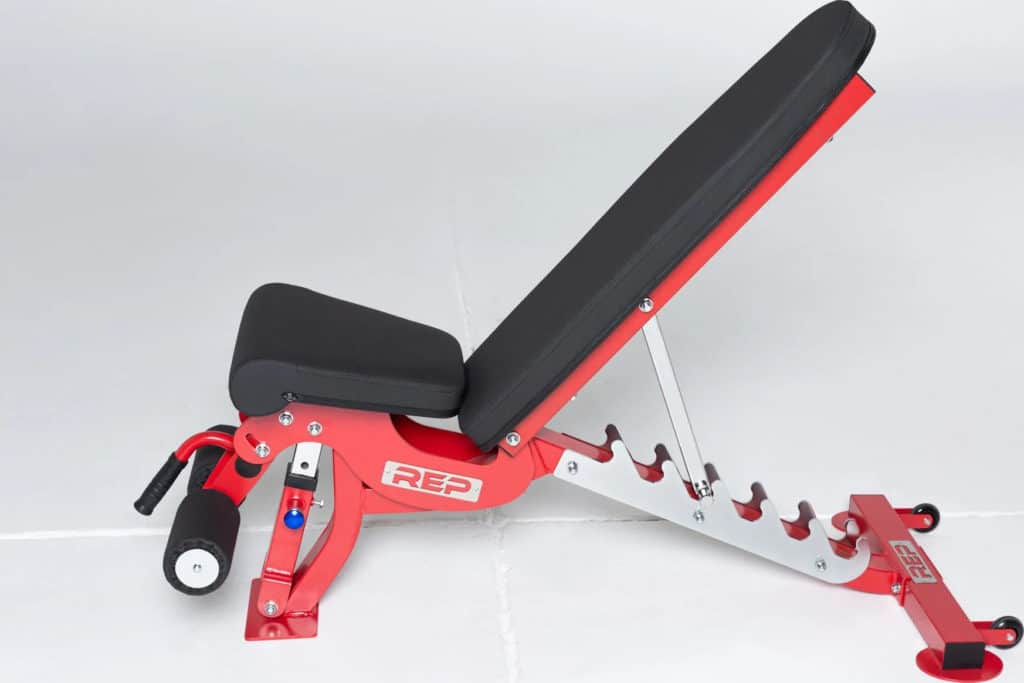 PR-5000 Rack Builder
With the PR-5000 Rack Builder, an upgrade will no longer be needed. It is a heavy-duty, highly customizable power rack made with 3×3" 11-gauge steel and has a 1,000lbs rackable capacity. It is REP's most configurable system, with a robust attachment ecosystem.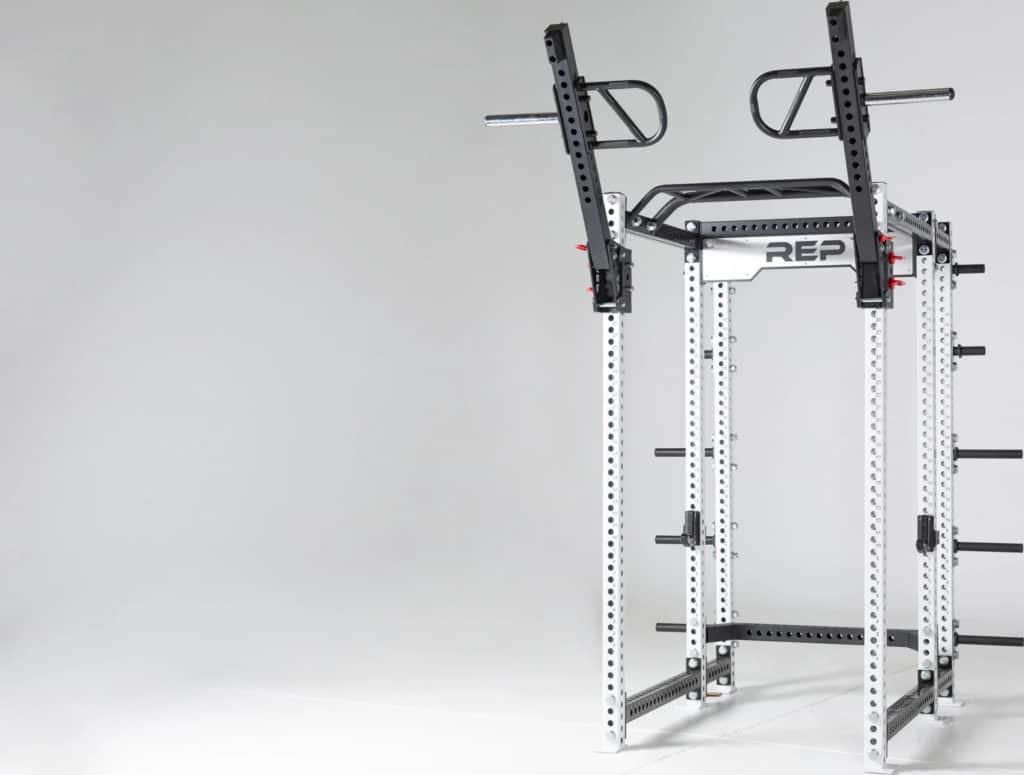 The PR-5000 has 2" hole spacing with 1" pinholes and laser-cut numbers on every hole, making it easy to line up attachments and set up for your lifts. It is completed with laser cutting, robotic welding, and robotic painting, all under one roof.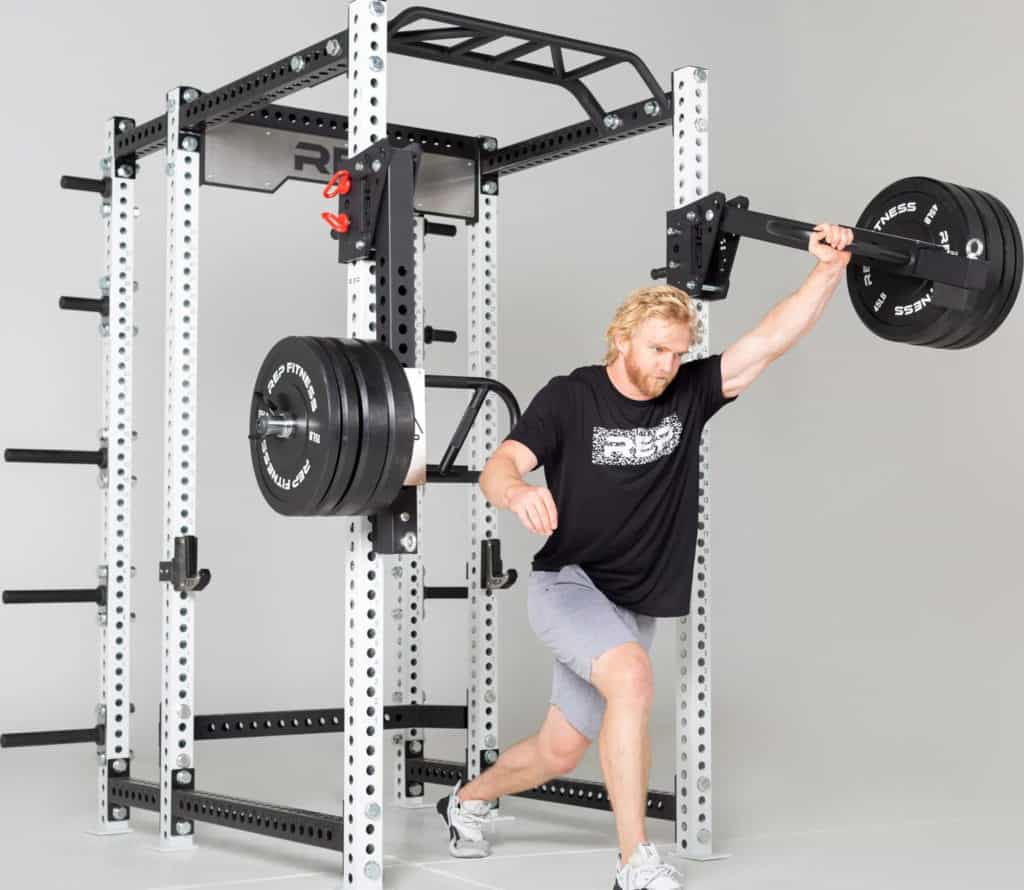 Omni Rack Builders
The Omni Rack Builder is a heavy-duty rack made with 3×3" 11-gauge steel with a 1,000lbs rackable capacity. It has a metallic black flat foot base that stabilizes the rack when doing dynamic movements, so you don't need to bolt it down to the floor. It is the most customizable flat-foot rack on the market, with options to choose from in a variety of height, depth, and color options.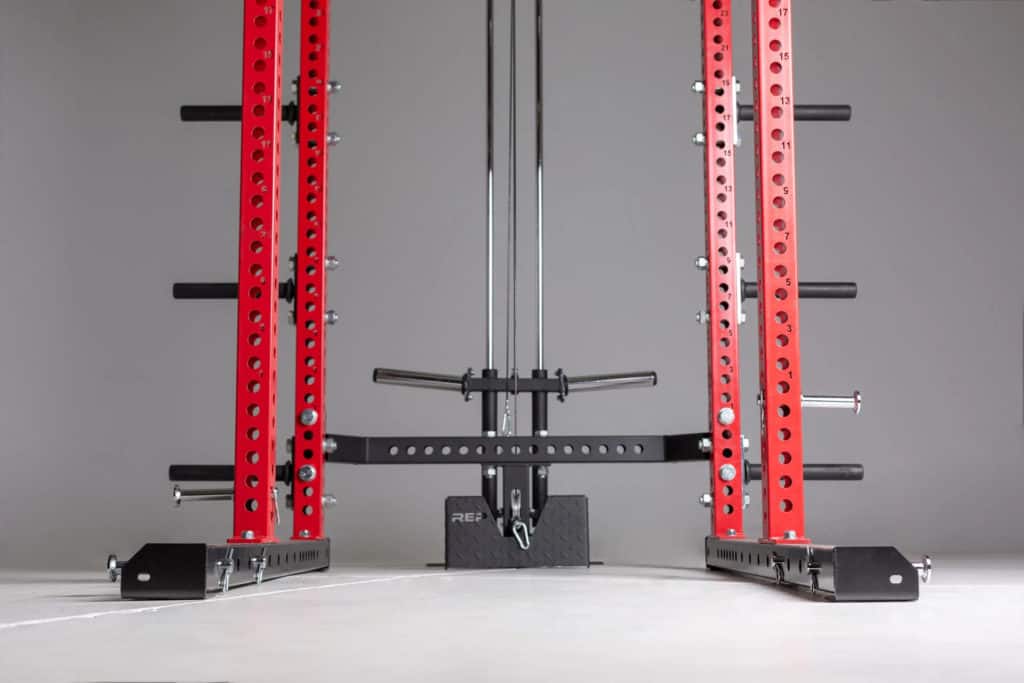 The Omni is finished with a durable powder coat and made with precision manufacturing for a consistent, high-quality product. It highlights laser-cut numbers in every other hole to make it easy to line up attachments. The uprights have 2" hole spacing throughout with 1" pinholes, making them compatible with many attachments.
Color Bumper Plates
The Color Bumper Plates are durable and factory-tested to endure more than 12,000 drops from an 8-foot height. They are quieter than metal plates and are developed not to break the bar, floor, and surroundings. REP's bumpers have low bounce, so you can have more control over the barbell when it hits the ground.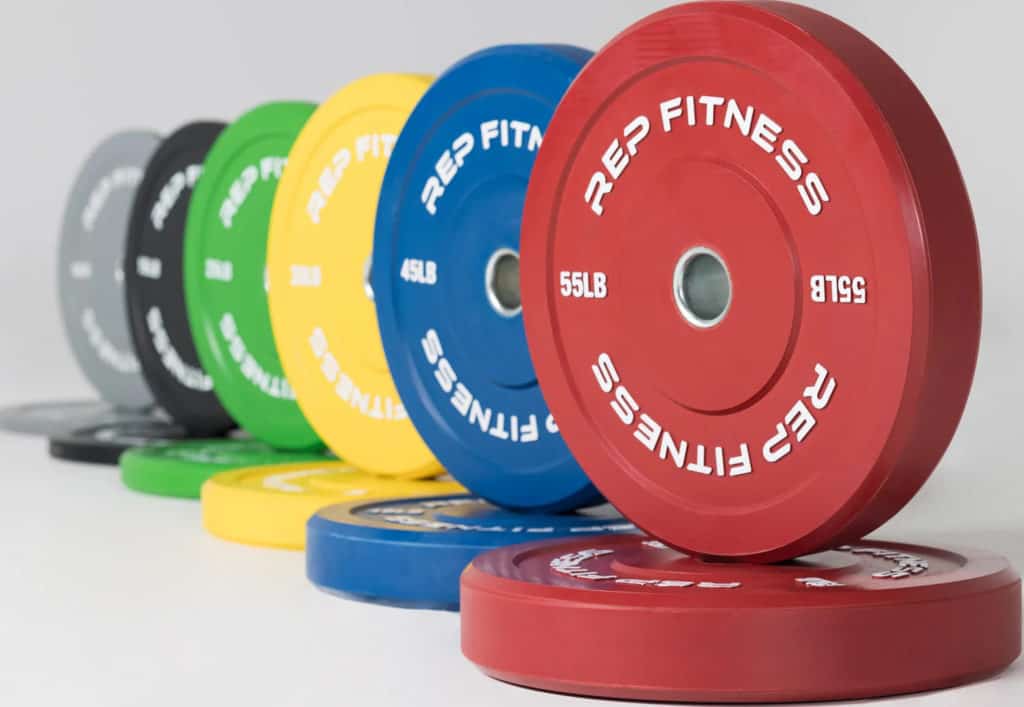 The 10lb plates are made extra thick to improve durability and decrease bending, while the 45lb plates are thinner than most to let you fit more plates on the bar. Plates are colored per International Weightlifting Federation standards for quickly spotting the weight.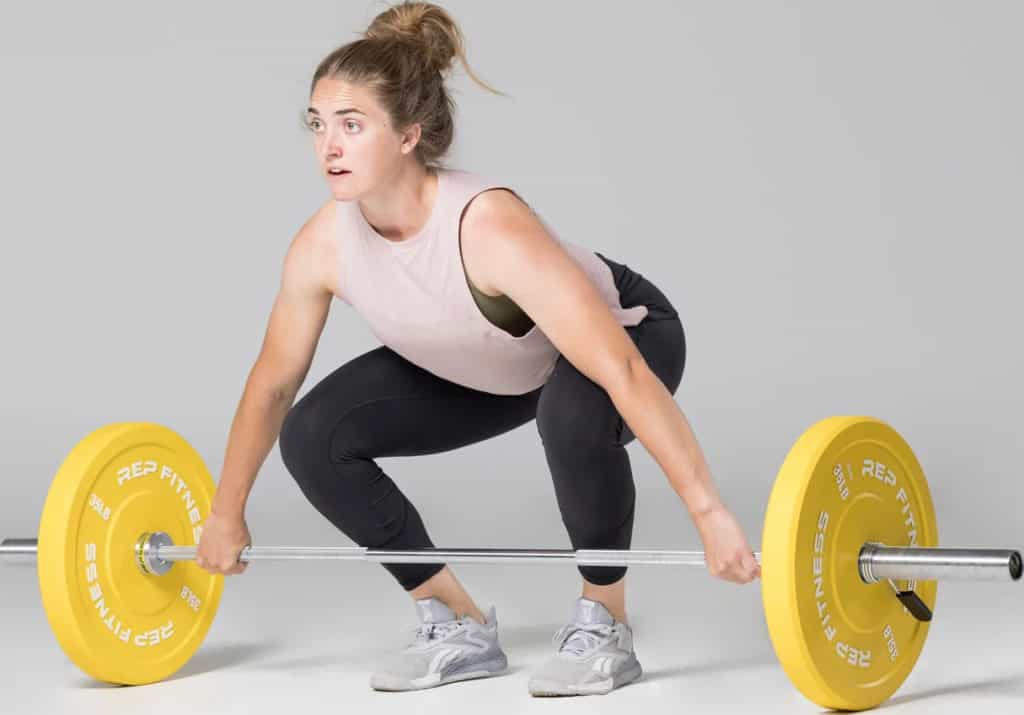 Rubber Coated Olympic Plates
The Rubber Coated Olympic Plates are iron plates with a rubber coating for extra equipment protection and noise reduction. The plates come in six standard weights, from 2.5lbs to 45lbs, and fit on all standard, 2" diameter barbells. These plates come with a one-year warranty.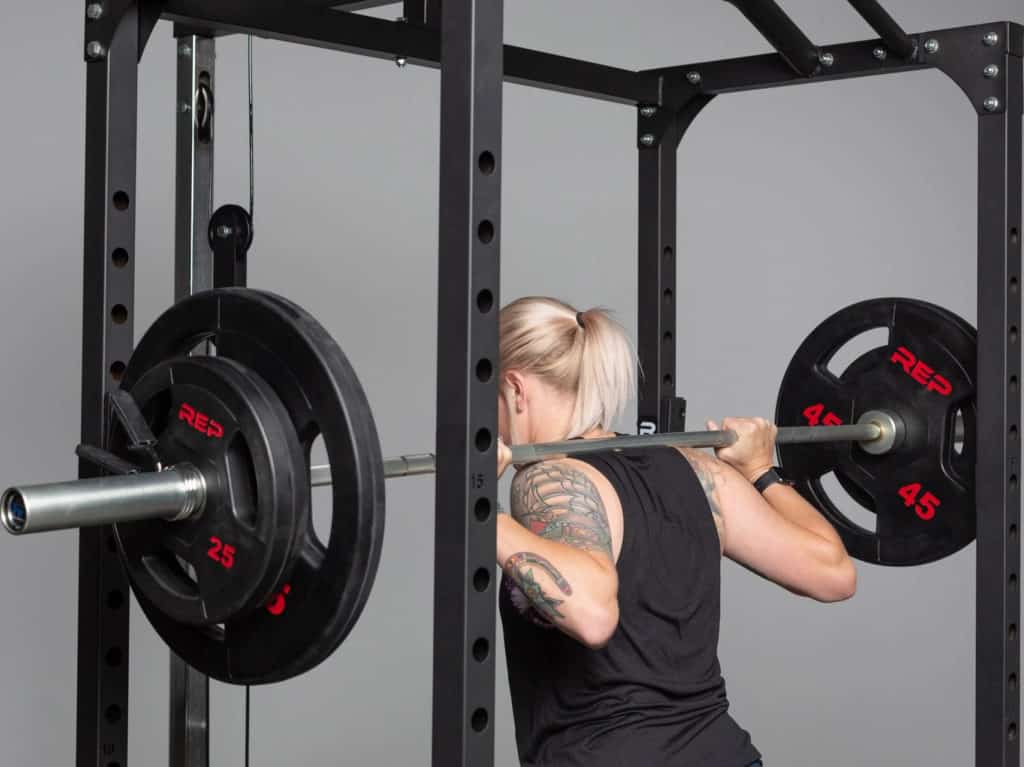 The symmetrical grip holes make it effortless to pick up and move the plates, and the holes let you use individual plates in exercises. The embossed logo and weight markings with red inlay make for an appealing, sharp look. The Rubber Coasted Olympic Plates feature a 3% weight tolerance, making them great for strength training and powerlifting.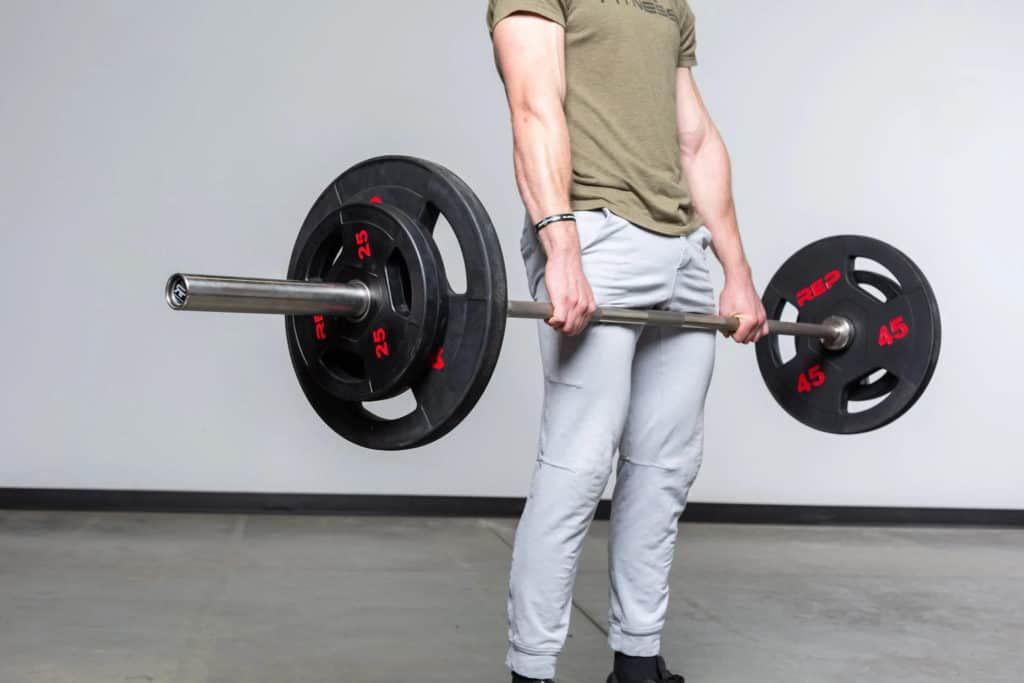 PR-4100 Folding Squat Rack
The PR-4100 is compact yet remarkably sturdy, with 3×3" 11-gauge steel uprights and a capacity of 1,000lbs when properly mounted. It is a folding wall-mount power rack that forms a functional workout space at home while taking up minimal space. The PR-4100 comes in two sizes, 21.5" deep and 41", leaving plenty of room to park your car in the garage.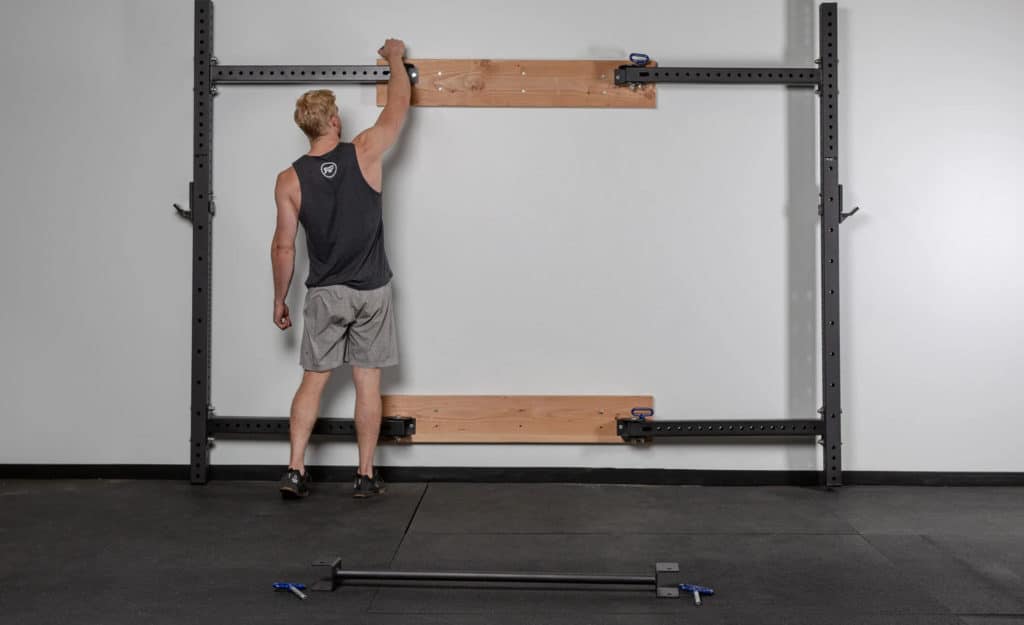 The rack is easy to use, with heavy-duty pull-pins that allow you to set up or fold up the rack fast and protective caps on the bottom of the uprights to protect the floors and ensure a smooth setup. The one-inch hole spacing through the bench press and pull area allow for more pinpointed barbell height.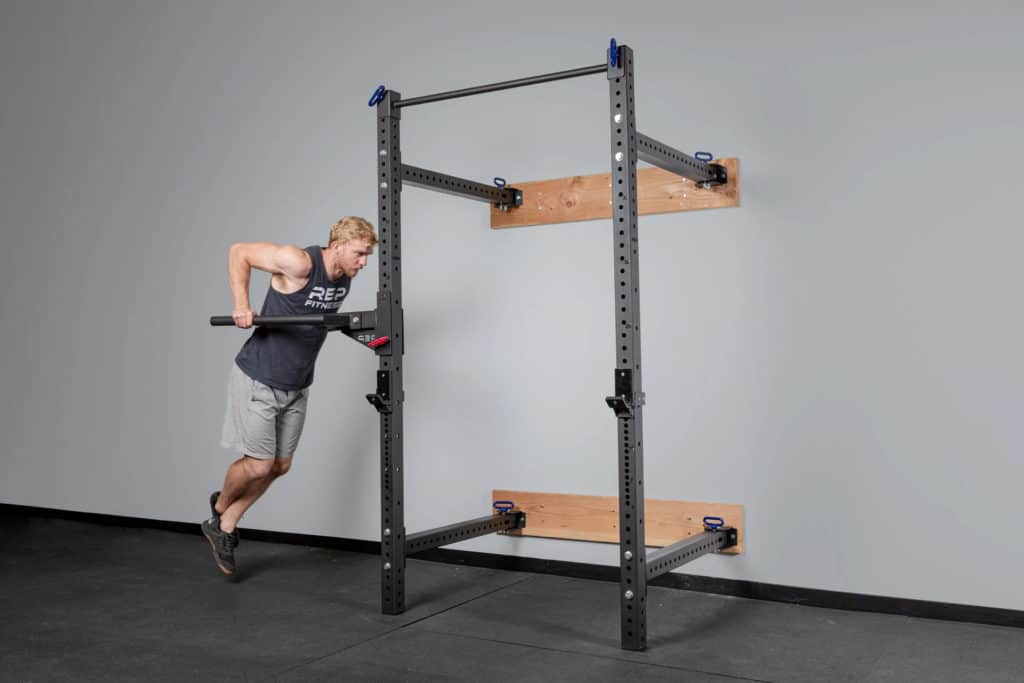 Rep Fitness Black Friday Sale 2022 – In Summary
That's our close-up look at Rep Fitness Black Friday Sale 2022.
Get yourself an early Christmas gift and equip your home gym with new equipment from Rep Fitness' Black Friday Sale. Deals will not get better; they will just change. Ordering earlier guarantees you get what you want before they run out.
Looking for more options? Check out these other great products:
Find out more about great gym equipment like the Rack Builder from Rep Fitness or the new Safety Squat Bar from Rep Fitness.
More Black Friday 2022 Sales for gym equipment.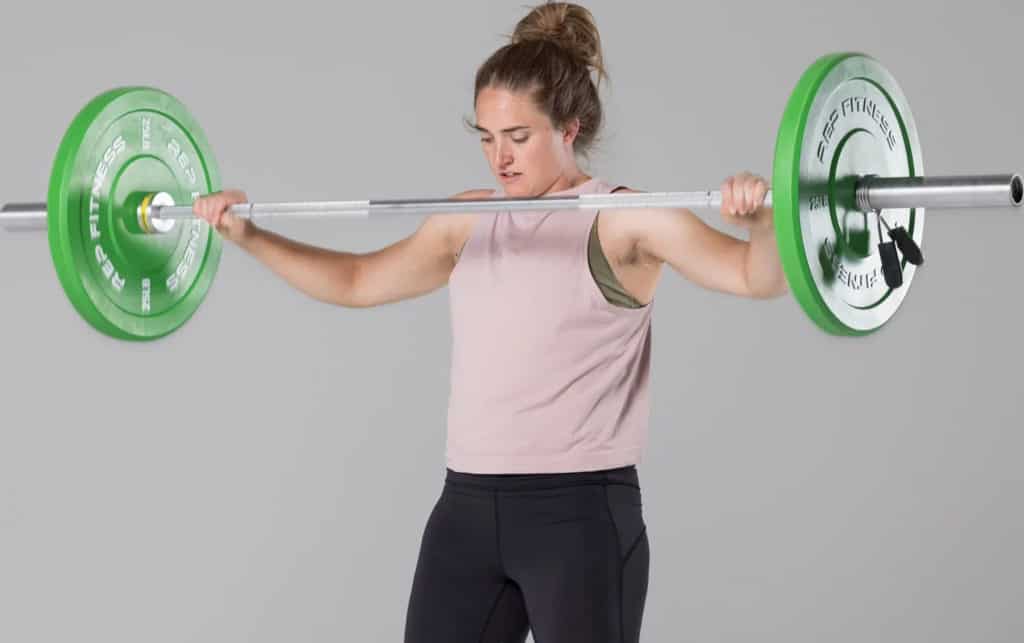 Photo Credits
Product photos on this page are property of Rep Fitness.
This website is not affiliated or associated with CrossFit, Inc. CrossFit is a registered trademark of CrossFit, Inc.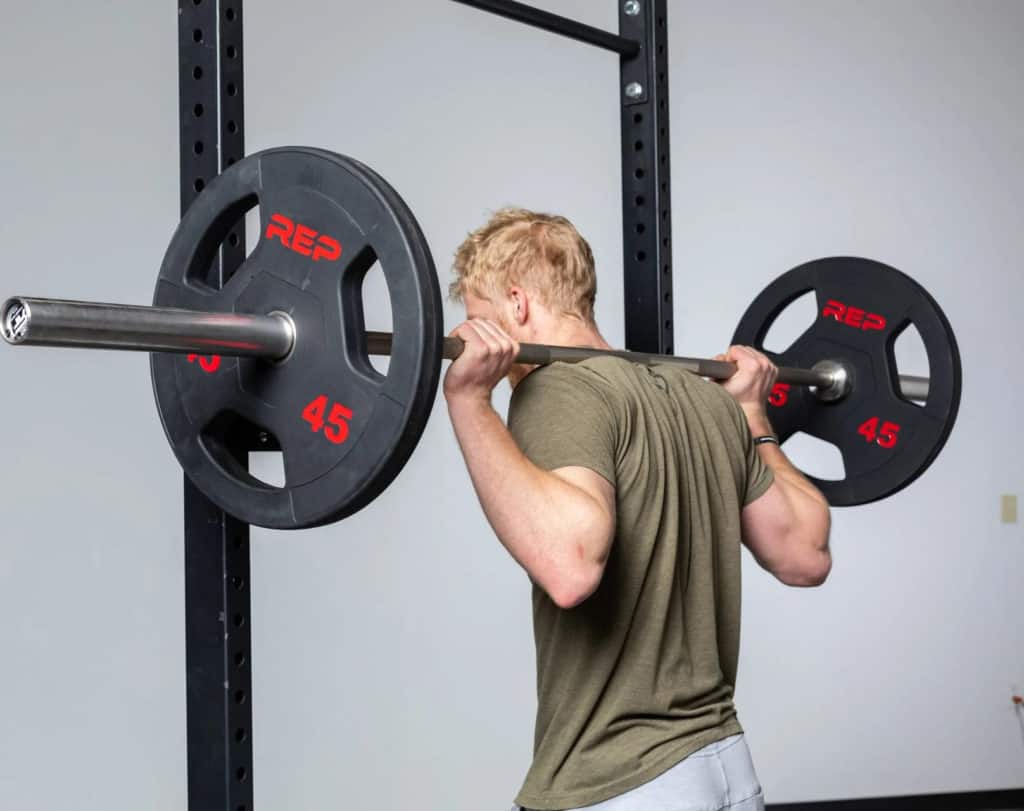 Affiliate Disclaimer
We are an affiliate of Rep Fitness and others that sell this training gear. If you buy clothing or other training gear after clicking the links in this article, we receive a small commission at no extra cost to you. This helps us to bring you in-depth information and content on these great training products.