Rogue has the red-hot
Echo Bike
. Grab one while they last!
Let's look at some specialty weight lifting gear – the Mutt Bars, Wheels, Cowbells, and More from Rogue Fitness.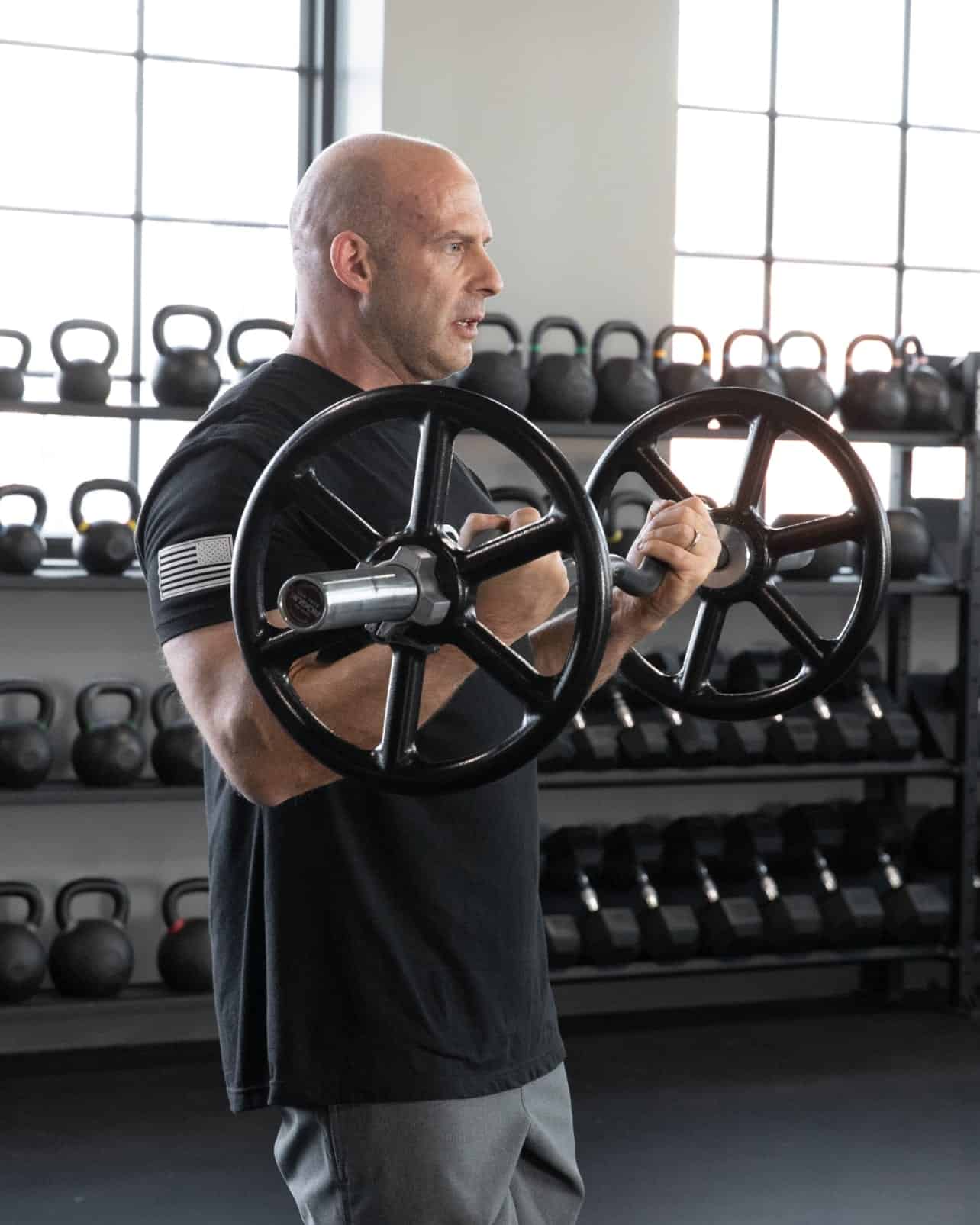 Free weights are functional training tools that can bring substance to your training and help you get stronger and leaner. Using different tools gives more impact and more possibility of reaching your fitness goals than simply sticking to one tool.
Here are some of the zany looking workout implements from Mutt we'll showcase:
Let's get right to it.
Mutt Bars, Wheels, Cowbells, and More – Overview
Free weights are more conducive and practical if you work out at home and deliver more performance benefits. Including them in your workout routine is a way to strengthen your muscles, burn fats, and become better physically, mentally, and emotionally. Free weights allow you to move in different directions, and your body has to work hard to keep the weight and manage the movement.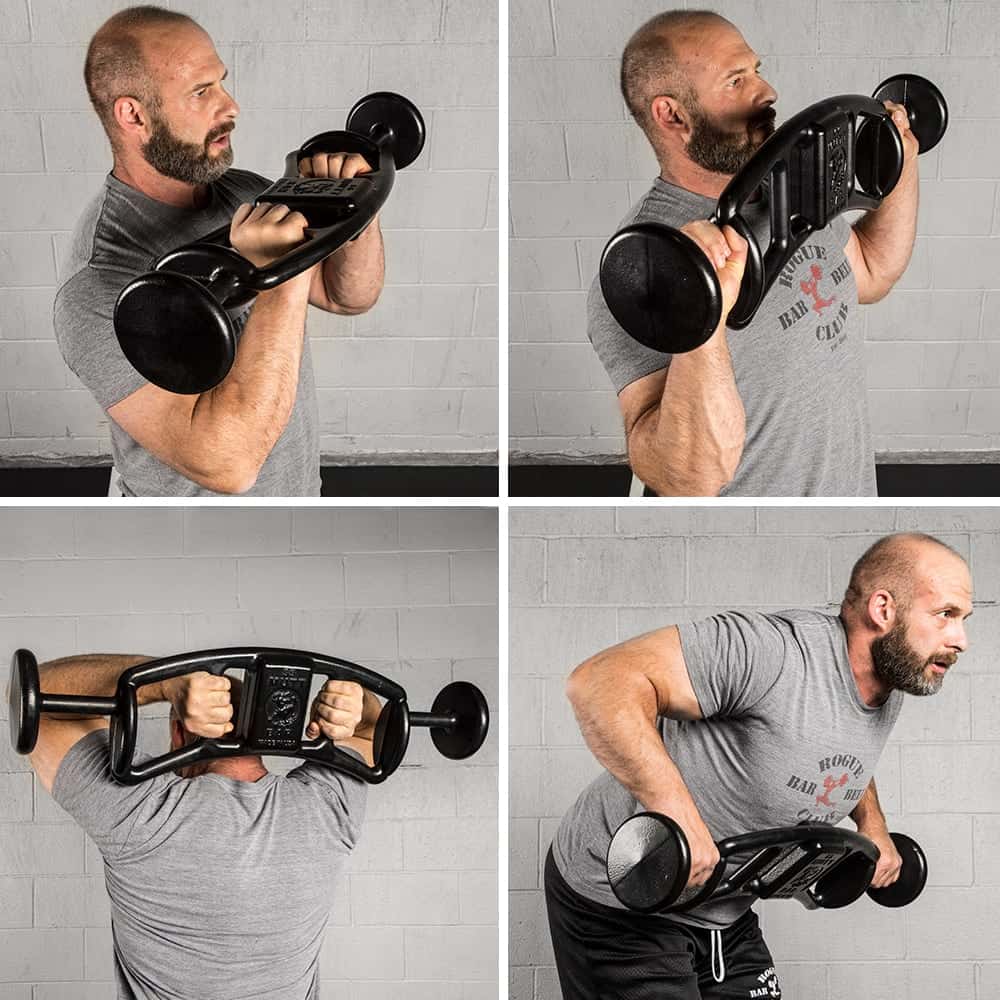 This works numerous muscles at once and gives you a better balance and coordination. These and more are the benefits of using free weights. Check out these free weights from Rogue — Mutt Bars, Wheels, Cowbells, and Dumbbells. They are 100% designed and manufactured in the USA offering functionality and versatility to your daily grind.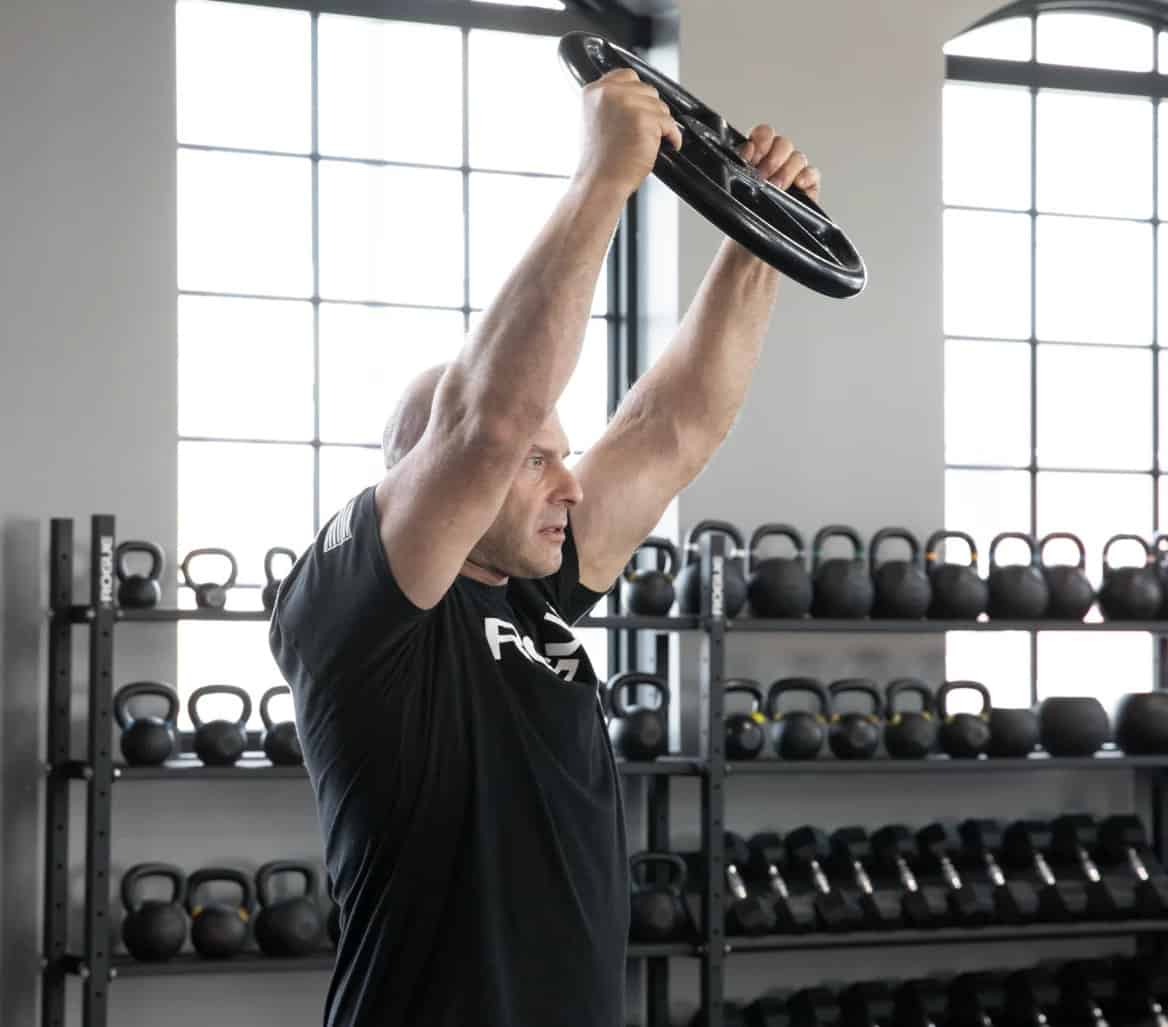 MUTT Cowbells
The MUTT Cowbell is a patent-pending new hybrid plate that integrates a kettlebell and a standard cast iron plate. Each single-piece cast-iron Mutt Cowbell has a bored hole in its center for fast loading on any standard Olympic barbell. The bottom-heavy weight distribution of the triangular plates then produces a slight swinging motion as the bar moves through an exercise, activating your stabilizing muscle groups the same as training with chains or resistance bands.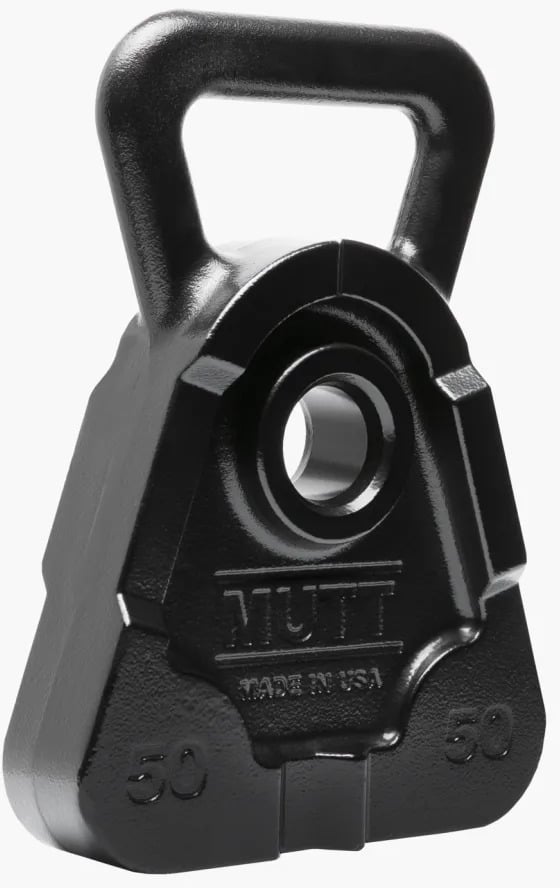 The integrated handle of the Mutt Cowbell offers additional dual functionality off the bar, as it can also be utilized for kettlebell workouts such as swings, farmers' carries, and shrugs. When not in use, the design's interlocking tabs let numerous Cowbells (regardless of plate size/weight) be kept safely with utmost space efficiency. They can also stand vertically when placed on a level surface.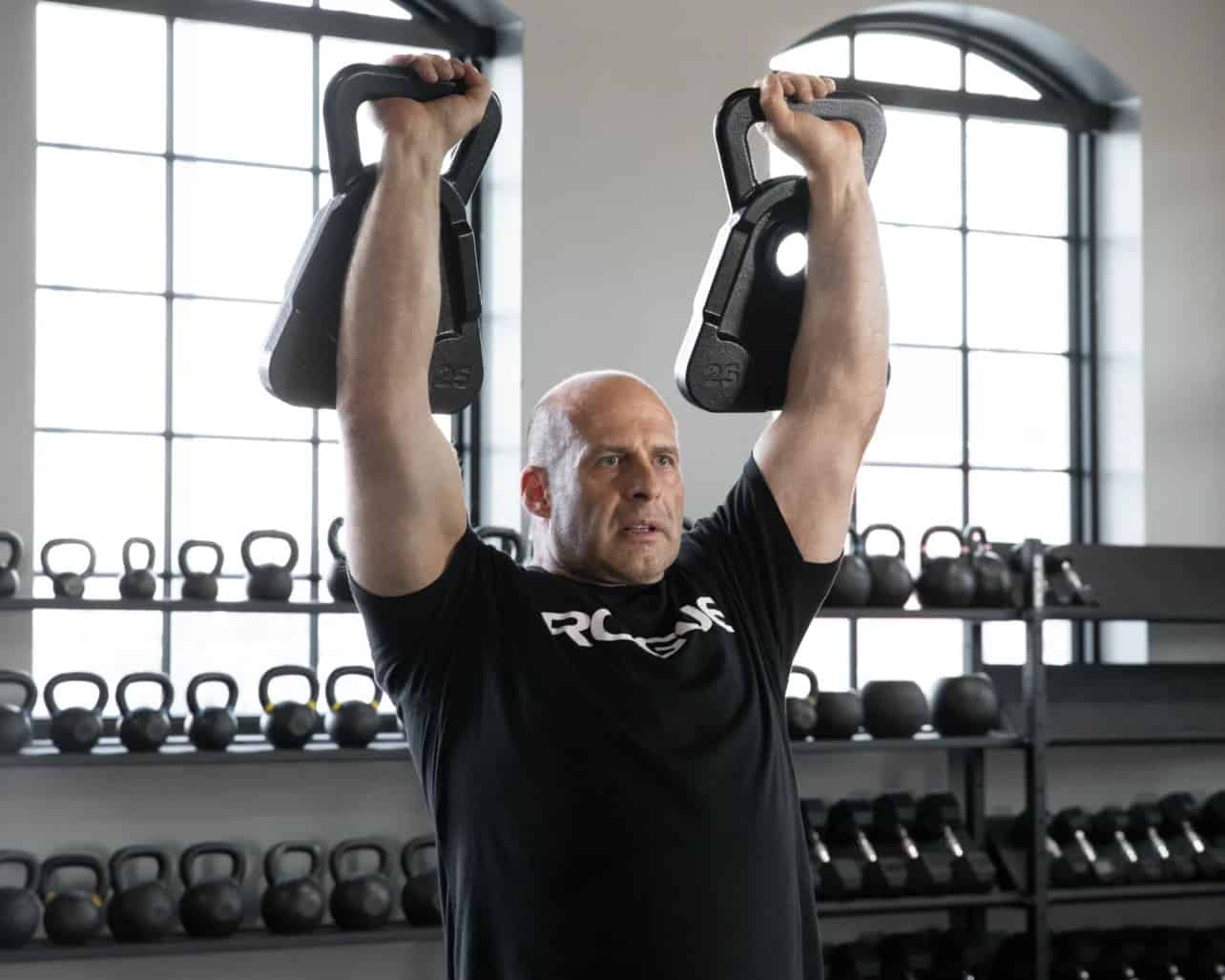 Mutt Wheels
Mutt Wheels look and work much like a traditional cast-iron plate, but they offer more functionality and versatility than a regular plate because of their six multi-grip "spokes". As a separate tool away from the bar, Mutt Wheels give you a combination of various grip position opportunities for movements such as farmers' carries, tricep extensions, curls, shrugs, and other core training exercises.
The plate's single-piece cast-iron construction and skim-cut center hub make it harmlessly compatible with other standard plates on an Olympic barbell and also allow for secure storage when not in use. They are sold in pairs and available in three weight variants of 25LB, 35LB, and 45LB.
MUTT Dumbbells
MUTT Dumbbells are single-piece, cast-iron dumbbells that highlight a remarkable, ergonomic handle design advanced for ease and resilience in both the open and closed grip positions. The handles of these dumbbells are grooved and angled and can benefit athletes dealing with median or ulnar nerve compression.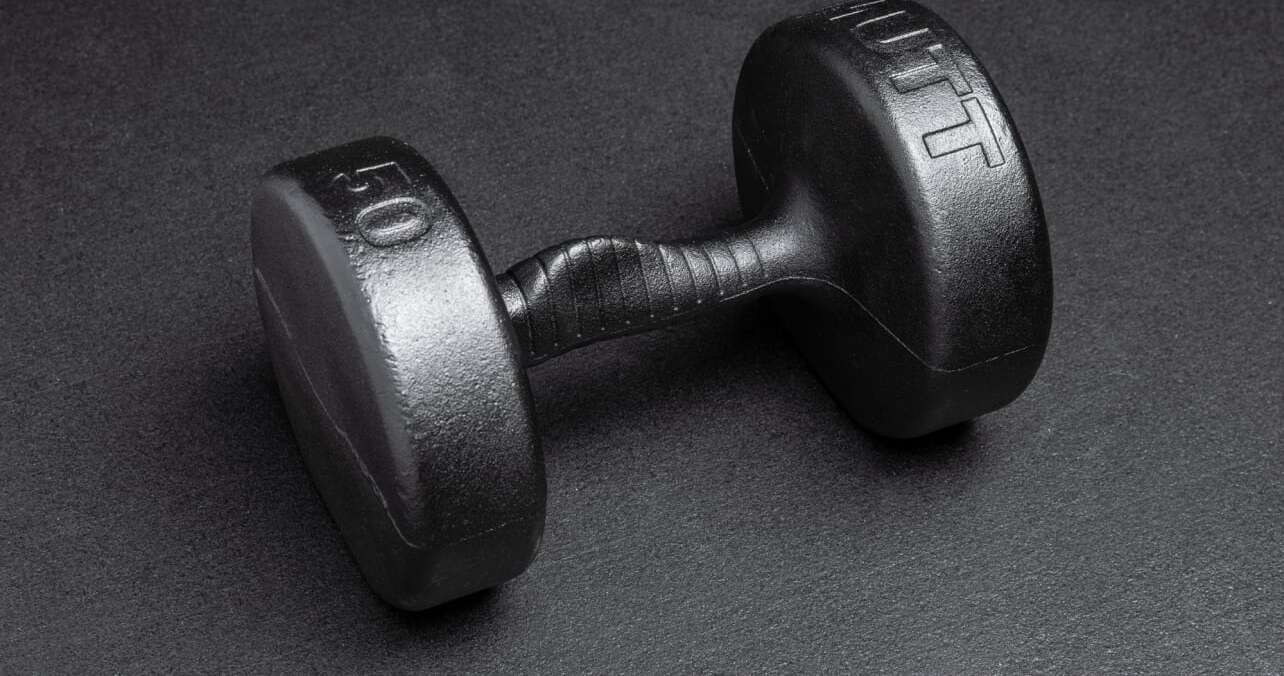 A specifically developed flat edge is built into each head to help assist with grip positioning and prevent rollaway. MUTT Dumbbells are sold in pairs and available in weight increments of 10LB, 20LB, 30LB, 40LB, and 50LB. All increments have a black powder coat finish with debossed MUTT branding on one head and the weight indication on the other.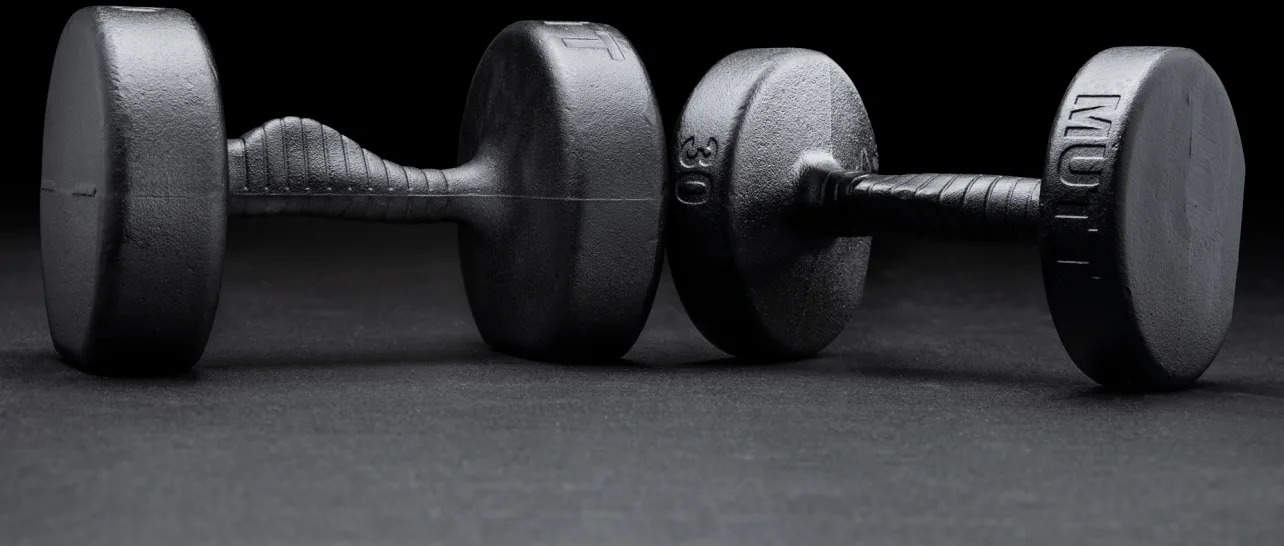 MUTT Bars
The MUTT Bars has all the features of the traditional Olympic barbell, curl bar, Swiss bar, dumbbells, and more — all in a single cast iron unit. Their all-in-one, multi-handle molds give you the preference of a pronated, supinated, neutral, or wide grip — each ergonomically devised for excellent comfort through a broad range of high-rep exercises.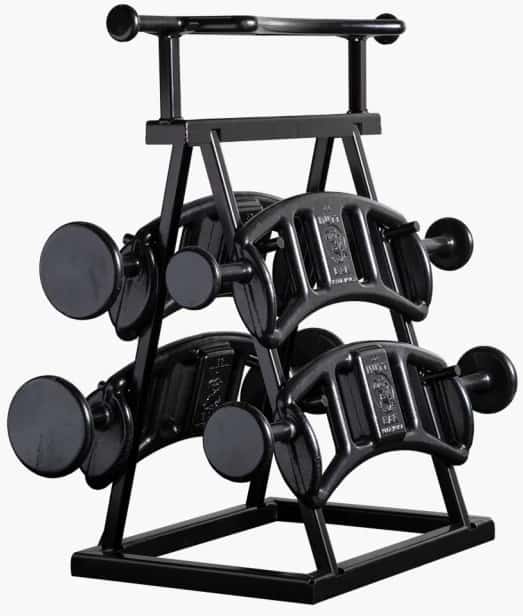 Mutt Bars are especially great options for any restricted budget or space facility. These bars are built in five unique weight increments of 22LB, 33LB, 44LB, 55LB, 66LB and can be ordered separately or as part of a complete five-bar set with a custom bolt-together Mutt storage rack. There are no required plates, collars, and accessories, so you can use, store, and transport them with comfort.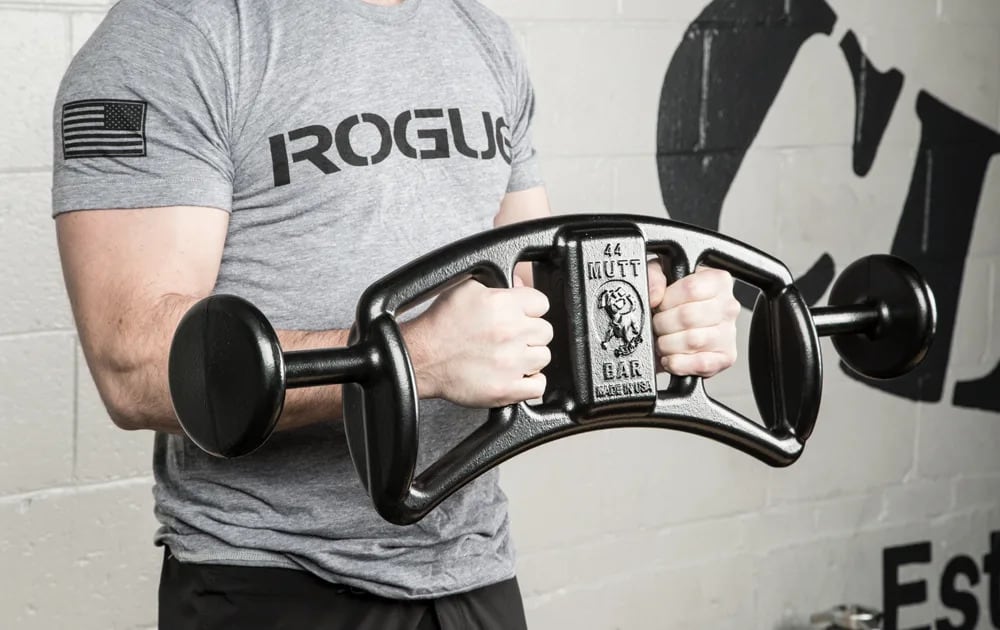 Mutt Bars, Wheels, Cowbells, and More – In Summary
That's our close-up look at Mutt Bars, Wheels, Cowbells, and More.
Incorporating free weights into your routine gives more performance benefits and can help strengthen your muscles, burn fats, and become better at everyday tasks. Mutt Bars, Wheels, Cowbells, and Dumbbells are free weights from Rogue that can help you reach your fitness goal. They are 100% designed and manufactured in the USA and are very practical and versatile.
Find more hardcore workout gear from Rogue:
Squatting heavy? Like really, really heavy? You need a Powerlifting Monolift from Rogue – make it safer to set a record-breaking squat.
Rogue also has various specialty bars, such as the: Rogue War Bar – now in stainless steel – which is the best finish for your humid garage gym.
Find more hardcore powerlifting equipment from Rogue.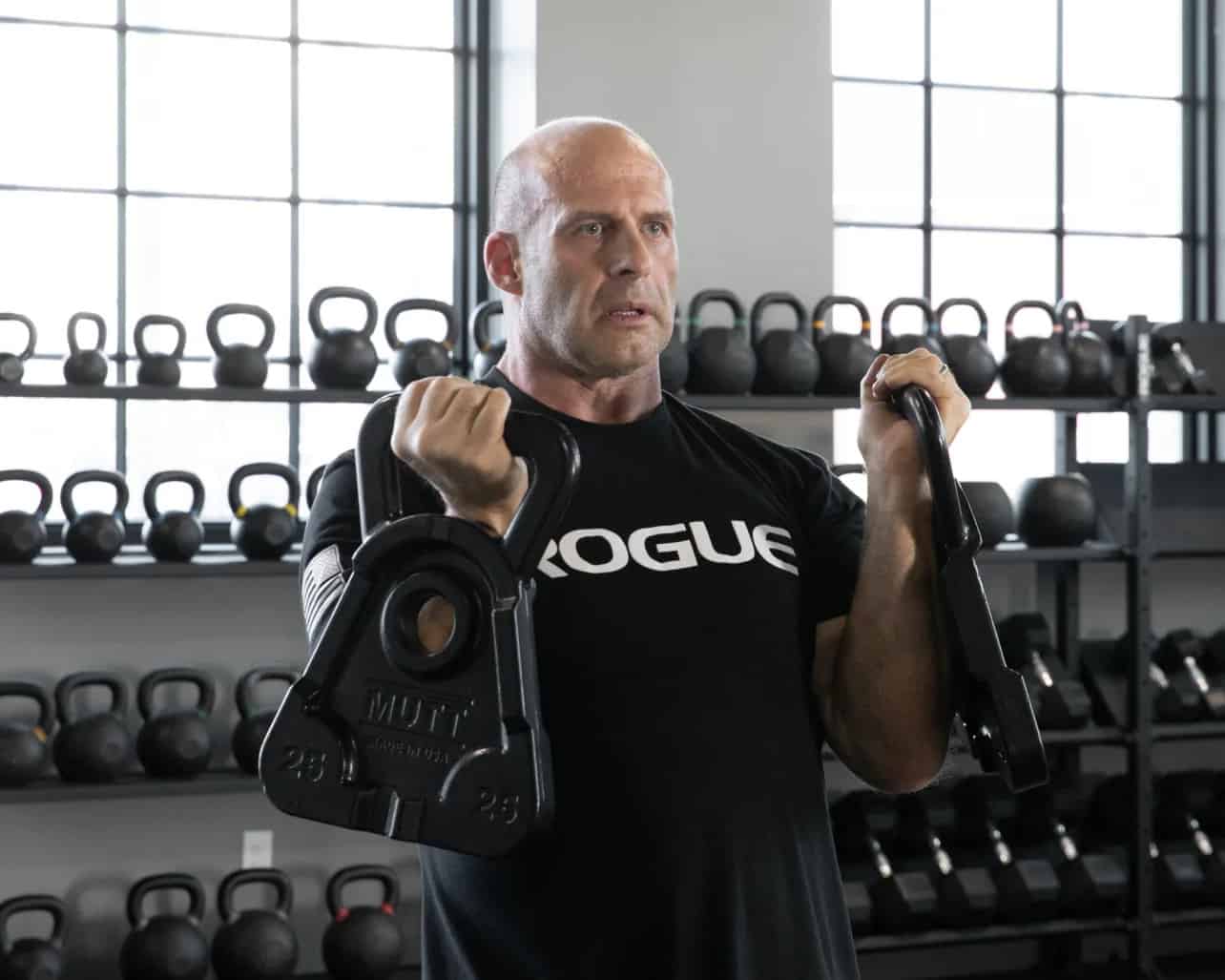 Photo Credits
Product photos on this page are property of Rogue.
This website is not affiliated or associated with CrossFit, Inc. CrossFit is a registered trademark of CrossFit, Inc.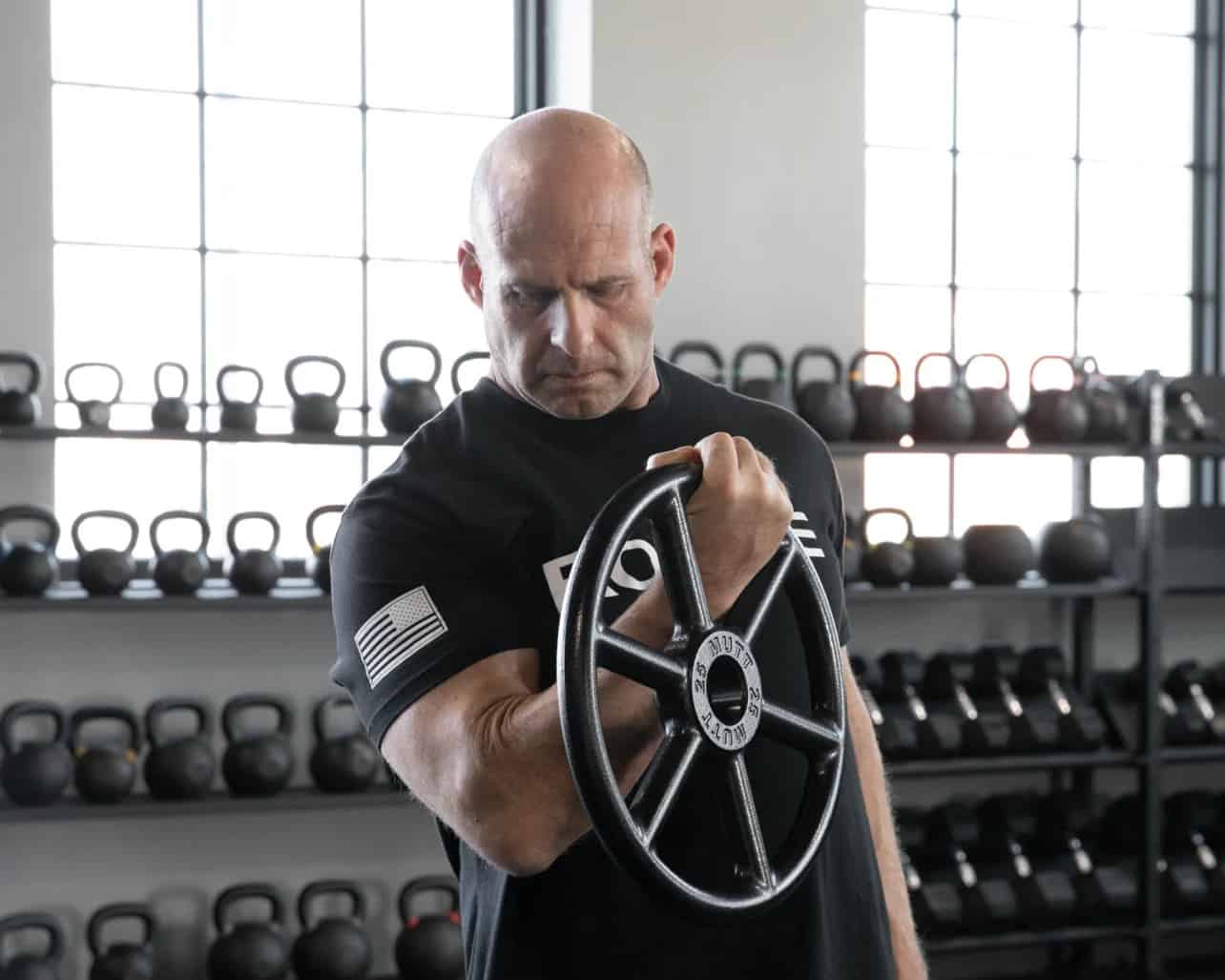 Affiliate Disclaimer
We are an affiliate of Rogue and others that sell this training gear. If you buy clothing or other training gear after clicking the links in this article, we receive a small commission at no extra cost to you. This helps us to bring you in-depth information and content on these great training products.