Nike has released a new colorway of their Nike React Metcon shoe: Light Armory Blue/Thunderstorm/Black.
Here it is: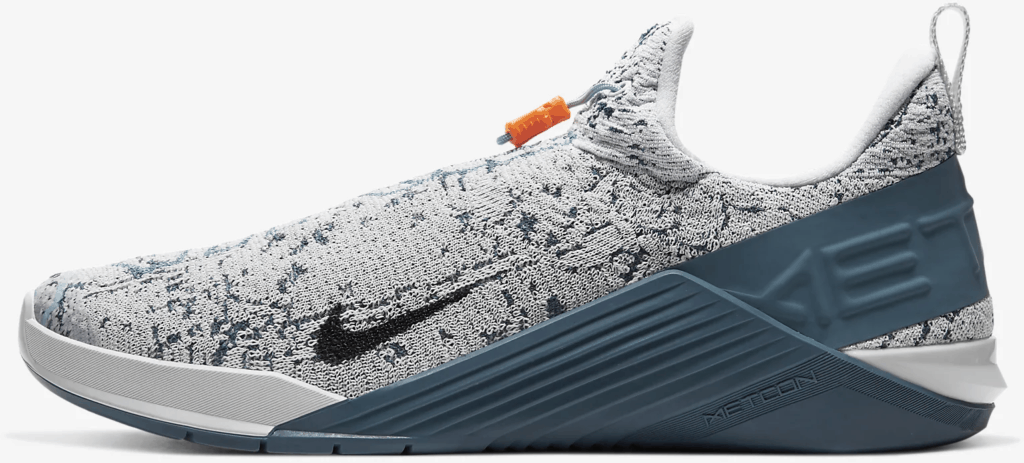 What's the key feature of the Nike React Metcon?
It's right in the name – React foam cushioning.
React foam is a Nike invention that gives you energy return with every footstep.
Originally created for their running shoe line, it's got great carryover to a cross trainer like the Nike React Metcon.
That's because the WOD (Workout of the Day) in CrossFit can require LOTS of different things.
Like running, sprinting, jumping, skipping rope – and much more.
And for those high impact activities, you need a foam cushion system that is more forgiving than what is in the Nike Metcon 5 and other shoes.
That's where the Nike React Metcon shines.
So, how is this wonder of impact cushioning done?
The drop-in midsoles are made completely of React foam.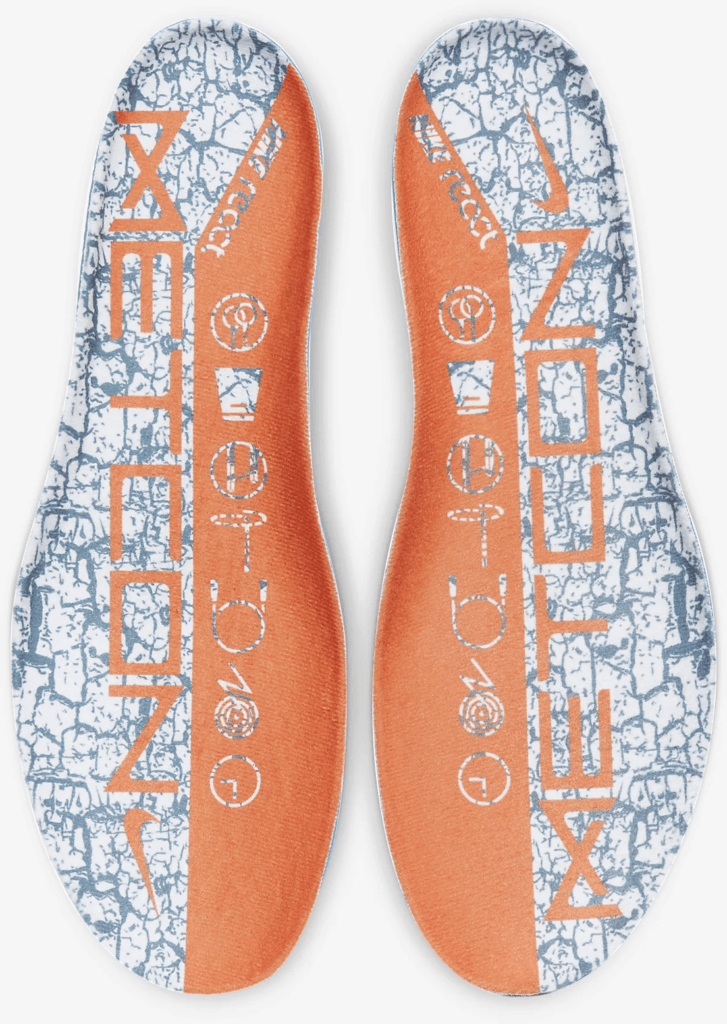 (The "midsole" is the part of the sole that sits between your foot and the outsole of the shoe.)
So, React foam provides better cushion – but not at the expense of versatility.
You can still lift heavy in these excellent CrossFit style training shoes.
That's because the shoe has a wide, flat sole made from high traction rubber.

With two different rubber compounds in use (sticky rubber up front, firm rubber in the heel) you can run, jump, lift, and climb in these shoes.
You can also see the wide, diamond shaped heel in the above photo.
That maximizes ground contact area and makes for a more stable shoe as well.
Here's another key feature for stability and versatility – these have a "heel to toe drop" of 4 millimeters.
That means your heel is only 4 mm higher than your toes.
And while a very tall heel raise (like that found on the Nike Romaleos 3 XD) can be helpful for deep squatting motions – it is not good for much else.
A 4 mm heel to toe drop will work for many of the moves of the CrossFit WOD.
The Nike React Metcon also shares the medial rope grip with the Nike Metcon 5.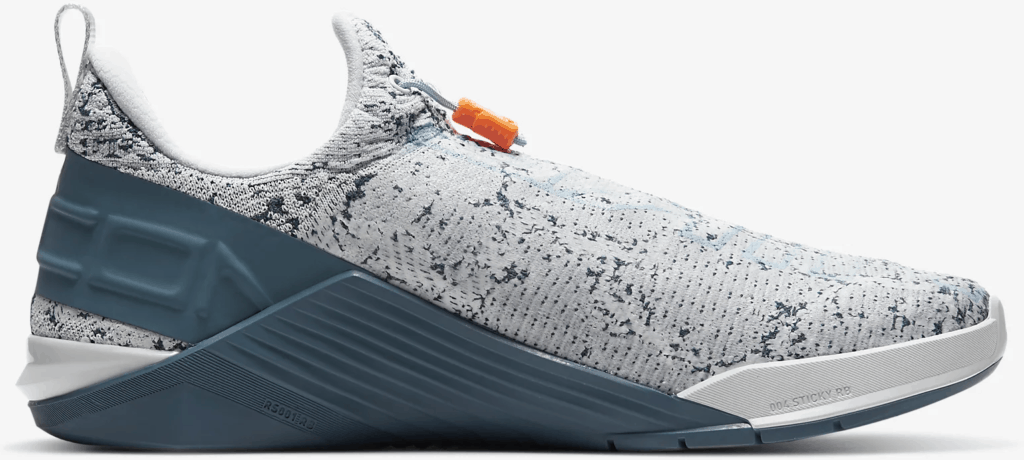 As you can see above, that monster-sized rope wrap is here too.
It's got a tread pattern that is made specifically for rope climbs – and it is the same material as that super-tough outsole – so you will not kill these shoes with rope climbs.
Don't climb a rope?
Most people don't – but Nike has tastefully integrated this feature into the shoe and it looks like a nice styling cue.
Let's talk about what's MISSING on the Nike React Metcon.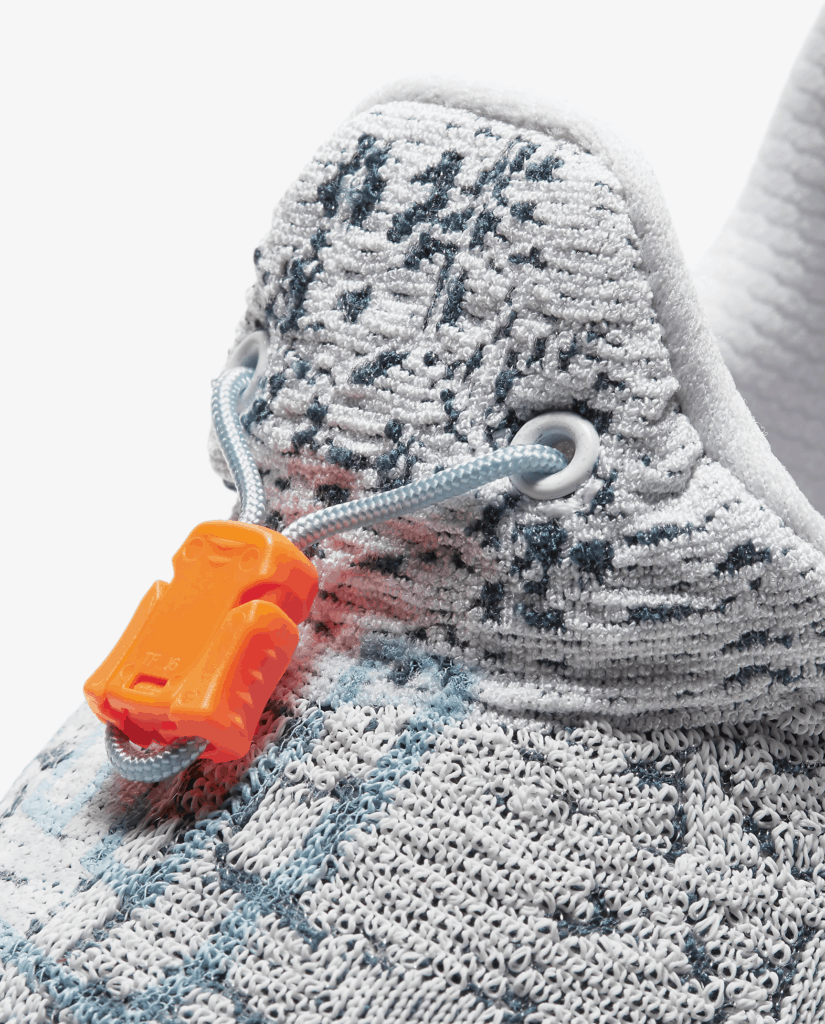 The quick pull lacing system is radically different than the laces plus FlyWire combination on the Nike Metcon 5.
It is definitely quick and convenient, but it is a little bit more challenging to get the right feeling of tightness and security in these shoes.
So, we recommend you try on the Metcon 5 before you commit to the Nike React Metcon shoes.
The Nike React Metcon is also a super-comfortable shoe because it uses Nike's FlyKnit material.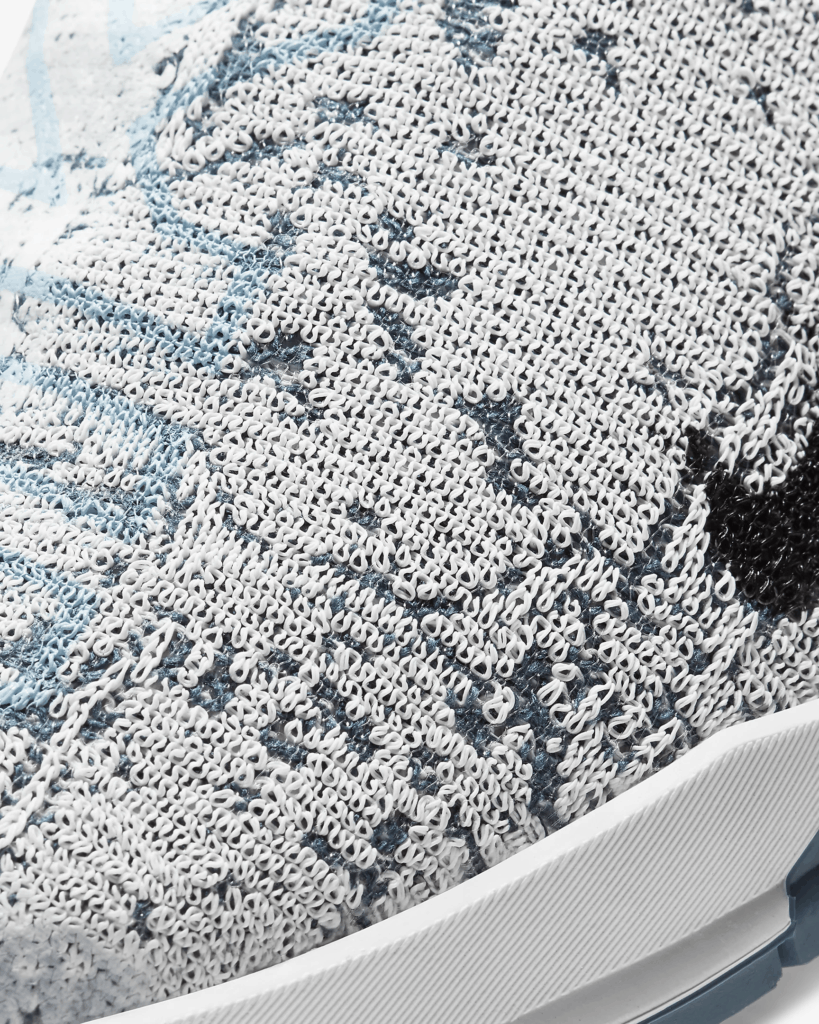 FlyKnit (not to be confused with FlyWire) is a synthetic material that is yarn like.
And that means they can "knit" the upper together as one seamless piece.
Now, if you are familiar with FlyKnit on the running shoes, you know it offers a very light-weight and sock-like fit.
The FlyKnit on the Nike React Metcon is a bit different though – as it has to be tougher.
Training shoes take a lot of abrasion in areas that running shoes don't.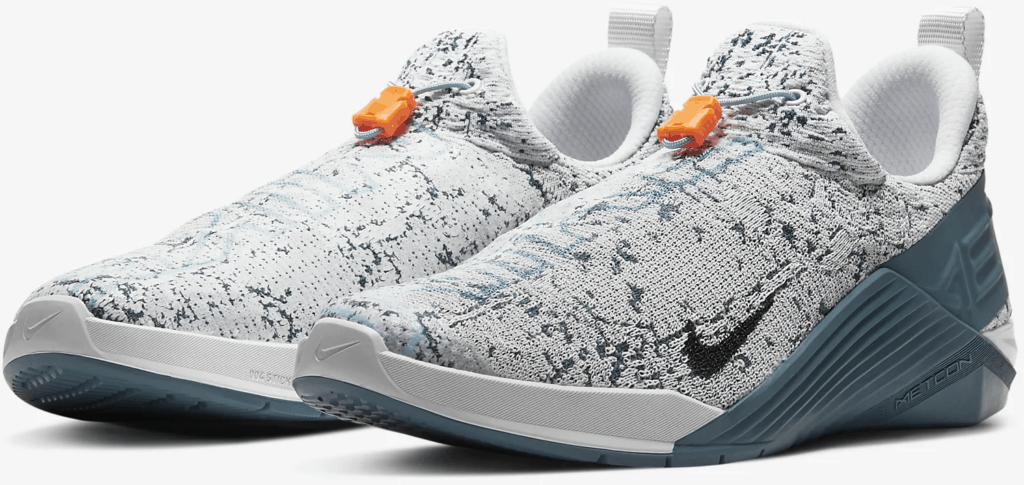 So the FlyKnit in this version of the shoe is a double layered material.
The net result is that it is not as stretchy and lightweight as the FlyKnit used in the running shoes.
But overall it feels like a more robust material.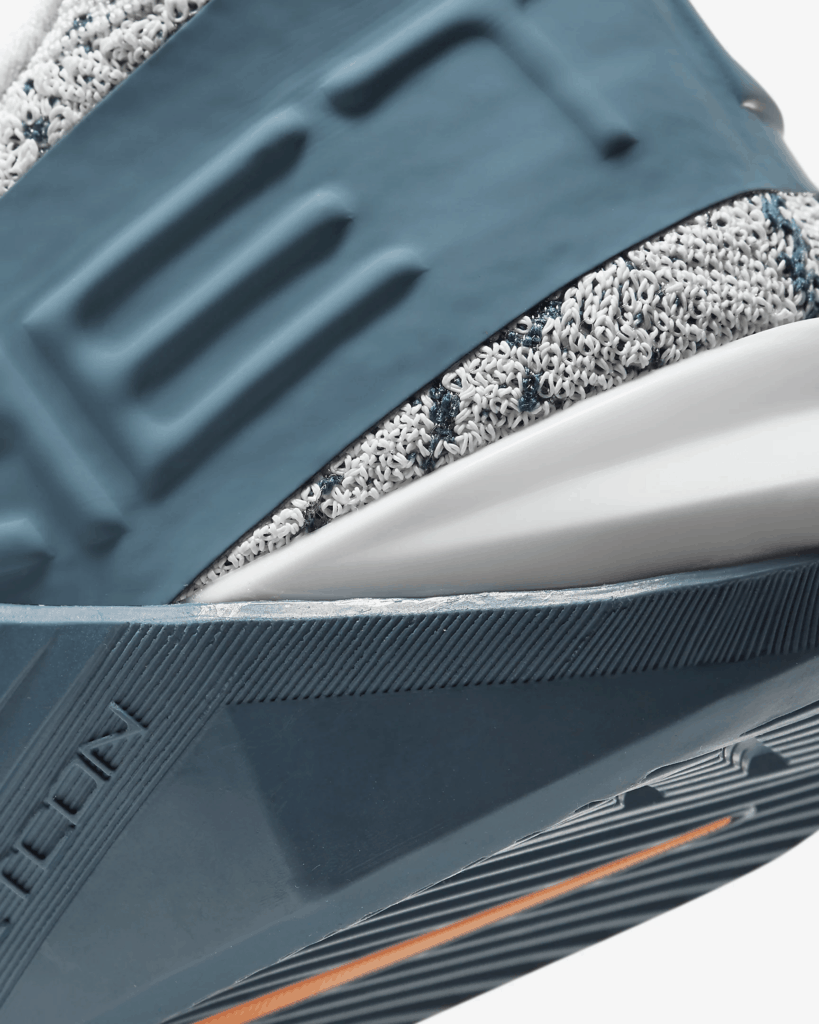 The heel on the shoe incorporates the same minimal TPU (plastic) material as the Nike Metcon 5.
It's fashioned into a "knife edge" and that means minimal drag against the wall – for Hand Stand Push Ups (HSPUs).
You'll also see a rubber wrap with "METCON" emblazoned on it – it's a very nice material with great tactile feel and it looks good too.
In fact, that's our favorite visual design element of the Nike React Metcon shoe.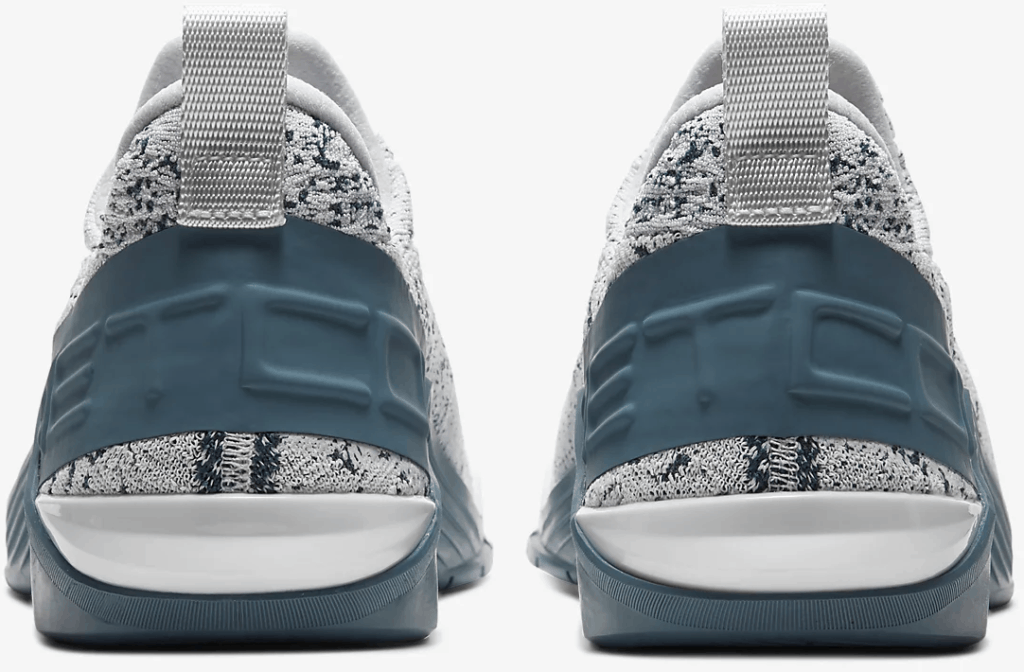 How's the fit and sizing?
Perhaps unsurprising – it's just like the Nike Metcon 5.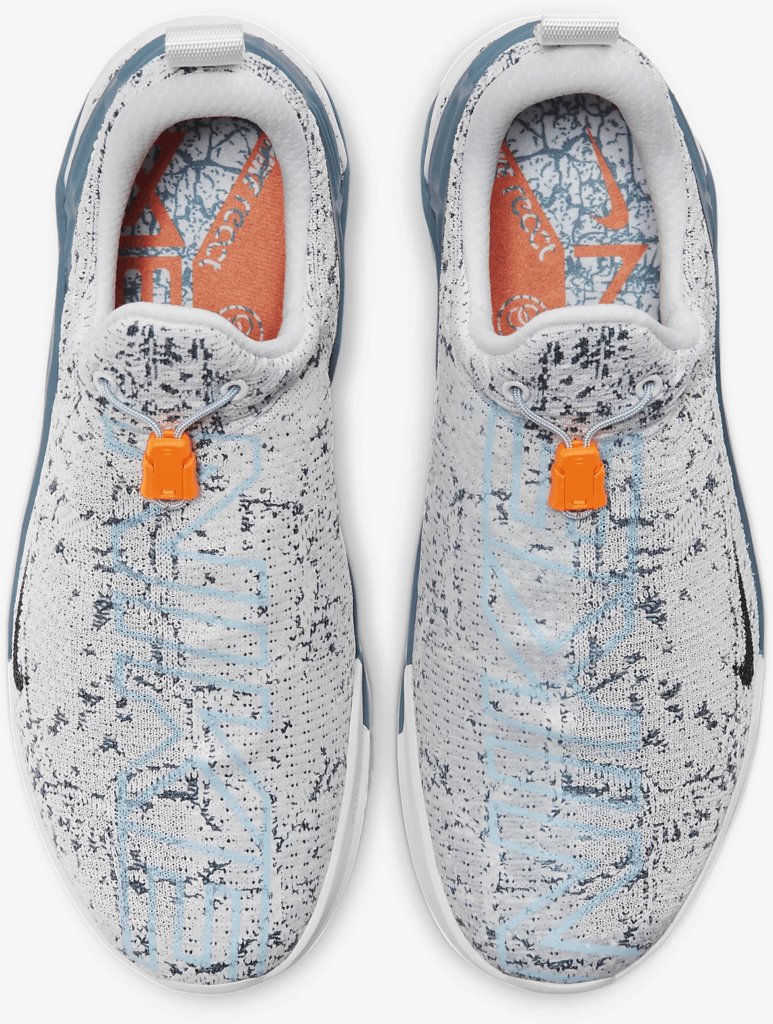 And that means we recommend you go 1/2 size up from your regular Nike sizing.
We hope you enjoyed this tour of a great training shoe – the Nike React Metcon.
Shown: Nike React Metcon Light Armory Blue/Thunderstorm/Black
Style: BQ6044-408
Photo Credits
Product photos in this article are property of Nike, Inc.