Let's review the NOBULL Trainer shoe – it's a cross training shoe that is great for the CrossFit WOD.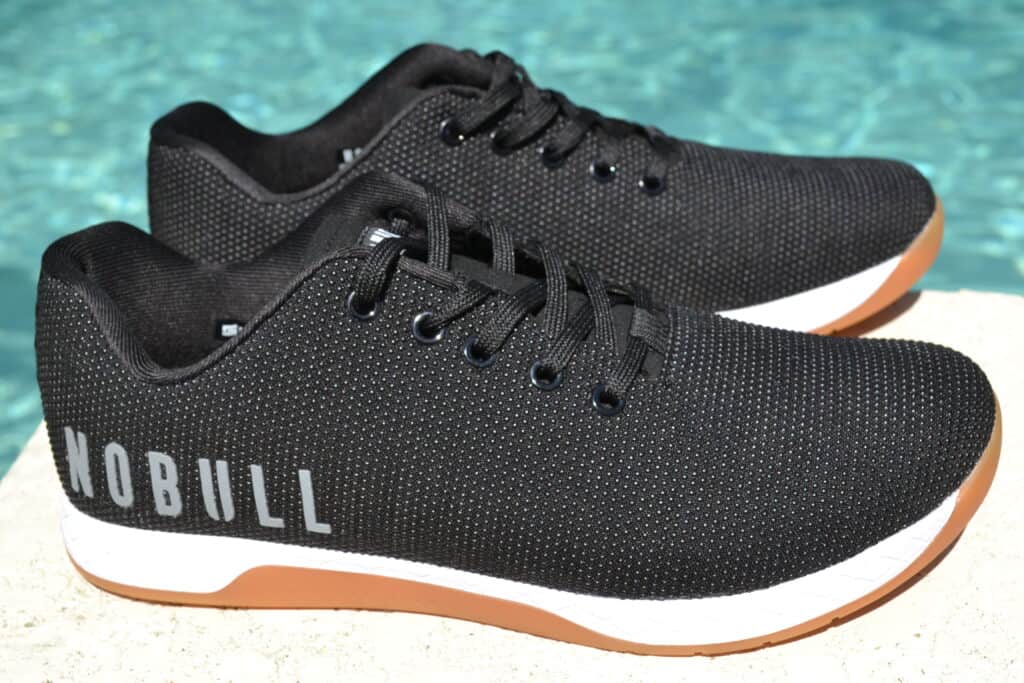 The NOBULL Trainer is available in a low, mid, and high top version.
All of these models are very similar, so we are going to concentrate on the low here – because it'll be the most popular. It's also the lightest of the trio.
Here's some of the styles (and alternatives) we are going to look at:
NOBULL Trainer Review – Video Review on our YouTube Channel
Why read when you can watch? Check out this video from our YouTube channel:
(This covers the NOBULL High Top Trainer – with a Low Top video coming soon!)
NOBULL Trainer Review – Overview
Let's dive right in – by talking about the SuperFabric upper.
SuperFabric is super-tough and abrasion resistant.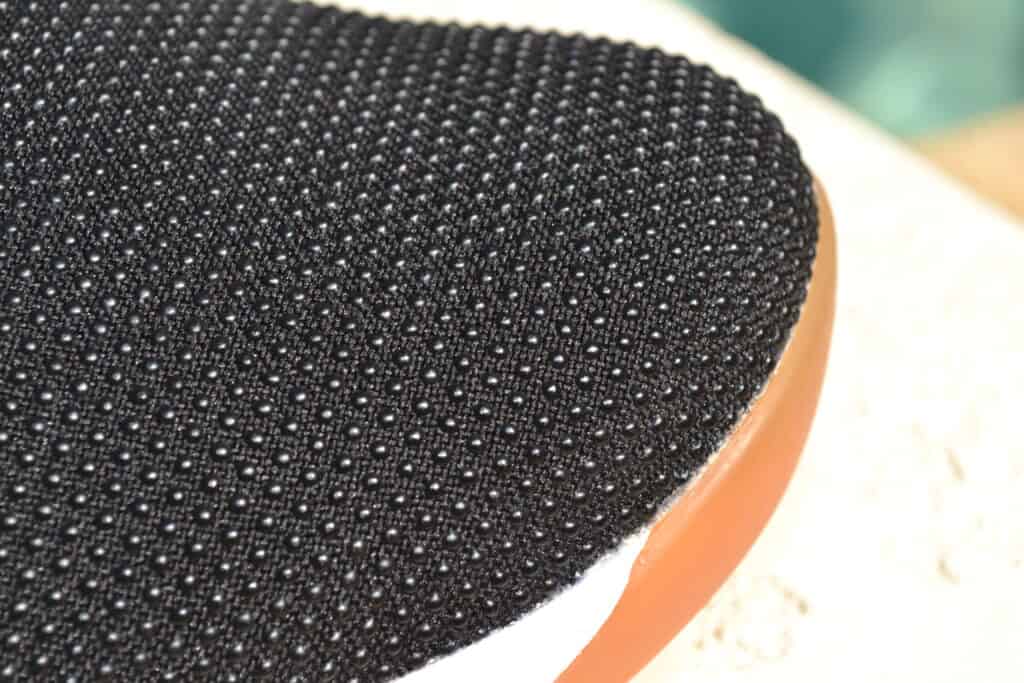 There's a mesh base layer, but on top there are all these little "guard plates" – these are very durable.
You can see how densely the guard plates are distributed on this closeup of the upper.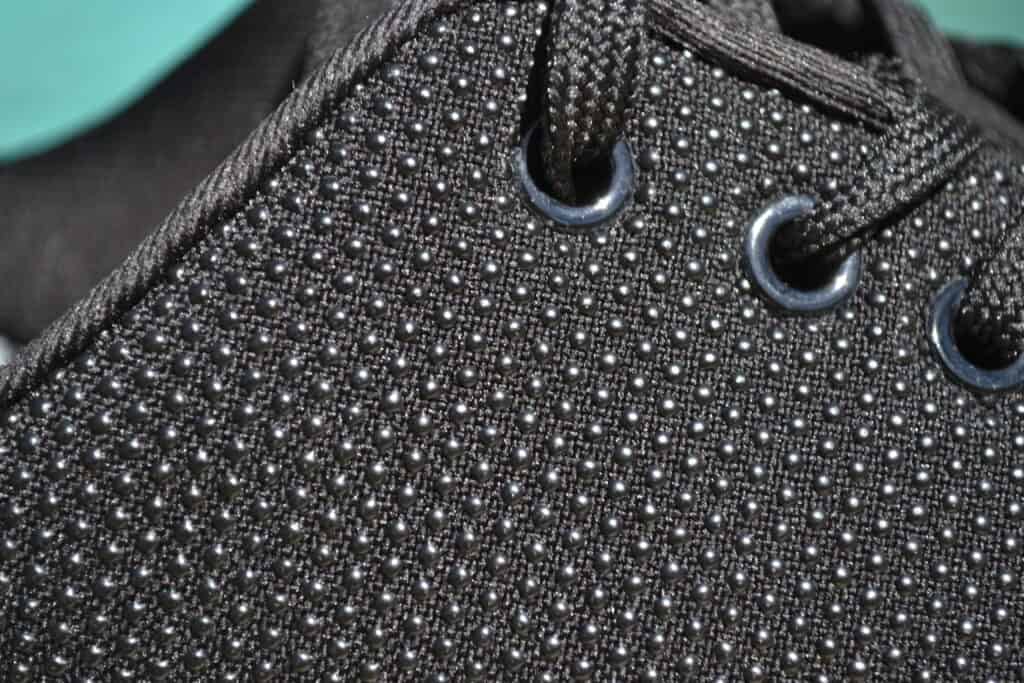 This is the toughest upper on any CrossFit style training shoe we've ever tested.
But, is it light?
Yes, not only is SuperFabric exceptionally tough, it is light-weight as well.
As an example, this Men's Size 11 (US) pair of Trainers weigh only 11.4 ounces. That's almost 2.5 ounces lighter than the competitor shoes from Nike and Reebok.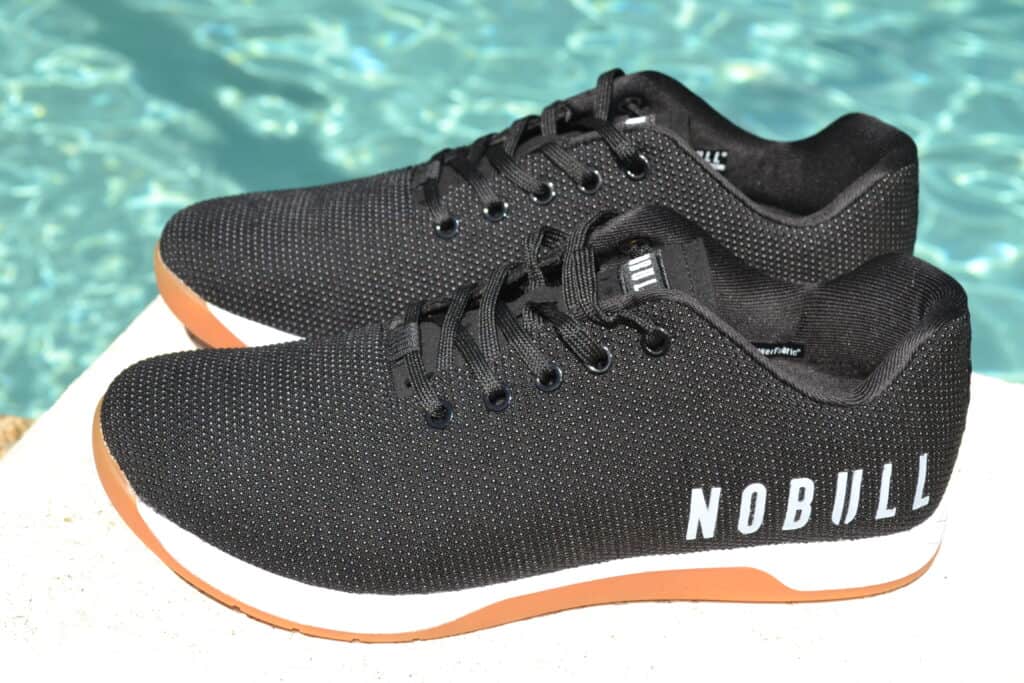 The only downside to SuperFabric is that it's not super-breathable.
It's just too dense for the shoe to have a lot of breathability. To compensate for this, the tongue is perforated.
Overall though, the NOBULL shoe is warmer than most of it's peers on the market today.
(It does look very nice though – I'll give it that.)
The drop (or heel to toe drop) on these is 4 mm.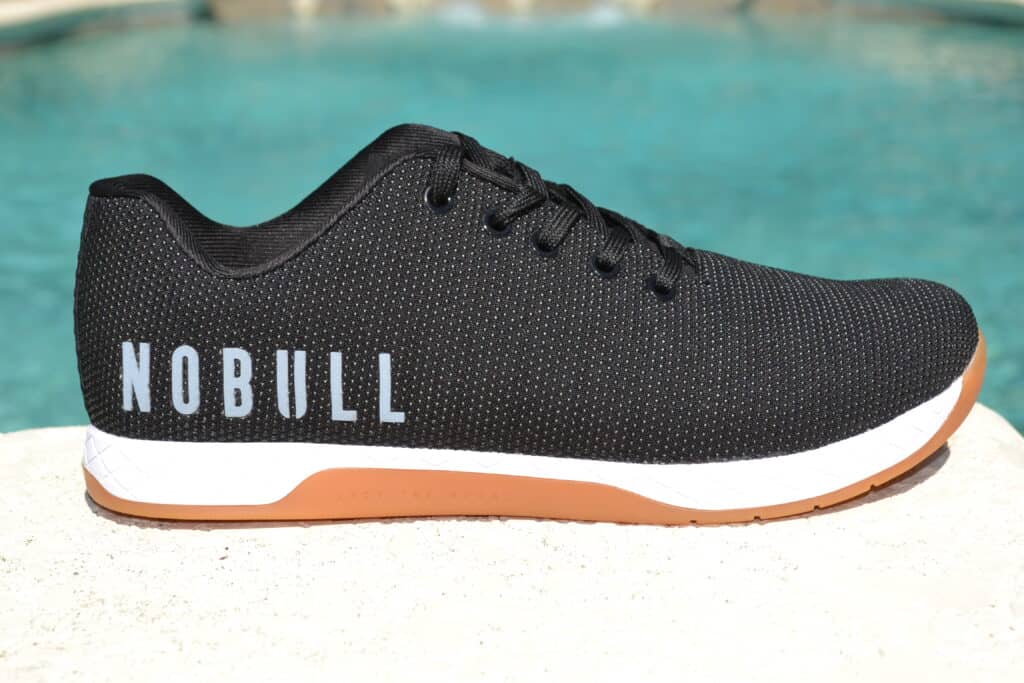 It's a low-profile shoe for maximum versatility – so you can lift, jump, sprint, etc.
Regarding cushioning, the NOBULL Trainer has minimal cushioning.
As such, it's great for heavy barbell lifting – but not so great for running or sprinting.
I wouldn't run long distances in these shoes. You can get by with short runs, but please understand – there is MINIMAL cushion in the forefoot and the heel.
These shoes have a small medial rope grip area on the inside.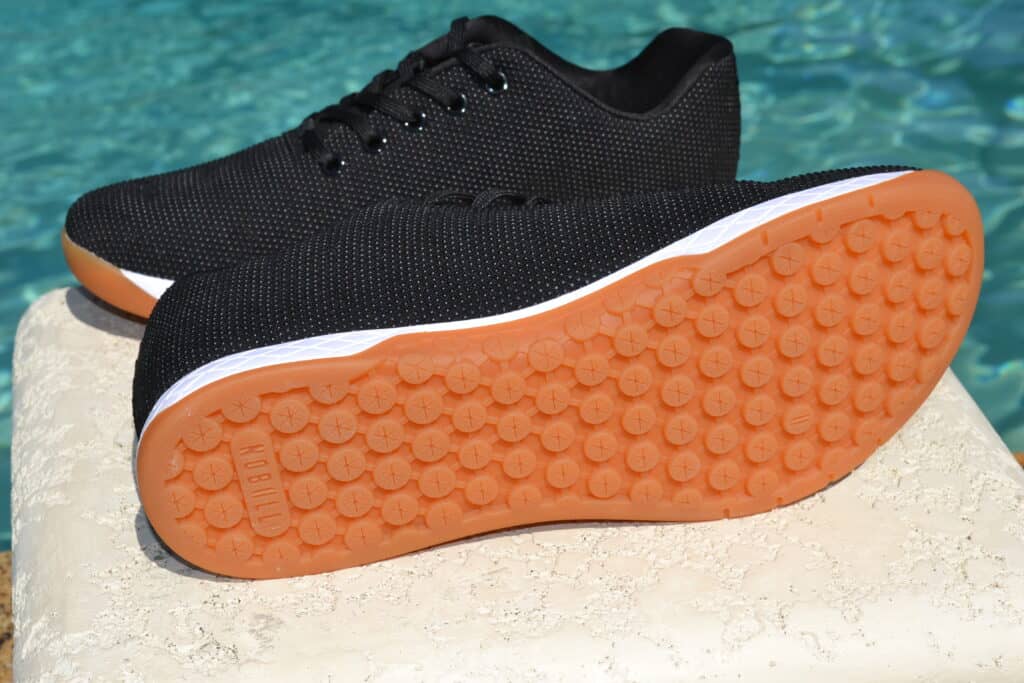 The tough, all-rubber outsole lug pattern rolls up a bit around the side – to give you better grip on ropes when climbing.
How about that outsole? It's tough and gives great grip on just about every surface.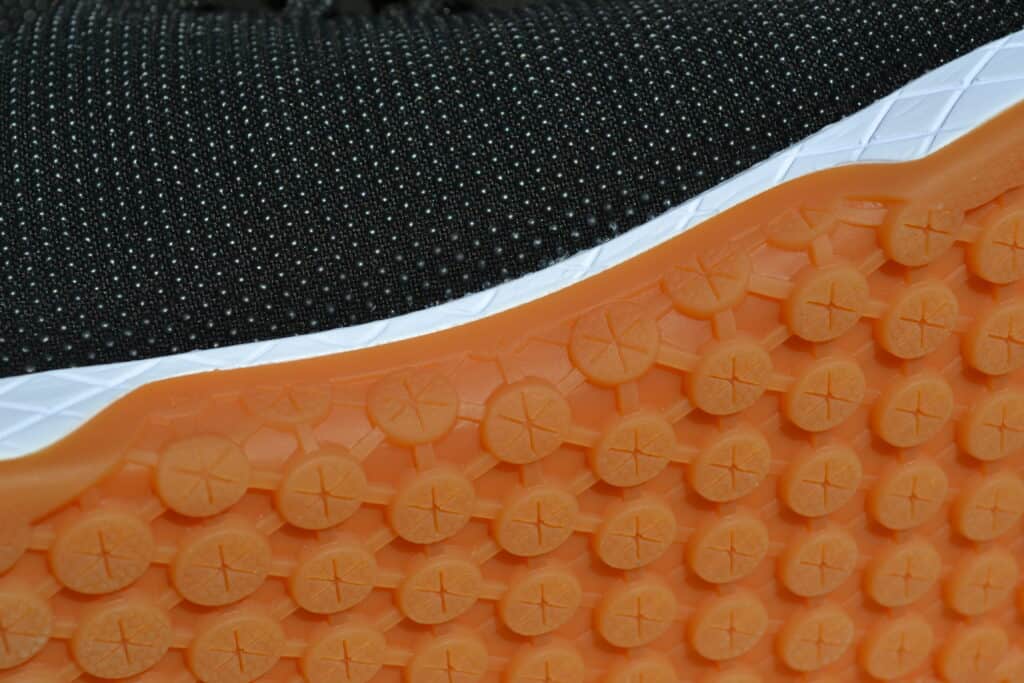 Lastly, there are some reflectors on the side and heel of the NOBULL trainers.
These vary in reflectivity according to the color combo you order.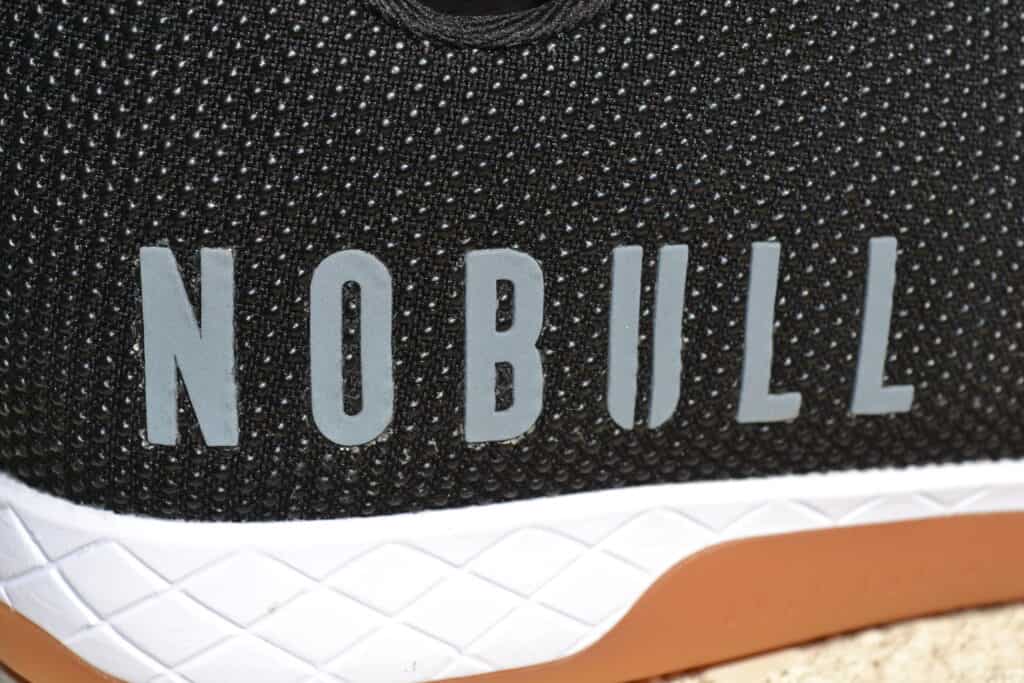 (Given that these aren't purpose built running shoes – I personally won't be using them out in the dark at night much.)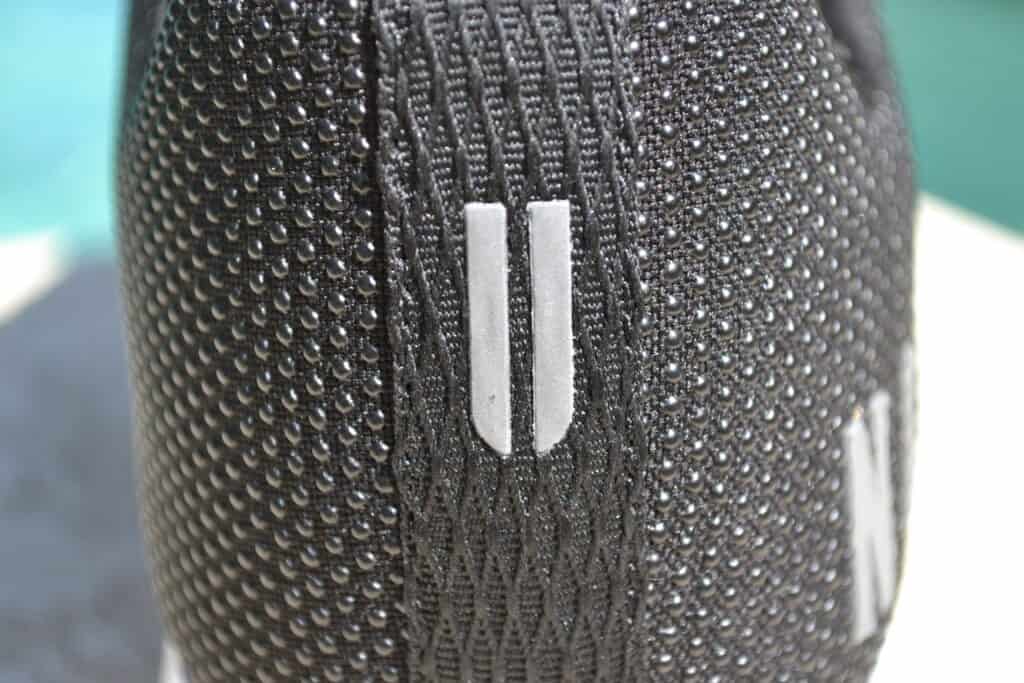 Overall, it's a good looking shoe, it's tough – but it has minimal cushioning and doesn't breathe well.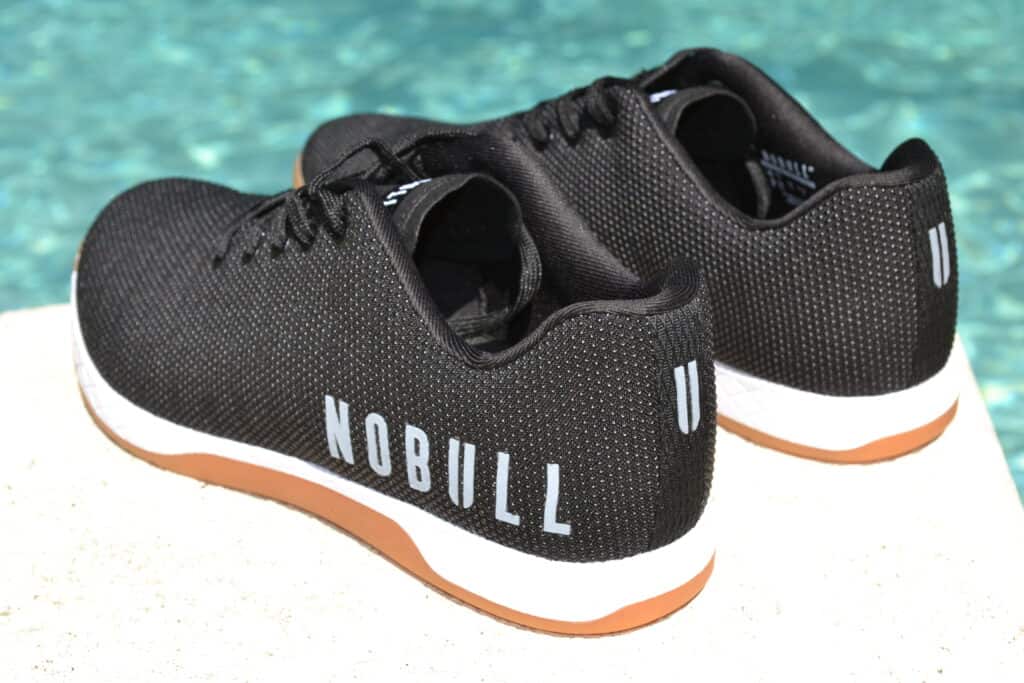 NOBULL Trainer Review – Canvas Versus SuperFabric
Want to save some coin? You can get this shoe in a Canvas upper as well.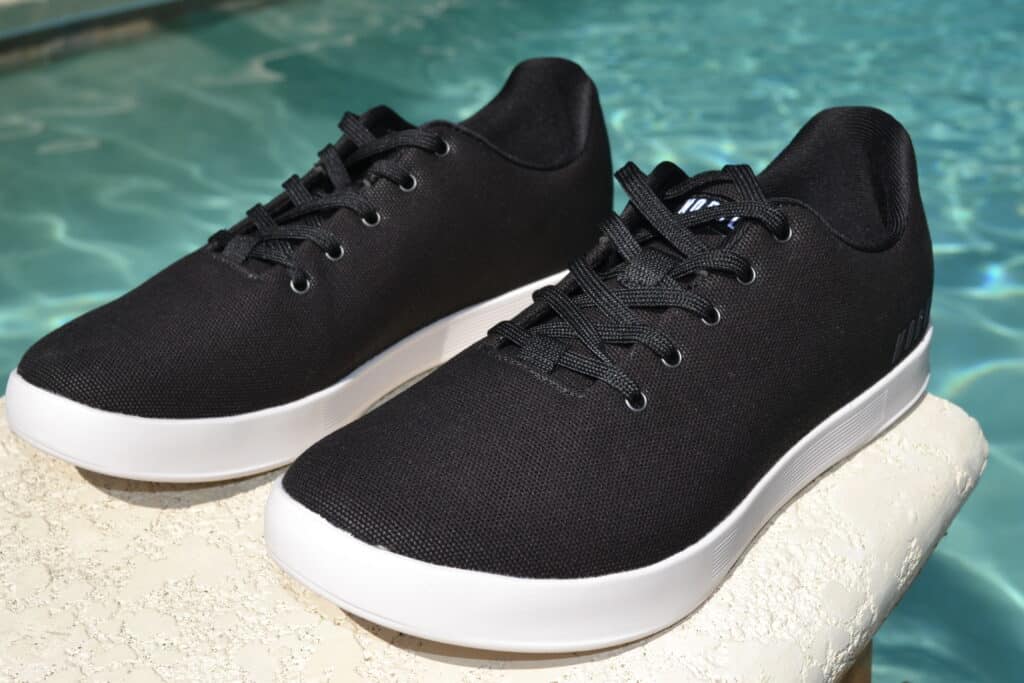 The canvas shoe gives up a lot of the toughness – but this isn't thin canvas.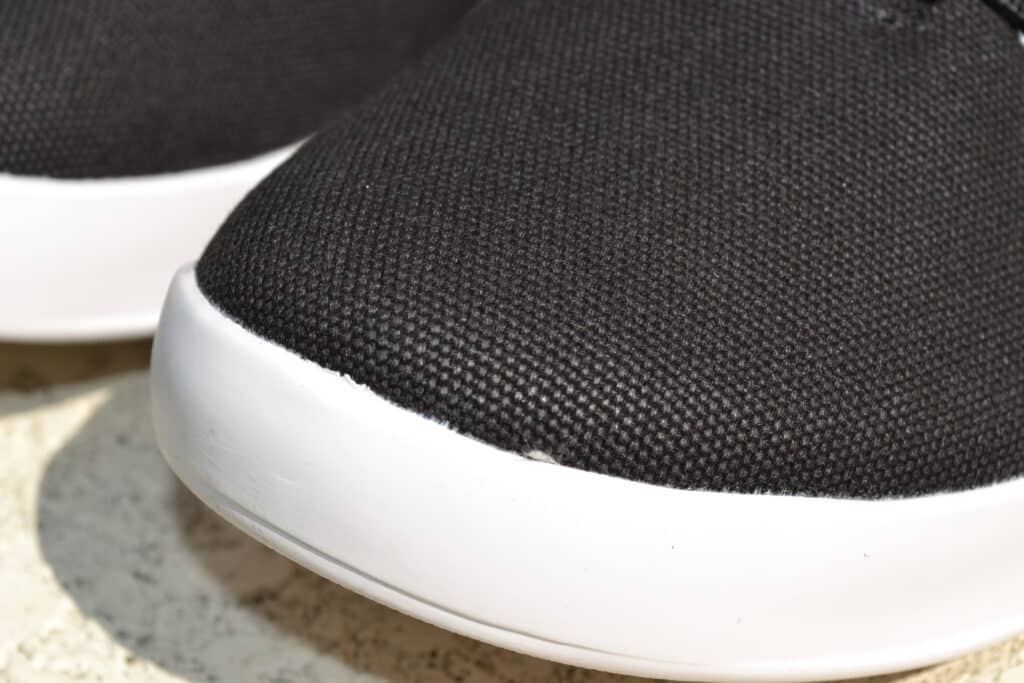 In fact, the shoe is about 2 ounces heavier than the SuperFabric version (same size – US Men's 11).
There's also no medial rope grip on the canvas version.
Overall though, it has much the same feel and performance.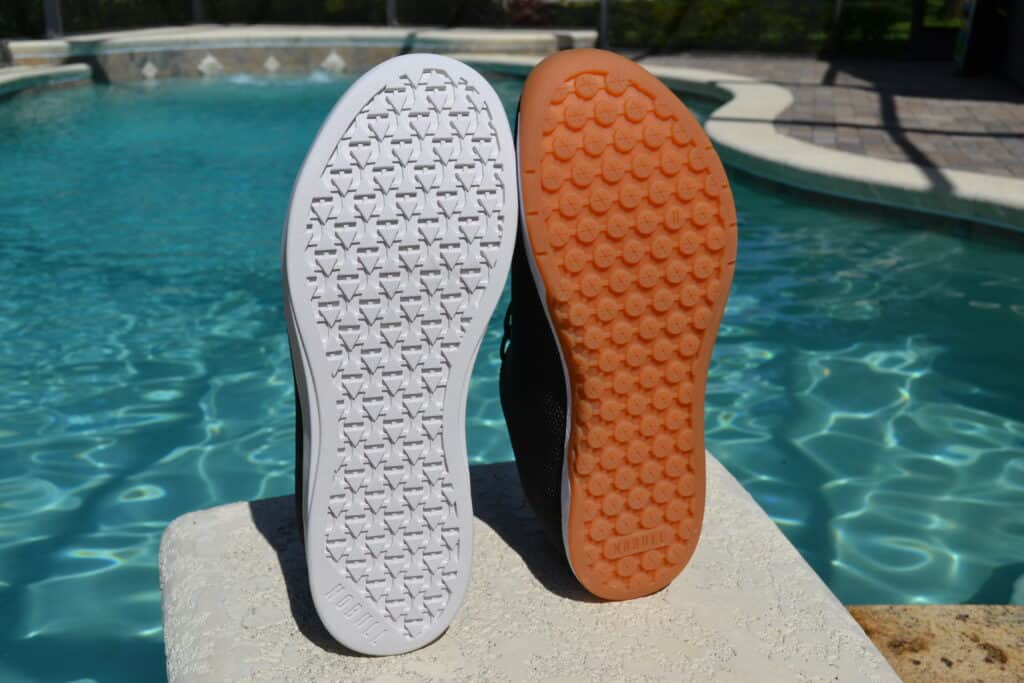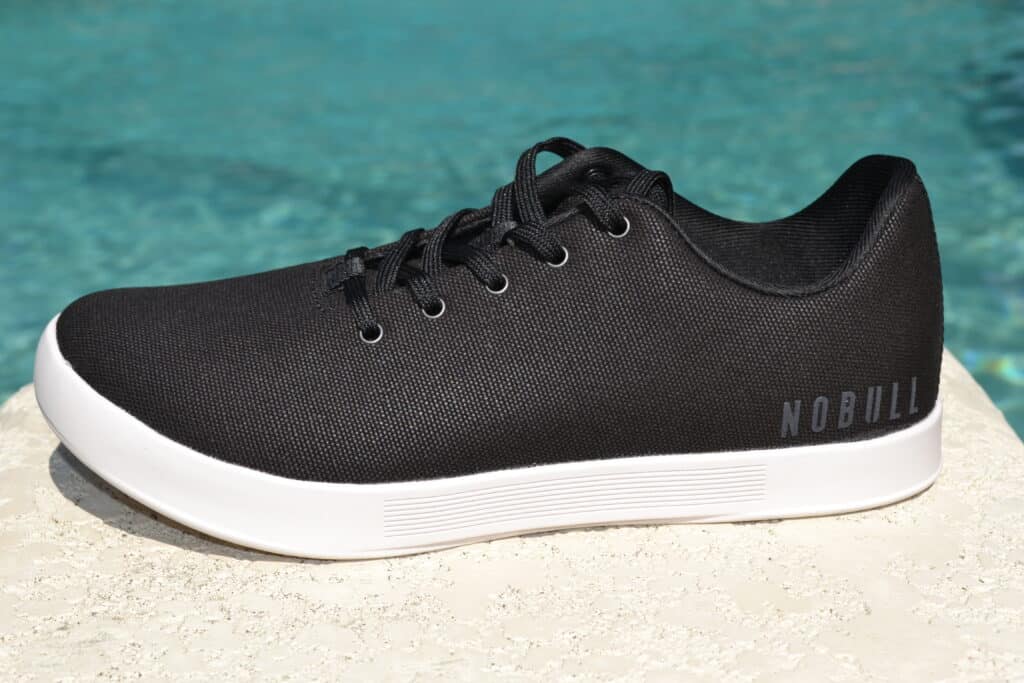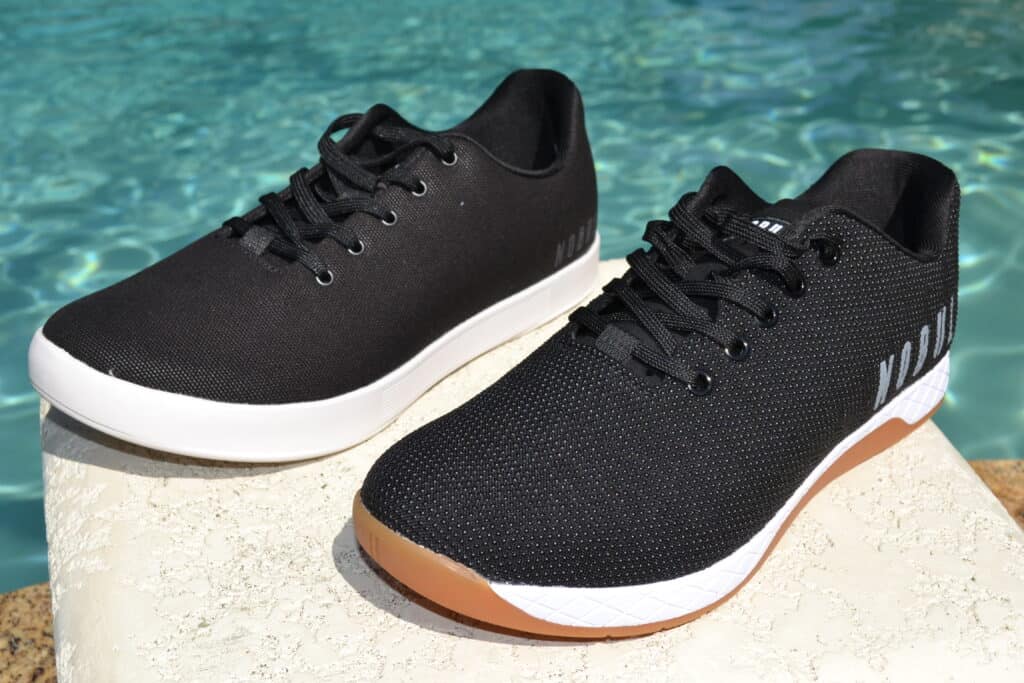 NOBULL Trainer Versus Nike Metcon 6
Let's compare the NOBULL Trainer to the shoe that we are calling the best CrossFit shoe for 2020.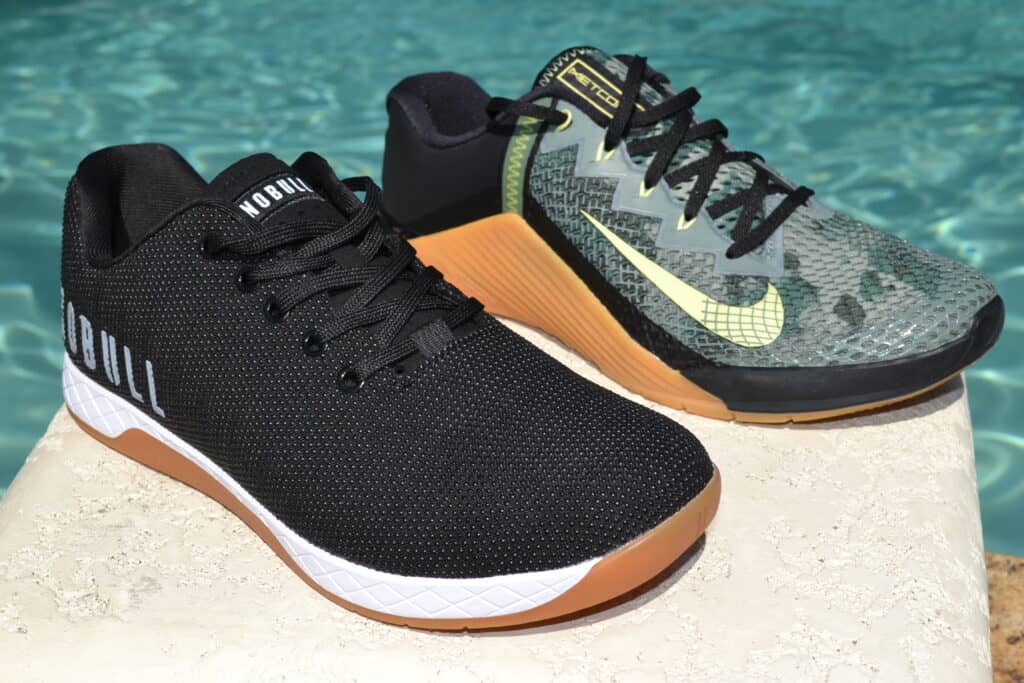 The Nike Metcon 6 is an excellent shoe for CrossFit for functional fitness style training.
Why?
The big new feature for 2020 on the Metcon 6 is the monster-sized perforations in the upper. This shoe, unlike the NOBULL Trainer, is super-breathable.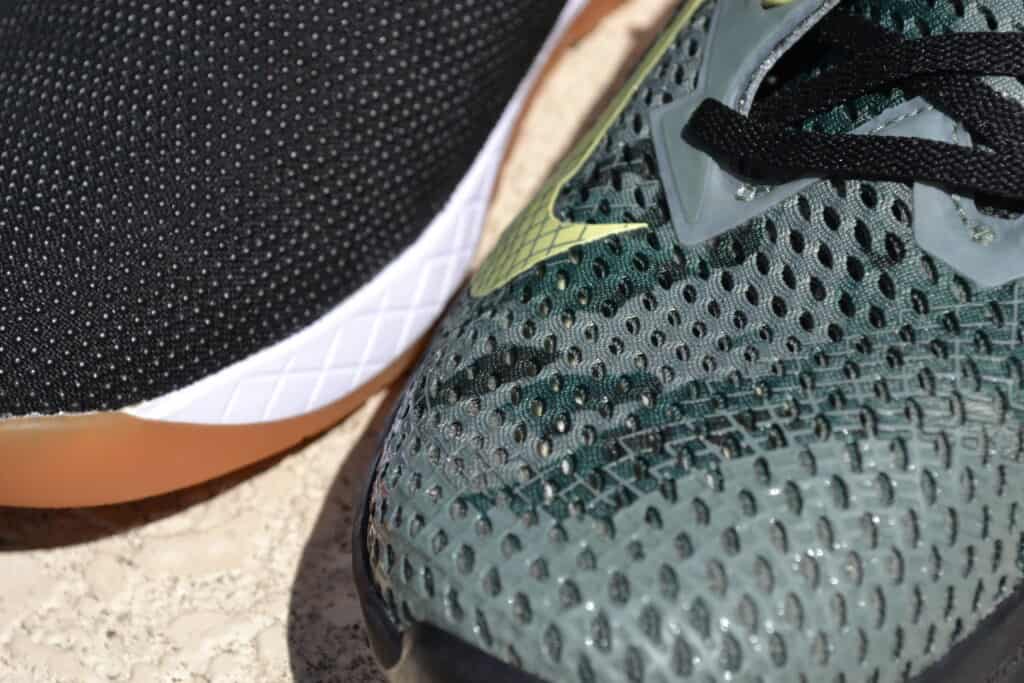 It's a difference you can easily feel.
Secondly, Nike has brought forward all the performance features from the Metcon 5.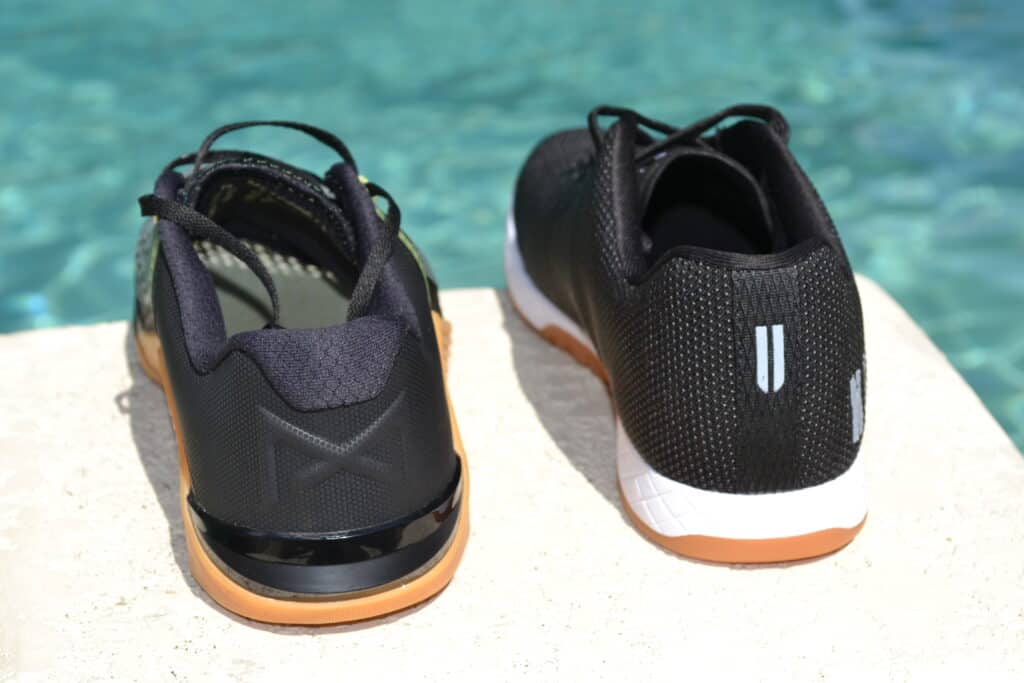 The shoe includes removable "Hyperlifts" – these are little wedges you can install inside the shoe – to go from 4 mm of drop to 12 mm drop (10 mm in Women's) easily.
This is great for squats, thrusters, pistols and more – because the increased heel height minimizes the ankle flexion you need to get LOW.
Secondly the Metcon 6 still has the dual-density foam midsole from last year.
The heel is firm and stable (great for heavy barbell exercises) but the forefoot has more cushion (great for sprints, skipping rope, box jumps, and more.)
Lastly, the Nike Metcon 6 has the monster sized rope wrap. This is the king of rope climbing shoes.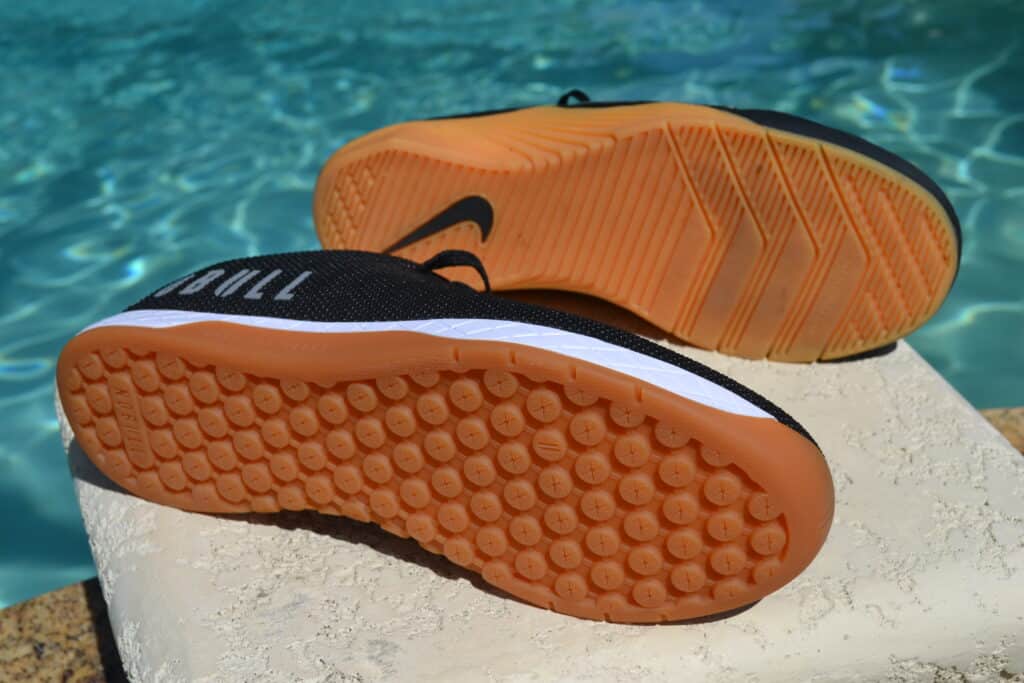 (But, not that many people climb ropes – to be honest.)
Overall, the Nike Metcon 6 is a more versatile shoe as compared to the NOBULL Trainer.
It is heavier, a Men's Size 11 is about 13.9 ounces (Versus 11.4 ounces for the NOBULL Trainer SuperFabric).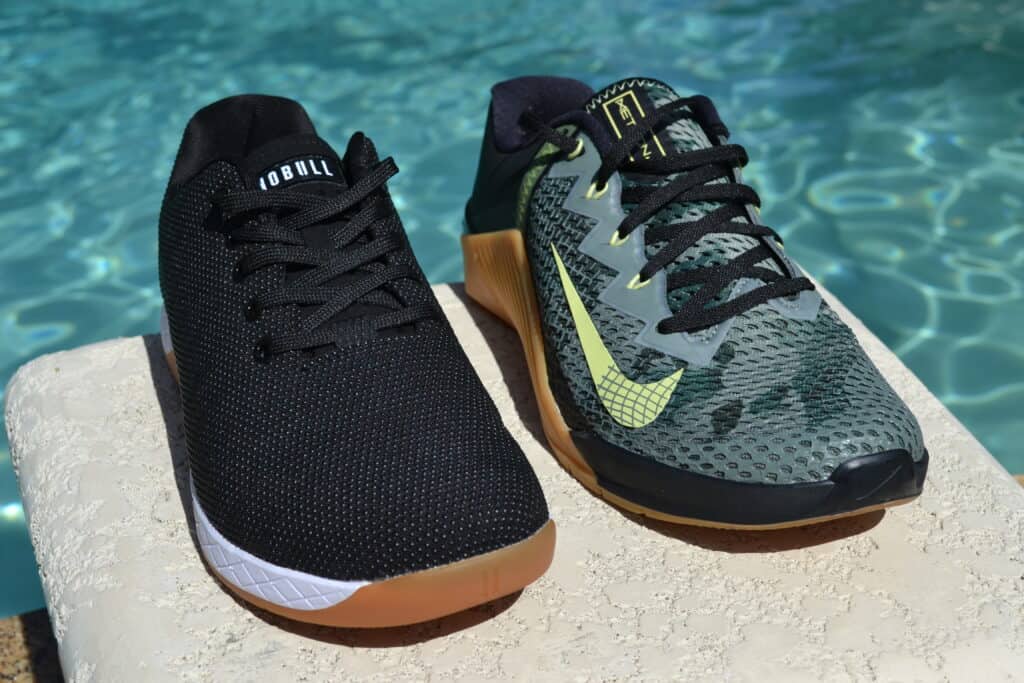 NOBULL Trainer Versus Reebok Nano X
Here's another great CrossFit shoe for 2020: the Reebok Nano X.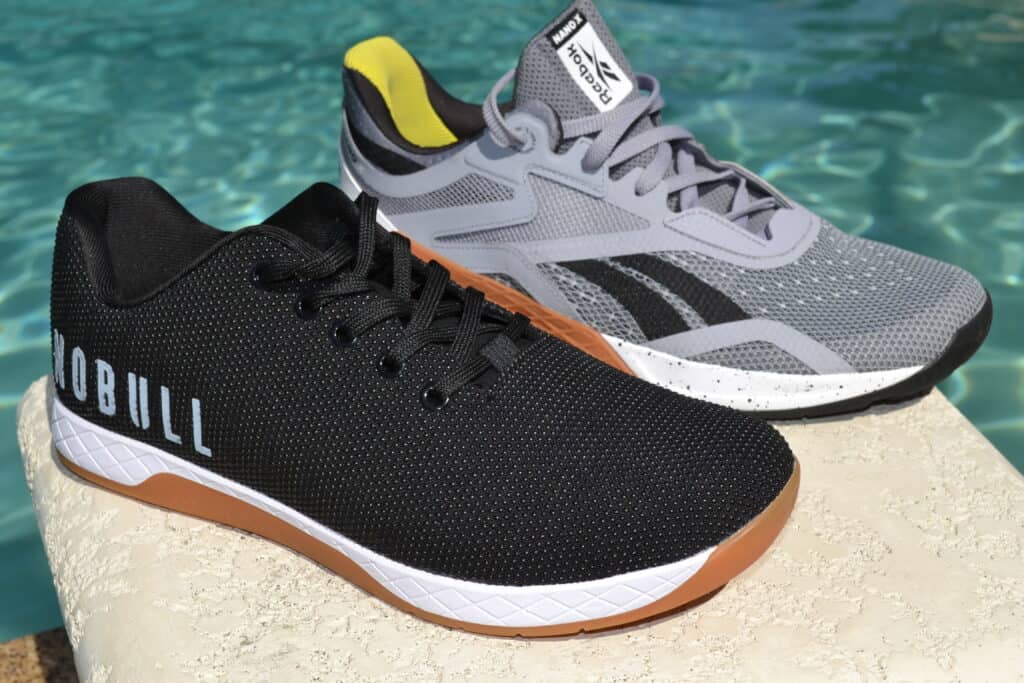 The 10th version of Reebok's premium training shoe brings a lot to the table.
It's an evolution of last year's shoe so the features you love are still there.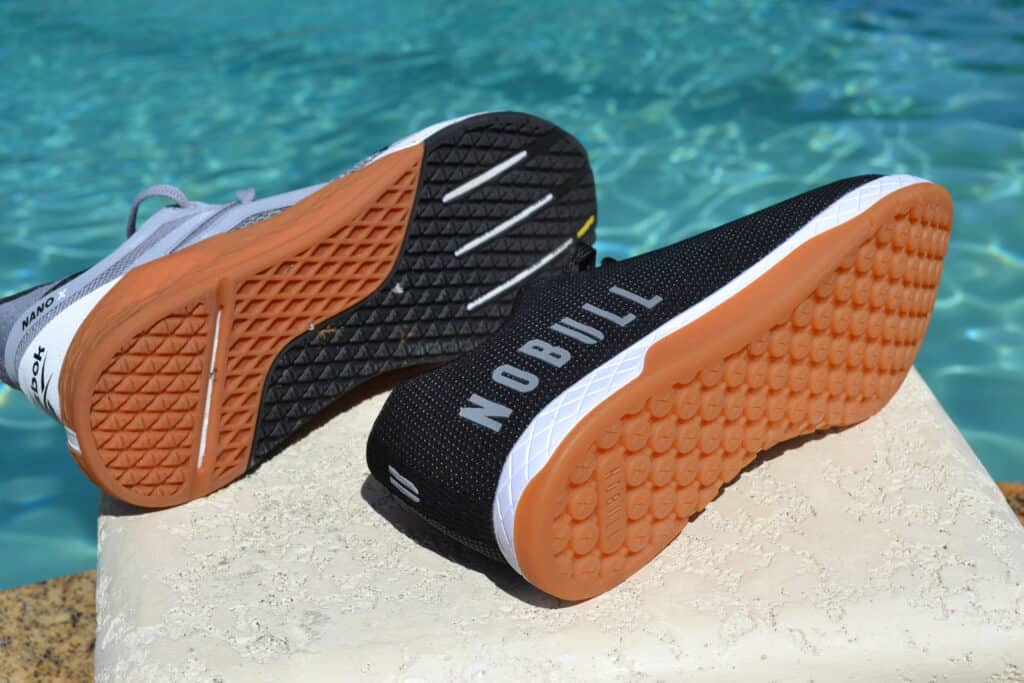 It's a 4 mm heel to toe drop – with minimal cushion.
That makes the Reebok Nano X excellent for lifting weights.
The all rubber outsole is tough, has great traction, and will last a long time.
There's a mild rope grip area on this shoe ("RopePro") too.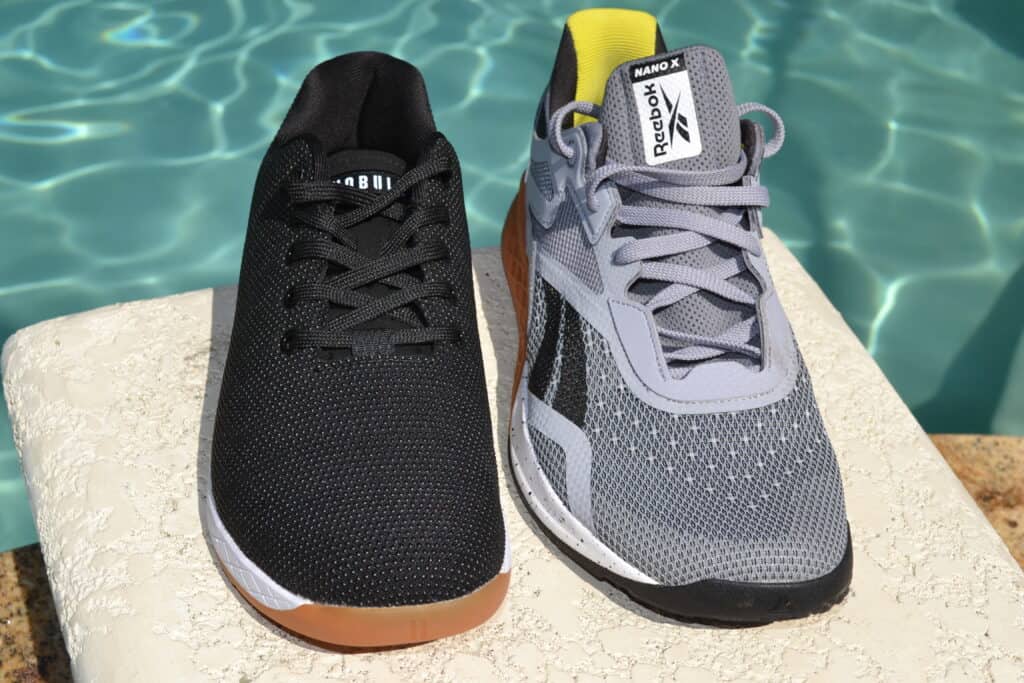 The new flexible upper of the Nano X is stretchy and comfortable. It's more breathable than the NOBULL too.
The downsides to the Nano X are that it's heavy (at 14.1 ounces) and the cushion just isn't as versatile as the Nike Metcon 6 in my experience.
Note as well that the Reebok Nano X has gotten "taller" this year – and that combined with the extra weight means many people find this shoe too bulky.
The NOBULL Trainer, on the other hand, feels lightweight and minimalistic.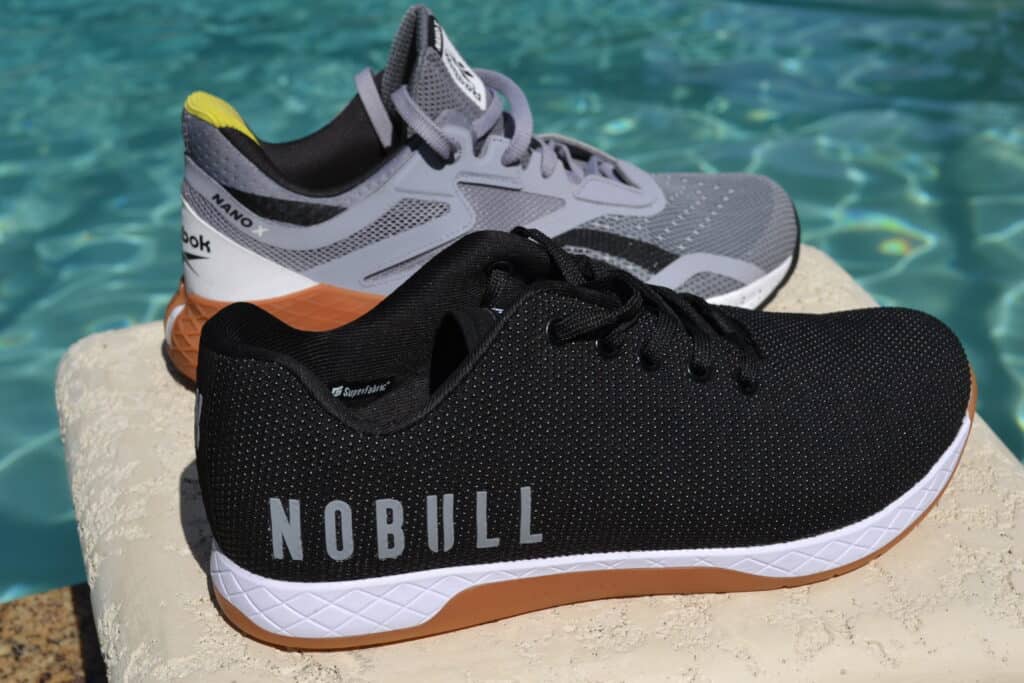 NOBULL Trainer – Has it Evolved?
If you've owned the NOBULL Trainers before – and you try these new ones – they'll feel the same.
NOBULL does not revise the NOBULL Trainer every year (unlike Nike and Reebok.)
As such, if you are pleased with your previous NOBULL Trainers, you'll probably like these too.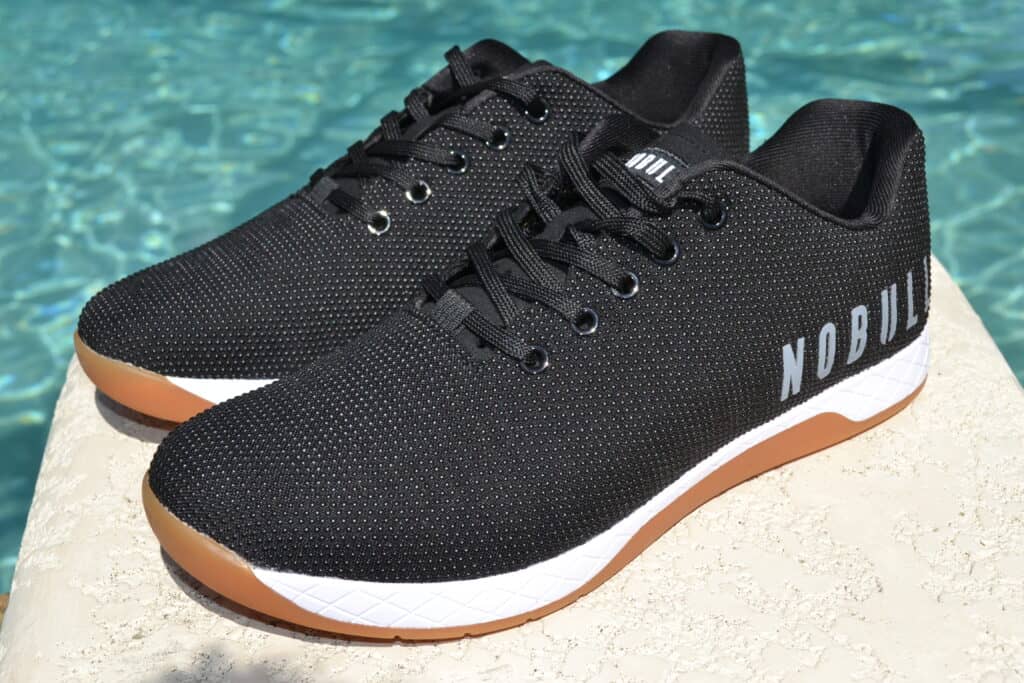 NOBULL does frequently launch new color combinations and styles, but otherwise, the shoes are the same.
NOBULL Trainer Review – In Summary
The NOBULL Trainer is a tough, light-weight functional fitness training shoe.
The upper is tough as nails (SuperFabric), and it makes a good shoe for lifting weights.
The lack of cushion means it's not really good for long-distance running, and that tough upper makes it not super-breathable either.
Otherwise this is a nice cross-training shoe.
PS: You can find the latest styles of the NOBULL Trainer (Like Pink Neon Glitch!) at Rogue Fitness.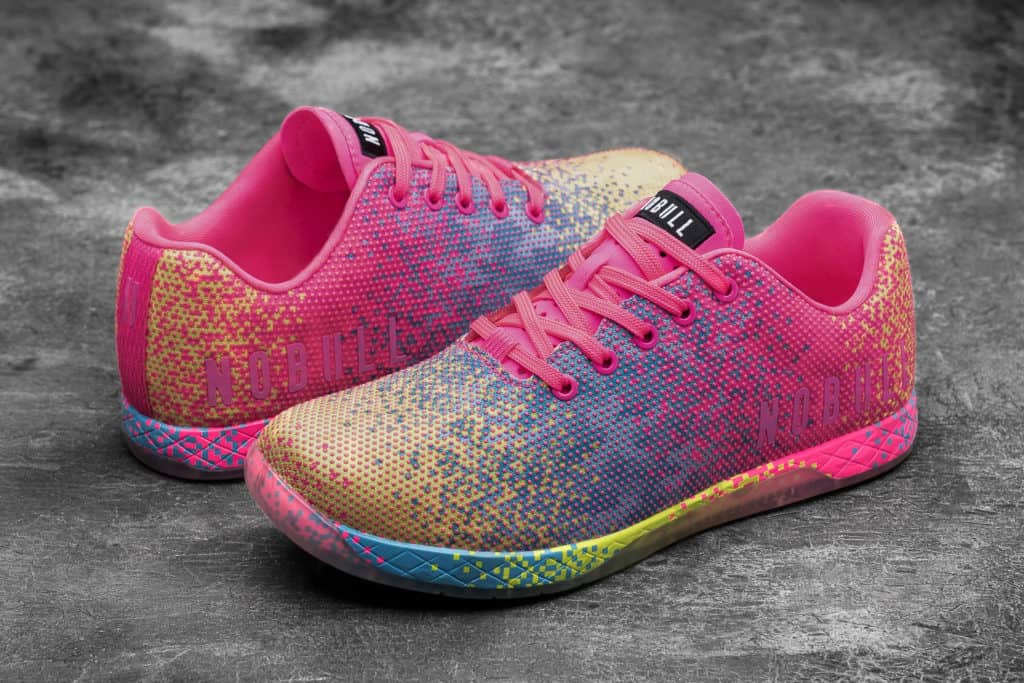 Photo Credits
Some product photos on this page are property of NOBULL.
This website is not affiliated or associated with CrossFit, Inc. CrossFit is a registered trademark of CrossFit, Inc.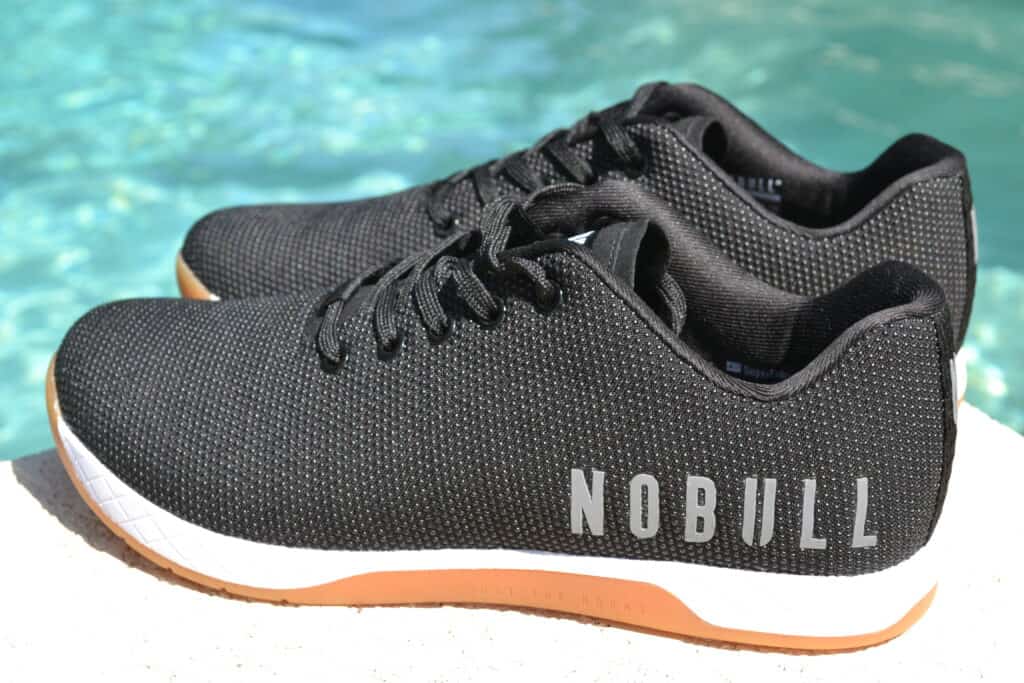 Affiliate Disclaimer
We are an affiliate of various sellers of this shoe. If you buy shoes after clicking the links in this article, we receive a small commission at no extra cost to you. This helps us to bring you in-depth information and content on these great cross trainers.