Let's take a hands-on look at the Verge II workout shorts from Hylete.
What's it good for? Just about any sort of fitness training – think CrossFit style functional fitness, HIIT, weight lifting, and more.
We think these are some of the best men's workout shorts for CrossFit.
Why do we like the Verge II?
There are several reasons this pair of high quality workout shorts for men exceed our standards – that's what we'll review in this article.
Here's the products we'll be looking at.
Ok, let's take a close look.
Verge II Workout Shorts – Cut & Fit
First of all, the number one important aspect of a workout short is the cut and fit.
You need the right pair of shorts for the right activity – and they can't be binding or restrictive.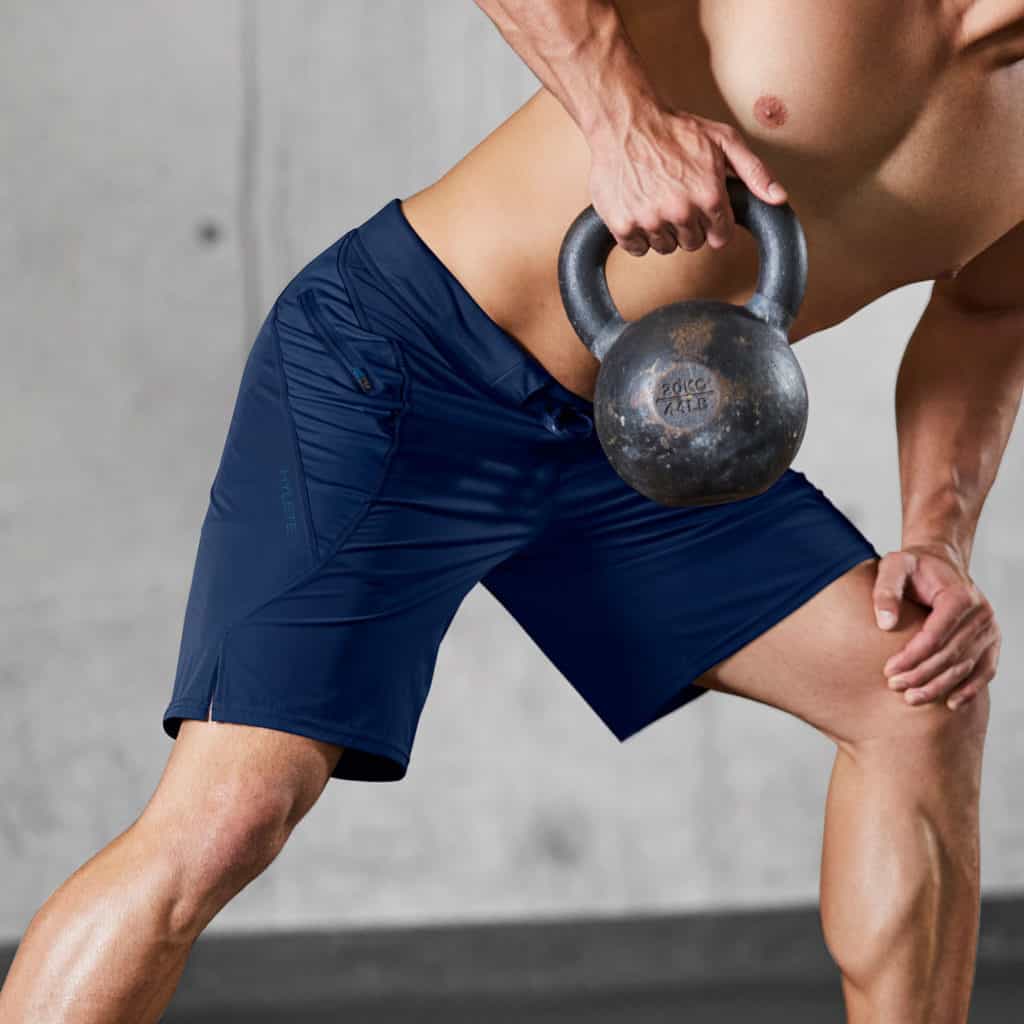 This holds especially for CrossFit and other functional fitness style workouts.
The CrossFit WOD can require all kinds of stuff – lifting, jumping, running, climbing – and more.
The Verge II workout short is cut for athletes – and that means it is generous where it needs to be, but not baggy.
You can also choose from a variety of lengths.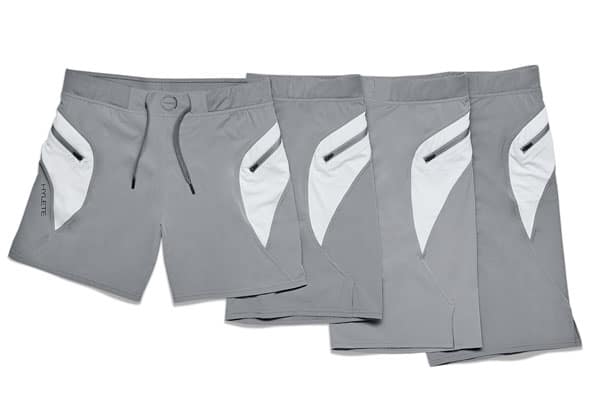 The Verge II is available in Quad-Cut, Above-Knee, Regular, and Long lengths.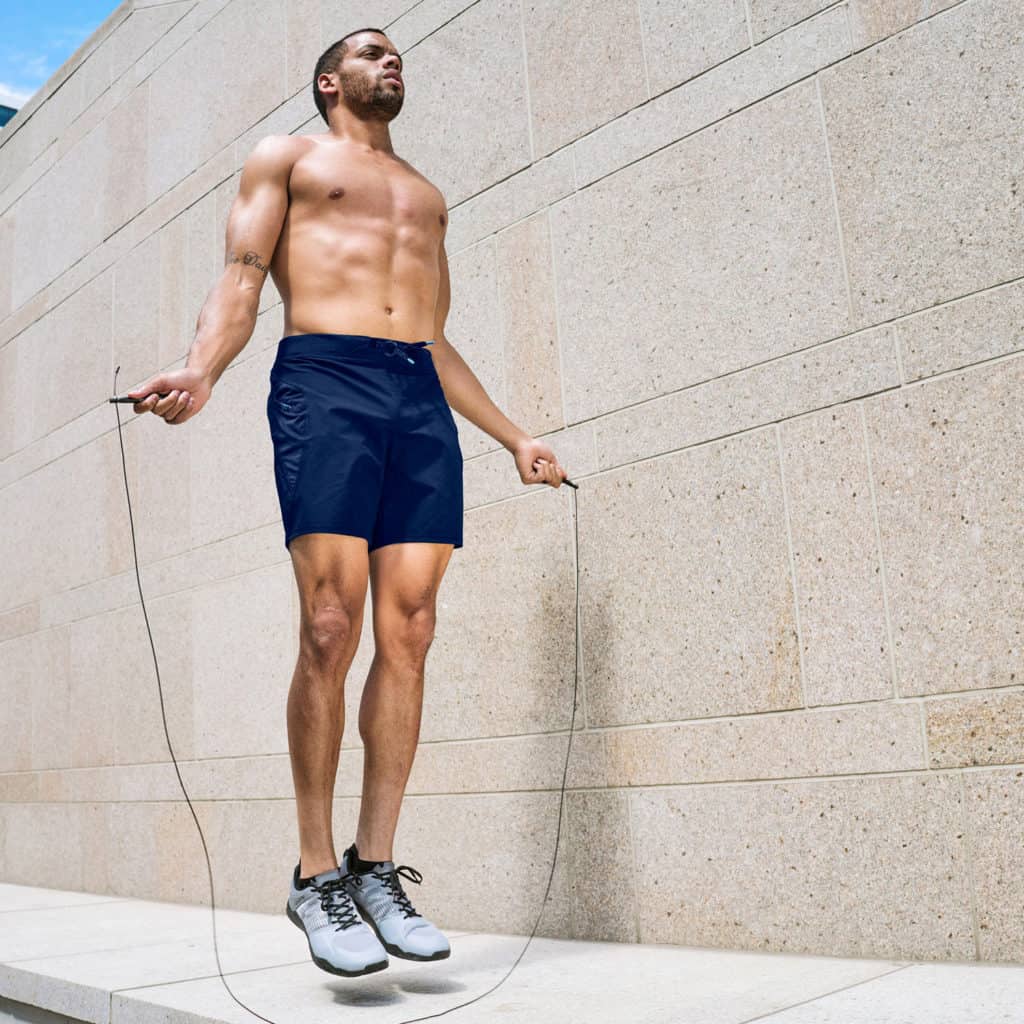 The quad-cut is going to show the most skin – and the long will show the least.
As you can see from the pictures, the Verge II has a small slit at the bottom.
Verge II Workout Shorts – Material
The Verge II short is an 85% Nylon / 15% Spandex blend.
Spandex is stretchy but it is also known for elasticity. This means it returns to the original shape after stretching.
Spandex also dries significantly faster than ordinary fabrics (such as cotton.)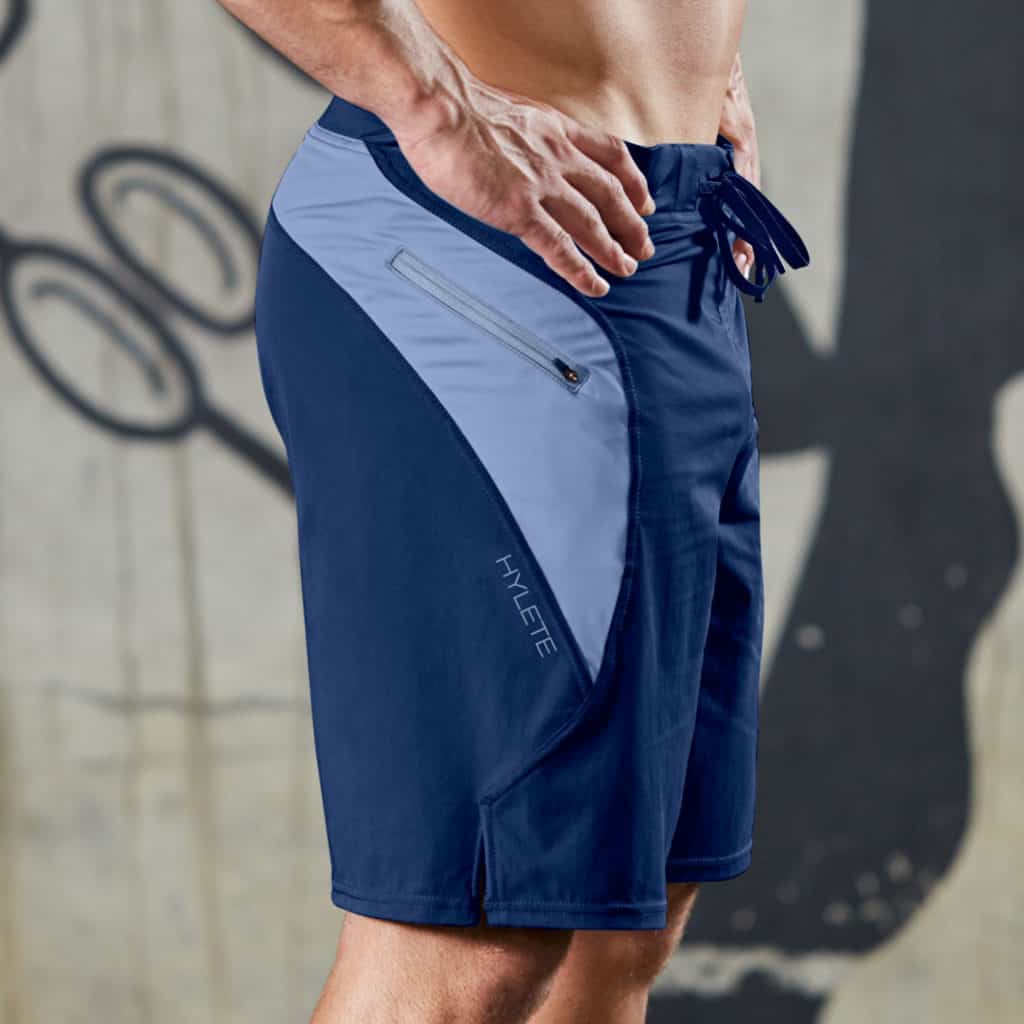 Similarly, nylon is a light-weight, breathable fabric that is very durable.
You don't want baggy shorts for your workout – so a flexible material such as that in the Verge II is exactly what you need.
You can have a lightweight, breathable fit that is comfortable – but most importantly gives you the range of motion you need for squats, deadlifts, and just about anything else in the gym.
Hylete calls this fabric "Flex-Woven".
In addition there are flex-knit panels for even more stretch.
And the material is also antimicrobial treated for greater odor resistance.
Verge II Workout Shorts – Features
We consider a drawstring a necessity for the best workout shorts.
Especially if they have pockets.
An elastic-only waistband is very comfortable, but as soon as you put that super-sized smartphone in the pocket it is a struggle to keep your shorts up around your waist.
And because the Verge II have zippered pockets, they also have a two-way drawstring.
This isn't like the drawstrings of the olden days – that you can pull out and lose.
Rather Hylete has created a patented two-way waistband system that means you can tighten each side individually – and more importantly the drawstring cannot be removed.
It works very well.
Let's talk about the pockets as well.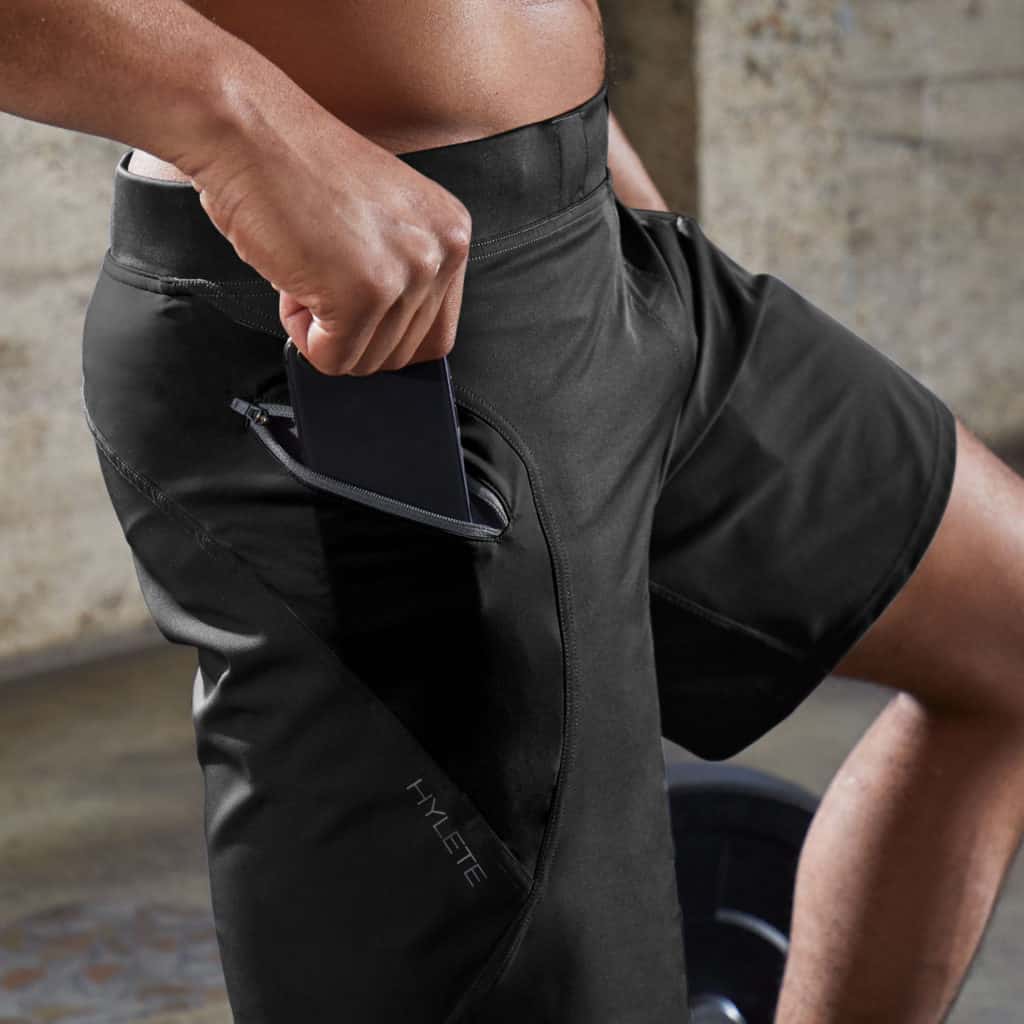 They are big enough for the largest smartphone (like an iPhone 10 Max for example.)
They are zippered to ensure the contents stay secured.
This can be a blessing when you go inverted in a Hand Stand Push Up (HSPU) or other gymnastic move.
If you've left anything in your pockets – they'll stay there – and not hit the gym floor.
Lastly, the pockets are strategically placed such that the opening is on the side, but any contents will rest slightly to the backside of your leg.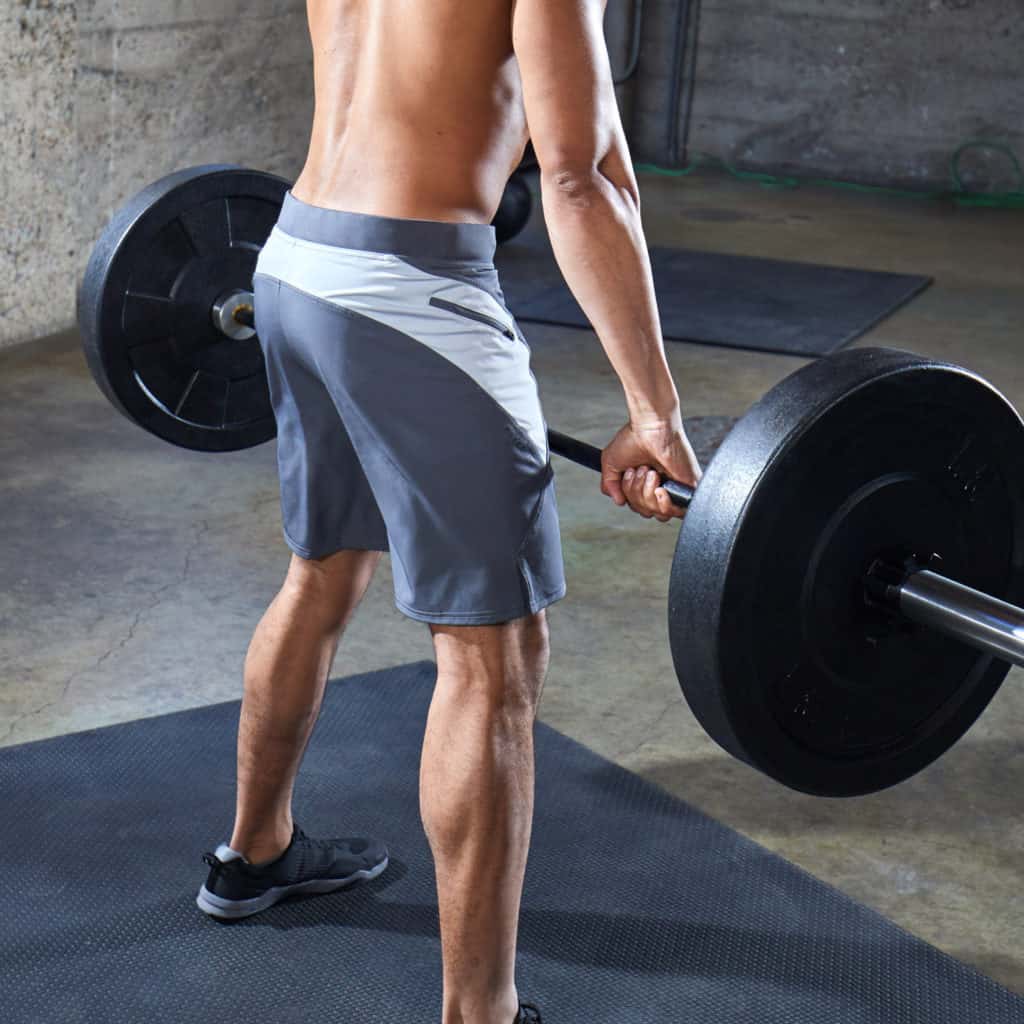 This means any object in the pocket WILL NOT be in the way of the barbell – or anything else to the front.
Want an inner liner in your workout shorts?
Hylete has an option for that too.
An inner liner offers support and can help prevent chafing.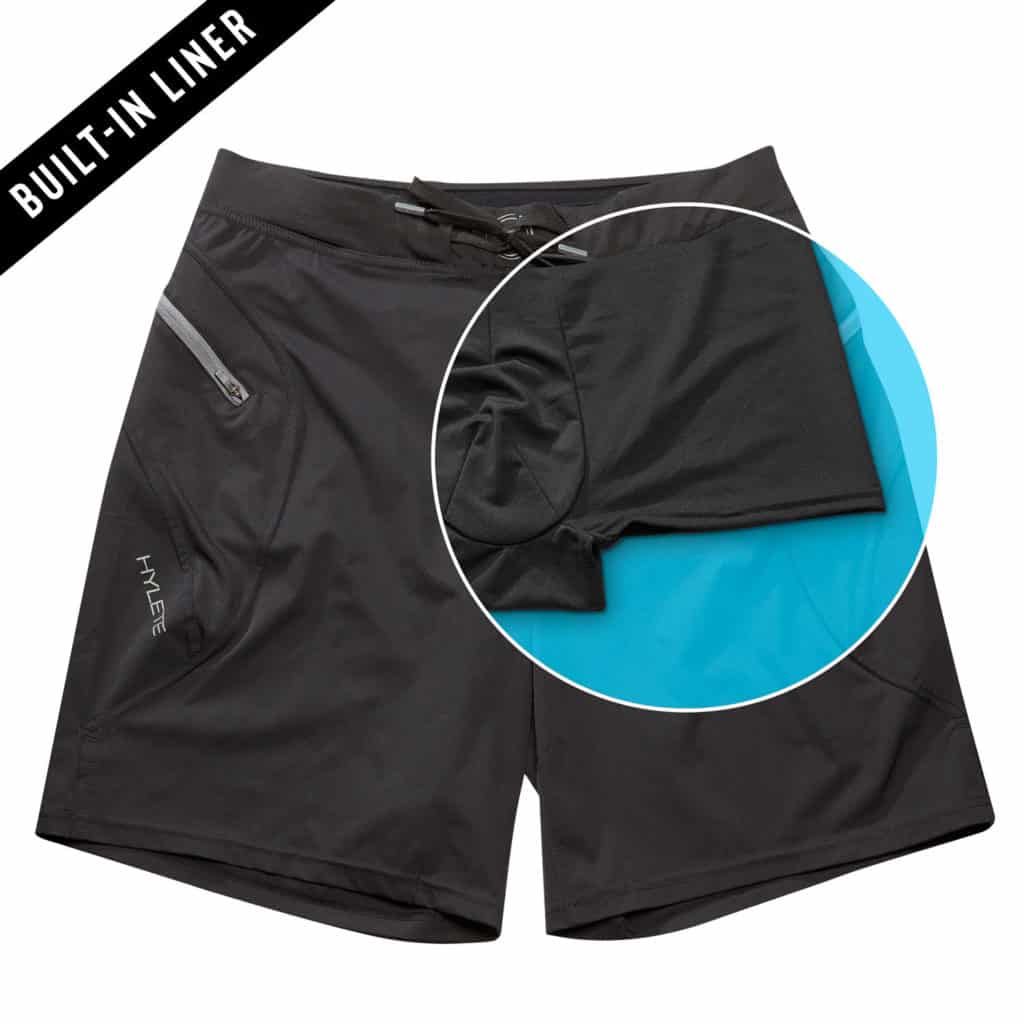 Personally, I don't consider an inner liner a necessity in a CrossFit style workout shorts – there's not really enough running to worry about chafing provided your undergarments provide enough coverage.
Verge II Workout Shorts – In The Gym
I'm pleased to say these shorts work as advertised.
The close fit and stretchy material means you won't have any issue with WOD style exercises.
Deadlifts, squats, pistols, wall balls – known of these are a problem.
The zippered pockets and drawstring are a great idea too – for those situations where you need to carry something valuable during your workout.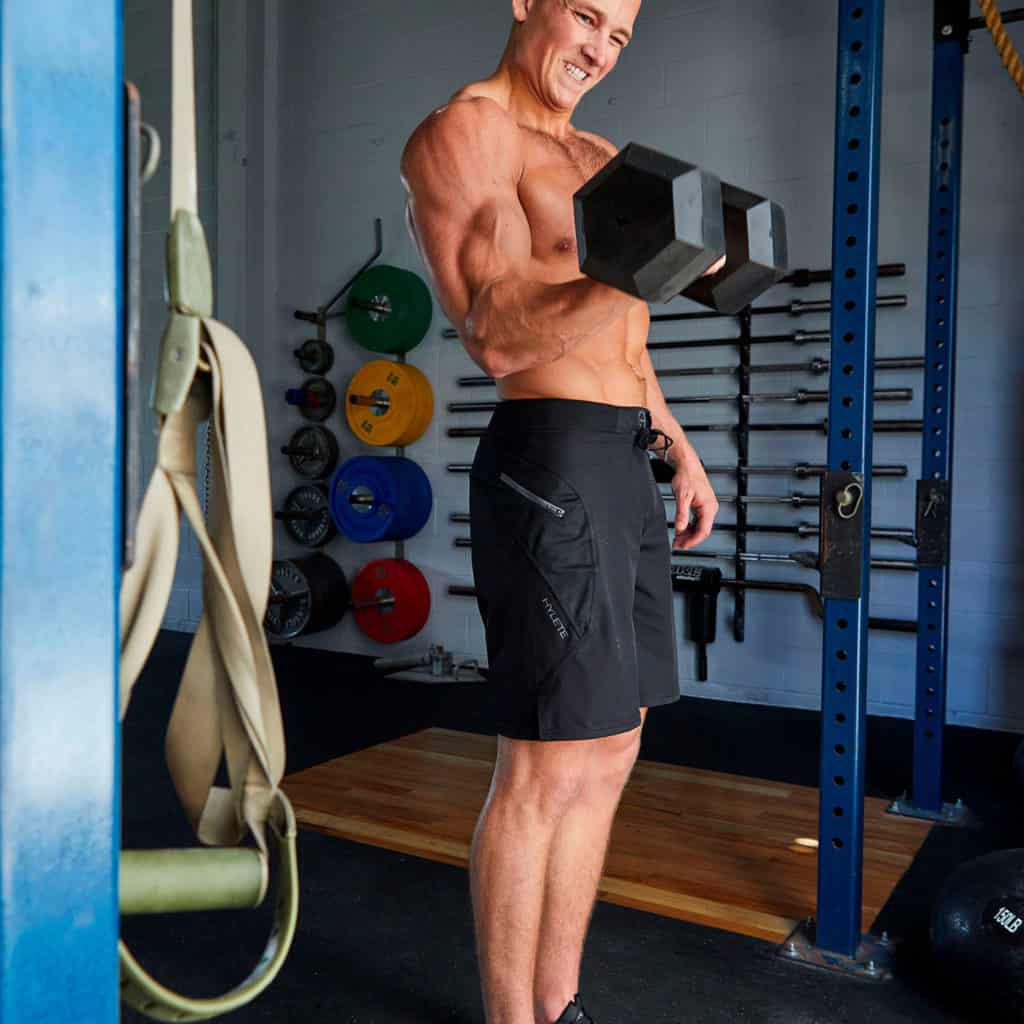 The zippered side pocket will fit a large smartphone such as the iPhone 10 XS Max.
While the opening to the side pocket is a bit small, the inner compartment is larger.
As mentioned, the inner compartment lies to the backside of your leg – so if you are holding a barbell in the top of the deadlift position (or during a snatch) – there's no chance the phone will get damaged.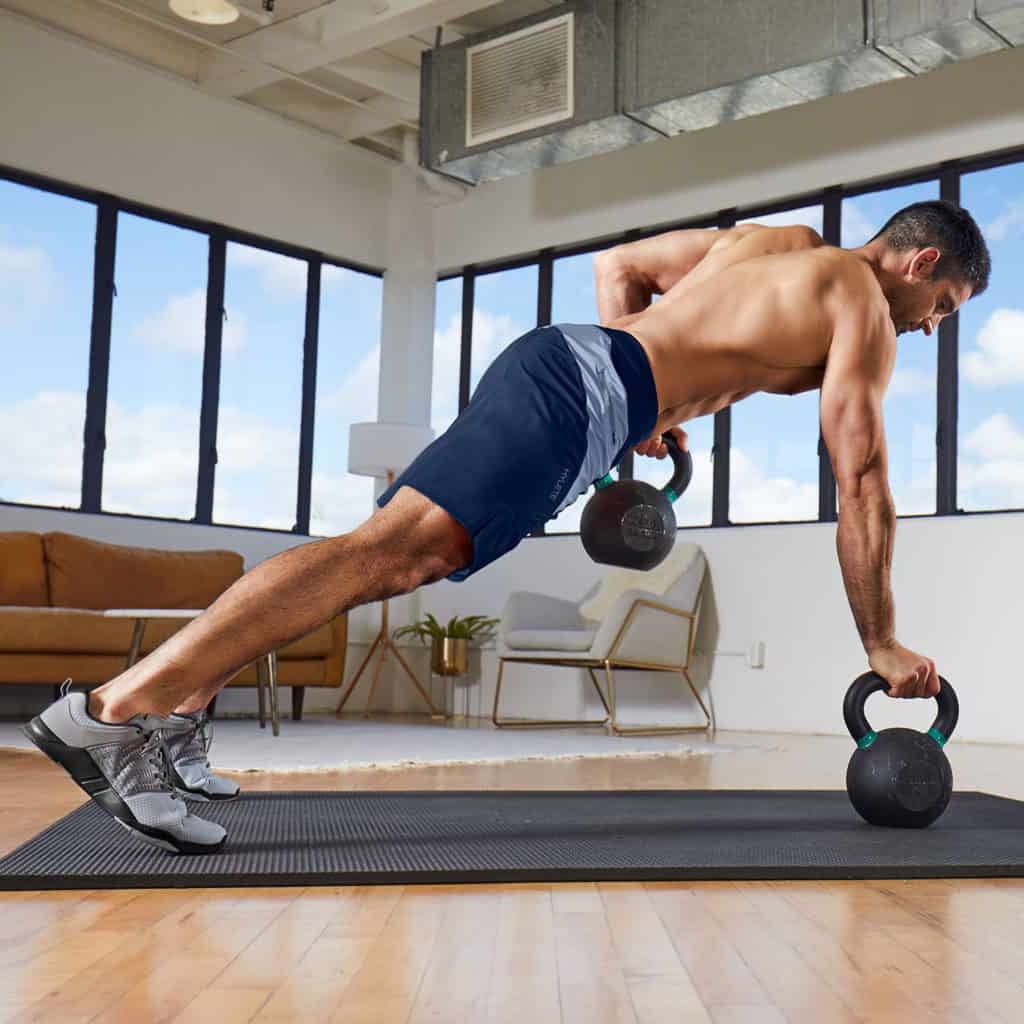 Verge II Workout Shorts – Wash & Care
There's no intensive maintenance for these shorts.
Simply tie the drawstring, turn them inside out and machine wash on cold.
You can tumble dry low.
Hylete recommends you do not iron them – but I don't know of any nutjob that would iron their shorts anyways…
Disclaimers
We are an affiliate of Hylete – that means if you buy clothes after clicking links in this article, we make a small commission at no additional charge to you. This helps us to bring you great information about these products.
This website is not affiliated or associated with CrossFit, Inc. CrossFit is a registered trademark of CrossFit, Inc.