Rogue has released the 3rd version of the
Echo Bike
. Grab one while they last!
UPDATE: The Nike Metcon 7 is here.
You can now buy the Nike Metcon 7 Mat Fraser PE (Personal Edition) or the Nike Metcon 7 X.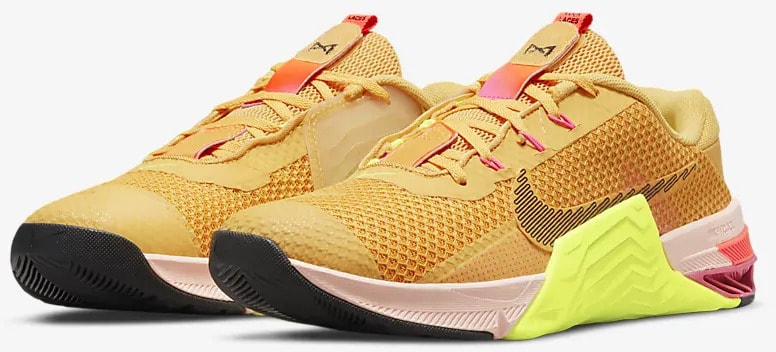 I'll leave my hopes and dreams here. Maybe these ideas will go into the Nike Metcon 8.
What would you like to see Nike improve or change in the Nike Metcon 7?
I've got some ideas – and that's what we're going to discuss in this article.
First of all, let me say that we are probably 10-11 months from the next version of the Nike Metcon shoe, as I write this.
I don't have any knowledge of the Nike Metcon 7 Release Date – or even that there will be a Nike Metcon 7.
But, I'm guessing there will be, as there has been an annual product launch every year since 2015 or so.
The Nike Metcon shoe gets better and better every release – and in fact, I've declared the Nike Metcon 6 to be the best CrossFit shoe for 2020.
While we wait for the next round of improvements, check out some of the latest styles:
What the Nike Metcon 7 Ought To Be
Here, in no particular order are my ideas.
Some of these are new ideas, but many are just iterations or evolutions of what I've seen on these shoes – or competitors.
(Take all of this with a grain of salt – after all, this is an opinion piece.)
Keep the Breathable Upper
The super-breathable upper that debuted on the Nike Metcon 6 is a winner – in my opinion.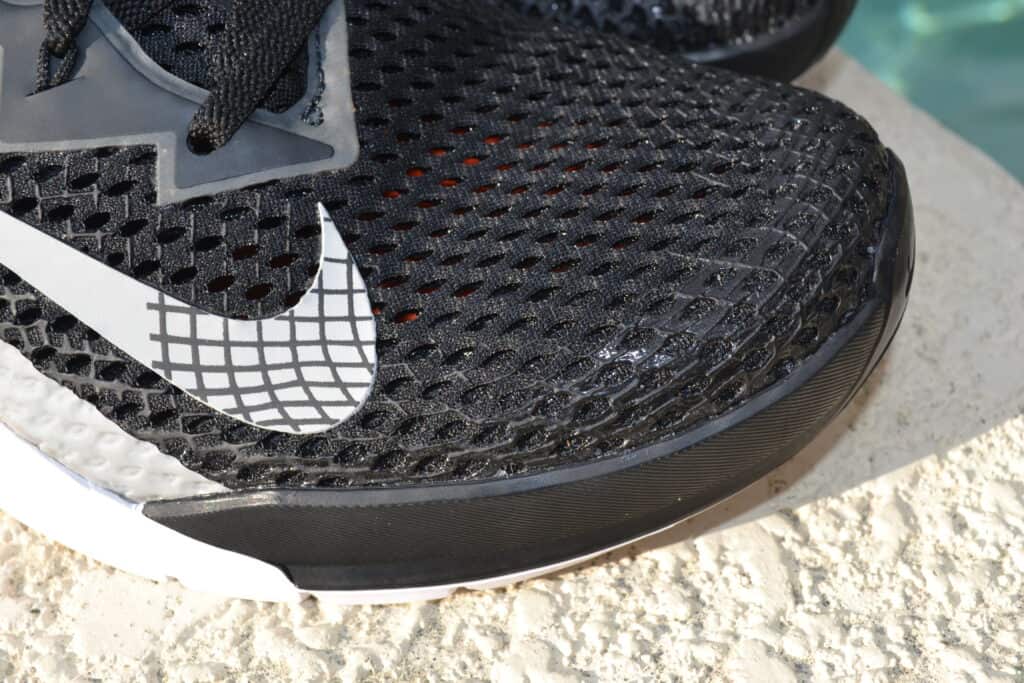 Why?
Well, if there is one universal truth to just about any CrossFit WOD or competition – it's gonna be a hot, sweaty affair.
That's just the nature of these metabolic conditioning style of workouts – especially when done for time, or against a stopwatch.
Do your feet overheat? Maybe not – but overheating is one of the key limiters in WOD performance.
Therefore, I'll take all the breathable materials I can get.
Secondly, I'm a bit selfish in my reasoning.
I workout in my garage, backyard, or otherwise outdoors – in Florida.
The perforated upper of the Nike Metcon 6 is a winner, so let's keep going with that.
Not only is it very well ventilated – it is still tough as nails too.
So Nike, please keep the breathable upper for the Nike Metcon 7.
Nike Metcon 7 – New Midsole To Make the Cushion More Versatile
Earlier this year, I declared the Nike Metcon 6 to be the best CrossFit shoe for 2020.
A big part of this was the sheer versatility of this shoe.
It has the best blend of cushioning for the varied WOD activities.
In head to head comparison with the Reebok Nano X, NOBULL Trainer, and just about every other new CrossFit training shoe for 2020 – the Nike Metcon 6 was better – in my opinion.
So how can Nike make it even better in the Nike Metcon 7?
As you may know, the Nike Metcon line has used a dual-density midsole for years.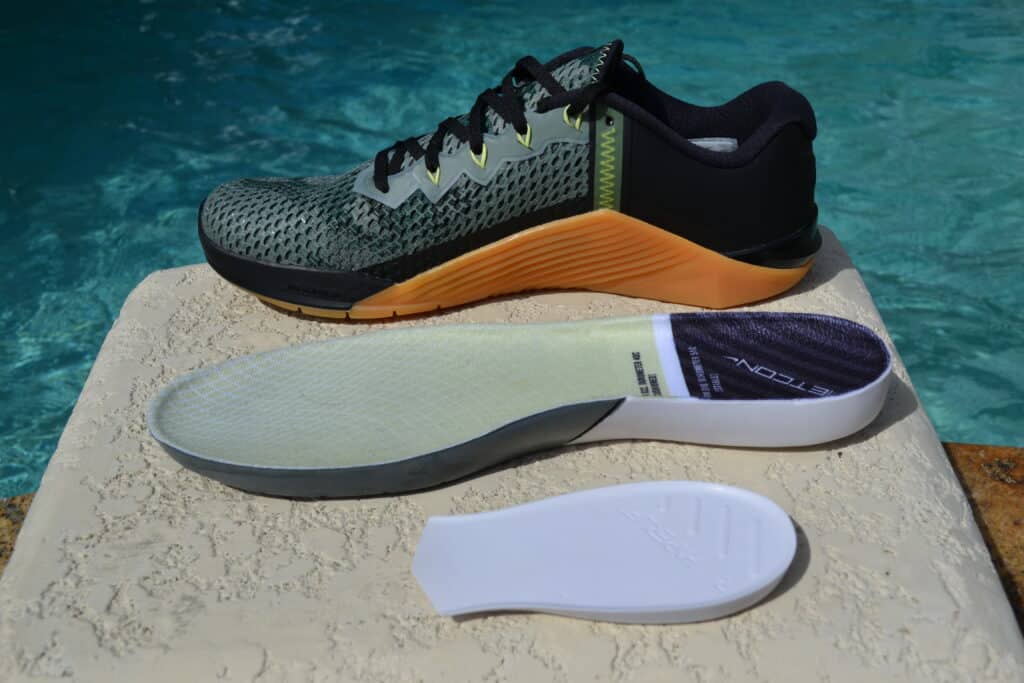 The midsole (where the bulk of the cushion is) is literally two different pieces of foam, joined together.
The forefoot (the front, where you land repeatedly when skipping rope, sprinting, etc.) uses a quite cushioned piece of foam.
The heel, on the other hand, uses a very firm, very stable foam. And it's great for lifting weights.
The Nike Metcon 6 can be used for the heaviest barbell lifts – squats, deadlifts, and Oly lifting too.
(Although if I was going for a 1RM I'd slap on a pair of real lifters, to be clear).
Some people complained that the transition between the forefoot and heel was too abrupt.
This was especially apparent after trying the Nike React Metcon – which used a single density React foam midsole.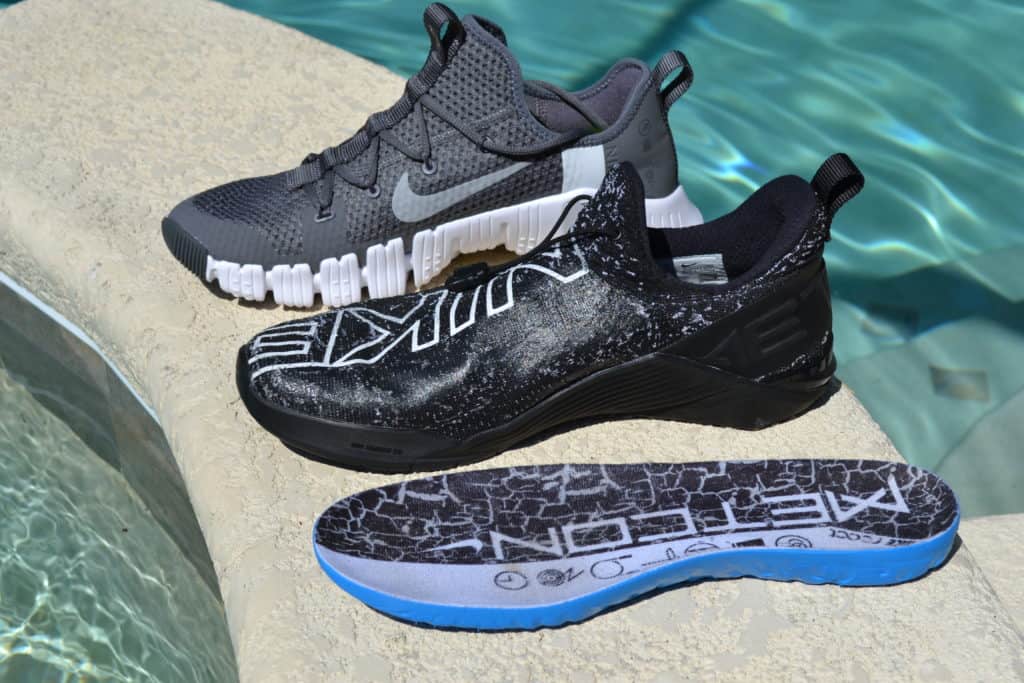 The React midsole eliminated the abrupt transition, but was too thin to be really cushioned (in my opinion.)
Here's what I propose – ship the Nike Metcon 7 with two completely different midsoles.
Make one focused towards weightlifting, and the other for impact activities.
It can still be dual-density – but can we go triple-density? Can it be cushioned up front, firm in the middle, and really solid in the heel?
Secondly, if the "impact" focused midsole is going to be React foam – please use enough foam to make a difference.
To do this, the shoe clearly has to be made deeper or taller than the Nike Metcon 6.
Or, here's another idea. The GORUCK Ballistic Trainer uses a gradient transition for the cushion in the midsole.
That would help eliminate the abrupt transition – but I'm thinking that's not possible because of just how different the forefoot and heel are on the Metcon.
Nike Metcon 7 – Hyperlifts That Make a Difference
And how about this – while making the shoe deeper, let's ship it with a set of hyperlifts that give you an actually useful amount of heel to toe drop?
The current hyperlifts (that debuted with the Metcon 5) are a great idea.
Go from 4mm of drop to 12mm of drop quickly and easily, by simply putting the Hyperlift under the midsole.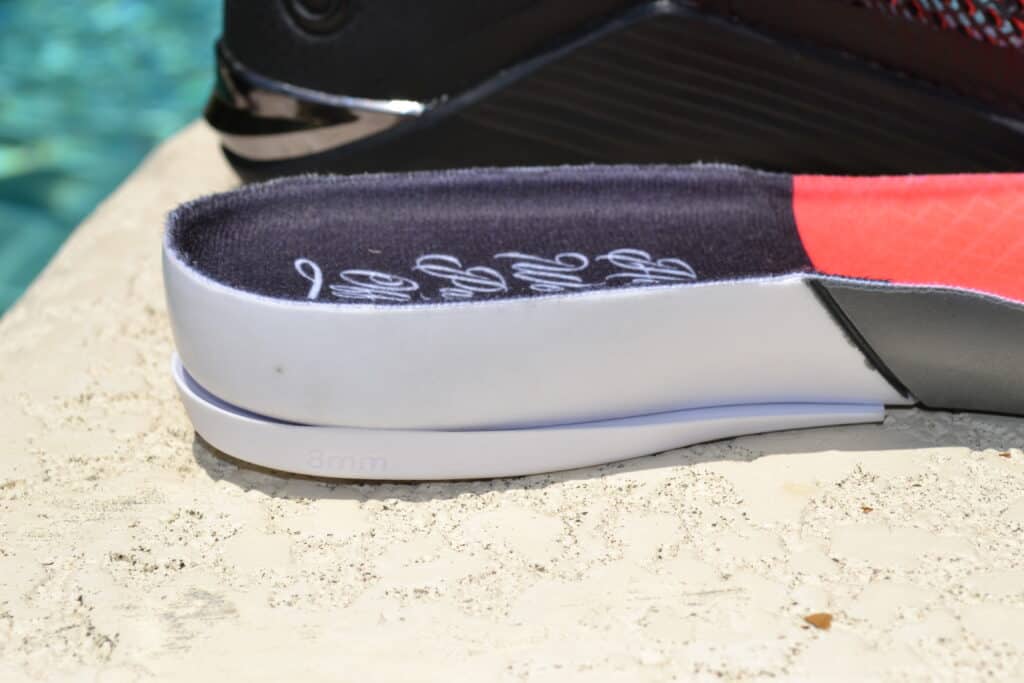 With a "taller" shoe – you could actually make a 16mm hyperlift – to give us an Oly lifter-like 20 mm of drop.
After all, if a little bit of something is a good thing – a lot is better, right?
While on the subject of Hyperlifts, some of us find the collar too shallow.
With the Hyperlifts out, the Nike Metcon 5 and Nike Metcon 6 feel fine to me.
But once I drop in the Hyperlifts, I feel like I'm getting heel slippage.
To be clear, not everyone reports this issue – maybe it's the shape or size of my heel, but if we're gonna make the Hyperlifts bigger (to give more drop) there's gotta be more collar to go with it.
I should mention I feel the heel cup on the Reebok Nano X and GORUCK Ballistic Trainer fit me a lot better.
With two different midsoles and taller hyperlifts – we'd have a modular training shoe.
And the Nike Metcon 7 could continue to be the ultimate training shoe.
Nike Metcon 7 – Dial Back That Ridiculous Rope Wrap
Do you even climb ropes?
I get that grip on the rope (and protection for the upper) is an important thing – especially in a shoe meant for Games competitors.
But, for the vast majority of us the aesthetics (and weight) of the current monster-sized rope wrap is not necessary.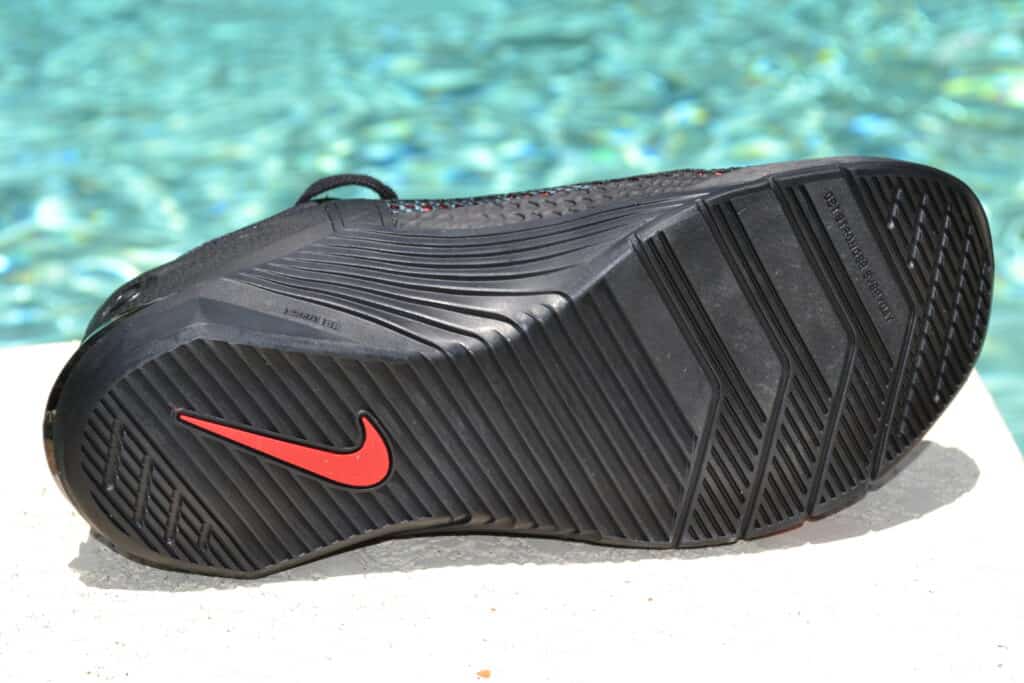 I'd personally like to see it dialed back to something in the range of what the Nike Metcon 4 had.
It looked bold, but not too much, and seemed like it was effective for rope climbs – without dominating the side profile of the shoe.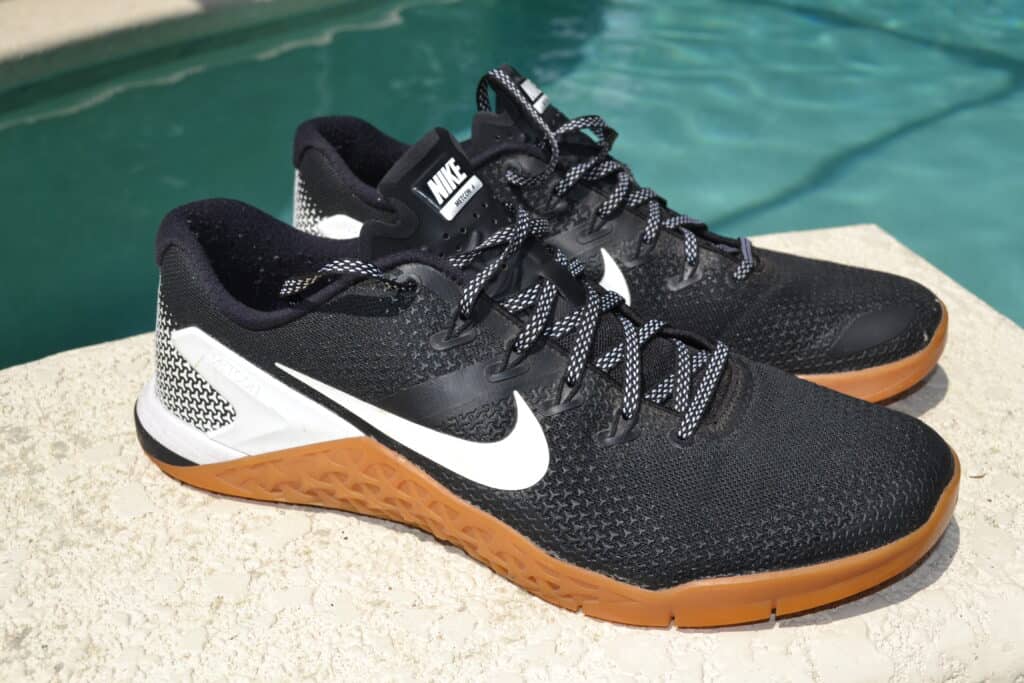 Get Rid Of the Heel Noise Clip-Clop
The Nike Metcon 6 is the best cross-training shoe on the market – and the noisiest.
The rim of the heel is so dense, it sounds like you are walking with high heels on any semi-solid surface.
It is noticeably louder than every other cross trainer shoe on the market – and I've confirmed that in all my various YouTube reviews this year.
Somehow, the Reebok Nano X has a very stable and firm heel – without all the noise.
How do they do it? The rim of the heel isn't rock solid – and it makes a BIG difference.
So, let's make a change and make this shoe a little bit quieter.
What I Don't Want In The Nike Metcon 7
Here's a random list of things I'd like to NOT see in the Nike Metcon 7.
Let's start with the quick lacing system from the Nike React Metcon.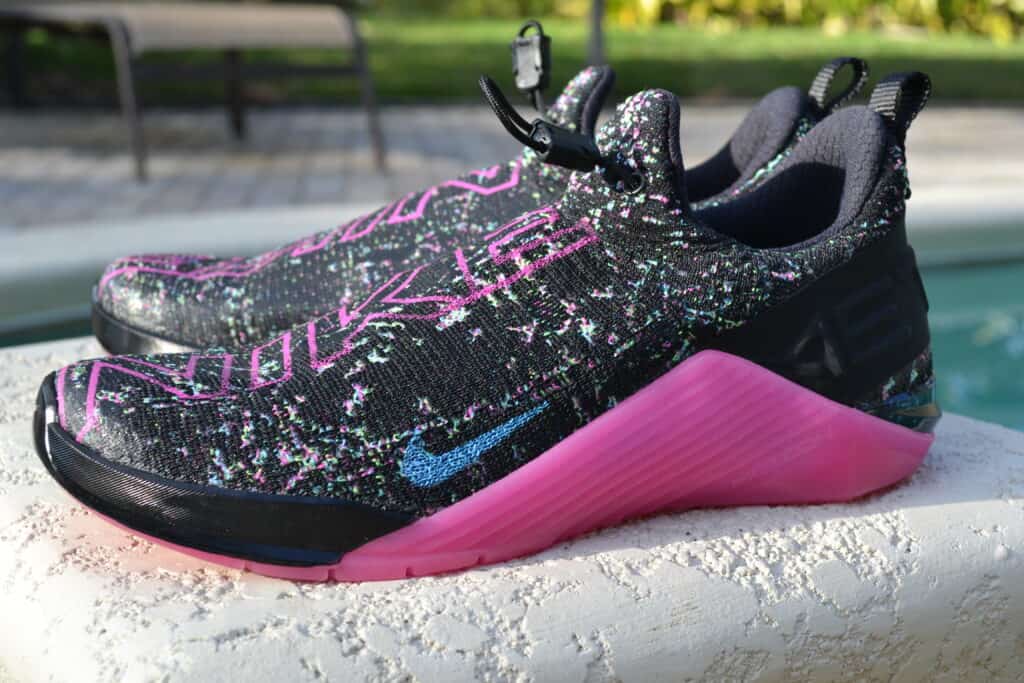 It sounds like a good idea, but the execution is just not good.
You can't get the shoes tight enough.
And how do you loosen them? It's a mystery.
Traditional shoe laces still rule – and will for the foreseeable future.
While we're at it, let's banish the React Metcon's "Forged FlyKnit" upper as well – it's an insult to the word FlyKnit.
Lastly, I've had several people tell me that the Metcons have problems with heavy or high repetition calf raises. The rubber separates from the shoe at the forefoot. I haven't experienced this myself, but more than one person has given me this feedback on my YouTube channel. It would be nice if that were fixed…
Who Am I?
Who am I to say the Nike Metcon 7 should be?
Well, first let me state this is my website, and I can write my opinion.
But, this is an informed opinion.
My hobby is collecting and testing all the cross training shoes on the market – If it's meant for CrossFit style WOD training or functional fitness – I've got it … and probably made a YouTube video about it.
I'm not a CrossFit athlete or competitor, but I love functional fitness style training – and I have done it for many years.
Lastly, I've spent a large amount of time gathering people's input on these shoes – so I think I have some ideas.
Nike Metcon 7 – In Summary
The Nike Metcon 6 is, in my opinion, the best CrossFit training shoe for the year 2020.
The Metcon shoe line just keeps getting better and better.
What will the newest version bring? We don't know – as it is months and months away in the best-case scenario.
But, I'll bet Nike's product designers are hard at work cooking up improvements already.
Hopefully, they'll use some of my ideas.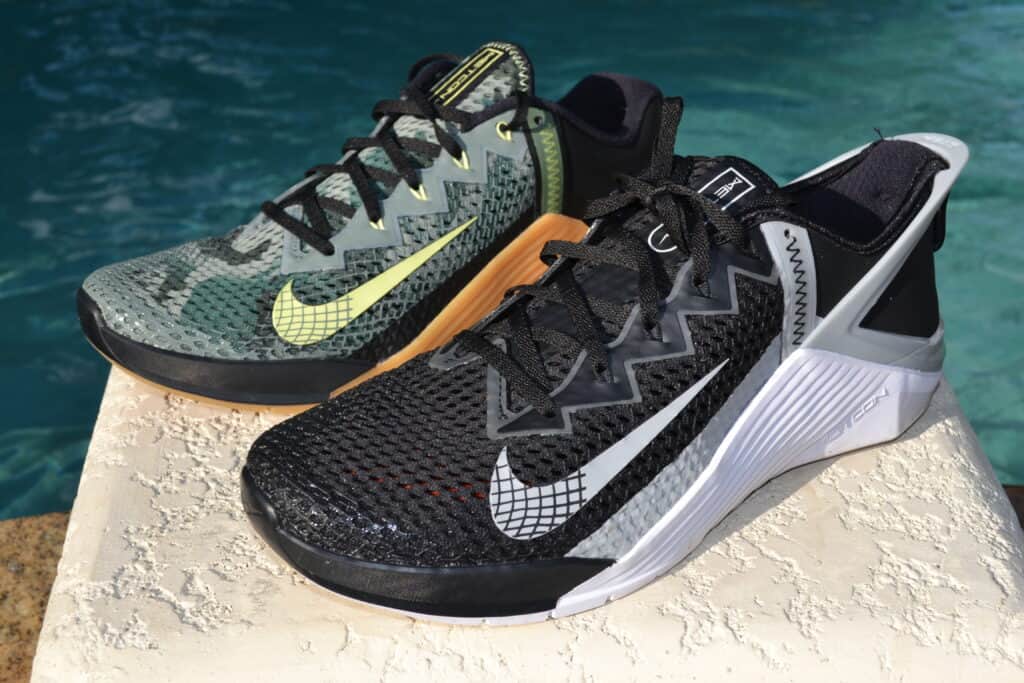 Photo Credits
Some product photos on this page are property of Nike.
This website is not affiliated or associated with CrossFit, Inc. CrossFit is a registered trademark of CrossFit, Inc.
Affiliate Disclaimer
We are an affiliate of Rogue Fitness. If you buy shoes or training equipment after clicking the links in this article, we receive a small commission at no extra cost to you. This helps us to bring you in-depth information and content on these great training shoes.