GORUCK just launched their newest training shoe: the GORUCK Ballistic Trainer.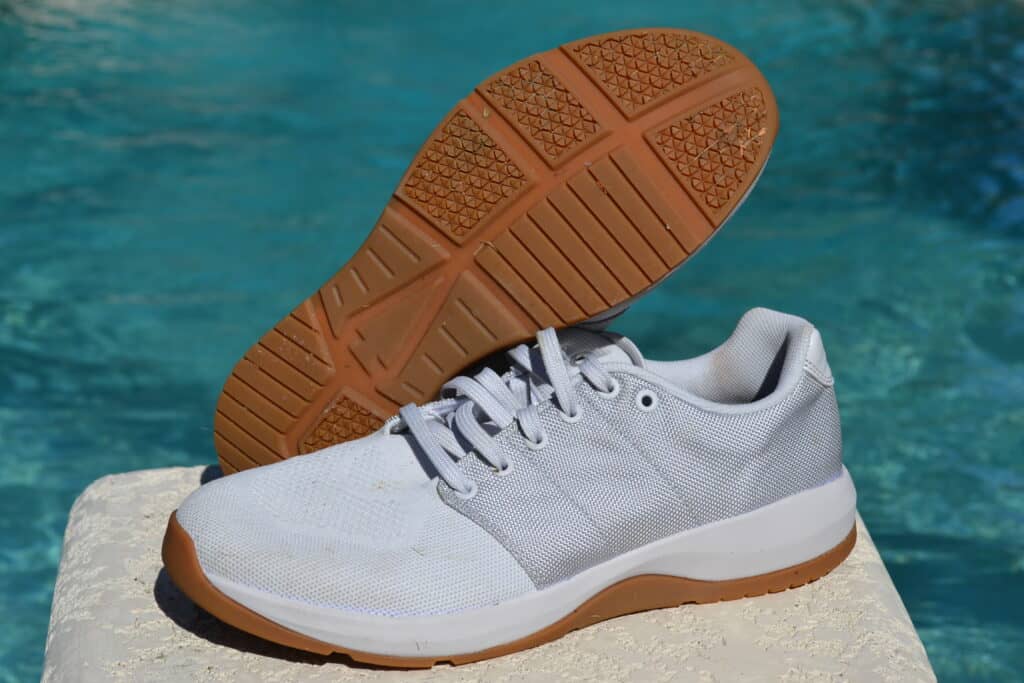 GORUCK makes serious, well thought out, and high quality training gear.
They are looking to shake up the functional fitness/CrossFit WOD training shoe space with this new shoe.
How well does it work? That's what we aim to find out. We've got our review pair – and testing is underway.
Here's some of the styles we are going to look at:
GORUCK Ballistic Trainer – Video Review on our YouTube Channel
Why read when you can watch? Check out this video from our YouTube channel:
Check back in a few weeks, and we'll have the results of our side by side testing.
GORUCK Ballistic Trainer – Overview
This is GORUCK's first attempt to create a functional fitness (aka CrossFit) style training shoe.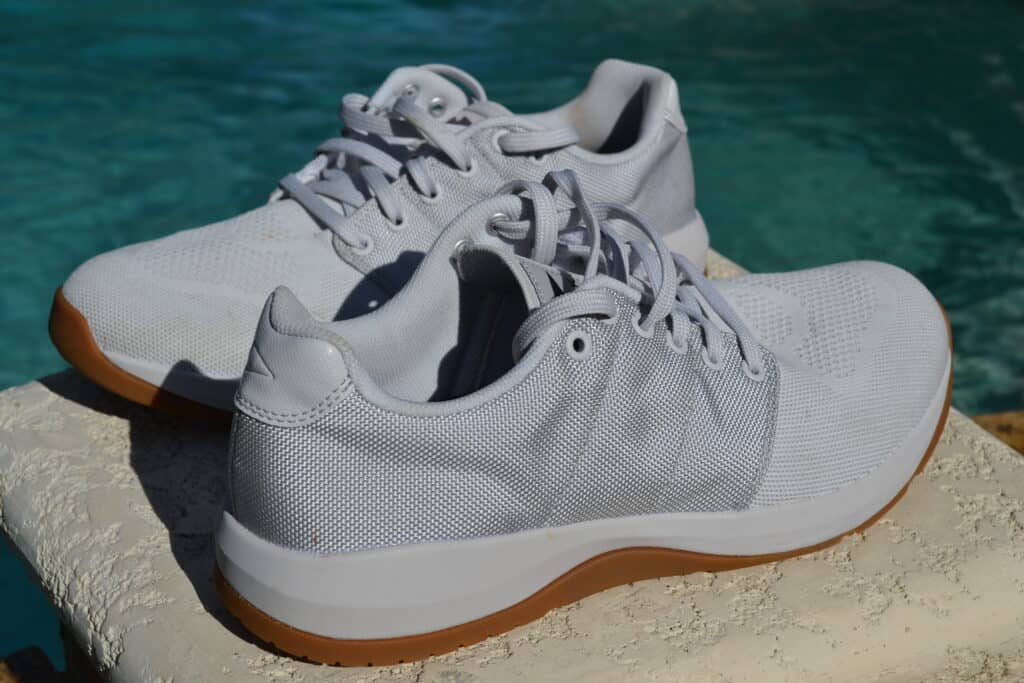 How about some stats right up front?
| | |
| --- | --- |
| Upper Materials | Knit mesh (forefoot) / Ballistic Nylon (Midfoot and heel) |
| Weight | 15.0 ounces (Men's Size 11) |
| Drop | 8 mm |
| Cushioning | Minimal |
| Sizing | True to size. Toebox is wide |
Let's start from the ground up – with the outsole.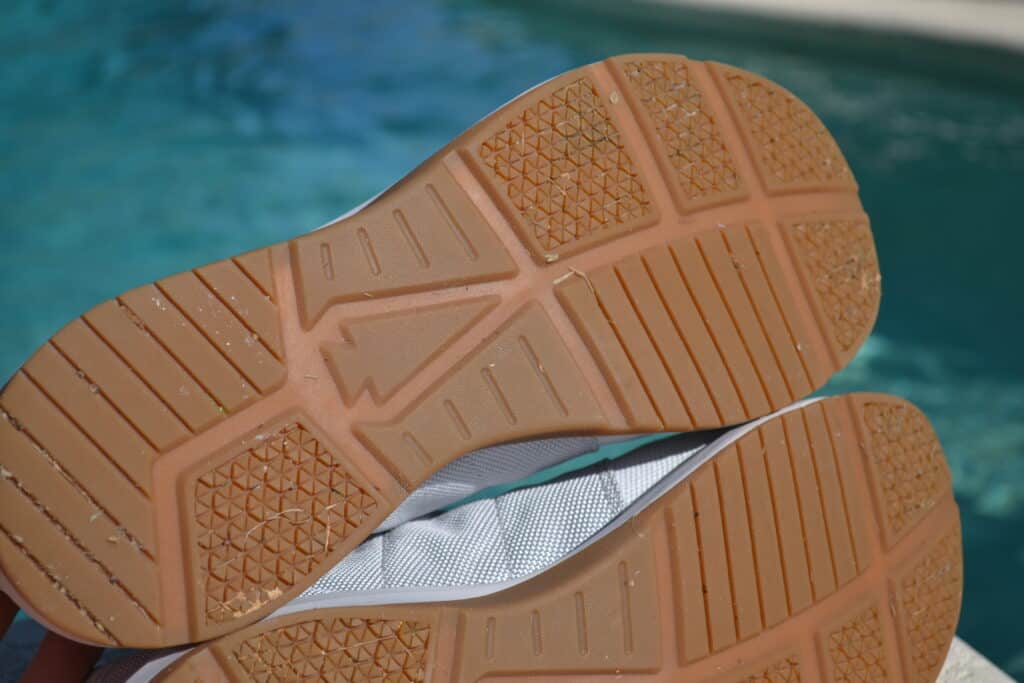 The all-rubber outsole provides grip in a variety of conditions.
I've tested these on wet grass (short and long), wet and dry asphalt, and of course, typical gym floor conditions.
They've used a triple combination of rubber compounds for this shoe.
The front provides enhanced traction, while the heel is very firm, and very hard wearing rubber.
How about the midfoot? You'll see a mild "rope wrap" where the gum colored outsole wraps up around the side.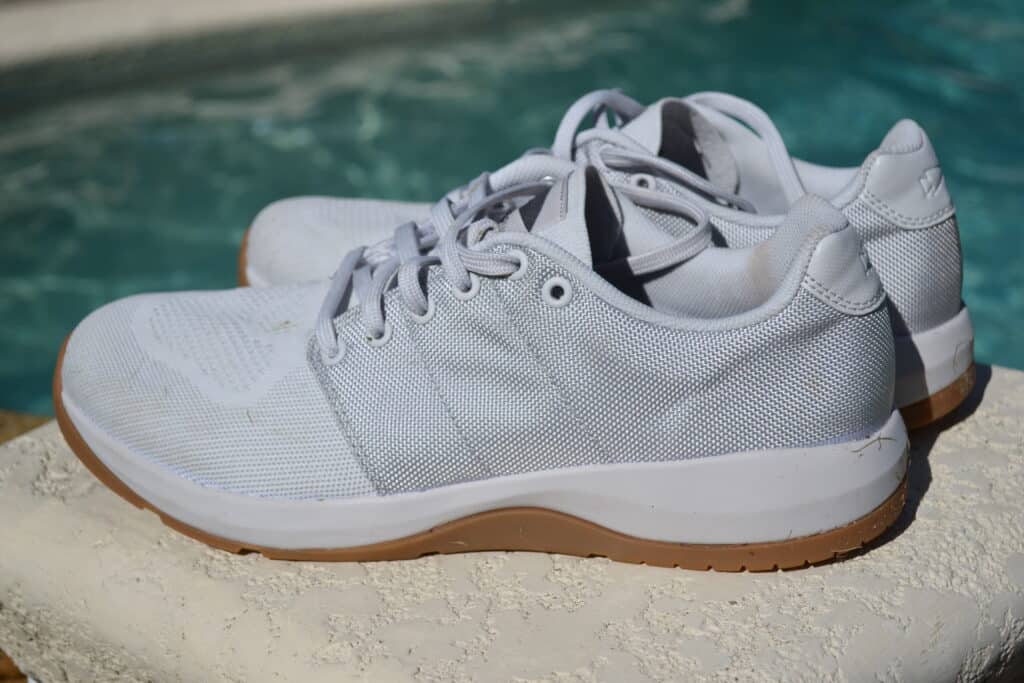 That's for rope climbs specifically – giving you a place to grip the rope.
That rubber is yet another compound – one derived from rock climbing shoes – and it provides durability and grip at the same time.
How about on the side? The midsole is contained within the shoe , so we can't see it, but that's where the bulk of the cushion is at.
It's not removable on this shoe, but there's also an insole that is removable. Here's a picture.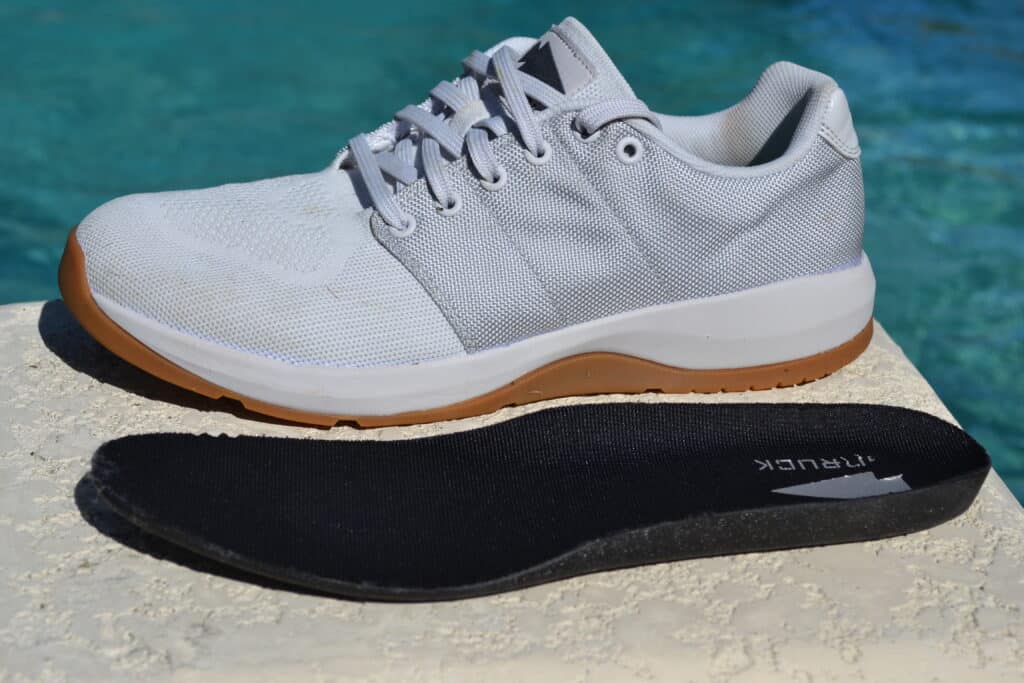 How's the cushion? It's exactly as you'd expect for a cross training shoe. It's minimal (but not zero).
Cross training shoes need to provide support and stability – even when lifting hundreds of pounds. These aren't cushioned like running shoes – nor do we want them to be.
GORUCK also incorporates a support system for all 3 arches of your foot.
Underfoot, it feels like your typical cross trainer. It's firm, it's stable, but I wouldn't want to stand in these all day long.
Ditto for walking or running.
Can you run in these? Yep, you can. But I wouldn't put these on to run a 5K.
These work fine for "WOD" style running – think hundreds of meters.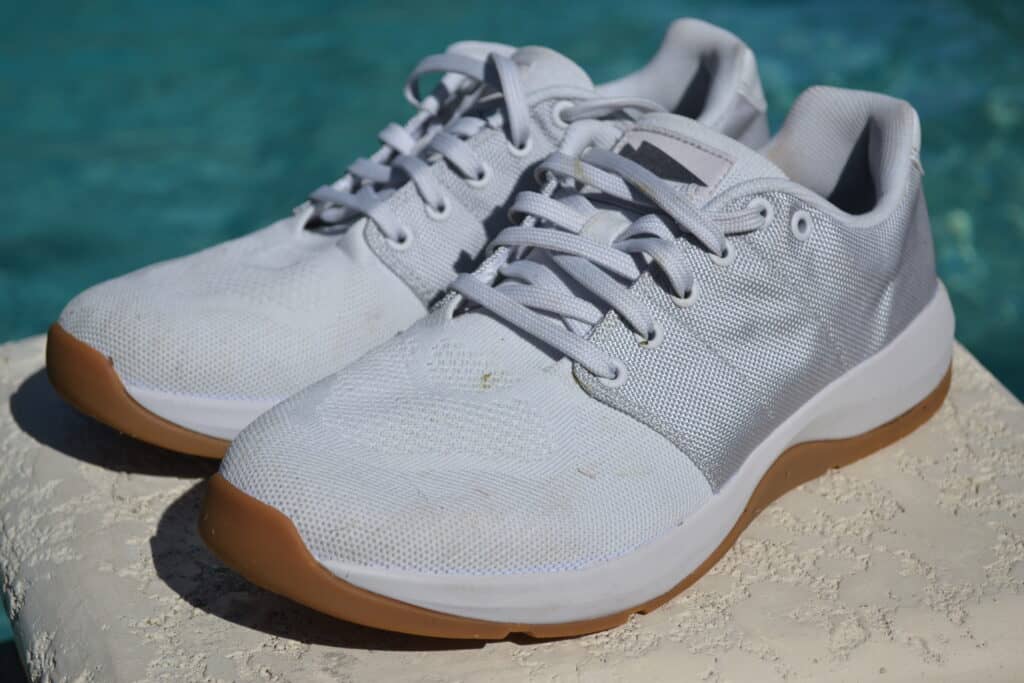 They are a bit on the heavy side – a Men's US Size 11 weighs in at 15.0 ounces.
That's well over an ounce heavier than the Nike Metcon 6 (13.9 ounces), and a lot more than a shoe like the NOBULL Trainer (11.3 ounces).
Heel to toe drop is 8mm. This is a bit more than the average cross trainer (which range from 2mm – 4mm, typically). GORUCK claims this will offer the desired degree of mechanical advantage in squats and the like, while also helping improve endurance due to less strain on your Achilles heel.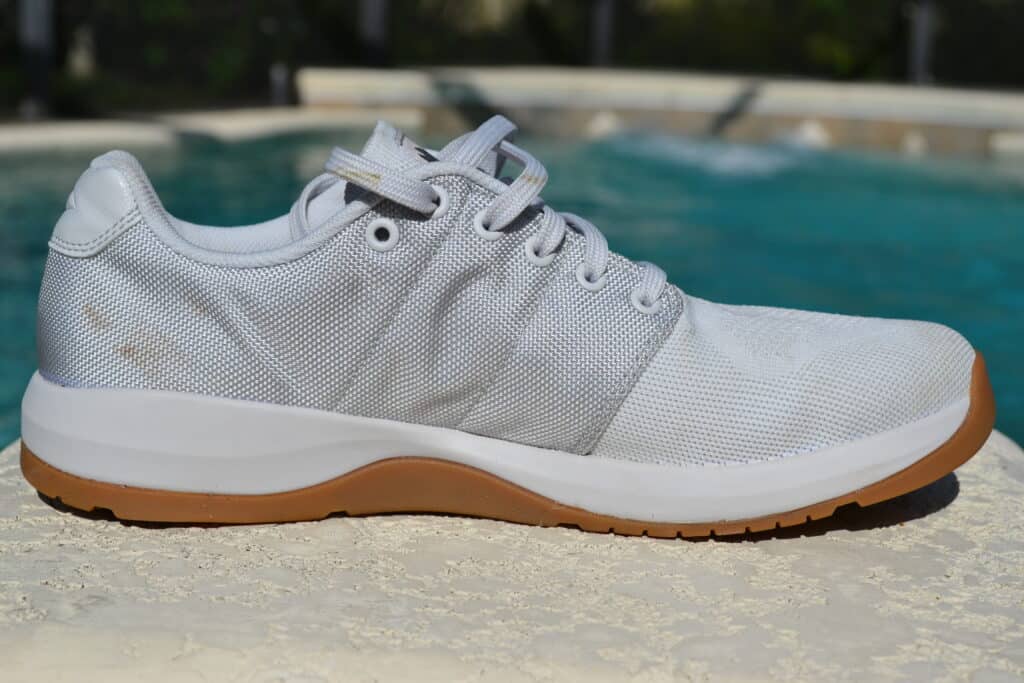 This is one of the aspects of the shoe that I'm evaluating against other cross trainers – results are still to be determined.
To be honest, the main limiting factor in wearing most trainers for long times or long distances is the lack of cushioning – at least that's my perception.
For the Ballistic Trainer GORUCK have strayed from their favorite material – 1000D Cordura.
The upper in the Ballistic Trainer is a warp knit mesh and ballistic nylon combination.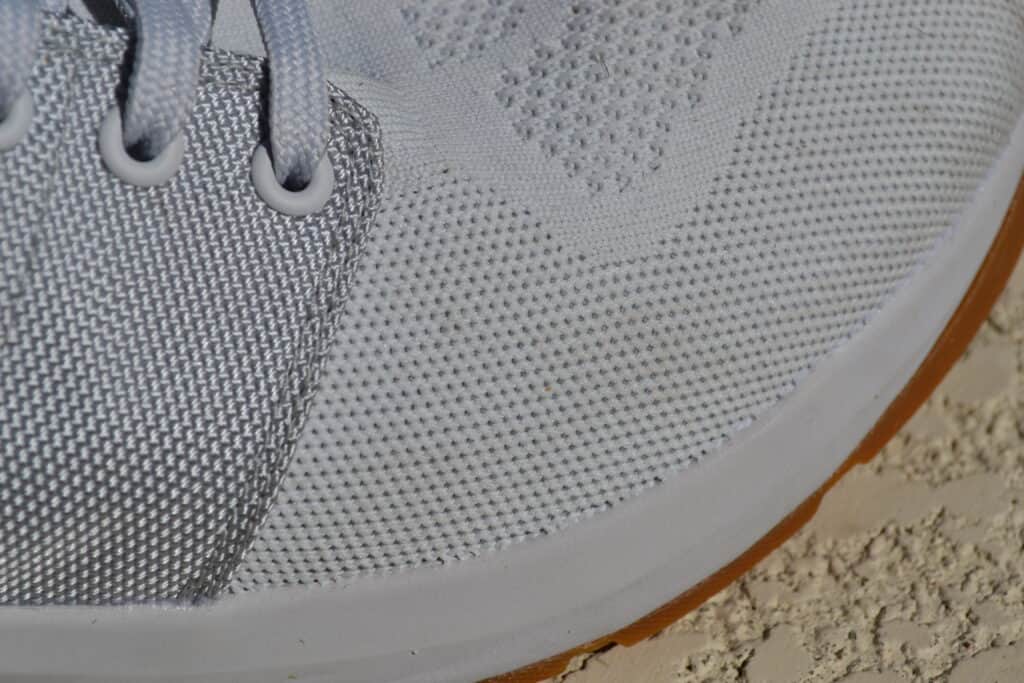 I like it. The mesh in the forefoot is stretchy and seems breathable (although it's quite dense as far as knit uppers go.)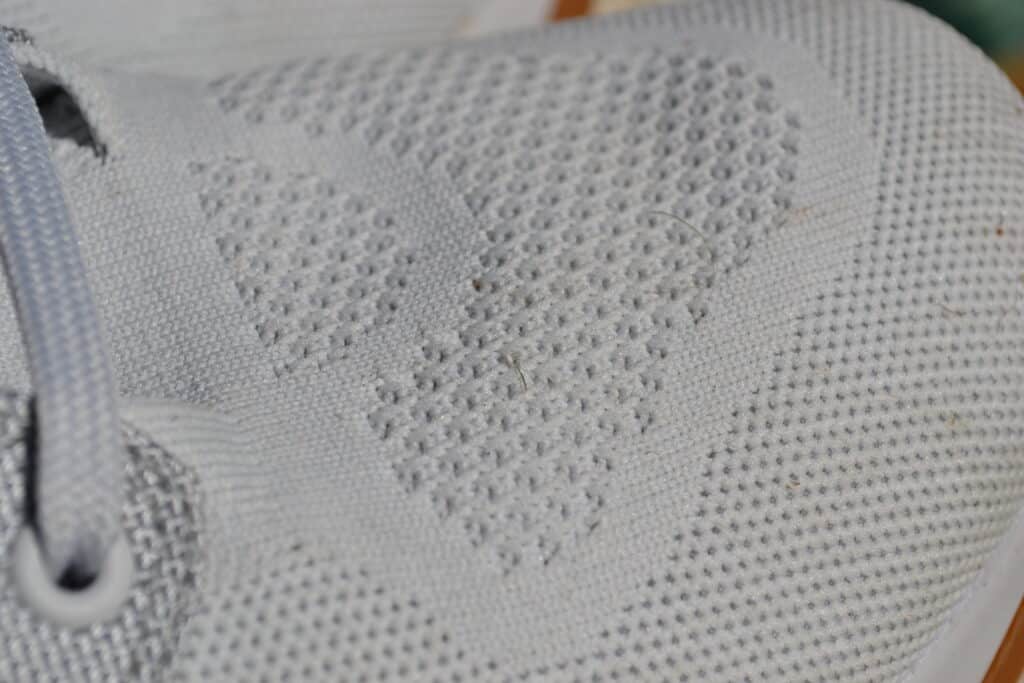 Durability of the forefoot remains to be seen.
The ballistic nylon that is used in the heel looks good, feels slick, and seems like it'll be tough.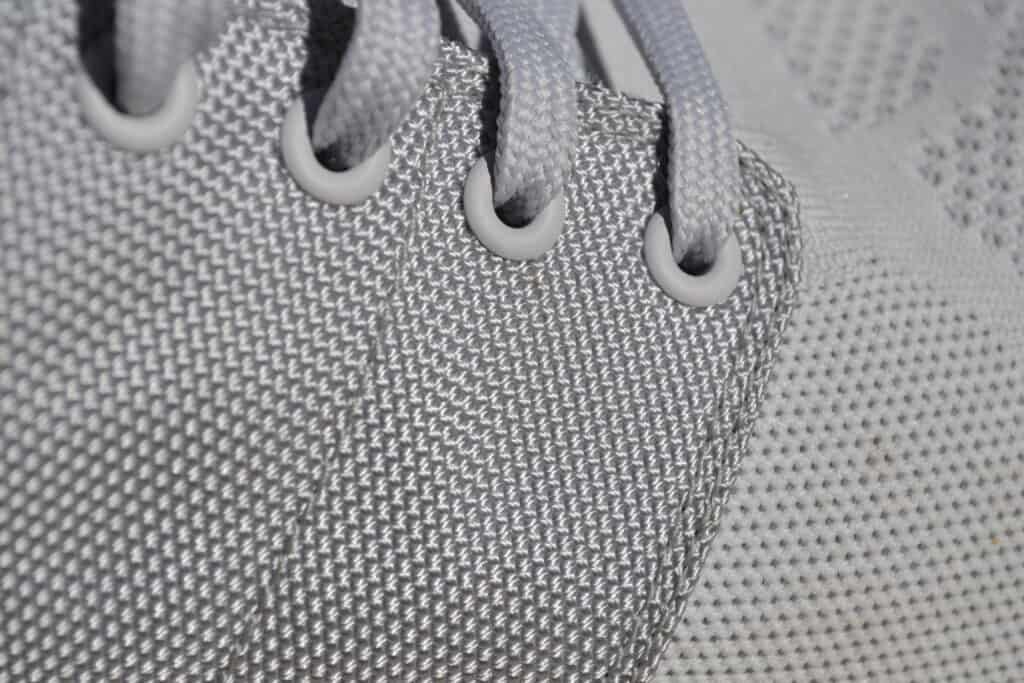 The shoe has a thin tongue – and that's what I prefer personally.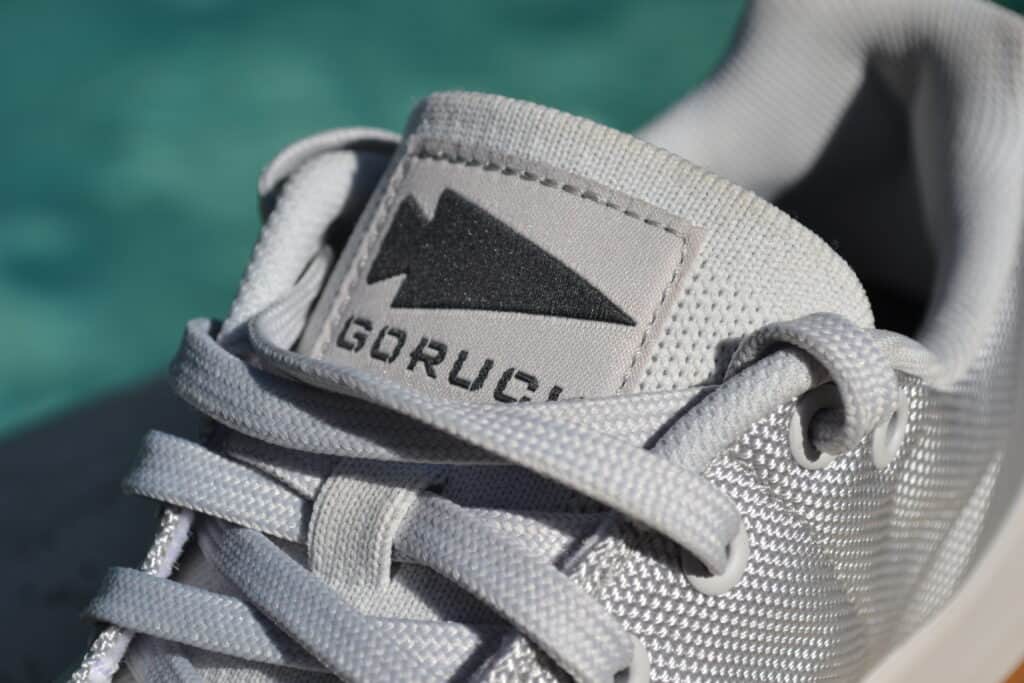 Overall the fit and sizing are excellent.
My normal running shoe size (Men's 11) fits perfect.
There's good width up in the toe box – without being excessive.
There's a full heel counter in the heel and the collar comes up high. I get no heel slippage sensation in these.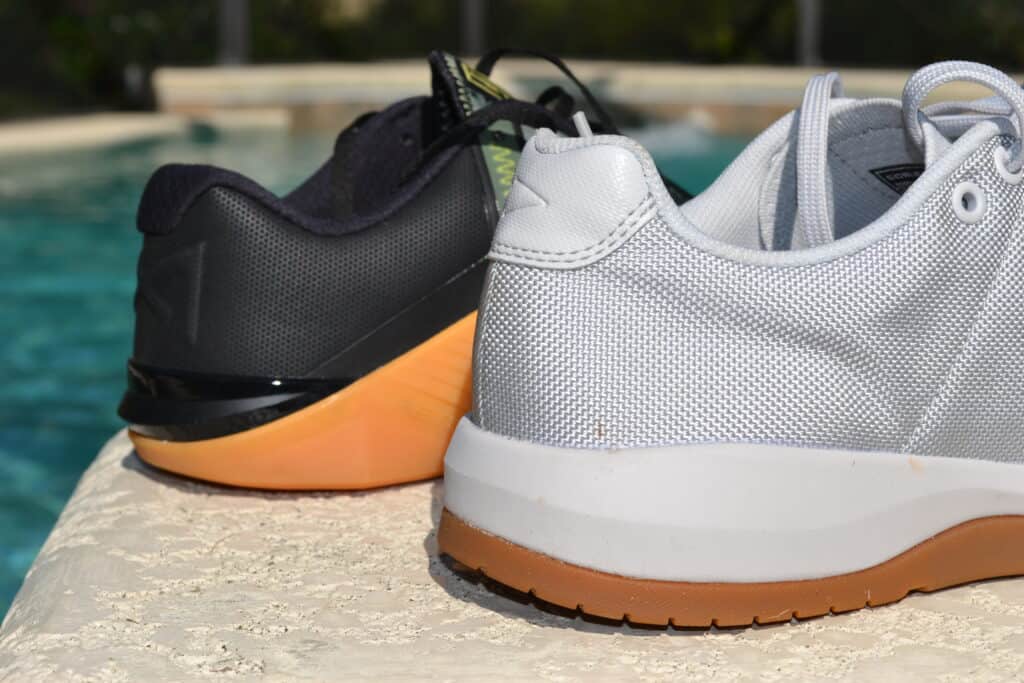 Despite the weight, the low-cut design makes them feel fairly streamlined.
OK, that's a tour of the features. Now let's talk performance.
GORUCK Ballistic Trainer – In the Gym (or Box)
GORUCK did their homework on these shoes.
There's no problems with heavy barbell lifting – deadlifts, squats, and more.
They have the support and stability you'd expect.
Kettlebells, dumbbells, and odd object lifting – all OK.
The drop is mild, all things considered, so there's not really anything to gripe about.
(GORUCK also includes a second insert that is flat and uncushioned – but I'm uncertain what this does to the drop – if anything.)
I tested these with a variety of Sandbag and Ruck Training as well.
Rucking with weight (rucksack and sandbag) and a variety of PT.
These did well.
GORUCK Ballistic Trainer – Running?
Can you run in these?
Yes.
But, as mentioned already they are heavy (15.0 ounces) and relatively uncushioned.
Most WODs require running only short distances – 400m, 800m, or even less (if you are lucky!)
I wouldn't go run a 5K in these.
As such these shoes make the classic WOD compromise – they can be used for all kinds of stuff – but they aren't overly specialized into any one activity.
In contrast, consider your typical highly cushioned running shoe – it's simply too mushy for barbell lifting.
Similarly, your average Oly lifter (a true ZERO cushion shoe) can't be used for anything but lifting weights.
So far, these Ballistic trainers perform as desired in the gym or the CrossFit box.
GORUCK Ballistic Trainer Versus IO Trainer
GORUCK has another training shoe – the I/O Trainer (for Indoor/Outdoor).
How do they compare?
We'll be testing the I/O trainer side by side with the ballistic trainer.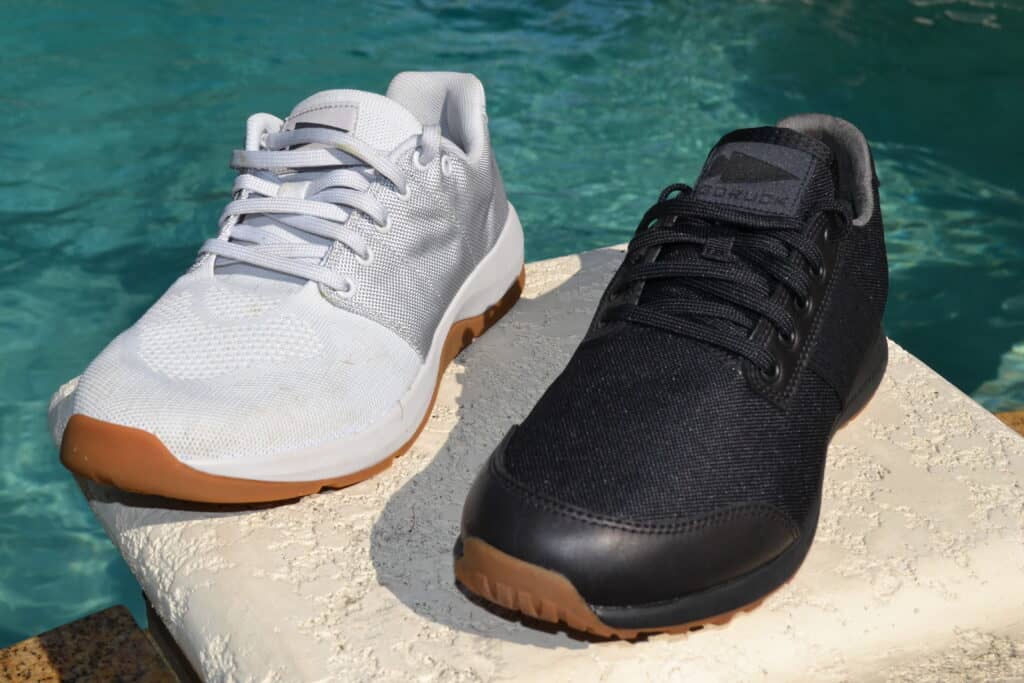 The I/O (Indoor/Outdoor) trainer seems better for all-terrain activities.
Check out the tread lugs on the outsole. It's like the MACV-1 ruck boot.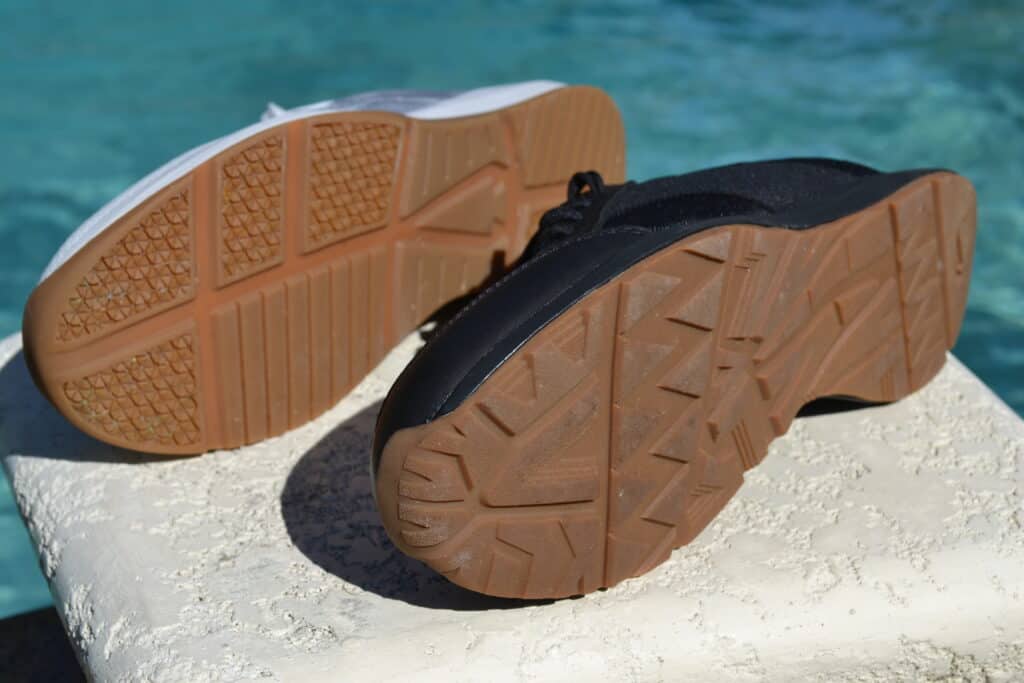 It's also minimally cushioned and stable for weight lifting (or sandbag training.)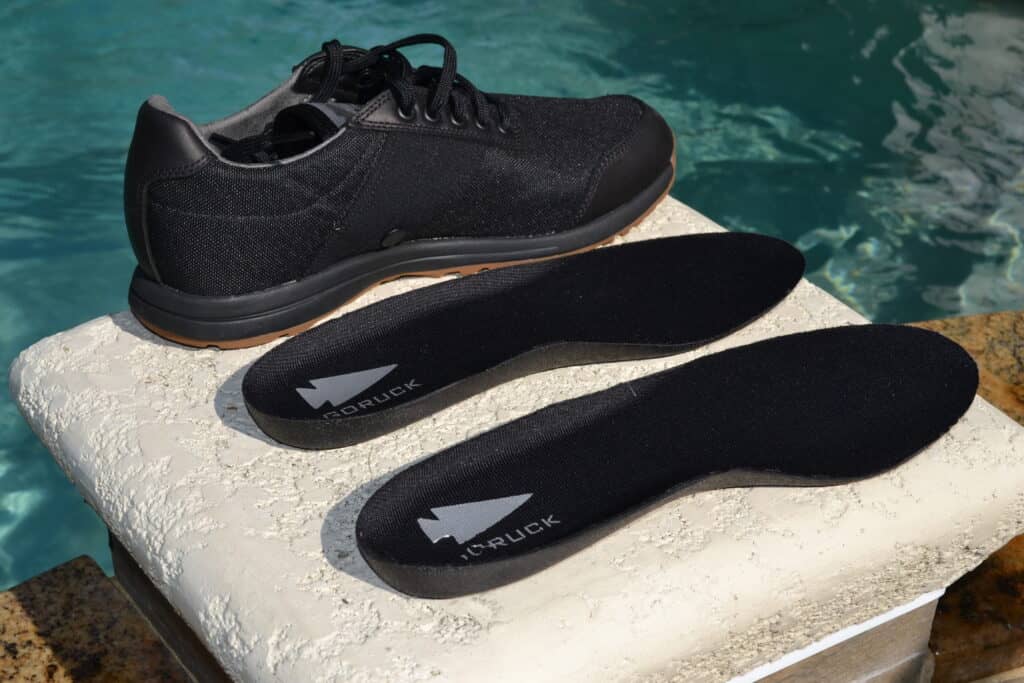 The I/O Trainer's upper makes use of Challenge Leather (on the toe cap) and 1000D Cordura.
The Cordura takes awhile to break in – and isn't known to be a breathable material.
(Out of the box the Ballistic Trainer is comfortable. The I/O Trainer less so – it's gonna take awhile to break these in.)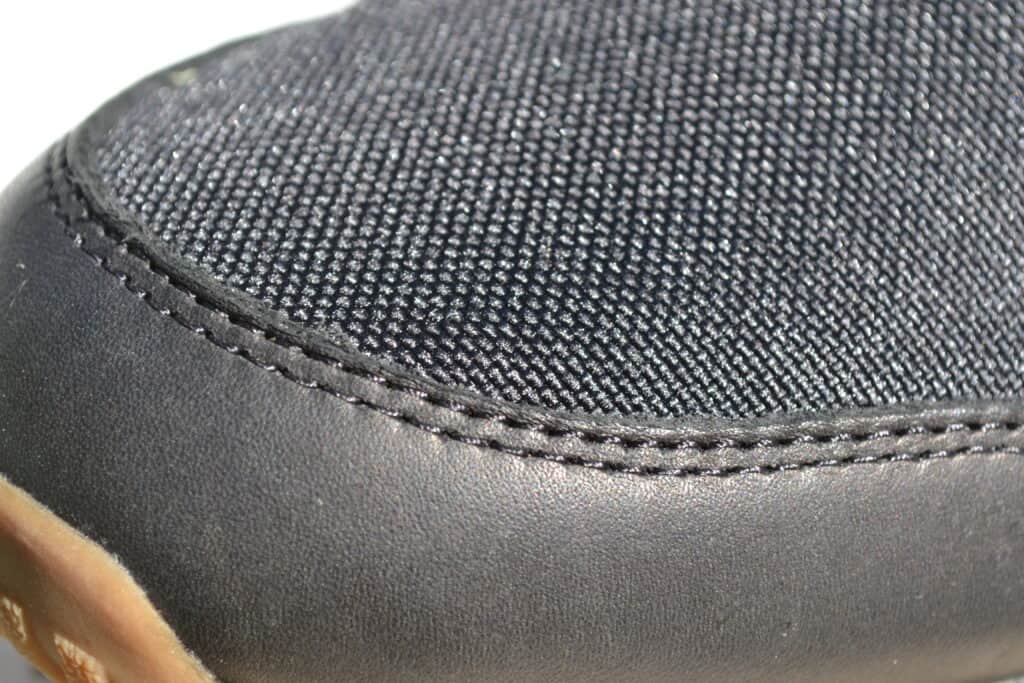 The I/O Trainer has a suede lined heel and a single mesh covered drain port (to help drain water in the event your feet get submerged out on the trail.)
Both these features were inspired by the GORUCK MACV-1 ruck boot.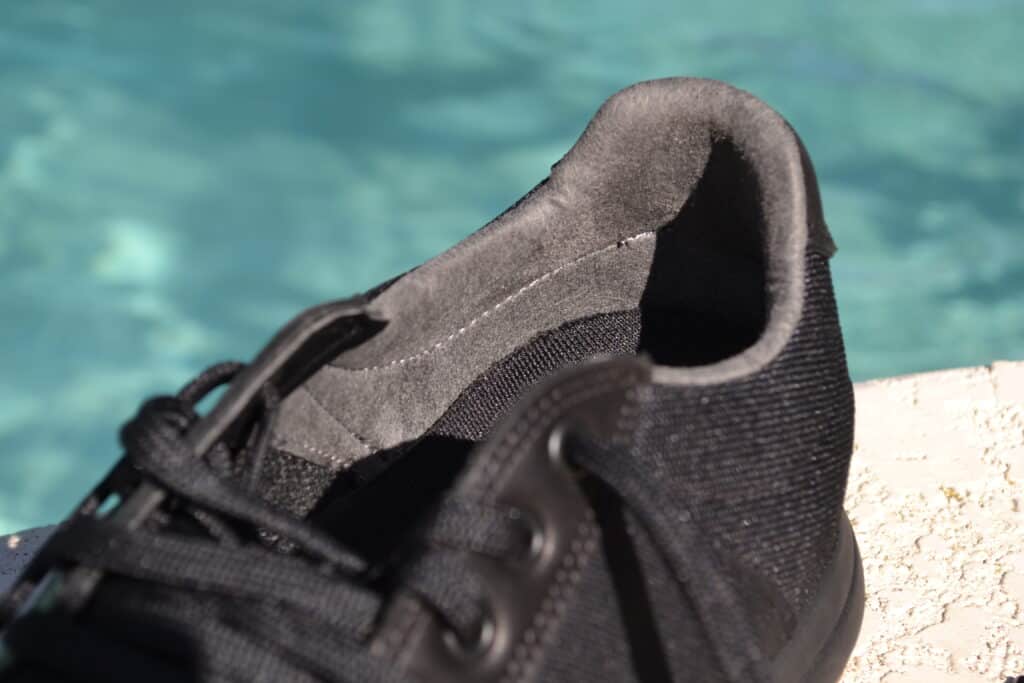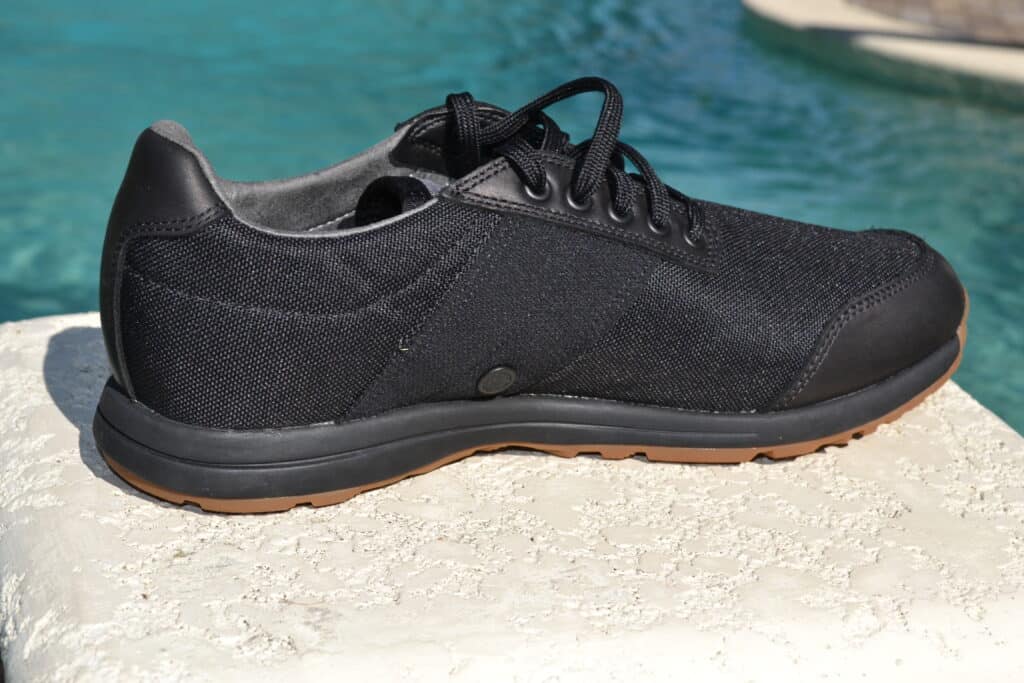 More testing is needed. But my initial thoughts are that the I/O Trainer is more like a very low cut ruck boot.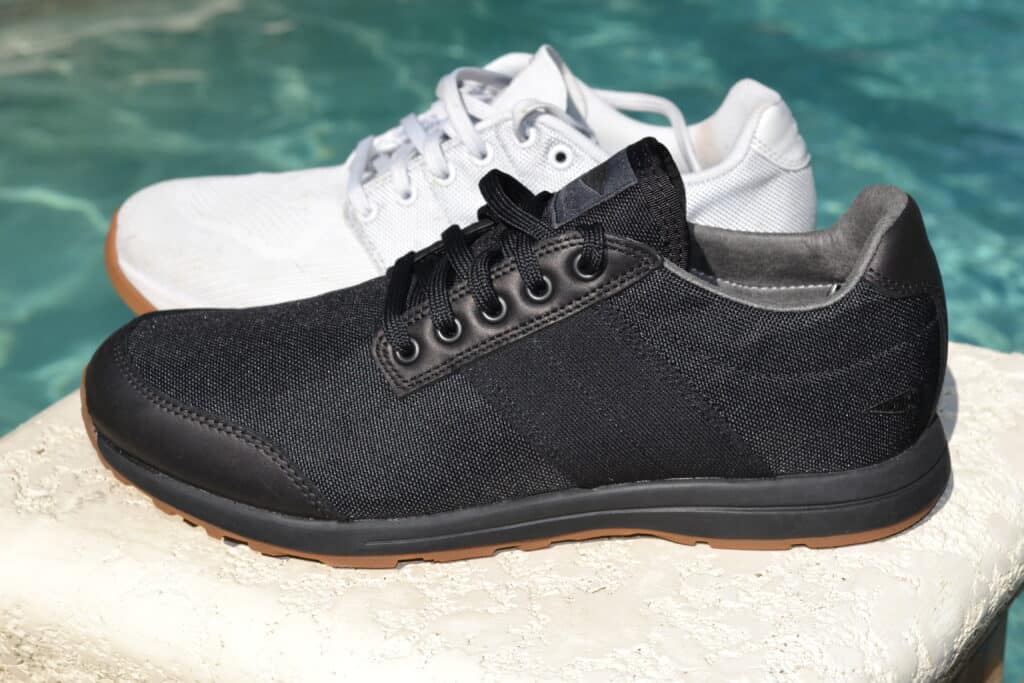 By the way, the sizing on the I/O Trainer is well off that of the normal scale. I initially ordered 11s (my normal size) and had to return them. These 10.5s seem OK. GORUCK says some people may need to go one full size down…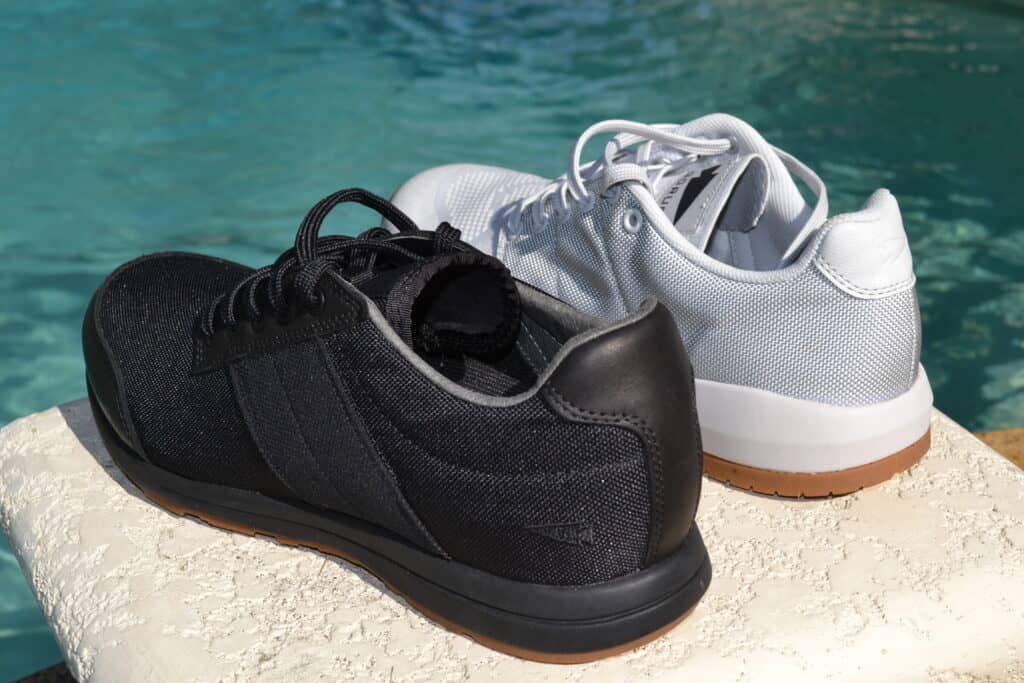 GORUCK Ballistic Trainer Versus Nike Metcon 6
We recently declared the Metcon 6 to be the best CrossFit shoe for 2020. Can the Ballistic Trainer unseat the champ for 2021?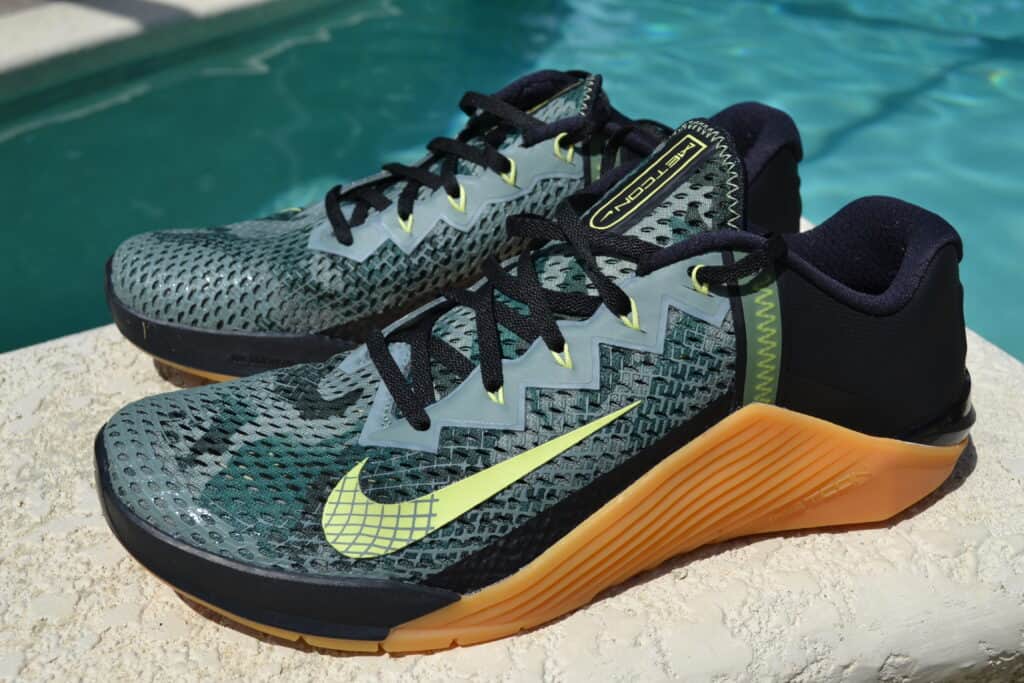 That's what we'll find out as our hands on testing proceeds.
For now, let's look at some of the stats.
The Nike Metcon 6 has a very breathable upper. It's got very large perforations throughout the forefoot.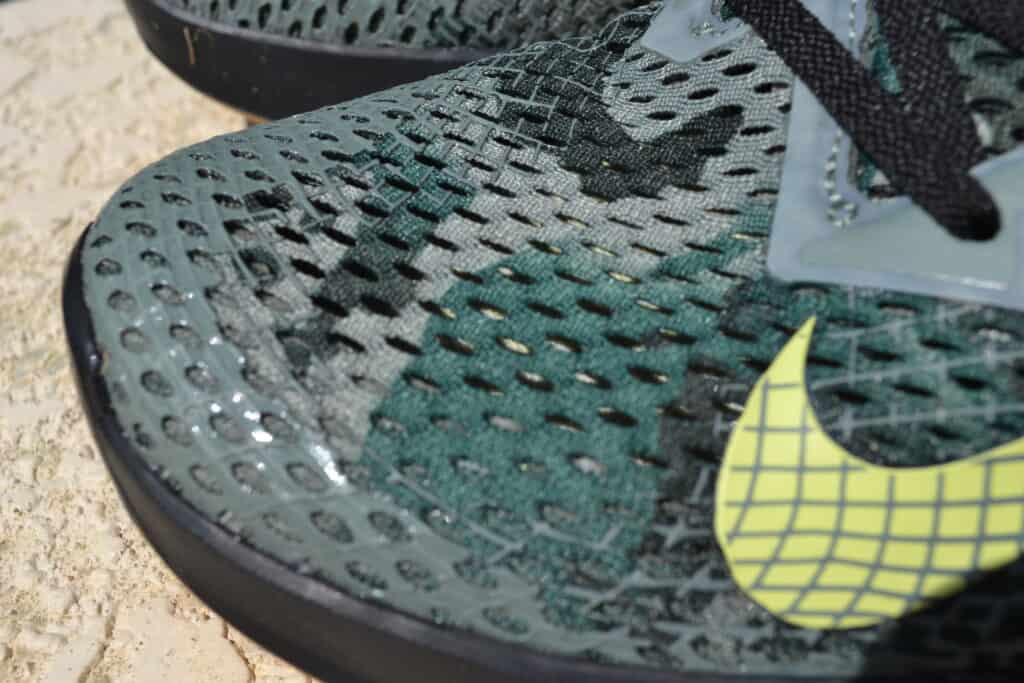 Can you see the daylight shining through in those photos above?
I'm in Florida – and I workout in my garage gym or outdoors. Every little bit of heat shedding ability makes a difference to me – so I like it.
Another factor in the Metcon 6 being a great shoe is the fact that it comes with Nike's Hyperlifts.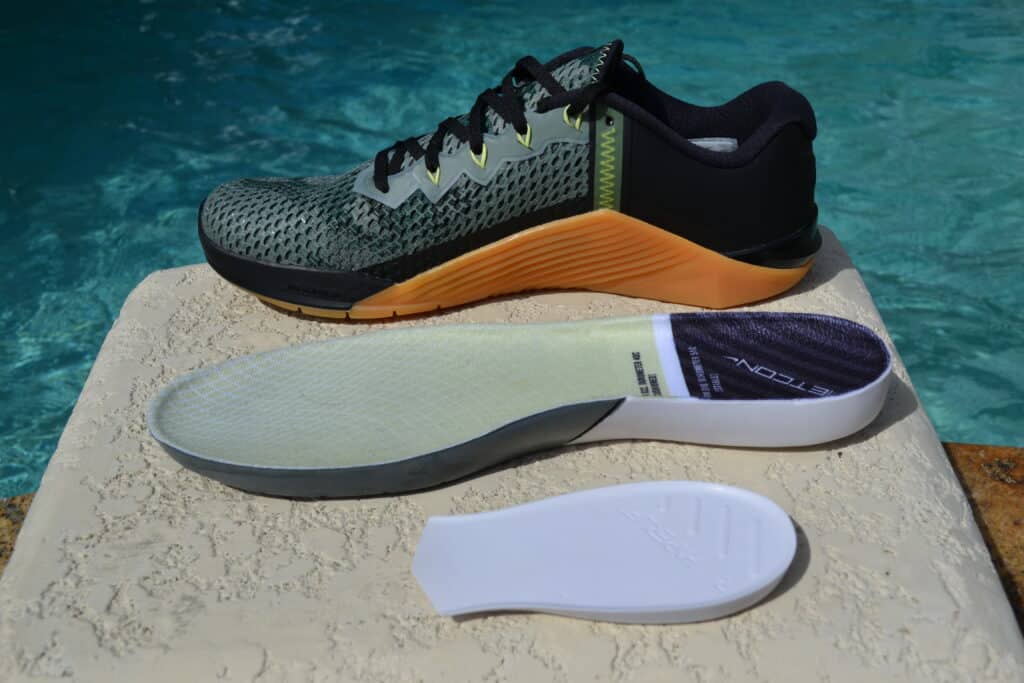 Drop these little wedges in and you can go from 4 mm of heel to toe drop to 12 mm total (10 mm for women).
A little drop or a healthy amount of drop? You get to choose – and change it from one WOD to the next.
Built like a tank, the Nike Metcon 6 is no lightweight. But it is lighter than the Ballistic Trainer.
My pair of Men's US Size 11 weigh 13.9 ounces each.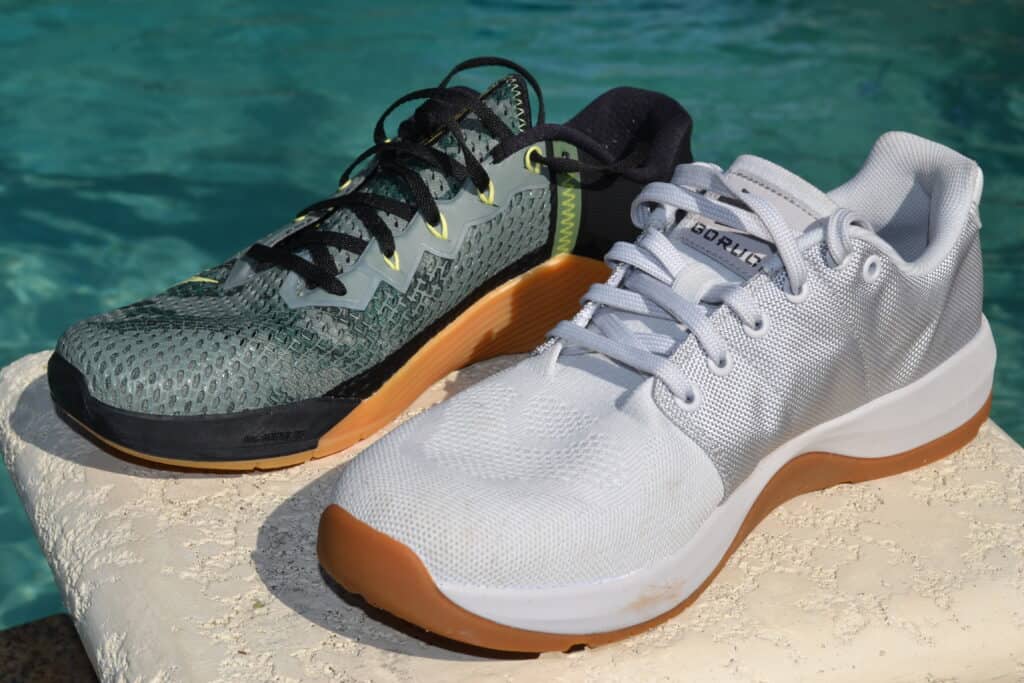 Is the GORUCK Ballistic Trainer's styling too boring?
That's for you to decide. Some people don't want an ostentatious looking shoe – so it can be a plus.
But on the other hand, these are very, very plain looking vanilla shoes.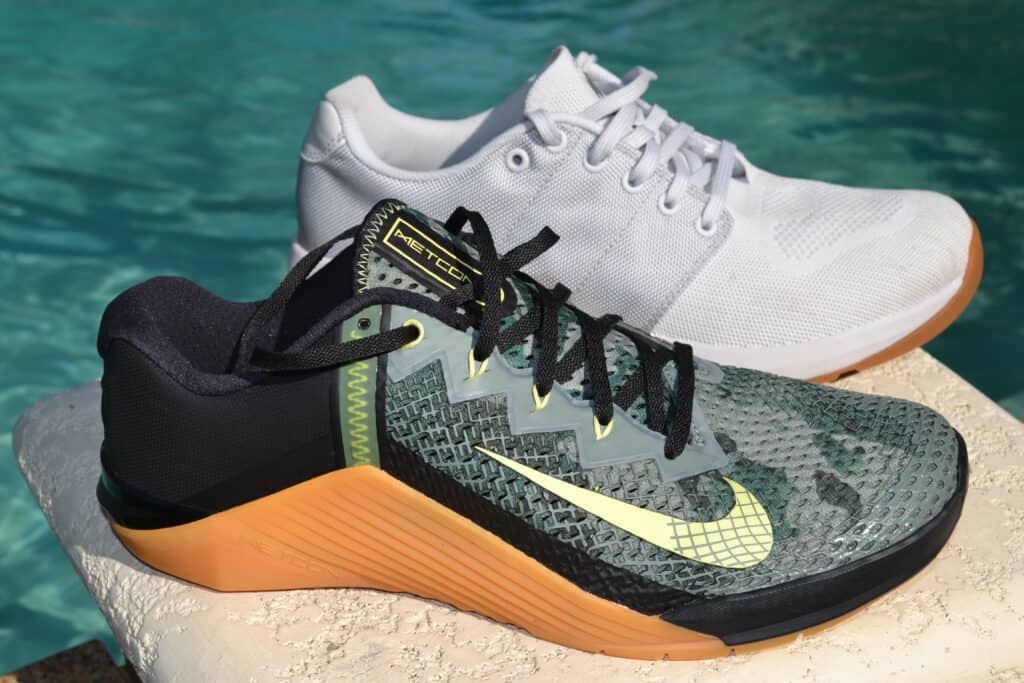 Looks matter. It's a key reason why people choose one shoe over the other.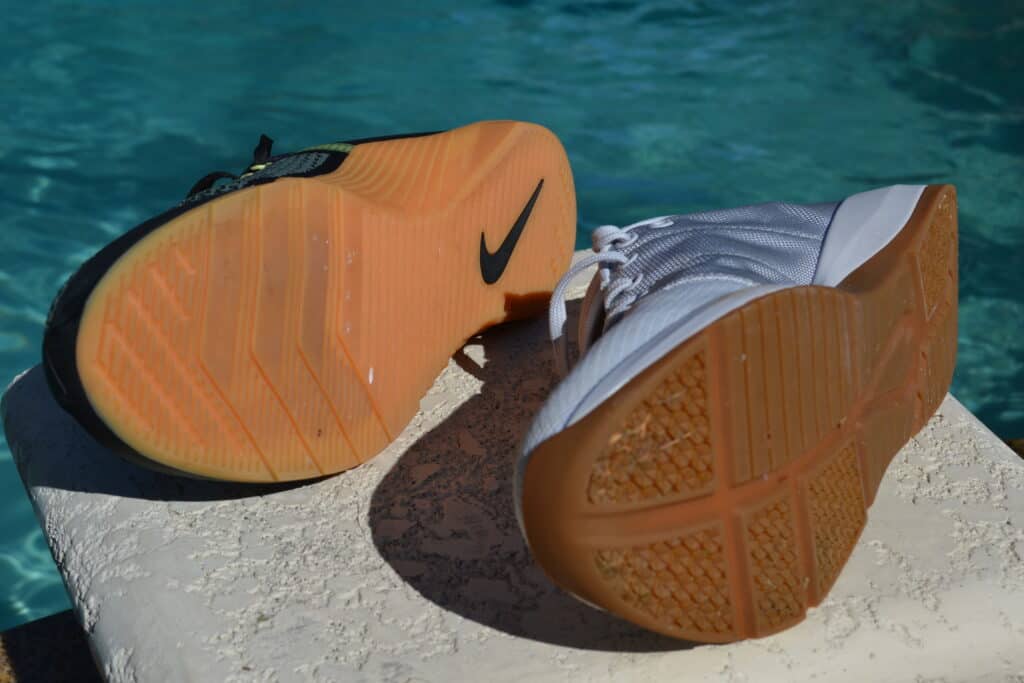 I will say this though – the heel and toebox of the Ballistic Trainer fit me far better than the Metcon 6 (for which I have to go 1/2 size up on – and I get heel slippage with the Hyperlifts in).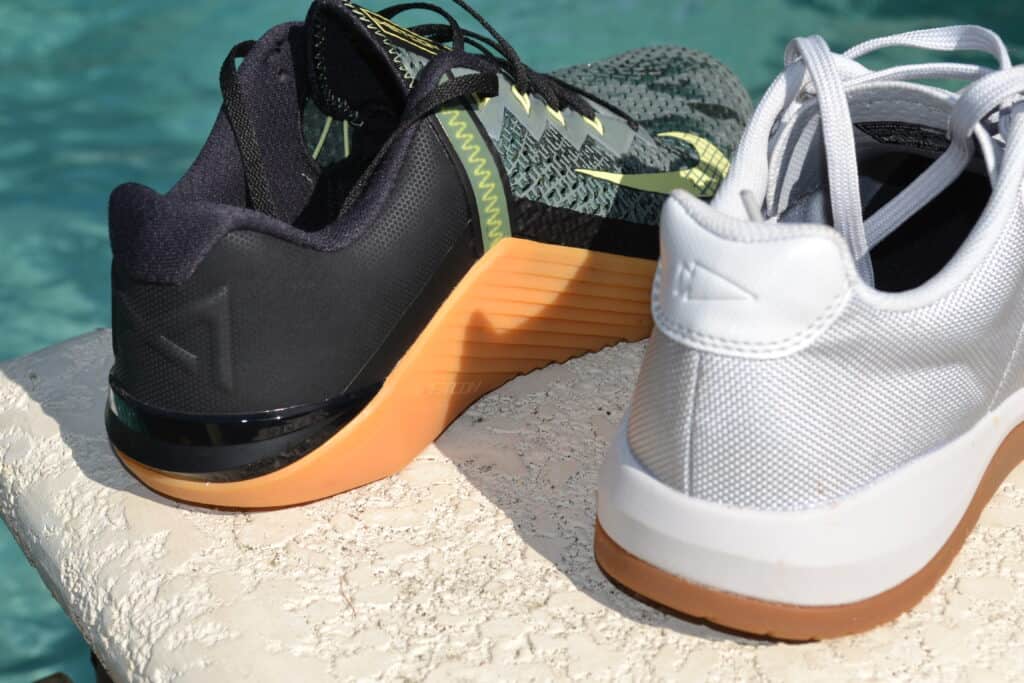 GORUCK Ballistic Trainer Versus Reebok Nano X
Here's another great WOD training shoe option for 2020 – the Reebok Nano X.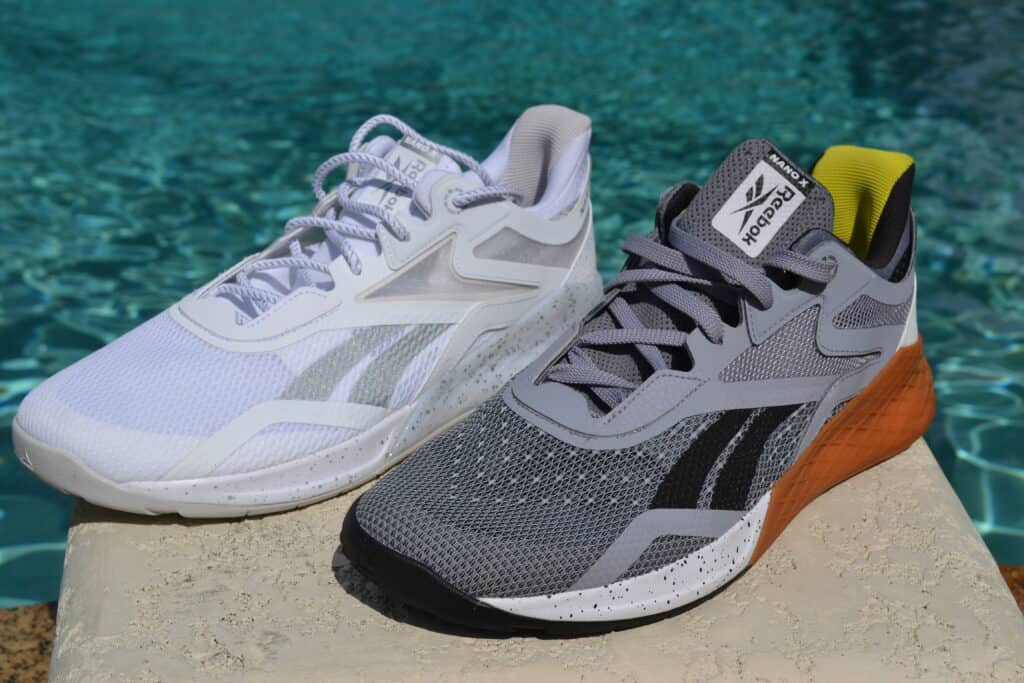 Now in it's 10th iteration, Reebok continues to tweak the Nano shoe.
The Nano X is much like the Nano 9, and the 8 before it.
It offers an exceptionally wide toebox – and I love it.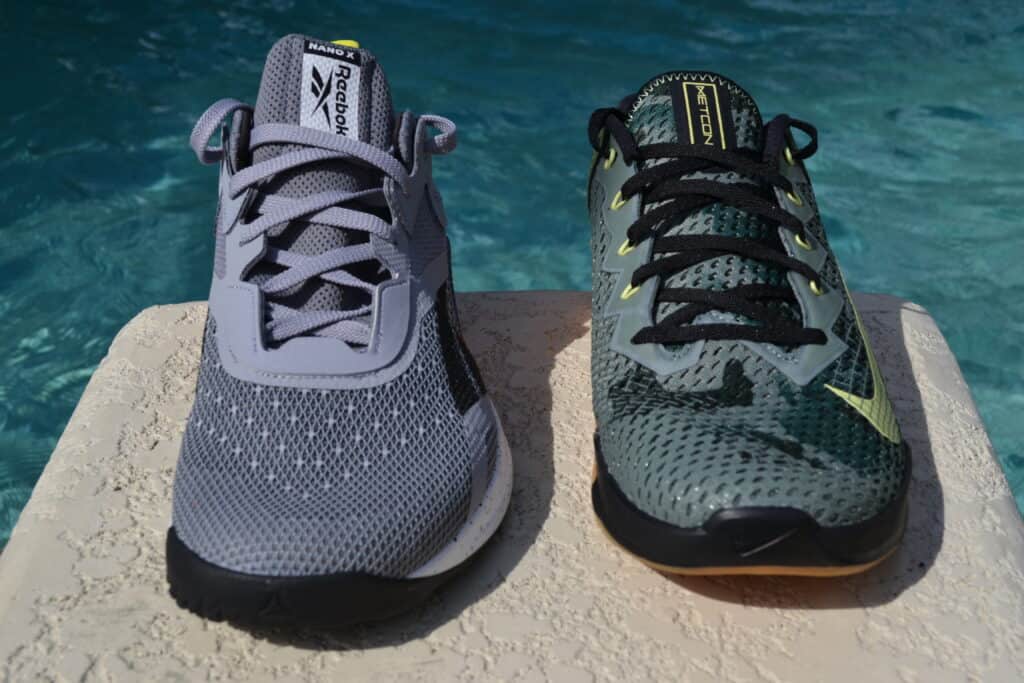 The drop in the Nano X is 4mm – and cushioning is minimal too.
Compared to the Metcon 6, I find it slightly less well suited to impact activities because of this.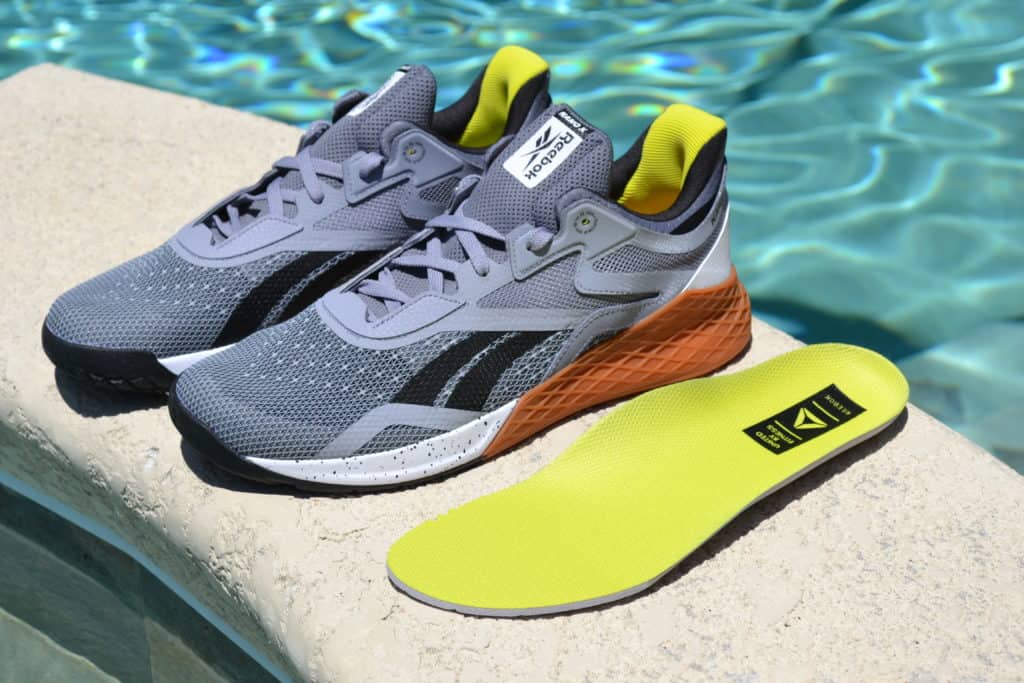 The Nano X (US Men's Size 11) weighs in at about 14.2 ounces.
The new version of Flexweave in the upper is comfortable, stretchy, and breathes reasonably well.
I also think it looks much better than last year's Flexweave.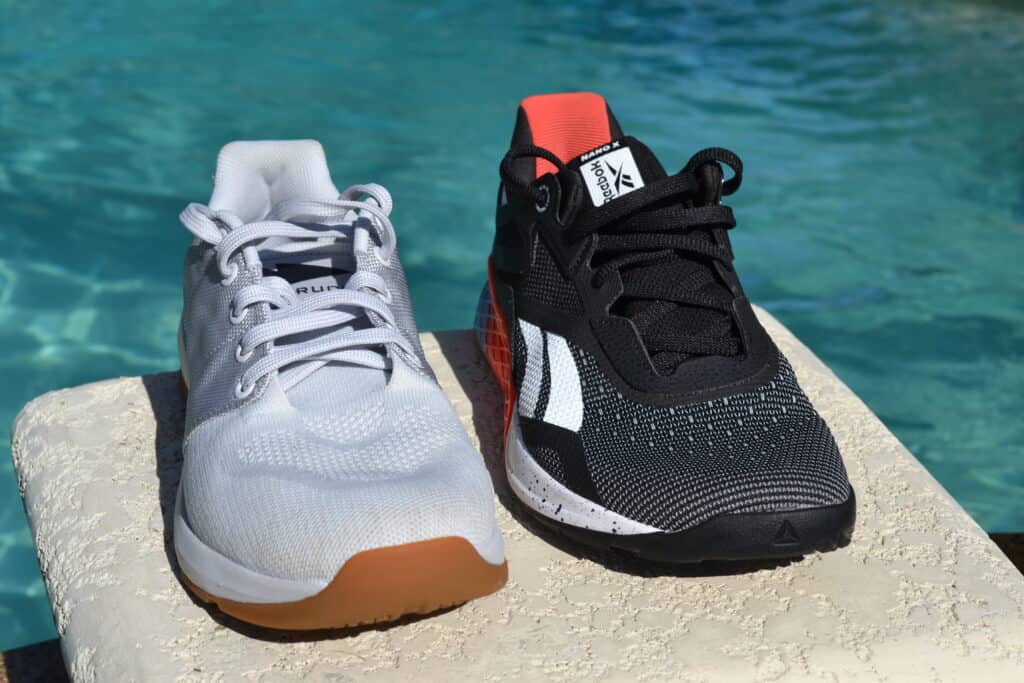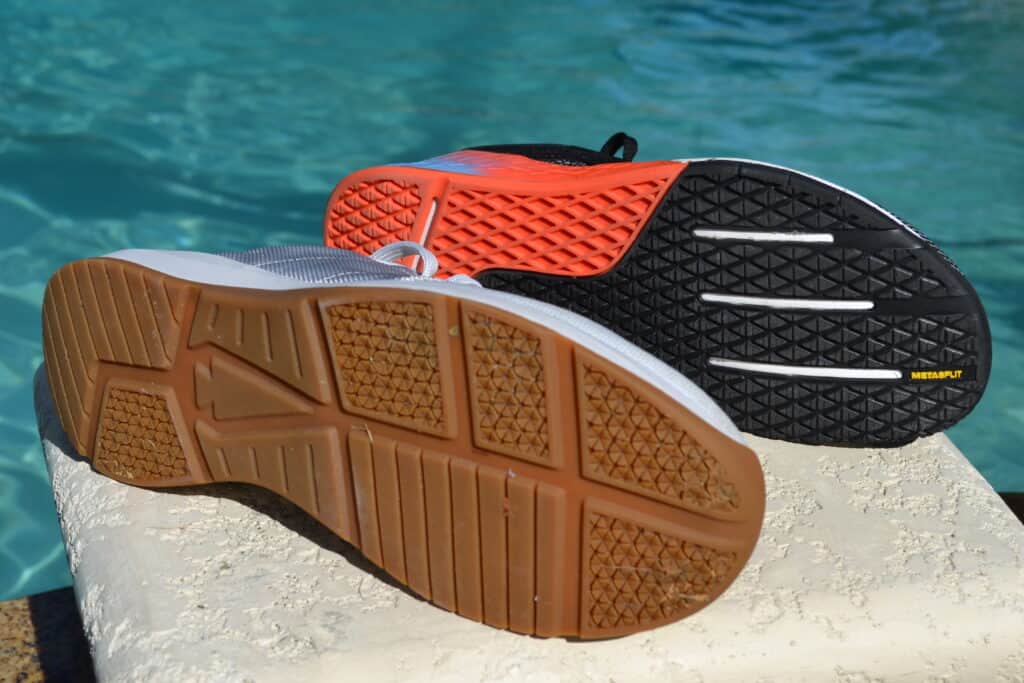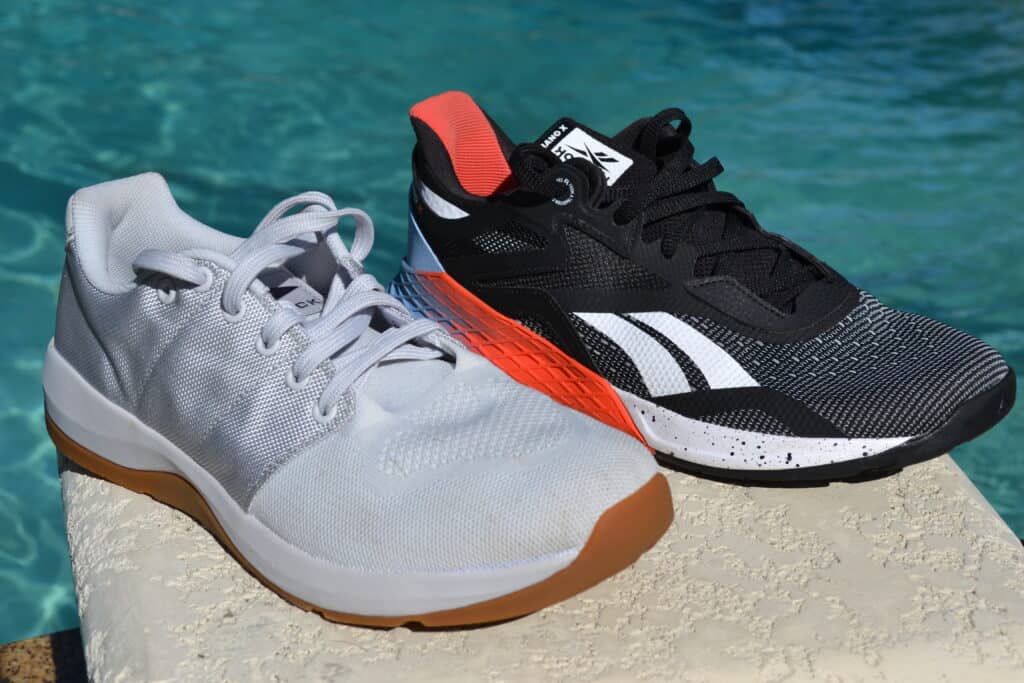 GORUCK Ballistic Trainer – How Did We Test?
It's fun testing these kind of shoes – because they are so versatile.
Here's everything we have (or will) put these shoes through:
Heavy barbell training – Deadlift, cleans, squats.
Ruck training – miles on the ruck march with a heavily loaded backpack.
GORUCK's Sandbag & Ruck Training program – this is a functional fitness style "WOD" style of workout. It involves a lot of PT with 30 lb backpack and sandbag (cleans, carries, get-ups, etc.)
LIGHT running. I don't run much. I'm not looking to run far.
Rowing, air bike, jump rope, box jumps – much of the things you'd do in the CrossFit WOD.
GORUCK Ballistic Trainer- In Summary
The GORUCK Ballistic Trainer is an all-new design for 2020.
It's got all the features you'd expect in a cross training shoe.
Stability for lifting, support for running, and more.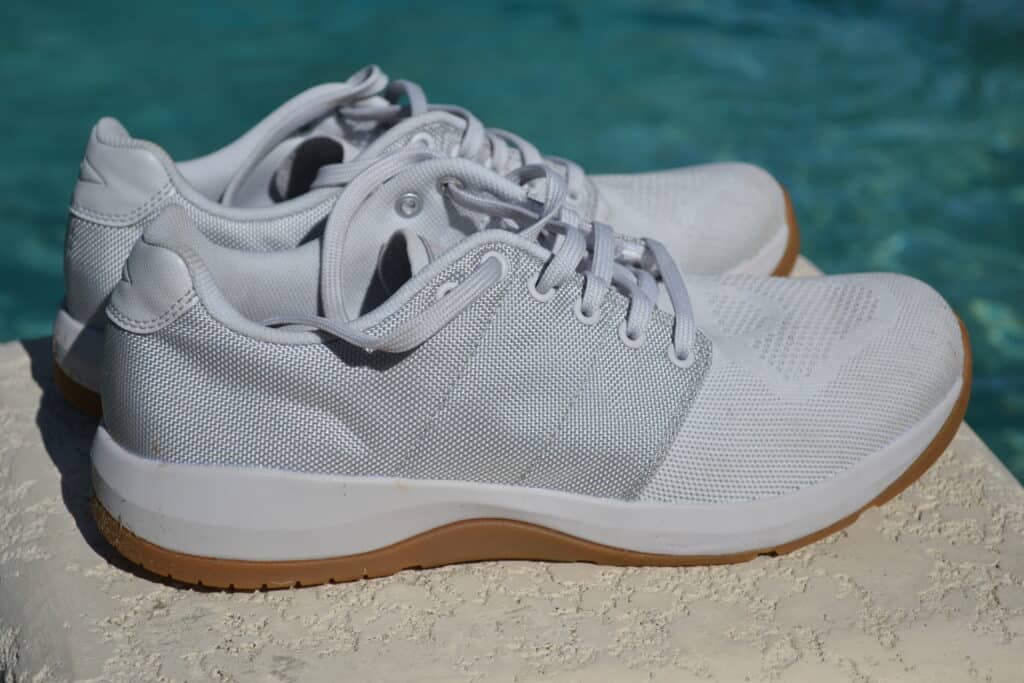 Photo Credits
Some product photos on this page are property of GORUCK.
This website is not affiliated or associated with CrossFit, Inc. CrossFit is a registered trademark of CrossFit, Inc.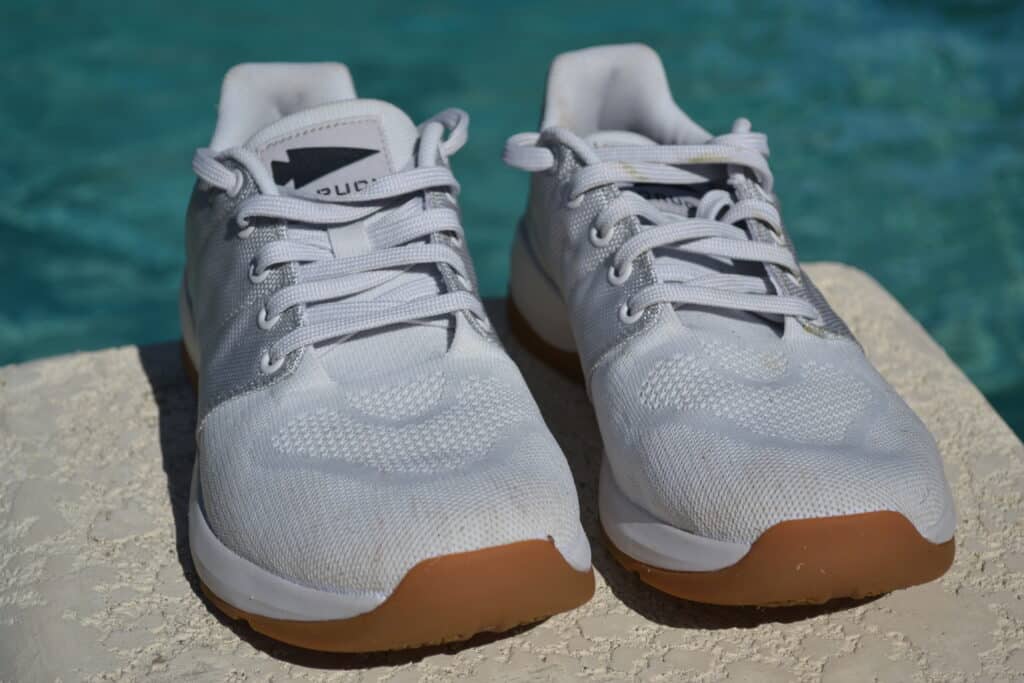 Affiliate Disclaimer
We are an affiliate of GORUCK. If you buy gear after clicking the links in this article, we receive a small commission at no extra cost to you. This helps us to bring you in-depth information and content on this great training gear.