Let's take a quick look at an excellent trail running shoe – the Nike Air Zoom Pegasus 36 Trail.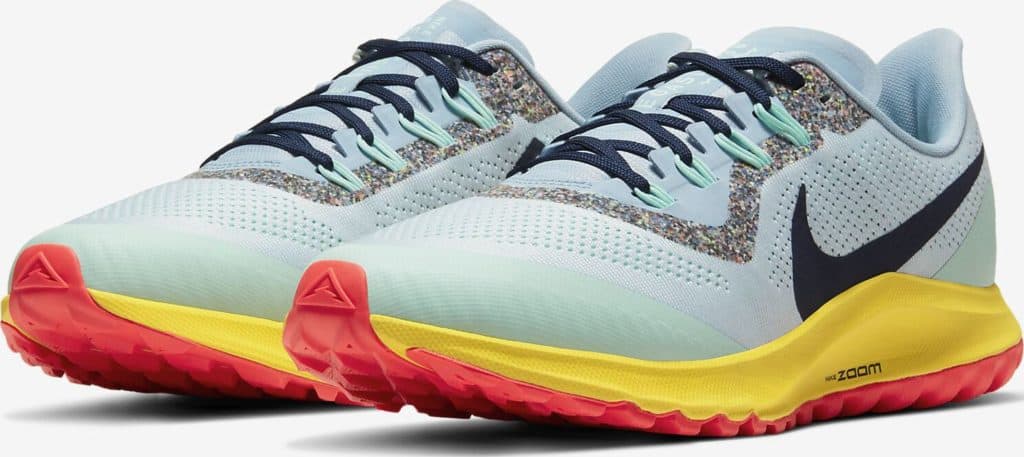 It's available in a fresh new colorway: Aura/Light Armory Blue/Mint Foam/Blackened Blue.
That's a mouthful, but the important point – it looks good.
It is officially known as Style AR5677-401, by the way.
Where can you get it? Road Runner Sports:

Nike Air Zoom Pegasus 36 Trail
This is the Nike Air Zoom Pegasus 36 Trail in Aura/Light Armory Blue/Mint Foam/Blackened Blue. It's a trail running shoe and it has Zoom Air - Nike's air cushion and rebound system.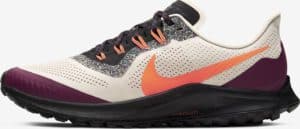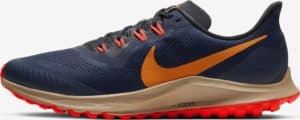 This is a trail running shoe – and that means it's meant for off-pavement running.
Trade the pavement for the path with the Nike Air Zoom Pegasus 36 Trail.
What's good about this shoe?
How about a perforated mesh upper for maximum ventilation?

There's also double "Zoom Air" units underfoot for cushioning of your stride.
(Read on to find out more about Zoom Air…)
And it's a trail runner shoe – so the opposing lugs on the outsole (or sole) give you optimum traction.

And that all works when running uphill too.
The upper is made from synthetic material and lets your foot breathe.
There are 2 Zoom Air units (one in the heel and one in the forefoot) to cushion your stride.

What is Zoom Air?
Think of it as an air-filled shock absorber, but it also has tightly stretched tensile fibers to give you a rebound with every foot strike.
Here's how Nike describes it
[1]:
"Tightly stretched tensile fibers are knit inside a pressurized Nike Air unit, giving the Zoom Air cushioning its snappy responsiveness. Each time an athlete's foot touches down, the fibers compress to cushion the impact before quickly springing back to their original state, generating an explosive, powerful response off the ground. Whether elite athletes are racing or training, they look to Zoom Air for a fast, responsive ride and the snappy, quick-off-the ground feel that helps optimize their quest for speed."
Think Zoom Air is fancy new tech? Nope – been around for 20 years – so consider it to be a proven winner.
Let's take a look at the outsole, or more simply, the sole.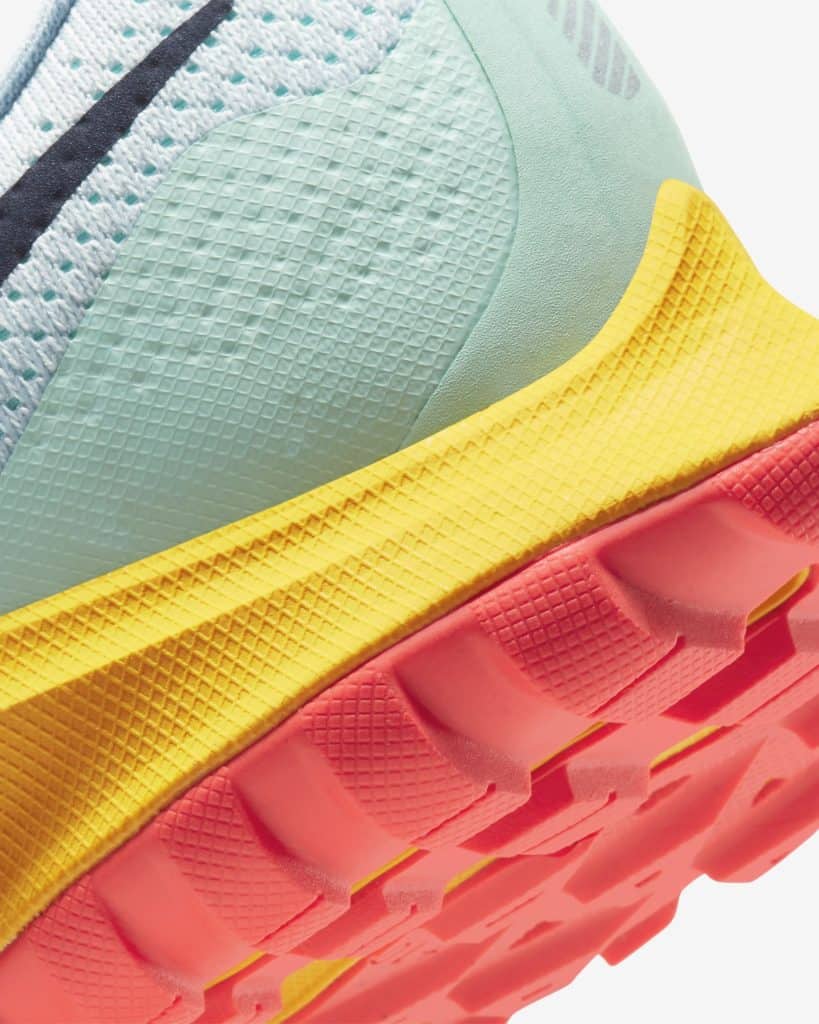 Those lugs optimize traction on roads, trails, dirt, gravel – pretty much anywhere off pavement.
Narrow is out – and wide is in. This shoe has a wide forefoot gives you a roomier fit.
That lets you splay your toes out for real traction and power. And it's also more comfortable.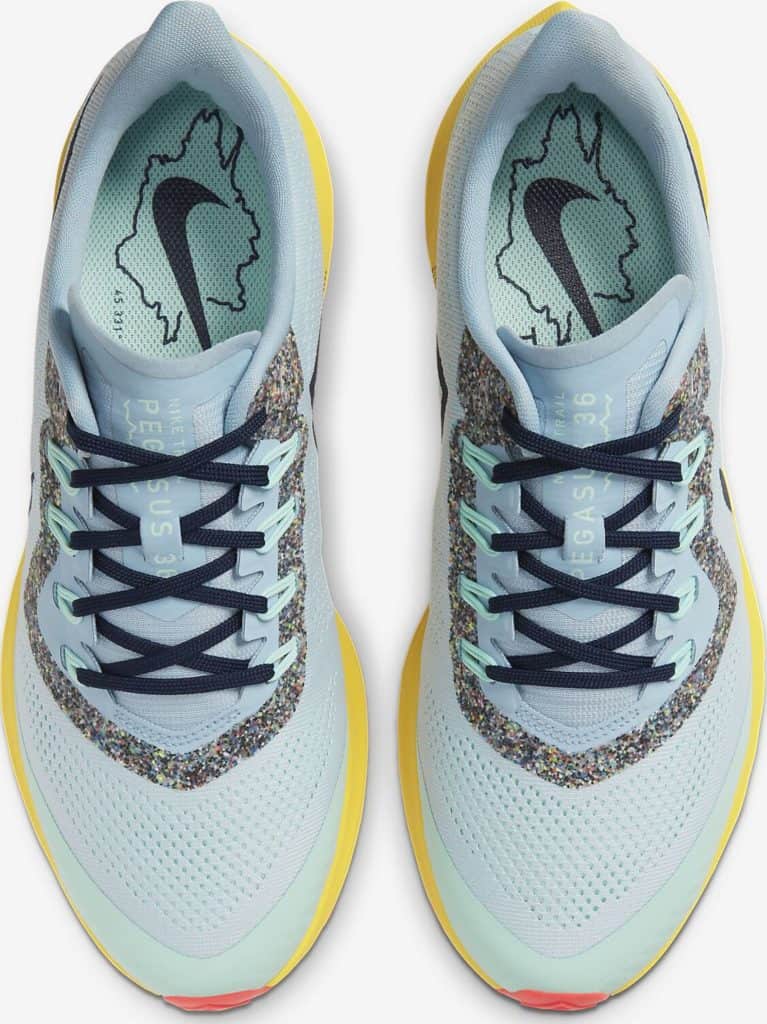 This shoe has traditional laces – and that's OK by us.
There's also an overlay formed around the eyelet to integrates with the laces for a secure and customizable fit.
Product Specifications
These specs come directly from Nike, so they should be accurate.
Weight: 10.28 oz. (men's size 10) – This is pretty lightweight for a shoe and just what you want.
Last: MR-42.
Offset: 10mm (13.5mm forefoot, 23.5mm heel) – 10mm is a traditional "Heel to Toe Drop" for a running shoe.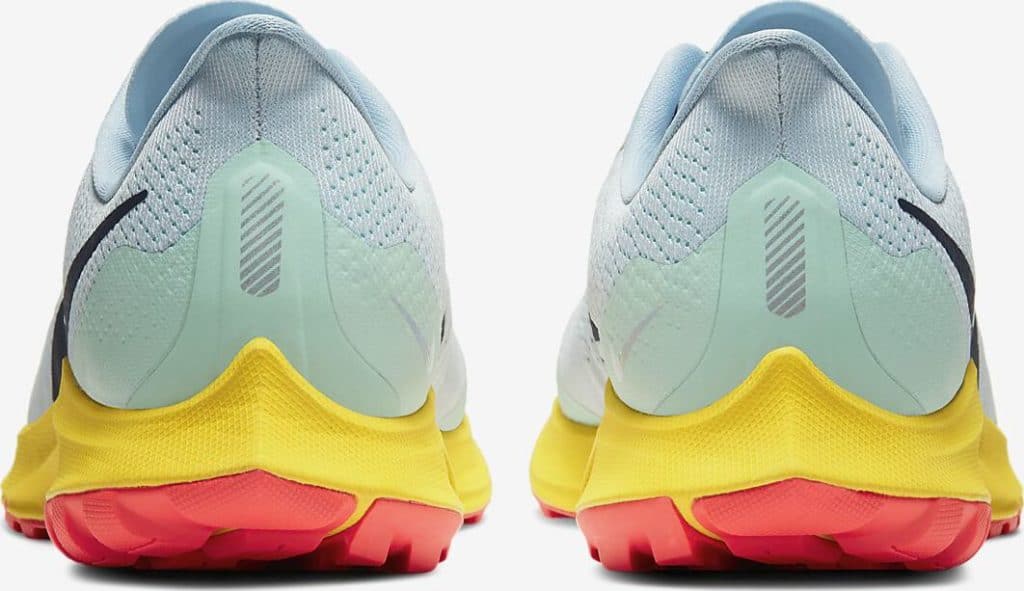 There are other styles, too , here's a sample.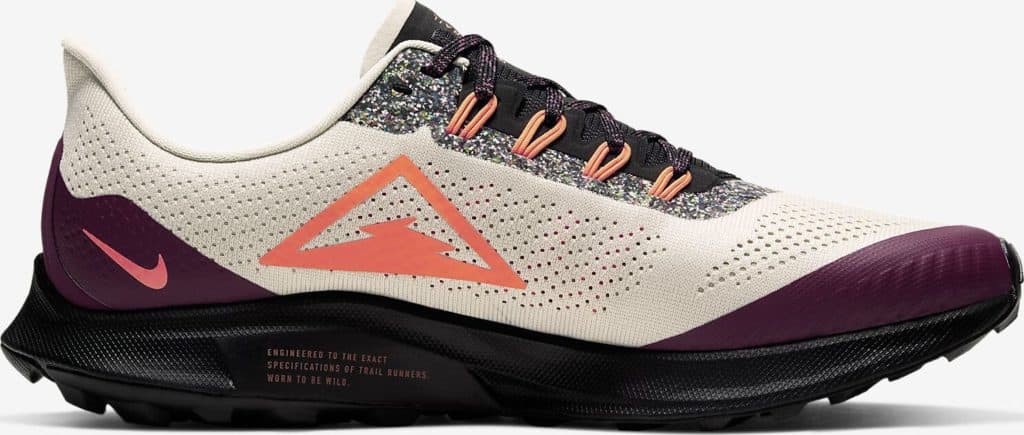 References
1.
Nike Zoom Air: The Technology of Fast
Photo Credits
Product photos on this page are property of Nike, Inc.
This website is not affiliated or associated with CrossFit, Inc. CrossFit is a registered trademark of CrossFit, Inc.