Rogue has released the 3rd version of the
Echo Bike
. Grab one while they last!
Let's look at all the Rogue Lifting Belts.
Contrary to what many think, lifting belts are not like a brace to support your torso, so your core muscles don't have to. Lifting belts reinforce the abdominal muscle and can literally improve the use of the abs and lower-back muscles. It lessens strain on the lower back while you lift in an upright position, and it stops back hyperextension during overhead lifts.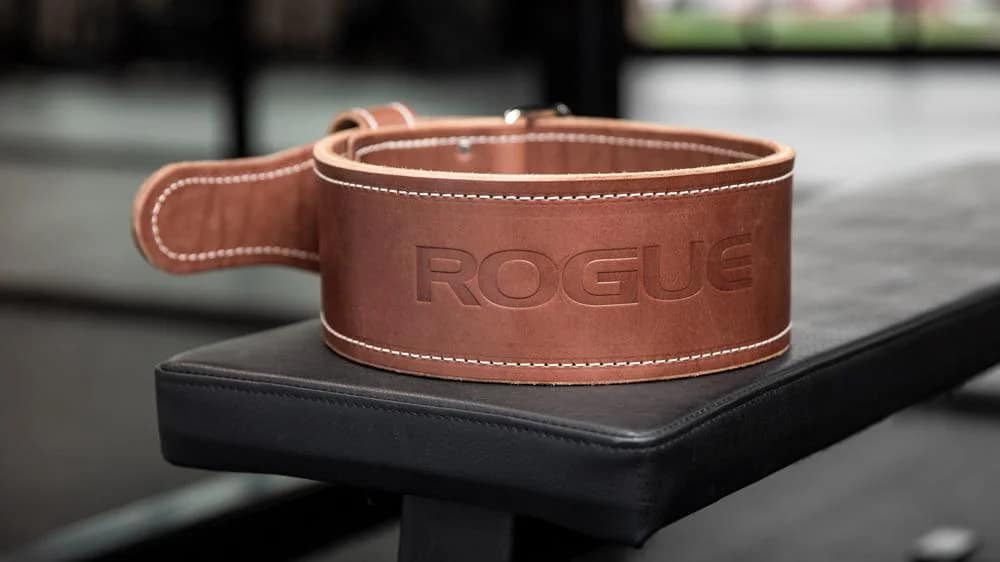 Here's some of the styles we are going to look at:
Rogue Lifting Belts – Overview
However, a lifting belt won't replace the core activity, balance, and technical skills needed to properly perform weightlifting activities. Amateurs must work with a coach, particularly if they're unsure how to maintain the body without a belt. Knowing how to use a lifting belt correctly can be empowering and can improve different muscle groups. Using it makes the lifter more conscious of their back's position so they'll know what muscles must be activated to have a good posture.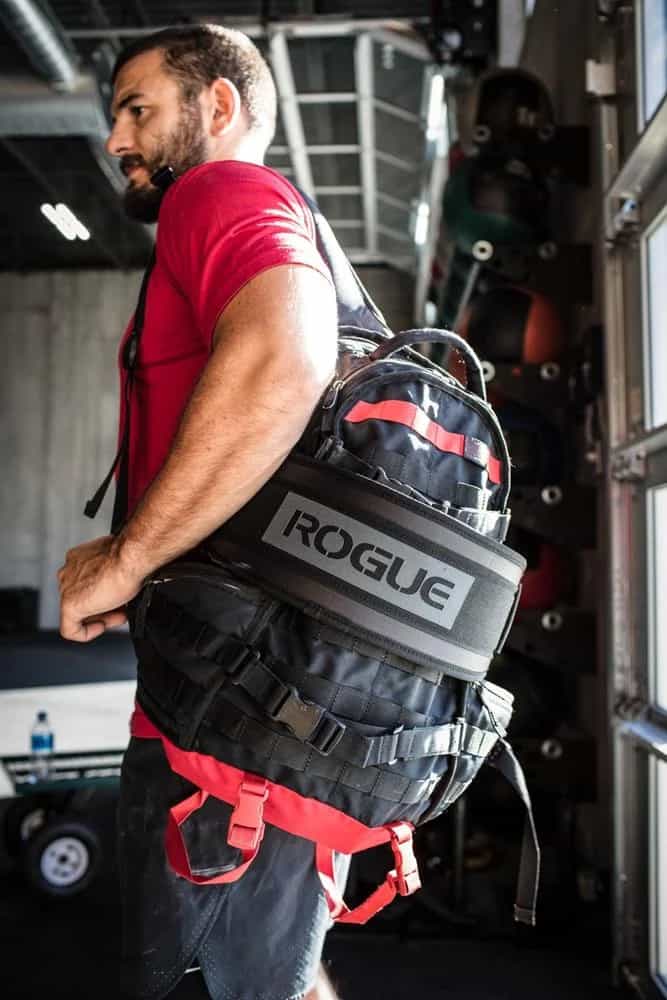 But what lifting belts should you use? Finding the best lifting belt can be difficult but necessary, especially if you are a serious beginner. In this article, we will show you different kinds of lifting belts from Rogue suitable to your strength level and different features, materials used, and construction.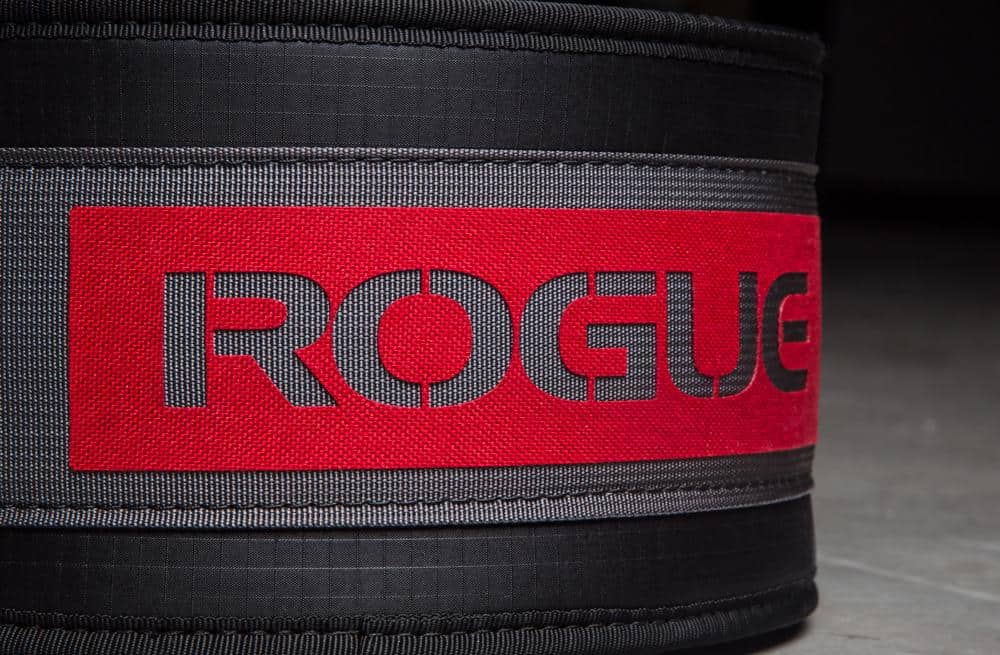 Rogue Ohio Lifting Belt
Made from 10mm thick, vegetable-tanned American leather, this 4″ wide belt grants firm, steady support, alleviating stress on the back and helping in both the decrease of post-workout pain and the possible long-term serious injury. The vegetable tanning method implies that you'll get a belt with a smoother feel that is just as powerful as the rest, with an almost nonexistent break-in time.
The Rogue Ohio Lifting Belt is handcrafted not to contend with the world of mass-produced, sporting-goods-store weightlifting belts but to give a more robust, longer-lasting alternative for customers serious about strength training and investing for the long haul. The official Rogue logo is marked into the leather on the loop of the Ohio Belt and across the back exterior portion.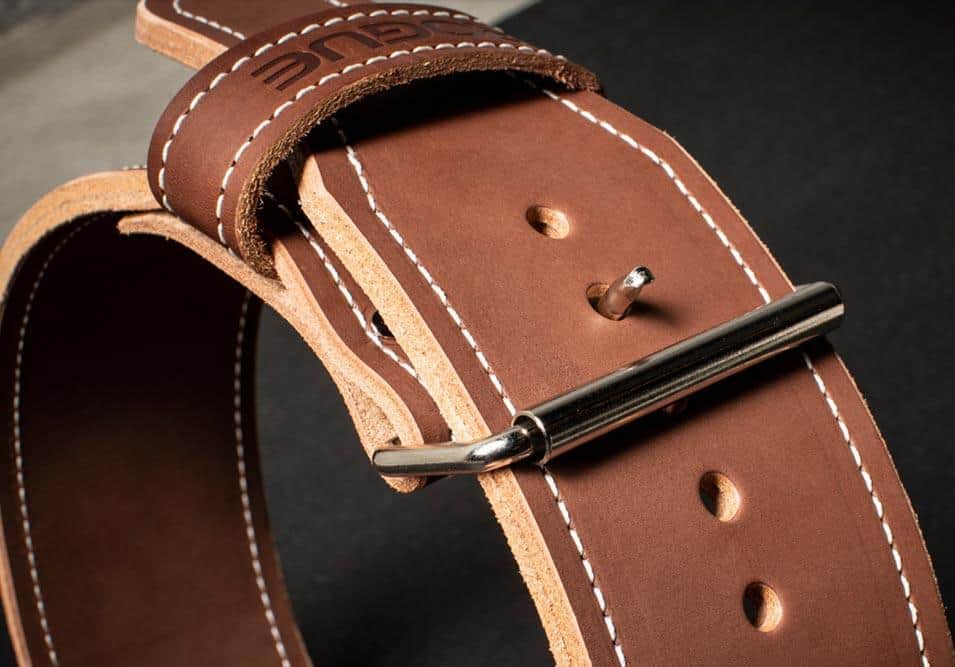 Rogue Premium Ohio Lifting Belt
The Premium Ohio Belt grants reliable custom support with unrivaled comfort and craftsmanship. The leather has an expedited "break-in" time, with a long-lasting, moisture-resistant construction that guarantees long life even through daily, high-intensity use.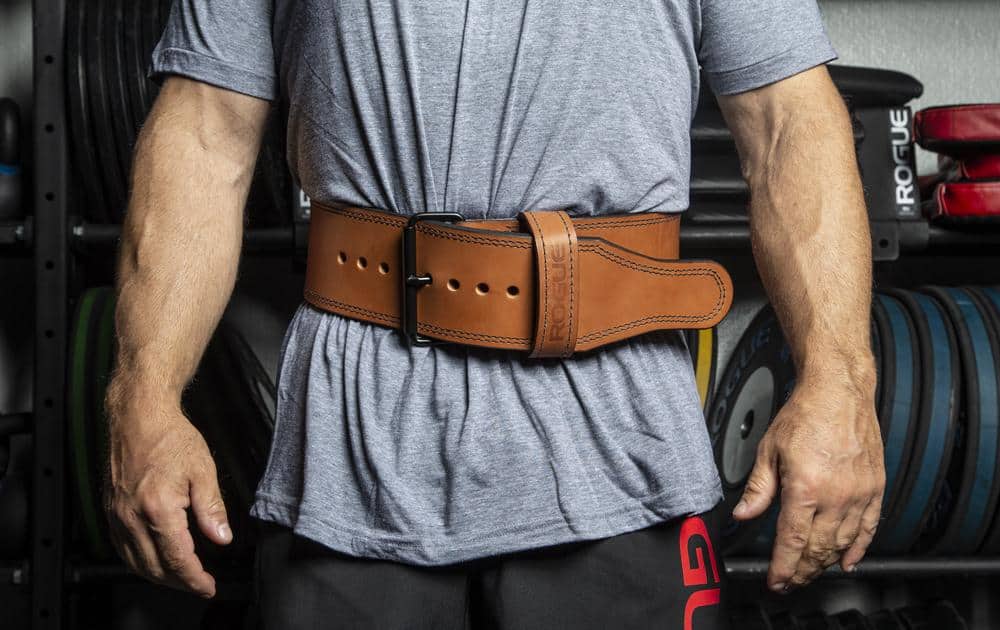 The Premium Ohio Belt introduces various new and upgraded features, including a high-grade English bridle leather construction, black Tuff Kote finished edges, and a slip-resistant interior texture. Combined with Rogue's established vegetable tanning method, the outcome is the best high-performance leather weightlifting belt Rogue has ever produced.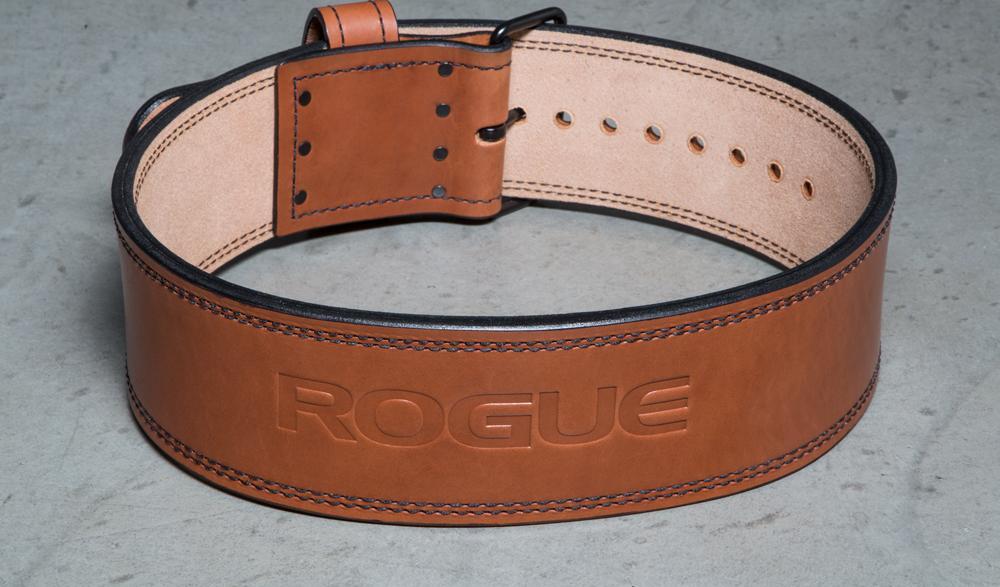 Rogue 3″ Ohio Belt
Acquired from the all-natural cowboy process of tanning hides, the vegetable tanning method can take weeks to develop versus the mere hours of modern sole tanning. This produces a strong, water-resistant leather weight belt with a deep, natural brown tone.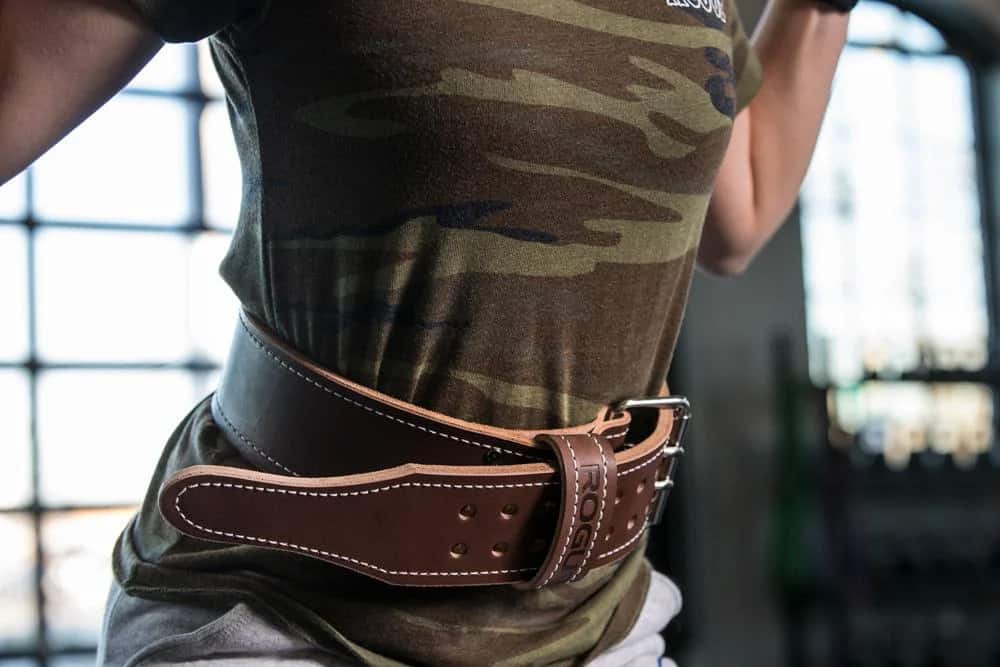 For athletes who want a slightly thinner lifting belt for a more unrestricted range of action, the 3″ Ohio Belt is the simple answer made from the same 10mm thick vegetable tanned leather as Rogue's standard 4″ version.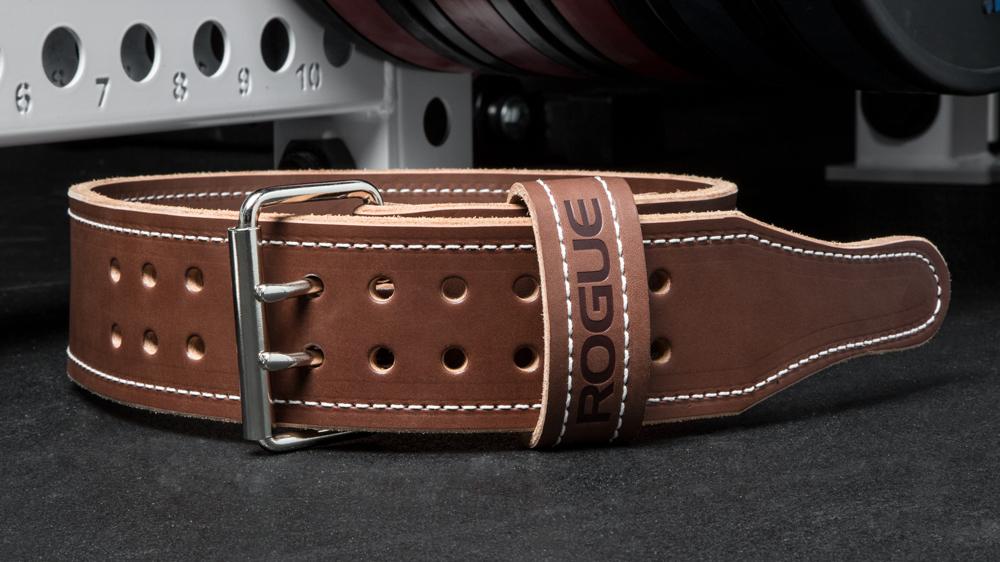 Rogue Faded 4″ Lifting Belt by Pioneer
Rogue has a Faded Lifting Belt is the Pioneer Cut™, which adapts the industry-standard prong buckle for better custom sizing by using two offsetting lines of holes. As an outcome, athletes can tighten the belt by 0.5″ increments instead of the usual 1″, allowing a more accurate fit and more relaxed buckling and unbuckling.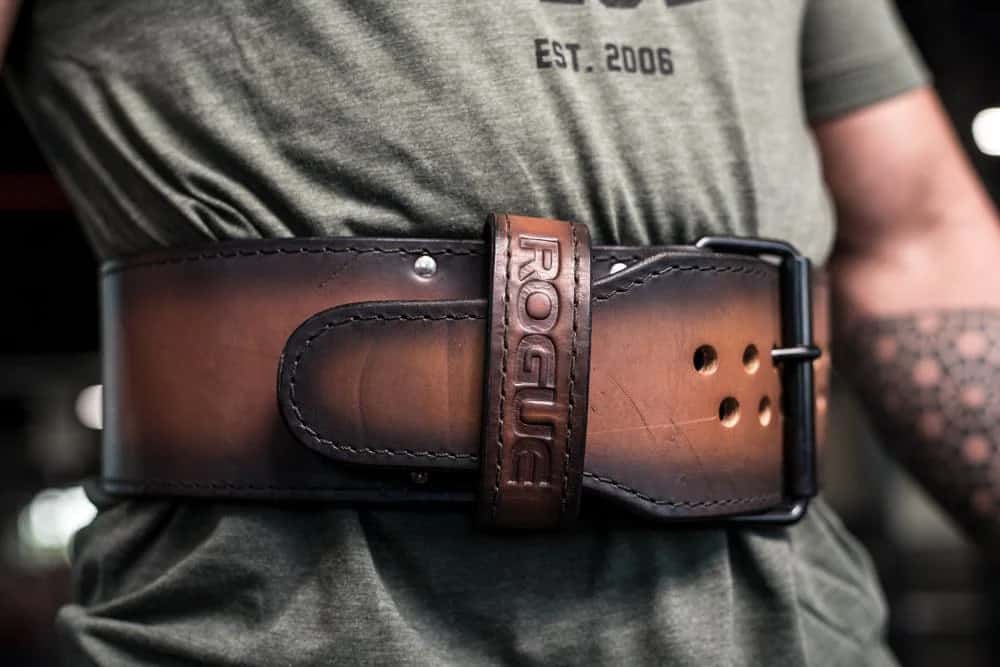 This elite version of Pioneer's custom-dyed Power Belt highlights a Rogue-branded loop and a vintage faded finish. Each 8.5MM thick belt is made from 100% vegetable tanned sole leather with a black suede liner for sturdy, comfortable support.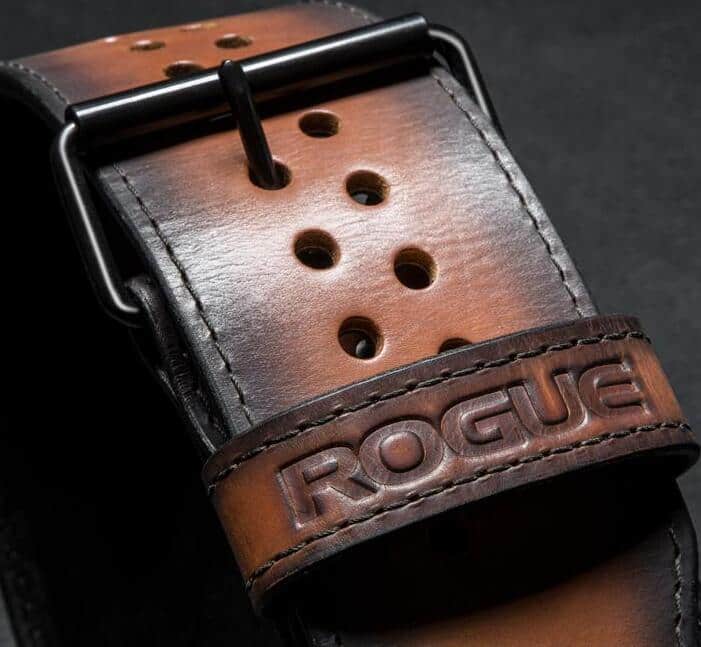 Rogue Oly Ohio Lifting Belt
This modification on Rogue's standard Ohio Lifting Belt highlights the same 10mm thick, vegetable-tanned leather and single-prong design as the original, but with some essential changes specifically intended for the Olympic lifter's needs. It begins with the belt's width, which measures 4″ across the back portion, but narrows down to just 2″ wide across the front and sides.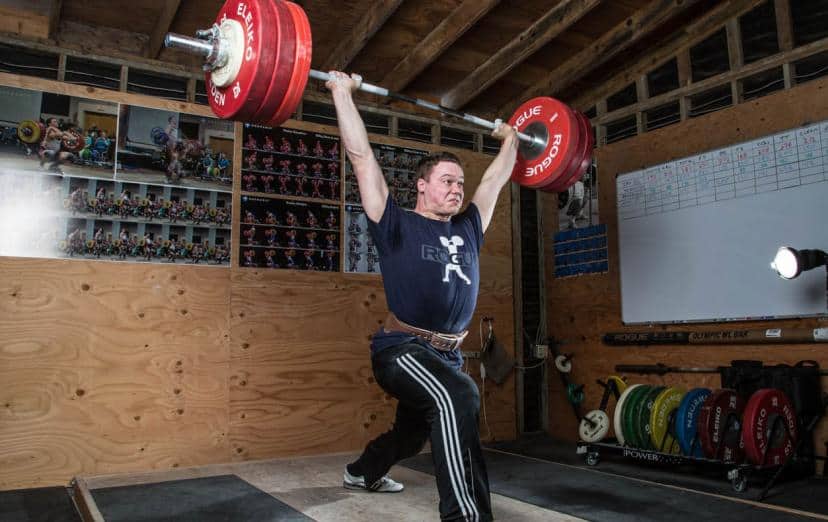 This secures a high degree of comfort while decreasing the belt's overall bulk, narrowing the chance of any interruption or accidental contact with the bar during the snatch or clean and jerk. The Rogue Oly Ohio Lifting Belt comprises a seamless roller for smooth, easy-to-tighten adjustments and a buckle guard to stop loose clothing from catching on the belt.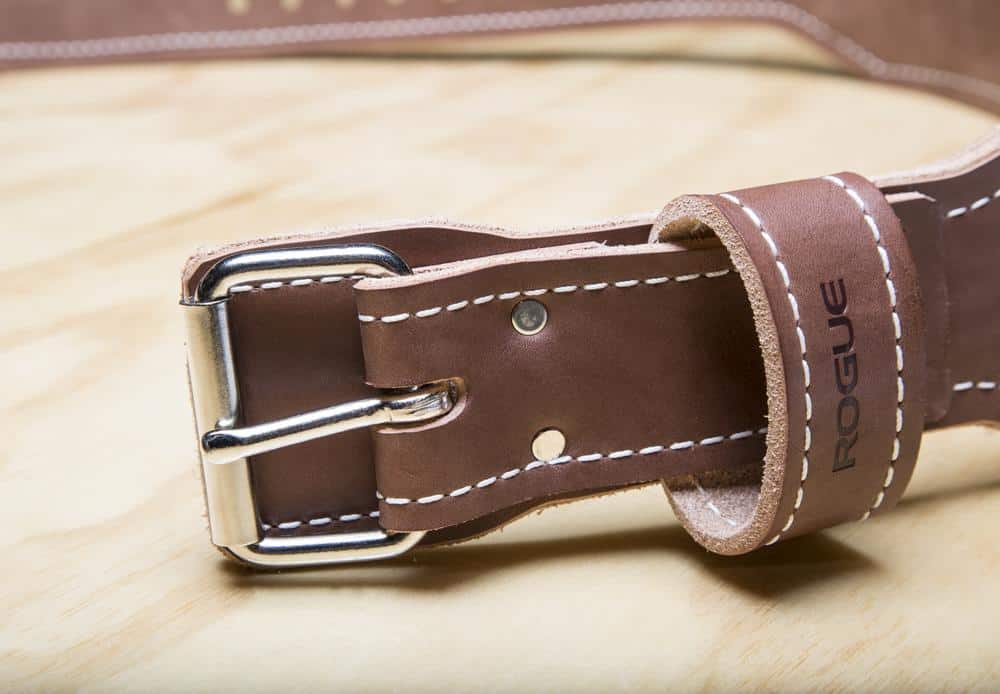 Rogue 13mm Powerlifting Belt
Rogue lined the inside of this belt with suede, so it gives a secure grip on your gear or clothing with no slippage. Rogue chose a single prong design with a seamless roller so athletes can get this belt very secure with minimum effort.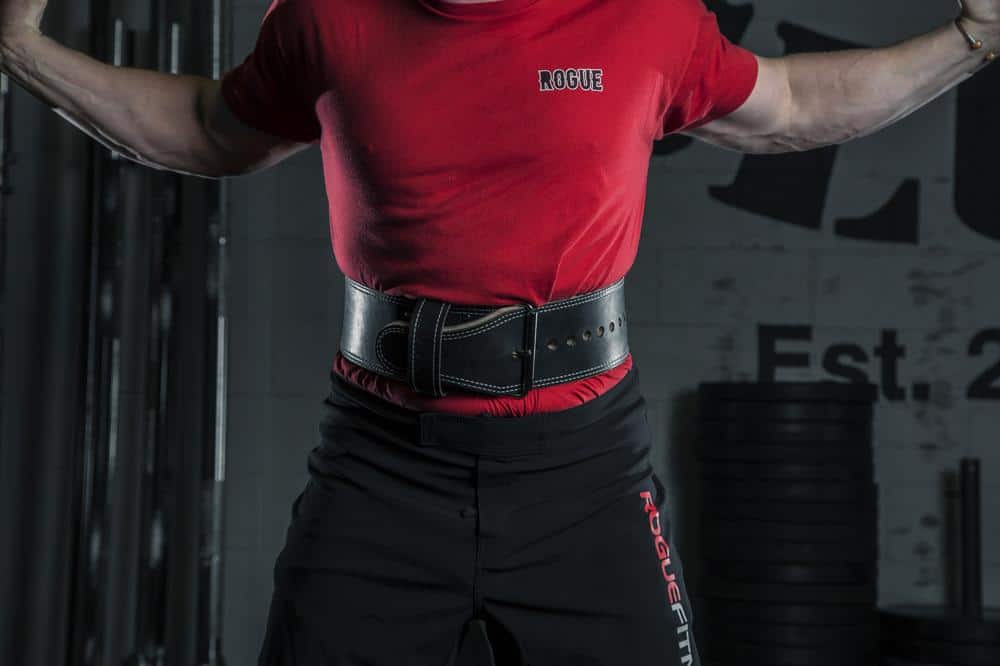 Like the other Rogue lifting belts, the 13mm Powerlifting Belt went through vegetable tanning, taking several weeks to complete, and gives a look and feel no sporting-goods store weightlifting belt can equal.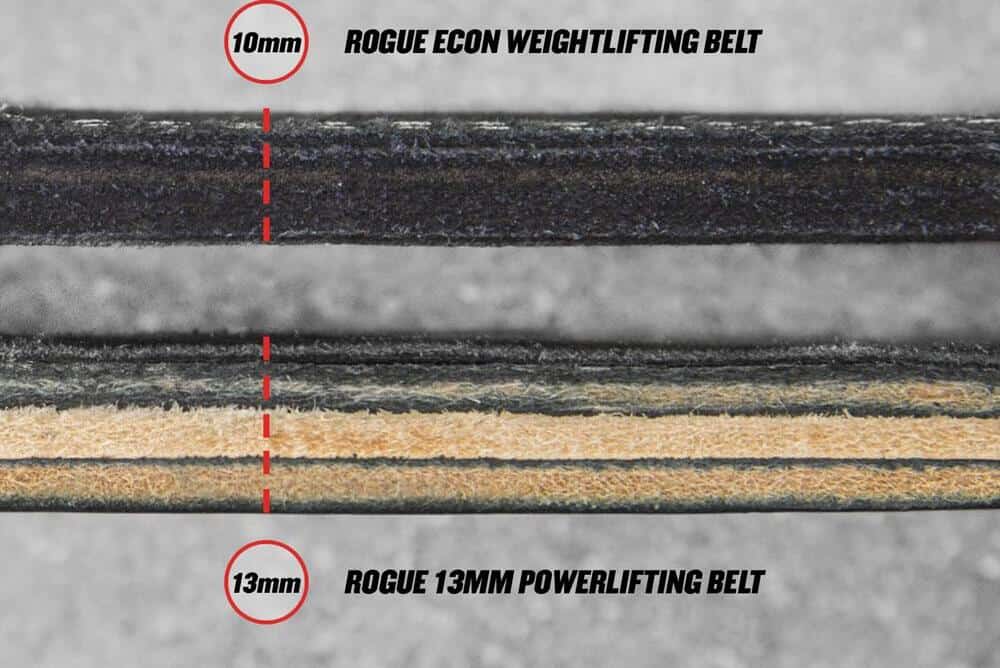 Rogue Black Leather 13mm – 4″ Lever Belt
Rogue Black Leather 13mm – 4″ Lever Belt promotes a new, patented lock-in lever design (made from nickel-plated steel) in place of a traditional buckle. This durable belt is uniquely murdered out with a matte-black lever, black hardware, a black suede liner, and an embossed Rogue logo. The edges are beveled for added comfort, and the liner helps prevent any movement or slippage as you train.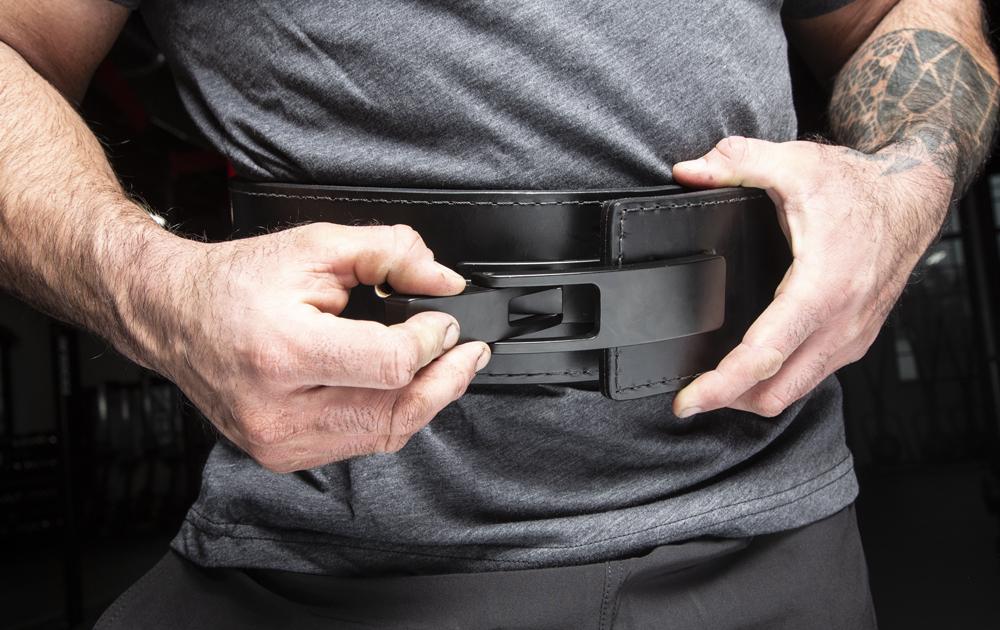 The Rogue 13mm Power Lifting Lever Belt delivers reliable, steady back support and endurance through heavy lifts and is available in a wide variety of sizes for a custom fit. It is made of 100% genuine sole leather with an etched Rogue logo.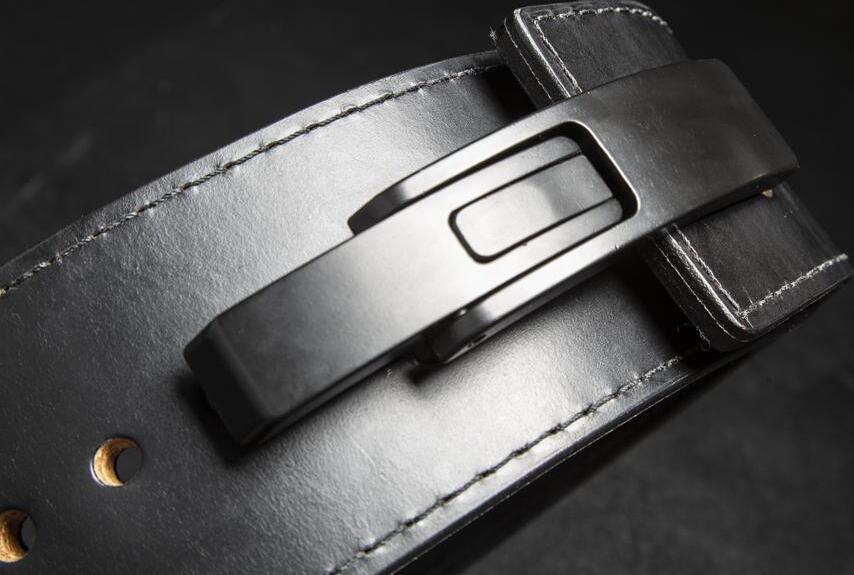 Rogue Echo 10mm Lifting Belt
The Echo 10MM Lifting Belt highlights black leather and black hardware with the Rogue logo embroidered in white on the back. It is made from genuine leather and measures 4″ in width and 10MM in thickness, with five length options to choose from.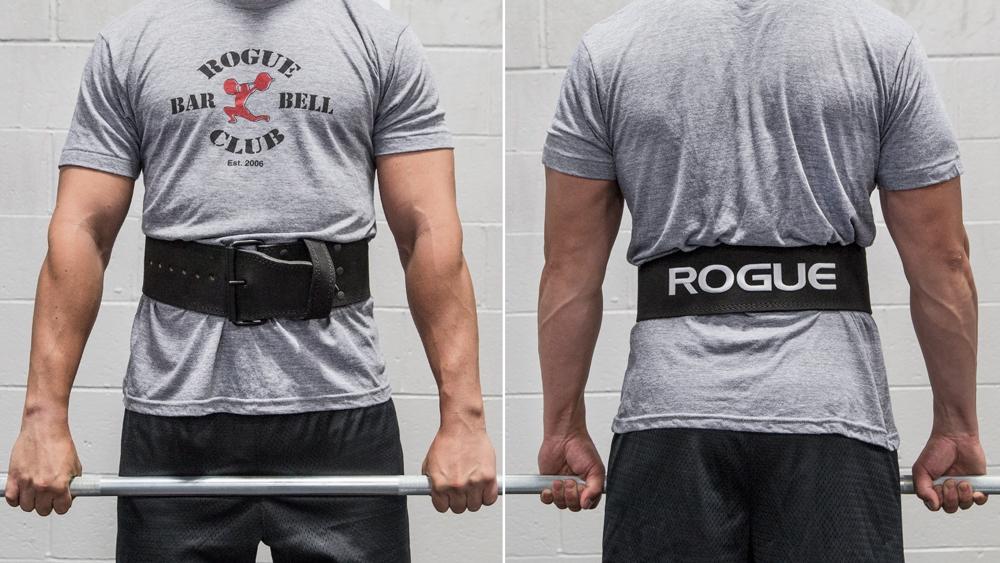 The belt's sizes include 10 precision-spaced holes and a single prong buckle design for easy custom tightening and excellent convenience and support. The leather on the Echo Belt can run pretty hard out of the gate and may need some break-in time. Still, you'll never need to worry about its dependability for protecting the abdominal muscles and lower back on a wide variety of lifts.

Rogue USA Nylon Lifting Belt
The latest Nylon Lifting Belt was co-developed with Rogue athlete Mat Fraser, who has directly used it during his run to five straight CrossFit Games titles. Other enhancements with this latest design include a blacked-out buckle and roller for smoother adjustments, a 0.25″ thick foam frame (with the ripstop exterior), and a 3″ x2″ section of hook and loop for fastening a Rogue patch or your own custom patches.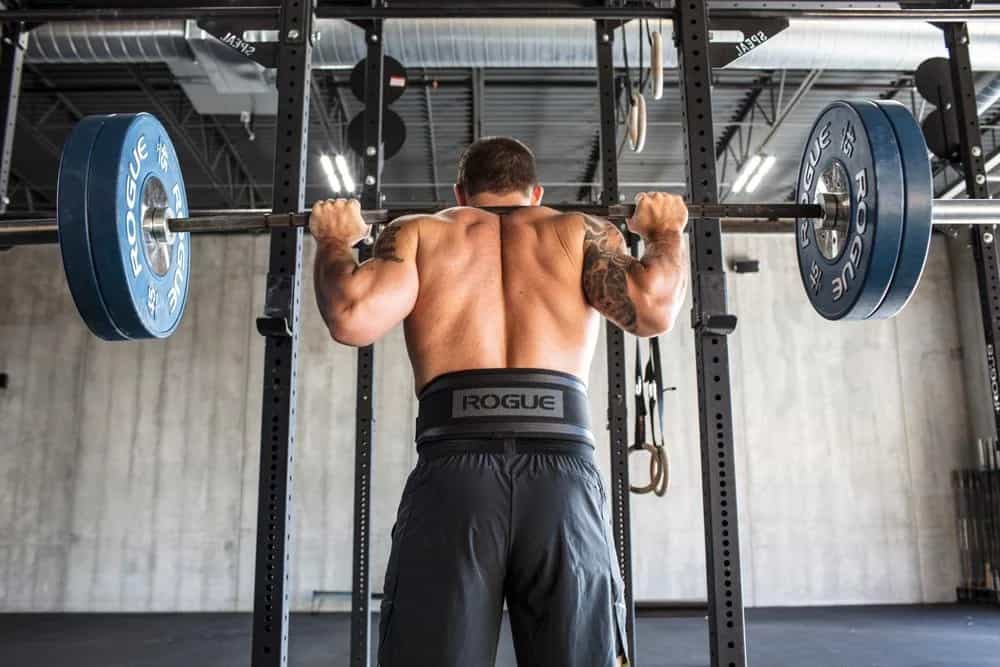 The strap's end is also updated with an easy-to-find, folded-over portion, enabling the wearer to instantly loosen or remove the belt as needed during mid-workout. The back of the USA Nylon Lifting Belt measures 5″ in width, tapering down to 4″, with a 3″ webbing support strap, and there are seven several length selections to meet any size needs athlete.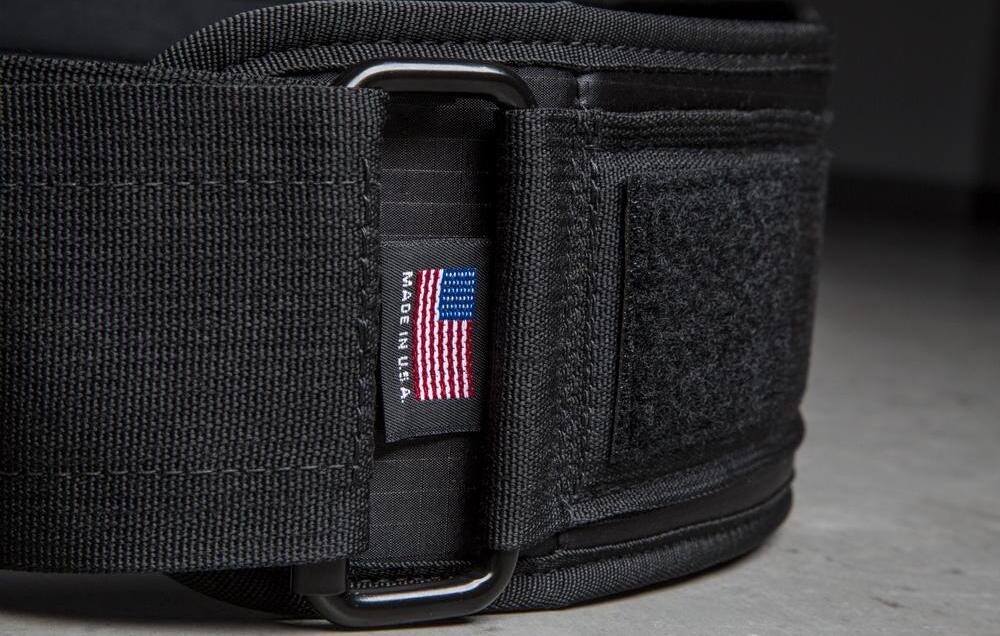 Rogue 4″ Nylon Weightlifting Belt
Rogue 4″ Nylon Weightlifting Belt is thinner and lighter than a traditional leather weightlifting belt. However, it still gives sturdy, steady support to the abdomen and lower back, helping you get the most out of your deadlifts, squats, hang cleans, etc.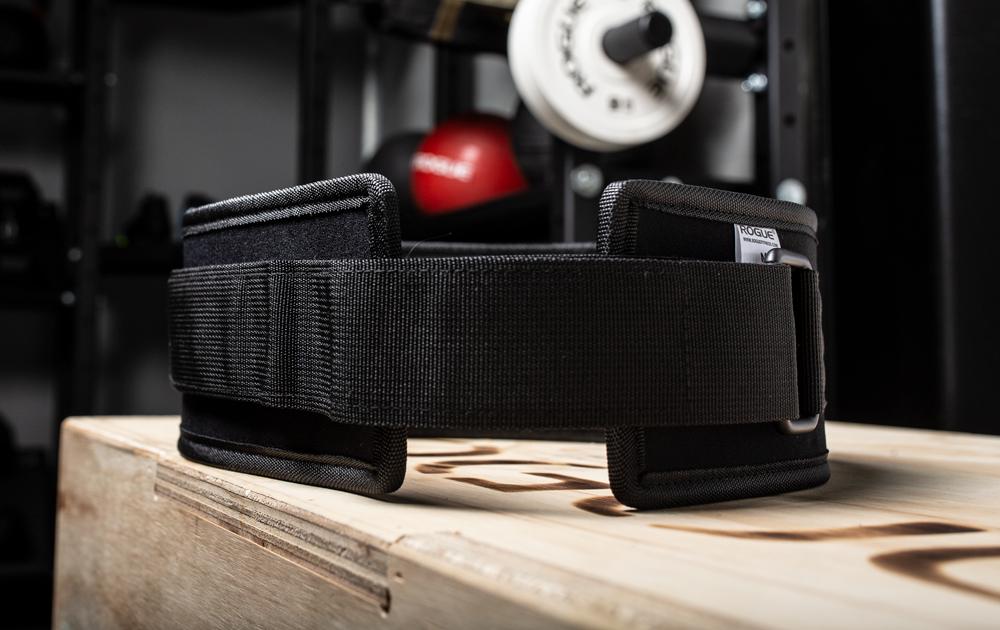 The 4″ Nylon Weightlifting Belt is also ideal for smooth shifts from light to heavy lifting movements, with a quick-adjust steel tensioning buckle and hook-and-loop fastening system. It is an economical, reliable alternative for athletes of any size and skill level.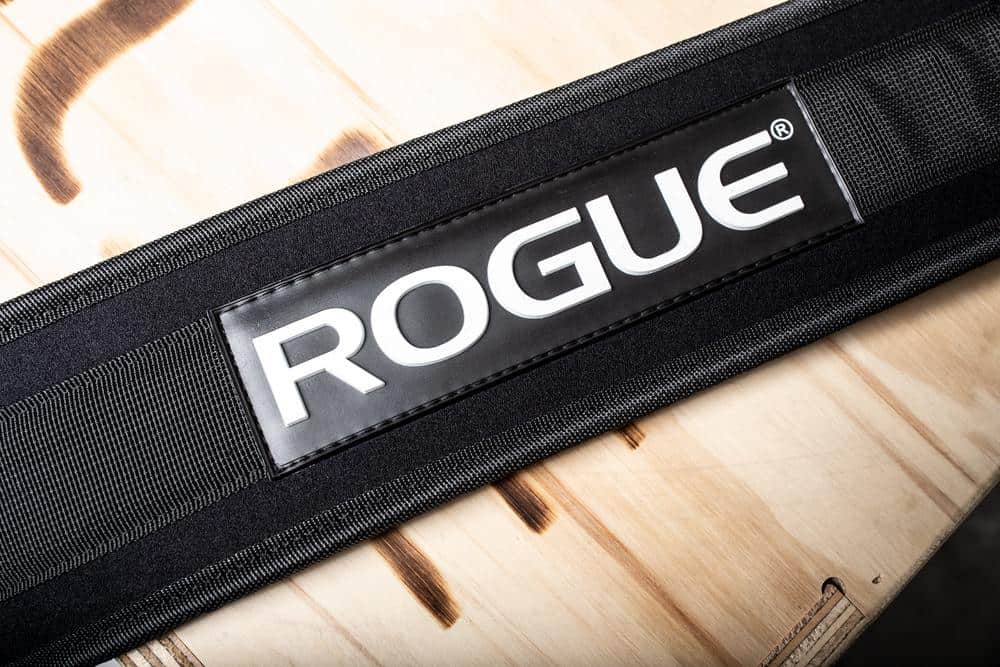 Rogue 5″ Nylon Weightlifting Belt
Thin, light, and extremely durable, the Rogue 5″ Nylon Weightlifting Belt is a budget-priced option to traditional leather weightlifting belts that secure support for the abdomen lower back during even the most extreme weight training programs.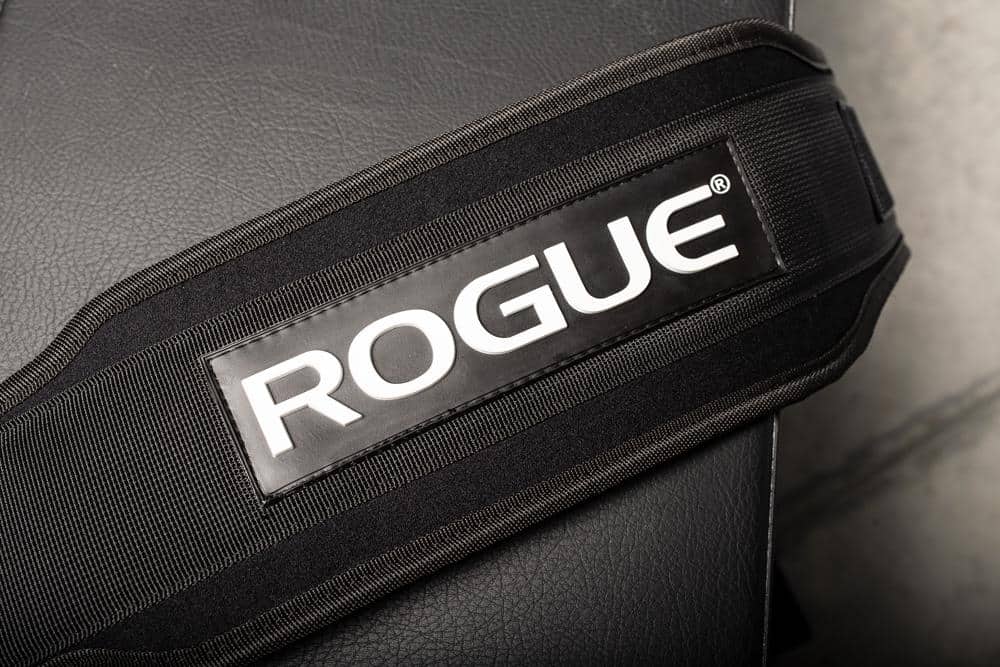 The Rogue 5″ Nylon Weightlifting Belt carries a hook-and-loop fastening system and a steel tensioning buckle, making it easy to promptly adjust the belt when transitioning from light/body movement to heavy lifting exercises.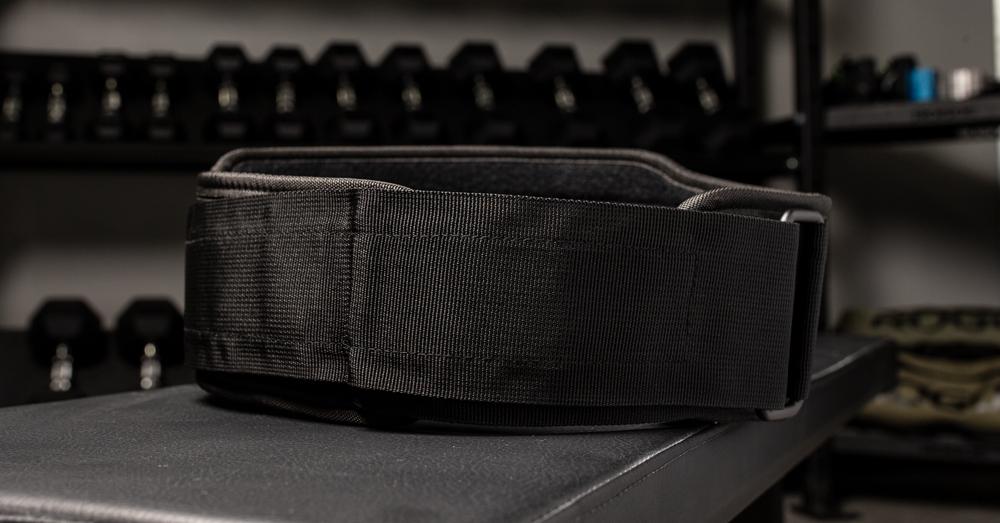 Steel Vise
The Vise is made from solid steel and is a simple device to get the highest support out of a weightlifting belt. It is a handy, durable tool that weighs less than 10 ounces. You can easily gain further leverage when adjusting, providing a tighter, more protective fit by sliding the device over the belt strap. It also provides a fast and easy way to detach the belt after a workout.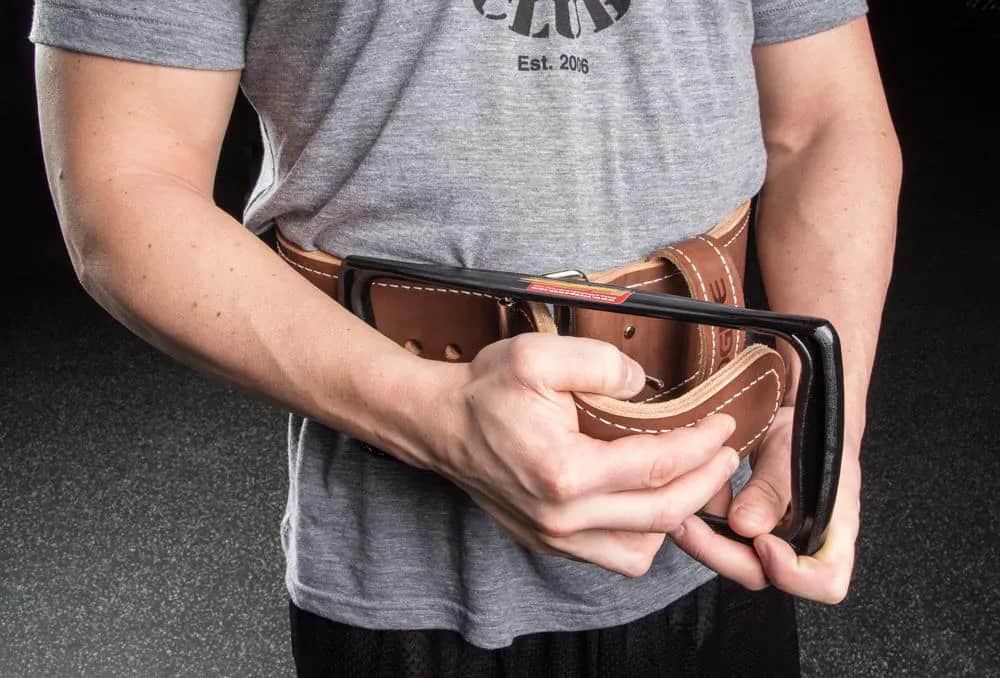 This device makes sure that your belt is tightened correctly to get the boosted intra-abdominal pressure and bracing power that the belt should provide. This device is designed by exercise physiologist and former bench press world champion Dr. Lavell "Dinky" Williams. A lifetime warranty also backs the Steel Vise.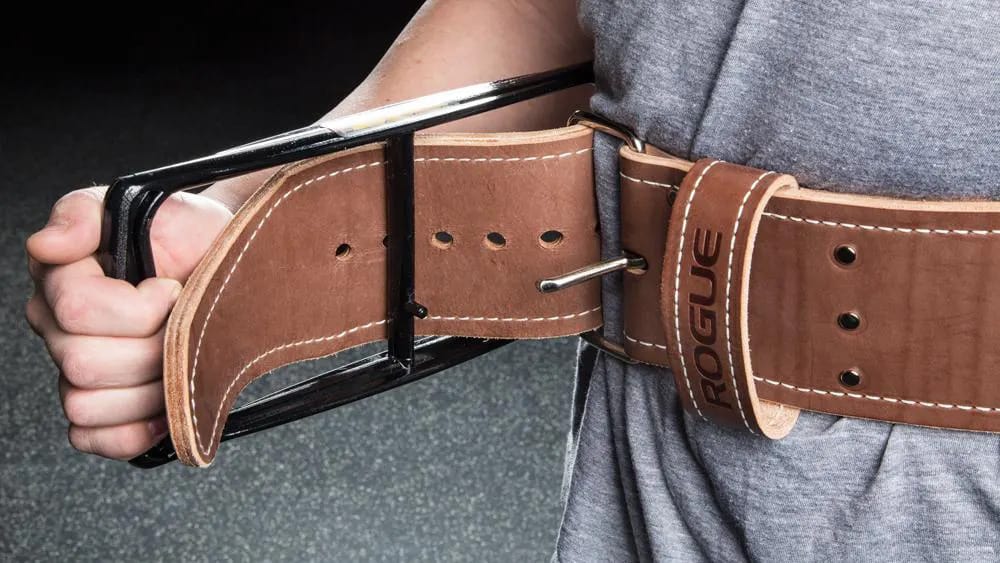 Rogue Lifting Belts Overview – In Summary
That's our overview of Rogue Lifting Belts.
Lifting belts are essentially used to limit harm and support the torso during heavier exercises. Strength athletes can profit from taking a belt, particularly for their sport. Considering the lifting belts mentioned above can help speed up your selection process. Rogue Lifting Belts are carefully handcrafted and used vegetable tanning process which produced firm and durable leather giving you the assurance that all their lifting belts are of great quality and can give the support you need.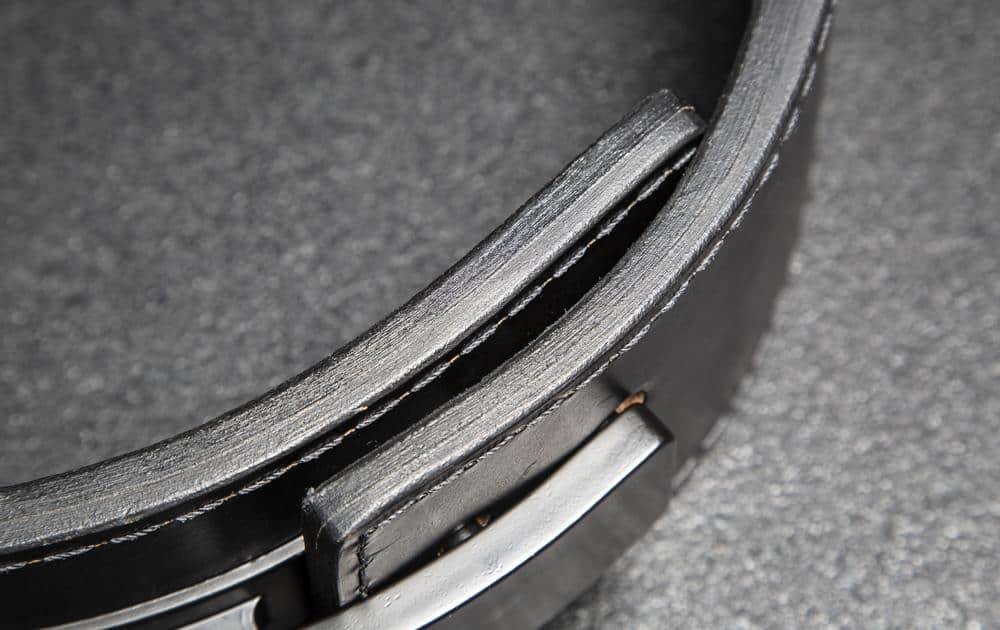 Photo Credits
Product photos on this page are property of Rogue.
This website is not affiliated or associated with CrossFit, Inc. CrossFit is a registered trademark of CrossFit, Inc.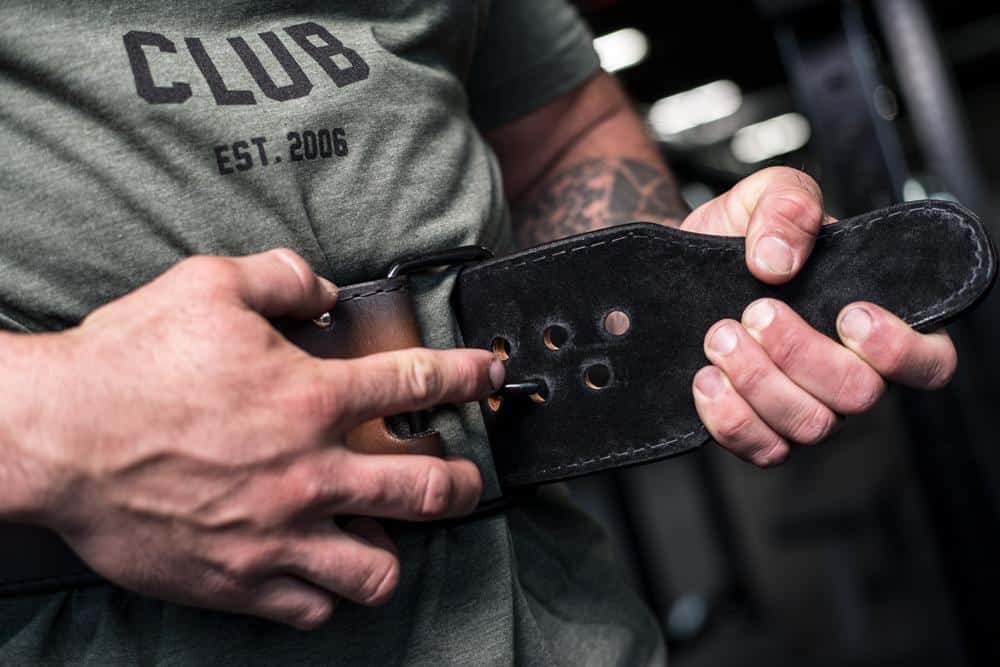 Affiliate Disclaimer
We are an affiliate of Rogue and others that sell this training gear. If you buy clothing or other training gear after clicking the links in this article, we receive a small commission at no extra cost to you. This helps us to bring you in-depth information and content on these great training products.