Rogue has the red-hot
Echo Bike
. Grab one while they last!
Don't lift heavy weights without collars on your barbell. Here's a great option – the Rogue HG 2.0 Collars – Magnetic – new from Rogue Fitness.
One of the most crucial functions of barbell collars is for safety purposes. Adding weights to your barbell leads to an uneven lift and an unstable barbell. Using collars keeps your weight plates tight to the shoulder of your bar, and the weight plates are always the same length from each hand.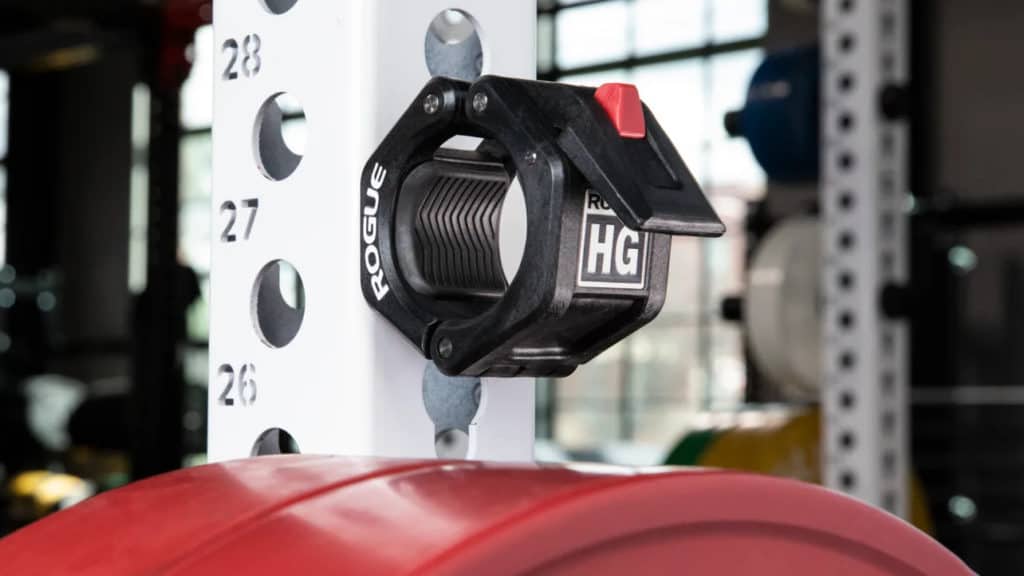 Here are some of the styles we are going to look at:
Rogue HG 2.0 Collars – Magnetic – Overview
Barbell collars also stop the weights from rattling and shaking while keeping them coming off the bar and close to the barbell shoulders. They provide stability, and this stability is essential when doing explosive lifts such as snatches, cleans, and overhead presses. Home gym owners can also benefit from barbell collars.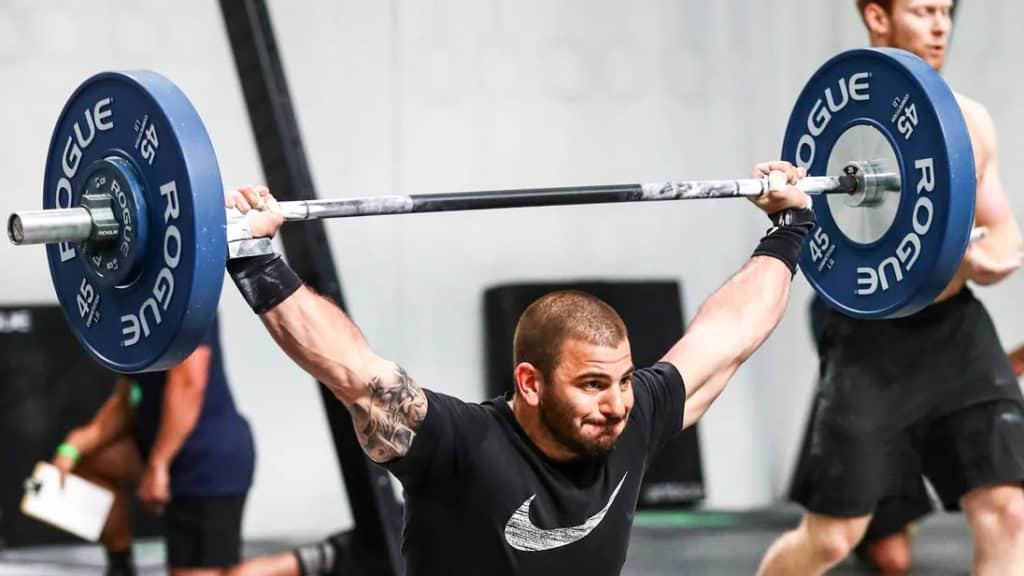 Just as spotter pins and safety straps provide safety when lifting alone, collars also do the same and serve as precautions. Barbell collars also help to protect your properties against unwanted damage from dropping the weights and bars. These are some of the uses and benefits of barbell collars, and Rogue upgraded their functions by producing magnetic collars.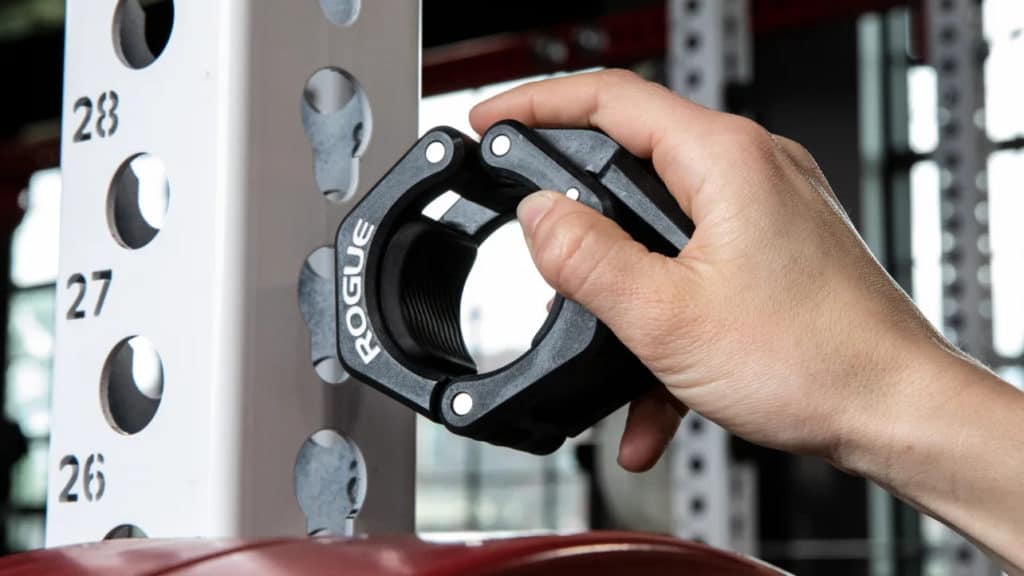 Rogue HG 2.0 Collars – Magnetic
The Rogue HG 2.0 Collars – Magnetic hold the same features as the Rogue HG 2.0 Collars but now has a cylindrical N52 magnet loaded into a pocket under the interior rubber padding. These collars present a single potent N52 magnet made into each collar, enabling you to attach the collar against the surface of an upright or cross member when not in use. The innovative clamp structure of the HG 2.0 Collar is patented for its fast-locking action and unique red tab.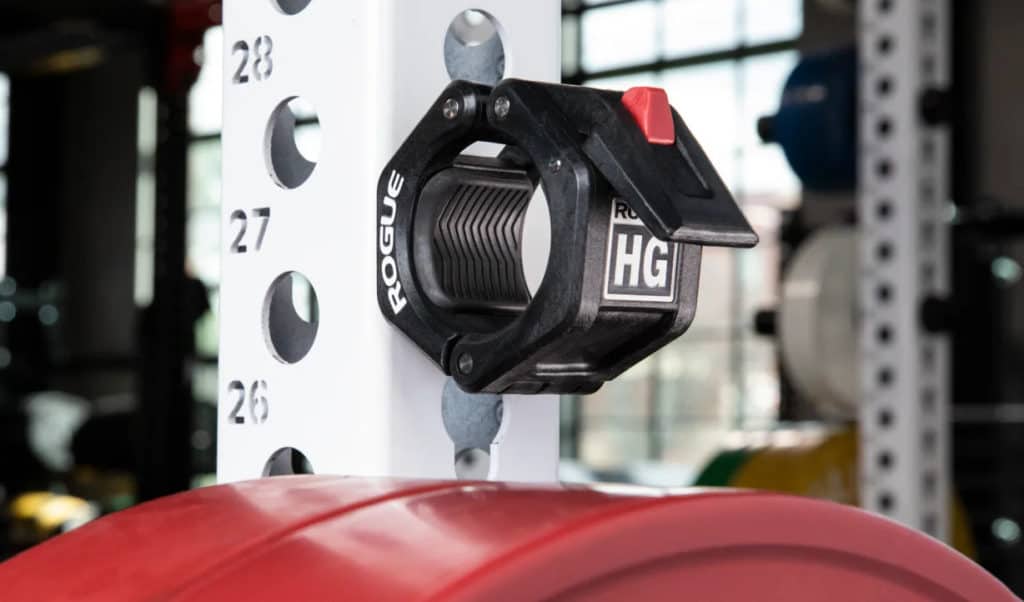 The HG Collars are made from a lightweight but immensely long-lasting nylon resin with a smooth contact surface that won't harm your plates or bars. The structure also contains rubber padding for a more pleasing grip on the bar sleeve, top-quality stainless steel hardware, and embossed Rogue HG logos. Version 2.0 has an additional spring in the tab, making it even more comfortable to lockdown and easily remove the collars as you move through your regimens.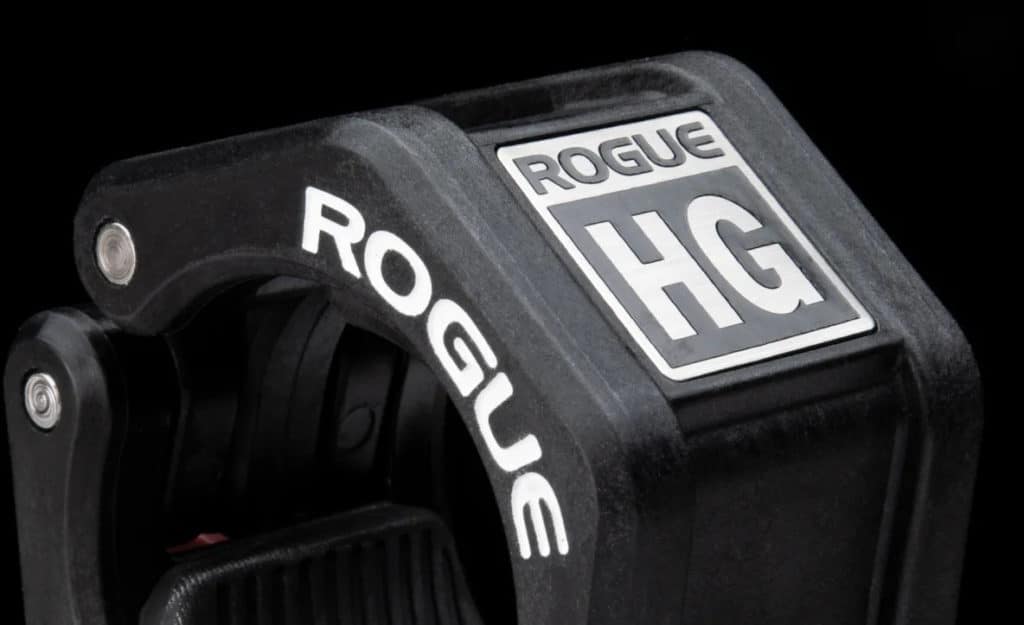 Rogue OSO Barbell Collars
The Rogue OSO Barbell Collars are innovative, aircraft-grade aluminum clamps developed and manufactured in Columbus, Ohio. The OSO Collars provide a safe and stable hold through repeated, high-impact drops and allow easy adjustments or removal with an easy lever and lock/unlock mechanism.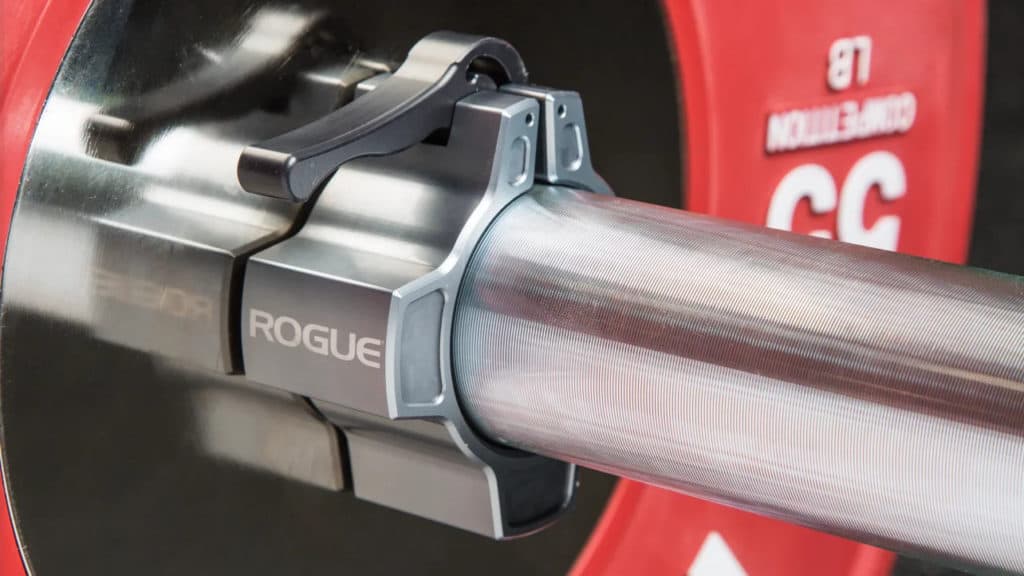 The collars have a unique look and have an industrial gear-style shape in gunmetal gray with the Rogue logo down the side. They are made in the USA designed to be used on 50MM Olympic bar sleeves. They have a black rubberized interior lining to protect the bar.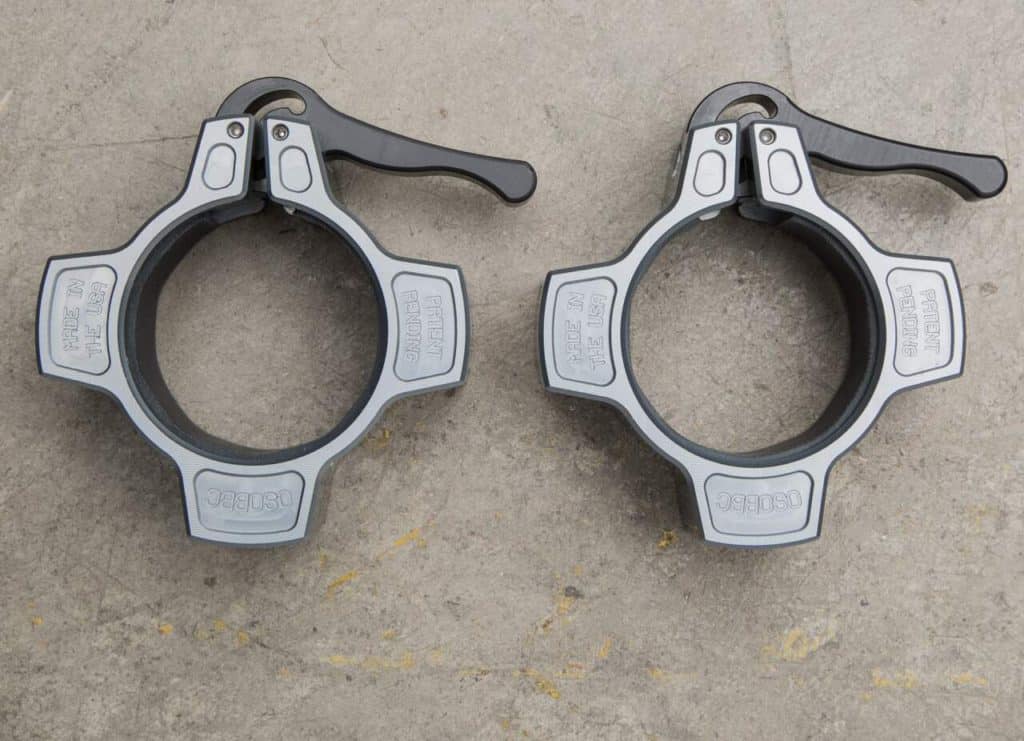 Rogue USA Aluminum Collars – Cerakote
These collars are the first collars to have advanced Cerakote color coating — an exceptional finish that delivers excellent abrasion/wear/corrosion resistance over time. Rogue USA Aluminum Collars are CNC machined using ultra-durable 6061 billet aluminum, a material utilized for years in the aeronautics industry.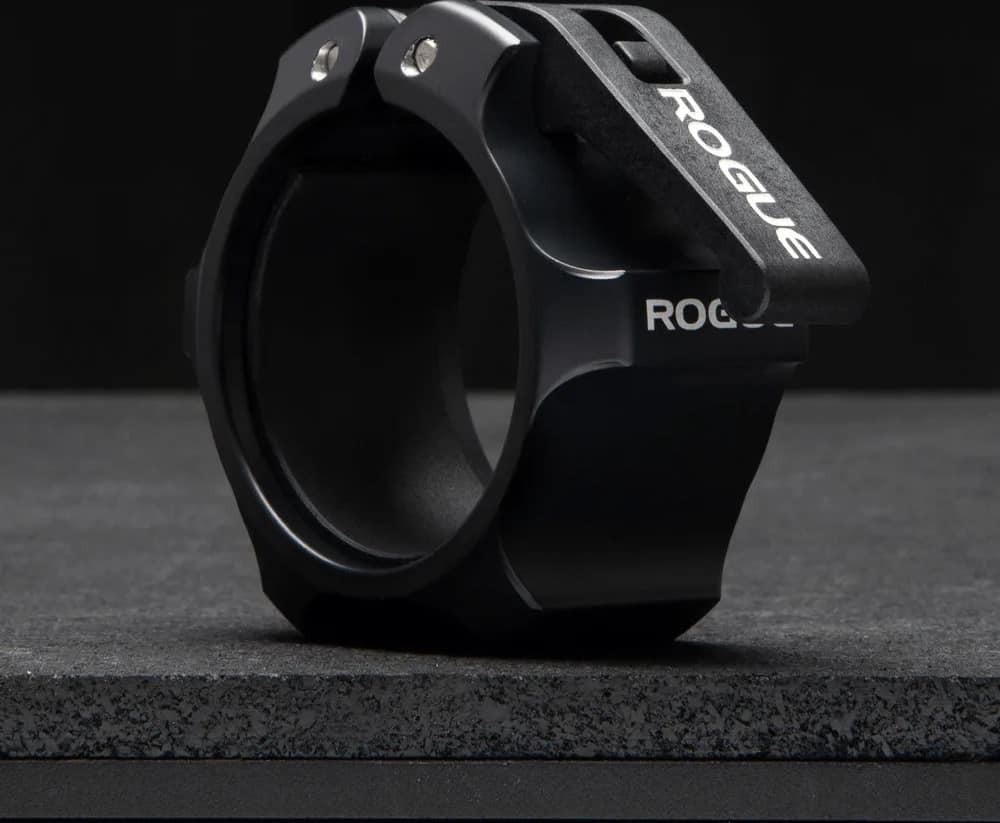 They measure 1.5″ in width and are compatible with any standard Olympic bar and Oly plates in the industry. A unique lock-open nylon lever contains a snap flexure that completely opens the collar for a more comfortable installation and locks it down for dependable stability. An interior rubber lining preserves both the collar and your bar from scuffs/friction.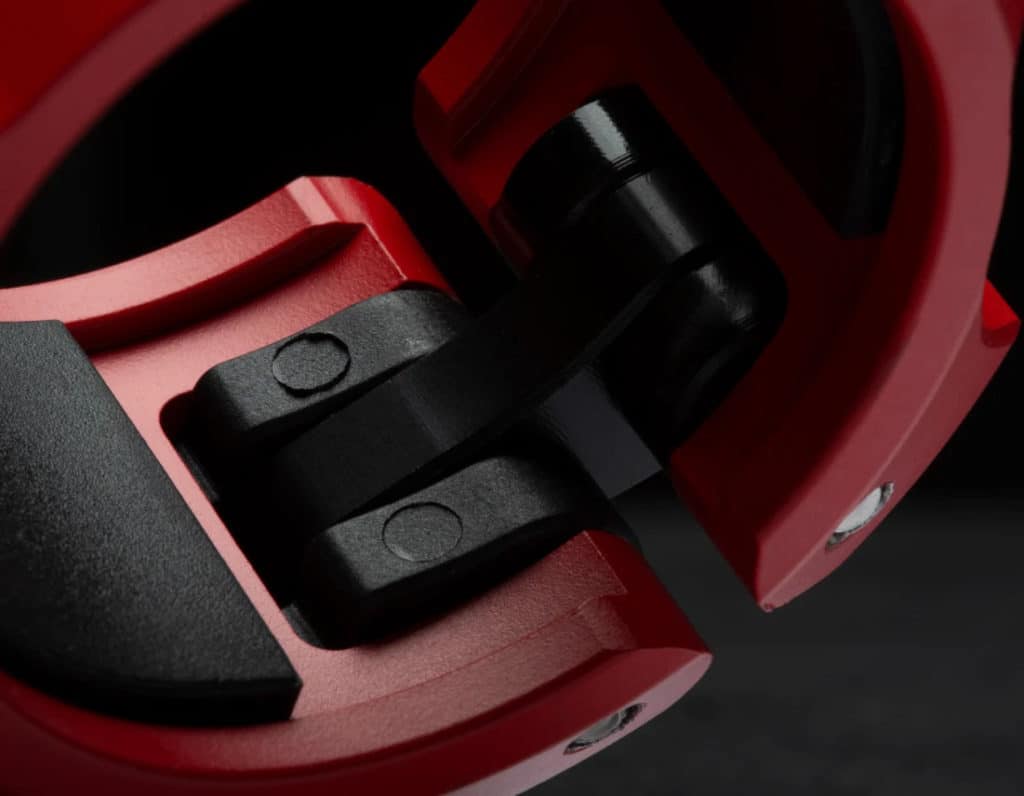 Rogue USA Aluminum Collars – Magnetic
The Rogue USA Aluminum Collars – Magnetic highlight the same 6061 aircraft-grade billet aluminum structure as the original, but with the addition of two custom-designed N45 magnets on each side. With these collars, you can just "stick" your collars tightly to a rack upright in-between workouts, decreasing gym mess and keeping the collars efficiently accessible whenever you need to use them again.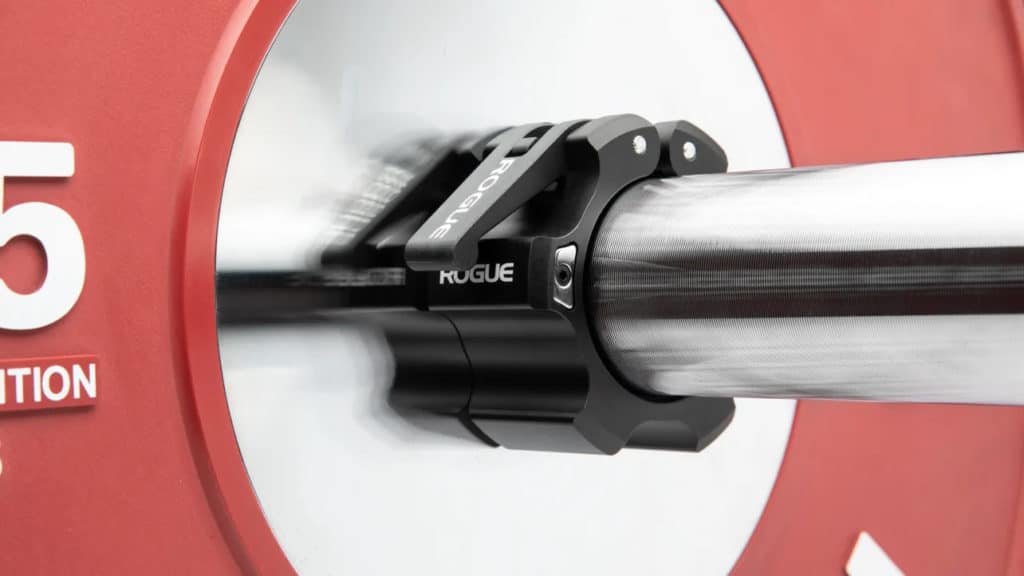 Both collars measure 1.5″ in width and have a lock-open lever with a remarkable snap flexure, so you can completely open them for easier installation on the bar. Once connected, the superior lockdown hold guarantees the collar won't loosen even during high-rep workouts. A matte black hard coat finish is included in the collars with protective rubber lining and laser-etched branding.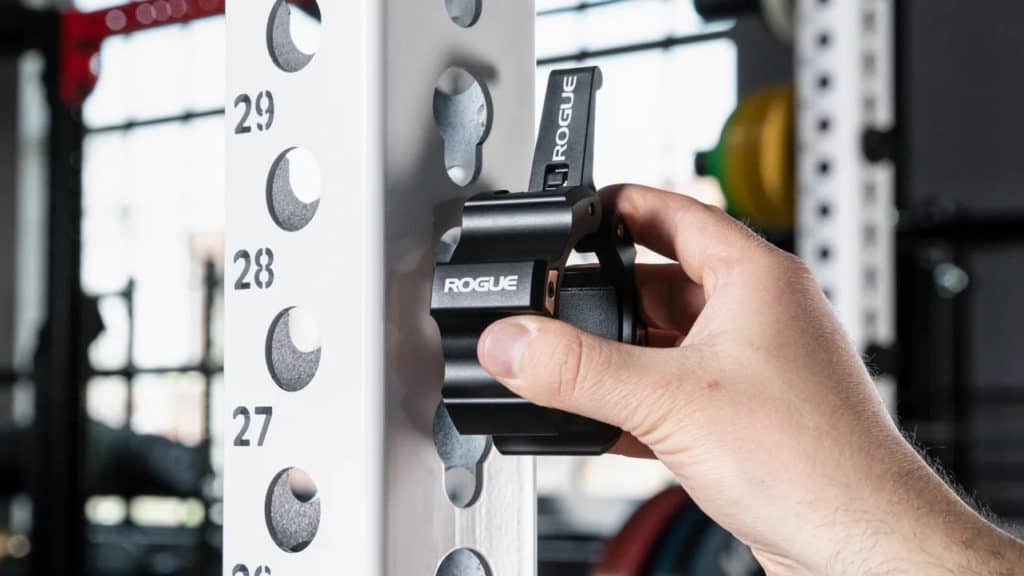 Rogue HG 2.0 Collars – Magnetic – In Summary
That's our close-up look at Rogue HG 2.0 Collars – Magnetic.
The Rogue HG 2.0 Collars – Magnetic offer the same features and functions as a great collar but with added amazing attribute. Rogue included a magnet to make the collars easy to stick on a rack when not in use, making them easily accessible — no more wandering around the gym for missing collars or digging around in accessory buckets for spares.
Looking for more options? Check out these other great products:
Check out the Boneyard Collars for Oly Weightlifting Barbells
More products from
Rogue
.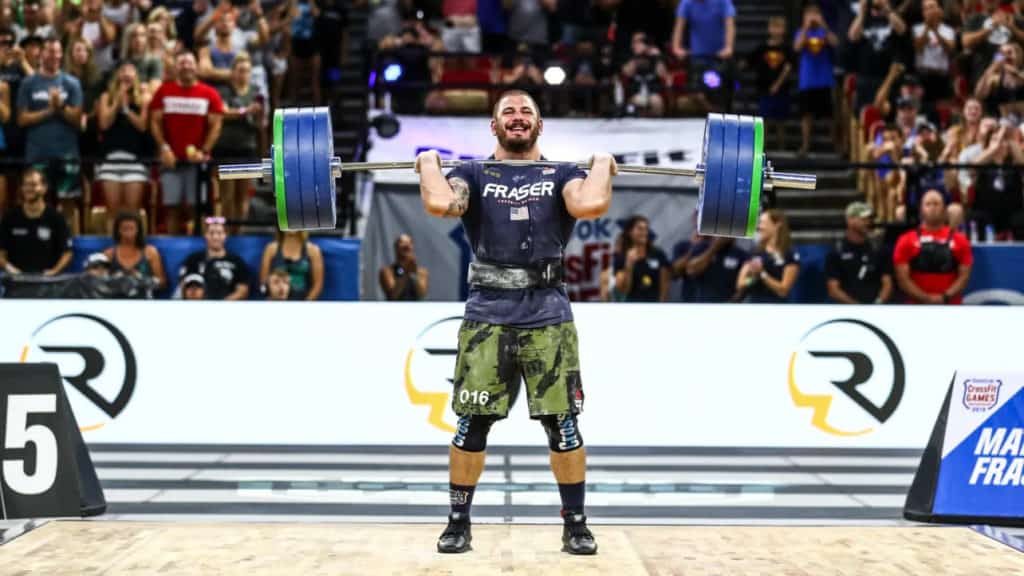 Photo Credits
Product photos on this page are property of Rogue.
This website is not affiliated or associated with CrossFit, Inc. CrossFit is a registered trademark of CrossFit, Inc.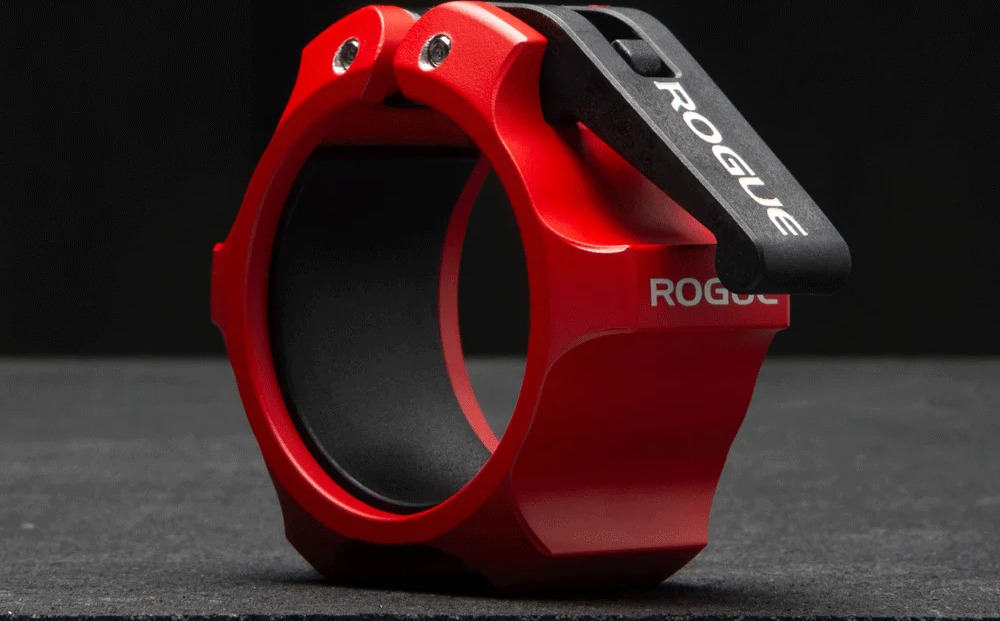 Affiliate Disclaimer
We are an affiliate of Rogue and others that sell this training gear. If you buy clothing or other training gear after clicking the links in this article, we receive a small commission at no extra cost to you. This helps us to bring you in-depth information and content on these great training products.