Rogue has released the 3rd version of the
Echo Bike
. Grab one while they last!
Let's look at the excisting new Rogue 3-in-1 Sandbag. Sandbag training is brutal and effective – and this one gives you more options than the rest.
Sandbag training is beneficial for functional strength and conditioning. A sandbag is a simple tool that anyone can use and doesn't require a distinct form and technique. The shifting of the sand is key to the efficacy of sandbag training.
Here are some of the styles we are going to look at: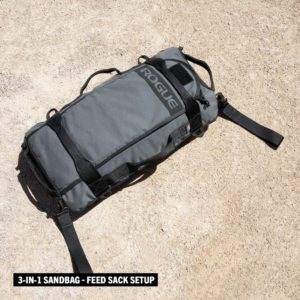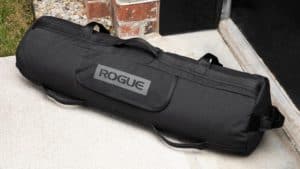 Rogue 3-in-1 Sandbag – Overview
A sandbag takes up very little space, making it ideal in a small apartment or home gym. A lighter sandbag can assist you when doing body conditioning, while a heavier sandbag can significantly impact your strength training. If you are focused on conditioning, a sandbag can burn calories and lose fat, and when used for strength training, deadlifts and squats will help you achieve your goal. When using or carrying a sandbag, the sand inside constantly moves, putting technique and endurance to the ultimate test.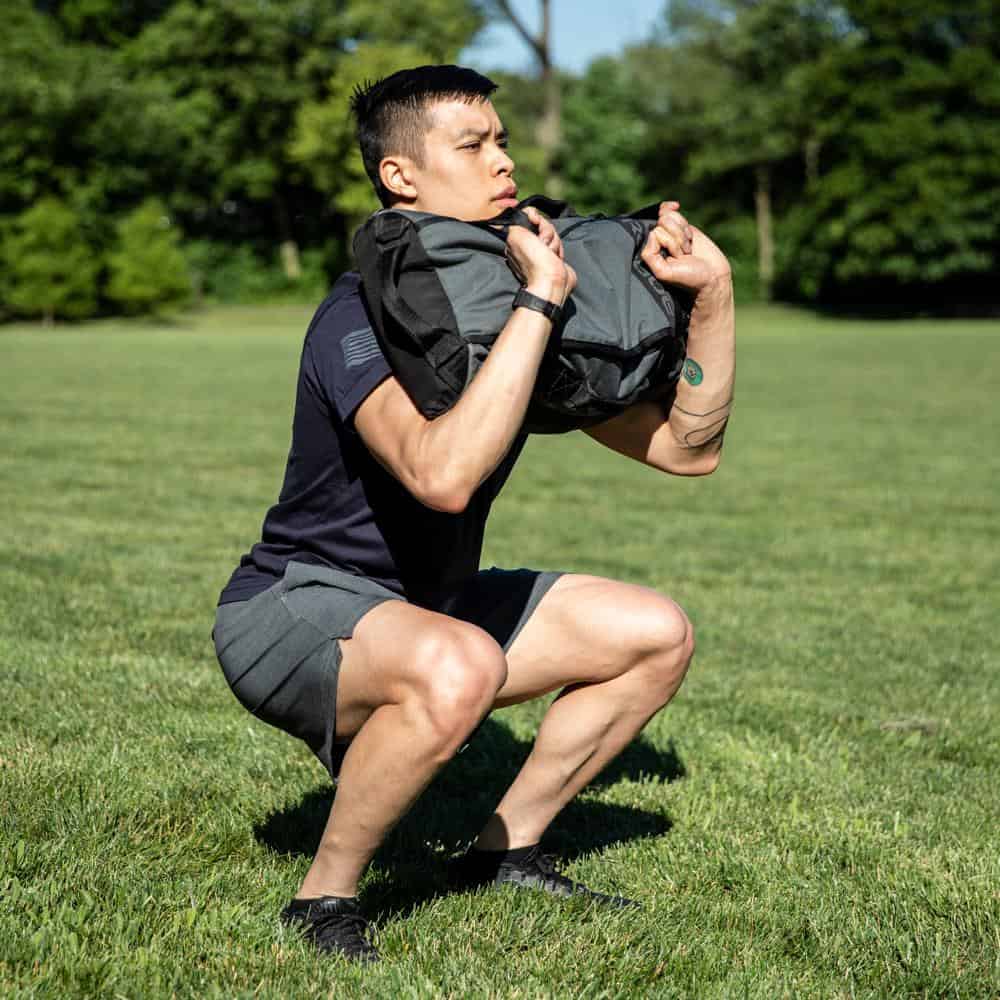 Other exercises that can be done with a sandbag are side lunge + front raise, reverse lunge + good morning, curtsy lunge + hammer curl, deadlift + squat, single-leg deadlift + row, and many more. Sandbag training strengthens your planes of motion, helps build better mental health, improves stability and coordination, and enhances core muscles.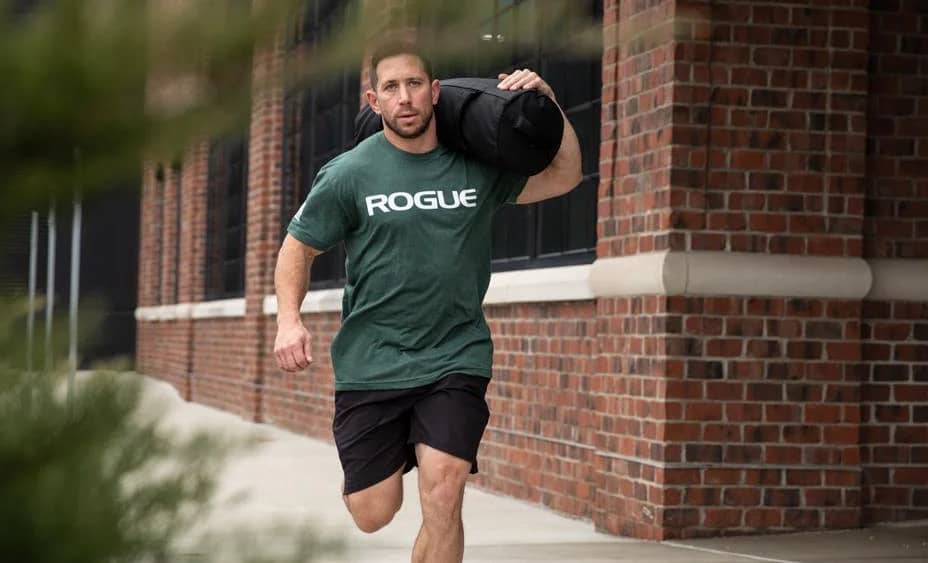 Rogue 3-in-1 Sandbag
The 3-in-1 Sandbag is a powerful new adaptation of Rogue's time-tested Rogue Training Sandbags. It comes with supplementary sets of straps and attachment points, allowing more configurations for a broader variety of workouts. Each bag includes a pair of 12" utility straps for a long-handle set-up, two Backpack straps for ruck-style training, and a single 32" long strap for dragging. You can easily store these straps in the built-in mesh pocket Rogue included under the central flap opening of the bag.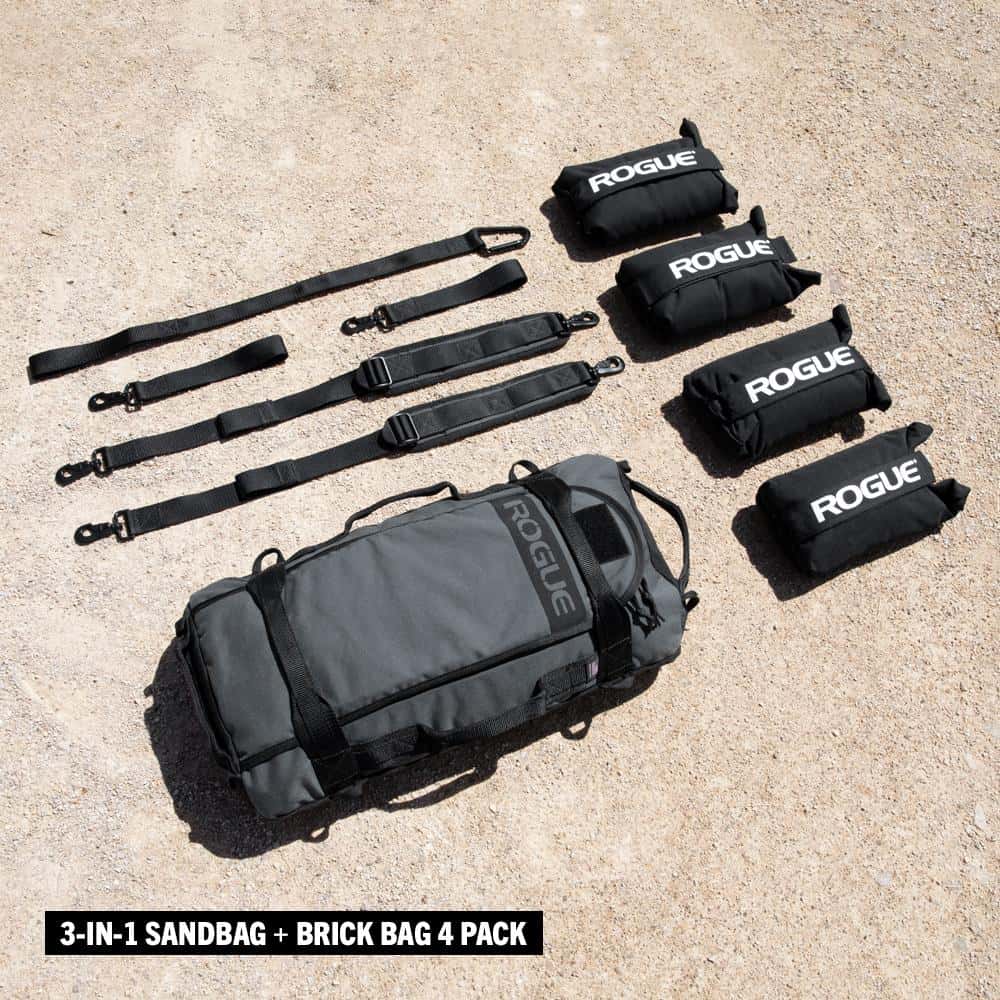 The 3-in-1 Sandbag measures 24" in length (same as the standard Medium Rogue Sandbag) and is built from 1000D Cordura with heavy-duty nylon webbing, laser-cut Rogue branding, and a 2×3" loop rectangle for adding a custom patch. The bag highlights six box-stitched exterior handles, and the 12″ utility straps include a swivel hook design to avoid rotating during use. Built-in reinforcement straps are designed on the interior to tighten and lock in any added filler/weight, producing a stabilizing "web" when cinched down.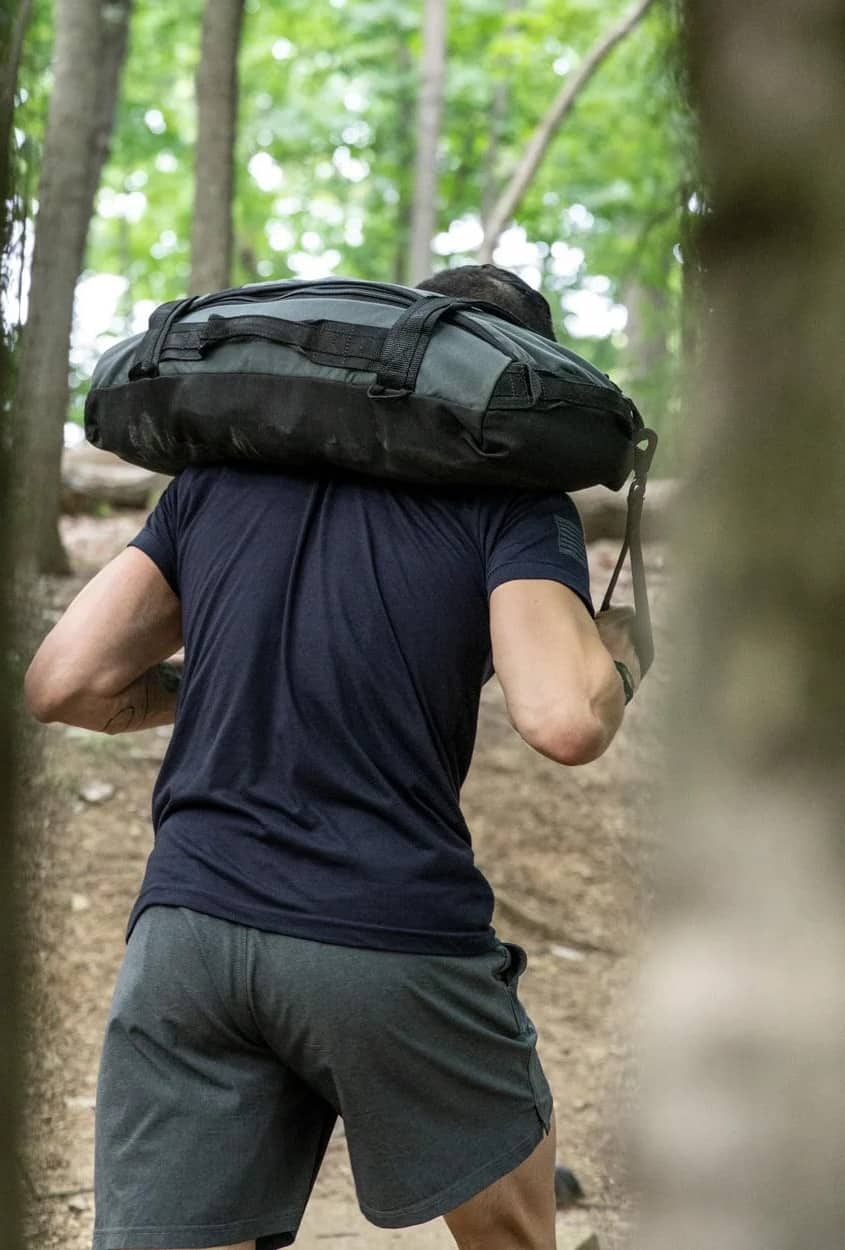 Rogue Sandbag 2.0
Featuring a permanent funnel filler bag sewn into the lining, the Rogue Sandbay 2.0 is the updated version of the Rogue Training Sandbag and is available in three size options. You can start loading the sandbag right out of the package with its integrated, all-in-one design without worrying about adding or switching out separate modular filler bags. All sizes of the Rogue Sandbag 2.0 are manufactured in the USA and built from ultra-tough 1000D Cordura, with seven exterior nylon webbing handles to allow a wide range of training movements. A strengthened nylon backing on the zipper guarantees steady, tight closure and steady operation whether the bag is filled or just put through several drops.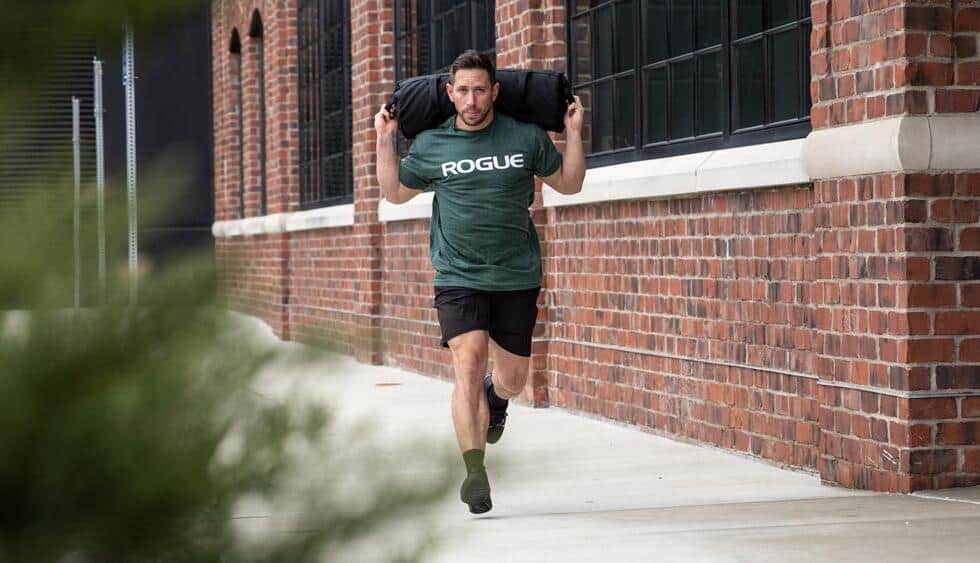 Rogue Sandbag 2.0 Size Options:
All sizes are black with a grey laser-cut Rogue logo on the filler flap.
Small – 19.5" long x 7" diameter (when filled). Approx max weight : 40LB sand / 16LB crumb rubber
Medium – 24" long x 9" diameter (when filled). Approx max weight: 80LB sand / 32LB crumb rubber
Large – 35" long x 10.5" diameter (when filled): Approx max weight: 150LB sand / 60LB crumb rubber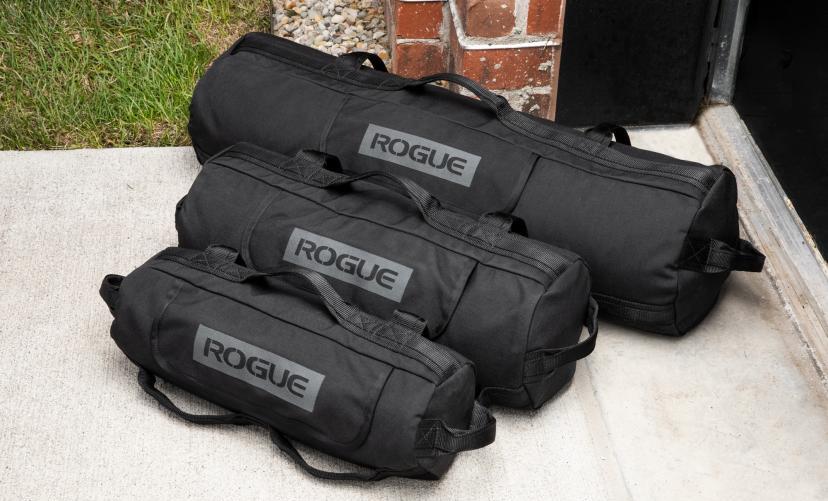 Rogue 3-in-1 Sandbag – In Summary
That's the exciting new Rogue 3-in-1 Sandbag.
Rogue 3-in-1 Sandbag is made in the USA with 1000D Cordura construction with heavy-duty nylon webbing. It comes in Black and Gray with two 12" Utility Straps, two Adjustable Backpack Straps, and one 32" Dragging Strap. Rogue offers this sandbag in three formats, depending on your filler preferences:
Option 1 – Bag & Straps Only
No filler bag is included with this option, but it is advised to use one to prevent sand from leaking or getting caught in the sandbag's zipper.
Option 2 – Bag & Straps + Medium Funnel Filler
The funnel filler option allows you to get the bag to a maximum weight capacity of 80 LBS with sand (32 LBS w/ crumb rubber).

Option 3 – Bag & Straps + (4) 10LB Rogue Brick Bags
Our 10 LB "Brick Bags" are loadable 10.5" long mini sandbags made from 1000D Cordura with a secure Velcro closure. This option is best for athletes who may want to swap out weights more often and with less effort. While a set of 4 is included standard with this package, the 3-in-1 Sandbag can hold up to (6) 10LB Brick Bags, for a max capacity of 60 LBS.
Photo Credits
Product photos on this page are property of Rogue.
This website is not affiliated or associated with CrossFit, Inc. CrossFit is a registered trademark of CrossFit, Inc.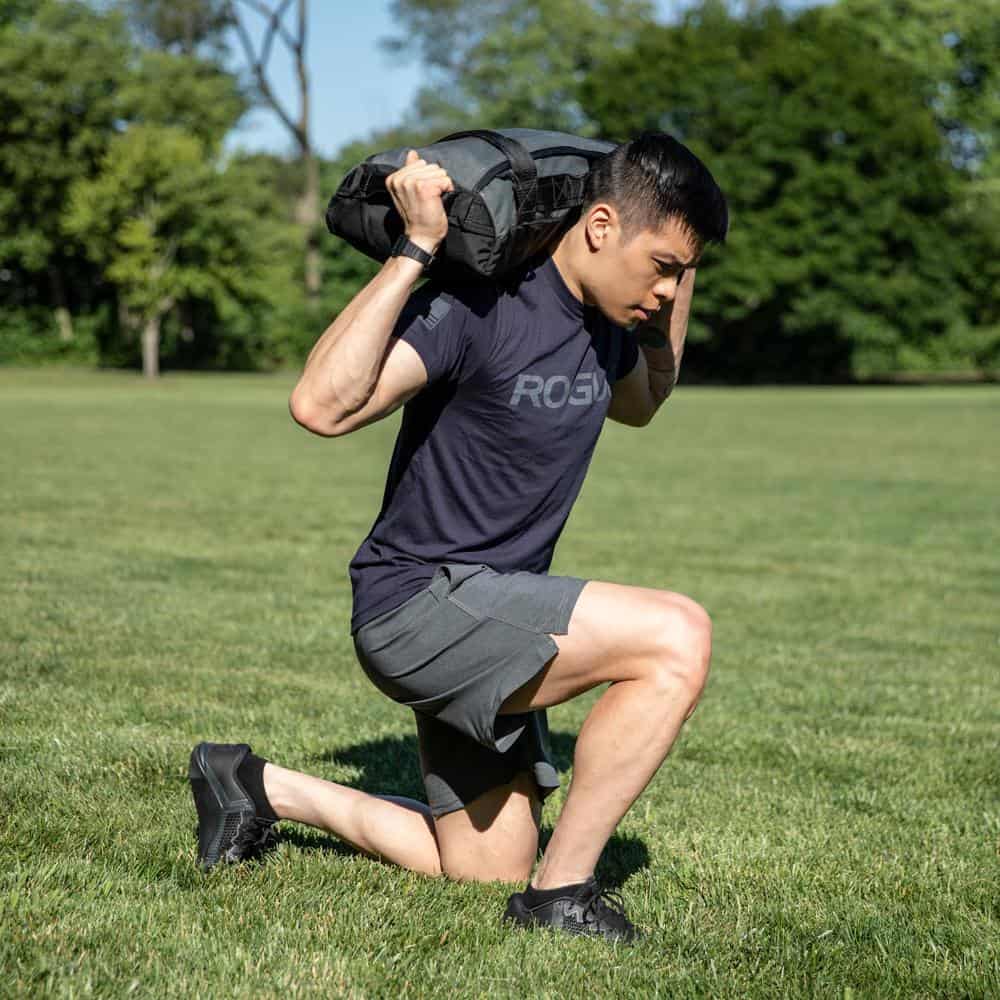 Affiliate Disclaimer
We are an affiliate of Rogue and others that sell this training gear. If you buy clothing or other training gear after clicking the links in this article, we receive a small commission at no extra cost to you. This helps us to bring you in-depth information and content on these great training products.