Rogue has the red-hot
Echo Bike
. Grab one while they last!
Let's take a look at the versatile new Rogue Ankle Cuff Cable Attachment.
Cable attachment exercises have exceptional benefits, and they work efficiently for beginners and advanced bodybuilders. They provide resistance to the lower body giving many gains like more defined legs, thighs, hips, and glutes. To include this in your workout, all you need is a cable pulley and straps.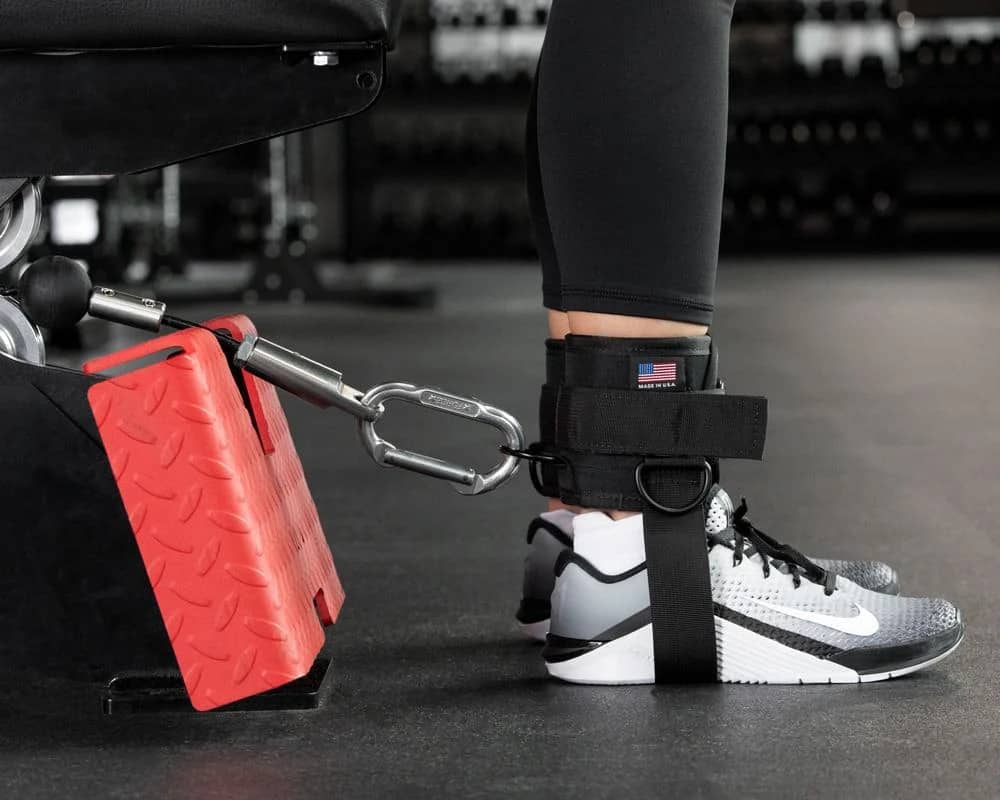 Here are some of the styles we are going to look at:
Rogue Ankle Cuff Cable Attachment – Overview
Using ankle cuff cable attachments is straightforward and highlights a device similar to a buckle. The attachments provide resistance to the lower body while doing strength exercises, giving you tighter, toned legs and abs. Ankle strap exercises are used to enhance the muscles of the inner and outer thigh and the glutes. When using straps and cable attachments, it is advised to slowly add weight and not overload.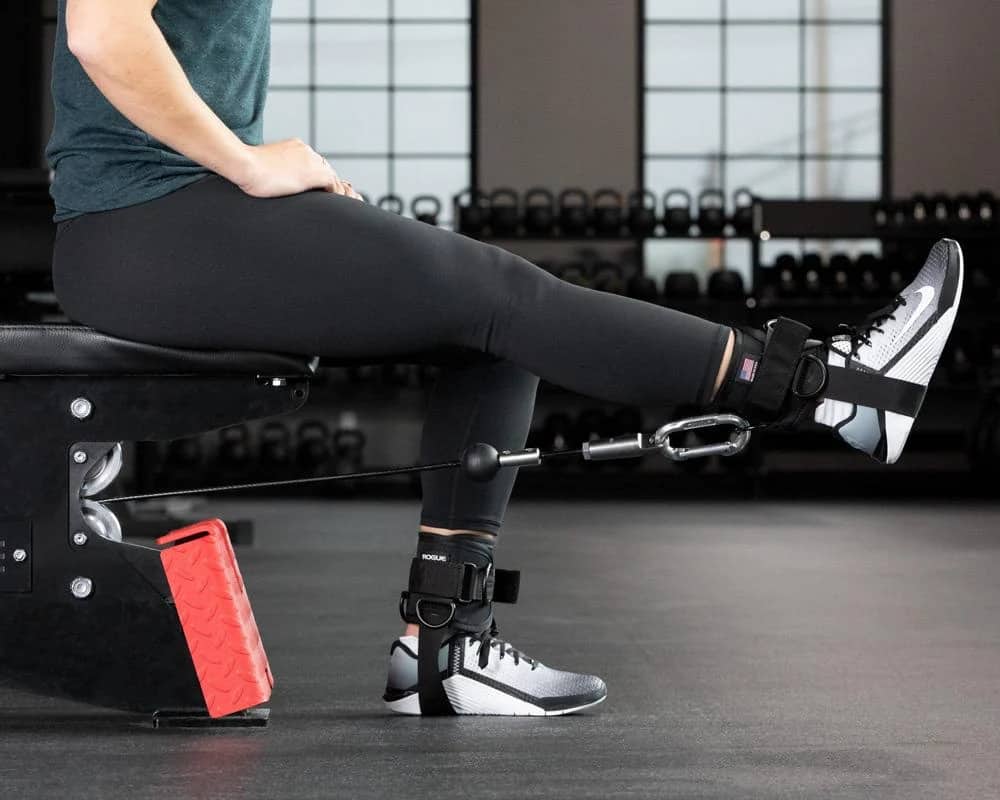 Utilizing an ankle strap on a cable machine demands a decent amount of core power to perform leg exercises. Here are some attachments from Rogue that you can use and integrate into your workout. With these attachments, you can do activities like cable crunches, cable squats, cable hamstring curls, cable hip abductors, and many more.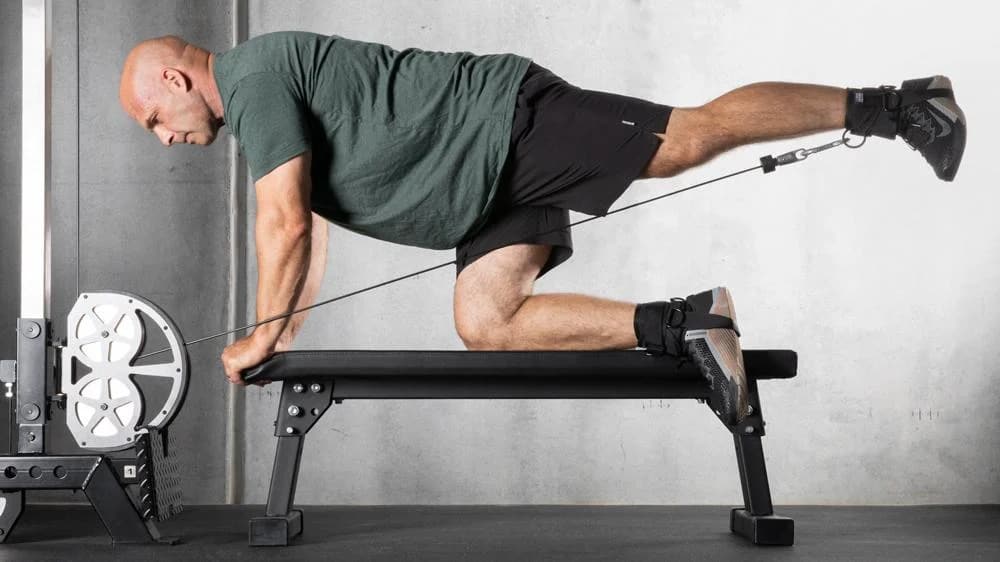 Ankle Cuff Cable Attachment
The Ankle Cuff Cable Attachment is co-developed with World Champion bodybuilder, Tim Martin (former 5x IFBB Pro & Mr. Universe). It is overbuilt with a patent-pending design featuring the same 0.25" thick foam frame structure as Rogue's USA Nylon Weightlifting Belts, with a Cordura exterior and antimicrobial interior surface. It can be used with a wide range of cable machines, including the Rhino, CT-1 Cable Tower, Lat Pulldown, the Slinger with Solo Pulley Attachment, the Cave, and many more.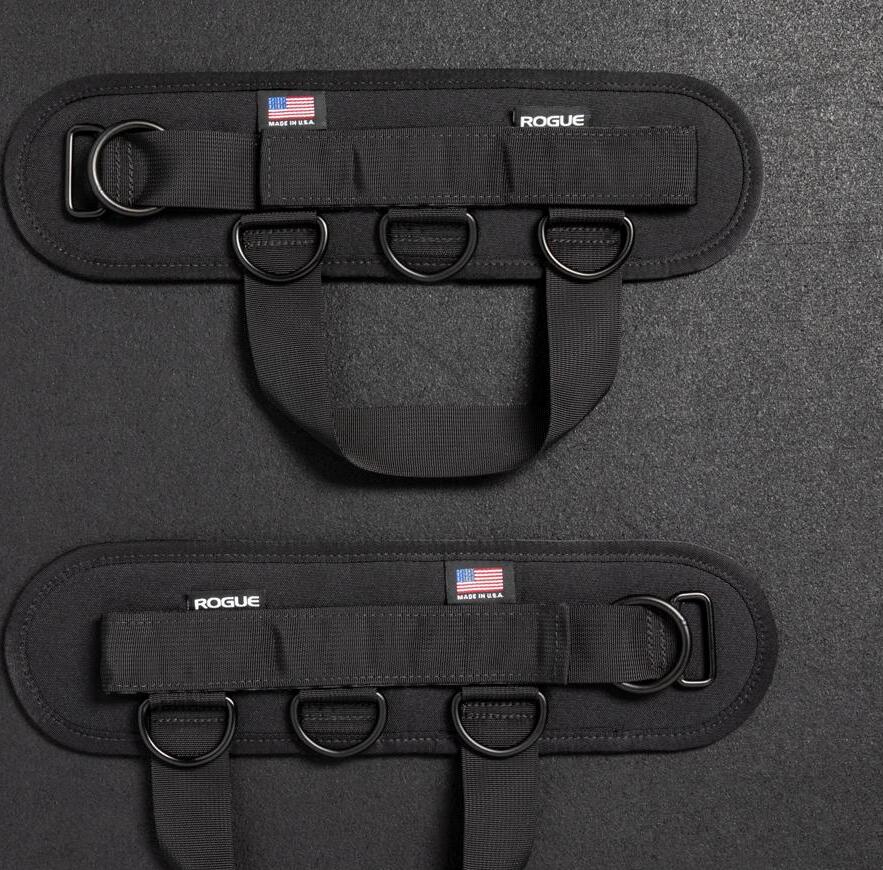 You can quickly adjust the ankle cuffs from a circumference as small as 9" to as large as 14" without dropping any of the protective paddings in the process. You can use this attachment by simply attaching the cuff around the leg just above the ankle and fasten it in place through the 1.5" wide nylon webbing strap (with hook-and-loop closure) and welded rectangle D-ring.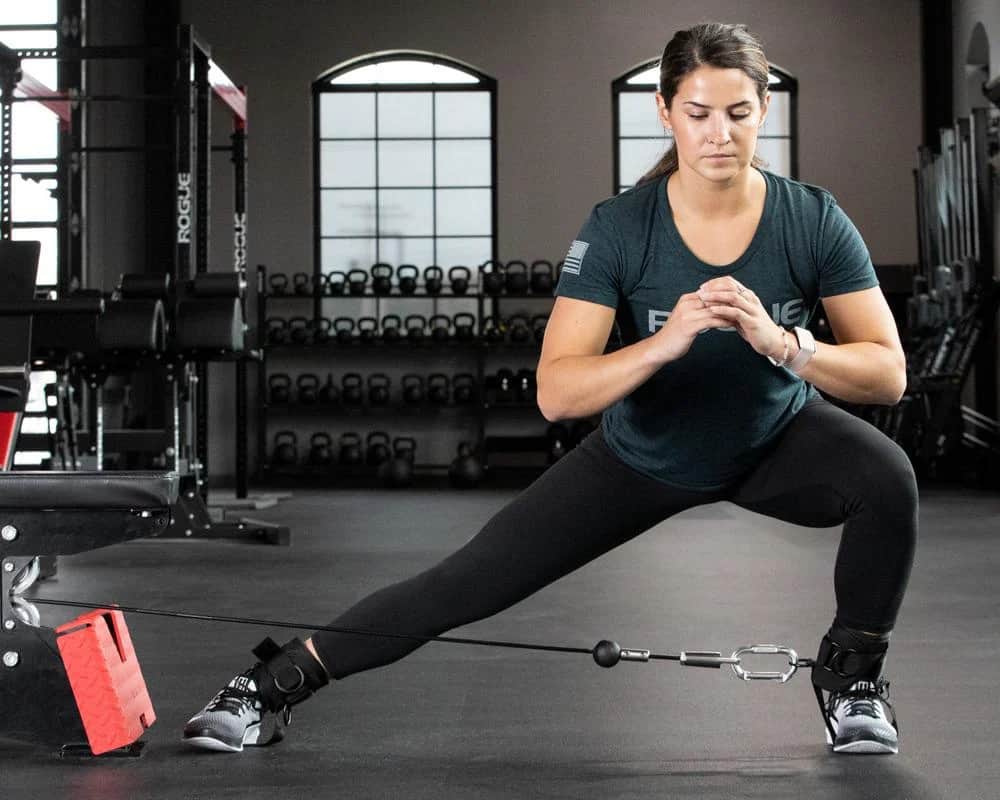 Rogue CT-1 Cable Tower
The CT-1 Cable Tower is welded, painted, and assembled at Rogue's Reflex Factory in Milan, Illinois, using 3×3" 11-gauge steel and parts cut at Rogue HQ in Columbus, Ohio. It stands 9 feet tall, producing a 55" x 60" footprint. It grants an effortlessly adjustable stand-alone column for a wide variety of cable machine exercises, like curls, rows, cable crossovers, triceps pushdowns, and more. The machine highlights many elements as the Rogue Monster Lat Pulldown 2.0 machine, including 6" machined aluminum pulleys, a USA Mil-Spec cable, adjustable diamond tread footplate, and a custom black carabiner.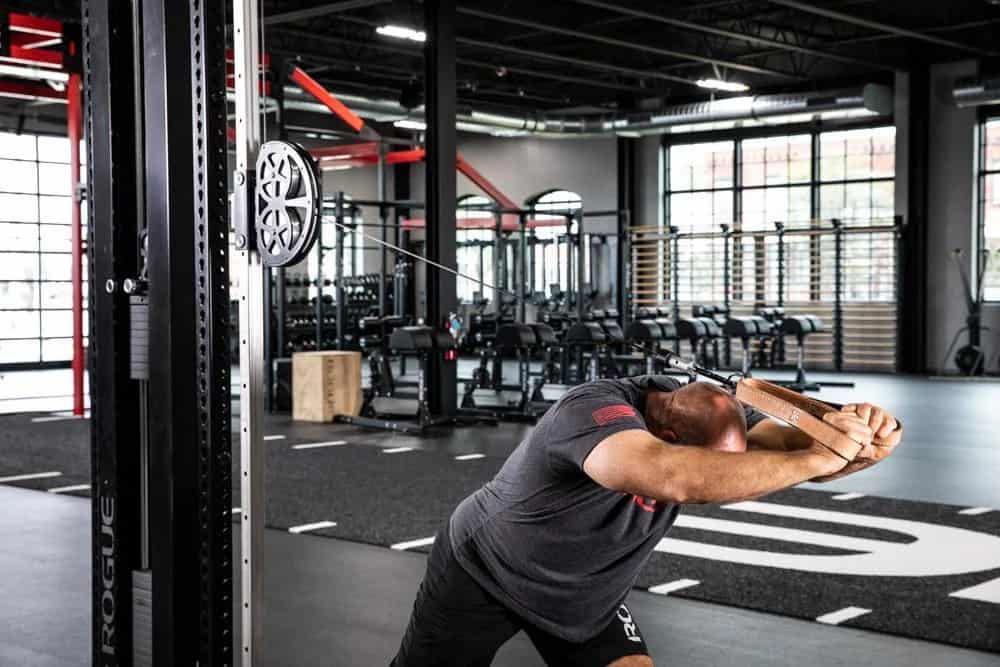 It can be easily set up high or low depending on the workout with its single handle pulley assembly that highlights a 180-degree swivel, using the knurled stainless steel adjustment handle. There are 16 different height adjustment settings on the 2×2 rail, and you can smoothly move the swivel up and down without damaging the stainless slide tube with its acetal pads inside the handle assembly.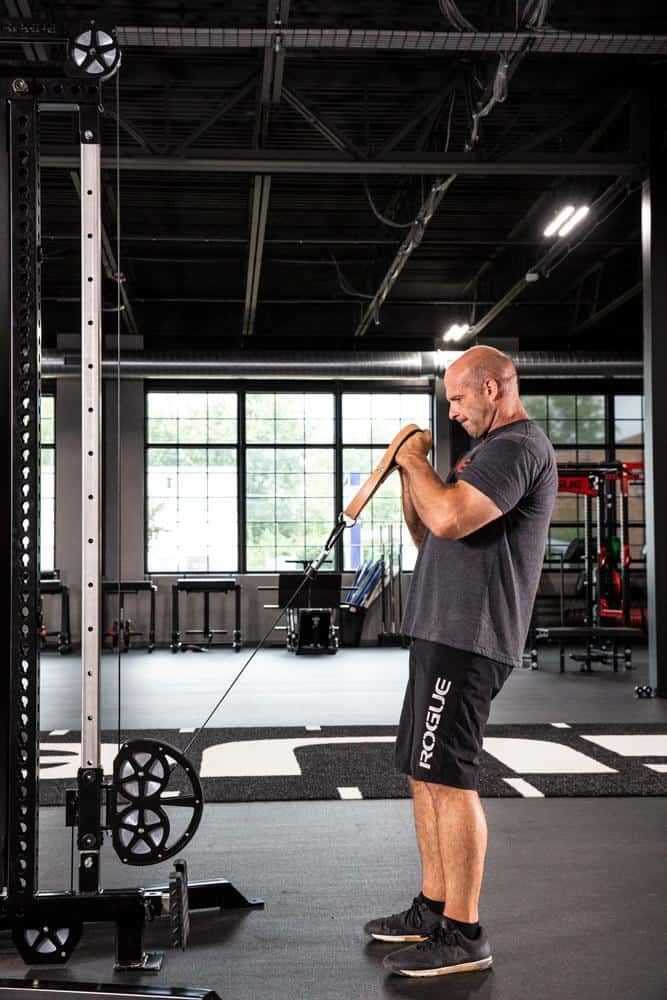 Rhino Belt Squat
There is no need for a separate rack/rig for set-up with the freestanding version of the Rogue Monster Rhino Belt Squat. The system already involves a pair of 53.925" steel legs for mounting, and two angled 3×3" front feet for platform security. This small unit can be set up in garage gyms, low-ceiling home gyms, or full-scale facilities, giving you the power to get many lower body training profits of squats and other workouts without placing needless pressure on the shoulders or lower back. The stand-alone Monster Rhino Belt Squat is manufactured in Columbus, Ohio. It comes with 3×3" arms and crossmembers, a 3×6" weight trolley tower, and a 0.25″ braided cable for raising/lowering the weight trolley.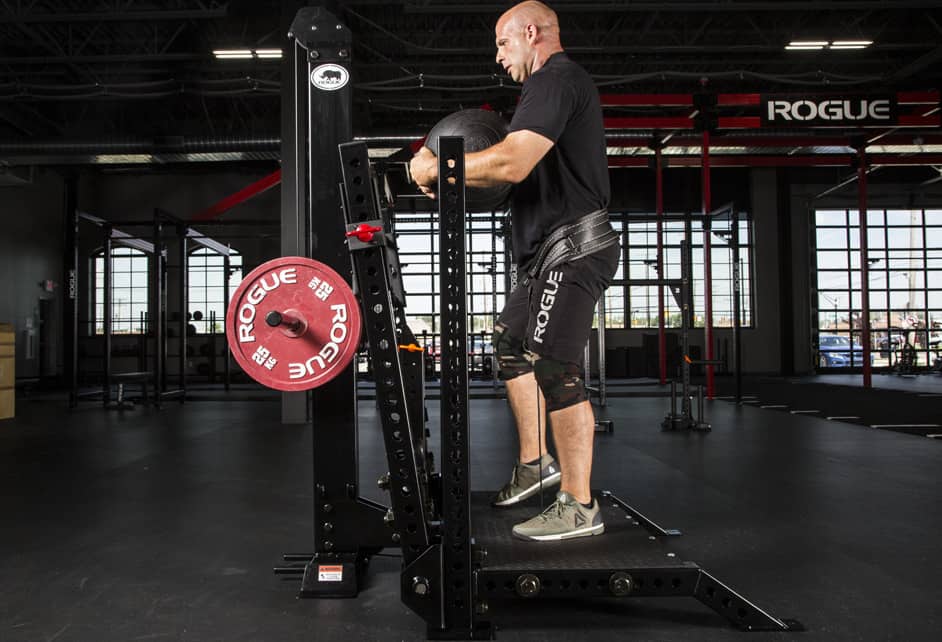 You can store this trolley when not in use on a 1″ thick UHMW plastic hook or "Rhino Horn." The exclusive Rogue Multi Belt comfortably suits most waist sizes, with 41" to 61" adjustments. A diamond-tread plate platform renders even footing, while the adjustable handles extend overhand and neutral grip options. The entire Rhino unit (aside from the platform, handles, and weight posts) is completed in Rogue's Medium Gloss Black powder coat.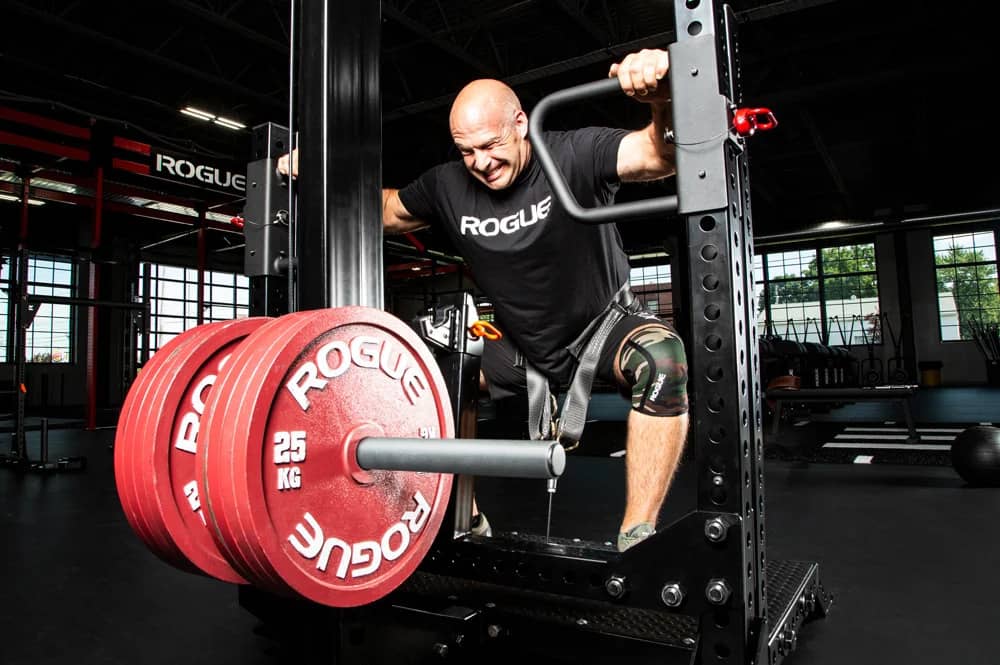 Monster Lat Pulldown Low Row
The Monster Lat Pulldown Low Row is the fully updated, freestanding version occupying just a 40″ x 60″ footprint. The 8′ tall unit includes a 300LB weight stack (10LB increments), stainless steel lat bar, diamond-tread adjustable footplate, 6″ nylon pulleys, and a set of custom-built black carabiners each for the lat pulldown and the low row. The larger 6″ pulleys (vs. the original 3.5″) help lessen abrasion and extend the life of the cable.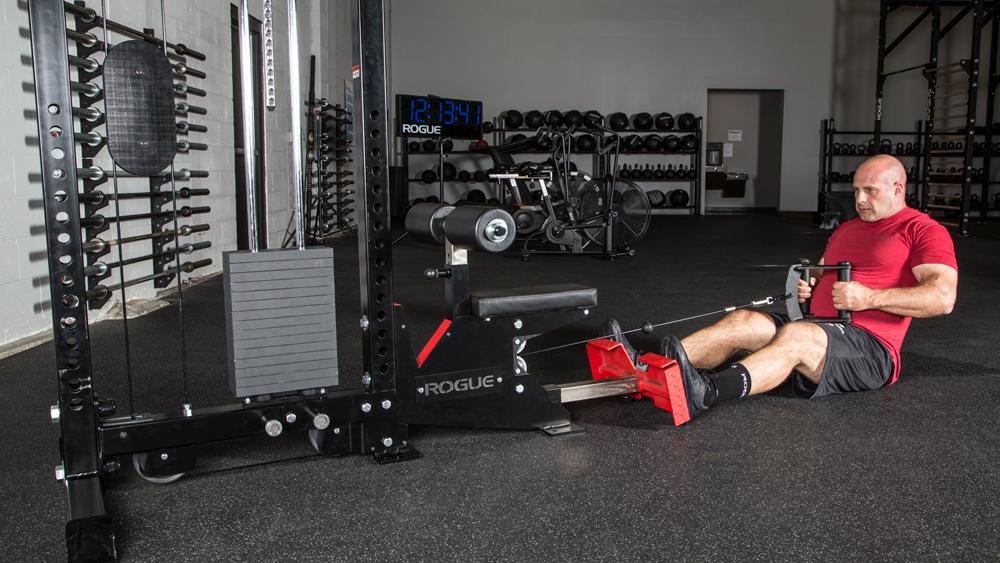 Rogue also upgraded the cable and attached protective UHMW plastic to the tubes and pulley assemblies that the cable passes through. The eye (where the cable connects and carabiner clips on) is now manufactured in-house from stainless steel, and all orders carry a long-term lubricant for the guide rods, letting the weight plates glide more smoothly. The total width of the roller assembly is 24″, and each roller is 8.5″ long and 5″ in diameter.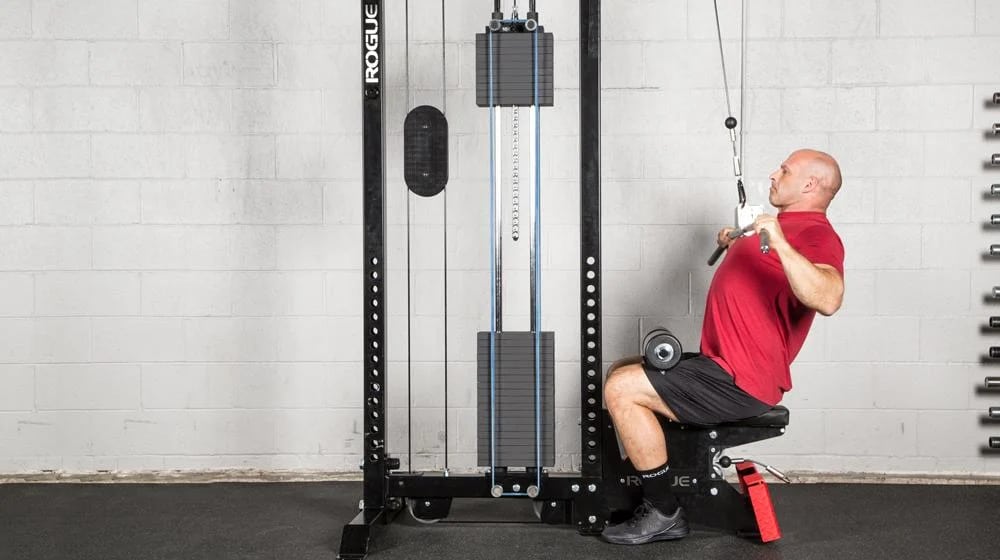 Rogue Ankle Cuff Cable Attachment – In Summary
That's our close-up look at Rogue Ankle Cuff Cable Attachment.
Rogue Ankle Cuff Cable Attachments are simple but powerful accessories that give you another efficient way to hit muscles in the lower half of the body, including the calves, hamstrings, glutes, etc. Traditional movements include hamstring curls, cable hip abductions, leg extensions, kickbacks, reverse, and lateral lunges, and more.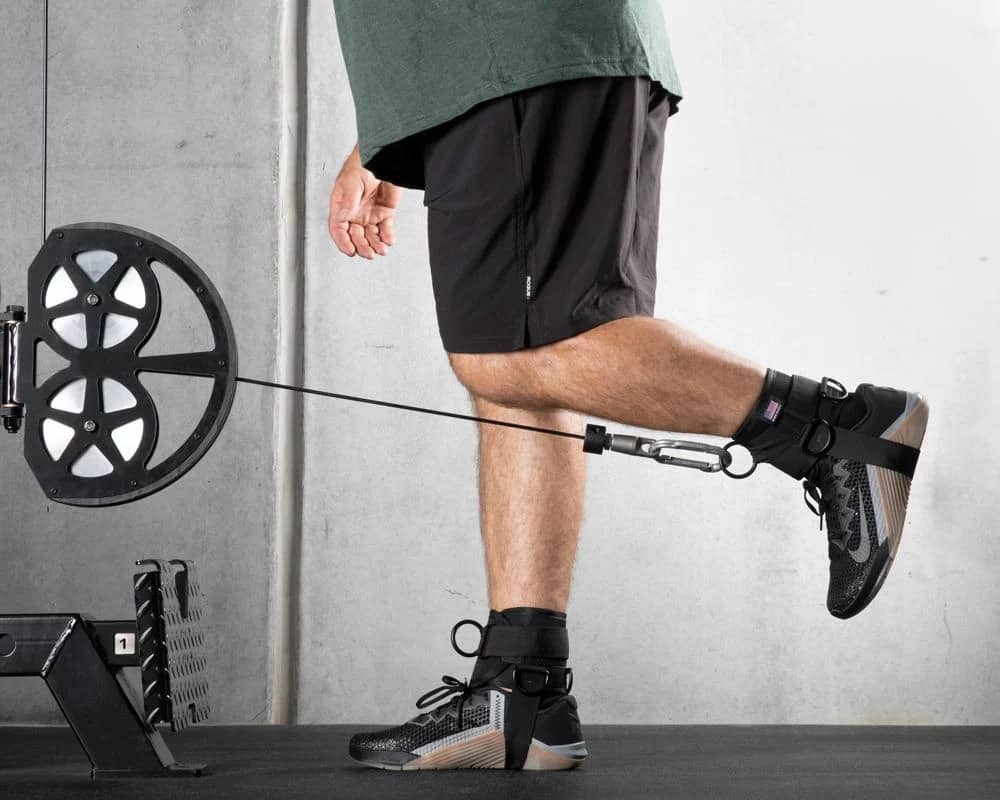 Photo Credits
Product photos on this page are property of Rogue.
This website is not affiliated or associated with CrossFit, Inc. CrossFit is a registered trademark of CrossFit, Inc.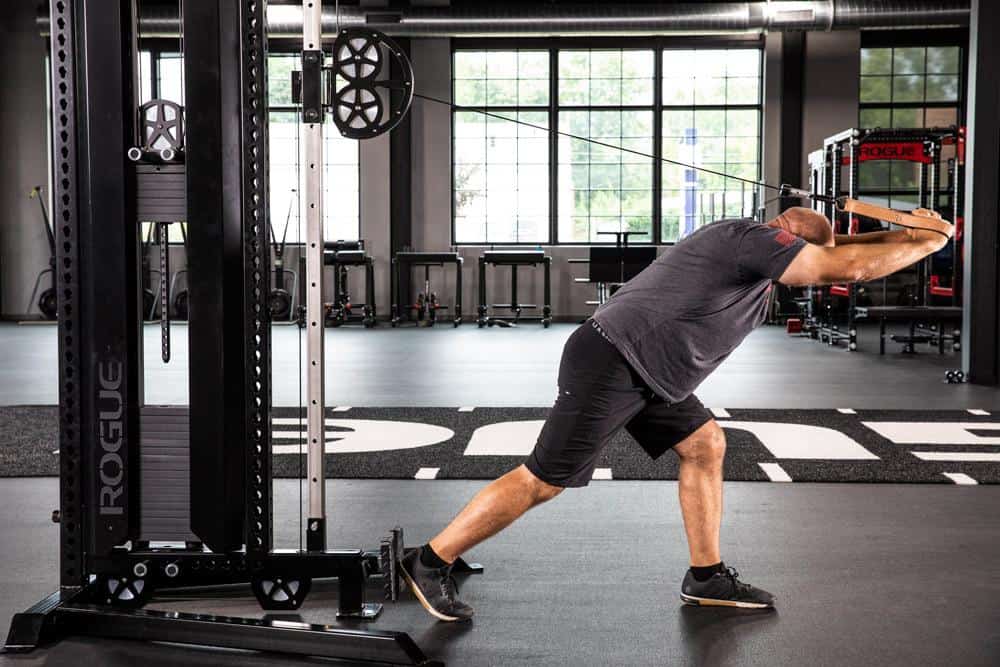 Affiliate Disclaimer
We are an affiliate of Rogue and others that sell this training gear. If you buy clothing or other training gear after clicking the links in this article, we receive a small commission at no extra cost to you. This helps us to bring you in-depth information and content on these great training products.