Rep has a wide variety of weight benches for your home or garage gym – and the selection just got better. Here's the new AB-4100 Adjustable Weight Bench, from Rep Fitness.
An adjustable weight bench is essential when building a home gym because it presents a durable surface. The exercises you can execute using a weight bench are limitless — from chest presses and dumbbell row to tricep dips and shoulder press.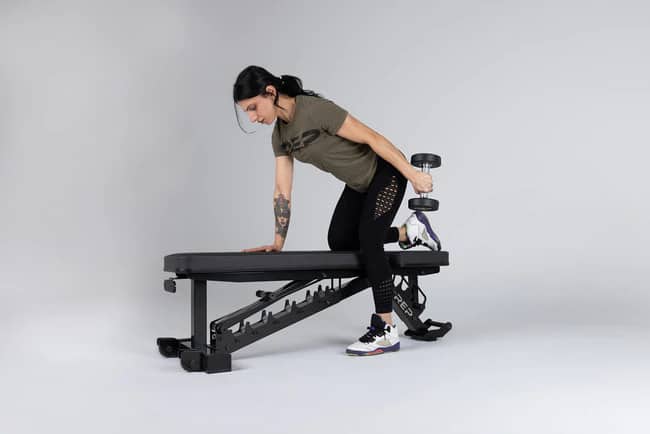 Here are some of the weight benches you can get now, from Rep Fitness:
Rep AB-4100 Adjustable Weight Bench – Overview
Because it offers adjustable levels of flat, incline, and decline, an adjustable weight bench offers versatility, providing various exercise assortments and full-body exercises. It has a solid and stable surface making it great for any exercise, specifically weightlifting. It is a great tool to increase upper body strength, and by exercising from multiple angles, you can also strengthen back muscles and enhance flexibility.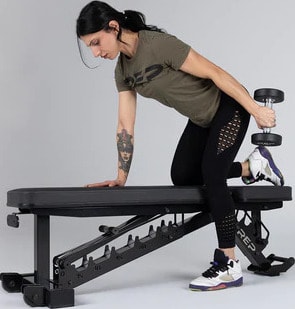 An adjustable weight bench is also great if you have limited space as it can be adjusted, and you will no longer need more bench. It can also be folded and be kept in a corner when not in use. It also offers support and helps you have the correct posture when lifting. An adjustable weight bench provides plenty of benefits, and if you are looking for one to include in your home gym, here are some from Rep Fitness.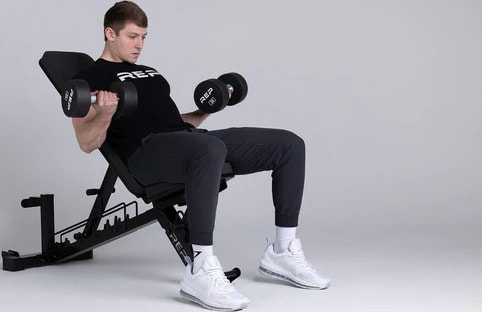 Rep AB-4100 Adjustable Weight Bench
The Rep AB-4100 Adjustable Weight Bench is your bench if you want to maximize your space without sacrificing your workout. It combines form and function with an extended range of incline and seat positions, enhanced handle design, and black zinc hardware. It weighs only 85lbs, and its ladder-style adjustment system is fast and easy to change. This lightweight and maneuverable bench contains a built-in upright storage post with rubber coating to save your floors and add extra stability.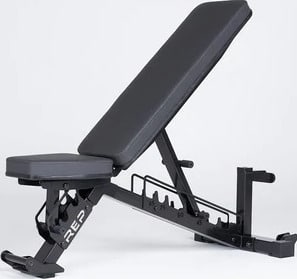 It highlights seven back positions (0 to 85 degrees) and three-seat positions (0, 10, and 20 degrees), making it ideal for a wide range of athletes. The gap between the seat and back pad (1.57") is minimized and merged with a squared-off 12" back pad featuring the enhanced grippy pad material for comfortable and worry-free lifting.
AB-3000 Adjustable Bench
Rep AB-4100 is the bench that put Rep Fitness on the map as the leader in home gym benches. The Rep AB-4100 Adjustable Weight Bench is a heavy-duty bench that blends convenience and versatility. It is perfect for home and light commercial use and any workout routine. There are 21 different potential ways to position your AB-3000 with seven back pad adjustments (from 85 degrees to -20 degrees) and five-seat pad adjustments.
You can hit numerous angles with this flat incline decline bench. This bench has a non-slip pad with 2.5″ grippy, textured vinyl padding. It is very comfortable, and the chrome steel ladder avoids the chipping and flaking of paint seen on powder-coated adjustment systems. This bench is precision manufactured with advanced robotics.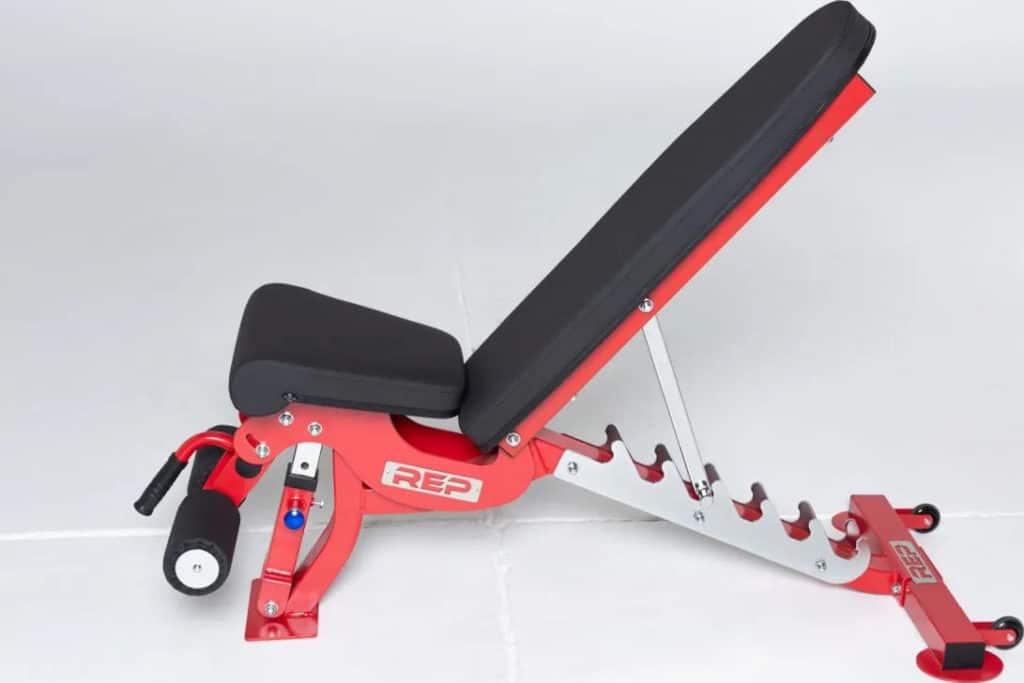 AB-5000 Zero Gap Adjustable Bench
The AB-5000 Zero Gap Adjustable Bench features an 11 gauge steel frame, commercial-grade paint, and thick non-slip vinyl padding. This bench offers rock-solid stability and high-end build quality because of the patented zero-gap feature. The AB-5000 is the first bench on the market to deliver this level of convenience and innovation for the home. This bench highlights a unique patent-issued adjustment mechanism that enables the seat to glide and make a zero pad gap in all positions, totally eradicating the awkward gap found on almost all competing products.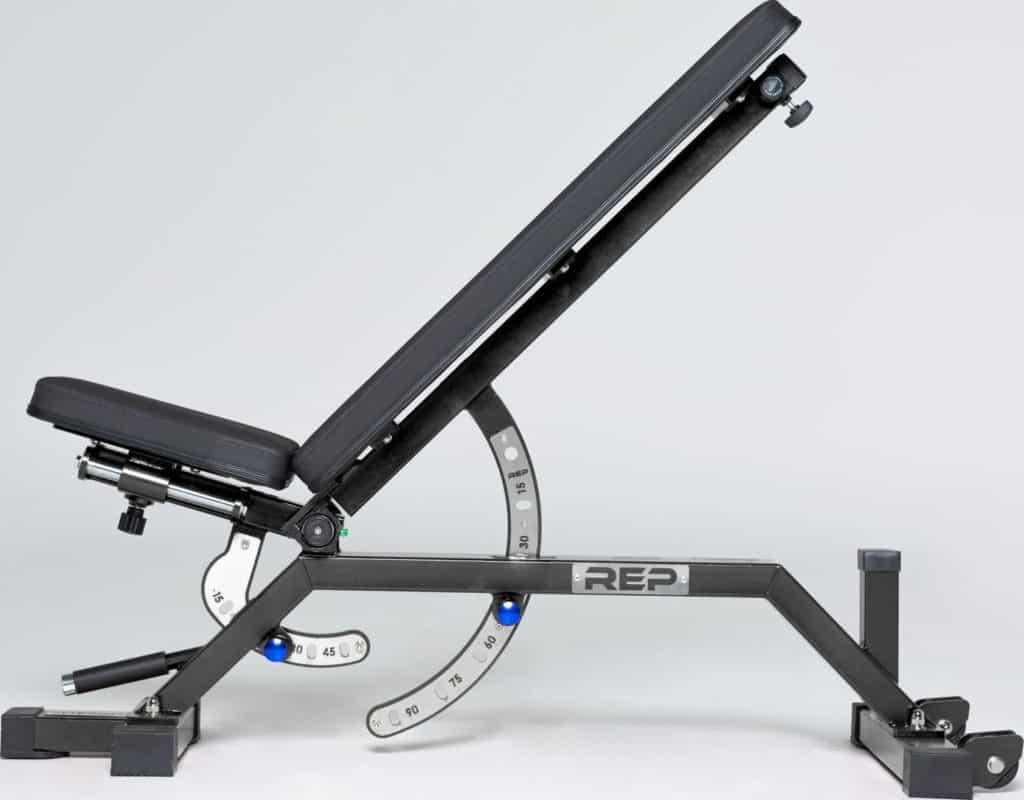 The optional decline leg-roller attachment brings this bench from a flat/incline adjustable bench to a full FID bench. The decline angles allow more aggressive angles for decline situps that typically need an entirely separate piece of equipment. This bench also has a stainless steel logo plate, anodized aluminum pop-pins, and wheel guards to reduce tripping hazards.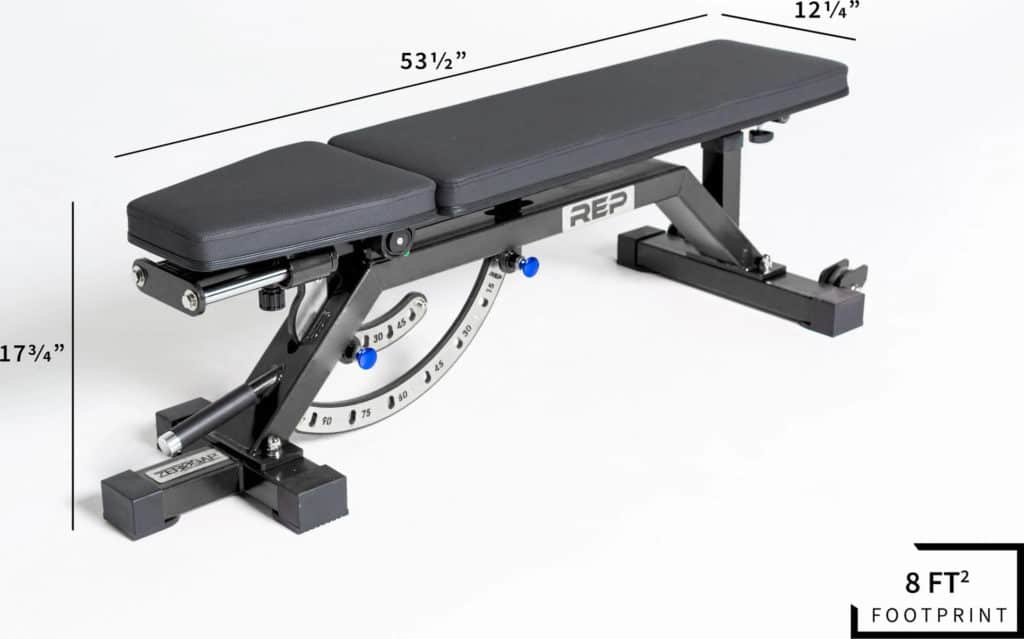 Rep AB-4100 Adjustable Weight Bench – In Summary
That's our close-up look at Rep AB-4100 Adjustable Weight Bench.
An adjustable weight bench offers versatility providing an array of exercise assortments and full-body exercises. Because it is adjustable and foldable, it extends a space-saving feature and is great if you have particularly tight space. These adjustable weight benches from Rep Fitness are exceptional, reliable, and durable without being expensive.
Looking for more options? Check out these other great products:
Need a true bargain option? Check out the Rep AB-3000 FID Adjustable Bench.
But, if you want ALL the bells and whistles – here's their ultimate bench : REP AB-5000 Zero Gap Adjustable Bench in Matte Black.
Their innovative design ensures there's literally zero gap – something of a rarity in an adjustable bench.
Find more home gym equipment from Rep Fitness.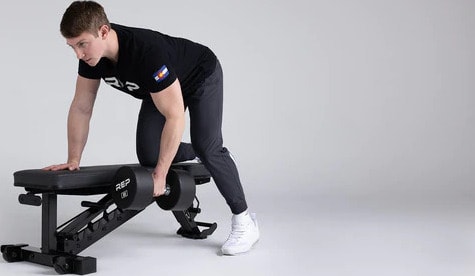 Photo Credits
Product photos on this page are property of Rep Fitness.
This website is not affiliated or associated with CrossFit, Inc. CrossFit is a registered trademark of CrossFit, Inc.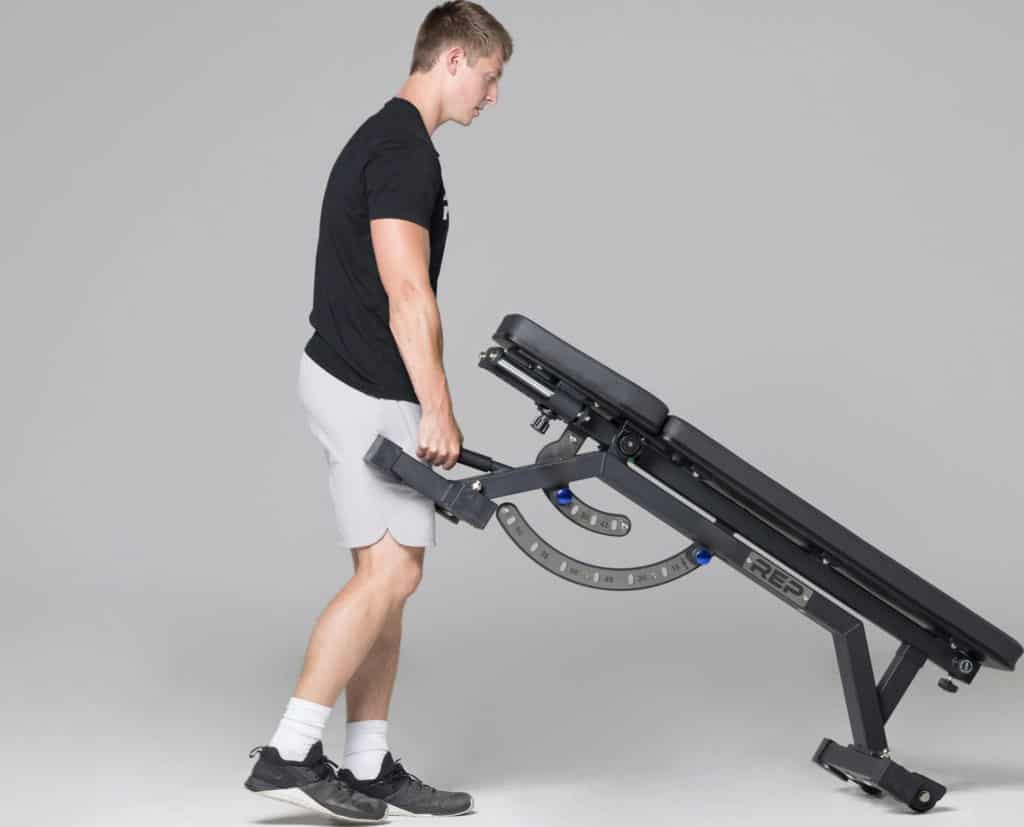 Affiliate Disclaimer
We are an affiliate of Rep Fitness and others that sell this training gear. If you buy clothing or other training gear after clicking the links in this article, we receive a small commission at no extra cost to you. This helps us to bring you in-depth information and content on these great training products.