Rogue has released the 3rd version of the
Echo Bike
. Grab one while they last!
Here's our review of the NOBULL High Top Trainer shoe, from NOBULL.
This is the new Wild Storm colorway – looks good – doesn't it?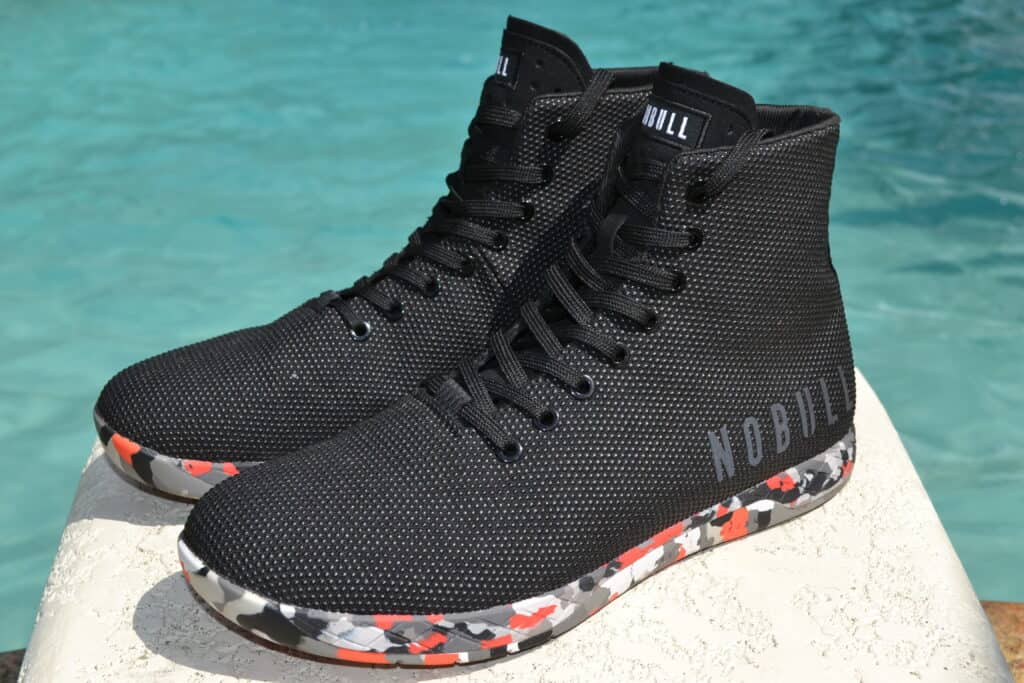 But is this a good CrossFit or functional fitness style training shoe?
That's what we'll talk about here in this review.
NOBULL High Top Trainer – Video Review on our YouTube Channel
Why read when you can watch? Check out this video from our YouTube channel:
NOBULL High Top Trainer – Sizing
These are true to size, but run slightly long and wide.
This is an excellent shoe if a normal 11 is a tight fit on you – this will probably work perfect.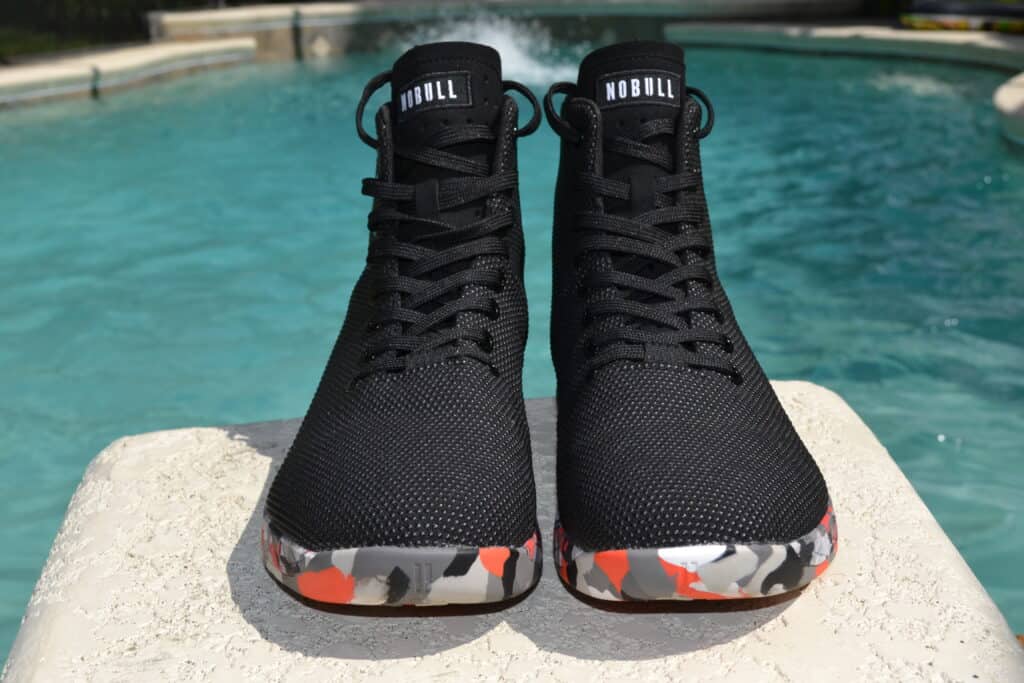 It has more width up in the toe area as compared to some of the other shoes on the market.
I do feel like it is ALMOST slightly too long – there's a lot of room up in the toe area lengthwise.
But, overall I'm pleased with these in my normal size of US Men's 11.
NOBULL High Top Trainer – Overview
Let's review the NOBULL High Top Trainer.
First of all, this is a high top (high collar) version of NOBULL's Trainer shoe.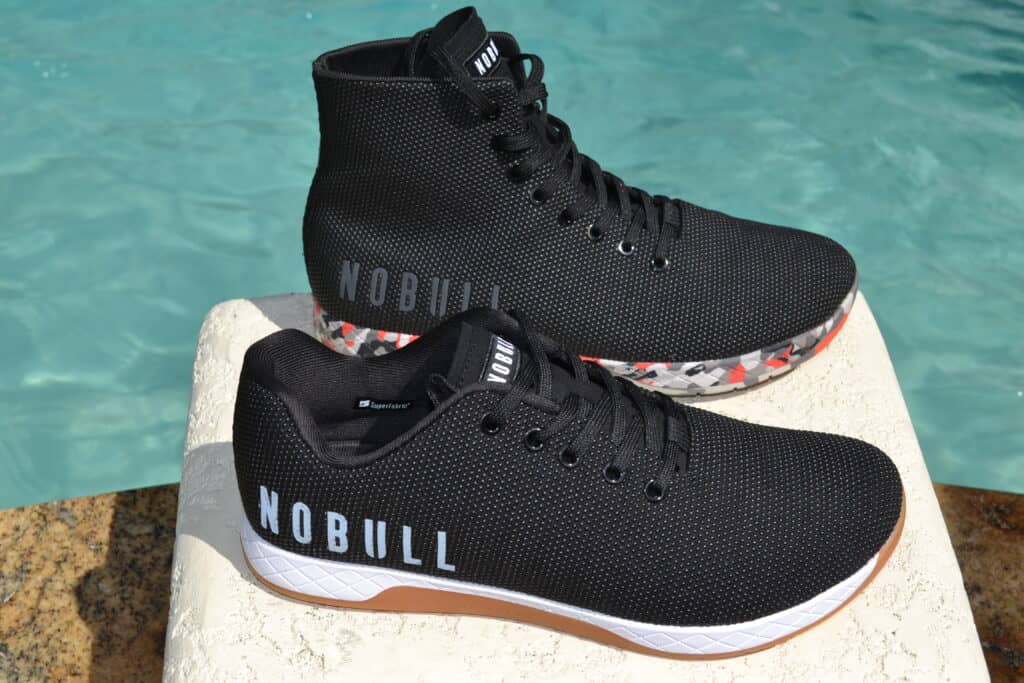 The upper uses NOBULL's proprietary SuperFabric material.
SuperFabric is a mesh layer that is covered very densely with what NOBULL calls guard plates.
These are very tough and abrasion resistant.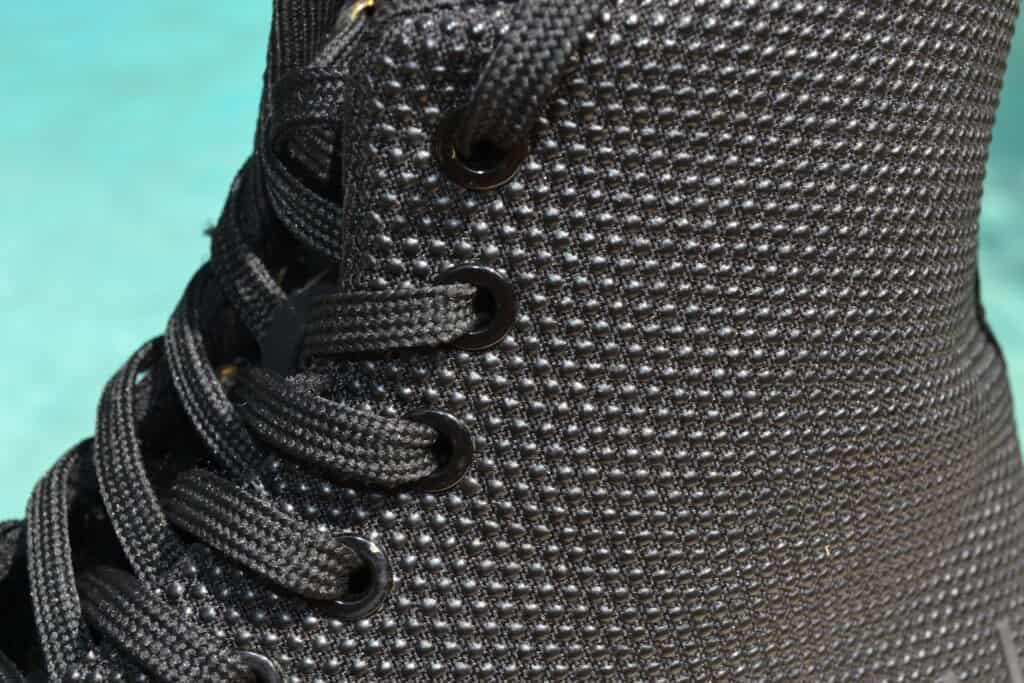 The upper is very tough, and will last a long time.
But, the SuperFabric is not very breathable.
In our side by side testing, we can feel the difference in warmth when wearing NOBULL's SuperFabric trainers (High Top or Low Top).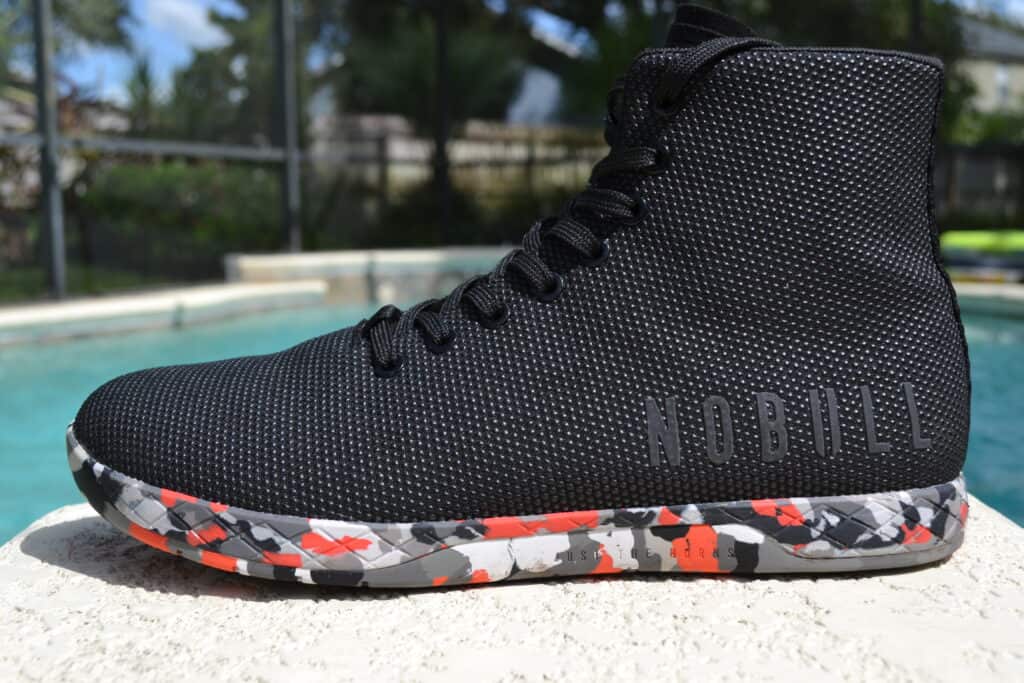 But, it is a super-tough upper – and it looks good.
Taking a look at the outsole, we see the tough all-rubber outsole.
The NOBULL High Top Trainer provides great traction and the outsole will last a very long time.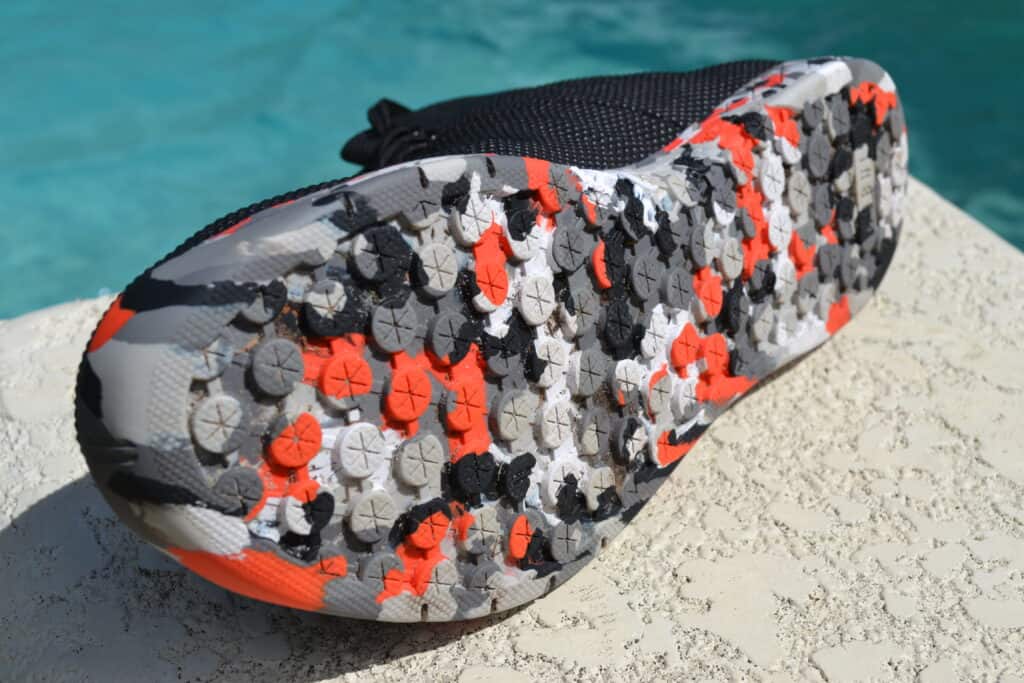 There is a mild medial rope grip area, where the outsole lug pattern wraps (slightly) up around at the midfoot.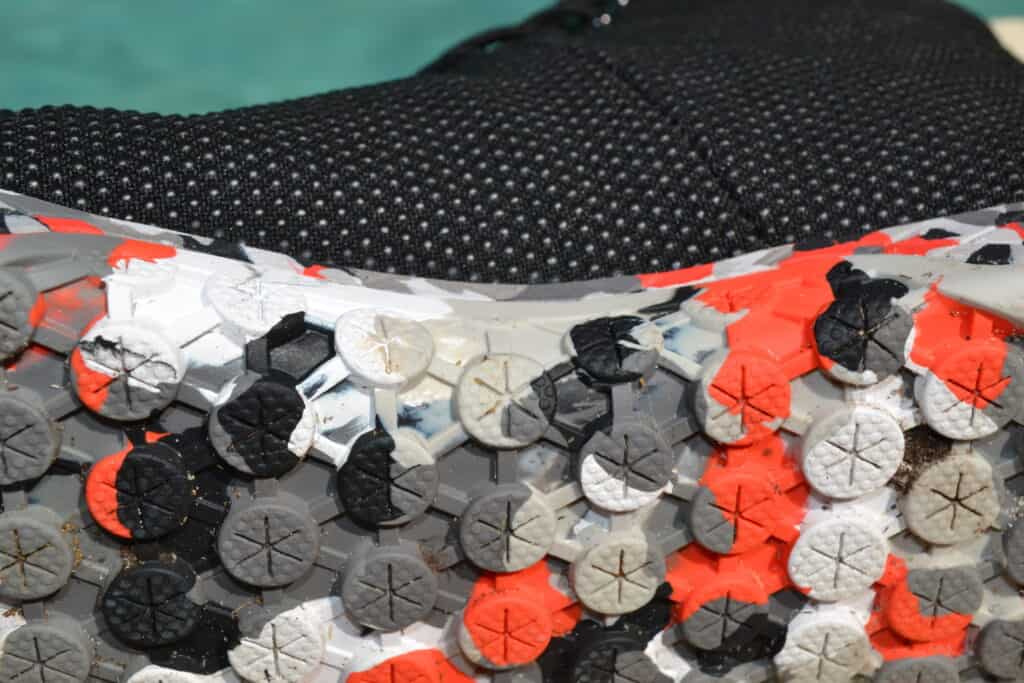 This is to provide better grip when climbing ropes.
The drop (or heel to toe drop) is 4 mm.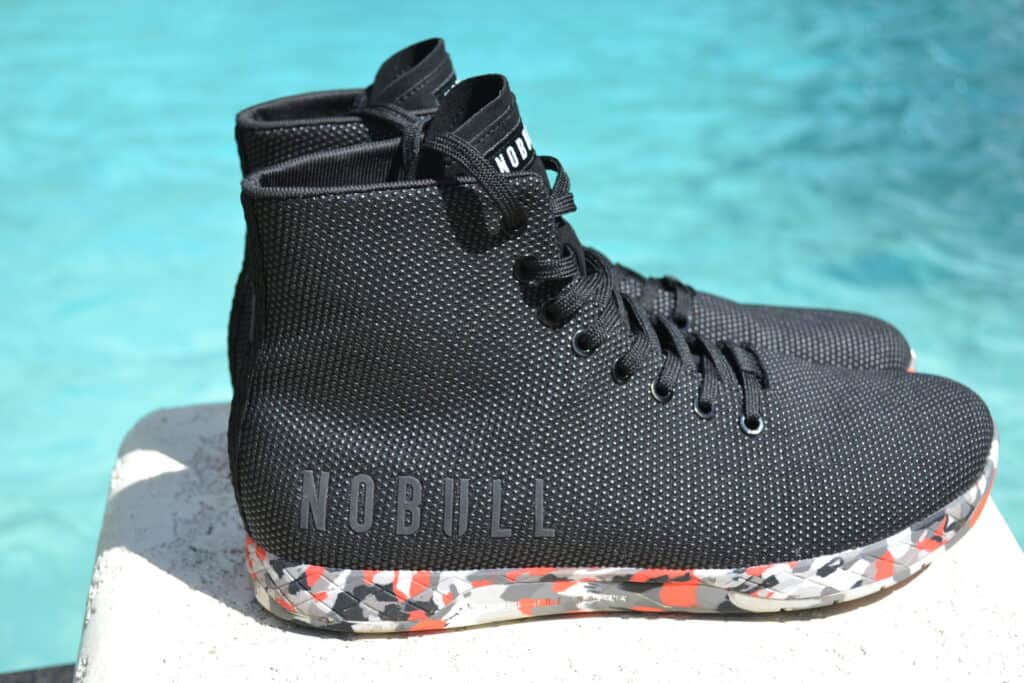 This means your heels are 4 mm higher than your toes. A minimal drop like this (unlike the 10 mm in many running shoes) makes for a more versatile cross training shoe.
How about cushion?
The NOBULL High Top Trainer, like the Trainer (Low) has minimal cushioning.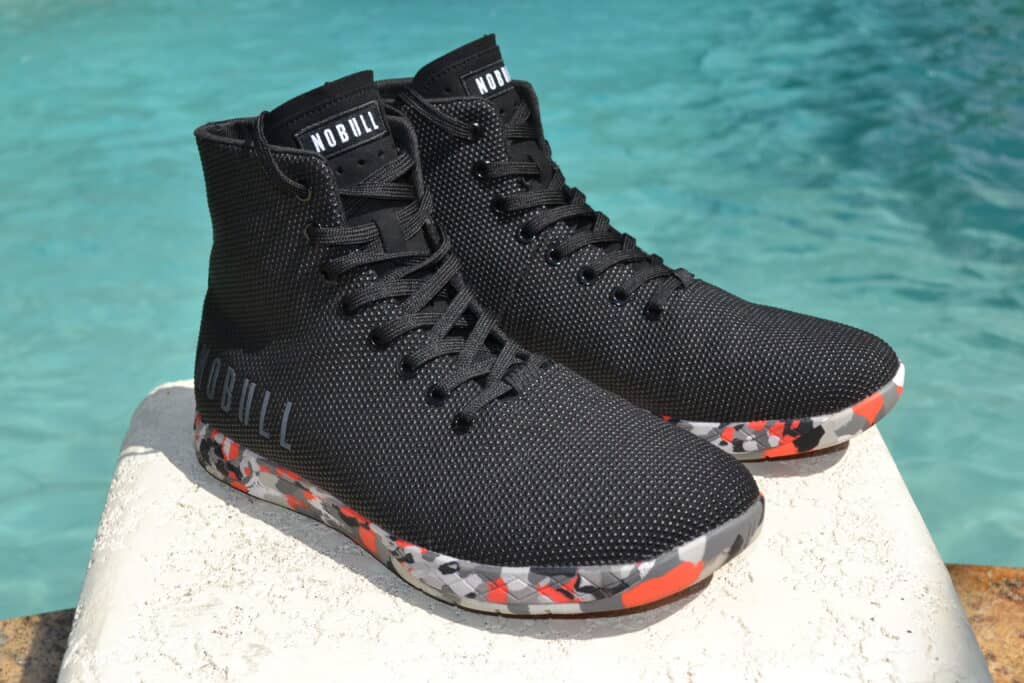 It's more cushion than an Oly lifter (which I would call zero cushion), but it's not much.
This means two things – these are great shoes for heavy barbell weightlifting.
With a solid heel and stable forefoot these are great for heavy squats, thrusters, deadlifts, snatchs, cleans – and more.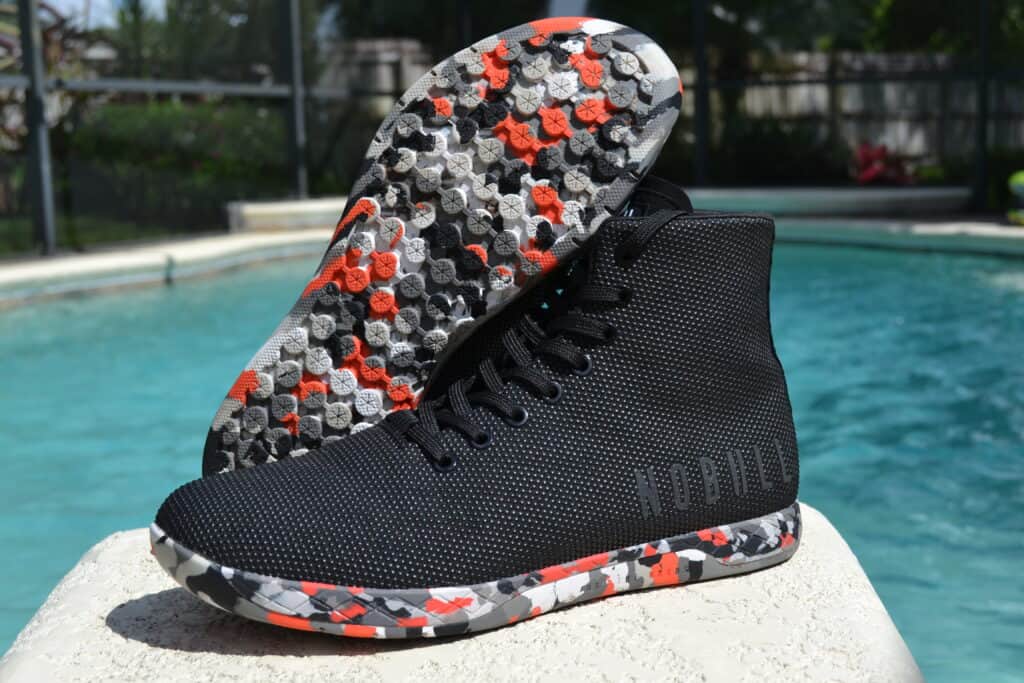 But the lack of cushioning means these are not very good for running.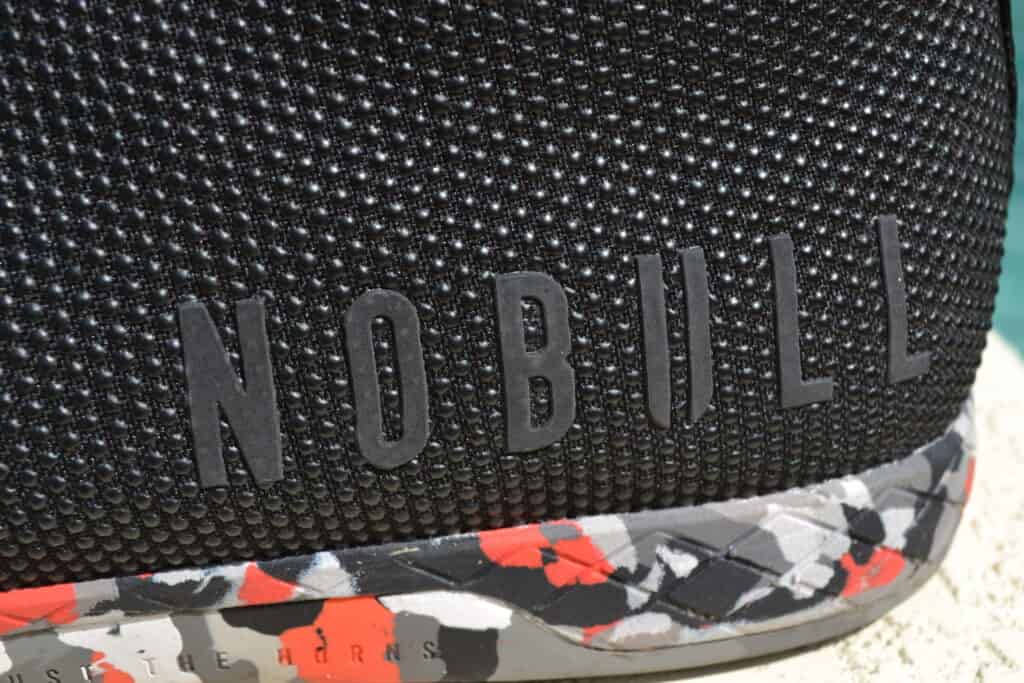 (Well, unless you like to run in shoes without cushion.)
Generally speaking, I wouldn't use these for a WOD that had anything more than short sprints in it.
I wouldn't necessarily reach for these if I was doing a lot of rope skipping either.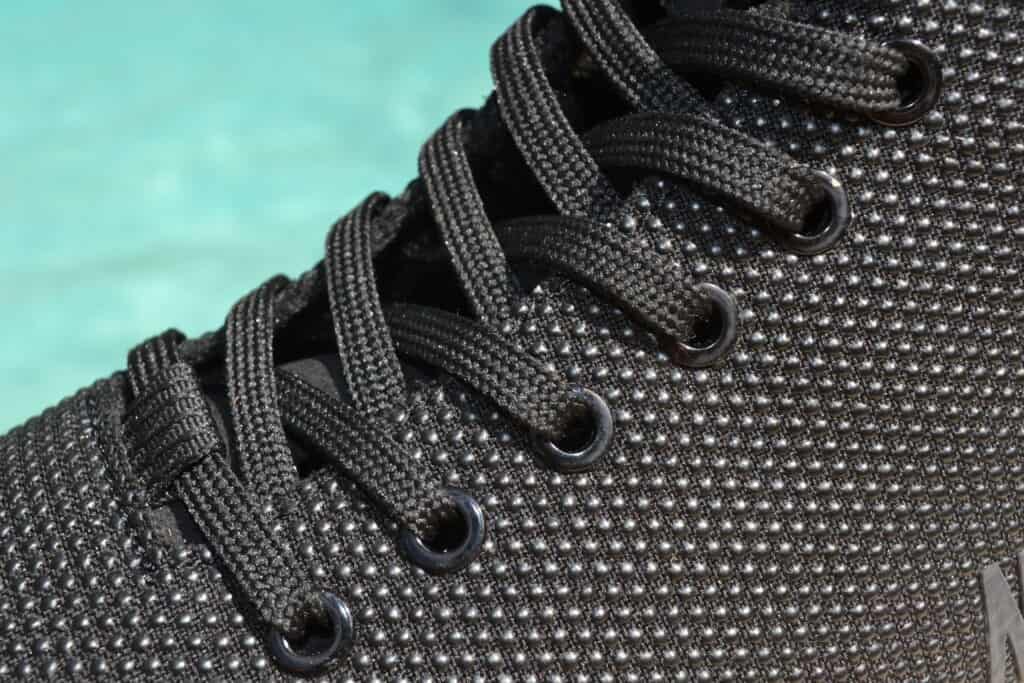 That said, they still work great for a lot of what you normally do in the CrossFit WOD.
You might be wondering, does the high top form factor interfere with your squatting ability?
No, it does not.
If you watch the video clip above, you'll see that the high top collar does not interfere with your ankle range of motion or flexibility.
Is this a heavy shoe?
Nope – it's quite lightweight at only 11.7 ounces for a Men's US Size 11.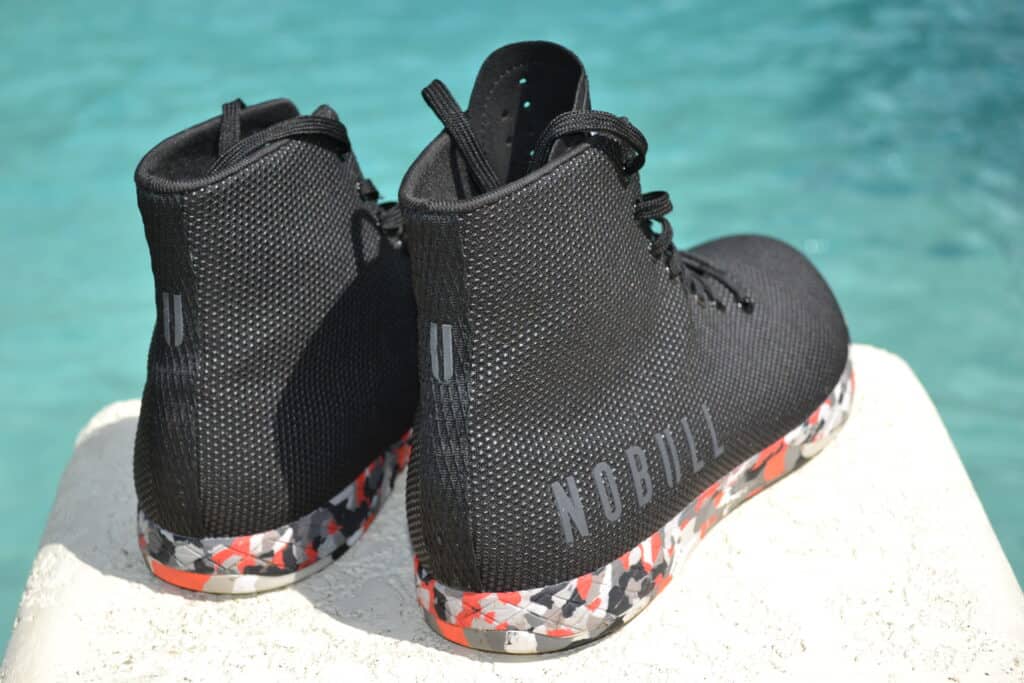 This is significantly lighter than the other big name cross training shoes on the market this year (read on to find out more.)
NOBULL High Top Trainer Versus NOBULL Trainer Low
The High Top Trainer is very, very similar to the regular Trainer (or "Low" as we'll call it here.)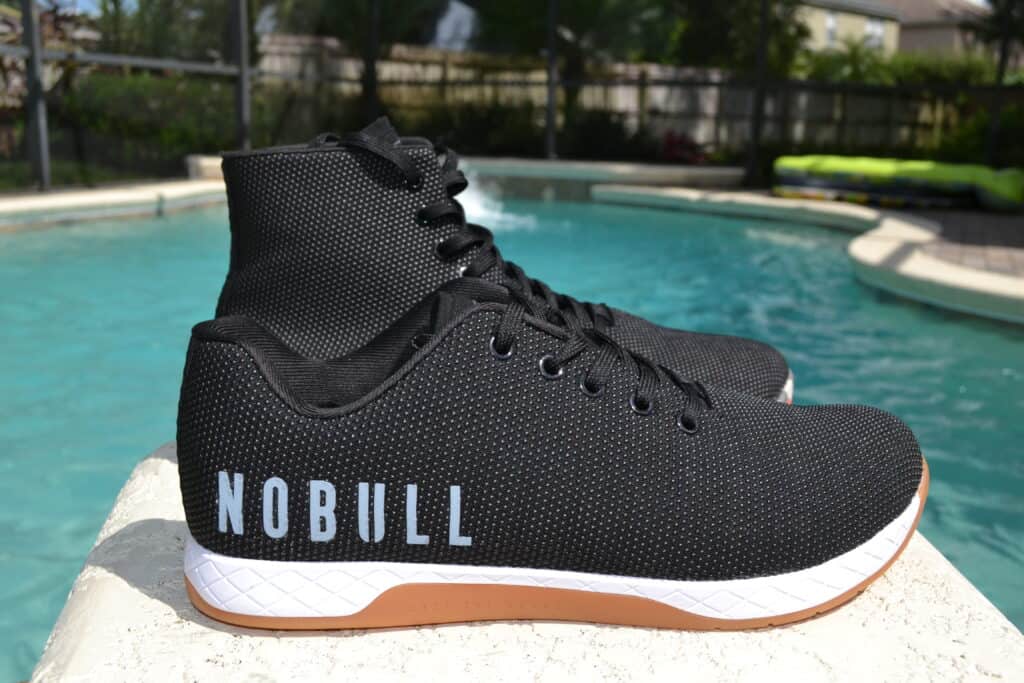 Same outsole, same drop.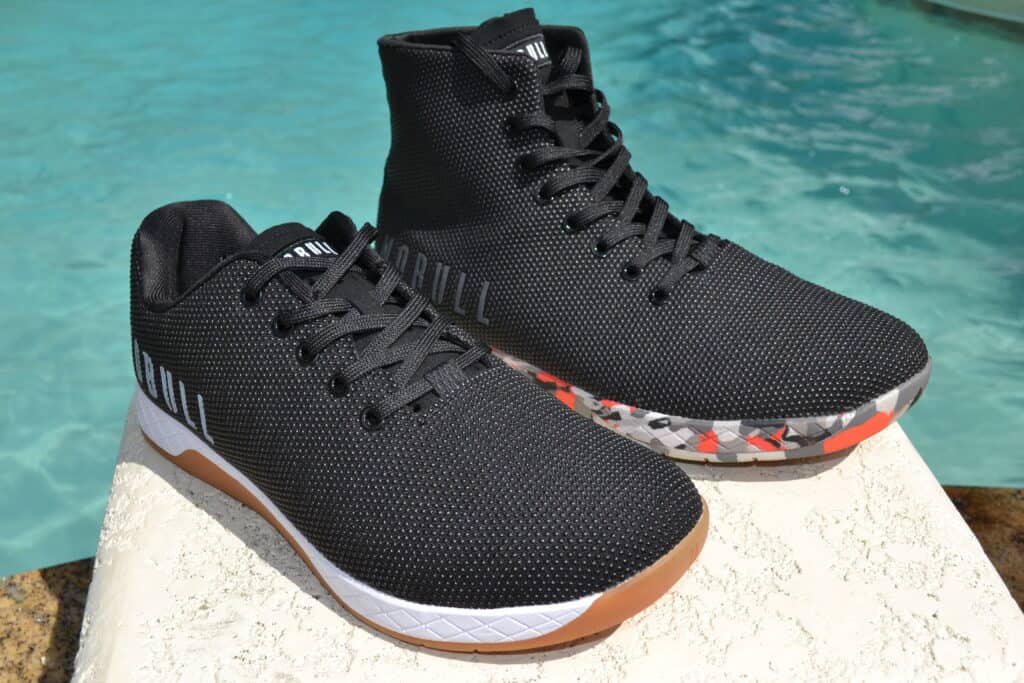 Same cushion (or lack thereof.)
And the SuperFabric upper is the same.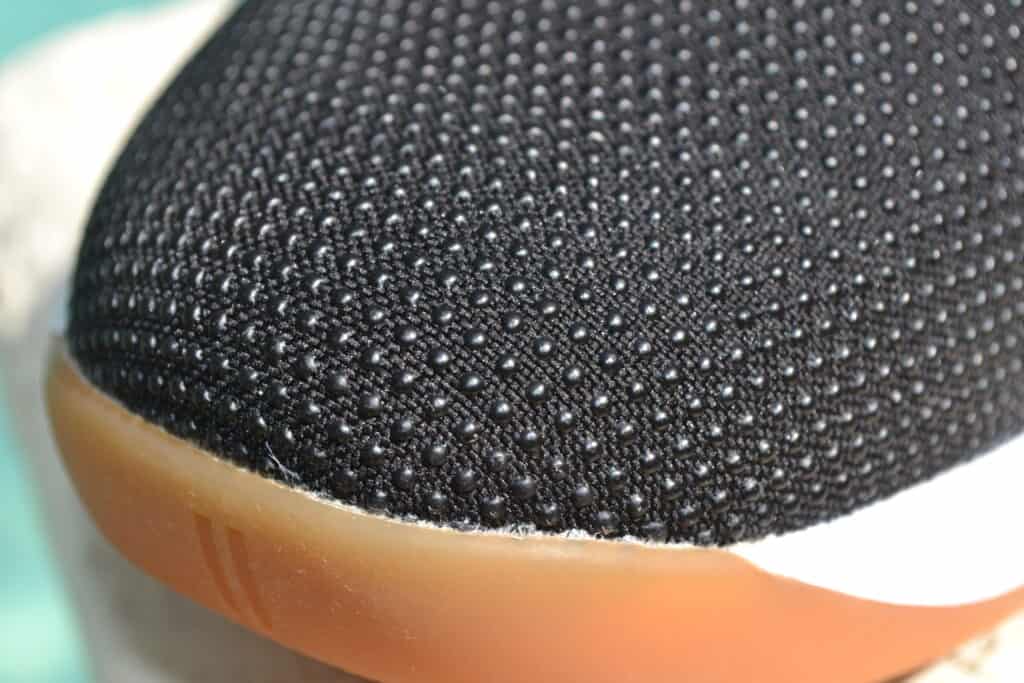 The difference of course, is that the High Top is high, the Low Top is low.
The High Top is also more expensive.
Honestly, I think it comes down to style preference.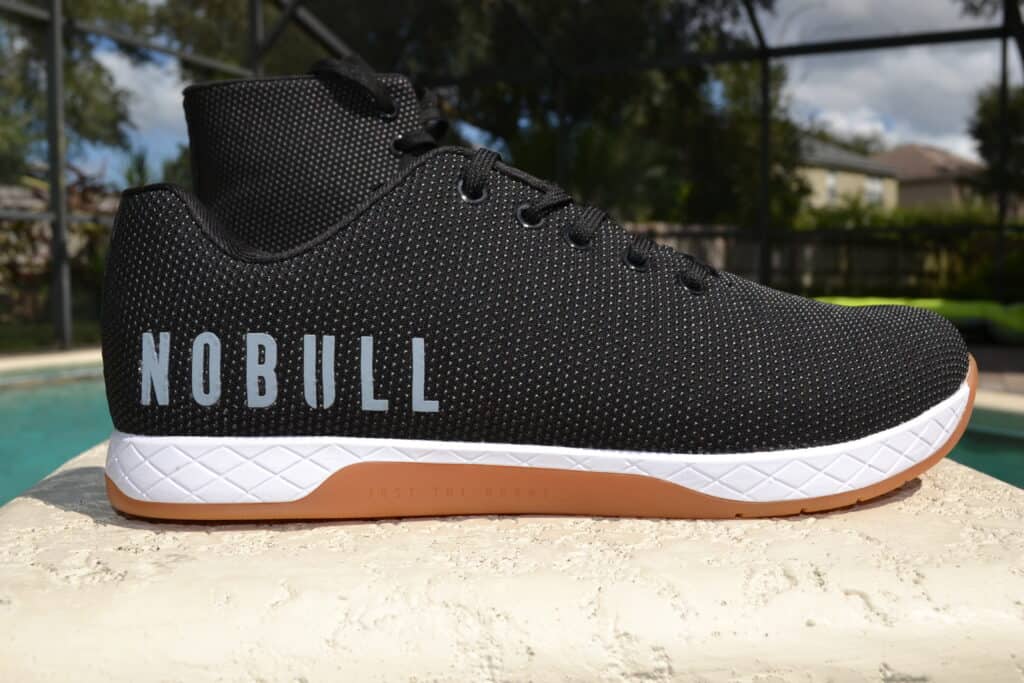 If you want to find out more about the low, check out our hands-on review of the SuperFabric and Canvas versions.
The Low weighs .3 ounces less – naturally because there is less material.
Here's another thing you'll notice about this shoe.
The NOBULL trainer design honestly hasn't evolved over the past few years.
Get the High Top or get the Low, and you are basically getting the exact same shoe they sold 2 or 3 years ago.
(I have a 2018 vintage pair – so I've confirmed this is the case.)
This is markedly different from the other big names – they revise their shoes on a yearly basis.
Here's the point – like your current (or older) NOBULL Trainers? Then you'll probably like these too.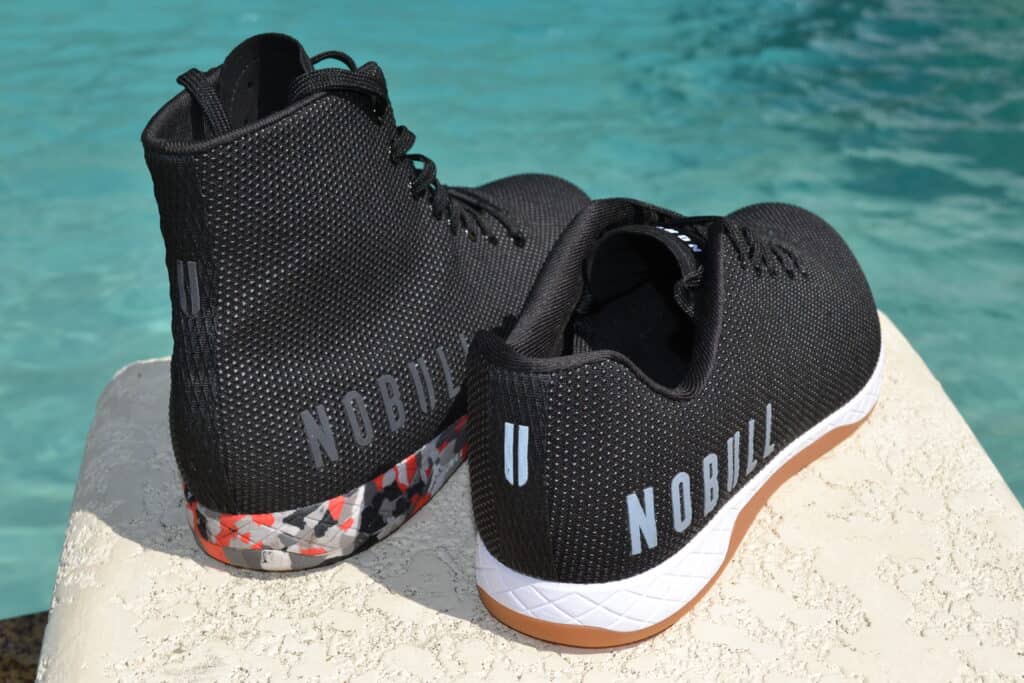 NOBULL High Top Trainer Versus Nike Metcon 6
How does the NOBULL High Top Trainer compare to the Nike Metcon 6?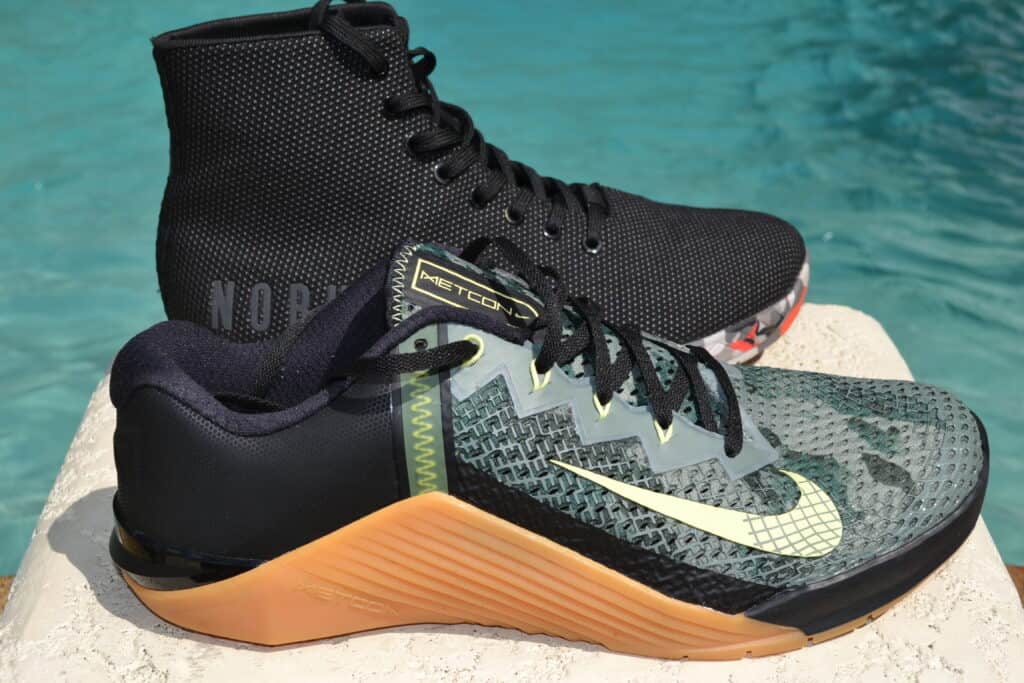 We like the Nike Metcon 6 – in fact we've named it our top CrossFit shoe for 2020.
It's breathable, especially with the new for 2020 upper. Look at the size of those perforations!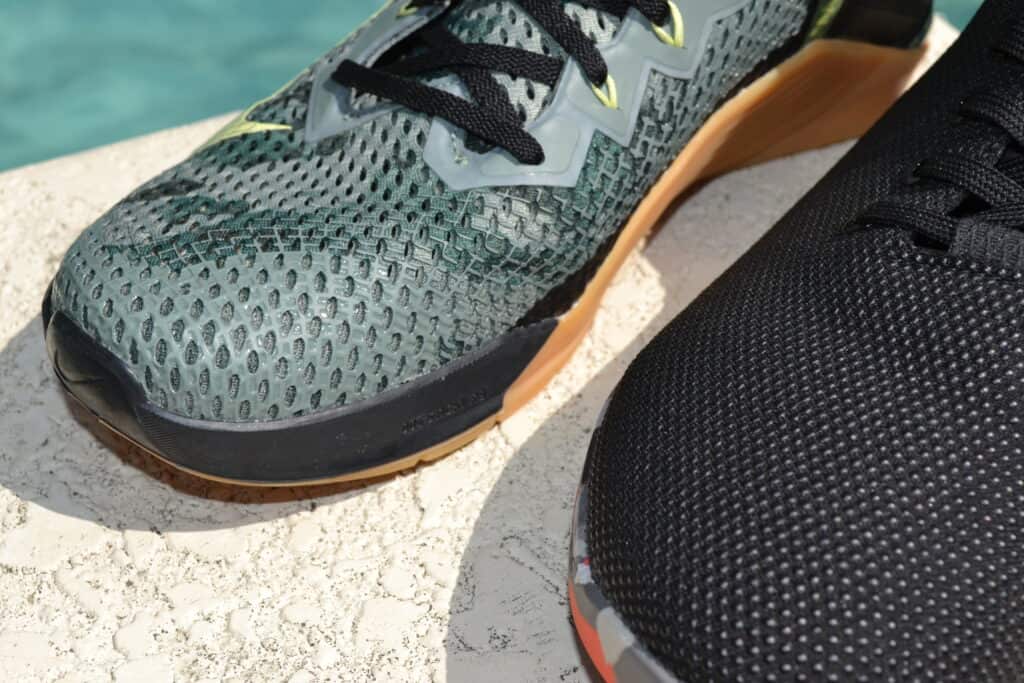 In this regard, it's a very different shoe as compared to the NOBULL.
Further, both are a 4 mm heel to toe drop – but the Nike includes "HyperLifts" which let you dial the drop up to 12 mm.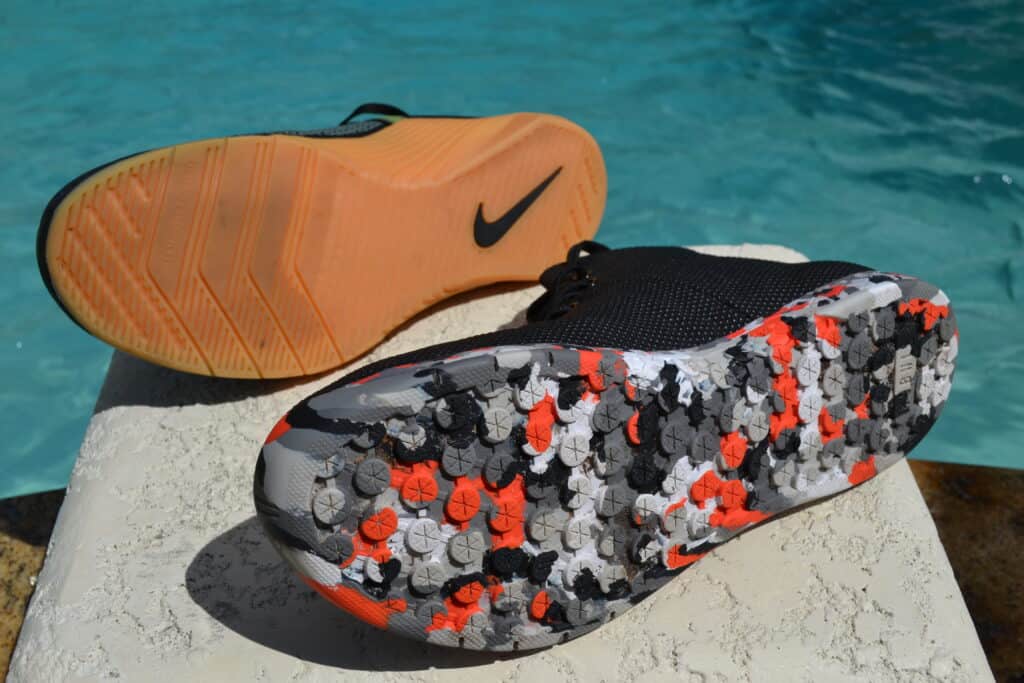 Lastly, the Metcon 6 has a very versatile "dual-density" cushion system.
There's two types of foam used in the midsole – the front is squishy and cushioned, and the heel is firm and stable.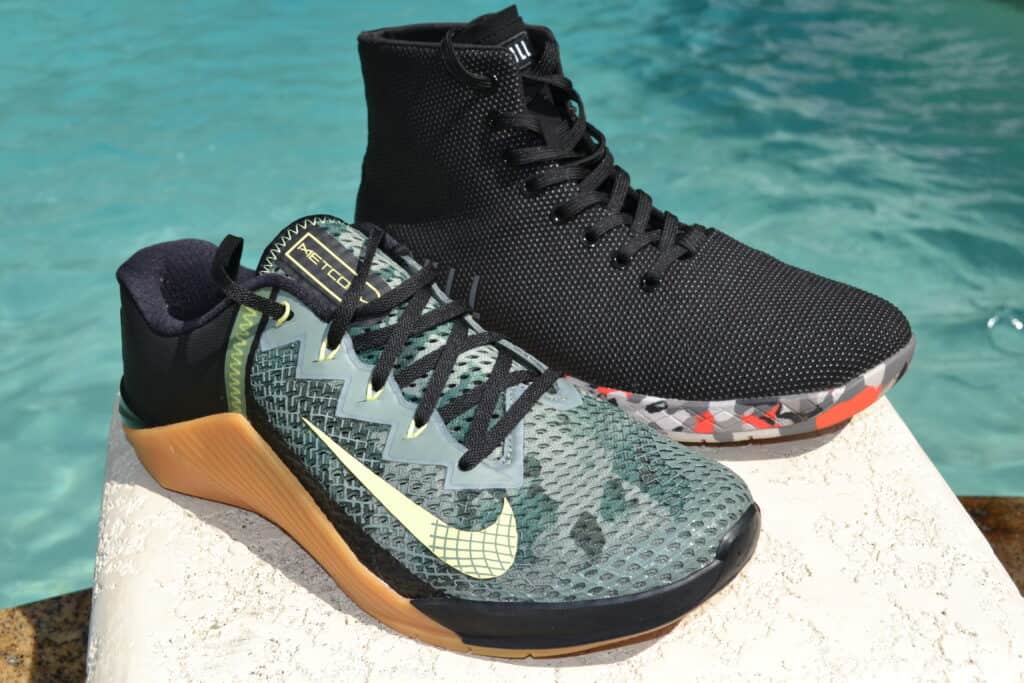 Overall, the Nike Metcon 6 is a more versatile and better training shoe.
But, some people don't like the ostentatious looks of the Nike – look at that monster sized rope wrap – do you really need that?
The Nike is also much heavier – at 13.9 ounces (versus 11.7).
NOBULL High Top Trainer Versus Reebok Nano X
We can also compare the NOBULL High Top Trainer to the Reebok Nano X.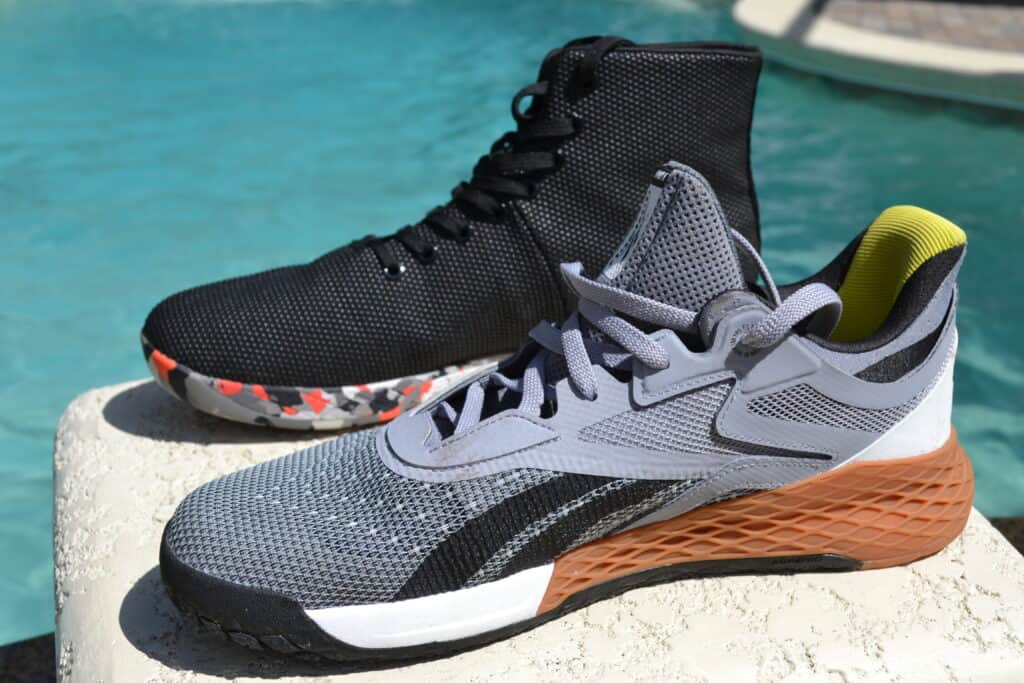 The Nano X has a stretchy, breathable upper.
It's got a 4 mm heel to toe drop.
And like the NOBULL, it doesn't have much cushion.
As such, these shoes are a closer match.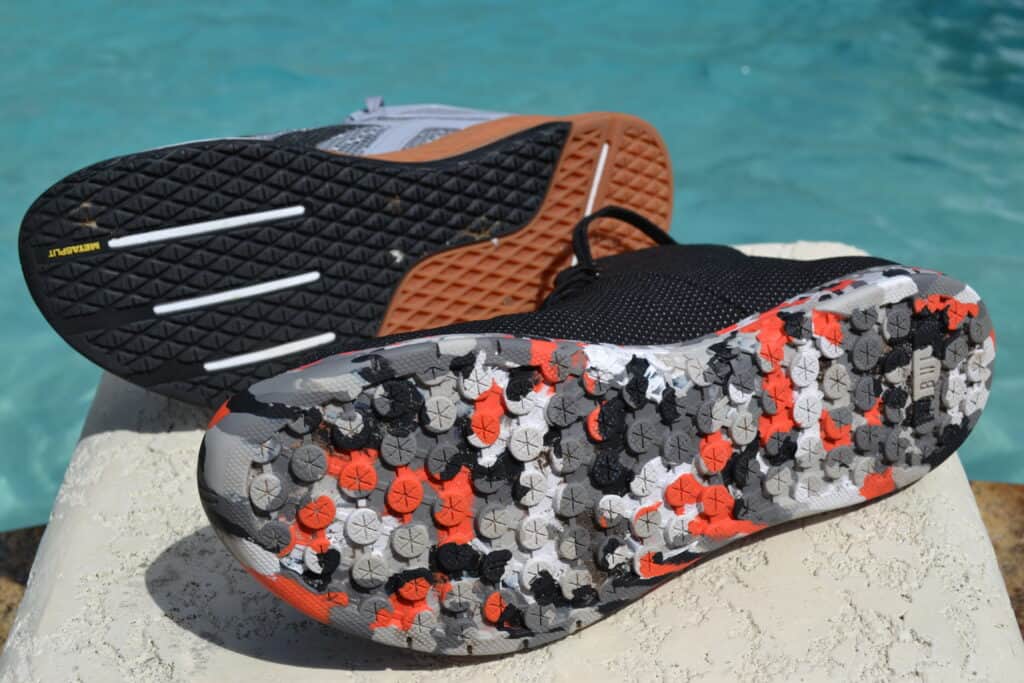 The Nano X shines in toebox width though.
It has even MORE width than the NOBULL.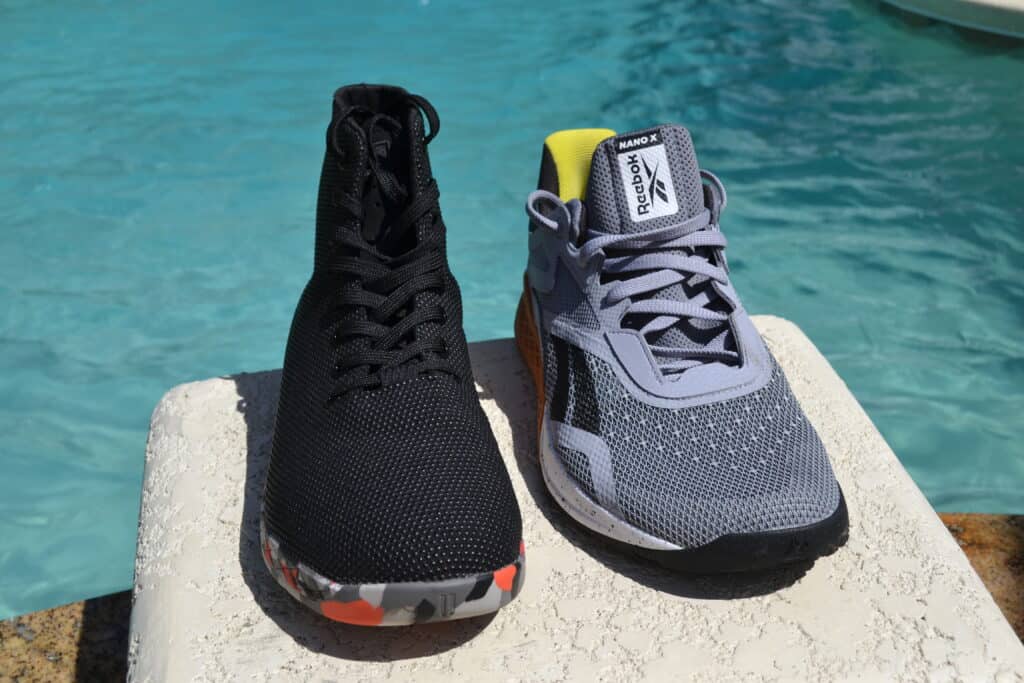 The downside to the Nano X is that it's much heavier at 14.1 ounces for a Men's US Size 11.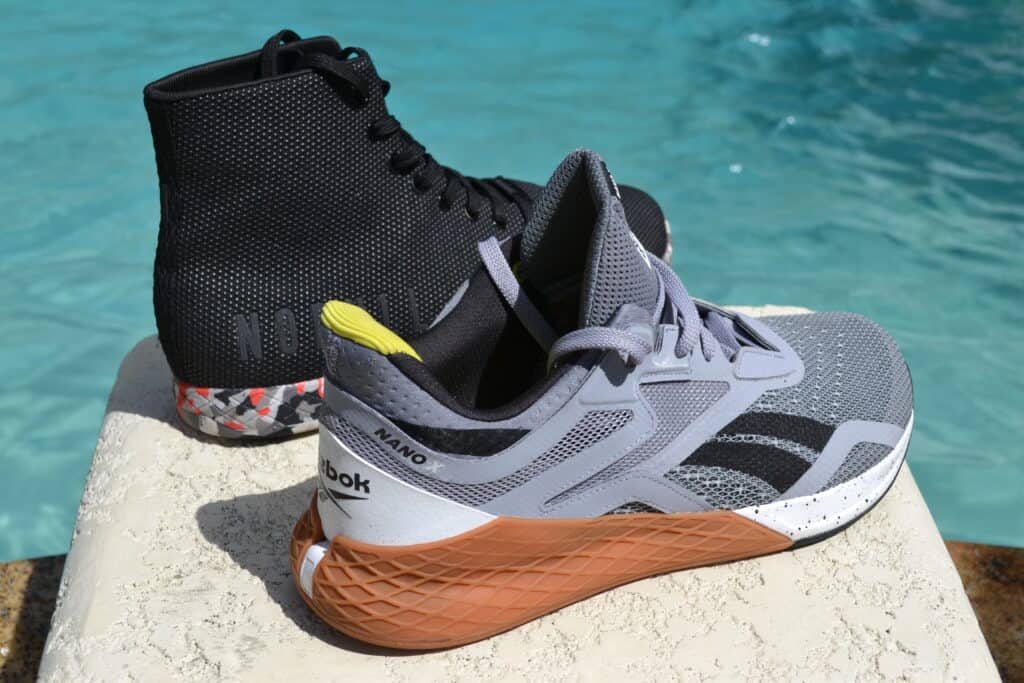 NOBULL High Top Trainer- In Summary
The NOBULL High Top Trainer is one of the few CrossFit training shoes on the market available as a high top.
Despite the size, it's remarkably light-weight – and the SuperFabric is tough as nails.
(I'd wager that SuperFabric is probably the toughest upper on the market – period.)
But, it doesn't breath well and there isn't much cushion in this shoe.
These factors make it slightly less versatile than some of the other cross trainers on the market, but overall it is a great CrossFit training shoe.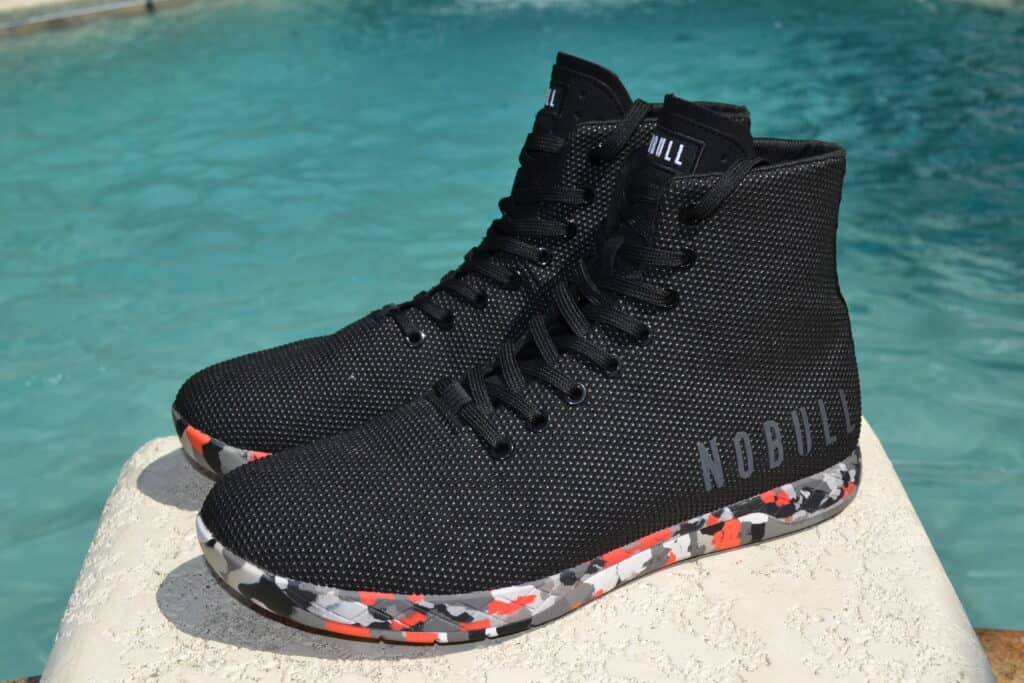 Photo Credits
Some product photos on this page are property of NOBULL.
This website is not affiliated or associated with CrossFit, Inc. CrossFit is a registered trademark of CrossFit, Inc.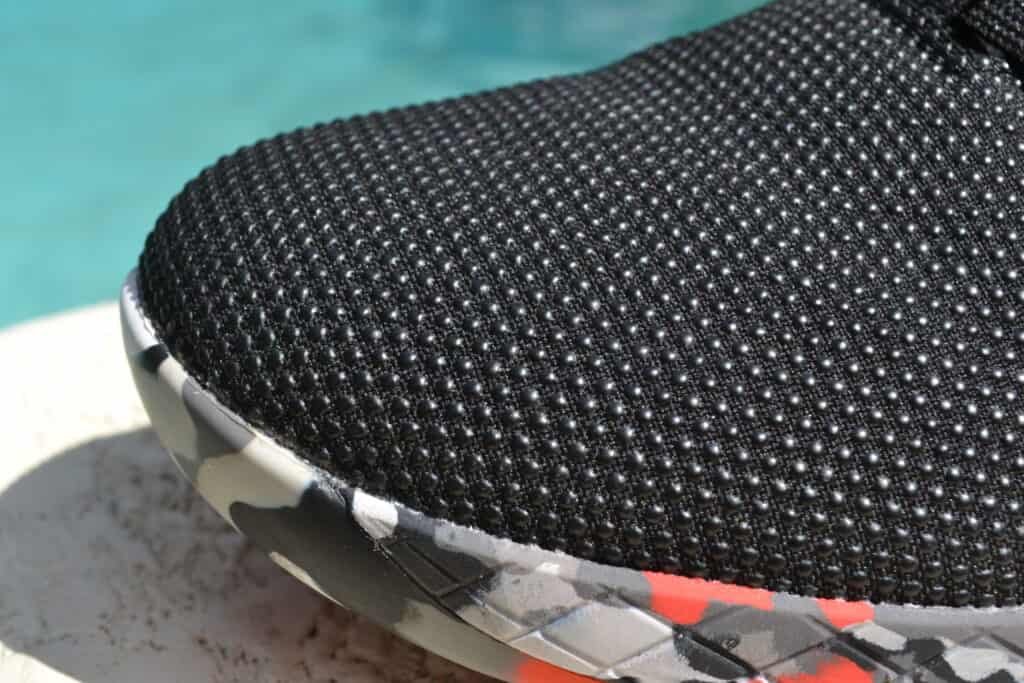 Affiliate Disclaimer
We are an affiliate of various sellers of this shoe. If you buy sboes after clicking the links in this article, we receive a small commission at no extra cost to you. This helps us to bring you in-depth information and content on these great training shoes.