Let's take an in-depth look at the GORUCK Spearhead Web Belt.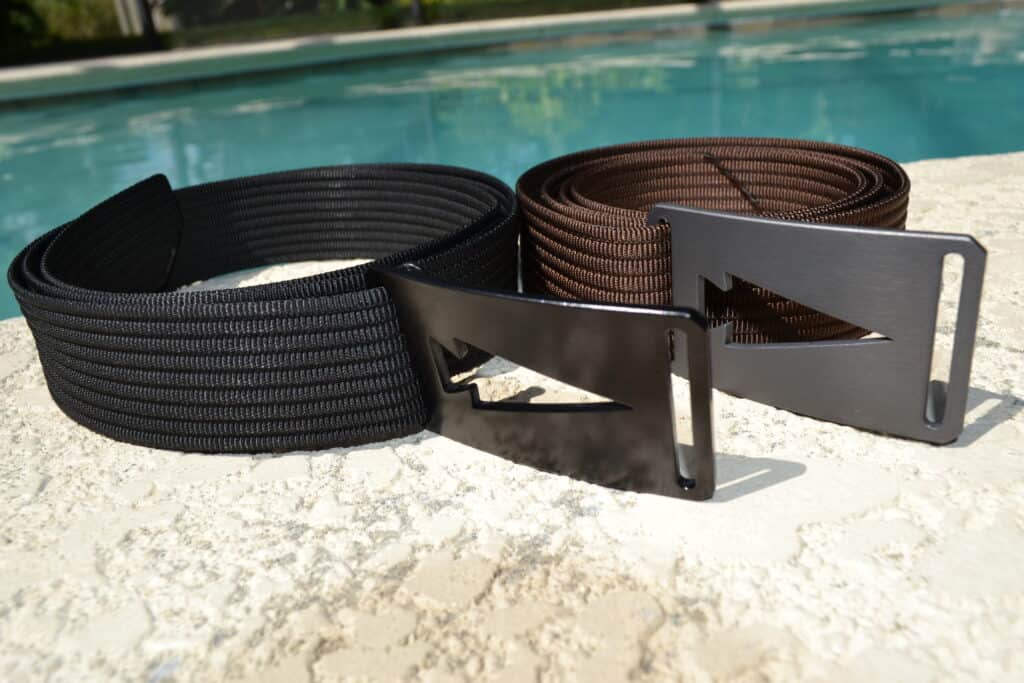 Why are we reviewing this belt?
It's a nice belt, but expensive. So you probably want to take a careful look at it before you buy.
Here's some of the styles we are going to look at:
GORUCK Spearhead Web Belt (Black)
The GORUCK Spearhead Web Belt is a Grip6 belt with a nice looking GORUCK spearhead logo. It's lightweight, simple, and made in the USA. Shown here in Black.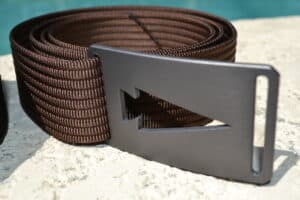 GORUCK Spearhead Web Belt (Brown)
Also available in Brown. The buckle is T6061 aluminum, and the web is high-strength nylon. The patented design is simple and durable. There's really nothing to break.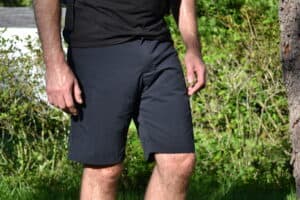 GORUCK Simple Shorts (Men's Navy)
Need something to do with your GORUCK Spearhead Web Belt? Use it with Simple Shorts. Cut like formal shorts - they have pockets and belt loops. This means you can wear them like normal shorts- and they look like normal shorts- which means you can use these in just about any occasion. Want the comfort of athletic shorts but a more formal appearance? These are your best bet. Shown here in Navy.
GORUCK Spearhead Web Belt – Overview
The GORUCK Spearhead Web Belt is a Grip6 belt.
It provides a minimalist look with extreme durability.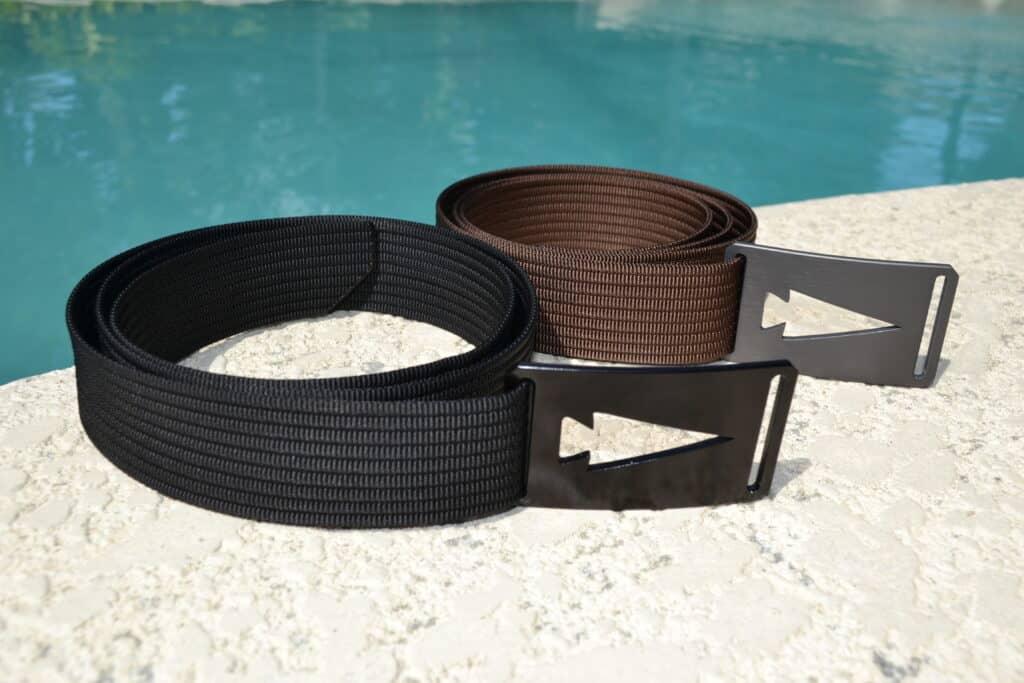 Ever had a belt break? Yep – it happens. And the more complicated the belt, the more likely it's going to fail when you need it.
It's a web belt, so it is low profile. Itlies down flat and won't protrude out from the pants or dig into your skin.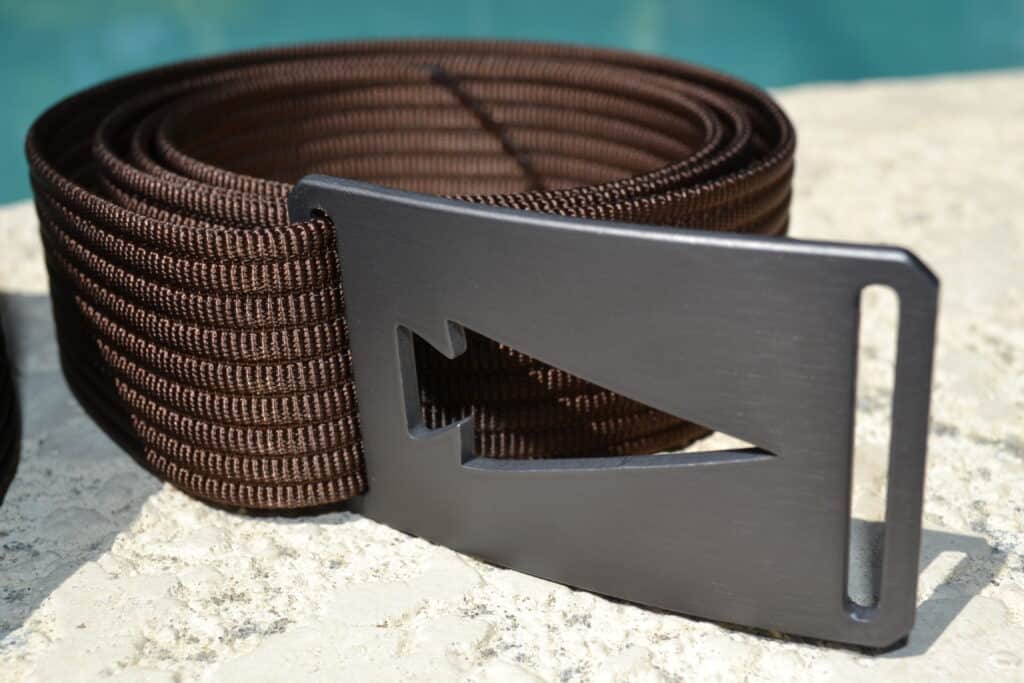 This uses the Grip6 patented no-slip locking mechanism to keep the belt in place all day long.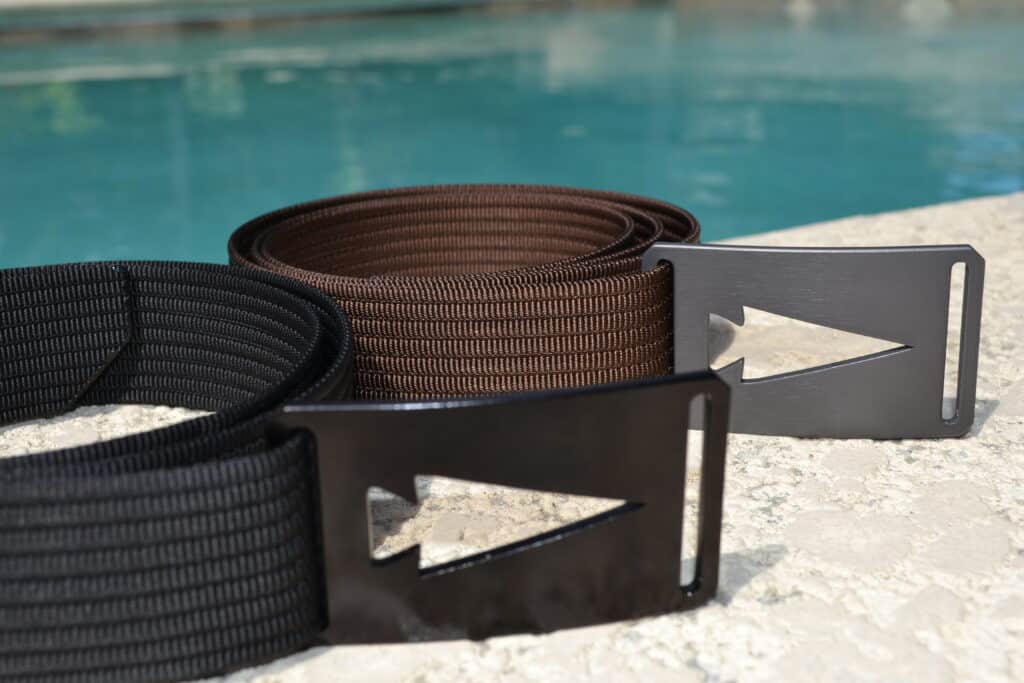 (NOTE: The belt does tend to slide around a bit, at least in our testing – meaning you'll notice after a while the buckle is off to the left or right, but this is purely aesthetic. The belt stays as tight (or loose) as you apply it.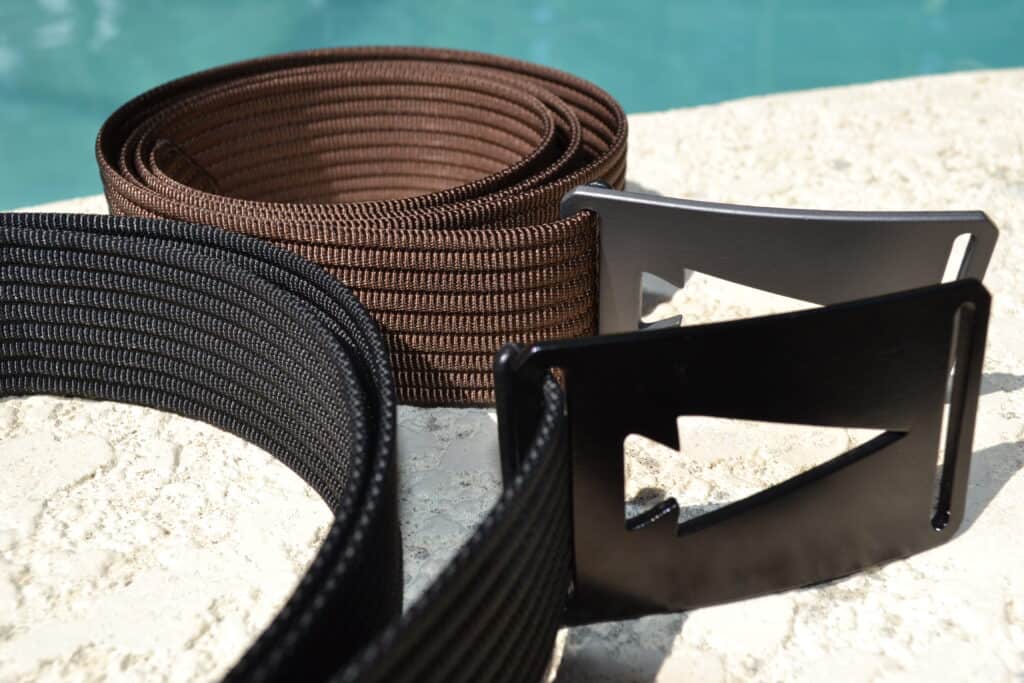 It's got a sharp looking spearhead logo. This spearhead logo is laser cut into a buckle made from T6061 Aluminum.
You ain't gonna break this buckle.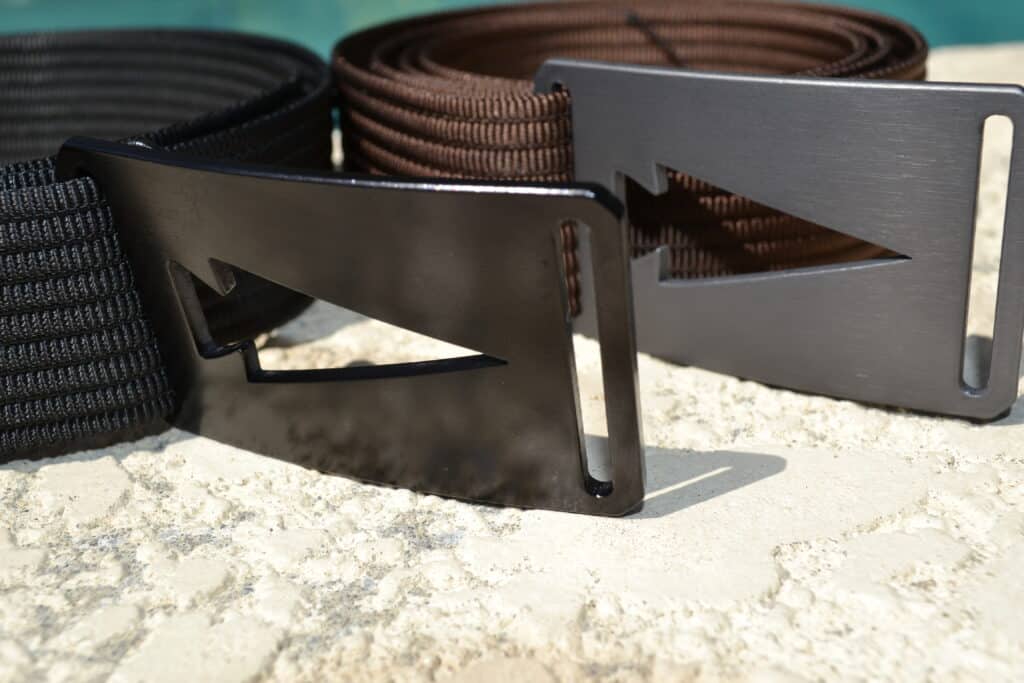 The web belt strap itself is woven with high strength nylon webbing.
The whole thing is very lightweight, and can be packed into a minimal space.
Lastly, it is made in the USA.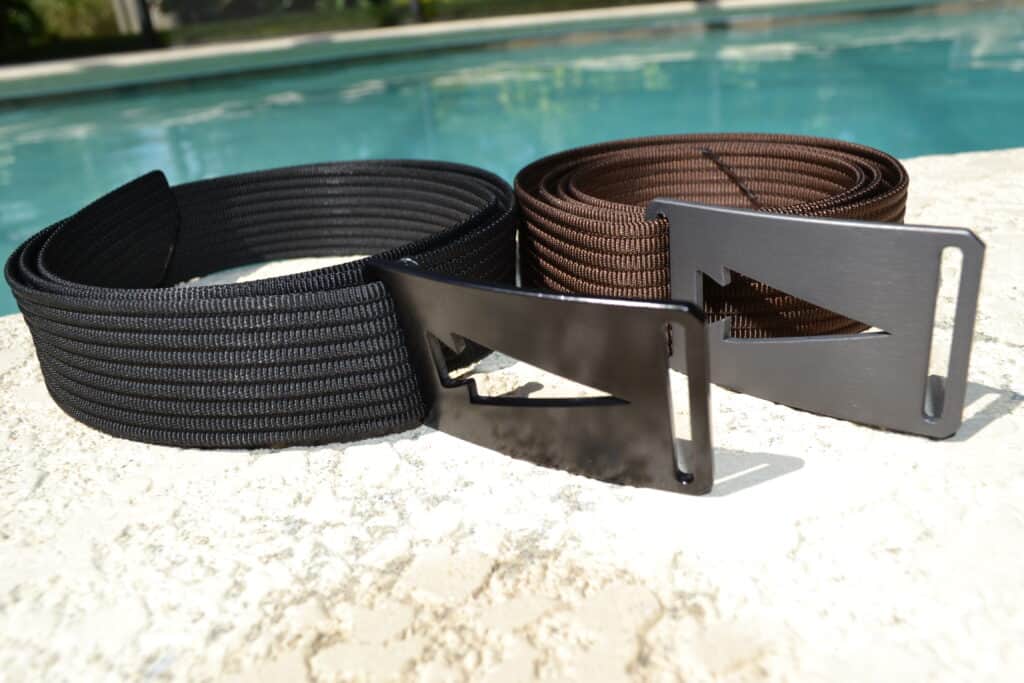 GORUCK Spearhead Web Belt – In Summary
Need a simple, good looking web belt?
The GORUCK Spearhead Web Belt delivers.
It's expensive, but it's also light and ultra-durable.
Impressed with this belt? You may also be interested in Simple Shorts or Challenge Pants – also from GORUCK.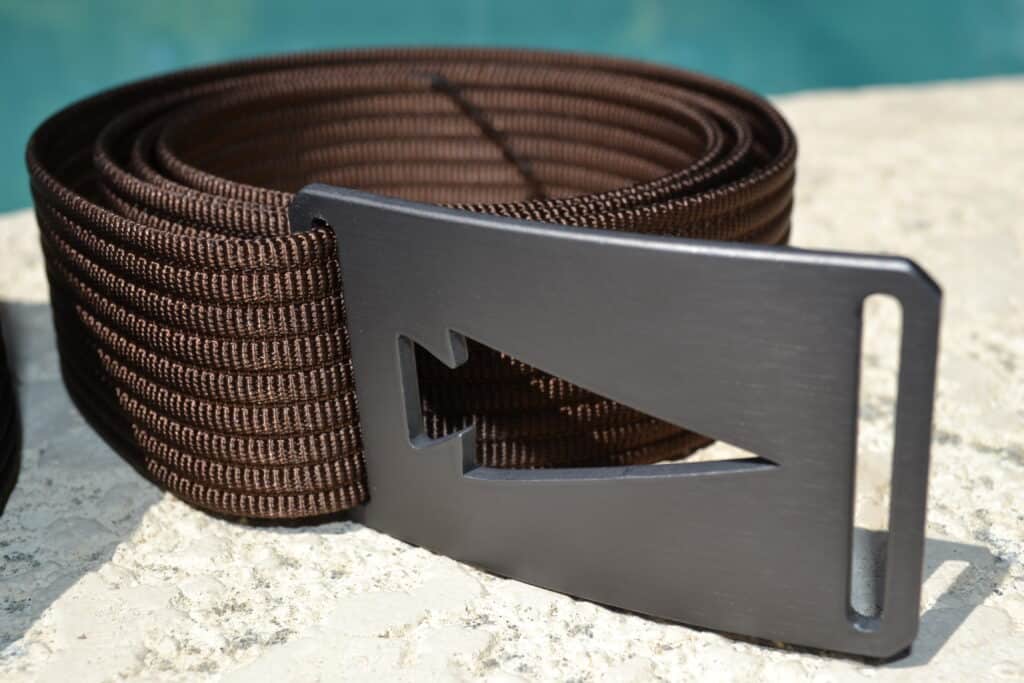 Photo Credits
Some product photos on this page are property of GORUCK.
This website is not affiliated or associated with CrossFit, Inc. CrossFit is a registered trademark of CrossFit, Inc.
Affiliate Disclaimer
We are an affiliate of GORUCK. If you buy gearafter clicking the links in this article, we receive a small commission at no extra cost to you. This helps us to bring you in-depth information and content on these great training tools.