Rogue has the red-hot
Echo Bike
. Grab one while they last!
Want a power rack, but don't have room for a full size one? Check out the excellent selection of Half Racks from Rogue Fitness.
The half-rack is not as extensive or complete as a full rack but still provides you with equivalent versatility and great training. The half-rack has metal bars on each side to lower the risk of getting injured when training with weights, enabling you to place your weights there. This guarantees that even if you are alone, you can do exercise safely at home.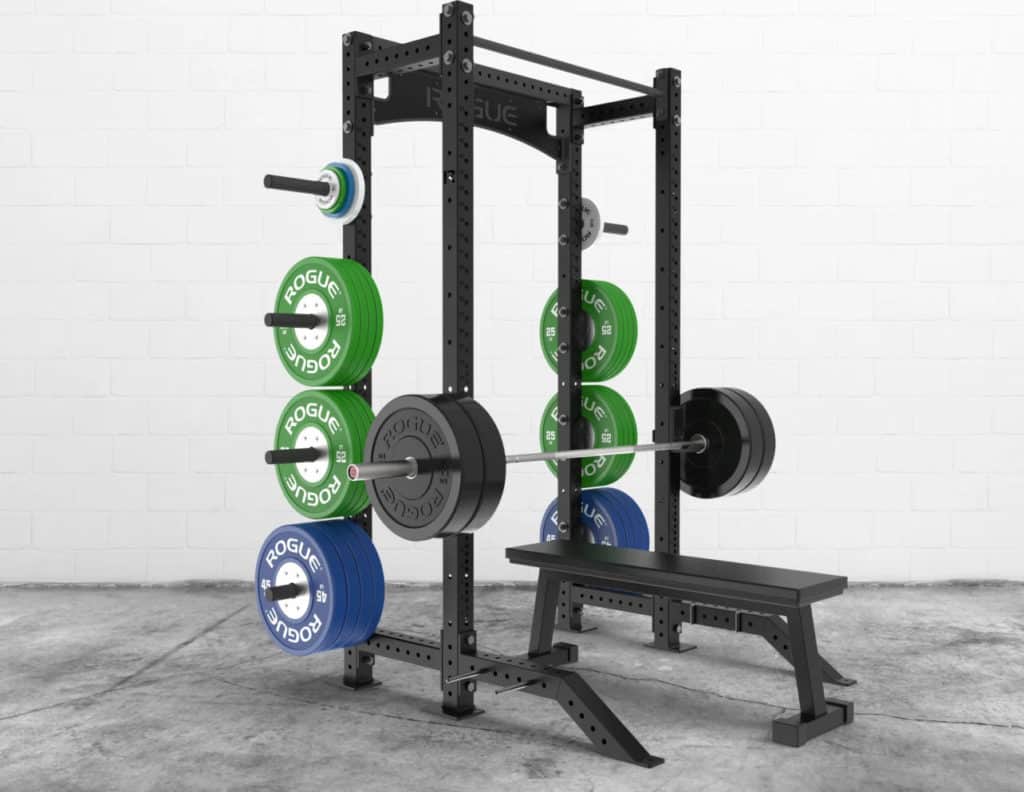 Get it now, from Rogue: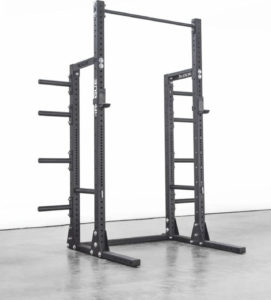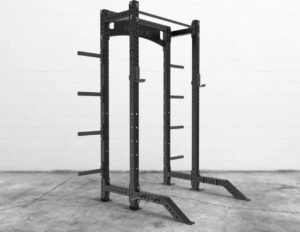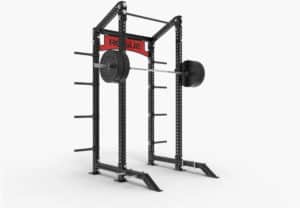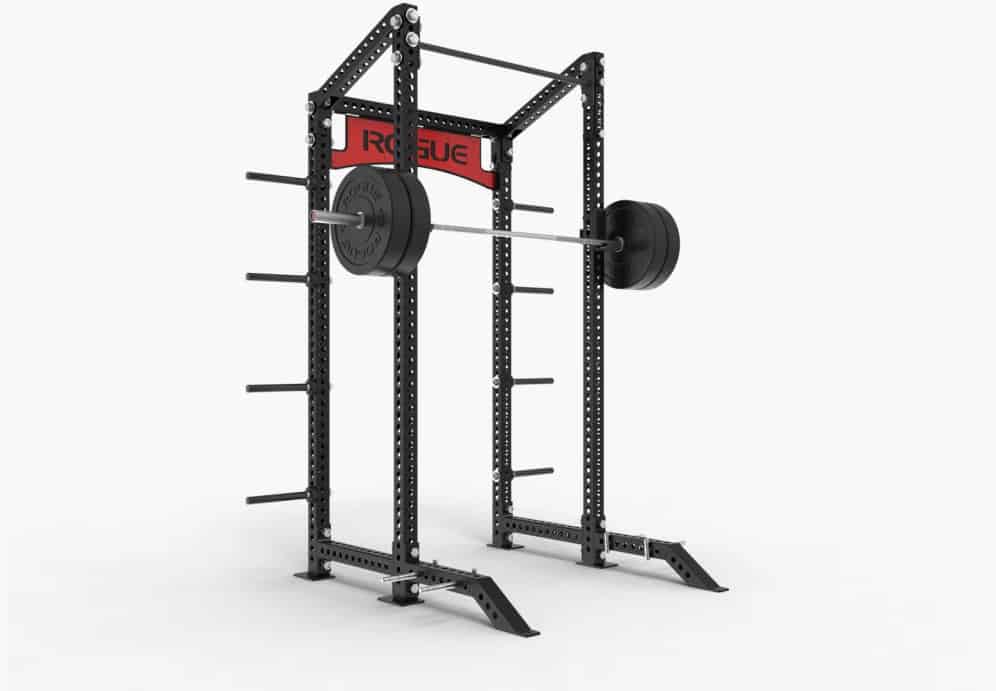 Half Racks from Rogue – Overview
Half racks are as versatile as full power racks, but you'll do all of the lifts outside the rack instead of inside. They are competent enough to hold up to 800 lbs. Half racks have two main bars that support a pull-up bar at the top and a pair of spotter arms or dip bars. They also have four uprights but compared to a full power rack, they have a lesser distance between the upright posts, and most will have plate storage on the back posts.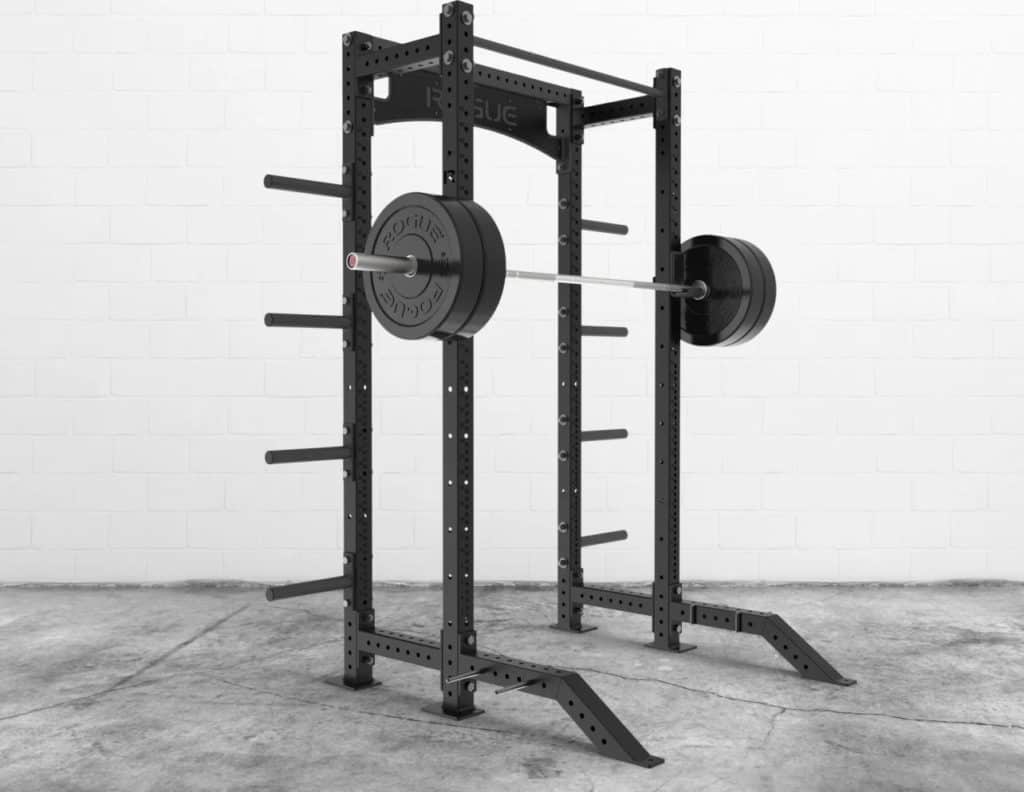 A half rack's base and safety arms are extended out in front of the rack, making it similar to a power rack in terms of length. But when it comes to space, a half rack is still more space-efficient than a power rack. With a half rack, you can still do some exercises but not as much as you can do in a power rack. You can do exercises that will help develop and strengthen your shoulder muscles, back muscles, arms, and even core and legs. You can do squats, lunges, bench presses, and more.
Rogue HR-2 Half Rack
The Rogue HR-2 Half Rack delivers a range of customizable choices to best suit your demands, including the optional plate storage and pin/pipe safety sets, and an option of distinct heights for the uprights themselves (90″ or 108″ for the front; 70″ or 90″ for the back). This rack is customizable and can be installed as a stand-alone unit or transform an existing Monster Lite Series squat stand.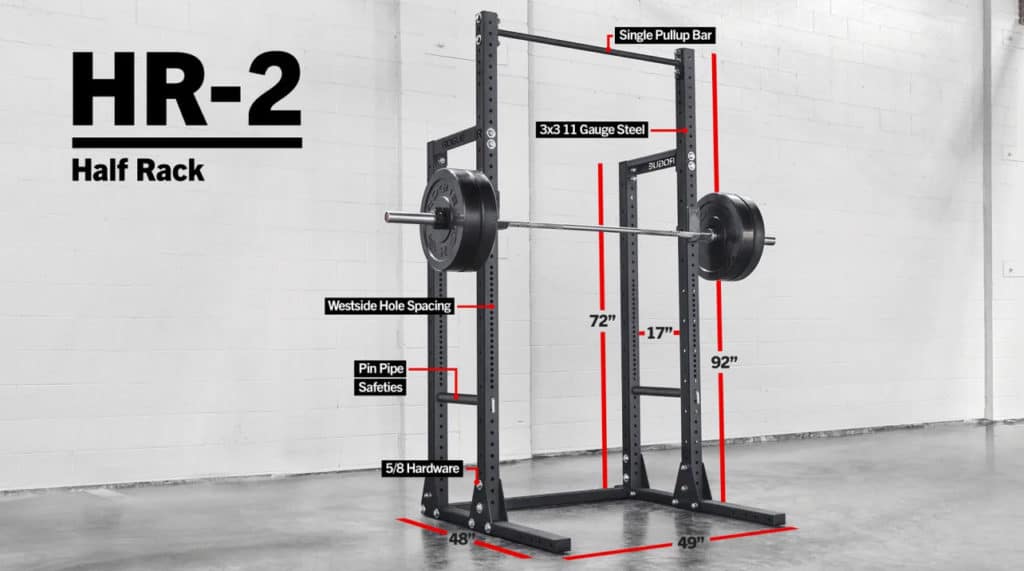 It highlights the same 2×3″ 11-gauge steel base and 48″ x 49″ footprint as the SML-2 but integrates an additional pair of 3×3″ 11-gauge steel uprights and 17″ crossmembers in the back of the unit. This gives the rack a considerable amount of extra storage capacity and almost a foot and a half of inside depth for benching, rack pulls, and more.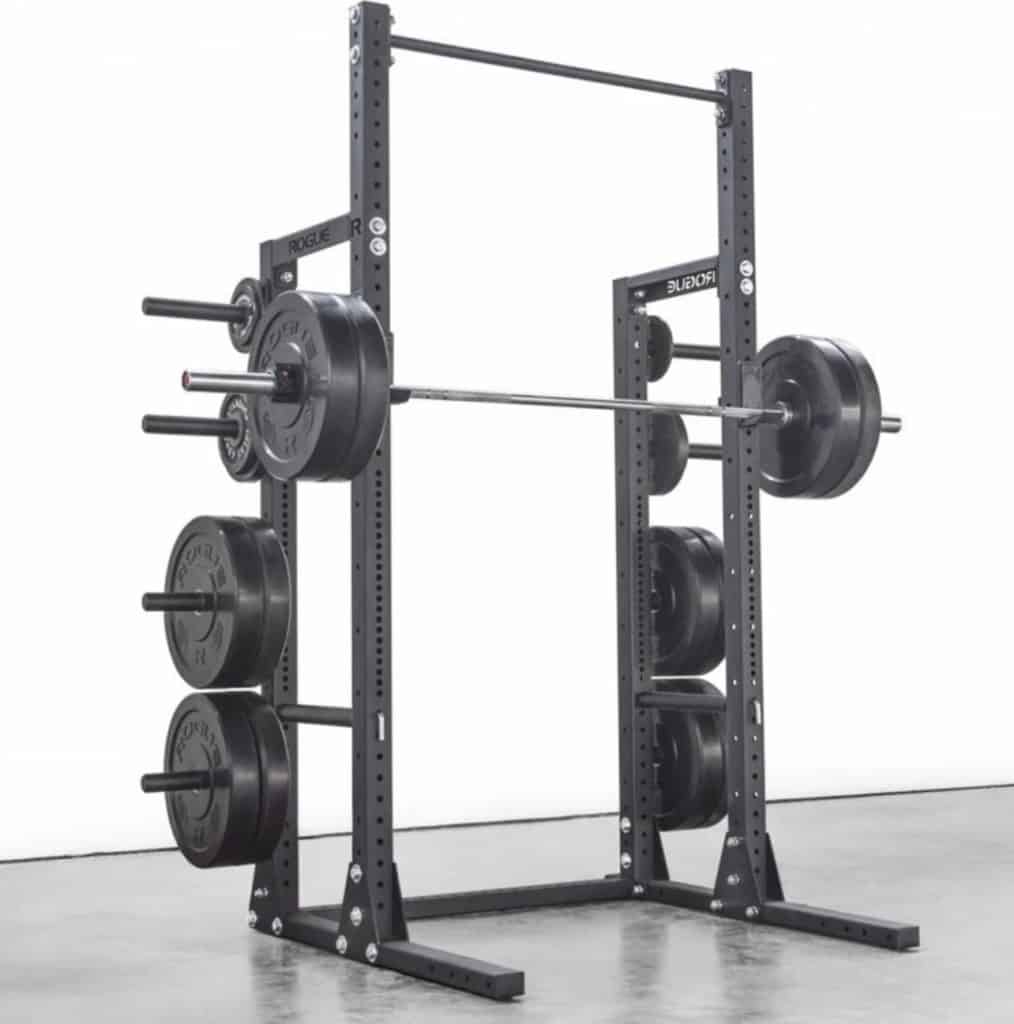 Monster Lite Half Rack
The Monster Lite Half Rack is built in the USA using 3×3″ 11-gauge steel with a Medium Gloss Black finish. It offers two space-saving options to a standard 43″ depth power rack. The 17″ and 24″ crossmembers are available depending on the inside depth you prefer. All units come with a Single Skinny front pull-up bar, a Rogue Nameplate back cross member (in black-on-black), a set of J-Cups and band pegs, and all required hardware for set-up (not including hardware for optional floor mounting).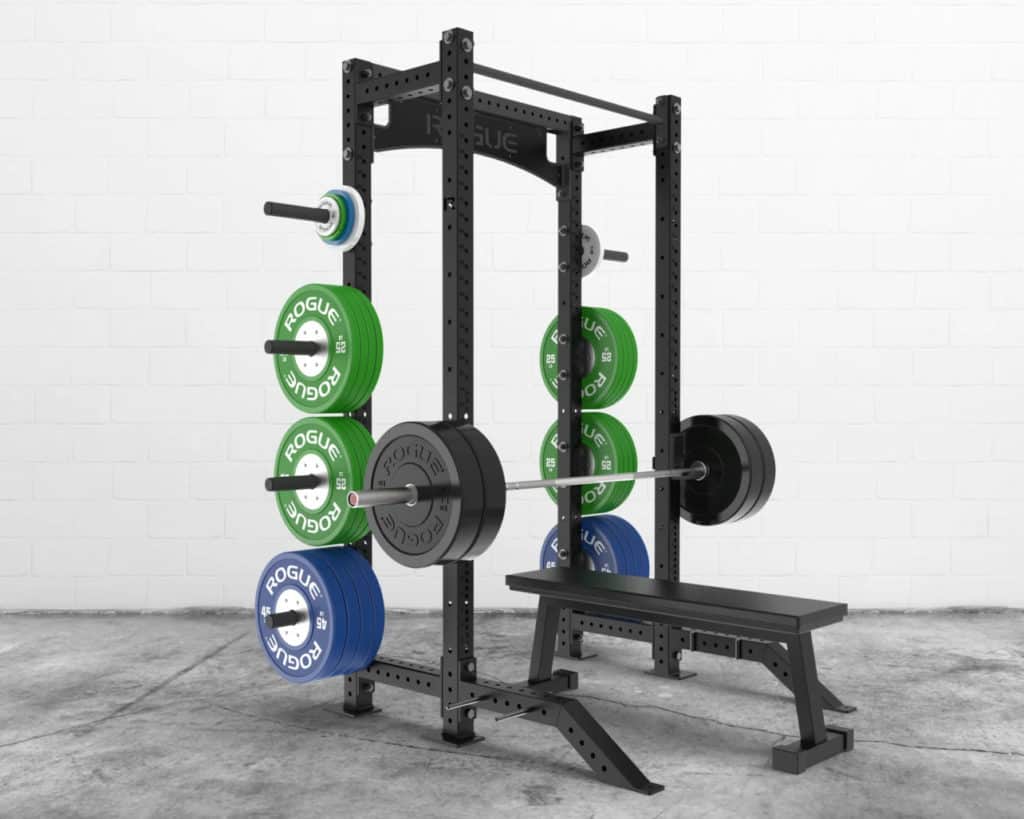 The foot attachments included with the M-Lite Half Rack each extend 30″ off the facing of the front two uprights and have a series of seven numbered holes (5/8″ in diameter, spaced 2″ on center) along the horizontal part of the attachment, plus four extra holes along the angled portion. These foot extensions make it easy for the band pegs to be attached in front of the rack and the Monster Lite compatible accessories like the Rogue Landmine because of the reinforced stability of the unit. A set of eight included plate posts, each with 12.5″ of loadable length, delivers even more space efficiency, with the power to store a full supplement of plates within a suitable arm's reach.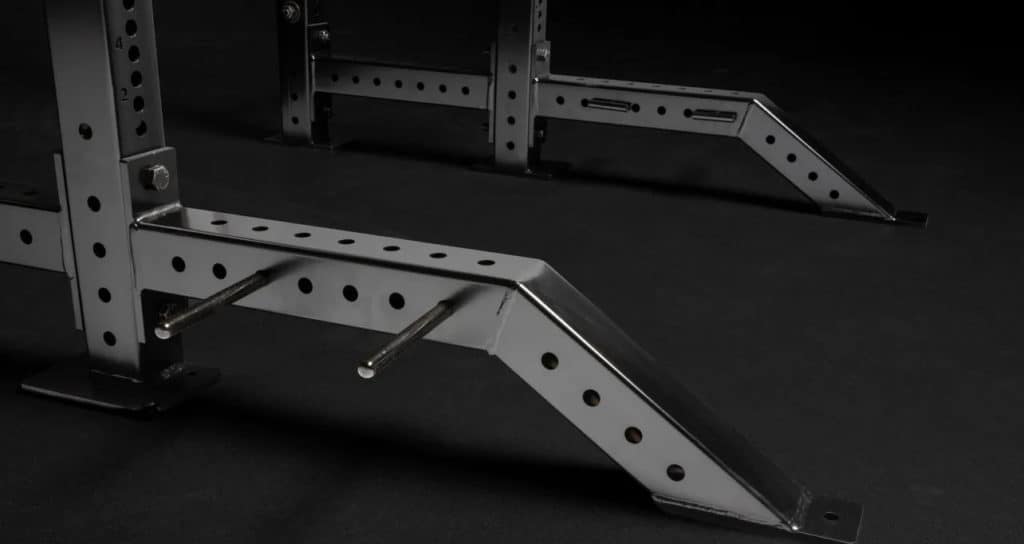 Rogue Monster Collegiate Half Racks
Available in two formats, the Monster Half Rack highlights the same 3×3″ 11 Gauge Steel structure and 1″ hardware as the standard Monster power racks. Each format is designed with the space efficiency needs of a high school or college training facility in mind. The Single Monster Half Rack is a compact unit for individual athlete use. It has a 24″ inside depth and a 62″ x 53″ footprint. It includes an optional pull-up bar, four-band pegs, weight plate storage posts, a laser-cut Rogue nameplate in red. The Double Monster Half Rack is a 2-in-1 unit with connected, back-to-back Half Racks and storage in the middle.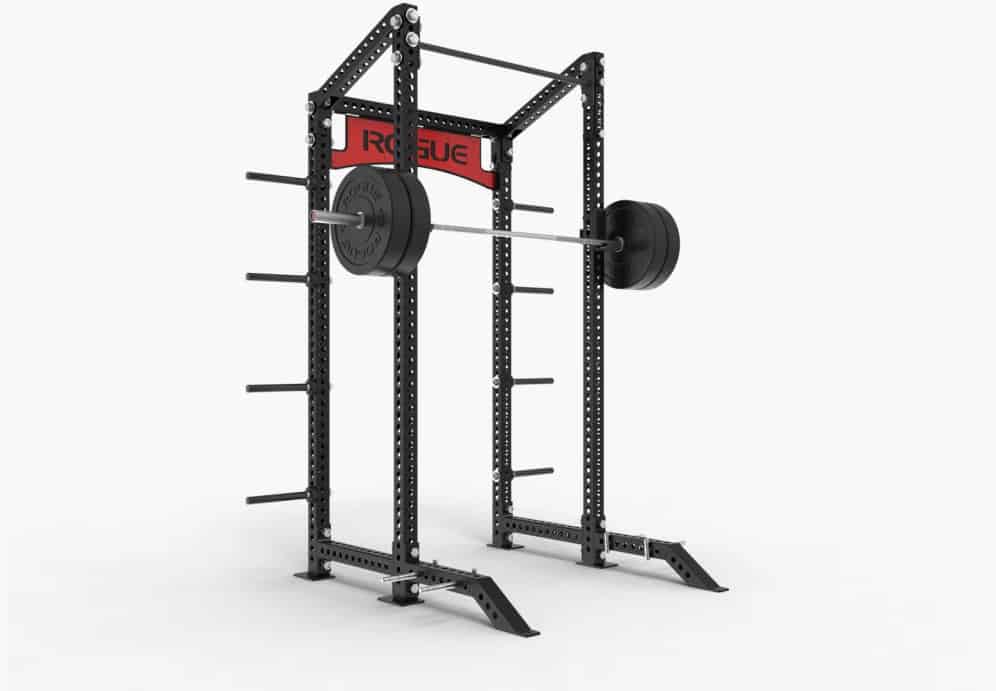 It measures 24″ inside depth on both sides and has a 117″ x 53″ total footprint that allows two athletes to train at the same time. It includes two optional pull-up bars, eight-band pegs, weight plate storage posts, and a laser-cut Rogue nameplate in red. The Rogue Monster Collegiate Half Rack utilizes new angled crossmembers built with 90″ uprights at the back of the unit and 100″ uprights in the front to create a finished look at the top of the rack with added height in front for pull-ups. Longer 30″ front feet also provide more stabilization and allow you to perform band work without being inside the rack itself.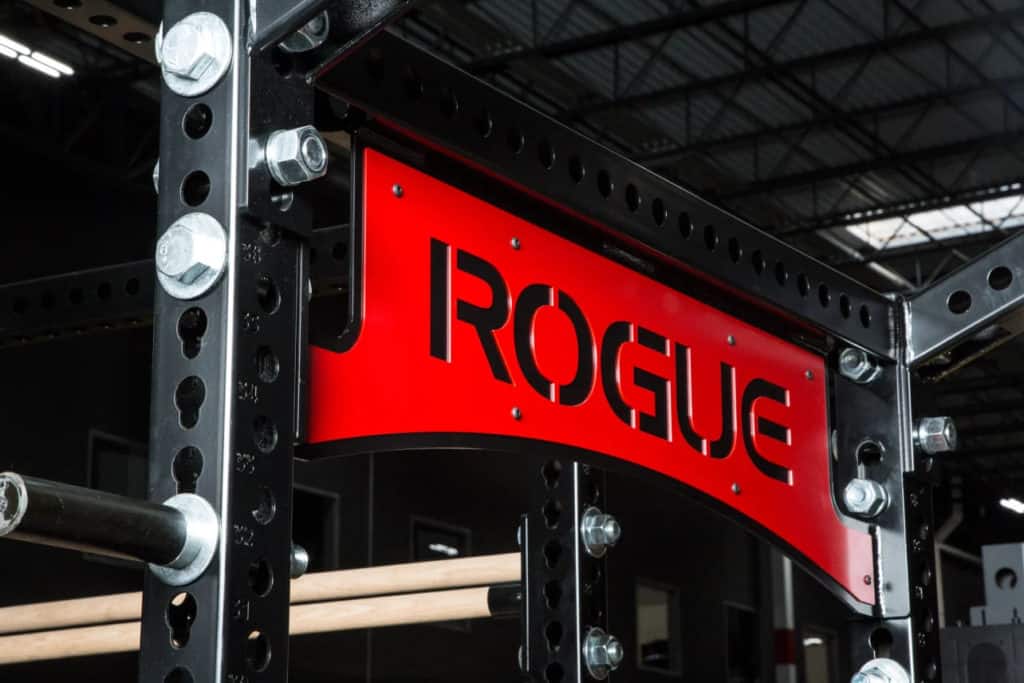 Half Racks from Rogue – In Summary
That's our close-up look at Half Racks from Rogue.
All half racks from Rogue are manufactured in the USA using 3×3″ 11-gauge steel with a Medium Gloss Black finish. They are as versatile as power racks and sacrifice none of the quality or durability of their full-size cousins. They are space-saving and offer you training for important muscle groups.
Looking for more options? Check out these other great products:
Go deeper on the Rogue Monster Lite Half Rack Option: Rogue Monster Lite Half Rack Product Highlight
How about a Monolift? The AM-2 Adjustable Monolift 2.0 for Monster Rack from Rogue will let you get serious about big weights on the squat.
Rogue makes the best home gym and garage gym equipment.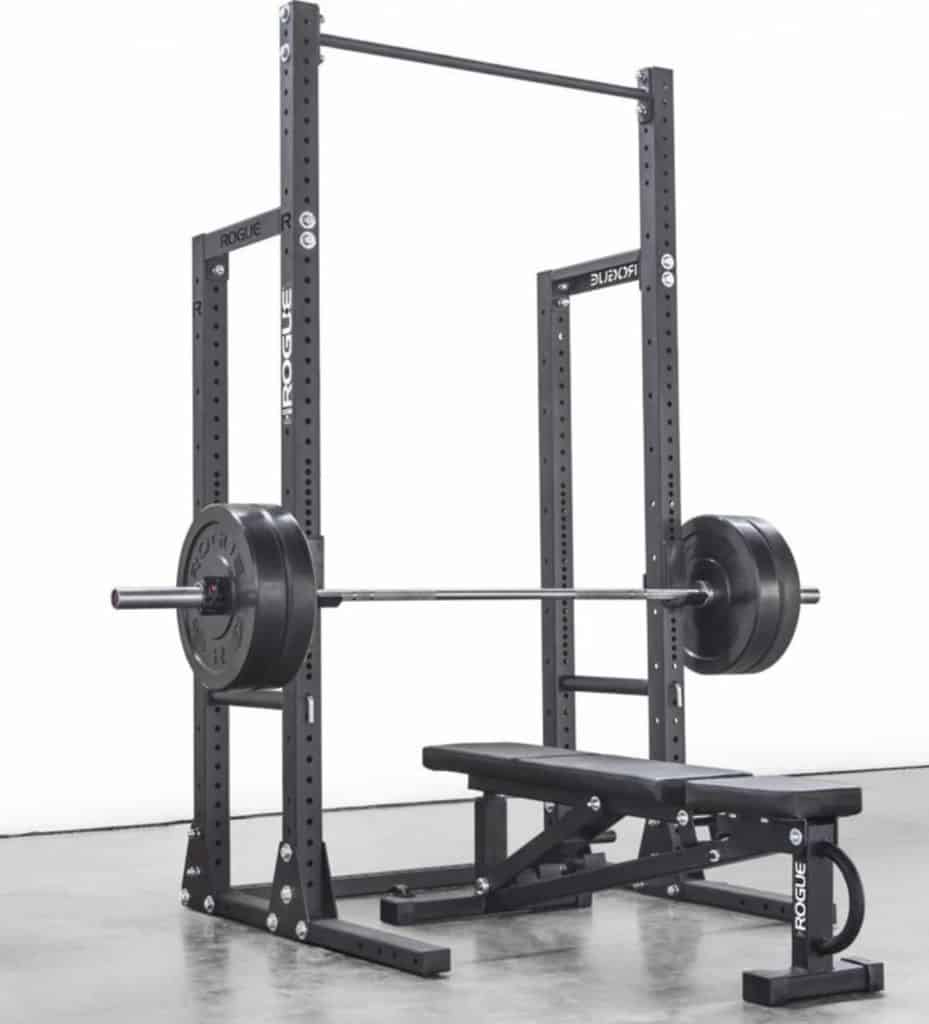 Photo Credits
Product photos on this page are property of Rogue.
This website is not affiliated or associated with CrossFit, Inc. CrossFit is a registered trademark of CrossFit, Inc.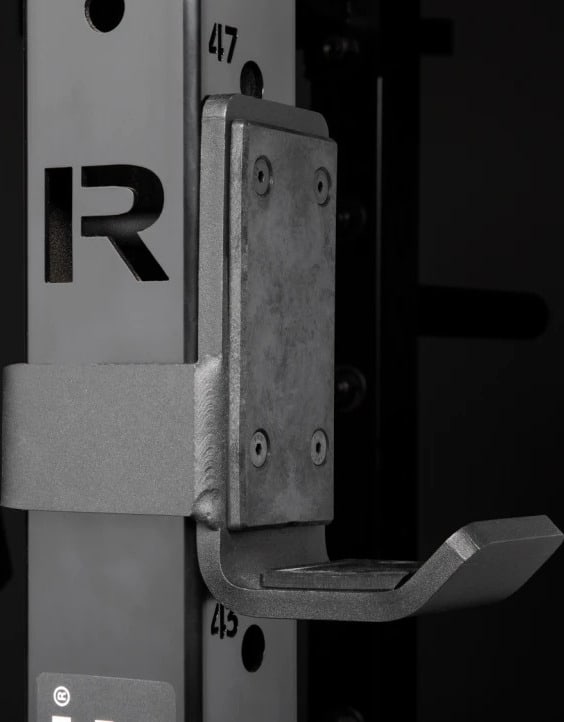 Affiliate Disclaimer
We are an affiliate of Rogue and others that sell this training gear. If you buy clothing or other training gear after clicking the links in this article, we receive a small commission at no extra cost to you. This helps us to bring you in-depth information and content on these great training products.