Check out what's new at
Get RX'd
- Lots of great deals on functional fitness gym equipment for your home or garage.
Let's take a look at the Get RX'd Black November Sale for 2021.
Get RX'd is holding Black November starting November 8. They offer contests and giveaways, up to 50% off selected items, a bundle of deals to save on shipping, and promos on Xebex and racks.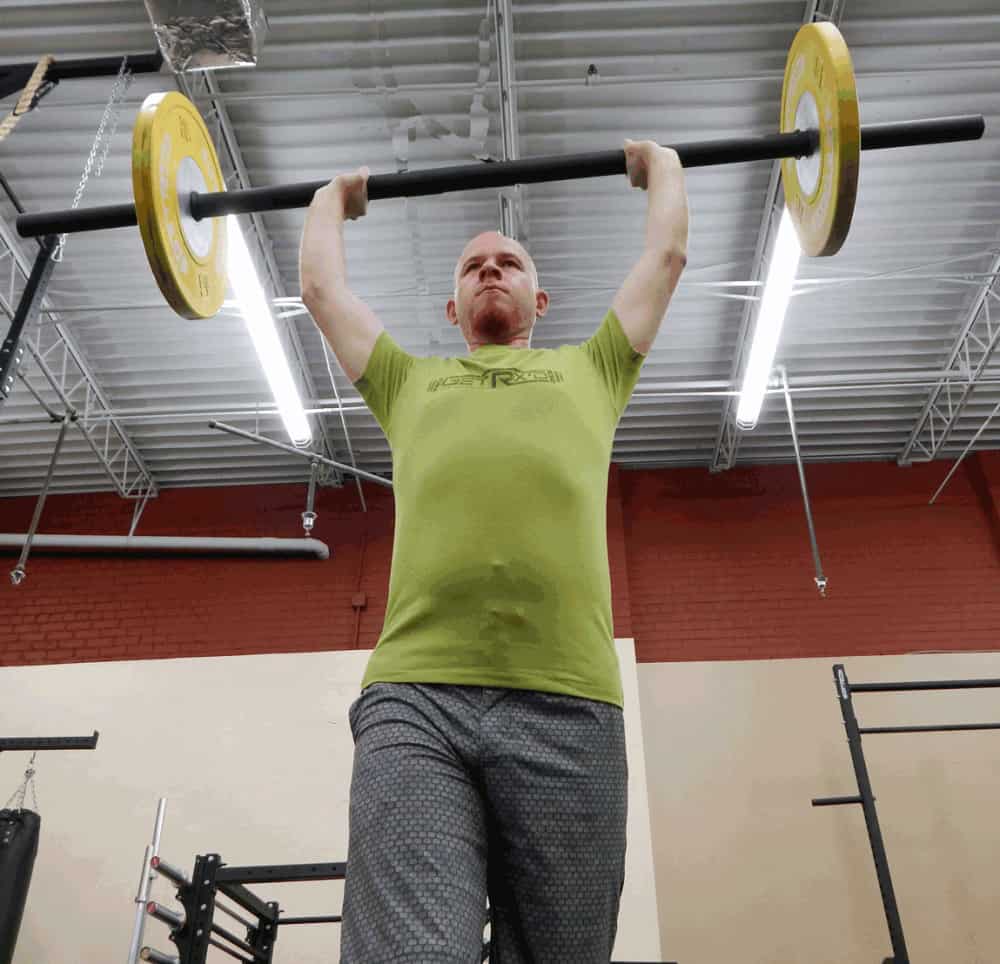 Here are some of the styles we are going to look at:
Get RX'd Black November Sale for 2021 – Overview
Get RX'd is a family-owned business that began in 1985 to design, produce, and disperse exercise equipment in traditional gym and club markets. Today, Get RX'd is one of the chief suppliers of functional training, strength, and conditioning, equipment worldwide with over 2000 products to choose from.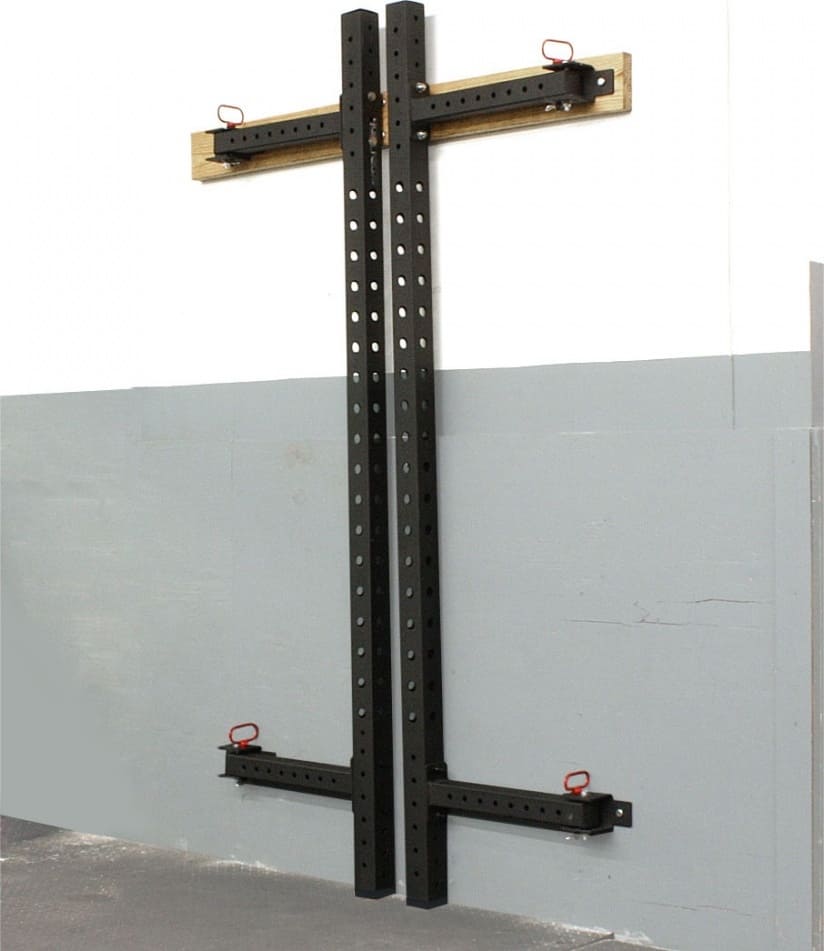 If you are looking for the perfect training equipment for your garage gym, cross-training affiliate or box, or functional training gym, you have come to the right place. And if you are waiting for the right time to buy them, now is the time. Get RX'd offers up to 50% off on selected pieces of equipment and other promos for the Black Friday sale. Here are some of them.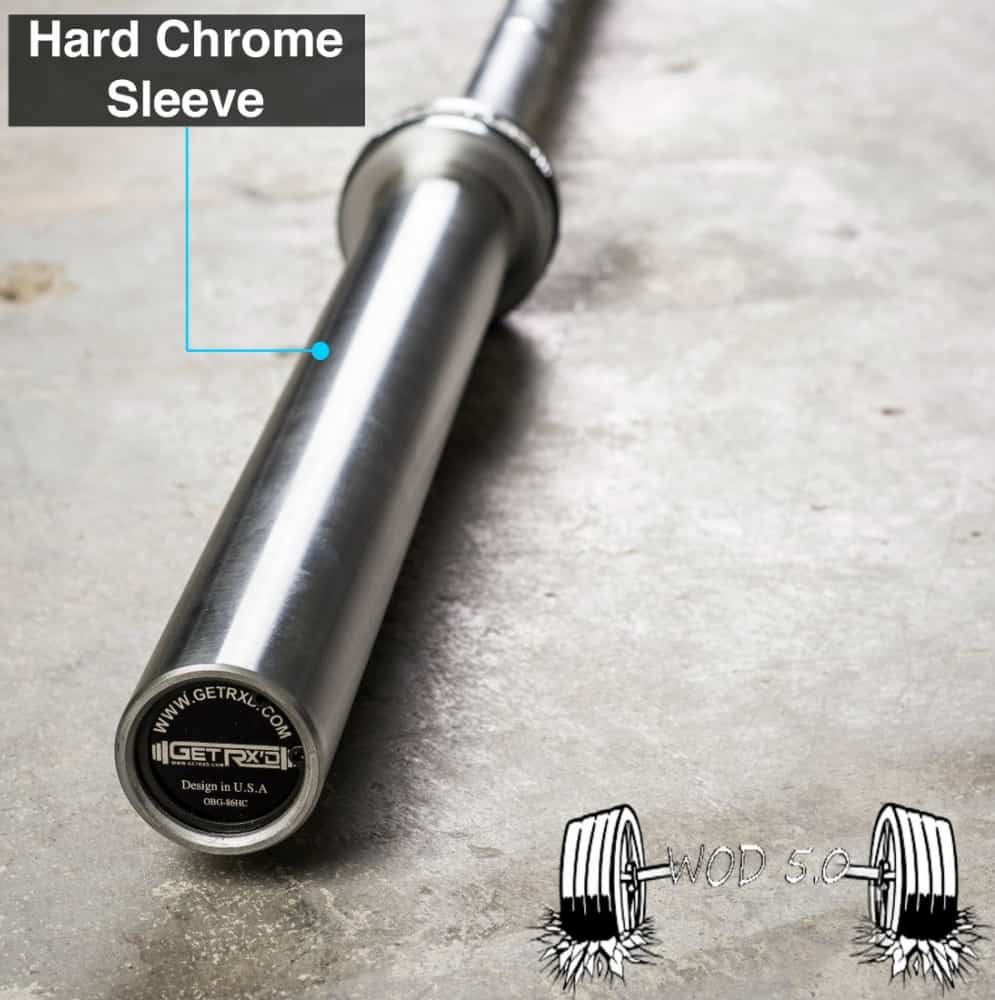 Need something different? Check out what other vendors have to offer at Best Black Friday Deals on Gym Equipment.
Top Black Friday Deals
Get RX'd gives 25% off on Xebex Fitness AirPlus Cycle-Smart Connect for the Black Friday November Sale. The Xebex Fitness AirPlus Cycle-Smart Connect puts you in control of intensity at all times with its air-based flywheel. The damper enables you to adjust the amount of airflow on the left-hand side of the flywheel during your ride, which can increase or decrease the intensity. You can boost your power and strength training by adjusting our AirPlus (magnetic) resistance instead of just the air resistance found on other air cycles.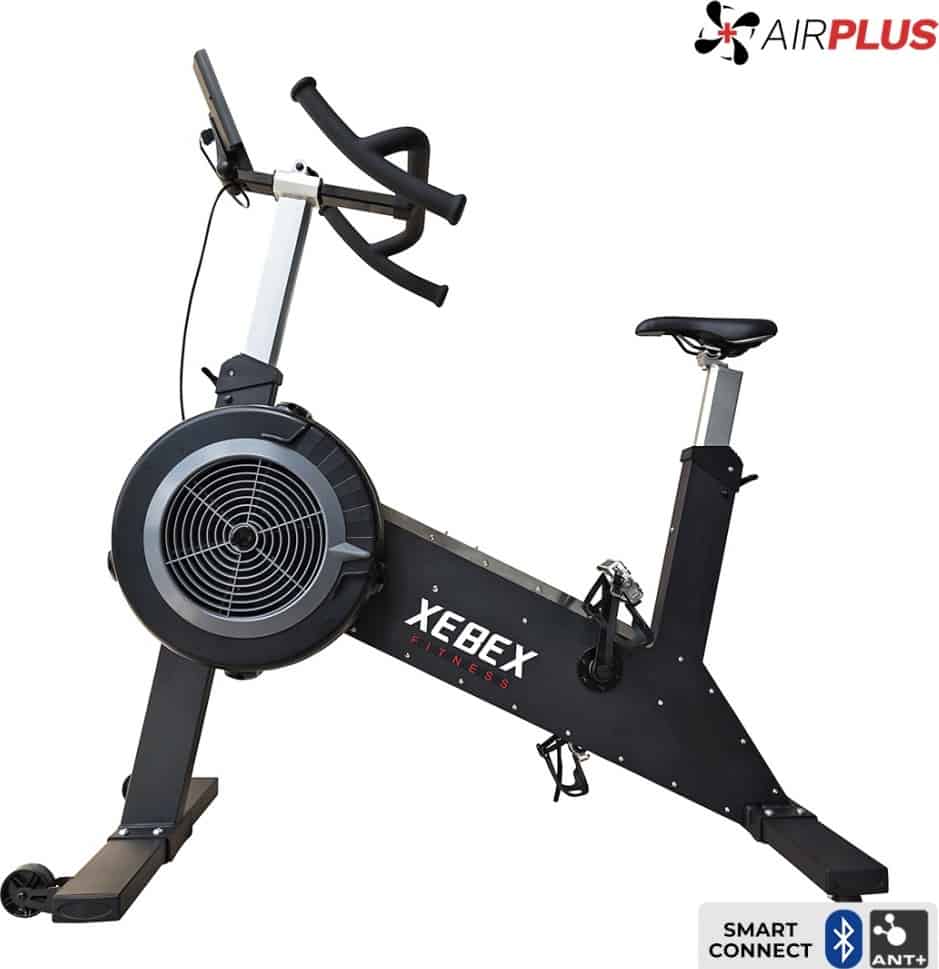 The Goliath Power Cage employs 3″ x 3″ tubing and hardware to form a heavy-duty rack for all your demands. It weighs 200 pounds and is a powerful option for both home and commercial use. It carries the standard 32 mm pullup bar along with a 50-mm bar for enhancing grip strength and partner workouts. This cage does not need to be attached to the floor. Get RX'd offers 15% off for every purchase of the Goliath Power Cage.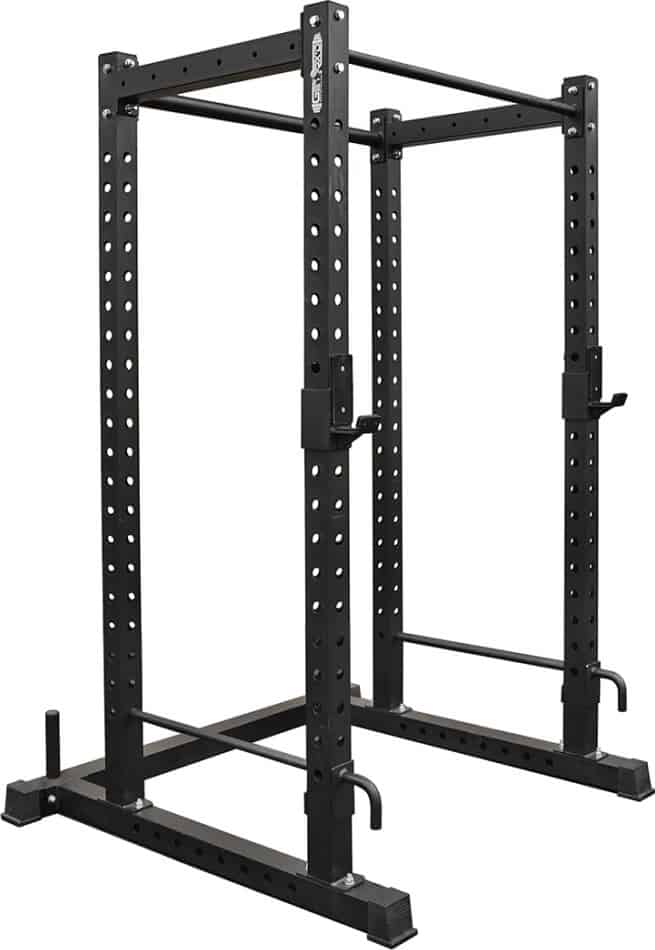 Xebex Air Rower 2.0
The Xebex Air Rower 2.0 weighs 42.1kg and has a maximum user weight of 227kg. It highlights a heavy-duty 95LB frame, ten setting damper to regulate air resistance and flow, more cushioned seat and seat height. It can also be folded into less than 50% of its original footprint and rolled into storage on four wheels. The amount of work you do is immediately determined by how hard you row.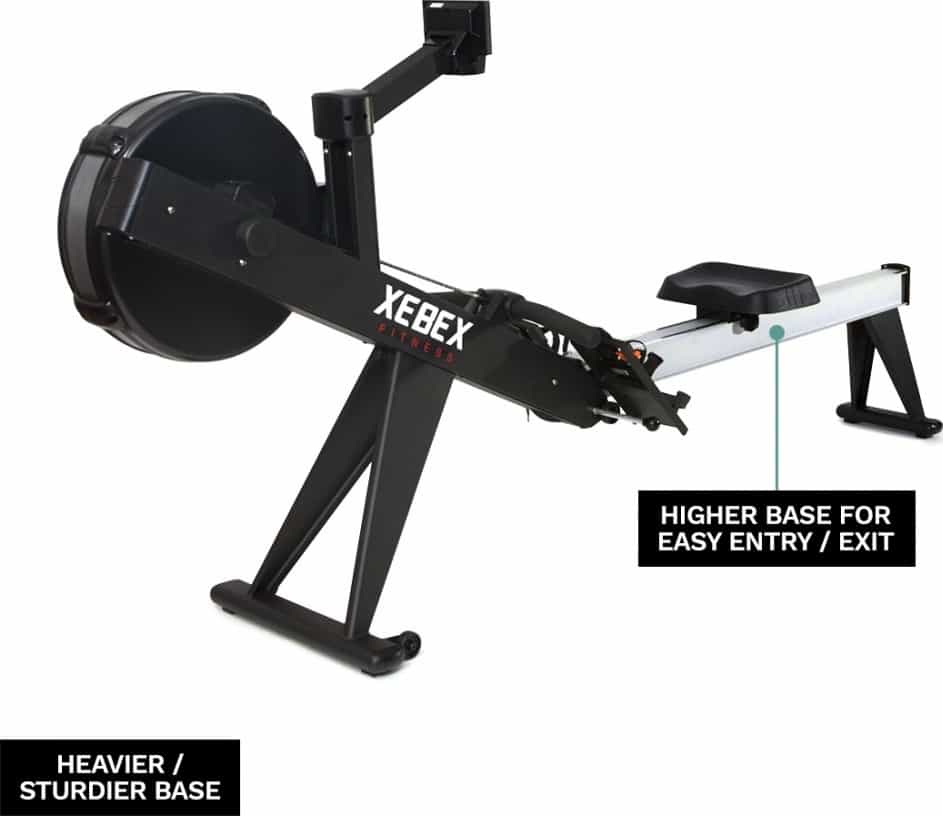 The spiral damper enables you to instantly adjust the airflow to the flywheel from little drag at Setting 1 to max drag at Setting 10. The uniquely-designed fan employs air resistance, letting you experience a smooth, more satisfying rowing experience while keeping momentum directly from the initial pull.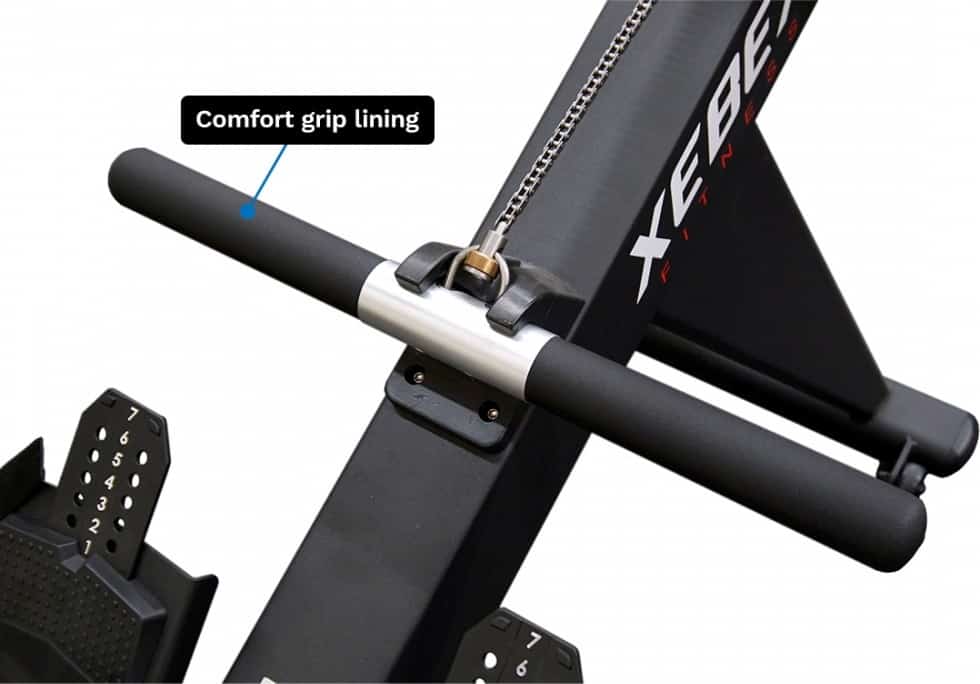 Xebex Runner Smart Connect
The Xebex Runner Smart Connect is a non-motorized, self-generated, curved treadmill. It runs on the energy you work on the treadmill and has the biggest "sweet-spot" and best responsiveness to your speed. No matter what level you are in your fitness, you can run at the desired speed and change the output at will with no maximum or minimum speed setting.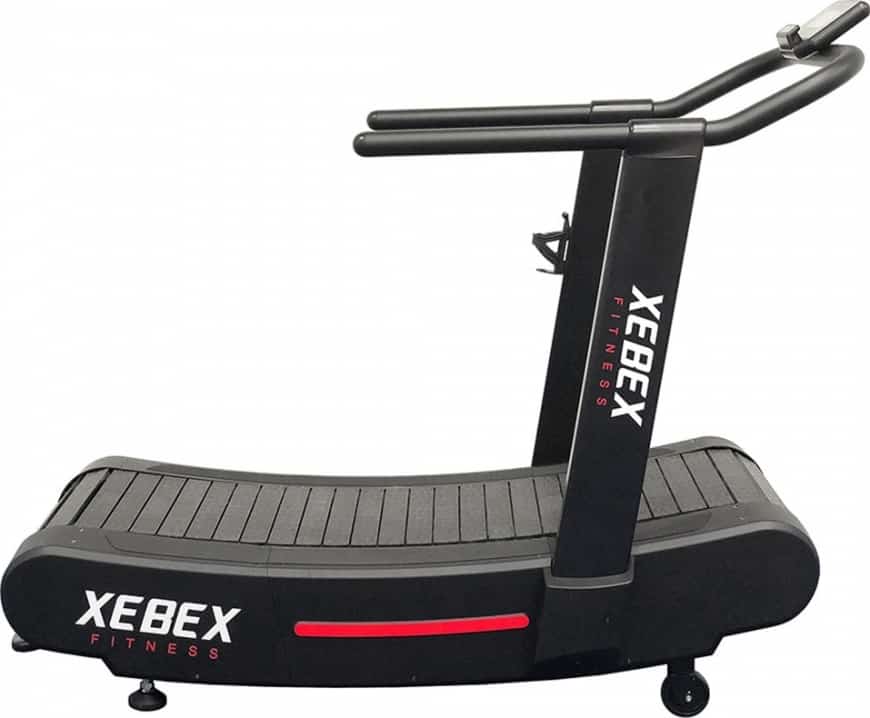 It is built with Long-Distance Runs, and HIIT in mind, and the console keeps you notified on your Time, Distance, Calories burned, RPM, Speed, Watts, and Pace, with heart rate and interval programs available. The console is easy to use and stresses that Smart Connect allows you to connect the Smart Connect equipment to various 3rd party apps.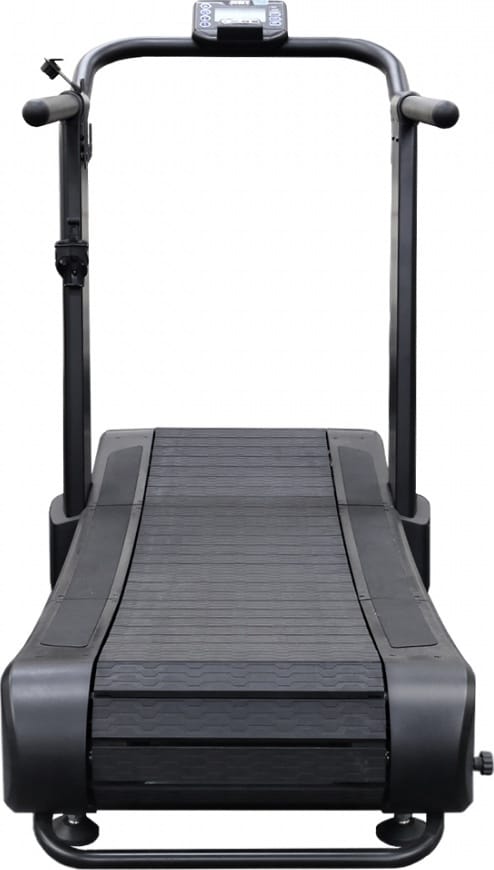 4 Post Builder Power Rack
Compared to standard power racks, the 4 Post Builder Power Rack saves more space and has greater storage potential and accessory compatibility than most half racks and other squat stands. It is made of 11-gauge and 7-gauge powder-coated steel and 3″ x 3″ Builder upright tubes. The training probabilities are practically infinite because of the variety of compatible accessories connected to the rack.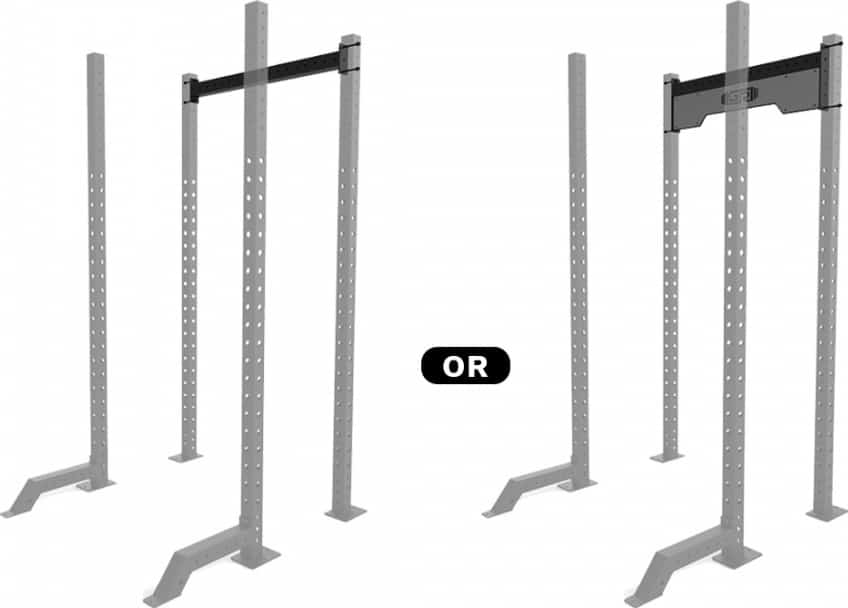 With the 4-Post Builder Power Rack, you can save time and space and use more hours on training and less time setting up or putting away equipment. There are 60+ Power Rack Attachments that you can add to your power rack for more outstanding performance.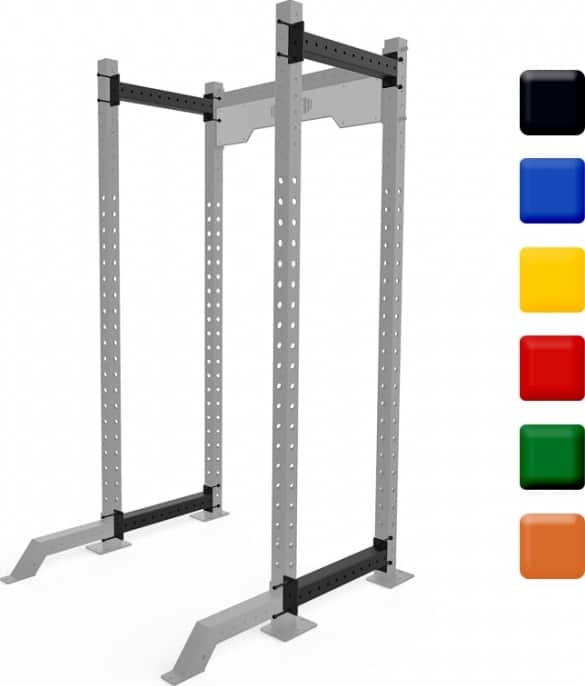 Wall Mount Folding Builder Rack
The Wall Mount Folding Builder Rack is a fully retractable wall-mount rack and a pullup bar made of 3" x 3″ 11-Gauge tubing with UMHW plastic on its feet. It highlights a sharp pin/hinge system that empowers you to extend the rack for your daily workout and fold it when you're done.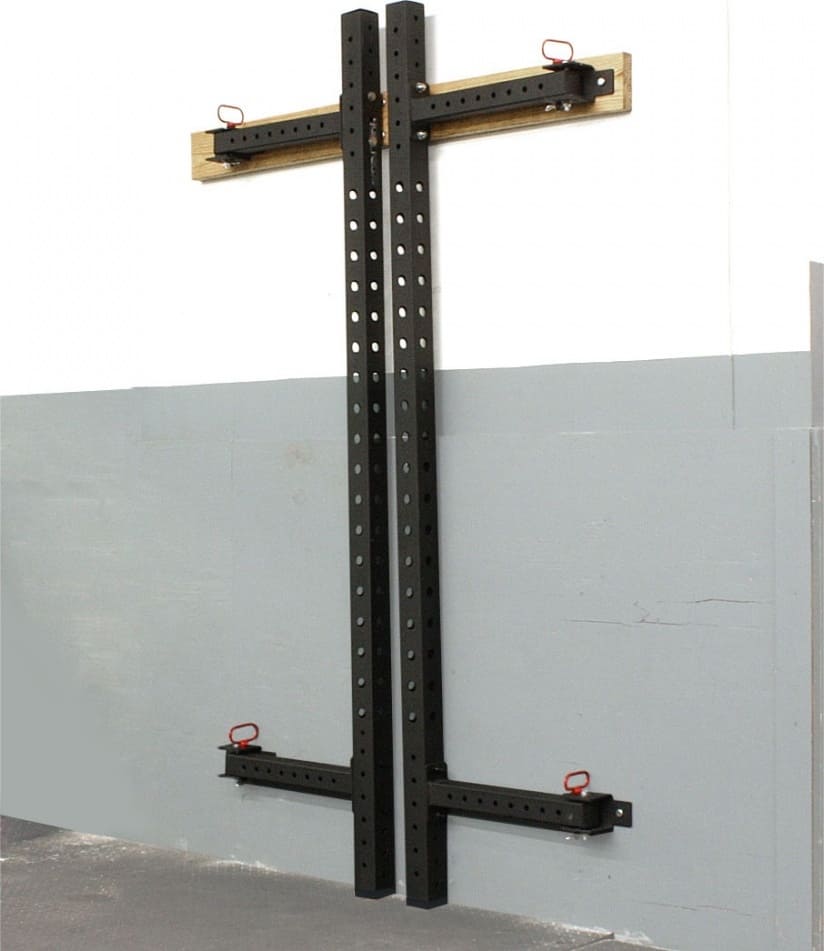 The rack spreads 25" from the wall when expanded, which renders adequate space for strict or kipping movements. The rack has holes on all four sides with laser-cut numbers on the front face of uprights. It is compatible with Dip horns, Spotter arms, Kids pullup bar, Wallball target, Plate sleeves, Step-up platform, and Pegs bars.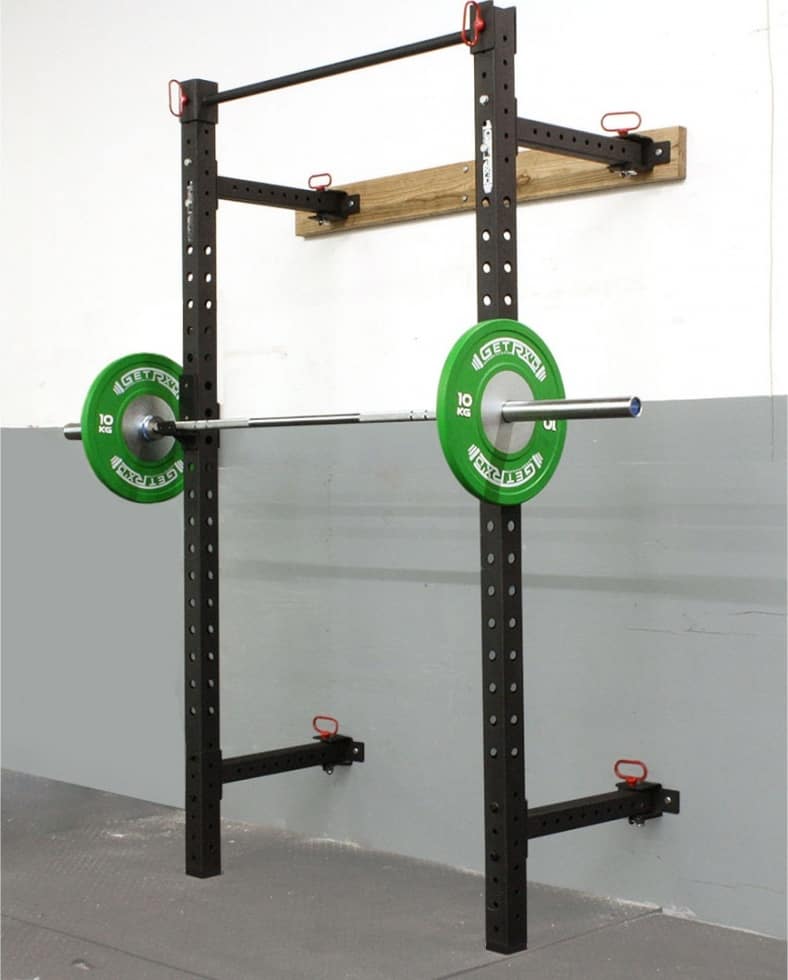 Guillotine Squat Rack and Pull Up Bar Combo
With a heavy base of 160 LB, the Guillotine Squat Rack and Pull Up Bar Combo is an all-inclusive squat, bench, dip, and pullup station. It comes with heavy-duty spotter arms, peg station, dip station, fat and standard pullup bars, plate storage, and more.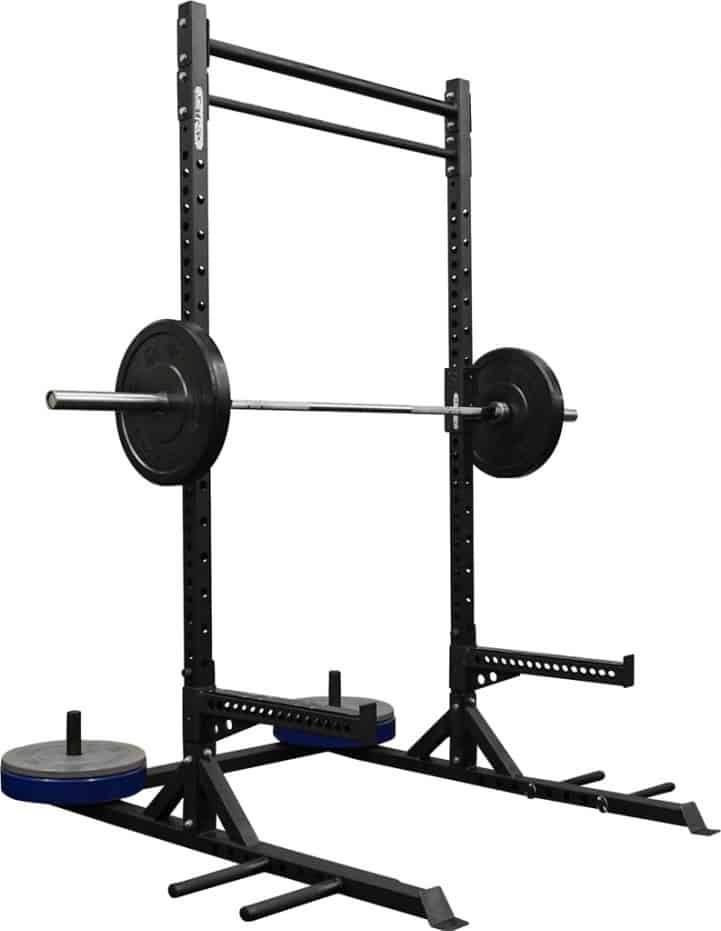 The 4′ x 6′ footprint is extra stable, and each pullup bar can be customized from 6'8″ up to 9'0″ in 2″ increments. The pullup bar has a durable black powder coat and UHMW J-Cups and spotter arms to protect the coating on your bar.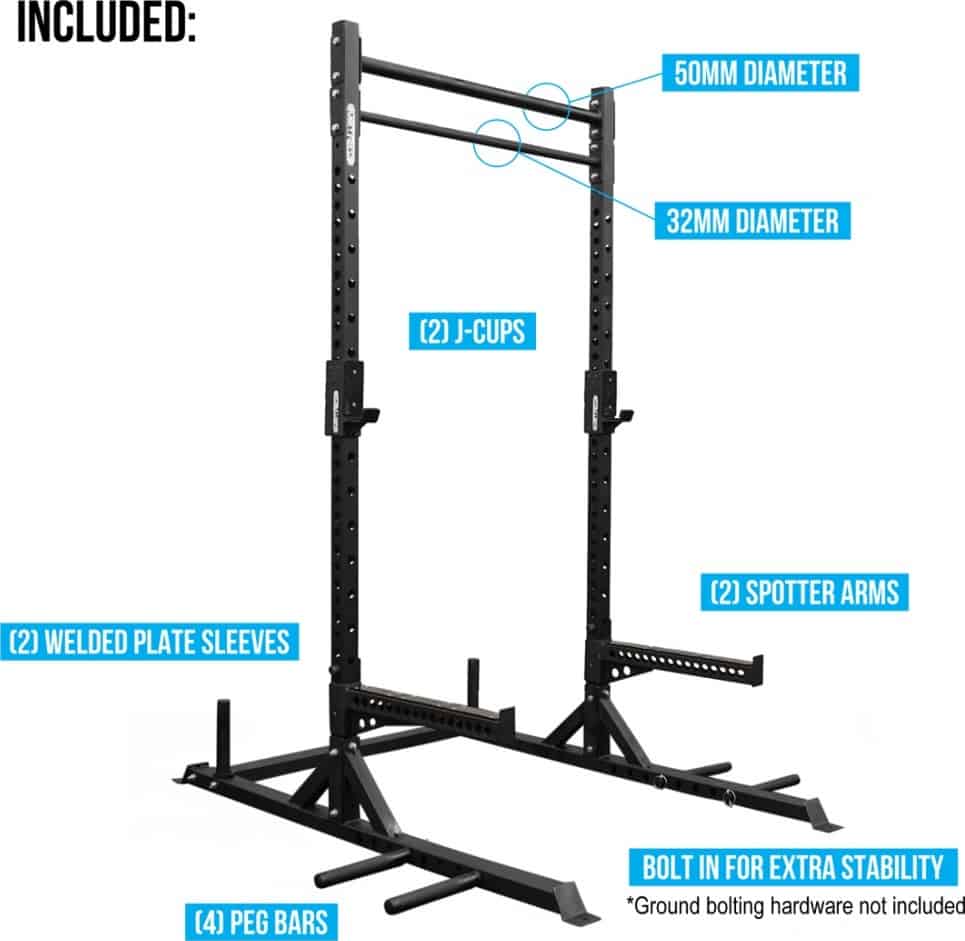 WOD Bars 5.0
The WOD Bars 5.0 is Get RX'd's basic barbell, but the truth is nothing is basic about it. It has the most genuine spins in barbell design with its two Oil-impregnated bushings and two oversized-needle bearings. The bar has a 190K PSI Tensile Strength with zinc and hard chrome coating for rust and scratch resistance. The WOD 5.0 is ideal for the everyday athlete who does not want to switch out bars between lifting sessions or metcons.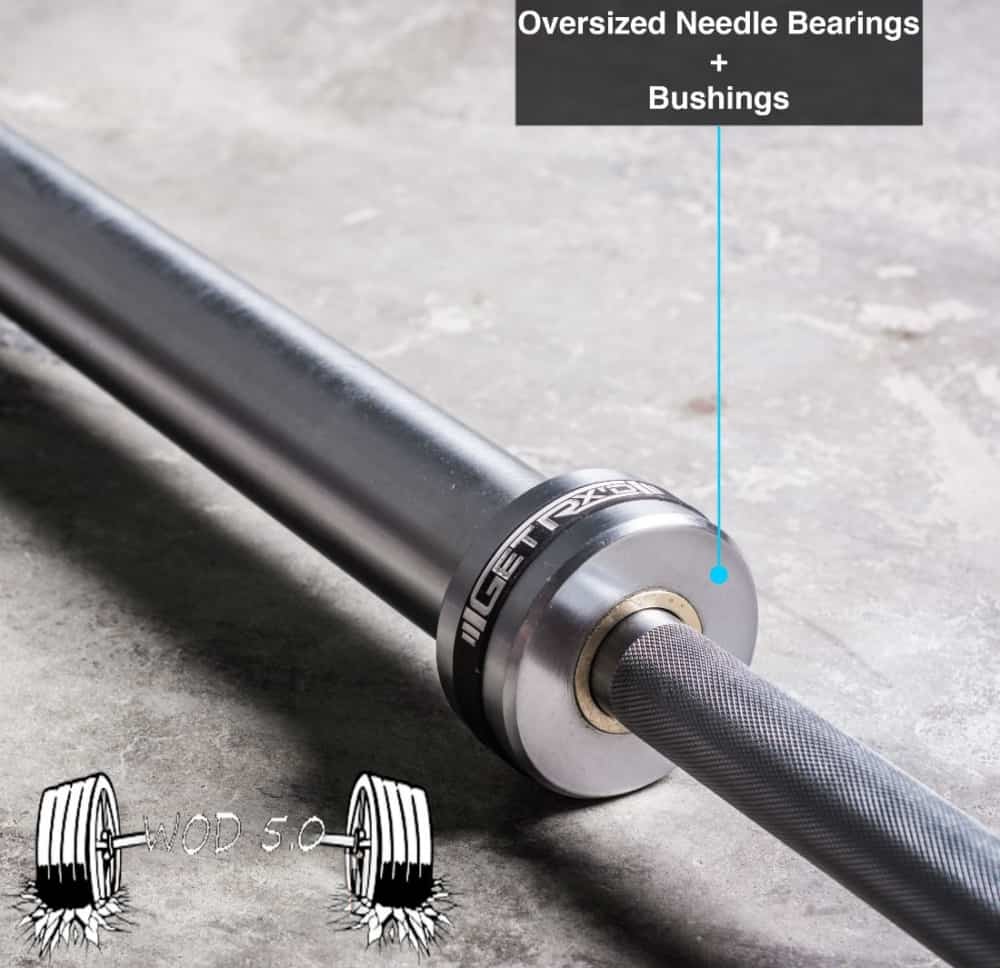 The WOD Bar can be clearly recognized by the black band on the collar of the men's barbells and the red band on women's barbells. It has a consistent, well-crafted knurl that extends to the collar and dual knurling marks for Olympic lifters or powerlifters. The bar has two oversized needle bearings and two oversized oil-impregnated bushings for durability for a smooth spin.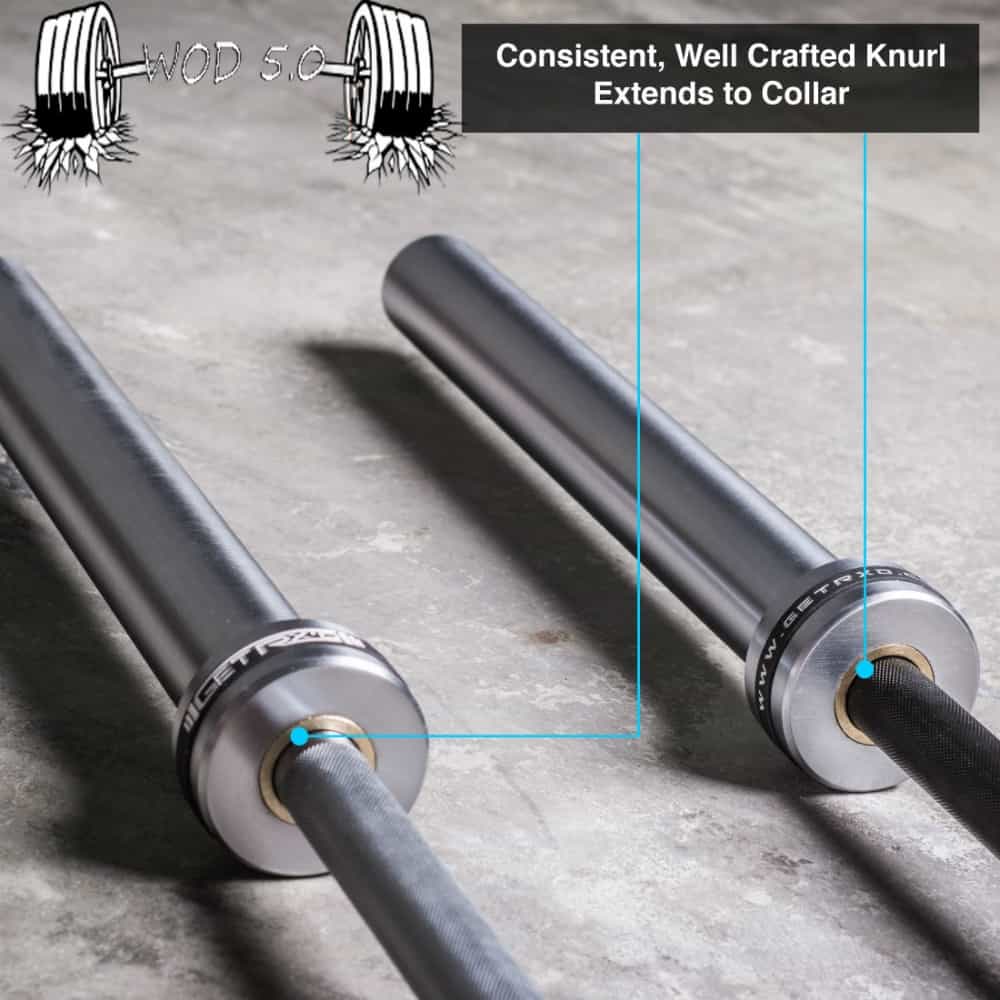 Axle Bar
The Axle Bar is an excellent addition to your home gym equipment. Start adding axles continuously into your training, and watch your grip strength shoot through the roof. It takes an unbelievable amount of grip strength to do agile, explosive movements with an axle, and the sooner you add them to your training, the better your grip will be.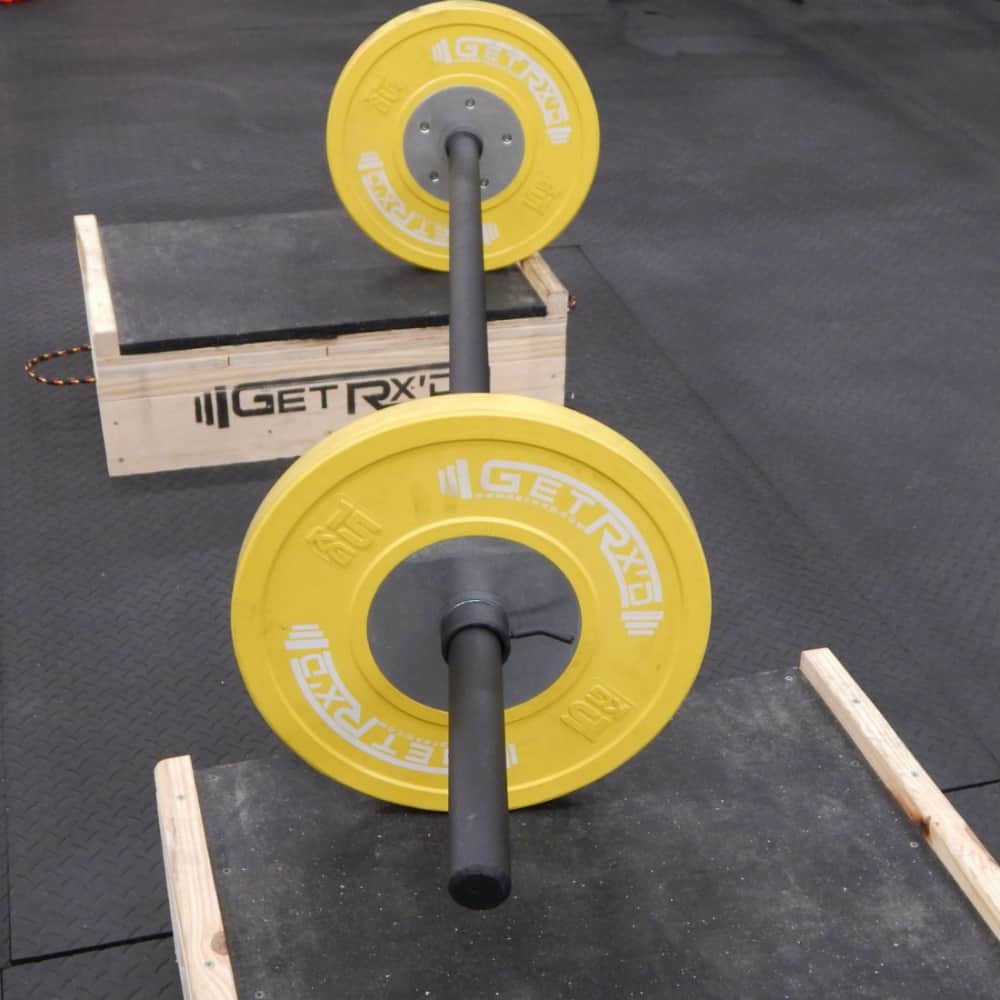 It weighs 30 LBS and measures 1.9″ with 15.5″ for loadable space and 52.5″ in between the sleeves. The bar includes 2x heavy-duty adjustable collars formed only for the Axle Bar.

Get RX'd Black November Sale for 2021 – In Summary
That's our close-up look at Get RX'd Black November Sale for 2021.
Want more deals? Check out the bargains at:
Get RX'd has excellent pieces of cardio and equipment, and they have a very competitive price range. Items on their Top Deals page has the highest discount applied, and you can shop the rest of the site to qualify for volume discounts. It is recommended to place your order when all items are in stock or place your first order of in-stock items now and place a second order of remaining items once they are back in stock.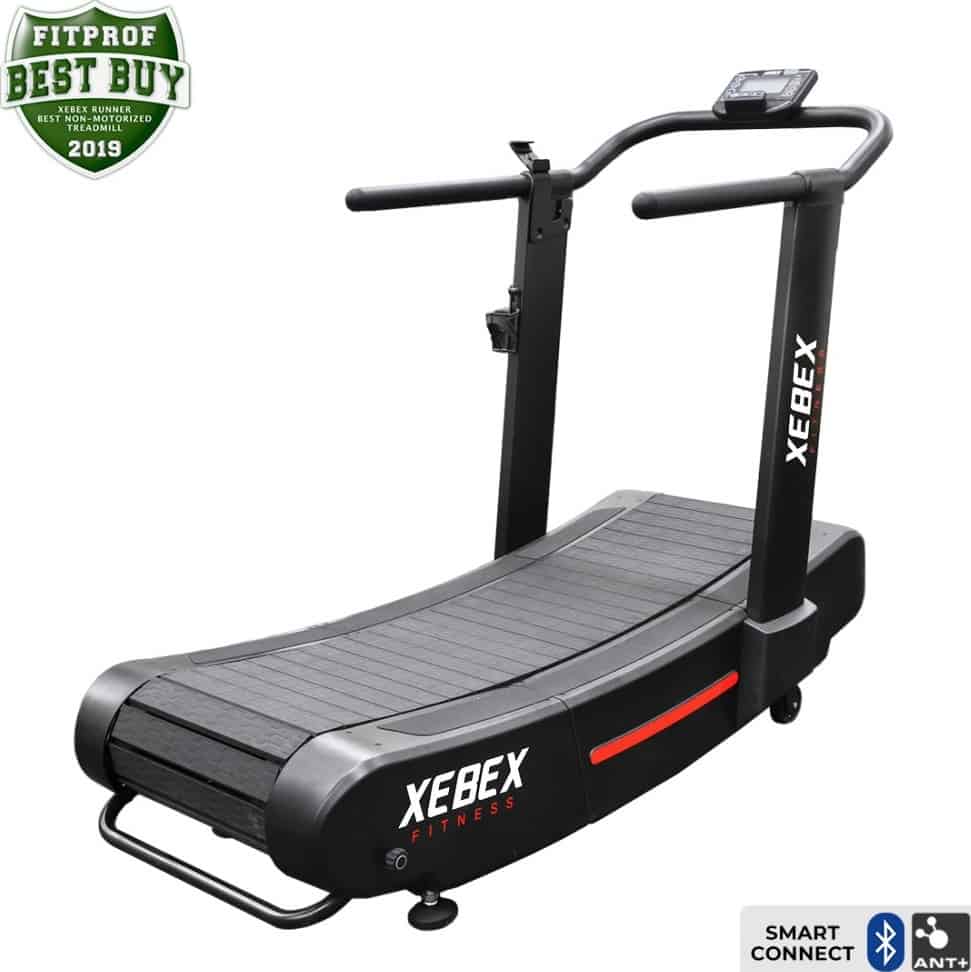 Photo Credits
Product photos on this page are property of Get RX'd.
This website is not affiliated or associated with CrossFit, Inc. CrossFit is a registered trademark of CrossFit, Inc.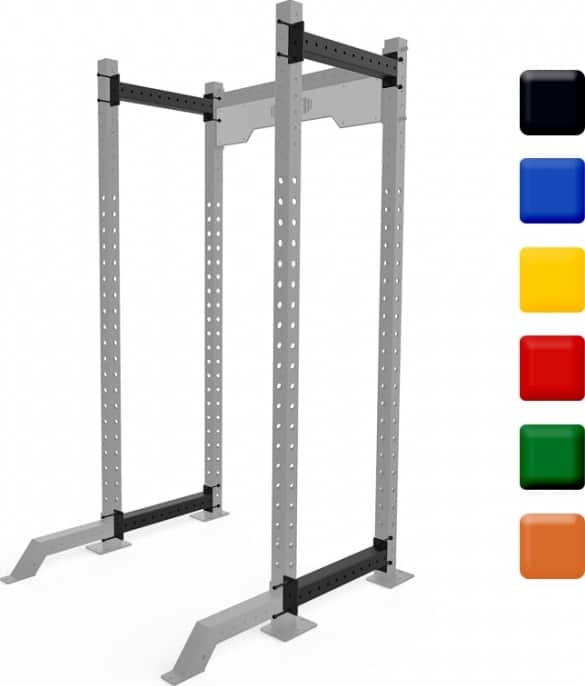 Affiliate Disclaimer
We are an affiliate of Get RX'd and others that sell this training gear. If you buy clothing or other training gear after clicking the links in this article, we receive a small commission at no extra cost to you. This helps us to bring you in-depth information and content on these great training products.