Make the most of your garage gym floor space with a Half Racks. What's a half rack? It's all the safety, convenience, and stability of a 4 post power rack – in a much smaller foot print
There are two types of lifting racks that you can add to your home gym—half rack and full rack. A half rack has a compact size perfect for a smaller space, while a full rack is a massive cage in full size compared to the half rack.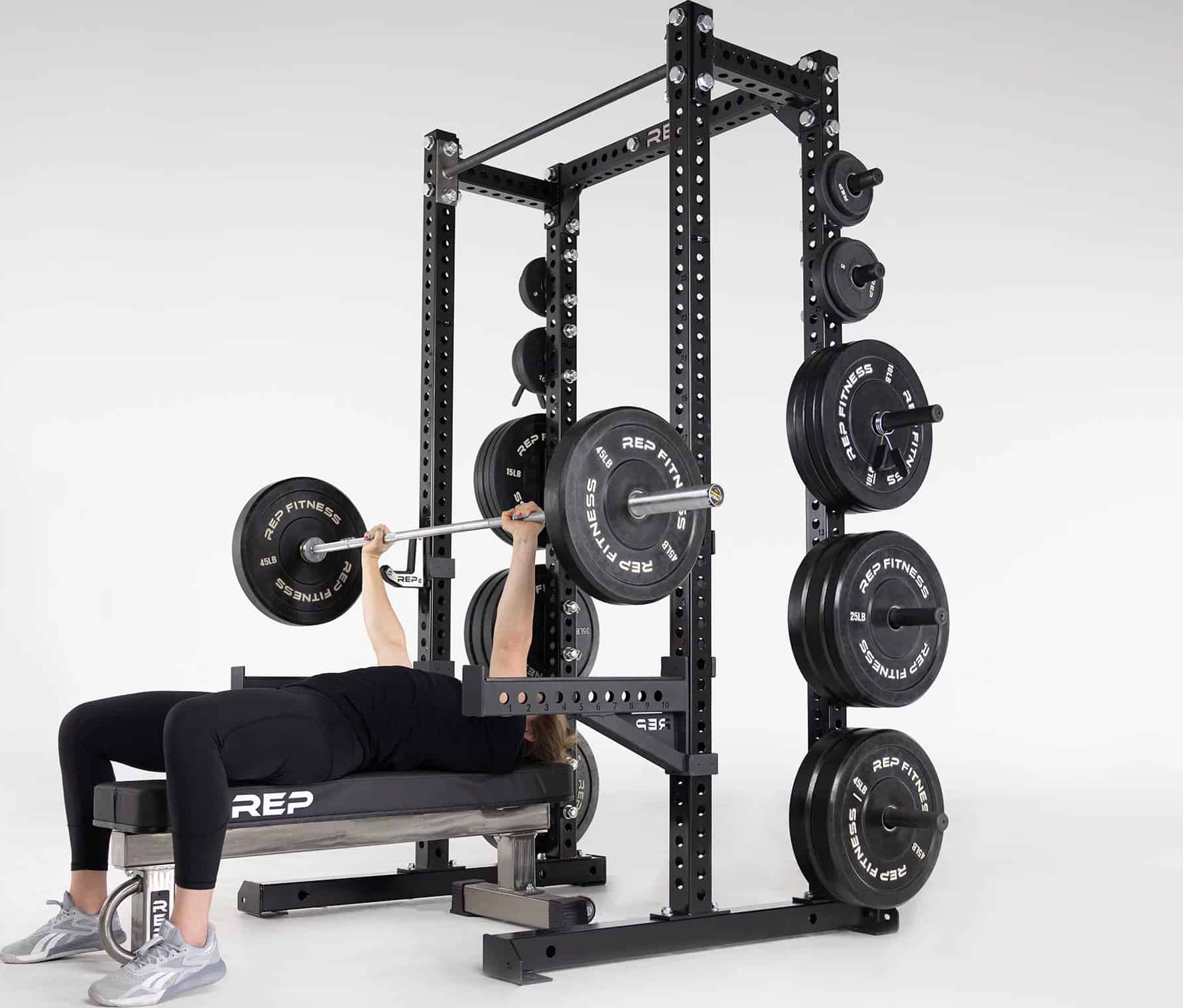 There's a variety of half racks to choose from:
Half Racks for your Garage Gym – Overview
A half rack contains a solid base with two metal bars that extend up to the top. These bars attach at the top by a fourth bar for added stability. It has a spotter that keeps you safe and catches the weights when something goes wrong. A half rack is cheaper than a full rack and takes less space in your home gym.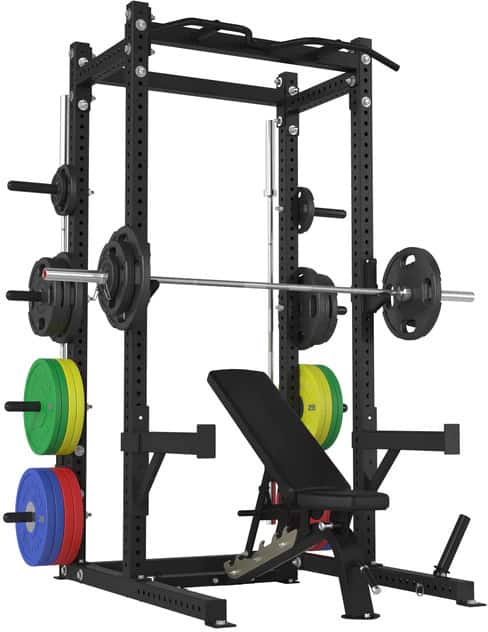 You can also exercise more easily outside the half-rack than a full rack, giving you more flexibility when it comes to barbell workouts. Like the full rack, a half rack is also easy to maintain just by wiping it with a clean, wet cloth to avoid damage. Some half racks need to be bolted to the floor, but there are some that no longer require bolting.
Vulcan Edge Half Rack (Vulcan Strength)
The Vulcan Edge Half Rack can be placed along the perimeter of the training area, saving space that can be used in the center of the training area. It has a double notch system and is the safest and most powerful method for the J-Hook to be positioned on the rack. It does not need bolting or more weight to anchor it to the floor.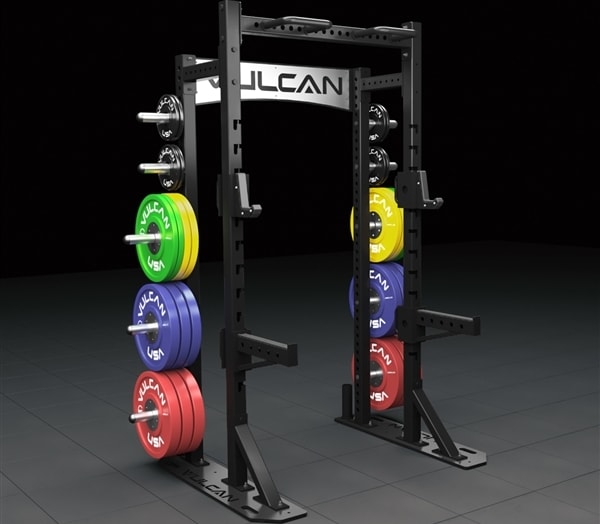 The feet of the Edge rack are solid 1/2″ plates, which add a significant amount of weight and strength to the rack. The rack comes with 17″ safety spotters and plate storage pegs. It weighs 430 lbs and measures 45″ L, 47″ W, and 93.5 W."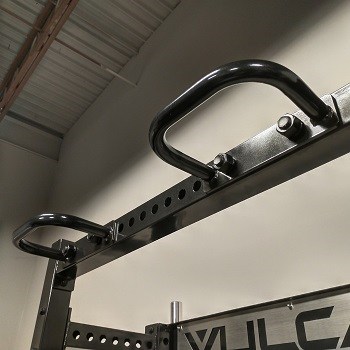 Vulcan Half Rack – Elite
The Vulcan Half Rack – Elite is developed to accommodate the big three powerlifts (squat, bench, deadlift), the Olympic Lifts (snatch, clean, and jerk), and every pressing/pulling lift that falls in between. It also facilitates time efficiency when moving from the barbell rack to the lifting platform during lifting sessions. The rack is created from 11 Gauge 3" x 3" steel making it a versatile, all-inclusive strength training station.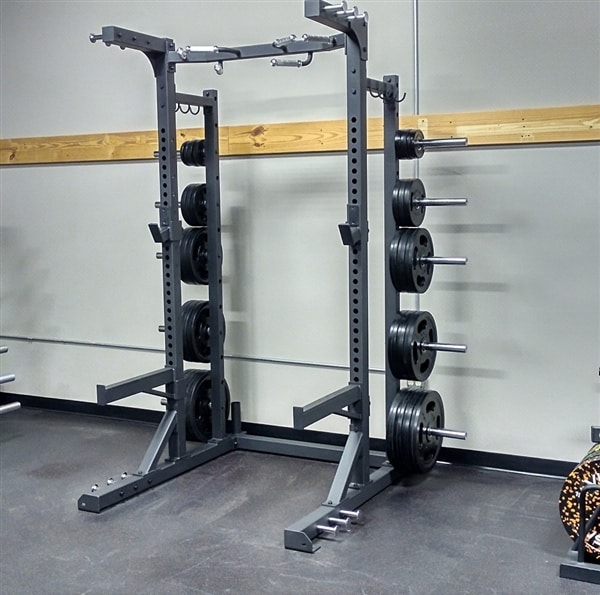 There are also plenty of rack qualities that will improve even the most creative workouts, such as pulling pins and multi-grip pull-up bars. The rack comes with plate storage, safety spotters, and strength band hooks with a charcoal matte powder coat finish. It weighs 400 lbs and measures 42″ W x 52″ L (inside) and 49″ W x 57″ L (outside).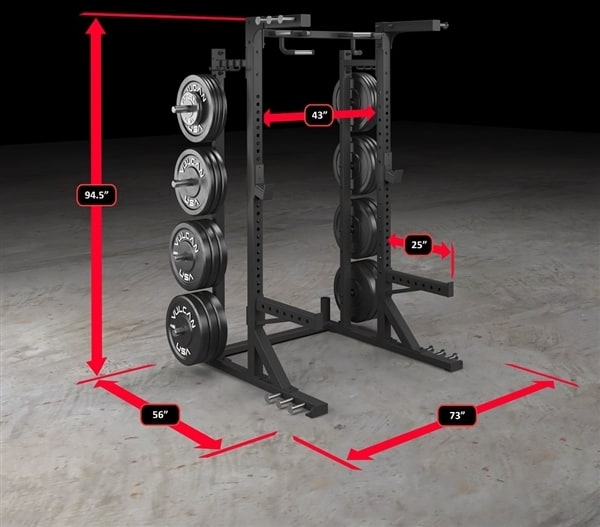 American Barbell Half Rack (American Barbell)
The American Barbell Half Rack is an extremely solid rack using 3×3 11 gauge steel and 3/4″ hardware. It comes with additional 3×3 uprights and crossmembers for added stability and diversity of storage functions. It also comes with modular functionality and a wide variety of customization options.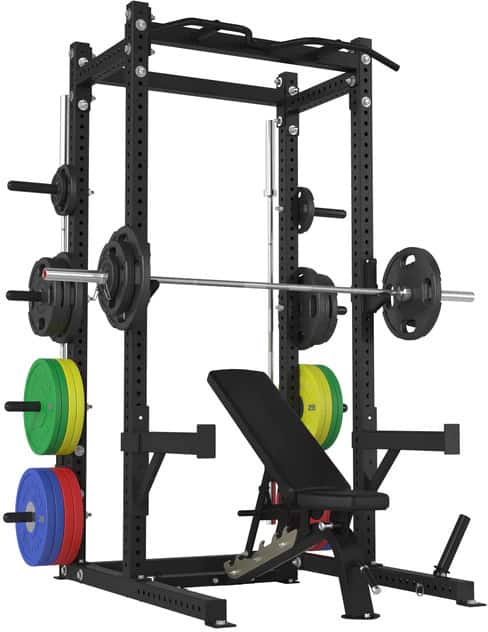 The modular design makes it easy to expand and reconfigure and can be a storage for plates, bands, chains, and other accessories. The unit is band compatible and must be anchored to the floor.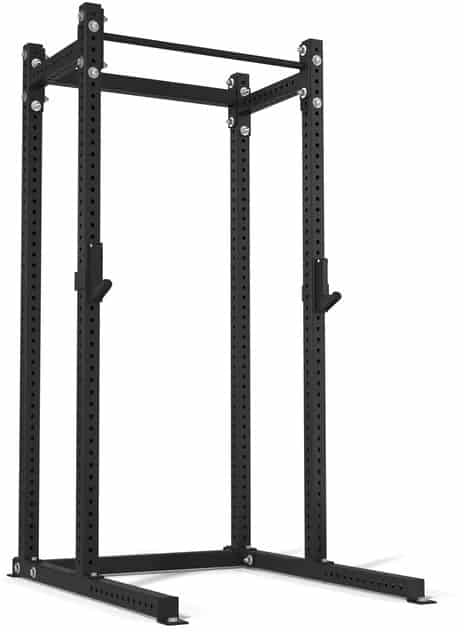 Apollo Half Rack (Rep Fitness)
The Apollo Half Rack from Rep Fitness is devised to take up a minimal footprint without compromising your workout. This sturdy rack is built with 11-gauge steel and 1" holes and allows you to build out your rack and customize the functionality. The flat foot base and weight storage uprights make for a stationary and stable design.
This half-rack allows comfortable on-rack storage on the back uprights, which can be difficult on a 4-post rack when lifting inside. It uses 1″ hardware with 2" spacing and will accommodate most of REPs 5000 series Attachments/Accessories as well as other well-known attachments. There's no need to bolt this rack, and the flat foot design serves as the support.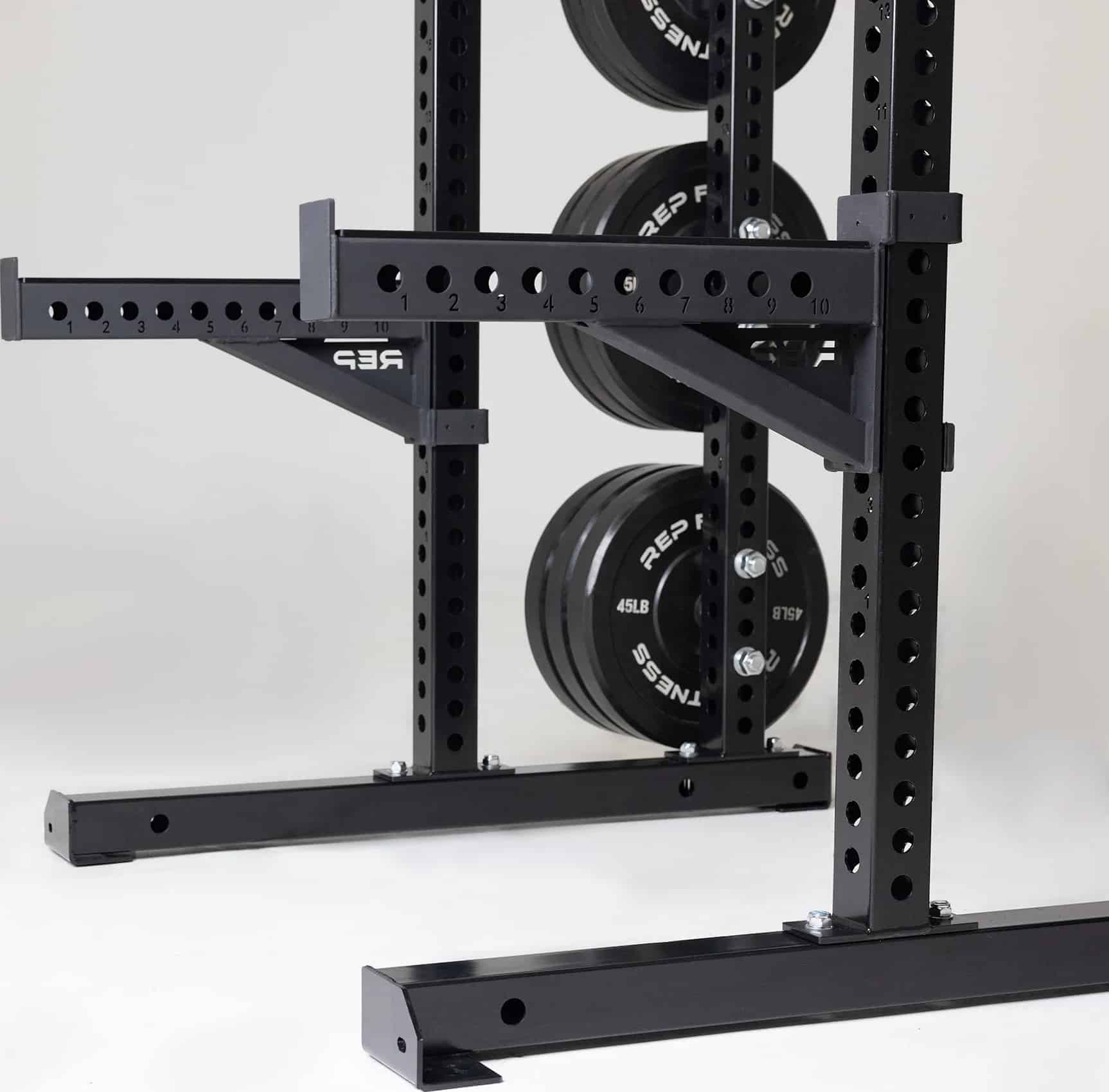 Builder Half Rack with Functional Trainers (Get RX'd)
Instead of having two different units of half rack and functional trainers, Get RX'd created a way to merge both units into one to save space and cost while keeping both units' functionality and versatility.
You can choose to put accessories to add greater functionality to the unit and allow complete strength, conditioning, and gymnastics movements all in one convenient space. You can customize the rack by picking your preferred Functional Trainer, pull-up bar, j-cups, and additional accessories such as spotter arms, dip horns, heavy bag hanger, and more.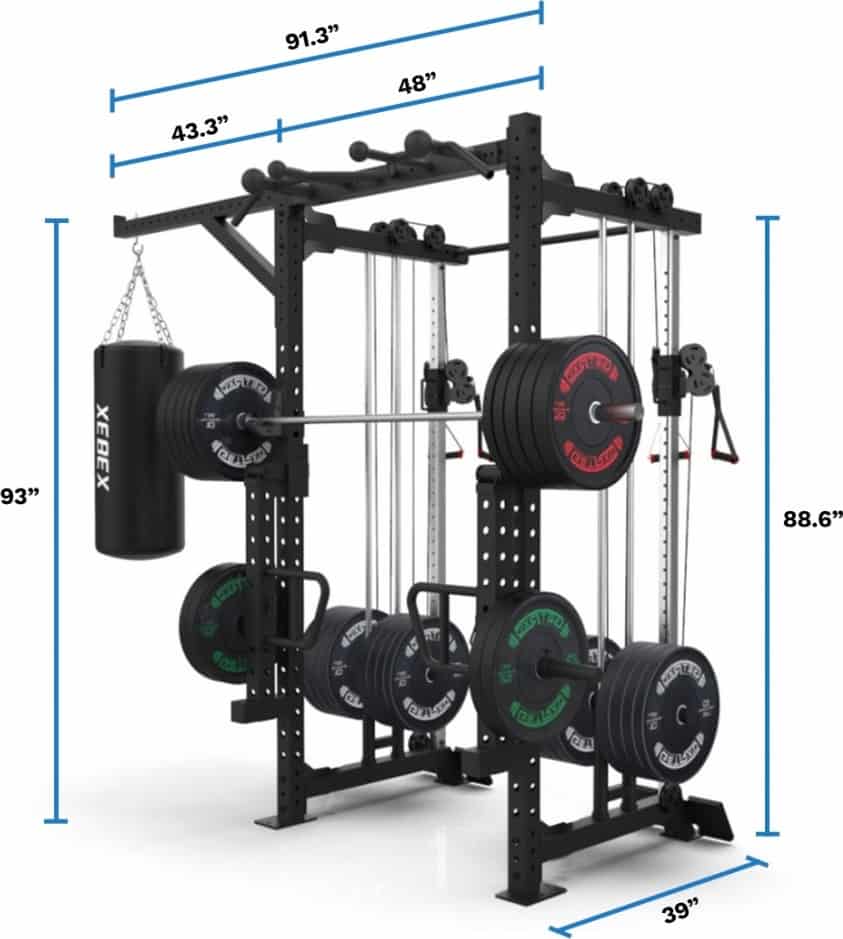 Half Racks for your Garage Gym – In Summary
That's our close-up look at Half Racks for your Garage Gym.
Choosing between a half rack and a full rack depends on factors like your budget, space in the gym, and other personal preferences. But if you are new to lifting or want to try these types of equipment, getting a half rack from one of these brands will be a good idea. Though half the size, these half racks are beefy, stable, and sturdy and will go a long way in an efficient lifting and training.
Looking for more options? Check out these other great products:
Rogue fitness has some great Half Racks.
Fringe Sport has a full lineup of Power Racks.
More garage gym ideas.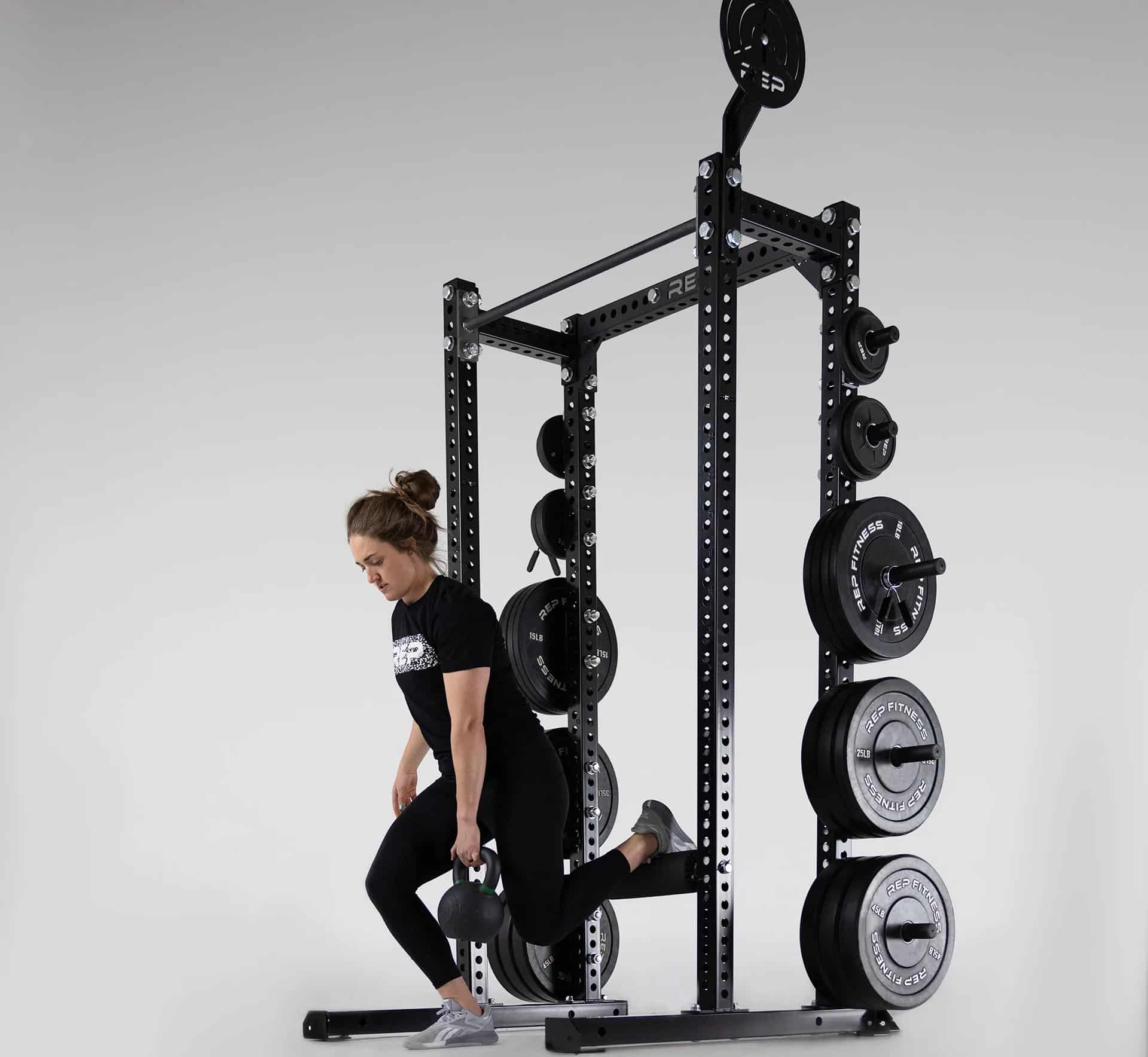 Photo Credits
Product photos on this page are property of the manufacturers.
This website is not affiliated or associated with CrossFit, Inc. CrossFit is a registered trademark of CrossFit, Inc.
Affiliate Disclaimer
We are an affiliate of Vulcan and others that sell this training gear. If you buy clothing or other training gear after clicking the links in this article, we receive a small commission at no extra cost to you. This helps us to bring you in-depth information and content on these great training products.