It's on – here are details on the Vulcan Strength Black Friday 2021 Sale.
Vulcan Strength is the main supplier of Olympic weightlifting equipment, CrossFit, Home Gym Equipment, and Commercial Gym Fitness Equipment. They continue to produce new and innovative products up to this day. Last year, Vulcan Strength joined the Black Friday Sale and offered a discount based on how much you bought, starting at 5% off a purchase of at least $1,000.
Here are some of the styles we are going to look at:
Vulcan Strength Black Friday 2021 Sale – Overview
For this year's Black Friday Sale, Vulcan Strength offers "locked-in" discounts on some items and "tiered discounts" on other products. The total dollar amount in your shopping cart will determine the percentage discount applied to the "tiered discount" items. The higher the dollar amount in the shopping cart, the higher the deal is to the designated items.
Tiered Pricing Ranges
– 5% discount for every $0 to $1000 purchase – 7% discount for every $1001 to $5000 purchase – 10% discount for every $5001 to $10,000 purchase – 15% discount for every $10,001 and up purchase Items featured in Tiered Discounts include Black Bumper Plates (lbs) [pairs], Specialty Bars, Colored Bumper Plates (lbs) [pairs], Weight Benches, Push/Pull Sled, Medicine Balls, Plyometric Boxes, Speed ropes, Digital Timers, and many more.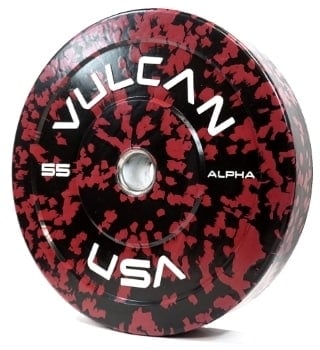 Everything that Vulcan Strength is offering for the Black Friday Sale is found on In-Stock and Pre-Order. Some of the items included on In-Stock are 295 LB Alpha Bumper Plates and Olympic Bar Set, Vulcan Cast Iron Olympic Plates, Build your Own Power Rack, Alpha Bumper Plate Set, and more. Some of the times included for Pre-order are Vulcan Absolute Training Bumper Plates, Vulcan Edge Half Rack, and more. In-Stock products are expected to ship within 1 to 7 business days. Pre-Order products will have their expected dates listed in the particular product features. If Pre-Order and In-Stock items are mixed on the same order, the order will not ship till all products are in stock and available to ship. You can put various orders for in-stock or pre-order items, and they will be shipped individually. Discounts will be based on a per-order basis and will not be mixed.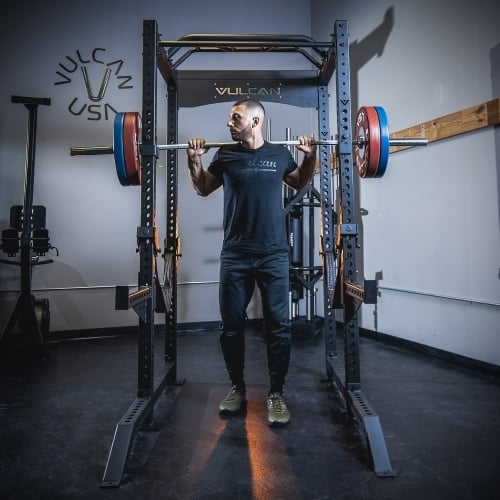 Need something different? Check out what other vendors have to offer at Best Black Friday Deals on Gym Equipment.
Build Your Own Power Rack
You can customize your own power rack however you want it. You can choose the rack depth, type of pull-up bar, J-hook style, or you can add half-rack conversion feet, rack section, safety straps, safety spotters, rope pull attachments, dip horn, and so much more. You can also add Open Box Items. Open Box – Clearance items are Vulcan equipment items that did not pass quality inspection.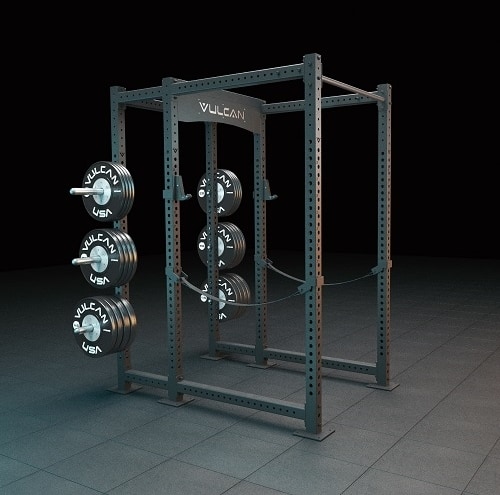 They don't have any mechanical problems and are added to Vulcan's clearance inventory in no particular order. These items may have discoloration, rough finish, spots, scratches, and tool marks but these cosmetic issues are not very obvious. All Vulcan Open Box Bars provide a performance warranty from bending or breaking during regular use. Warranty duration is no longer than the original warranty of Grade "A" Specialty Bars of the same variant.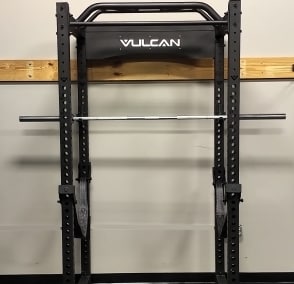 Alpha Bumper Plate Sets
A more solid alternative to recycled rubber bumper plates, Alpha Bumper Plates are formulated from a unique rubber compound not found in any other bumper plate. They are constructed for indoor or outdoor use and produce a low bounce on any surface, unlike recycled rubber plates that can bounce critically high. Alpha Bumpers produce about 25% less noise when released from a height of 9 ft, based on testing with a decibel meter.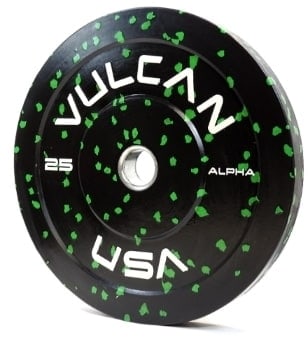 Alpha bumper plates are made of a patented rubber compound and a process that is exclusive to Vulcan Alpha and has more outstanding durability than standard bumper plates. They are color-coded with large Flecks of rubber for quick classification from a distance, and the color-coding is standard IWF type coloring. They also have a much lower smell than crumb rubber bumper plates or recycled rubber bumper plates.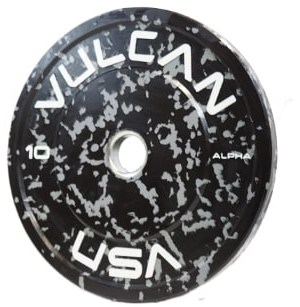 Vulcan Scull Rower
The Vulcan "Scull" is a state-of-the-art competition ergometer that can be utilized in any training setting. It has a seat height of 15″, a seat width of 12″, and a seat length of 1″. It is constructed with steel, aluminum, and black plastic with a heart rate chest monitor and a weight capacity of 350 lbs.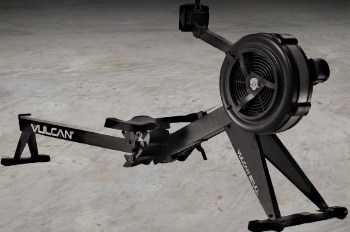 At each rowing session, the Vulcan Scull Rower tracks your stroke rate, time, distance, calories, pulse, paddle width, cycle, and watts. The Console Monitor has eight programs that include quick start, time (countdown), distance (countdown), calories (countdown), game, and interval programs of 20/10, 10/20, and 10/10. The rower comes with a lifetime warranty on frame and a two-year warranty on moving parts.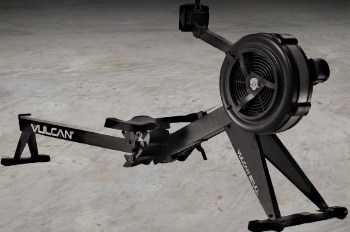 Vulcan Prime Adjustable Bench
The Vulcan Prime Adjustable Bench is overbuilt and can be used in any training conditions using heavy-gauge steel with minimal moving parts, making it durable. It features twelve positions of adjustability for the upper bench pad and three-seat pad positions to let you find your groove. Another outstanding feature of the Vulcan Prime Adjustable Bench is its tapered pad that is broader at the bottom than at the top.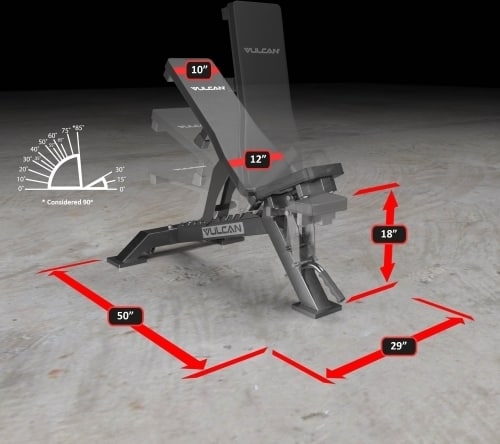 This helps support the trunk and hips when benching and helps avoid twisting the spine that can injure you and imbalances. You can produce more force with a more stable trunk to increase the amount of weight lifted, strength, and hypertrophy. The Vulcan Prime adopts a grippy and breathable textile that is rigid but will allow you the movement required to retract the scapula and "lock" into the bench.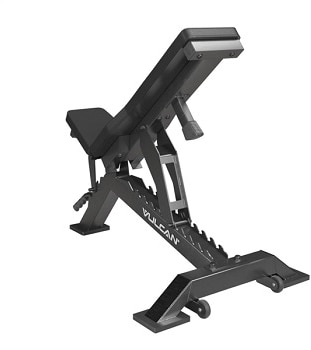 Vulcan Absolute Training Bumper Plates
Vulcan Absolute Training Bumper Plate is a unique high-performing bumper plate with a thinner profile allowing more plates on the bar. The raised is covered with indelible ink that will not fade or go off quickly. The textured surface of steel discs reduces unsightly surface scratches, and scuffs while the glass bead blasted discs provide a great aesthetic look after many uses.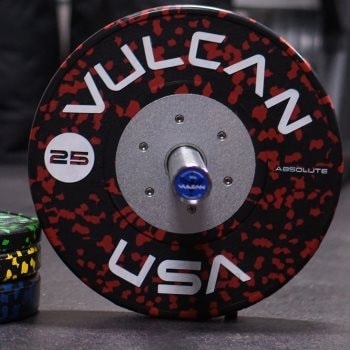 The rubber sits about 1.25 mm above the disc to guarantee a super secure fit and minimal metal-to-metal contact between bumper plates. The steel discs of the Vulcan Absolute Bumper Plate are proved not to depart from the plate or spin within the plate for the span of the warranty. The plates are spot tested and mechanically drop tested 10,000 times and are built following IWF specifications.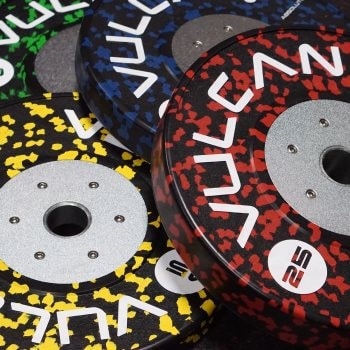 Power Rack – Flat Base
The Power Rack – Flat Base is made from high-quality steel, welds, and construction with a black powder coat finish. It is made of 3″ x 3″ steel uprights with 11-gauge thickness and a 2″ x 3″ steel base with an 11-Gauge thickness. It weighs 305 lbs with a 48.5″ L x 49″ W x 91.5″ H footprint and comes with a standard 1.25″ Pull-Up Bar.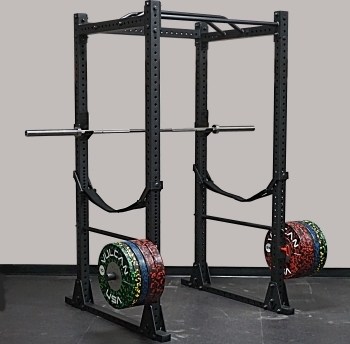 It is part of the Open Box Items that did not pass quality inspection but don't have any mechanical problems. They may have discoloration, uneven finish, spots, scratches, and tool marks but these issues are not very noticeable. They carry a performance warranty from bending or breaking during everyday use. The warranty duration is no longer than the initial warranty of Grade "A" Specialty Bars of the same variant.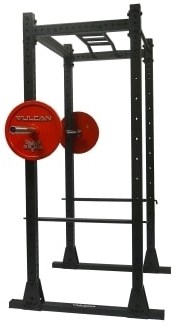 Vulcan Strength Black Friday 2021 Sale – In Summary
That's our close-up look at Vulcan Strength Black Friday 2021 Sale.
Want more deals? Check out the bargains at:
Vulcan Strength Training Systems is a 100% Veteran owned company that offers products made abroad and in the USA. They offer up to 15% Tiered Discounts and Locked-in Discounts which means you can get up to more than $10,000 off on special items, especially when you buy them in bulk.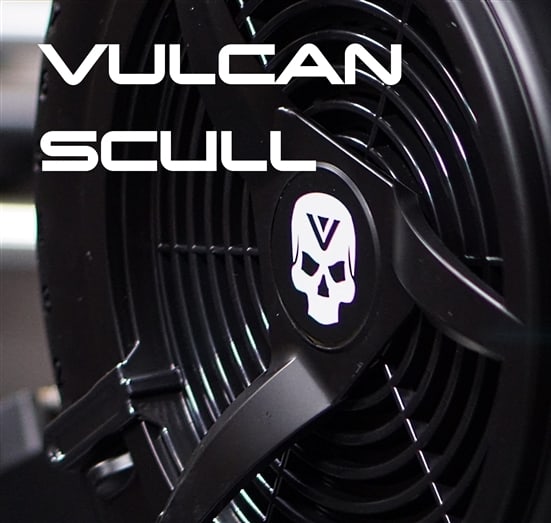 Photo Credits
Product photos on this page are property of Vulcan.
This website is not affiliated or associated with CrossFit, Inc. CrossFit is a registered trademark of CrossFit, Inc.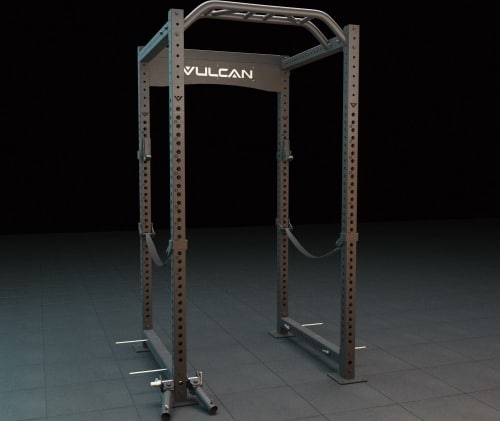 Affiliate Disclaimer
We are an affiliate of Vulcan and others that sell this training gear. If you buy clothing or other training gear after clicking the links in this article, we receive a small commission at no extra cost to you. This helps us to bring you in-depth information and content on these great training products.