Rogue has released the 3rd version of the
Echo Bike
. Grab one while they last!\n
Let's take a look at the Rogue FT-1 Functional Trainer.
A functional trainer is the answer if you are looking for a complete, effective, and versatile piece of equipment to put in your garage gym for strength and resistance training. It is safe for all age groups adept at resistance training, and you can safely perform exercises in every plane of movement.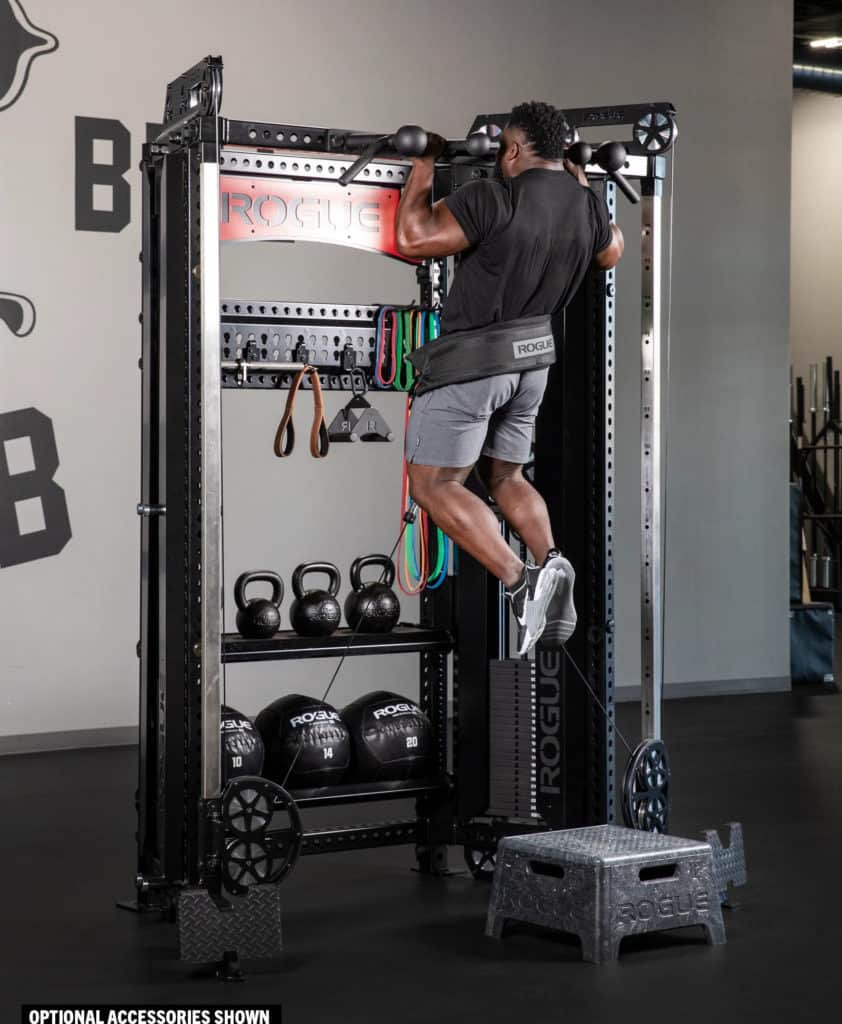 Only from Rogue: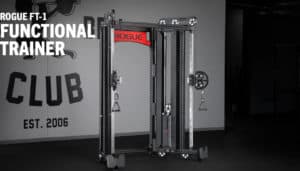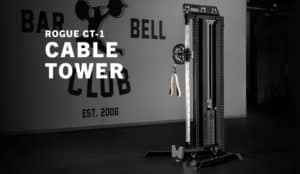 Rogue FT-1 Functional Trainer
The FT-1 Functional Trainer can be completed as a standalone unit or connected to the back of an existing Monster Rack (with at least 100" uprights). It can accommodate the 43" Monster Rack Storage Panels and all versions of the 43" Monster Single-Post Shelves. The front top cross member also accommodates the addition of a Monster Crown Pull-Up Bar or Solo Mount Pull-Up Bar. With FT-1, you can do various machine exercises like rows, curls, tricep pushdowns, cable crossovers, and more. You can also modify the weight load through the 250 LB weight stack, split into 10 LB increments with a 2:1 ratio.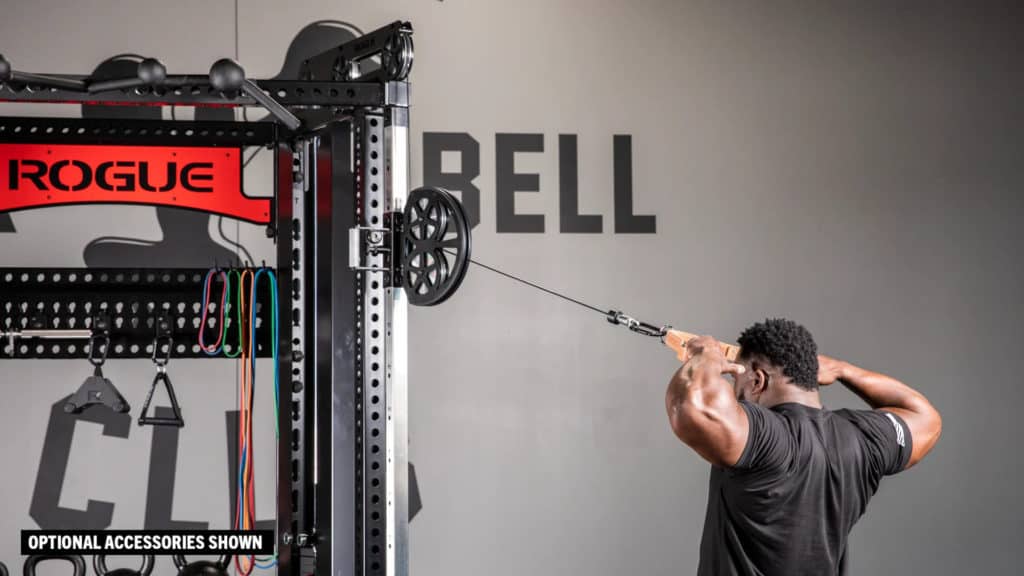 With FT-1's 16 different height adjustment settings on the 2×2 rail and acetal pads inside the handle assembly, you can effortlessly reposition the swivel up and down without harming the stainless slide tube. The FT-1 is equal in width and storage capacity to a Monster 4-tier storage rack while simultaneously delivering two functional cable pulley stations. Each 3×3" 11-gauge steel CT-1 unit is completed at Rogue's Reflex Fitness facility in Iowa. Their 6" aluminum pulleys and 250 LB weight stack are assembled in-house, and the 1/4" cable is produced to the same military specifications as aircraft cable, jacketed in nylon for ultimate flexibility and durability.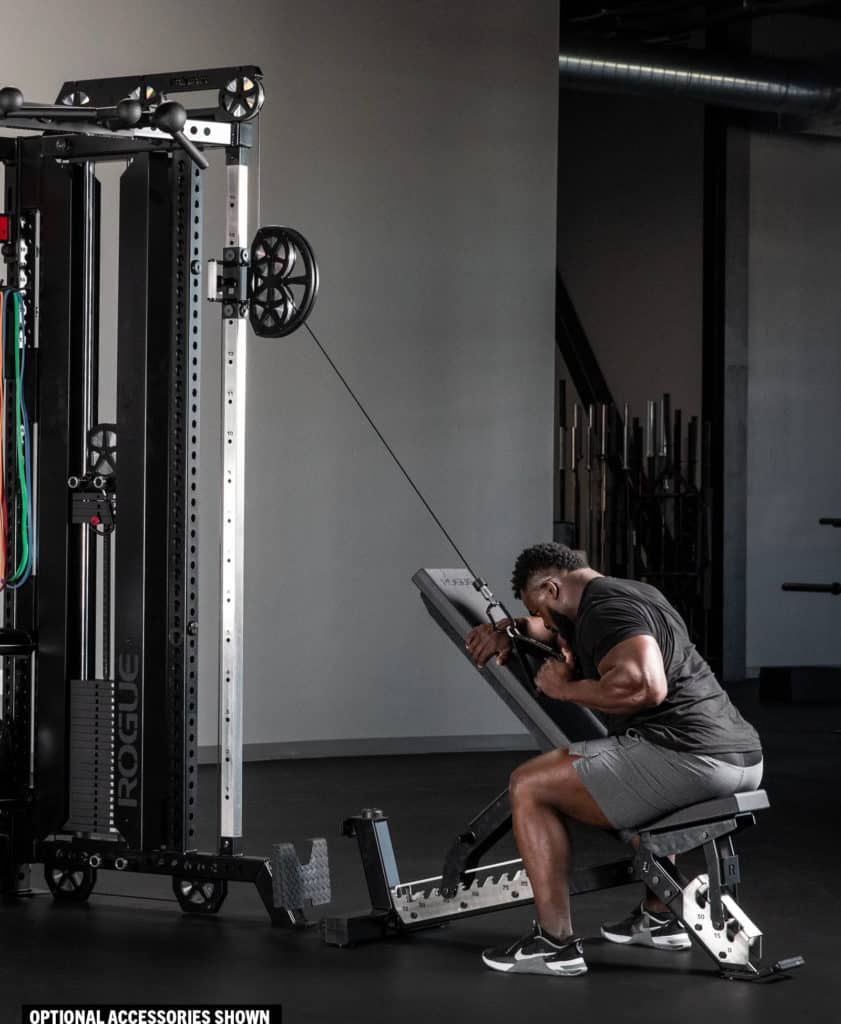 Rogue CT-1 Cable Tower
The CT-1 Cable Tower is 107.5″ tall and creates only a 60″ x 54″ footprint, making it space efficient and customizable. It is engineered for a private home gym or the use of numerous athletes in a bigger training facility. This machine is adjustable to users of any size and has a wide range of exercises, with 16 different height adjustment settings on a 180-degree swivel. The 250 LB weight stack offers immediate adjustments to any skill level, with a 2:1 ratio in pull resistance and custom shrouds to help abstain pinch points.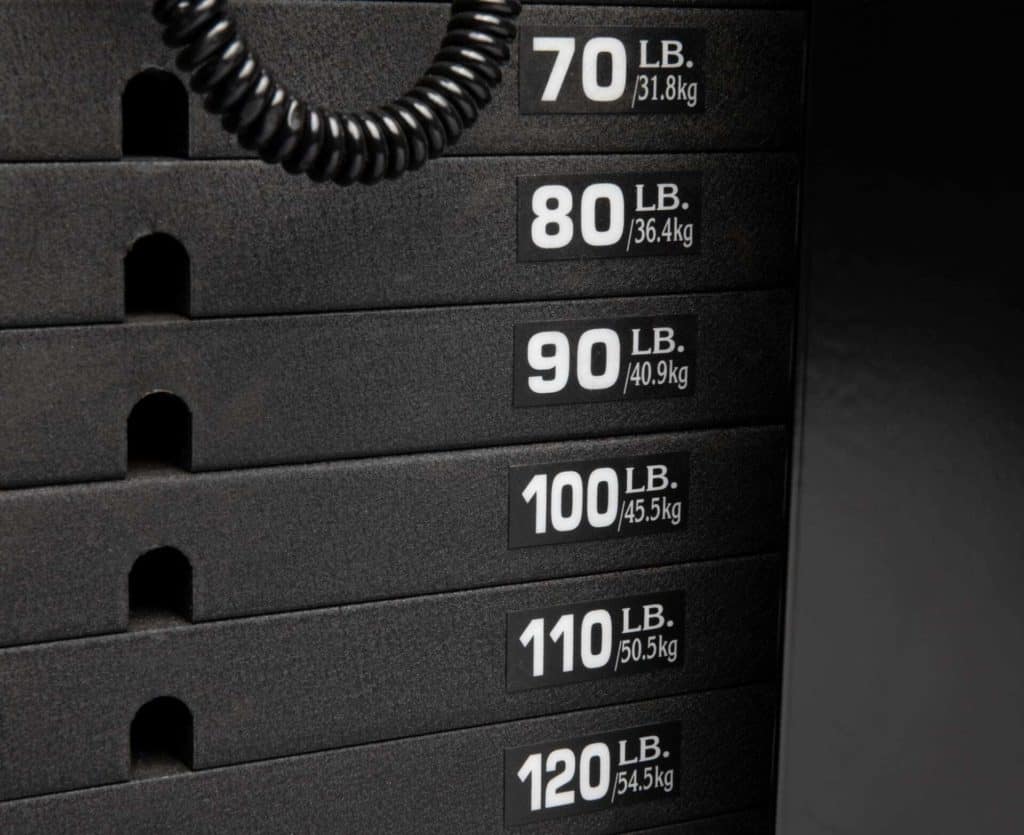 The CT-1 CAble Tower is made in the USA from 3×3" 11-gauge steel and is meticulously polished from Rogue's original designs, with precision machining and in-house testing by experienced, high-performance athletes. A Leather Tricep Strap and plastic-covered Band Attachment Pegs are included as standard with the Cable Tower. You can add compatible optional Rogue attachments and accessories like Single Handle Cable Attachment, Grip Triangle, Tricep Push Down Attachment, and a wide array of Monster Resistance Bands.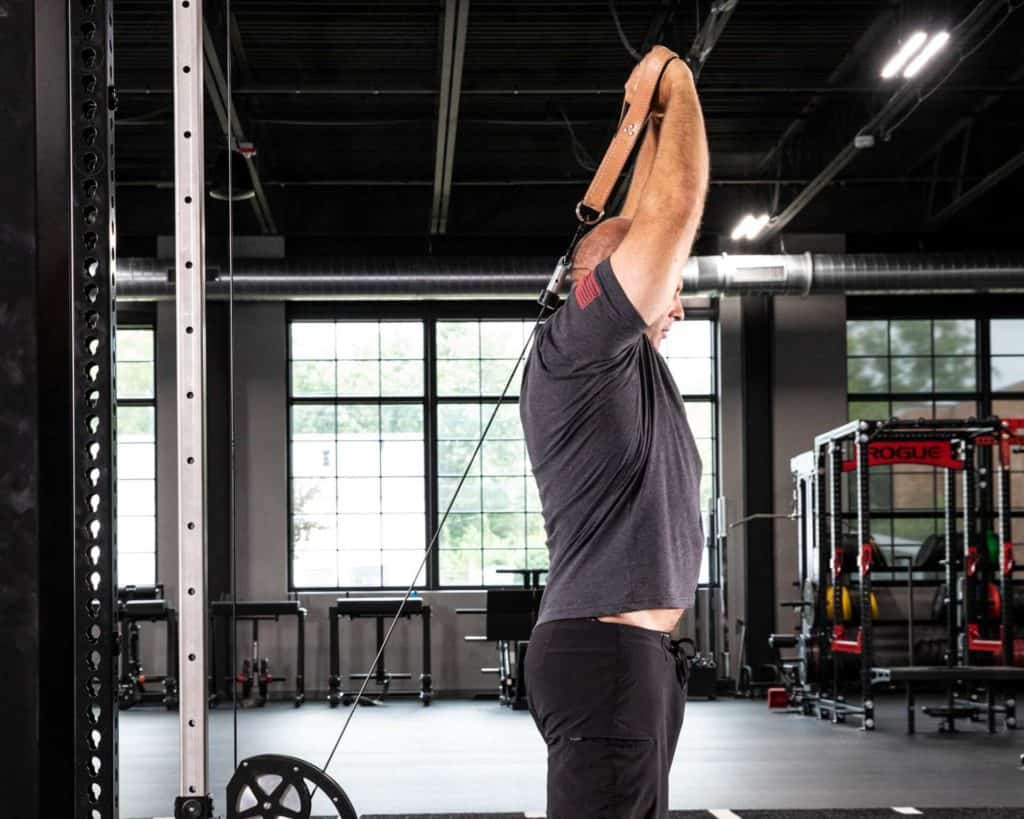 Rogue FT-1 Functional Trainer – In Summary
That's our close-up look at the Rogue FT-1 Functional Trainer.
The FT-1 Functional Trainer features two of Rogue's CT-1 Cable Tower stations merged by a 43" Monster Crossmember at the bottom of the unit and a laser-cut Rogue-branded Monster Nameplate Crossmember at the top. It is a space-efficient unit inspired by a configuration first designed by US Navy Veteran and garage gym builder Nick Gills. It can be configured with up to four shelves in different varieties on the 100" uprights.
Looking for more options? Check out these other great products: Freestanding Functional Trainer Column 2000 or the F-9 Fold-Away Functional Trainer from Torque Fitness.
More products from Rogue Fitness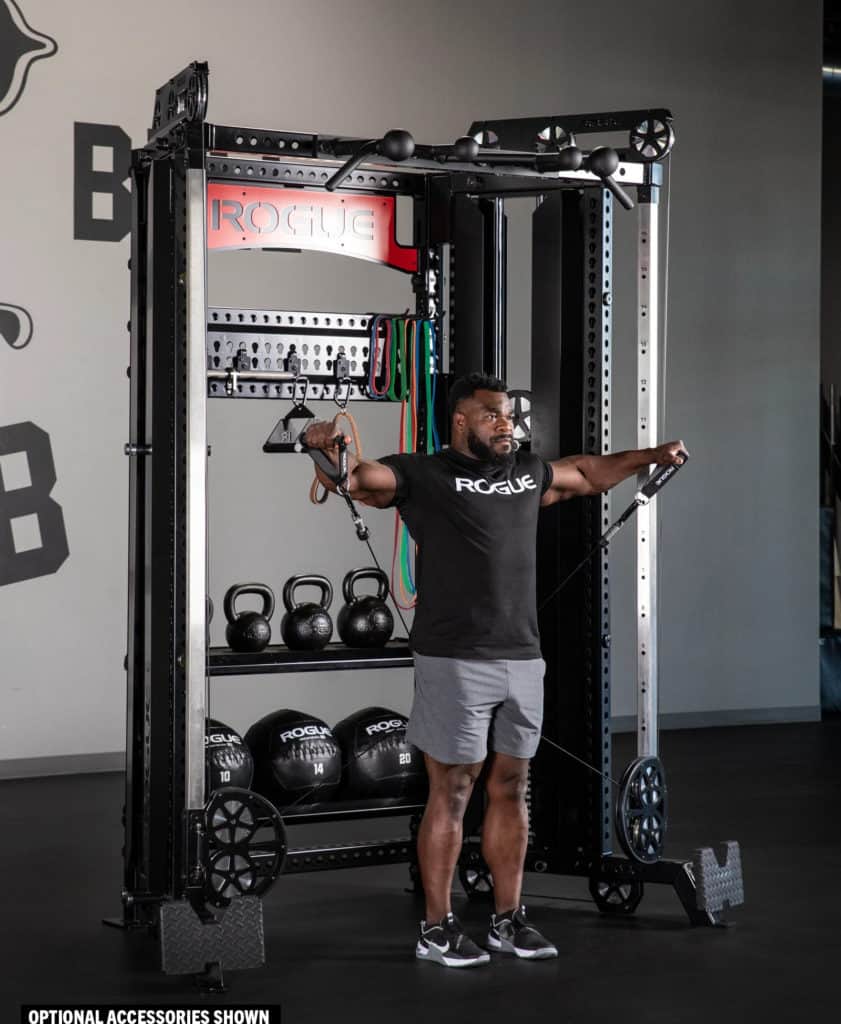 Photo Credits
Product photos on this page are property of Rogue Fitness.
This website is not affiliated or associated with CrossFit, Inc. CrossFit is a registered trademark of CrossFit, Inc.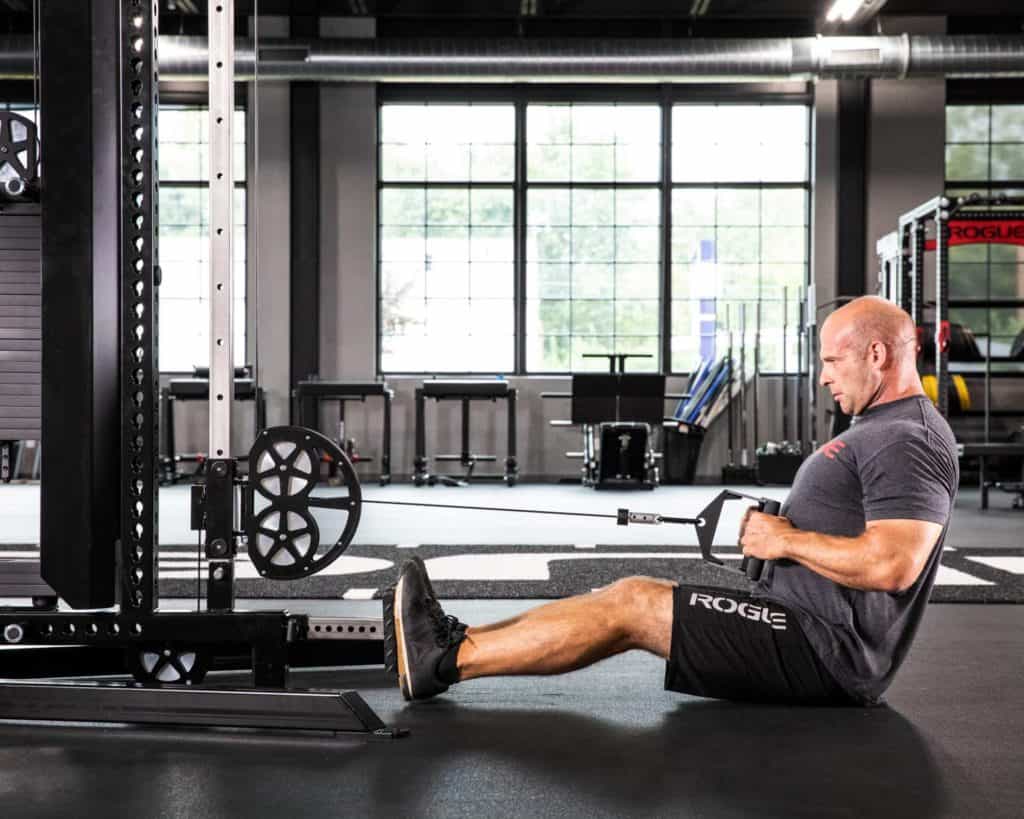 Affiliate Disclaimer
We are an affiliate of Rogue Fitness and others that sell this training gear. If you buy clothing or other training gear after clicking the links in this article, we receive a small commission at no extra cost to you. This helps us to bring you in-depth information and content on these great training products.