Let's review the best CrossFit shoes for 2022.
We've compared all the major cross training shoes that have released in 2021 (and now in 2022) to see which is the best for functional fitness, and CrossFit style WOD workouts.
Based on our in-depth testing, we believe the Nike Metcon 6 is the best CrossFit shoe for 2022.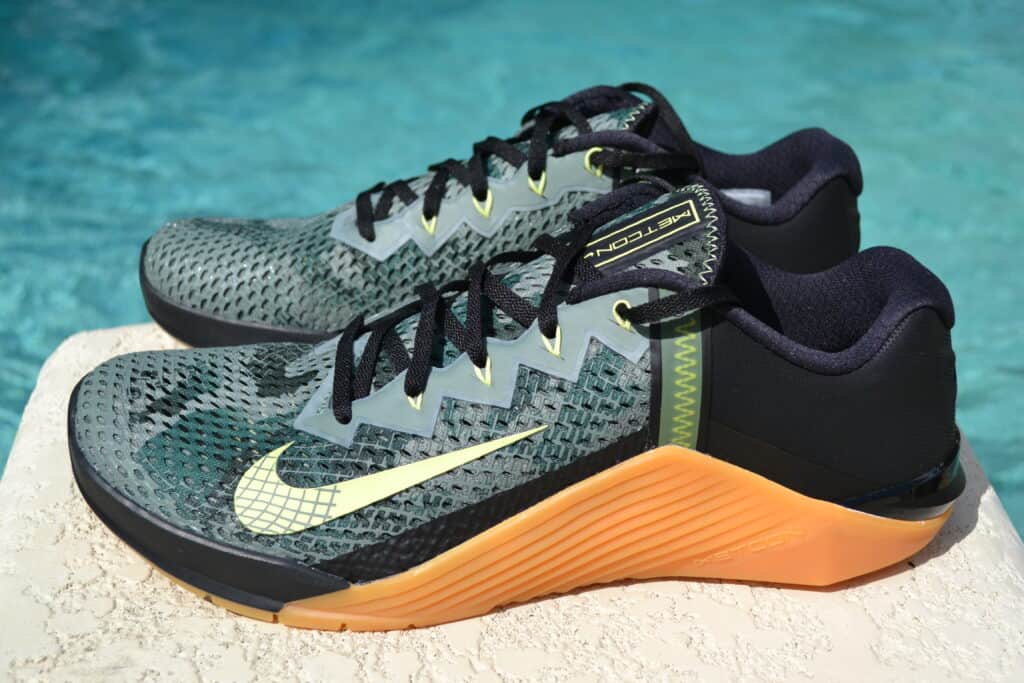 But, as with many things, whether or not it is the right shoe for you depends on a few factors.
In this article, we'll give you all the pros and cons of the best shoes – and help you decide which is perfect for you.
What are the contenders? We've extensively tested all of these major brands, and we're ready to speak on this topic.
Here are the top CrossFit shoes for the year 2022, ranked in order:
Want to deep-dive on each shoe? Continue reading, and we'll talk about how we tested – and what we found out.
Best CrossFit Shoes for 2022 – Criteria
What's a CrossFit shoe?
To be clear, nobody can market a "CrossFit" shoe without approval from CrossFit Inc.
The last "official" CrossFit shoe was the Reebok Nano 9 – but no shoe has yet launched in 2021 with the official CrossFit branding.
Therefore we reviewed all the best cross training shoes that seem to have features geared to functional fitness style workouts.
What were the criteria? Here's our list:
Heavy Weight Lifting – CrossFit trainees don't shy away from heavy barbells – because they know progressive resistance training with big weights is the best way to build muscle. Not only that, the Olympic lifts (the snatch, and clean and jerk) help you develop power and speed. Therefore, the best CrossFit training shoe must give you an advantage when lifting big, heavy barbells
Short Runs and Sprints – CrossFit's workouts are "constantly varied" and there's much more to fitness than simply having muscles and strength. We need speed and endurance as well – therefore these shoes must be something we can run in – at least for short distances (such as 400m, 800m, etc.)
Rope Climbs – Rope climbs are popular in CrossFit – especially in the CrossFit Games. The friction of a rope can shred the upper and sole of regular athletic shoes. The best cross trainers must have some benefit when performing rope climbs.
Toughness – Because of the variety of exercises involved in the WOD – these shoes have to be built like a tank – and able to absorb punishment and abrasion from every angle. These shoes aren't going to be feather weights because they have to be tough.
Cushion for Impact – The best shoe is going to have some level of cushion – for all those high-impact activities that might be in the WOD – think box jumps, burpees, jump rope, and more.
So, that is our criteria.
We've subjectively rated each shoe on these factors, and accounted for style and comfort too (because that's also important).
Let's see where each shoe stands.
Best CrossFit Shoes for 2021 – The Contenders
Nike Metcon 6
This is our top pick.
Why? It's flat out got the most versatility – and is still tough as nails.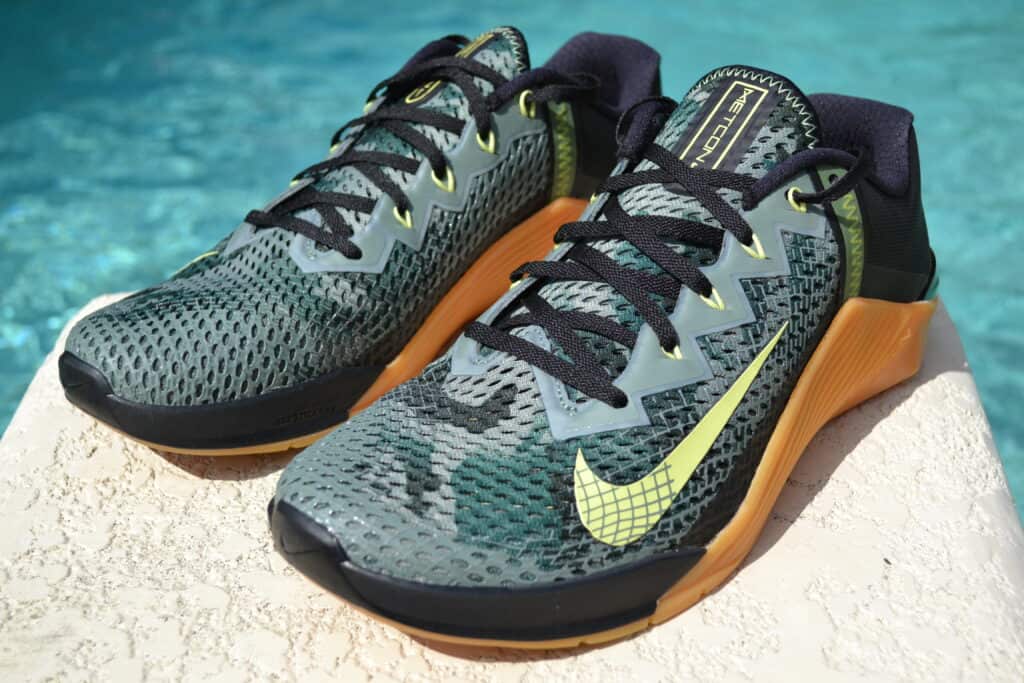 With a wide, stable heel it's perfect for lifting weights (at least those you'd lift in the typical WOD).
It has 4 mm of heel-to-toe drop – but get a total of 12mm by placing the removable "Hyperlifts" into the shoe – now you've got a shoe that works better for squats, pistols, thrusters – and more.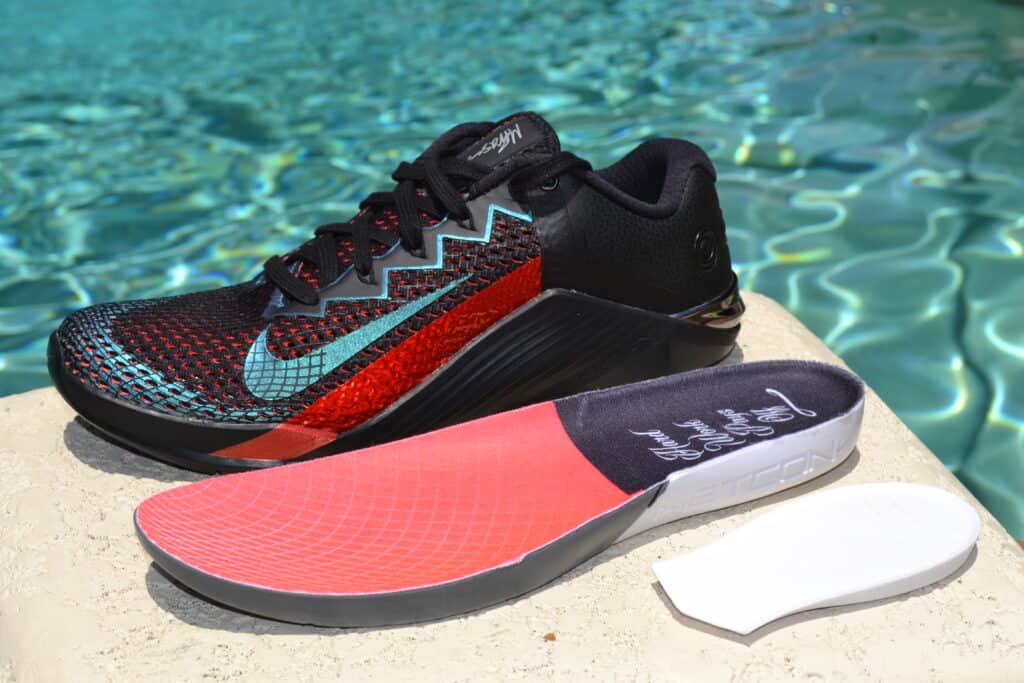 It's like getting two shoes for the price of one.
Lastly, the dual-density midsole delivers the knockout punch – firm, and stable in the heel, yet still delivers the best cushioning of this group up in the forefoot.
This makes it great for sprints, jump rope, box jumps, and just about anything else.
Doesn't this shoe look a lot like the Metcon 5? It does, but the Metcon 6 has a new, perforated upper that offers a lot more breathability – it's a difference you can feel.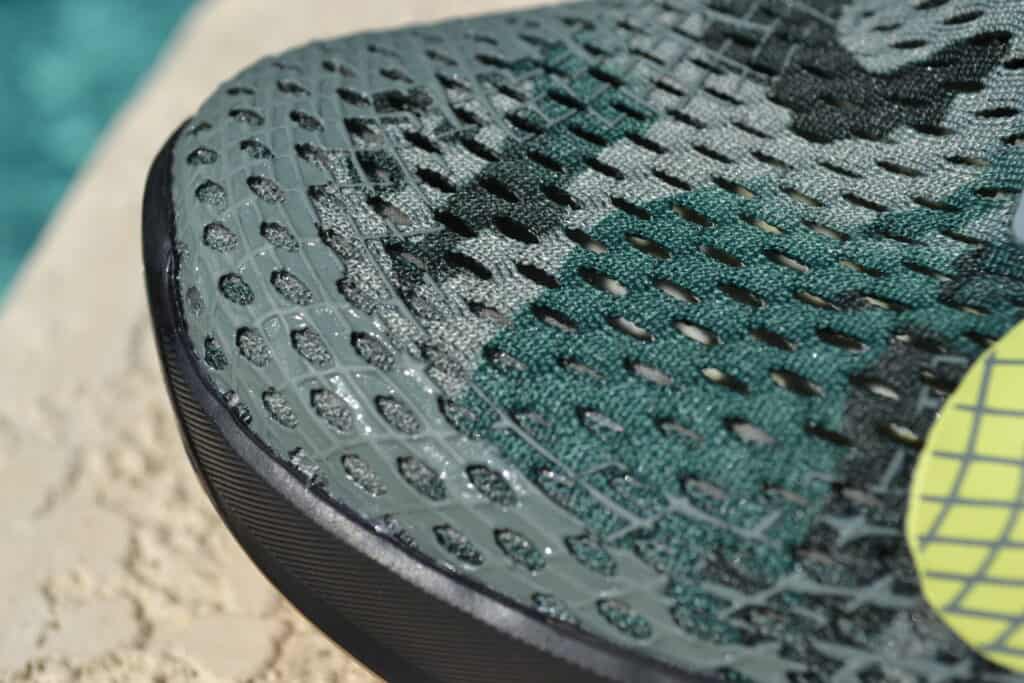 Nike Metcon 6 Pros
Stable heel, great for barbell lifts. Get 4 mm of drop or 12 mm with the removable Hyperlifts
Good cushion in the forefoot for impact activities
Monster size "rope wrap" protects the shoe during rope climbs and provides grip too
New for the 6 is a mesh upper with monster sized perforations – this makes a cooling difference we could feel in side by side testing
Nike Metcon 6 Cons
Runs a bit narrow – you might need to 1/2 size up to get enough width for comfort
Collar is a tad low – I personally get the sensation of heel slippage, but many other people don't report this issue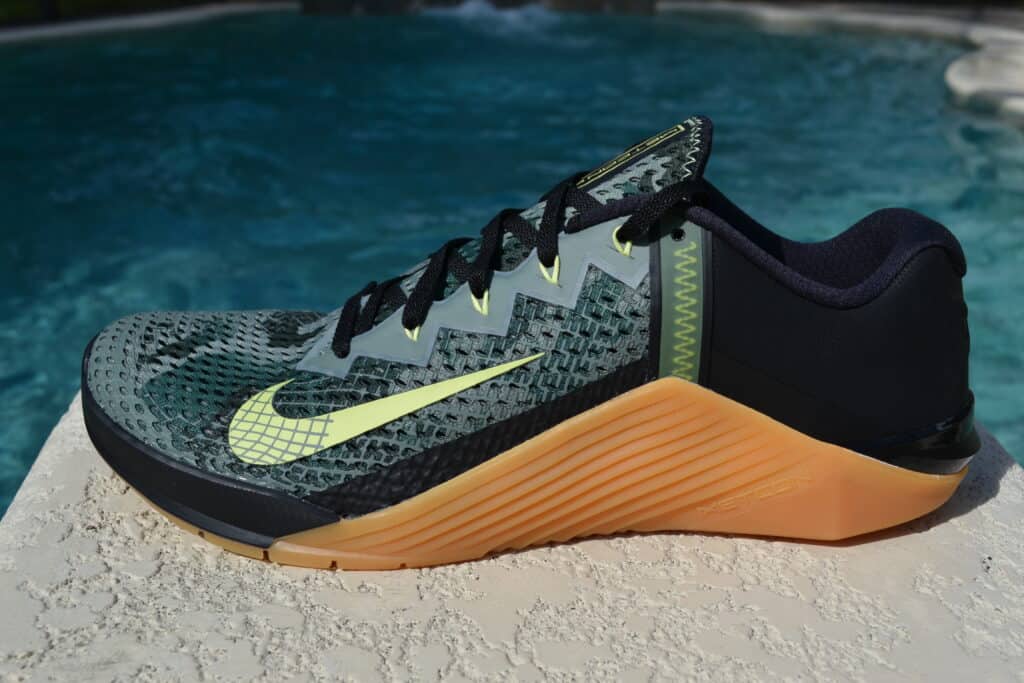 Want to know more? Check out our Nike Metcon 6 Review.
Or, check out our Metcon 6 review on YouTube:
Let's move on and look at the shoe that received the silver medal in our line-up.
Reebok Nano X
Now in it's 10th version, the Reebok Nano X (or Nano 10) is a great CrossFit shoe.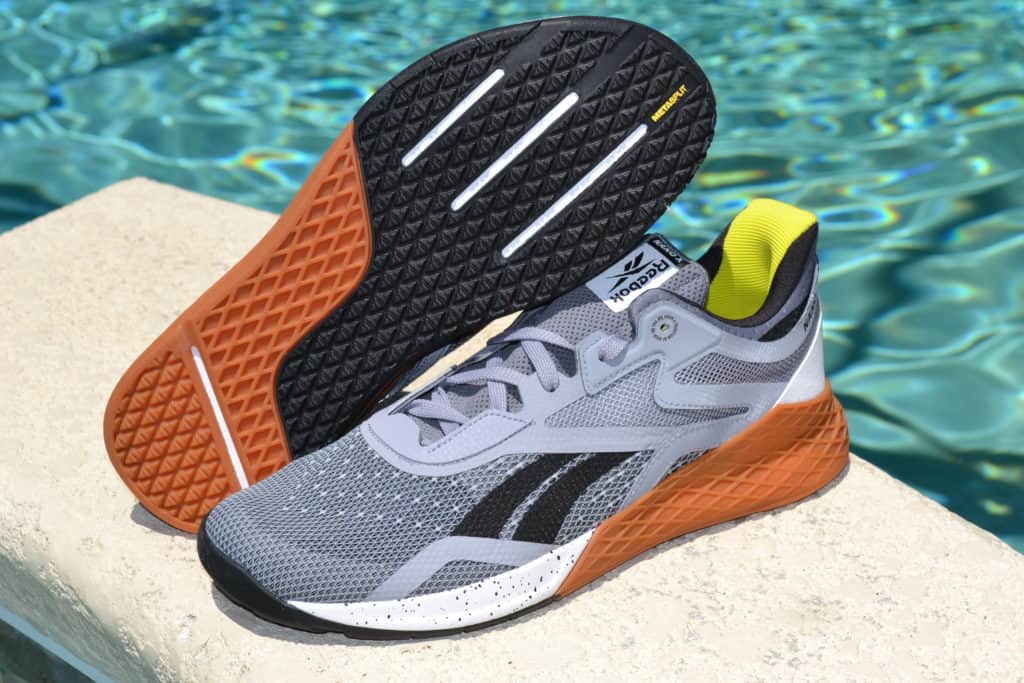 Rock solid stability in the heel.
Great traction from the tough as nails all-rubber outsole.
RopePro wrap-around at the midfoot for rope climbs.
Then how did it get edged out by the Metcon 6?
There's slightly less cushion – and certainly less up in the forefoot.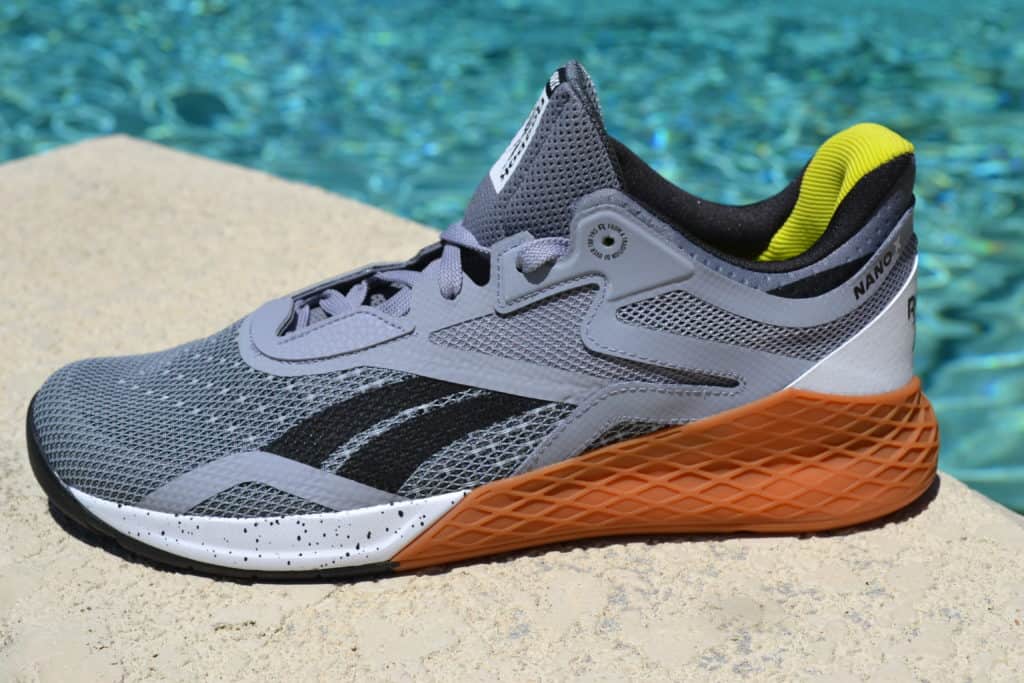 You know, the place that takes all the impact from forefoot striking when you sprint, or box jump, or jump rope – and more.
Overall, I love this shoe – it looks good, it's comfortable and it does most things very well in the WOD.
But the Metcon 6 has a slight edge – because of the dual-density midsole, but also because of the Hyperlifts.
With the Nano X you get 4mm of heel to toe drop (or heel raise) – that's it.
That makes it very versatile overall, but some exercises (thrusters, squats, pistols) really benefit from more heel raise.
Here's the saving grace with the Nano X – that toe box is unrivaled in width – this is a great shoe for anyone with wide feet – or those that want to really splay their toes out.
And, to be honest, you could use the Nano X exclusively and never miss any other shoe. It's good, make no mistake.
There's a lot of other options in the world of the Metcon 6.
The Metcon 6 FlyEase is great for adaptive athletes – you can put these on or take them off without using your hands.
Nike also recently launched the wild-looking Nike Metcon 6 X (or What the Metcon !? edition) which is an amalgamation of classic Metcon styles in one shoe.
Nano X – Pros
Widest toe box of them all – great for people with wide feet
Stable heel – great for all your heavy lifts
Super comfortable new upper that is stretchy – it's tough and yet comfortable. It also looks more sophisticated
RopePro wrap-around at the midfoot helps with rope climbs (but isn't as big as that on the Nike)
4mm heel to toe drop means versatility
Nano X – Cons
This version is heavier than ever, and can feel bulky thanks to the taller padded collar and achilles pad
Bare bones cushioning means this shoe is not a winner for running – despite what Reebok says about it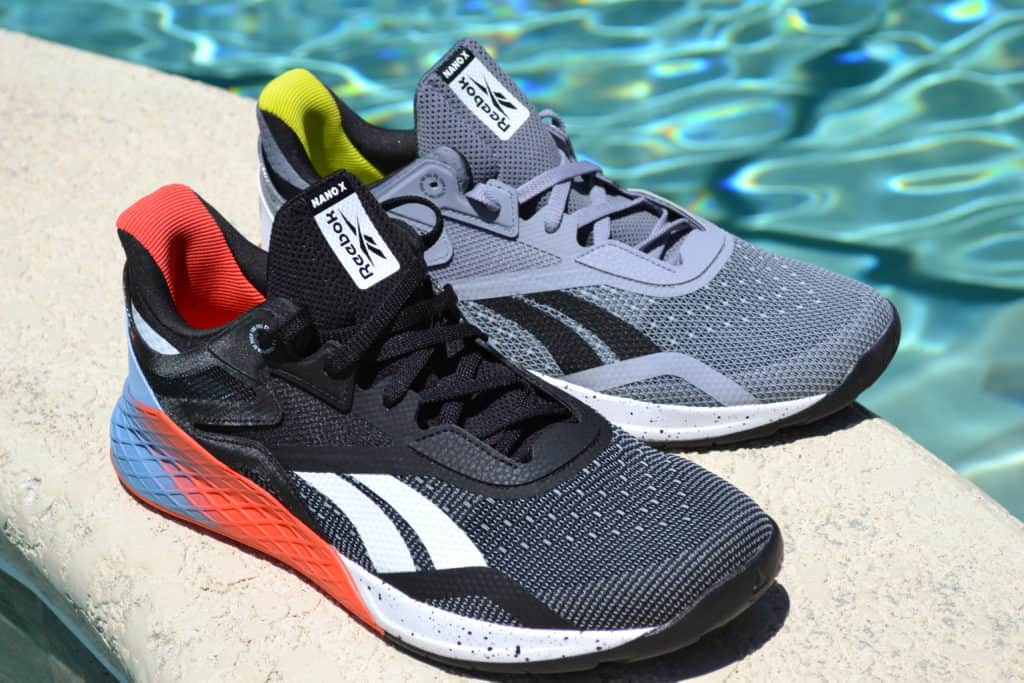 Get to know this shoe in depth in our Reebok Nano X review.
We also did a YouTube review:
Reebok is also still pumping out new editions of this shoe – like the upcoming Nano X PR and the good looking Nano X Froning.
UA Tribase Reign 2
UA is one of the lesser known brands in the area of CrossFit shoes.
But they are coming on hard and fast with the UA Tribase Reign 2 training shoe.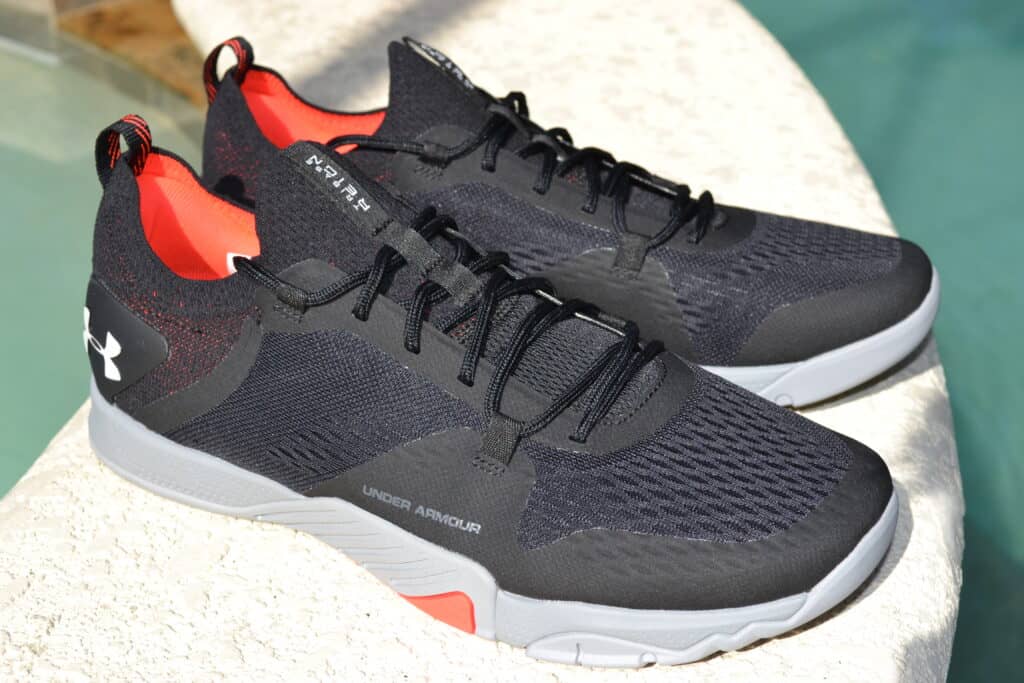 This shoe is the 2nd version of what is a tough, versatile cross trainer.
Stable for heavy weights, it has a minimal 2mm heel to toe drop.
It's got some cushion, but not a ton – after all this is a cross trainer, not a running shoe.
With this new version, they used a more comfortable and breathable mesh upper.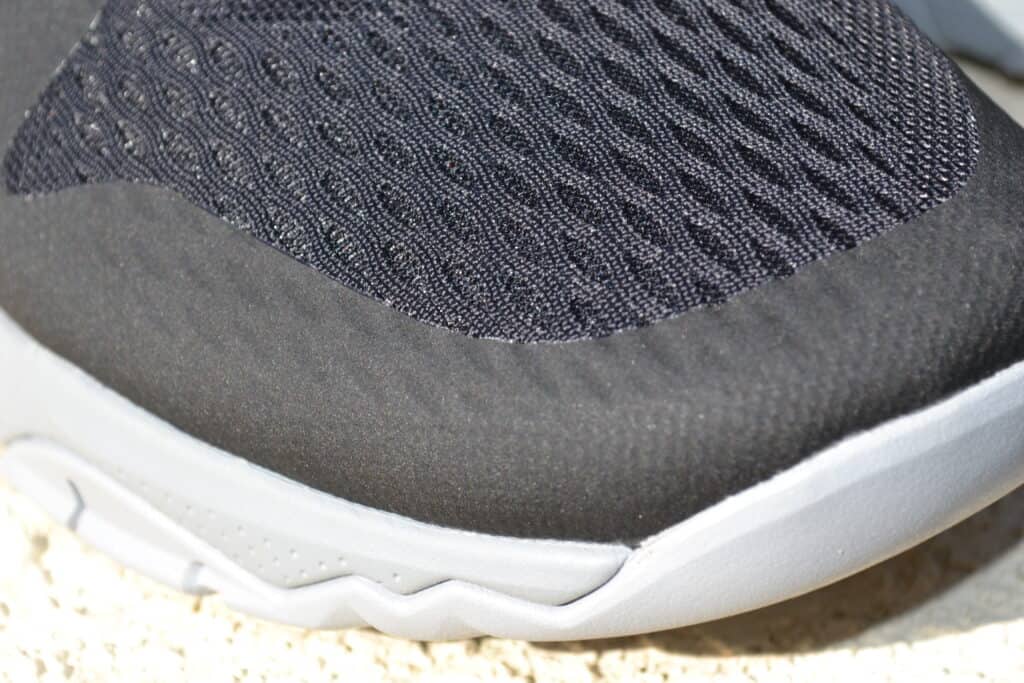 It's definitely an improvement over the first version of the shoe.
Here's another plus – it looks like a normal shoe.
Some people don't like the ostentatious styling of the Nike and Reebok shoes.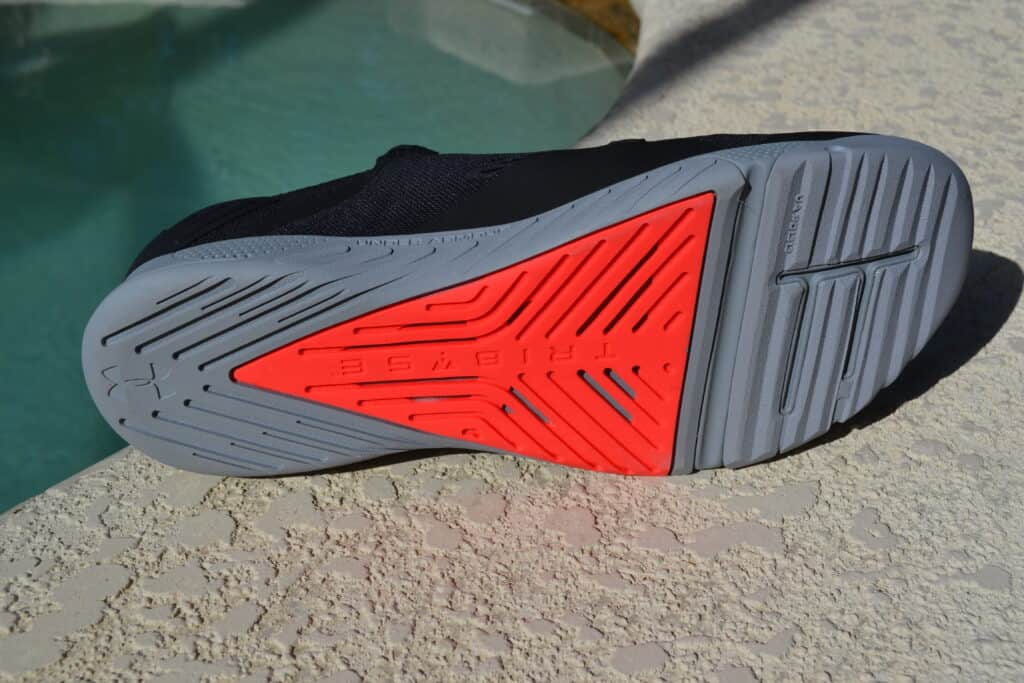 This it the cross trainer to get if you want to fly under the radar.
Lastly, it's a tad bit lighter and also feels more streamlined when you put it on.
UA Tribase Reign 2 – Pros
Stable heel, minimal 2mm heel to toe drop for versatility
New upper is more comfortable and more breathable than the original version
Tough and will last a long time
Looks like a normal shoe – for some people this matters!
UA Tribase Reign 2 – Cons
Cushioning is more or less the same all over – not as versatile as the Metcon 6
Feels a bit narrow and restrictive as compared to the Reebok
We did a video review on this one too: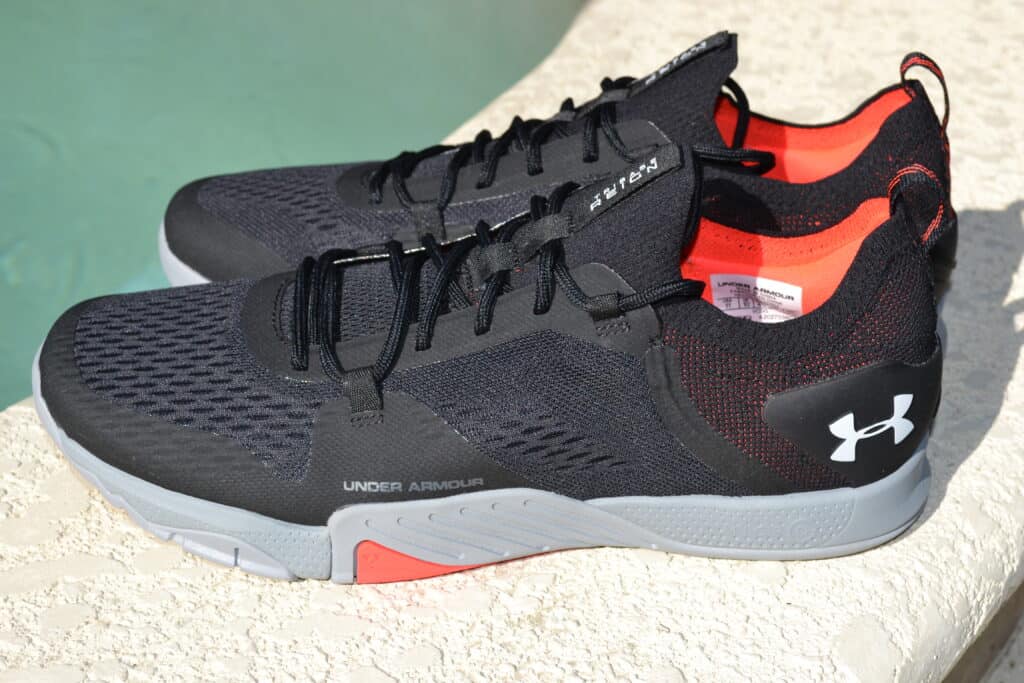 Nike Free Metcon 3
If you've read the whole article so far, you are seeing a theme.
Most of these shoes are not really that great for running.
The problem is that lifting weights and running require two very different things.
Generally, you want almost no cushioning for lifting weights – think about an Oly lifter shoe – it's got a rock-solid heel and midsole so you don't smoosh around in deep cushion.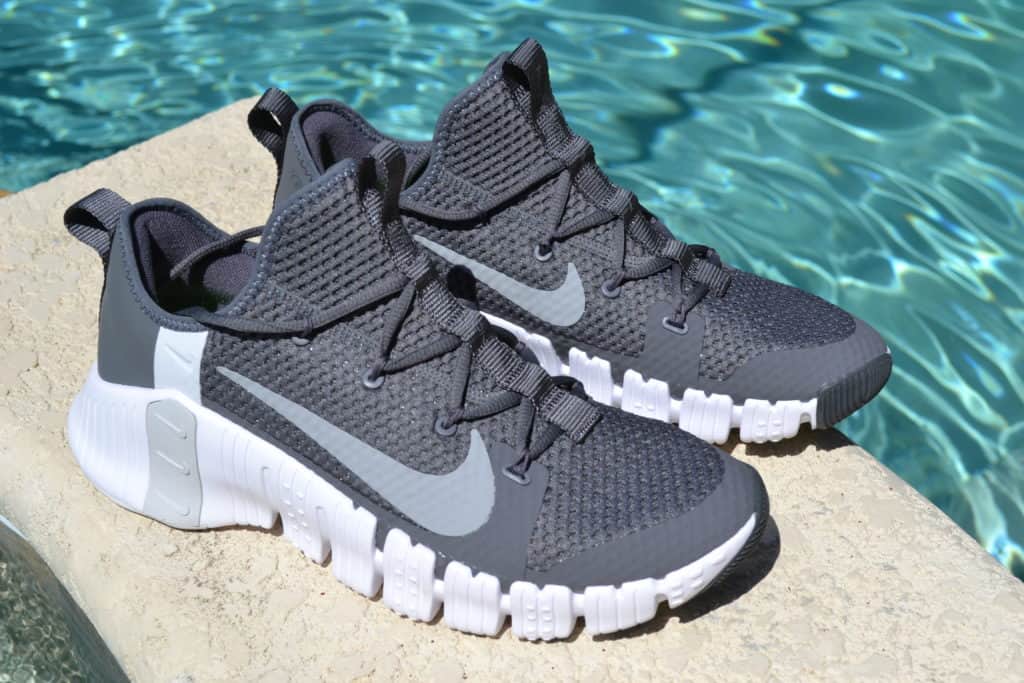 Yet most people want some cushion in their shoe for running – especially in the heel.
The Nike Free Metcon 3 is a really nice compromise solution.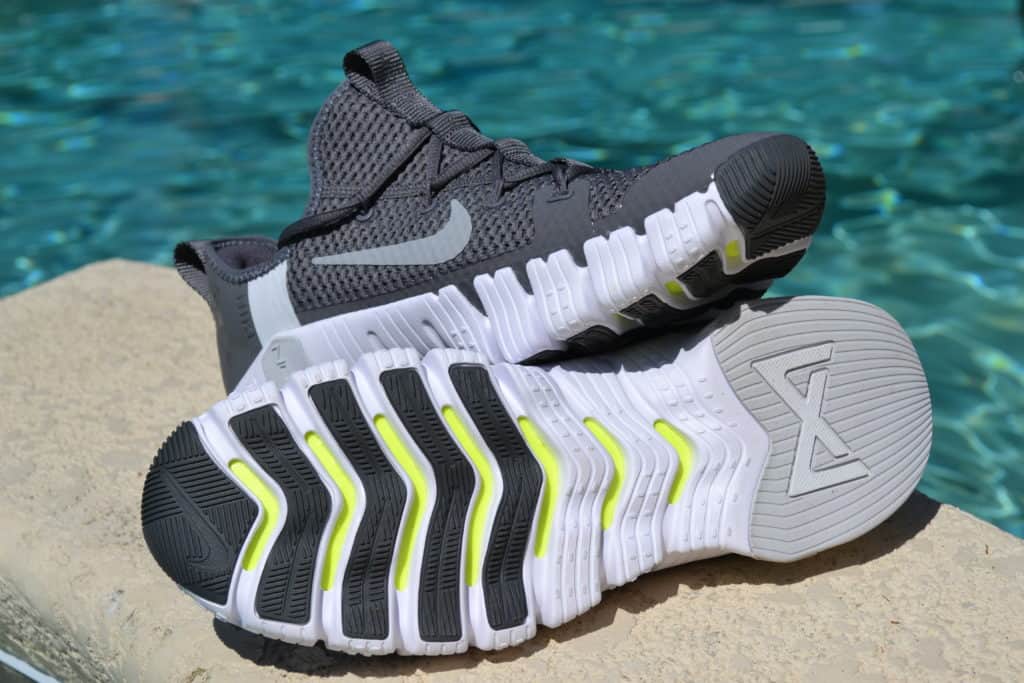 It's got more cushion all over (in the heel and the forefoot) so it is better suited to running.
But, that wide (but weird looking) heel has enough support for moderately heavy weights.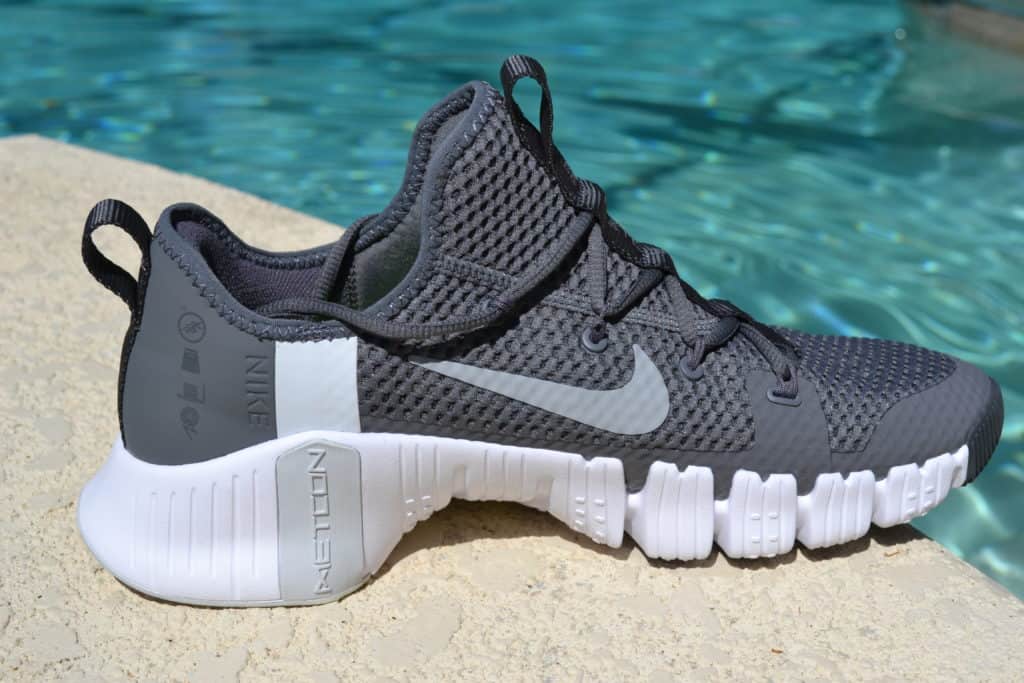 It's somewhat of an odd looking shoe – but it gets the job done and is actually quite nice.
Nike Free Metcon 3 – Pros
This is the best cross trainer for running that we've found this year – it's got more cushion in heel and forefoot
The upper is lightweight, and comfortable
Despite all that cushion, it's fine for moderate barbell weights (deadlift, squat, snatch, clean, etc.) – certainly fine for what most people are lifting in the WOD
Nike Free Metcon 3 – Cons
It's an odd looking shoe, at least from certain angles
Not supportive enough for really heavy lifts – don't test your 1RM back squat with this shoe
Guess what? We did a video review:
Or, check out our in-depth Nike Free Metcon 3 review.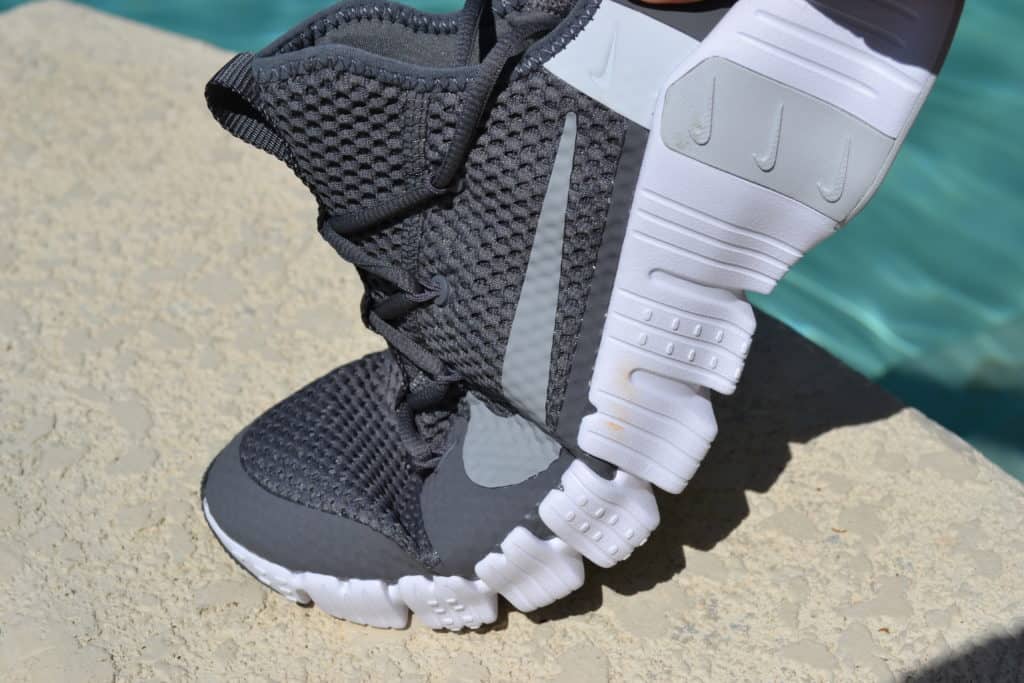 INOV-8 F-LITE G 300
It's not just the big names launching shoes for CrossFit, others are getting into the market as well.
Inov-8 builds some great stuff for hardcore training.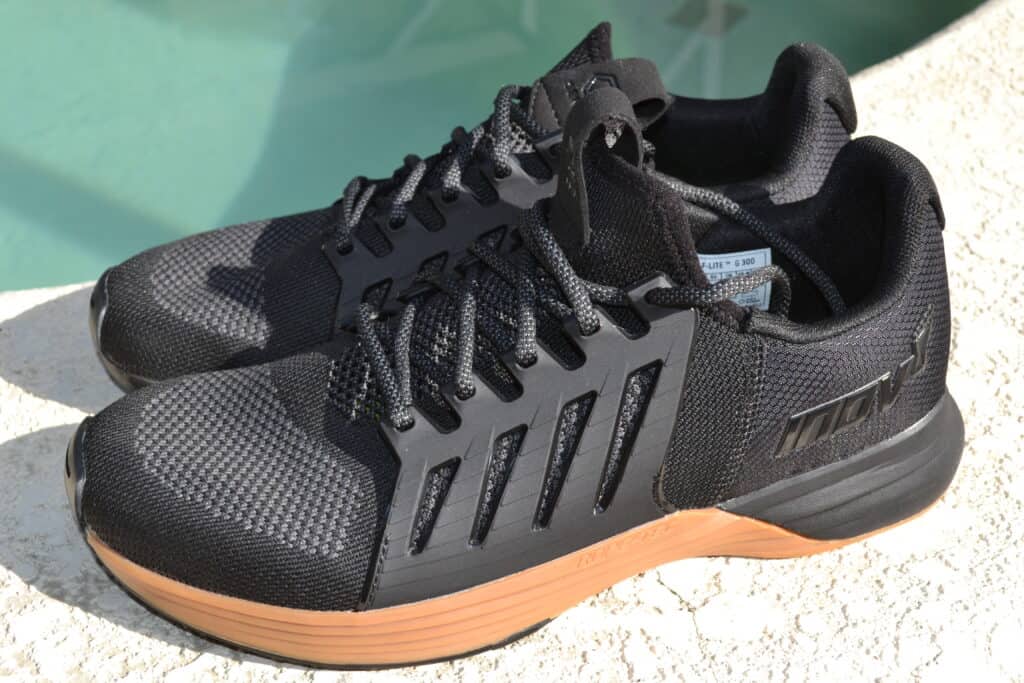 The F-LITE G 300 is a great CrossFit style training shoe.
Moderate drop (6mm), tough, and firm enough for heavy lifting.
Overall it's a decent shoe.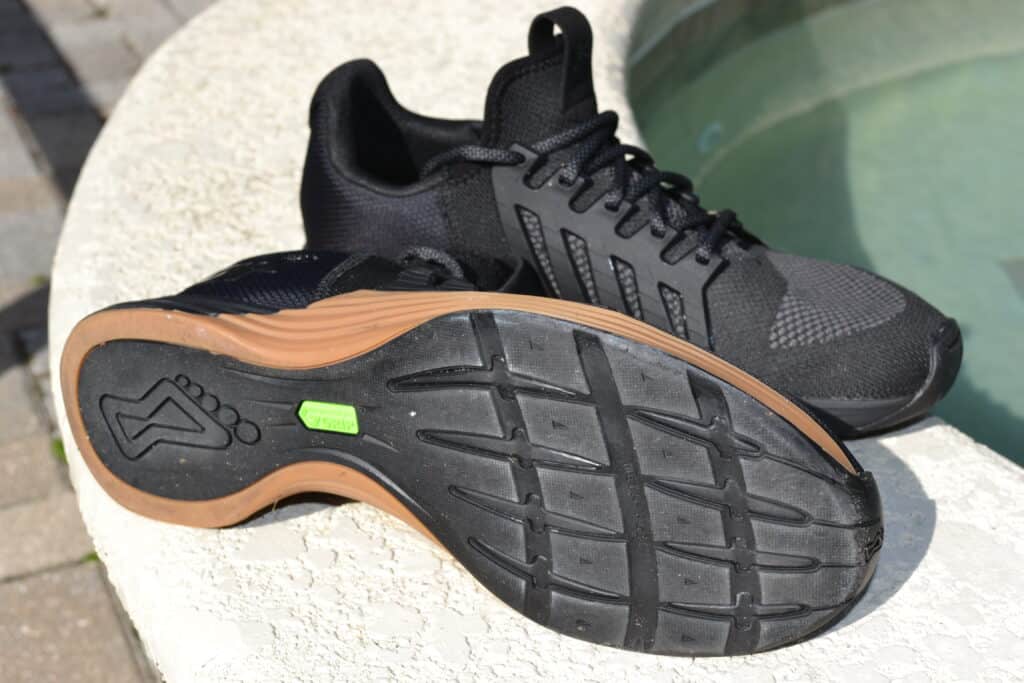 INOV-8 F-LITE G 300 – Pros
Overall, a solid contender
Tough as nails, especially the carbon infused outsole
INOV-8 F-LITE G 300 – Cons
Less visually appealing
Expensive, relative to the other shoes here
Video review:
Nike React Metcon
Technically, this shoe came out in 2019 – but we wanted to throw it into the mix.
It brings a few unique features that we wanted to discuss.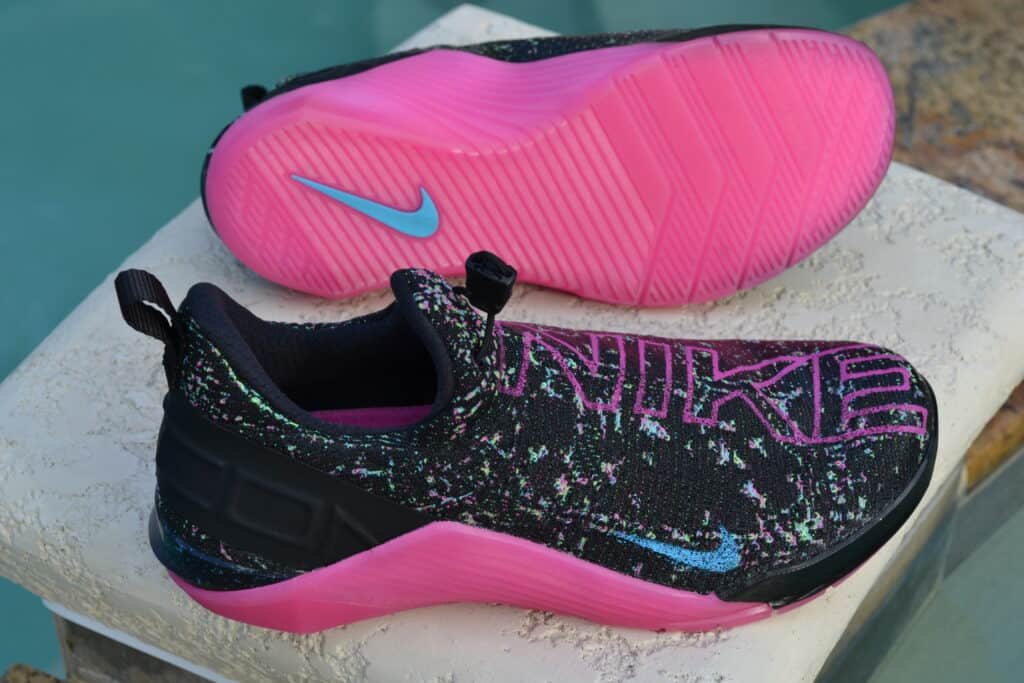 First of all, you'll notice the lack of traditional shoe laces.
The Nike React Metcon uses Nike's quick lace system.
I have to say, it's a bit of a disappointment. Yes, it's convenient, but you just can't get the shoe tight like you can with regular laces.
Secondly, it uses Nike's React foam in the midsole.
Nike's React foam delivers energy back to you in a every footstep, thanks to a crisp rebound.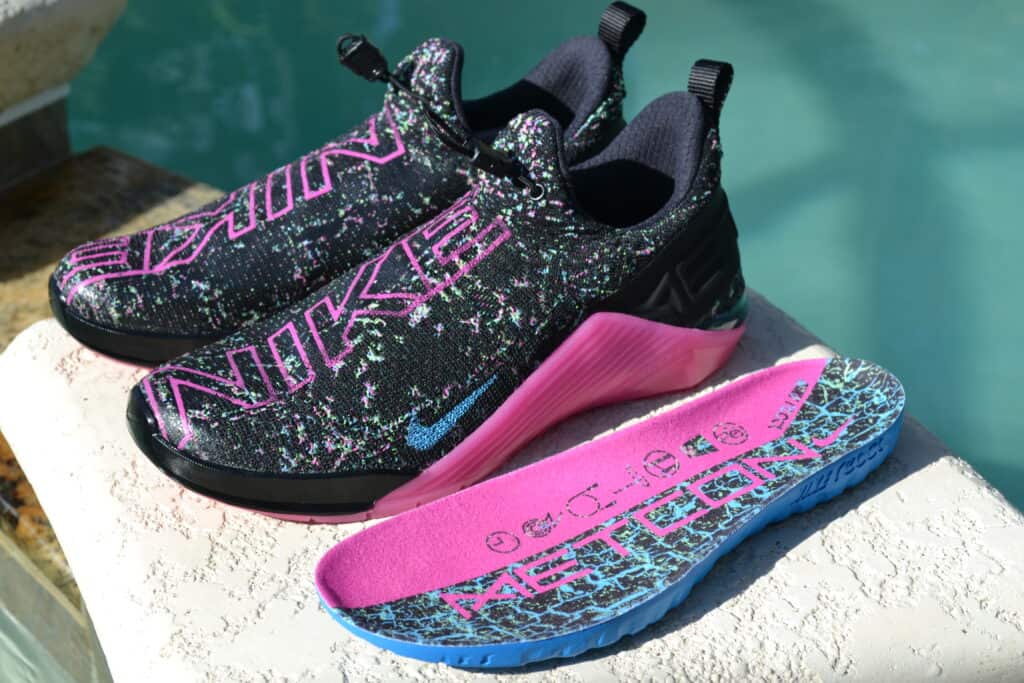 Nike makes many of their premium running shoes with React foam.
But, the amount used in the Nike React Metcon is a mere fraction of that in their running shoes.
As such, it delivers a mild improvement over the cushioning in the Nike Metcon 6 – but feels nothing like the React running shoes.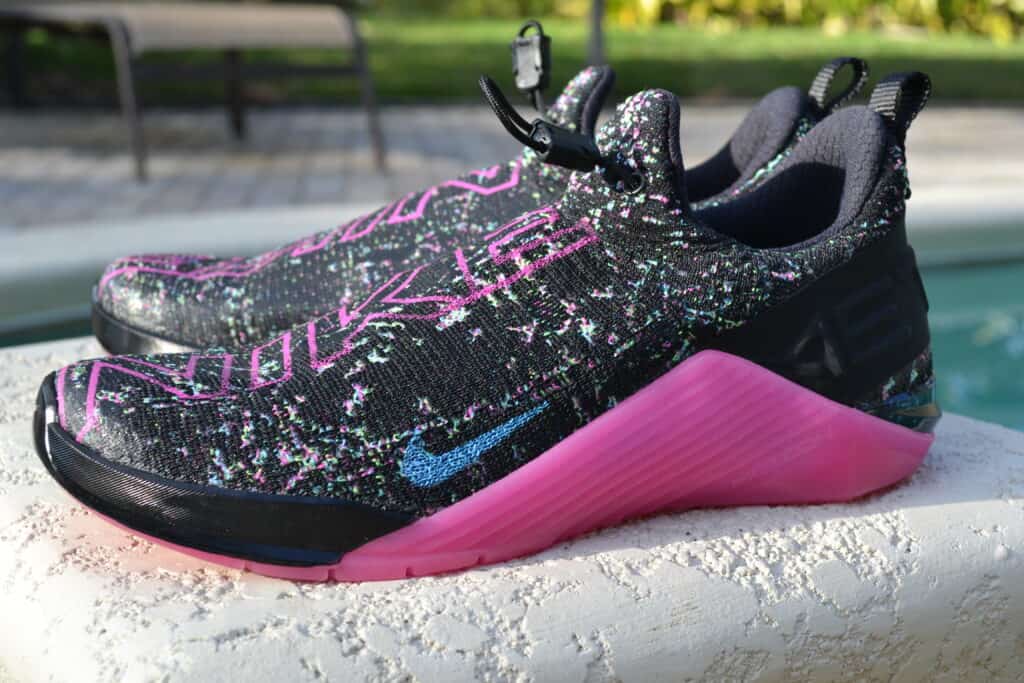 As such, this is NOT a shoe I recommend.
Nike React Metcon – Pros
The React foam in the midsole does offer a nice (but mild) improvement over the cushion in the Metcon 5 (and 6)
The shoe is tough, and has good grip
Nike React Metcon – Cons
The quick lace system isn't as good as traditional laces – it's too hard to get this shoe nice and tight
The "forged FlyKnit" upper is heavy and not like Nike's running shoe FlyKnit (But it is WAY tougher)
The giant N I K E text on the upper is not well liked by most people
Overall, the Nike React Metcon doesn't offer enough improvement over the regular Metcon shoes to be worthwhile, in my opinion
Here's the video:
Best Oly Lifter for CrossFit 2021
How about Oly lifters?
Given the heavy use of barbell lifts and Olympic lifting in CrossFit, real weightlifting shoes are a great option.
(Maybe not so much for the WOD, but certainly for your heavy training days.)
We've tested all the major releases of lifting shoes this year as well – and here's what we found.
The Nike Romaleos 4 is my favorite new Oly lifter for 2021.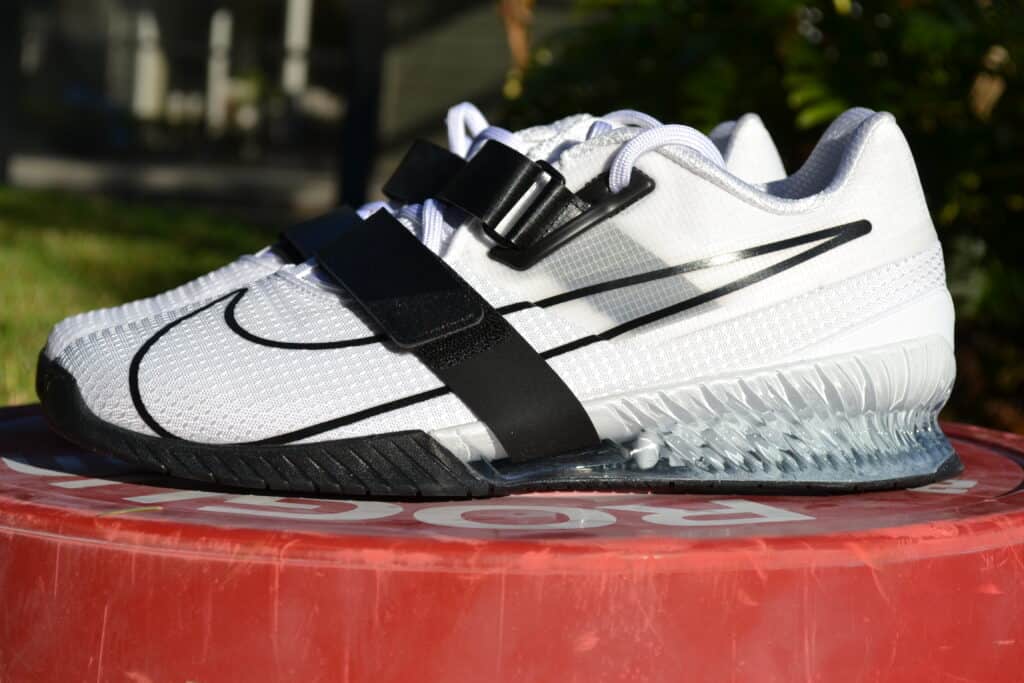 It's got the heel raise you want – and rock solid support.
(These shoes are far, far firmer and less cushioned than cross trainers)
What's not to like?
Not everyone is a fan of the ostentatious "swoosh" on the upper, or the space age looks of the plastic outsole.
It's also a much louder shoe (higher pitched) than other Oly lifters.
What's the alternative? The Reebok Legacy Lifter II.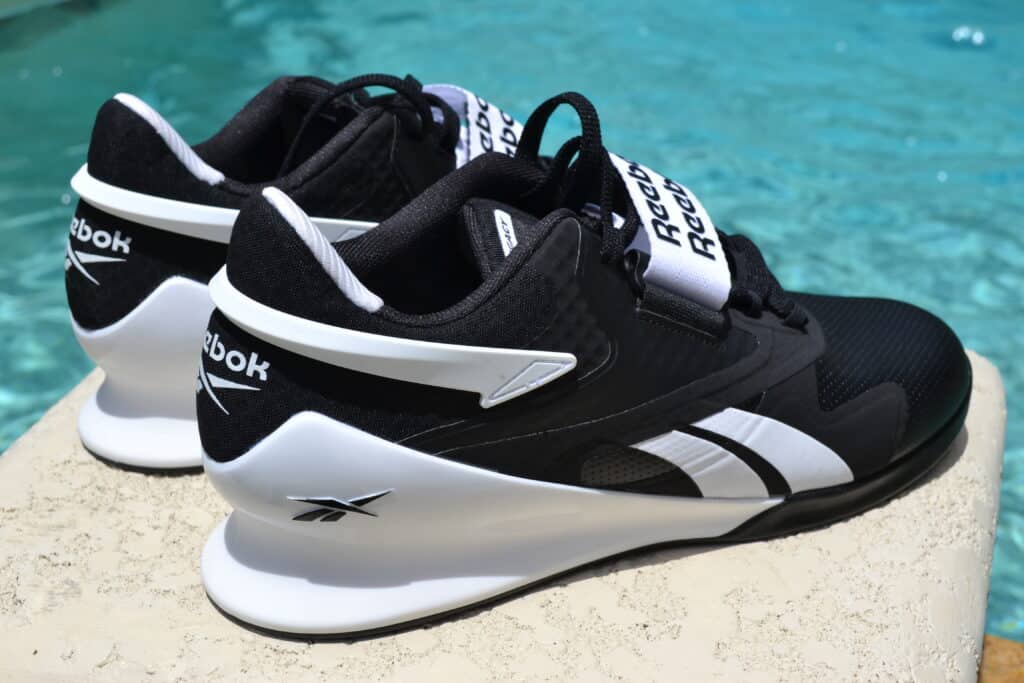 This shoe has heel raise (22mm), rocks solid support, but packages it up in a more traditional looking shoe.
It's also quieter.
(Quieter by Oly lifter standards – these shoes all make a loud clip-clop as you walk around.)
My recommendation? Both are great, get the one that looks best (and fits best) for you.
Best CrossFit Shoes for 2022 – In Summary
If there is one thing that stands out about CrossFit workouts – it's the variety of the WOD.
Lifting (heavy!), running, jumping, climbing – and more.
The best CrossFit shoe for 2022 has to be super-versatile – and we think that's the Nike Metcon 6
Versatile, tough, and more – that's what we looked for in this comprehensive test.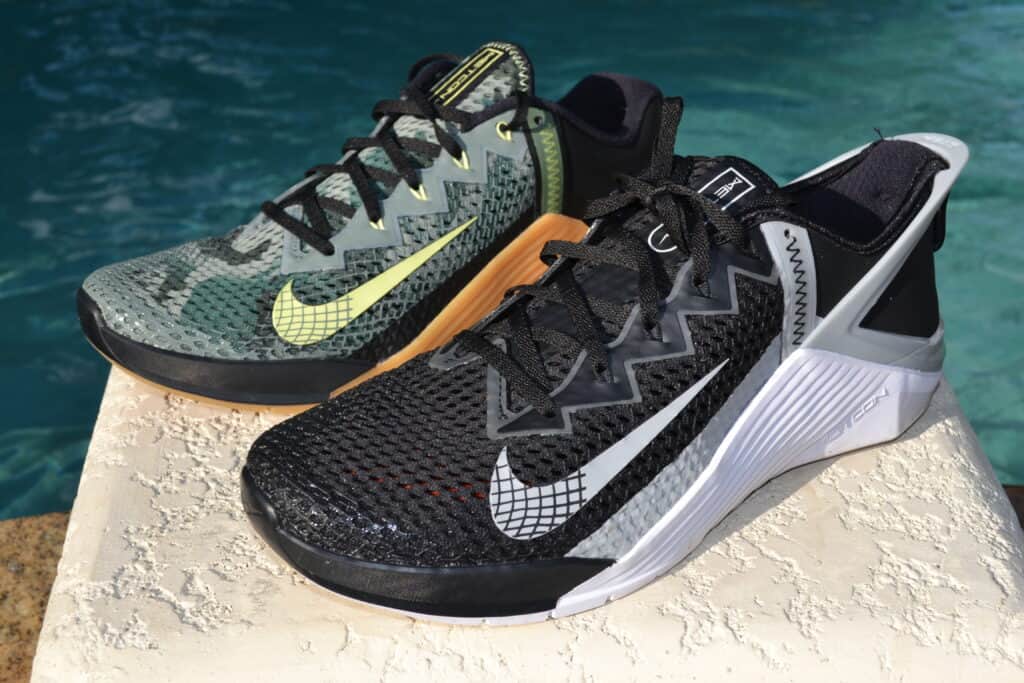 Photo Credits
Some product photos on this page are property of the manufacturer.
This website is not affiliated or associated with CrossFit, Inc. CrossFit is a registered trademark of CrossFit, Inc.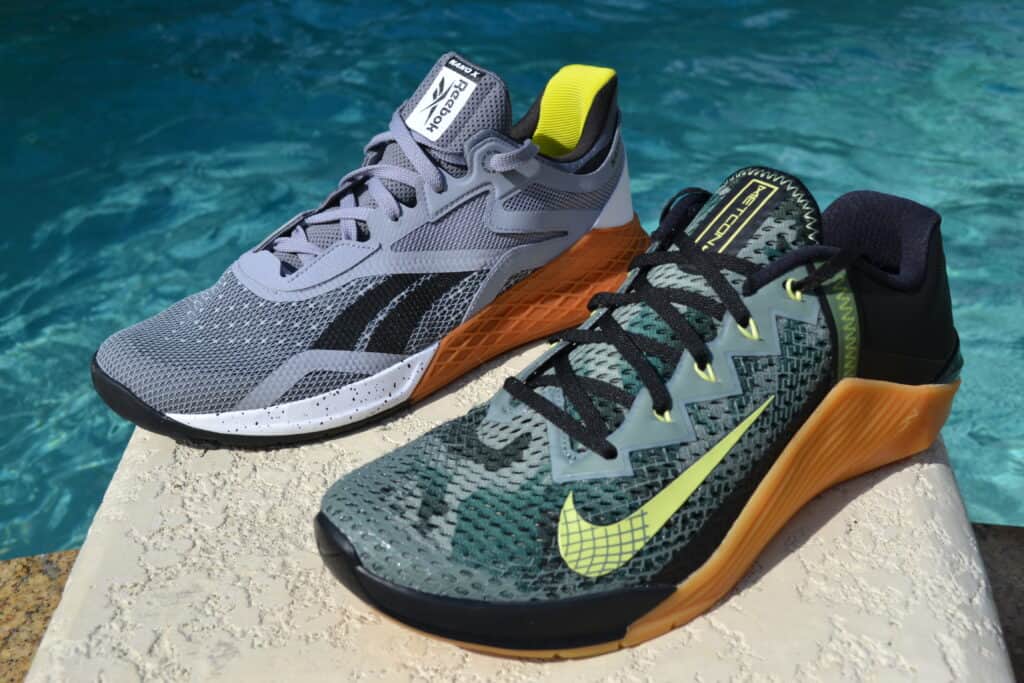 Affiliate Disclaimer
We are an affiliate of various sellers of these shoes. If you buy shoes after clicking the links in this article, we receive a small commission at no extra cost to you. This helps us to bring you in-depth information and content on these great CrossFit shoes.