Nike's new Nike Free Metcon 3 blends the "Free" running shoe line with the "Metcon" training shoe line to create something unique.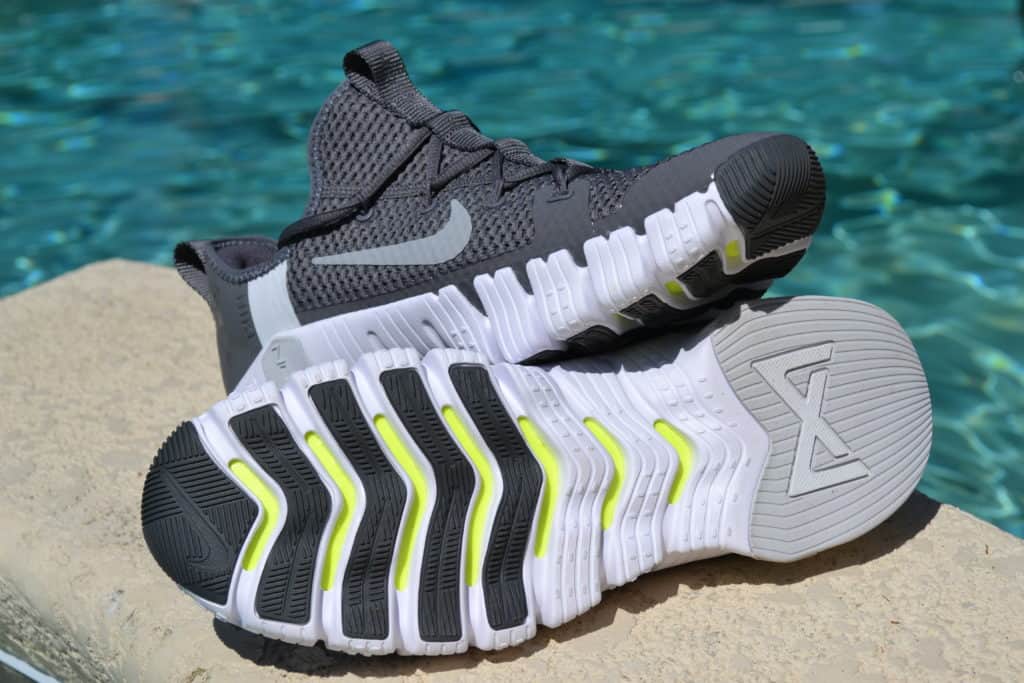 And it is available now.
This is the successor to the excellent Nike Free x Metcon 2.
It is a fairly radical reboot – while staying true to the Free and Metcon features, of course.
Read our full review to find out if it is the best CrossFit training shoe for you.
(Spoiler alert: This shoe is our top pick for a WOD running shoe – see our review of the Best CrossFit Shoes for 2021 for details.)
Get it at Road Runner Sports (we are an affiliate):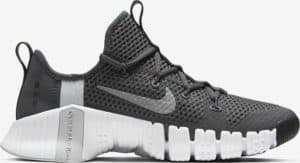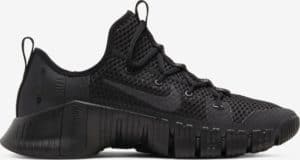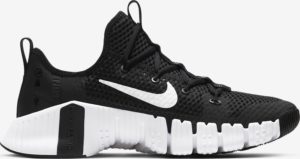 Nike Free Metcon 3 (Black/White)
With a mesh upper, this is a comfortable and breathable shoe - so you can go the distance in comfort (well, relatively speaking.)
Enough talk, let's take a look.
Nike Free Metcon 3 Shoe Review YouTube
Want to see this shoe up close? Here's our first look video from our YouTube channel:
And here's our long term follow-up.
Nike Free Metcon 3 Shoe Review – Sizing
Let's get started with sizing, fit, and feel.
This shoe runs true to size.
I wear a Men's Size 11 in the majority of athletic shoes I review – across Nike, Reebok, New Balance, etc.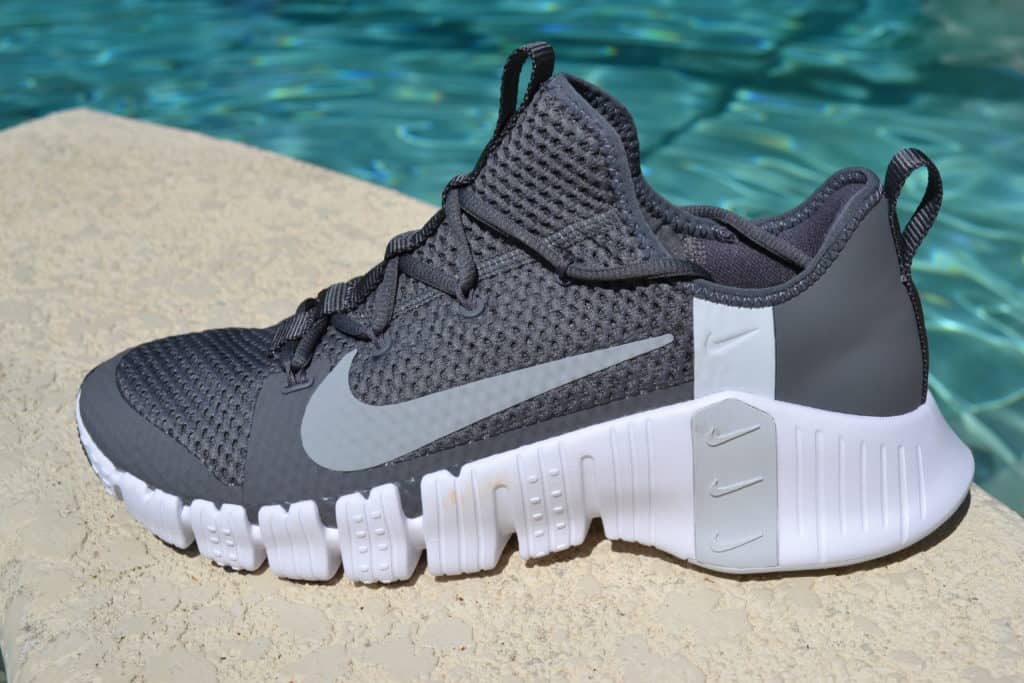 The Nike Free Metcon 3 in Size 11 is a good fit for me.
It is ok in the length, and the width – especially in the toebox area.
I will note though, the predecessor to this shoe (the Nike Free x Metcon 2) had a very wide toebox.
That is NOT the case with this new shoe – the toebox is not wide.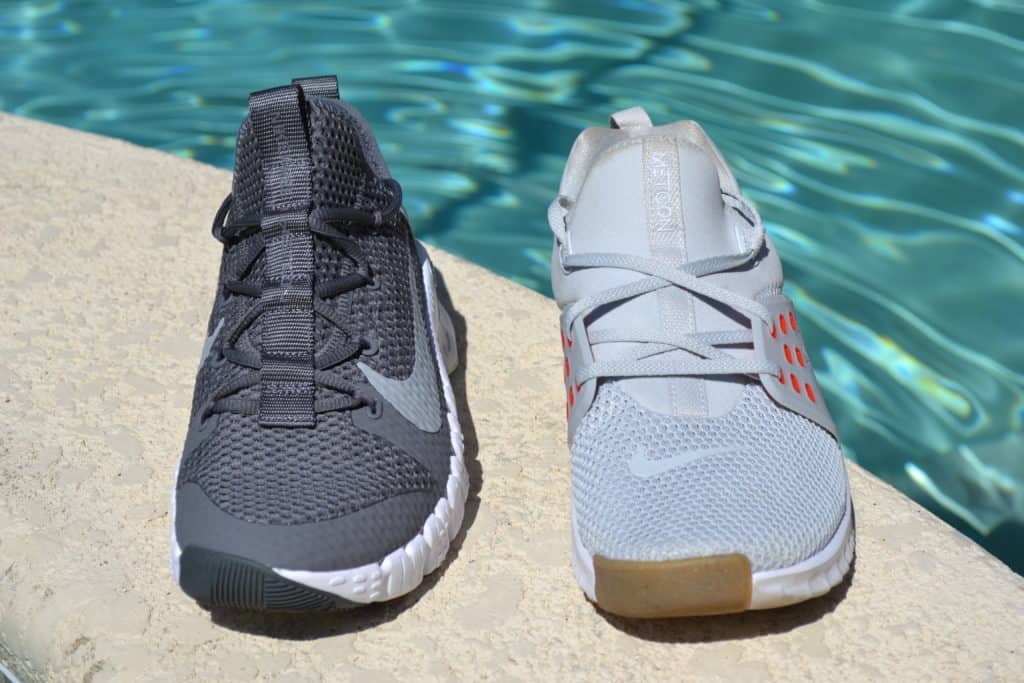 Therefore if you have wide feet – it might be best if you try these on first – or expect to order 1/2 size up for best results.
These are comfortable shoes as they have soft mesh upper.
There is much more side support on this new version – your foot rests inside the outsole which has very high sides.
There's also a massive new heel – so the shoe has a significantly different feel from last year's shoe.
There's nothing bad about it – just understand this was a fairly radical re-boot of the design.
I cannot tell you the "heel to toe drop" or offset of this shoe – as Nike has not published that information.
If I had to guess though, I think it's relatively minimal – as this is a "Free" shoe – and the Metcon shoes usually do not have a large offset.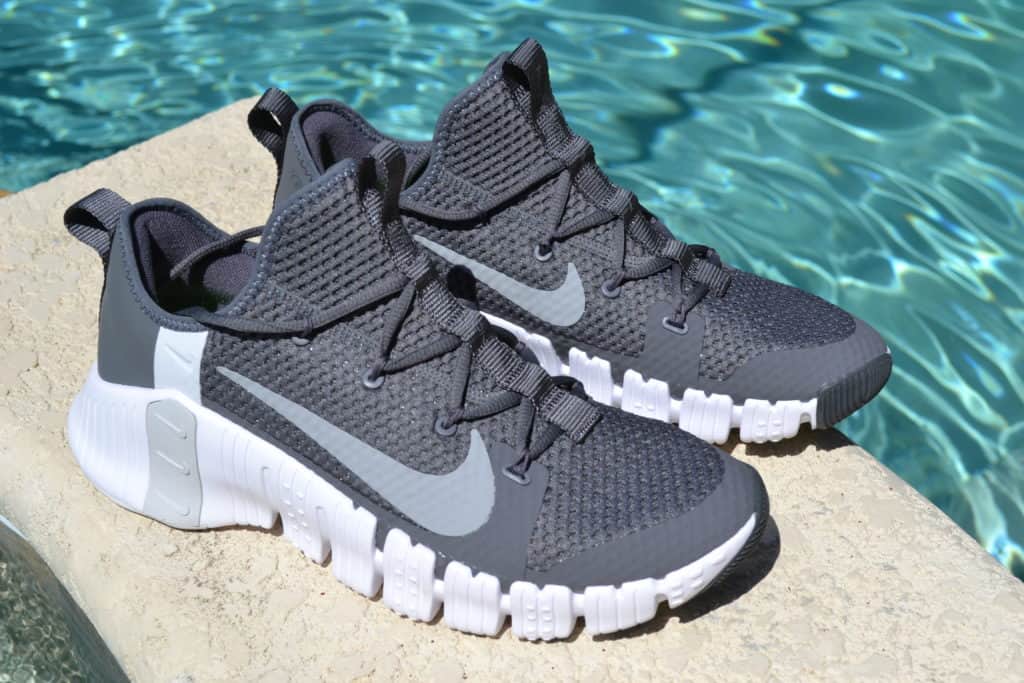 Lastly, let's talk about weight. A Men's size 11 weights 12.2 ounces – this is more or less spot on with last year's shoe.
So while the shoe looks to be much larger in dimensions (and outsole) – it all comes out to the same weight.
Let's talk more about the special features.
Nike Free Metcon 3 – Running and Training Features
First of all, let's talk about that sizable outsole.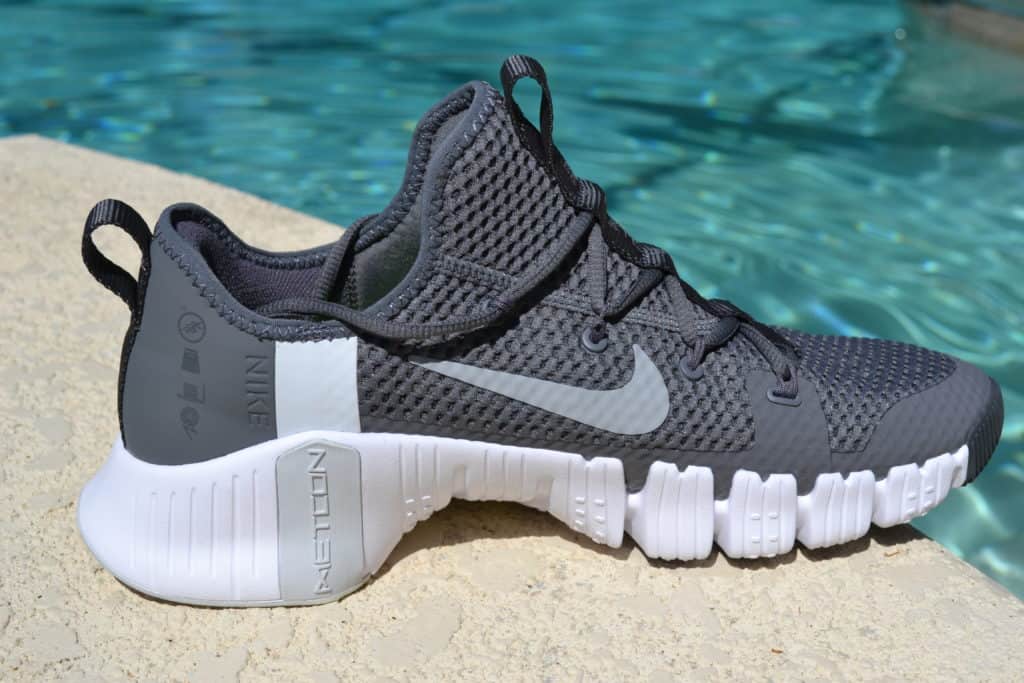 There's a lot to unpack in that photo.
Firstly, there is a very wide and stable heel. It is very solid with minimal cushioning.
Secondly you can see the "channel" at the midfoot – this will be helpful for rope climbs as it will allow you to grip the climbing rope with your feet.
Lastly, you can see there are a lot of deep and wide "flex grooves" in the forefoot.
We need that stable, rock-hard heel for lifting weights – that's a hallmark of the Metcon line.
Ditto for the rope climbing area.
In regards to the forefoot area – that's a feature of the Free running line.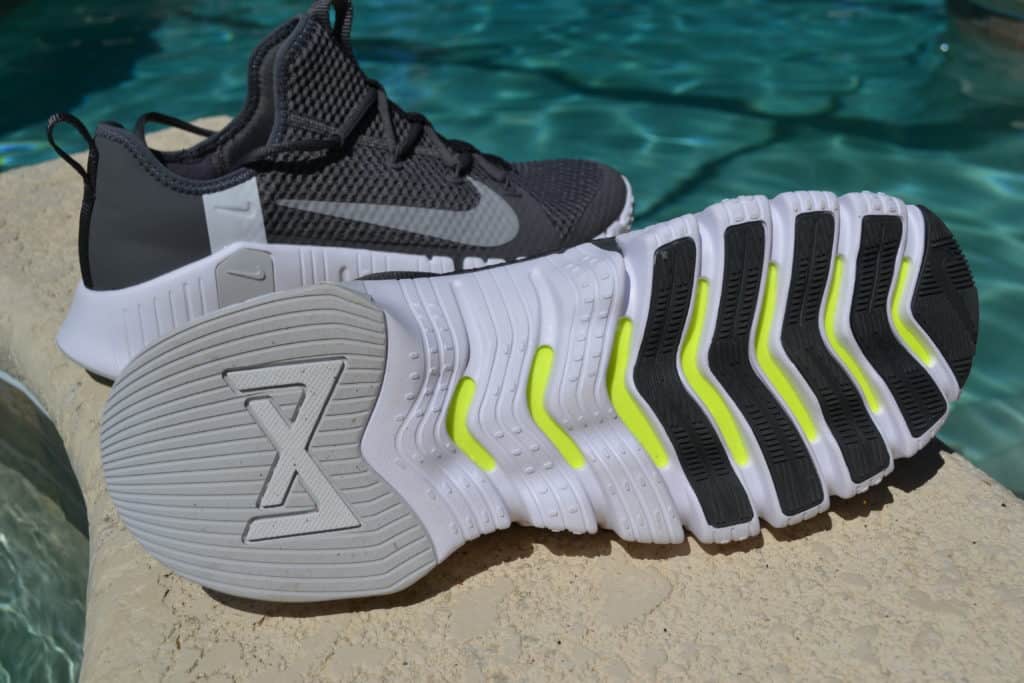 The Free line is meant to replicate the barefoot running experience.
That means minimal cushioning, little "heel to toe drop", and lots of forefoot flexibility.
(Just like your own bare foot!)
So those wide and deep grooves give flexibility in the forefoot – although as we'll talk about more it's a bit less than last year's shoe.
For the upper, there's a mesh material that is different than last year.
It is a double layer mesh, but it is comfortable.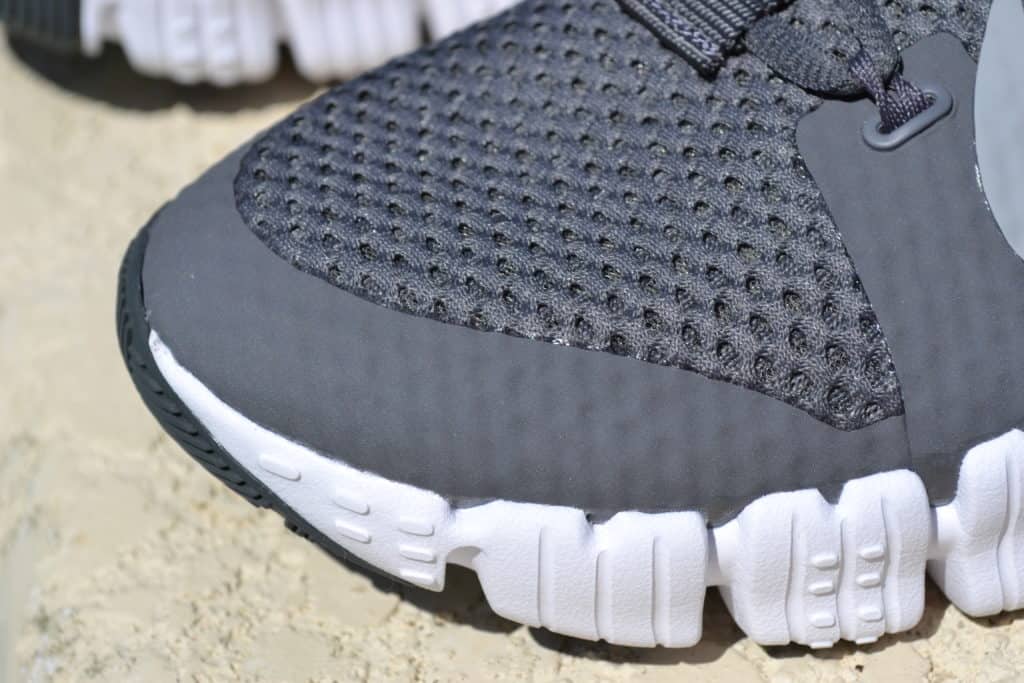 This shoe has regular laces (as opposed to a quick lacing system like on the React Metcon).
That's perfect because a serious shoe really should have regular laces – in my opinion.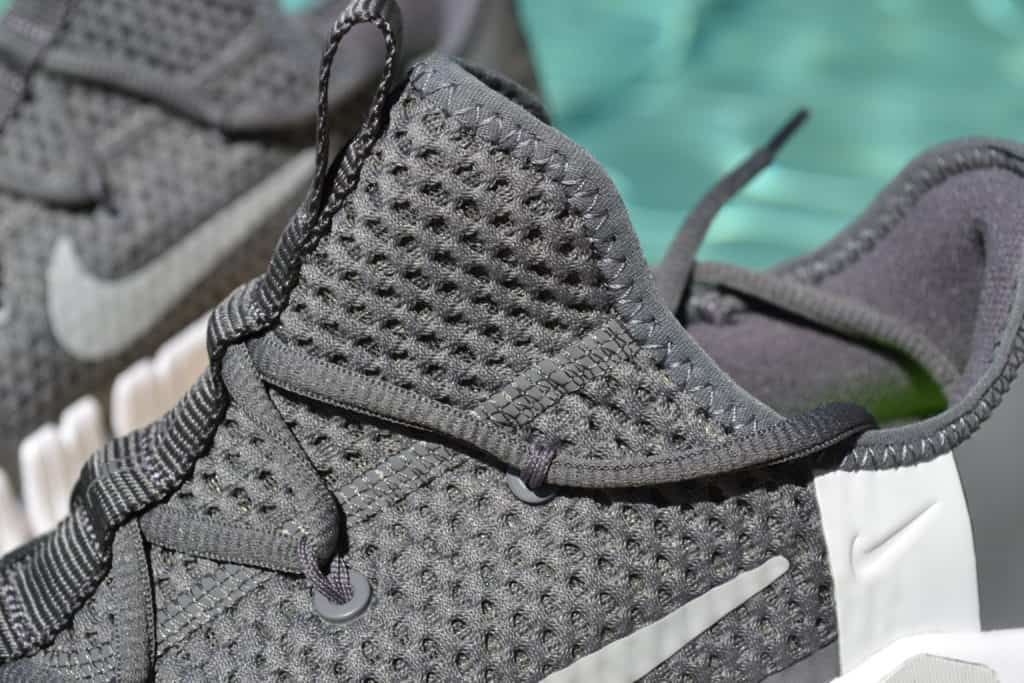 Those quick pull systems just don't give me a secure enough fit.
There's a pull tab on both the heel and the tongue area (there is no tongue – but rather where the tongue would be.)
This shoe also uses FlyWire – these are Vectran filaments that look like threads.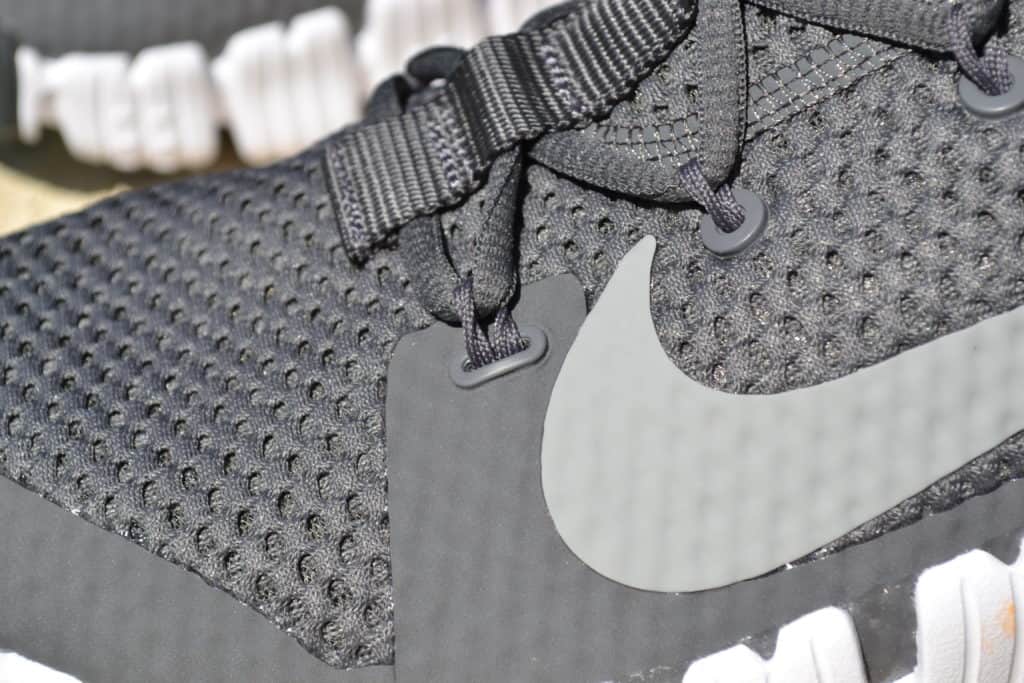 They are really tough – and won't break. They integrate with the laces and run throughout the body of the shoe to tighten the whole shoe up when you tie the laces.
So, how does the whole thing work?
That solid, massive heel is great for lifting heavy weights.
Your foot won't move around or sink into any sort of foam.
But, that heel is also there when you are running.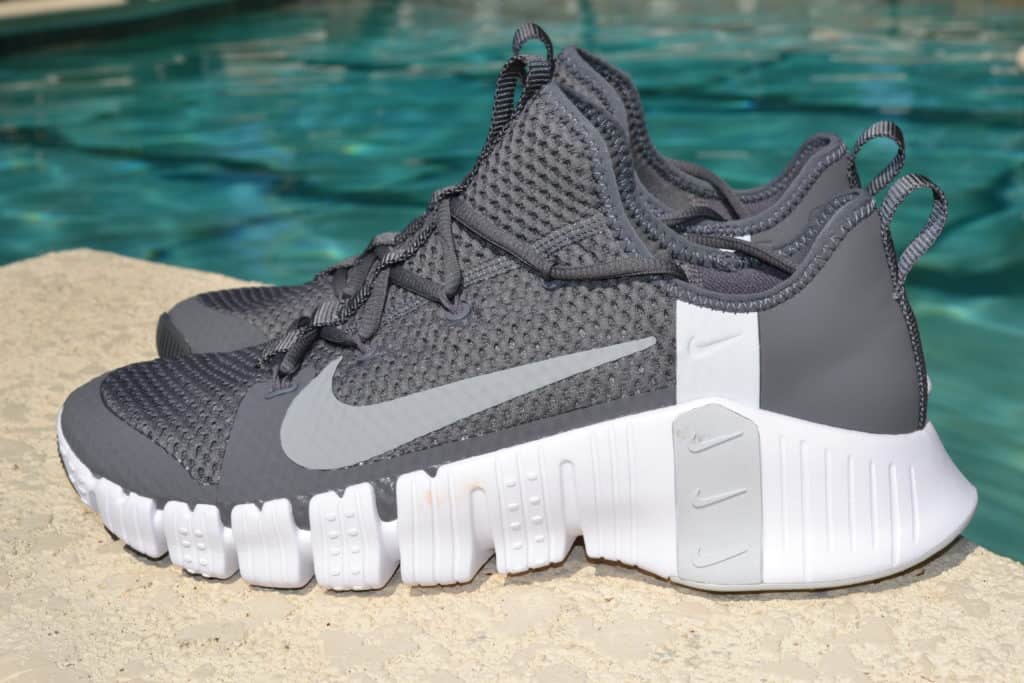 It feels like a bit much – at least for my initial testing.
Remember though this is a cross trainer and not a running shoe.
It needs to work for short runs, sprints, and box jumps, jumping rope, etc. – and lifting weights.
I wouldn't grab these to run a 10K (or even a 5k), but they are OK for CrossFit WOD style workouts.
In general, if you are running – get REAL running shoes that have the amount of cushioning you require.
Let's examine the features deeper by comparing to last year's shoe.
Nike Free Metcon 3 Shoe Review vs Nike Free x Metcon 2
The Free x Metcon 2 was a breath of fresh air in the Metcon shoe line – super-comfortable and more adept at running than the barely cushioned Nike Metcon 4 / 4 XD.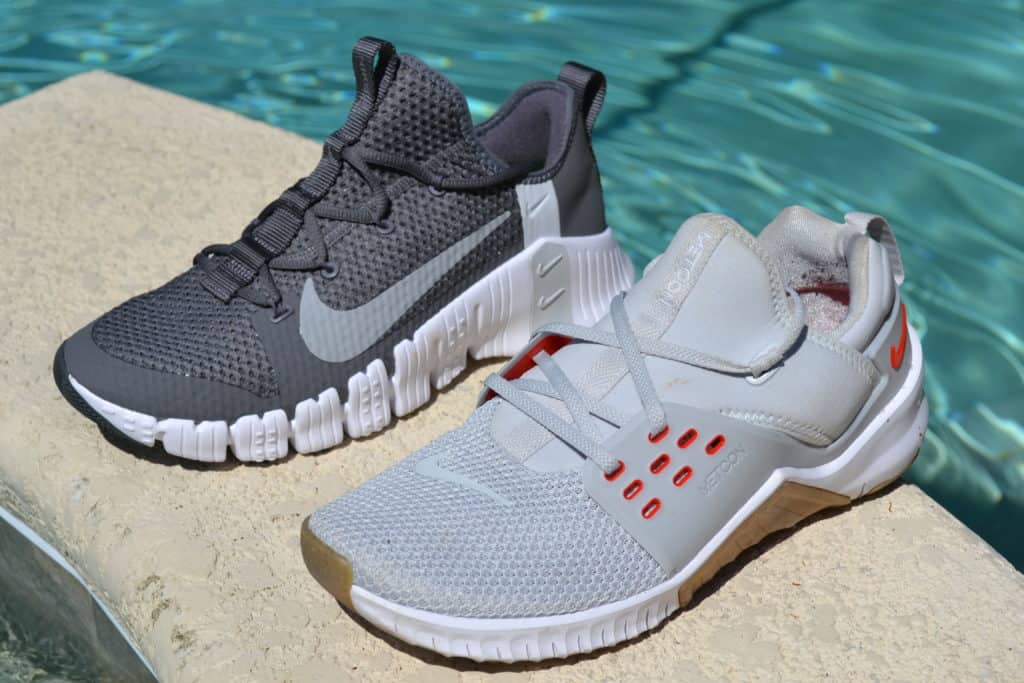 Here's what we'll miss from the Free x Metcon 2.
I feel like it delivered a fairly true "Free" running experience – but I could still lift in them.
They use hex shaped foam blocks to give flex along the width AND length of the shoe.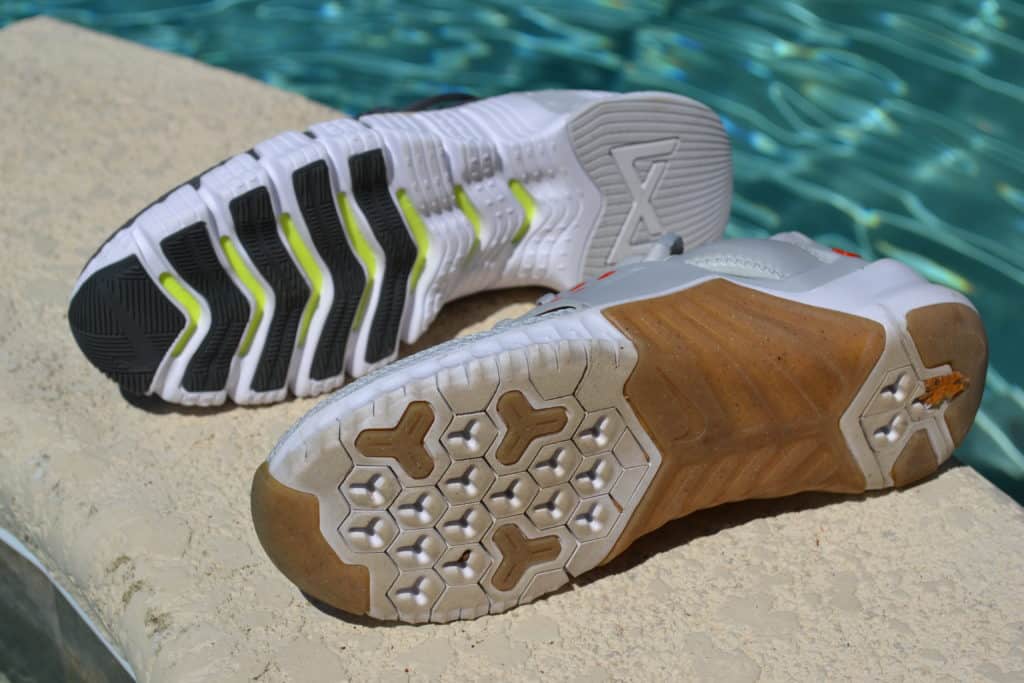 It also had exceptional forefoot flexiblity thanks to the "siping" along the forefoot.
These were deep slices that let the shoe flex with ease.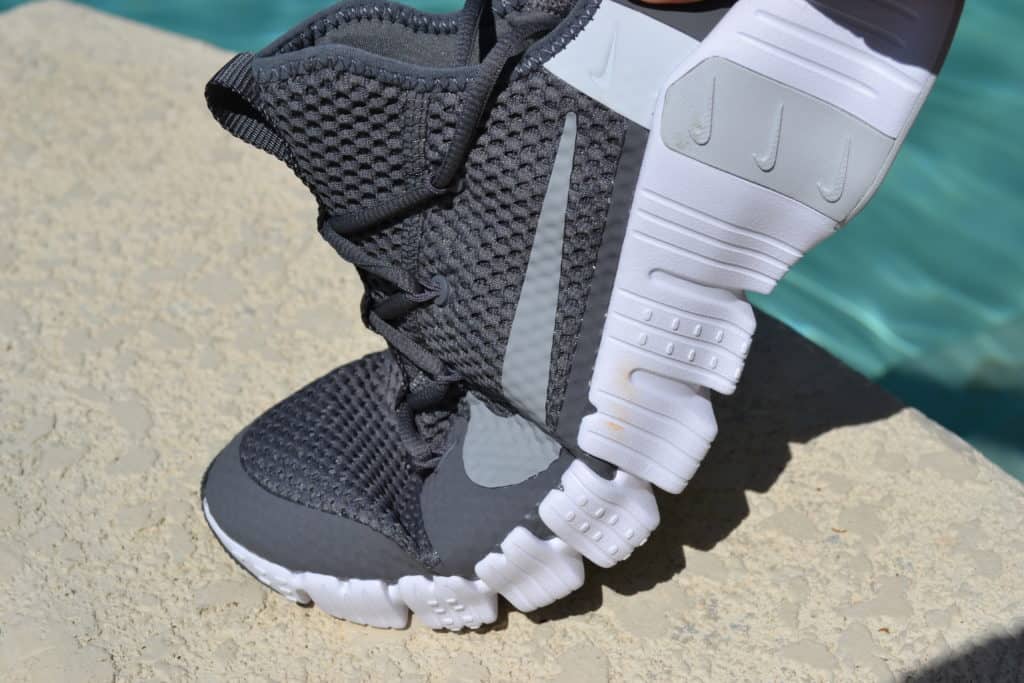 As we mentioned earlier, the Free x Metcon 2 has great toebox width – to really let your toes splay out.
The Free Metcon 3 on the other hand is a narrow shoe.
So, the Free x Metcon 2 felt like a more flexible shoe, comfortable shoe, without an overly obtrusive heel.
My recommendation: Try them – and buy them now while you can still find your size.
But, the Free x Metcon 2 was a noisy, squeaky shoe – cursed with the so-called "Metcon Squeak".
(To hear this in action, watch our hands on first look linked earlier in the article.)
The Free Metcon 3 is silent – and has no such problems.
Between the big heel, the deep rigid cradling of your foot, and less forefoot flex, the new shoe just feels like it puts a lot more structure into the feel.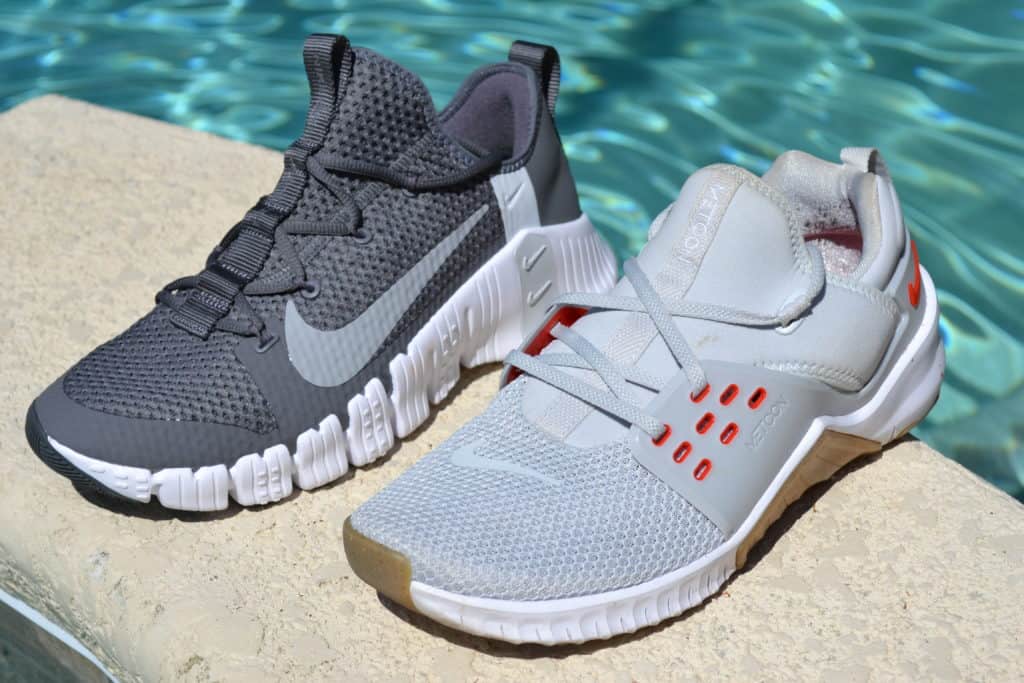 Nike Free Metcon 3 Shoe Review vs Nike Metcon 5
Another CrossFit shoe you may have on your list is the Nike Metcon 5.
I like this shoe – it has a little bit of something for everybody.
Stable heel, regular laces with Flywire, more cushioning in the forefoot for jumps, and a massive "rope wrap" for climbing.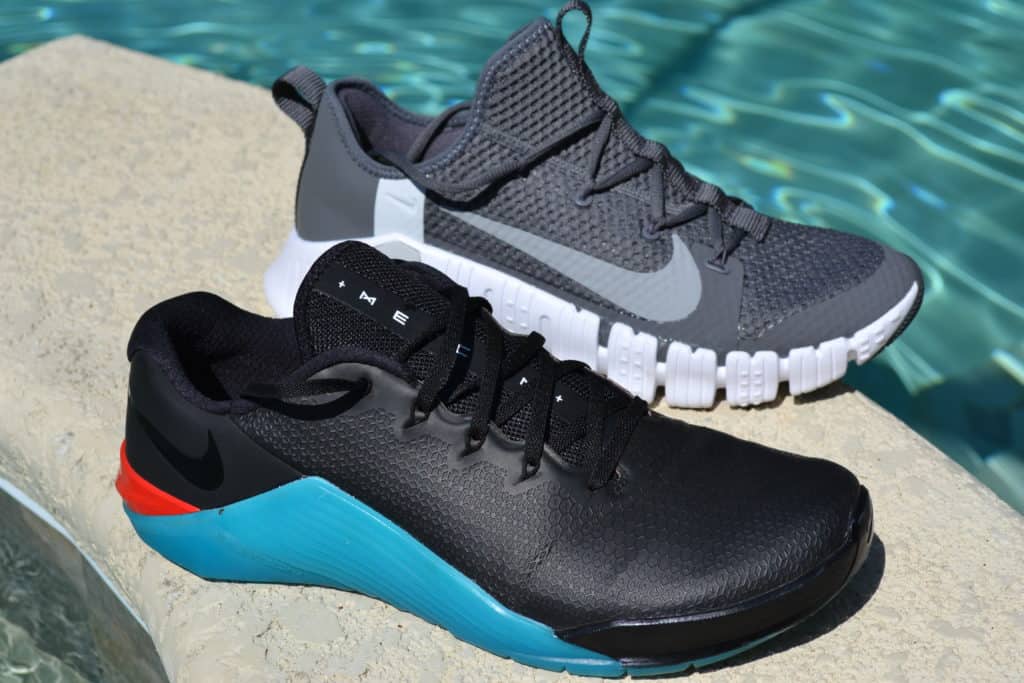 What is there to complain about?
Well, it gives some people heel slippage because the collar doesn't come up very high.
It's even worse when you add in the optional "Hyperlifts" which are little orange wedges that give you more heel to toe drop. The Hyperlifts add 8mm of offset for Men's, 6mm for Women's.
Many people also don't like the disjointed feeling of the dual-density midsole.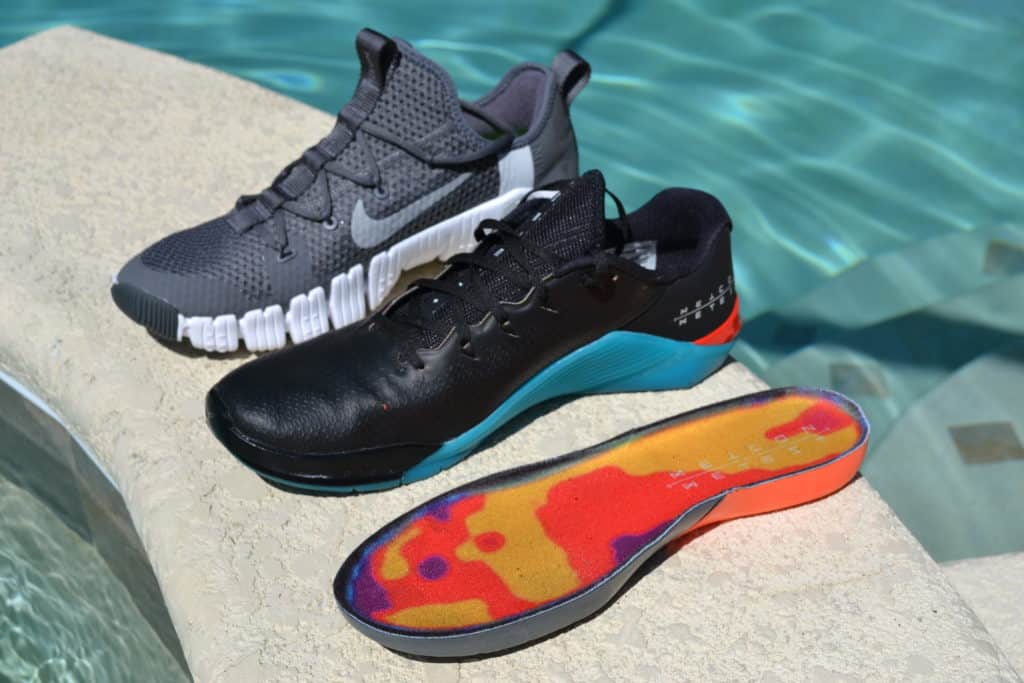 The forefoot is very cushioned (almost mush) while the heel is not.
You can feel the abrupt transition from firm to soft in your foot – and once you notice it's there – then it'll start to bug you.
The Free Metcon 3 on the other hand has a much more even feel to it.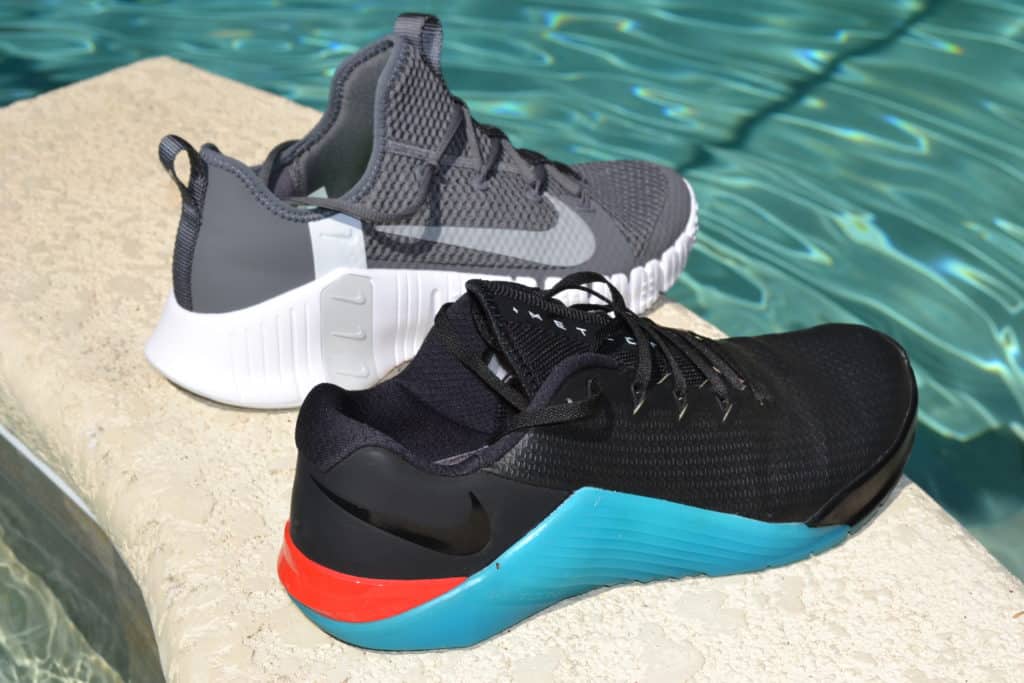 There's also no heel slippage in the Free Metcon 3 – the collar comes up way higher.
Either shoe is an okay running experience for forefoot strikers.
If you are a heel striker, you probably aren't going to like running in either of these -because you'll be plodding along on those massive, rigid, solid heels a lot.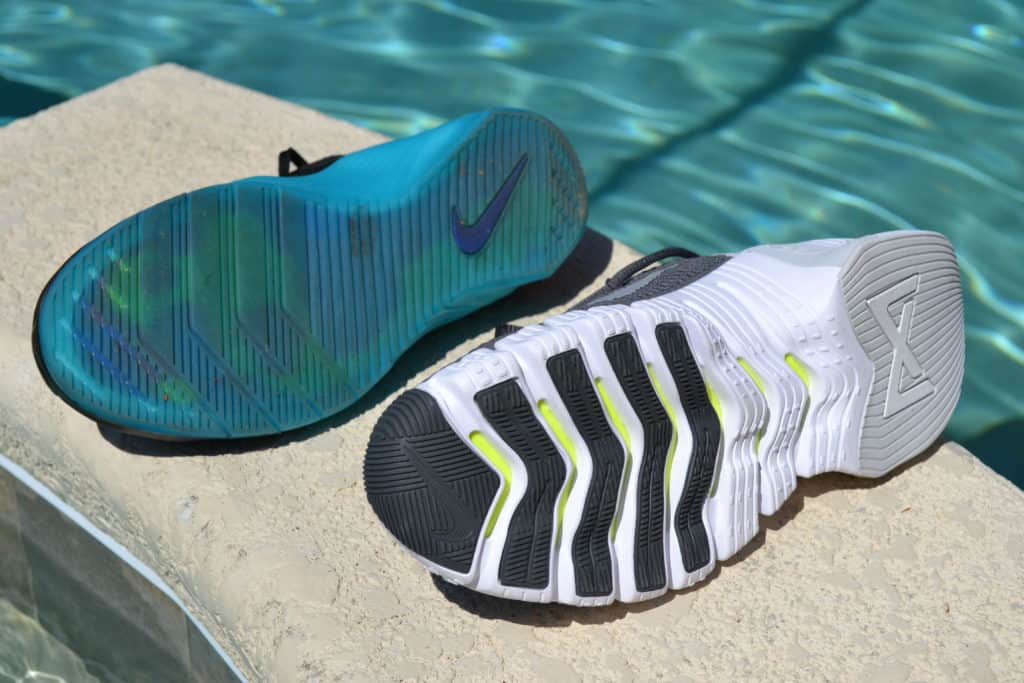 Nike Free Metcon 3 Shoe Review vs Nike React Metcon
Nike also has the Nike React Metcon – this shoe ditches the shoe laces for a quick pull system, uses "forged Flyknit" for the upper, and has a React foam midsole instead of the disjointed dual-density midsole of the Metcon 5.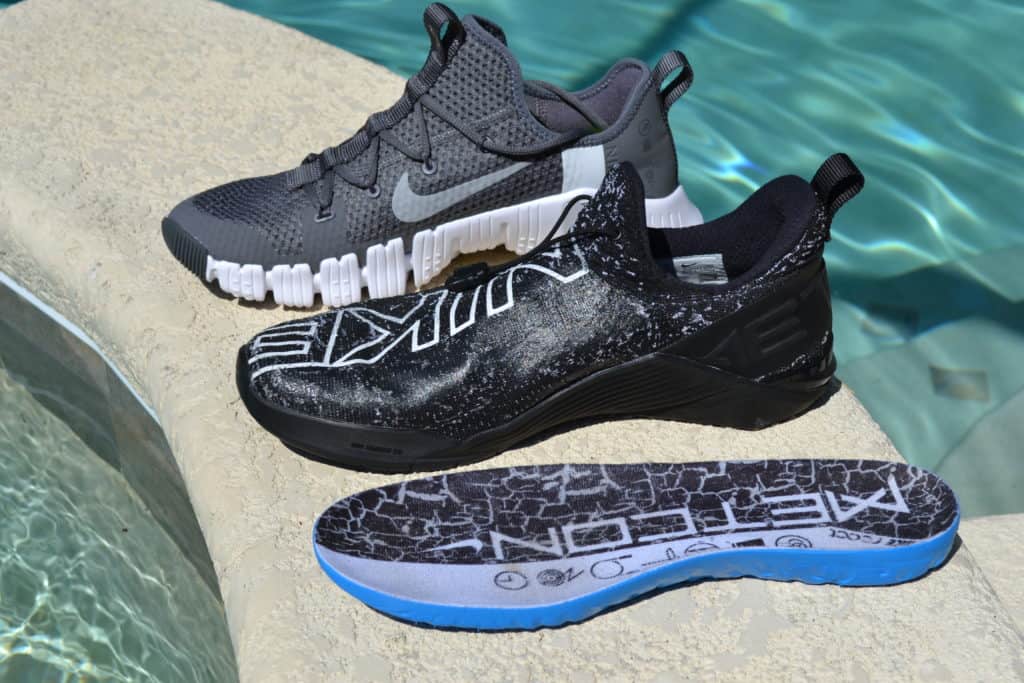 Ok, that's the differences from the Metcon 5 in a sentence – but what does it mean?
In my experience, the quick pull lacing system is convenient – but I can never quite get it tight enough.
I like real laces.
You know, like on the Free Metcon 3 and Metcon 5.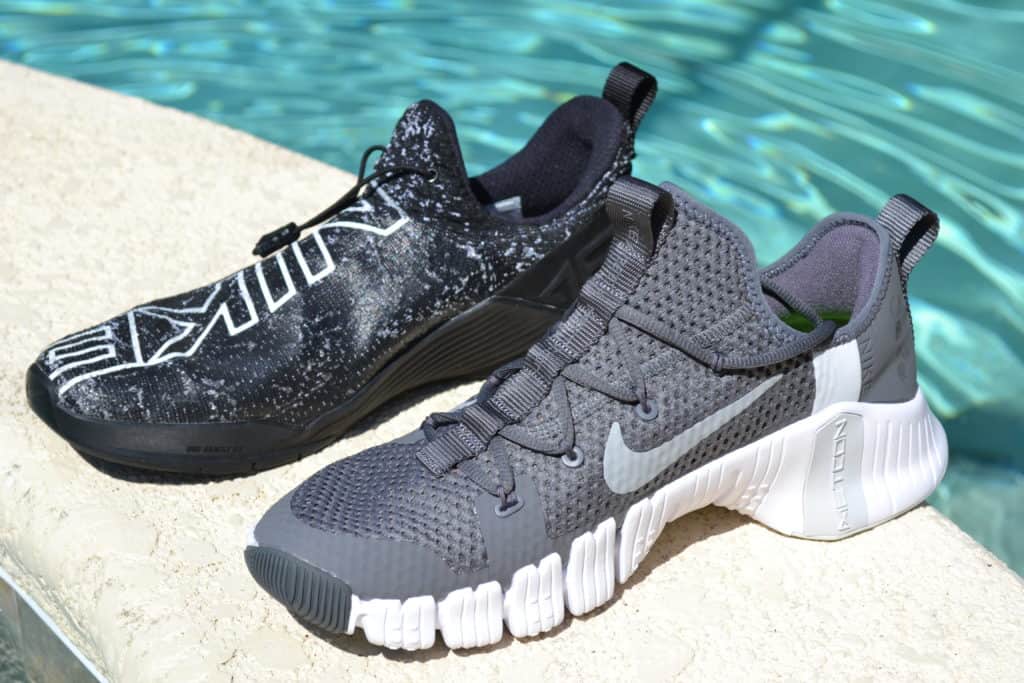 The React drop-in midsole is a single slab of React foam.
It feels better than the dual-density materials in the 5 – because you don't have any abrupt transition in the middle of your foot.
But, if you are a fan of the React running shoes – the React foam in this shoe is a small fraction of that in the running shoes.
So don't expect a bouncy, light running experience.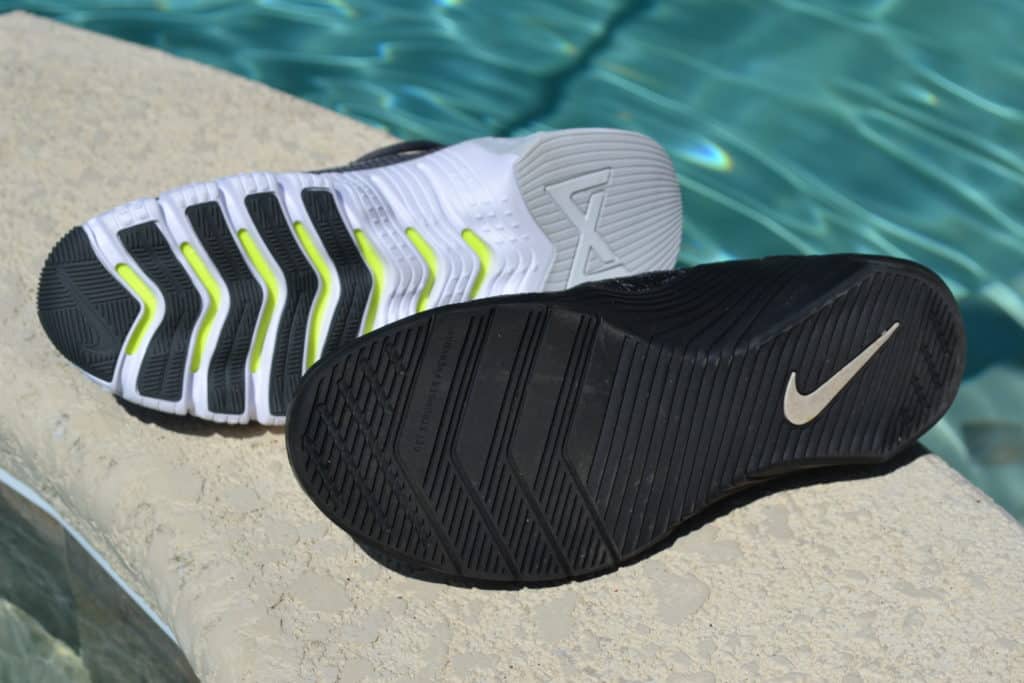 The Nike React Metcon is built like a tank – it has to be tough to be a proper cross trainer.
The Flyknit in use also bears little resemblance to the running shoes.
It's heavy, double layer, and loses much of what make the single layer, light Flyknit of the running shoes appealing.
Take all those things together, and you probably have figured out I'm not a fan of the React Metcon.
Having said all that you can drop that React midsole into a regular Nike Metcon 5 – and get what is possibly a better overall experience.
But, that's an expensive way to go about things.
Nike Free Metcon 3 Shoe Review vs Reebok Nano 9
How does the Free Metcon 3 compare to the Reebok Nano 9?
The Nano 9 is a great shoe for the CrossFit WOD.
It's got the stable heel, real laces, and indoors style gym tread pattern that makes it great for the WOD.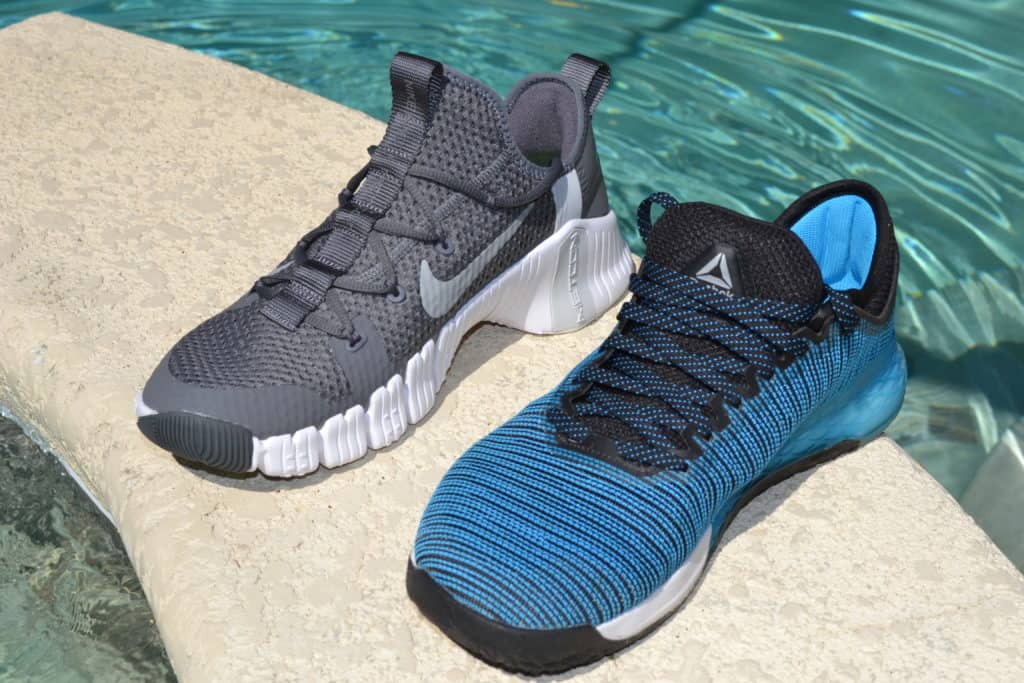 Cushioning leaves something to be desired – but as we saw with the Metcon 5 that can be a thin line to walk.
Where the Reebok Nano 9 really shines is that gloriously wide toebox.
This shoe really let's your toes splay out and BREATHE.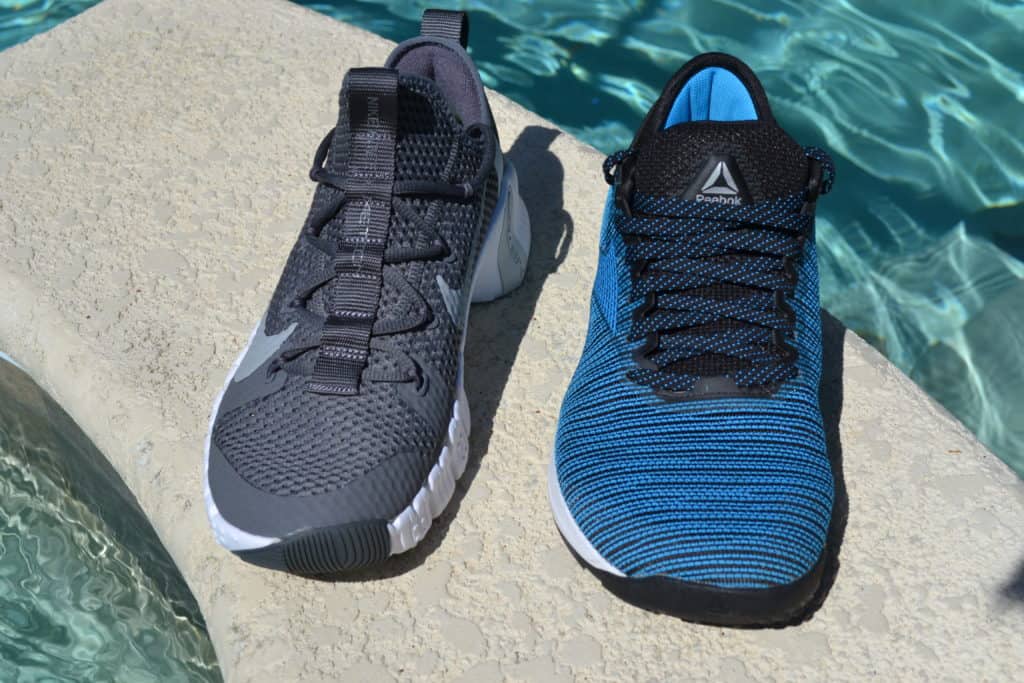 As discussed at length already, the Nike Free Metcon 3 did NOT carry forward the wide toebox of the previous year.
If you feel like the Nano 9 doesn't have a wide enough or stable enough heel , the Free Metcon 3 will solve that.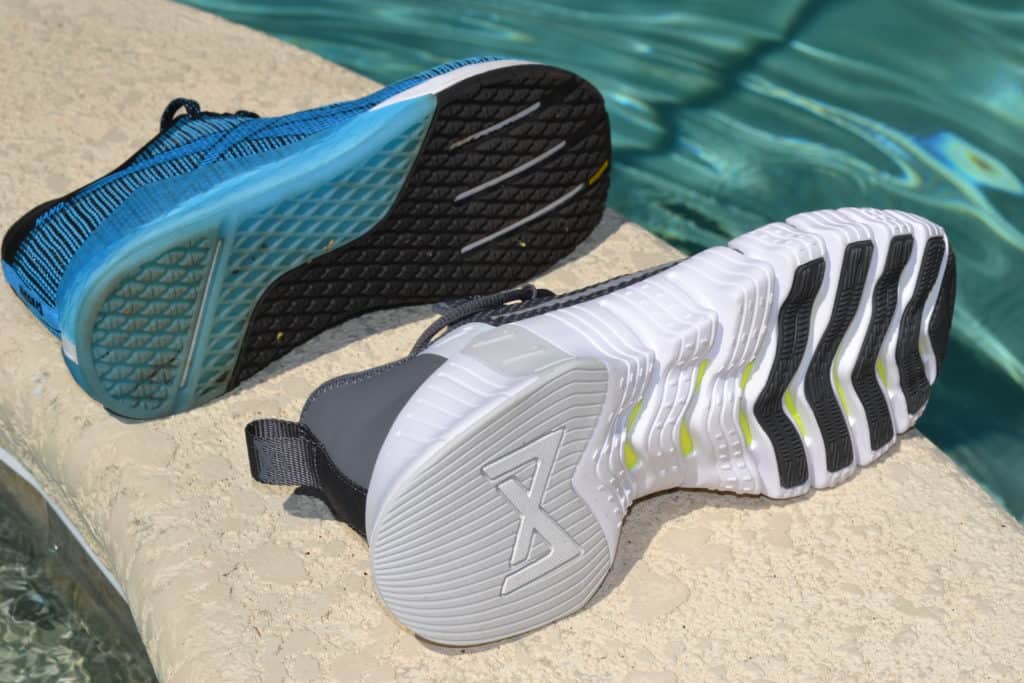 Nike Free Metcon 3 Shoe Review – In Summary
It's brand new – so the jury is still out.
But expect a different experience than last year's Free x Metcon 2 shoe.
It's not as wide, and there is much more structure.
Including that really blocky heel.
But, if you lift a lot of weight – that's probably what you want.
We'll have more thoughts as we put more miles (and more weight lifted) onto these shoes.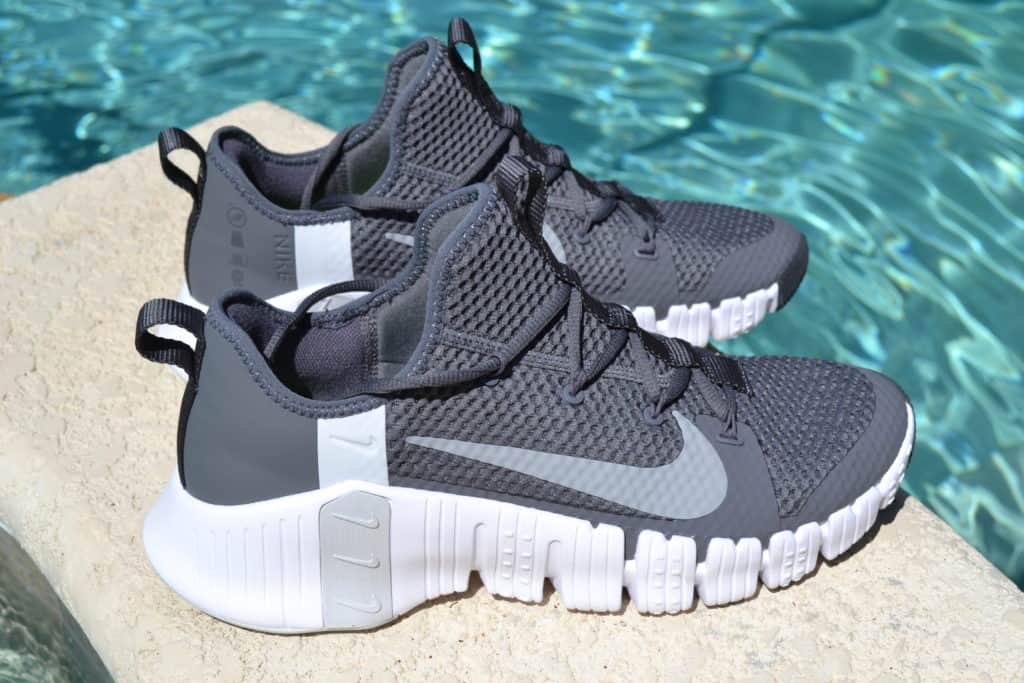 Photo Credits
Some product photos on this page are property of Nike, Inc.
This website is not affiliated or associated with CrossFit, Inc. CrossFit is a registered trademark of CrossFit, Inc.