The new special edition of Reebok's CrossFit shoe – the Nano X Froning men's training shoe is now available.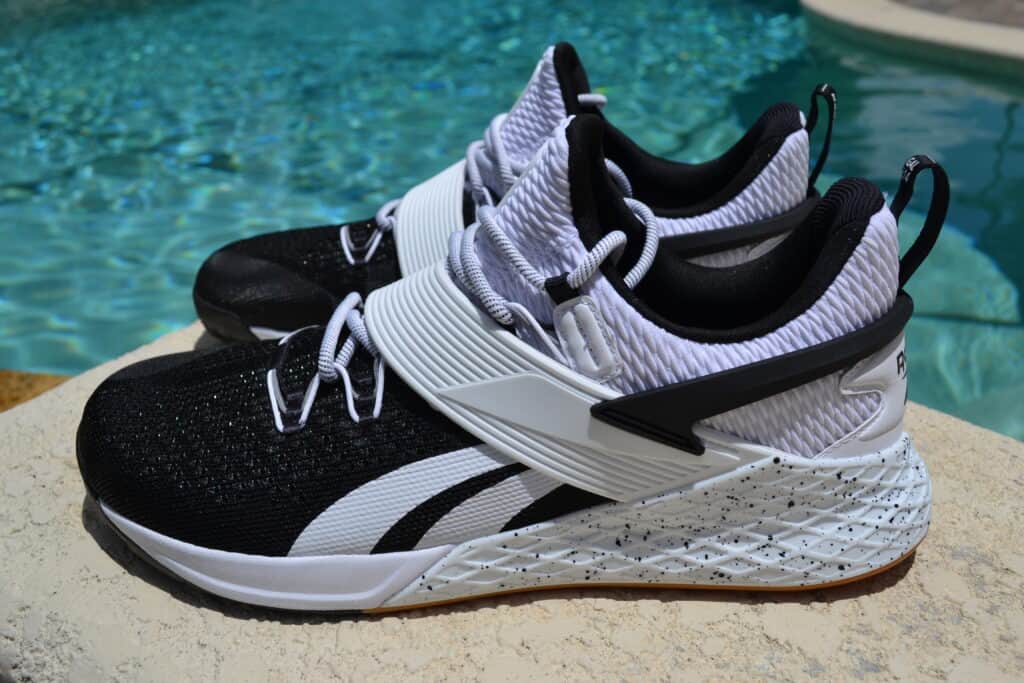 This shoe joins the Nike Metcon 5 Mat Fraser edition as being a shoe specifically associated with a high-performing CrossFit athlete.
This shoe has all the great features of the Nano X but it definitely has a crisp look to it.
Here's some of the places you can get the shoe (Note: We are an affiliate of these sellers)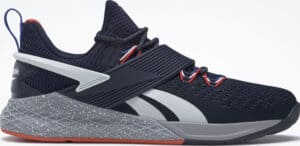 Nano X Froning – Video Review on YouTube
Why read when you can watch?
Here's a hands-on look at the Reebok Nano X Froning – and a side-by-side comparison to a regular Nano X!
The Nano X is an excellent cross training shoe – it was the runner-up in our Best CrossFit Shoes for 2021 review.
Nano X Froning Training Shoe – Overview
Who is Rich Froning Jr.?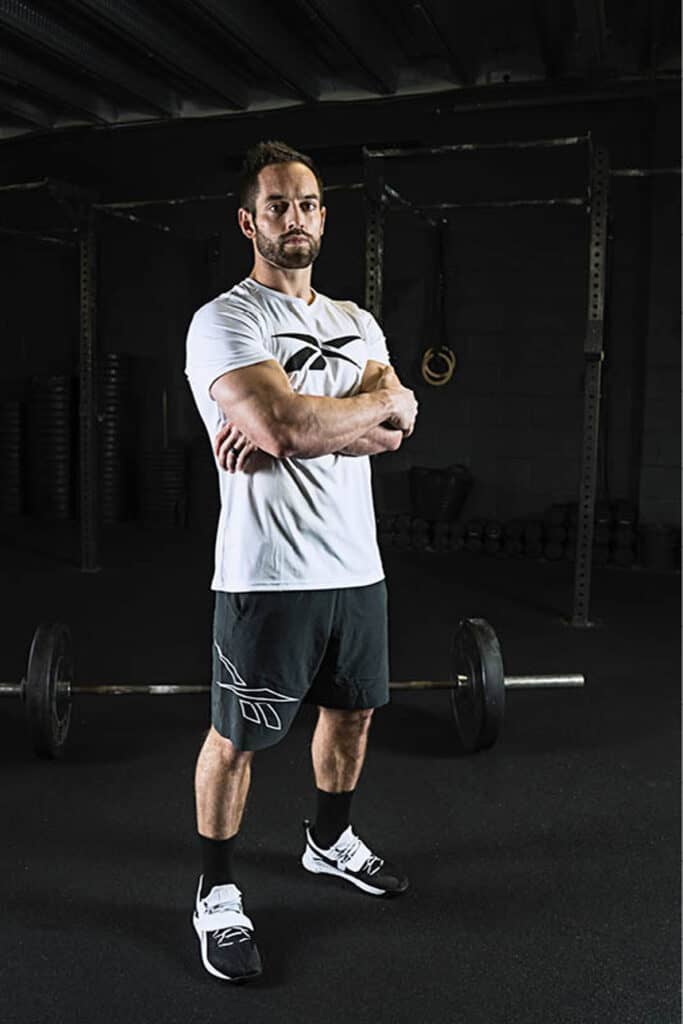 He is known as The Fittest Man in History – thanks to his many CrossFit games wins (and when he finished with individual competition his team Mayhem continues to crush competitions).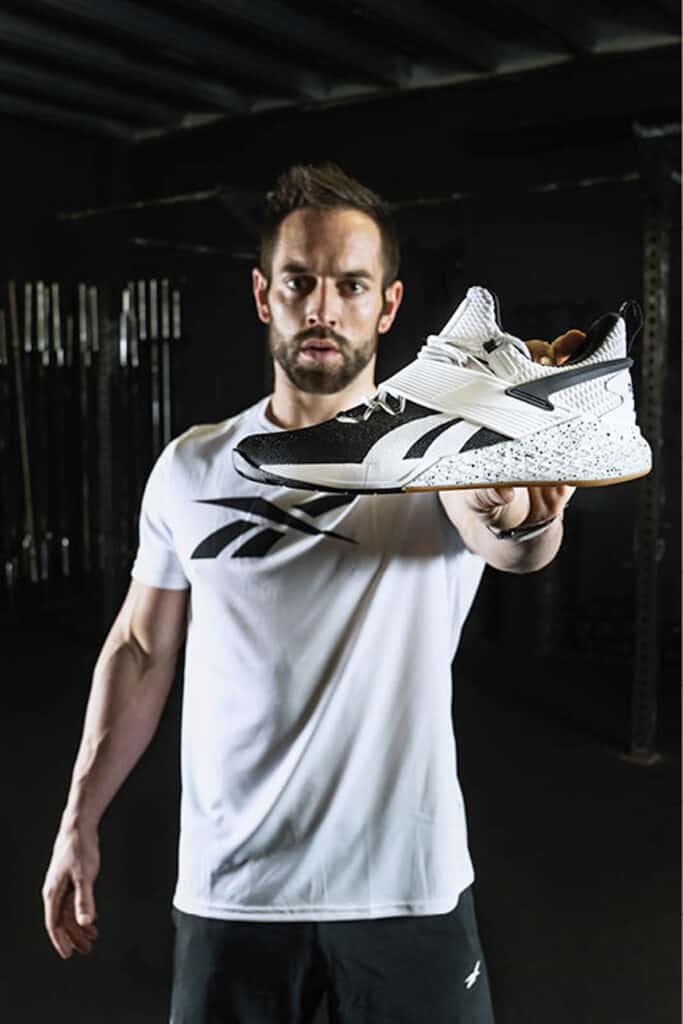 These shoes were designed to fulfill all the needs of an elite athlete. They incorporate an innovative lacing system that has three parts to symbolize Froning's three priorities in life: his faith, his family, and fitness.
Nano X Froning – What's New
Let's see what they've done to make this shoe special.
According to Reebok, the key features of the Reebok Froning Nano X include:
Bootie construction for increased comfort
Forefoot strap that keeps wearers secure and locked in – a technical update to the standard NANO X silhouette that also playfully pays homage to Froning's reputation for rarely tying his shoes in the early days of his career
An innovative three-string rope lacing system that provides added security while dually serving as nods to both Froning's dominance on the rope as well as the three pillars he credits in guiding his life – faith, family and fitness
Strong stability provided by traction on sole that offers sure-footed feel for wide range of movements

The obvious addition is the midfoot strap.
At first glance this looks a lot like the strap on an Oly lifter shoe.
In shoes like the Reebok Legacy Lifter II the midfoot strap let's you get a locked in fit and feel across the midfoot.
Unfortunately on this shoe, it's more for aesthetics – form over function.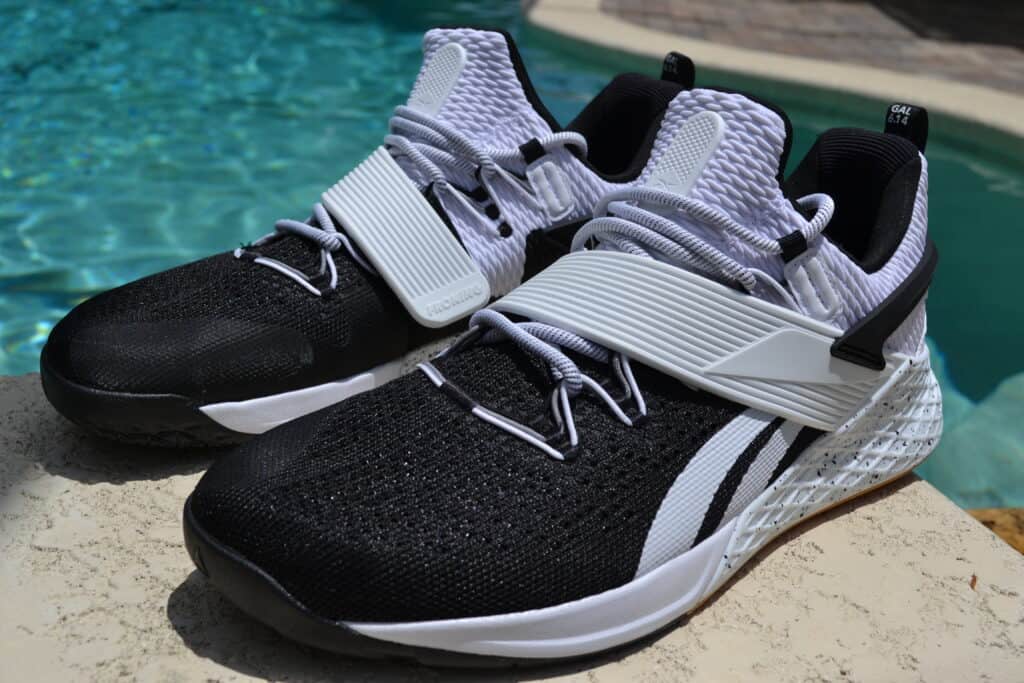 The strap is anchored on one end with a very piece of stretchy elastic – so there's really no practical effect to tightening the strap.
The lacing details are different – we can see some nice premium shoe laces, and the three string system that reflects Rich's dominance in the rope climb.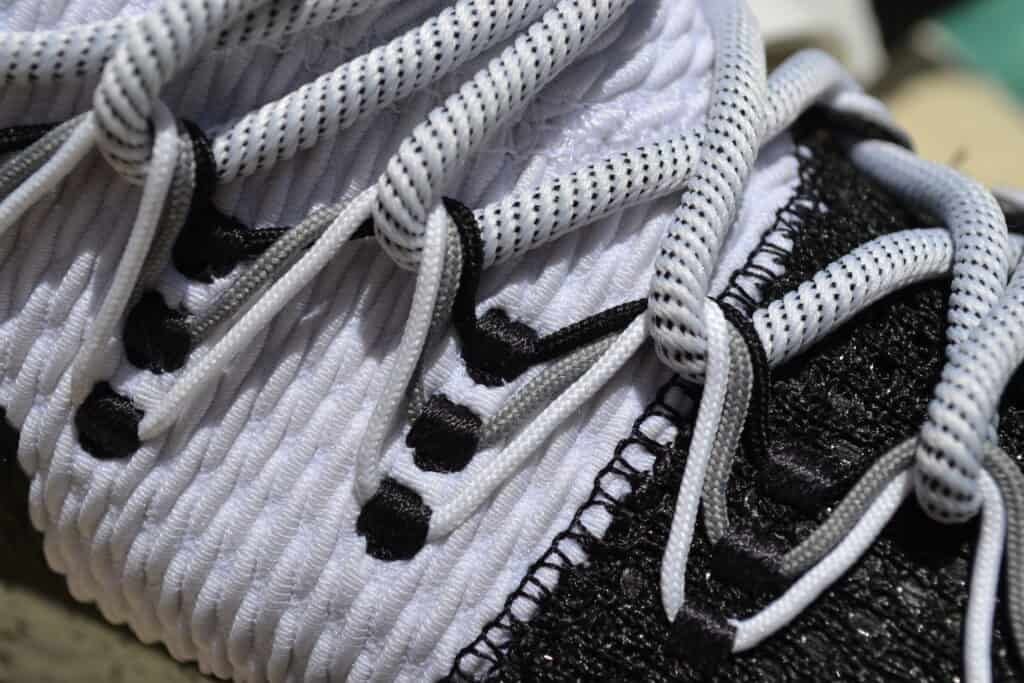 It looks like the tongue is now an integral part of the shoes upper.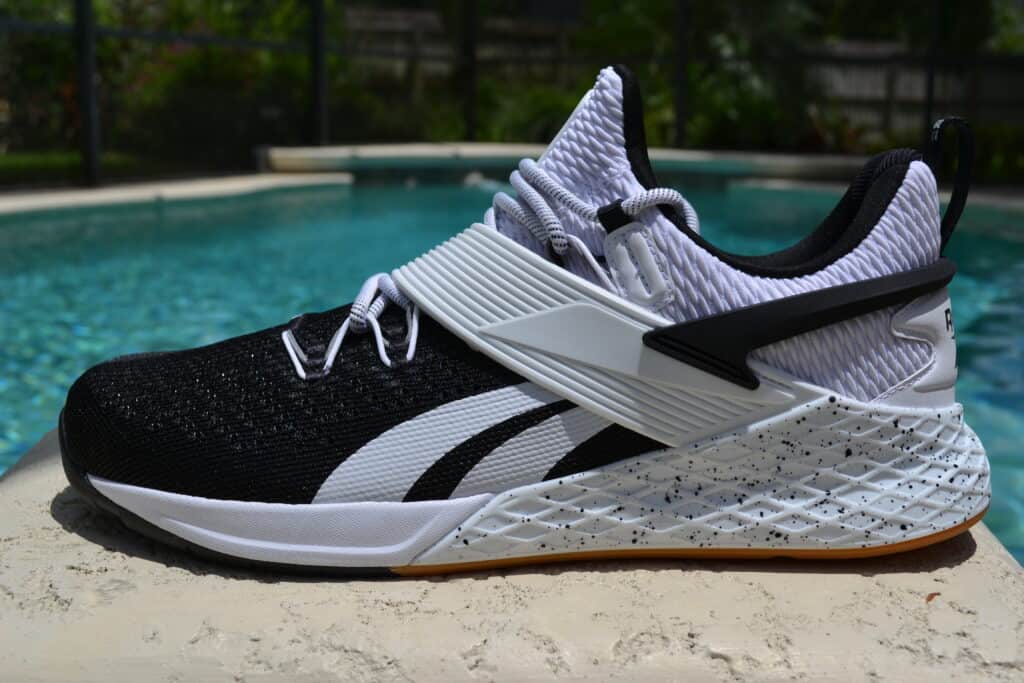 That's the "bootie construction" that Reebok marketing was referring to.
This is a pretty tight fitting shoe – that's also why there is a pull tab on the heel.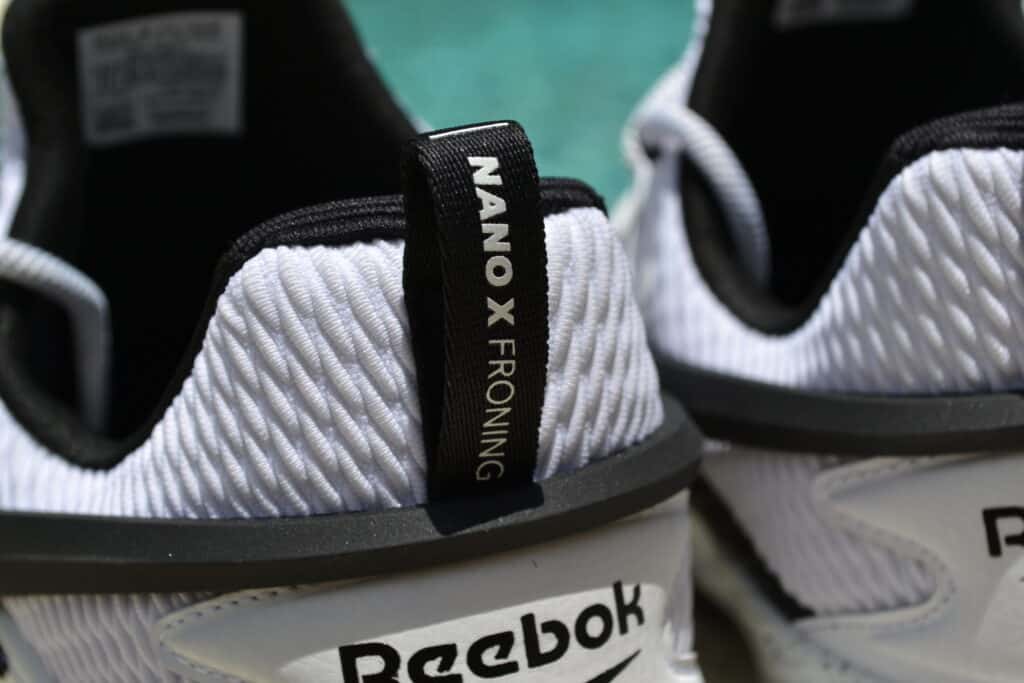 So, while it's true the forefoot strap doesn't really do anything – that's OK because you have a tight fit from the start – and the laces work perfectly.

The outsole/midsole/insole of this shoe are unchanged from the regular Nano X.
THat's OK, it's a combination that works.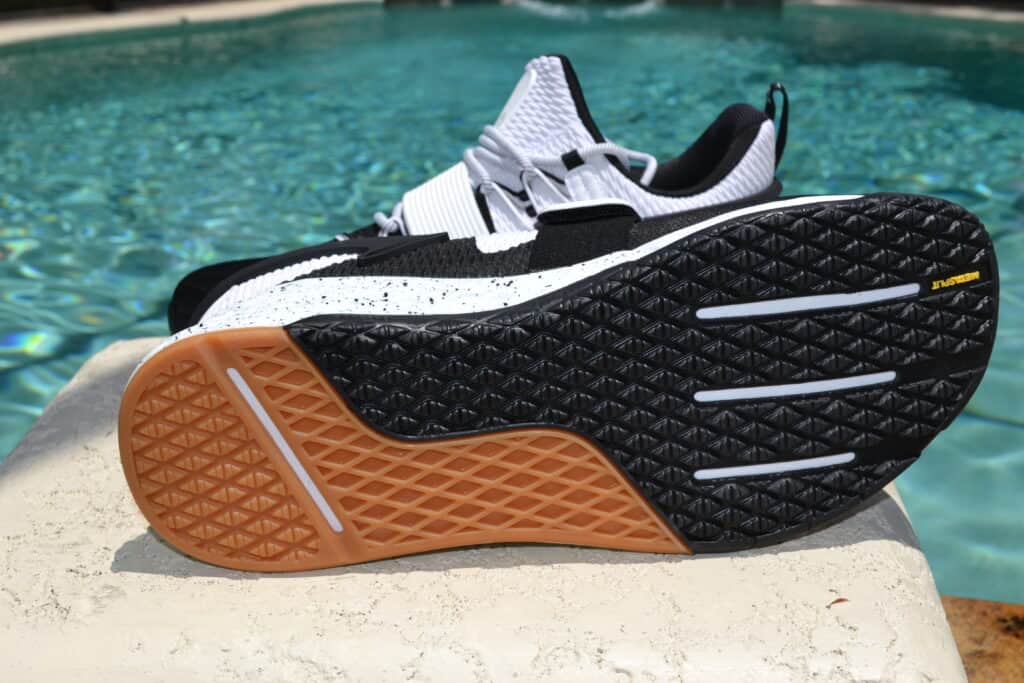 For those that don't know – these are great shoes for CrossFit style workouts that involve weight lifting, body weight exercises, box jumps, jumping rope, etc.
Can you run in these? Yes – but I wouldn't run in them for long distances. Being cross trainers they have minimal cushion.
The heel pull tab has Gal 6.14 on it – a shout out to Galations 6:14 – Rich's favorite Bible verse.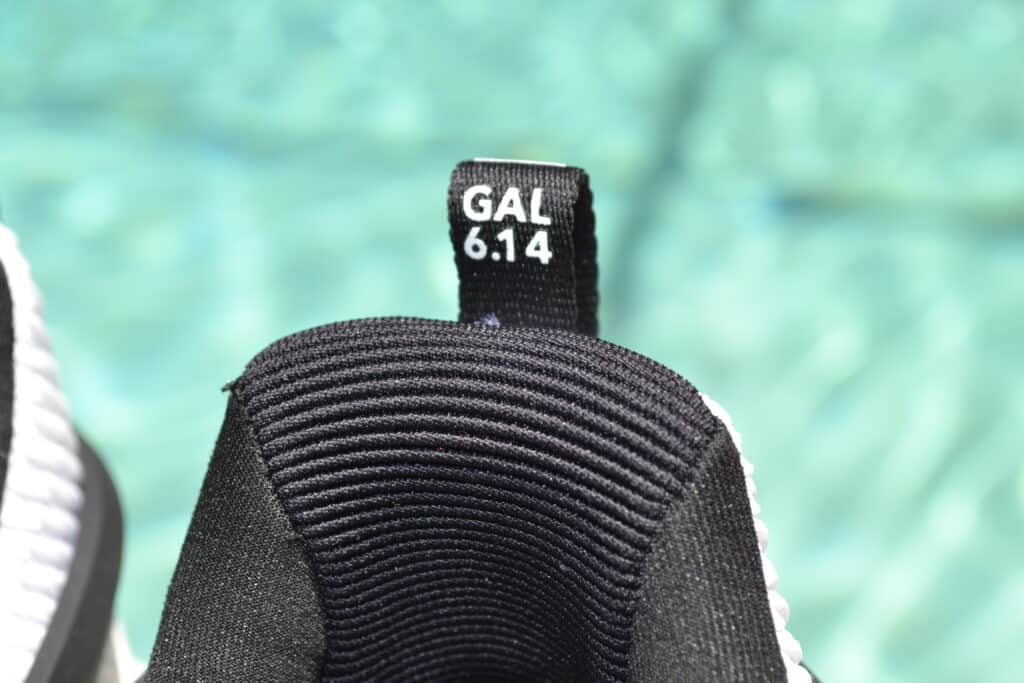 The upper material is very nice too – it's meshy up in the front, and it is a very textured pattern in the back.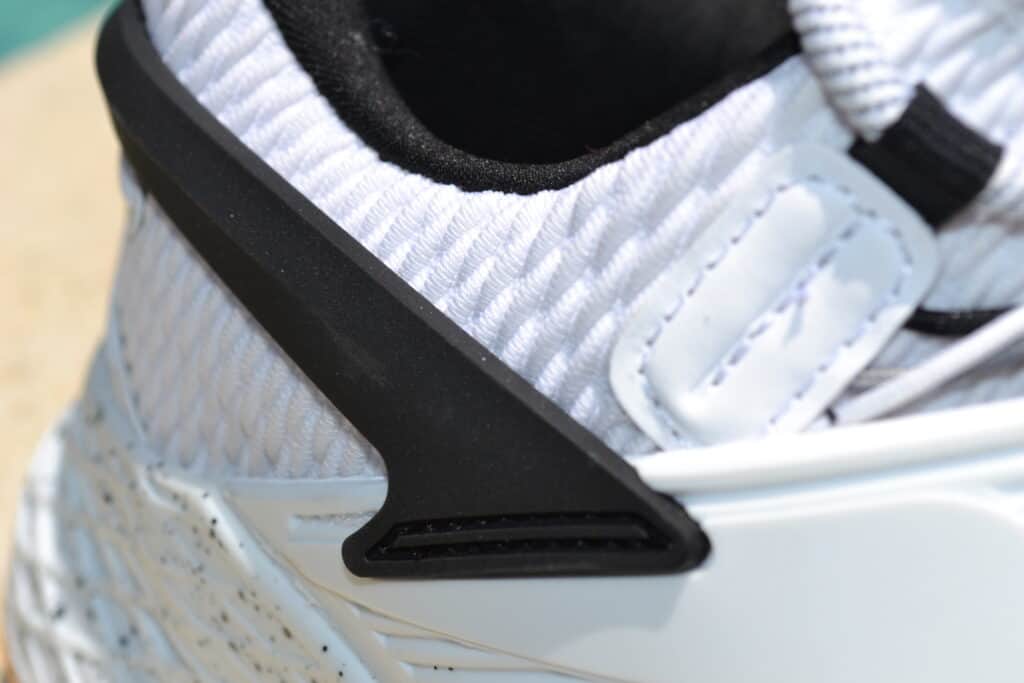 Overall, what's the verdict?
The shoe has all the great features of the Nano line – and it looks very crisp and unique.
This is one good looking shoe!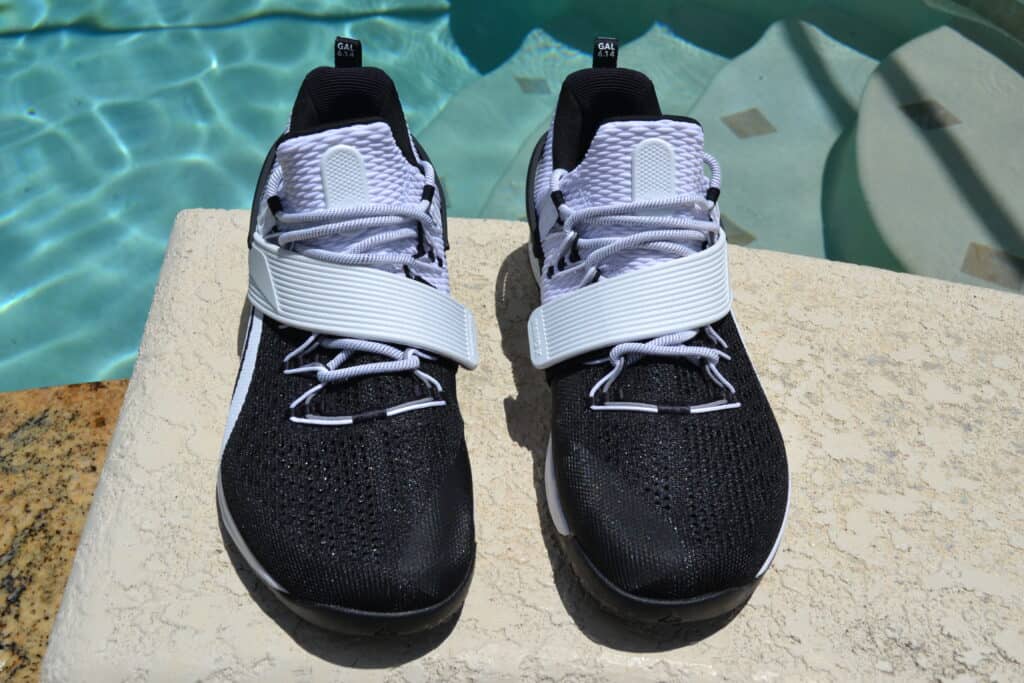 Nano X Froning Sizing & Fit
How does the sizing run?
Just like the regular Nano X , these run true to size.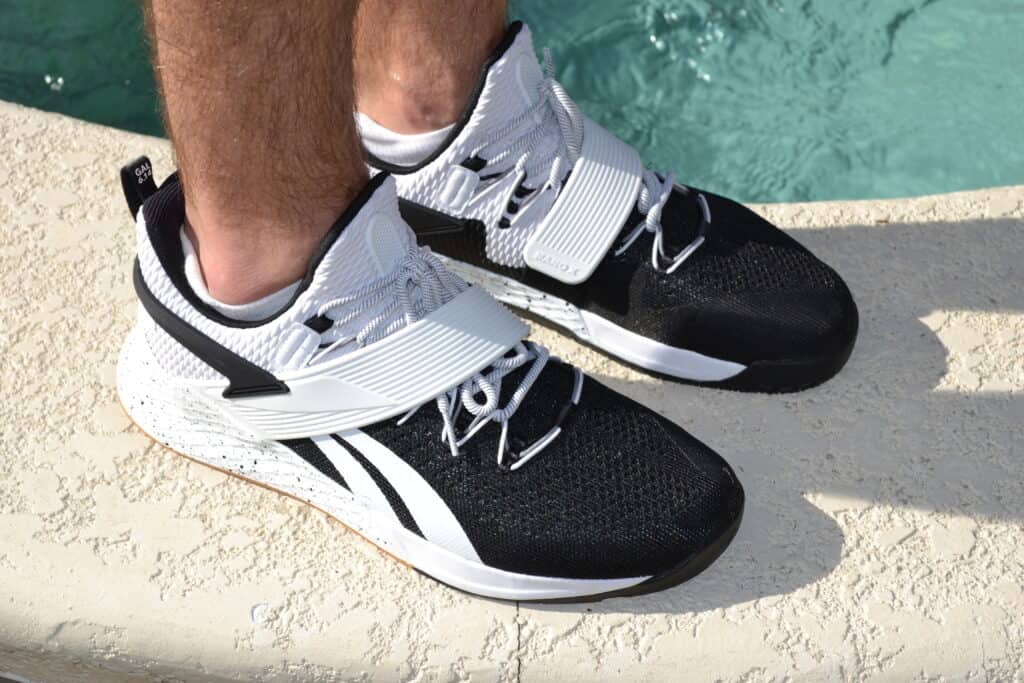 My normal size in running shoes (Men's Size 11) fits perfect.
I recommend you order your normal shoe size.
One of the things I love about the Nano is the super-wide toe box. It's comfy and should even work for people with very wide feet. (The Nano is the best CrossFit shoe for people with wide feet).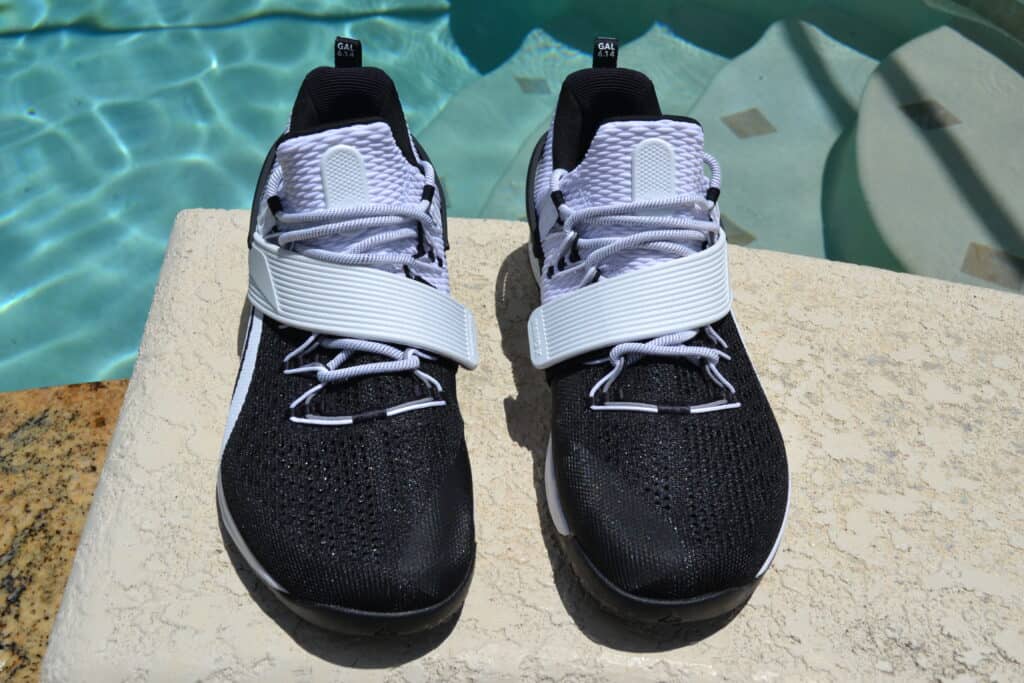 Overall, I'm pleased with the fit and comfort of these shoes.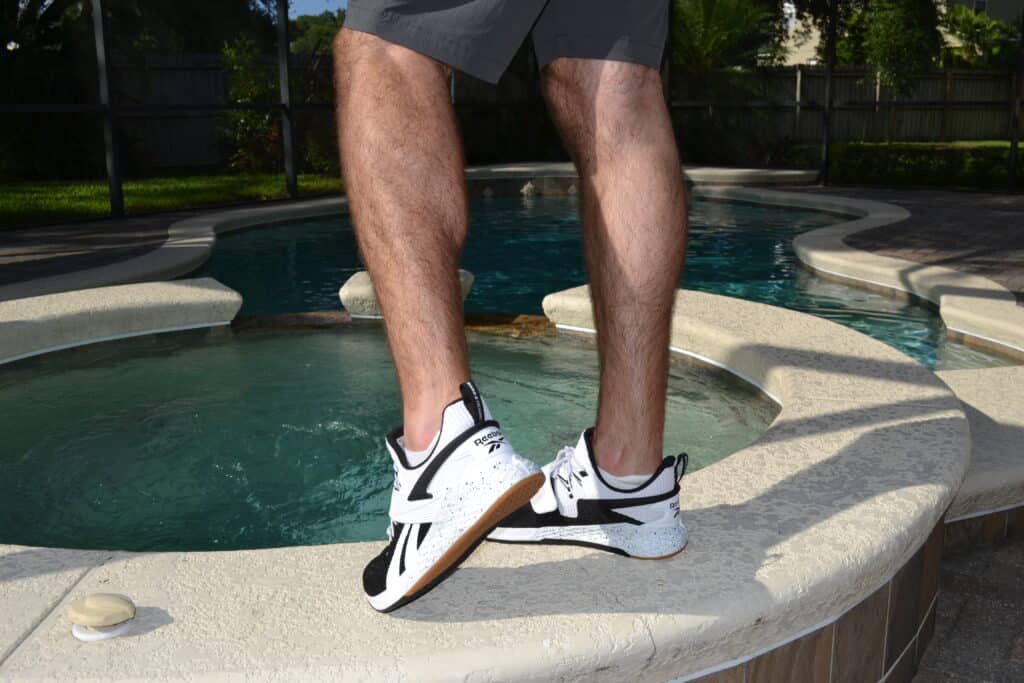 Let's compare these head to head with the regular Nano X.
Nano X Froning Versus Nano X Shoes for CrossFit
In comparison the standard Nano X doesn't have the midfoot strap.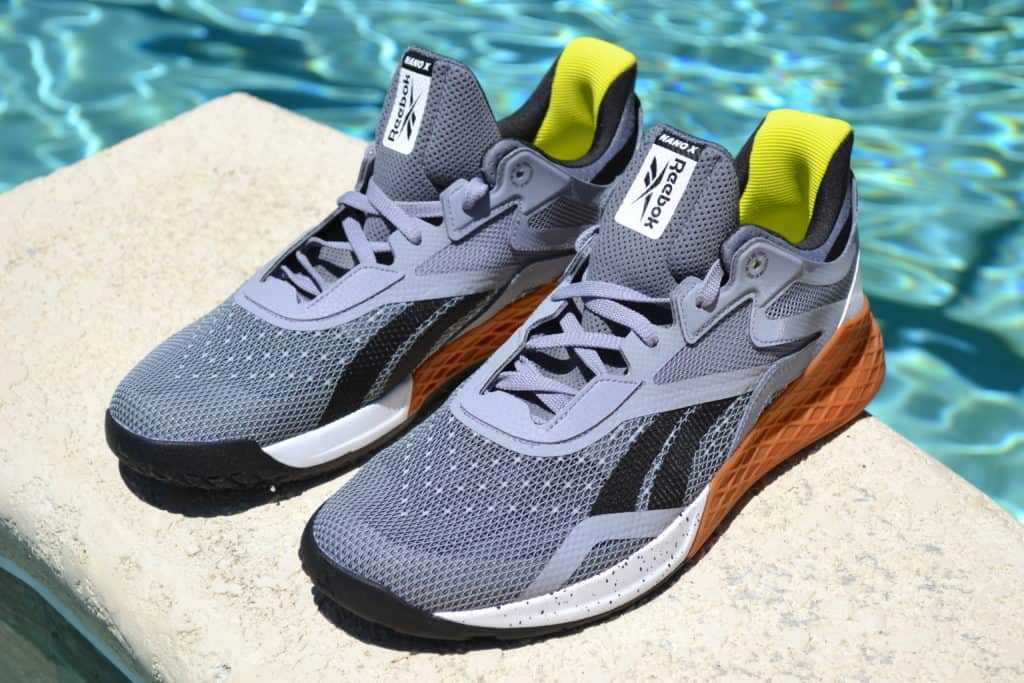 But it does have all the other great features you need in a CrossFit shoe.
The outsole is flat, and grippy.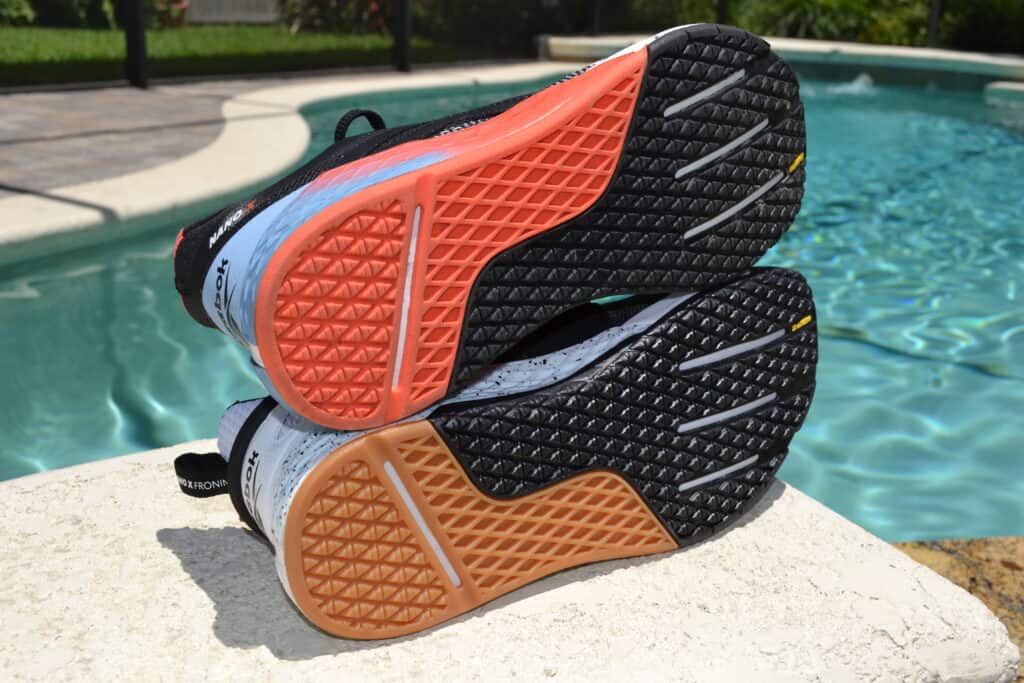 These shoes have a minimal "heel to toe drop" – because that makes for a more versatile shoe.
One thing I can say for certain, the new upper on the Nano X is outstanding.
It is stretchy, comfortable – and it's a big step up in aesthetics as compared to the Nano 9.
I find the regular Nano X upper to be stretchier and more comfortable than the Froning (but I think the Froning looks better).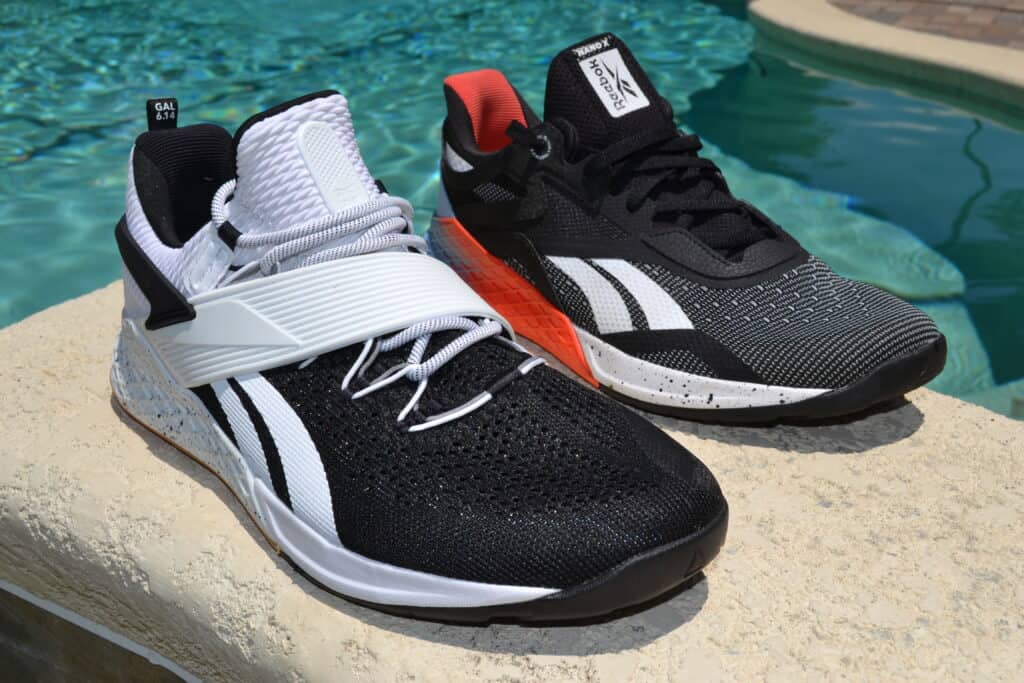 Underfoot, in the midsole and outsole, there's not really any difference from the Nano 9 though.
That's OK, because the stable heel and minimal cushion are what make these such great shoes for CrossFit and functional fitness style workouts.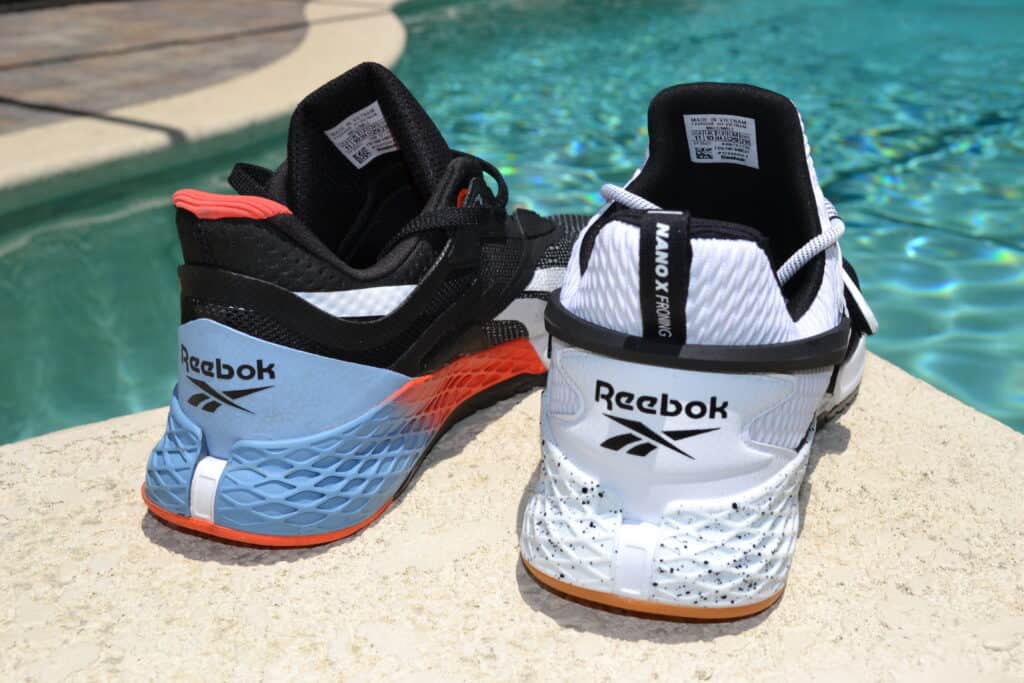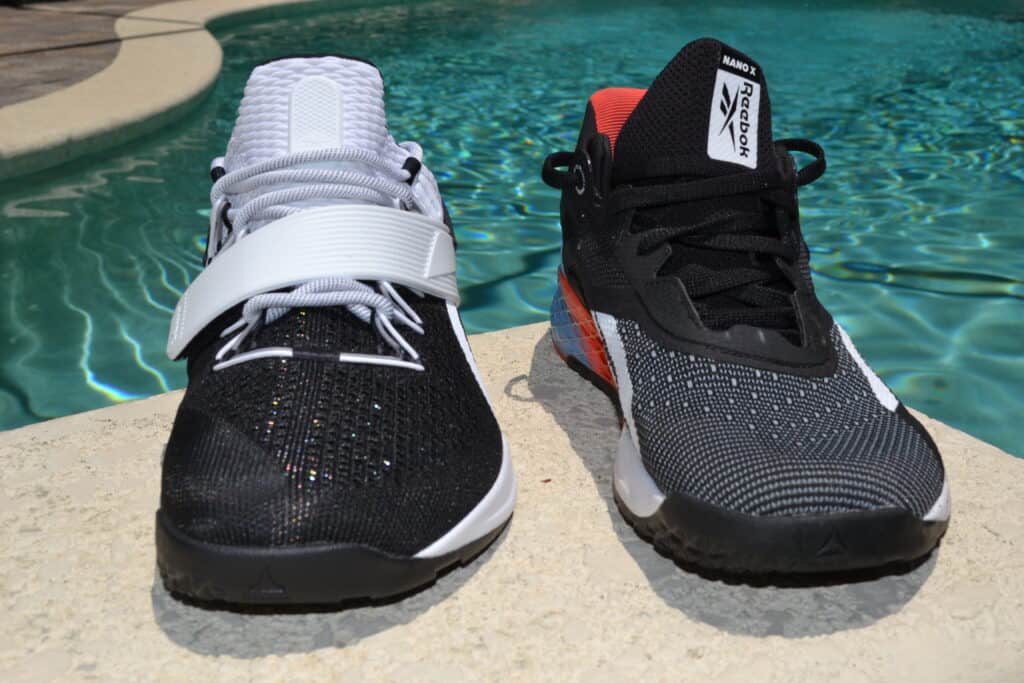 There are a lot of different styles available for the regular Nano X.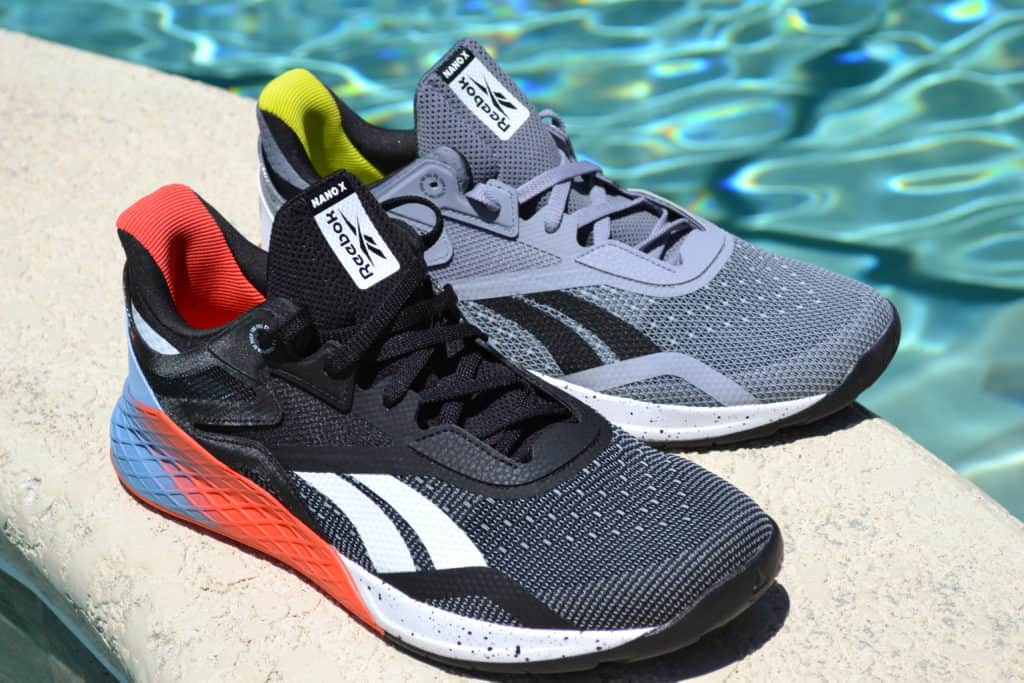 Nano X Froning Versus Nike Metcon 5 Mat Fraser
Guess who else gets their own special edition CrossFit training shoe?
The current World's Fittest Man – Mat Fraser.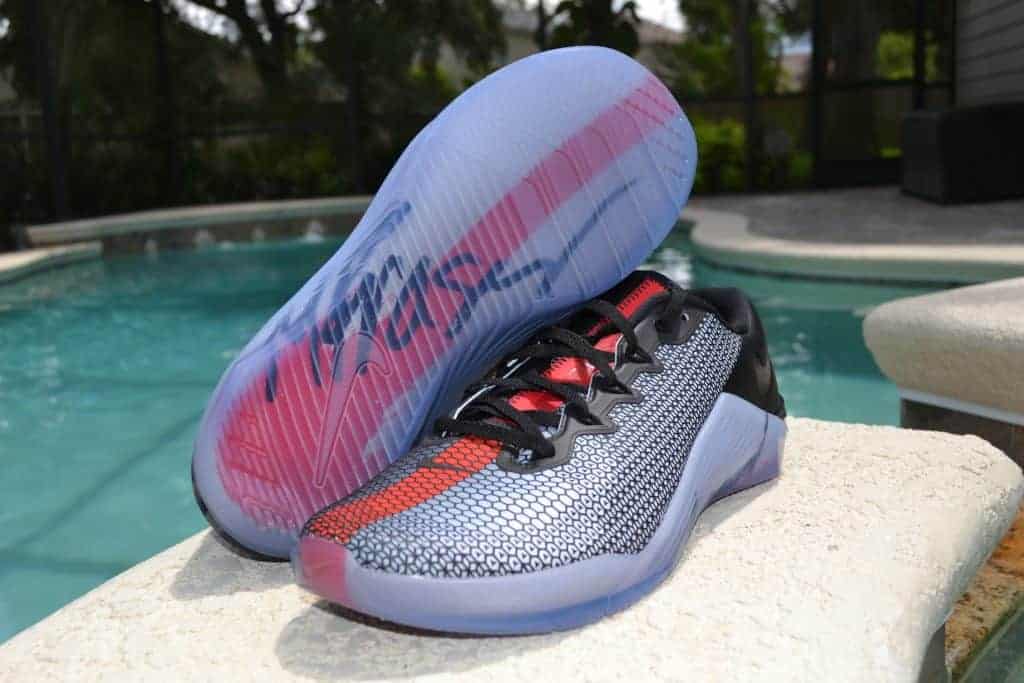 The Fraser edition Metcon 5 sold out quickly.
It packs all the great features of the Nike Metcon 5 shoe in a good looking package.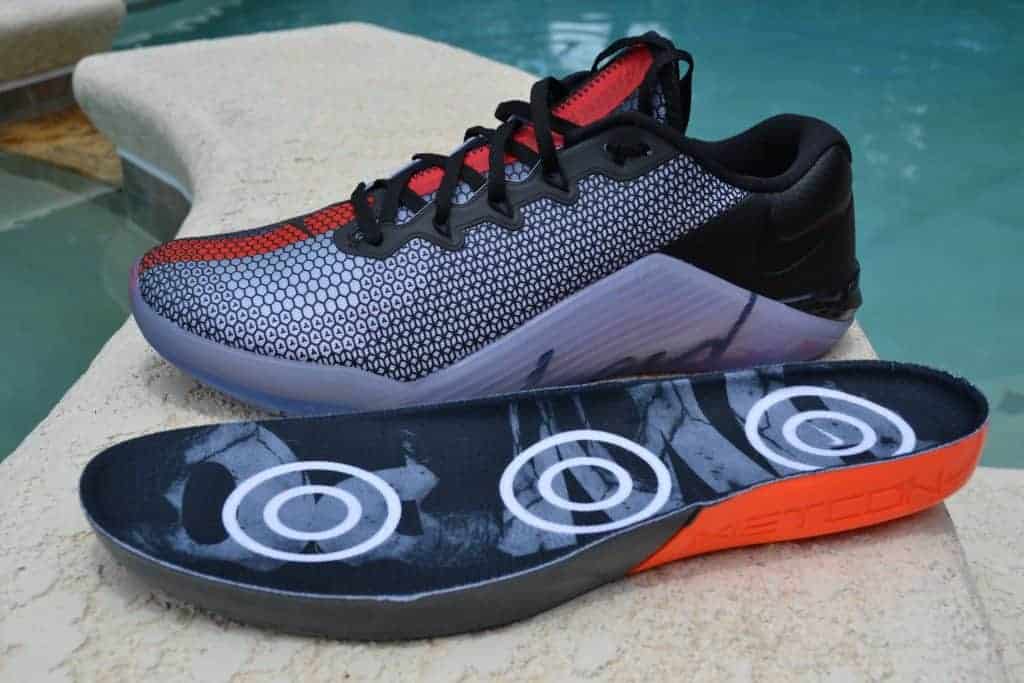 How do the two line up?
Both shoes are really a visual improvement over the regular editions – there aren't any extra performance to be had with either.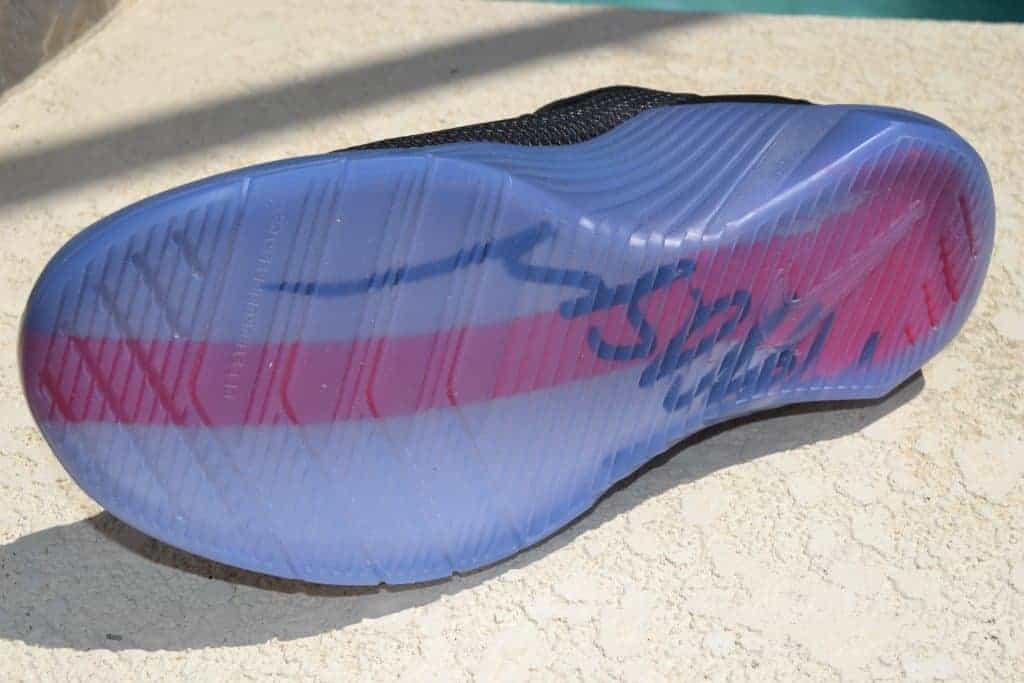 Nano X Froning – In Summary
The Nano X Froning is a premium version of Reebok's premier CrossFit training shoe for the year 2020.
It looks good, and it performs well too – because it's based on an excellent cross training shoe for CrossFit.
The improvements are mostly visual and non-functional – but it does look great!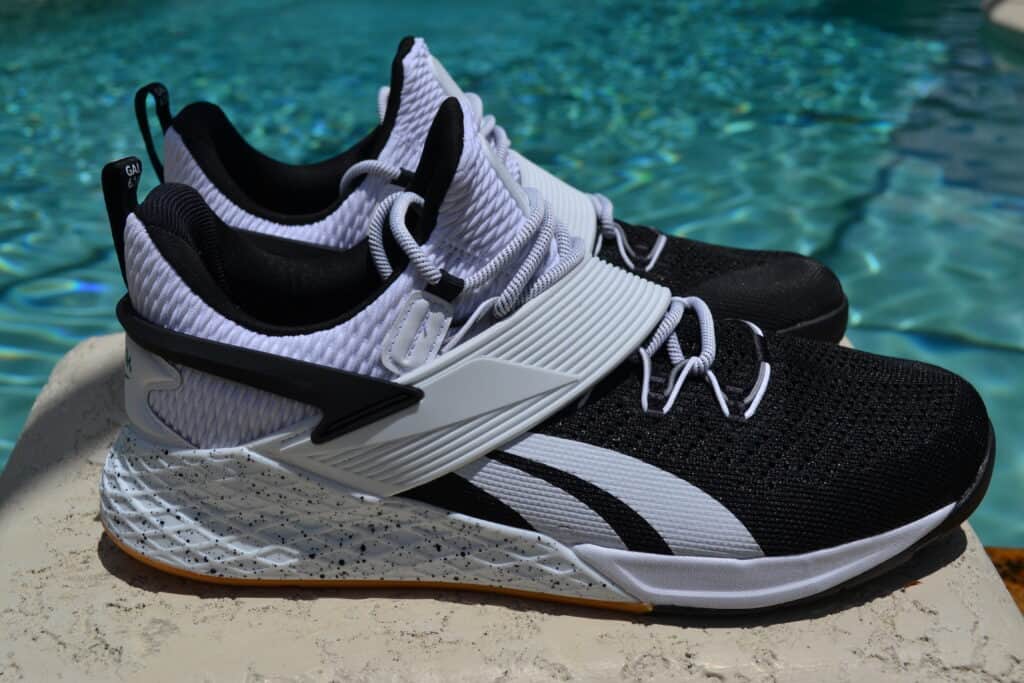 Photo Credits
Some product photos on this page are property of Reebok, Inc.
This website is not affiliated or associated with CrossFit, Inc. CrossFit is a registered trademark of CrossFit, Inc.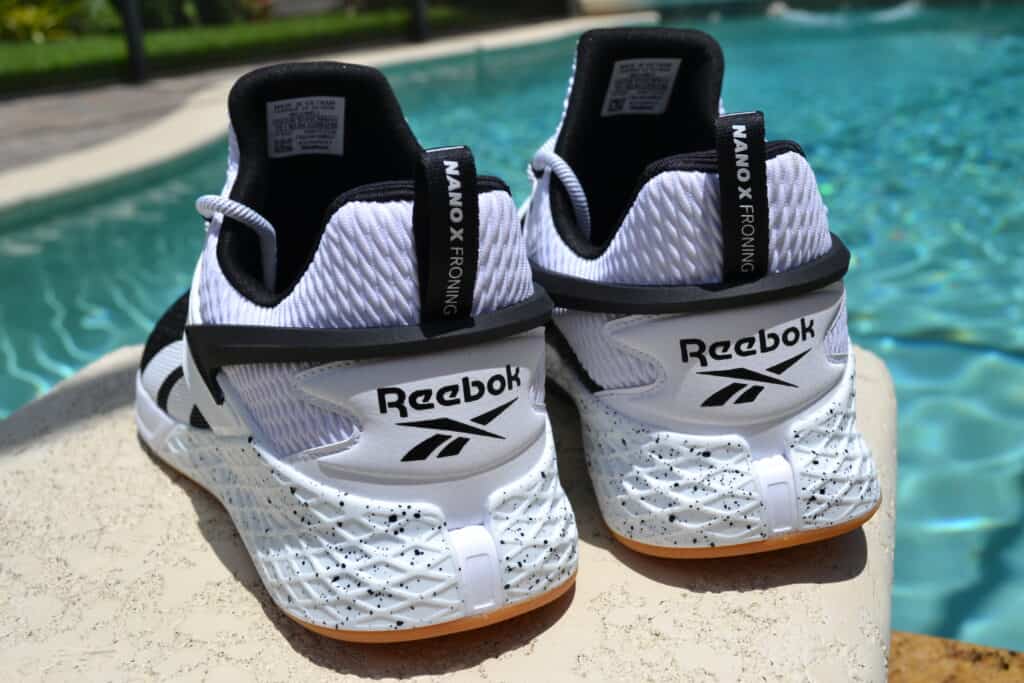 Affiliate Disclaimer
We are an affiliate of Reebok and Road Runner Sports. If you buy shoes after clicking the links in this article, we receive a small commission at no extra cost to you. This helps us to bring you in-depth information and content on these training shoes.