Let's take a look at the Nike SuperRep Go. This is a training shoe meant for circuit workouts or classes – whether in a fitness studio, hotel, or your living room.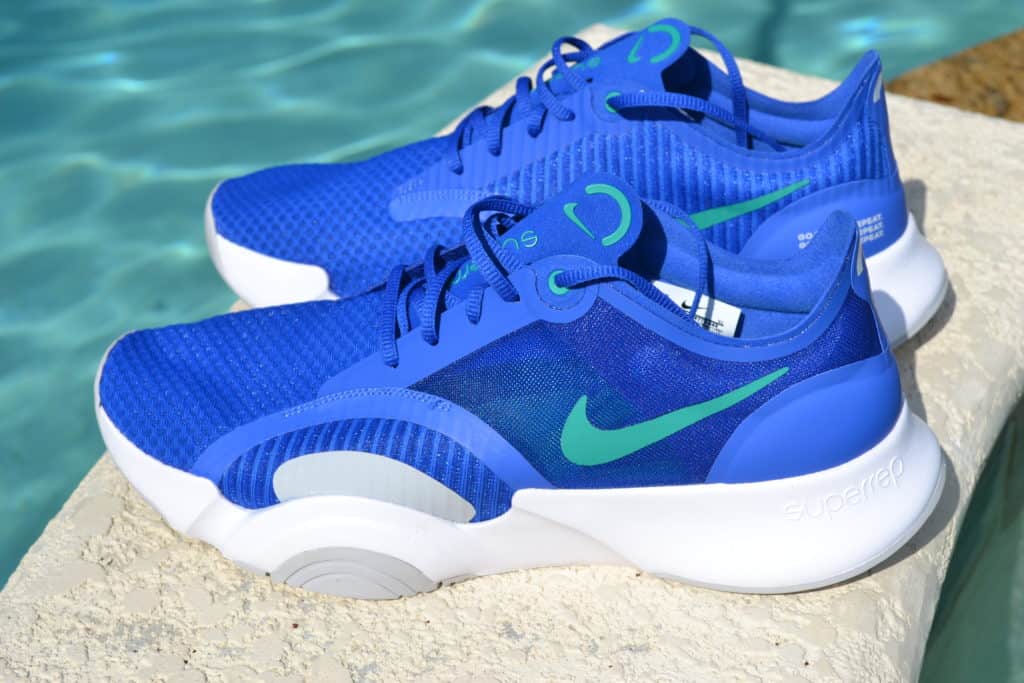 Here's a few of the colorways available. Get them from Road Runner Sports (we are an affiliate.)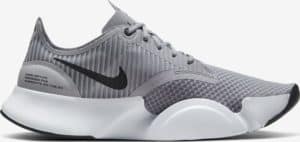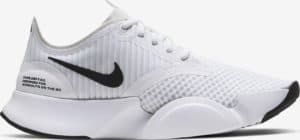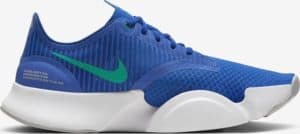 This is our hands-on review of these shoes.
Nike SuperRep Go Hands-On Shoe Review on YouTube
Why read when you can watch?
Check out our hands-on review on Youtube:
Nike SuperRep Go Sizing and Fit
The Nike SuperRep Go runs true to size.
A Men's Size 11 (my normal size) fits me perfectly.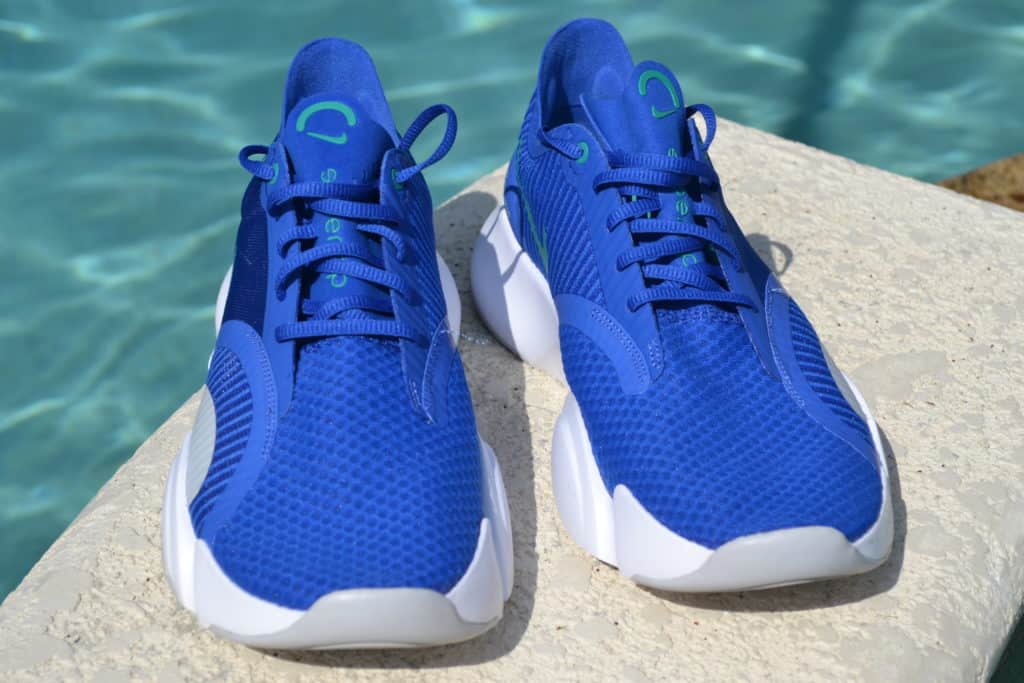 The length is perfect, and so is the width.
This shoe fits tightly, but that's by design.
(My only real complaint is that I wish the shoe had a pull tab on the heel – that would make it easier to put on and take off.)
I'd recommend you order these in your normal shoe size.
Nike SuperRep Go – Cushion and Lateral Support
This shoe really has two standout features – the cushioning and the lateral support.
Let's talk about that first.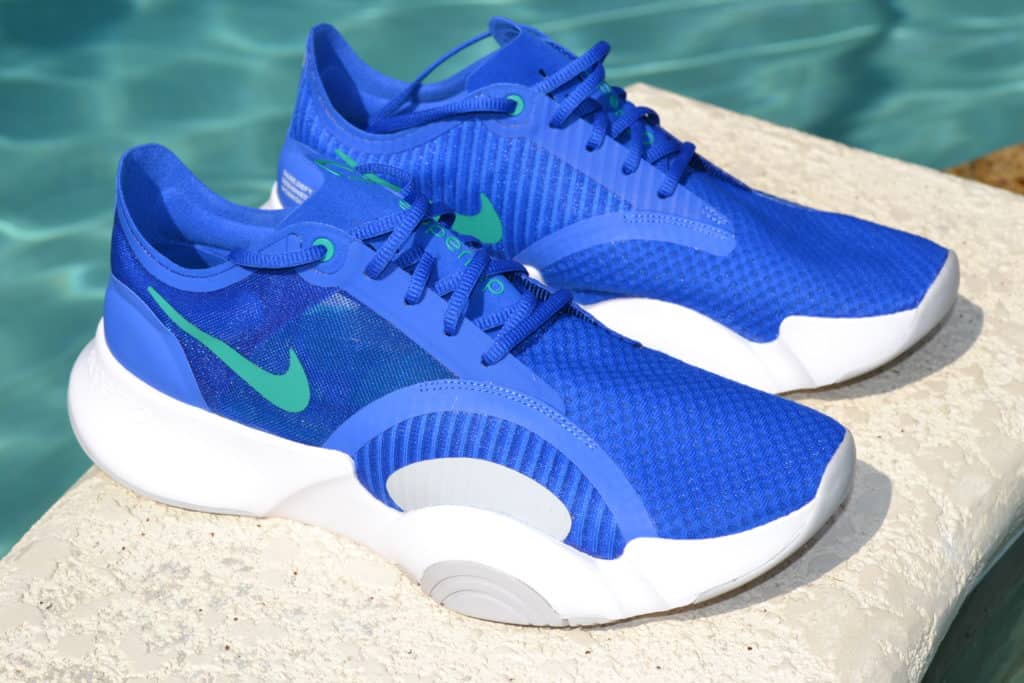 There's a ton of foam in the outsole of the SuperRep Go. Just look at that stack height!
A lot of foam means cushion – in the forefoot, midfoot, and heel.
There's also a very cushioned (almost gel-like) drop-in insole.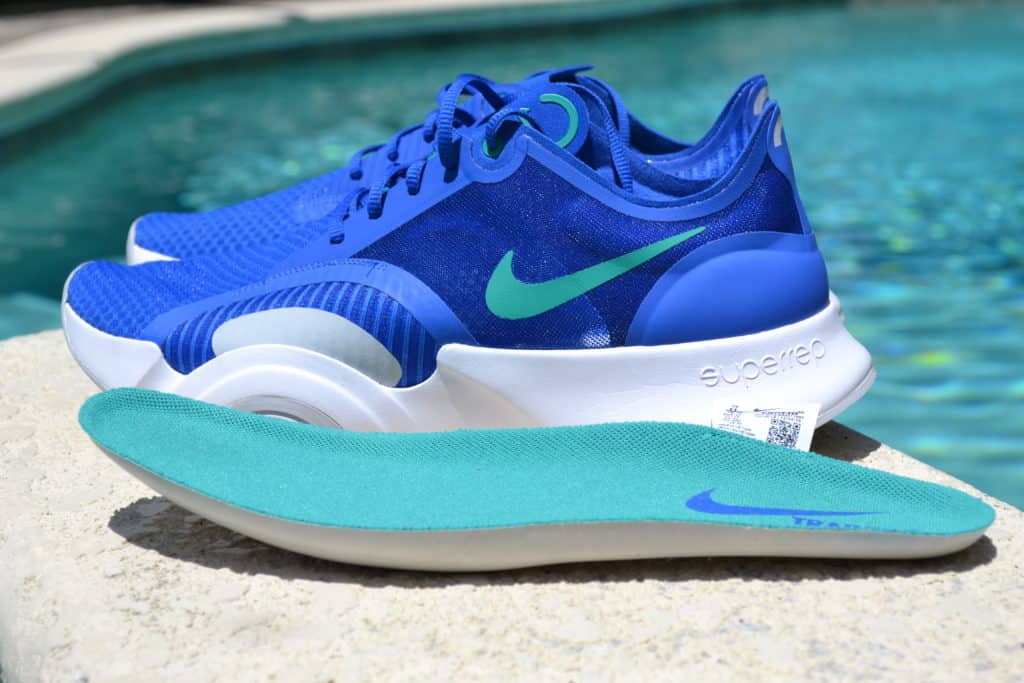 This shoe is meant for bodyweight workouts – I wouldn't recommend it for weightlifting or strength training – as the heel has too much cushion.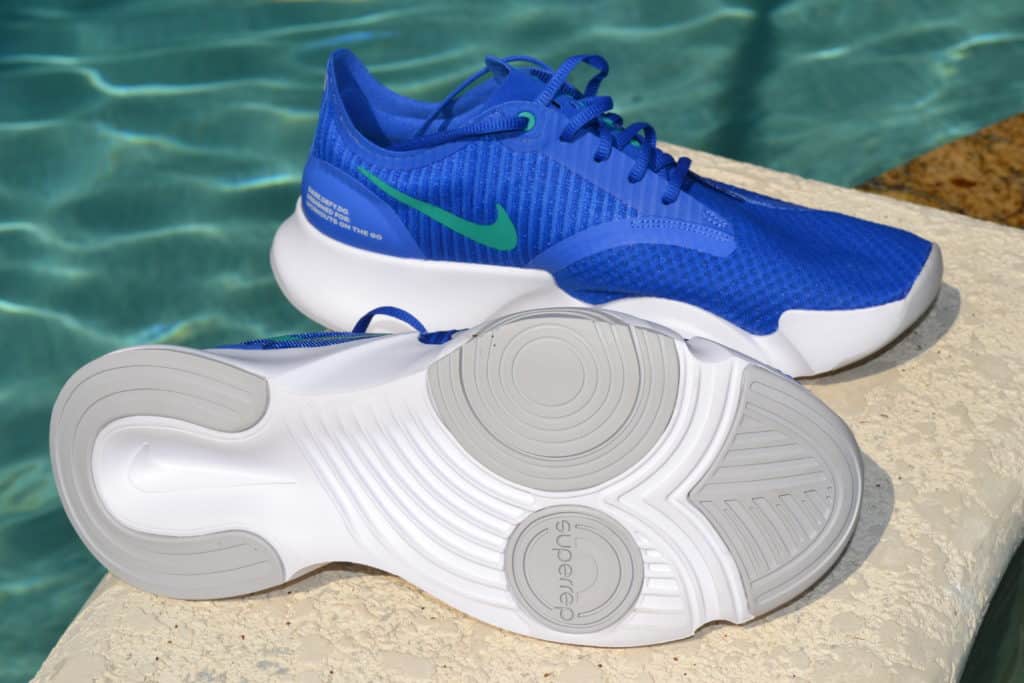 What's even better though is the lateral support in this shoe.
See the semi-circular areas up front? Nike calls those "Arcs".
And that's where the outsole comes up high to envelop your foot – both in the forefoot and some in the heel.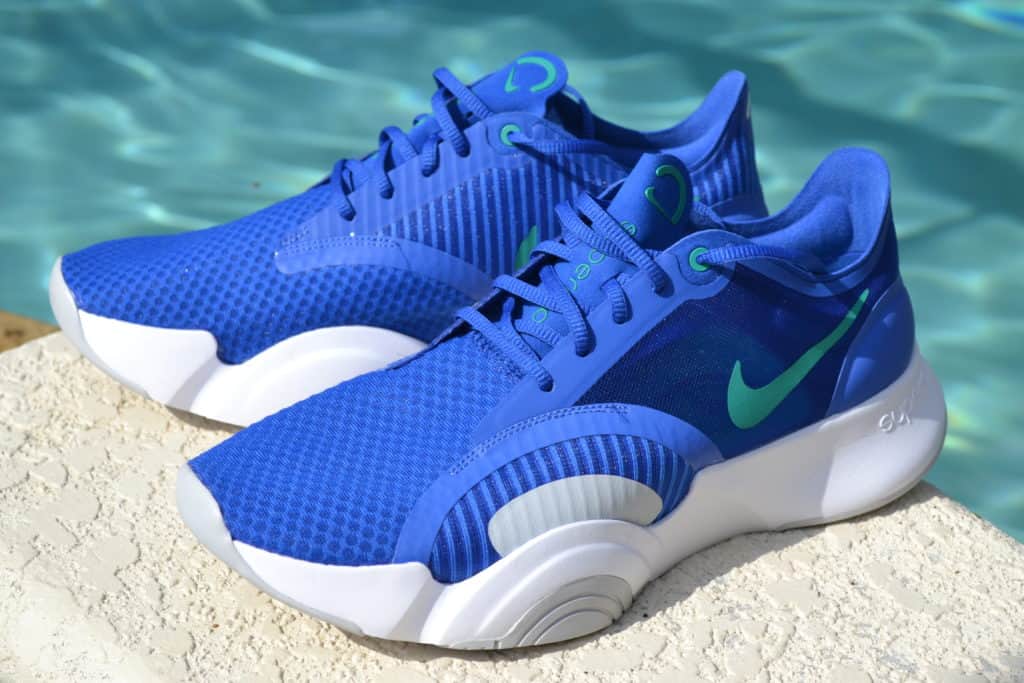 And that means outstanding lateral (side to side) support.
There's features on the outsole as well to support the Arc.
Cushion and lateral support – perfect for HIIT bodyweight workouts, circuit classes, and more.
But this is mostly an indoor shoe.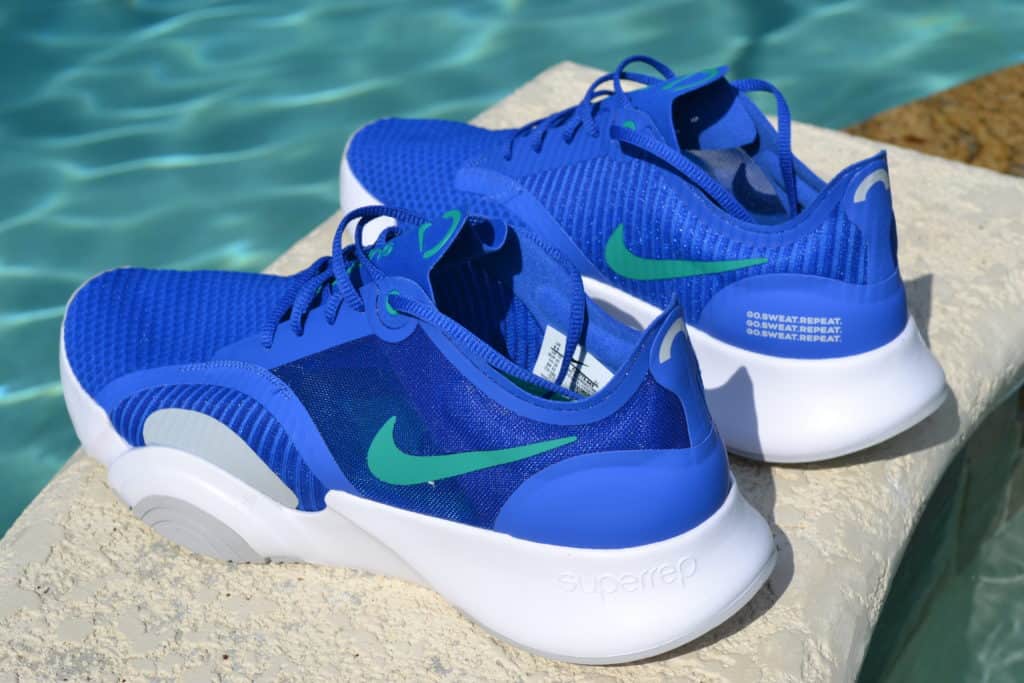 As you can see on the outsole, it's mostly foam (white in the photos below.)
The gray part is durable rubber – for traction and long life – but there's still a lot of exposed foam.
Technically this shoe has enough cushion for running, but I wouldn't use it as such – it won't last long.
The other part of this is the upper – it's very minimalistic.
This is a plus for keeping down weight, comfort, and breathability – but it wouldn't be durable enough for tough outdoor use – in my opinion.
Nike SuperRep Go – Lighweight Upper
Let's talk more about that super-lightweight upper.
It's so thin it is see-through!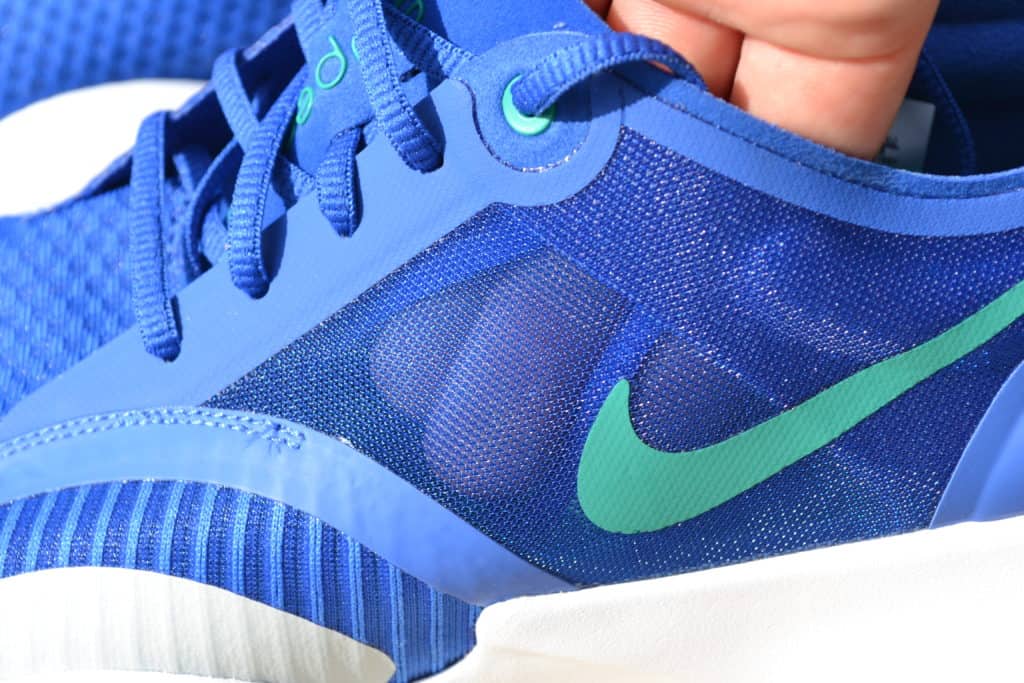 Not just on the sides, but in the toebox area you can see daylight through the mesh.
This is a very breathable shoe – how could it not be?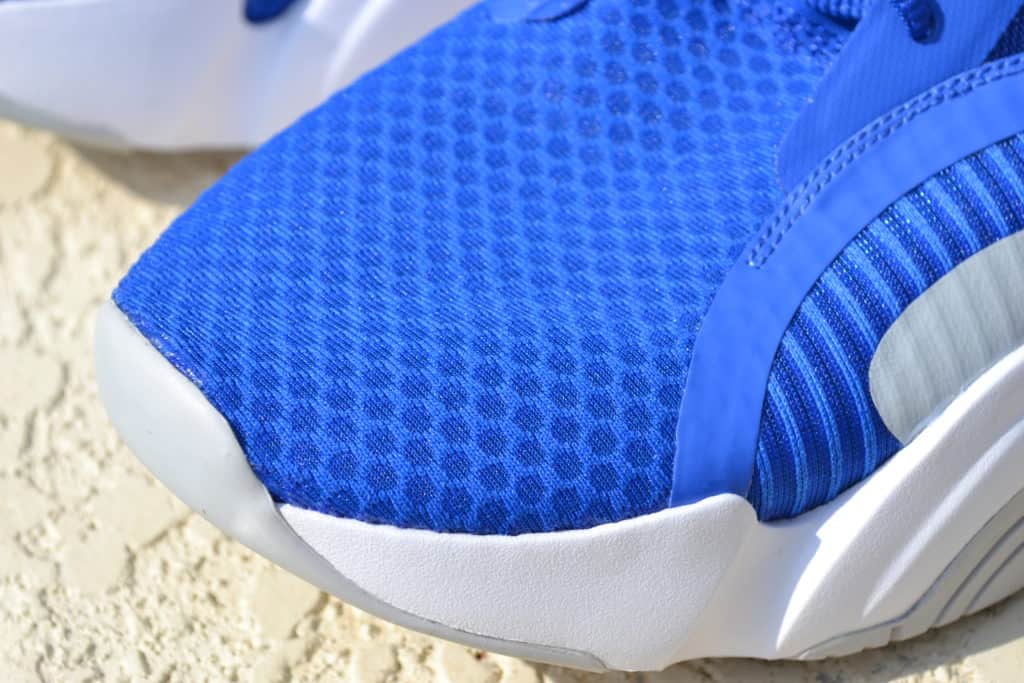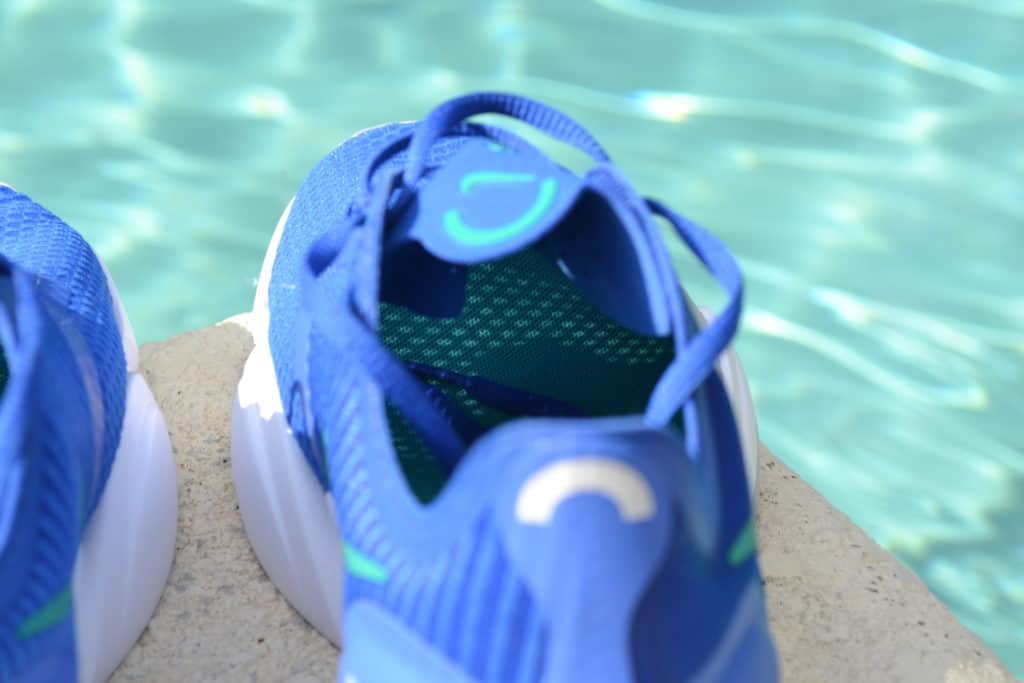 It also has "ribbing" on the sides that Nike claims will work to make your fit more comfortable.
Honestly, I'm not sure it does anything – but that's OK, it seems to be a comfortable fit as it is.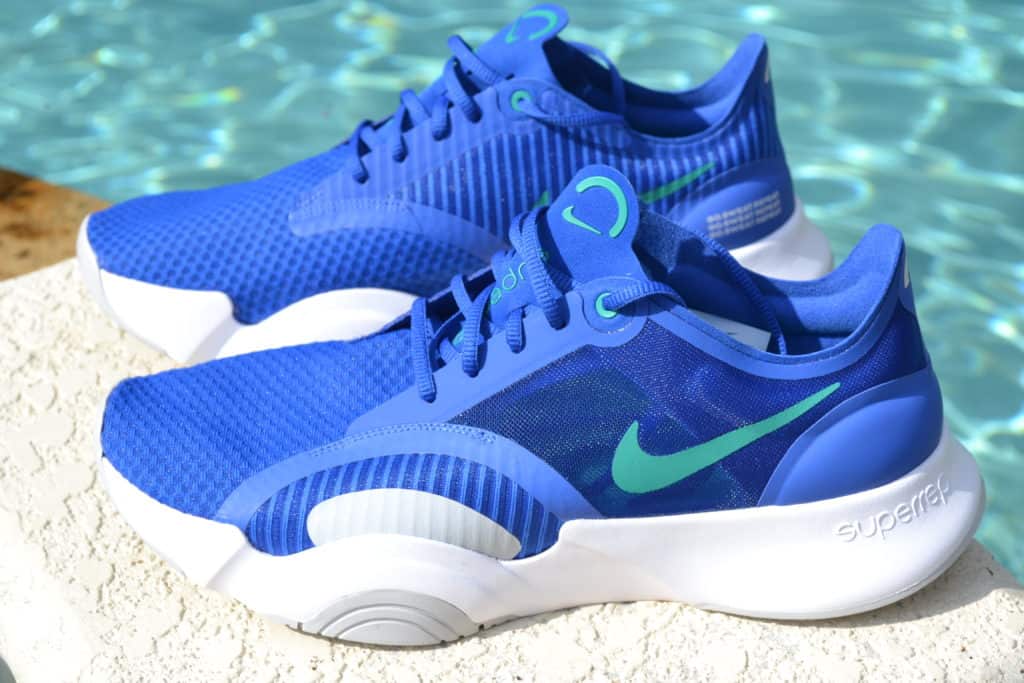 The tongue is paper-thin in this shoe as well. Not that it is a problem – but just be aware of that.
Nike SuperRep Go – Feel in the Gym
So, how does it work in the gym (or hotel or living room?)
It works as advertised – those Arcs and the wide base provide great lateral support.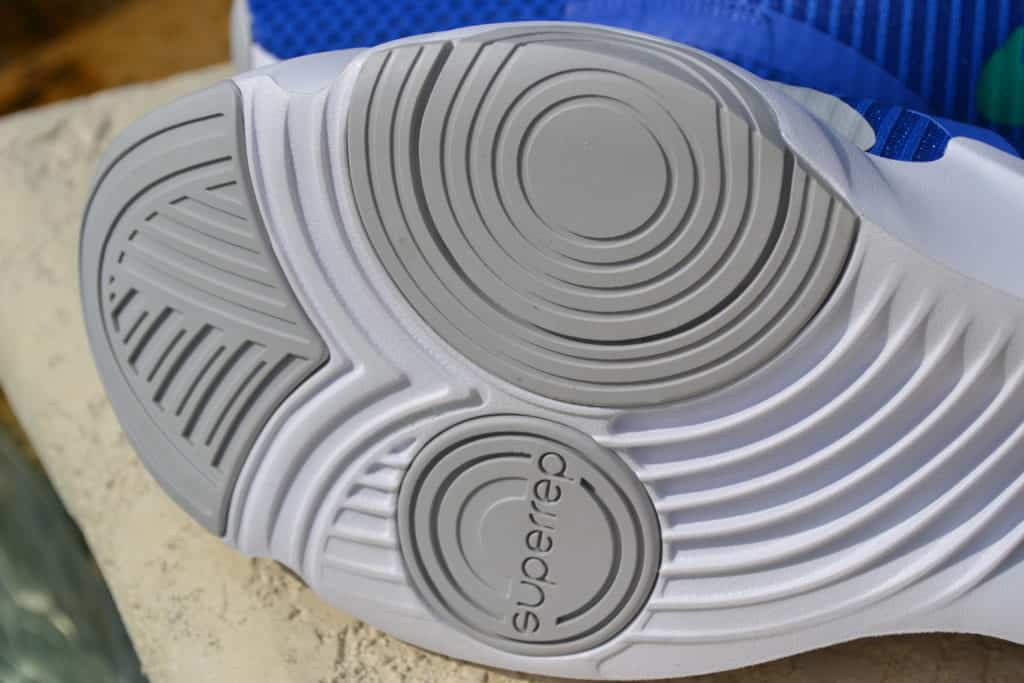 Side to side motions are secure and easy.
It also delivers on the cushion too – there's just so much foam, it works well.
Having said all that – just remember – this is a bodyweight workout shoe.
It's too much smooshy cushion for barbell weightlifting.
Nike SuperRep Go Versus Nike React Infinity Run Flyknit Running Shoe.
There's not too many shoes like the SuperRep Go – so let's compare it to something that is close – sort of.
The Nike React Infinity Run Flyknit has a very minimal, lightweight upper -and a lot of cushion too.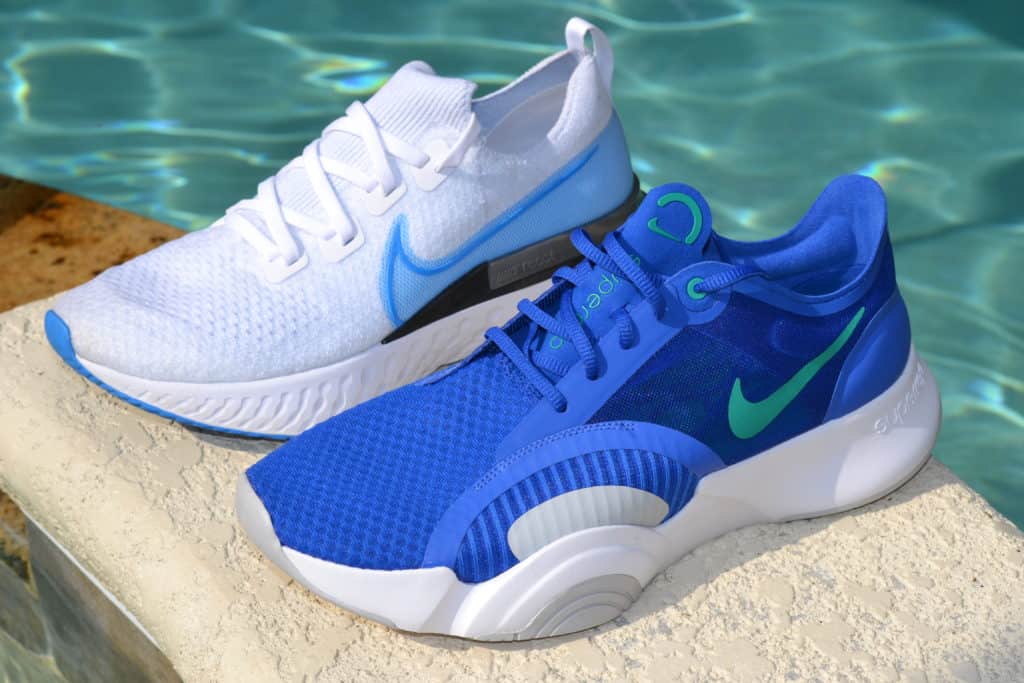 It's a running shoe, but given the above, it's a reasonable candidate for a bodyweight HIIT workout indoors – because it has lots of cushion.
In fact, as you might tell from the name this shoe has Nike's excellent React foam.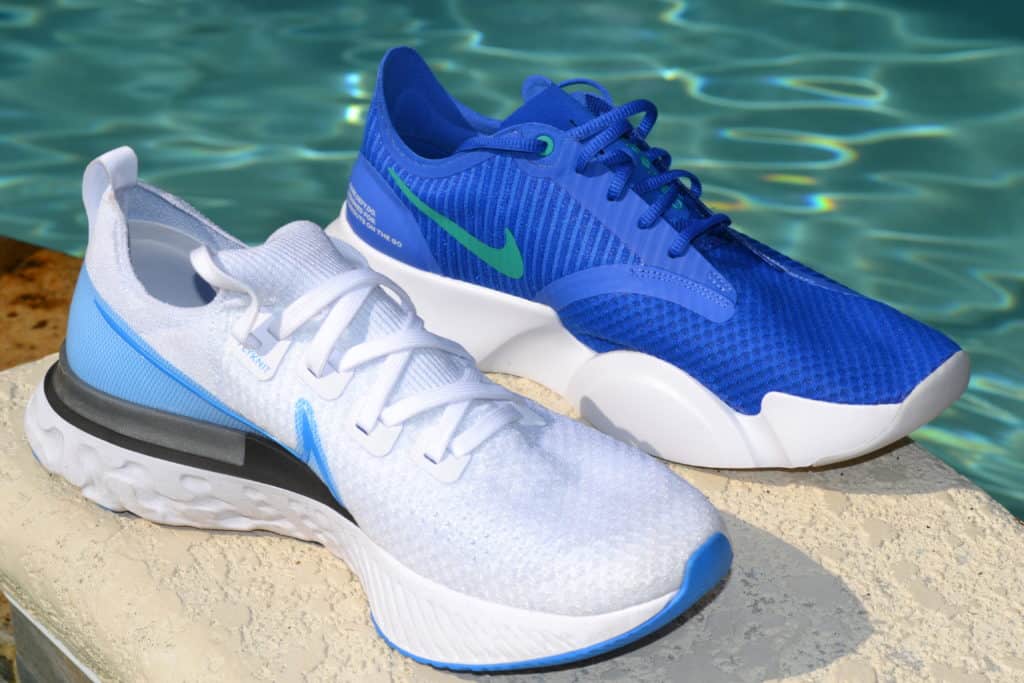 This foam is soft but it also offers crisp rebound and energy return.
They make great running shoes for those of us that want cushion.
But, React foam is expensive. These shoes are currently $160.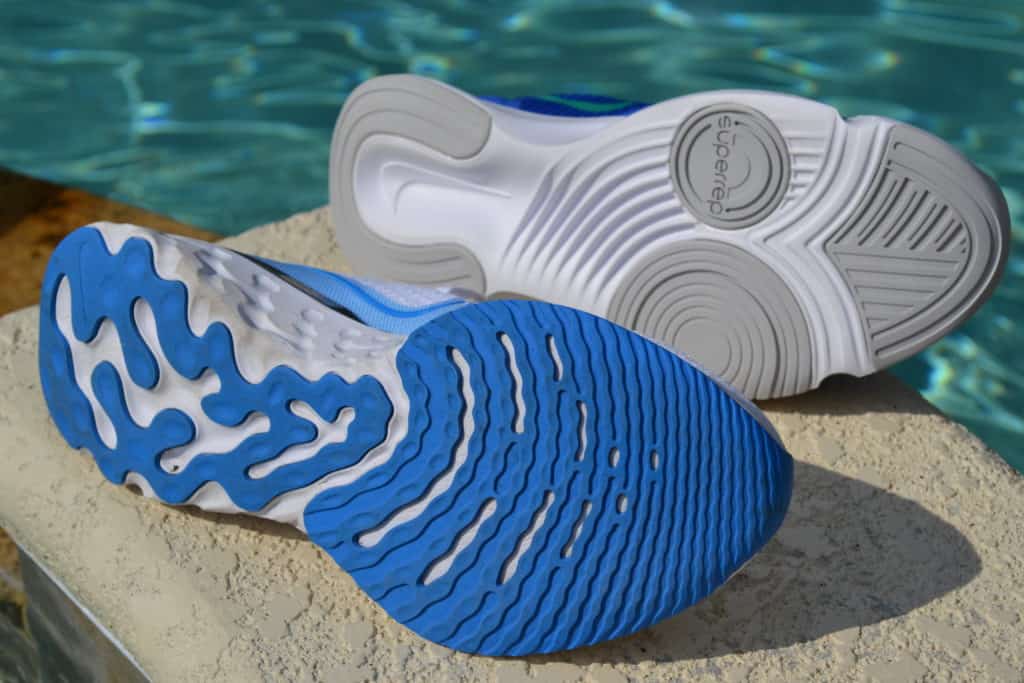 The foam in the SuperRep is substantial, but it can't hold a candle to React foam.
It's soft and cushioned, but doesn't give you the magical bouncy feel of a lot of React foam.
Having said that though – the SuperRep is the champ when it comes to lateral support – thanks to the Arcs we described earlier.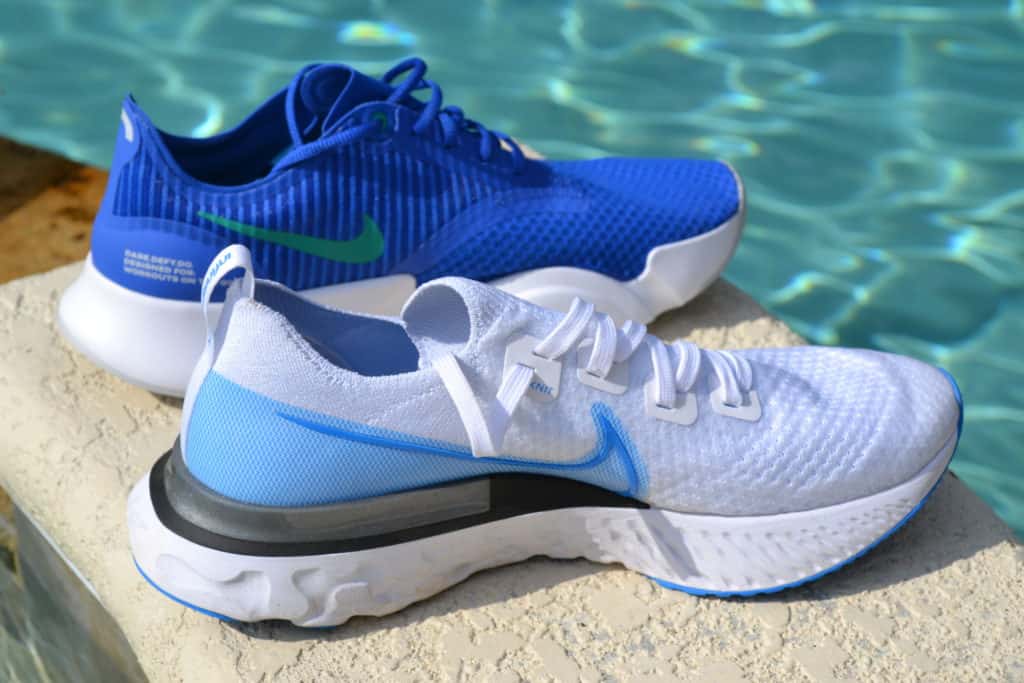 The Infinity Run Flyknit can't compare in that category.
Also, while this shoe does have a lightweight upper, it's made from Nike's FlyKnit. It's pretty close to the SuperRep as far as being light – but it's more comfortable because it has significant stretch to it.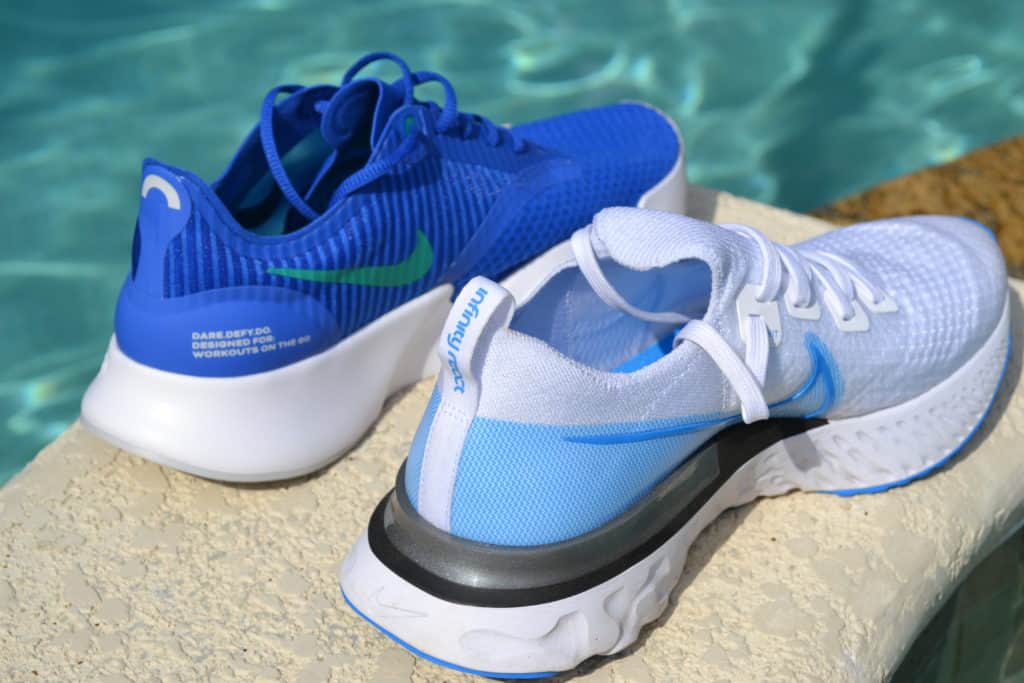 The React Infinity Run Flyknit is a more versatile shoe in my opinion.
It has a lot of durable rubber on the outsole – to keep that delicate React foam from being abraded.
You can run outdoors on asphalt with these shoes – and still get lots of cushion indoors for bodyweight HIIT workouts.
The React shoe is lighter by a full ounce – 11 ounces for the Infinity Run and 12 ounces for the SuperRep Go (Both are a Men's size 11.)
Having said all that, just remember that the React shoe costs 60% more than the SuperRep.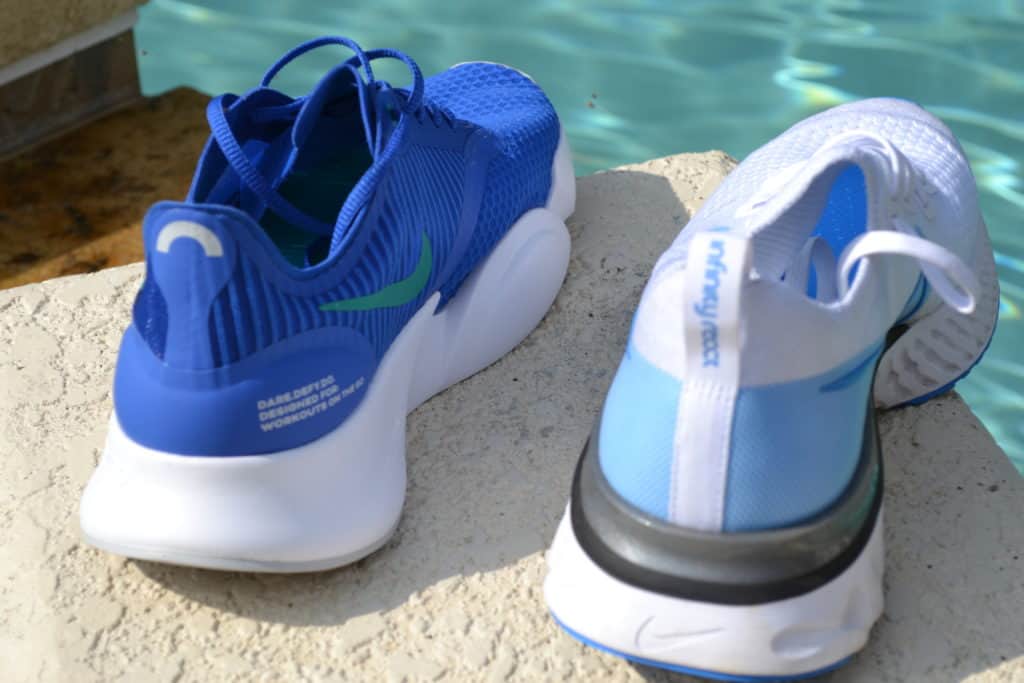 Nike SuperRep Go Shoe Review – In Summary
As an indoor shoe for bodyweight circuits this shoe delivers.
It's pretty cheap ($100) and that's good.
I wouldn't recommend it for weightlifting or running outdoors – but that's not what it is for.
Want even more dynamic cushion in your HIIT/Class shoe? Check out the Nike Air Zoom SuperRep 2 – this shoes uses Nike's Air Zoom units.
Doing a class with weights? The Nike ZoomX SuperRep Surge might be the better choice.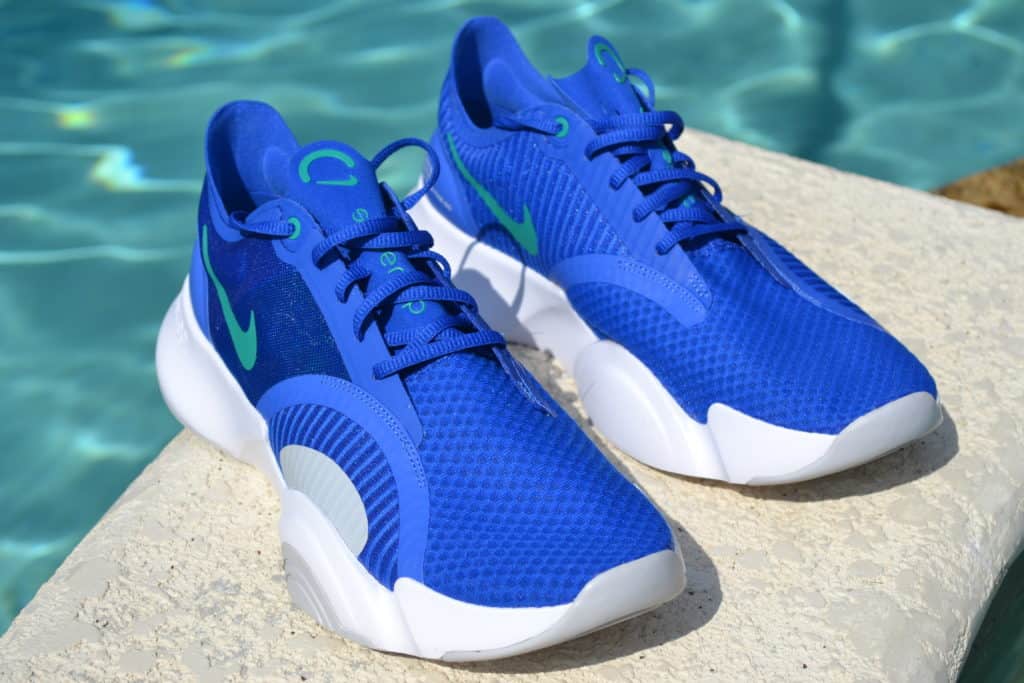 We are a Road Runner Sports affiliate. That means if you buy shoes after clicking some links in this article, we receive a small commission at no additional cost to you. This helps us bring you great hands-on reviews about these products.
Photo Credits
Some product photos on this page are property of Nike, Inc.
This website is not affiliated or associated with CrossFit, Inc. CrossFit is a registered trademark of CrossFit, Inc.