Nike has released the latest version of their very popular Pegasus running shoe – the Nike Pegasus 37 running shoe is now available.
This is an Air Zoom shoe – but it packs a big change too – there is now React foam in the midsole.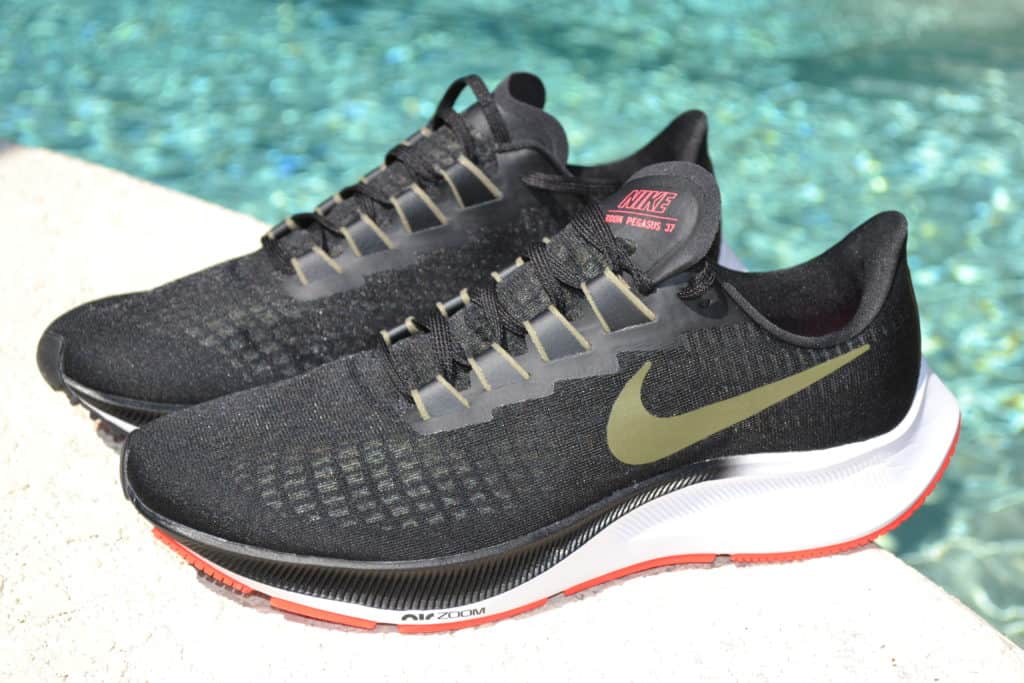 Our review pair has arrived – and we've put it through the paces. We'll compare it to the Pegasus 36, as well as some other popular running shoes.
Here's some of the styles that are available now from Road Runner Sports (we are an affiliate):
Nike Air Zoom Pegasus 37 Running Shoe – Fit & Sizing
The Nike Air Zoom Pegasus 37 runs true to size.
A Men's size 11 fits me perfect – and that's my normal size.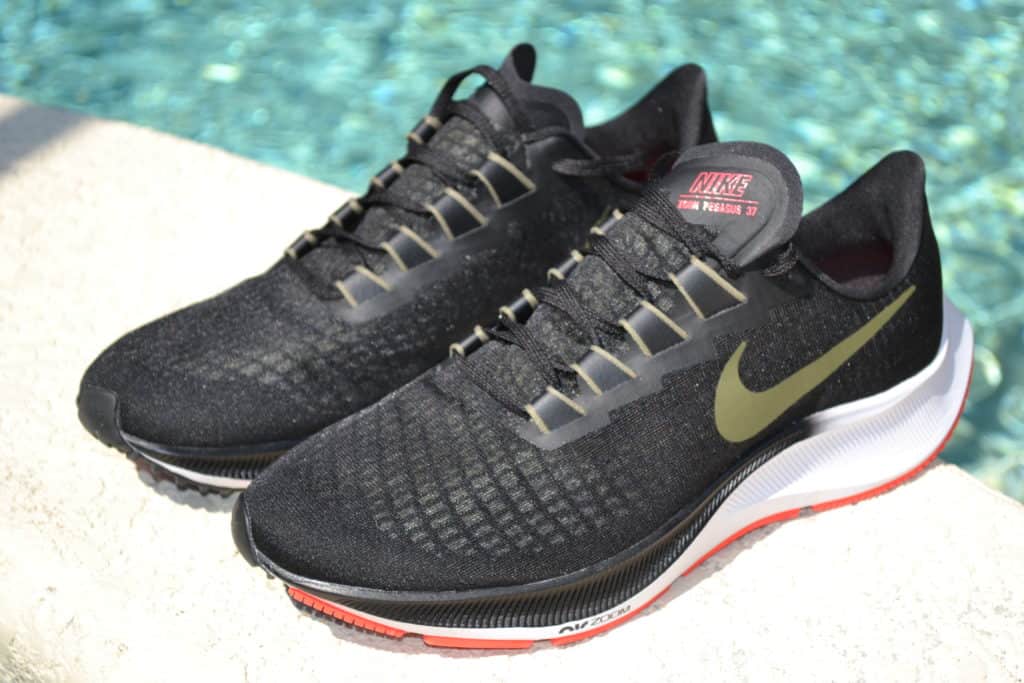 The length is good, and the width is good.
This shoe is also available in a extra wide version – but we didn't test that here.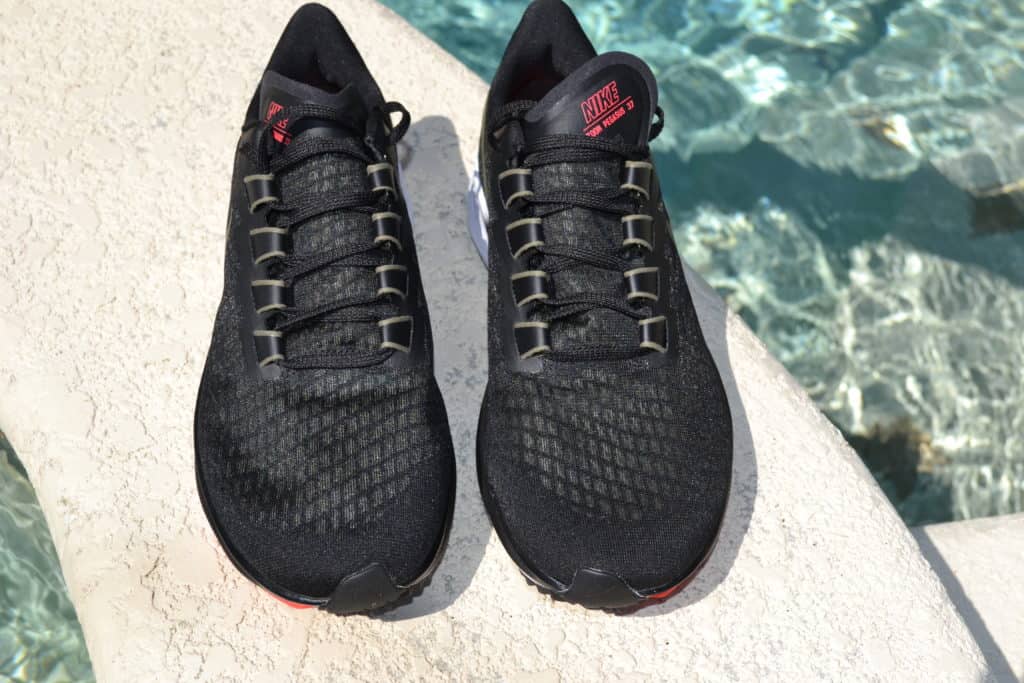 I don't get any heel slippage in the Pegasus 37.
This is a neutral running shoe, with a 10mm heel to toe drop.
I recommend you order your regular shoe size for best results.
Nike Air Zoom Pegasus 37 Running Shoe – What's New?
What's new?
Lots. Let's start with cushioning because that is such a key aspect of a running shoe.
First of all, the Pegasus 37 will use a forefoot cushioning unit (a Nike Air Zoom unit, of course).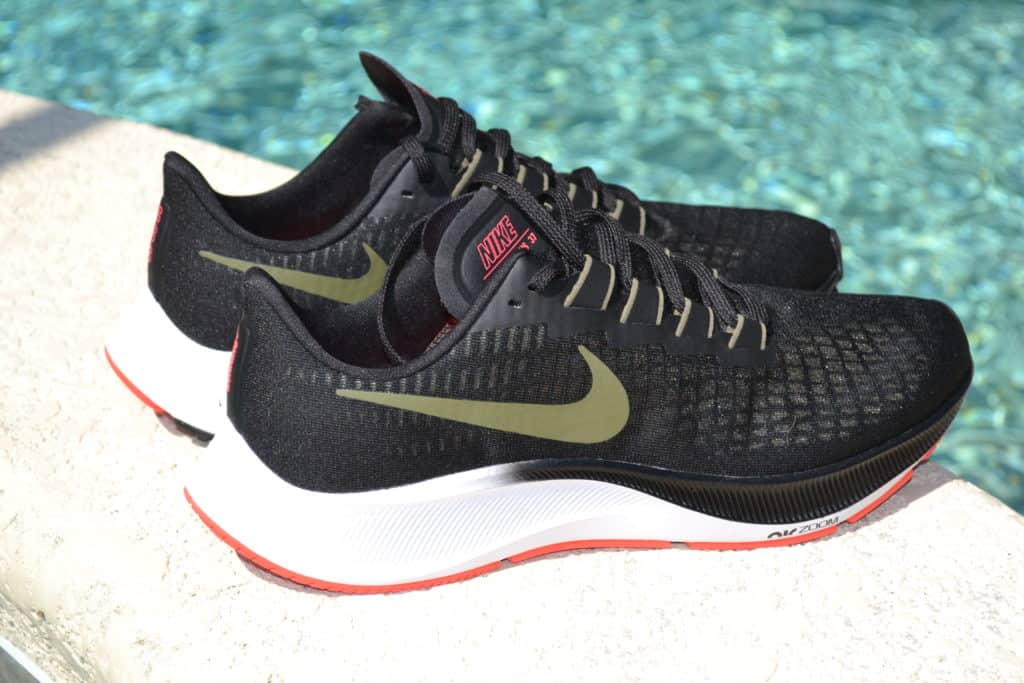 Didn't the previous shoe have Air Zoom up front? Yes – but this unit is now twice as large as the previous unit.
The Air Zoom unit is also closer to your foot – meaning less midsole material between your foot and the Zoom air unit.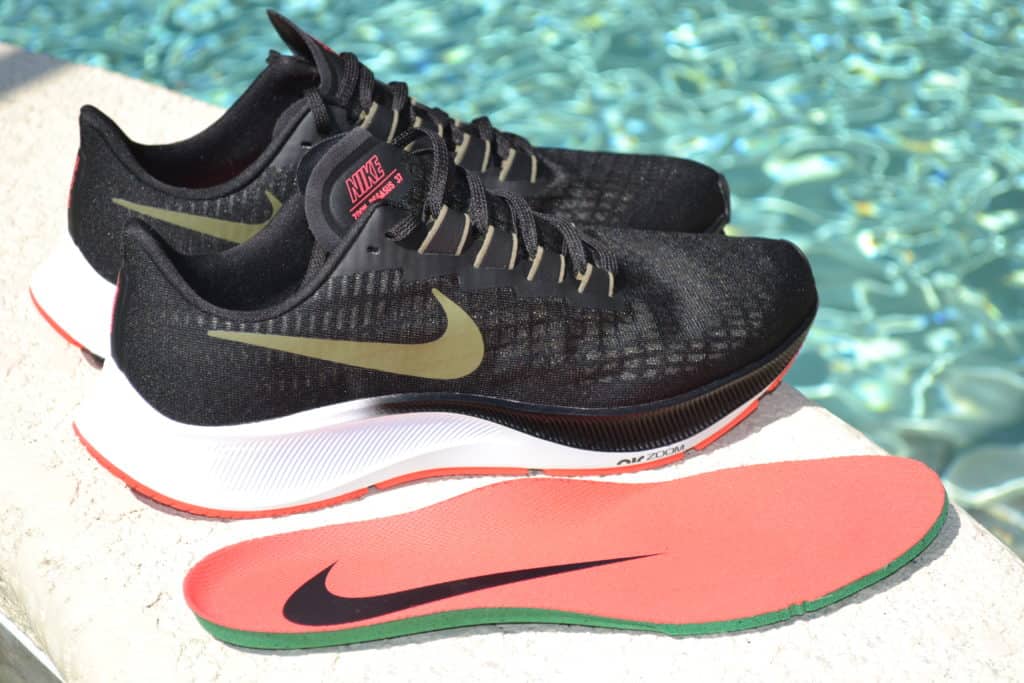 Here's another change – the air bag is tuned differently for men and women.
For men, there's 20 psi of pressurized air, while only 15 psi for women.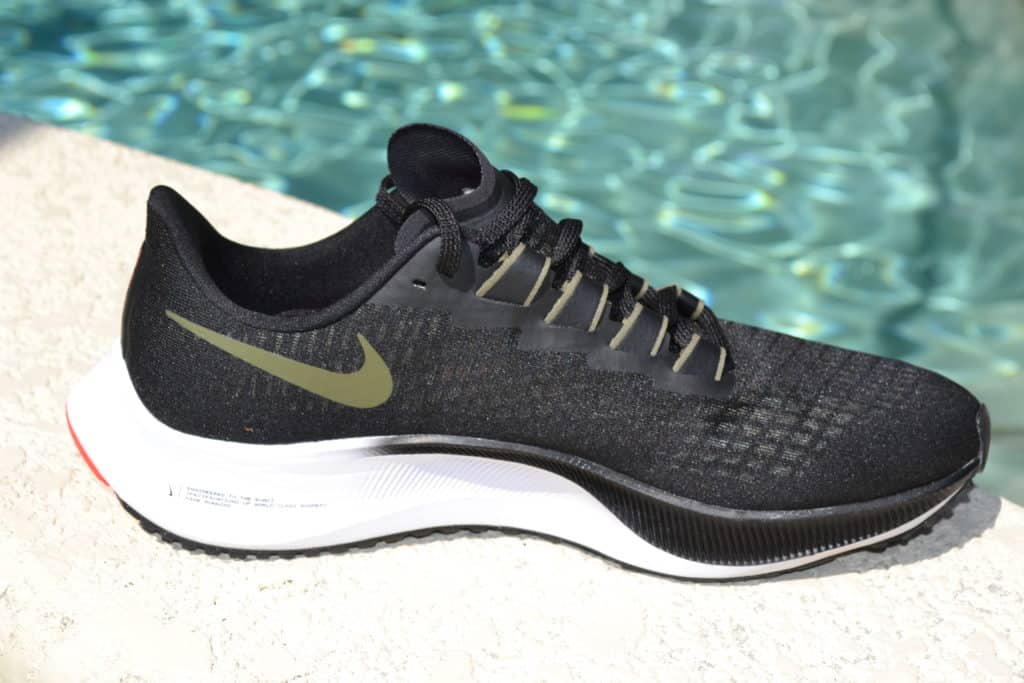 Nike's testing indicated that women preferred the less firm support in the forefoot.
This shoe will include Nike's excellent React foam as well.
I like React foam – it's got great cushion, feels soft, but it also provides a crisp energy return or rebound.
It puts spring in every step.
And I'm happy to say the Pegasus 37 delivers on the React running shoe experience.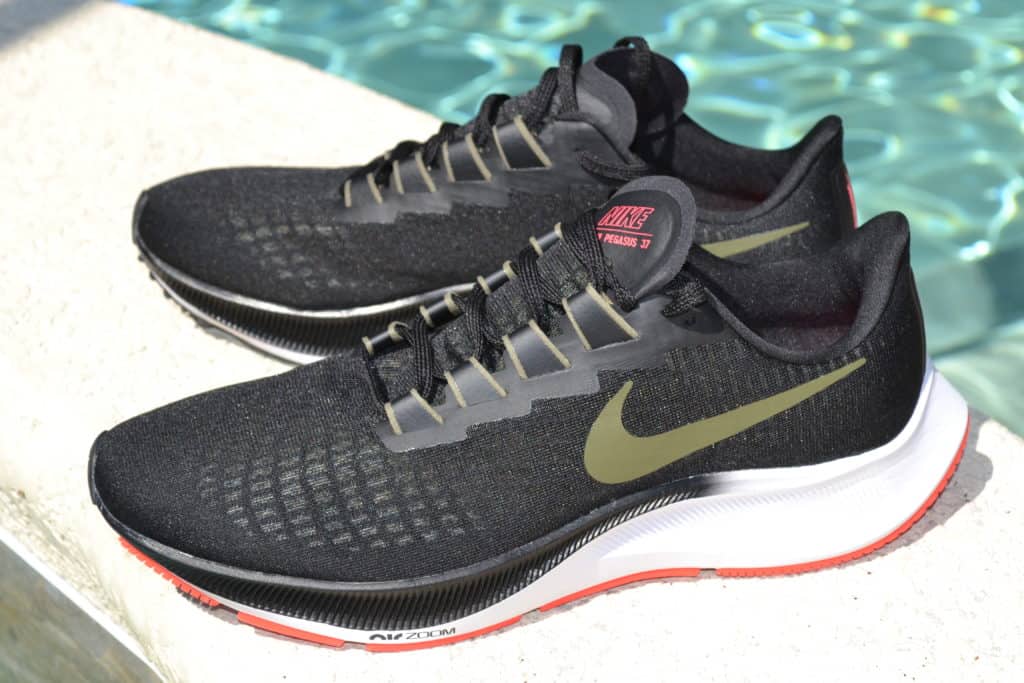 It does have good, crisp response – and you can really feel the difference in the forefoot with the double thickness Air Zoom bag.
Here's some more good news – this shoe is available in regular and extra wide widths.
The regular width shoe is right in line with most of Nike's men's running shoes. A size 11 fits me perfect.
I have regular width feet – so I have not tested the extra wide model.
Not much has changed in the outsole – and that's OK, because it works.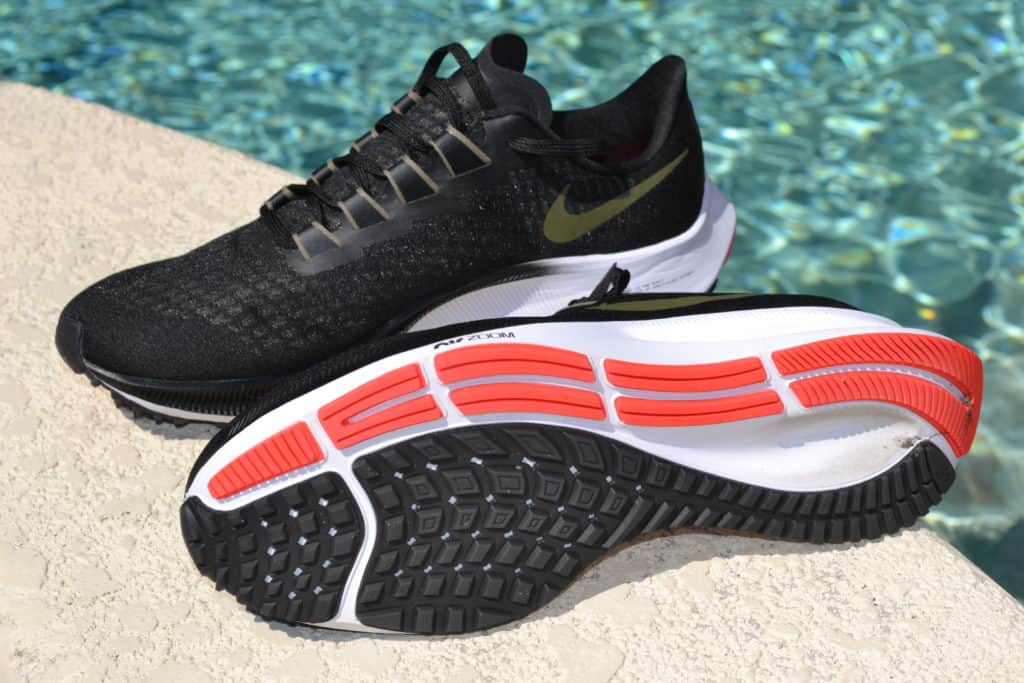 It also uses a new "fit band" that should adapt to the size of your foot for maximum comfort and security.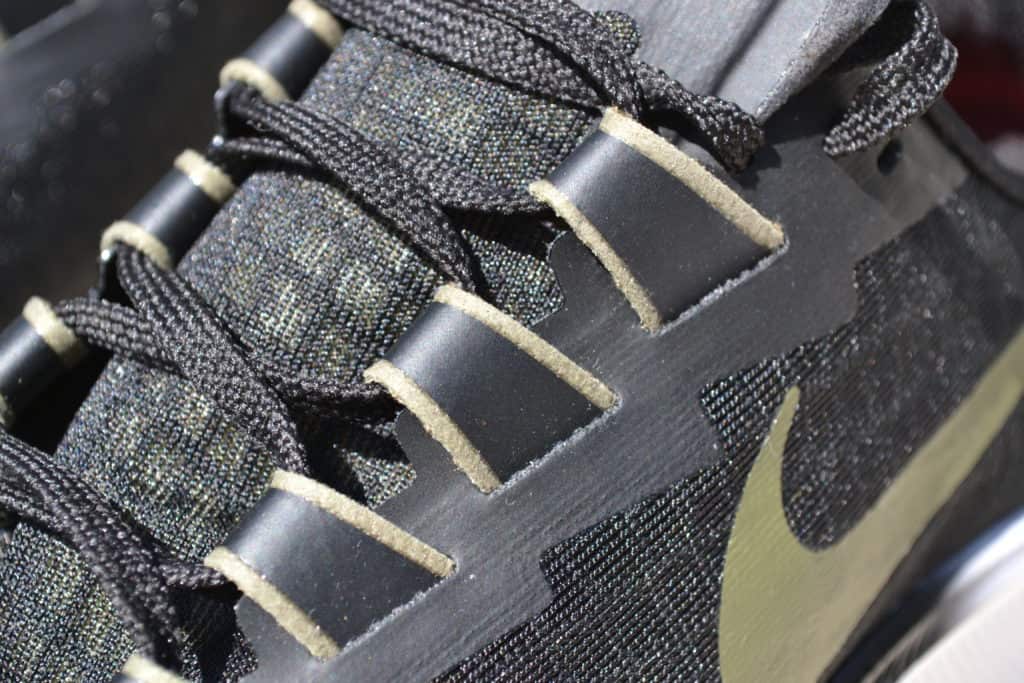 The last shoe used Flywire to help secure the shoe, but the fit band seems to be an adequate replacement.
The upper has been tweaked as well. It's now a translucent upper that has "the look of speed" and is looks to be light and breathable.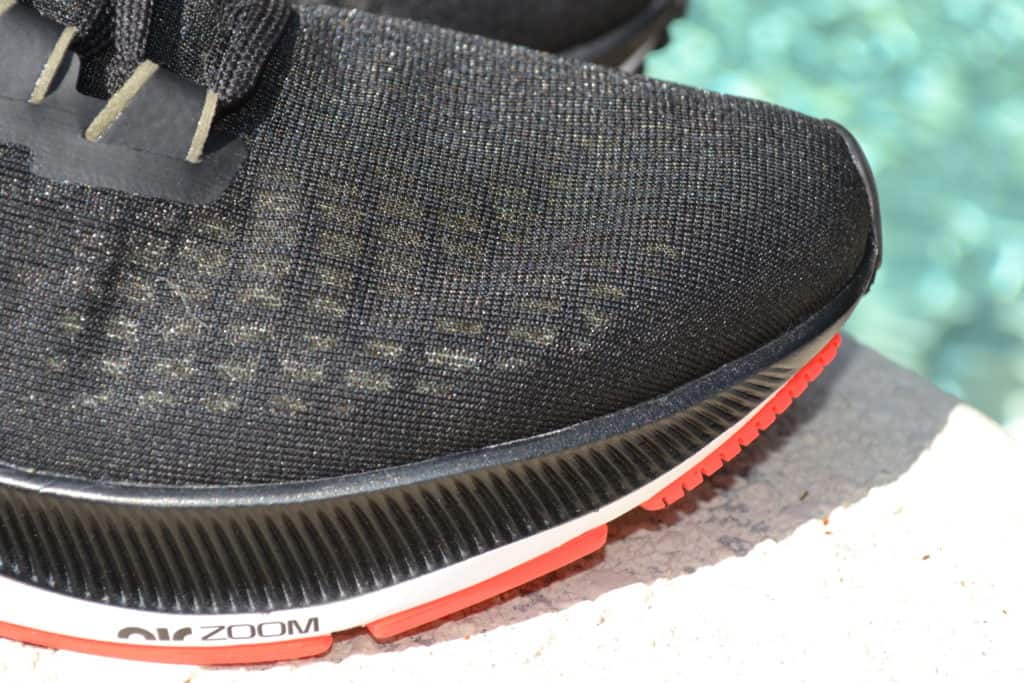 Is it breathable? Check this photo to see daylight shining through the mesh – that's usually the sign of a really breathable shoe.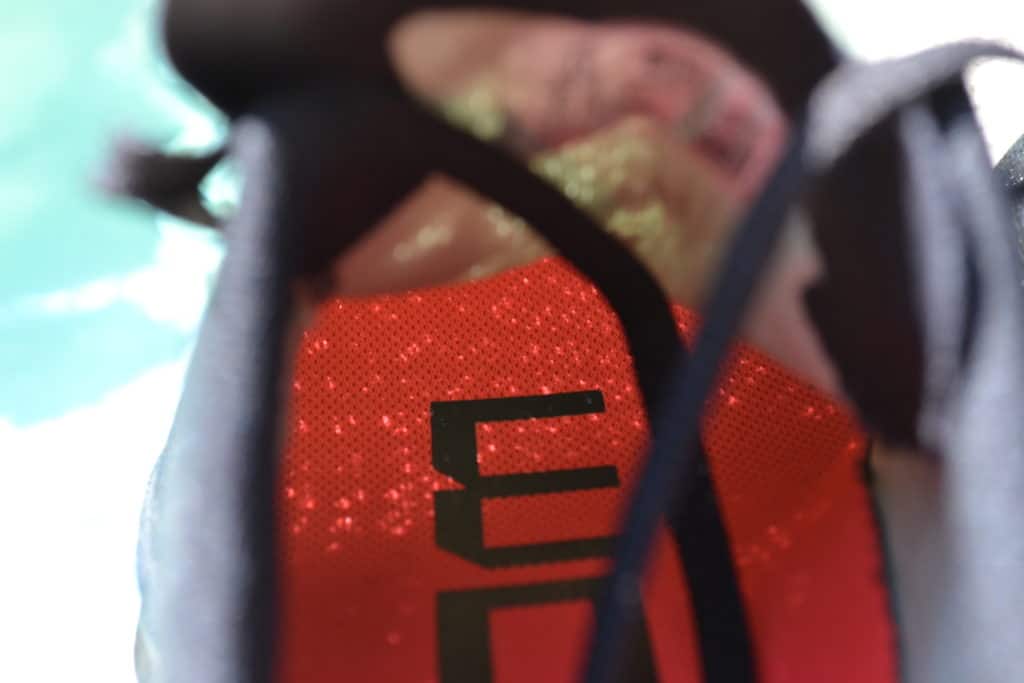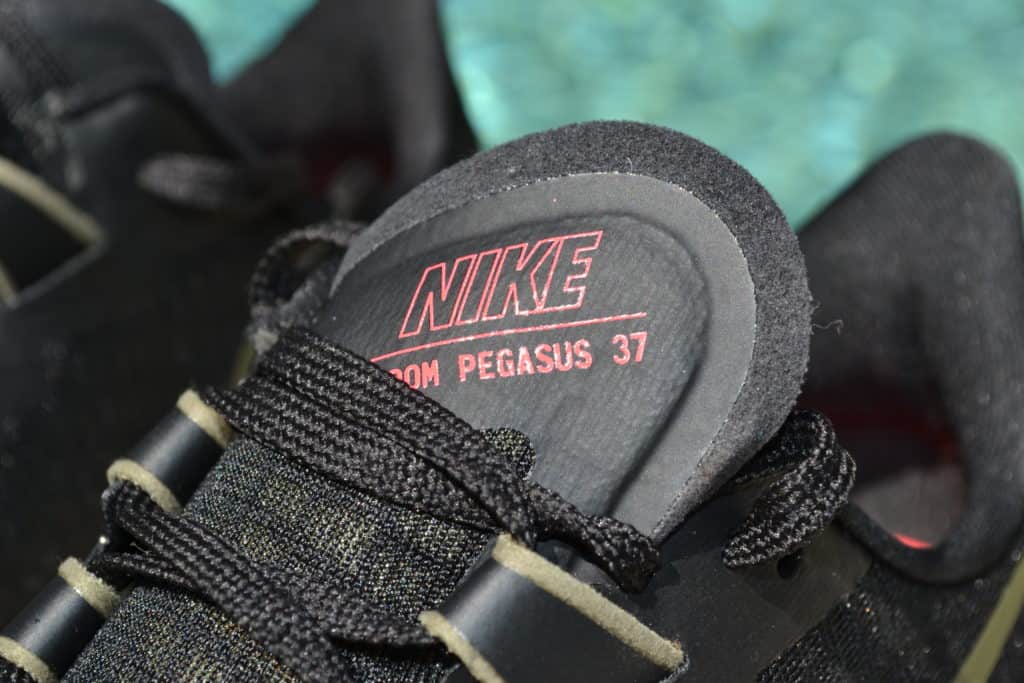 Heel to toe drop? Still 10mm – of course.
The Pegasus 37 packs regular shoe laces, with an extra eyelet for a lace lock/runner's loop.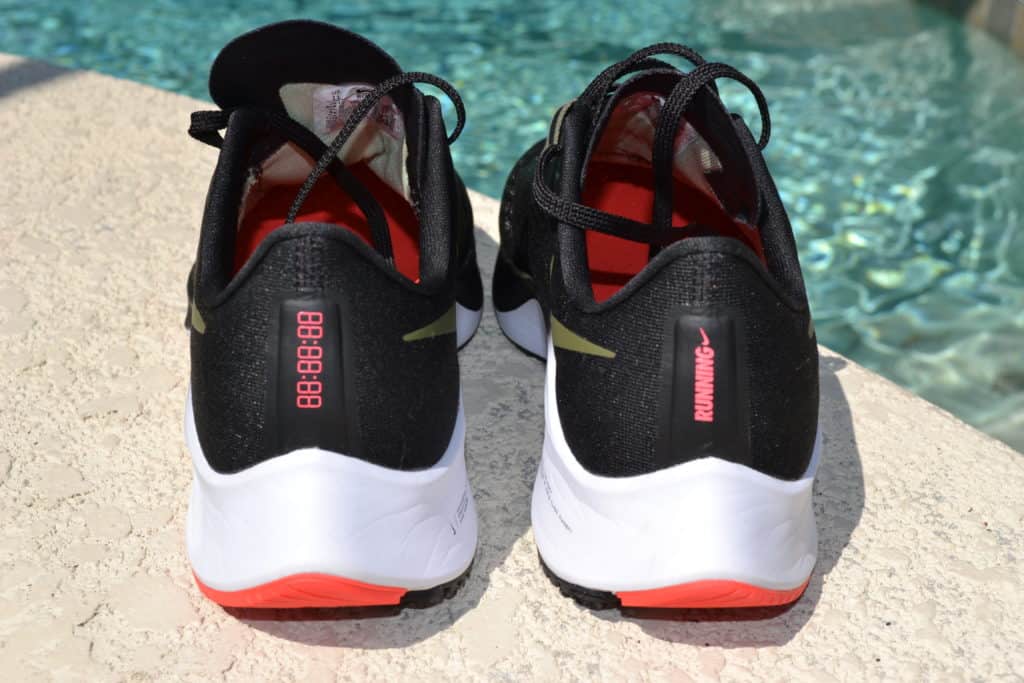 A FlyEase version is available too.
What's that? FlyEase is a zippered entry makes it easy to quickly get on and off. No-tie lacing secures the fit.
Let's compare it to some other popular shoes, starting with it's predecessor.
Nike Pegasus 37 versus Nike Pegasus 36 Running Shoe
The Nike Pegasus 36 was a popular running shoe.
It's good looking, affordable, and worked well.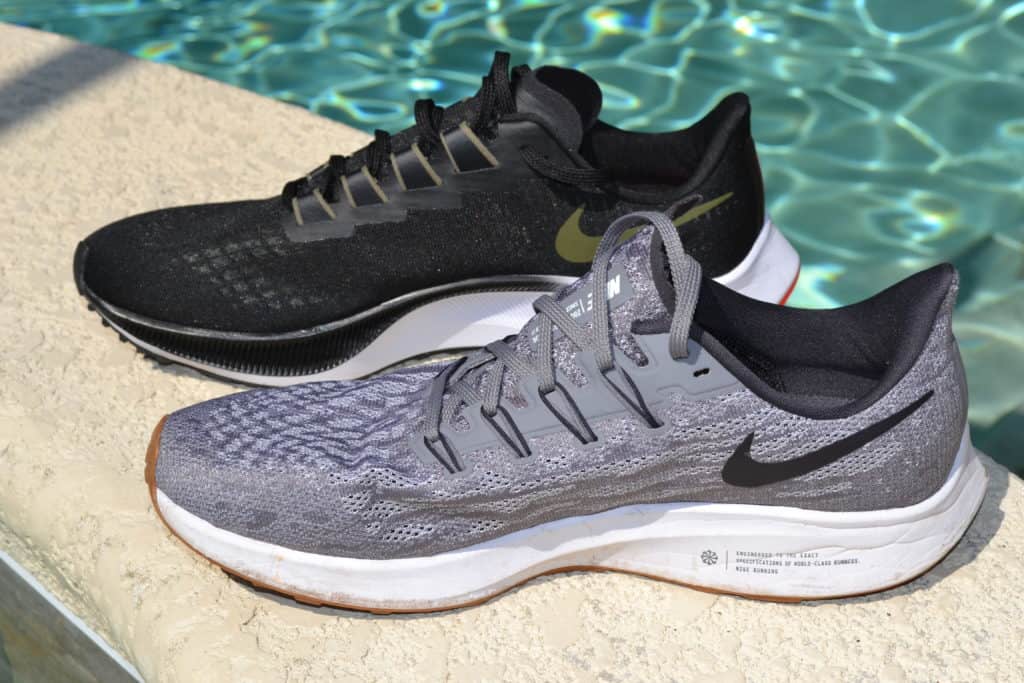 What's the big differences?
Well, as we mentioned there's no React foam in the midsole.
The Pegasus 36 uses Nike's regular Cushlon ST foam.
There is noticeably less cushion in the 36 – in my opinion.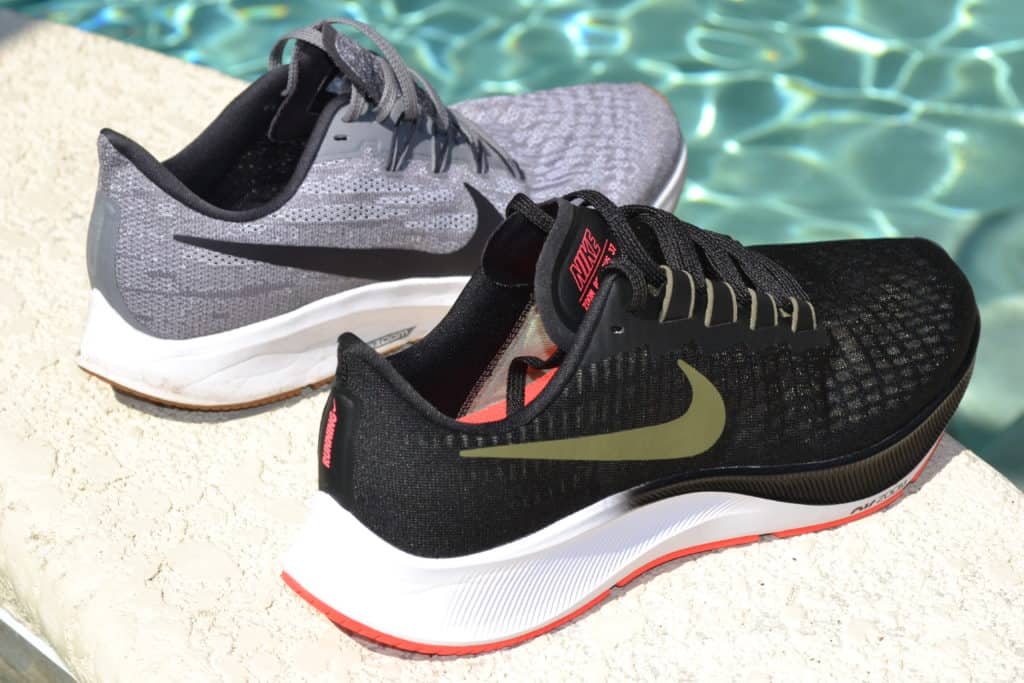 Secondly, the Pegasus 36 used a full-length Air Zoom bag.
So, that means the air bag runs the whole length (or nearly so) of the midsole.
When comparing them side by side the difference is noticeable.
The double thickness Air Zoom bag in the 37 feels much more cushioned.
All in all, it's just a different feel. And to me, if feels like less cushioning than the Pegasus 37 has.
The other big difference is the use of Flywire to help secure the fit – rather than the fit band of the 37.
Does this make any sort of difference that you can feel?
Not to me it doesn't
Otherwise, all the stats are about the same: drop is 10mm, fits true to size, etc.
The stack height is 2 mm less than the 37 – React foam shoes typically are "taller" than non-React. That's just inherent to how React foam works, it seems.
And as such, the Pegasus 36 is slightly lighter than the 37. A Men's Size 11 in the 36 weighs 10.3 ounces, where as the 37 weights 10.7 ounces.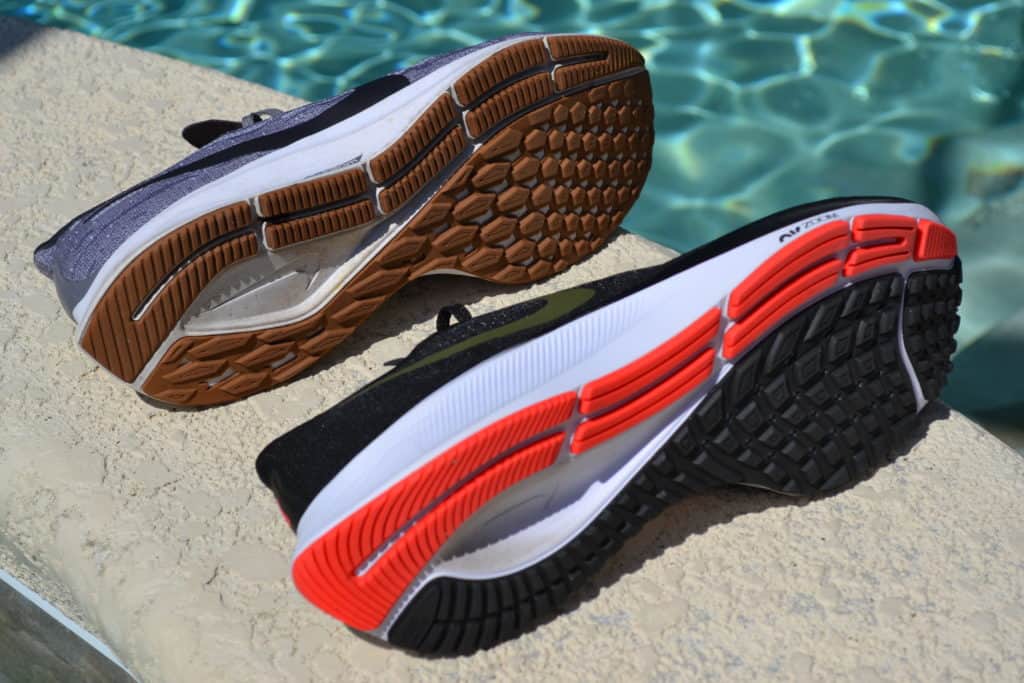 For me personally, I'll vote for the Pegasus 37. It's got more cushion, feels more cushioned in the forefoot, and I like the extra cushion.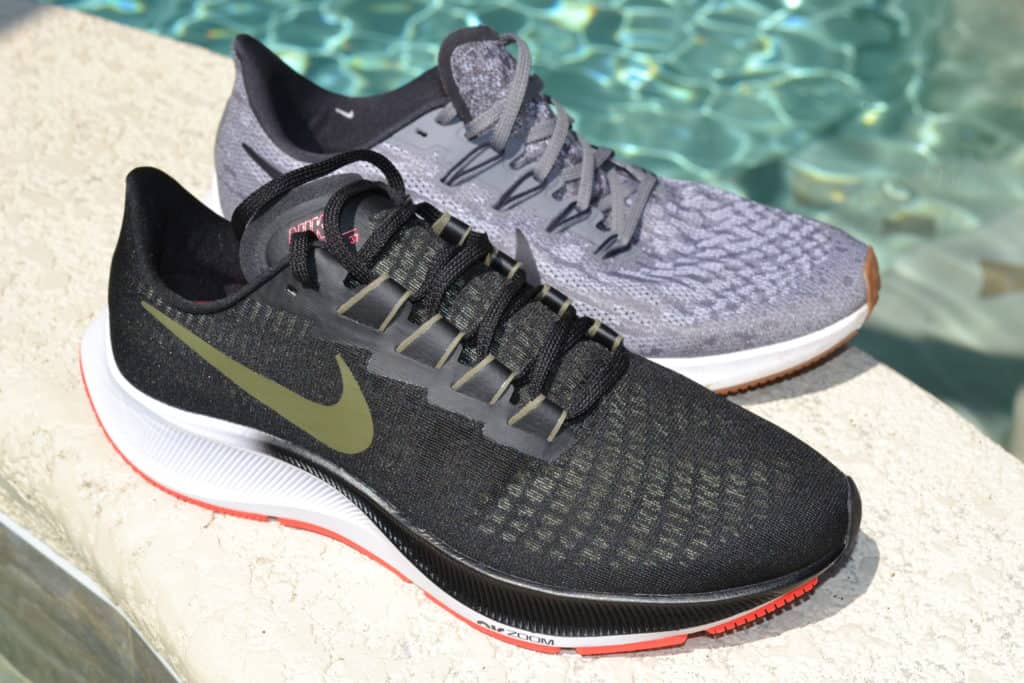 Nike Pegasus 37 versus Nike React Infinity Run Flyknit
Now, let's compare to another lightweight, React running shoe – the Nike React Infinity Run Flyknit.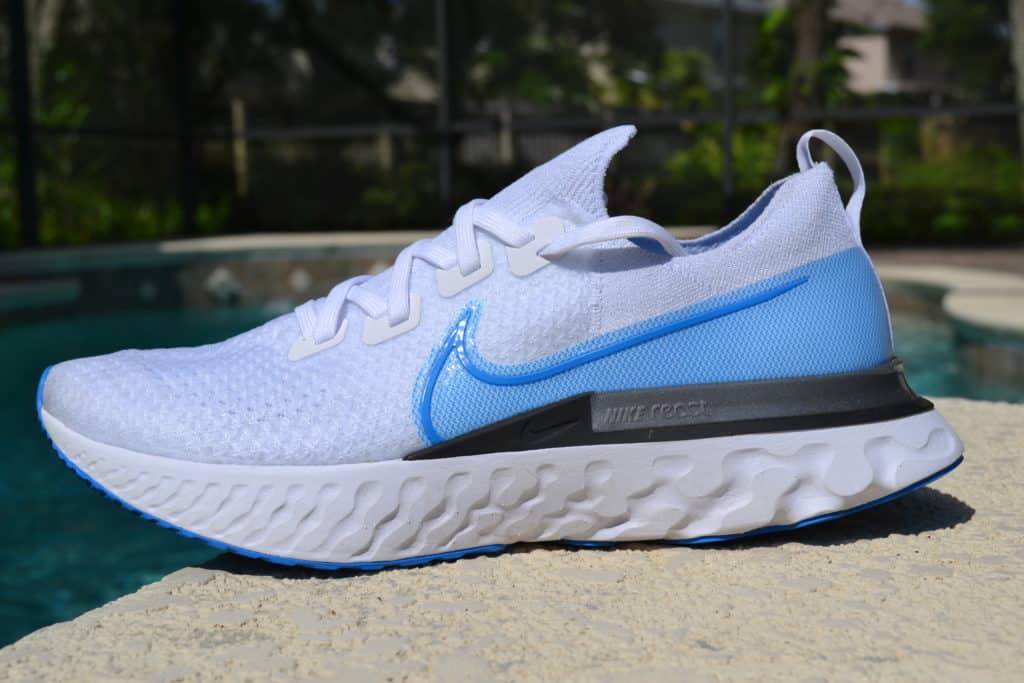 This is a soft and ultra-cushioned shoe.
The React Infinity Run Flyknit is my go-to shoe for running on asphalt – I really like the cushion.
There's much more React foam as compared to the Pegasus 37 – and that's a difference you can feel.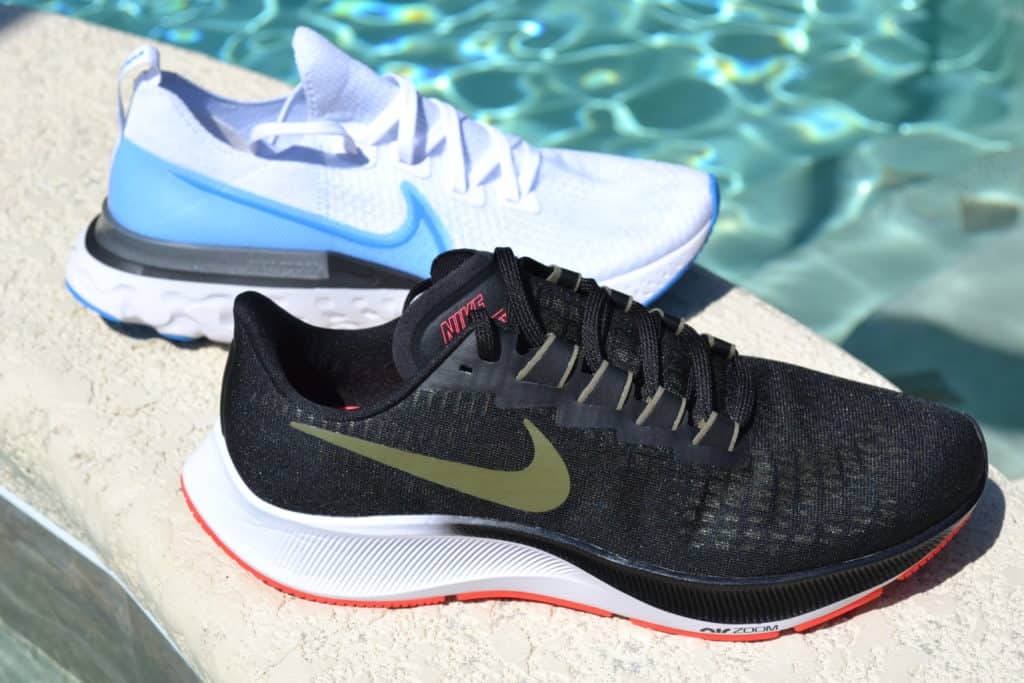 The forefoot feels more cushioned as well – because it's solid foam rather than having a zoom air bag.
The Infinity Run is slightly heavier, probably because of all that foam.
A Men's size 11 weighs almost 12 ounces, as compared to 10.7 ounces for the Pegasus 37.
The Infinity run has a very pronounced "rocker" shape to the outsole – but that's not all that different from that of the Pegasus 37.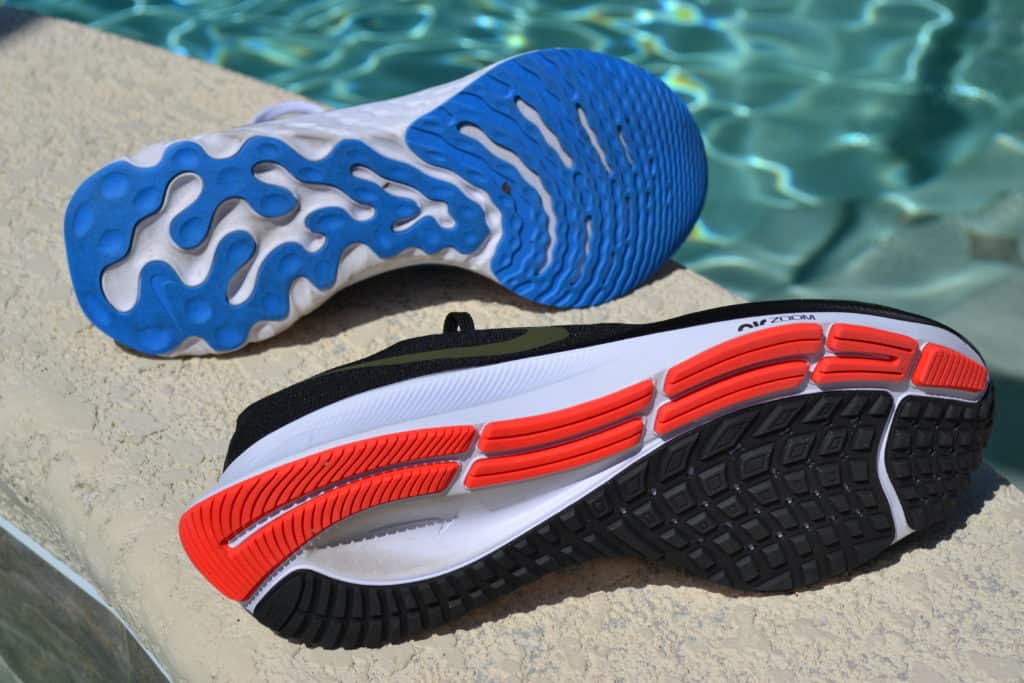 Nike claims the Infinity Run reduces the incidence of injuries.
I can't weigh in on that – but I can tell you it's a very soft, cushioned shoe – and these 47 year old joints appreciate that.
The other thing I really like about the Infinity Run – this is the Flyknit model with the woven, synthetic upper.
It's thin, it's light, and it fits like a sock. It's very comfortable.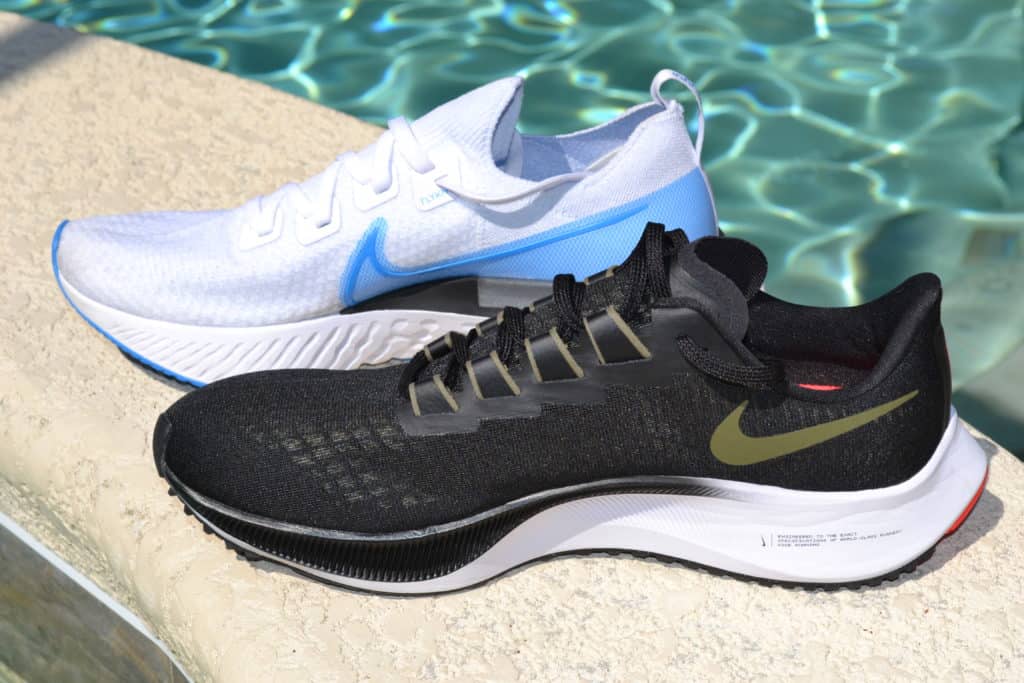 I do prefer that over the Pegasus 37.
That said, only time will tell if Nike's newest version of Flyknit is durable – that is supposedly one of the improved attributes.
The React Infinity Run is expensive at $160 – the Pegasus 37 is significantly cheaper.
How do you decide?
Want maximum cushion? Then go for the Infinity Run.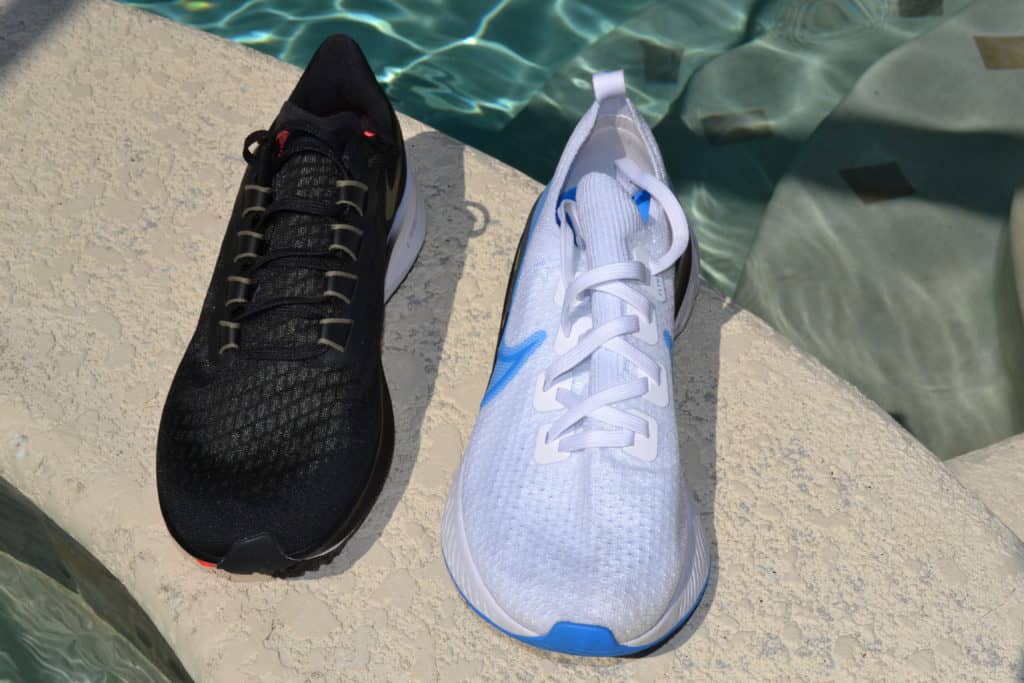 Nike Pegasus 37 versus UA HOVR Velociti 2 Running Shoe
Let's take a look at a HOVR shoe from UA.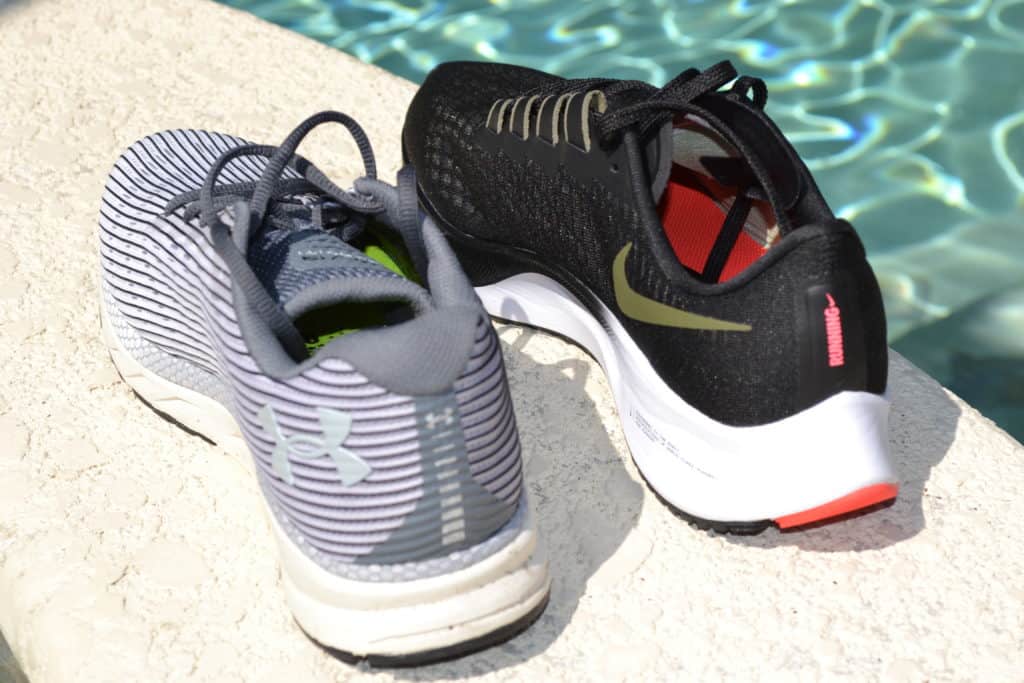 HOVR is UA's answer to React foam.
UA claims it gives "zero gravity feel".
And indeed, the light-weight, cushioned support of HOVR foam bears more than a passing resemblance to React.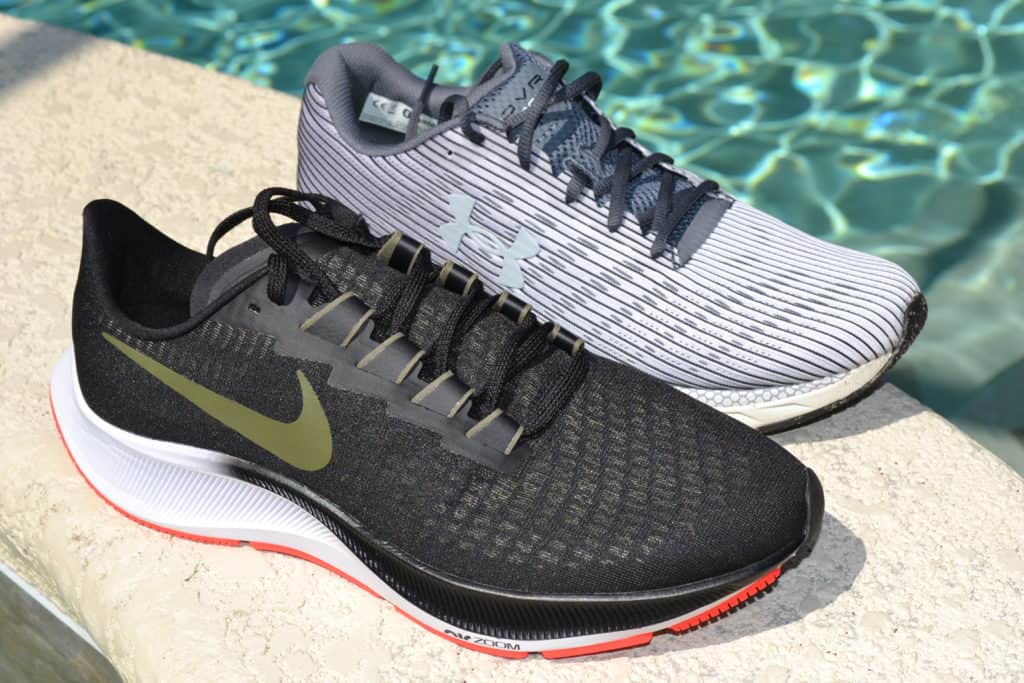 It cushions the impact, and rebounds crisply to give you spring in your step.
How does it compare to the Nike shoe?
It has noticeably less cushion in the forefoot – and that's not something that I prefer.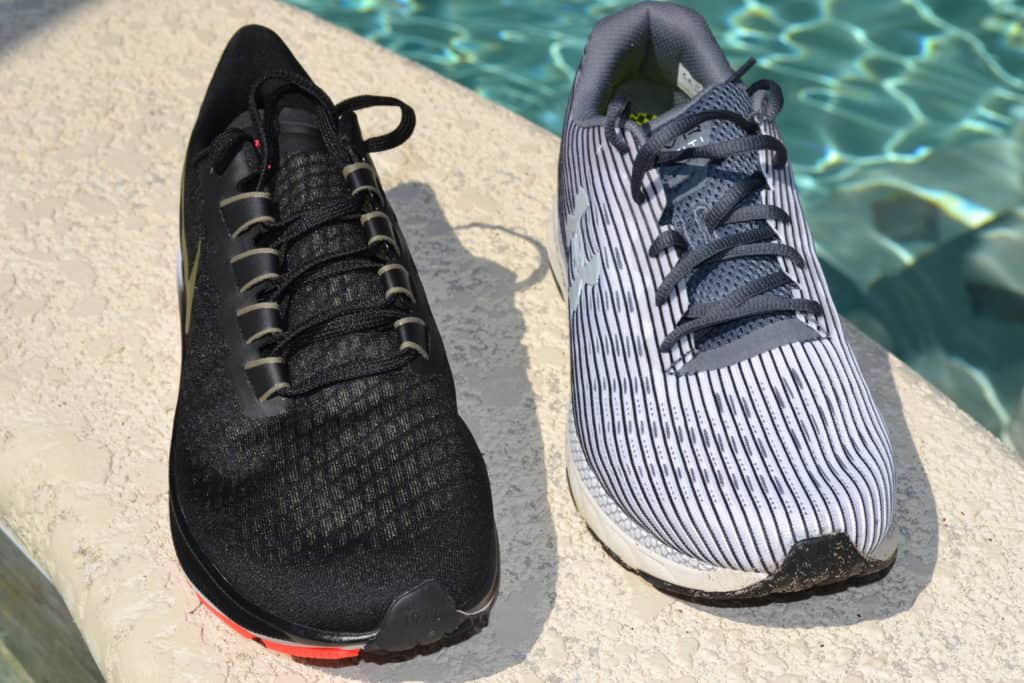 The Nike shoe has the Air Zoom unit up front – and the Velociti 2 just has foam.
Other than that, both are lightweight, neutral running shoes.
The upper on the Velociti 2 is light and breezy. I noted that my socks got very wet when walking through dewy grass – so there's plenty of ventilation in that upper.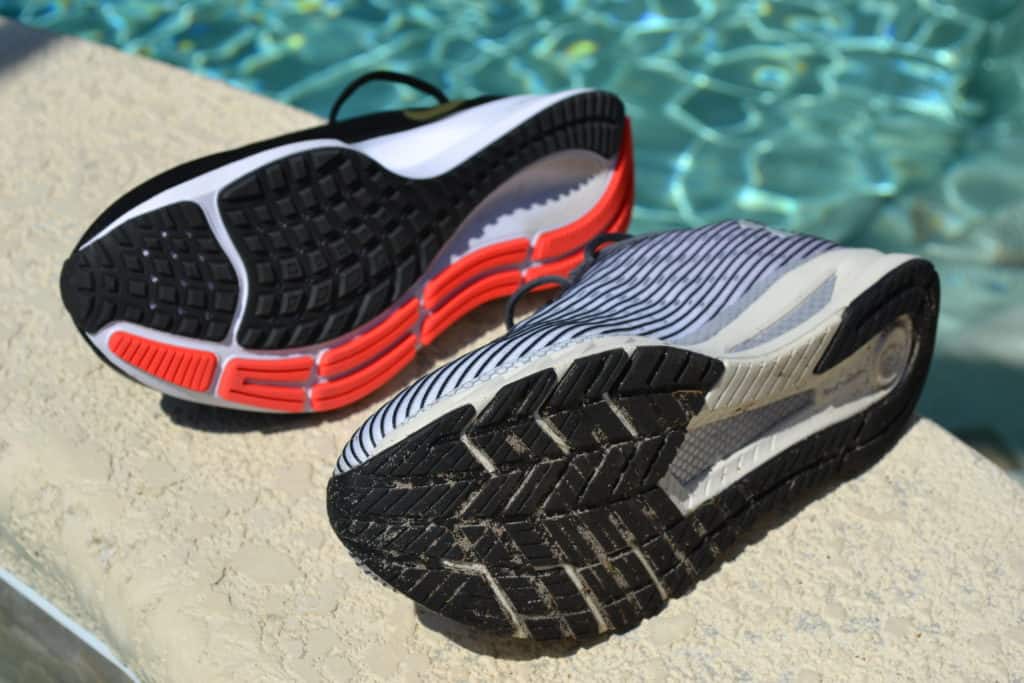 The UA shoe has an 8mm heel to toe drop, whereas the Nike shoe is 10mm.
The Velociti 2 does come Bluetooth enabled.
There's a wireless transmitter somewhere inside – and once you download UA's MapMyRun app you can quickly and easily sync up with your phone.
It's easy – you'll be up and running (pun intended) in seconds – after you download the app.
MapMyRun is a good app – it tracks your run's route of course, but also stride, pace, minutes per mile – and more.
Nike has a similar device – but it doesn't come with the shoe.
It's a nice way to put some hard numbers to your workout – and it does help motivate you to go farther, or faster, or both.
Overall the Velociti 2 is a nice shoe.
For me personally though, it doesn't quite have enough cushion in the forefoot, although the HOVR foam and other mechanisms are very apparent in the heel.
Nike Pegasus 37 Running Shoe – In Summary
This is a running shoe for the masses.
The Nike Air Zoom Pegasus 37 is a neutral running shoe, relatively light-weight and has a 10mm heel to toe drop.
The addition of React foam in the midsole, and the use of a double thickness Air Zoom bag in the forefoot make a noticeable improvement in the level of cushioning.
We look forward to running in these shoes – and they look good too!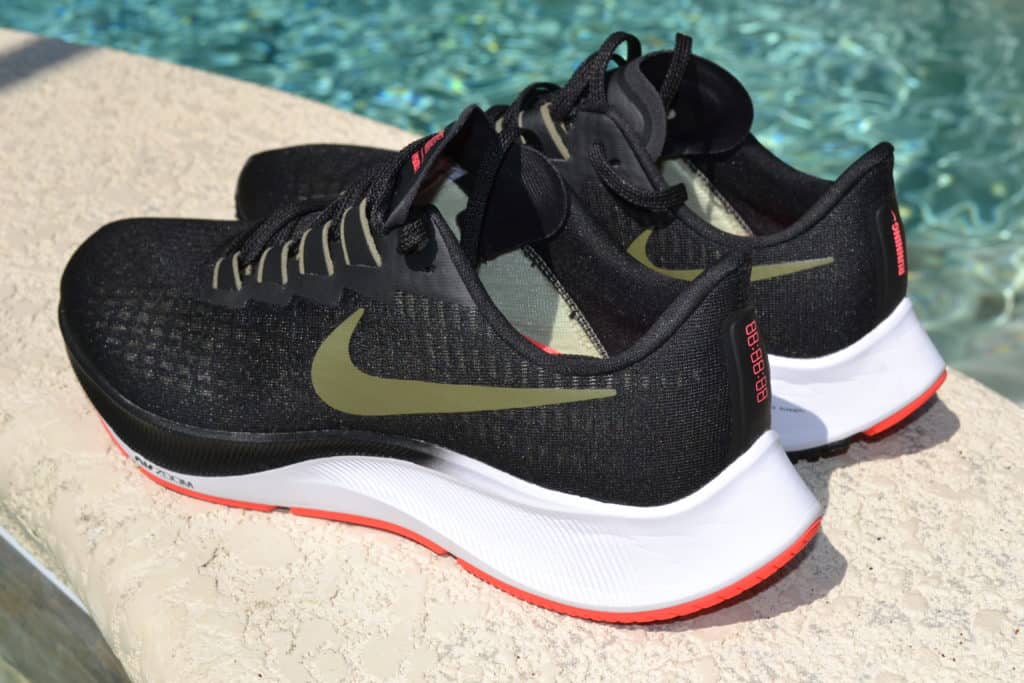 Affiliate Disclaimer
We are an affiliate of Road Runner Sports. If you buy shoes after clicking the links in this article, we receive a small commission at no extra cost to you. This helps us to bring you in-depth information and content on these training shoes.
Photo Credits
Some product photos on this page are property of Nike, Inc.
This website is not affiliated or associated with CrossFit, Inc. CrossFit is a registered trademark of CrossFit, Inc.