We love GORUCK gear – it's purpose made for the ruck march (fitness through rucking).
But they are often OUT OF STOCK on some of their popular items. Is there ANYWHERE else you can get GORUCK gear from?
Yep – Rogue Fitness carries much of the essential GORUCK rucking gear. For example, here's the GORUCK Rucker 4 from Rogue.
Just by getting a backpack, putting on some weight inside, and then walking, you get a cardio exercise without burpees and jump ropes. This simple exercise is called rucking and provides you with numerous benefits minus brutal movements.
Generally speaking, GORUCK is going to have a bigger selection of colors and styles – BUT if Rogue has it in stock, and it's the style you want – GET IT FROM ROGUE!
Want it? Here are some of the styles you can get now (at Rogue):
Rucker 4 Available Now – Our Review
To test this product, we got hands-on and in-depth.
Here's what we found:
The Rucker 4.0 is an evolution of the Rucker 3.0—it now has a better frame sheet, handles, non-abrasive straps and back panel, lumbar support, and more. It still has lots of handles, drain grommets, low-abrasion shoulder straps, a low-abrasion hip belt, and two interior pockets for plates.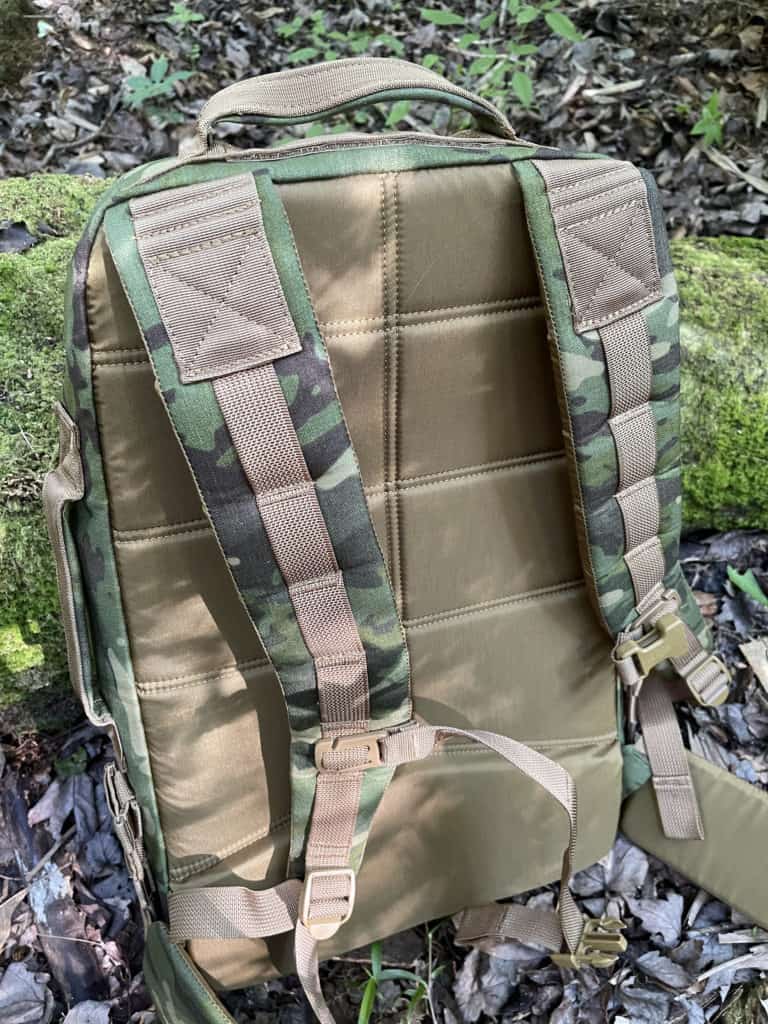 GORUCK made Rucker 4 even better by removing all the interior zippers and put a velcro/hook and loop instead. There's also more foam padding in the interior to better cover your head from gliding ruck plates.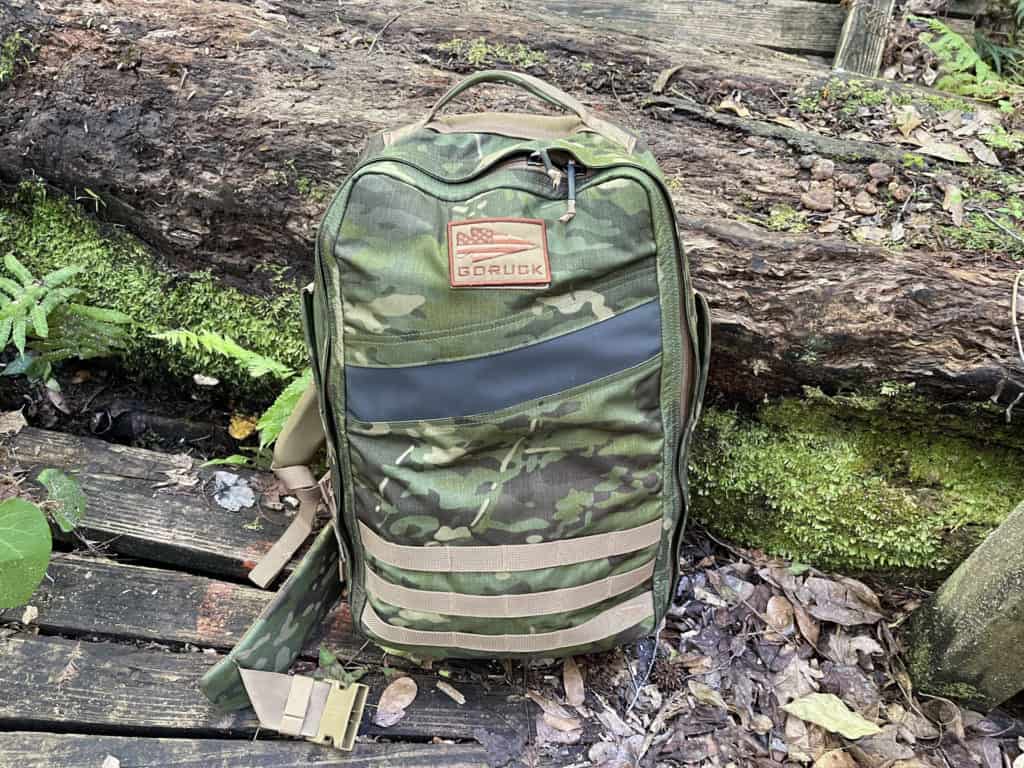 Three rows of added more D-rings on the interior are also added. Rucker 4 is available in 20L and 25L, making them perfect for short trips.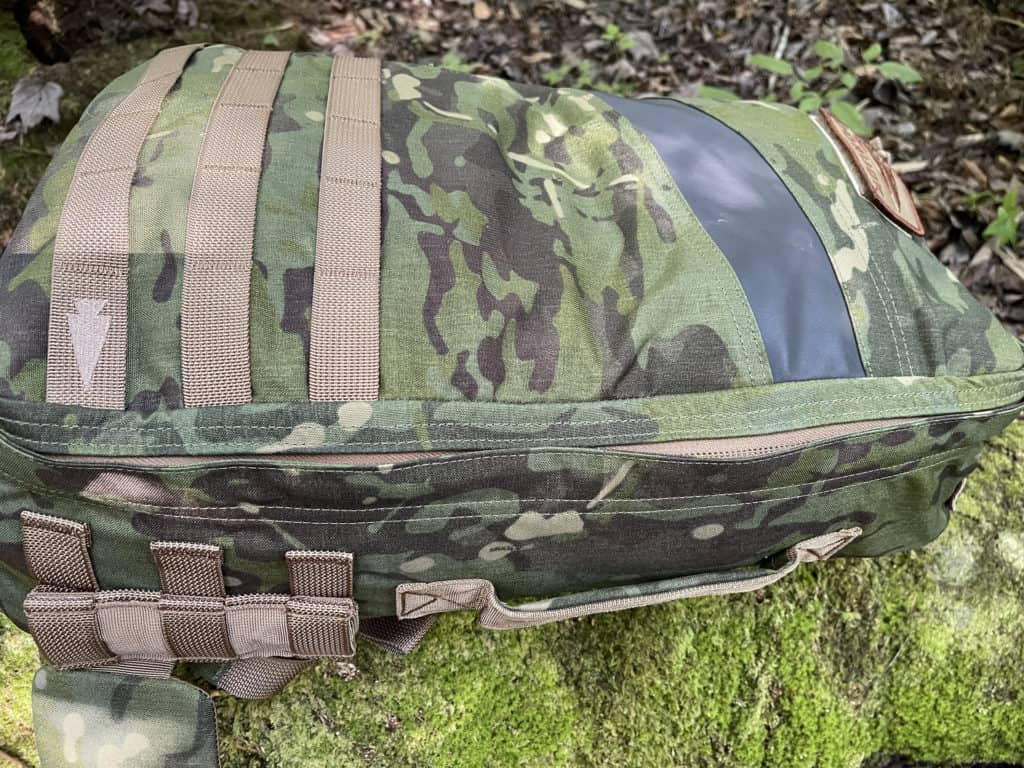 Want to find out more? Check out our hands-on, in-depth Rucker 4 Available Now review.
GORUCK Gear from Rogue – Overview
Rucking has its roots in the military, and its simplicity offers incredible benefits physically and mentally. Compared to regular walking, rucking raises your heart rate more and enhances your general work proficiency and endurance. And because it increases your heart rate more, it burns calories the same amount you would burn from running. Running can put so much stress on your knees, and the high impact of running can result in knee and joint pain. This makes rucking an excellent alternative for anyone who doesn't want to run.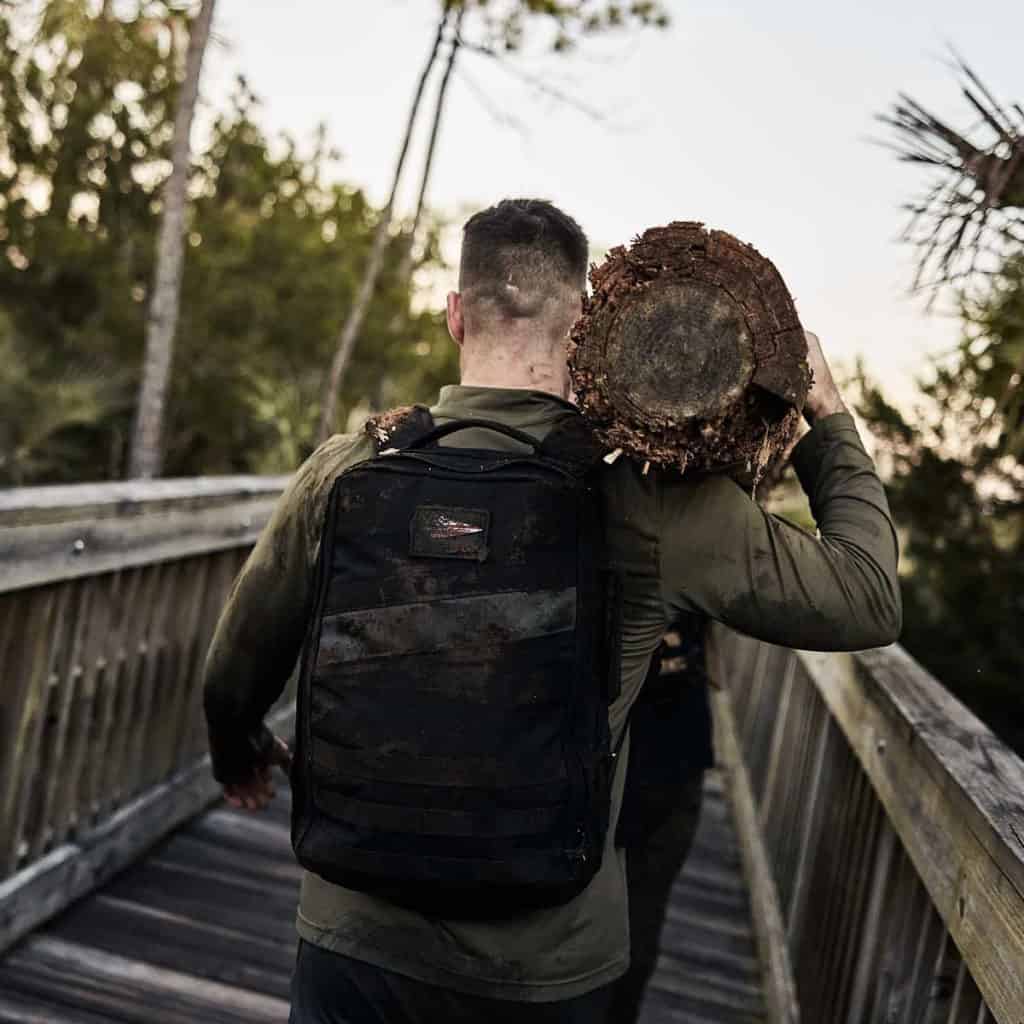 It also provides a good workout both to your upper and lower body and strengthens your whole body. The weight in your backpack or rucksack pulls your shoulders and back into correct alignment and sets you into correct posture. Rucking also takes you outside, and it makes you connected to nature, which in return helps reduce stress, lessen obesity, boost the immune system, avoid depression, and improve cognitive abilities. Here are some gears that you can use for rucking.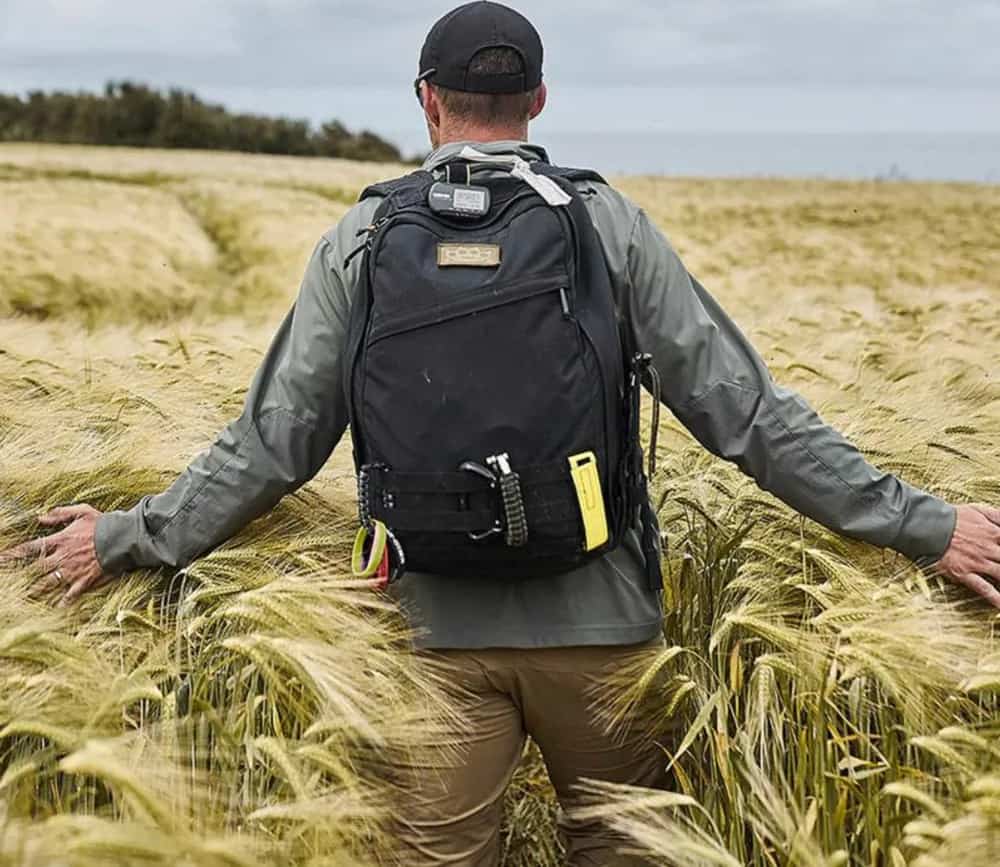 GORUCK Rucker 4
The 20L Rucker 4 is the leading all-terrain, open-flat rucksack, available in numerous colorways. The upgraded version of Rucker 3 has some vital new design features, such as the intensified padding at the top of the internal Ruck Plate Pocket for exceptional protection during bear crawls and burpees. Gone is the exterior slant pocket to make the front panel more streamlined. The impact-vulnerable interior zippers have been substituted by hook-and-loop closures with conducive, oversized pull tabs.
It is made for weighted PT and furnished with an elevated plate pocket specifically devised to hold GORUCK's exclusive Ruck Plates® (sold separately). The Rucker 4 has an extra 10mm of EVA foam padding along the bottom section of the back panel to support the natural curve of your back, and 210D HT (High Tenacity) CORDURA® on the back panel and underside of the shoulder straps to help avoid friction burn even when training shirtless.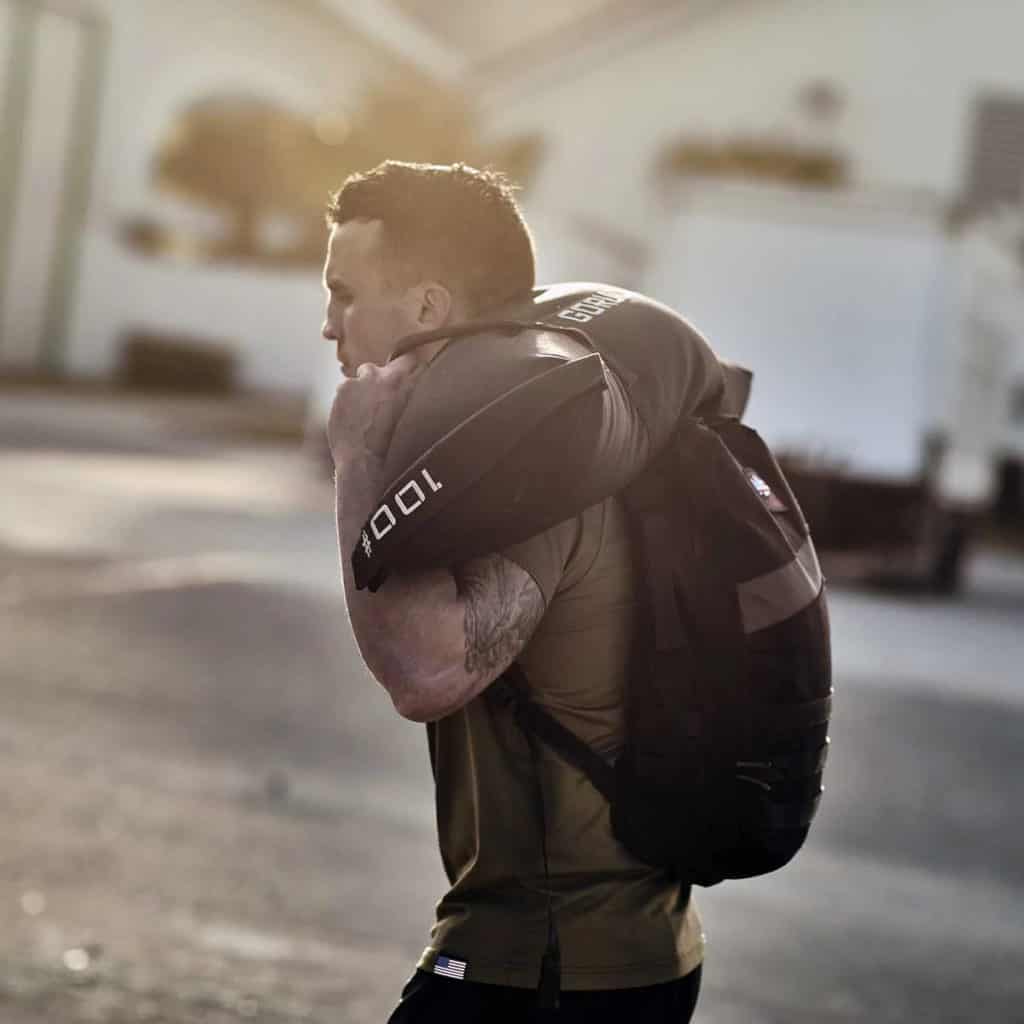 GORUCK Ruck Plate Carrier (RPC)
The GORUCK Ruck Plate Carrier (RPC) is the revised version of the previous Ruck Plate Carrier with several new features. It keeps the streamlined design and 1000D Cordura construction of the earlier model while including a padded grab-and-go top handle and thicker padding on the top of the plate pocket for additional protection during dynamic movements.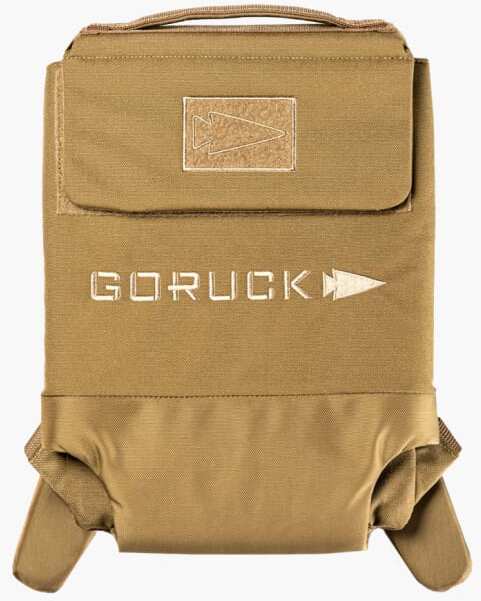 It also now has an upgraded, ergonomic lumbar support padding, a wider sternum strap, and a less abrasive material on the back panel and underside of the shoulder straps so you can train shirtless with no concerns about friction burn. Without the spacer mesh, zippers, extra straps, and extra MOLLE, the Ruck Plate Carrier has a neat design that's easy to clean.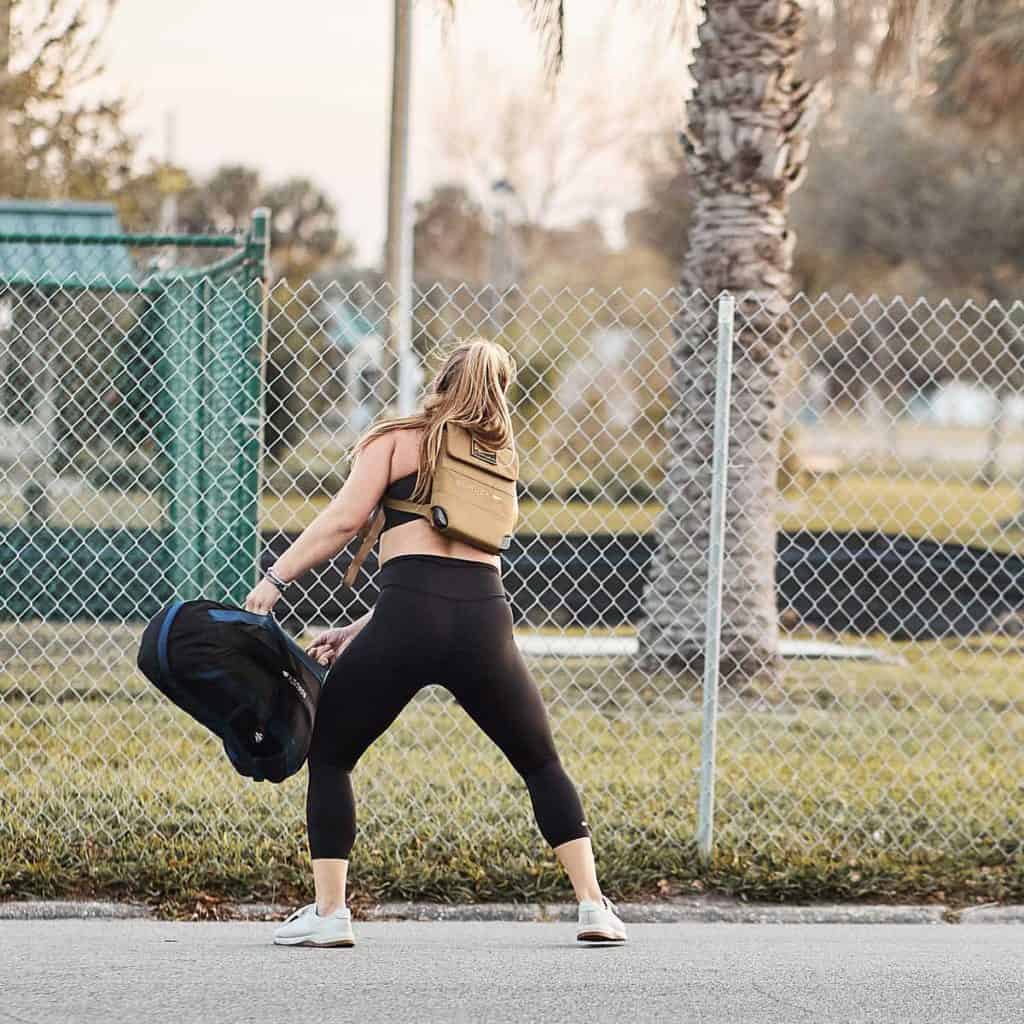 GORUCK GR1 Made in the USA
Optimized for both rucking/tactical bodyweight training, GR1 is the original military-grade rucksack of GORUCK and is a solid everyday backpack use. GR1 has a bombproof laptop compartment, open-flat versatility, extra-padded straps, multiple small accessory pockets, MOLLE compatibility, and 2×3" Velcro for adding a patch. It is manufactured in the USA using only the best materials, like durable 1000D CORDURA and YKK zippers with silent pulls.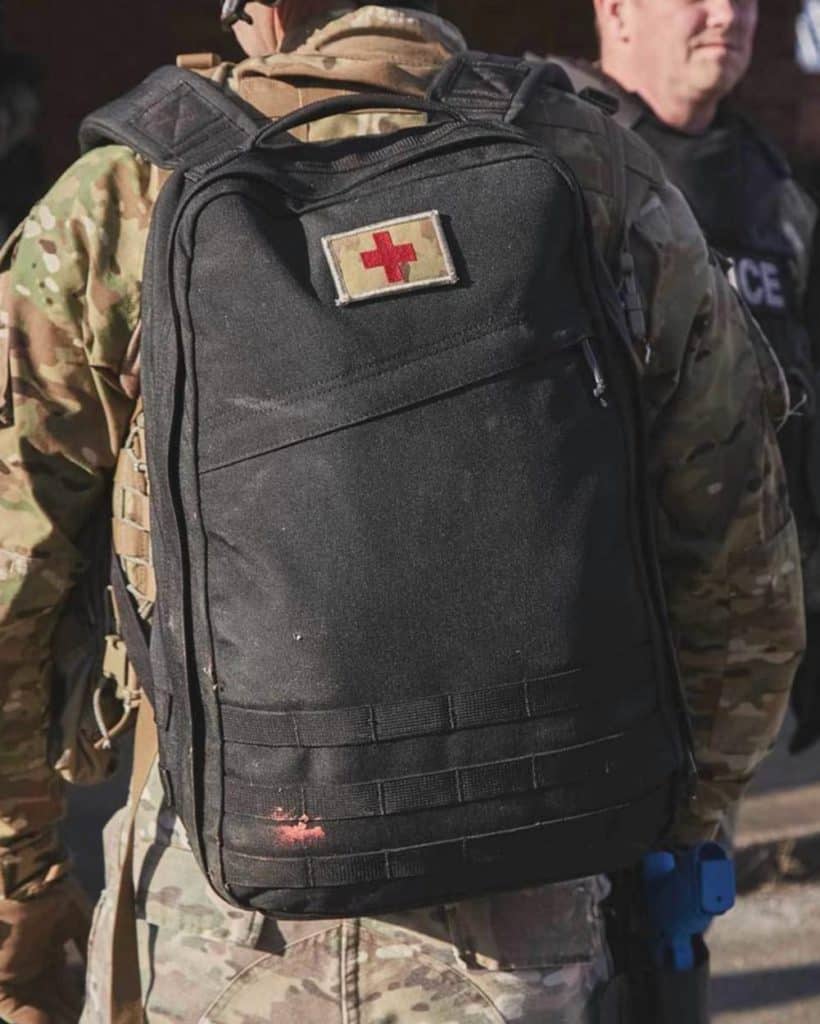 Size Comparison: 21L GR1: 11.5″W x 18″H x 5.5″D, will rest 2" higher on the back than 26L, regardless of your height 26L GR1: 12″W x 20″H x 6.75″D, best for athletes 6 ft. tall and up, or those who want five additional liters and 2" of extra height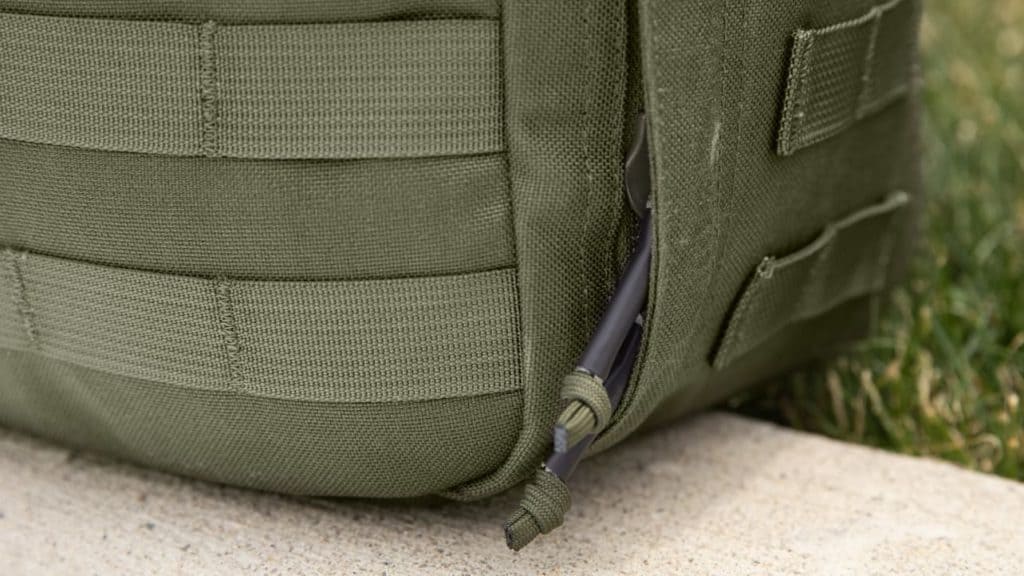 GORUCK Ruck Plate
Manufactured in the USA, the GORUCK Ruck Plate is designed specifically for use with The Rucker bodyweight training backpack (both 20L and 25L models). The plate has a matte black powder coat finish that adds to the overall durability. It is available in four different weight increments of 10LB, 20LB, 30LB, and 45LB with quality, ductile iron ore, with comfortable grab-and-go handles for more manageable handling and storage.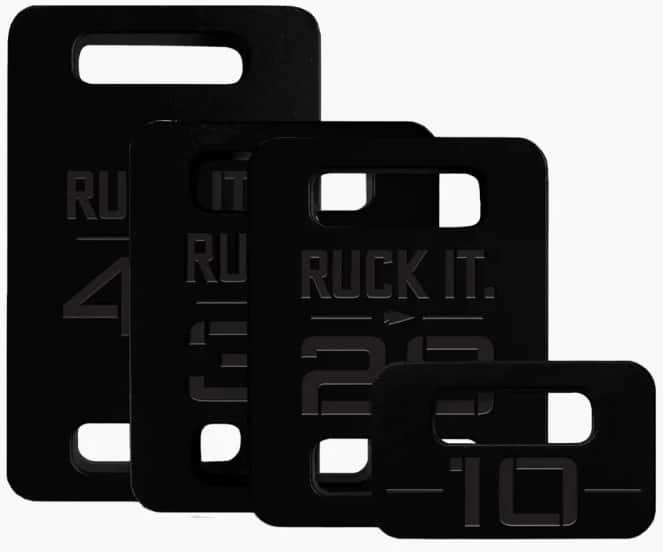 You can use the plates as separate weight training implements outside the rucksack with rust resistance and rounded ergonomic edges. The dedicated plate pocket on the Rucker is suited to 20LB and 30LB Ruck Plates only. Other plate sizes will need to be placed in the interior elastic pocket.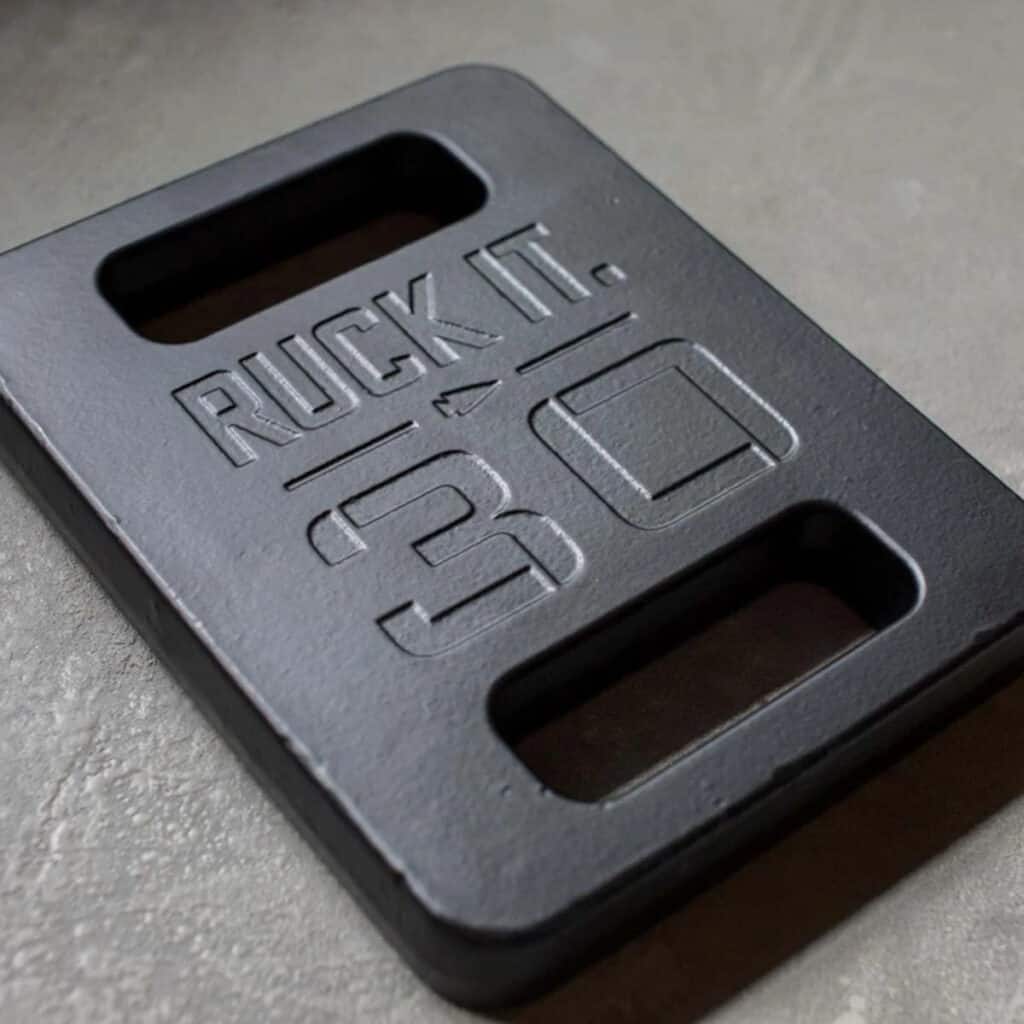 GORUCK Gear from Rogue – In Summary
That's our close-up look at GORUCK Gear from Rogue.
GORUCK builds the best and toughest rucking gear to equip the rucking revolution. They design, build, and test rucksacks, footwear, and apparel from start to finish, and Special Forces are judge and jury of quality and performance. GORUCK started the GORUCK Tribe, Events, and GORUCK Clubs to empower and strengthen communities.
Looking for more options? Check out these other great products:
GR1 or GR2? Rucker or Bullet? Get the low-down on the Best GORUCK Rucksacks.
Want the Cadillac of rucksacks? That's gotta be the premium GORUCK x Carryology Kaidan.
More products from
GORUCK
.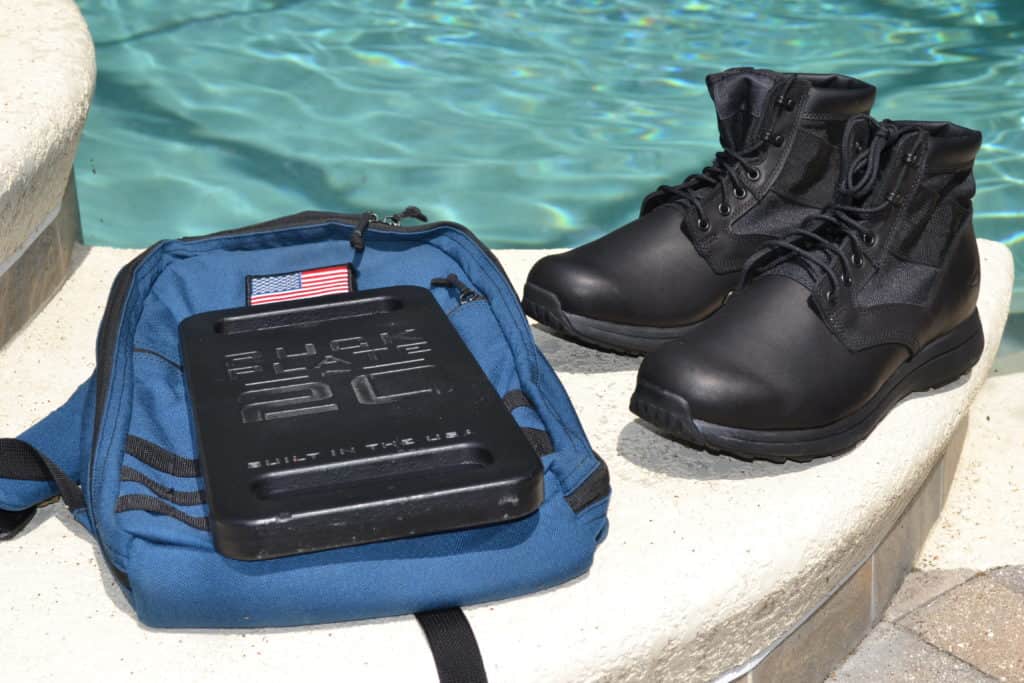 Photo Credits
Some product photos on this page are property of GORUCK or Rogue.
This website is not affiliated or associated with CrossFit, Inc. CrossFit is a registered trademark of CrossFit, Inc.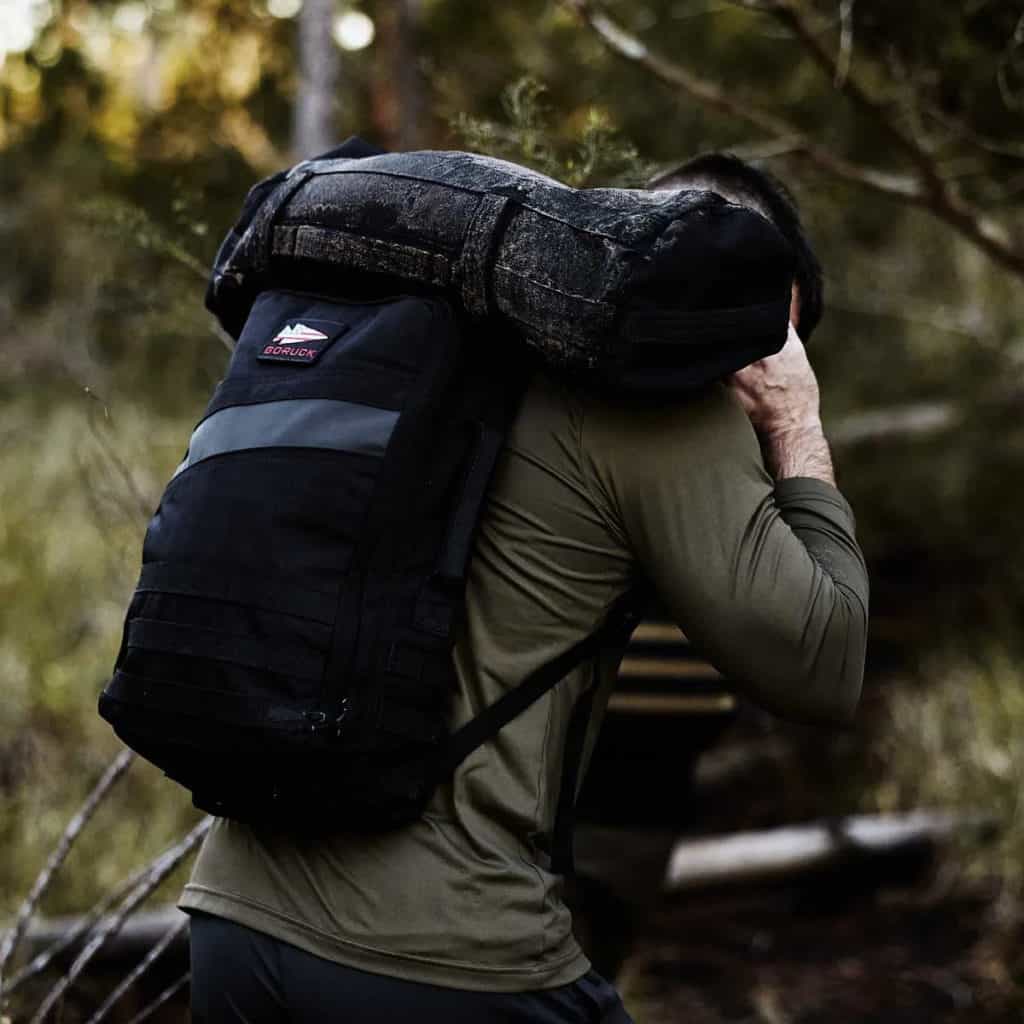 Affiliate Disclaimer
We are an affiliate of Rogue and others that sell this training gear. If you buy clothing or other training gear after clicking the links in this article, we receive a small commission at no extra cost to you. This helps us to bring you in-depth information and content on these great training products.