Got rucksack? Let's take a look at the various Best Rucksacks from GORUCK.
Rucking is walking as slow or as fast as you want with some weight. If you are rucking for the first time and you are unsure, you can start with 20 lbs, and better do it with someone — be it a friend or a dog. You can burn up to 3x more calories in rucking than in walking, and it makes your heart pumps faster for increased circulation.
But – these backpacks make for fantastic Every Day Carry (EDC) and travel too.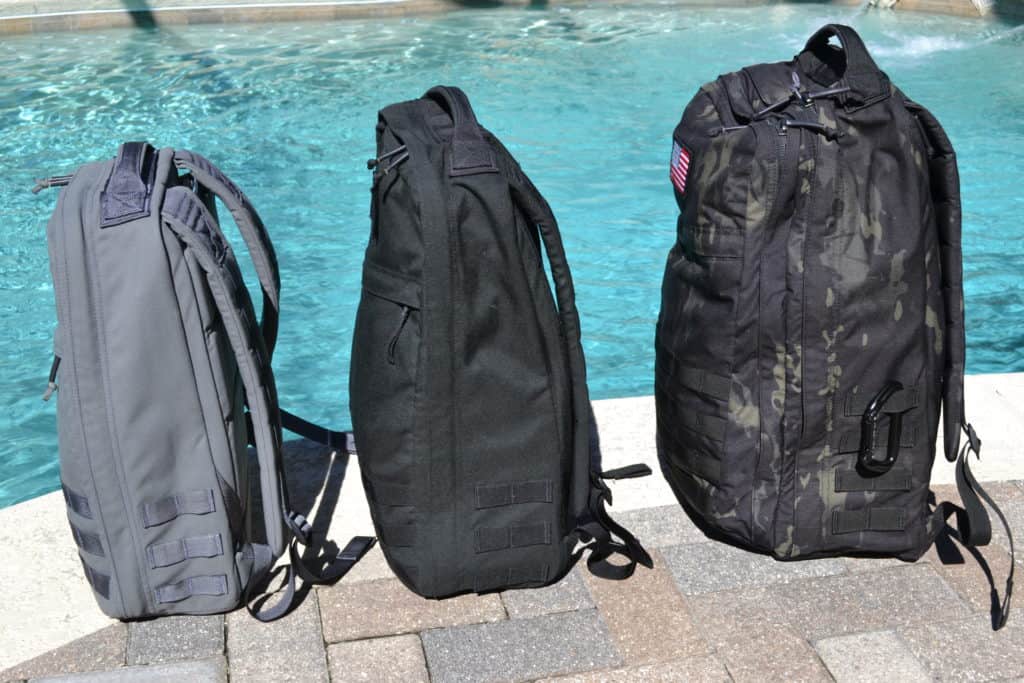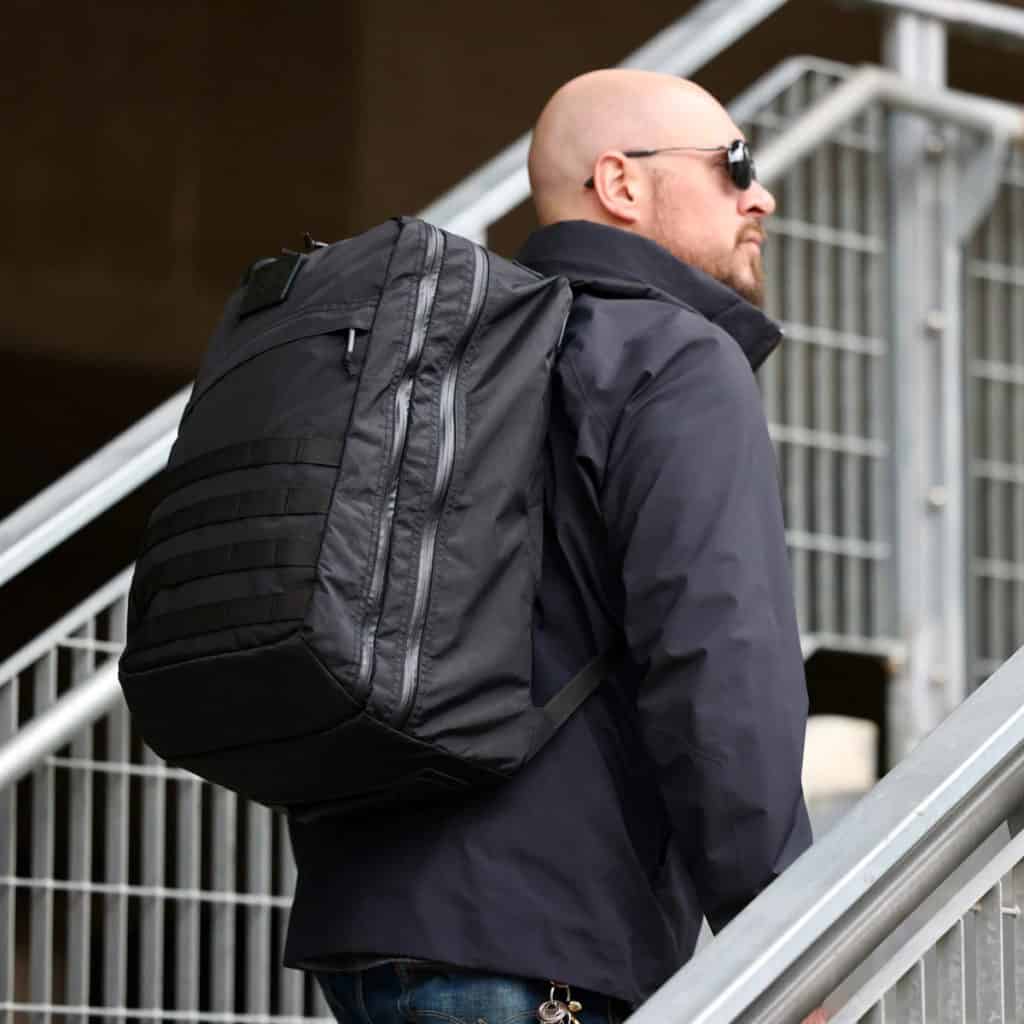 Here's a selection of the gear available now from GORUCK. We'll help you decide which is the right model for you.
Let's put these awesome backpacks to the test and find out which is the best – for you.
Rucksacks from GORUCK – Overview
Whether you are training, rucking, or traveling, rucksacks are created to efficiently hold a good deal of weight. Rucksacks last for a long time and have military origins in heavy load carriage. They are developed and proven in the most abusive conditions known to man by United States Army Special Forces soldiers serving in war zones.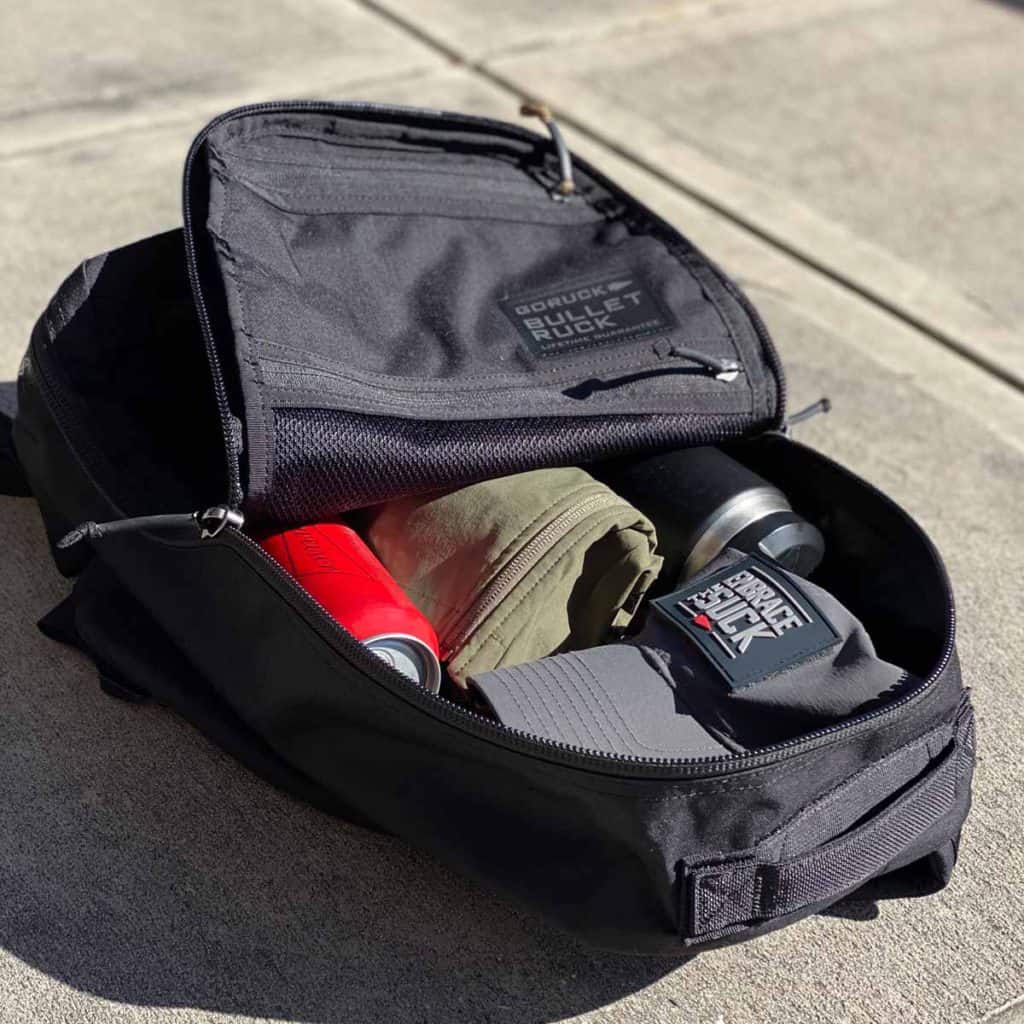 Built in the USA with life or death quality standards, these rucksacks from GORUCK are backed with Scars Lifetime Guarantee. They passed excessive abuse in GORUCK Events where weight on your back and miles under your feet, building teams, and empowering individuals are involved.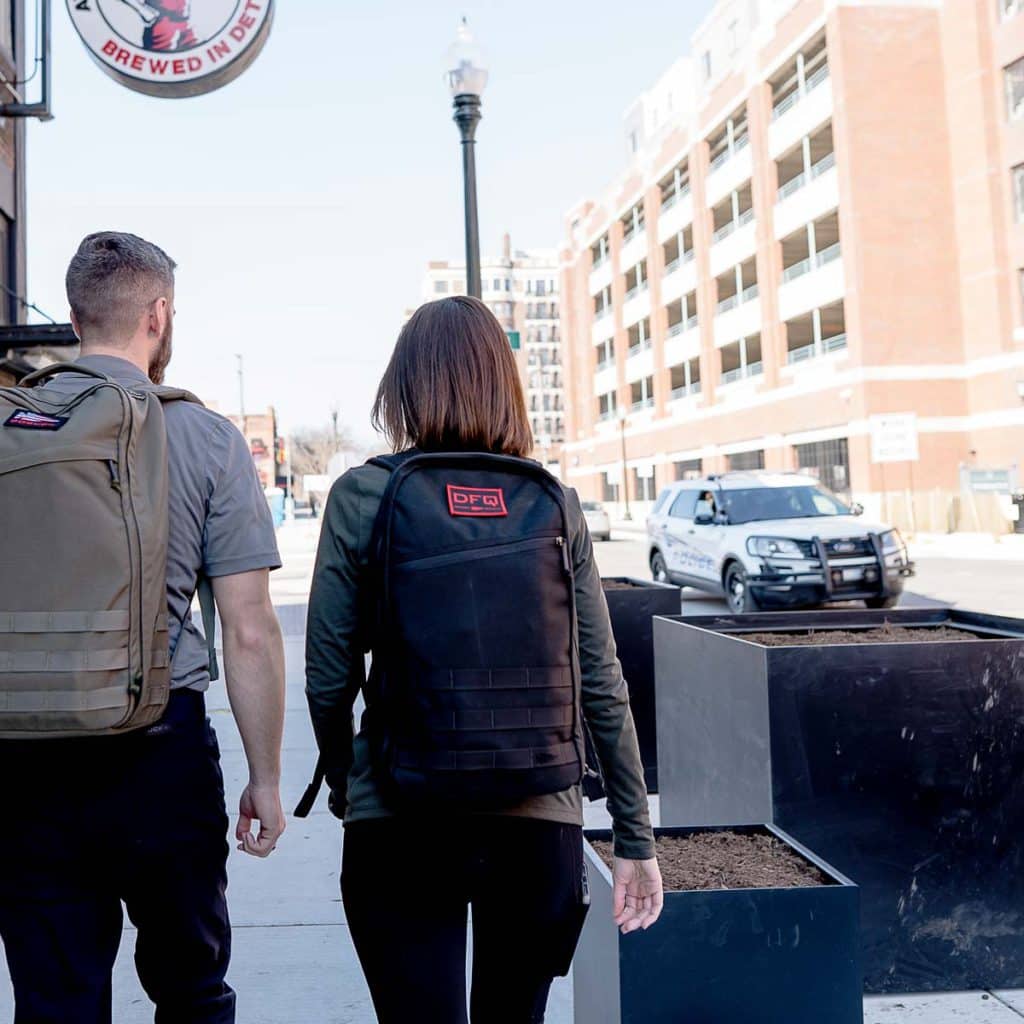 Rucker 3.0 (20L/20L Small Frame/25L)
We'll put this right upfront. For fitness, the Rucker 3.0 is the champ. Recently updated, and affordable – it's really the best option for a ruck march workout.
Because of its ergonomic lumbar support and an all-new, less abrasive fabric, the Rucker 3.0 is the most comfortable rucksack ever built. It is so comfortable that you can wear it shirtless with no friction burn. It has four padded handles on the top, bottom, and both sides. It also has a Frame Sheet that keeps the pack's integrity as you weigh it down and allows you carry a heavier load more efficiently.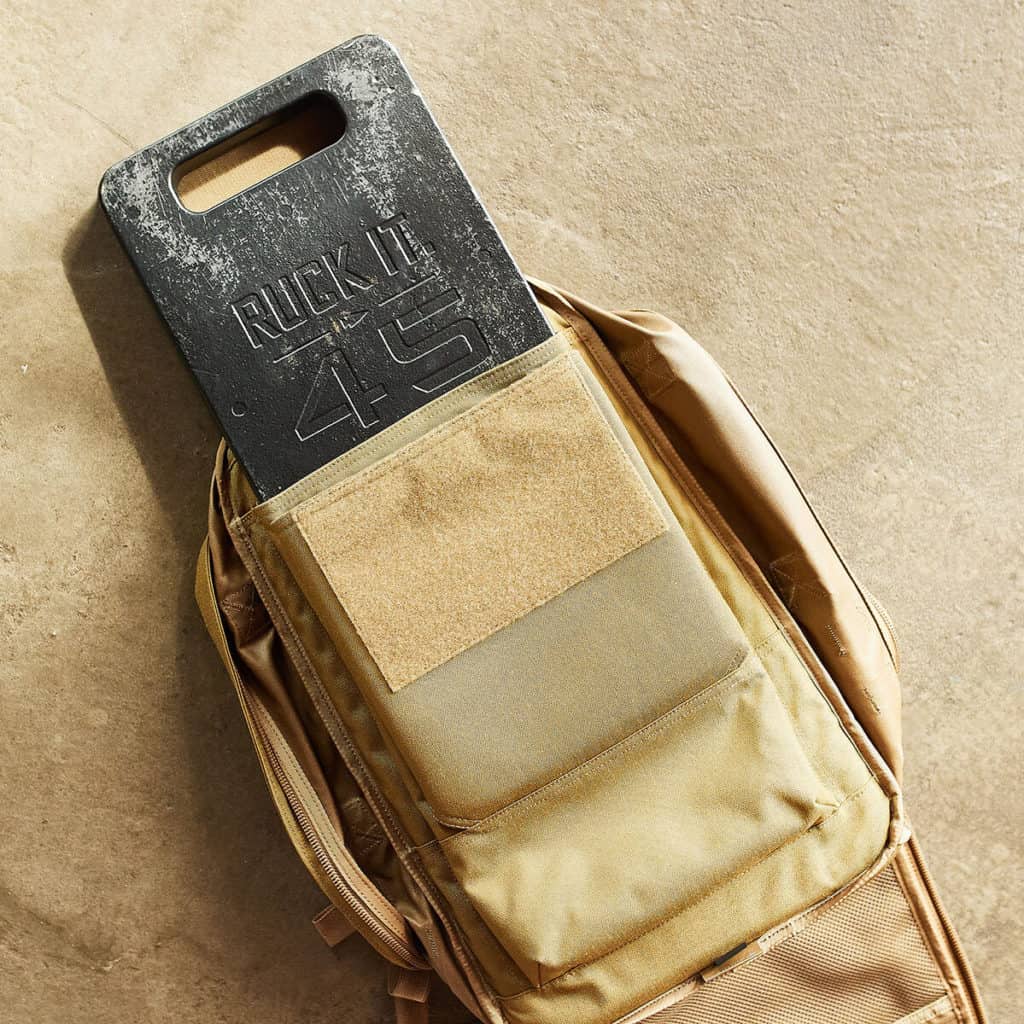 The three rows of external MOLLE webbing on the front and side allow you to customize your ruck. It has a 2″x3″ hook and loop on the front panel and an additional 2″x3″ hook and loop patch panel on the Ruck Plate® pocket. Rucker 3 also has four internal pockets — one large mesh zippered pocket, one small go-to zippered pocket, one large elastic pocket, and the Ruck Plate® pocket.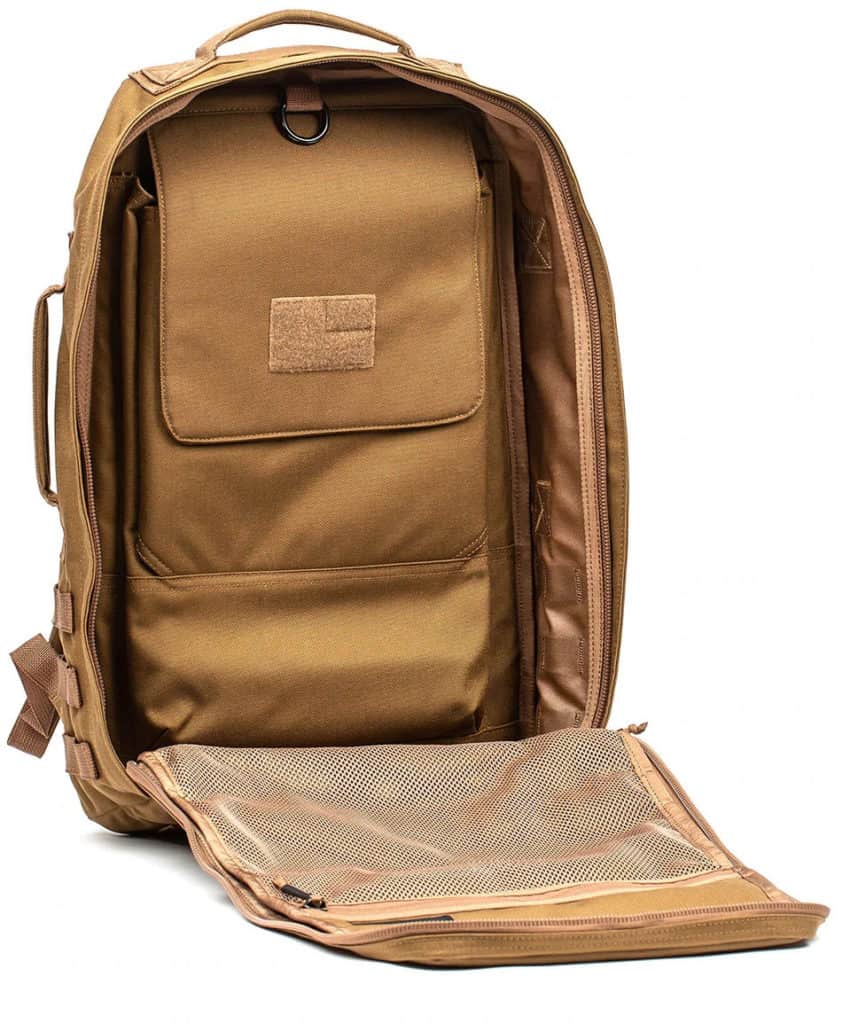 GORUCK Event Training Bundle
Save 15% when you get the bundle that contains a 20L Rucker®, Ruck Plate (20LB or 30LB), Padded Hip Belt, Hydration Bladder, Bladder Hose Retainer, and Combat Ready Tape + FREE sternum strap included.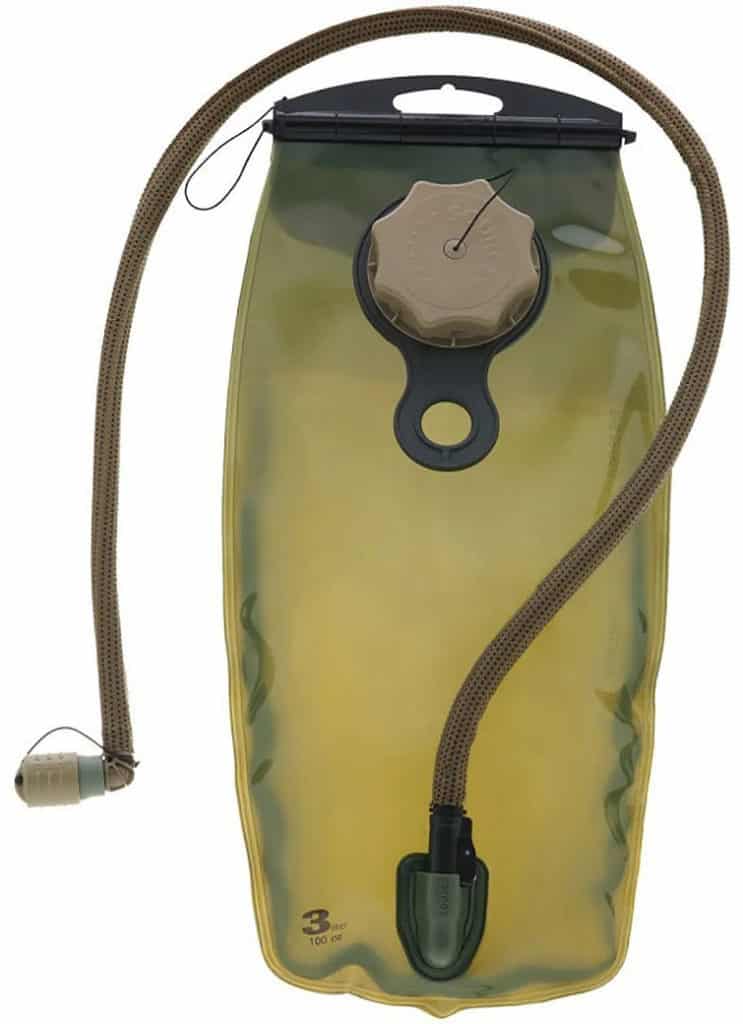 This bundle is everything you will ever need to start training for your next GORUCK Event.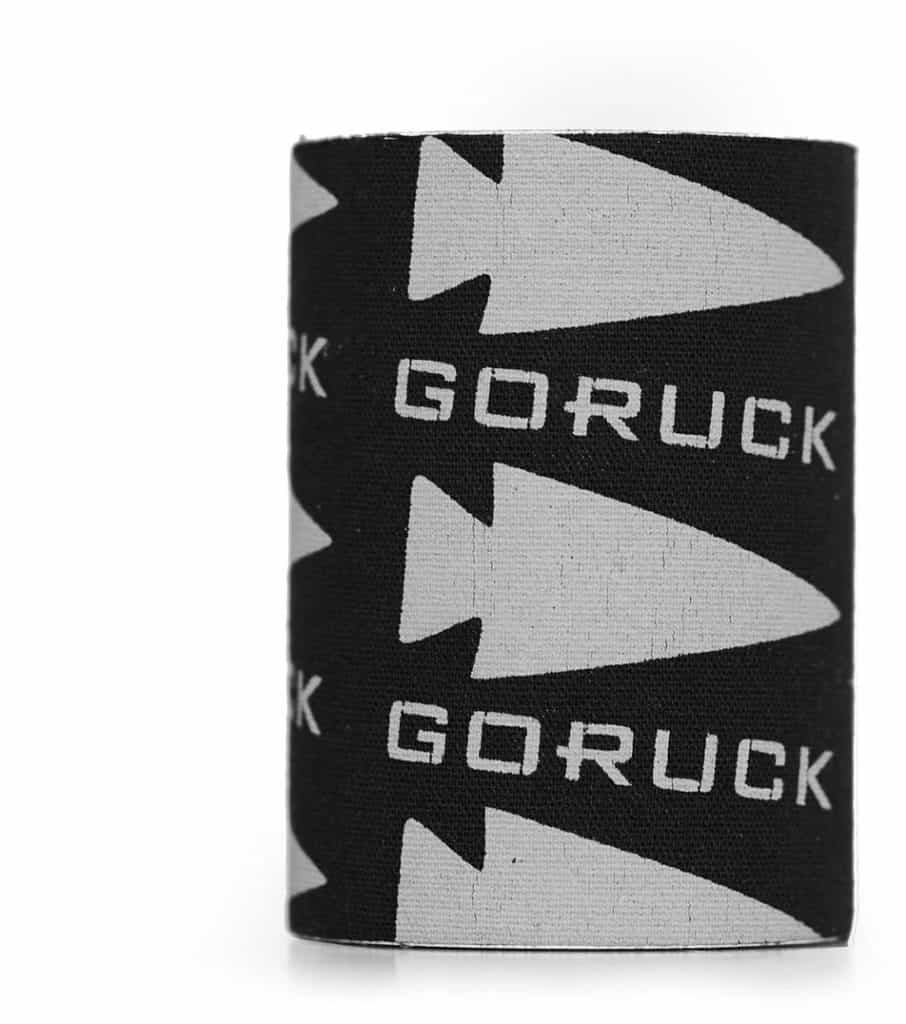 GR1 – Made in the USA (21 L/26 L)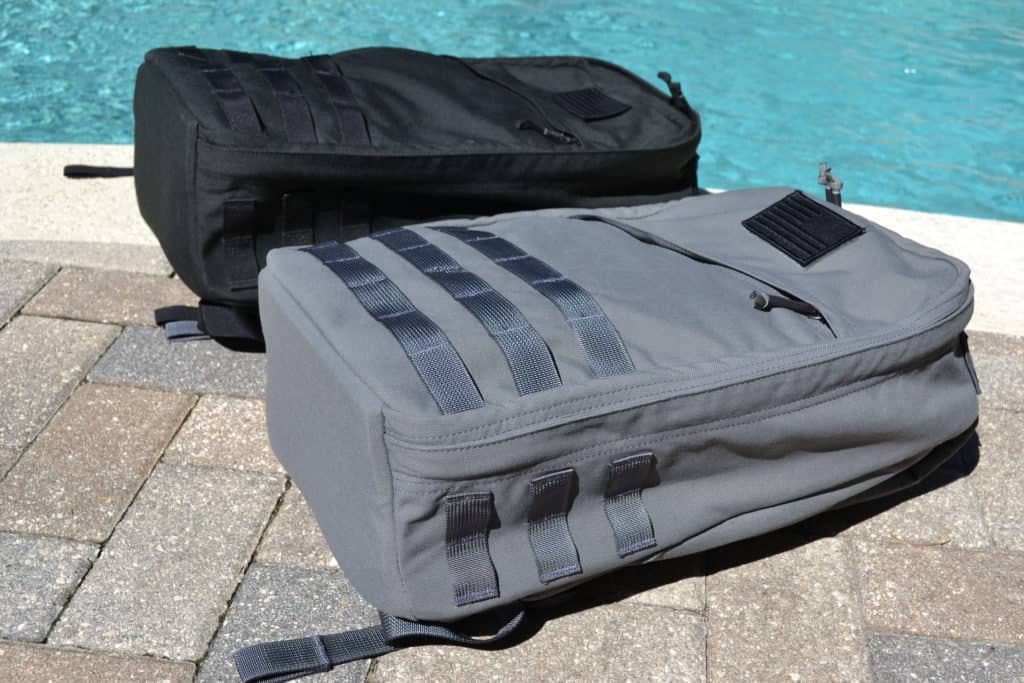 The GR1 is developed and proven by Special Forces soldiers operating in Baghdad and is versatile enough for New York City. It opens flat, so you can easily pack and organize. The shoulder straps and top handle are extra padded to hold heavier loads more comfortably. The laptop compartment is bombproof and has a false bottom so that when you set your ruck down, your laptop won't even notice.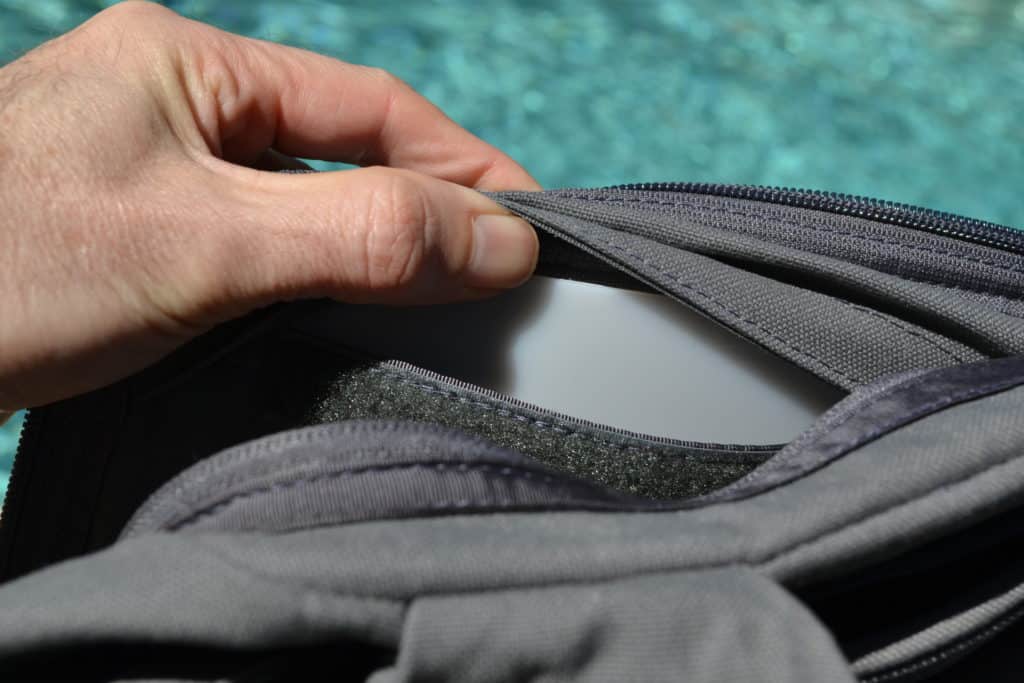 A removable, rigid plastic frame sheet stabilizes the laptop compartment and enables you to carry more weight comfortably. The GR1 has multiple internal pockets — one large elastic pocket, one large mesh zippered pocket, and one small go-to pocket.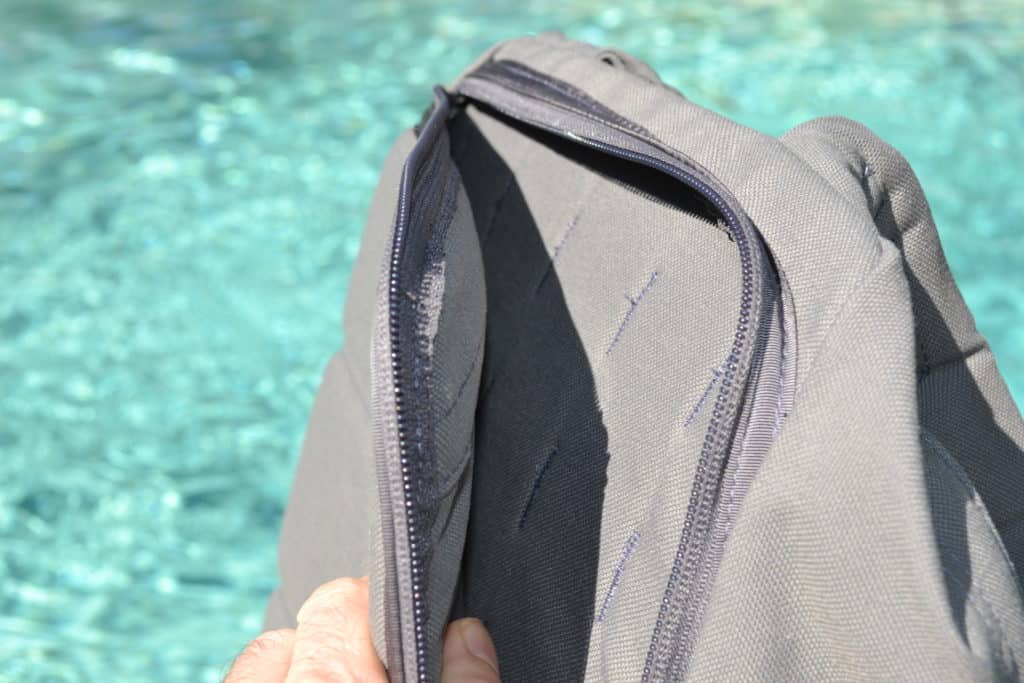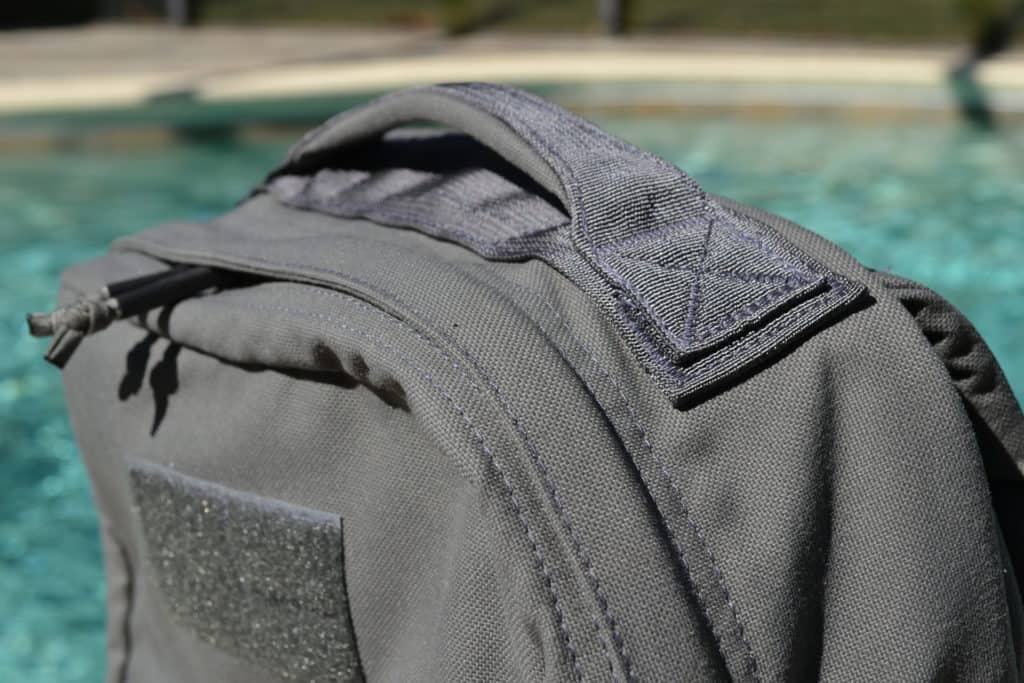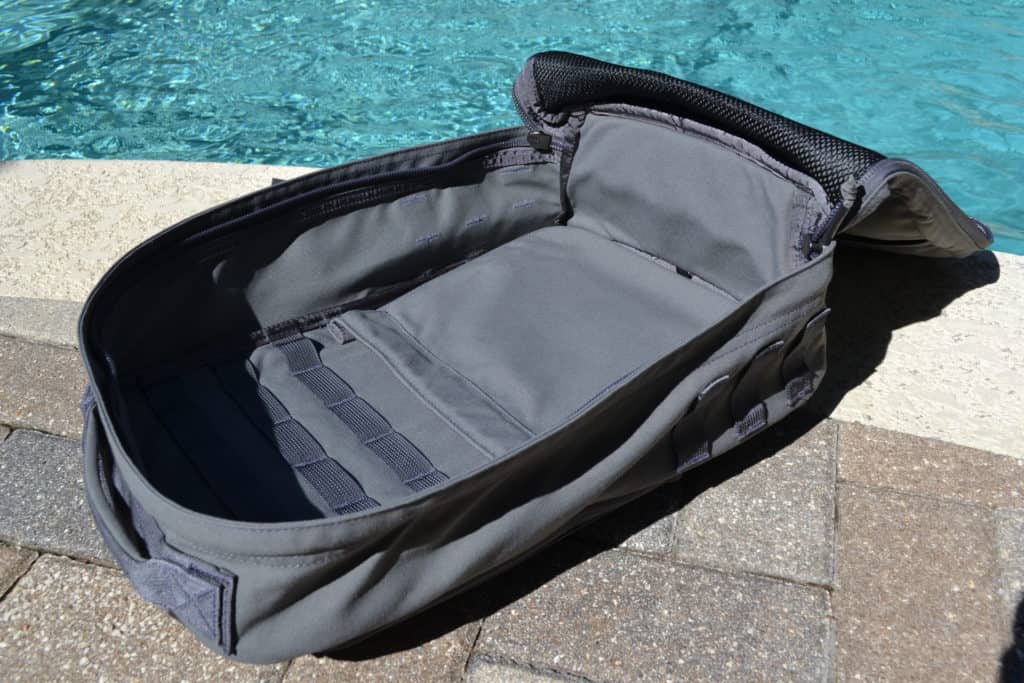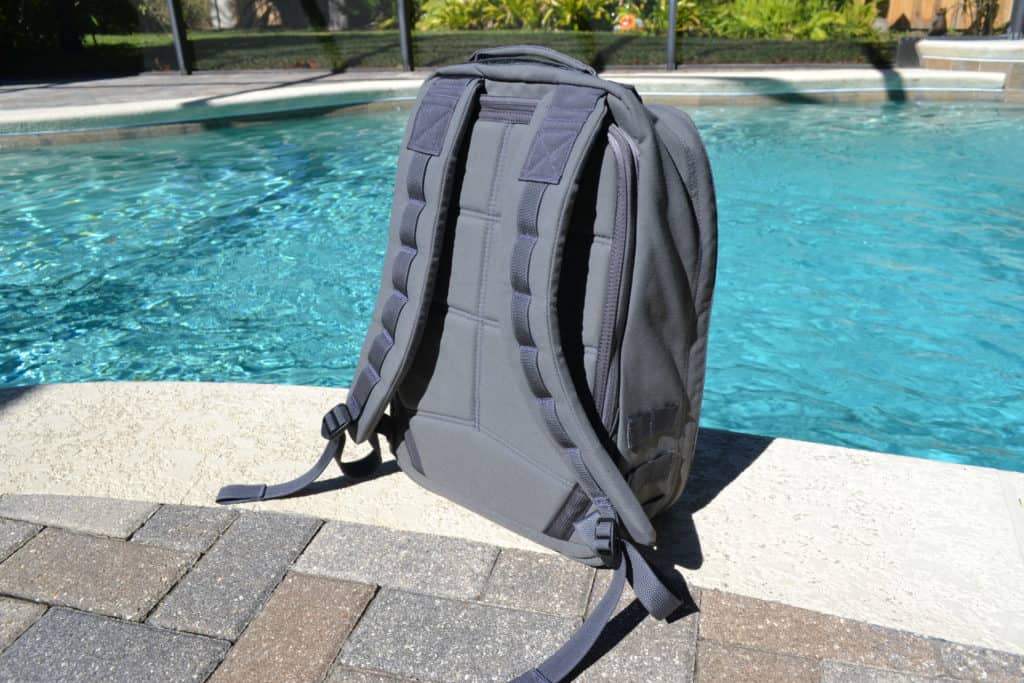 Go deeper on this model with our GR1 Rucksack Review.
Bullet Ruck (15L)
The Bullet is a grab-and-go rucksack — it can be your EDC (everyday Carry), a second rucksack, a great starting point at lighter loads up to 40 LBS, or a hiking companion. It has a streamlined design with only a single compartment and three interior pockets, including one for your Ruck Plate. It uses a new fabric next to your skin — a 210D back panel and under shoulder straps.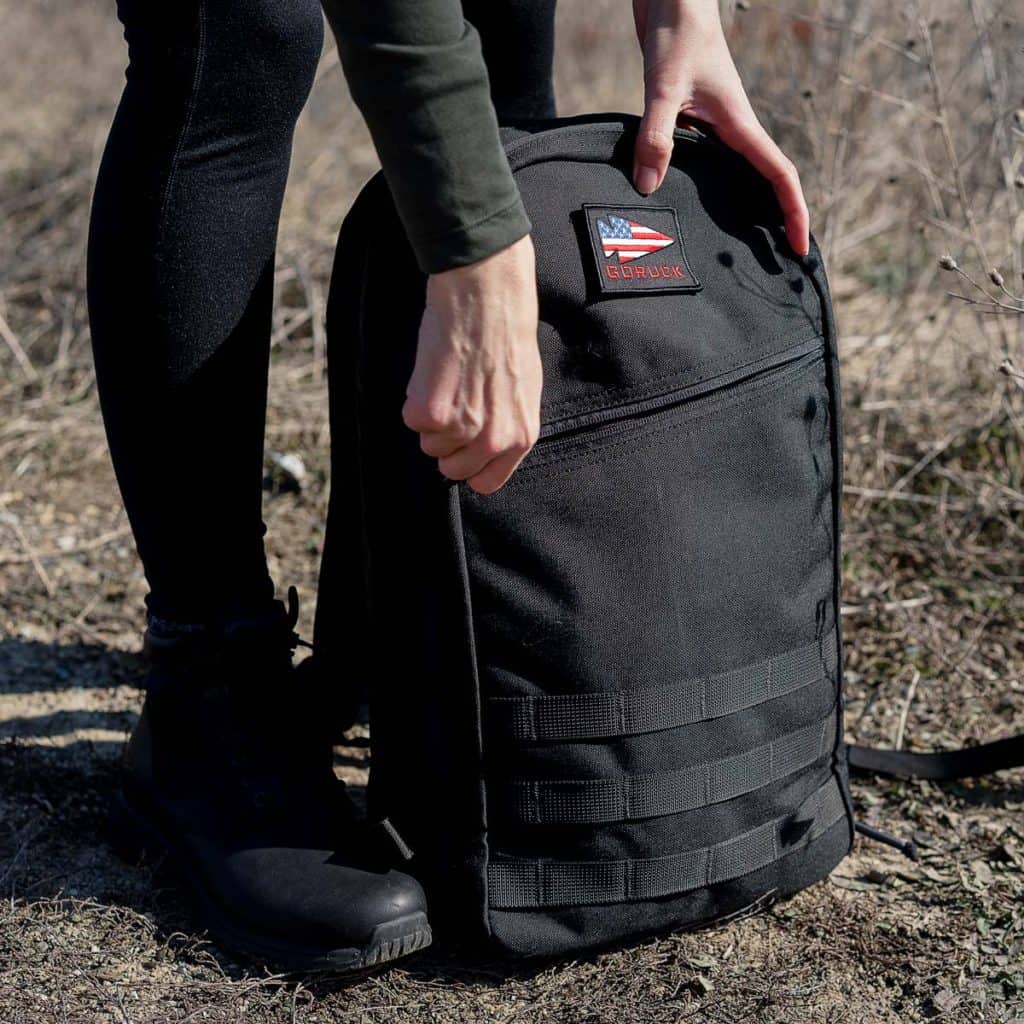 All 10LB, 20LB, and 30LB Ruck Plates will fit in the plate pocket. The Bullet uses YKK zippers with silent, glove-friendly zipper pulls made from parachute 550 cord. It has three rows of external MOLLE webbing that allows you to customize with other MOLLE-friendly accessories.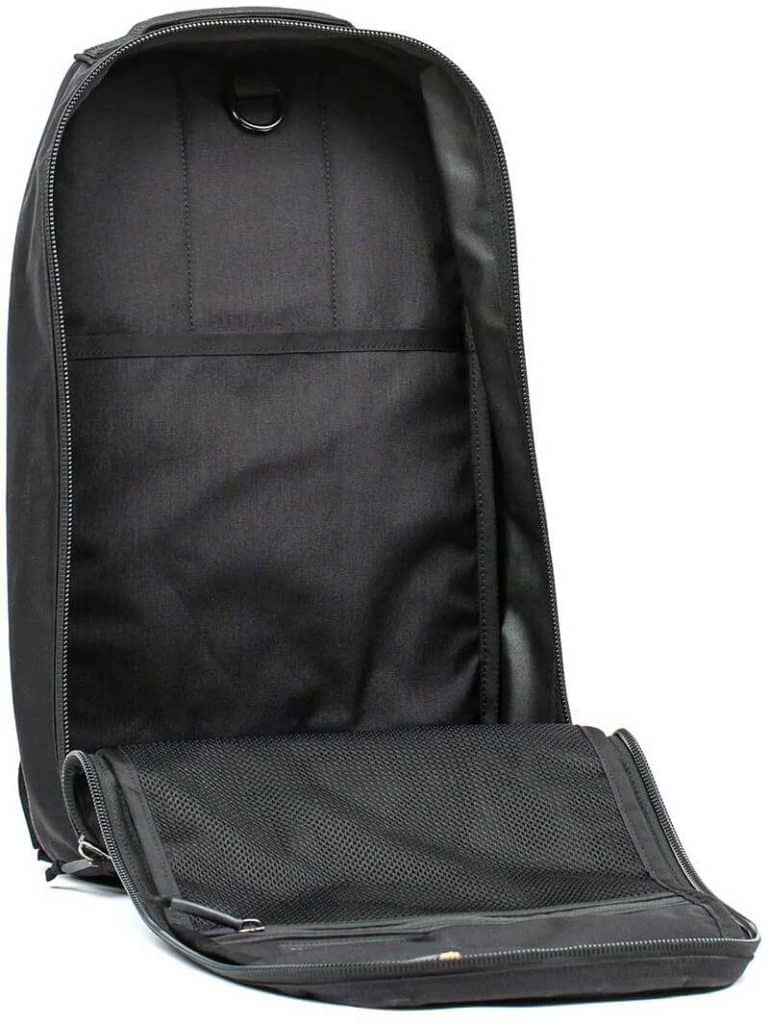 GR2 – Made in the USA (26L/34L/40L)
You can conquer the whole world with the GR2. It is based on Special Forces medical packs that open up completely flat and have all the pockets and organization you will need. It is carry-on compliant and has a bombproof laptop compartment that fits a 17″+ laptop.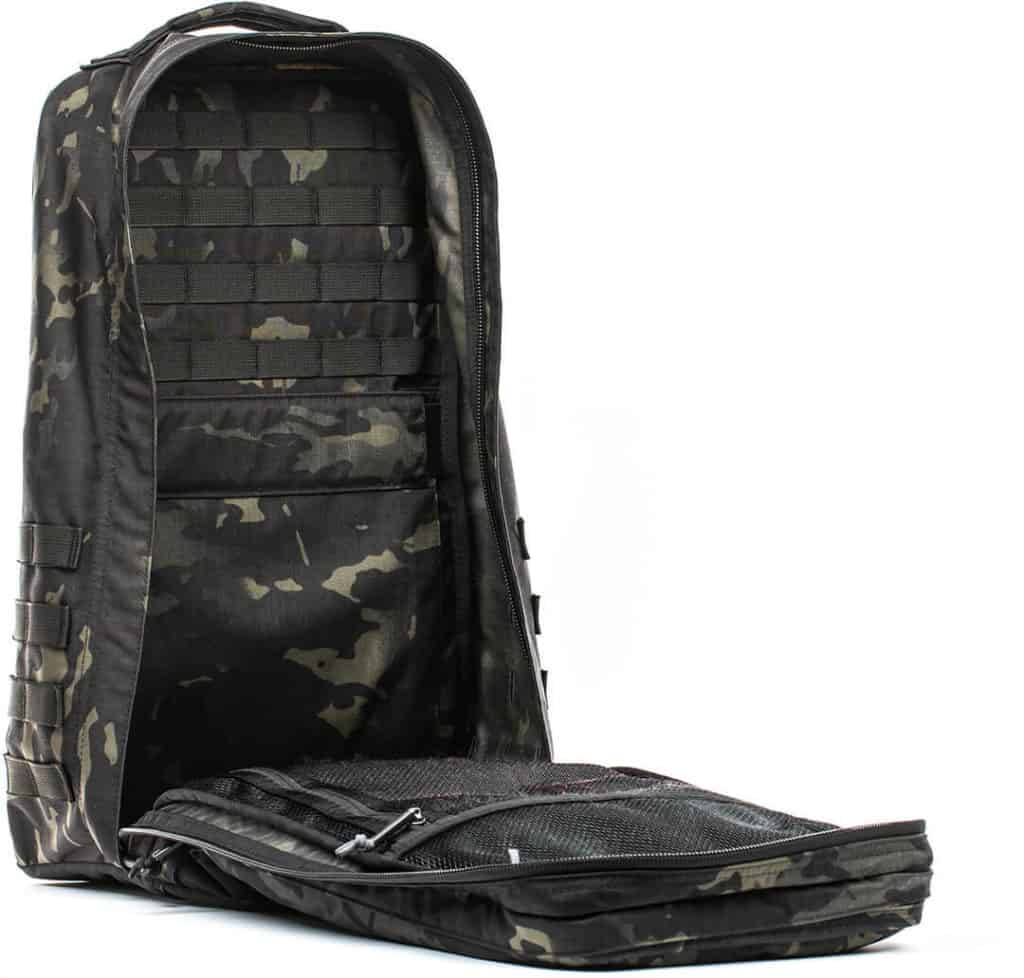 The Black Multicam uses 500D as its primary material with a bottom panel built out of 1050d Ballistic Nylon that is water abrasion-resistant and durable. It has two compartments — an inner compartment with three pockets, an outer compartment with three pockets, and a built-in field pocket.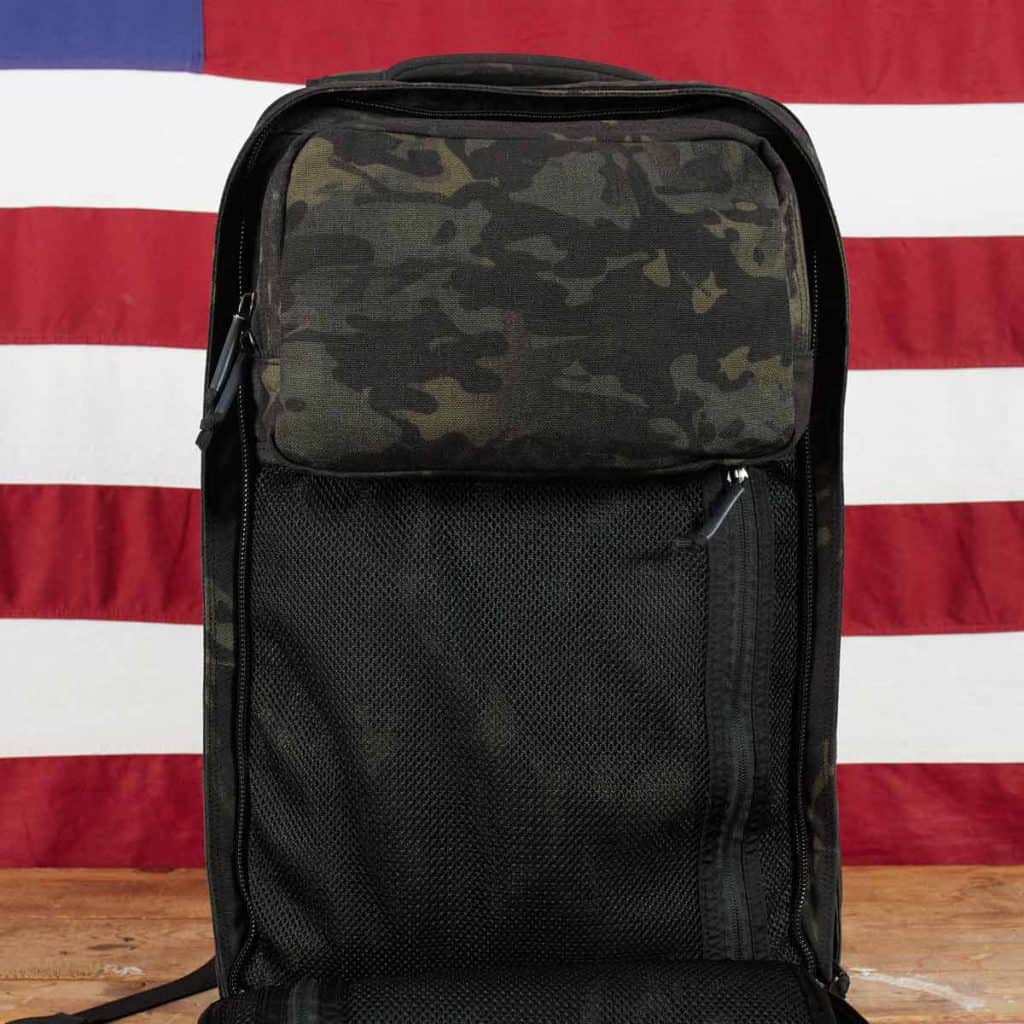 GR2 Carryology Kaidan (34L)
The GR2 Carryology Kaidan is built out of X-Pac VX42 so that it is fully waterproof and lightweight for traveling. It uses a lightweight, safe Orange 400d Cordura inside for interior visibility. There are two leather handles on the top and bottom for easy grab and go, and the bag opens flat for easy packing and organizing. It has a limited edition leather patch designed by Argentina-based Artist/Illustrator Sebastián Cabrol.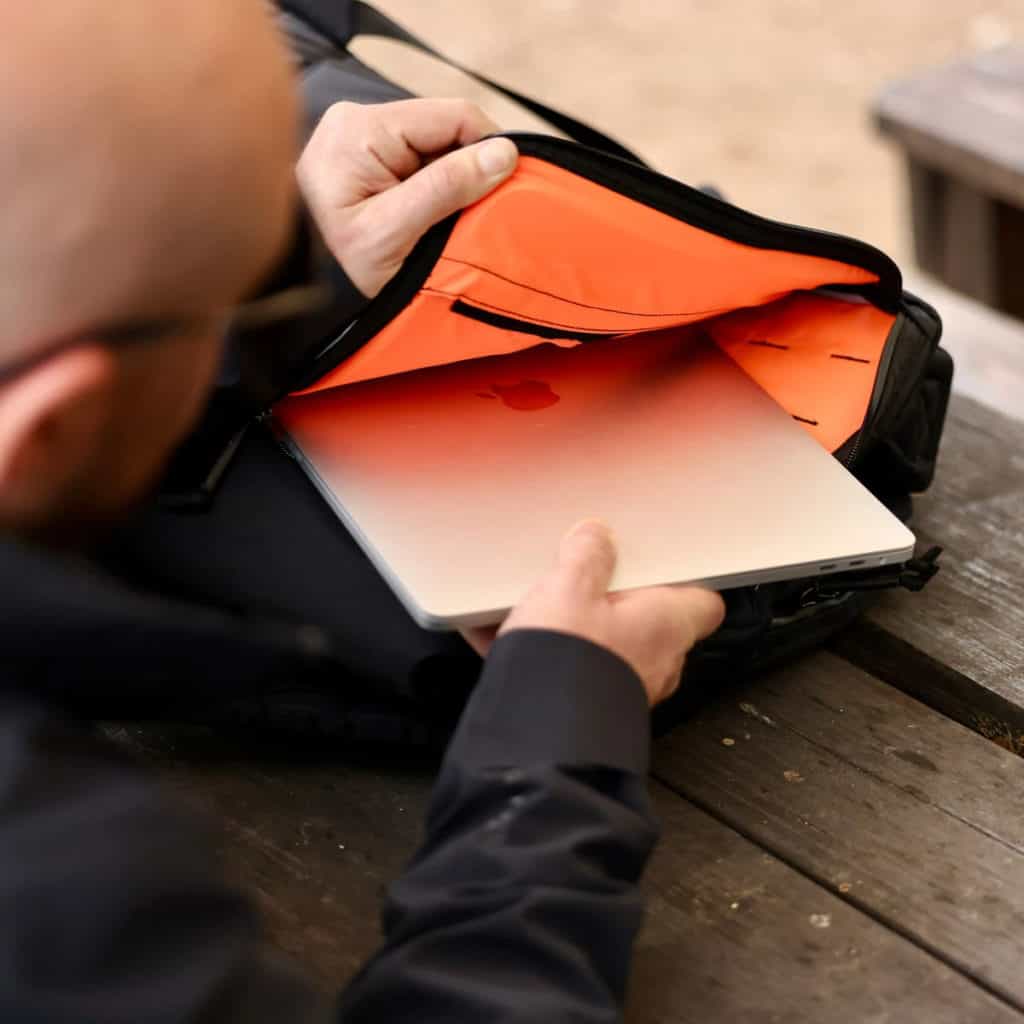 The GR2 has an inner and outer compartment with three pockets and a built-in field pocket. It also has four rows of exterior MOLLE on the front only and four rows of internal MOLLE webbing that allow you to customize GR2 how you want.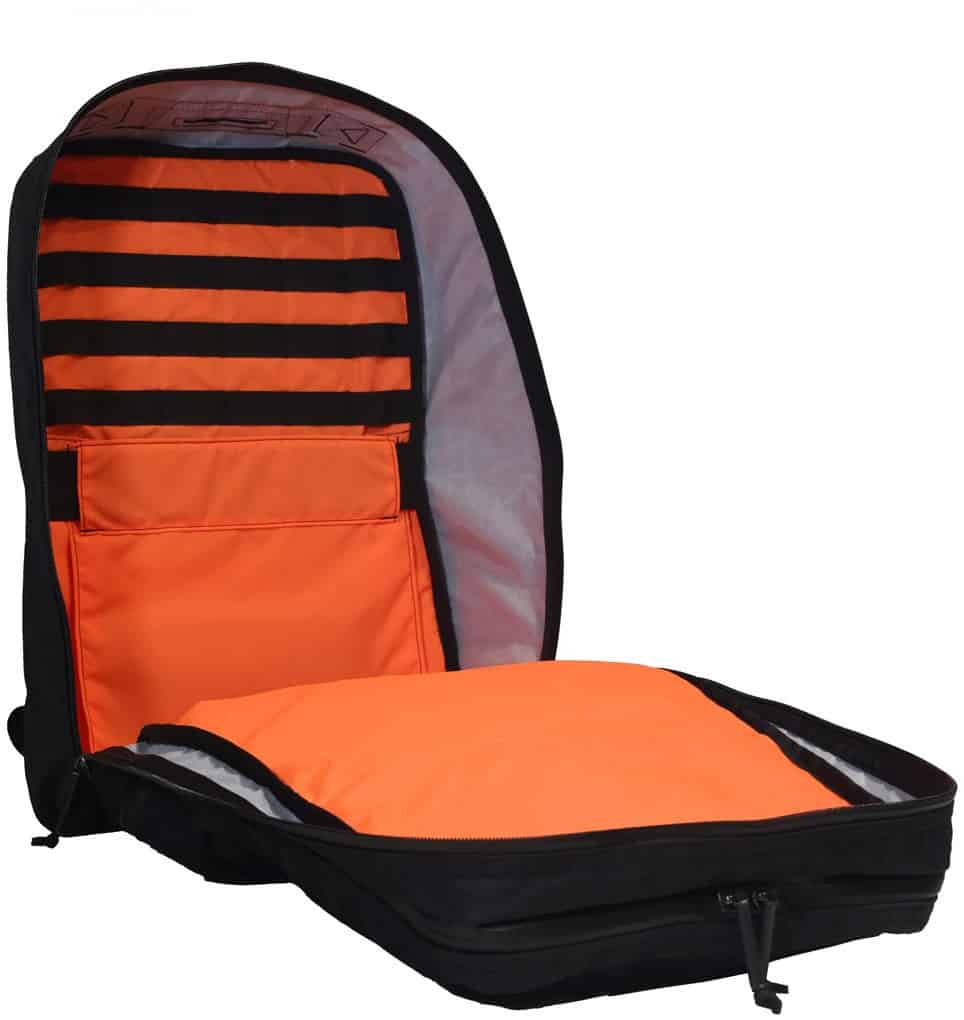 GR3 – Made in the USA (45L)
At 45L, GR3® is the most oversized possible carry-on. It uses Special Forces Grade 1000D CORDURA® that is highly water-resistant. It has a separate bombproof laptop compartment next to your back that is extra strengthened to take a laptop into combat tightly and fits a 17″+ laptop.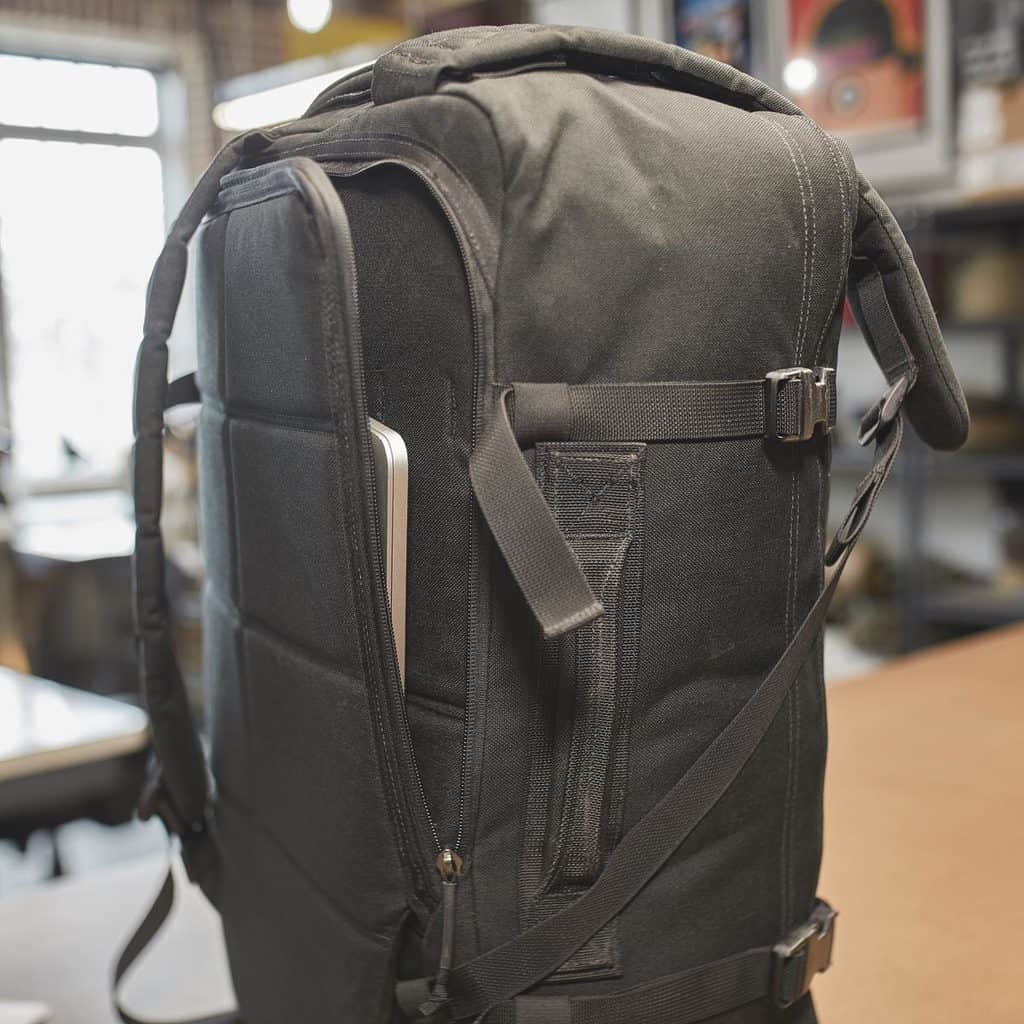 G3 has a Velcro interior back panel ideal for use with VELCRO accessories or customize with your patches. It is also optimized for hydration. Just clip your hydration bladder into the internal D-ring with a carabiner and feed the hose through the exit port under the top handle of the ruck.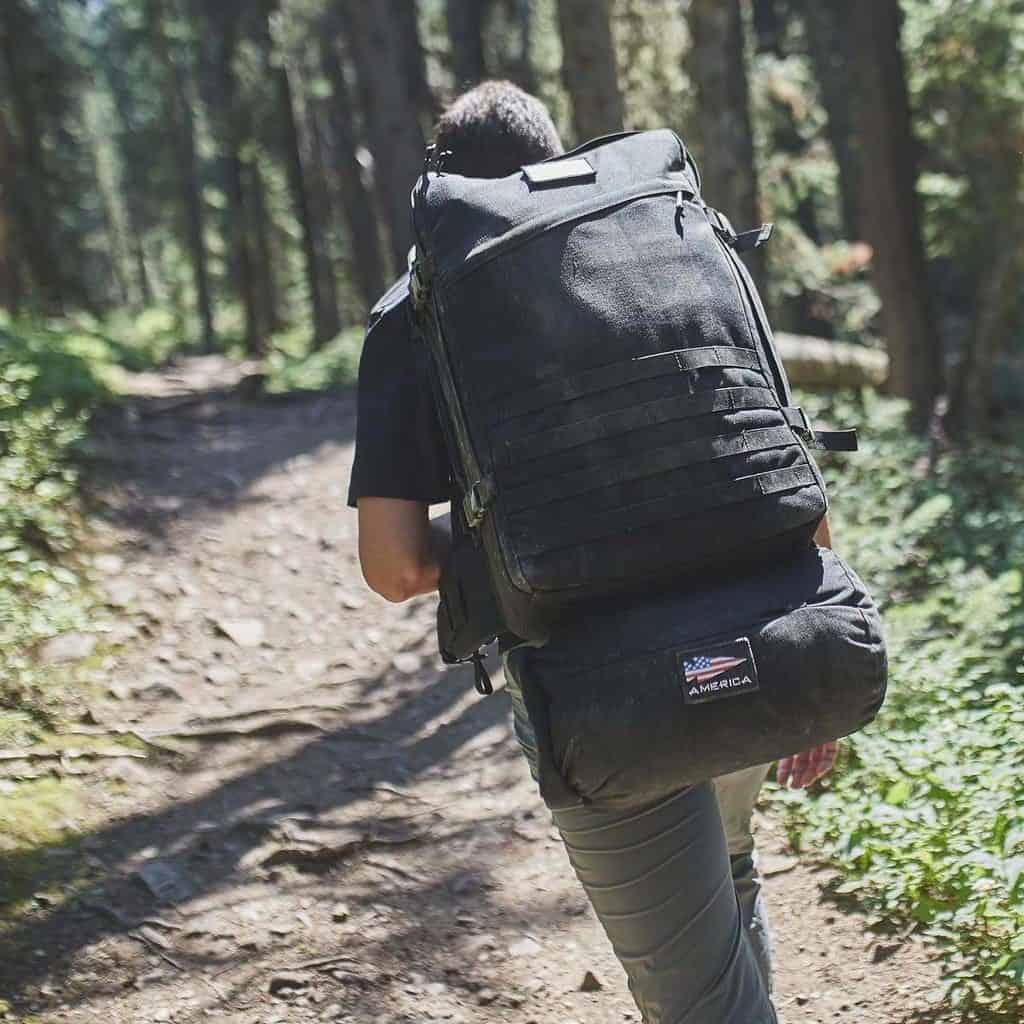 Ruck Plate Carrier
GORUCK offers you the most streamlined and efficient way to add weight to your workouts through the Ruck Plate Carrier 3.0™. It has wider lumbar padding that supports the natural curve of your back and extra padded shoulder straps so you can carry heavier weight more comfortably.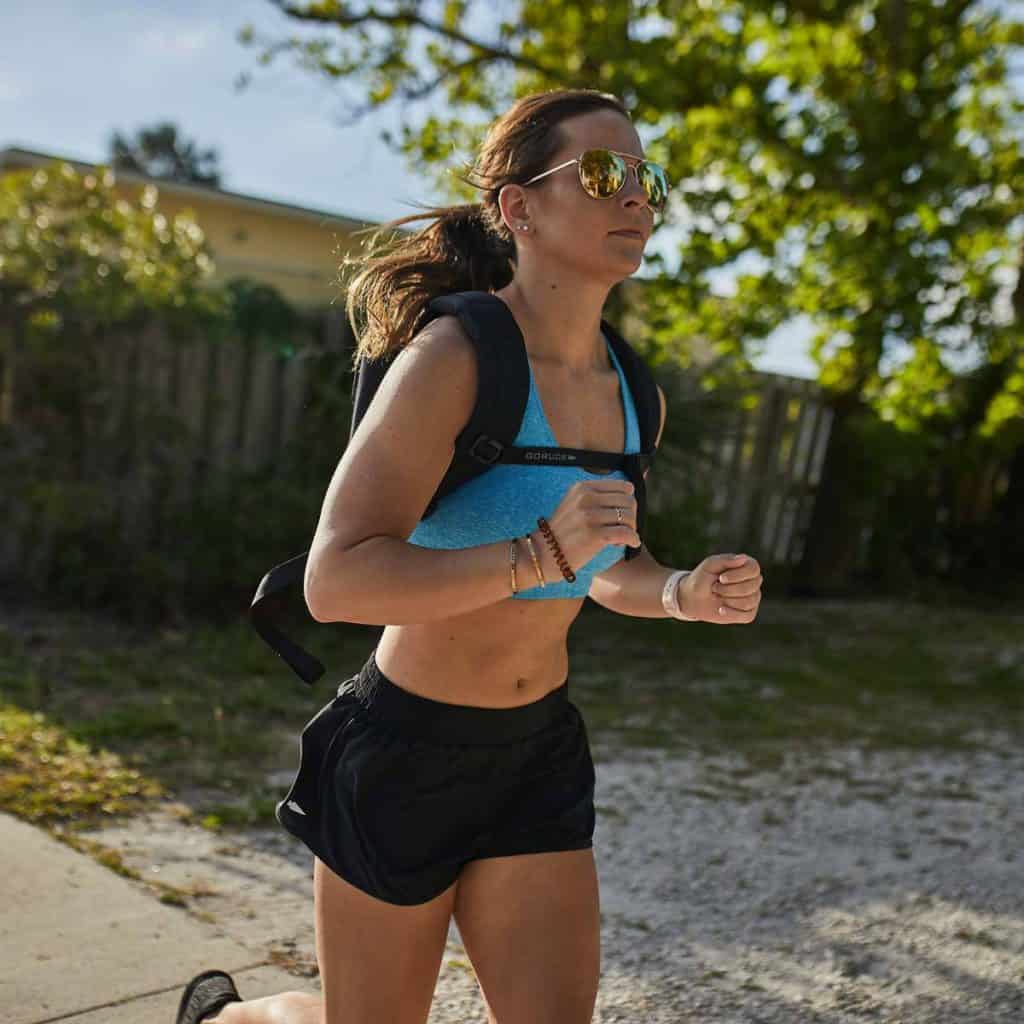 The top lid and top handle are also padded to protect you during dynamic movements. The back panel and underside of the shoulder straps use less abrasive fabric, so you can wear it shirtless with no friction burn. It also includes adjustable Training Sternum Strap.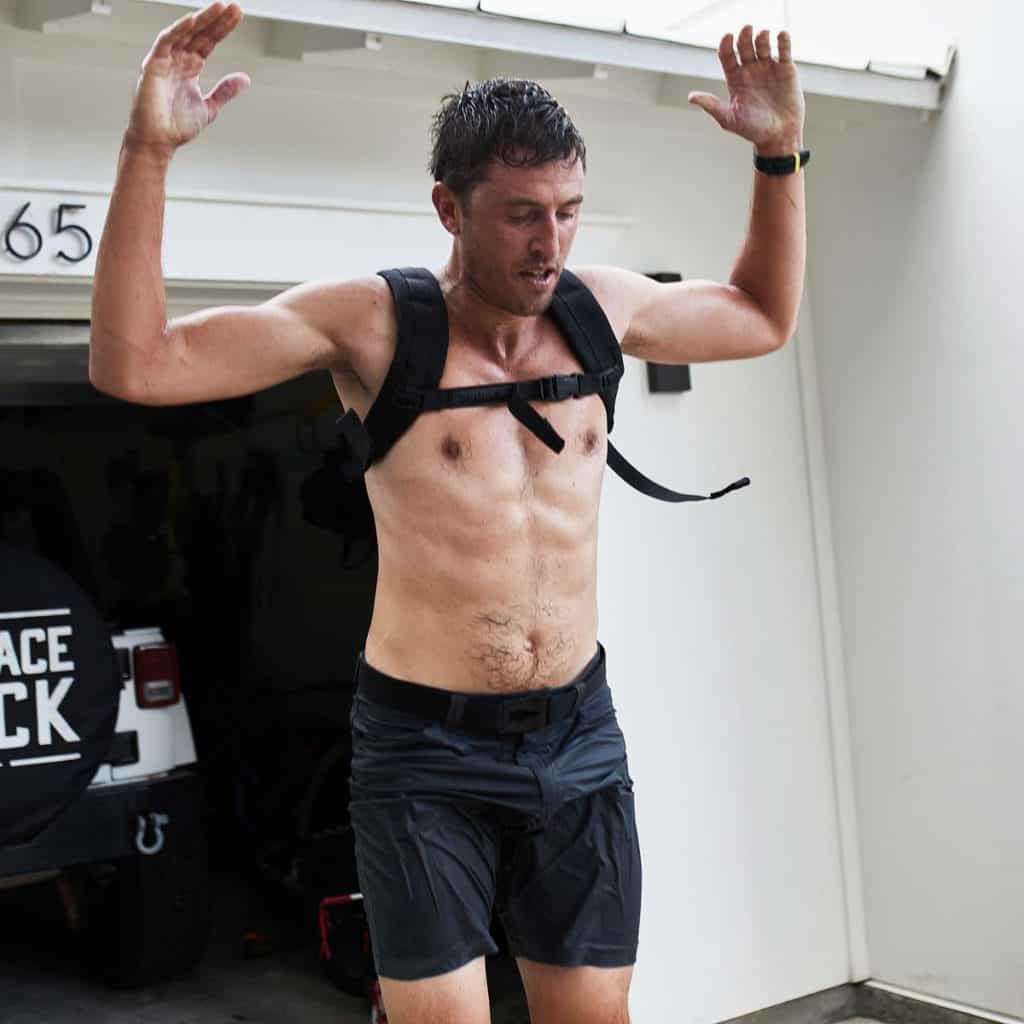 Training Weight Vest
The Training Weight Vest uses the shoulder straps from the Rucker, which are the most comfortable on the planet under load, and sized and contoured them. It is compatible with Ruck Plates up to 2x 30 LBS and other training plates while keeping the weight balanced even while running.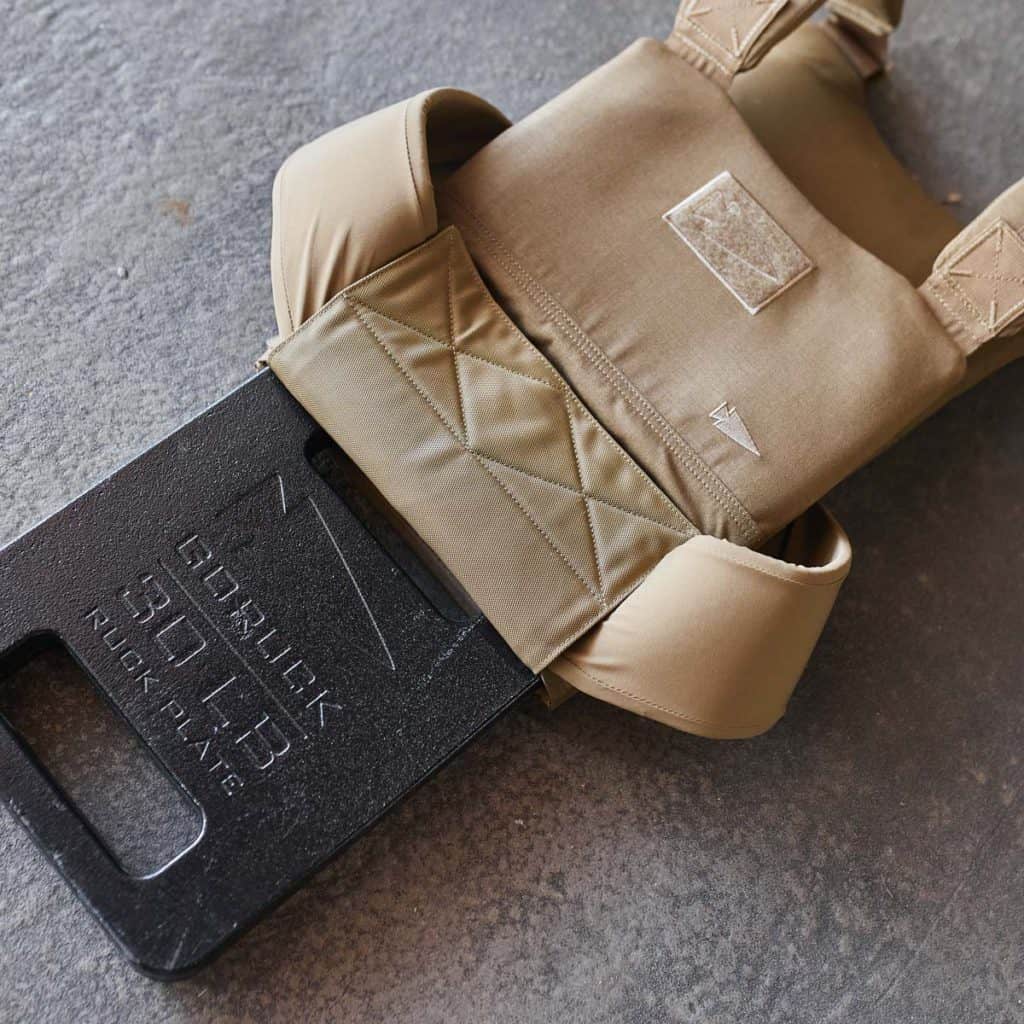 The Training Weight Vest uses 500D CORDURA® as the primary material, 210D CORDURA® for the interior fabric, and 330D CORDURA® for the back flap material. It weighs 1.65 LBS and measures 17.5″ (top of shoulder strap to bottom of vest) x 10.5″W.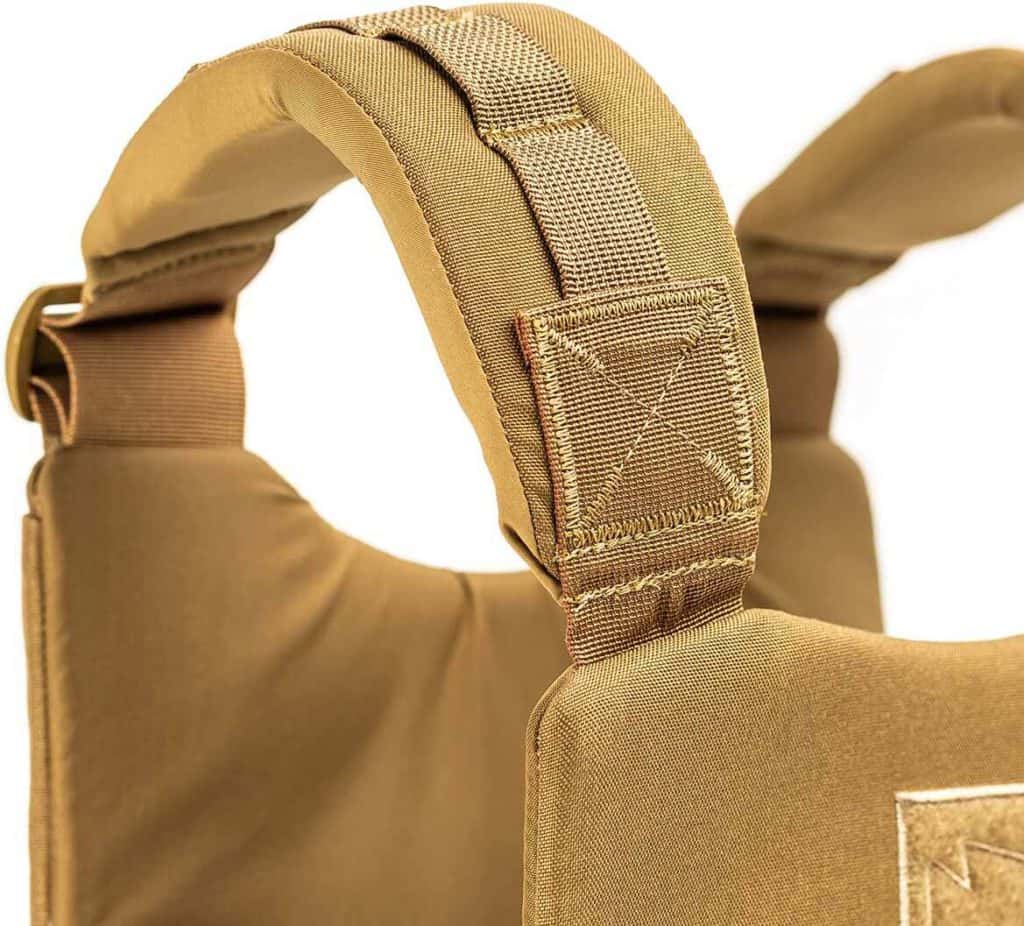 Rucksacks from GORUCK – In Summary
That's our close-up look at
Rucksacks from GORUCK
.
Rucking makes the amount of your daily activity count more, intensifying your foundation without the pounding on your body or the muscle loss of running. Rucksacks from GORUCK rest high on your back and stabilize the weight near your body, which is the most efficient way to carry weight. They are American-made and proven by Special Forces soldiers in the fiercest settings. All GORUCK rucksacks come with a Scars Lifetime Guarantee.
Looking for more options? Check out these other great products:
The GORUCK x Carryology Kaidan might be the Cadillac of rucksacks – click through and find out why.
Looking for something more cost effective? It's hard to beat the GORUCK GR1 Rucksack – it's a superb blend of toughness and functionality – for both fitness and business travel – or EDC (Every Day Carry).
More products from GORUCK.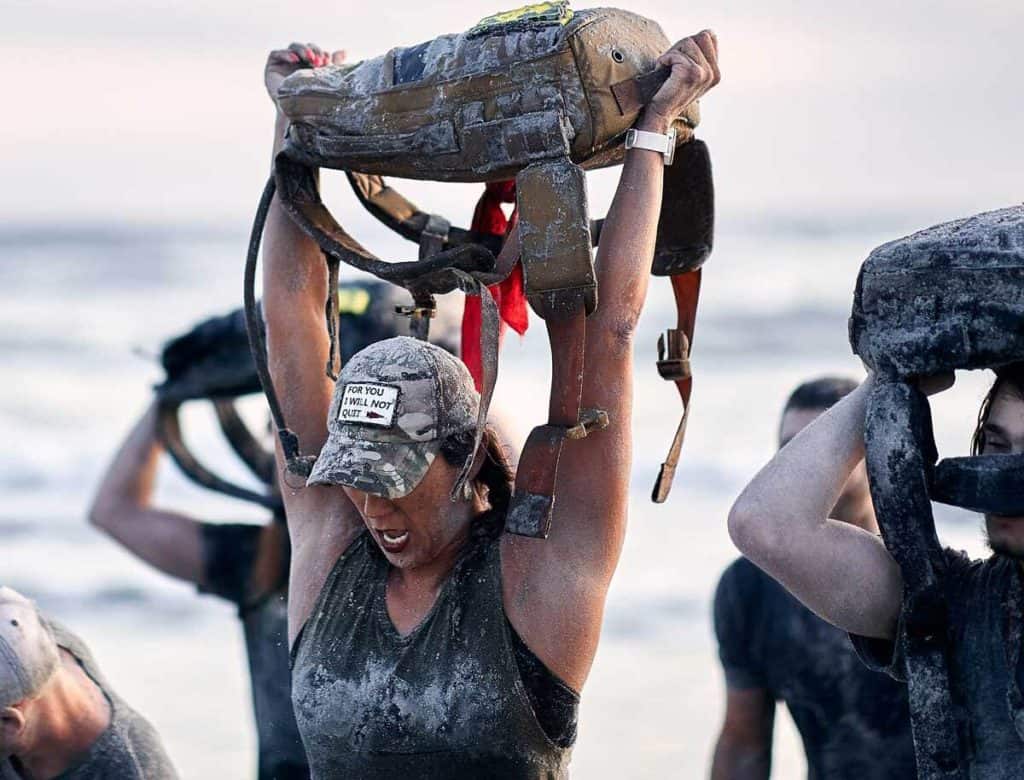 Photo Credits
Some product photos on this page are property of GORUCK. This website is not affiliated or associated with CrossFit, Inc. CrossFit is a registered trademark of CrossFit, Inc.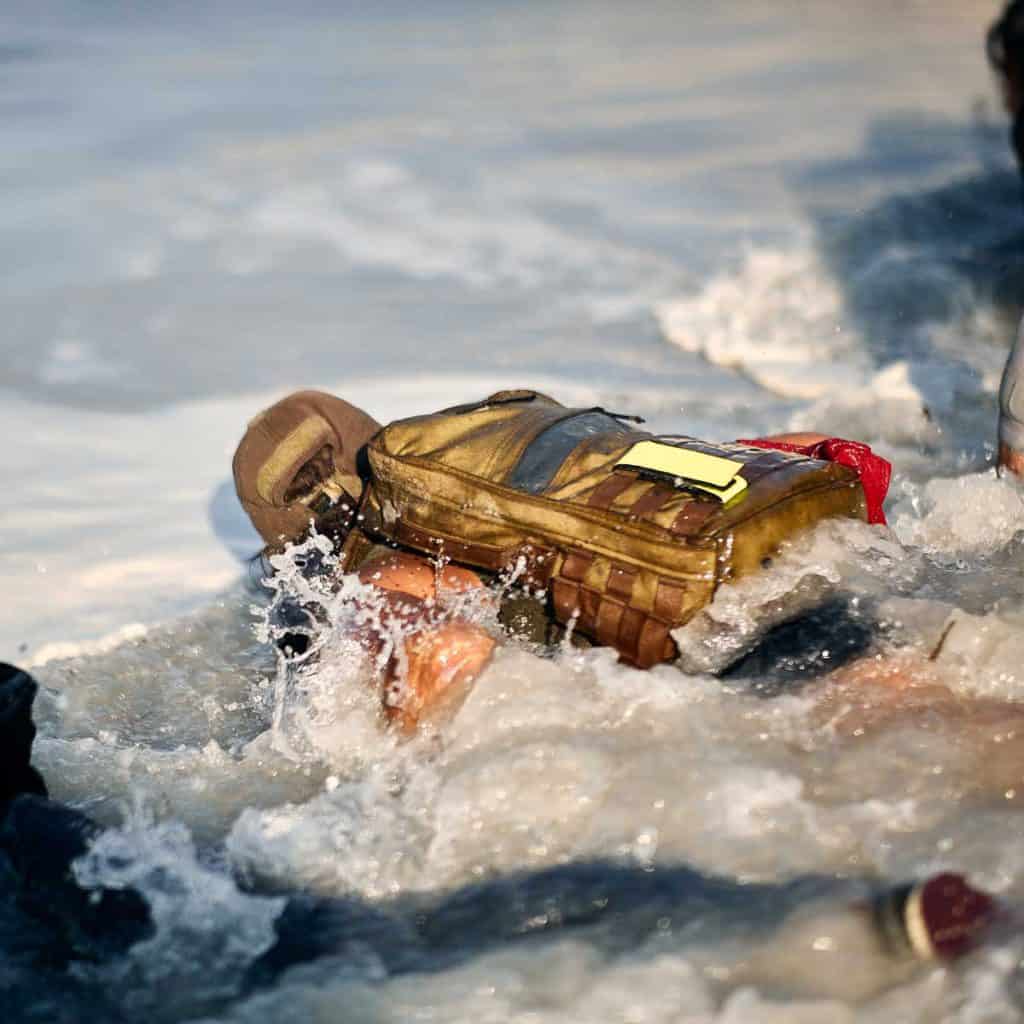 Affiliate Disclaimer
We are an affiliate of
GORUCK
and others that sell this training gear. If you buy clothing or other training gear after clicking the links in this article, we receive a small commission at no extra cost to you. This helps us to bring you in-depth information and content on these great training products.