Need Olympic Plates? Rogue is having a quantity limited Ghost Olympic Plates Closeout Sale.
Rogue Fitness is offering a Closeout Sale for their Ghost Olympic Plates. Take this exclusive opportunity before they run out of stocks.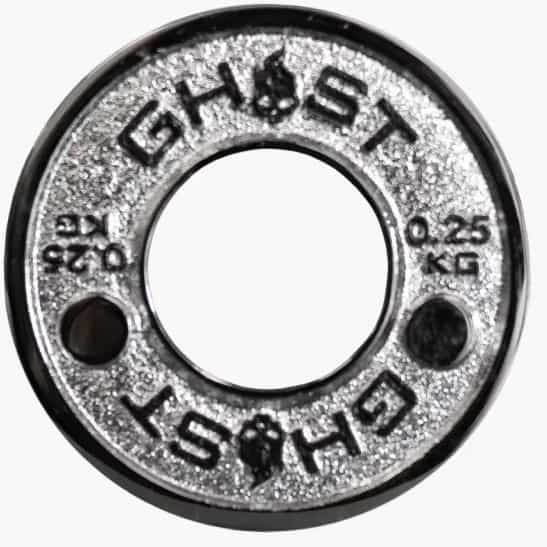 Get them while they last (all sales final!):


Ghost Olympic Plates Closeout Sale – Overview
Olympic plates are top-notch and versatile weight plates and are perfect for adding to a home gym as they don't take up too much space. They have a higher weight capacity and have better features than traditional free weights. They are also more stable on the bar and more potent than standard bars.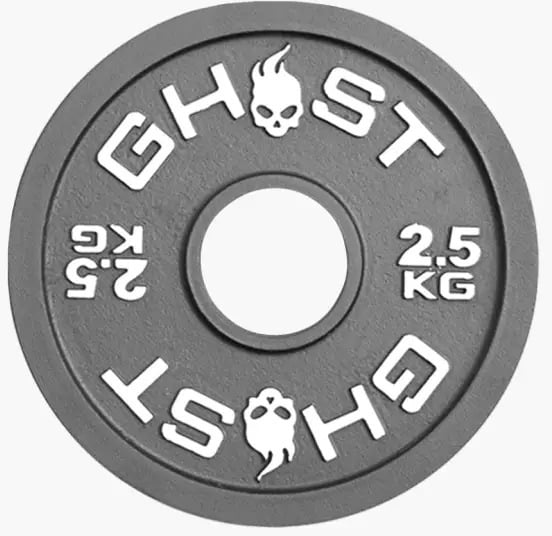 Lifters in competitions train with Olympic plates to be more competitive. Olympic plates use distinctive color coding to ensure the weight loaded during the match is precise. They are also less distracting while lifting and are the weight of choice for competitions.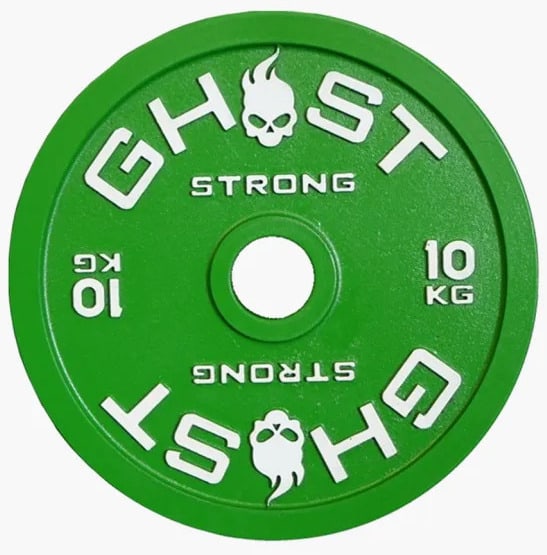 Ghost Competition Bumper Plates Kg
Ghost Strong KG Competition Bumper Plates highlight a 92 durometer rubber coating with raised Ghost Strong branding and a great-looking matte finish. All weight increments have the same 450mm diameter and a 50.4mm opening compatible with any traditional Olympic barbell.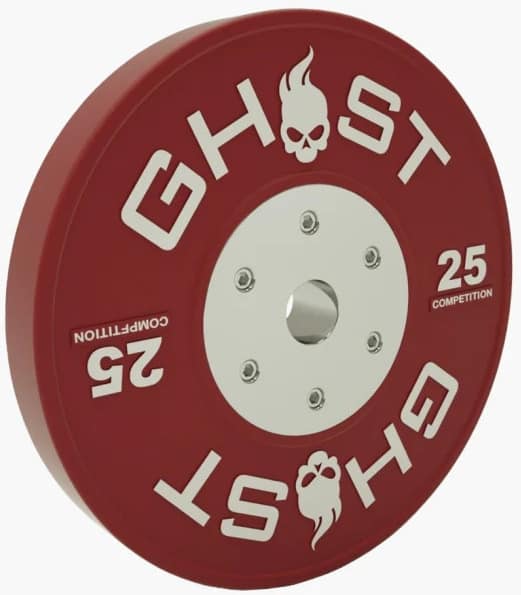 Plate Size and Color Breakdown:
10 KG (Green): 450MM diameter; 33MM thickness
15 KG (Yellow): 450MM; 46.3MMMM
20 KG (Blue): 450MM; 54.7MMMM
25 KG (Red): 450MM; 67.3MMMM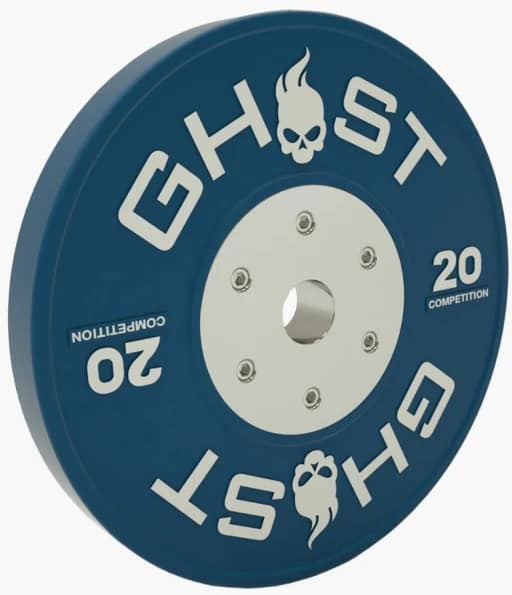 Ghost Calibrated Plates Kg
Ghost Strong KG Calibrated Plates are created from quality cast iron and machined to a rigorous weight tolerance of +/- 10 grams. These color-coded plates are approved for competition at their time of manufacture by the United States Powerlifting Association. They are available in 10-weight increments and equipped with calibration plugs for even greater precision.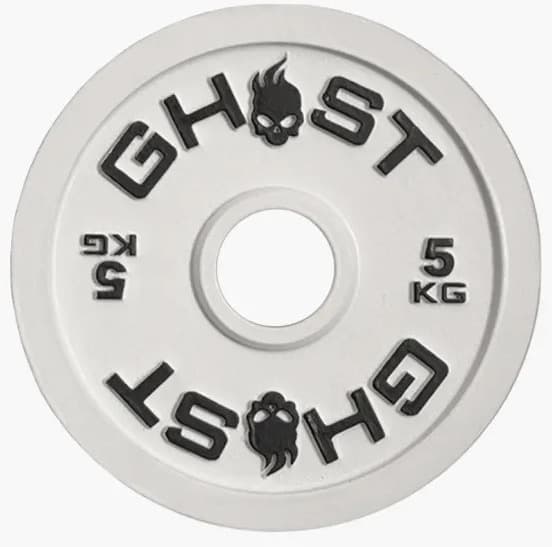 Plate Size and Color Breakdown:
0.25 KG (Chrome): 112MM diameter; 6MM thickness
0.5 KG (Chrome): 134MM; 8MM
1.25 KG (Chrome): 160MM; 12MM
2.5 KG (Gray): 190MM; 16MM
5.0 KG (White): 228MM; 21.5MM
10 KG (Green): 325MM; 21MM
15 KG (Yellow): 400MM; 21MM
20 KG (Blue): 450MM; 22.5MM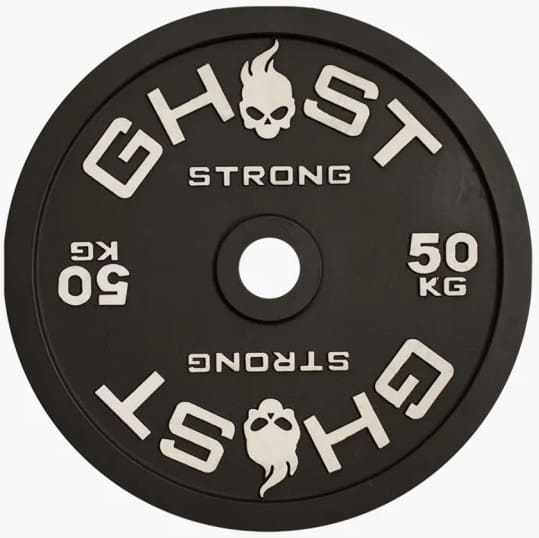 Ghost Change Plates in Kg
Ghost Strong Kg Change Plates highlight a matte finish with an exterior rubber coating and printed Ghost Strong branding. The 50.4mm collar opening is compatible with any standard Olympic barbell.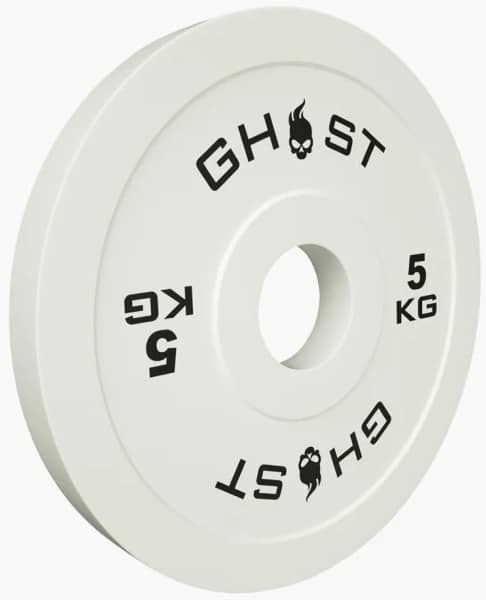 Change Plate Size and Color Breakdown:
0.5 KG (White): 135MM diameter; 11.8MM thickness
1.0 KG (Green): 159MM; 14.4MM
1.25 KG (Black): 167MM; 16MM
1.5 KG (Yellow): 175MM; 17.4MM
2.0 KG (Blue): 189MM; 18.4MM
2.5 KG (Red): 210MM; 18.6MM
5.0 KG (White): 230MM; 26MM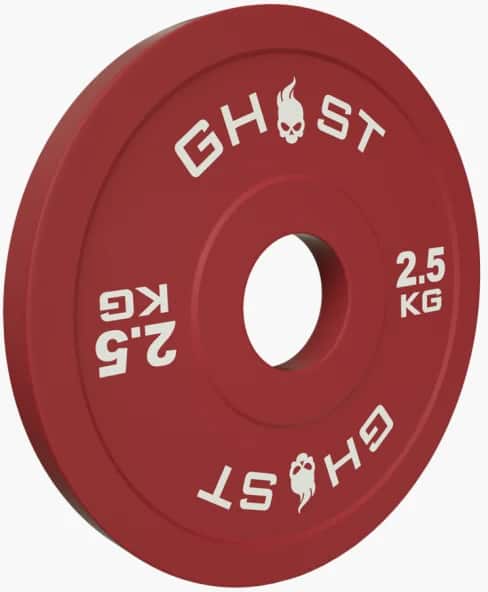 Ghost Olympic Plates Closeout Sale – In Summary
That's our close-up look at the Ghost Olympic Plates Closeout Sale.
Rogue's Ghost plates are only sold in pairs and are available in limited quantities. Grab them while you can and take advantage of this sale. There will be no additional stock once this supply is gone.
Looking for more options? Check out these other great products:
Rogue also has Zeus Custom Bumper Plates – which you can customize with a logo and text!
For a wild look – check out the Animal Print Bumper Plates from Rep.
More products from Rogue Fitness.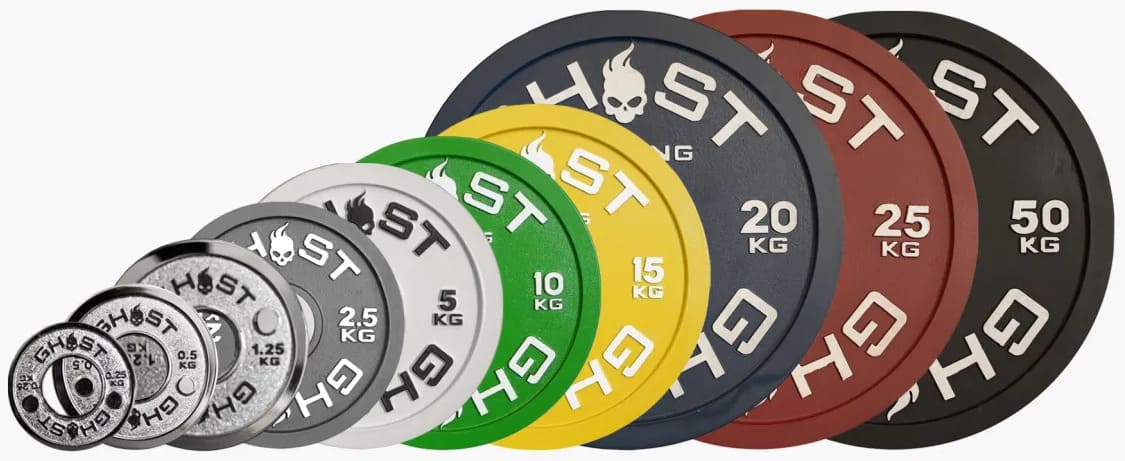 Photo Credits
Product photos on this page are property of Rogue Fitness.
This website is not affiliated or associated with CrossFit, Inc. CrossFit is a registered trademark of CrossFit, Inc.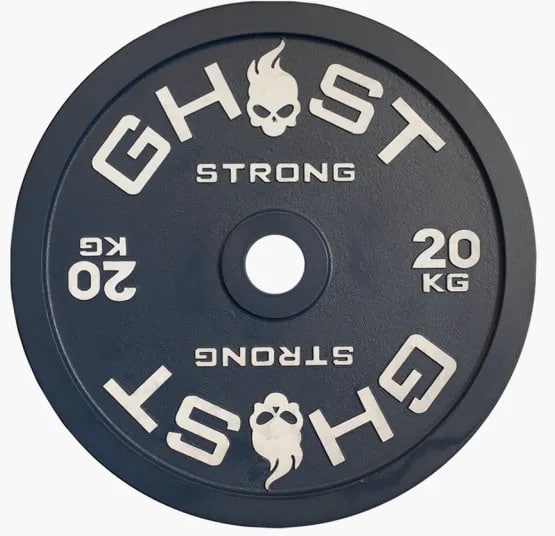 Affiliate Disclaimer
We are an affiliate of Rogue Fitness and others that sell this training gear. If you buy clothing or other training gear after clicking the links in this article, we receive a small commission at no extra cost to you. This helps us to bring you in-depth information and content on these great training products.