The Dad Bod Sale is on – here's the Pizza and Donut Pair.
Based in Austin, Texas, Fringe Sport is the self-proclaimed "official supplier to the garage gym functional fitness movement." Fringe Sport serves CrossFitters, WODers, and garage gyms enthusiasts and creates fitness products to enhance their physical health and overall well-being.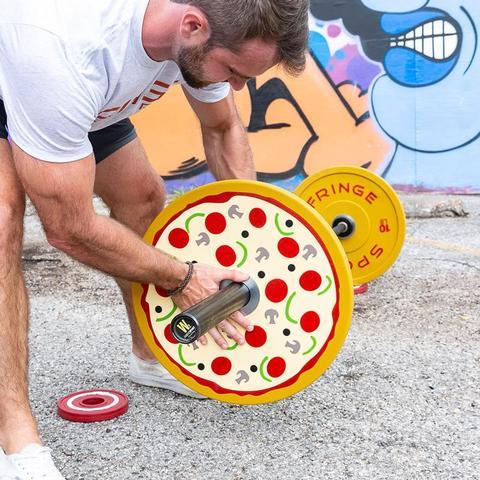 Get this great gear while it's on sale with the Dad Bod sale:
Pizza and Donut Pair – Overview
From squat racks and weight benches to bumper plates and Olympic barbells, Fringe Sport offers fitness equipment for functional fitness-minded individuals. Fringe Sport makes the most durable badass gym equipment and helps you design your dream garage gym.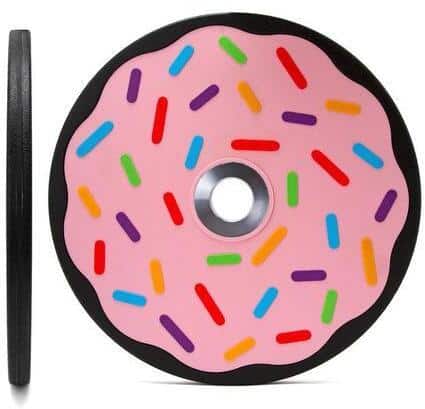 To guarantee the equipment's durability and excellence, a Fringe Sport team tests and uses all the equipment before they are sold. Fringe Sport delivers service, simplicity, speed, expertise, and value. The Dad Bod Sale is your opportunity to grab and test their equipment and see how they bring inspiration to your fitness.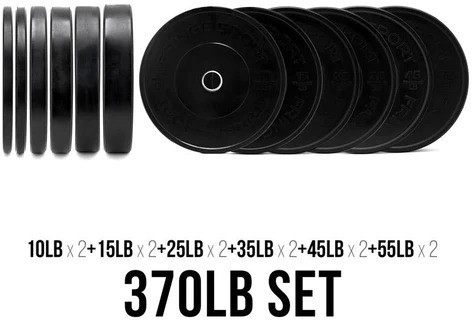 Pizza & Donut Bumper Set (10lb Pair)
The bumpers of both pizza and donuts are made with Texas toughness. The Pizza Bumpers are made from a Urethane + steel center ring with hard chrome plated surface, while the stale Donut Bumpers are from PU + steel center ring with a hard chrome plating surface.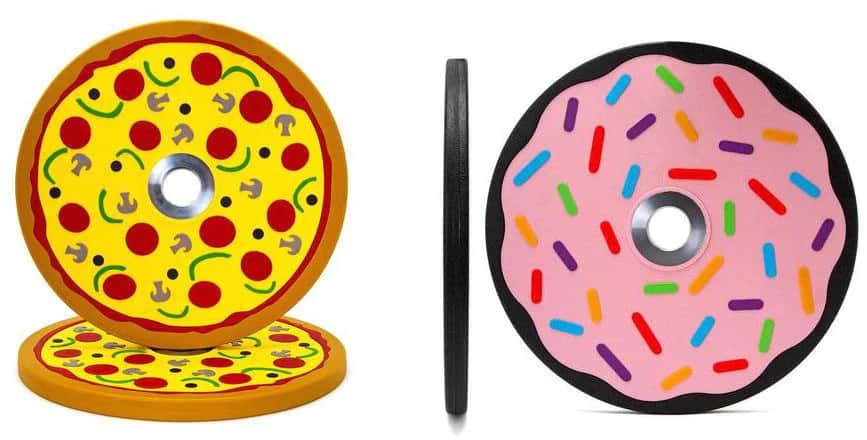 One side of the donut and pizza shows "Fringe Sport," and the other shows the image of the pizza and donut. Both have a weight tolerance of +/- 3% and an official IWF diameter of 17.7 inches/450mm. The Donut Bumpers have a 90-day warranty, while the Pizza Bumpers have a one-year warranty against defects in manufacturing.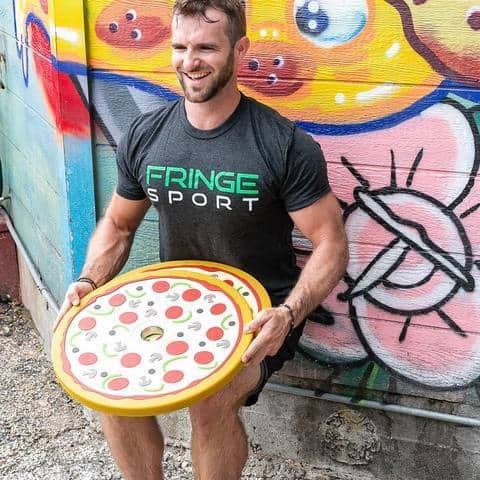 20kg Men's Wonder Bar Olympic Barbell
The Wonder Bar Olympic Barbell is slick, smooth, and created to last and weather the work. It is a well-crafted barbell available in bearing or bushing format. The bearing is ideal for trained barbell users and Olympic lifters, while the bushing is excellent for everyday garage gym warriors looking to move some weight.
This barbell is available in 15kg and 20kg variations for classic men's and women's barbell options. The Wonder Bar is made from black zinc-plated alloy steel with a 1600lb weight capacity.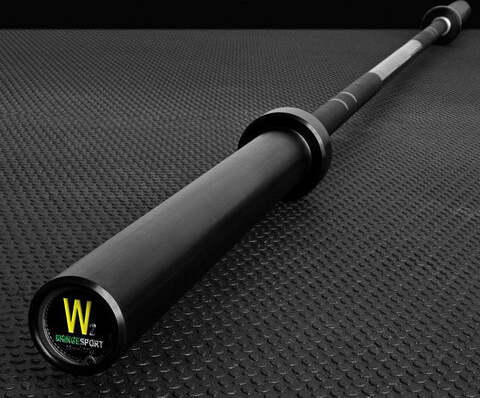 Flat/Incline/Decline Bench
This bench offers versatility and adjusts to your preferred angle, whether from a flat, incline, or decline position. It has a 2″x 3″ frame and a 1000lb weight capacity measuring 52″ L x 11 1/2″ W x 18″ H. It has a thick and firm 2.5″ cushion, and vinyl finishes with additional support and incredible comfort. The wide, soft rollers will keep you steady no matter what exercise you might be doing.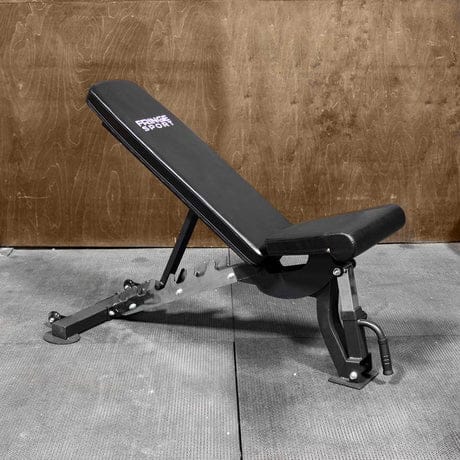 The nifty handle on the front base of the bench makes it very easy to lift, turn, and wheel around into any position or storage spot you want. This bench is revamped with the sticky gecko grip fabric that holds you tight no matter how sweaty your workout gets.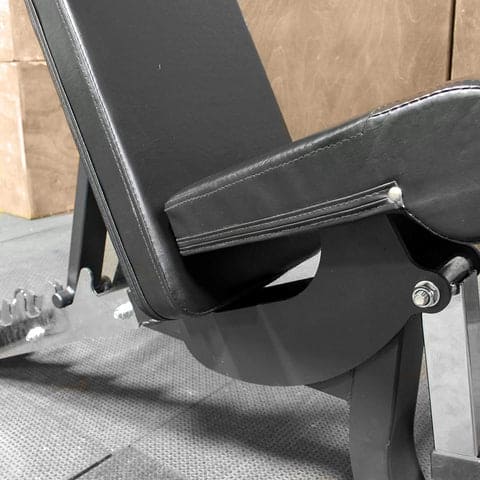 Black Bumper Plate Sets
The Black Bumper Plate Sets are durable enough to absorb all the punishment you dish out and thin enough so you can add bigger loads to the bar. They were torture tested to 15,000 drops, and now Fringe Sport upped the test to 30,000 drops.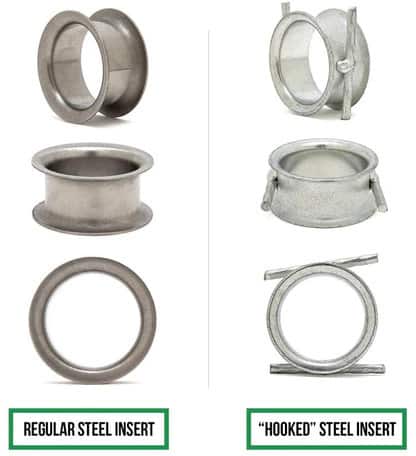 They are made from virgin rubber, and stainless steel inserts to provide unmatched durability, density, and a low bounce with a 1% declared weight tolerance weighing 10-55 pounds each. The set comes in 10/15/25 – 100 lb, 10/15/25/45 – 190 lb, 10/25/35/45 – 230 lb, 10/15/25/35/45 – 260 lb, 10/15/25/45/45/45 – 370 lb, and 10/15/25/35/45/55 – 370 lb.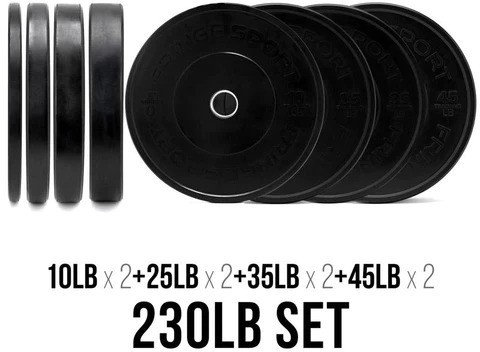 Pizza and Donut Pair – In Summary
That's our close-up look at the Pizza and Donut Pair.
Lift in style and add fun to your workout with the Pizza and Donut Pair. Fringe Sport also offers discounts on other equipment like the Wonder Bar Olympic Barbell, Flat/Incline/Decline Bench, and Black Bumper Plate Sets.
Looking for more options? Check out these other great products: Bad Ass Utility Bench from Fringe Sport or the Power Racks from Fringe Sport
More products from
Fringe Sport
.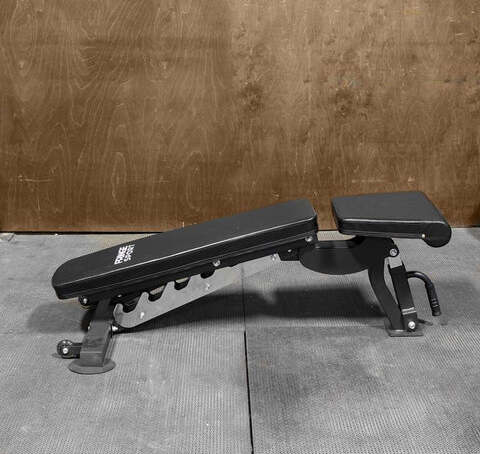 Photo Credits
Product photos on this page are property of Rep Fitness.
This website is not affiliated or associated with CrossFit, Inc. CrossFit is a registered trademark of CrossFit, Inc.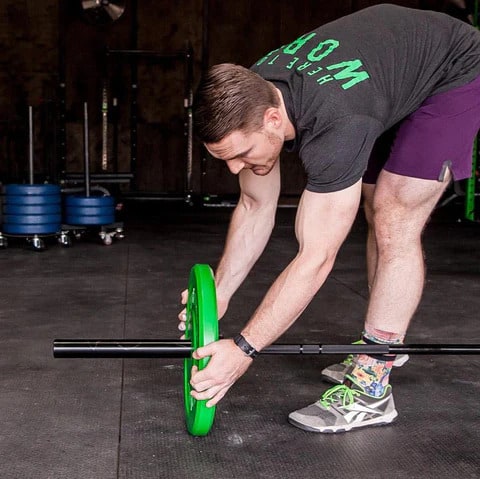 Affiliate Disclaimer
We are an affiliate of Fringe Sport and others that sell this training gear. If you buy clothing or other training gear after clicking the links in this article, we receive a small commission at no extra cost to you. This helps us to bring you in-depth information and content on these great training products.