Here is Power Racks from Fringe Sport.
The secret to serious strength gains and muscle growth is the use of heavyweights, but using them safely is a bit tricky. The role of a power rack is to keep you safe from falling weights on failed reps. Both amateur weightlifters and elite trainers can rely on a power rack to build muscle mass and strength.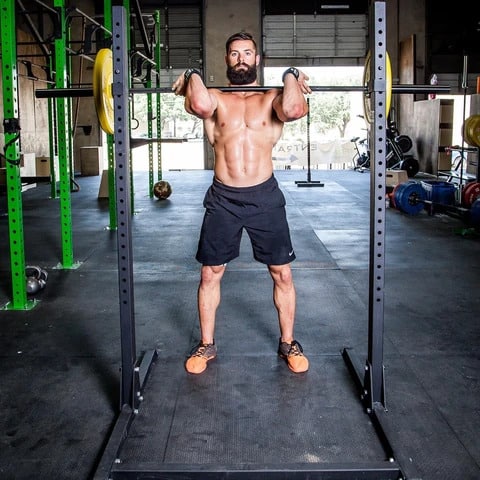 Here are some of the styles we are going to look at:
Power Racks from Fringe Sport – Overview
Power racks offer versatility and can be used to do many and different exercises. Alone, the power rack may not be so useful, but when you partner it with free weights, it becomes a multifunctional gym machine. A power rack is a cage-like structure where you stand inside the cage while working out. The spotter arms of the power cage render a safety net in case the weight slides out of your hands while working out.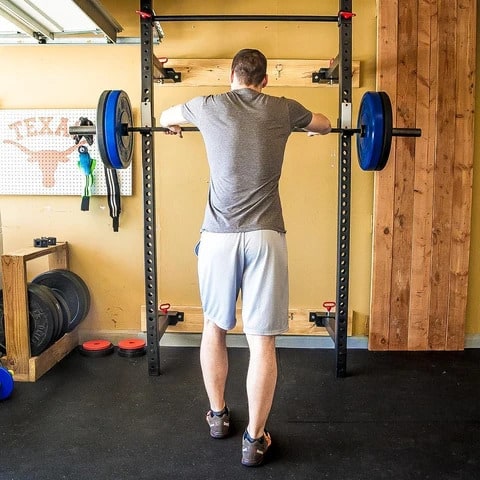 With a power rack, you can do exercises like bench press, squats, deadlifts, barbell rows, pull-ups, chin-ups, and many more. It has a broad base and added bars that give more support without being restricted. Even if you have a small space in your garage or home gym, you can still add a power rack to complete your setup. Now, most of the power racks are also retractable and can be folded when not in use for easy storage. Check out some of these power racks from Fringe Sport.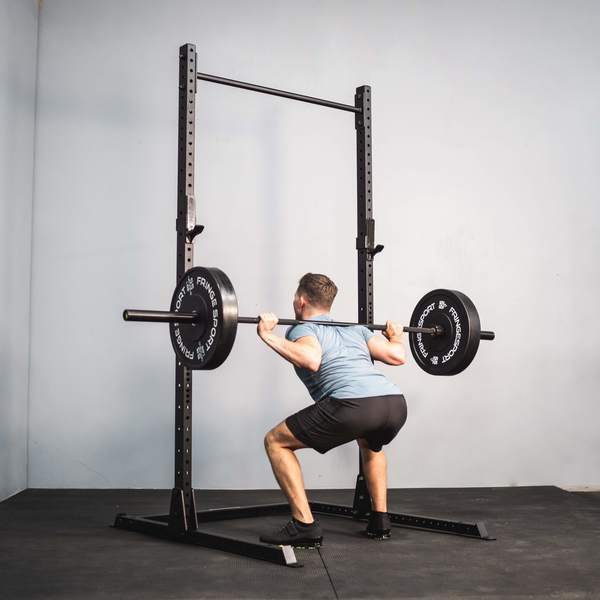 Squat Rack with Pull-up Bar – Garage Series
The Squat Rack with Pull-up Bar is included in the Garage Series, producing powerful physiques and delivering world-class results. The uprights are everything for a garage gym rack, and this bar uses heavier gauge steel for enhanced durability. They are shorter, so it conveniently clears average garage ceiling heights. The hole spacing is narrowed up in the bench press zone, so the Garage Series now abides with Westside spacing (1″ from hole center to hole center).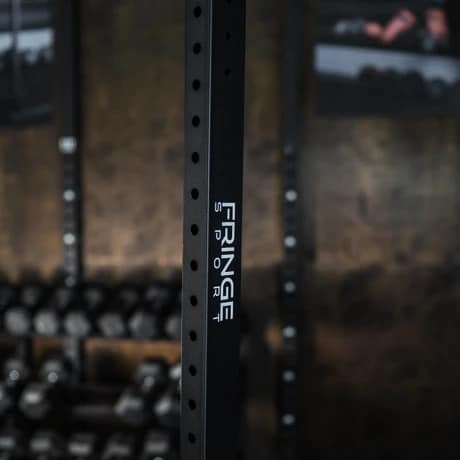 There are also added low holes under the Westside spacing for rack pulls and other options. Though the uprights are shortened, the holes for the vertically gifted are kept high. Less steel was used in the bottom but still provides maximum stability and a strong footprint and profile. Since less steel was used to present that narrow and compact footprint, a couple of pins were added to add weight should you want. Although it's as firm as a statue coming out of the box, Fringe Sport added the option to bolt it into the floor or a platform under it.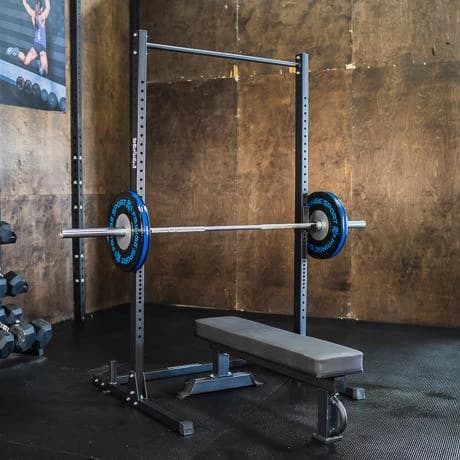 Squat Cage – Garage Series
Go right to the top of your game with the Squat Cage – Garage Series. This freestanding power rack possesses the trademark durability, strength, and dependability of Fringe Sport. A pair of UHMW-lined J-Cups can be utilized in the front or back of each side of the uprights. The UHMW will preserve your barbell during all your workouts. Weight horns are placed on each side of the cage so you can comfortably store your weights.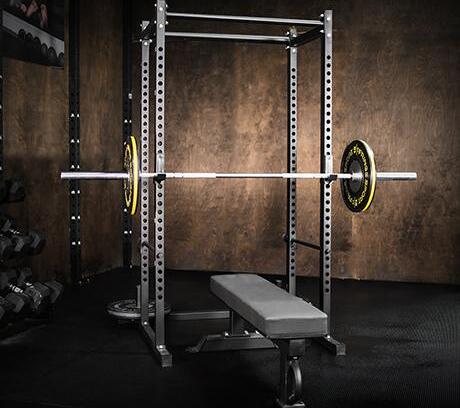 They boast 13″ of loadable space, and the weight will add more durability to this already firm rack. The safety spotter is adjustable and provides safety when you are alone lifting. The uprights are 2″ x 2″ with 1″ holes and numbered, so it is simpler to arrange accessories. Two distinct diameter pull-up bars – one standard 1.25″ and one "fat" 2″ diameter. The footprint on this cage is approximately 4ft by 4ft – great for smaller spaces.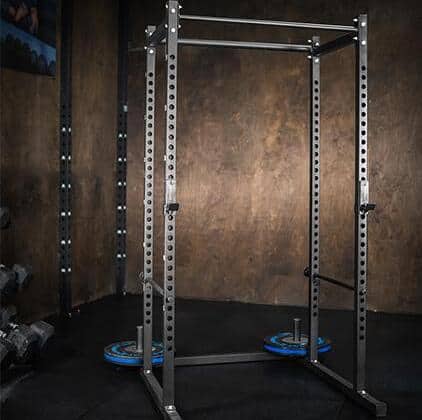 Squat Rack with Pullup Bar
This is the first squat rack + pullup bar specially created to enable you to kip on a budget. This rack is made to endure all your WODing demands — kip away on the squat, pull-up bar, and press with efficiency from the UHMW-coated adjustable J-Hooks. This setup allows alternative safety bars for squatting or bench presses.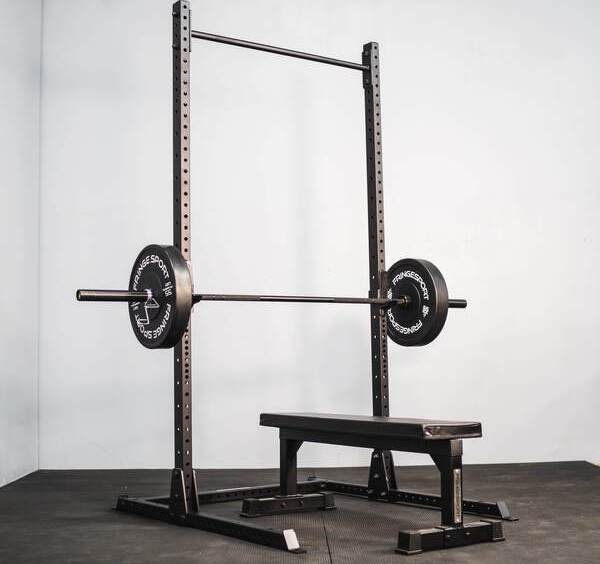 It has approximately a 5′ x 4′ footprint to grant kipping and banded pull-ups without instability. The pull-up bar has an adjustable height with a durable black powder coat finish. The J-cups can be set as low as 1′ off the ground or as high as 6′ off the ground and is UHMW plastic-coated to protect the finish on your bar.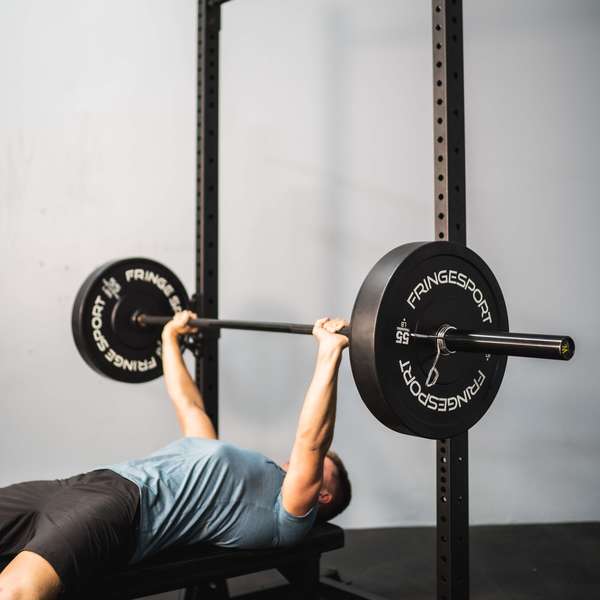 Retractable Power Rack
The Retractable Power Rack retracts for effortless storage and incorporates a pull-up bar and squat rack. It is an excellent supplement to any home/garage gym, and if you have a tight space, you can unfold it to use and stow away when you're finished. There are two 2″ x 3″ 11-gauge steel uprights with 5/8″ holes that include westside spacing in the bench zone.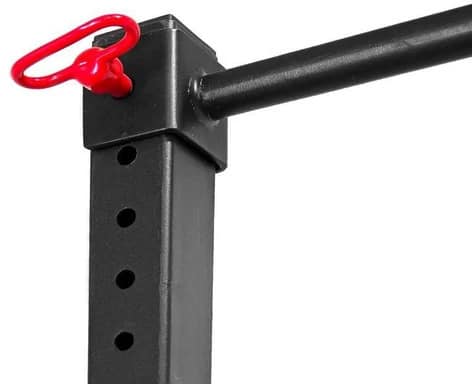 You can quickly adjust the 1.25″ diameter pull-up bar that ranges ~70″ – 88″ from the floor. Included in the rack are UHMW plastic-coated j-hooks that protect the coating on your bar. It also has four mounting brackets and six detent pins to secure the rack in place when open or closed.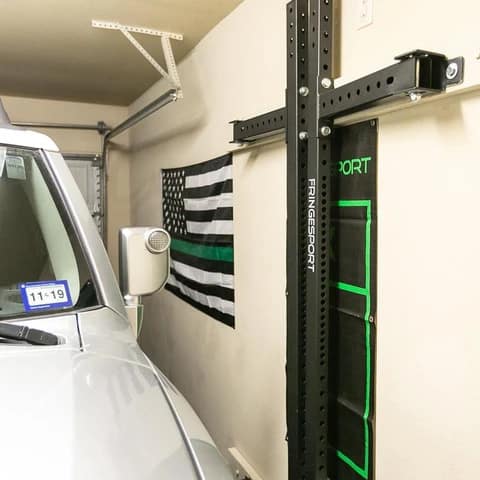 Power Cage Squat Rack (Kip Cage)
The Fringe Sport "Kip Cage" is an amazingly sturdy power cage created for functional fitness use. It has an excellent broad base (45″ deep by 47″ wide) that provides you enough room for bar work or pull-ups. The base is pre-drilled at all four corners to maximize stability for kipping. The corners of the base are created to extend past their joint with the uprights, forming the ideal place for sandbags.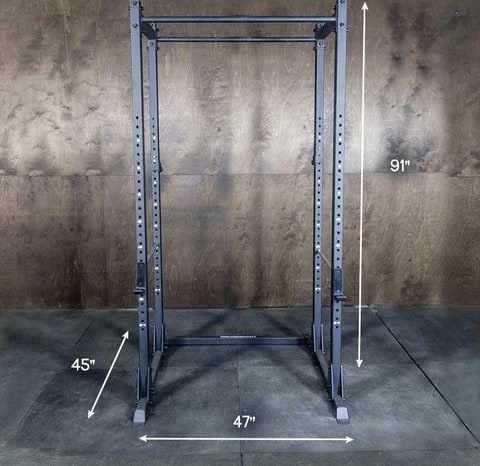 Pull-up bars that measure 1.5″ in diameter are placed on the front and back of the squat rack. It is 91″ tall — great for low garage ceilings and comes with two sets of J-Cups supporting two squat positions. The rack also has safety pins and a sleeve mechanism for heightened stability for squats and bench presses. The 2″ x 3″ 11-gauge steel is powder-coated to allow outstanding durability and feel.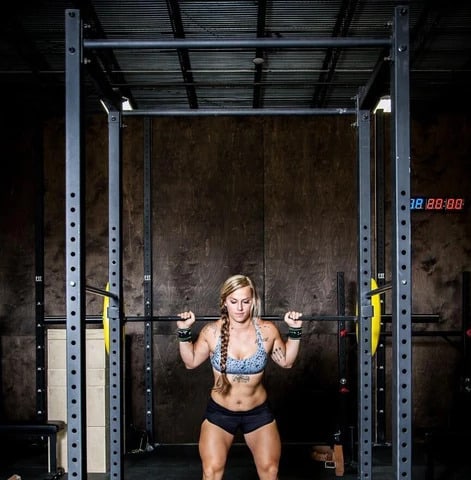 Floor-Mounted Power Cage
The Floor-Mounted Power Cage is rugged and sturdy and works great for functional fitness, powerlifting, weightlifting, and many more. It has a wide footprint and bolts down underneath each upright, rendering max stability for kipping and all weightlifting demands. This power cage is explicitly made to be bolted down to avoid wobbling and swaying but can also be used unbolted.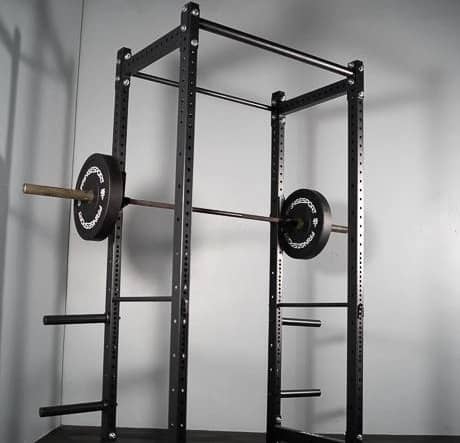 It comes equipped with one pair of J-cups, safety arms, and four bumper plate storage rods. The bottom crossbar is high enough off the floor to use for additional band training. It highlights two distinct pull-up bars — one standard diameter and the other with a 2″ diameter. The 90″ height makes the power cage ideal for overhead garage clearance.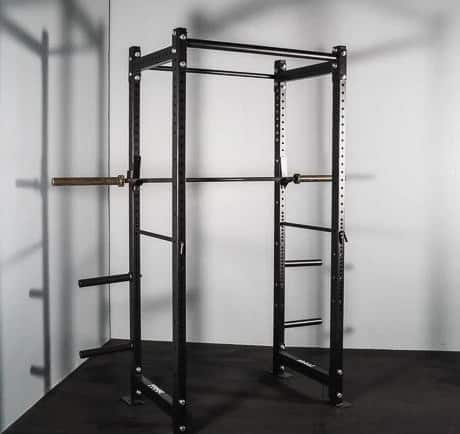 Commercial Squat Rack
The Commercial Squat Rack is compelling with its super-high 1,000-pound weight limit. It uses a 2″ x 3″, 11-gauge heavy-duty steel tubing with a 5/8″ hole diameter for the uprights. The J-cup holes are numbered at every third hole to line up j-cups on both sides evenly. The dual-triangle-shaped mounting plates connect the uprights to the footplates to guarantee durability and stability.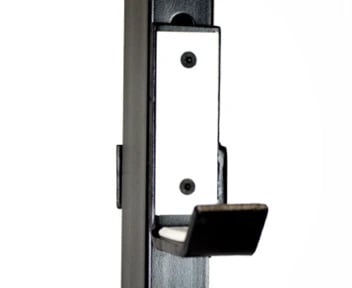 And to even further stability, the base is pre-drilled at all four corners. The J-cup holes begin at 21 inches off the ground and run the height of the rack. It weighs 125 pounds measuring 73 inches tall, 47 inches wide, and 39 inches deep.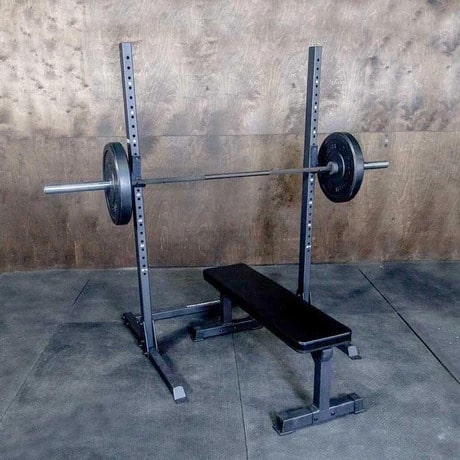 Power Rack with Wall Ball Target
The Power Rack with Wall Ball Target is the best value when you're tight on space in your garage. This set comes with a bundle of accessories to change your training and assist with storage and space. The rack folds into the wall when not in use and folds out when you're ready to workout.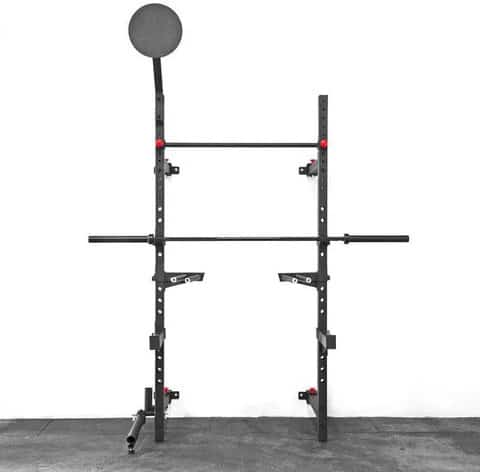 The pull-up bar can be adjusted in 2.5″ increments from 69.5″-93″ high and secure all three positions with a pin. The spotter arms are 13.75″ long and are 2.5″ wide. The rack includes a Wall Ball Target, Pull-Up Bar, J-Cups (Pair), Dip Station, Safety Spotter Arms (Pair), Barbell Storage, and Landmine.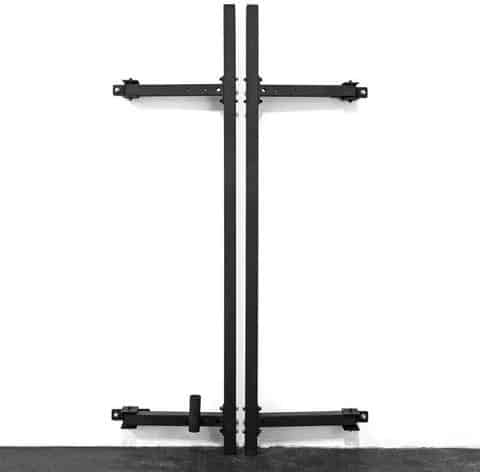 Power Racks from Fringe Sport – In Summary
That's our close-up look at Power Racks from Fringe Sport.
Power racks from Fringe Sport offer affordable, at-home options for squatting, benching, and pull-ups. They are versatile and powerful racks that provide safety and security while using heavyweights. No matter how tight your place is, there's a Fringe Sport power rack suitable for you and your fitness needs.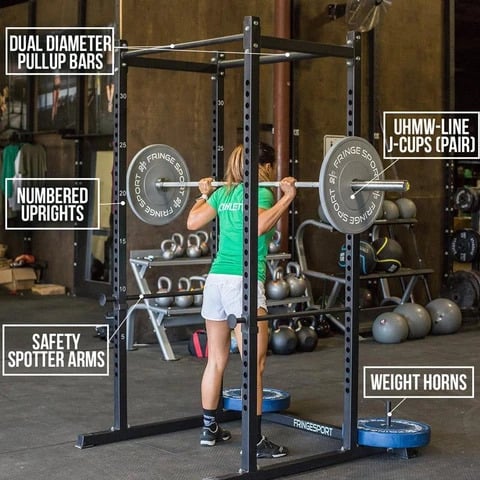 Photo Credits
Product photos on this page are property of Fringe Sport.
This website is not affiliated or associated with CrossFit, Inc. CrossFit is a registered trademark of CrossFit, Inc.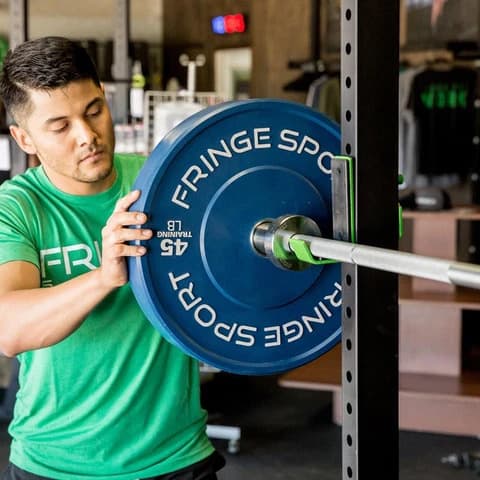 Affiliate Disclaimer
We are an affiliate of Fringe Sport and others that sell this training gear. If you buy clothing or other training gear after clicking the links in this article, we receive a small commission at no extra cost to you. This helps us to bring you in-depth information and content on these great training products.