Rep Fitness keeps pumping out the innovative gym equipment – and here's their latest createion, the Cambered Swiss Bar.
The Cambered Swiss Bar is a great bar to start with if you want to step up beyond a traditional barbell. The Camber allows for a potentially deeper stretch or range of motion, adds variety to your squats, and takes the pressure off the shoulders when executing squats. This bar from Rep Fitness is efficiently one of the best multi-grip barbells available on the market.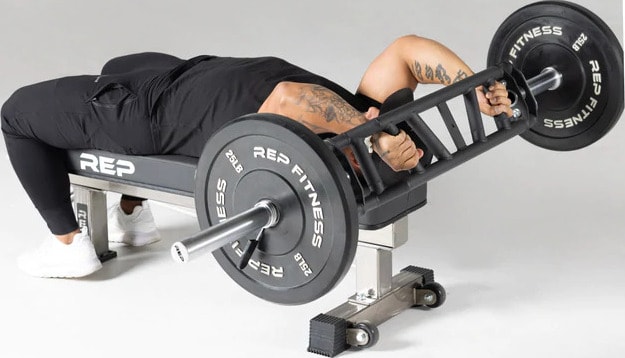 Get it now – because it will probably sell out (from Rep Fitness, of course):
Cambered Swiss Bar – Overview
The Cambered Swiss Bar is a multi-grip barbell that is an exceptionally versatile tool for strength training. The cambered design delivers a greater range of motion, and using the different grips will enable you to target distinct muscle groups. When you use the widest grip for bench press, it will result in the hands lowering further than expected. This forms a pendulum effect because the weight is not in line with the handle for the other hand positions, and you'll have to work extra hard to stabilize. This bar blends the advantage of a flat-swiss (straight handled) and a football bar (angled handled).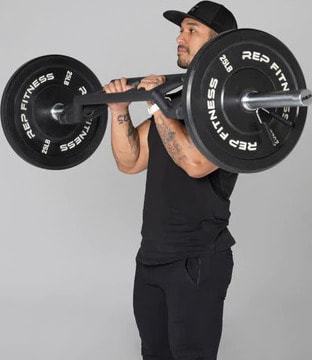 It has a removable eyebolt that adds a level of versatility to your training and can be used as a cable attachment. Three grips have been intentionally placed to help ease any shoulder discomfort and deliver placement for more targeted muscle training. The grip variation gives your body a breather from the standard positions and aid overworked areas like the shoulders. Instead of most competitors' square tubing, Rep Fitness used round tubing to make more comfortable loading on your chest and a better-quality bar.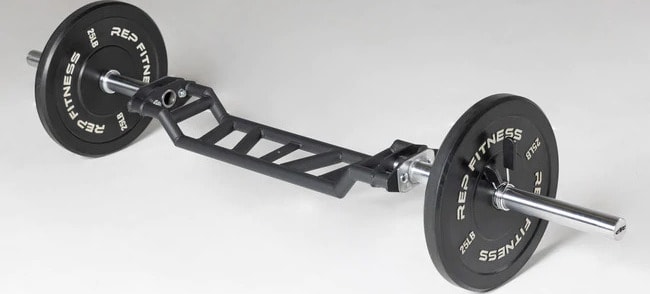 You can get a better hold of the knurled handles as they have the right amount of grip without being too aggressive. The sleeves are chrome coated and make the bar more durable designed to fit standard clips. There is added space between the outermost handle and the collar to make this bar rackable on most setups. This bar can also be used for various movements like bench press, shoulder press, lat pulldowns, bent-over rows, skull crushers, seal rows, bicep curls, and much more.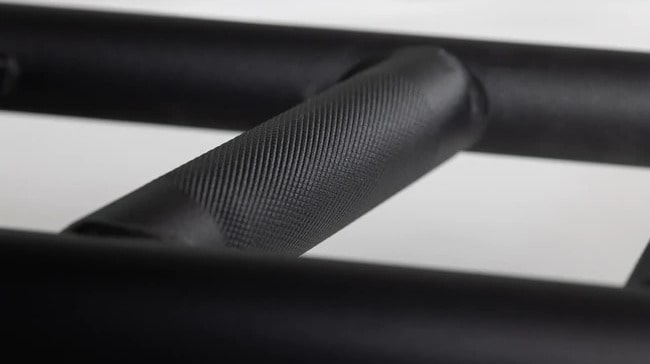 Cambered Swiss Bar – In Summary
That's our close-up look at Cambered Swiss Bar.
Rep Fitness took the classic cambered design and made it even better. They used a round tube which is not the easiest method to create this bar, but it gives the best feel. This bar can spice up your routine and can also be used in a variety of workouts, minus the stress on your shoulders when squatting.
Looking for more options? Check out these other great products: Stainless Steel Barbells from American Barbell
Or how about some Rep Fitness Bumper Plates for Olympic Barbell Lifting?
More products from Rep Fitness.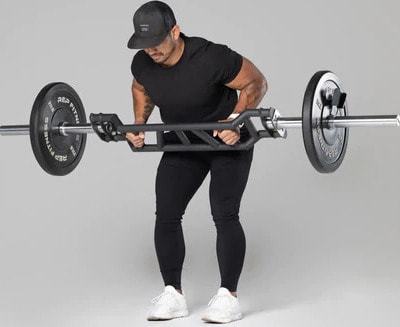 Photo Credits
Product photos on this page are property of Rep Fitness.
This website is not affiliated or associated with CrossFit, Inc. CrossFit is a registered trademark of CrossFit, Inc.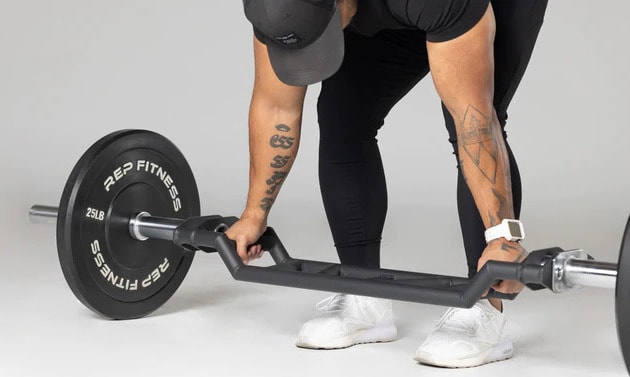 Affiliate Disclaimer
We are an affiliate of Rep Fitness and others that sell this training gear. If you buy clothing or other training gear after clicking the links in this article, we receive a small commission at no extra cost to you. This helps us to bring you in-depth information and content on these great training products.