Let's review the Altama OTB Maritime Assault Boot (Buy on Amazon) from Altama.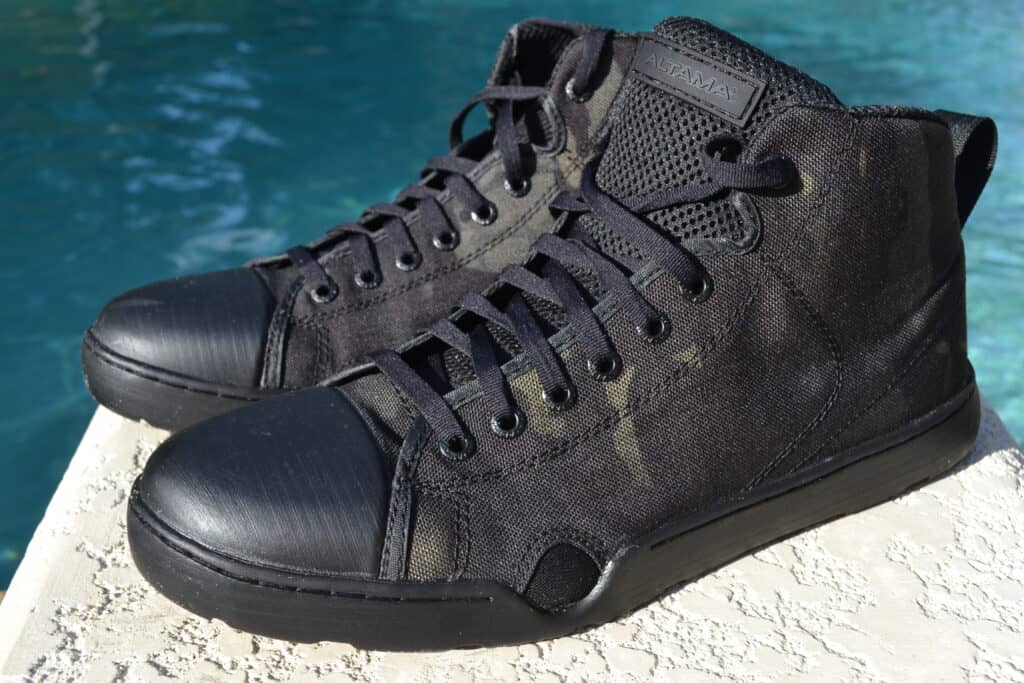 No, it's not a Chuck Taylor Converse – it's a special-purpose boot originally made for the US Navy Seals.
They wanted a shoe that fit and worked like the Converse shoes (i.e. a very simple design) but wanted something that could be used in amphibious operations. These are sometimes called tactical chucks for that reason.
Luckily for the rest of us, these shoes can do a lot more than that – and they look good doing it!
Read on to find out more…
Here are some of the styles you can buy now:
Altama OTB Maritime Assault Boot – Video Review on our YouTube Channel
Why read when you can watch? Check out this video from our YouTube channel:
Here we evaluate it against another boot (the GORUCK MACV-1):
And lastly, we take it out in the field and really put this boot to work:
By the way, if you are looking for something similar but better suited to dry land – check out the OTB Urban Assault Boot – it's the same thing but with a knit upper and EVA foam midsole.
Altama OTB Maritime Assault Boot – Overview
First, let's talk about our review pair.
This is the color known as MultiCam Black (or MCB). This isn't cheap knock-off MultiCam Black – this is the real deal from Crye Precision.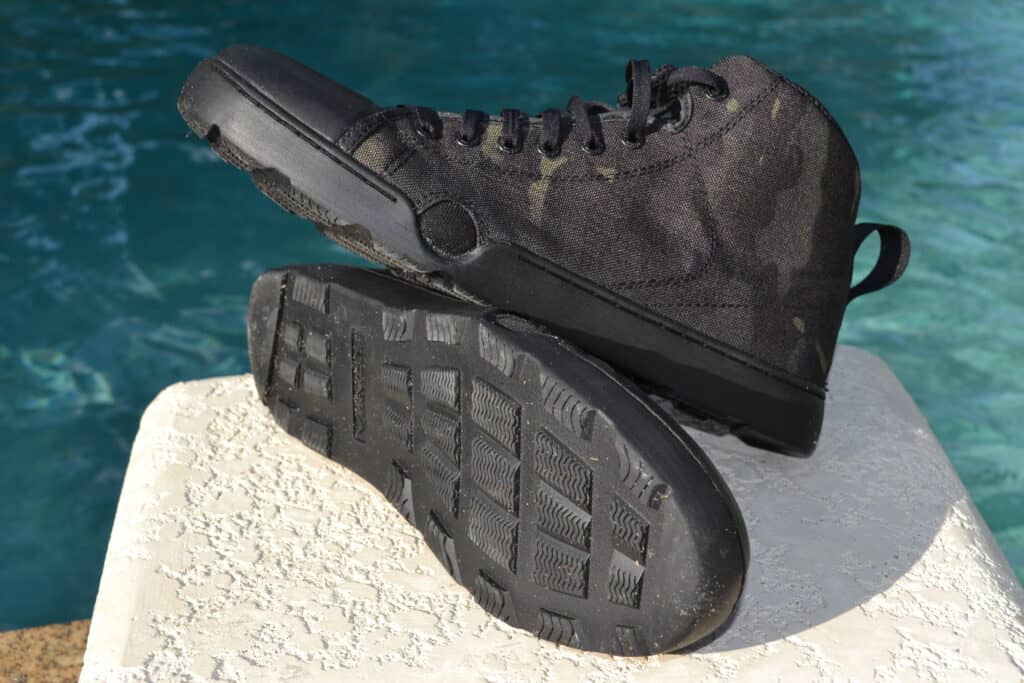 What first caught my eye with this boot was just how good looking it was – because of the color…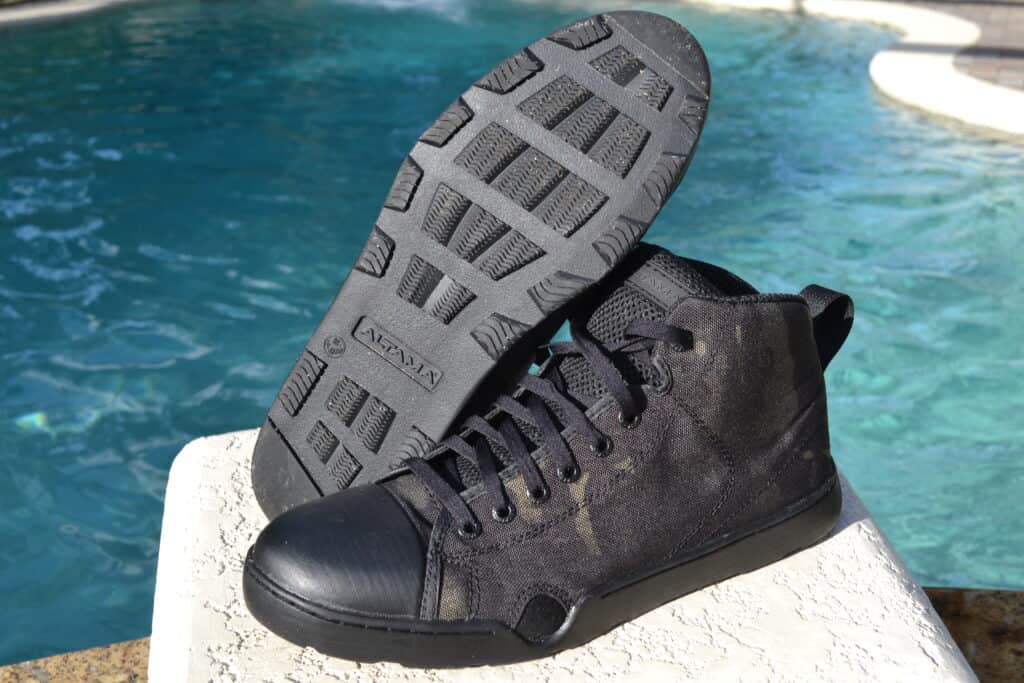 … but also because they have the classic good looks reminiscent of the Chuck Taylor Converse.
These feature a minimal drop (or heel to toe drop), but I'm not sure of the exact measurement.
Perhaps just as important, they have a very grippy and flexible outsole that really let you get great traction on any surface – even when completely wet.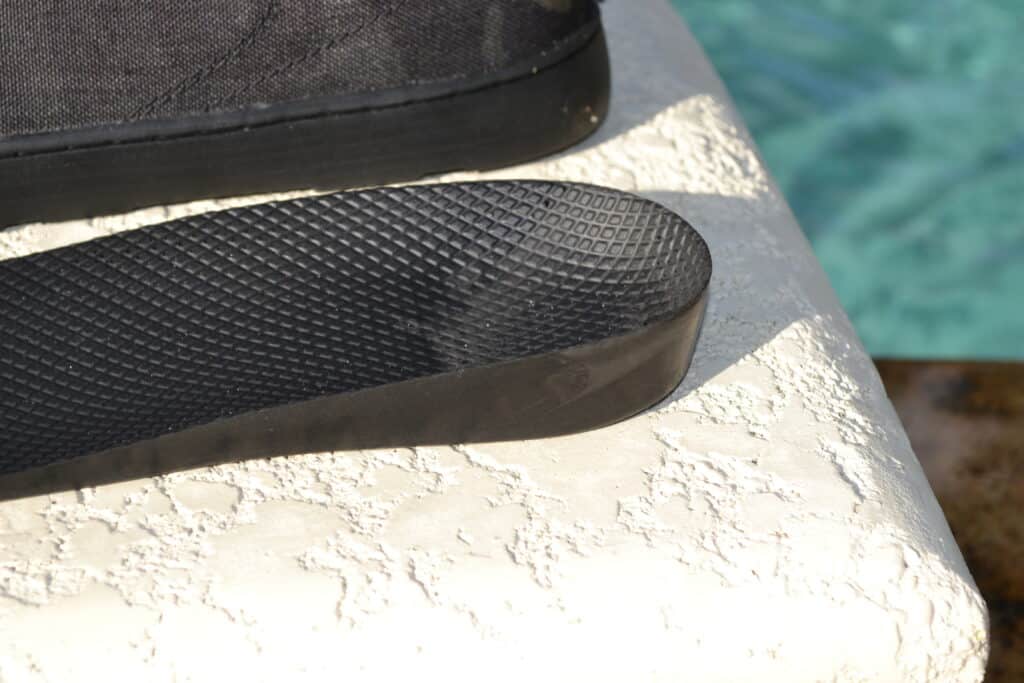 And speaking of getting these wet – they are made to repel water and drain water quickly.
The shoe is mostly made of materials that just won't absorb water. The midsole, for example, is one solid piece and it's not made from EVA foam or typical shoe materials.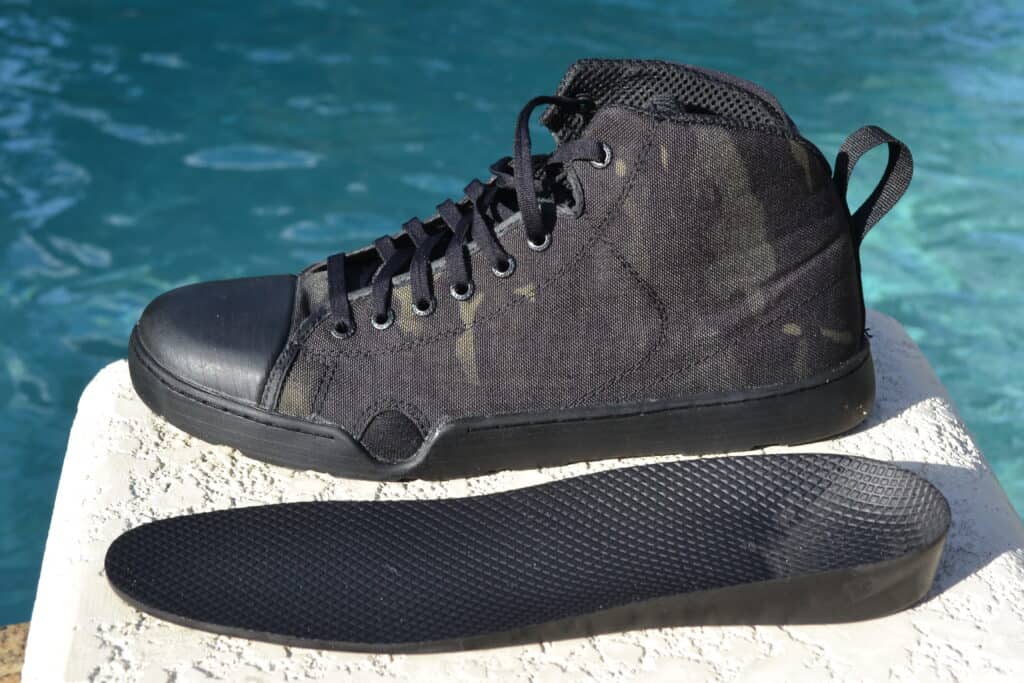 Much of the upper is made from rubber (check the prodigious and highly-effective toe area) or closed-cell foam – and these won't absorb water either.
Of course, some water will get in, so they also incorporate two drain ports – one on each side of the shoe.
These are mesh-covered, to prevent debris from getting into the shoe – but they are also placed down very low – so that means they are very effective at draining water that does get in the shoe.
(The flip side of having drain ports this low is that ANY puddle will get your socks wet!)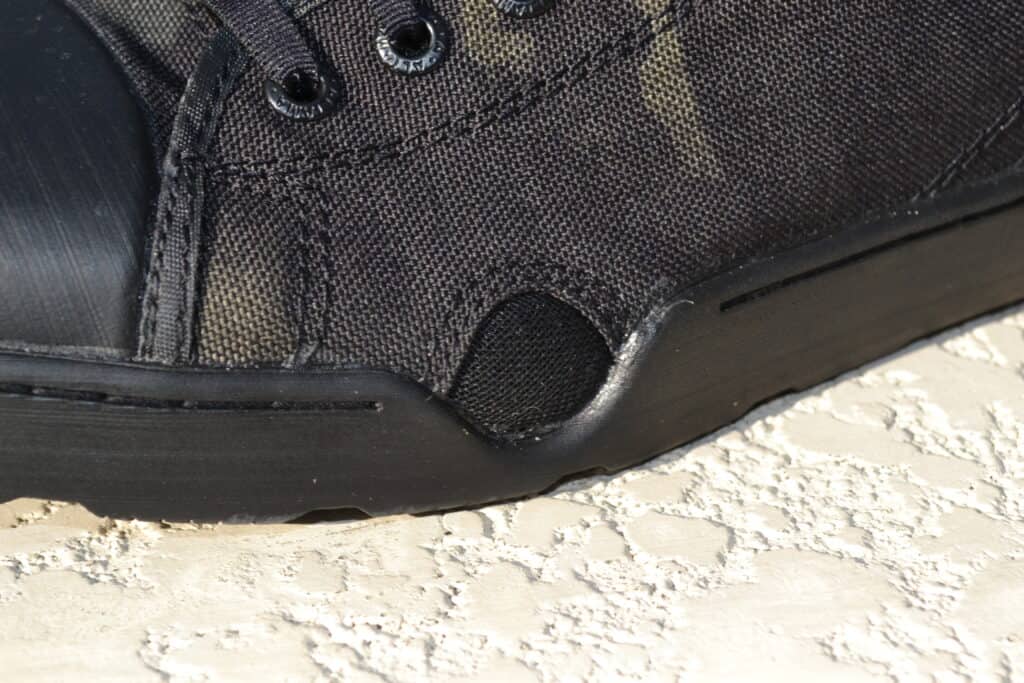 But, for the purposes it's intended for it is a very effective, special-purpose solution.
The outsole (or sole) is made from rubber which is specially formulated to provide traction in all situations – especially when wet.
The exterior of the upper is made with 1000D Cordura. This tough, robust fabric is often found in military gear – because it's tough.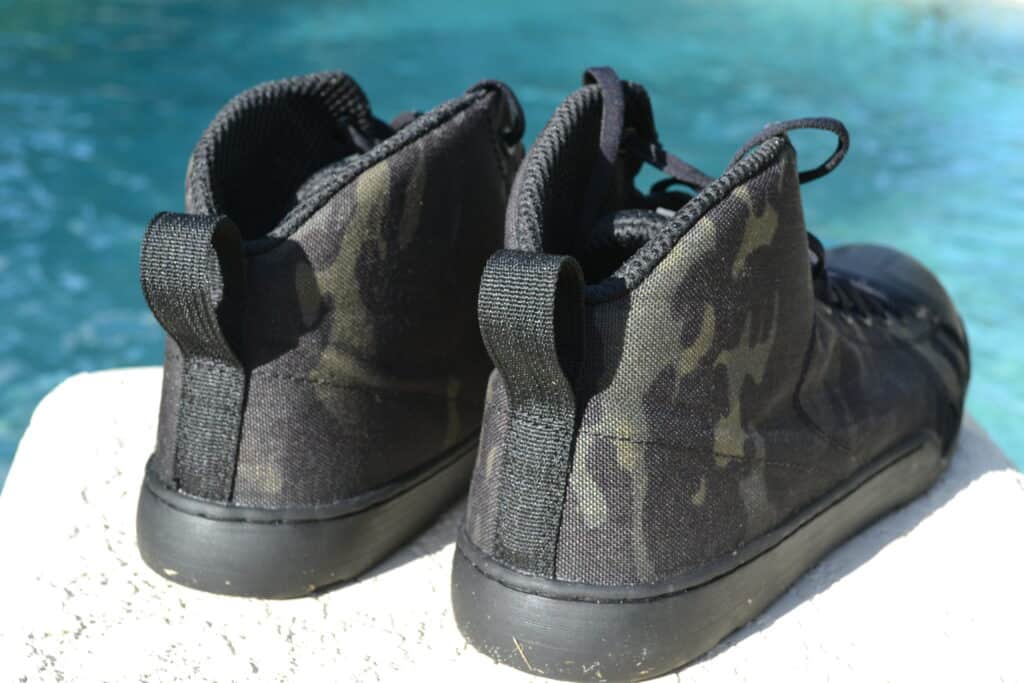 Because the upper is made from 1000D Cordura and closed-cell foam – this isn't a super-breathable shoe.
(But dipping your feet in the water certainly solves that.)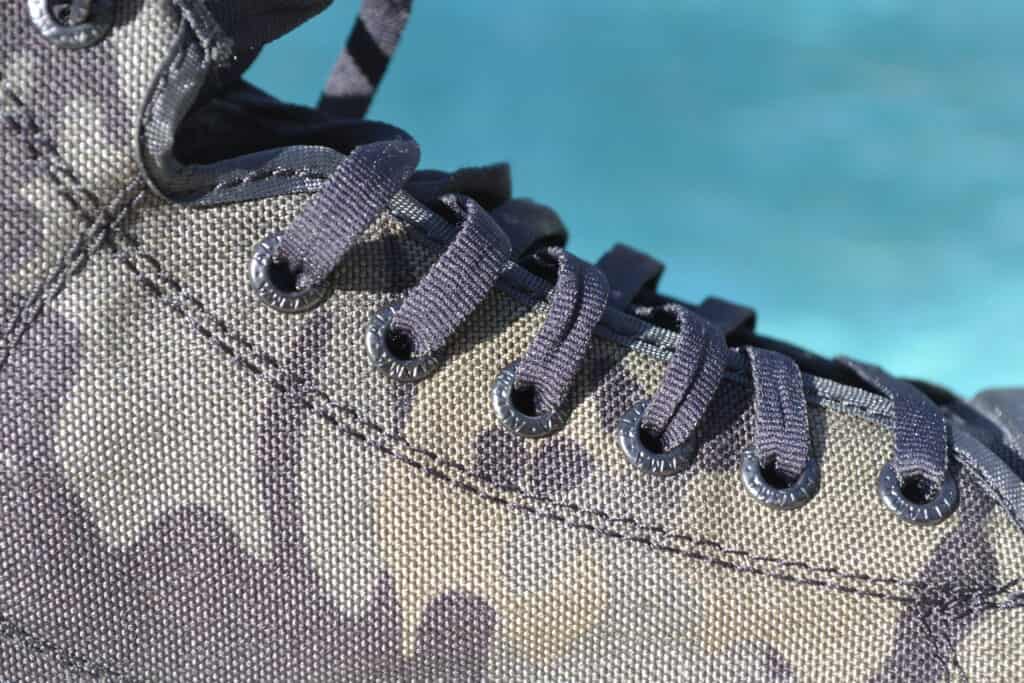 The tongue is a mesh material but helps little with breathability in my testing.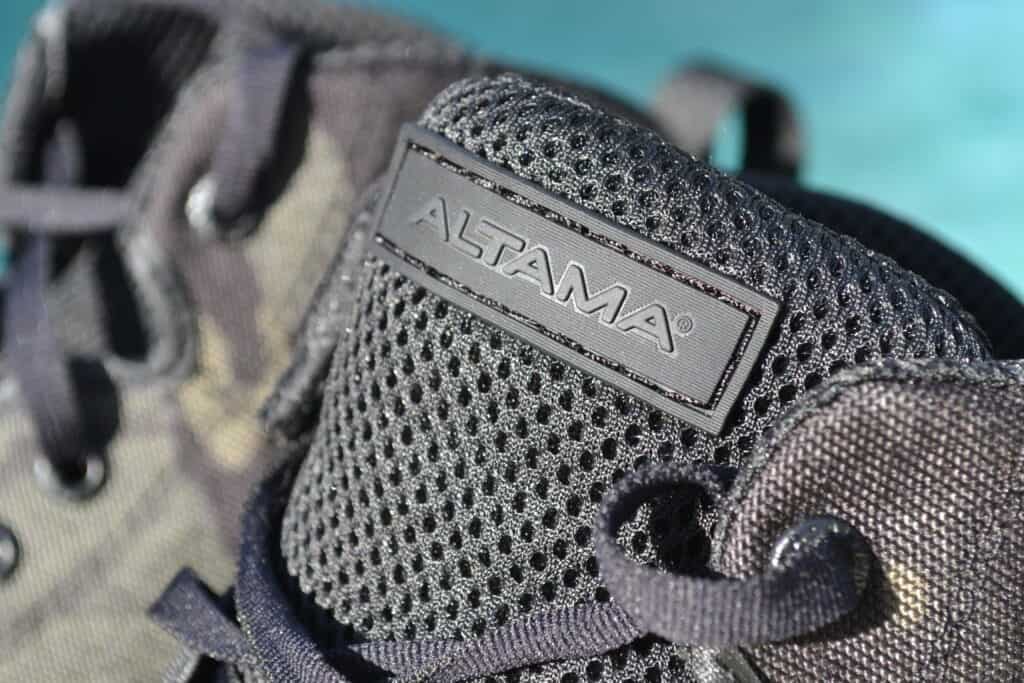 Altama Maritime Assault Mid Black Multicam US Men's 12, Women's 13.5 Medium
Keep your feet secure in the Altama Maritime Assault Mid. Rugged urban assault boot for varied tactical water operations.
High abrasion quick drying 1000D Cordura quarter panels.
Soft toe.
Air mesh lining helps wick away sweat and other moisture quickly from your foot.
Non-shine, rust-resistant lace hardware will not break in the field.
Altama OTB Maritime Assault Boot – How do they Perform?
How good are these shoes? It depends on what you are using them for.
I'll assume if you are reading this article – you are interested in these for casual use like hiking, fishing, or working out – and not launching a military-style operation.
These make great shoes for CrossFit workouts.
They have minimal drop (which is often preferred in a cross-training shoe) and they have minimal cushion.
This makes them very stable when lifting heavy weights – think barbell training including squats, deadlifts, Olympic lifting, and more.
They've got great ankle support as well, because the ankle material is thick and padded. It's easy to get a tight fit around your ankles.
You might think these are heavy shoes – but they aren't – a Men's Size 11 weighs about 13.0 ounces each. That's lighter than average for a cross training shoe – and definitely lighter than you average boot.
For aquatic (or amphibious) purposes – they shine here as well.
The special water draining features really do make a difference (watch our video review above to find out more.)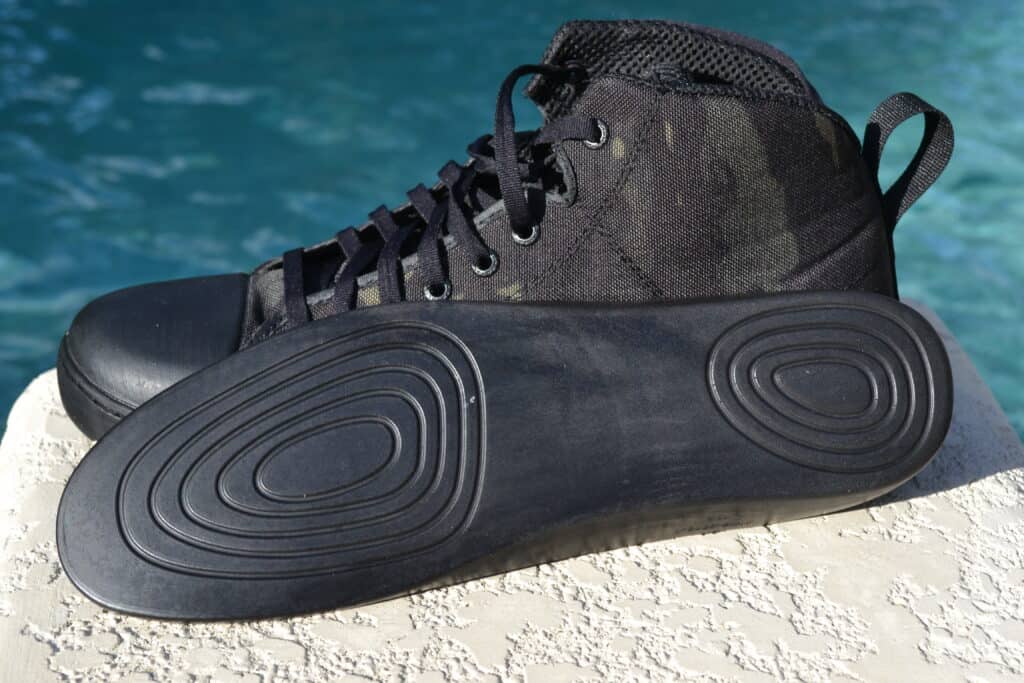 The only concern with these is that the lack of cushioning means they can be painful when you have to walk long distances – especially on hard surfaces like concrete or asphalt.
In testing, I wore these for 3 mile, 5 mile, and 10-mile weight ruck marches (on concrete/asphalt mostly).
The 3 miler and 5 miler were not a problem – but trust me I was feeling the lack of cushion for the last 2 miles of the long march.
Altama OTB Maritime Assault Boot – Fit and Sizing
In my experience, these run True to Size, but are a little bit narrow.
The good news is that you can buy them in regular width (D) or wide (EEE).
The pair shown in this article and video are a US Men's Size 11 regular width – and that's my normal shoe size.
I've gone the distance in these, and while they don't offer much cushion under-foot, they do fit quite well.
They are easy to put on and take off, thanks to the "dip" around the collar area of the shoe.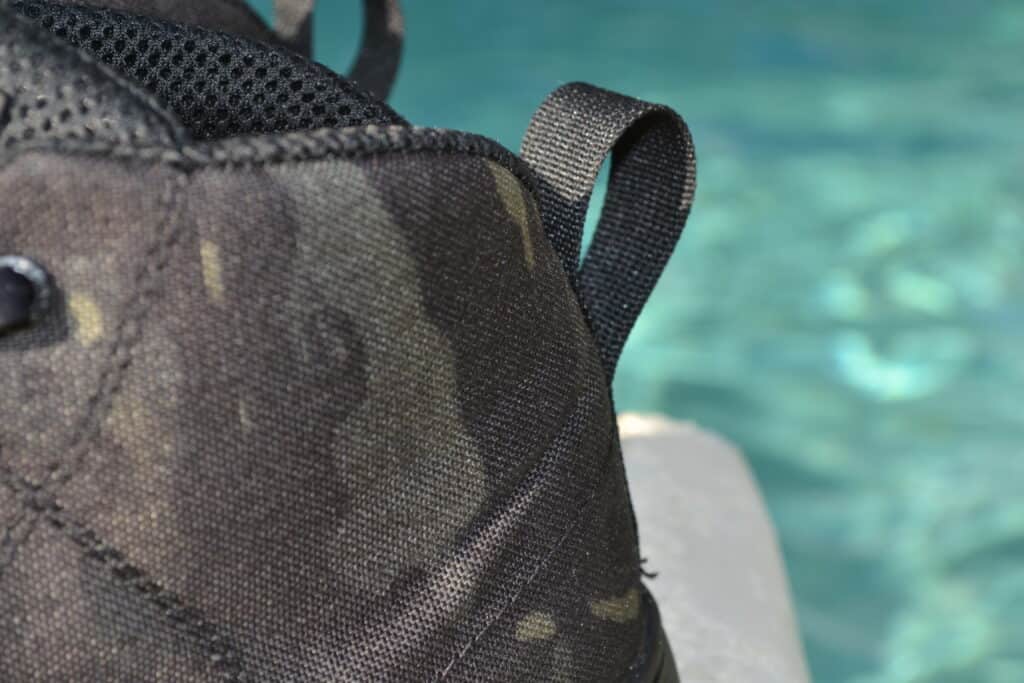 These are much easier to put on and take off as compared to the Reebok Nano X Unknown or the NOBULL High-Top Trainer.
Being mid-cut, they offer excellent ankle support too.
The ankle material is thick and made with closed-cell foam. You can get a nice, tight fit around your ankles.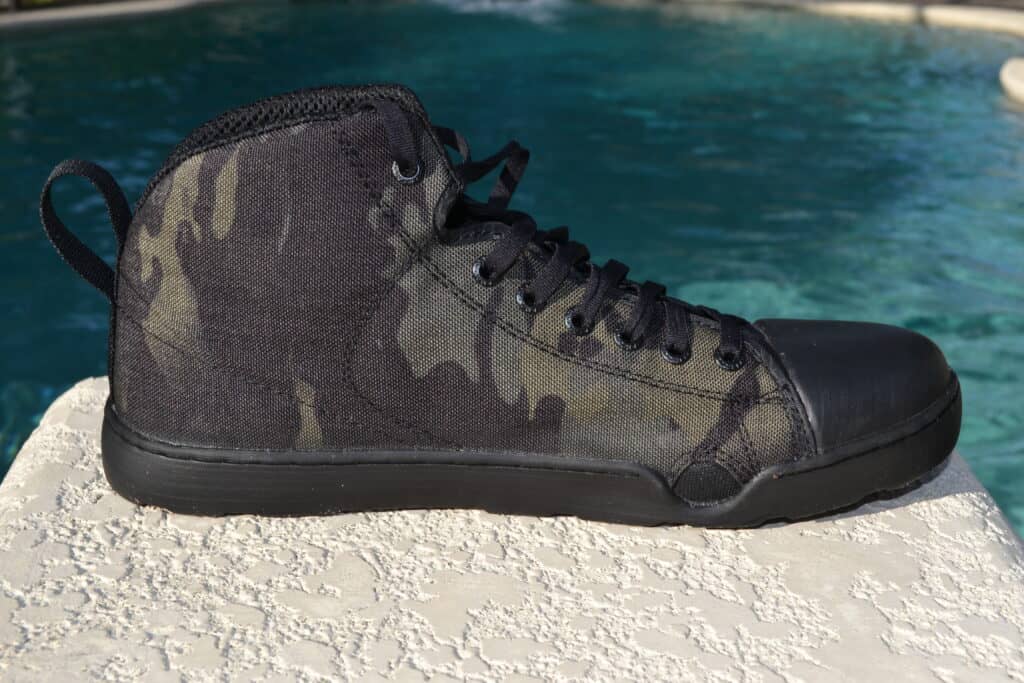 Altama OTB Maritime Assault Boot – How We Tested
How did I test these?
I rucked short, medium, and long distances (10 miles with 30+ lbs.)
I did CrossFit style functional fitness workouts, as well as GORUCK Sandbag and Ruck Training (SRT) style workouts.
These functional fitness style of workouts put the shoe through a wide variety of different exercises and uses.
Lastly, I did a 10-mile ruck in a swampy state park to directly evaluate the water-shedding ability of this boot.
Overall, I'm quite pleased with these and would recommend them to anyone wanting a versatile and good-looking shoe (or boot.)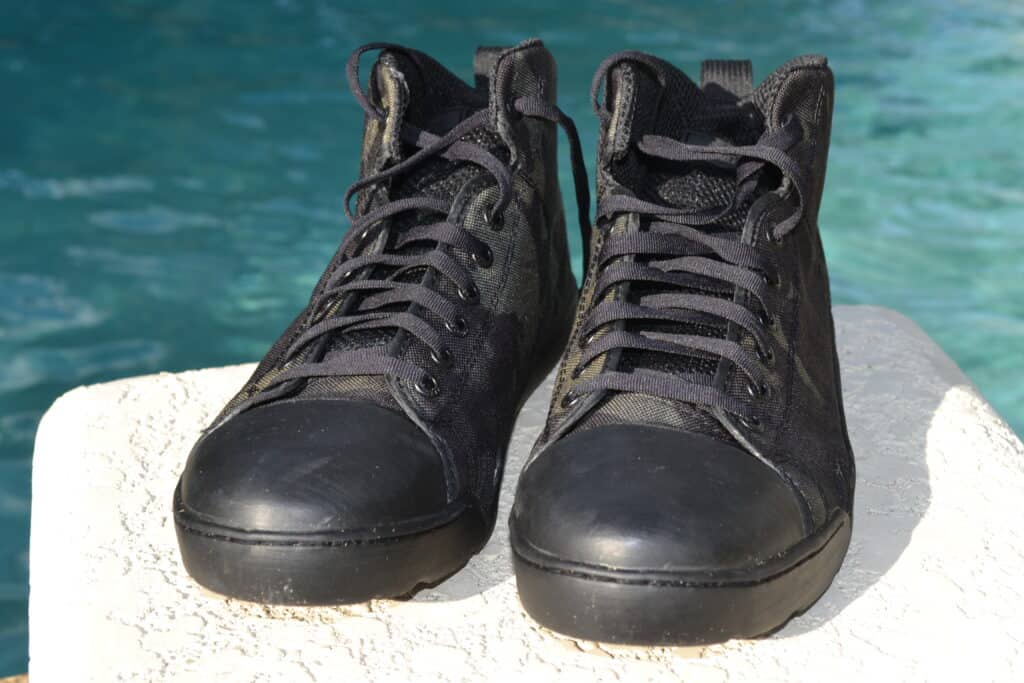 Altama – Who are they?
Let's talk a little bit about the makers of Altama footwear – because I'll bet you've never heard of them.
Altama was established in 1969 in Darien, Georgia, where they first produced children's shoes and then finally converted their production to military boot wear during the Vietnam War.
For decades now, Altama has been handing over their Mil-Spec (military spec) Altama boots to the United States military, services agencies, military schools, and Special Forces and police department.
This boot wear incorporates all the outstanding design traits of their military spec Altama boots, applying the same proficiency they apply when creating all their footwear.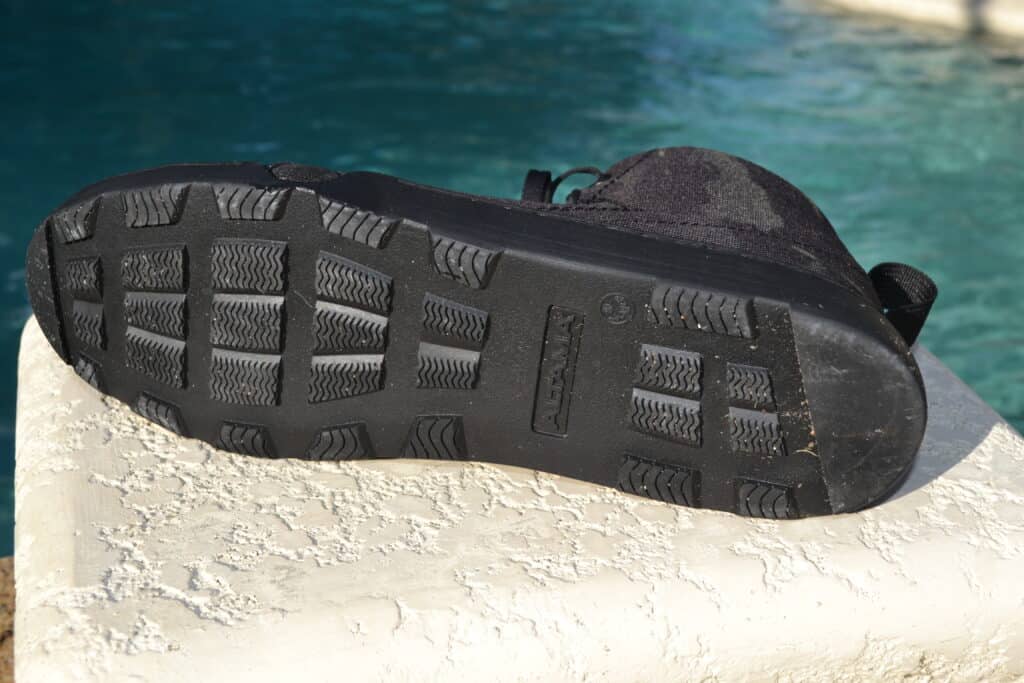 Altama OTB Maritime Assault Boot Review – In Summary
That's our review of the Altama OTB Maritime Assault Boot (Buy on Amazon) from Altama.
Altama has advertised its Maritime Assault Boots for the best and the bravest who are called to do demanding duties, but they also deliver very well for anyone's daily wear.
What can you do with these? All kinds of stuff – CrossFit, workouts, hiking, and of course tactical "Over The Beach" assaults.
They have minimal cushion – and that makes them great for lifting weights and functional fitness style workouts – but not so great for walking long distances on concrete or asphalt. (That said, if you are walking 5 miles or so, they aren't bad.)
It is available in a variety of colors including Multicam Black (as shown in this article), Woodland Camo, Black, Coyote, and regular Multicam.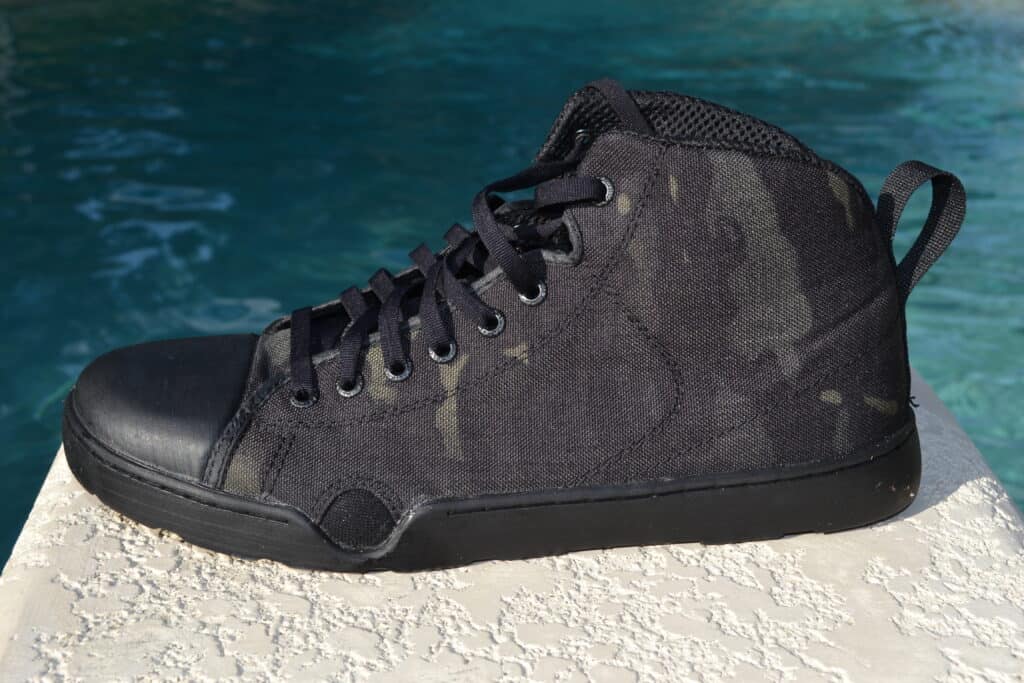 Photo Credits
Some product photos on this page are property of Altama.
Affiliate Disclaimer
We are an affiliate of various sellers of this product. If you buy items after clicking the links in this article, we receive a small commission at no extra cost to you. This helps us to bring you in-depth information and content on these great products.