Let's review the Altama OTB Urban Assault Boot (Buy on Amazon) from Altama.
This is similar, but different than it's aquatic brethren – the Altama OTB Maritime Assault Boot – which we've also reviewed.
The key differences here – this boot is meant for dry land – it uses a mainstream EVA midsole for cushion and a knit upper.
Here are some of the styles we are going to look at:
Altama OTB Urban Assault Boot – Video Review on our YouTube Channel
Why read when you can watch? Our review pair is on order, while we wait for them to arrive check out this video from our YouTube channel about the OTB Maritime Assault Boot:
Altama OTB Urban Assault Boot – Overview
While Altama OTB Maritime Assault Boot is made for all tactical water operations, the Altama OTB Urban Assault is made for tactical land operations. It may look like Chuck Taylor initially, but the differences between the two will also be seen immediately. It is fashioned with convenient knit uppers and a justified, high balance sole so you can comfortably do anything. It has air mesh linings that help absorb and remove sweat and other moisture rapidly from your foot. Its non-shine rust-proof lace hardware will not crack on the battlefield, while its rubber toe cap forbids depletion and gives additional security. The removable cushioned contoured anti-microbial PU foam insole is distinct from other foam insoles because there's no revealed foam and no fabric top. It's sealed so that it does not take in water.
Altama Urban Assault Boot has a full-length piece ABS shank that serves strength and assistance when climbing ladders. To make sure its outsole sticks well with its high abrasion rubber, Altama had it tested in ASTM F2913-17, the standard test method for measuring the coefficient of friction for evaluation of slip performance of footwear and test surfaces/flooring using a whole shoe tester. The integrated chunky knit vent enables proper airflow around the foot. Its heel counter is Back Part Molded to deliver a tailored curve that cups the foot to eliminate all discomfort and pain.
Altama Urban Assault Mid Cut Operator Boot - Black Multicam, Size 13R
MADE TO LAST – Constructed with comfortable knit uppers offered in solid colors and MultiCam. Air mesh linings help wick away sweat and other moisture quickly from your feet.
BUILT FOR BATTLE - Non-shine rust-proof lace hardware will not break on the battle field. Low profile laces will not cause pain from fin wear on long swims. Full length one piece ABS shank provides stability and support when climbing.
NO SLIP GRIP – High abrasion rubber sticky outsole meets ASTM F2913-17 test for slip resistance. Originally designed for rock climbing, the Urban Assault outsole provides maximum grip for navigating the urban battlefield.
VENTILATION – Integrated chunky knit vents allow for proper airflow around the foot, especially to the toes. Combined with a knit upper, the Urban Assault is meant to keep your feet cool, even during the heat of battle.
SINCE 1969 - Altama has been a leading manufacturer of Mil-Spec boots for the US Department of Defense, supplying military personnel worldwide
Altama OTB Urban Assault Versus Altama OTB Maritime Assault Boot
We've also reviewed the Altama OTB Maritime Assault Boot.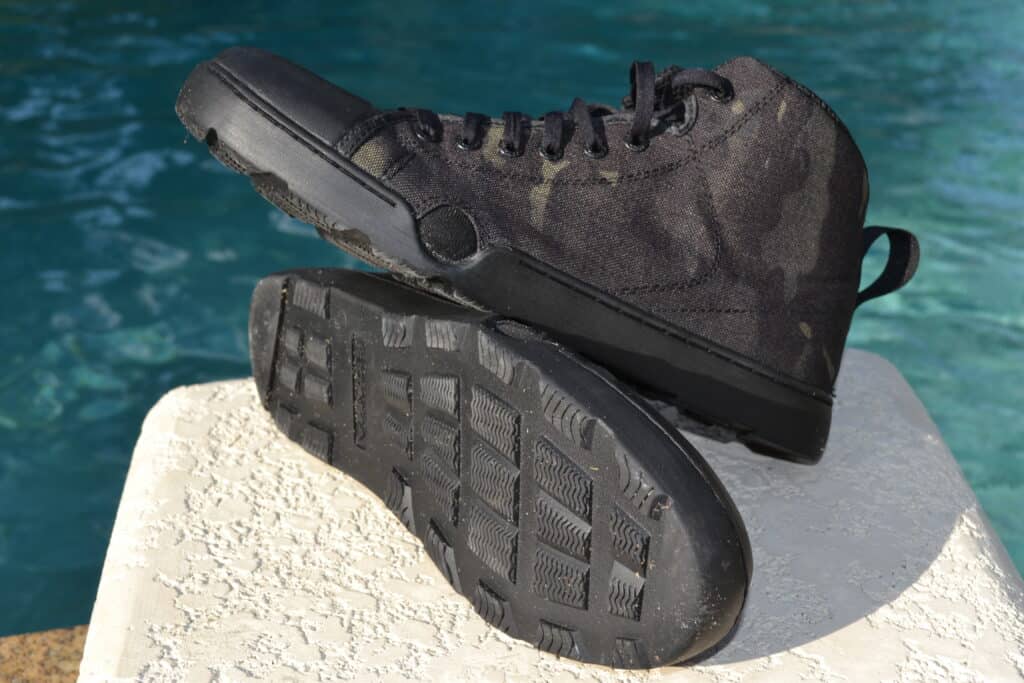 That boot was originally designed as an amphibious shoe for US Special Forces – including the US Navy Seals.
As such, it's very specialized for getting wet – and full immersion.
The Urban Assault, in contrast, uses materials that are a lot more mainstream.
For example, unlike the Maritime's non-water absorbent midsole this shoe uses regular EVA Foam.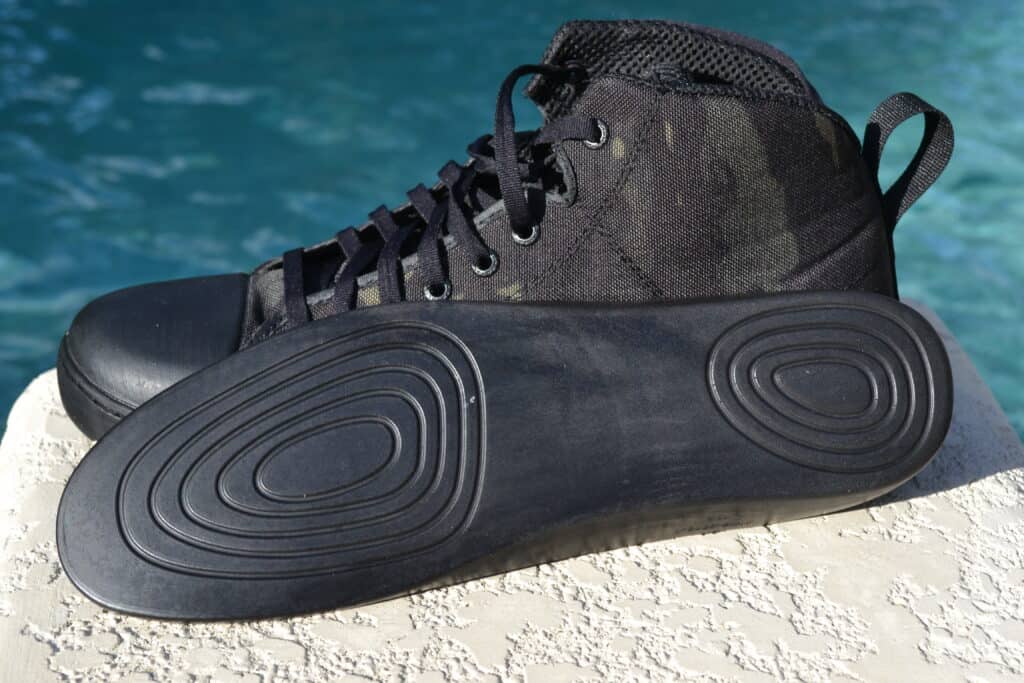 Secondly, the upper is using a knit material – which is more comfortable than the closed-cell foam (to prevent waterlogging) and 1000D Cordura (tough as nails!) on the Maritime.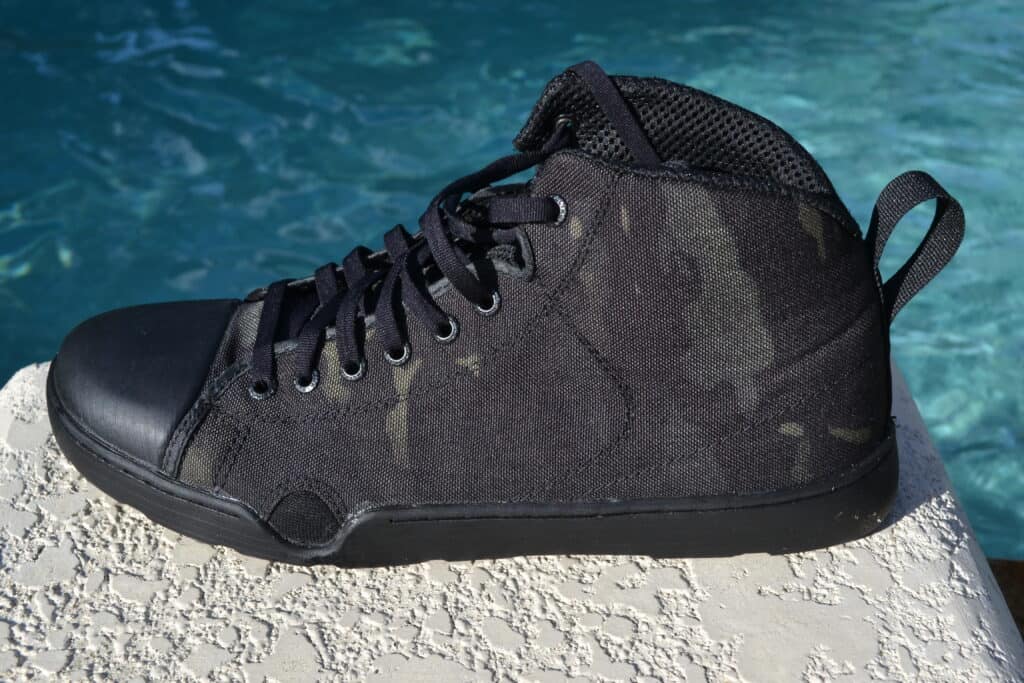 The Maritime Assault Boot is great for fishing, kayaking, boating, and establishing a beachhead – of course.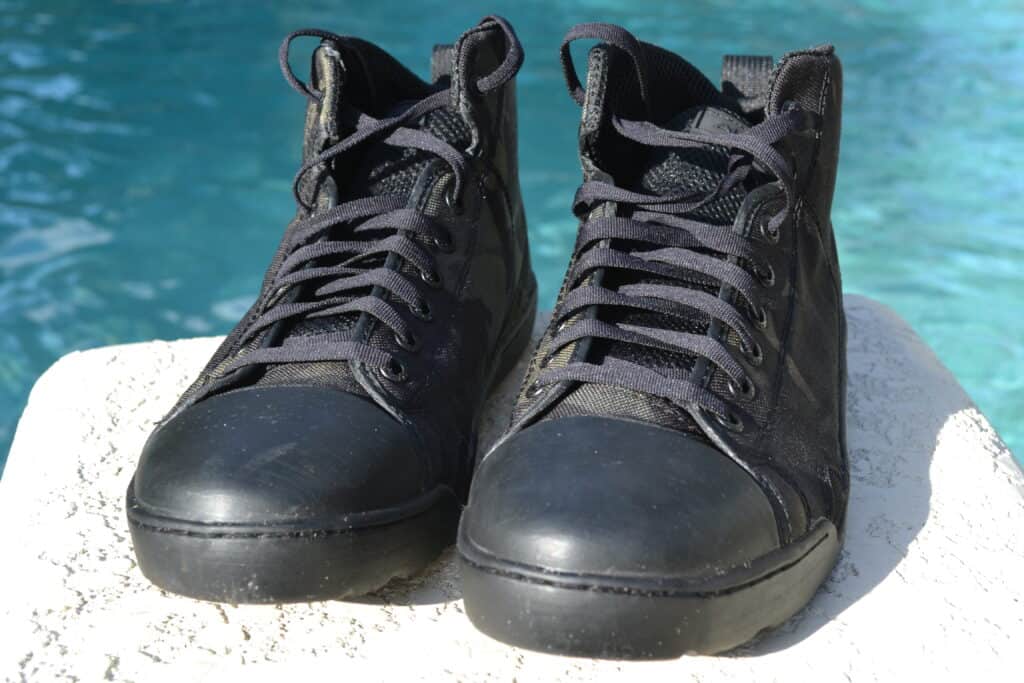 About Altama
Altama first designed children's shoes in 1969 in Darien, Georgia, and then finally transformed their production to military boot wear during the Vietnam War. Altama has been handing over their Military spec Altama boots to the United States military, military schools, services agencies, Special Forces, and police departments for decades. They also produced a range of practical combat boot styles specifically for civilian use carrying out their well-known Panama sole. This boot wear consolidates all the outstanding design traits of their military spec Altama boots, applying the same skill they apply when creating all their footwear.
Altama OTB Urban Assault Boot Review – In Summary
That's our review of the new Altama OTB Urban Assault Boot (Buy on Amazon) from Altama.
In terms of breathability, Urban Assault boots beat Maritime Assault boots as they are softer and lighter to wear, especially if you don't need the maritime capability. Colors come in Multicam Black, Alpine Multicam Pink, Alpine Multicam, and Black, which don't look out of place in your workplace, gatherings, date nights, or anywhere.
Photo Credits
Some product photos on this page are property of Altama.
Affiliate Disclaimer
We are an affiliate of various sellers of this product. If you buy items after clicking the links in this article, we receive a small commission at no extra cost to you. This helps us to bring you in-depth information and content on these great products.