GORUCK has released the Generation 2 version of their lightweight jungle rucking boot – the MACV-1.
Here's this brand new boot – 6″ high in black leather.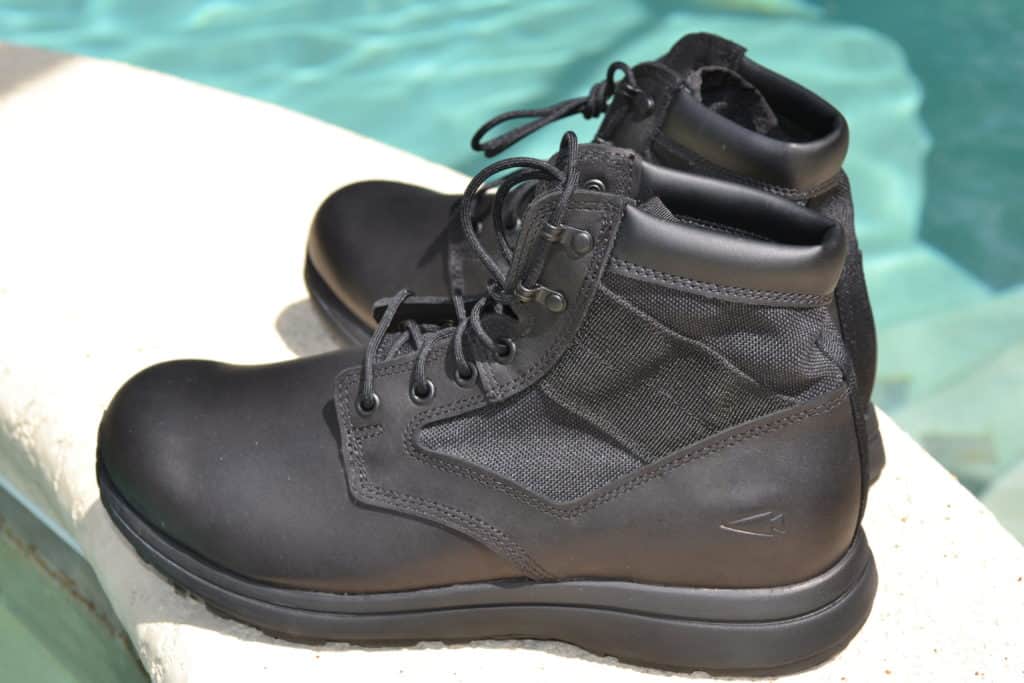 This is a great boot – it is not a hard-core all-terrain boot, but rather a more well rounded, comfortable boot.
And it is meant to go the distance. We'll review all the special features of this boot in this review.
Let's take an up-close look.
GORUCK MACV-1 Video Review from our YouTube Channel
Here's the Black Leather version:
Want to see these bad-boys in action? Check out this video of the Coyote Brown:
This video focuses more on the GORUCK Rucker, but it'll give you an idea of how we test this gear:
MACV-1 Generation 2 – What's New?
We mentioned this is the 2nd generation of the MACV-1 boot, so let's talk about what is new and improved first.
Perhaps the biggest improvement is the new all-terrain outsole.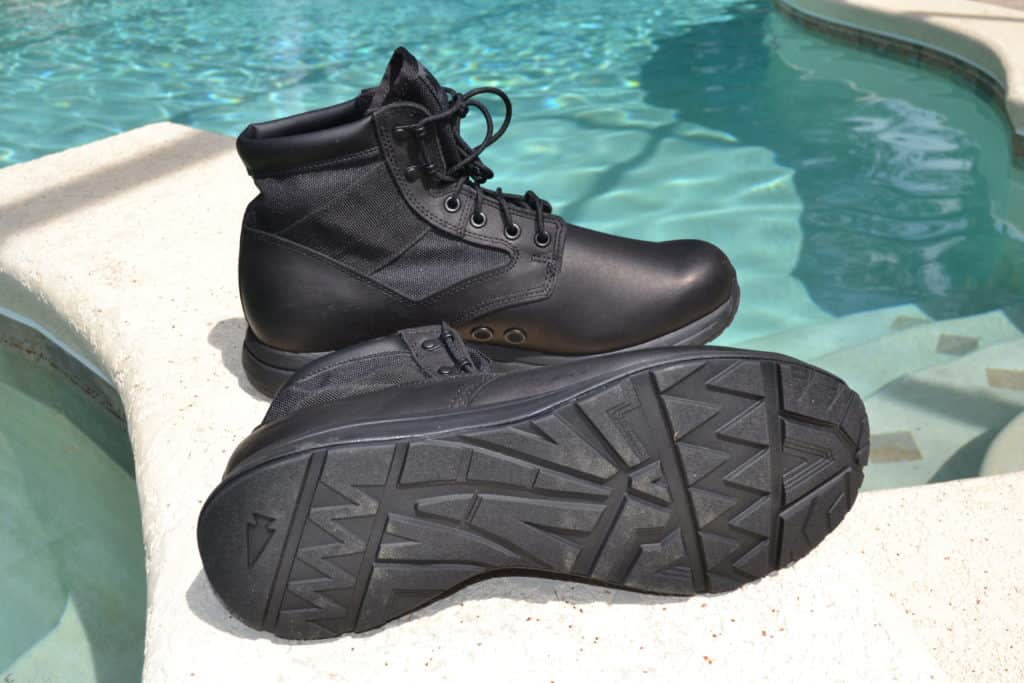 GORUCK took feedback from the wearers of the original boot and made a more aggressive lug pattern on this version.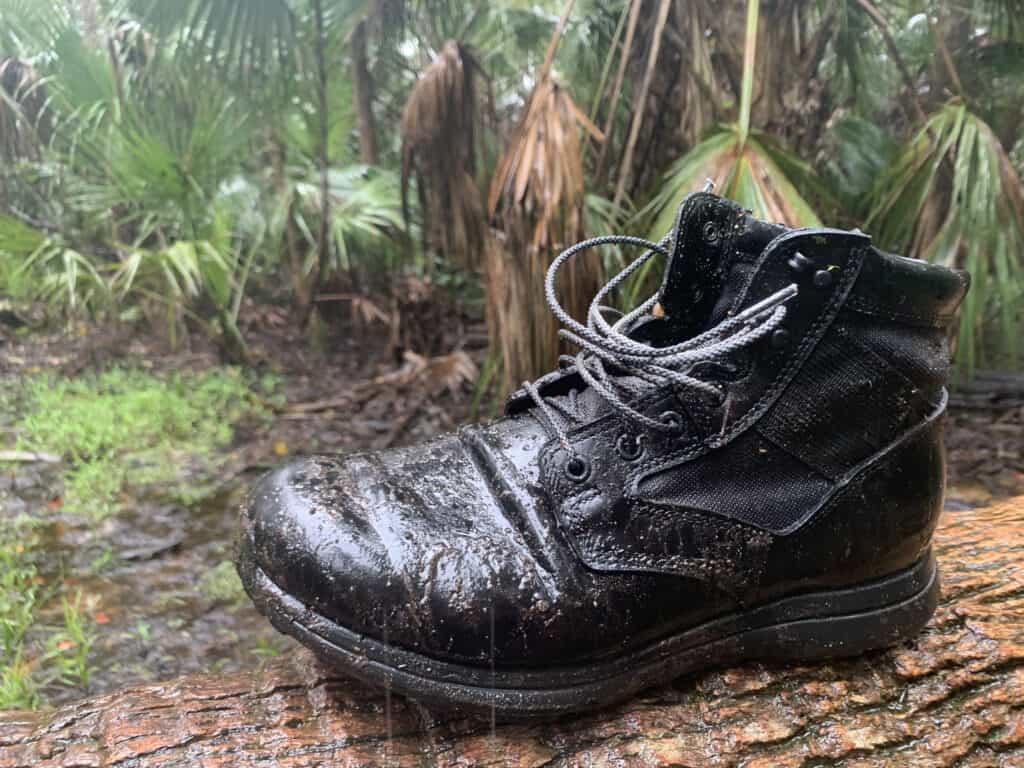 Here's one thing you should probably know about the MACV-1 – because it is a lightweight boot, the sole is integrated with the shoe and is not replaceable separately.
(But, the boot is covered by GORUCK's Scars lifetime guarantee – and they don't expect too many people will be able to wear out the sole of this boot.)
Secondly the upper is now made with GORUCK's new "Challenge Leather".
This is a hard-wearing version of their leather.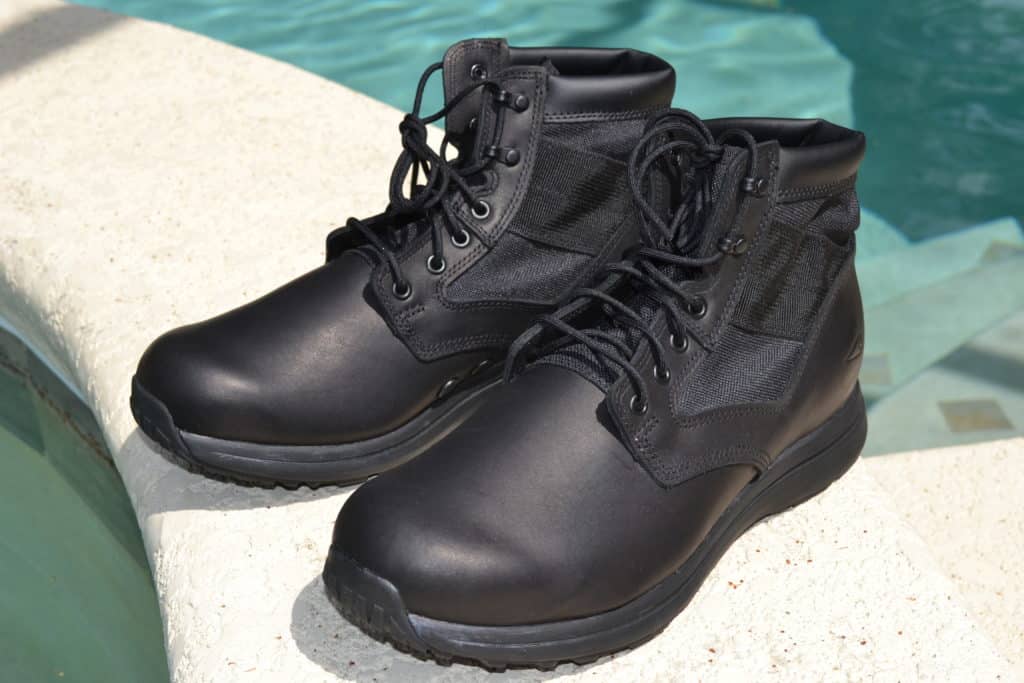 GORUCK claims it is tougher, and will get better with use.
Beyond that, a lot of the other features of the boot are unchanged.
And that's a good thing – because this boot has some other special features we will talk about shortly.
MACV-1 Sizing
Let's talk about sizing – because that is of key importance to people looking to buy boots.
The GORUCK MACV-1 boots run true to size.
And our testing indicates that is accurate.
I normally wear a Men's size 11 in most shoes – and that size of the GORUCK boot seems spot-on.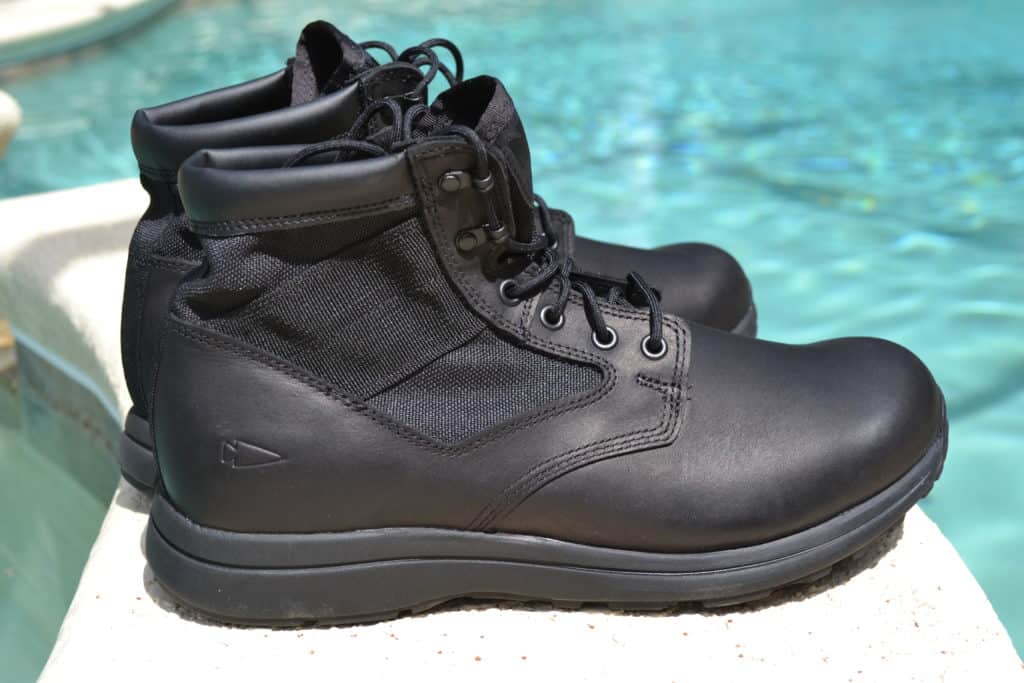 Please note that GORUCK does recommend you consider going 1/2 size up to account for any foot swelling you may get when going long distances.
I've tried the GORUCK MACV-1 in both Men's 11 and 11.5 – and either will work, but the 11.5 is a bit too loose for my feet.
Here's another factor – one of the "tricks of the trade" of long distance rucking and hiking is to wear two pairs of socks.
So, you may need the extra room in the boot if you opt to do this.
We have tried that and it does help eliminate hot spots and blisters.
Please note that if you order the wrong size, you can quickly and easily return or swap the boots for the correct size.
Here's something we learned during our long term test. Get rid of those cheap cotton socks and use a quality hiking or rucking sock instead.
This step alone solved all issues I had – I can wear these in 11 or 11.5 and ruck for miles and miles – no issues whatsoever.
(And no doubling up on socks required either.)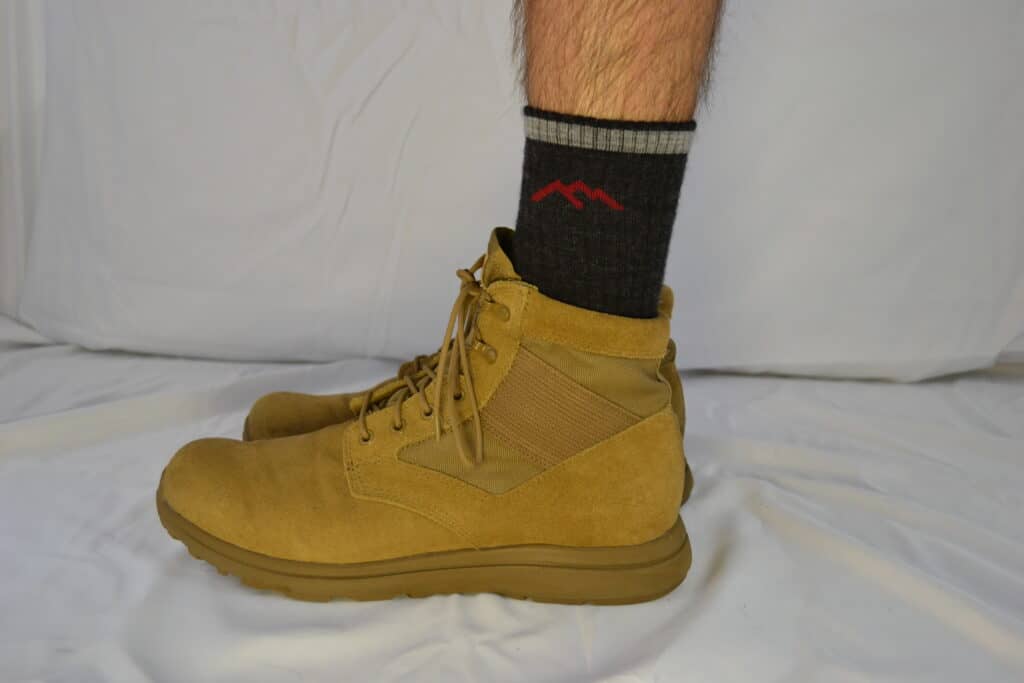 The Darn Tough Micro Crew Midweight with Cushion is great for the 6″ high MACV-1 boots.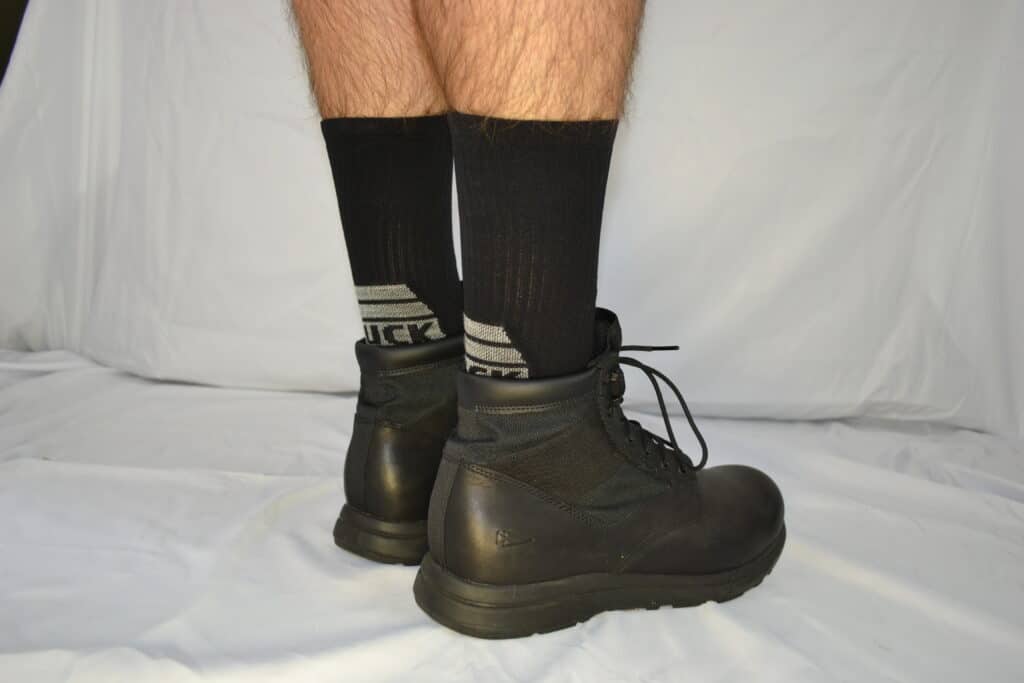 I give a slight edge to the MudGear Ruck Sock (Buy on Amazon) shown above. – it's even more comfortable than the Darn Tough, with a nice stretch fit – but it is taller.
Are these expensive? Yes, but they also last much longer than cheap cotton socks – and fit better too.
MACV-1 Jungle Rucking Boot
Let's talk now about the special features of this boot.
Why is it called a jungle rucking boot?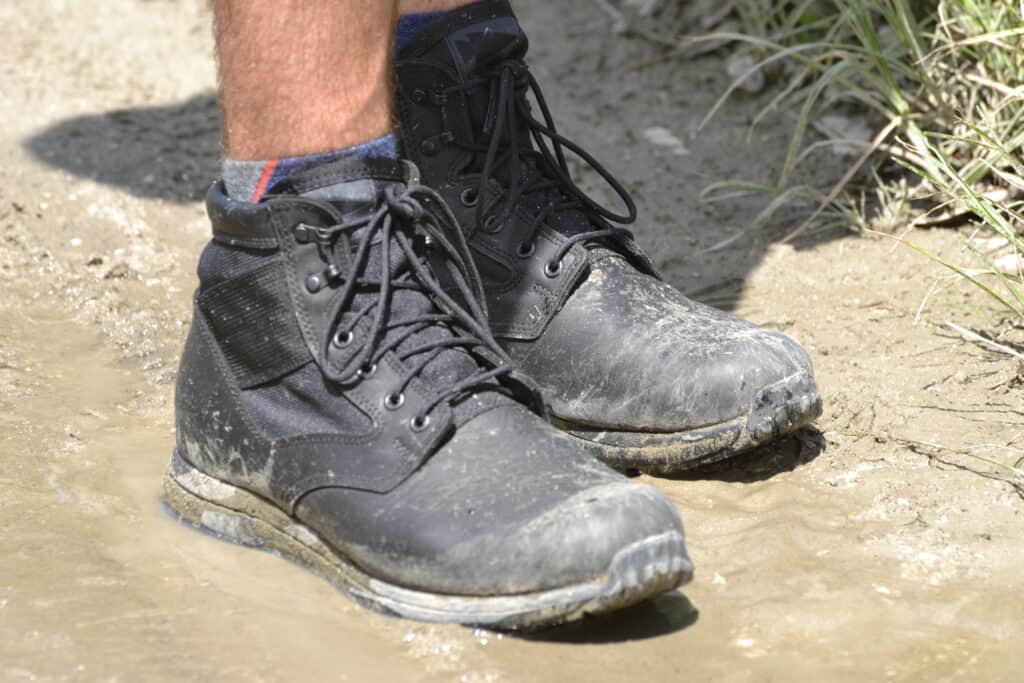 The MACV-1 is modeled after the jungle boots worn by the U.S. Army Special Forces in the 1970s.
(That also inspired the name of "MACV".)
But more importantly these boots are made for water immersion.
That's right they are "proudly not waterproof" – so says GORUCK.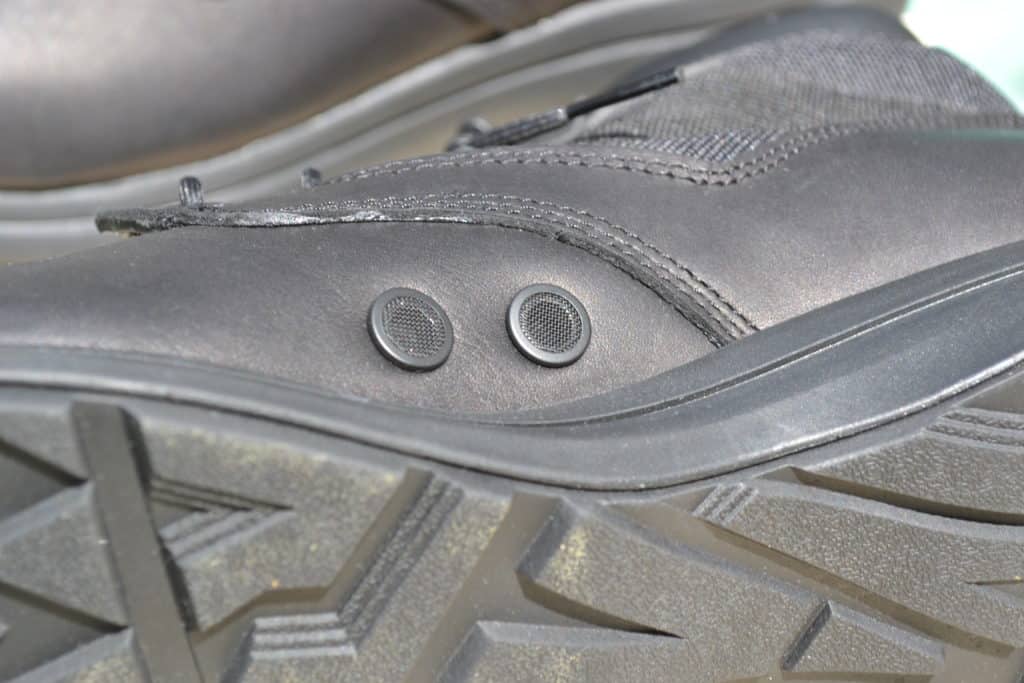 Jungle ruck marching often necessitates getting your feet wet – crossing streams, swamps, and small bodies of water.
(Water immersion is also a frequent occurrence in GORUCK challenge events – because it adds stress to the event.)
To accomodate this, the GORUCK MACV-1 boots have mesh covered water draining ports.
Feet getting wet? Not a problem, because you'll pump water back out of the boot with every foot step.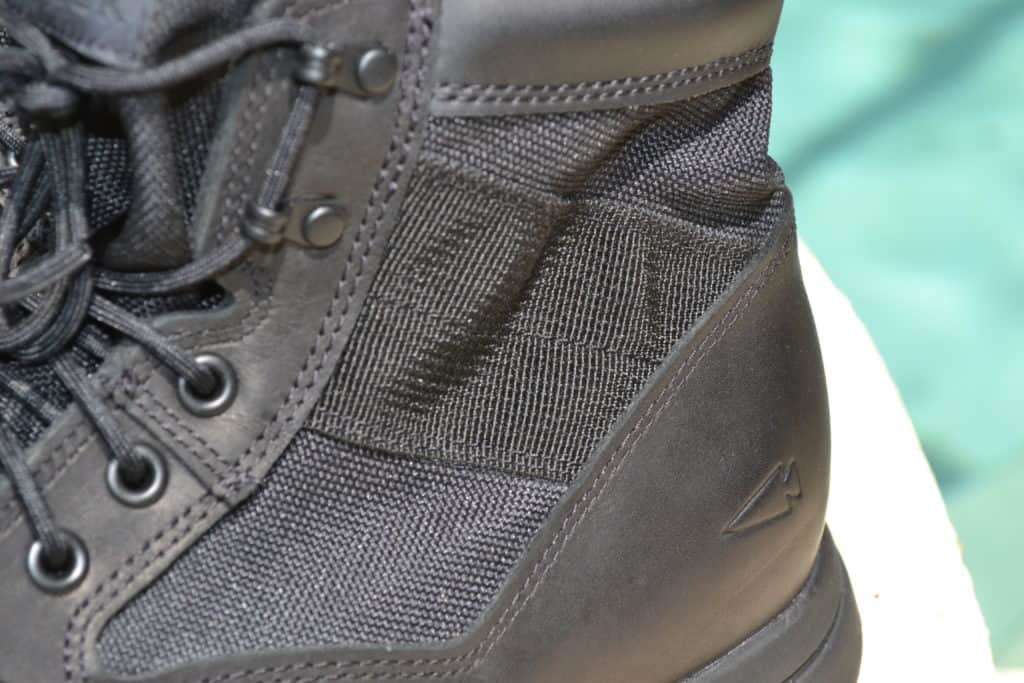 This boot also uses 3mm diameter speed laces.
GORUCK says these are quicker to tie, attract less debris, and dry out quicker because they are smaller.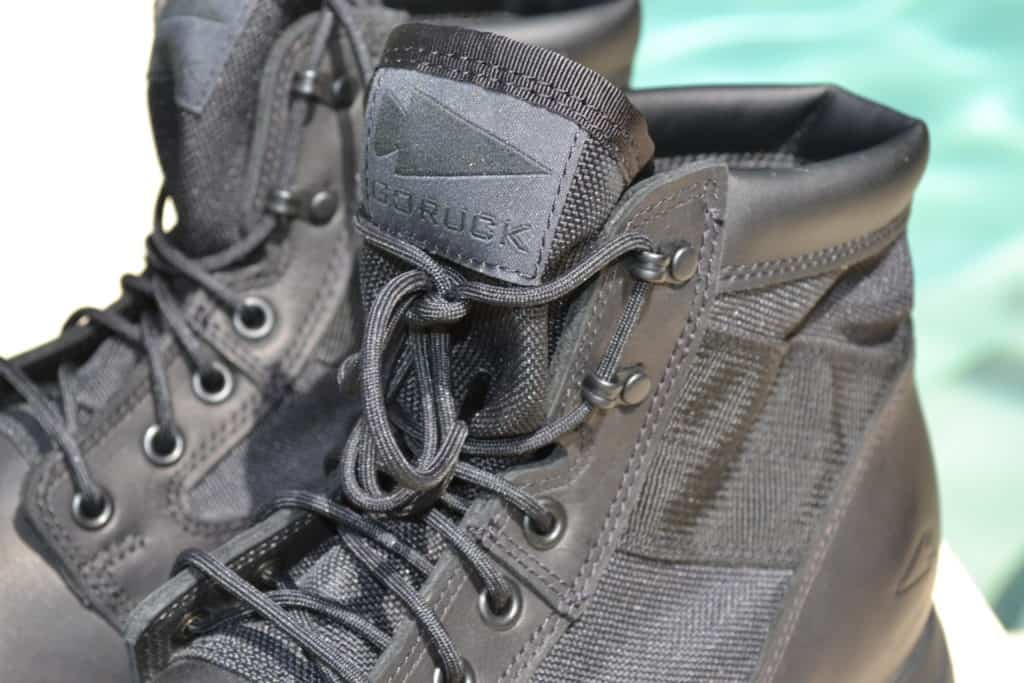 It makes sense to us, and it is nice to have smaller laces that don't add a lot of bulk.
GORUCK MACV-1 Comfort
One of the big draws of the GORUCK MACV-1 boot is comfort.
Much of this is due to the included drop-in "workhorse insert".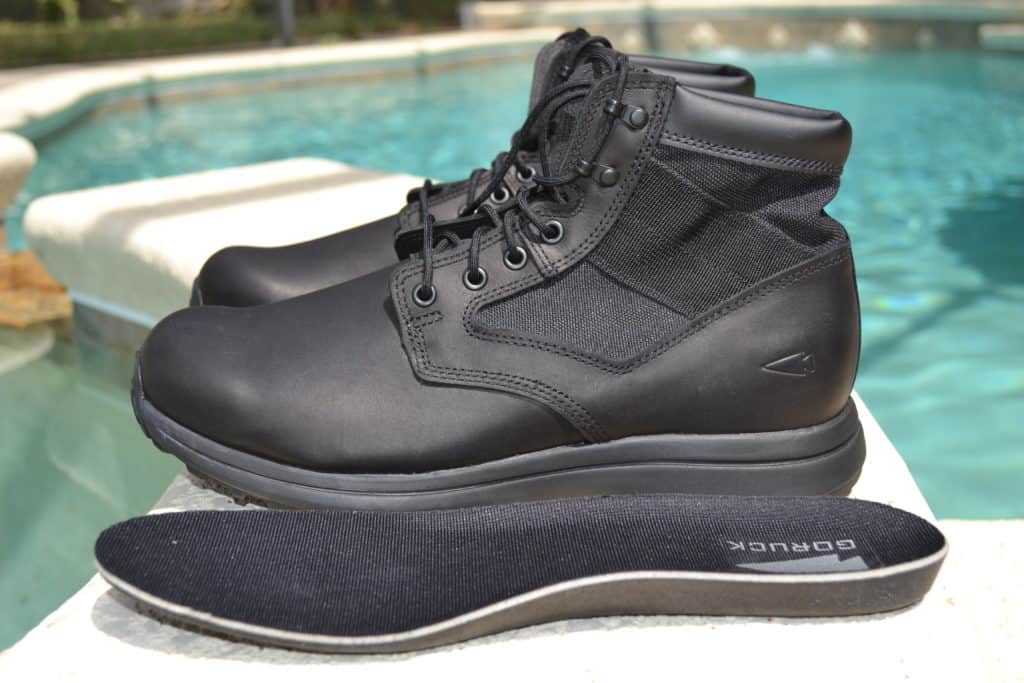 This is made from a thick, dense foam with great arch support.
And our testing indicated these are very comfortable for long distances.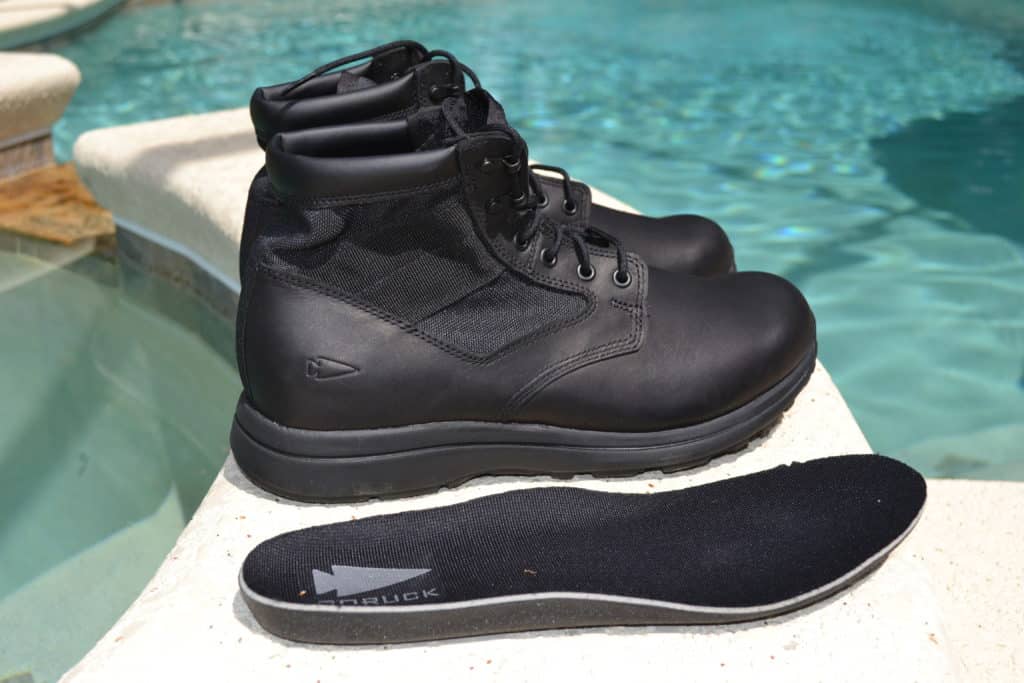 The other big factor in comfort is the suede lined heel counter.
GORUCK claims this is a factor in making a boot that requires no break-in.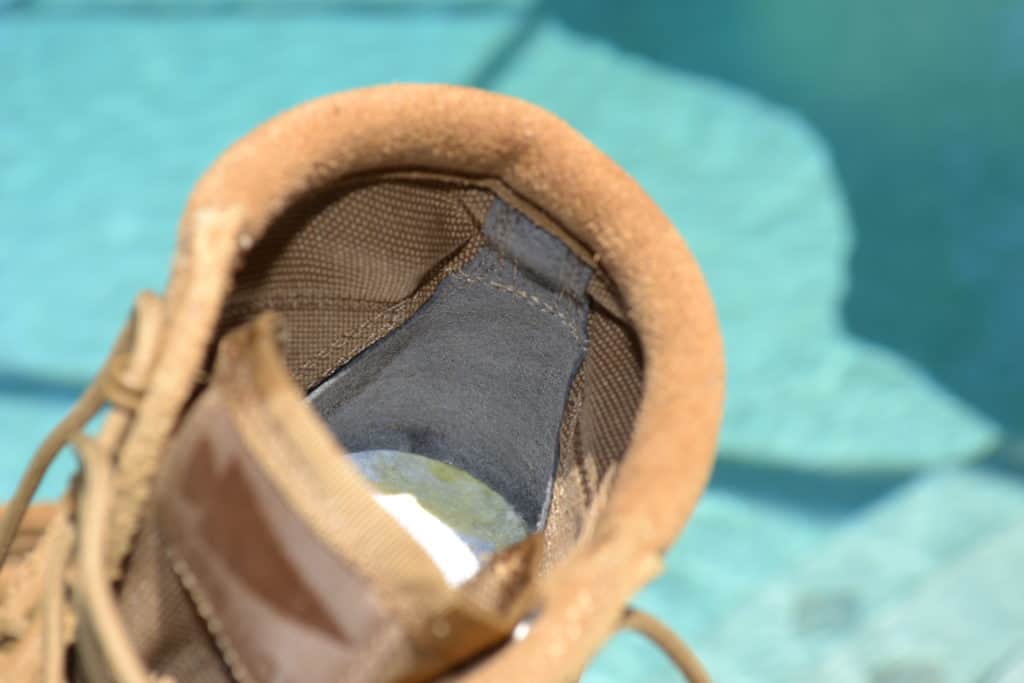 We tested this – and our conclusion is that it is accurate.
I took a brand new pair of MACV-1 right out of the box, put them on, and did a 6.5 mile ruck march with a 20lb ruck plate.
I did get one small blister on my left foot, but overall I consider the test a success.
My feeling is that my left foot is every so slightly smaller than my right and I should have worn double socks on the left.
Here's all the details on YouTube:
Overall, these are very comfortable boots.
But I don't recommend you go on a GORUCK challenge event without testing them out first – make sure you have the correct fit first.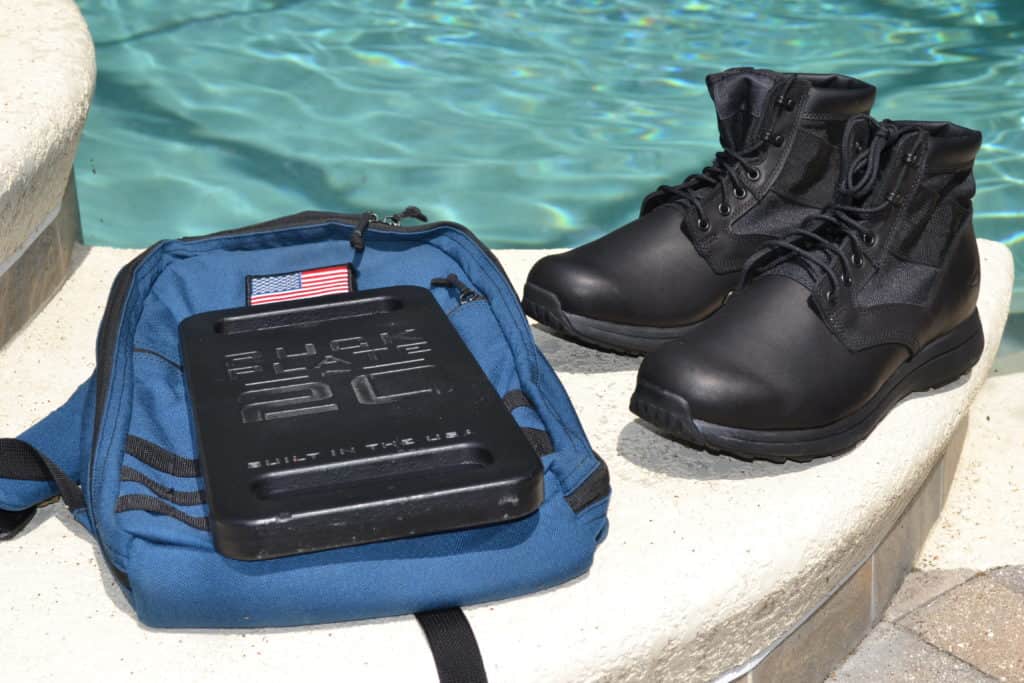 MACV-1 – Weak laces?
Here's the only issue we've heard of with the MACV-1 (as experienced by many wearers of this boot, but not me in particular.)
The boot laces that come with the boot break relatively easily.
Remember, these are 3 mm diameter speed laces. Wearers of the boot that like to tie them tight report that this can lead to lace breakage at the worst possible moment.
We're currently testing out Iron Laces (Buy on Amazon) as a solution.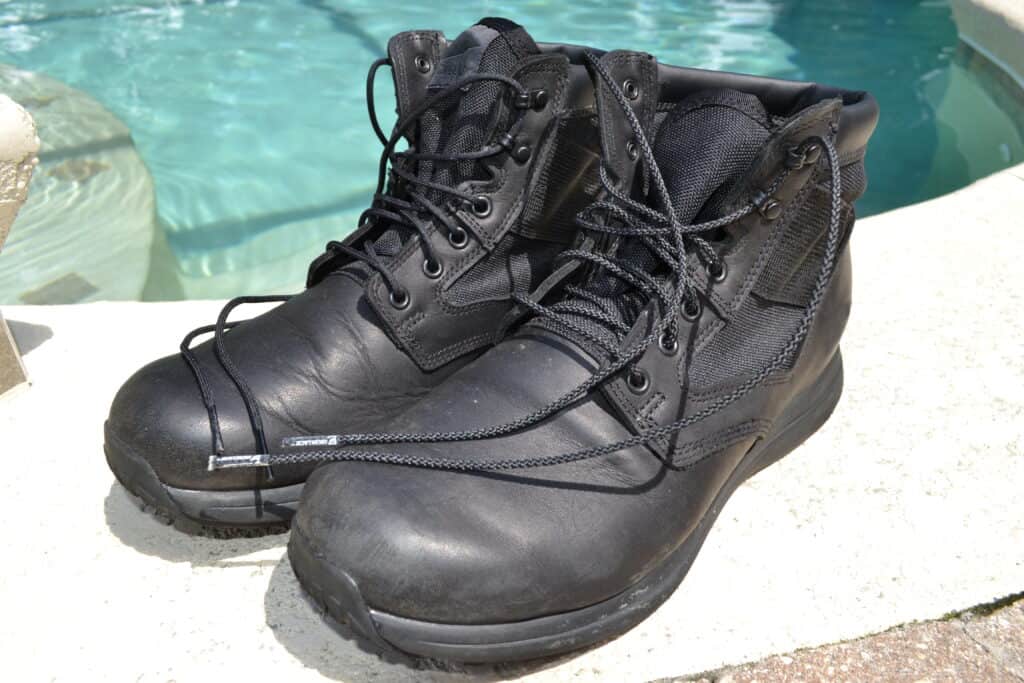 These are crazy tough boot laces available in different lengths and colors.
These laces are guaranteed for life, and are much stronger than steel – even though they are only 3mm in diameter.
They won't break, won't stretch, won't slip – and they are fireproof too.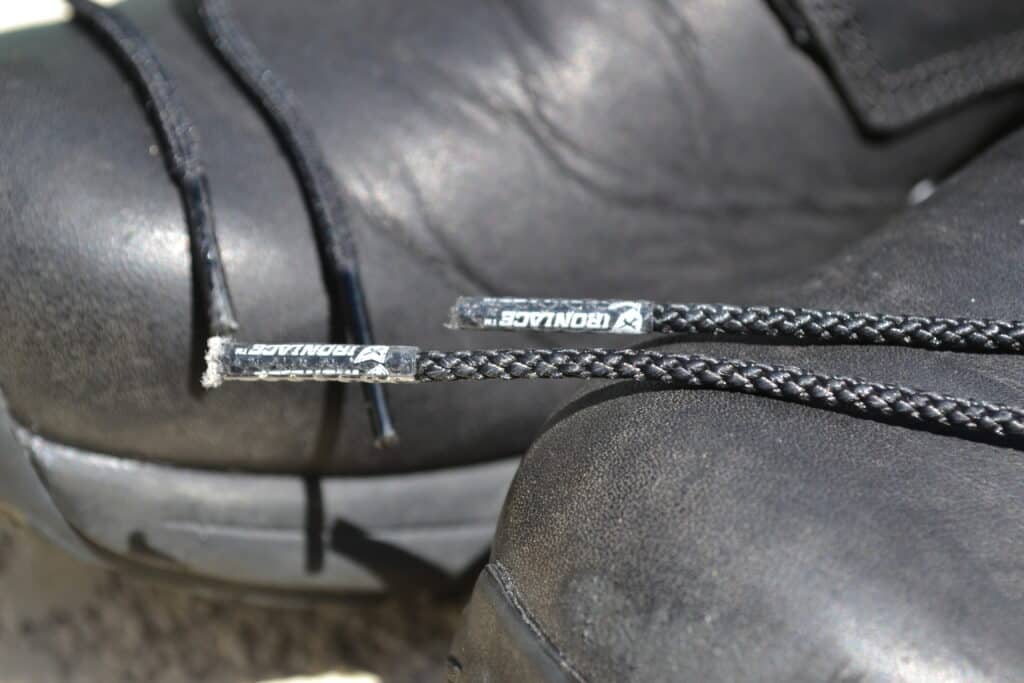 They are also waterproof and won't freeze. It's like a super boot lace.
By the way, the stock laces in the Men's Size 11.5 MACV-1 Gen 2 boot is 58.5″.
I'll be using the 54″ Iron Laces with mine.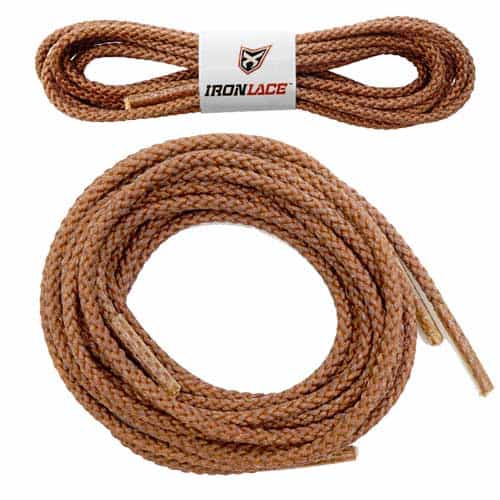 Scars Lifetime Guarantee
Many of GORUCK's products are made in the USA, but the boots are not.
The MACV-1 boot is made in Vietnam, which helps keep the price low and GORUCK ensures the quality is kept high.
The GORUCK MACV-1 boot is covered by the Scars lifetime guarantee.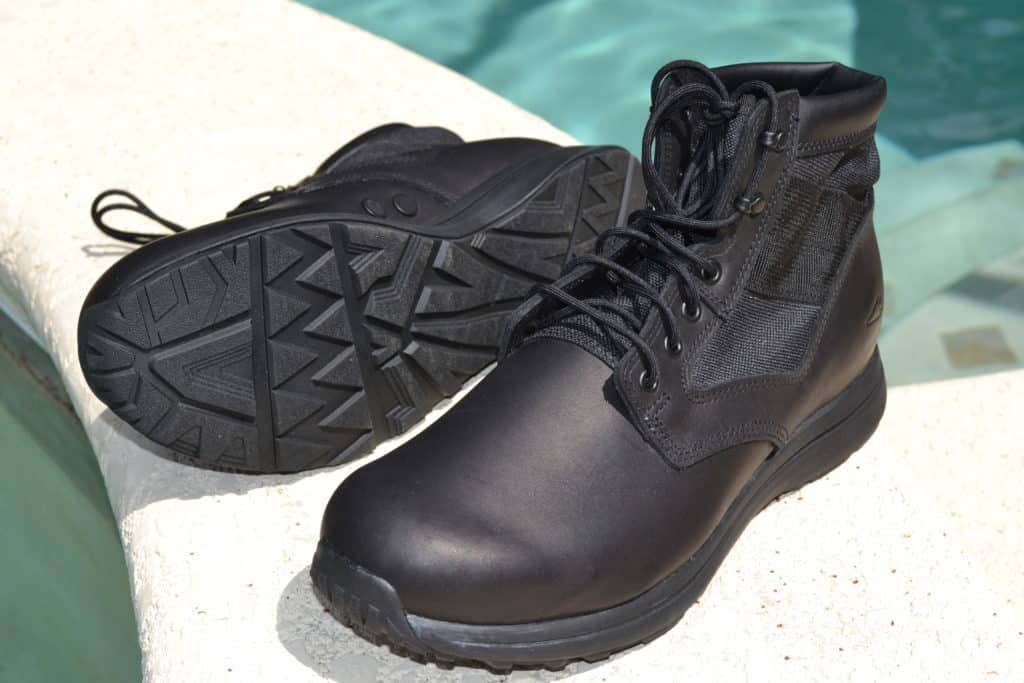 We'll report here the longer term performance of the boots, but right now we've only had them for about 4 weeks.
I can say they look very high quality and were in flawless condition right out of the box.
Weight
GORUCK describes these as being a lightweight boot.
My size 11 Black Leather boots weigh 19.6 ounces each.
That's only about 6 ounces heavier than a cross training shoe like the Nike Metcon 5.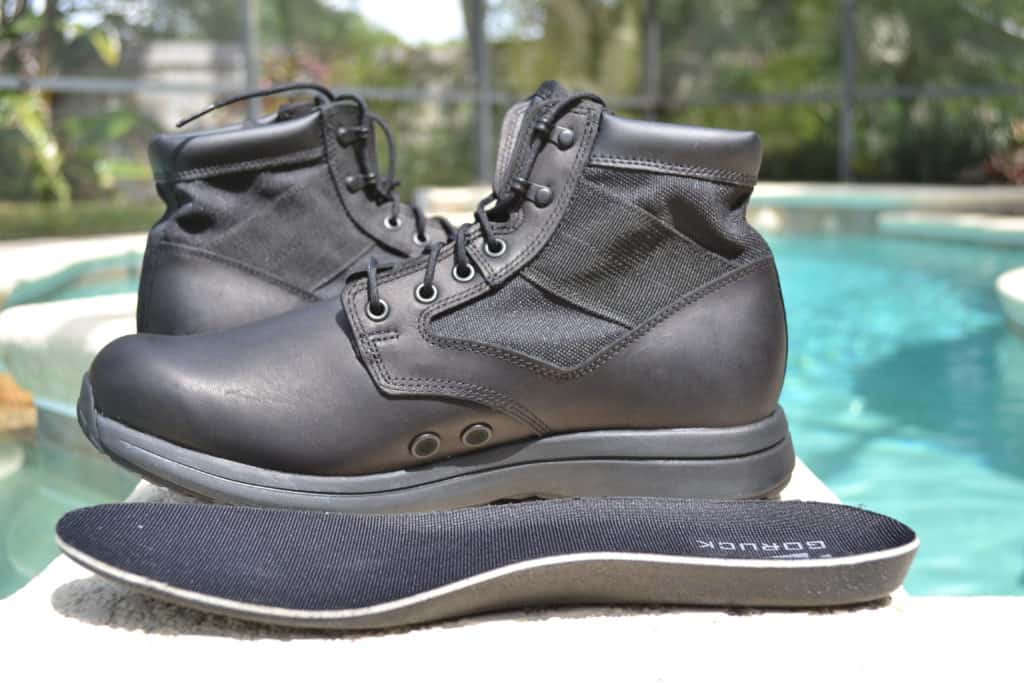 That's pretty light.
(The 11.5 size weigh about 20.2 ounces each.)
Lighter is better – because it means less fatigue over the miles.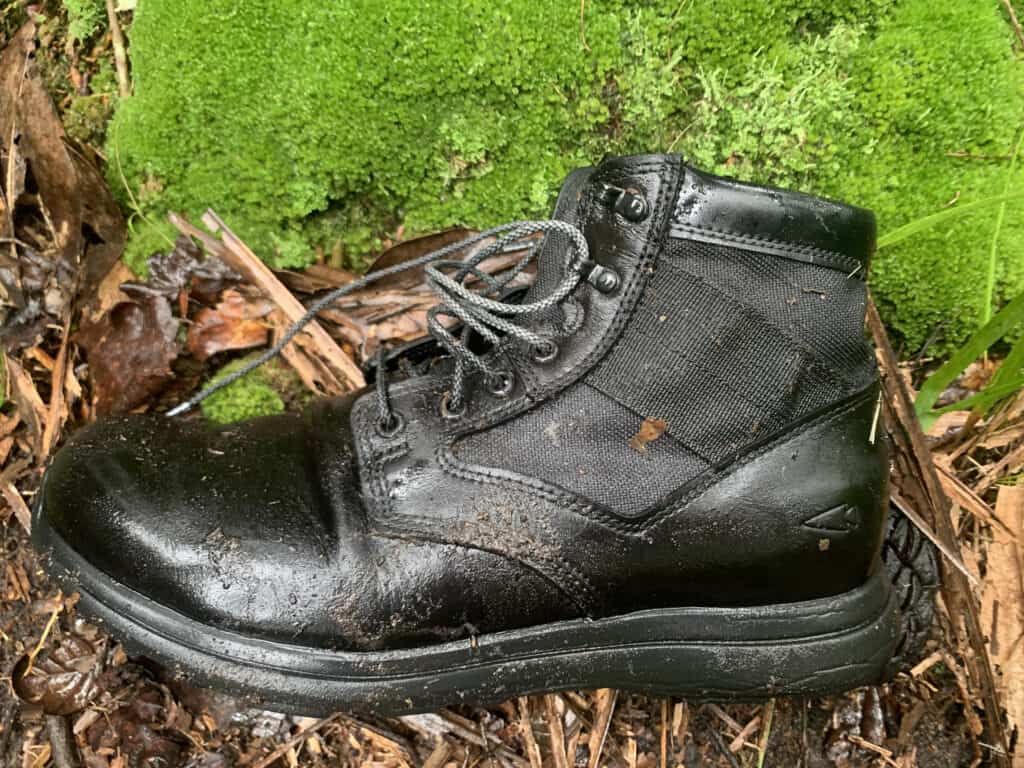 Can you Lift Weights with the GORUCK MACV-1?
With a 13mm drop, these aren't bad for squatting.
Or deadlifting.
They do have a bit more cushion (and therefore instability) in the heel though. I wouldn't put these on to go set a 1RM back squat, but otherwise they aren't bad.
Here's a video:
In Summary
GORUCK has improved upon their MACV-1 jungle rucking boot with the 2nd generation.
They've made the outsole better, improved the leather, and kept the other features that made it unique.
It is lightweight, and very comfortable.
Why GORUCK Products?
We are a
GORUCK
affiliate – so if you order clothing, backpacks, boots, or other equipment after clicking the links in this article we receive a small commission at no additional cost to you. But that's not why we recommend GORUCK. It's because their equipment is innovative, built to last, and backed by their SCARS lifetime guarantee. They are the driving force behind rucking not just as exercise, but as a way to make people better. And that's why we love them.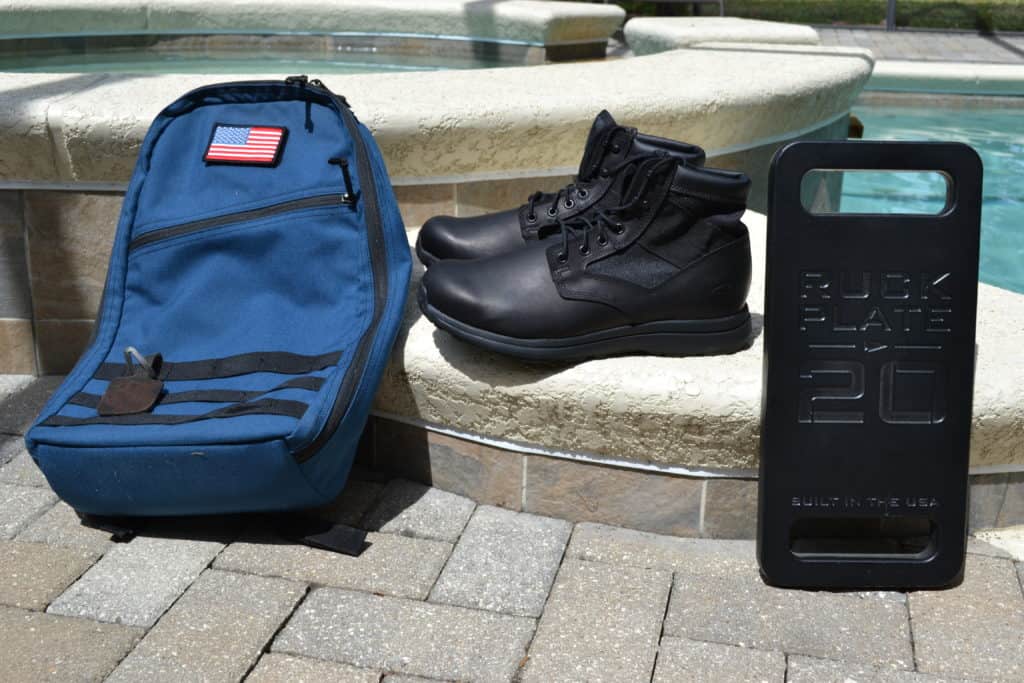 Photo Credits
Some product photos on this page are provided by, and property of GORUCK.