Let's review the Bonehead Ruck Weight Plates from Fringe Sport.
What's a Ruck Weight Plate? It's a heavy weight that you put in your rucksack (aka backpack) to add resistance and therefore burn more calories when you walk, hike, or "ruck" (as it's known in the military).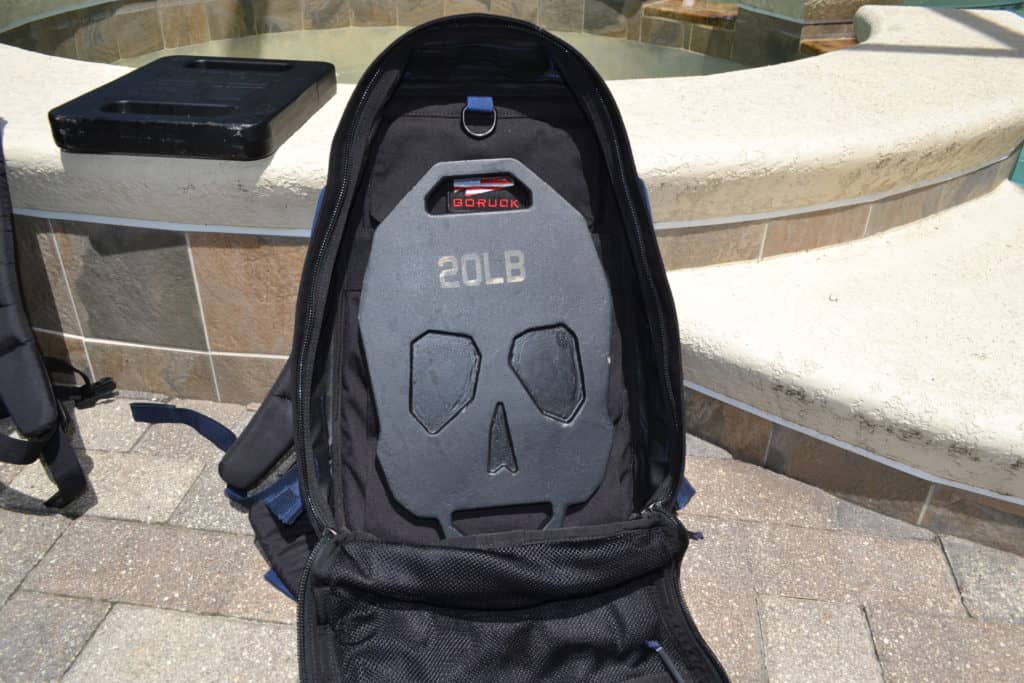 Can't you just use a barbell plate or a dumbbell?
Ruck weight plates are a better option because they are a shape and size that will actually fit into your backpack.
And leave you enough room to pack other important stuff.
DISCLAIMER: Fringe Sport provided the equipment in this article for review.
Here's the complete set of Ruck Weight Plates that Fringe Sport has to offer:
Bonehead Ruck Weight Plates – Overview
The Bonehead Ruck Weight Plates are made from solid cast iron, and receive a black powdercoat finish.
The most important thing about these is the weight. After all, we use plates to add resistance to work harder and grow stronger.
All of these weigh in at or over the advertised weight. That's good because if you are participating in a GORUCK event – weight matters.
They look good too.
Let's face it – we were long overdue for someone to bring a little sense of style into this market.
I like the skull motif.
I'm not sure, but there may be some deeper meaning here too – only a true bonehead would carry a 45 lb slab of iron through the woods for "fun".
THere's a handle at the top and bottom.
It's a good design – the handles on competitor products are a bit unwieldy. I can get a safe, secure grip with my average-sized hands.
You are only going to get a single-hand grip on these though – there's no room for a two-handed grip.
I can get a three-finger grip on the mini-10lb plate. That's enough.
Next important thing – do they fit?.
I've confirmed these plates fit just in the Rucker 3.0 25L and the Rucker 3.0 20L rucksacks.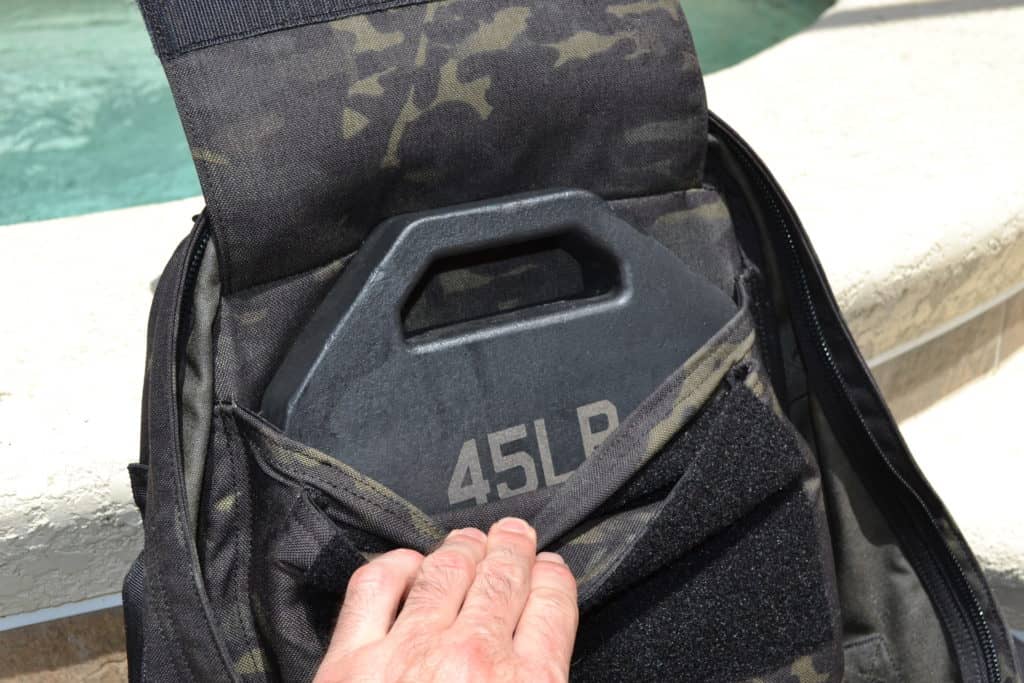 All sizes fit in the Rucker 3.0 – both the 20L and 25L models.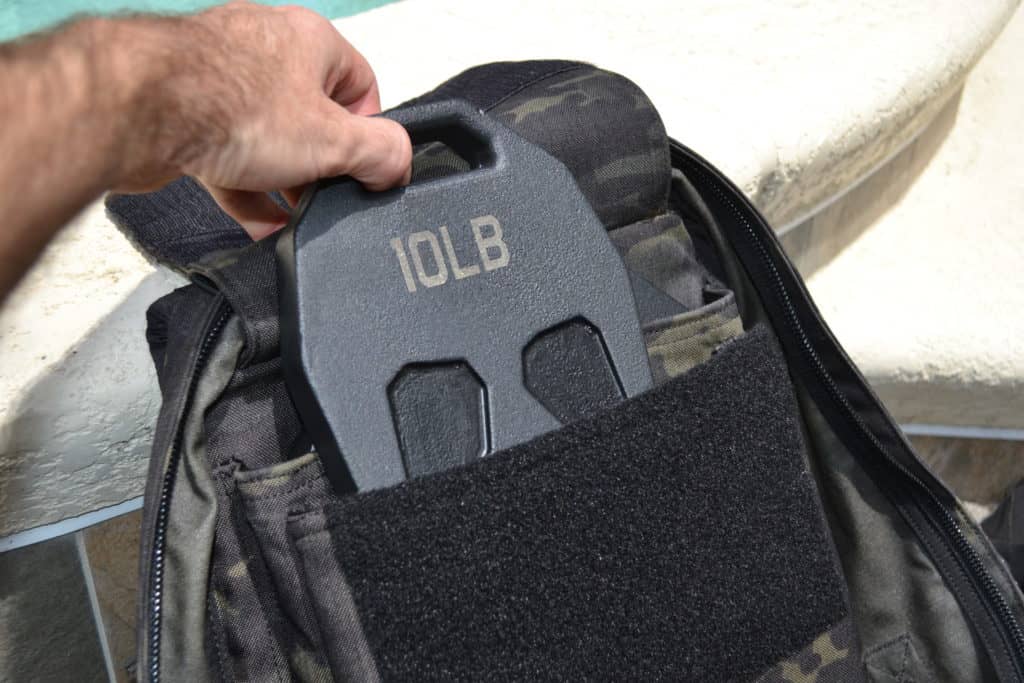 My first thought on the 10lb plate was that it would be too small to be useful ( I ruck anywhere from 30 – 50 lbs for up to 18 miles).
But, it's great for beginners. The wife confirmed upper back soreness from a few miles with the 10lb plate – she's not a seasoned rucker.
But more importantly, you can use this smaller plate as a great way to bump up the weight, and intensity in a gradual fashion.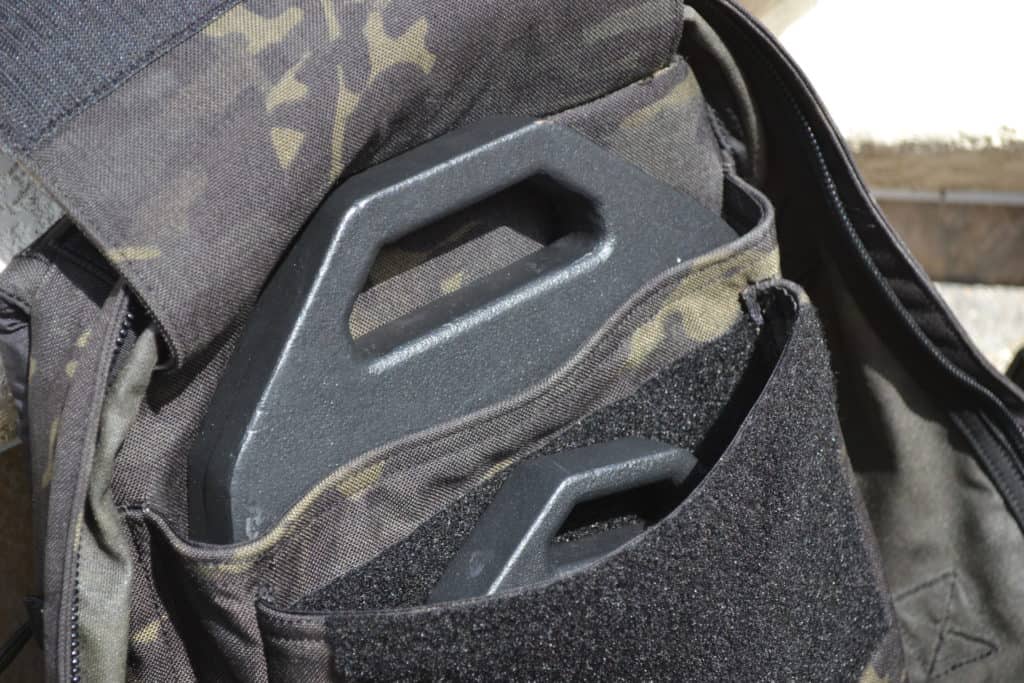 Because the Rucker 3.0 has two separate plate pockets, you can load up two plates, and there's no metal to metal contact.
(There's nothing worse than a clanking sound for 18 miles.)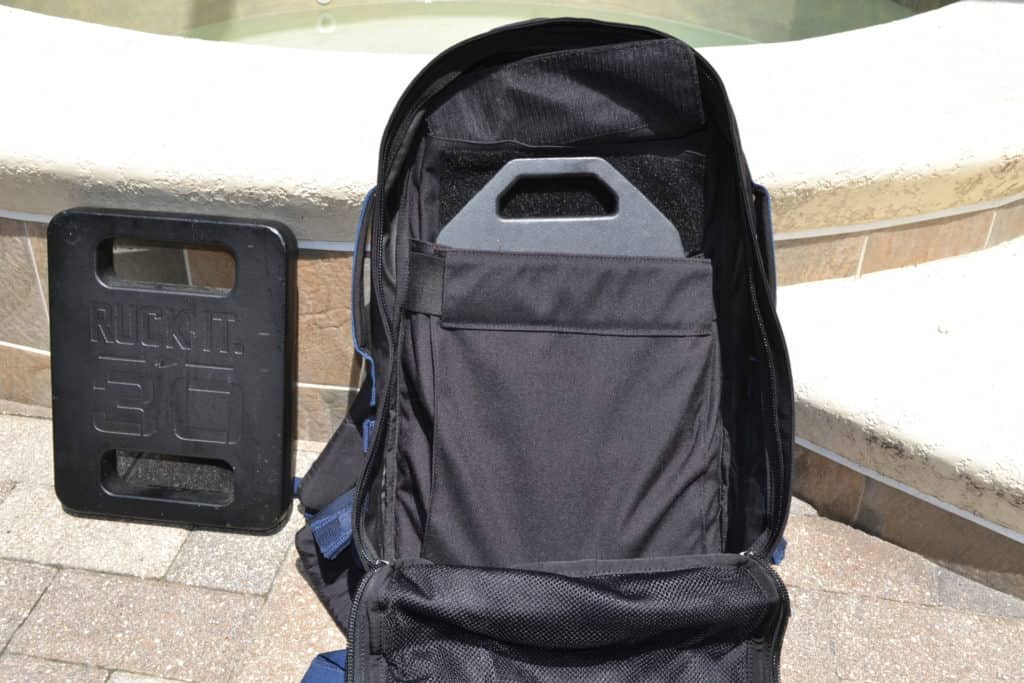 Bonehead Ruck Weight Plates Versus GORUCK Ruck Plates
Of course we're gonna compare these two side by side.
Both are iron, both have handles, both have a powdercoat finish.
The finish on the GORUCK plates and Bonehead plates are very close – if not identical.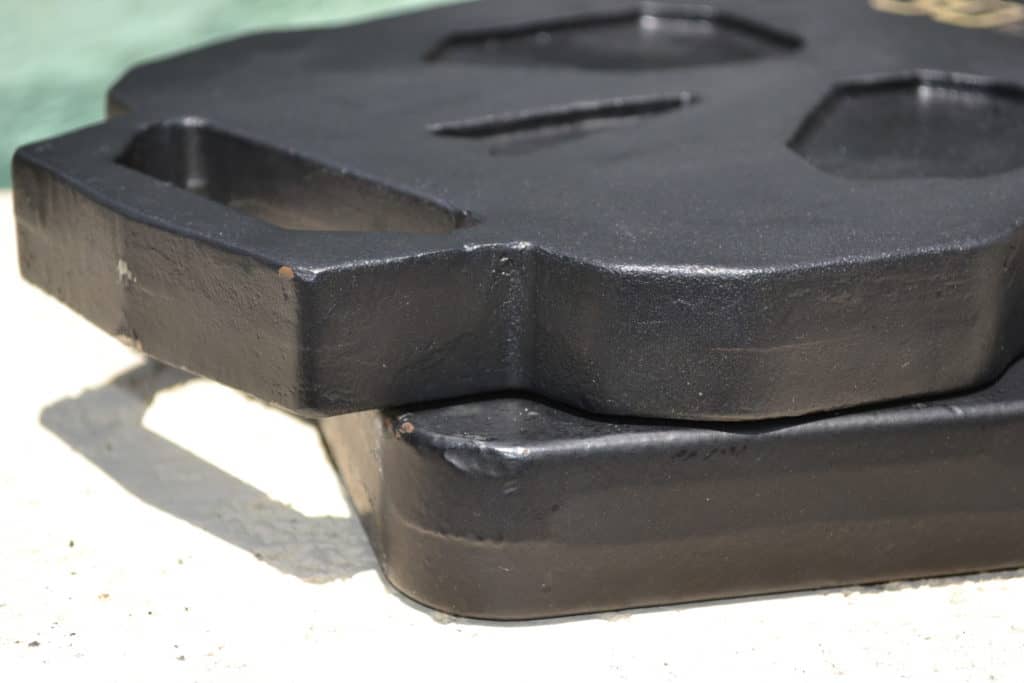 The handles on the GORUCK plates are a little too thick (and square!) such that it's not as easy to handle.
But the GORUCK plates don't have the sweet skull design.
The Boneheads are taller and thinner. It's a form factor that works great in the Rucker line of rucksacks.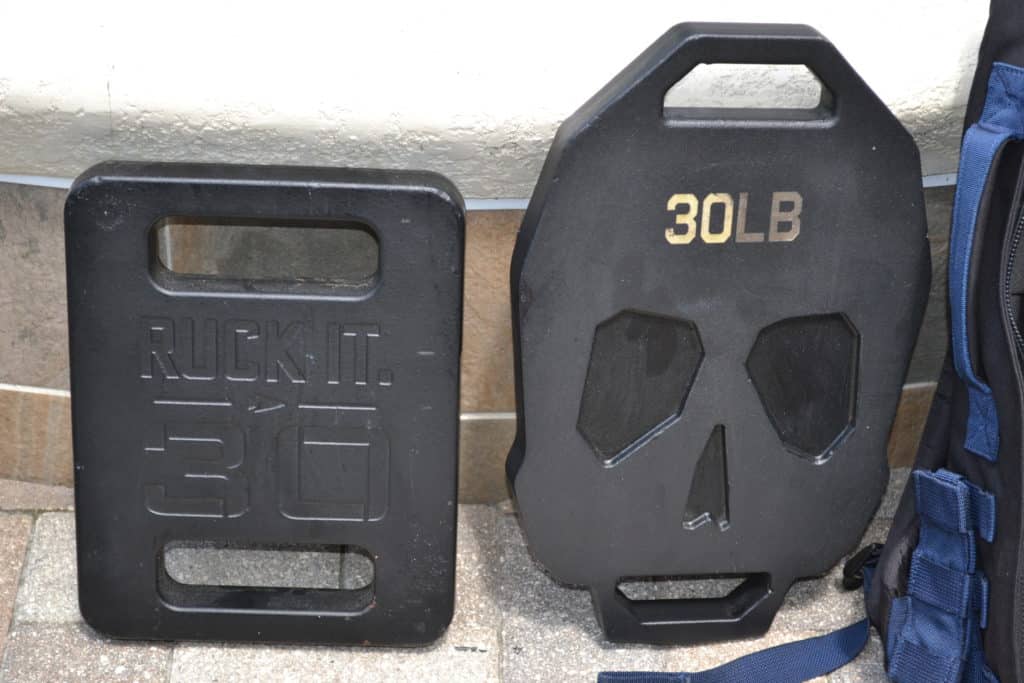 The Bonehead plates work in the GR1 too.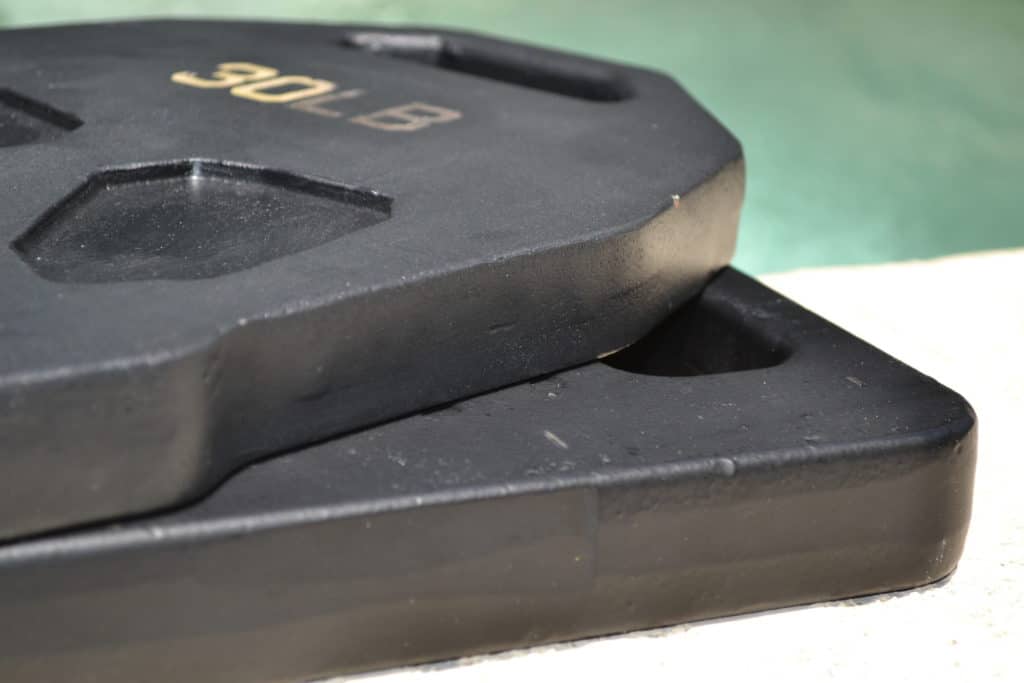 One thing the GORUCK plates have going for them is that they are shorter and thicker for a reason – the idea being to get the most weight up HIGH on your back – to make things harder.
Sounds good on paper, but honestly, it makes little difference. You'll be cursing the plates after about 10 miles no matter what shape or size they are.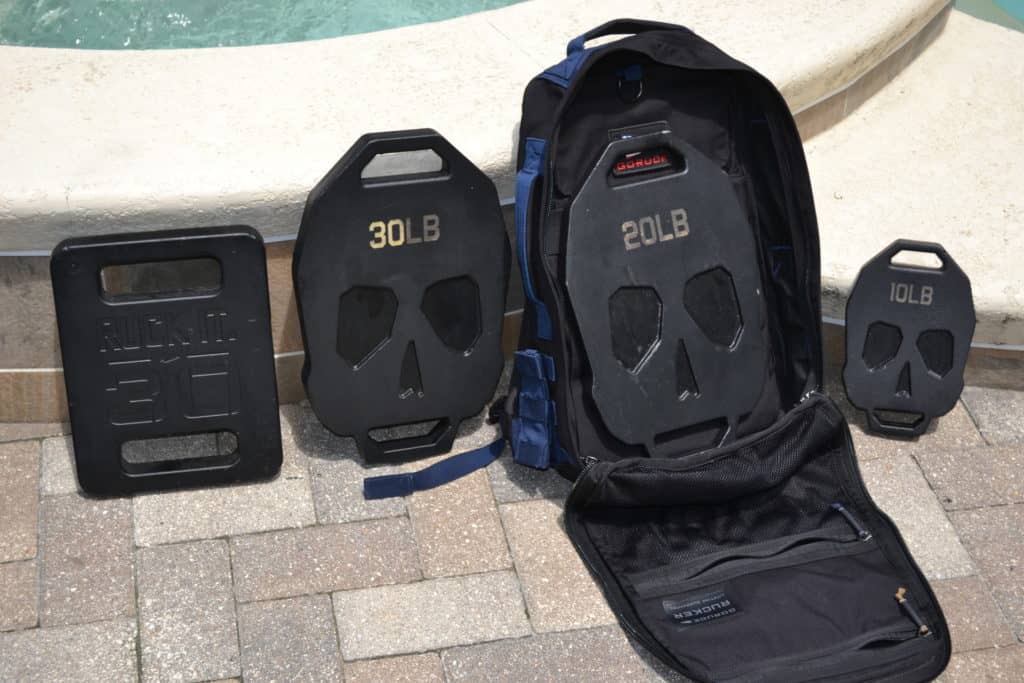 GORUCK actually has two sizes of Ruck Plate. They have taller ones (formerly known as "Standard" plates) that are meant for the GR1.
The Bonehead plates are close in size to those old Standard plates.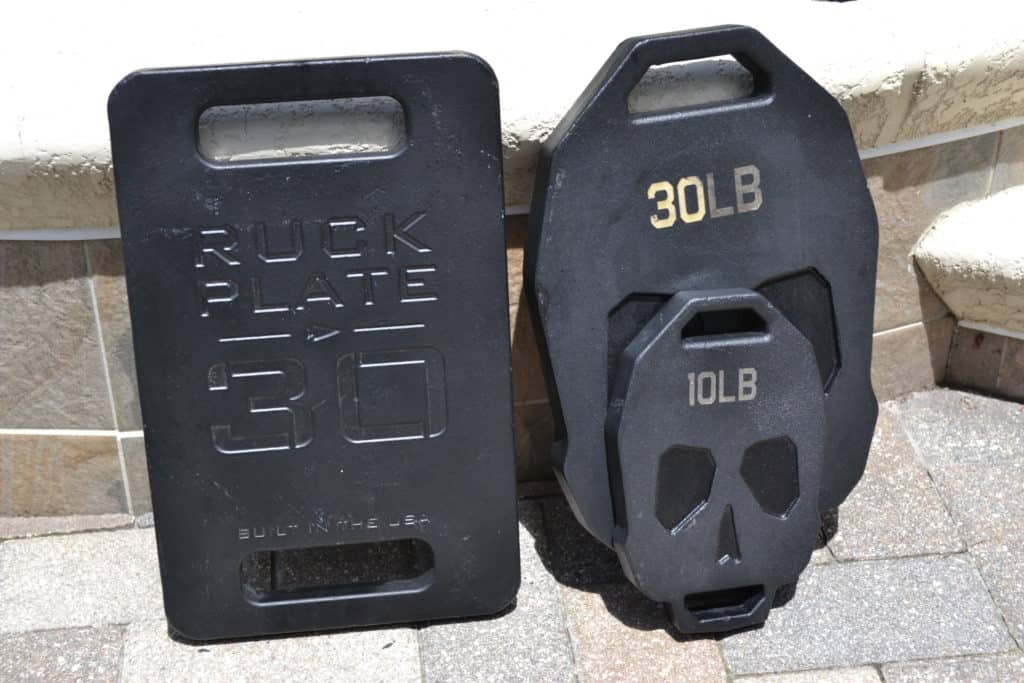 Here you can see the relative thickness of each of the Bonehead plates: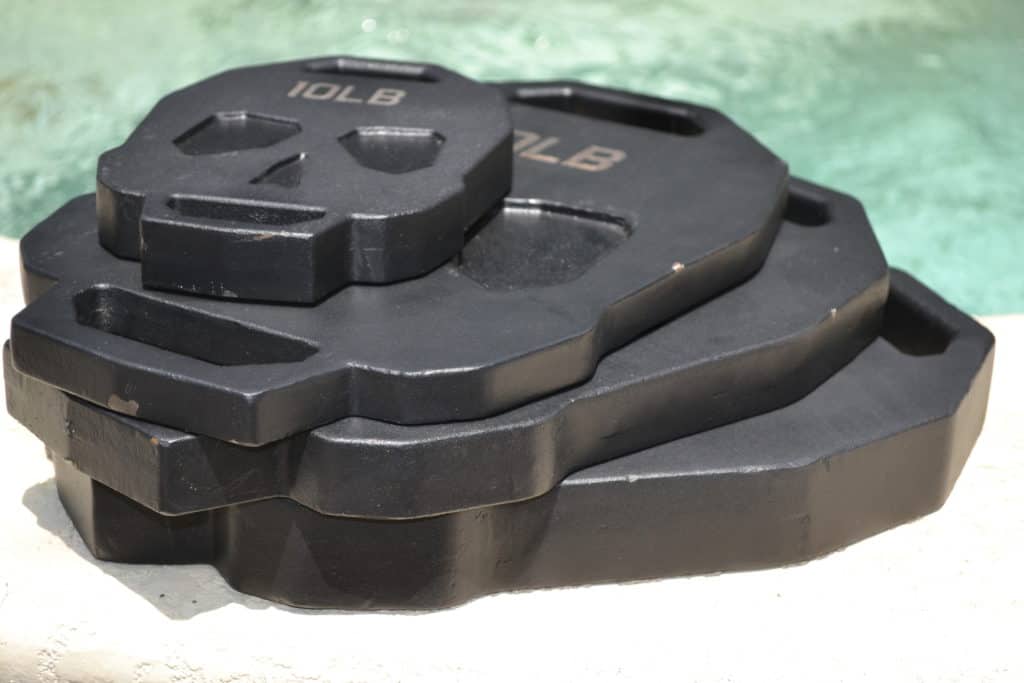 The 45 Lb is pretty thick – of course.
Bonehead Ruck Weight Plates Review – In Summary
That's our review of the Bonehead Ruck Weight Plates from Fringe Sport.
These ruck weight plates occupy very minimal space and give the most freedom and options for workouts at home or on the road. They are very functional and provides several benefits. The two handles give you the ability to swing or lift them and do various other exercises.
And if we're gonna be in misery – why not have some fun with it. I like the "bonehead" skull motif.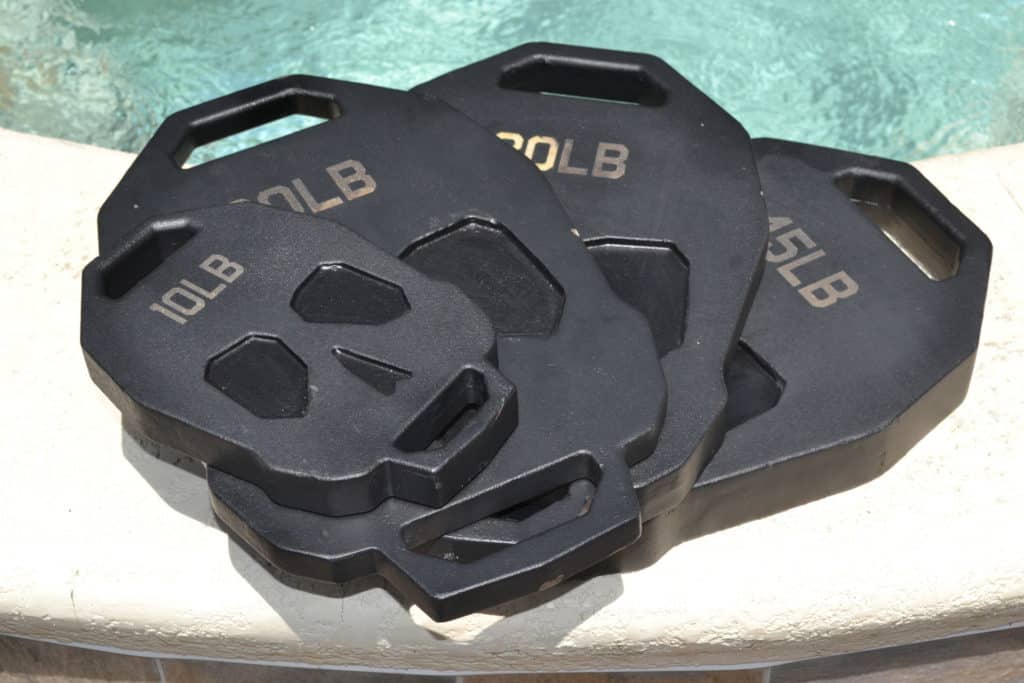 Photo Credits
Some product photos on this page are property of Fringe Sport.
This website is not affiliated or associated with CrossFit, Inc. CrossFit is a registered trademark of CrossFit, Inc.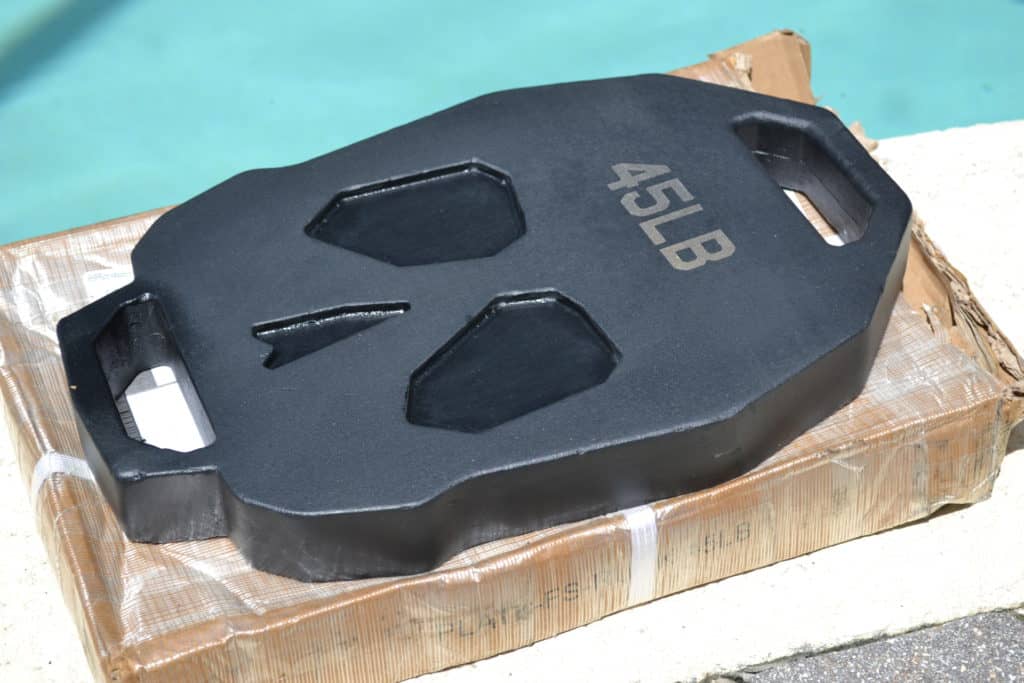 Affiliate Disclaimer
We are an affiliate of Fringe Sport and others that sell this training gear. If you buy clothing or other training gear after clicking the links in this article, we receive a small commission at no extra cost to you. This helps us to bring you in-depth information and content on these great training products.