GORUCK, the rucking company, makes a lightweight jungle boot they call the MACV-1.
And they've now launched the 2nd generation of this lightweight, comfortable boot.
The newest MACV-1 boot has an improved rubber outsole for better all-terrain performance, and an upper made out of improved leather.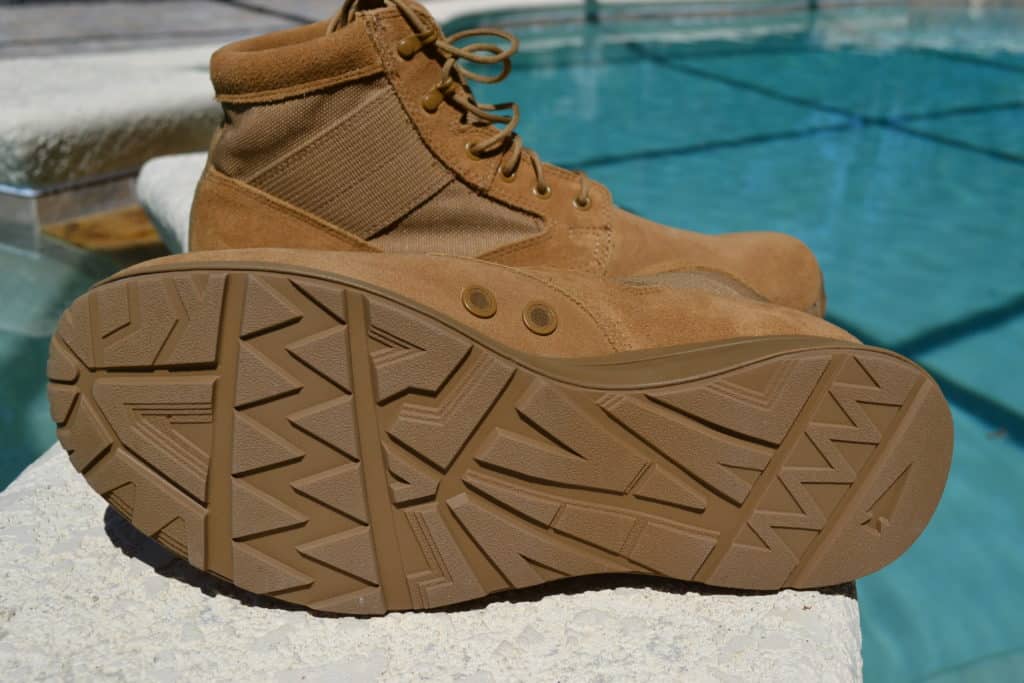 But there is much more to this pair of boots – and that's what we'll talk about in this review.
We've just received our pair of MACV-1 boots (6″ in Coyote Suede) and our hands-on (feet-on?) testing has begun.
Consider this to be a "first look" and we'll update with further details as we find out more about this great new footwear.
Here's the products we'll be reviewing:
Let's take a close look.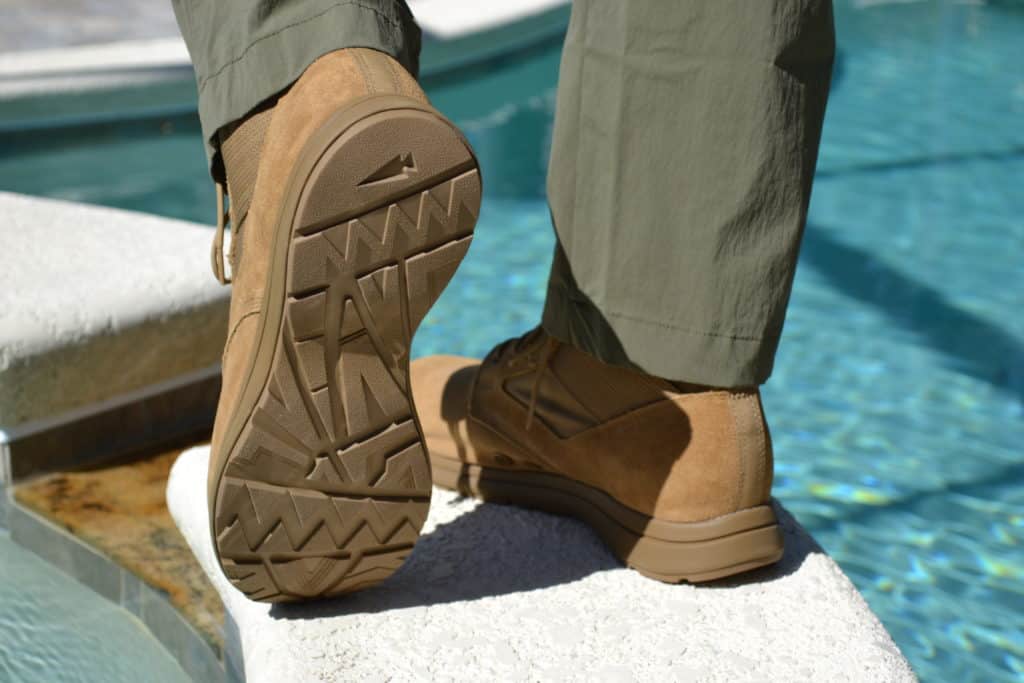 GORUCK MACV-1 Video Review from our YouTube Channel
Want to see these bad-boys in action? Check out these videos:
Here's the Black Leather version:
This video focuses more on the GORUCK Rucker, but it'll give you an idea of how we test this gear:
MACV-1 Lightweight Rucking Boot – Sizing
Let's talk about fit and sizing because that is what most people want to know about.
GORUCK says that the MACV-1 boot runs true to size.
But, they also recommend that you might want to order 1/2 size up from your normal size – to accommodate for the inevitable foot swell you'll get on a long march (or after a long day).
As such, I ordered an 11.5 instead of my normal 11.
To be honest, that feels like too much now that I have the boots.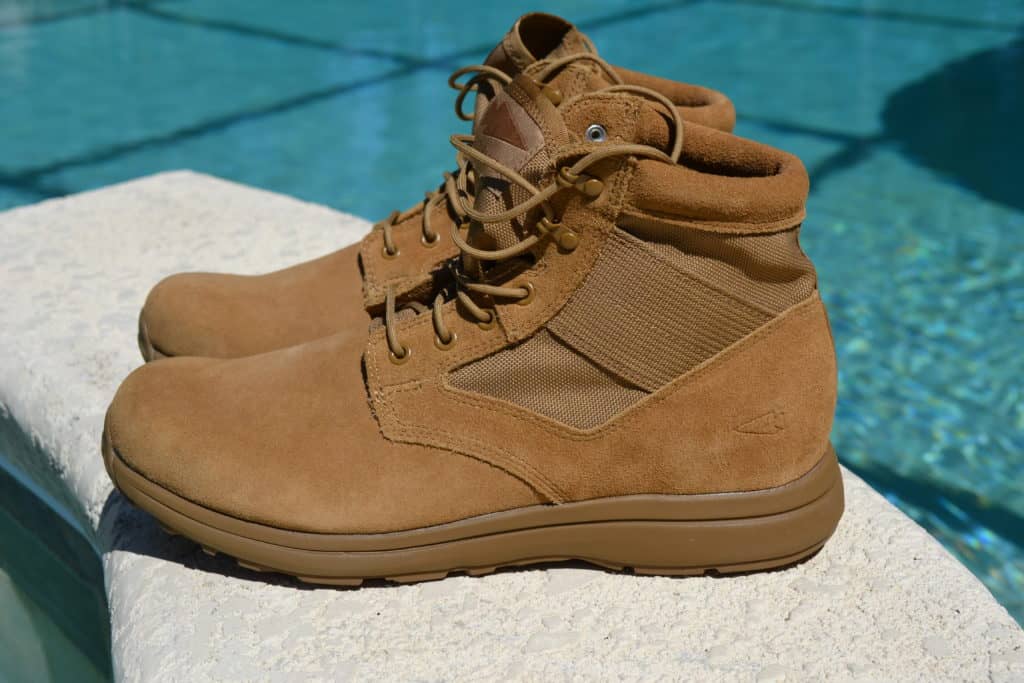 Therefore, if I was going to do it again, I'd order my normal size.
(Please keep in mind these are initial thoughts – and I may change my mind over time.)
Here's something we learned during our long term test. Get rid of those cheap cotton socks and use a quality hiking or rucking sock instead.
This step alone solved all issues I had – I can wear these in 11 or 11.5 and ruck for miles and miles – no issues whatsoever.
(And no doubling up on socks required either.)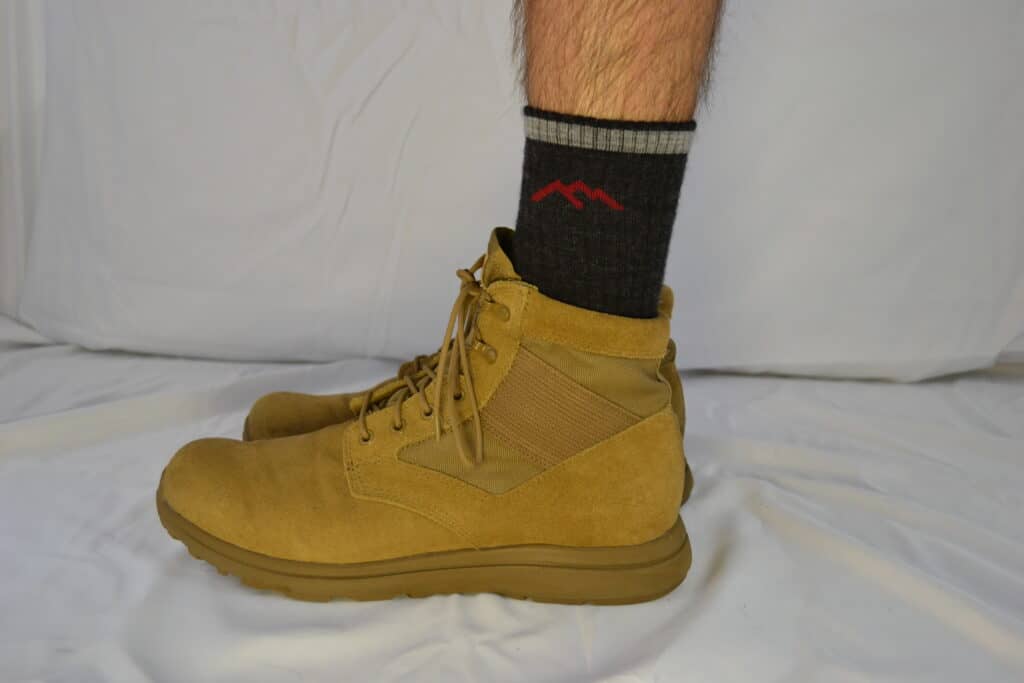 The Darn Tough Micro Crew Midweight with Cushion is great for the 6″ high MACV-1 boots.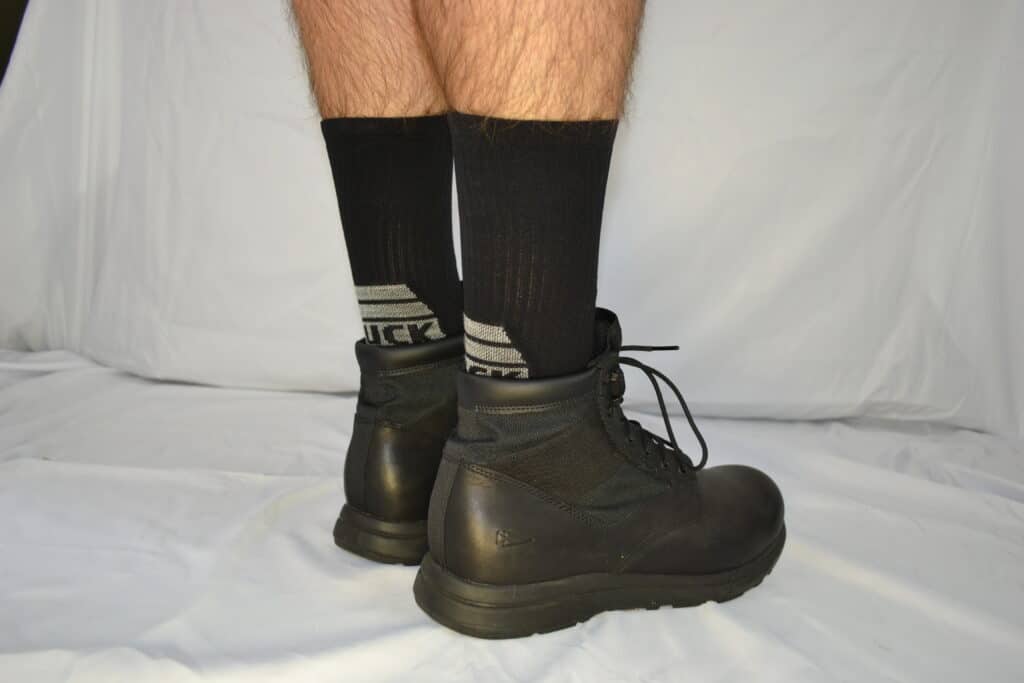 I give a slight edge to the MudGear Ruck Sock (Buy on Amazon) shown above. – it's even more comfortable than the Darn Tough, with a nice stretch fit – but it is taller.
Are these expensive? Yes, but they also last much longer than cheap cotton socks – and fit better too.
Let's move on and talk about what exactly makes a "rucking" boot.
MACV-1 Lightweight Rucking Boot – What Makes This Boot Special
This is the 2nd generation of the MACV-1 boot.
Let's start with the new changes.
GORUCK launched their new "Challenge Leather" with the I/O Cross Trainer shoe earlier this year.
What's Challenge Leather? It is a tough and good looking leather. GORUCK claims it will get better with age and use.
The upper (the part that covers your foot) is now made with Challenge Leater.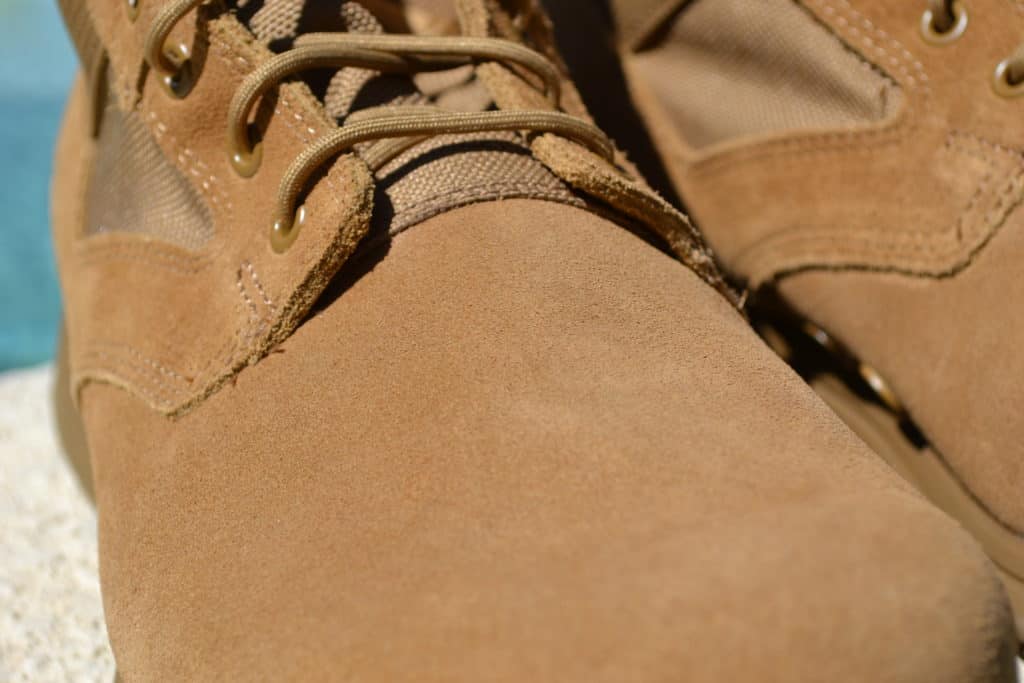 I can't comment on long term durability yet, but I can say that the Coyote Suede on my pair is flawless out of the box.
The ankle support in this boot is provided via 1000D Cordura (One of GORUCK's favorite materials – as it is very tough) and 2″ nylon webbing.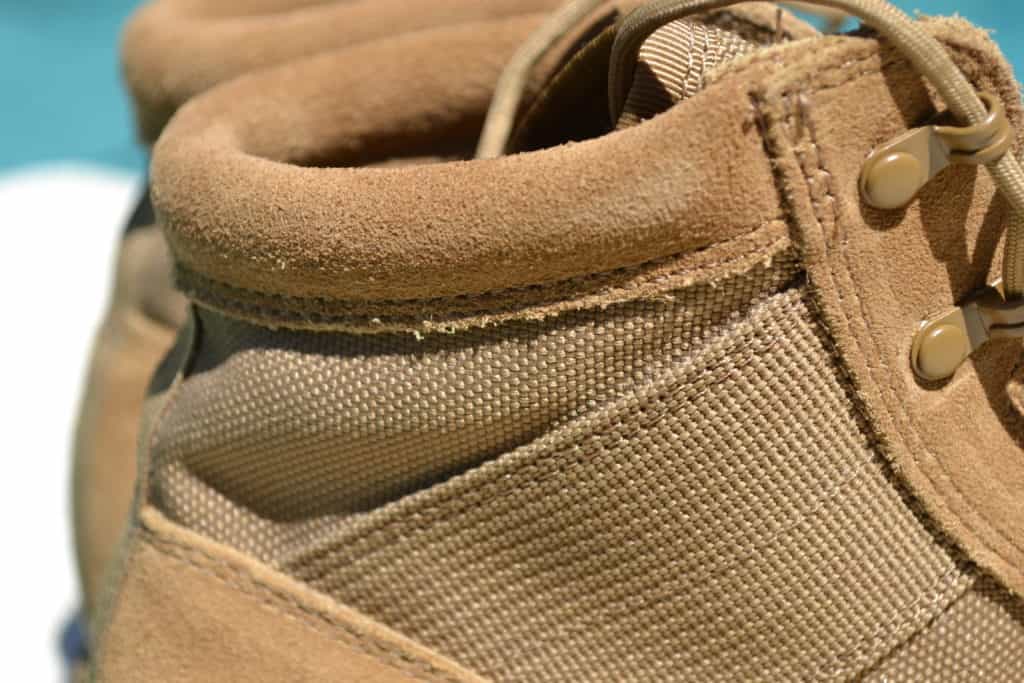 The nylon webbing is incorporated into the heel counter for extra stability.
The other big new feature is the improved all-terrain rubber outsole (or the sole.)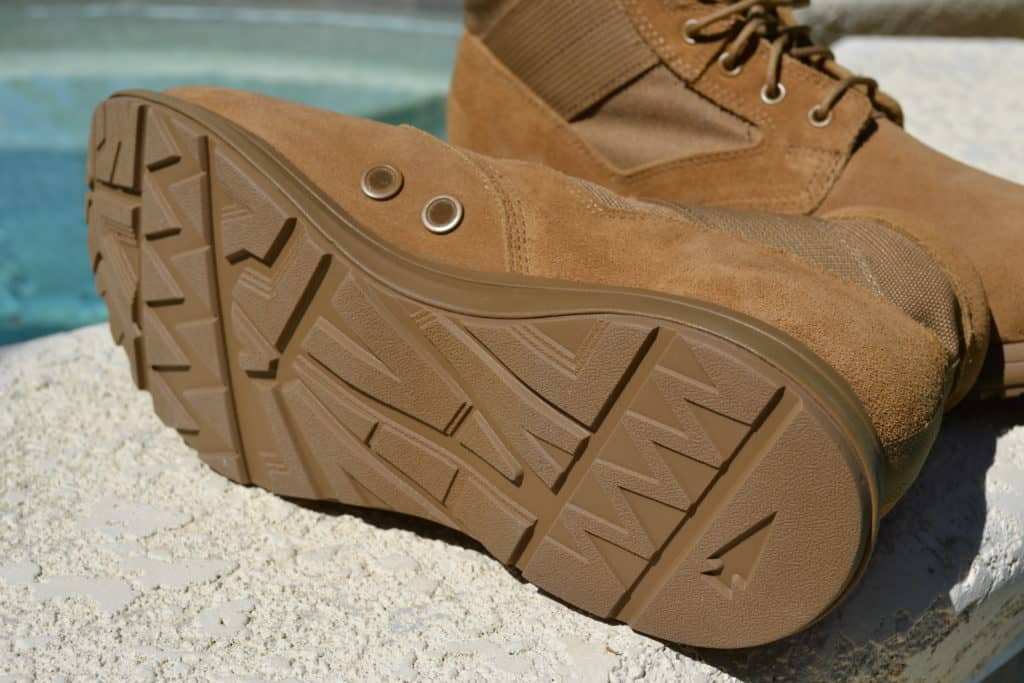 Some people complained that the original MACV-1 boot tread didn't fare well in certain rough conditions.
The new rubber outsole is actually made with two different rubber compounds.
Up front a softer, but more grippy rubber is used to provide traction.
The heel is a more durable, stable rubber.
You can also see that the outsole wraps up around the front of the shoe to provide a durable toe guard.
This will be great for protecting your toes in rough terrain, but also when you are doing push-ups or burpees.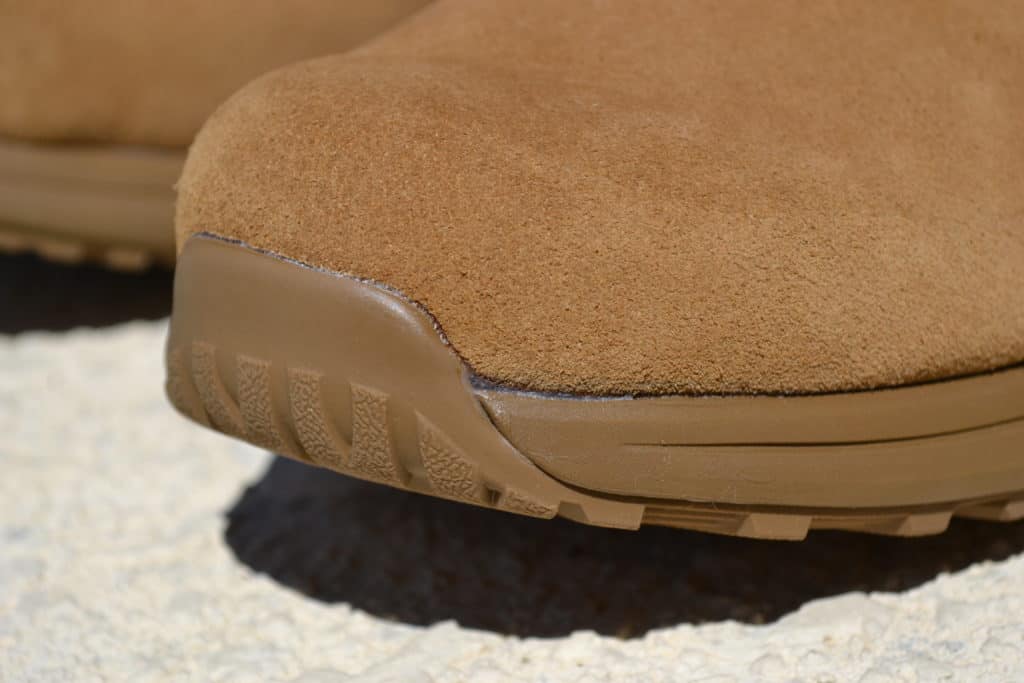 GORUCK also gave the MACV-1 boot a very wide toe box.
This is great because your toes naturally splay out quite a bit, and with long distances this will also give your feet room to expand.
The MACV-1 uses 3mm speed laces that are much smaller in diameter than your average boot laces.
GORUCK claims these are quicker to tie, and will not gather as much mud and other debris.
There's simply less material there to absorb water and other much – so it makes sense to me.
Speaking, of muck, mud, and water – are these boots waterproof?
No – they are not – and that's by design.
There are two schools of thoughts when it comes to boots.
If you make boots that are waterproof they tend to hold water in – whether from your perspiration, or from water immersion.
And when rucking there is an expectation that your feet are going to get immersed.
So why hold the water in? Let it out instead.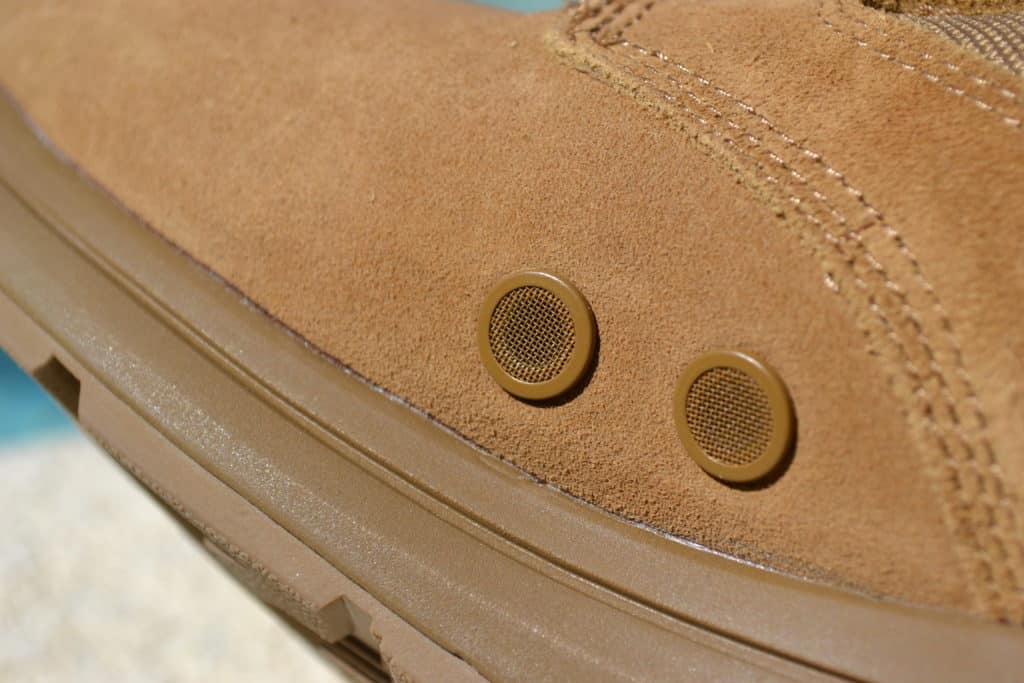 And to that end, the MACV-1 boots have two drain ports in each boot.
The drain port is exactly what you think it is – a hole for water to drain out.
But it is covered by a very fine mesh screen – so dirt, rocks, and other debris can't get in.
These drain ports will pump water out with every footstep.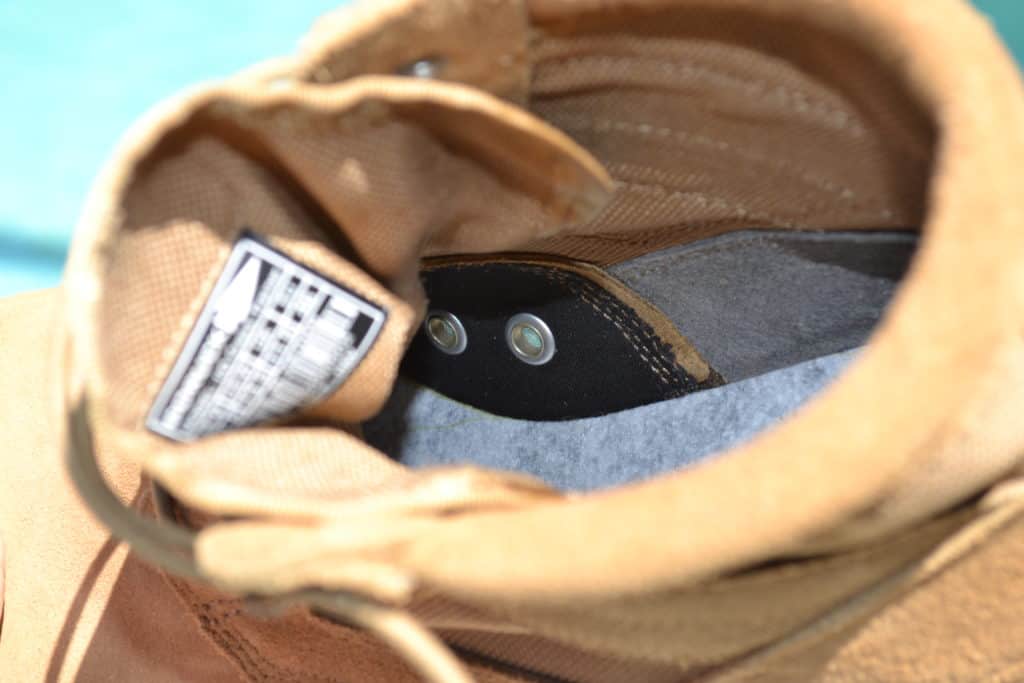 The MACV-1 boots have a 13mm heel to toe drop.
That means your heel is 13 mm higher than your toes.
This is sometimes called the "offset" or "drop".
Why 13mm?
GORUCK says these are optimized for long distance endurance.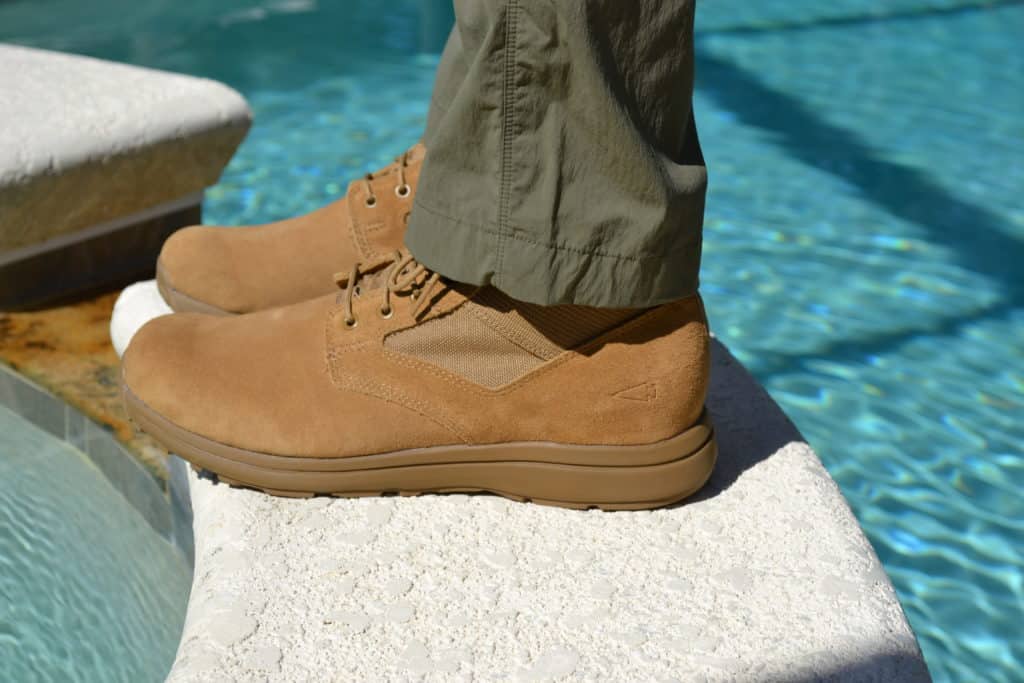 The 13mm heel to toe drop means less stress on your achilles – which reaps benefits for your ankles, knees, and hips too.
Speaking of endurance and comfort, these boots have a lightweight EVA Midsole.
GORUCK also includes what they call their "Workhorse Insert".
This is where the cushion for your foot comes from.
I can confirm it is a comfy and good amount of cushion.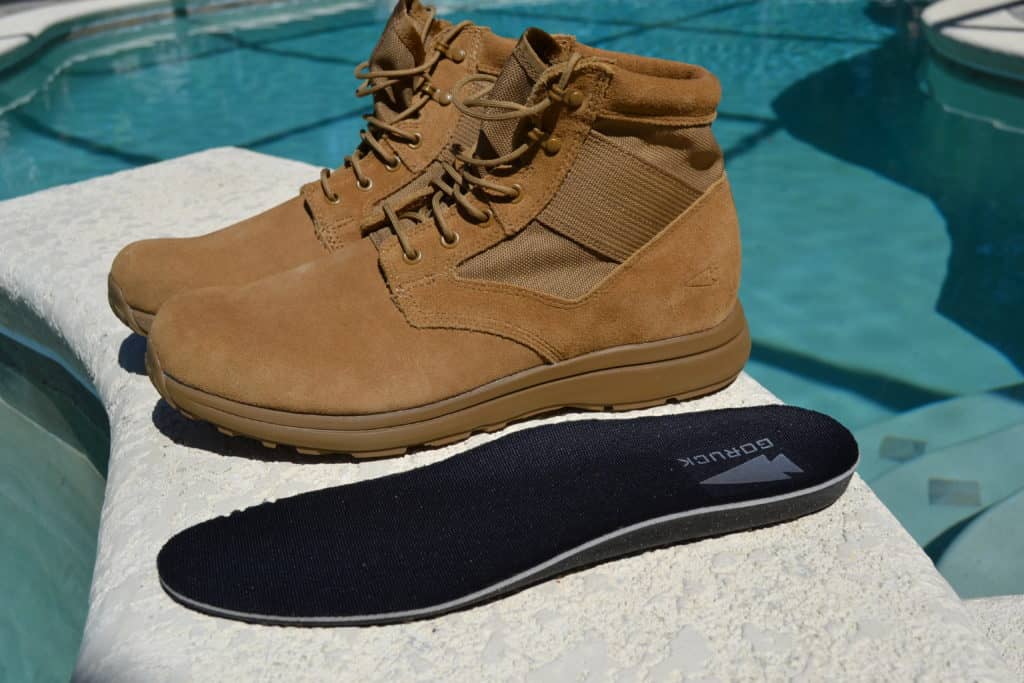 It's not too much, and it's not too little.
How does it do this? With a dense foam that has exceptional arch support too.
Time will tell how well these work for longer distances.
And here is another important factor for comfort over the long haul.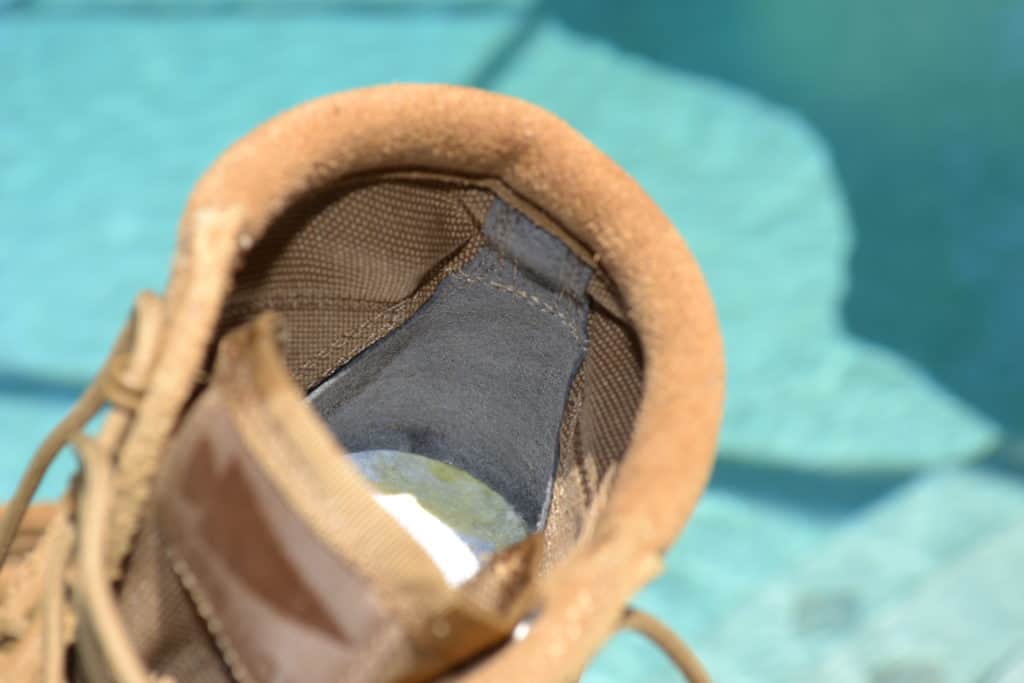 The interior of the heel counter is lined with suede.
GORUCK claims these have minimal or no break-in time due to this innovation.
For styling cues, the GORUCK spearhead logo (inspired by the Special Forces) makes an appearance on the tongue, and the heel.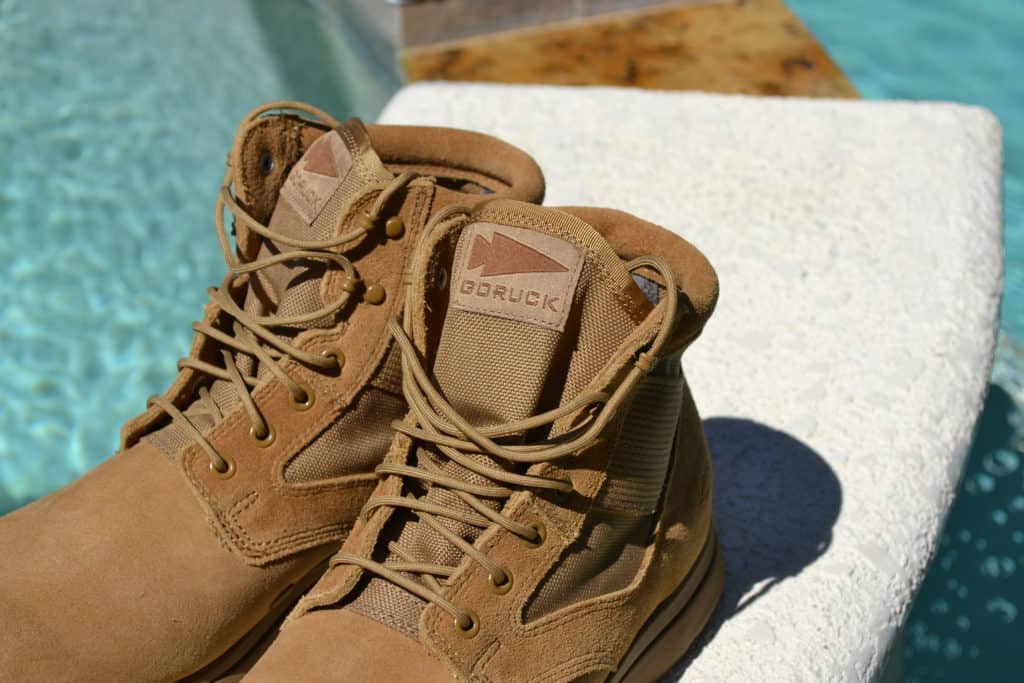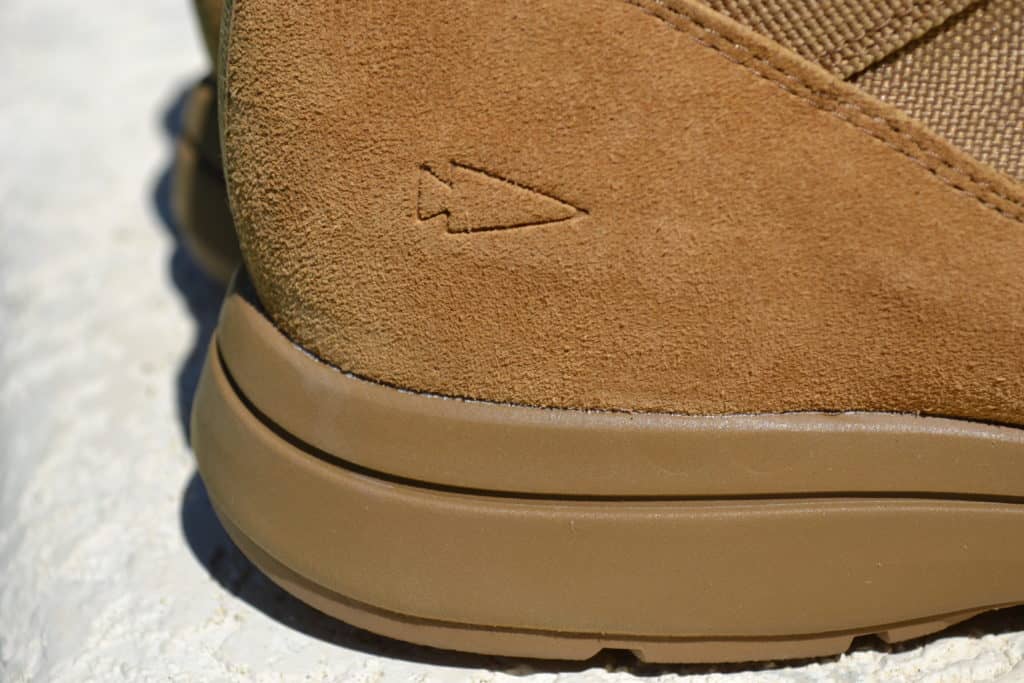 MACV-1 – Weak laces?
Here's the only issue we've heard of with the MACV-1 (as experienced by many wearers of this boot, but not me in particular.)
The boot laces that come with the boot break relatively easily.
Remember, these are 3 mm diameter speed laces. Wearers of the boot that like to tie them tight report that this can lead to lace breakage at the worst possible moment.
We're currently testing out Iron Laces (Buy on Amazon) as a solution.
These are crazy tough boot laces available in different lengths and colors.
These laces are guaranteed for life, and are much stronger than steel – even though they are only 3mm in diameter.
They won't break, won't stretch, won't slip – and they are fireproof too.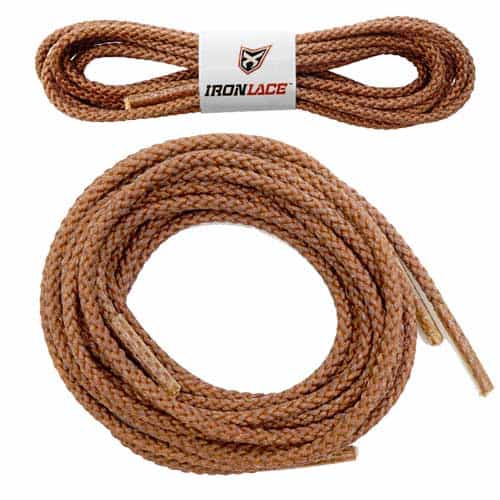 They are also waterproof and won't freeze. It's like a super boot lace.
By the way, the stock laces in the Men's Size 11.5 MACV-1 Gen 2 boot is 58.5″.
I'll be using the 54″ Iron Laces with mine.
MACV-1 Lightweight Rucking Boot – Made in Vietnam
Where are these made?
As you can see, the MACV-1 boot is made in Vietnam.
GORUCK makes many items in the USA, but this boot is not one of them.
The founder of GORUCK determined that making this boot in high volume in the US would have pushed the price too high.
In any case, the MACV-1 boot is covered by the SCARS lifetime guarantee.
The outsole is not replaceable, but GORUCK seems confident you'll get more than enough use out of these before it wears down.
MACV-1 Lightweight Rucking Boot – Weight
GORUCK claims these are lightweight boots.
My size 11.5 boots weight 20.2 ounces per boot.
That's pretty lightweight, as far as boots go.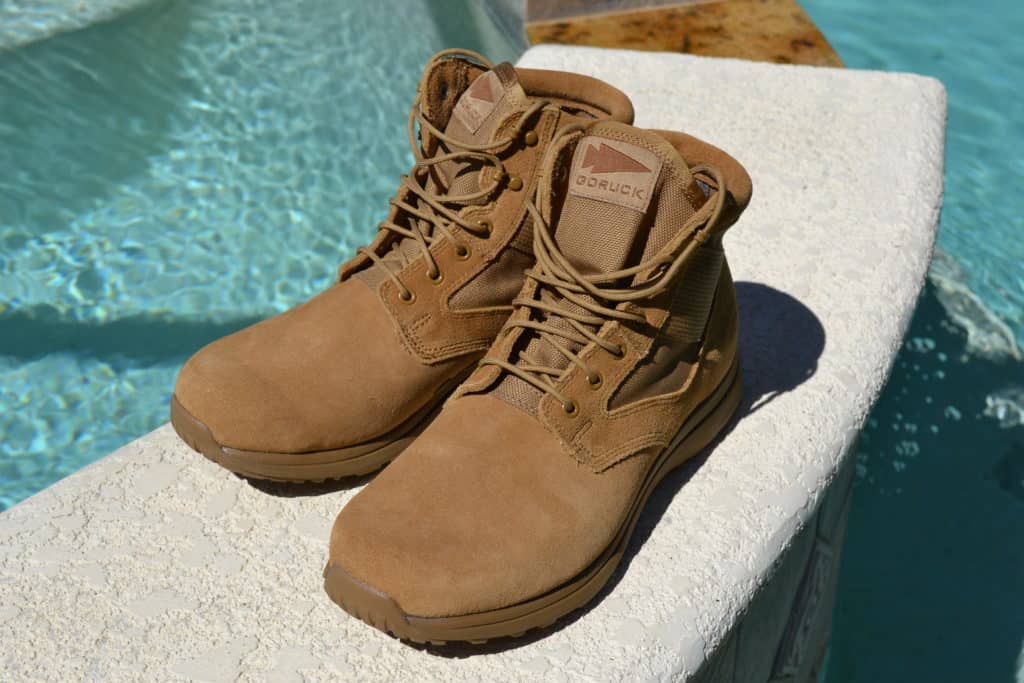 That's about 6.5 ounces heavier than a pair of cross training shoes like the Reebok Nano 9.
The lighter weight should make a big difference over the miles.
MACV-1 Lightweight Rucking Boot – AR 670-1 Compliant Version
If you are in the US military, you probably need AR 670-1 compliant boots.
The 6-inch Coyote Suede version of the boot are not AR 670-1 compliant as they are too short.
But the good news is that GORUCK also sells an 8″ version that is compliant.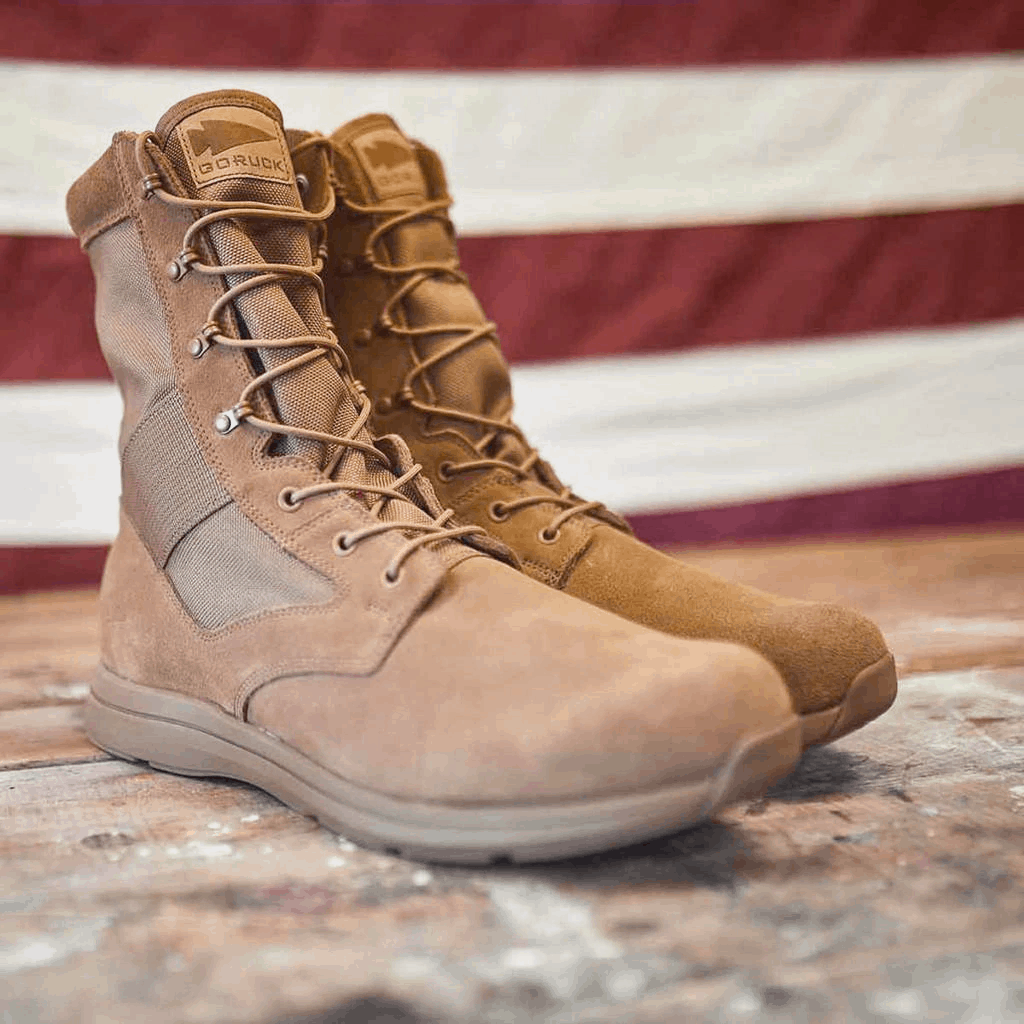 Can you Lift Weights with the GORUCK MACV-1?
With a 13mm drop, these aren't bad for squatting with a barbell (back squat, front squats, etc.)
An "Oly Lifter" shoe might have 20 mm of drop (or more).
You can deadlift in the MACV-1 too.
They do have a bit more cushion (and therefore instability) in the heel than I'd normally want in a lifting shoe. I wouldn't put these on to go set a 1RM back squat, but otherwise they aren't bad.
Here's a video:
MACV-1 Lightweight Rucking Boot – In Summary
GORUCK has released the 2nd generation of their MACV-1 jungle rucking boot.
The outsole has an improved all-terrain tread pattern, and the upper is made from tougher Challenge Leather.
It retains many of the great features from the previous version of the boot.
It is not a waterproof boot, but rather a "jungle" boot that is made to drain water, thanks to it's mesh covered rain ports.
It is light-weight, comfortable and has special features like the workhorse insert and suede-lined heel counter.
We look forward to putting these boots through a full test – with many miles to go.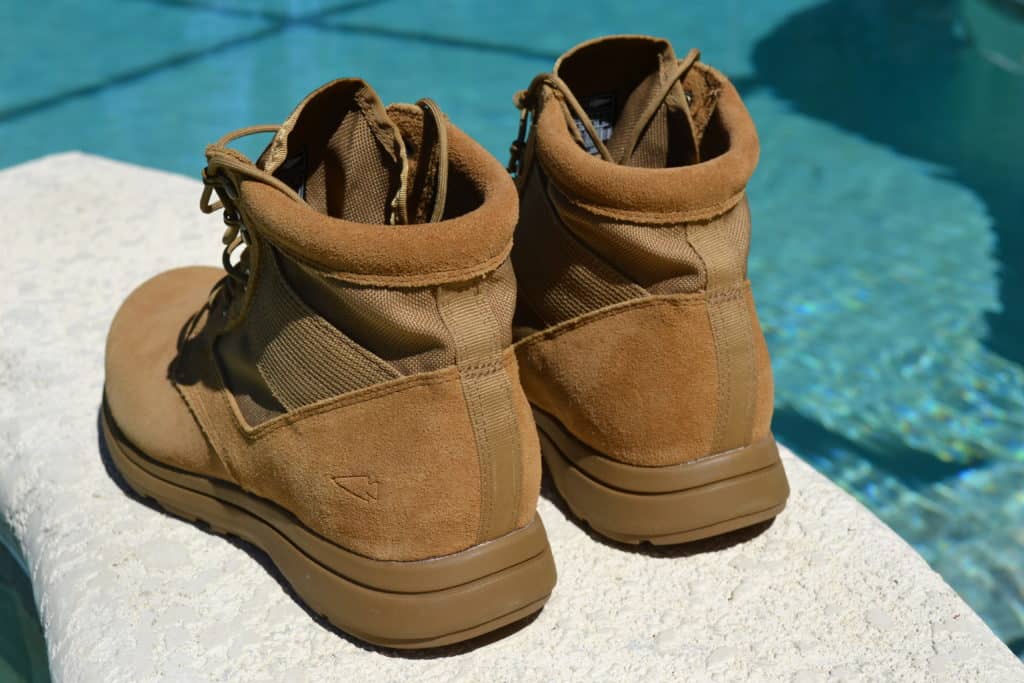 Why GORUCK Products?
We are a
GORUCK
affiliate – so if you order clothing, backpacks, boots, or other equipment after clicking the links in this article we receive a small commission at no additional cost to you. But that's not why we recommend GORUCK. It's because their equipment is innovative, built to last, and backed by their SCARS lifetime guarantee. They are the driving force behind rucking not just as exercise, but as a way to make people better. And that's why we love them.
Photo Credits
Some product photos on this page are provided by, and property of GORUCK.