Let's get hands-on with the UA Velociti 2 running shoe from Under Armour.
This is a neutral running shoe that uses UA's HOVR foam – for a cushioned and energetic feel. UA likes to call it the "zero gravity feel."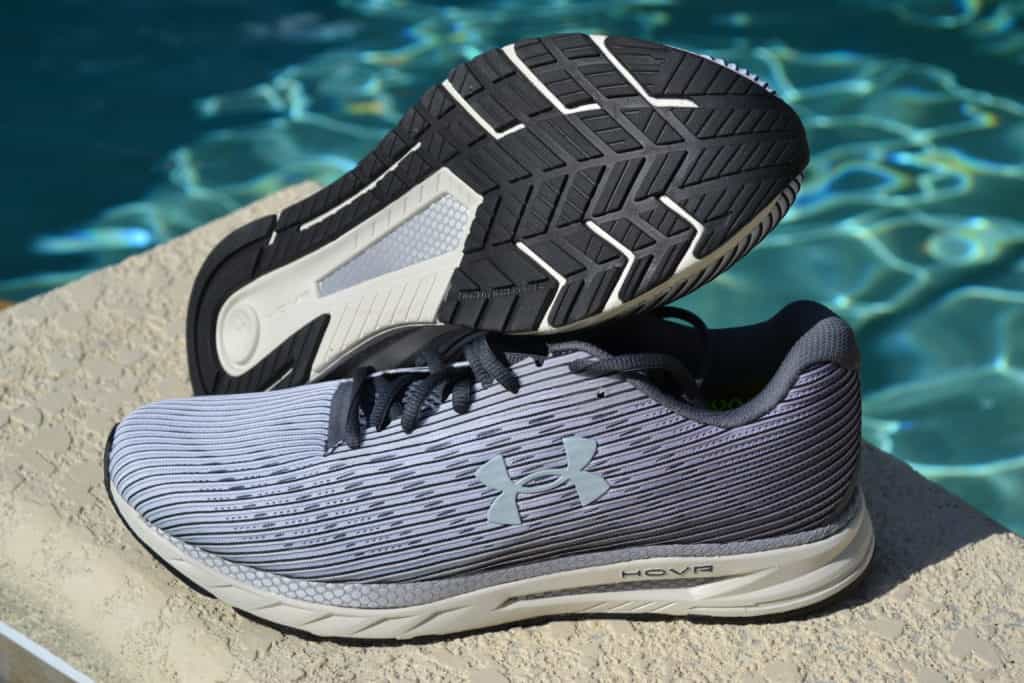 Is this the right running shoe for you? We'll try to give you some insights in this review.
Here's some of the styles that are available now (we are an Under Armour affiliate):
Let's take a look.
UA HOVR Velociti 2 Running Shoe – Fit & Sizing
This shoe runs true to size.
I bought a Men's Size 11 and the fit is good.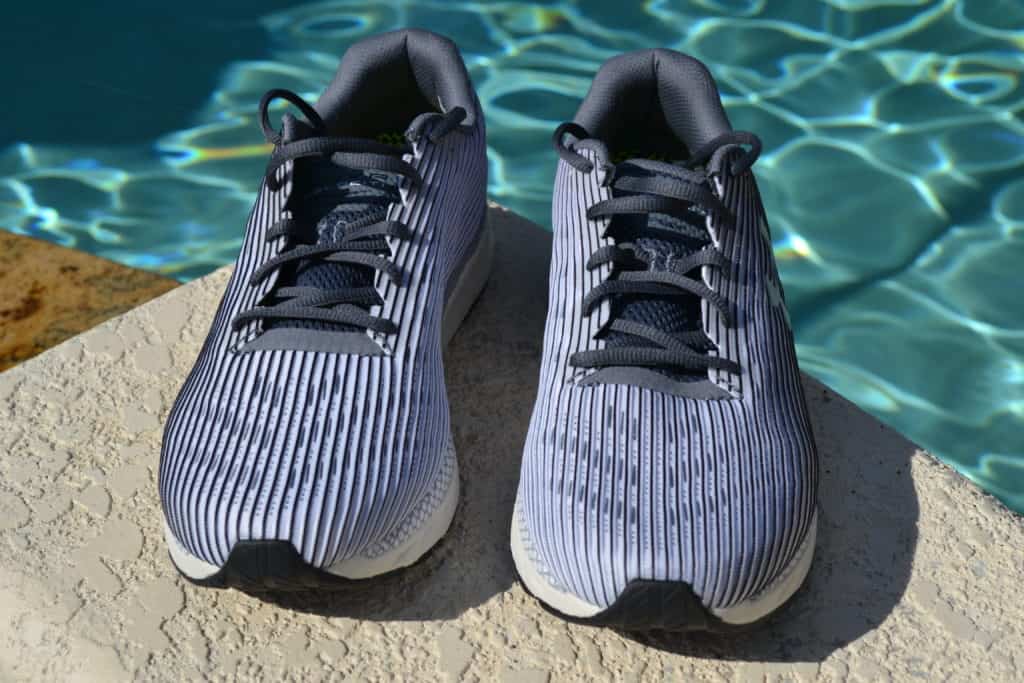 I wear an 11 in most Reebok and Nike running shoes – so hopefully that gives you some grounds for comparison.
The length and width are right where I'd expect them to be.
It's not a super-wide shoe – but I don't have wide feet.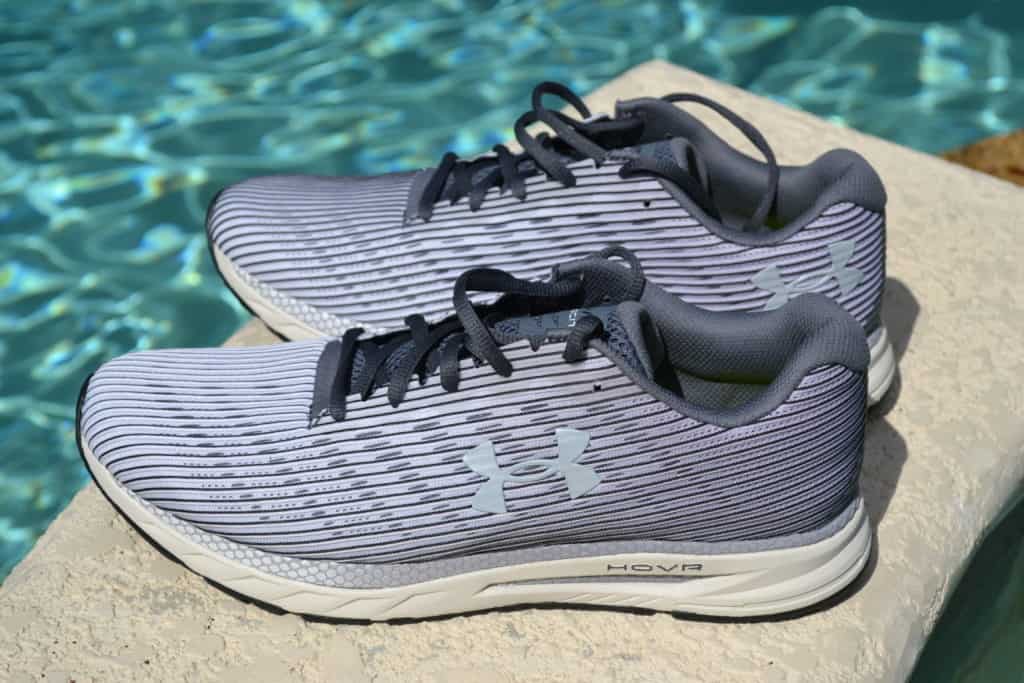 I'd recommend you order in your regular shoe size.
UA HOVR Foam – "Zero Gravity" Cushioning System
This shoe uses UA's HOVR™ technology.
It's a light-weight and crisp foam cushioning system that helps maintain energy return with every step.
The foam cushions your body from the impact, and then gives you some energy back, thanks to it's crisp rebound.
As such, it's much like Nike's React foam.
(And I can confirm the feel is very, very similar as well.)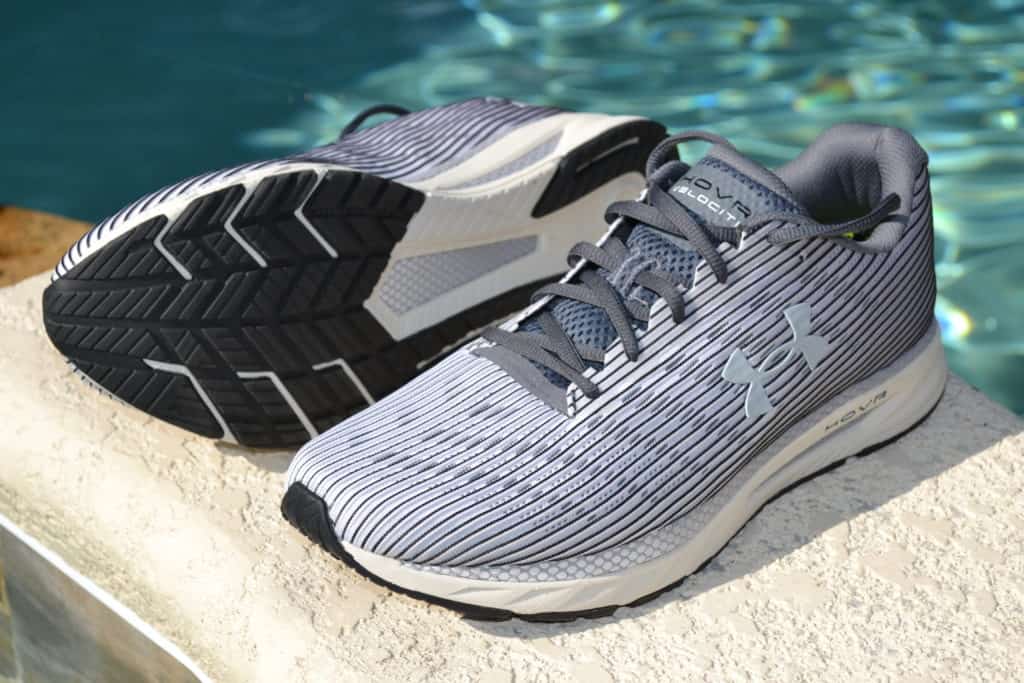 UA describes it as giving a zero gravity feel – and it is nice and springy It puts a little more pep in your step.
But, this shoe doesn't go overboard on HOVR foam.
I'd call it middle of the road as far as the amount of cushion goes.
UA also incorporated their Energy Web and Micro G® midsole rim for an extra boost as well.
To my tastes, it's a little too light on cushion in the forefoot. I'm a heavy forefoot striker.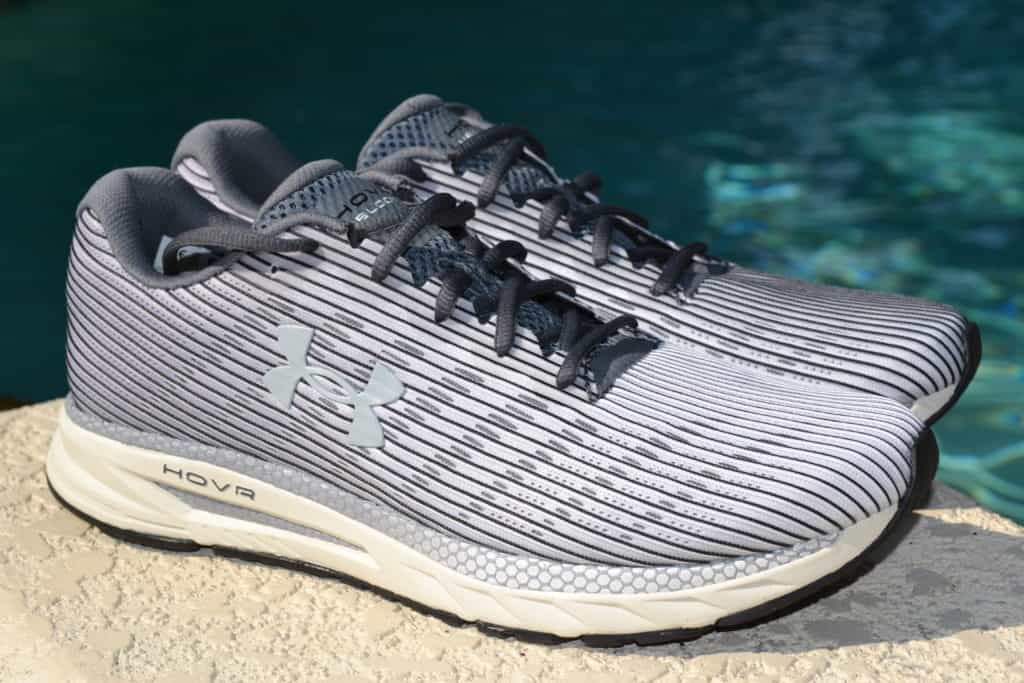 UA HOVR Velociti 2 Running Shoe – Basic Features
The HOVR Velociti 2 is a neutral shoe – so if you are an under or over-pronator you may need to look elsewhere.
But otherwise it's a middle of the road choice for cushioning and versatility – as we discussed above.
The heel to toe drop (also called the "drop" or "offset") is 8mm.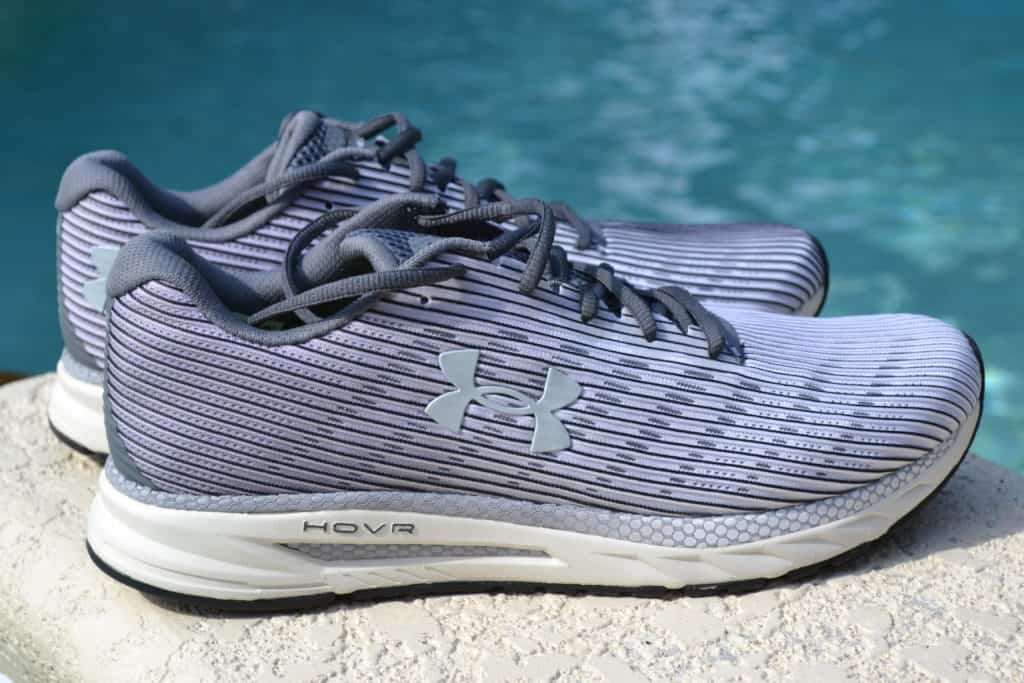 That's a tiny bit less than your average running shoe – but still sizable – especially compared to cross trainers.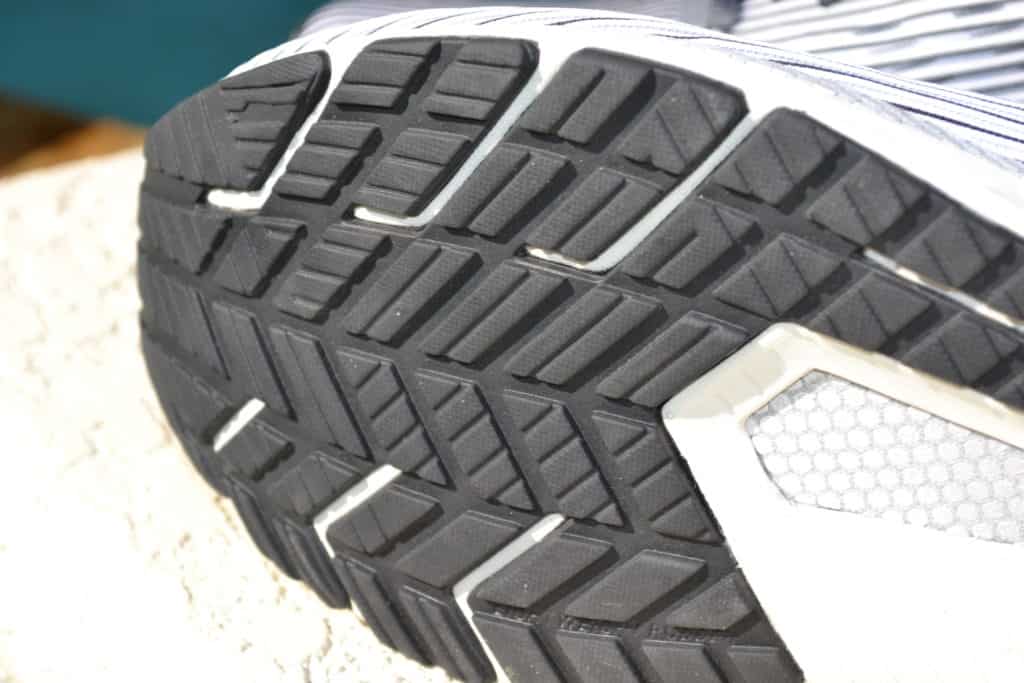 The mesh upper is described as being "engineered" – which really just means it is some sort of synthetic material.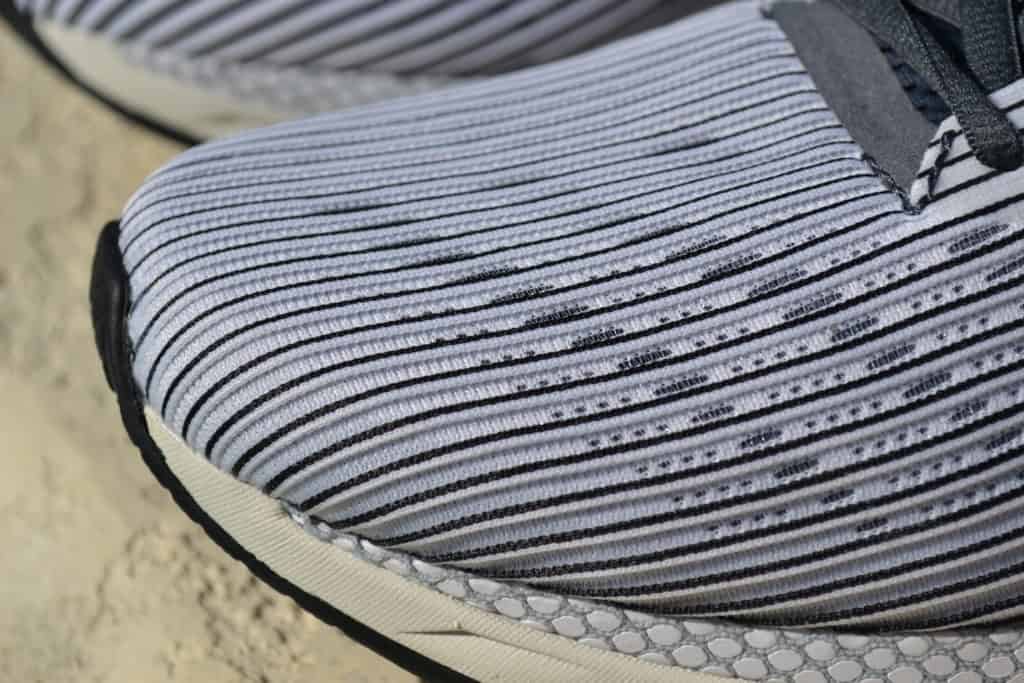 It is lightweight and breathable – on my first run I noted that my socks were noticeably wet from running through dewy grass (at the beginning of the run.)
(That's usually a good sign of a breathable upper.)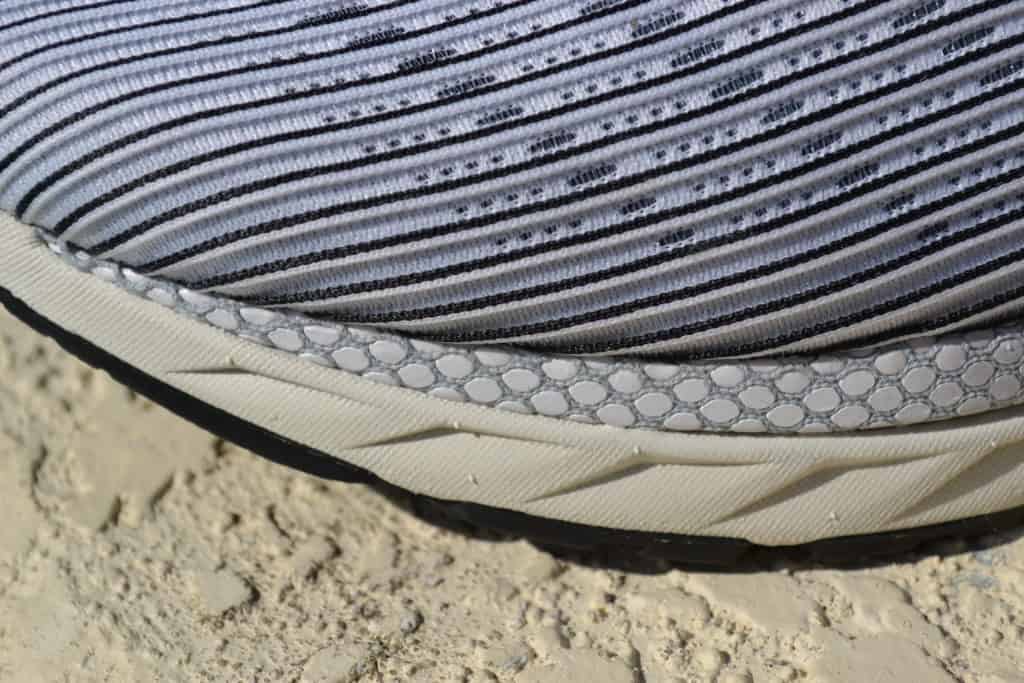 The outsole is a combination of foam, rubber (for durability and traction), and that "Energy Web" material.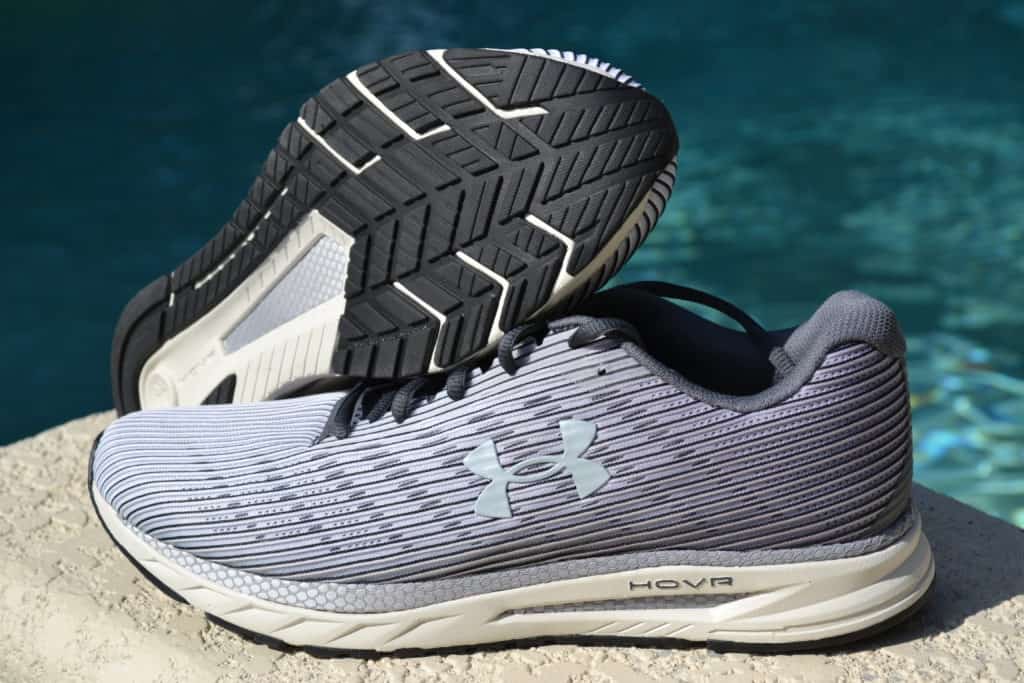 Time will tell how durable it is.
This shoe isn't super-lightweight – it's about 10.8 ounces for a Men's Size 11.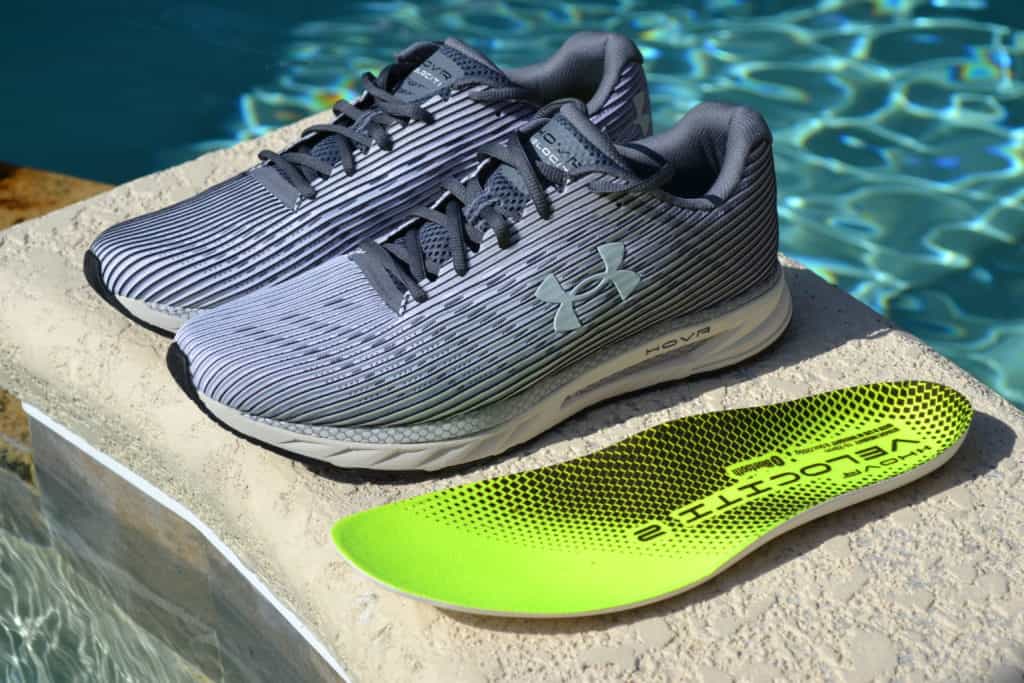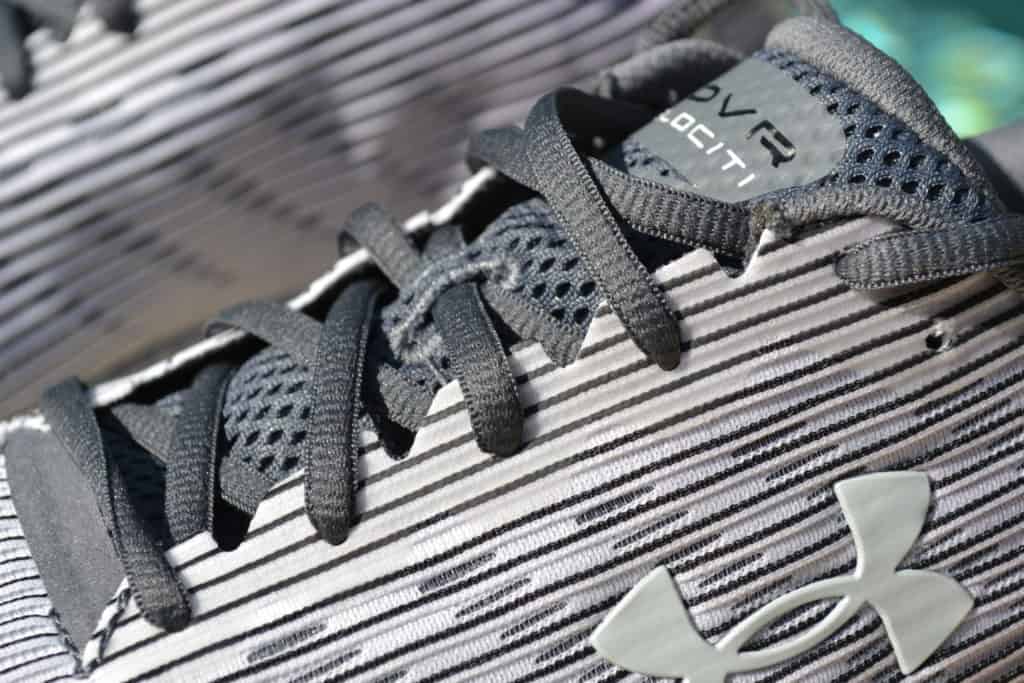 What can we say about the heel? There's no heel slippage – at least not for me.
It incorporates a reflector for night running.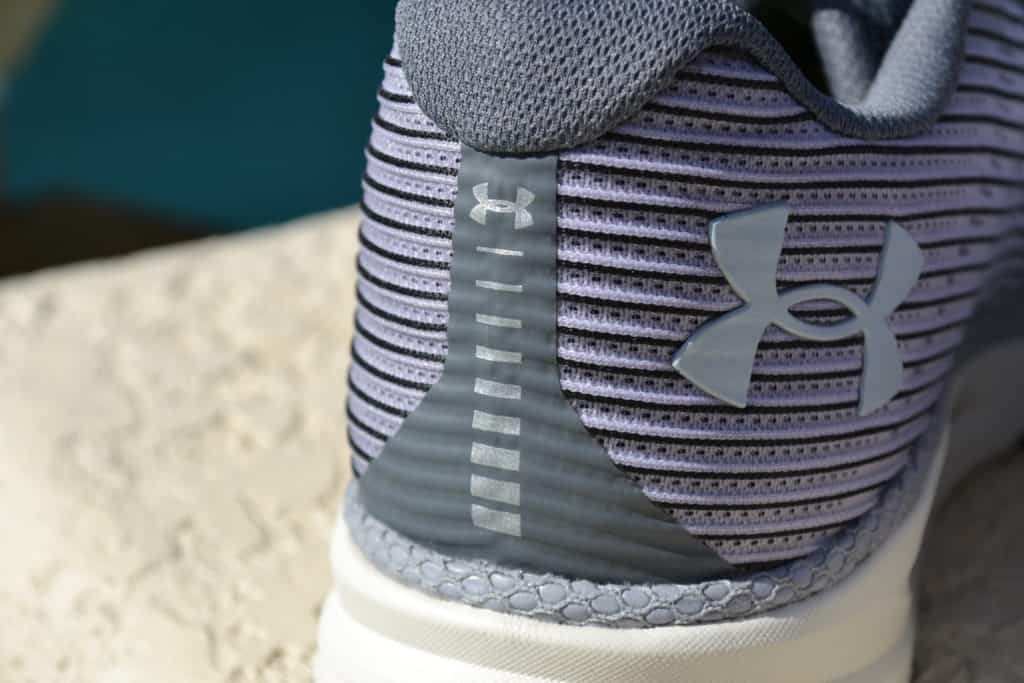 UA HOVR Velociti 2 Running Shoe – MapMyRun App
Like several other shoes in the HOVR lineup, these are Bluetooth compatible.
That's right, they've got some sort of Bluetooth chip built in.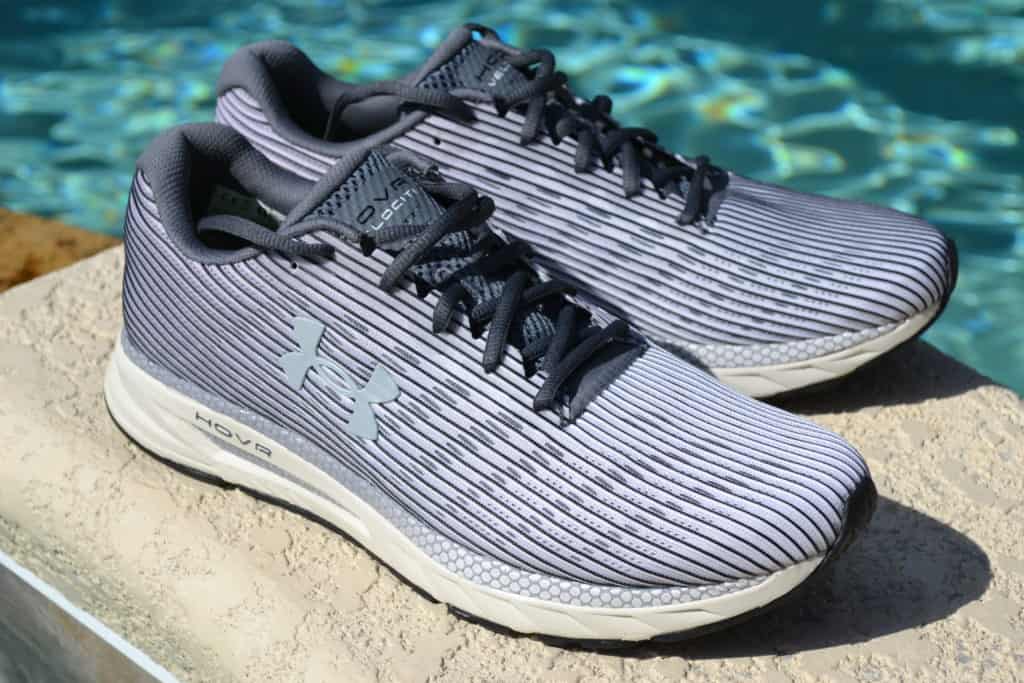 Download UA's MapMyRun app on your phone and then you can connect with the shoes.
MapMyRun is a full featured running app – it will track your course (hence the name), tell you cadence, pace, stride length, and more.
It also boasts real time form coaching – but I haven't delved into that just yet.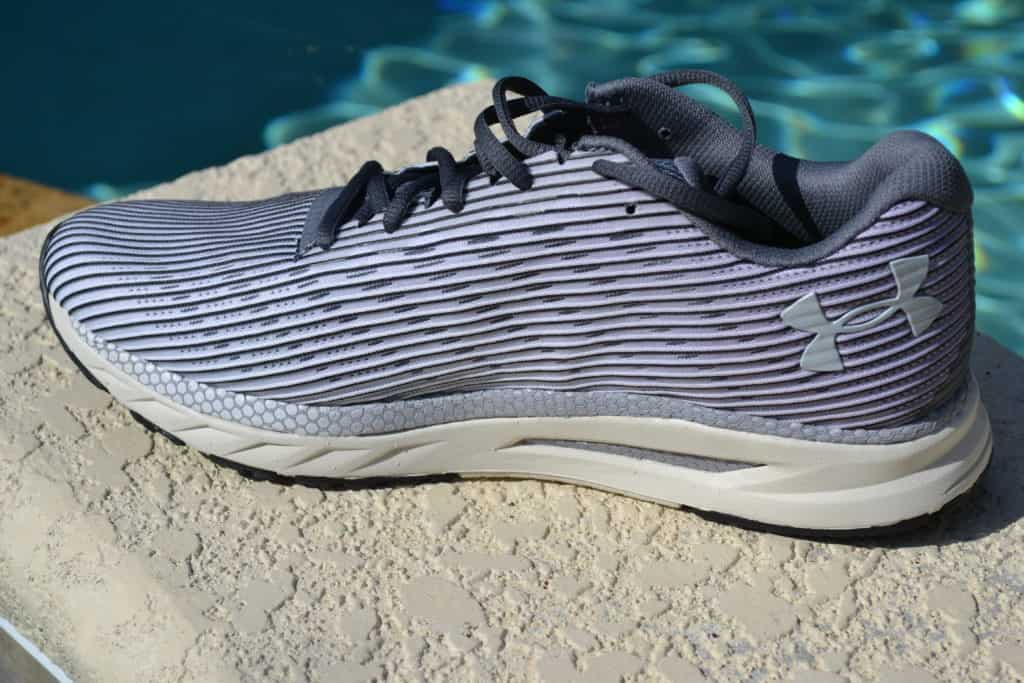 There's probably more to the app than I can review here – I'm usually more of a "go out and run" type.
But, I see the appeal – it can give you motivation to go farther, faster, etc.
It is nice having hard proof that you've progressed your workout in some way.
There are also some key questions here – how long will it last? It's embedded somewhere within the shoe (presumably in the midsole where water can't reach it?)
Surely the battery will run out at some point – but running shoes don't last forever at any rate.
It is very easy to get up and running (literally) with the app.
I downloaded MapMyRun and had the shoes connected and working in about 45 seconds.
UA HOVR Velociti 2 Running Shoe – In Summary
New for 2020, this is the 2nd version of UA's Velociti running shoe.
It uses HOVR foam for an energetic feel and rebound.
It's a mid-weight running shoe, that's versatile and comfortable.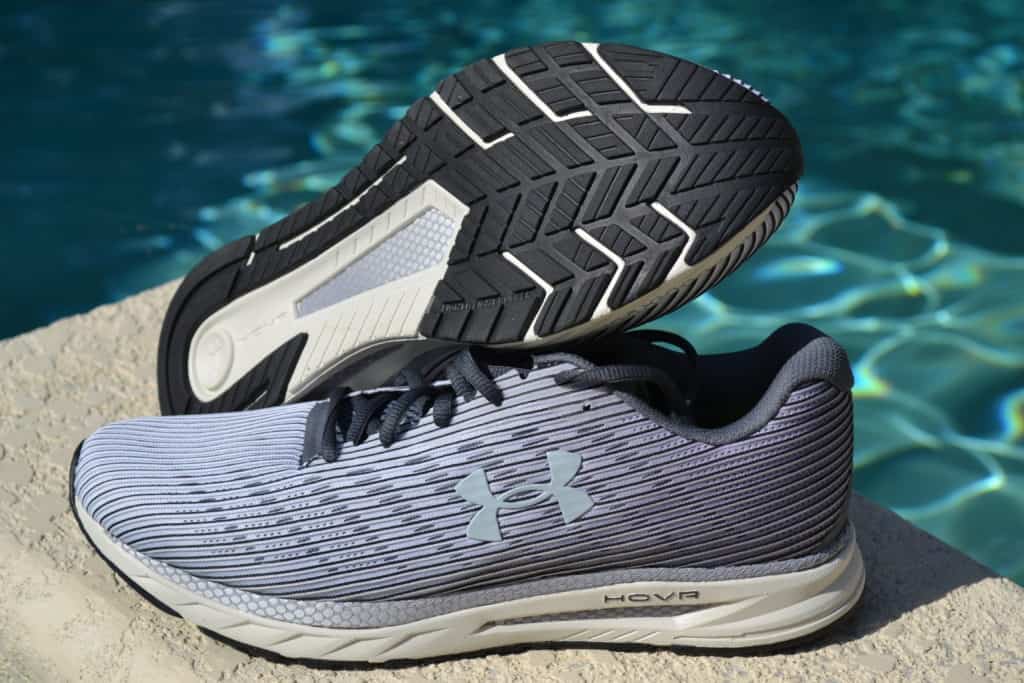 Affiliate Disclaimer
We are an affiliate of Under Armour, if you purchase shoes after clicking links in this article we receive a small commission at no additional cost to you. This helps us to bring you great hands-on reviews and information on these athletic products.
Photo Credits
Some product photos on this page are property of Under Armour, Inc.
This website is not affiliated or associated with CrossFit, Inc. CrossFit is a registered trademark of CrossFit, Inc.