Get strong – REAL STRONG – with the new Oxylus Strongman Yoke from REP.
A yoke is a frame with two upright posts that can be loaded with plates attached by a dense bar that sits across your shoulders. Yoke carry is an exercise part of the Strongman community and can dramatically train your central nervous system, muscle stabilizers, and core strength. It also builds your abdominals, back muscles, hamstrings, quads, calves, etc.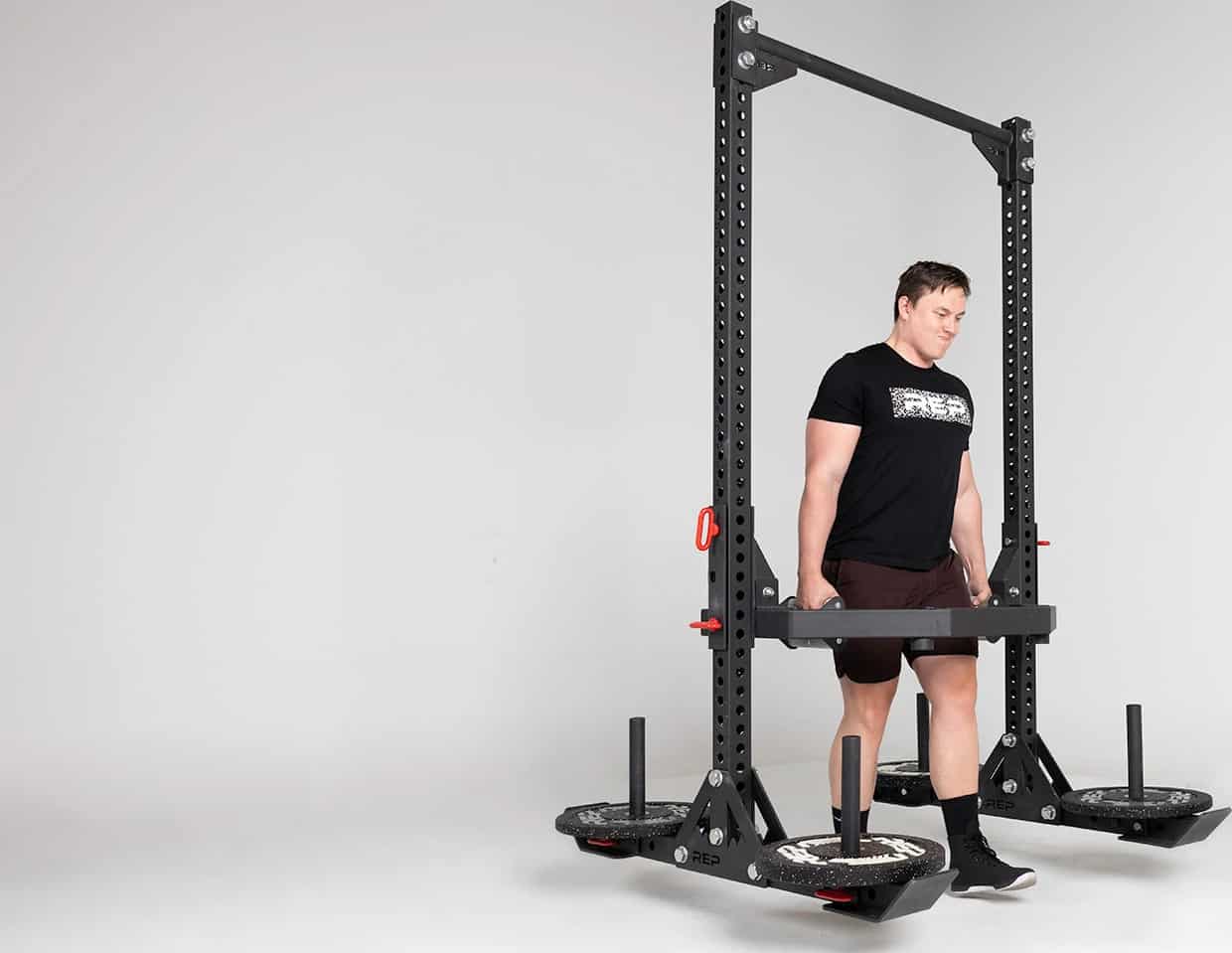 Only from REP:
Oxylus Yoke – Overview
Rep Fitness is bringing a twist to this classic piece of Strongman equipment—the Oxylus Yoke. With its functionality and versatilty, this yoke can be transformed into a squat rack, sled, and deadlift carry. The yoke comes in two sizes: 77" and 92" tall and is assembled with a heavy-duty 3×3" 11-gauge steel frame larger, heavier, and much sturdier than other yokes. The 77" yoke weighs 230lbs with weight horns, while the 92" frame weighs 240lbs with weight horns.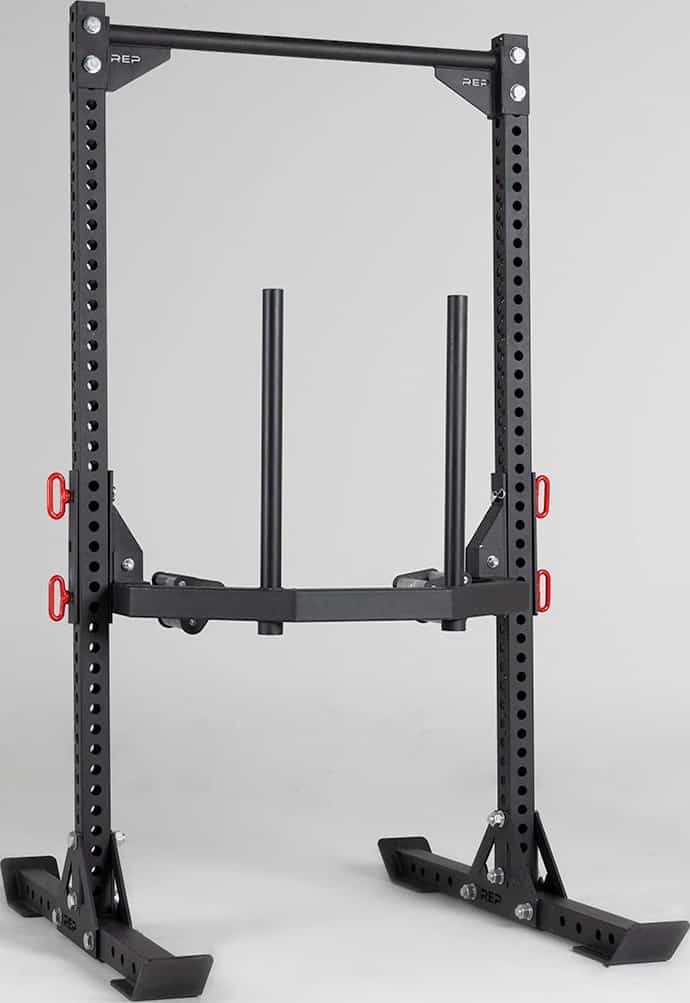 Its 1" holes are suitable with many REP attachments, such as the landmine, J-cups, 5000 Series dip, spotter arms, utility horn, and leg rollers. The Oxylus Yoke carries with it attachments. The carry attachment lets you utilize the frame for deadlifts or farmer carries, with three handle options for various grip challenges. It also comes with two sled posts for pushing and pulling.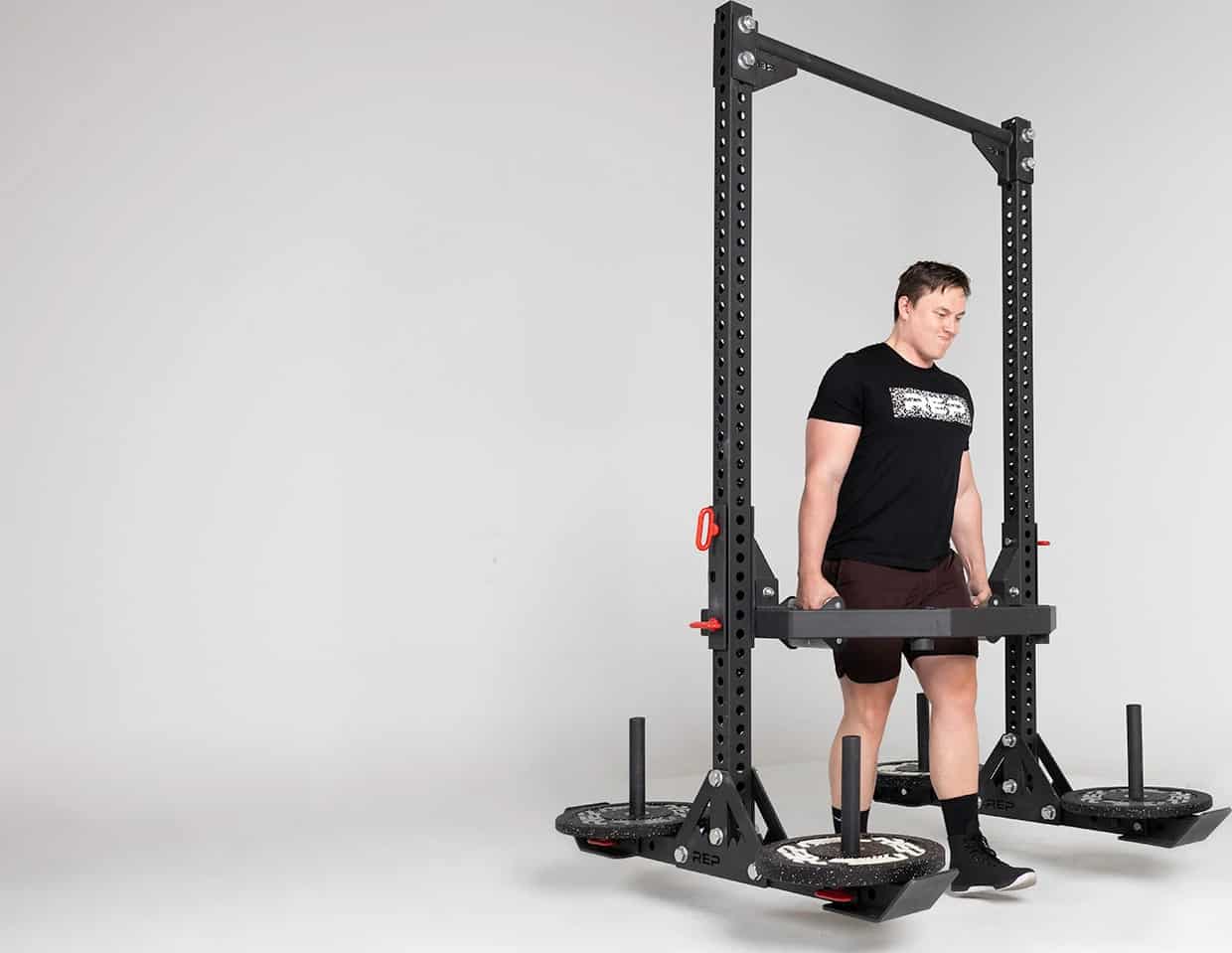 The Oxylus Yoke comes in a durable, matte black coating. You can protect your yoke and floor while maintaining smooth movement with UHMW plastic liners (sold separately) to add to the base. The cross brace is also adjustable, and you can mount it between the uprights for carries or at the rear of the base to secure the squat rack configuration. Store it out of the way when you're done for a space-saving and versatile addition to your home gym.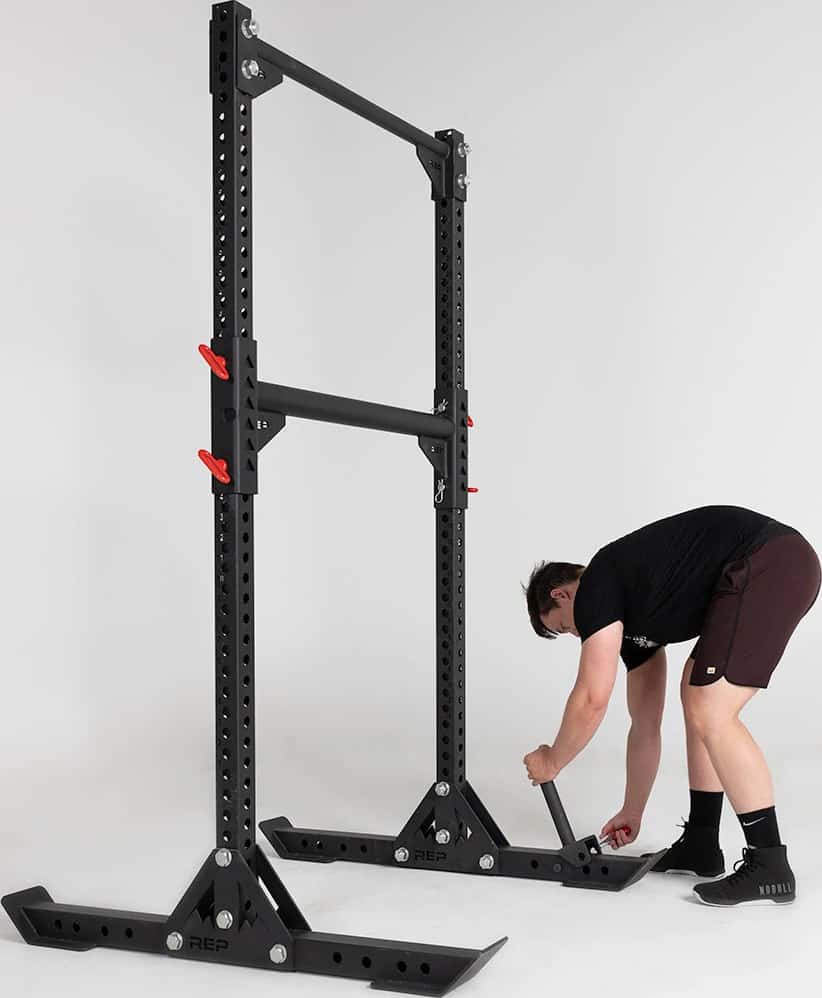 Oxylus Yoke – In Summary
That's our close-up look at Oxylus Yoke.
Yoke training is one of the supreme tests of true spirit and perseverance. It is a staple of Strongman events that demands full-body strength, balance, and a proper approach to complete the carry successfully. The Oxylus Yoke is made of a durable, heavy-duty 3×3" 11-gauge steel frame and has its own attachments.
Looking for more options? Check out these other great products:
Check the Best Sandbag for Home Workouts.
Big guys can squat in comfort with these Safety Squat Bars from REP, Rogue, and more.
More strongman training gym equipment.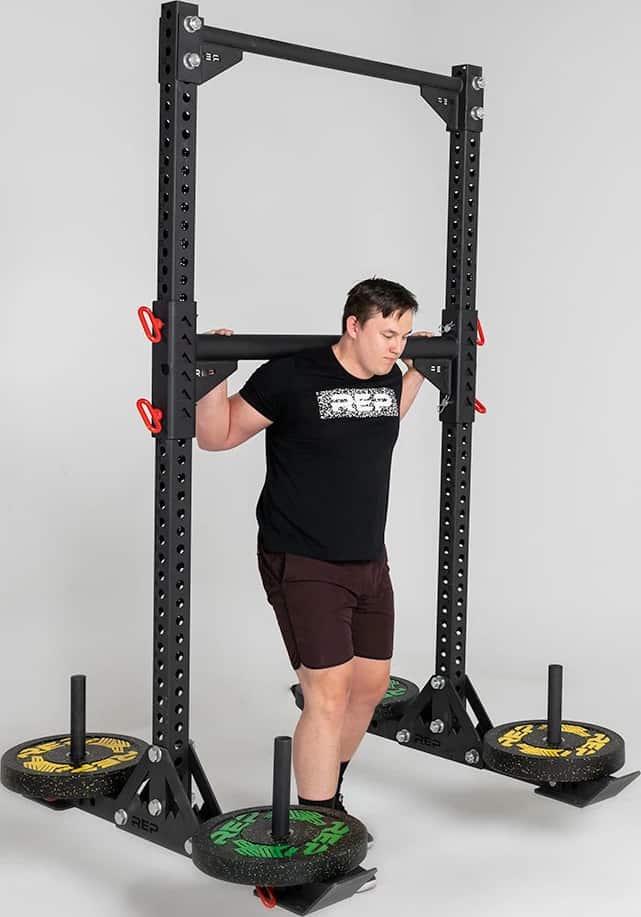 Photo Credits
Product photos on this page are property of Rep Fitness.
This website is not affiliated or associated with CrossFit, Inc. CrossFit is a registered trademark of CrossFit, Inc.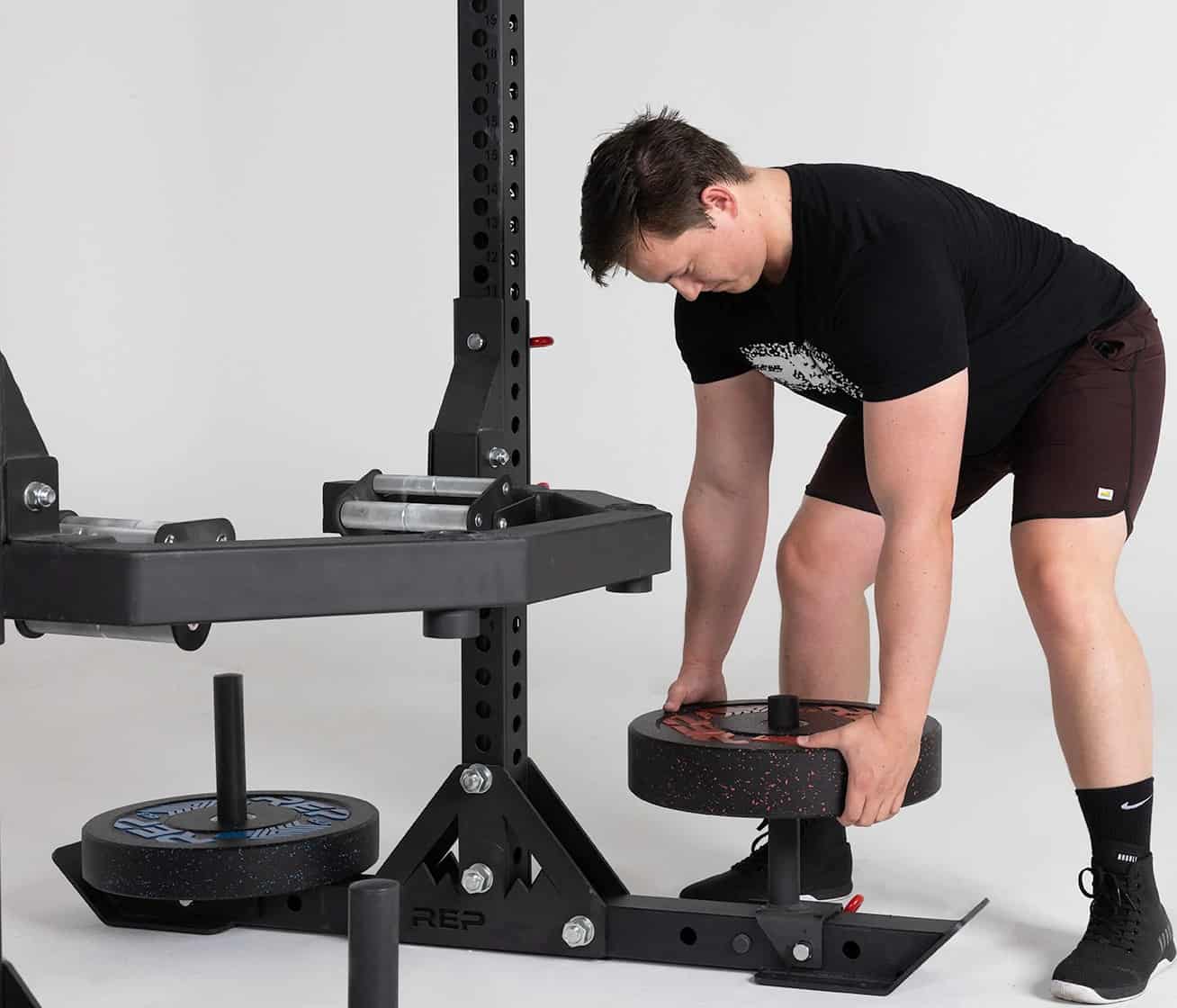 Affiliate Disclaimer
We are an affiliate of Rep Fitness and others that sell this training gear. If you buy clothing or other training gear after clicking the links in this article, we receive a small commission at no extra cost to you. This helps us to bring you in-depth information and content on these great training products.