Nike has released a new colorway of the Nike React Metcon Cross Trainer for Men : Seaweed/Green Spark/Vintage Green.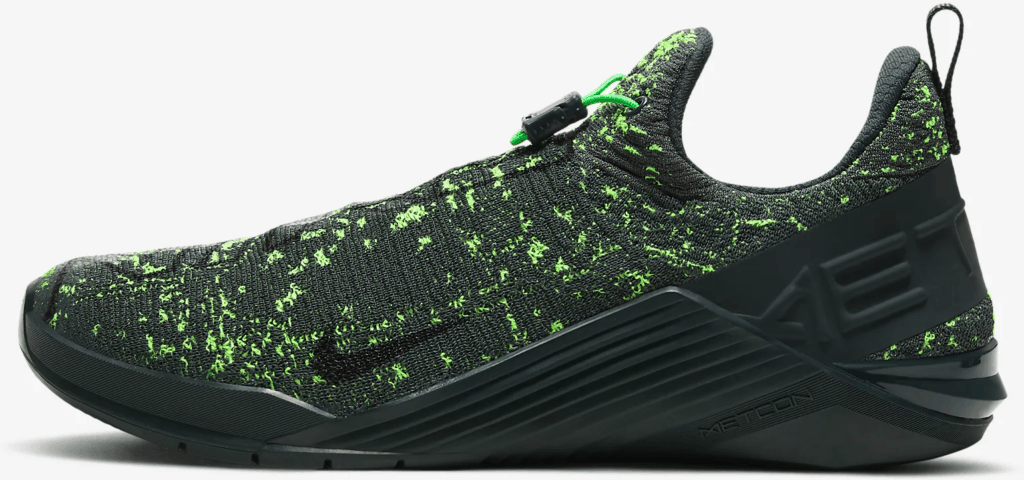 Ok, it's technically style: BQ6044-323.
But, no matter what you call it, we think it looks pretty slick.
What's the big benefit of the Nike React Metcon shoe?
It's right in the name – REACT.
As in React foam cushioning – you know – Nike's groundbreaking energy return foam cushioning system.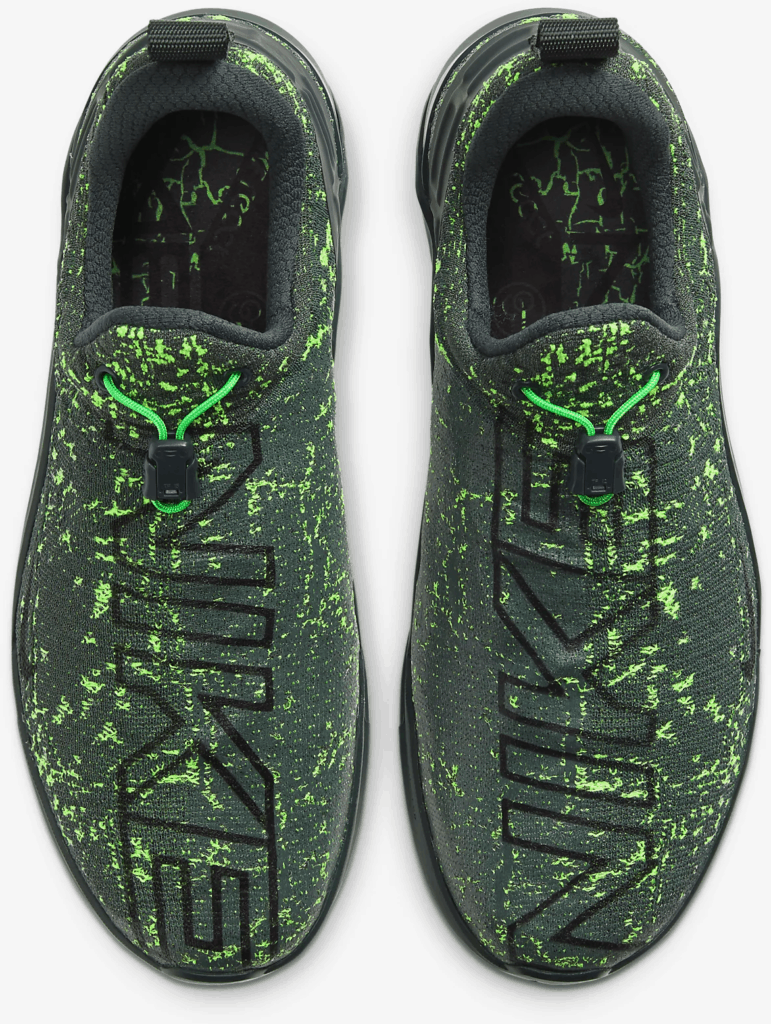 That's right – every footstep gives you energy back with React foam.
But you'll notice this is a Cross Trainer shoe.
Unlike the Nike React running shoes there's a lot less React foam.
That's because React foam is springy and bouncing – but it is not very tough.
And Cross Trainers for the CrossFit WOD, Functional Fitness, and HIIT training need to be built like a tank.
So in this shoe the React foam is in the drop-in midsole – which you can't see – because it is inside the shoe.
The outsole (the part that touches the ground, basically) is made from tough rubber – for maximum traction and durability.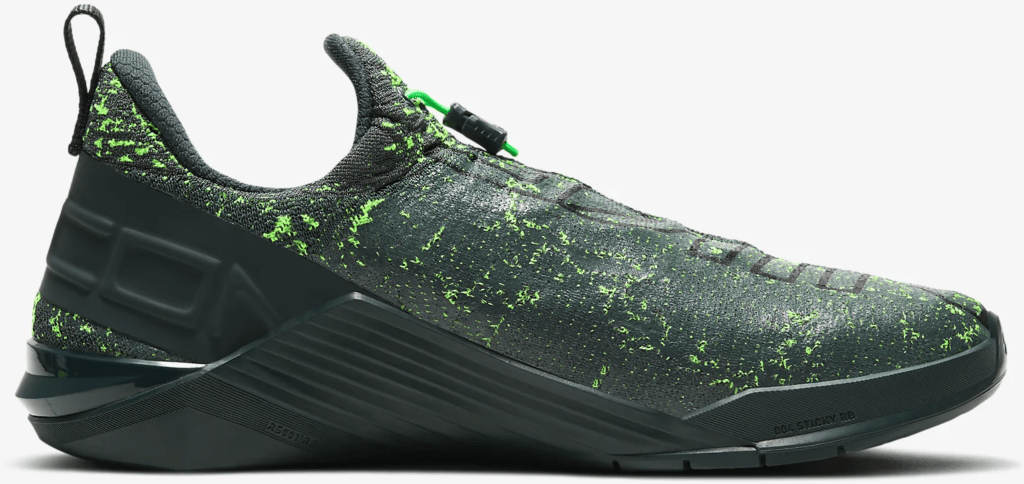 You'll also notice that the tough outsole wraps up around the sides of the shoe.
Nike calls that the "rope wrap" – because it gives you a convenient way to grip a rope while doing climbs.
Think about climbing in a React running shoe – the rope would tear through that delicate React outsole without hesitation – seriously – you'd probably wreck the shoes in one climb.
So that's part of the difference in why a Cross Trainer is just so much tougher than a running shoe – it has to be.
And that toughness does come at a cost – these shoes are "heavy" by running shoe standards – they are in the 13 ounce range for a Men's size 11.
That's heavier than your average running shoe – but again it's because of the toughness.
You'll see that these shoes use "FlyKnit" as well.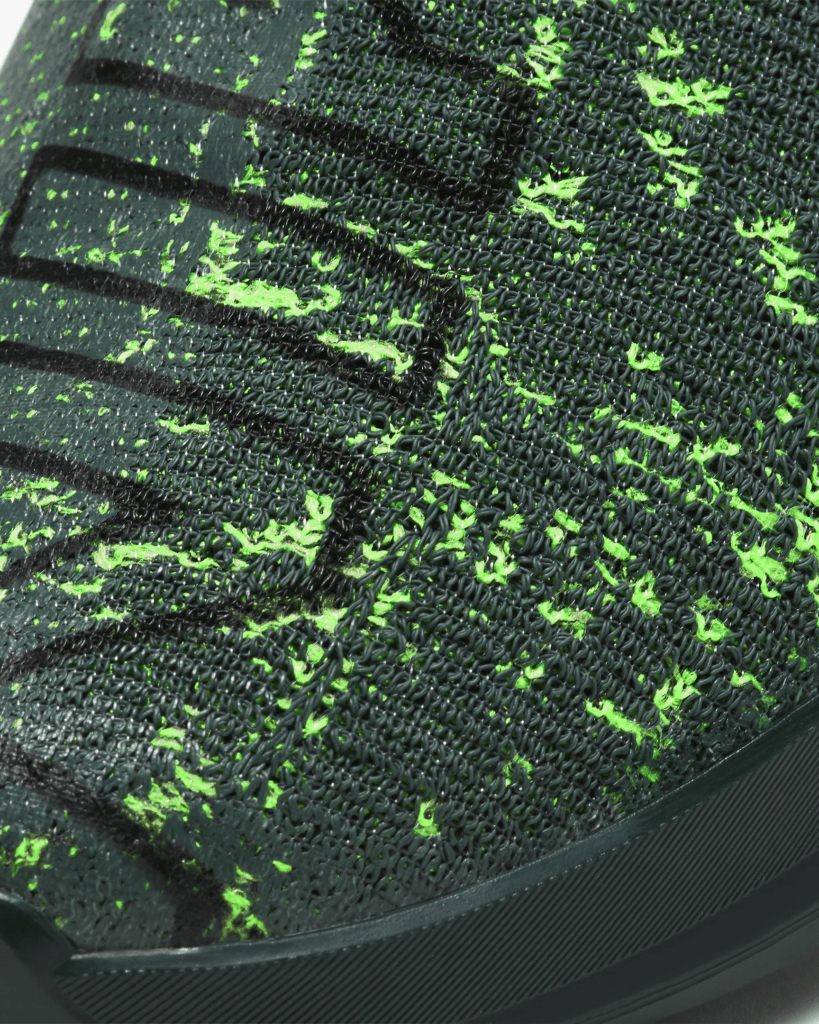 That's Nike's tough but breathable yarn like synthetic material.
The good thing about being "knit" is that they can make the upper (the part that covers your foot) one seamless piece.
That means it provides a nice, form-fitting feel and fit.
This FlyKnit is also heavier than that on the running shoes – there's a backing layer of mesh to it, and all around it is TOUGHER than the FlyKnit on the running shoes.
It has to be, because the upper will take more wear and tear as compared to a running shoe.
And the other good part about that seamless fit is that the Nike React Metcon's quick pull lacing system can really shine.
No laces? No problem!
This shoe is a pretty tight fit to begin with – thanks to that stretchy, seamless FlyKnit upper and a pretty tall collar.
But you can see that Nike has provided a pull tab on the heel – perfect.
One quick adjustment of the quick pull laces – and you are ready to train.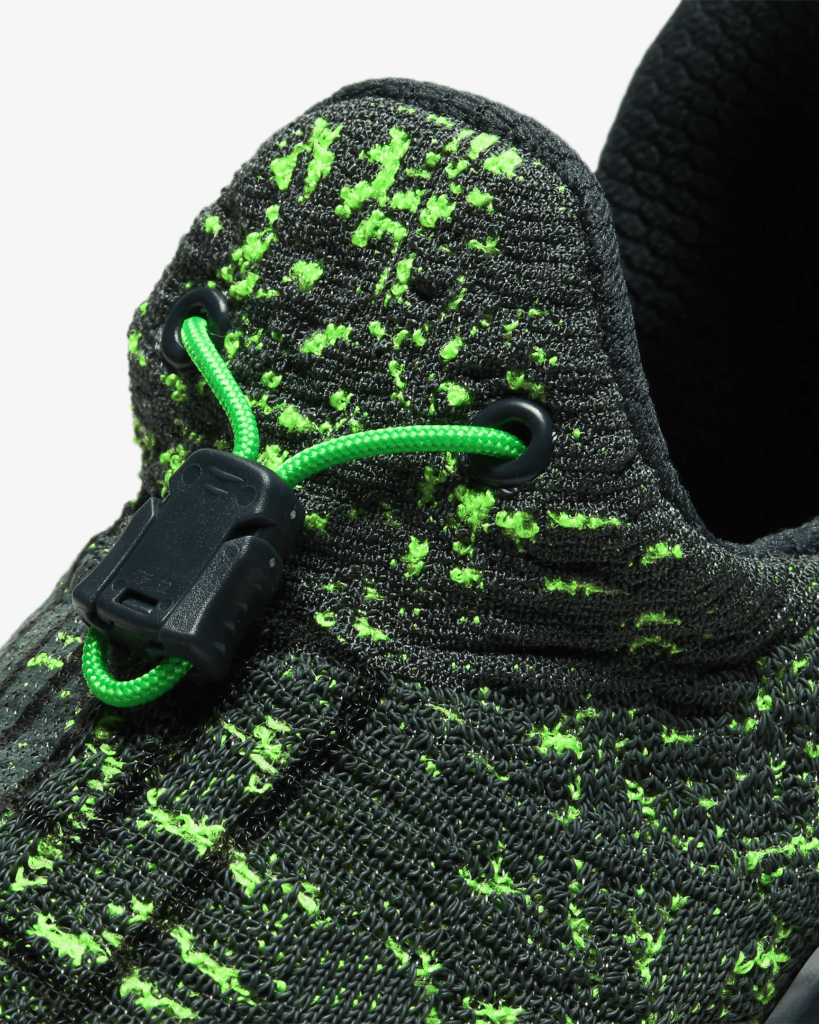 Overall, we rate the Nike React Metcon a subtle, but definite cushioning improvement over the regular Nike Metcon 5.
The React based drop-in midsole is better for high impact activities – running, jumping, box jumps, jump rope, and more.
But this shoe is clearly a cousin of the Nike Metcon 5 – let's talk about the similarities.
They've taken that best features of the Nike Metcon 5 trainer and melded them together with React foam, FlyKnit, and the quick pull lacing system.
Starting from the outsole – you'll see that wide, diamond shaped heel is there – for stability when lifting weights.

Squats, deadlifts, cleans, jerks, snatches – you can do all these exercises (which are popular in the CrossFit WOD) with no issue.
You'll see the flex grooves up front in the forefoot -that makes sure the toe can flex – for jumping rope, and more.
The outsole is a dual rubber compound – sticky up front for traction, firm and durable for stability in the heel.
And speaking of heel – the Nike React Metcon incorporates the slick, TPU knife-edge on the heel – for minimum of wall drag.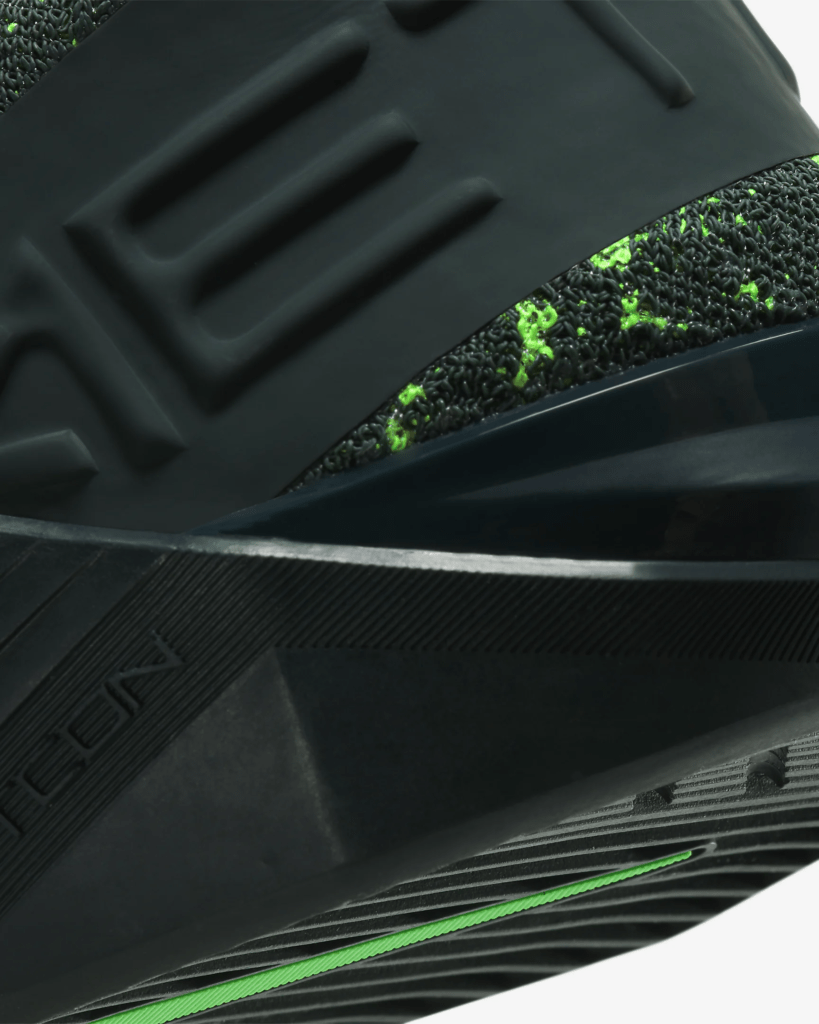 But you can also see the super-slick looking "METCON" branding across the back.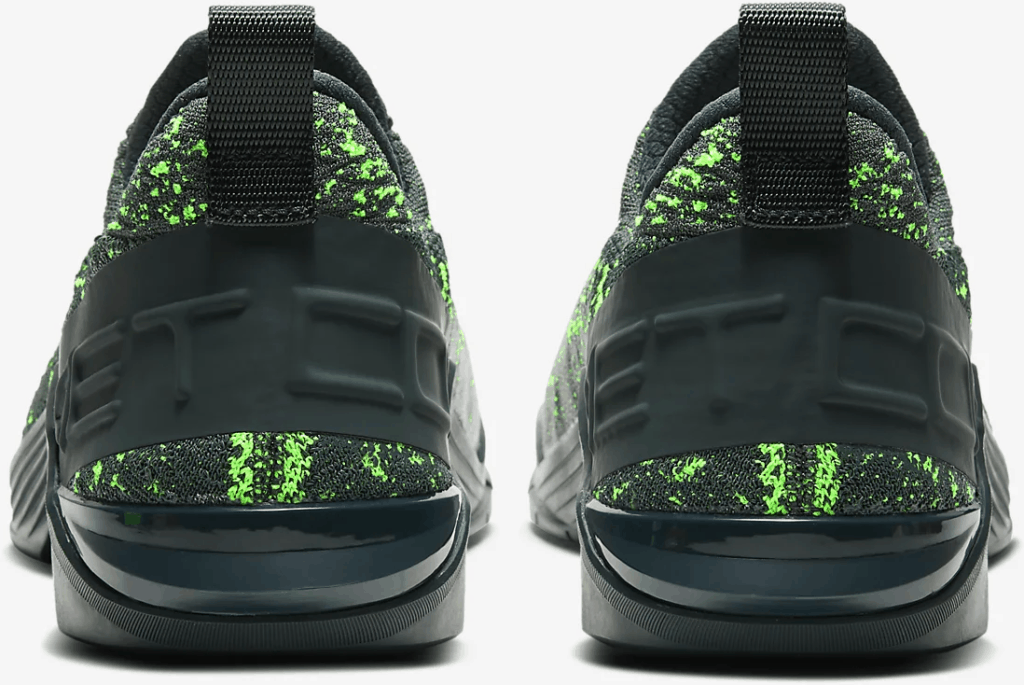 Well, that's what we think about these shoes. What about you?
Comment below and let us know if you have any questions.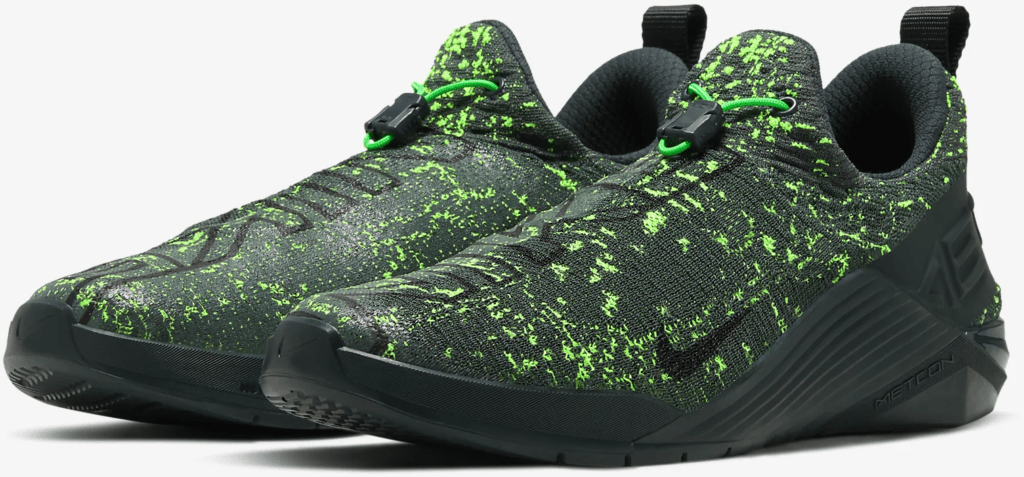 Photo Credits
Product photos in this article are property of Nike, Inc.
This website is not affiliated or associated with CrossFit, Inc. CrossFit is a registered trademark of CrossFit, Inc.