We love the Nike Metcon 5.
This is the shoe that does it all.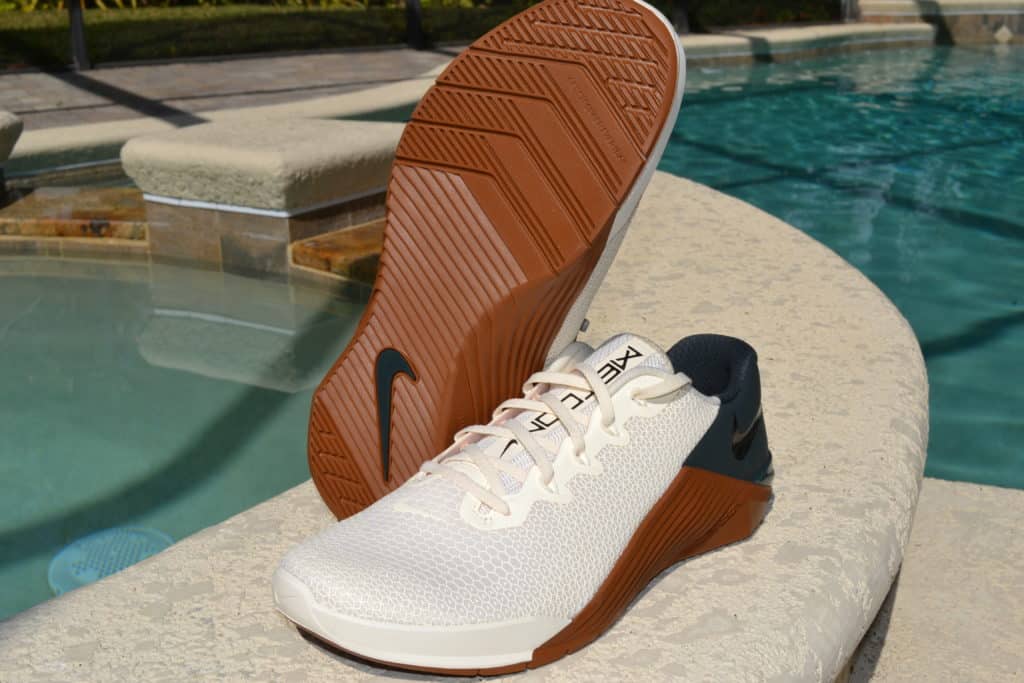 Great for lifting weights, sprinting, box jumps, or climbing rope – and everything else in the CrossFit WOD.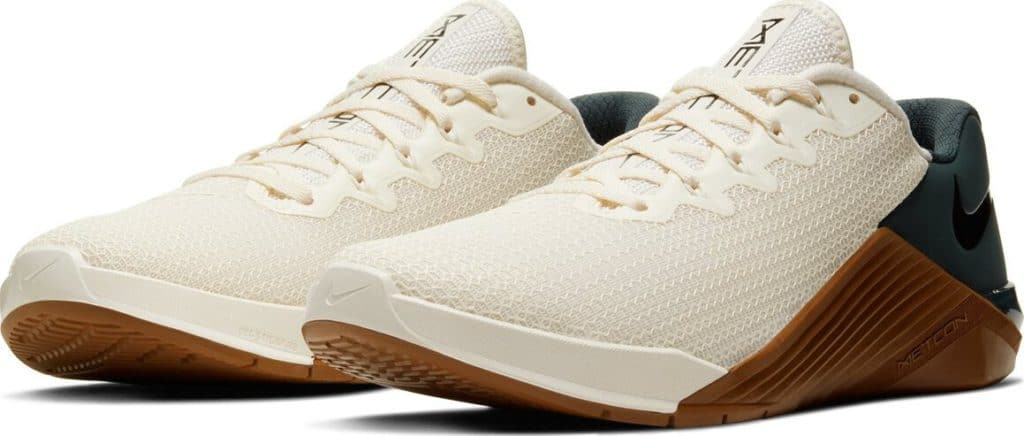 The other thing we really love about it – it's the best looking CrossFit shoe for the year 2020.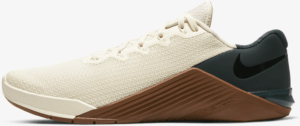 Nike's sense of style is unmistakable.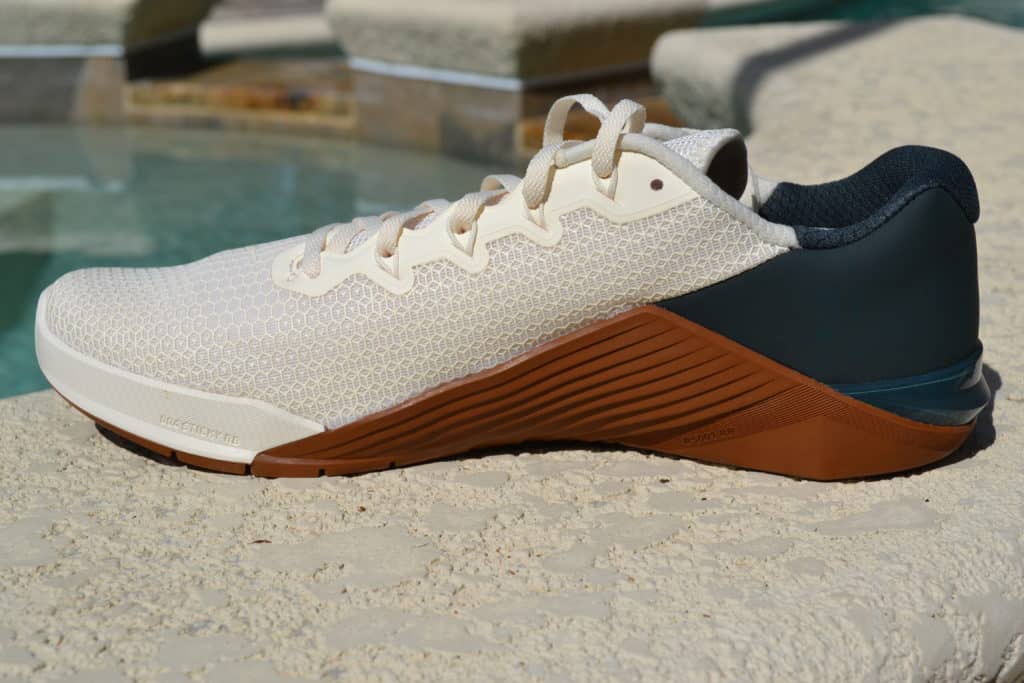 They know how to make a good looking shoe.
And they capitalize on this by releasing various colorways (color combinations) after a shoe launches.
Let's take a close look at their latest – Pale Ivory/Seaweed/Light British Tan/Black.
(Please note, some are calling the brown color "Gum" – it's not – it's darker and it is officially Light British Tan.)
This may be the best looking Nike Metcon 5 colorway yet – Pale Ivory/Seaweed/Light British Tan/Black
We'll take a look – but we will also tell you about all the cool performance features too – because the Nike Metcon 5 isn't just a pretty face!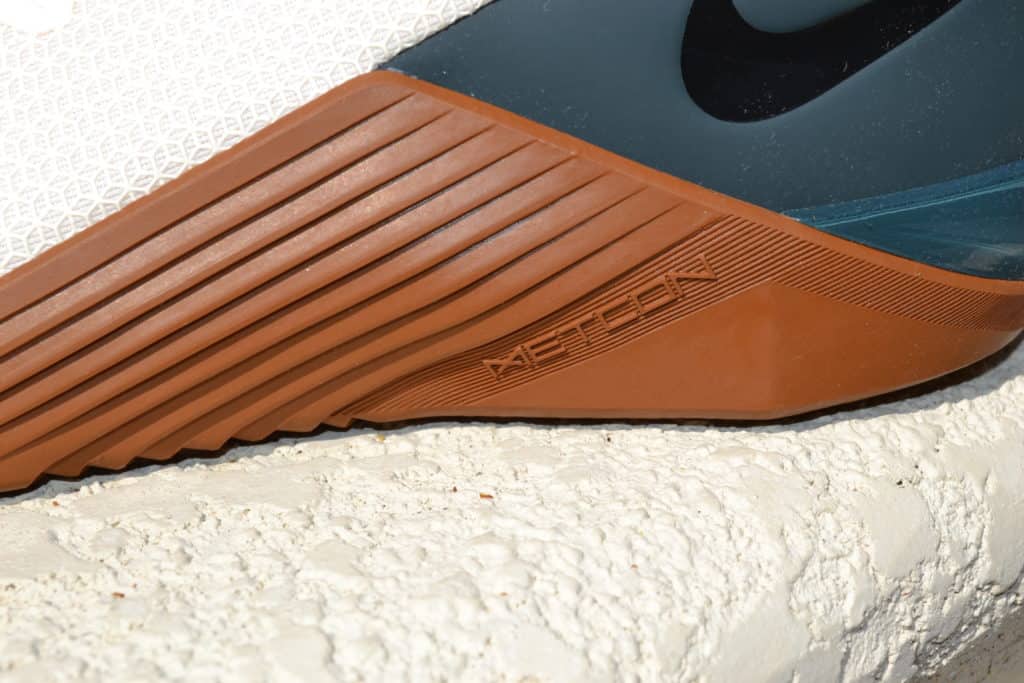 Let's start from the ground up.
No matter whether you call it Gum or Light British Tan – it looks good with the Pale Ivory.

"Gum" color is a natural for a shoe.
It hides stains well and it looks good.
The Gum colored sole of the Nike Metcon 5 is more than meets the eye though.
See those "Flex-Grooves" up front? Those ensure maximum flexibility in the forefoot of the shoe.
This is great for jumps and skipping rope – you know – double-unders and such!
It's a flat sole, with minimal tread lugs – for maximum contact area with the floor.
And Nike has cleverly incorporated two different kinds of rubber compound in the Nike Metcon 5 sole.
There is "sticky rubber" labeled RS001 up front. That means maximum traction for sled pushes, and everything else you do in the CrossFit WOD.
In the back we have firmer rubber in the heel.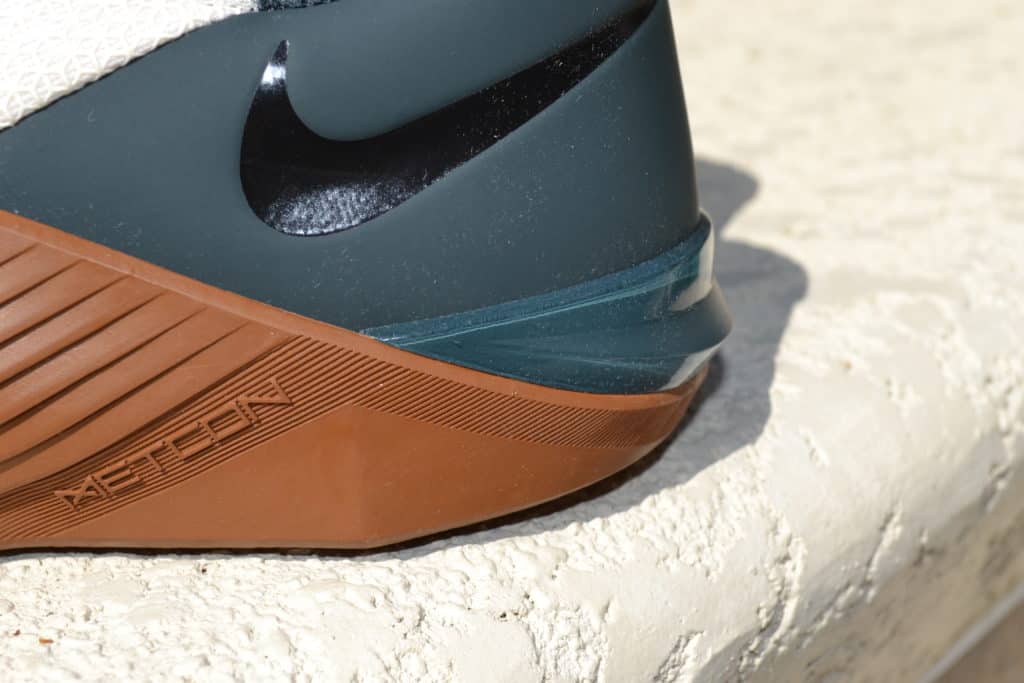 This gives you the rock-solid foundation you need to squat, deadlift, or Oly lift.
And speaking of that, what's up with the wrap-around outsole in the midfoot?
It's so BIG!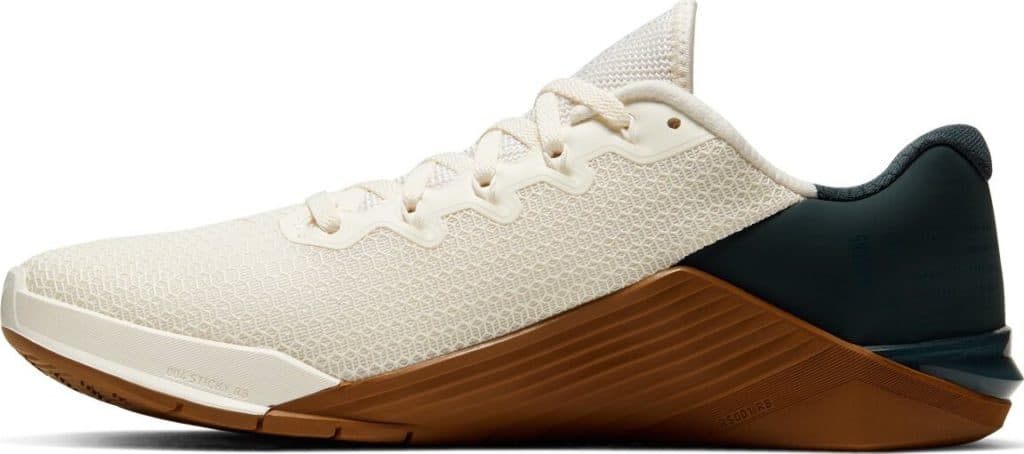 That's the rope wrap.
Have you ever tried to climb a rope in lightweight running shoes?
You probably wrecked them.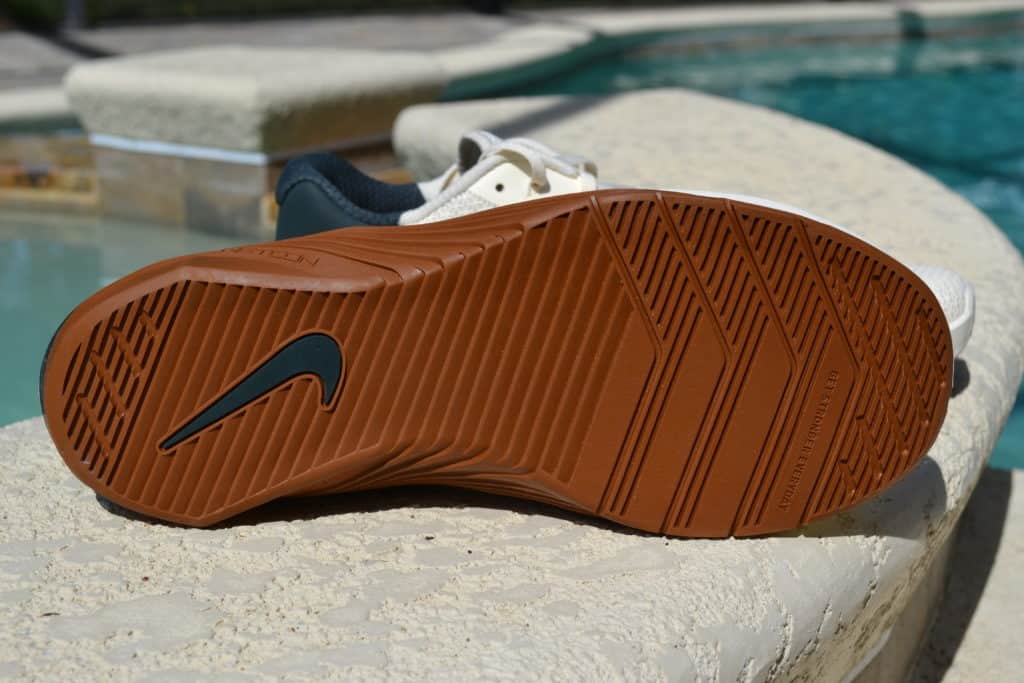 The soft foam sole in many running shoes can't take the friction from the rope.
And those lightweight running shoe uppers (the part that covers your foot) usually doesn't fare well either.
So Nike has attacked that problem in two ways – the tough rubber outsole is there to provide traction and is the primary contact surface with the rope.
It's also got a tread pattern on it for grip.
And it's big, like crazy large. That makes the shoes a bit heavier than their predecessor (the Nike Metcon 4), but Nike managed to make it look GOOD.
Nike are the undisputed champs at nailing the form and function equation.
Secondly though, the "upper" – that's the part that covers your foot – is a breathable mesh but covered with 3D haptic print.
That haptic print is tough as nails. And if you look closely you'll see a sort of chain link fence pattern.
That's because Nike has put more overlapping print where the stress happens – and less where you don't need it.
That means toughness and breathability – all at a minimum of extra weight.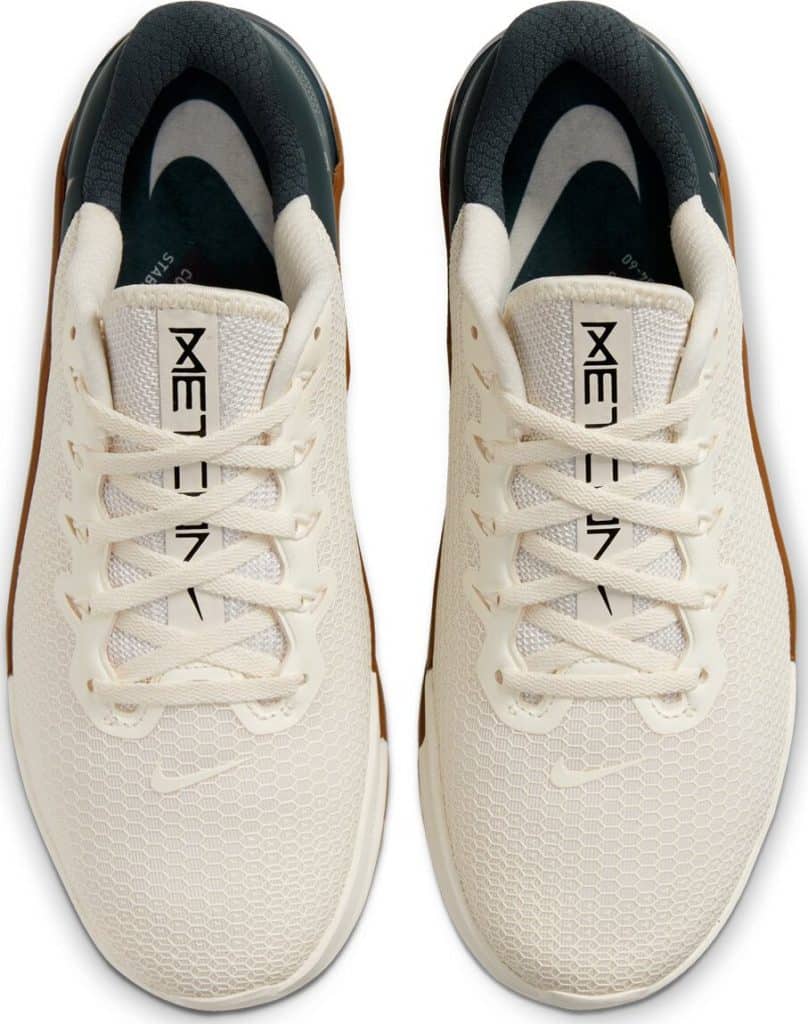 From the top view we can also see the traditional laces on the Nike Metcon 5.
Yep – good old fashioned laces – which are the best way to get (and keep) a secure, locked-in fit and feel.
We can't have loose shoes while we jump, run, lift, and climb.
It's also hard to see , but This shoe also has Nike's "FlyWire" innovation as well.
FlyWire is tough Vectran filaments that run through the body of the shoe and integrate with the laces.
The net result is that when you tighten the laces – the whole upper tightens up – right at the midfoot.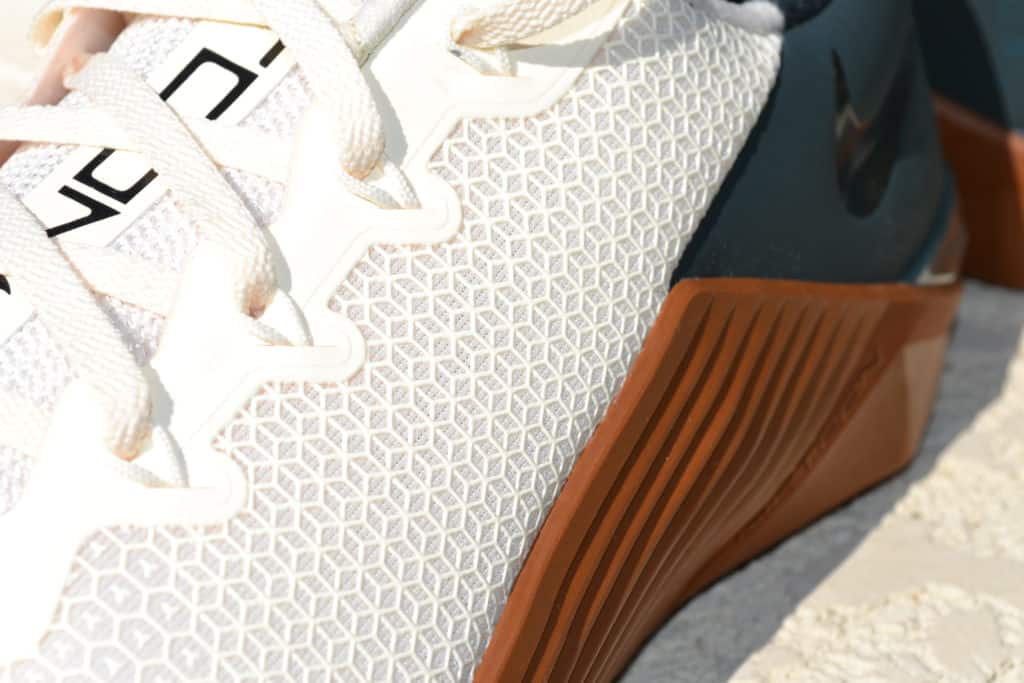 It's like the midfoot strap on a weightlifting shoe like the Romaleos 3 XD or Adidas Adipower 2.
(But at a fraction of the weight!)
And speaking of weightlifting, what's the heel raise on these?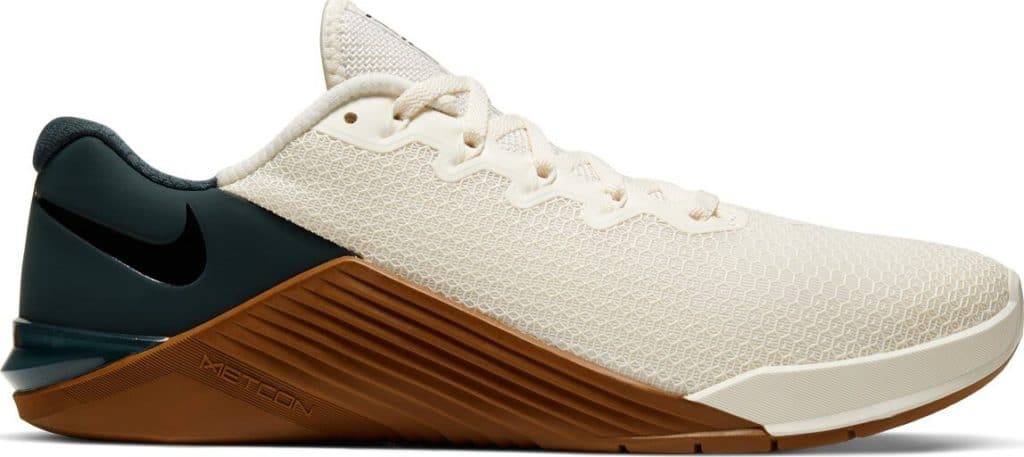 The height difference between your heels and toes is known as the HEEL TO TOE DROP, OFFSET, or PROFILE.
No matter what you call it, it's the same thing.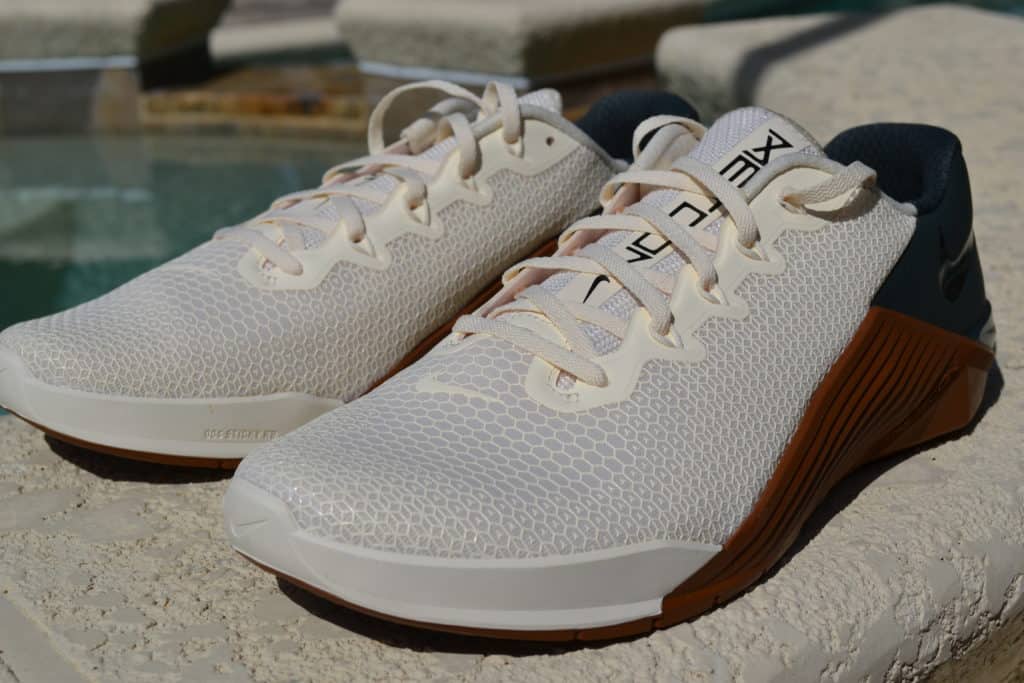 The Nike Metcon 5 has a minimal drop – because that is the most versatile.
Lifters like the Adidas Adipower, Reebok Legacy Lifter, or Nike Romaleos all have an outsized heel raise.
And they are heavy shoes with no cushioning!
The Nike Metcon 5 has to be lighter and more versatile – so the low amounts of heel raise let us lift, jump, run, and climb.
But, Nike has one more trick up their sleeve.
The Nike Metcon 5 comes with these tough removable insole wedges that they call Hyperlifts.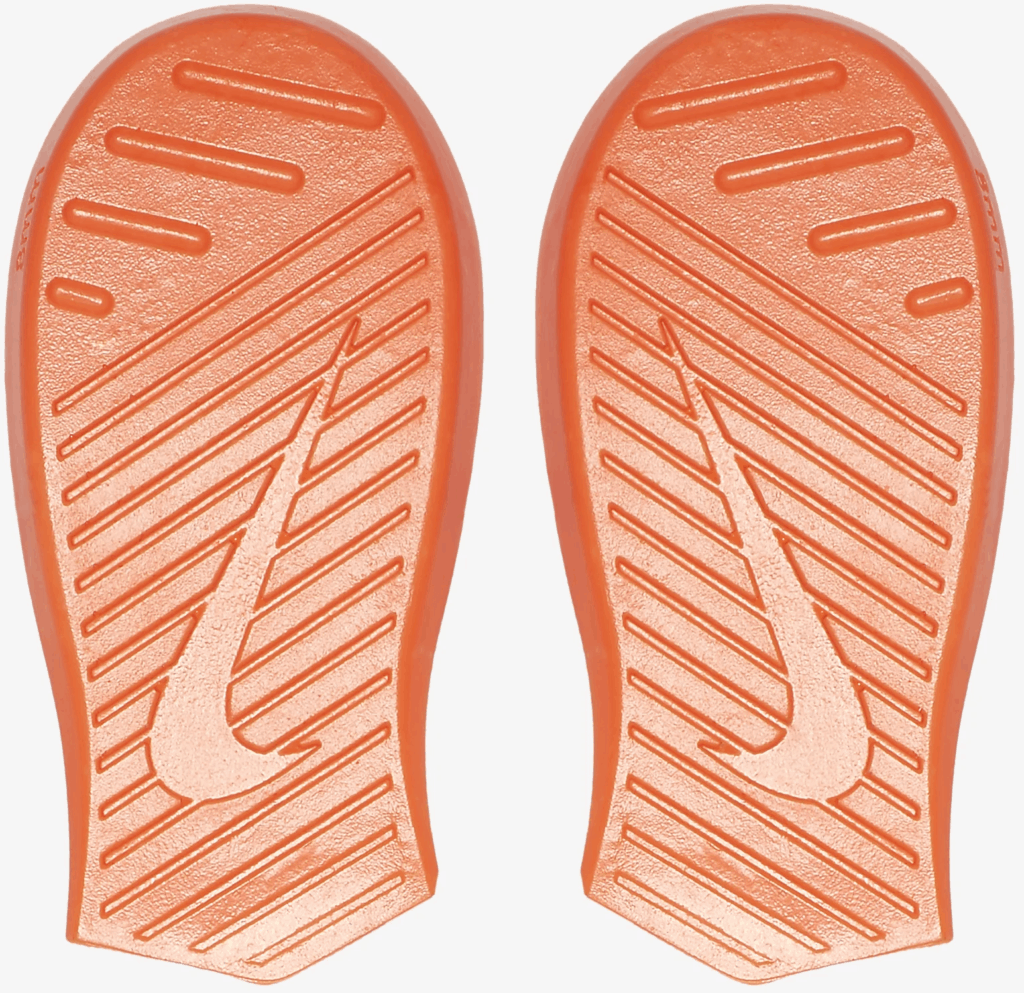 Drop them in under the removable midsole and you've just added 8 mm of heel to toe drop for a total of 12 mm.
People are LOVING this feature for squats, wall balls, and pistol squats.
The Women's version of the shoe also has the hyperlifts – but they are only an additional 6mm of heel raise.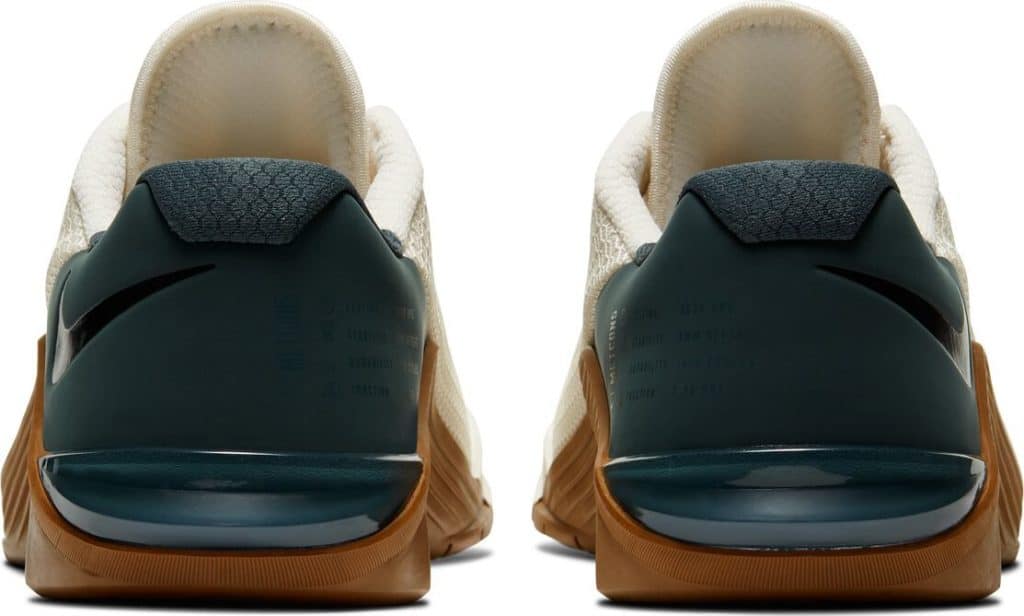 The innovations don't stop there.
Nike has put great thought into the heel as well.
The heel is reinforced with tough TPU so it won't collapse or deform when lifting weights.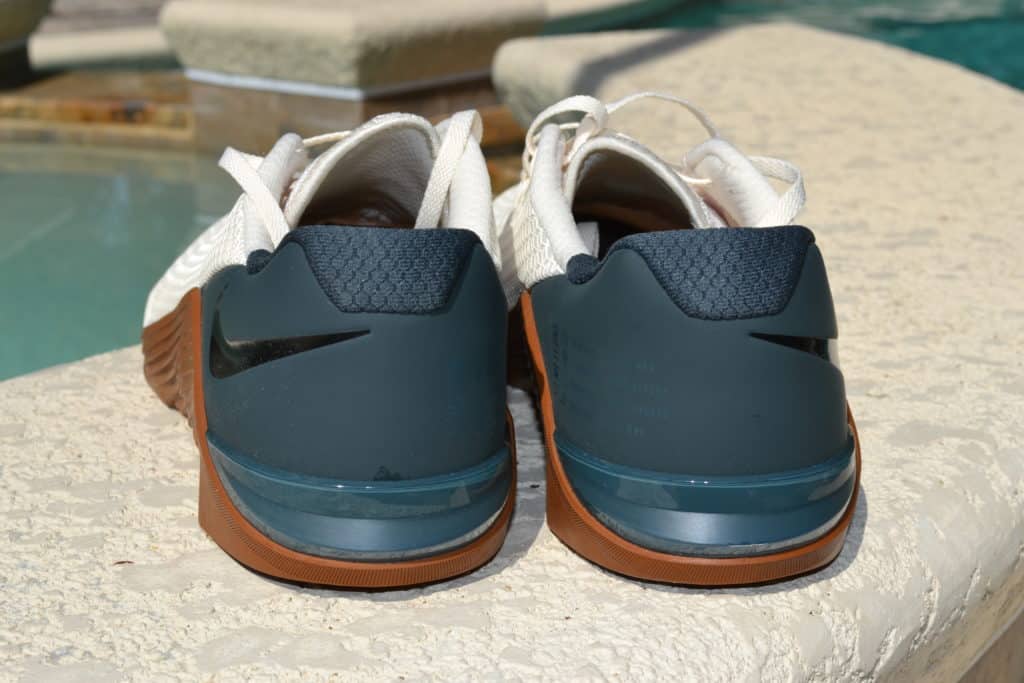 And it also gives a minimum of wall drag when doing Hand Stand Push Ups (HSPUs) – which are a staple of EVERY CrossFit competition.
So there you go – we told you all about the Nike Metcon 5 in the new Ivory and Gum colorway and told you why it's a great shoe for HIIT, CrossFit, Functional Fitness, or the gym in general.
Here's some more pics, because this shoe looks so good.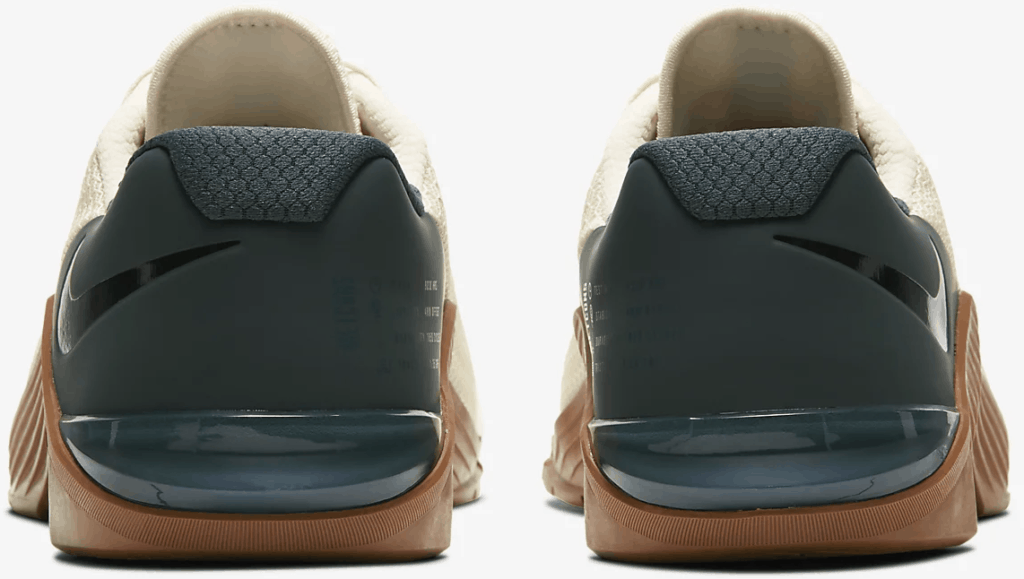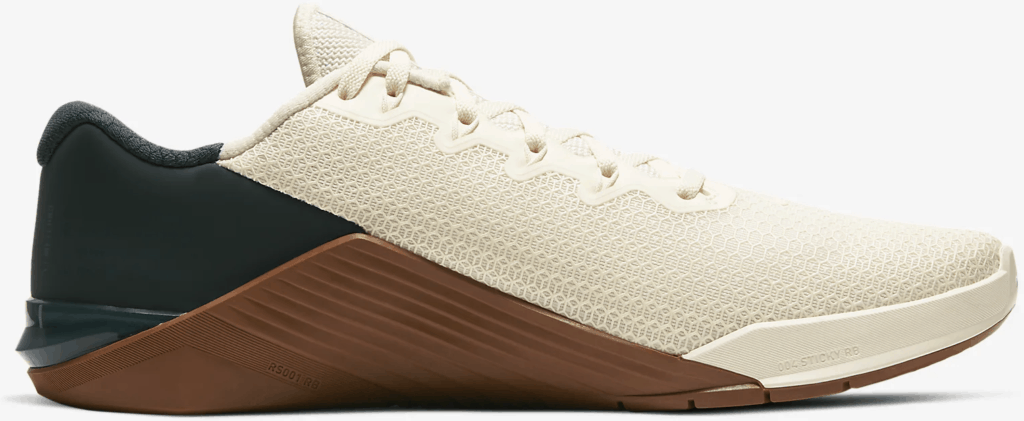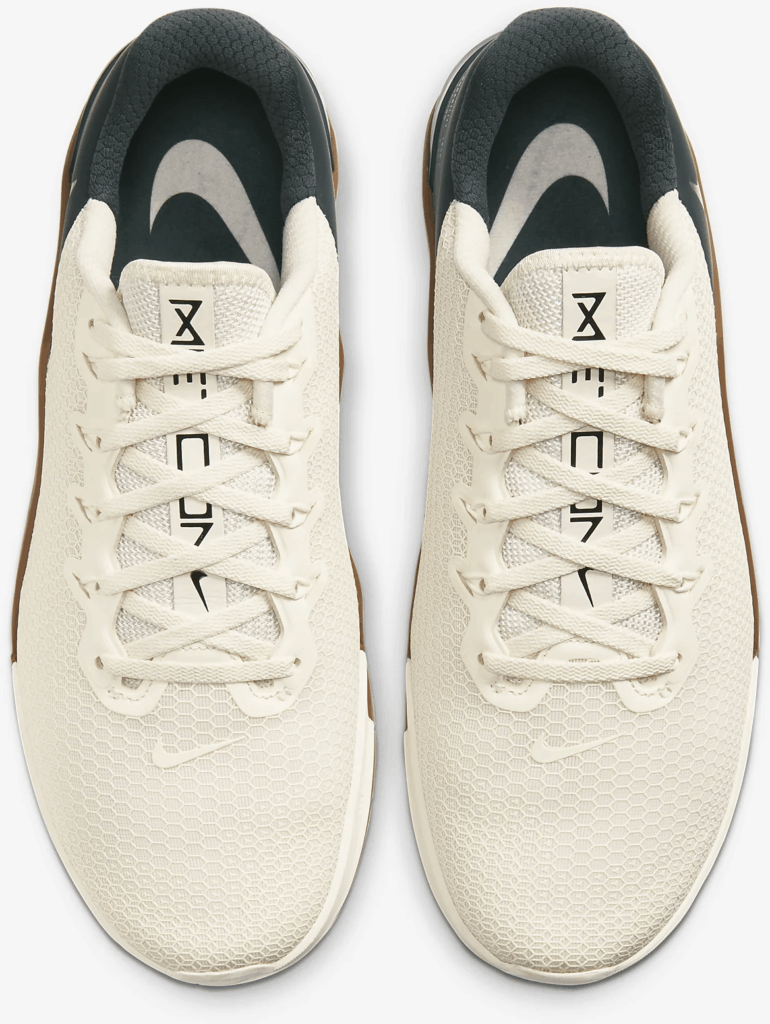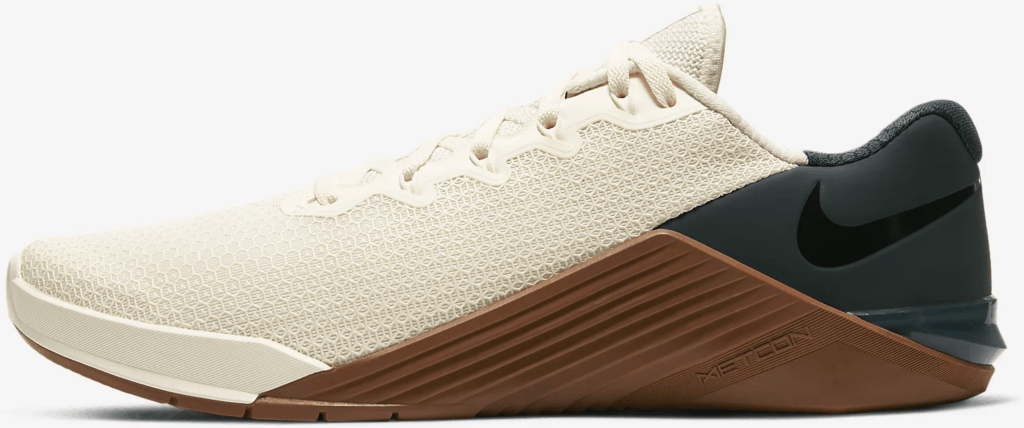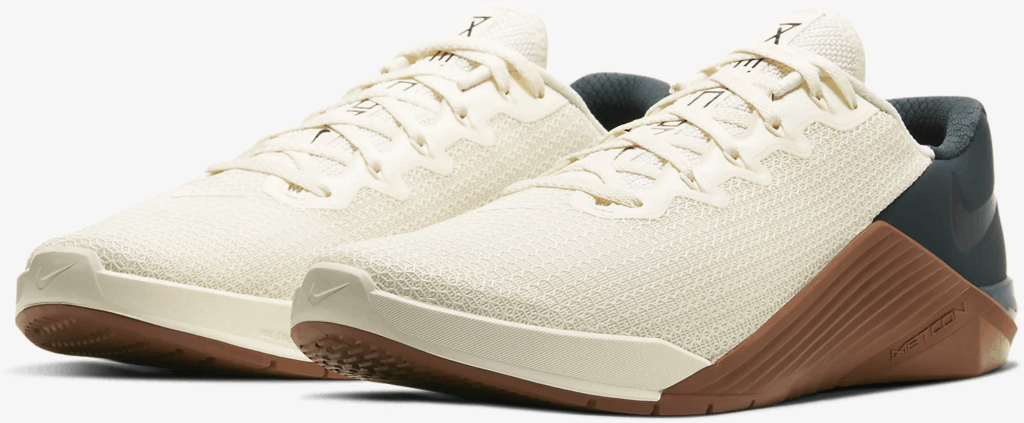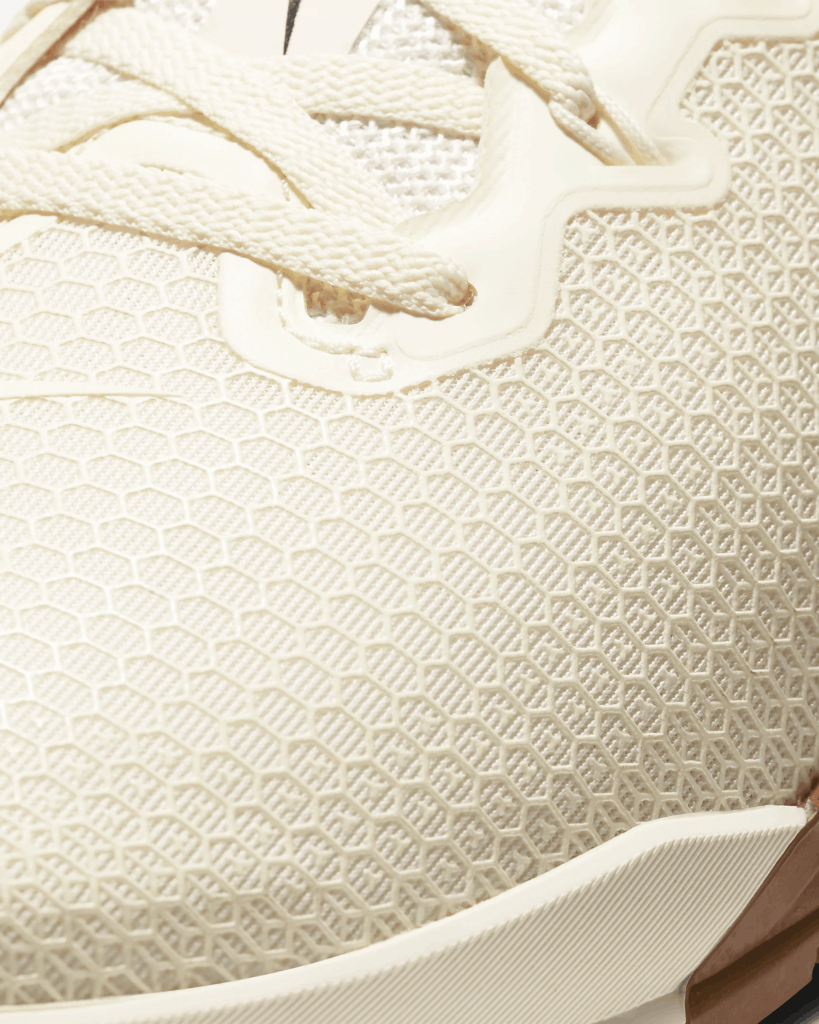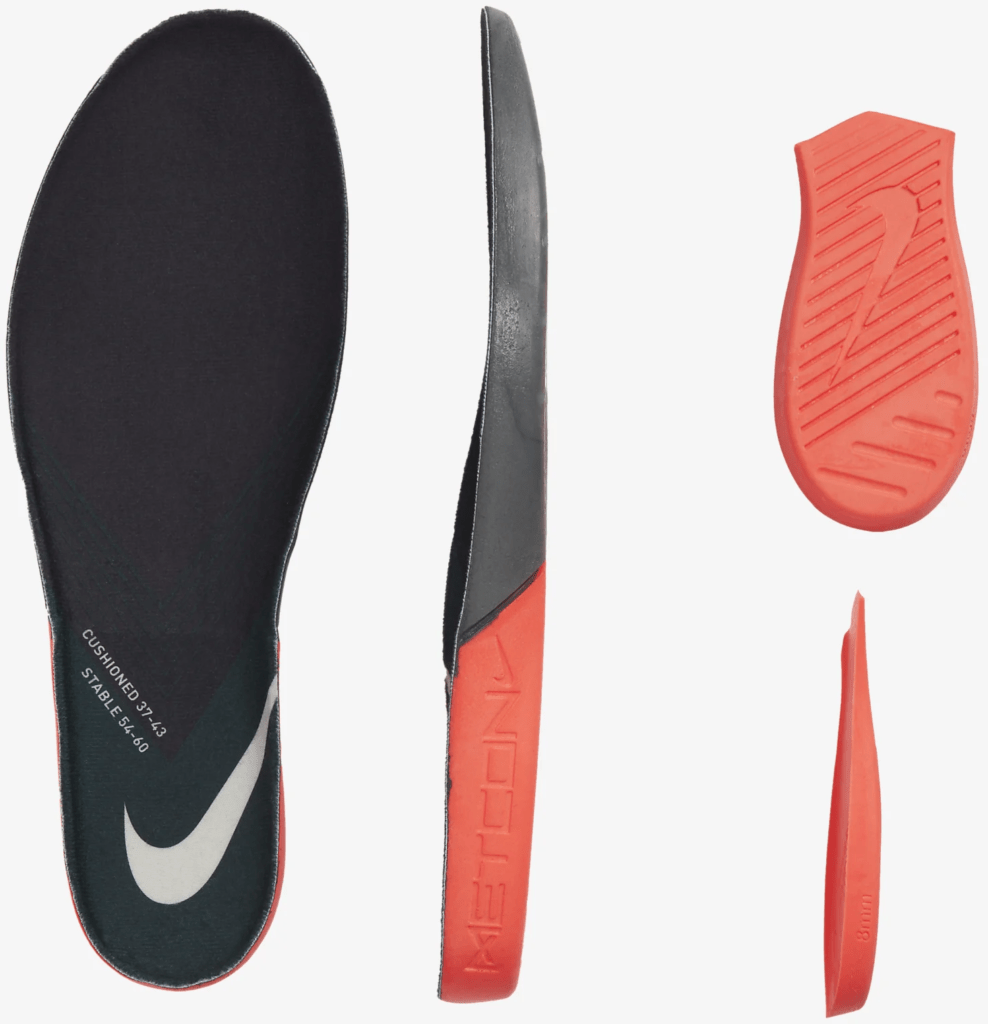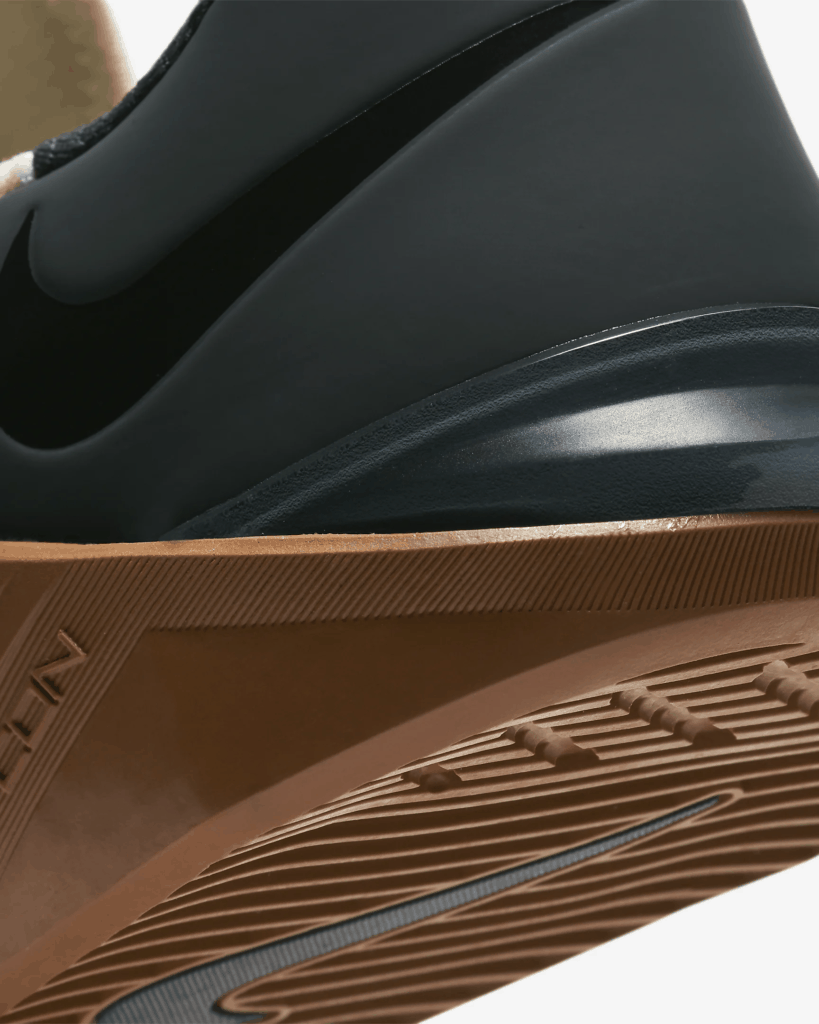 Photo Credits
Photos in this article are property of Nike, Inc.
This website is not affiliated or associated with CrossFit, Inc. CrossFit is a registered trademark of CrossFit, Inc.