Earlier in March, Nike released the 6th generation of their trail running shoe – the Nike Air Zoom Terra Kiger 6.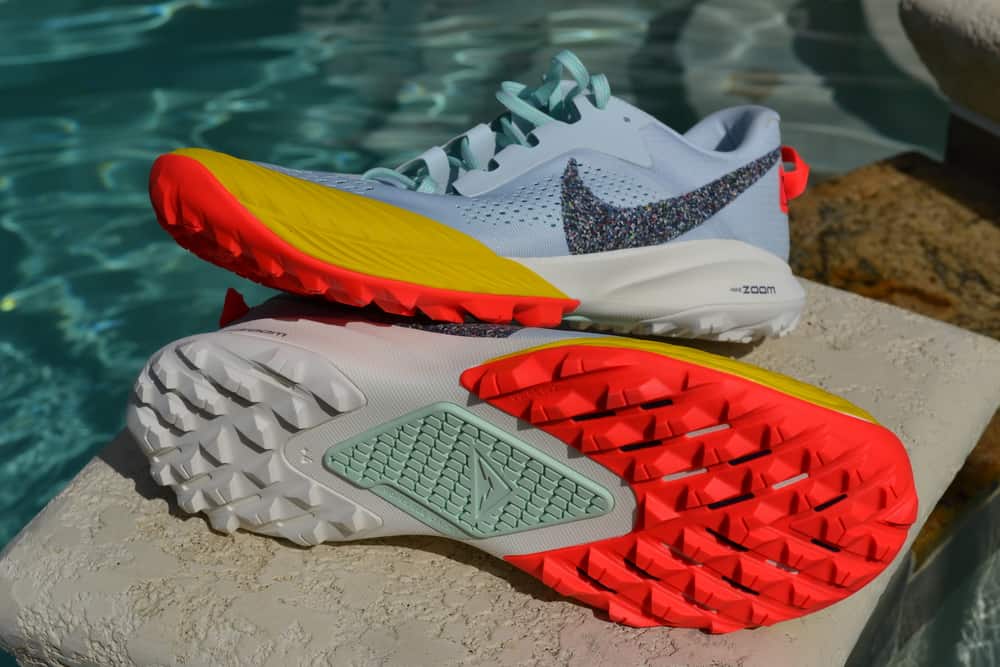 This is a serious trail running shoe – and one meant for rocky pathways.
We'll take an up-close look and review all the special features of this great trail runner shoe.
You can get this shoe from Road Runner Sports (We are an affiliate):

Let's take a look.
Nike Air Zoom Terra Kiger 6 Hands On Review on YouTube
We featured this shoe as part of our Nike Trail Shoe Shootout 2020:
Nike Air Zoom Terra Kiger 6 Trail Running Shoe
First of all, this is a trail running shoe.
It's specialized for off-pavement running (or walking) on rough terrain.
Trail running shoes normally have deep, boot-like lugs on the outsole – for maximum traction.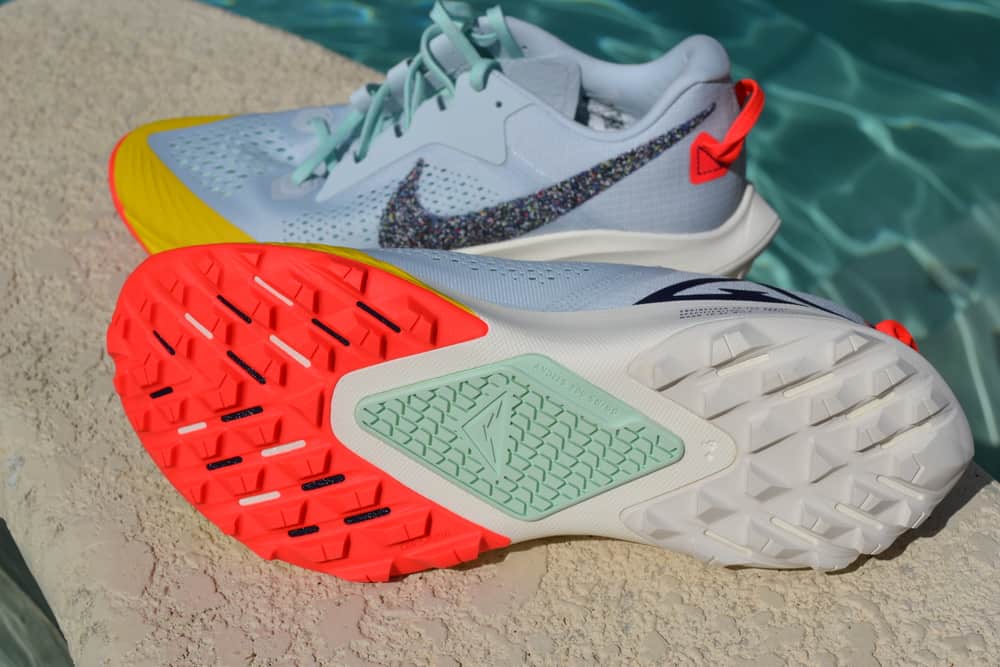 You can see the Terra Kiger 6 has an aggressive tread pattern with deep lugs – as you'd expect.
This shoe is interesting because there is a rubber pod incorporated in the center (at the midfoot) for wet traction.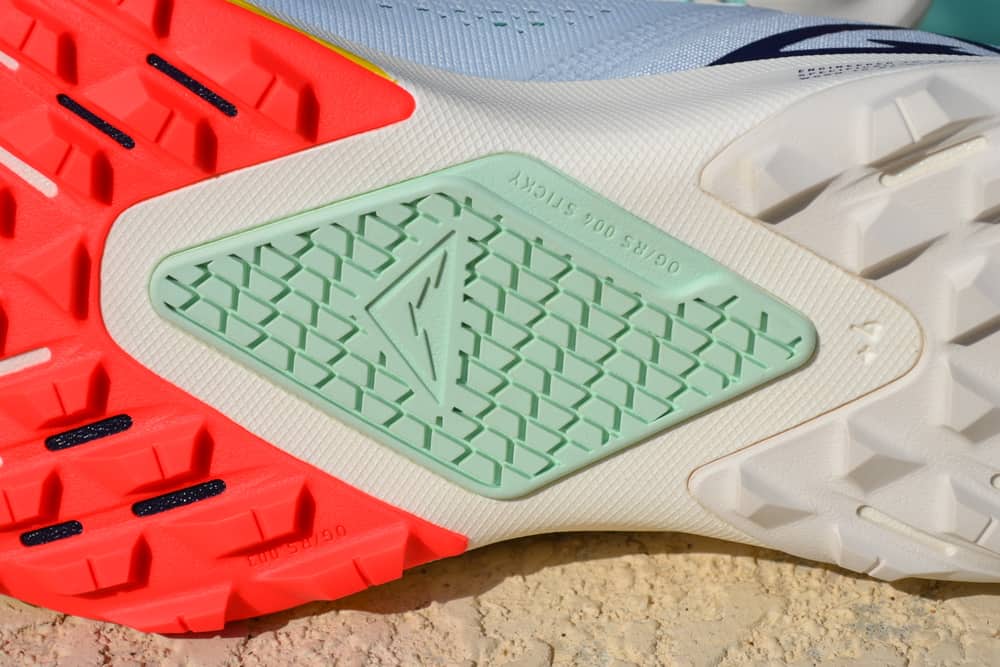 You can see that it takes a good amount of surface area away from the boot like tread.
That rubber pod feels very grippy also – so it seems like it should work for the purpose intended.
You can't see it in the photo, but the rubber pod is labeled OG/RS004 Sticky.
The forefoot tread (labeled OG/RS003) feels pretty grippy too, to be honest.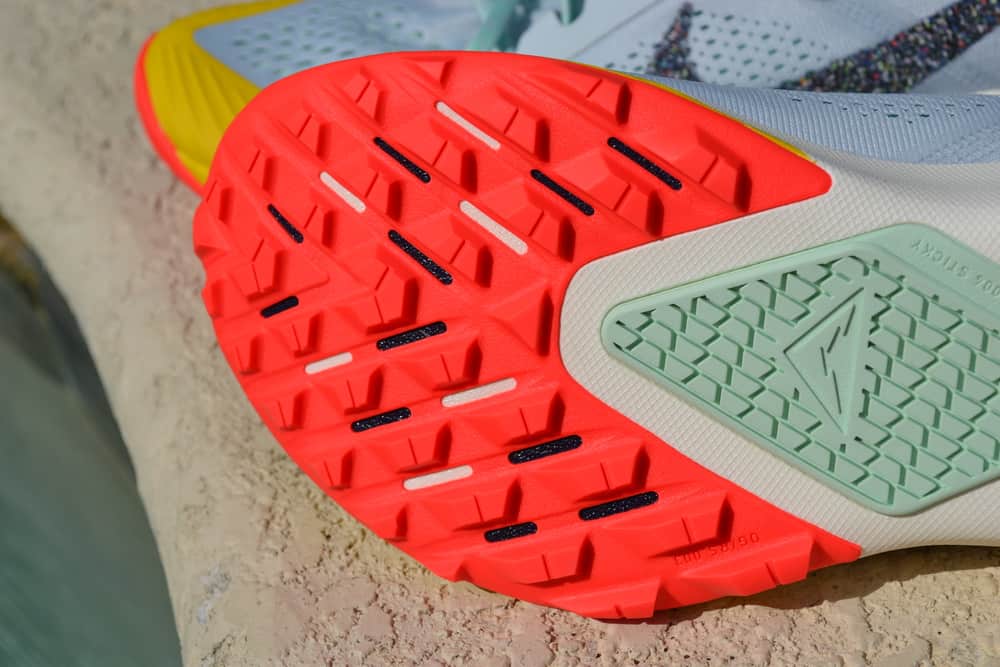 That said, it will be interesting to see how fast the lugs wear down. The rubber is tough, but not incredibly hard feeling – so wear might be a factor – but we'll need to test much longer to understand that.
You can't see it, but there is a segmented rock plate in the forefoot too.
Nike claims this will help shield your foot on rocky terrain without sacrificing flexibility or ground feel.
Also marked on the outsole is +4 – meaning a 4 millimeter heel to toe drop (or offset).
This shoe has a mild offset – 4mm is far less than the running shoe norm of 9 or 10 mm drop.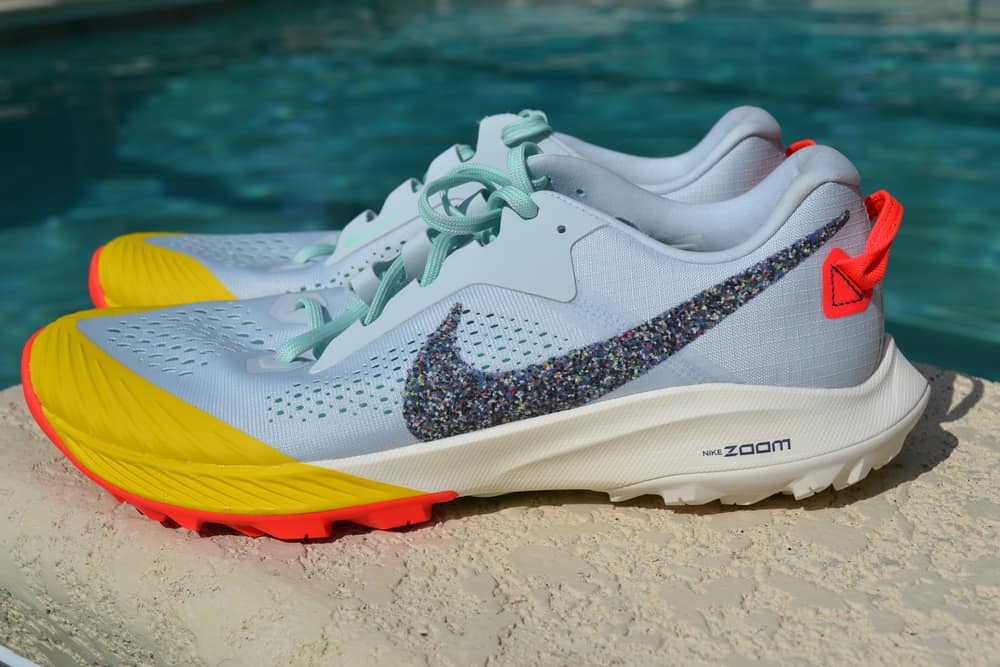 The heel to toe drop indicates how much higher your heel is compared to your toes.
Preferences vary, but it's generally thought that a higher drop helps keep stress off the achilles, and therefore is better for endurance.
What's the cushioning strategy on this shoe?
Nike's React foam plays a role, but there's also a single Zoom Air unit in the heel.
Zoom Air uses a pressurized Nike Air unit with tightly stretched tensile fibers inside of it.
These tensile fibers compress, and then rebound giving you a snappy feel off the ground.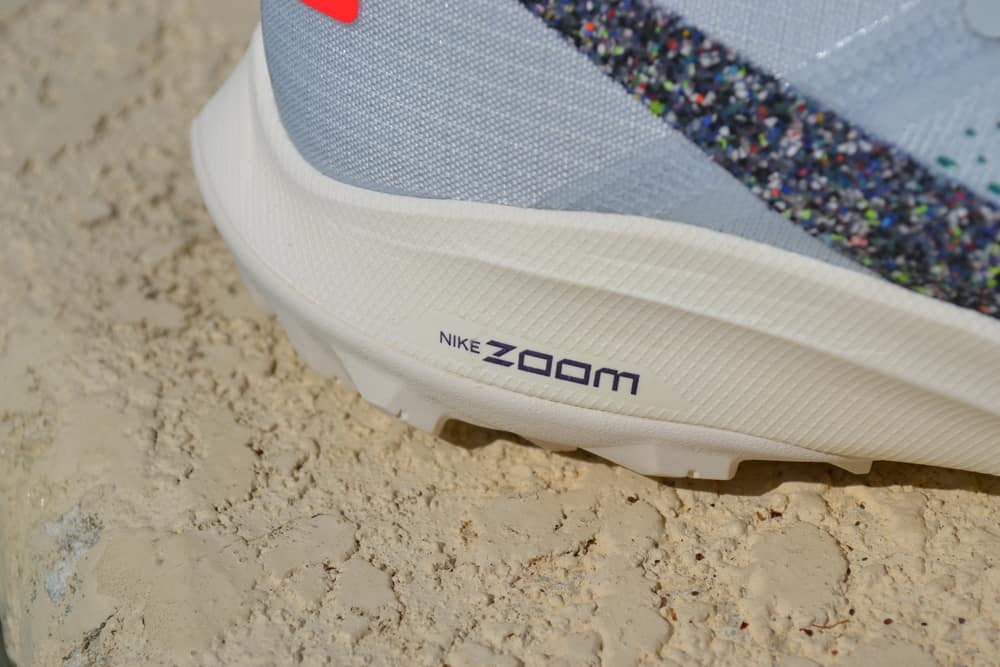 I like Zoom Air and React and overall these are pretty comfortable over distance.
I will say if there's React foam in these – there isn't very much. It definitely does not have the React feel.
These are classified as neutral running shoes.
Therefore they would not generally be recommended for heavy under or over-pronators.
Nike Air Zoom Terra Kiger 6 – Sizing, Fit, & Feel
These run true to size, in my experience.
A Men's size 11 has the perfect length, and is ok for width also.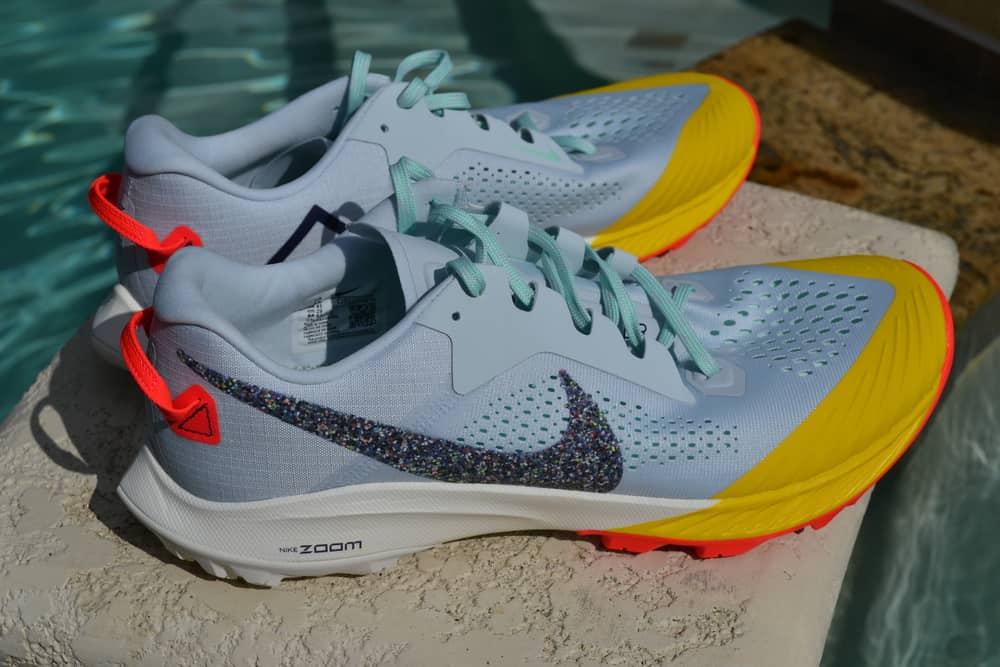 Having said that, every foot is different.
I always recommend you strive to try before you buy (or return if they don't fit.)
These are decently light-weight. My Men's Size 11 weight 10.8 ounces each.
That's not featherweight, but you need all that outsole and protection for rough terrain.
Features like the rock plate certainly add weight.
Nike says these have a woven heel for a secure fit.
I'm not quite sure what that means, but I have no complaints.
The collar (which is refined with this new version) comes up relatively high on these shoes – and I like that.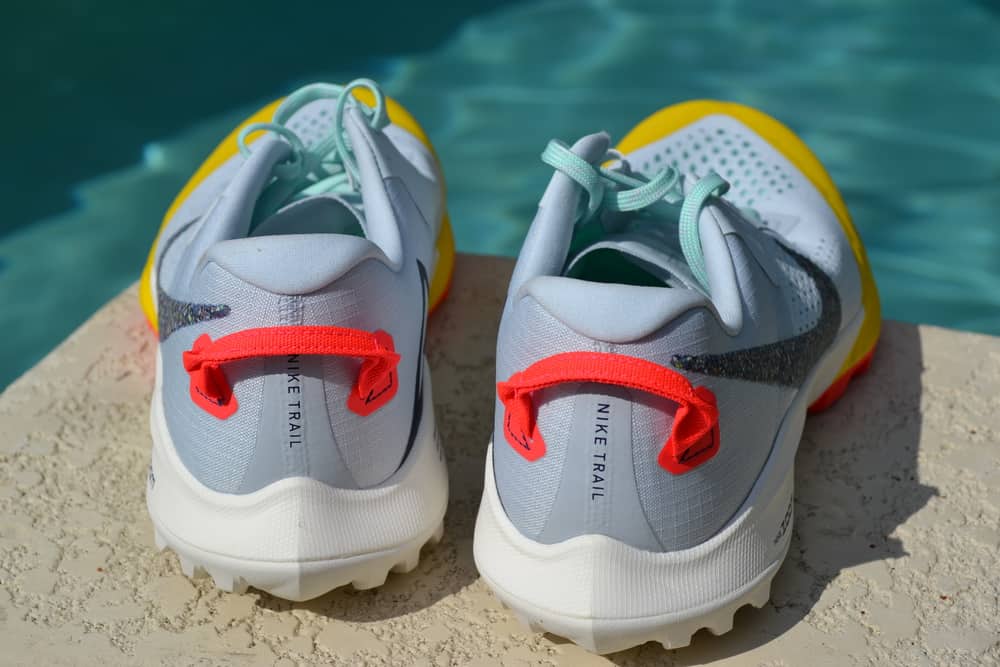 The pull tab on the heel is not strictly a necessity, but it looks kind of cool – and it's functional.
These shoes use traditional laces – and that's fine by me.
I prefer regular laces in running shoes.
You'll notice that the front two eyelets are isolated.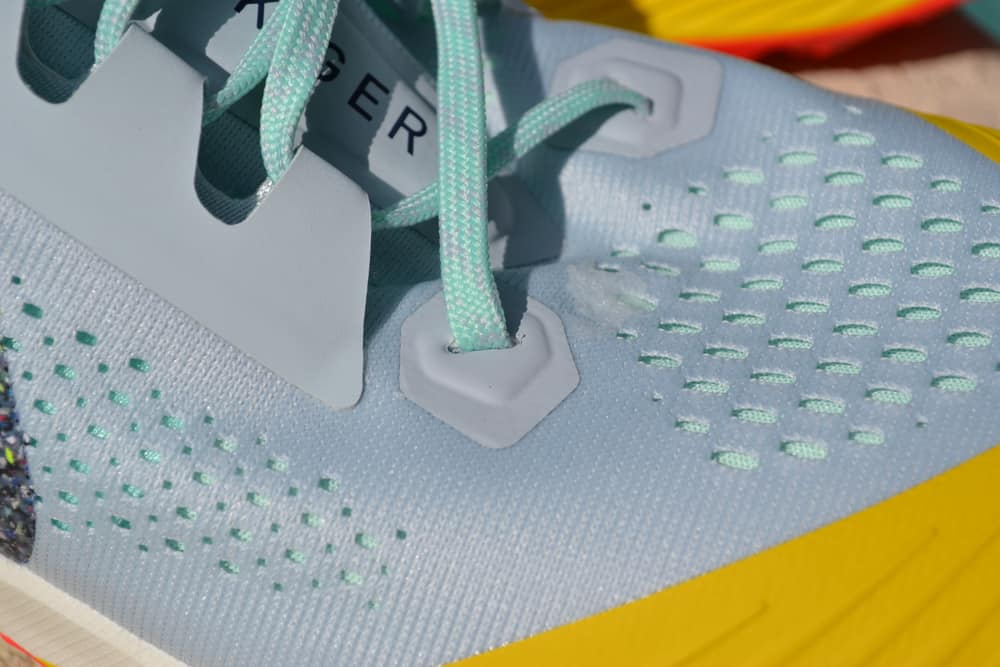 Nike claims this is to help provide a secure fit.
One of the things I like most about this shoe is the slick way they've implemented a padded tongue.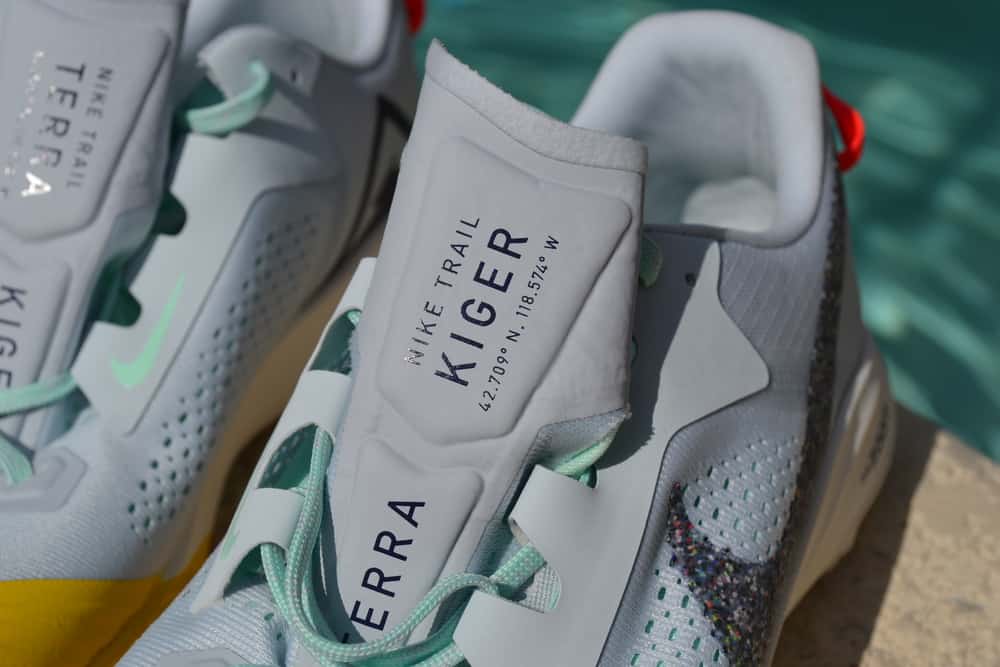 There's a padded area right up the center of the tongue – so the tongue is not bulky but at the same time protects against lace bite.
By the way, the tongue has the latitude and longitude of Kiger Gorge, Oregon printed on it.
The rocky, tough terrain (and beauty) of the Kiger Gorge was apparently an inspiration for this shoe.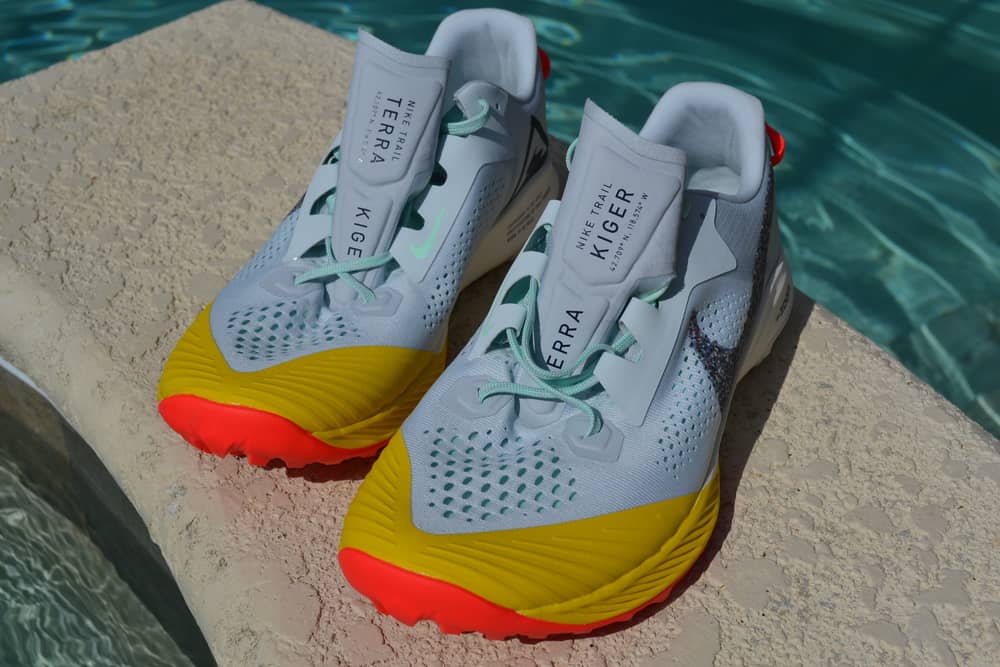 The upper is a double layer mesh with perforations.
It seems adequate and feels nice.
There's no particular waterproofing or any features such as that on this shoe.
But, the front edge is protected extensively with that yellow rubber wrap.
It's thick and may provide some water resistance.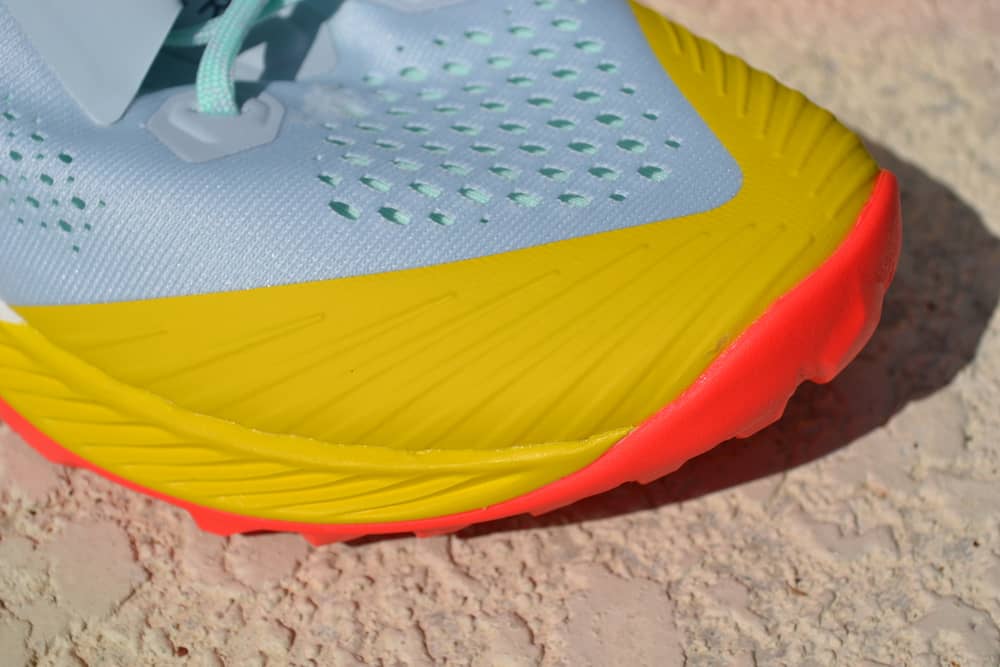 Running in the Nike Air Zoom Terra Kiger 6 Trail Running Shoe
Our longer term review is underway, and we'll have more complete thoughts here soon.
But in the meantime, I can say I like the feel of these shoes.
They are relatively light weight – and the zoom air unit in the heel is particularly noticeable.
With more miles, more thoughts will come.
Nike Air Zoom Terra Kiger 6 versus Nike Wildhorse 6
Nike also revised the Nike Wildhorse 6 around the same time.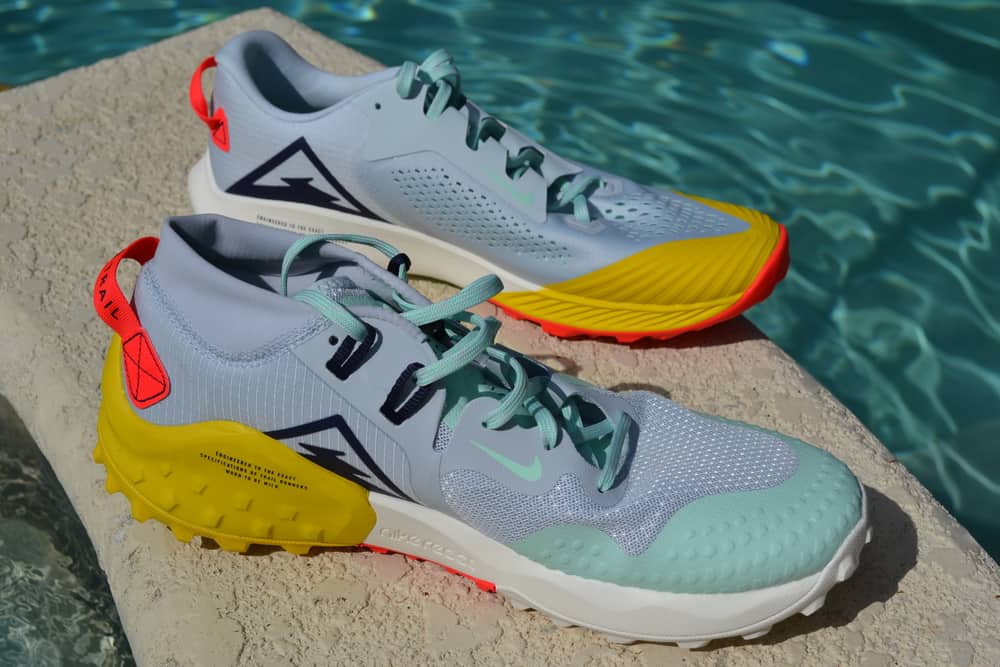 What's the key differences between these two trail shoes?
Let's take a look.
The Wildhorse has more lugs on the tread. This might make it a better choice for muddy terrain?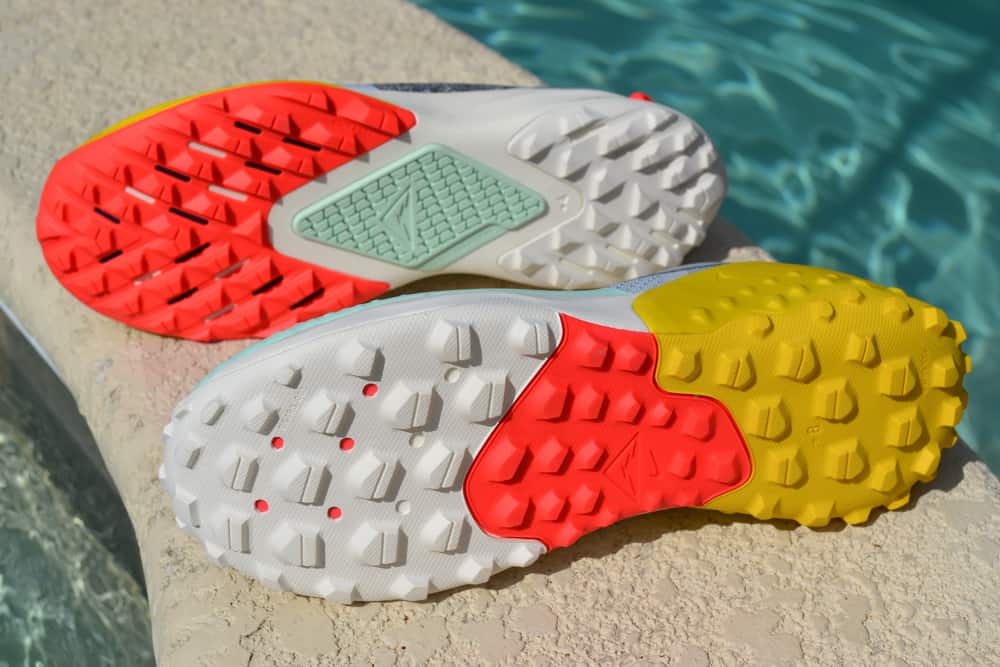 It doesn't give up any tread surface area, unlike the Terra Kiger 6 with the rubber pod.
Here's another big difference – the Wildhorse 6 uses way more React foam.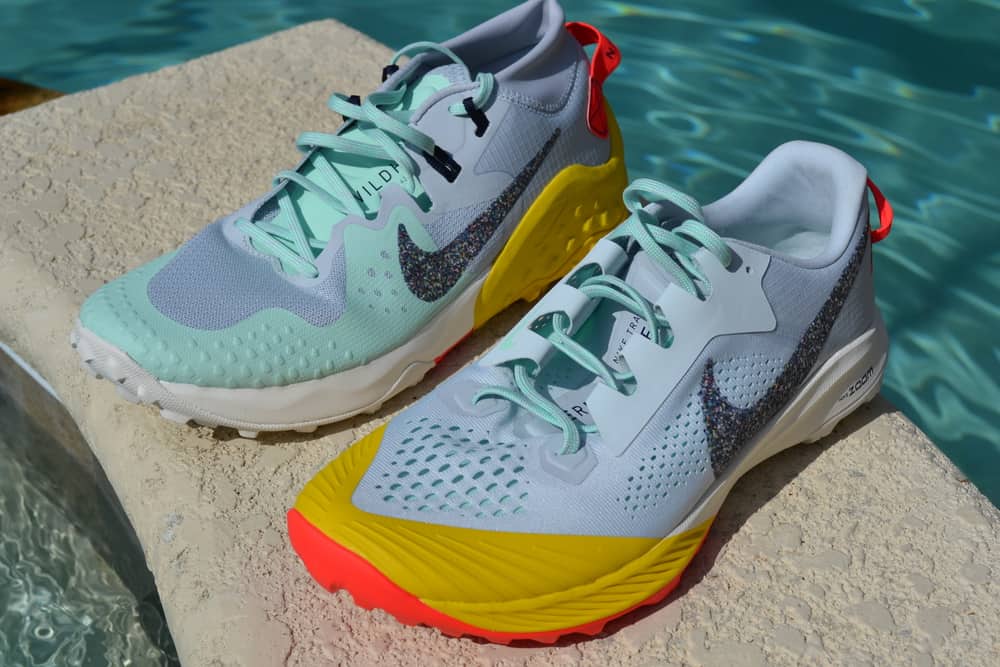 It feels significantly softer and there is much more cushion in the heel and the forefoot.
Need more cushion? The Wildhorse is definitely the better choice.
Heel to toe drop (offset) is 8 mm on the Wildhorse.
The Wildhorse also uses the slick padded tongue concept, and regular laces.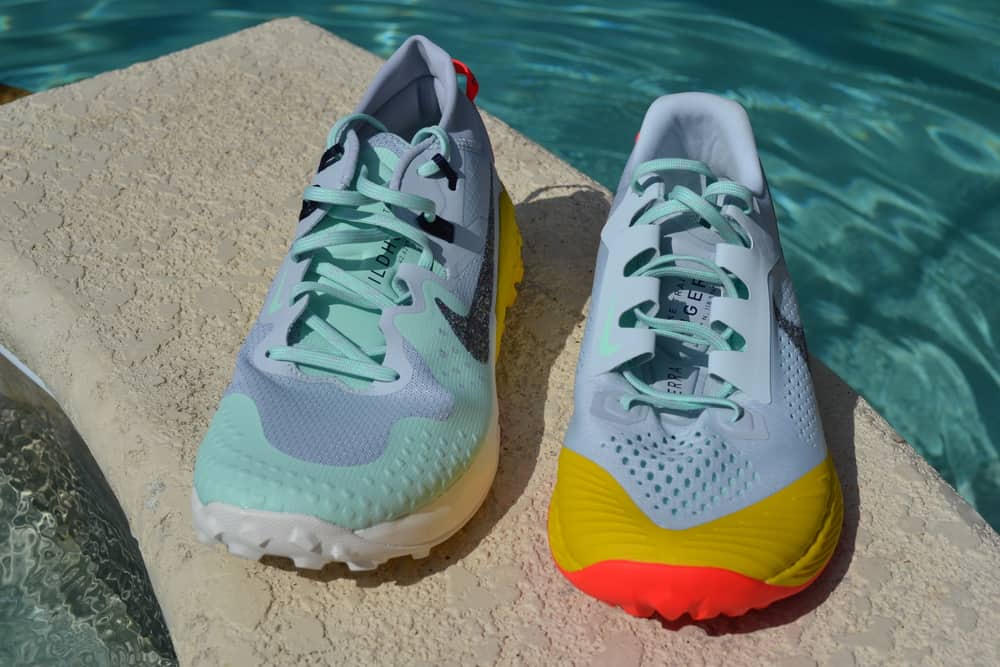 You can see that both have the utility / pull tab on the heel.
The Wildhorse also has an elasticized gaiter that hugs your ankle – to keep out dirt, mud, rocks, and debris.
This view highlights how the Wildhorse has a bit more bulk to it.
And as such, it's about 1.2 ounces heavier – my Men's Size 11 weight in at 12.0 ounces.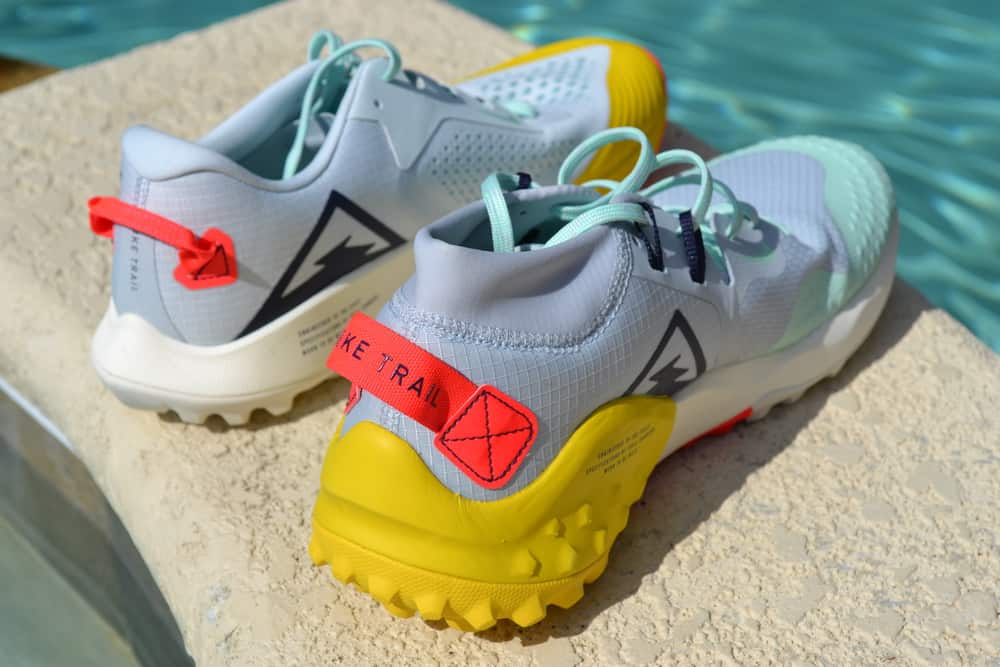 Want a softer, more cushioned ride?
The Wildhorse 6 is definitely your choice.
Nike Air Zoom Terra Kiger 6 versus Nike Air Zoom Pegasus 36 Trail
Let's look at the Terra Kiger 6 head to head with another trail shoe: the Nike Air Zoom Pegasus 36 Trail.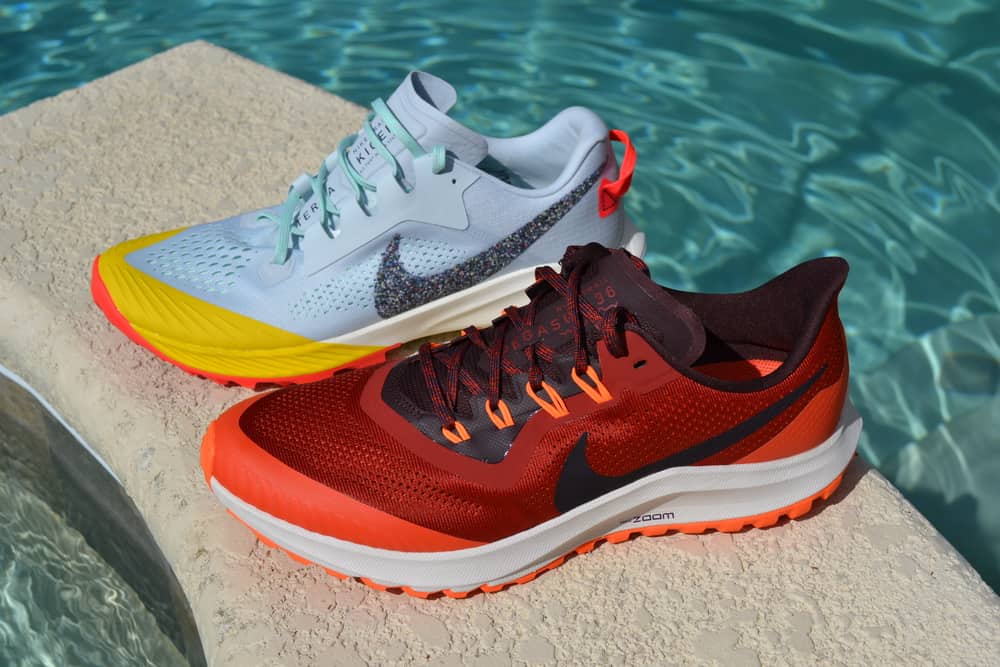 Both weigh about the same (10.8 ounces for Terra Kiger, 10.5 ounces for Pegasus Trail.)
The biggest difference is that the Pegasus 36 Trail has two Zoom Air units – one in the forefoot, one in the heel.
(Remember, the Terra Kiger 6 has a segmented rock plate up front – so no room for a Zoom Air unit – I guess.)
As such, the Pegasus Trail feels softer.
The heel to toe drop (offset) on the Pegasus is 10mm vs the 4mm offset on the Terra Kiger 6.
The Pegasus also has a significantly less aggressive tread pattern – much less like a boot.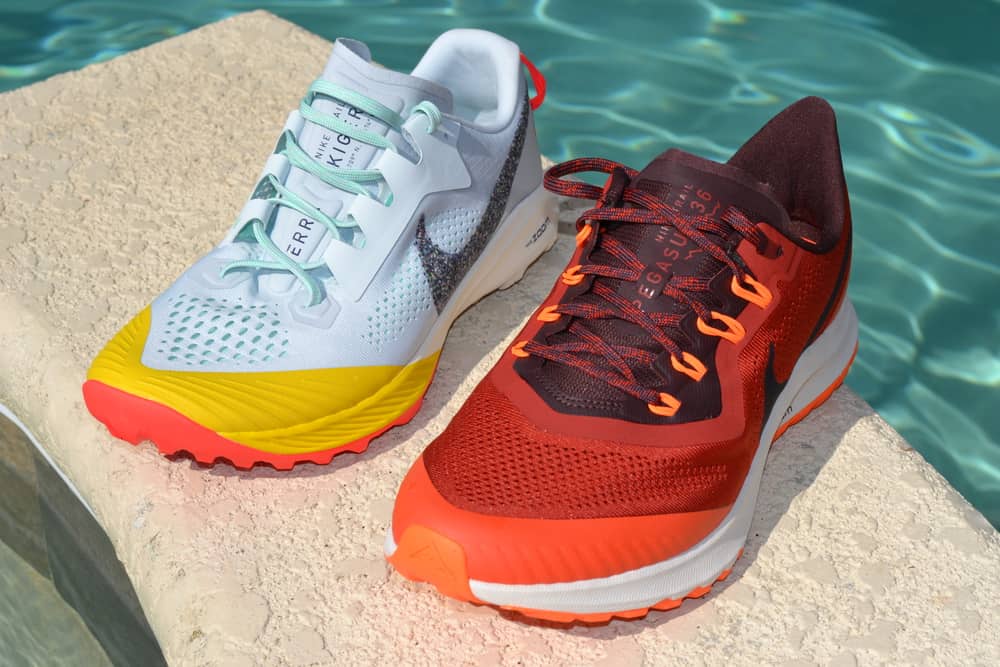 Running on rocky pathways?
The Terra Kiger 6 is probably your choice.
On Florida's soft and sandy terrain I'll probably opt for the Pegasus Trail on a more frequent basis.
(Although the less aggressive tread may be a liability in the mud!)
Nike Air Zoom Terra Kiger 6 Trail Running Shoe – In Summary
The Nike Air Zoom Terra Kiger 6 is an updated trail running shoe for the year 2020.
Inspired by the Kiger Gorge in Oregon, this shoe should be good for rocky paths and trails – thanks to features like the segmented rock plate in the forefoot, and the wet-traction rubber pod in the outsole midfoot.
The Zoom Air unit in the heel feels nice, and this shoe runs true to size.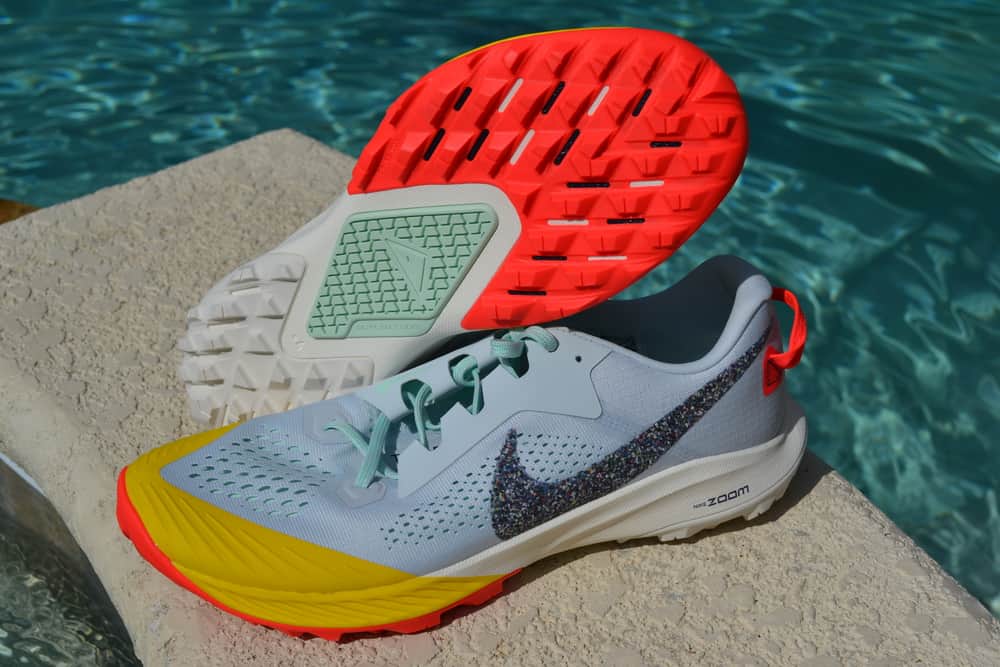 Photo Credits
Product photos on this page are property of Nike, Inc.
This website is not affiliated or associated with CrossFit, Inc. CrossFit is a registered trademark of CrossFit, Inc.