The Hylete Fuse workout shorts are some of the best men's workout shorts for CrossFit.
Why do we say that? Because we tested them – and we're glad to say they hold up to our high standards.
Hylete makes high-performance workout clothing for men and women.
This isn't cheap basketball shorts – these are active wear with well thought out features and materials.
The Fuse short is just one of several items from their performance workout shorts line.
These are shorts made for the functional fitness athlete.
We'll tell you (and show you) all the great performance and comfort enhancing features.
Here's the men's CrossFit workout shorts we'll be reviewing: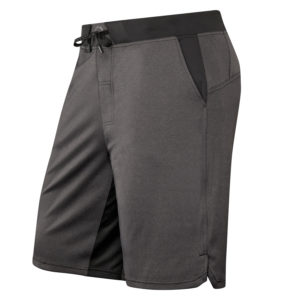 Fuse Workout Shorts (Heather Black/Black)
The Fuse workout shorts from Hylete are made with "4-Way Stretch Knit Fabric". This is a 50% Polyester / 43% Nylon / 7% Spandex blend that has the right amount of stretch, but the cut is tailor made for athletes as well - these will not restrict your range of motion.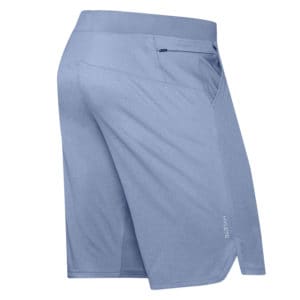 Fuse Workout Shorts (Heather Delta/Delta)
The Fuse workout shorts have a stretch-woven gusset - that's a diamond shaped piece of fabric that means maximum freedom of movement. It also has pockets - which we consider a MUST HAVE on workout shorts. Where else are you gonna put that phone and earbud case?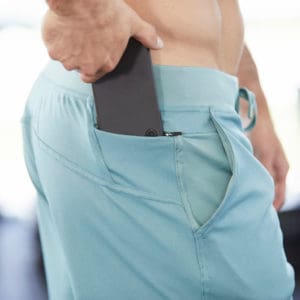 Fuse Workout Shorts (Heather Trellis/Trellis)
The stretch waistband includes a drawstring - you get a perfect fit every time. The heather color combinations are nice - and these could easily work in a more formal setting than the gym too. Good shorts are versatile shorts.
Ok – that's enough of an overview.
Let's take an in-depth look at we believe are some of the best workout shorts for CrossFit.
Fuse Workout Shorts for Men – Fit & Cut
First of all, these are performance shorts designed specifically for CrossFit, HIIT, and other types of functional fitness workouts.
But these are a very sophisticated option.
The styles (and colors) are conservative – so these are great dual-purpose shorts.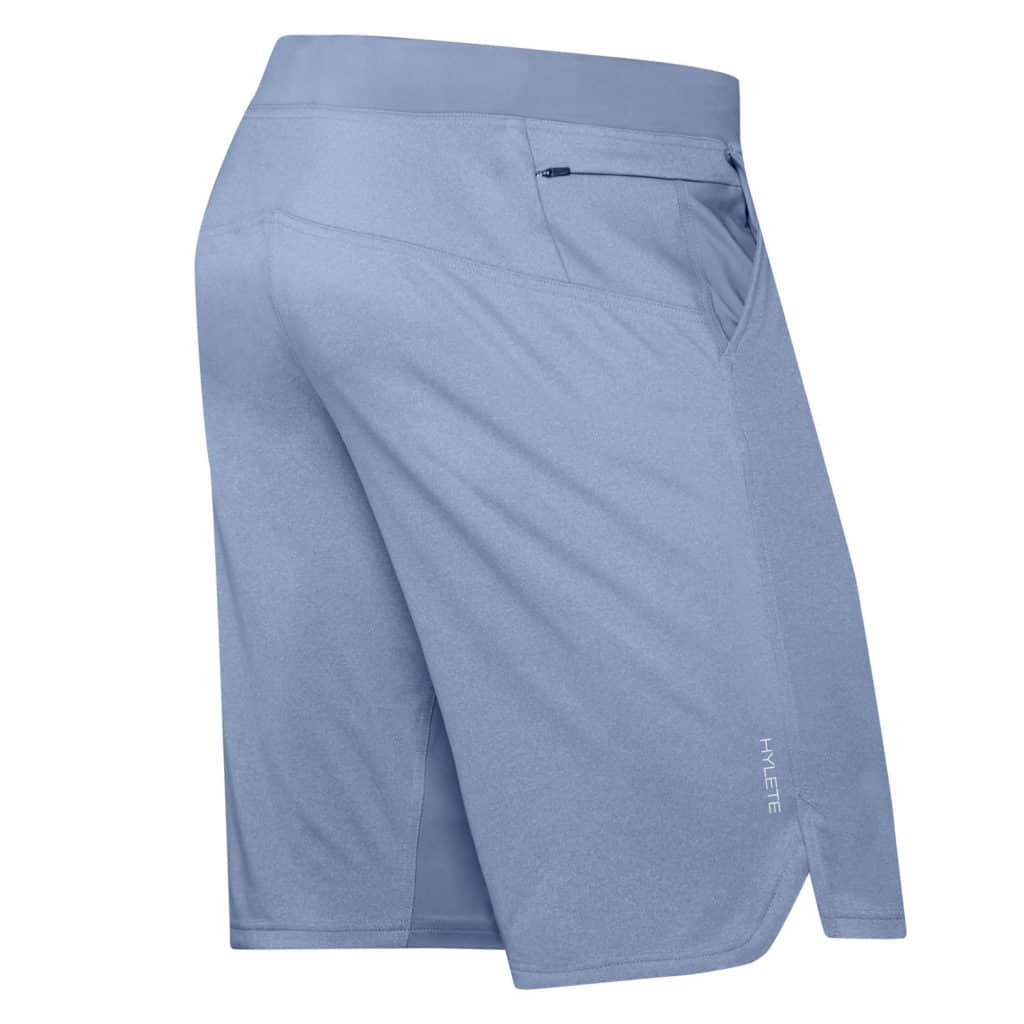 But, before we focus on that, let's talk about how they perform in the gym – because that is the most important thing here.
These shorts incorporate generous cuts where you need range of movement and freedom.
And the Fuse shorts incorporate a flex-woven gusset.
What's a gusset?
It's a diamond shaped piece of material sewn into the crotch area – to ensure you can move.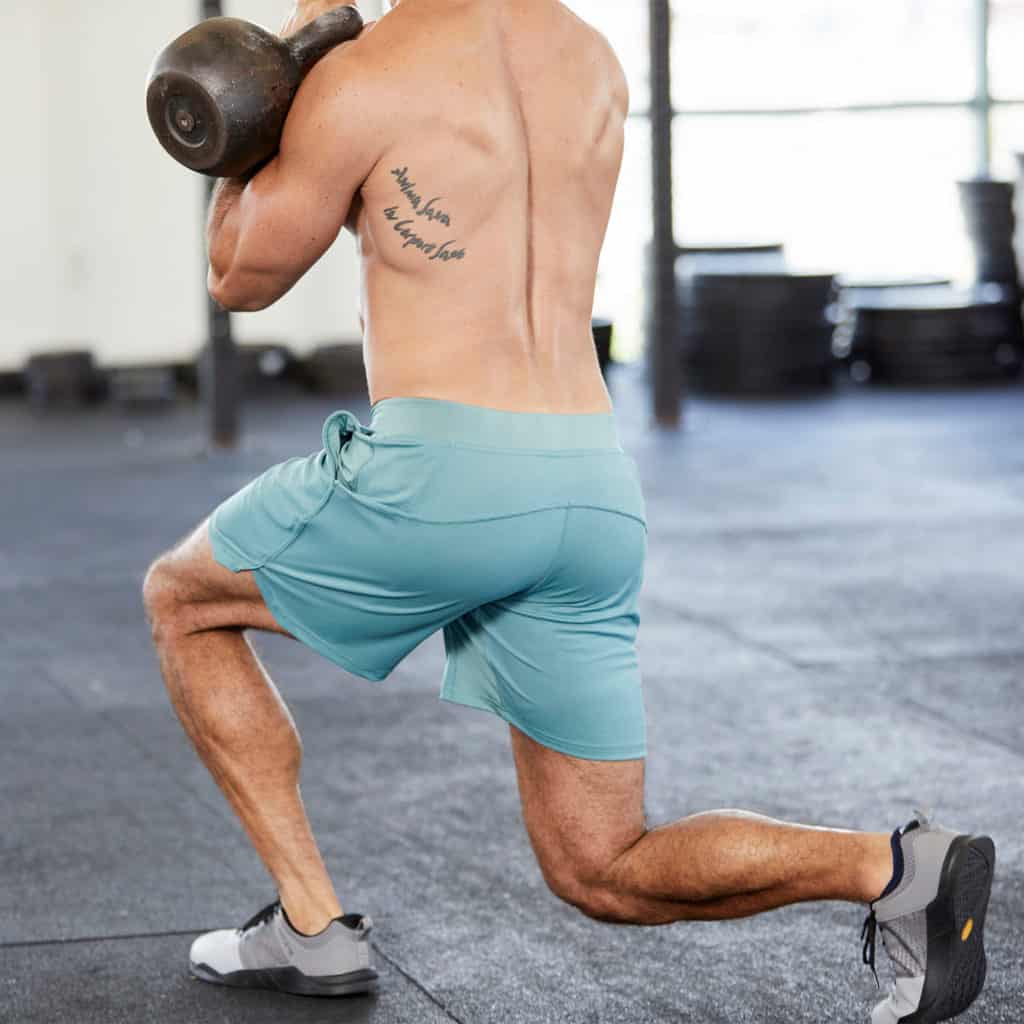 Having said that, the Fuse is Hylete's most slim fitting of their performance shorts.
A slim fit gives you that tailored look – and makes these great for activities outside of the gym as well.
They have a straight leg opening.
There are a variety of inseam lengths available: Quad-cut, Above-Knee, and Regular.
Quad-cut is going to show the most skin – in case that isn't obvious.
If you are blessed with great quads – why not show them off?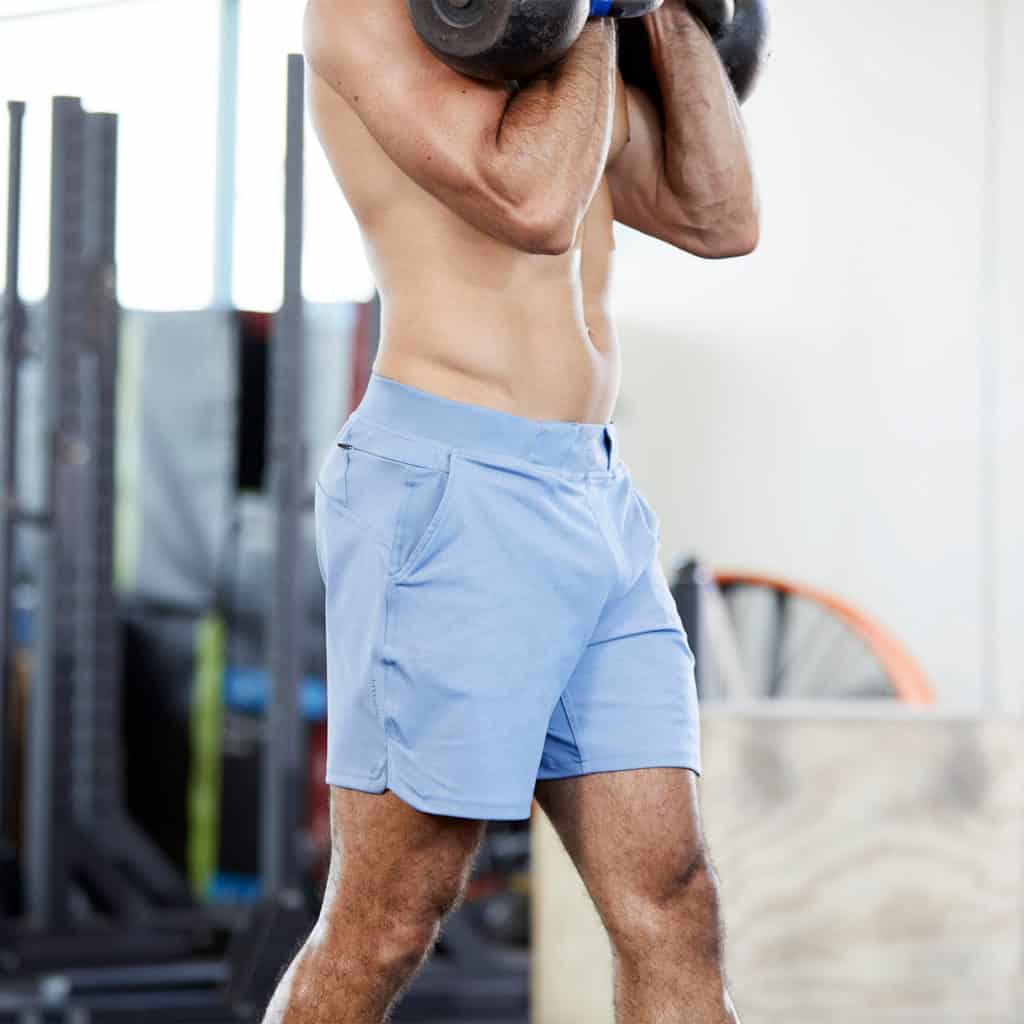 These have more than adequate freedom of movement for the CrossFit exercises you know and love: deadlifts, wall balls, pistol squats, lunges – and anything else the WOD throws at you.
Those type of exercises are common in the CrossFit workout (and other functional fitness) and all require a lot of hip or knee flexion – or both!
Ever seen anyone try to do lunges in pants?
You likely never will – because they are simply too restrictive – they bind up well before your knee hits the gym floor.
Here's another feature you need in versatile shorts – there is a regular pocket and a zippered storage pocket.
And take a look where the pocket opening is (with the zipper.)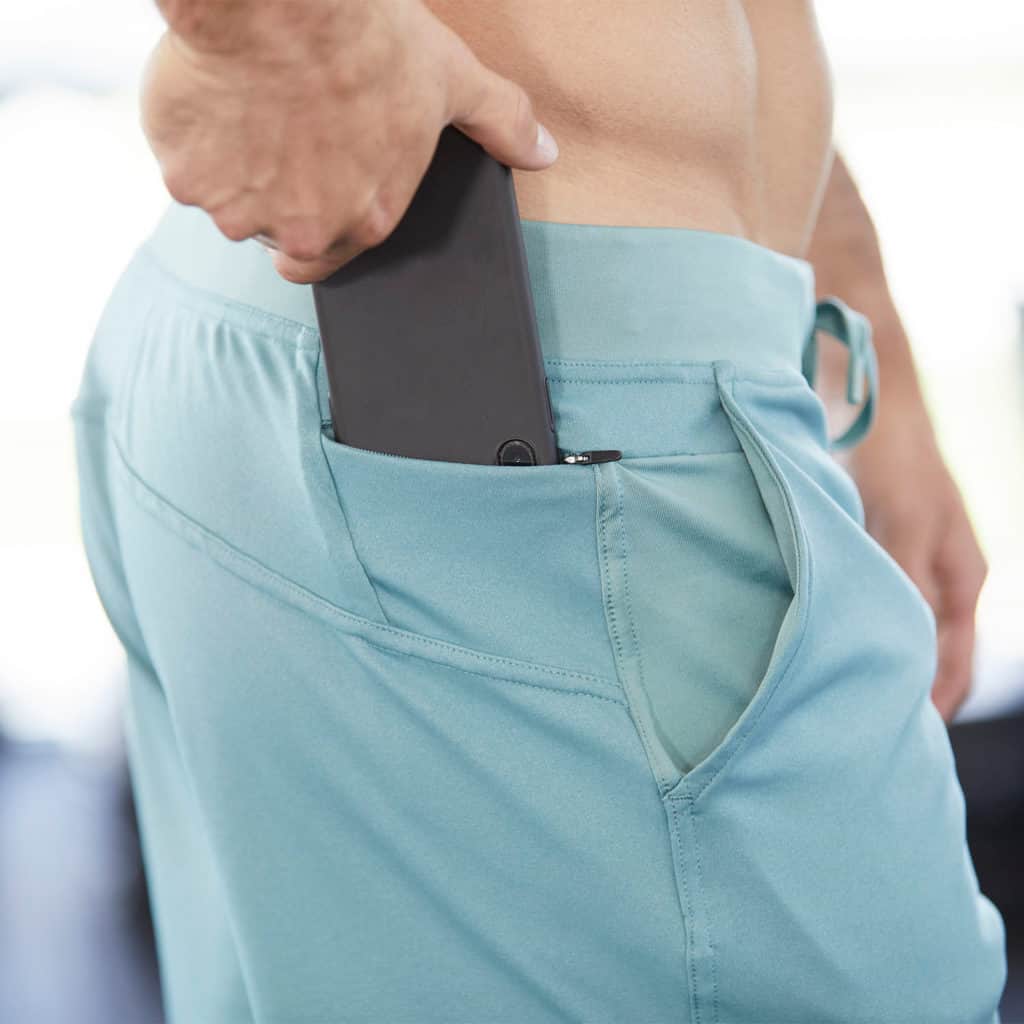 It is towards the backside of the leg – this ensures your delicate electronics (or car keys) stay out of the way.
With the zipper closed you can lean back or go inverted without spilling the contents of your pockets all over the gym floor, too
Given that these are a conservative styled gym short they have regular pockets too.
We love the thought of having versatility in your wardrobe.
The dual zippered pockets aren't small either – they will easily fit the largest Android and iPhones.
Like most of Hyletes "board short" style shorts the Fuse also utilizes their slick patented waistband feature.
It can stretch in circumference – for a perfect fit every time, even in the off-season.
It gets even better though.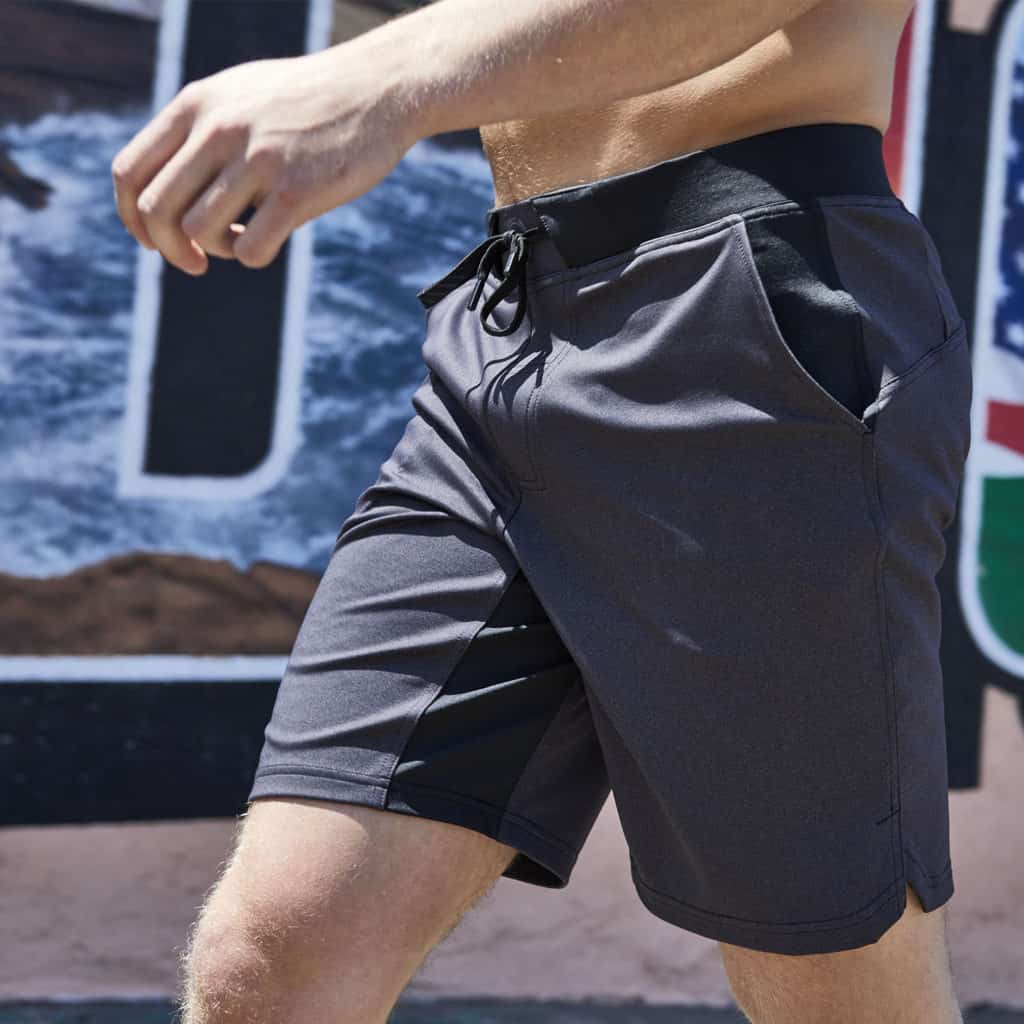 Traditional drawstrings are a pain.
First of all they can be lost – or if they are pulled out of the shorts it can be a real pain to get them back in.
They also have a weird cinching or scrunching effect – because they are one piece of fabric or material.
The Fuse have Hylete's special "two-way drawstring".
This is a very nice feature to have in the gym or out!
There are two individual draw strings – one on the left, one on the right. They are stitched into the waistband of the shorts. You'll never lose them.
But perhaps more importantly – having two strings means you can easily tighten them individually as needed.
No cinching, no scrunching – you get a perfect fit.
And also, I know what you are thinking – how formal can these be with a draw string?
You can also route the ends of the draw string INSIDE or OUTSIDE the shorts.
Want the clean and formal look? Keep the drawstring inside.
That will keep the knot away from interference and ensure it doesn't come untied.
The drawstrings themselves are silicone textured and have excellent grip.
These drawstring will stay tied tight even if you elect to have them outside the shorts.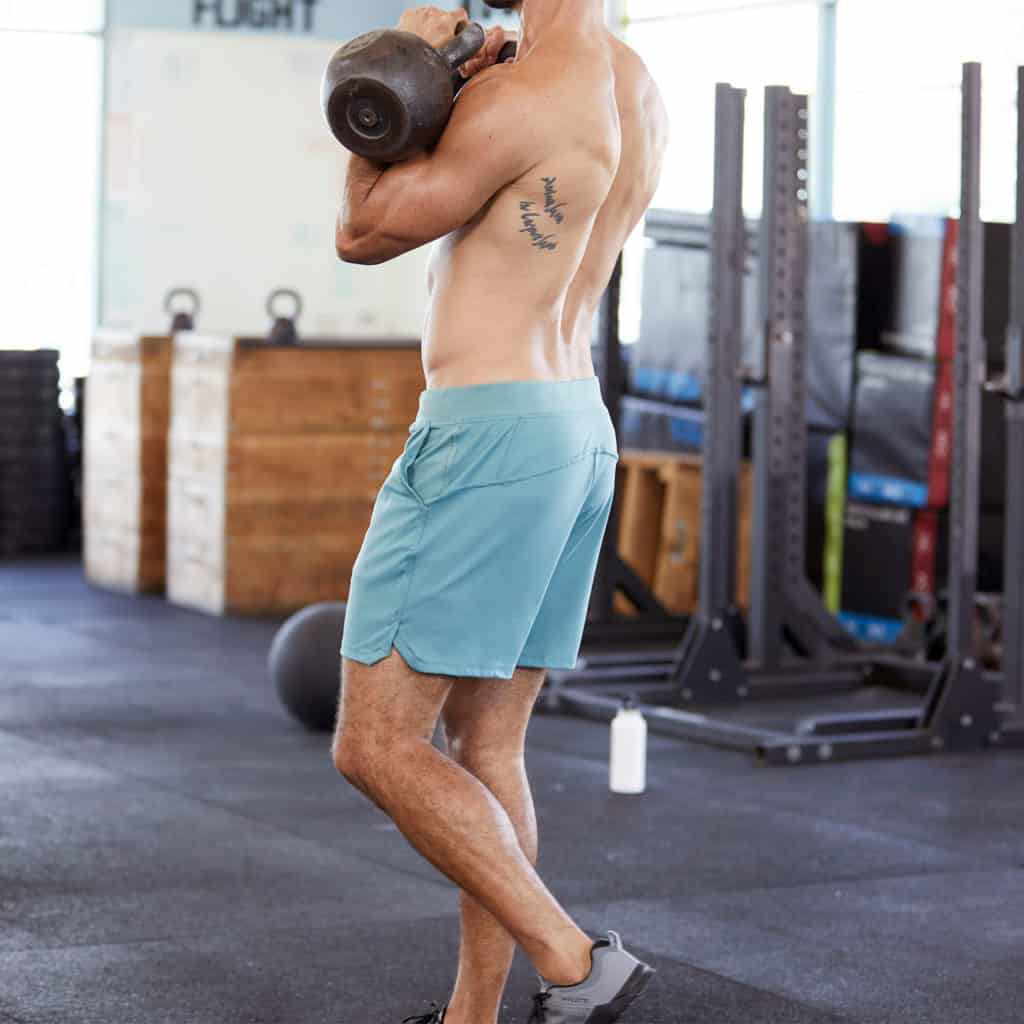 Fuse Workout Shorts for Men – Material
First of all – let's talk color.
All the Fuse shorts are a "heather" or "heathered" material.
What's "heathered"?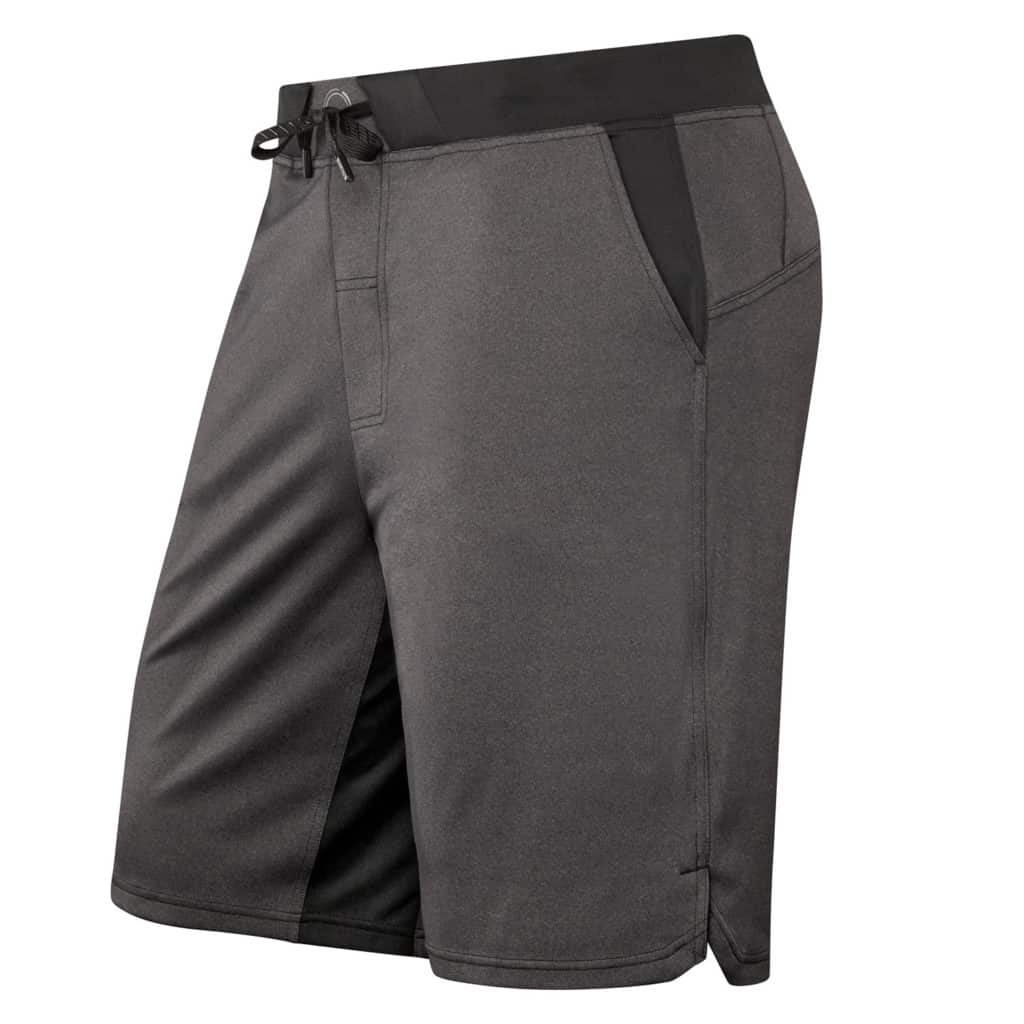 Heather refers to interwoven yarns of mixed colors.
It is typically used to mix multiple shades of grey or grey with another color to produce a muted shade (e.g., heather black).
And it looks sharp – and formal – as you can see here.
Remember – the Fuse are Hylete's option for very versatile shorts.
The Fuse workout shorts are made from Hylete's "Stretch-Knit" fabric.
It's an ultra-durable fabric – and it is way better than cotton.
It is a Polyester (50%) / Nylon (43%) / Spandex (7%) blend.
Synthetic materials are a necessity in performance wear – they are lighter, more breathable, and not as absorbent as cotton. They also dry much, much faster.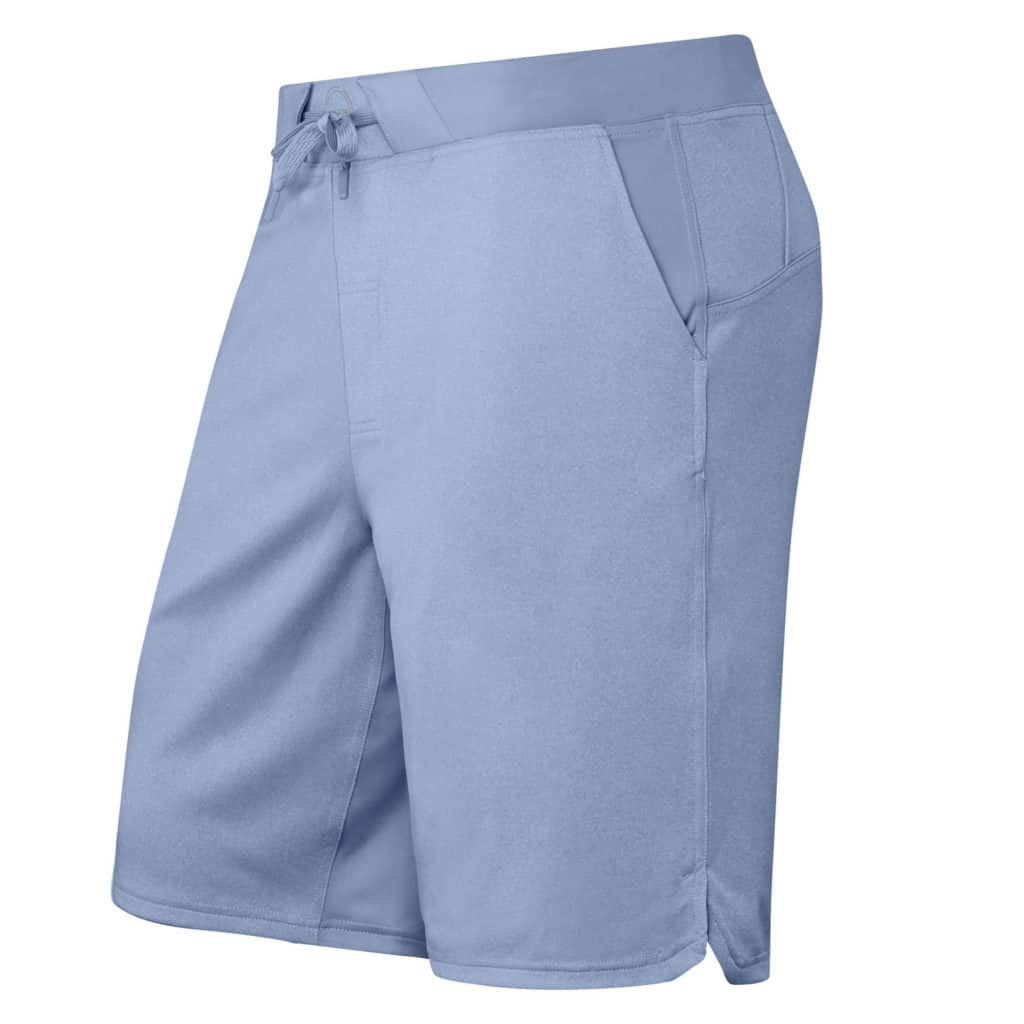 The mixture of polyester and nylon is what gives the "heathering" in this case.
Do you want to walk around sopping wet? Neither do I…
Why spandex? That's what give these shorts their powerful stretch – and still go back to shape every time.
That's the difference between a perfect fit – and major discomfort.
The stretch also ensures there are no limitations to your range of motion when exercising.
You should also note that the Fuse shorts are the least amount of spandex of the Hylete workout shorts – so these do have less stretch than the Vertex, Helix, or Verge shorts.
(But they are more formal in appearance.)
Polyester is the other key component. Polyester is a synthetic material that is very resistant to shrinking and wrinkling.
But, more importantly it is thin and light (but durable) and it dries lightning fast.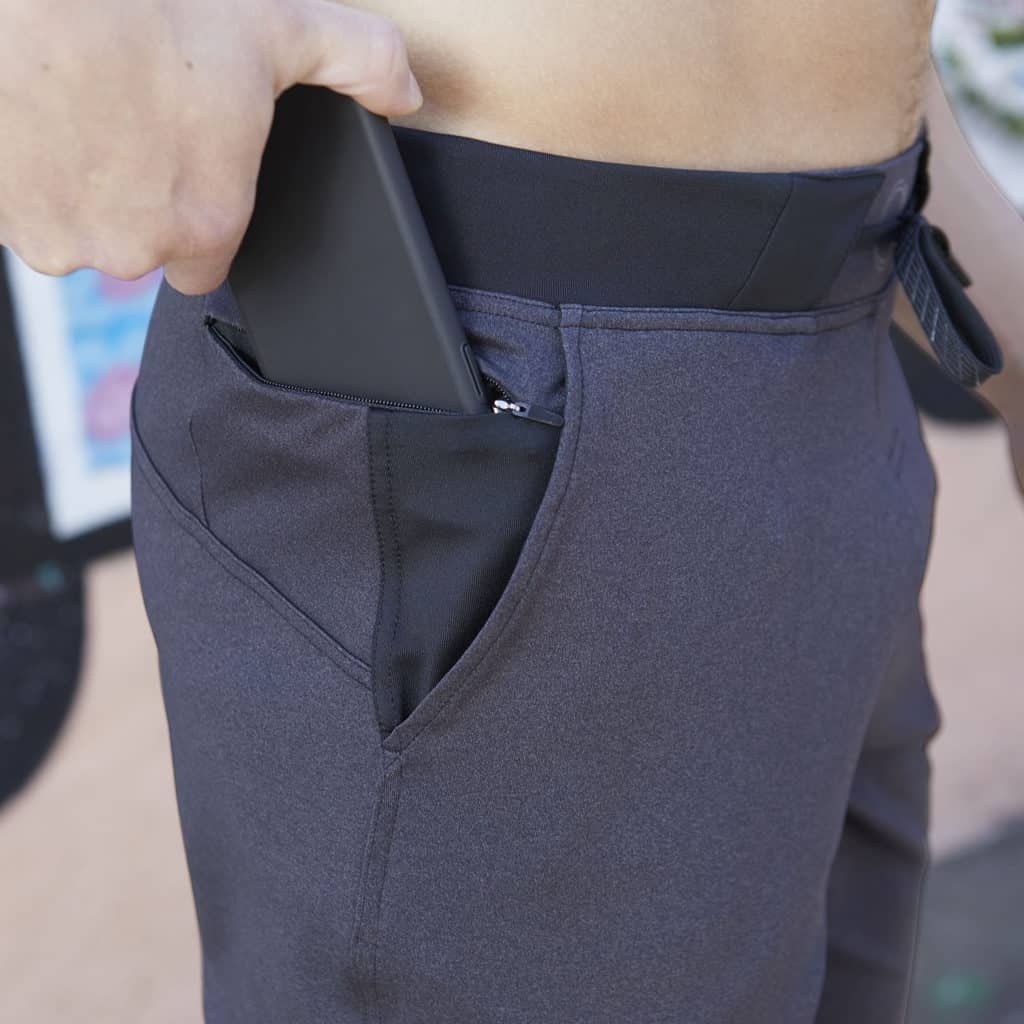 Fuse Workout Shorts for Men – In the Gym
How do they work in the CrossFit box or globogym?
They work as advertised.
The waistband, two-way drawstring and pockets with zippers work as advertised.
(I prefer to NOT carry things in my pocket while working out – but sometimes you have to – especially for a smartphone or earbud carrying base.)
It's nice to have the option – and quite frankly having pockets make these a viable option for every day casual wear too.
The Two-Way Drawstring ties tightly and stays put – especially if you route it through the inside using Hylete's unique patented waistband design.
The grippy silicone on the drawstring is an excellent touch as well.
And rest assured you have maximum mobility for squats, deadlifts, lunges, and anything else you do in the gym.
All those exercises are not a problem.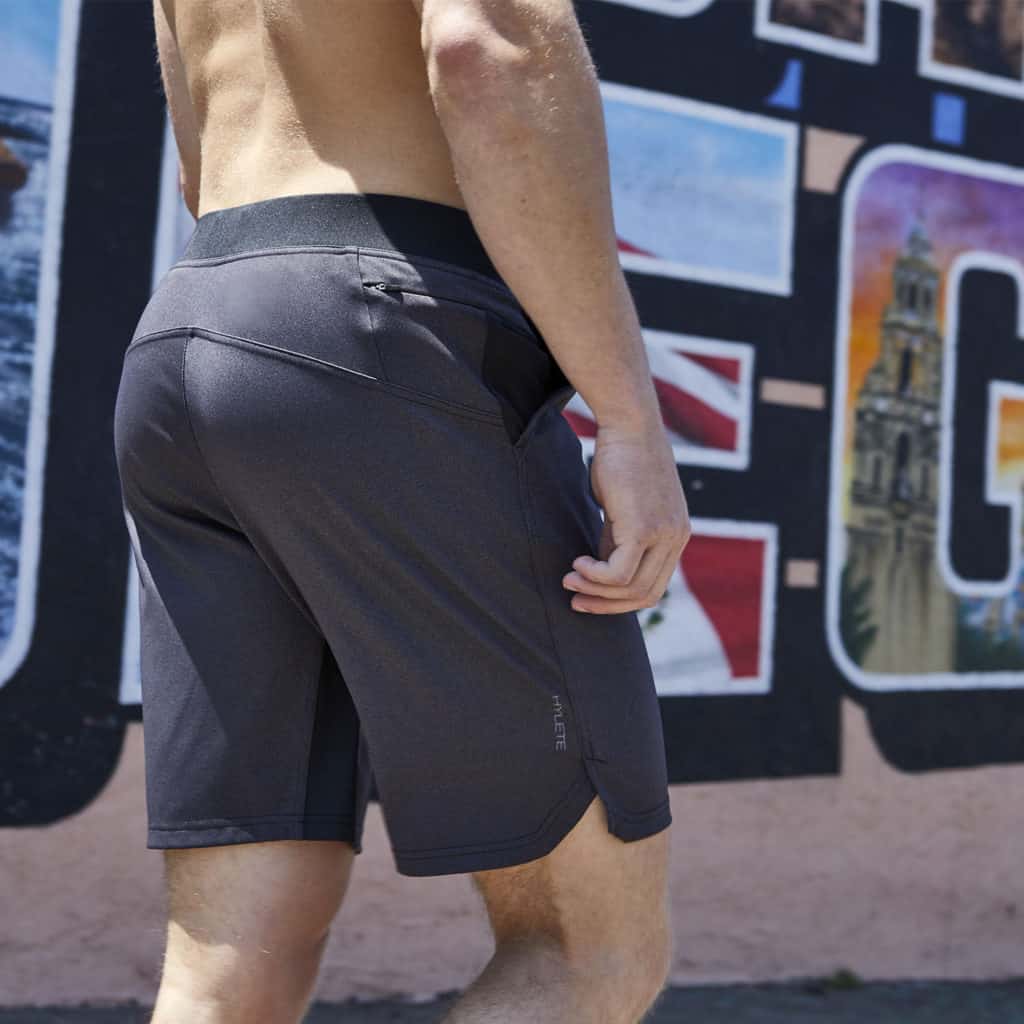 Fuse Workout Shorts – Care and Laundering
Machine wash cold and Hylete recommends you tie the drawstring and turn them inside out.
For drying – put them on tumble dry low – and not bleach or iron them (who irons shorts???)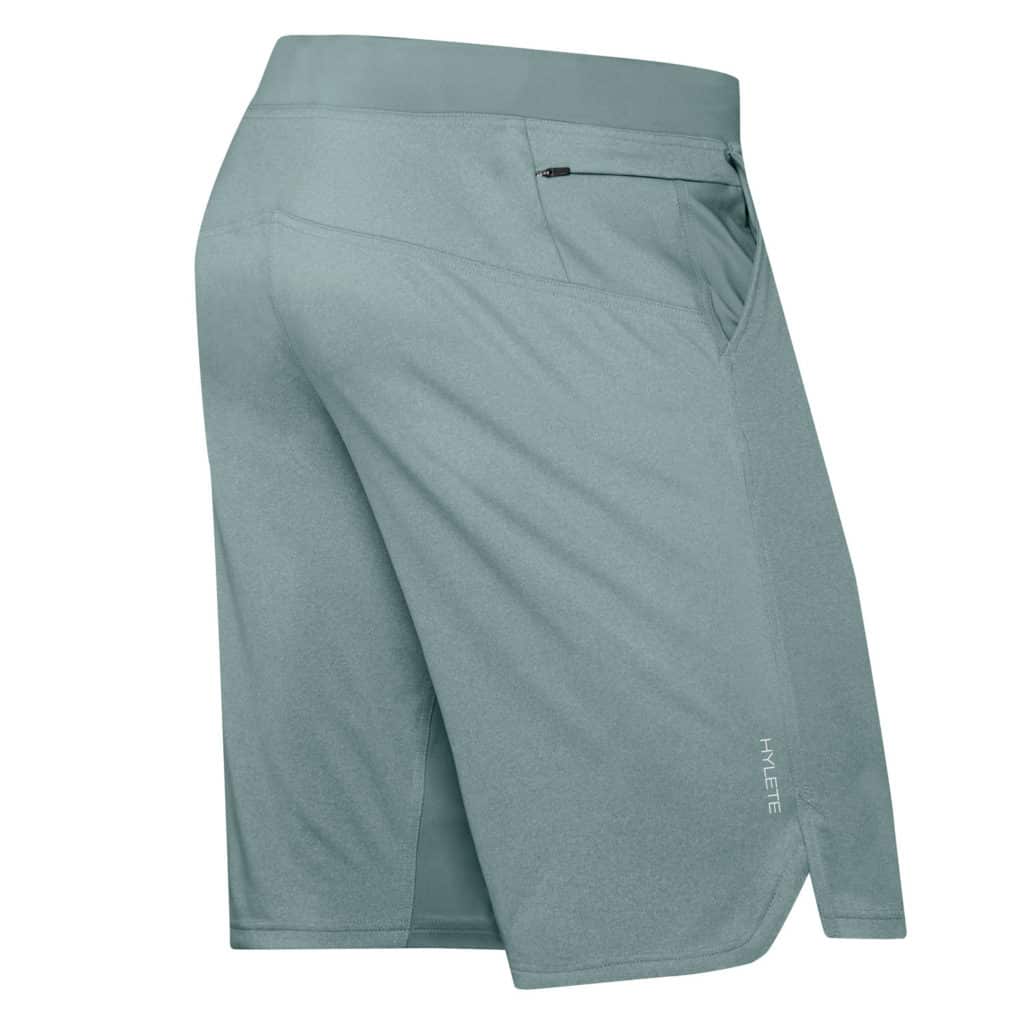 Disclaimers
We are an affiliate of Hylete – that means if you buy clothes after clicking links in this article, we make a small commission at no additional charge to you. This helps us to bring you great information about these products.
This website is not affiliated or associated with CrossFit, Inc. CrossFit is a registered trademark of CrossFit, Inc.