Rogue has released the 3rd version of the
Echo Bike
. Grab one while they last!
Nike has just released an exciting new version of the Nike Metcon 5 cross training shoe – one of the best trainers for CrossFit of 2020.
Here's the brand new Nike Metcon 5 AMP with a Fade Away Upper (Also called the Nike Metcon 5 AMP WETEST (We Test.)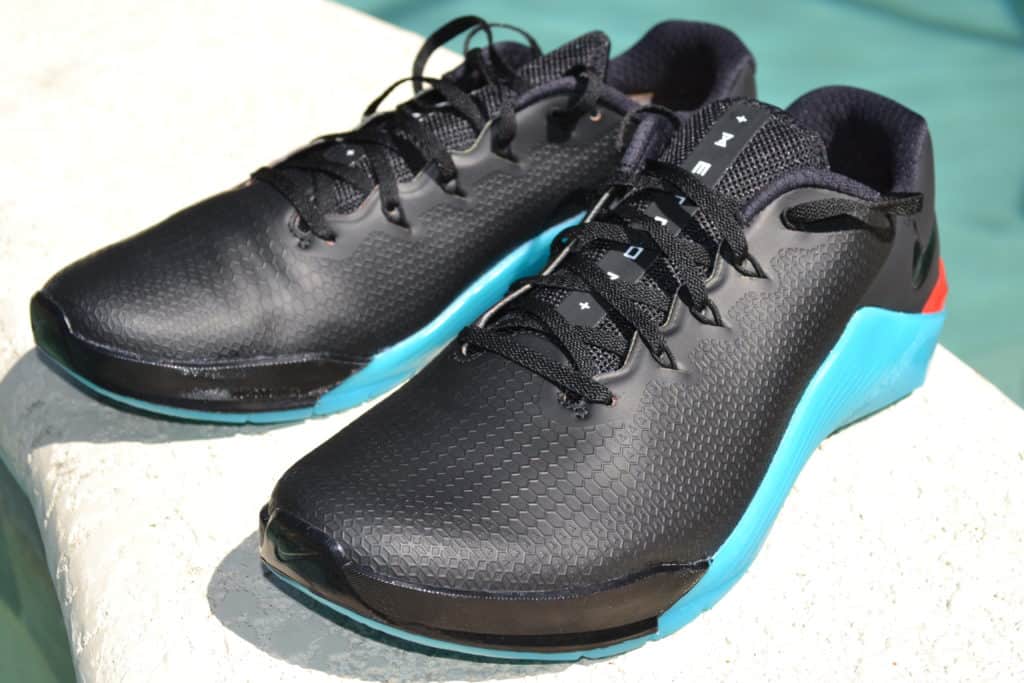 What's a Fade Away Upper?
It's easiest if we show you…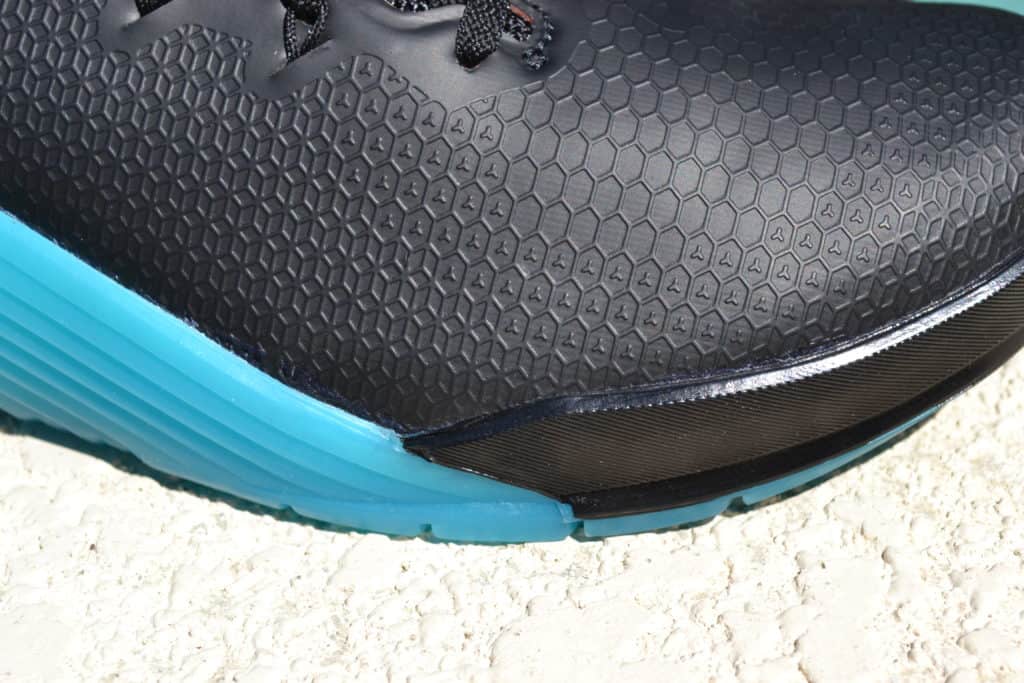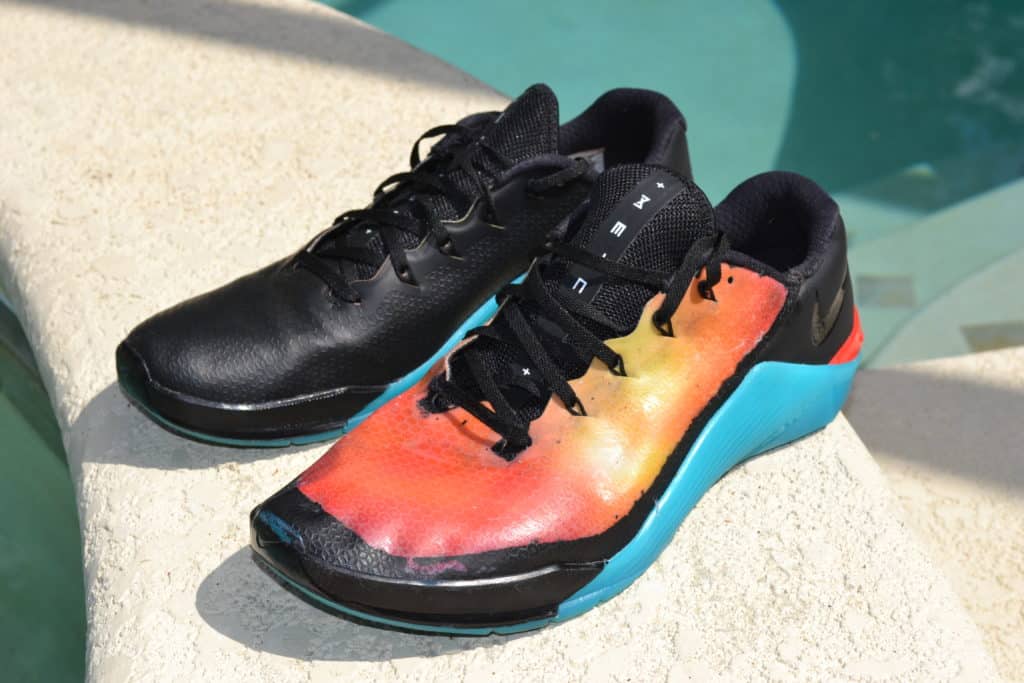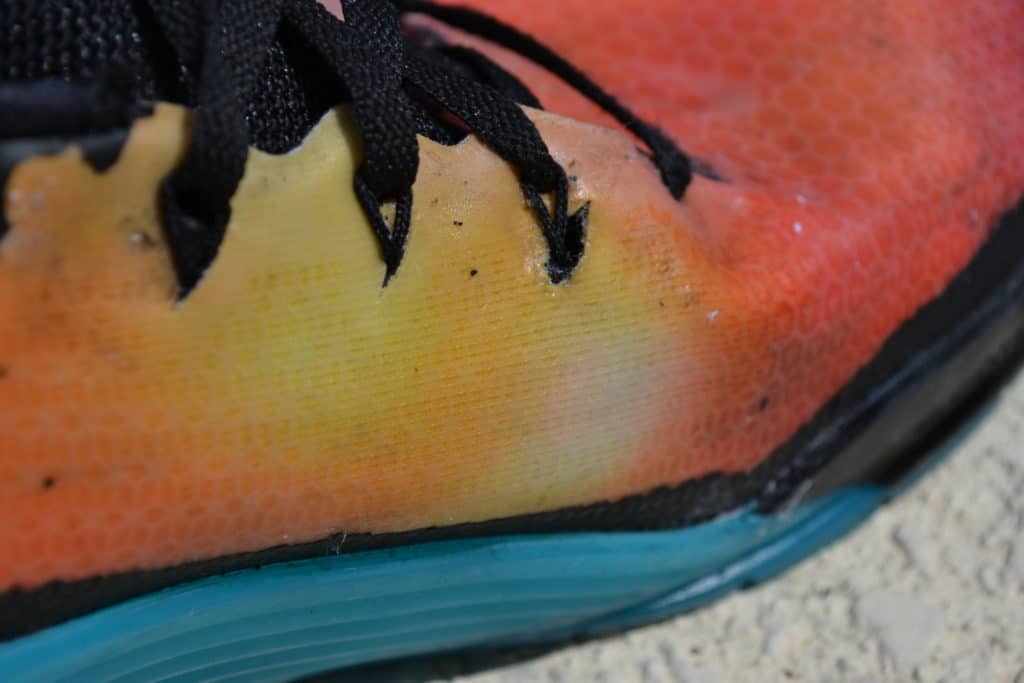 Ok, so that's pretty cool.
The Fade Away Upper reveals underlying colors as you train over time.
Nike has an unsurpassed sense of style when it comes to good looking training shoes.
By the way, the official name of this is "Black/Laser Crimson/Oracle Aqua/Black" and style number CD3395-006.
Let's take a closer look.
Fade Away Upper in the Nike Metcon 5 AMP
In a nutshell, here's what "Fade Away" will do.
As you train from day to day, the shoe's upper will gradually peel back its top layer, revealing the bold new colors hiding underneath.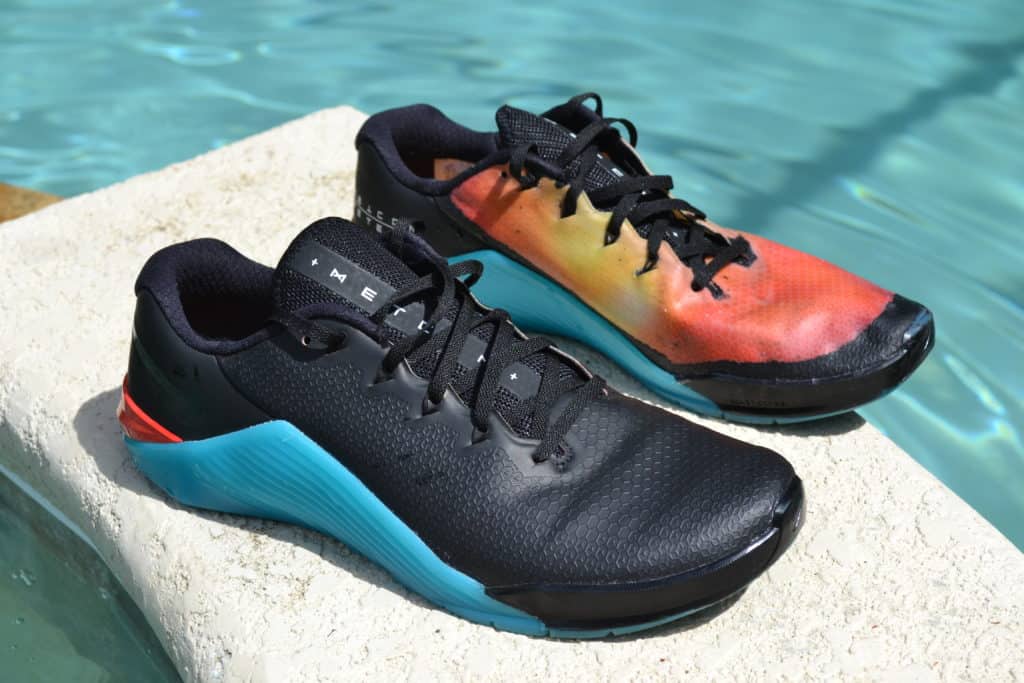 Ok, so that's the basics of the what the fade away upper is meant to do.
How well does it work?
How long will it take?
The coating is tough and rubberized. It took sand paper and a butter knife to scrape off enough for you to see.
It's going to take a good deal of time.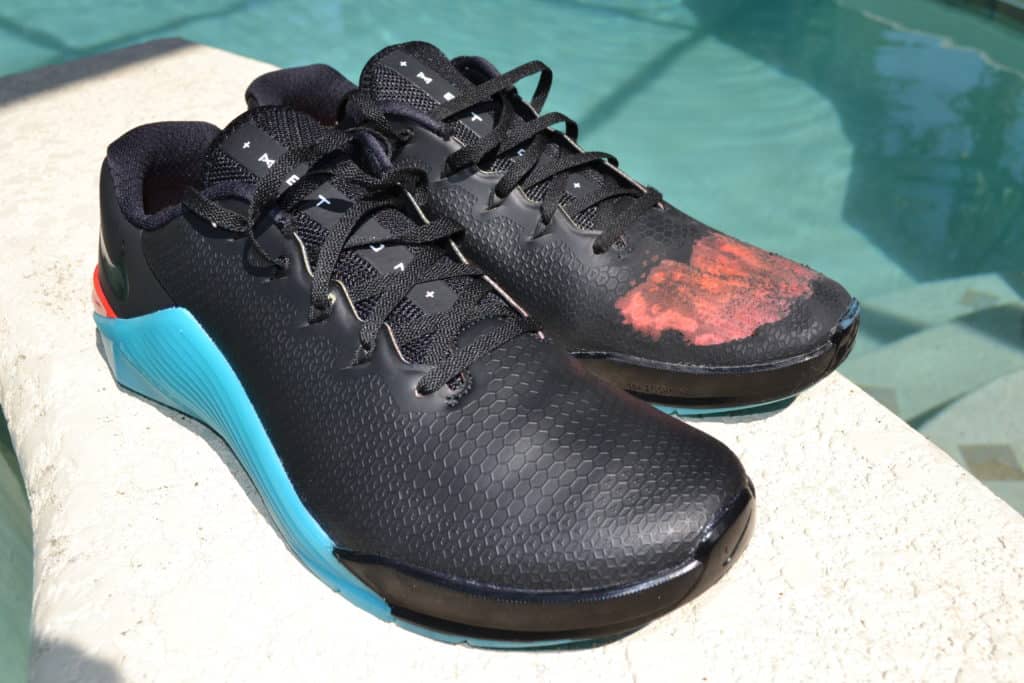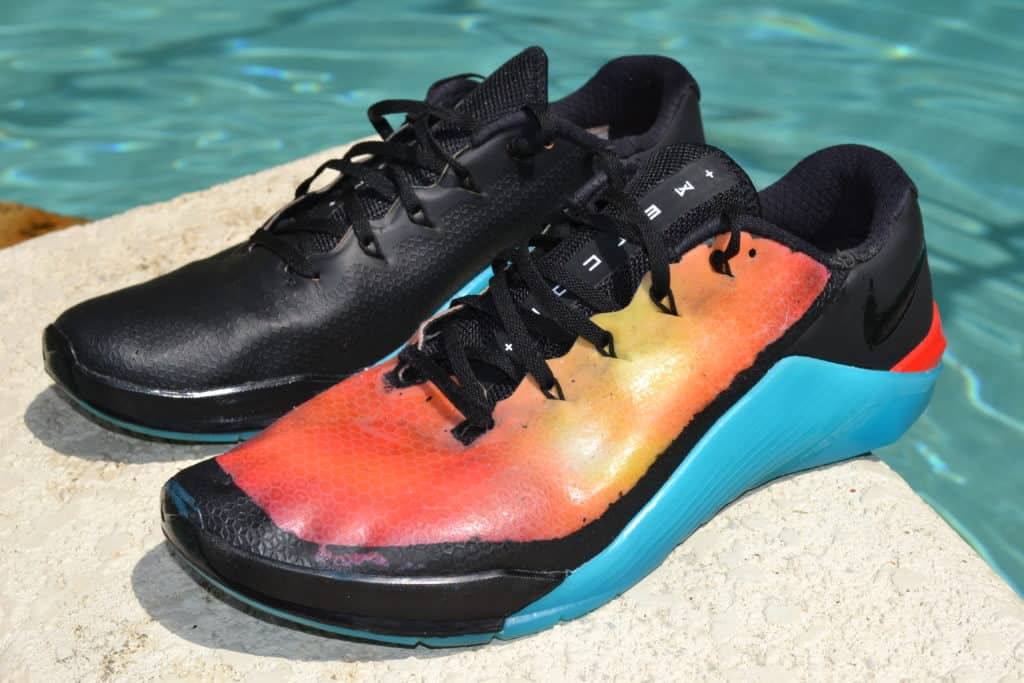 Just what color combos are lurking beneath the upper?
Now we know – there's sort of a red / orange combination.
Want to see it in video? See our hands-on first look on YouTube:
Is the Fade Away upper just a gimmick?
No – because the Nike Metcon 5 is an excellent cross training shoe.
And the Nike Metcon 5 AMP has all the same features – let's review.
Nike Metcon 5 AMP Fade Away – Upper
Forget the Fade Away feature for a few moments – let's talk about the basic upper of the shoe.
The Upper is the part that covers your foot, by the way.
What is it made of?
In the normal Nike Metcon 5 it is a lightweight breathable mesh – but historically that's not a very durable material.
And on this version of the shoe there's that rubbery coating for the fade.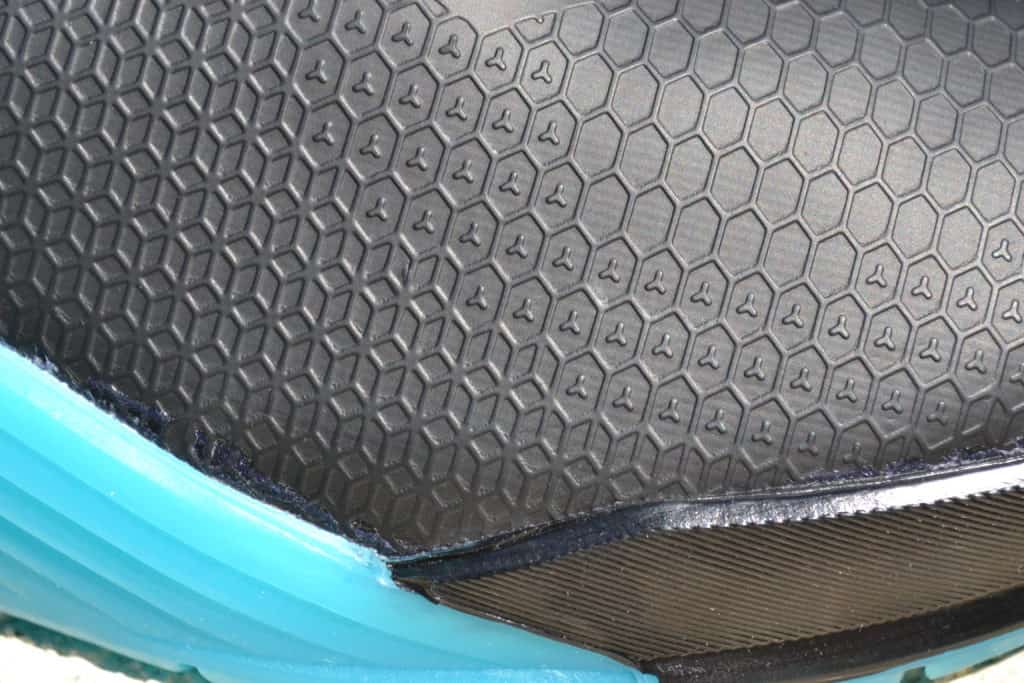 It's not going to be as breathable as a regular Nike Metcon 5.
But, it is tough as nails. I had to use sandpaper and a butter knife to expose the underneath.
And the upper shows no damage. These are TOUGH shoes.
You'll notice it's more dense in some areas and less so in others.
So Nike has added on top of it a durable 3D haptic print.
The print is tough and looks like a chain link fence.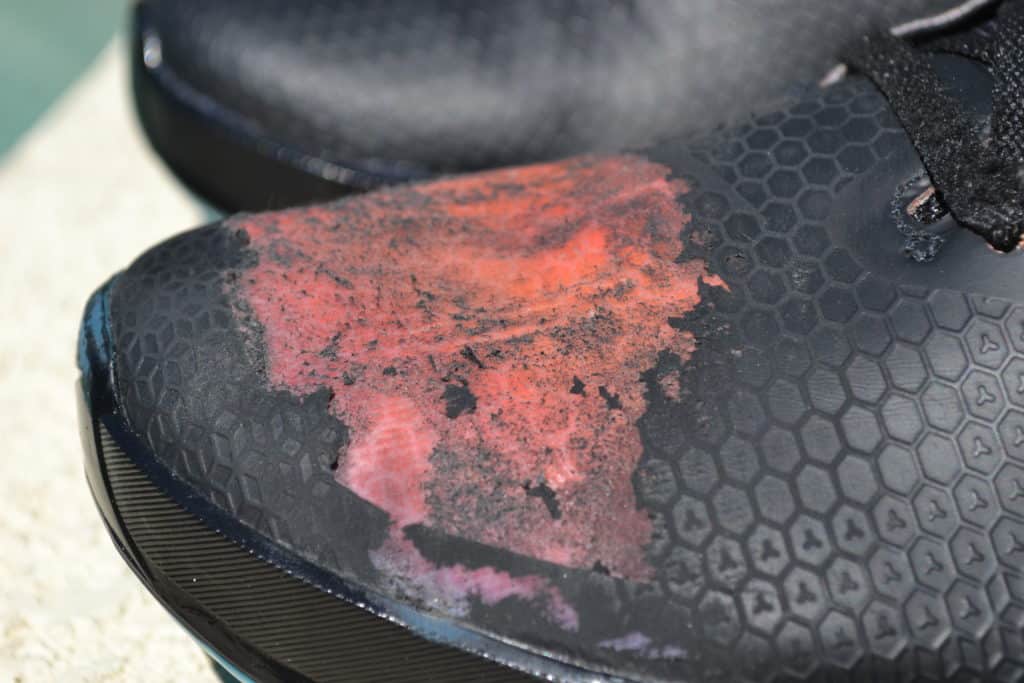 The high wear areas get more print, that makes sense.
This gives you the best blend of a durable shoe – that's tough as nails to.
While we're looking at the upper, lets take a look at the laces too.
The Nike Metcon 5 AMP uses good, old fashioned regular laces.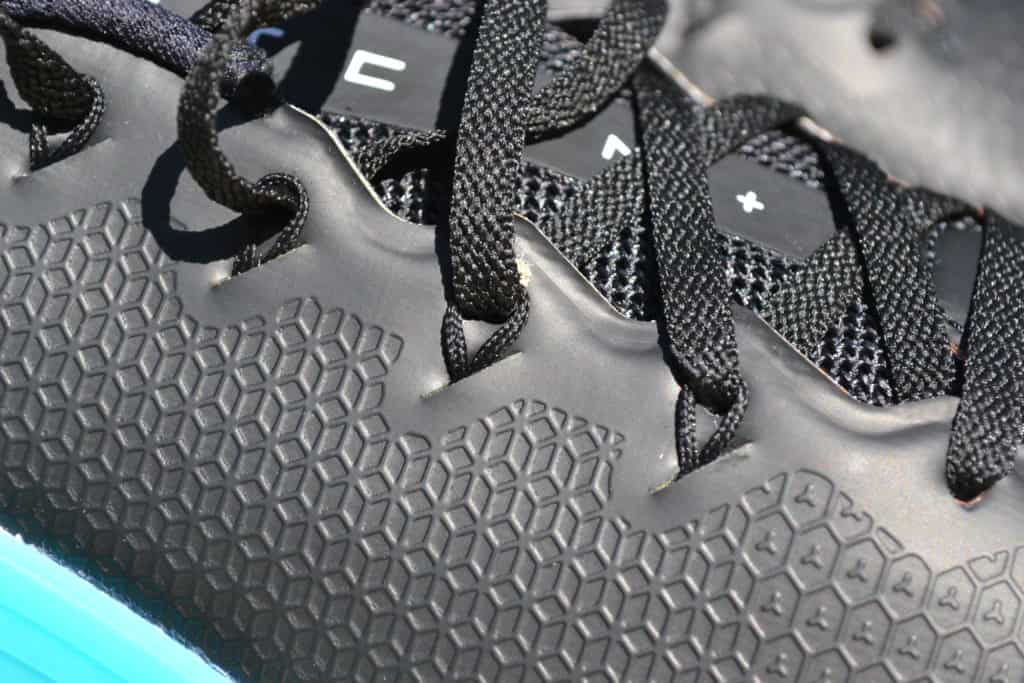 Lace them up tight, or keep them loose – it's your choice.
The fact is that shoelaces work – and are often more secure than some of the new-fangled things like "quick pull laces" or laceless shoes.
But Nike has another trick up their sleeve.
You'll notice around the eyelet for each lace there appears to be a thin little thread.
It's not a thin little thread – it's a super tough Vectran filament – and it is up to 5 times stronger than steel for it's weight.
This is what Nike calls "FlyWire" – and these run through the body of the shoe.
When you tighten the laces, it tightens up the whole fit and feel of the shoe.
Just like a mid-foot strap that you might have on a weightlifting shoe – but at nearly zero additional weight and bulk!
Another key feature of the Nike Metcon 5 AMP is that the tongue is thicker and more padded than what was in the Nike Metcon 4 or 4 XD.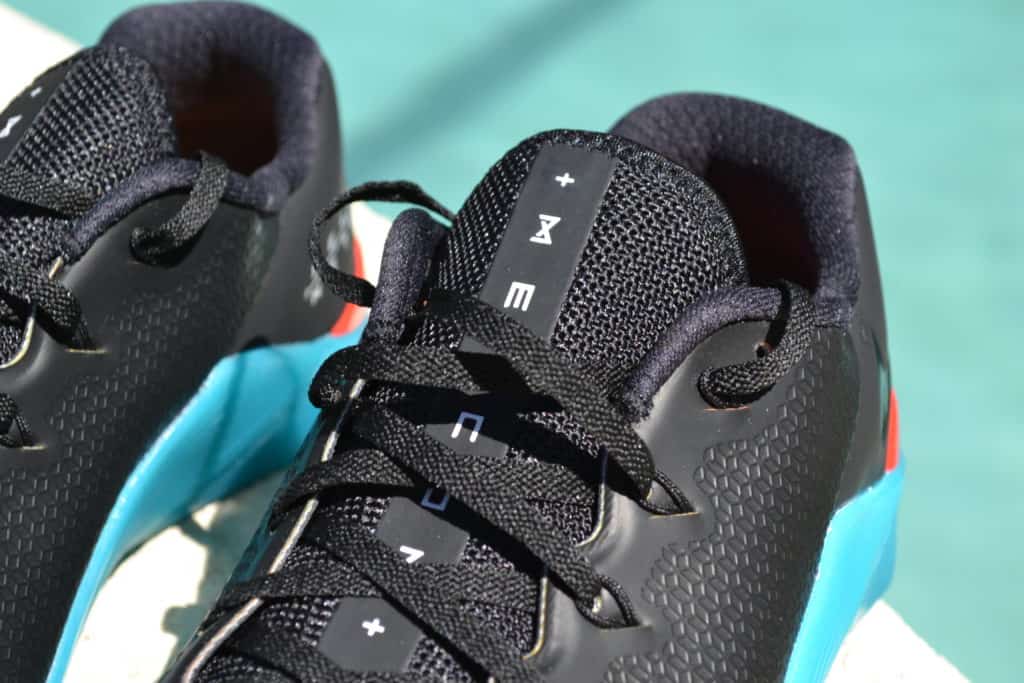 This better protects against lace bite.
Nike Metcon 5 AMP Fade Away – Heel
Now, we'll look at the heel.
The heel is wide, and diamond shaped -for ultimate stability in lifting weights (think squats, deadlifts, Oly lifting, and anything else you do with a weight.)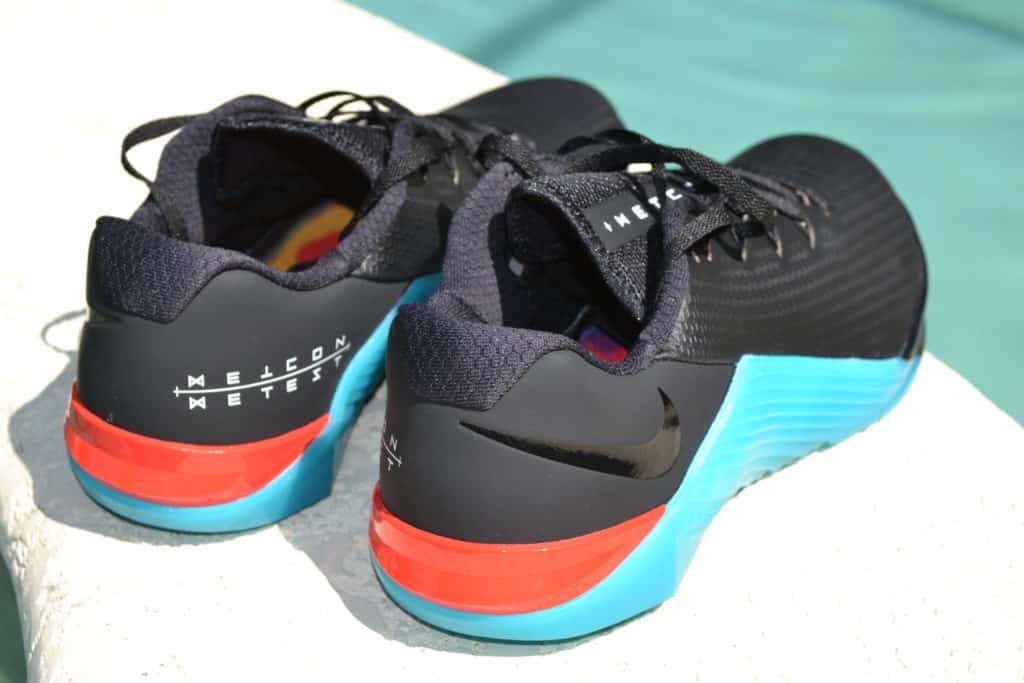 The heel also contains within it a rigid heel counter – to ensure your foot stays put when you are doing explosive lifting.
At the bottom of the heel is the stiffest portion of the dual-density drop-in midsole – again for lifting weights.
(If you haven't figured this out yet – The Nike Metcon 5 AMP is an excellent shoe for lifting weights!
What's the heel to toe drop?
(That's the amount of height your heel has over your toes in the shoe.)
It is 4 mm.
Want more? Simply drop in the included Hyperlifts and gain an additional 8mm of offset for a total heel to toe drop of 12 mm.
Why would you want to do this?
A bigger heel to toe drop makes this cross trainer feel more like a dedicated Oly weightlifing shoe.
The gigantic heel raise in those shoes make it easier to squat deep.
(But Oly lifters are heavy, bulky, and you can't run or jump in them.)
What exercises do people consider using the Hyperlifts for?
Really anything that involves a squatting motion – but they really shine for thrusters, wall balls, and pistol squats – also known as one legged squats.
This is because pistols normally require a LOT of ankle flexion – and the heel raise helps minimize that so you can still hit depth.
Give it a try – you'll love them!
Nike Metcon 5 AMP Fade Away – Outsole
The sole, also known as the outsole, is where the rubber meets the road – literally.
The Nike Metcon 5 AMP has a flat, grippy sole.
It has maximum contact area with the gym floor for traction and stability.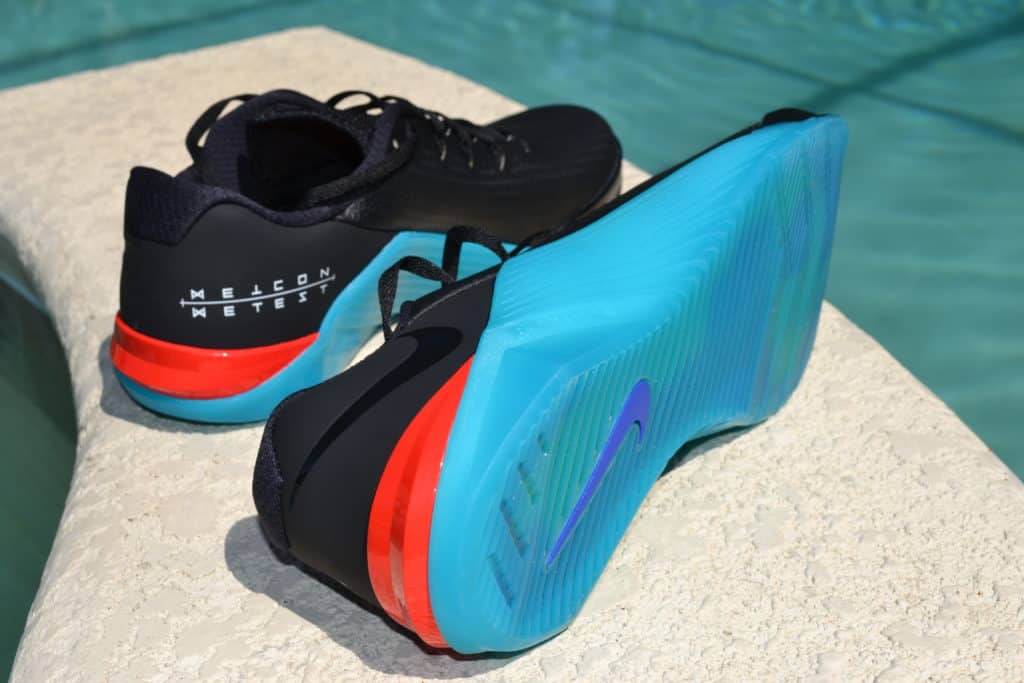 It's also tough as nails – so these shoes will last a long time.
You'll notice that the sole has pre-formed flex grooves too – for those movements that require flexibility (think jumping rope, box jumps, etc.)
The other factor that makes this shoe so great for the CrossFit WOD is that the forefoot portion of that dual-density drop-in midsole has a good amount of cushion.
this is perfect for absorbing the impact of box jumps, rope skipping, double unders, and sprints and runs.
Is the Nike Metcon 5 the shoe that can do it all?
YES – but it's got one more trick to shoe you.
See where that super-tough outsole wraps up around the shoe at the mid-foot?
That's what Nike calls the "rope wrap."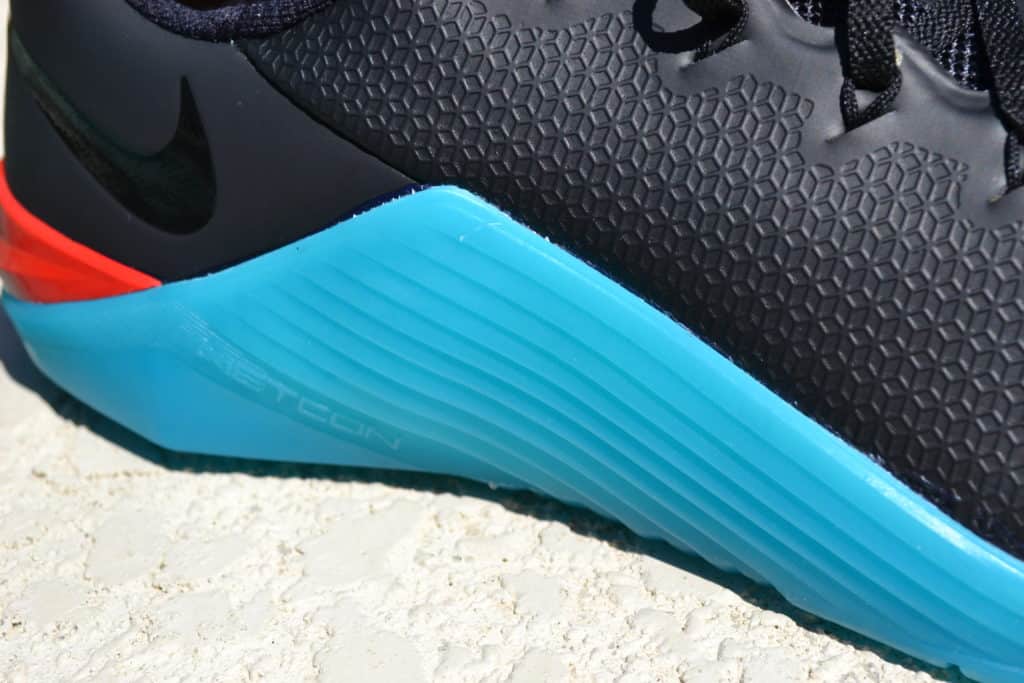 And it makes the Nike Metcon 5 AMP the rope climbing king.
Normal shoes or sneakers can get SHREDDED by rope climbs – because you grip the rope with your feet.
By having the rope wrap area, Nike keeps the friction off the softer upper.
(But even then remember the Nike Metcon 5 AMP has a tough-as-nails upper thanks to the 3D Print.
Lastly, the rope wrap has a tread pattern for maximum rope climbing traction too.
Nike Metcon 5 AMP Fade Away – Fit & Sizing
So what's our advice on sizing?
The Nike Metcon 5 series run a bit narrow.
We recommend you go 1/2 size up to get a little more width in the toe box area.
We've tried it both ways – and trust me you want the extra width.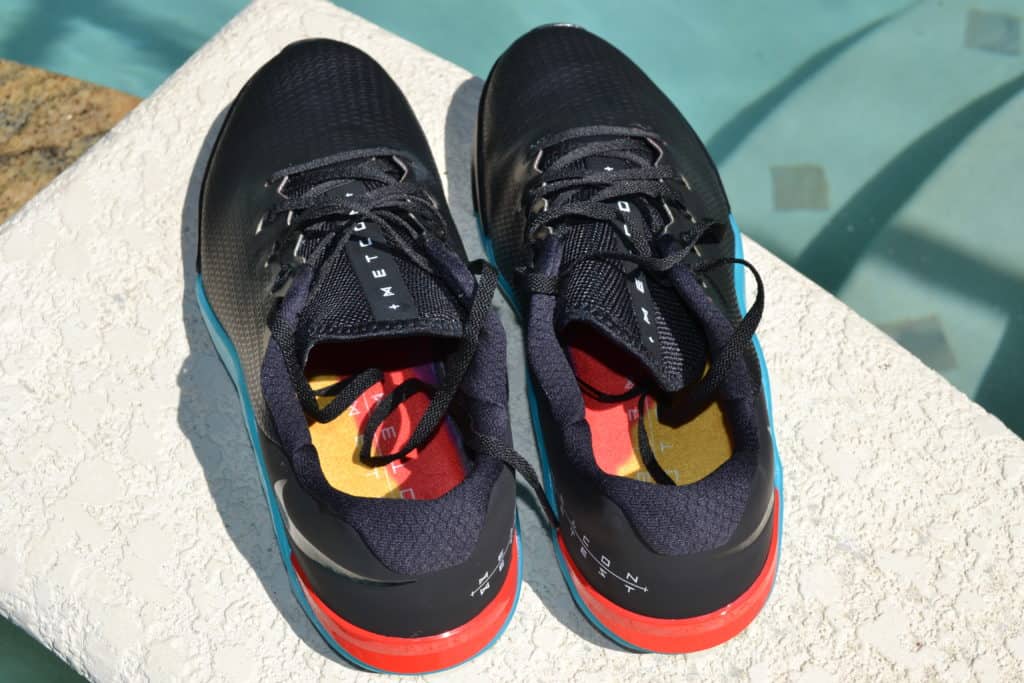 Photo Credits
Some photos in this article are property of Nike, Inc.
This website is not affiliated or associated with CrossFit, Inc. CrossFit is a registered trademark of CrossFit, Inc.