Nike just dropped the new Pegasus Trail 2 – this is a React foam based trail running shoe.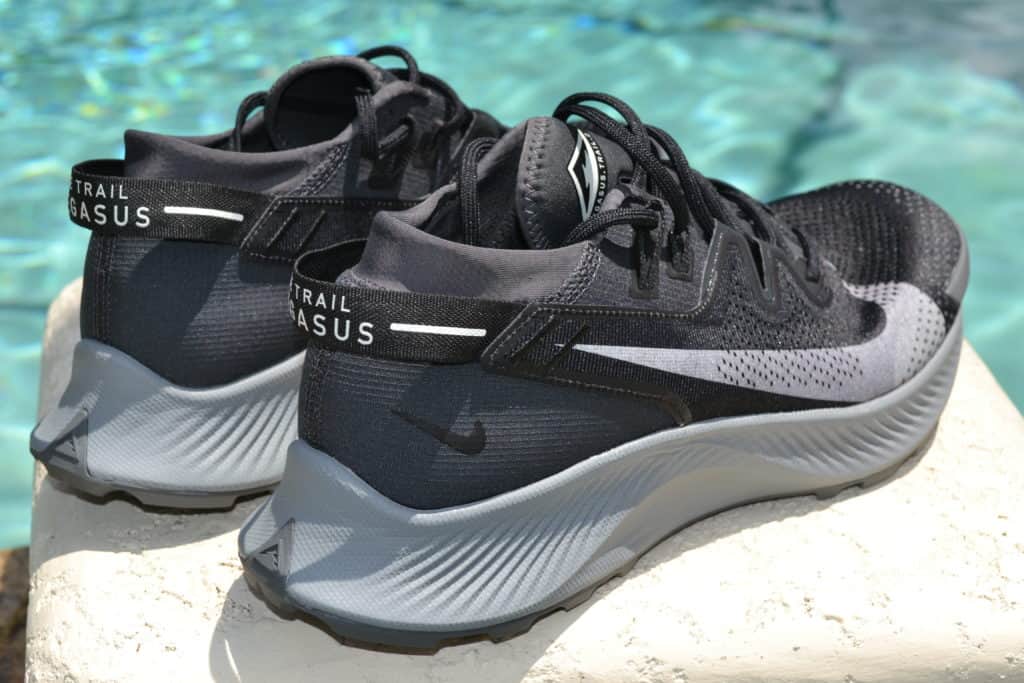 It looks good, but what's the practical difference between this and all the other trail running shoes that Nike has?
(Like the Wildhorse 6, Terra Kiger 6, and Pegasus 36 Trail?)
That's what we'll talk about here in our hands on review.
We'll also compare it to another running shoe that has a lot of React foam.
Here's the styles now available (We are a Road Runner Sports affiliate):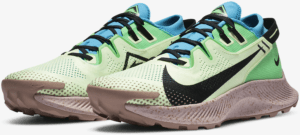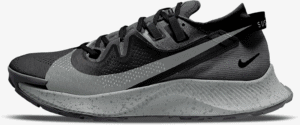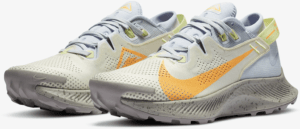 Let's dive in and take a look at this trail runner.
Nike Pegasus Trail 2 – YouTube Review
Why read when you can watch? Here's a first look from our YouTube channel:
Nike Pegasus Trail 2 – Overview
Let's start with the cushioning system – because that is the major defining feature of this shoe.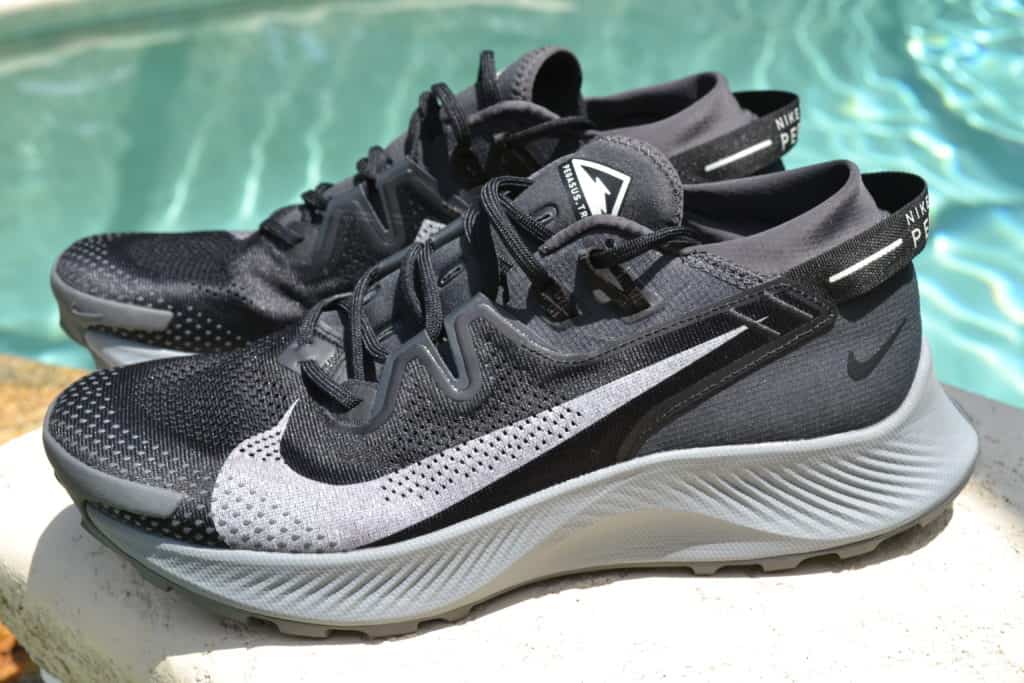 The Pegasus Trail 2 uses React foam – and lots of it.
It gives a very soft, cushioned feel – in both the heel and forefoot.
(But there is more cushion in the heel for sure.)
To get this effect, there's got to be a lot of foam – so check out the stack height – this is a tall shoe.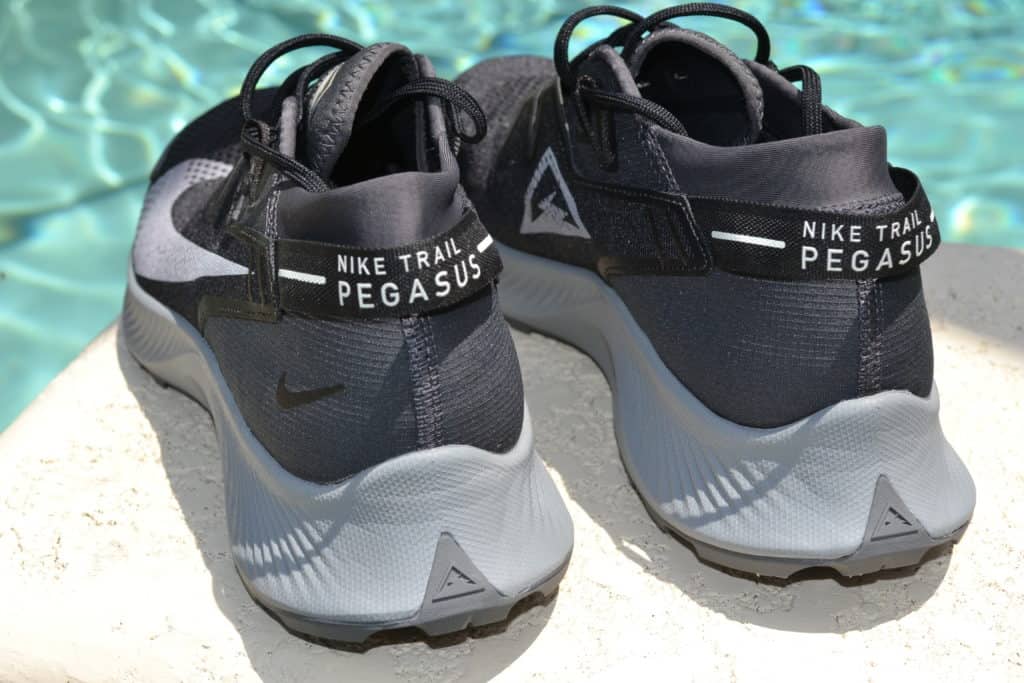 And as such, you can feel a little unstable in side to side movement.
That's the tradeoff you have to consider when you look at a highly cushioned shoe.
But, if a lot of React foam is what you want – this shoe delivers.
You can see from the outsole that there is a typical outdoors style tread for traction and grip.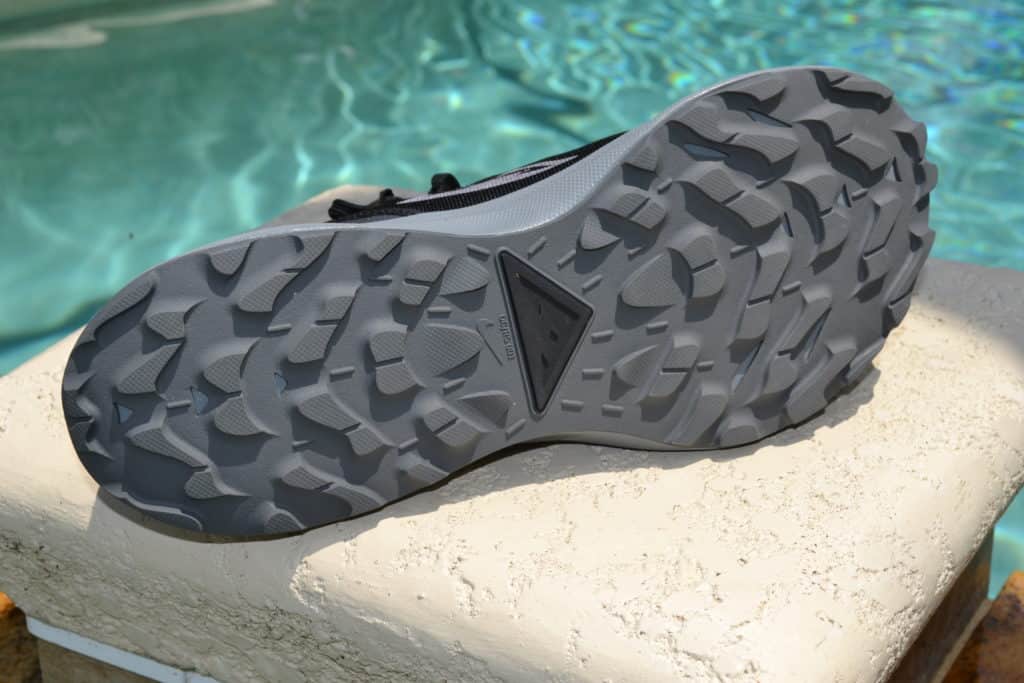 Up front and in the back, there are "toe fangs" (as Nike calls them) that help with uphill and downhill running.
The tread pattern is definitely trail-worthy – but it's not too extreme. This means you can probably wear these in a variety of situations without feeling out of place.
The upper is a lightweight mesh (double layer). It feels soft and breathable.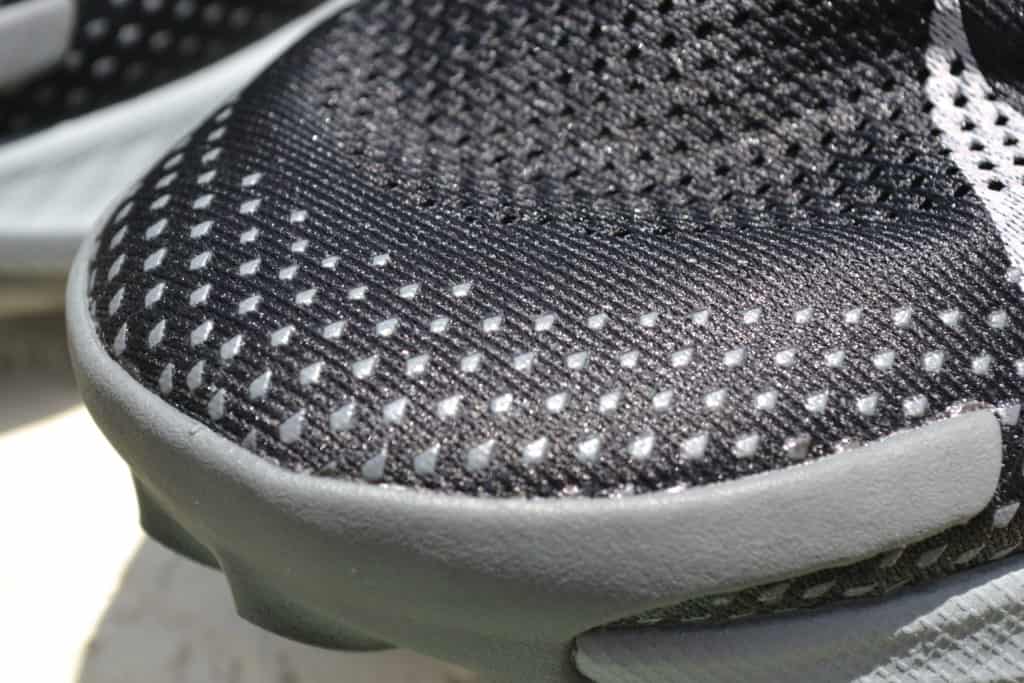 By the way, these shoes run true to size. A men's Size 11 fits me in both length and width – and that's my normal shoe size.
I will say though that the heel feels a bit loose on this shoe – at least for me.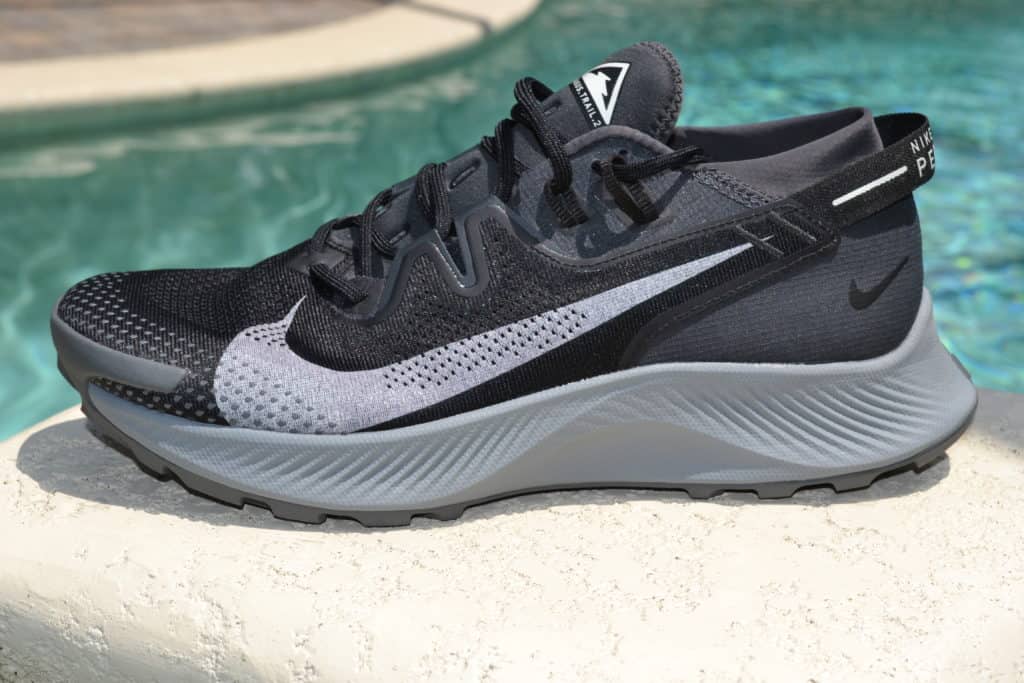 I get a better heel fit with some of the other shoes we describe later.
But overall it works – I like the stretchy tongue (perforated for breathability), the faux gaiter around the collar – and the foam inside the collar for extra comfort.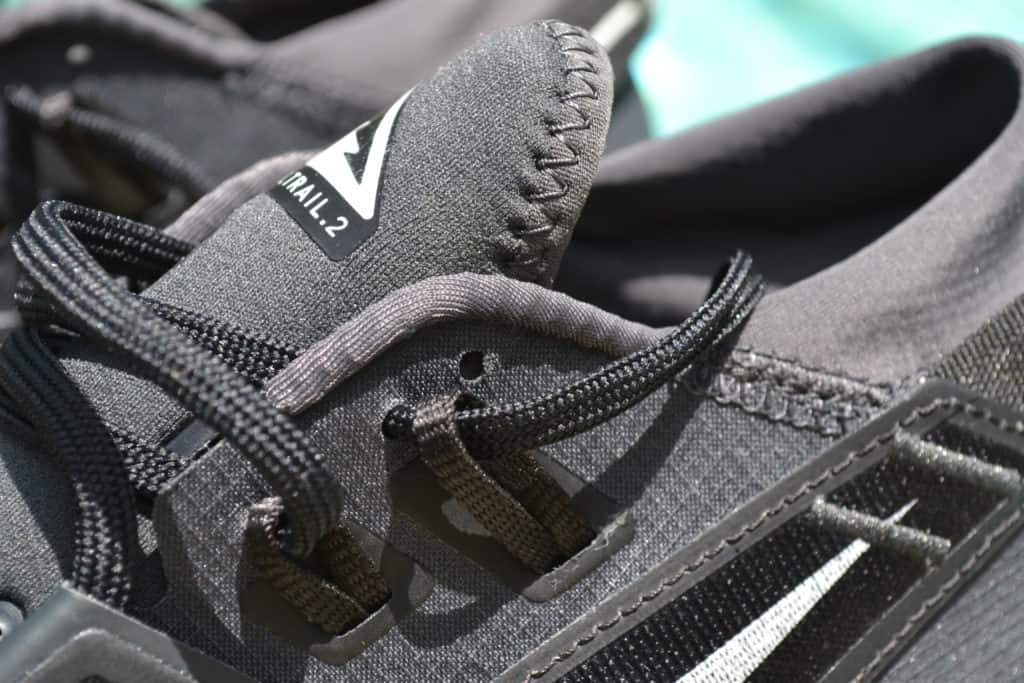 How much does it weigh? A Men's size 11 weighs 12.0 ounces right on the nose.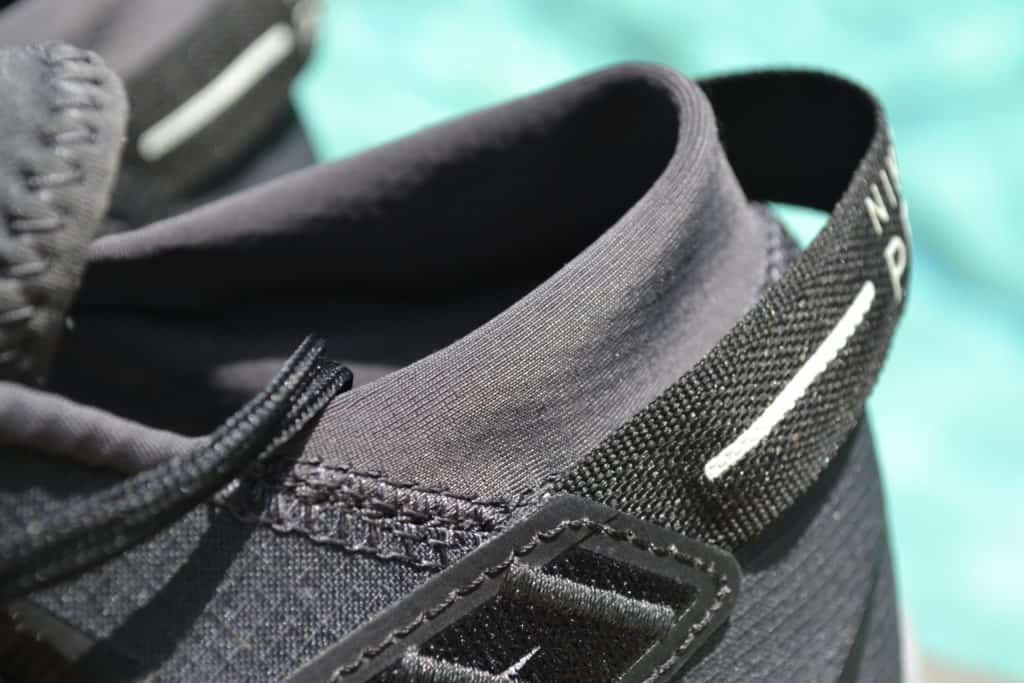 That's typical for a React shoe with this much foam.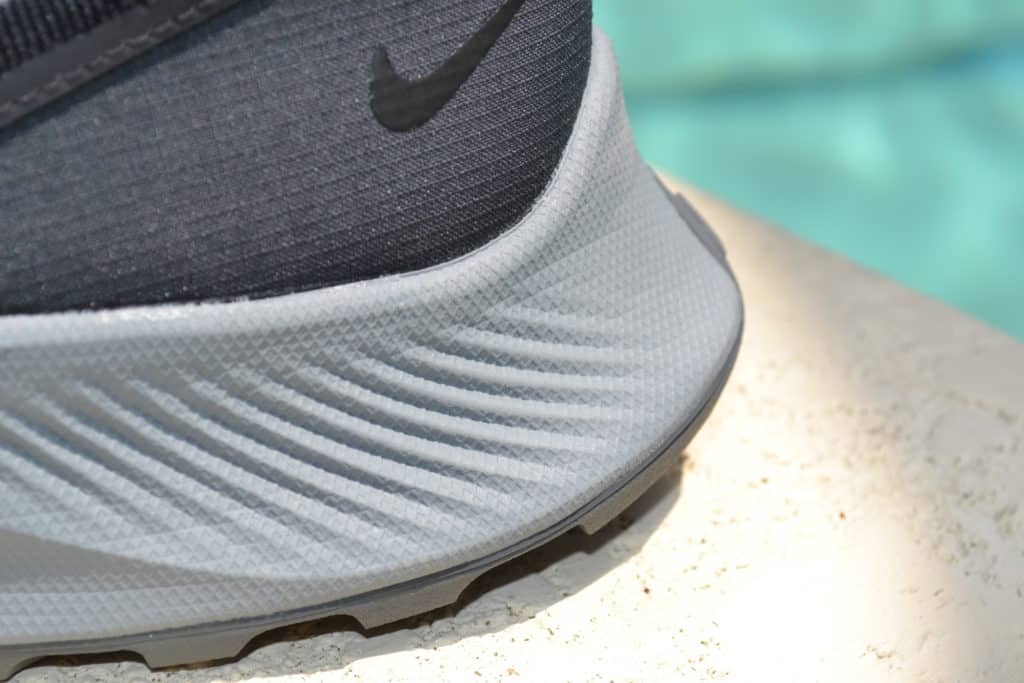 Nike doesn't publish the heel to toe drop – unfortunately.
A product support specialist I spoke with couldn't confirm it either, but suspected it was in the 8-10 mm range.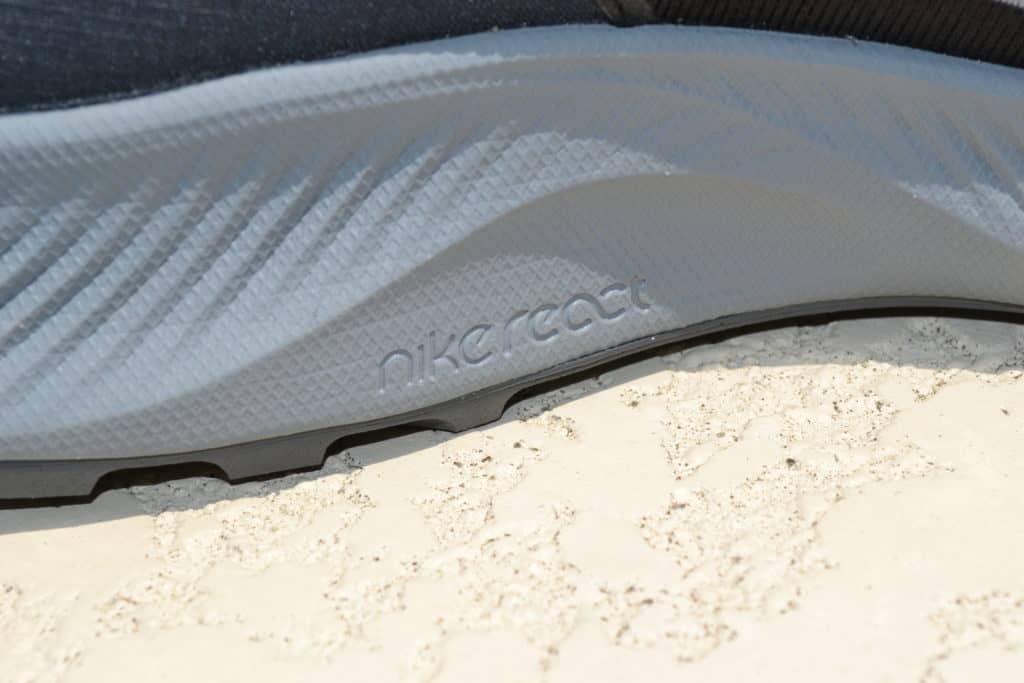 This is the most cushioned trail running shoe I have – thanks to all that foam.
Let's line it up with some other shoes – and see which one is the right shoe for you.
Nike Pegasus Trail 2 Versus Wildhorse 6
The Wildhorse 6 is a React foam based trail running shoe from Nike.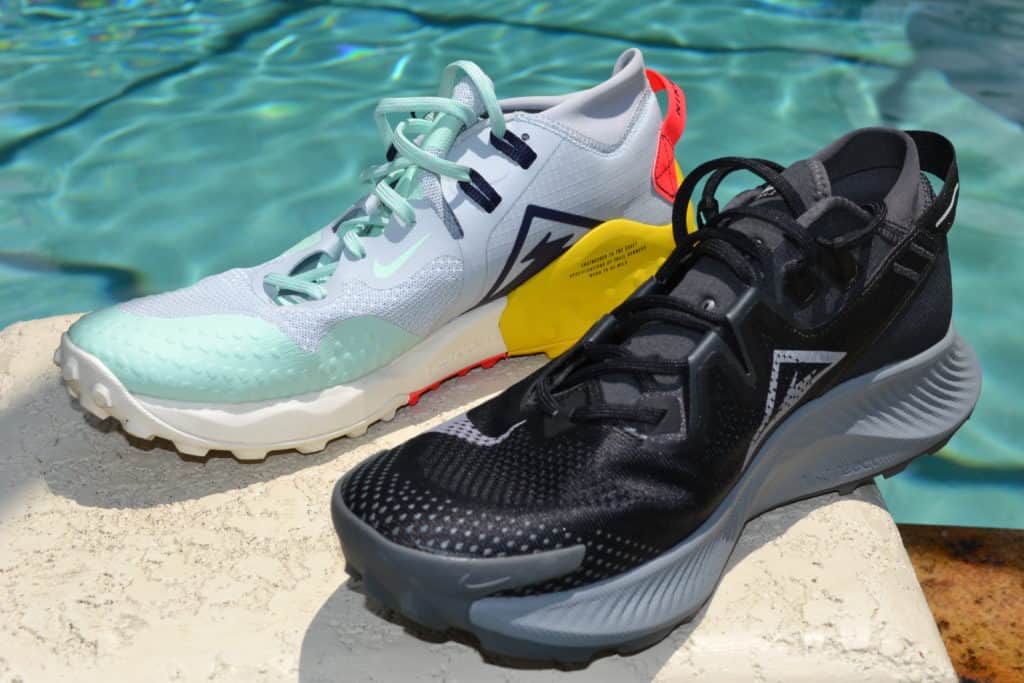 It's got some wild styling – check out the nubs all over the heel.
The tread pattern is pretty aggressive.
So much that it feels a little out of place on regular terrain – or asphalt.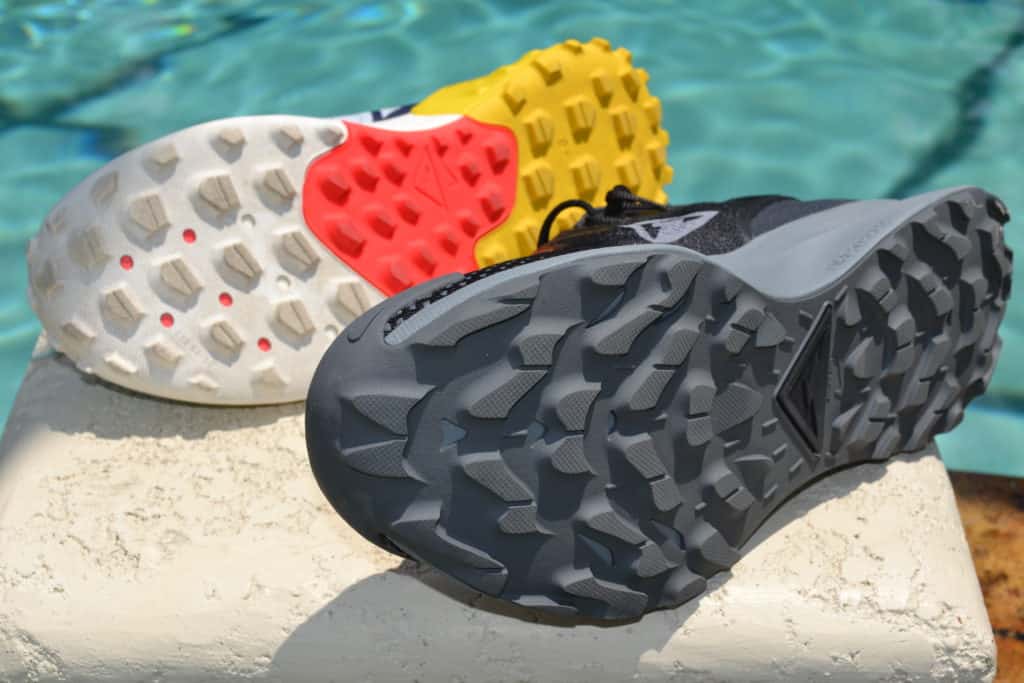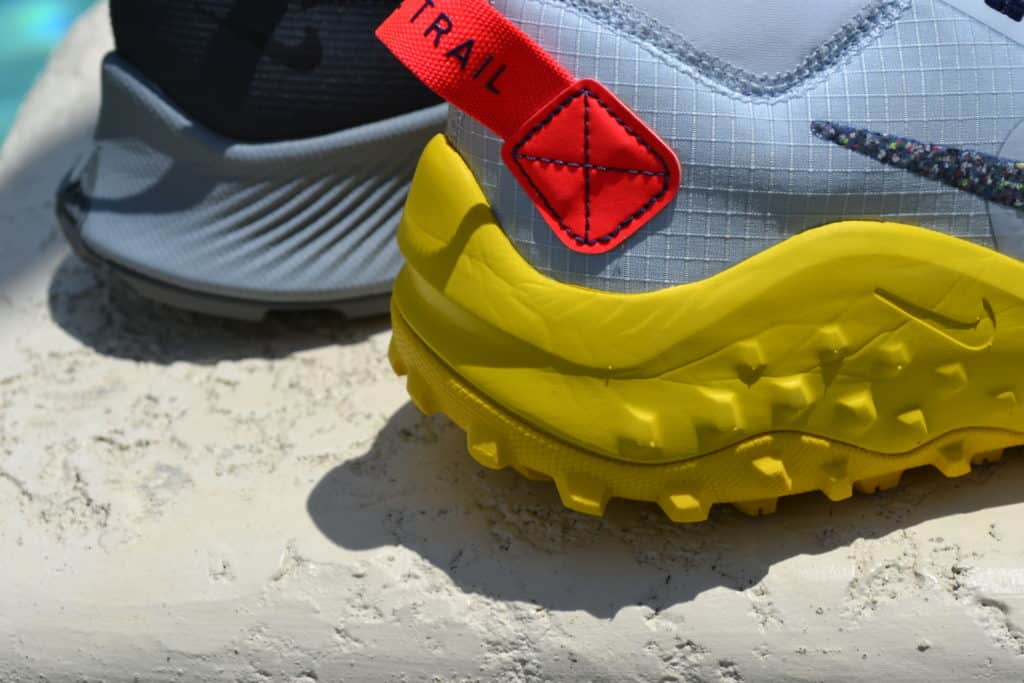 It has a good amount of React foam – but not nearly as much as the Pegasus Trail 2.
The Pegasus Trail 2 has much more cushion – and that was determined by a side by side comparison.
Both have a gaiter to keep debris out of the shoe – but the Wildhorse's gaiter will be much more effective because it's larger and therefore covers more.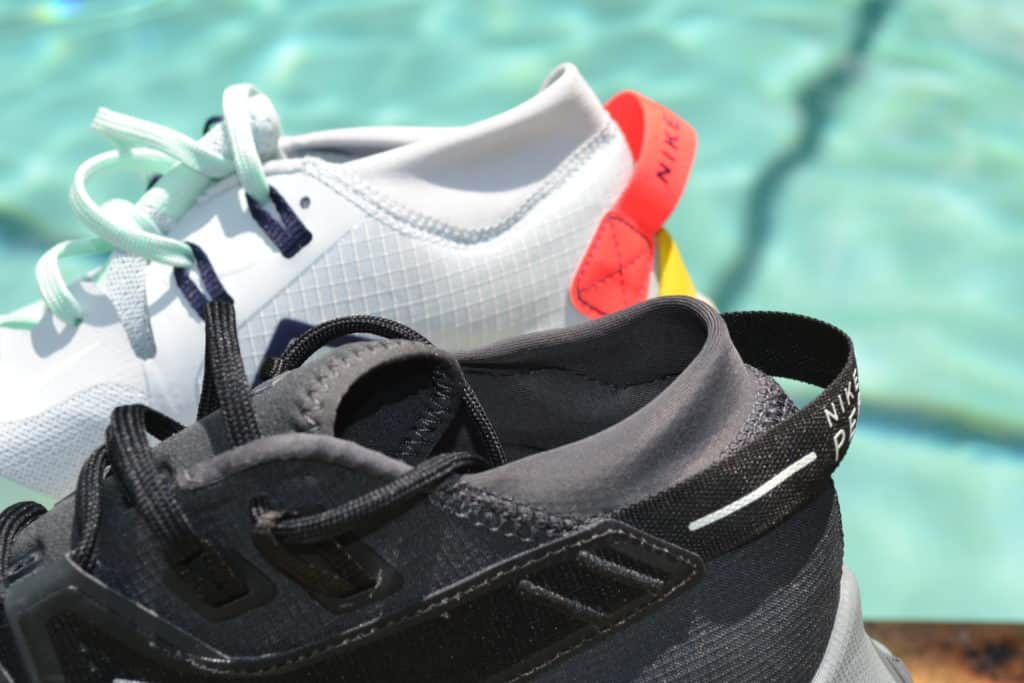 If you want medium cushion and a wild looking shoe – the Wildhorse is a good pick.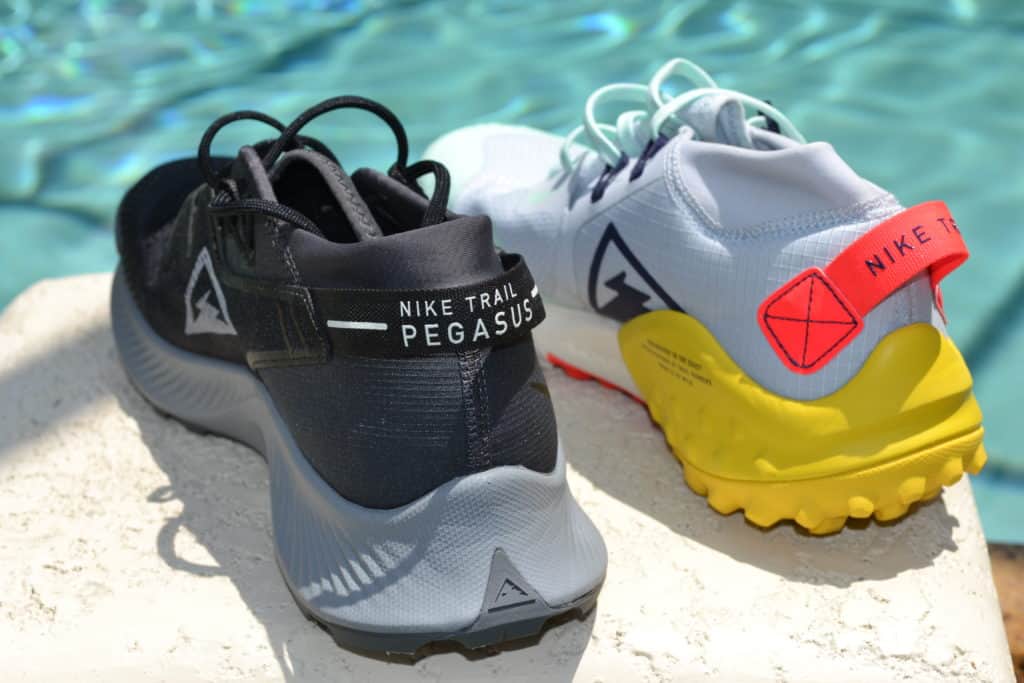 Nike Pegasus Trail 2 Versus Terra Kiger 6
Here's another trail running shoe released by Nike recently: the Terra Kiger 6.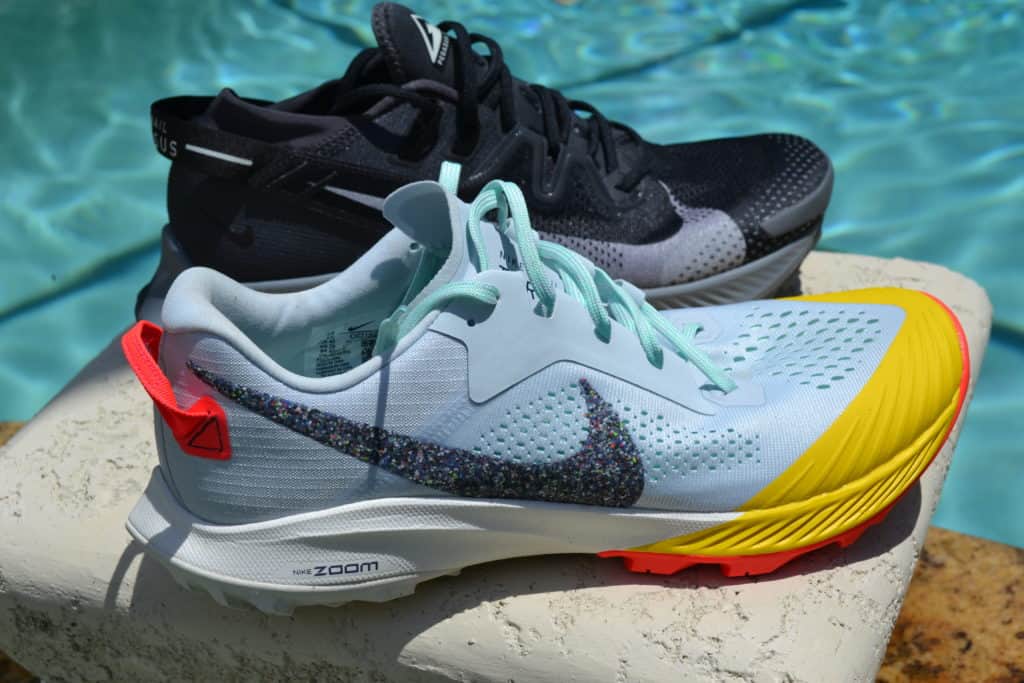 This is a minimally cushioned shoe.
It has a Zoom Air unit in the heel, and foam up front.
There's also a wet traction pod in the middle of the outsole.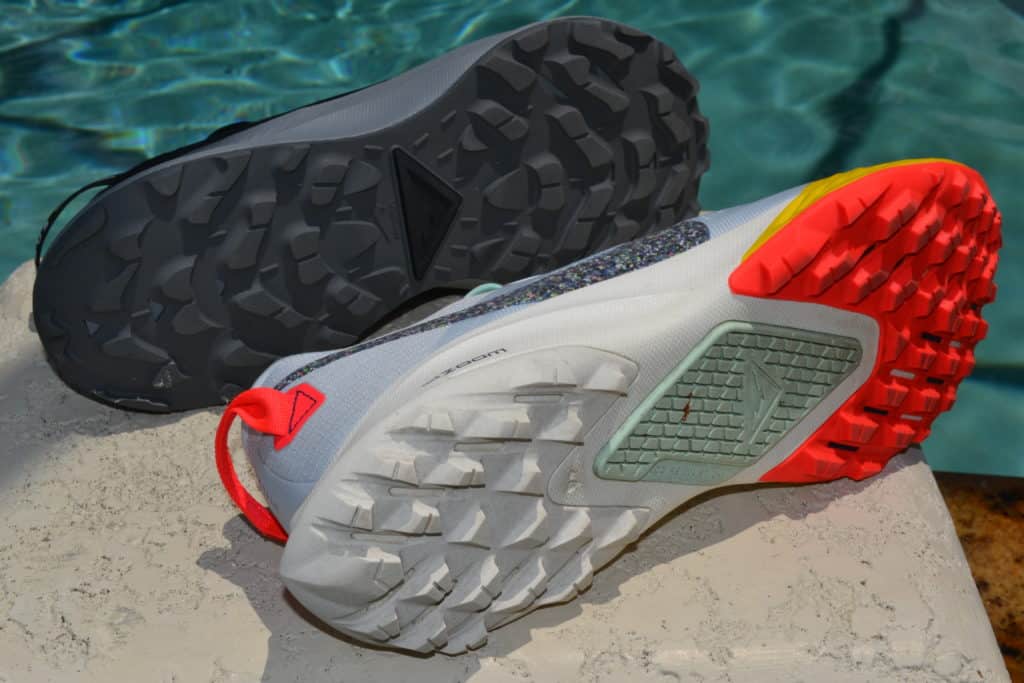 Nike says this is to give grip in wet conditions.
There's no Zoom Air unit up front in the forefoot, instead there is a segmented rock plate.
Clearly, this shoe seems made for running on rocky terrain.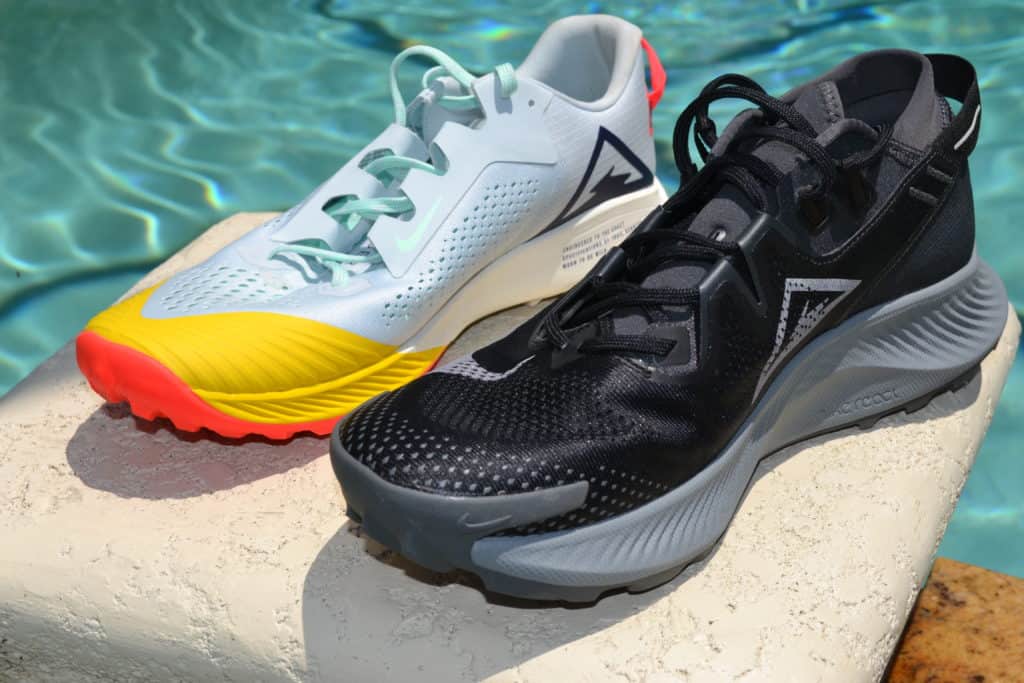 This is the least cushioned shoe (by feel) in this lineup.
It does look nice too.
Nike Pegasus Trail 2 Versus Pegasus 36 Trail
Let's compare to the Pegasus 36 Trail running shoe.
This is a conventional trail running shoe – pretty mild and not too wild.
It's basically the Pegasus 36 running shoe – with a rubber wrap up front to keep your toes dry (drier?) and a more aggressive outsole for rough terrain.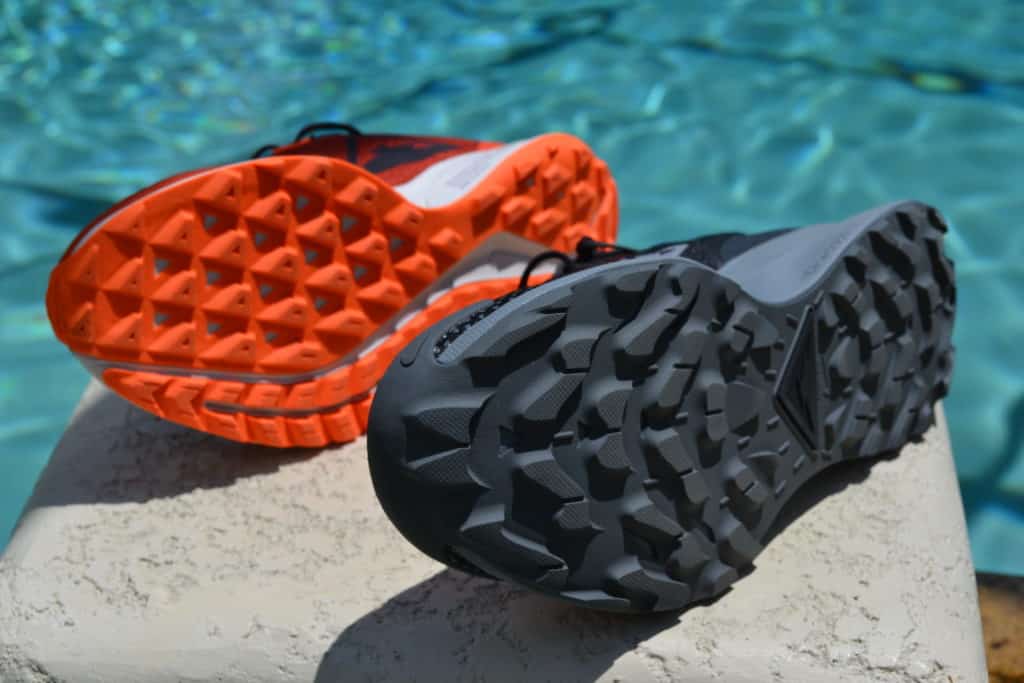 But really, the outsole isn't that aggressive (not when compared to something like the Wildhorse 6.)
As such, this isn't a bad option for trail running – it's just like the Pegasus 36 – but with better traction in mud, dirt, or sand.
How about cushion? This shoe doesn't use React foam.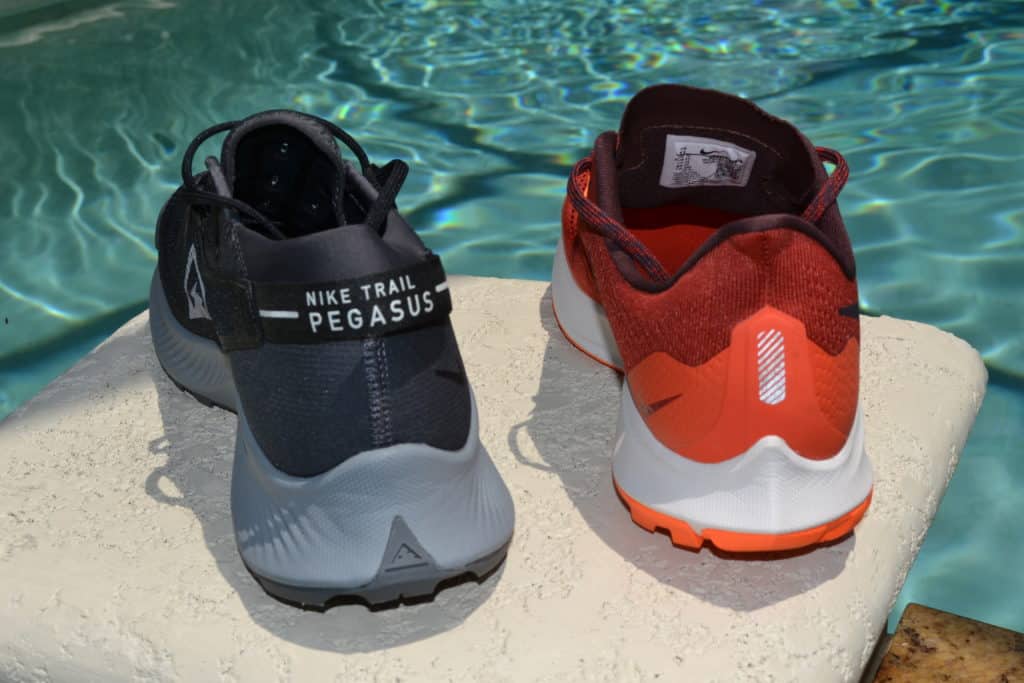 It uses Nike's regular "cushlon" foam and a full-length Zoom Air bag inside.
(Zoom Air is a pressurized bag within the midsole that has tensile fibers – and when you compress it, it springs back into shape.)
This combination is a LOT less cushioning than the gobs of React foam in the Pegasus Trail 2.
So, if you are looking for a version of the Pegasus 36, with more grip – and not a ton of cushioning – this might be the trail running shoe for you.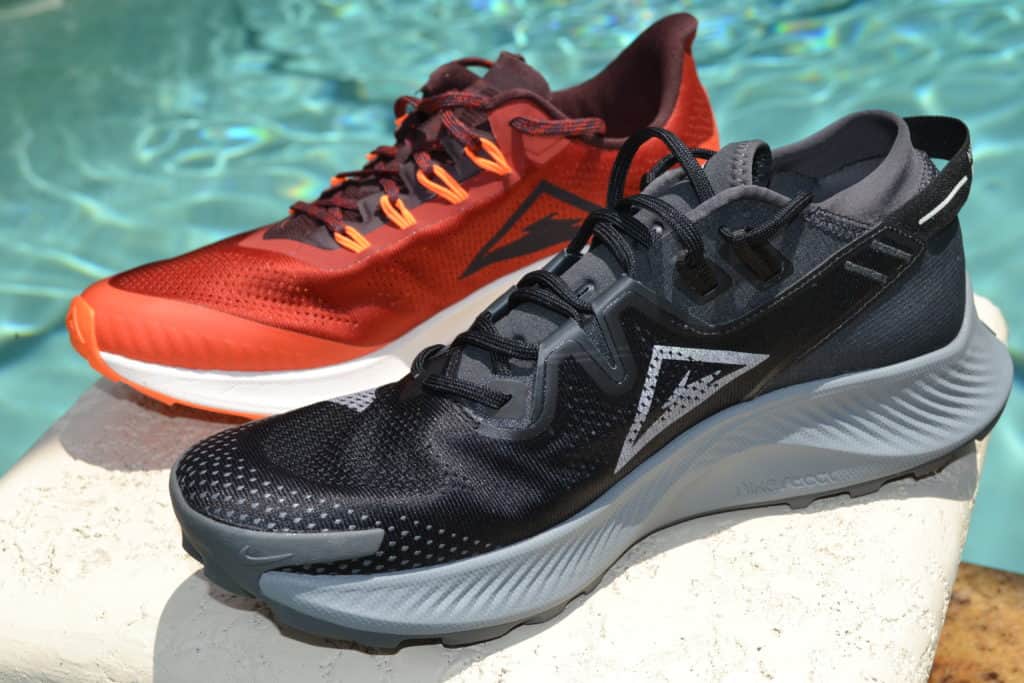 Nike Pegasus Trail 2 Versus React Infinity Run Flyknit
Ok, this one is not a trail running shoe – but it does have a lot of plush cushioning, just like the Pegasus Trail 2.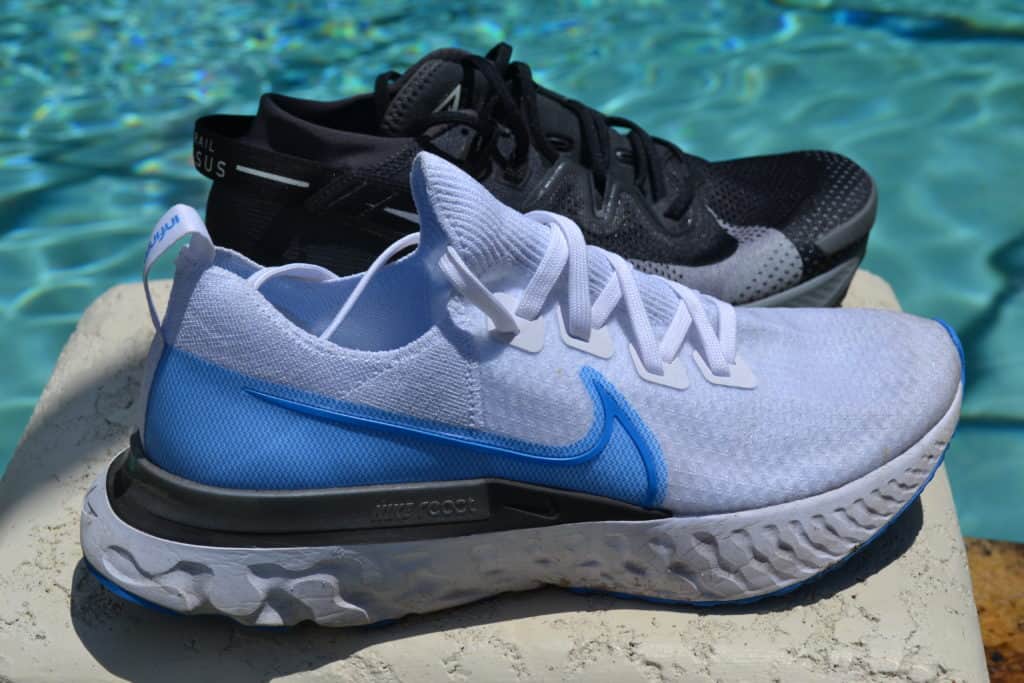 The React Infinity Run Flyknit is a running shoe with a LOT of React foam.
As such, it has a very tall stack height, and a very soft, cushioned feel.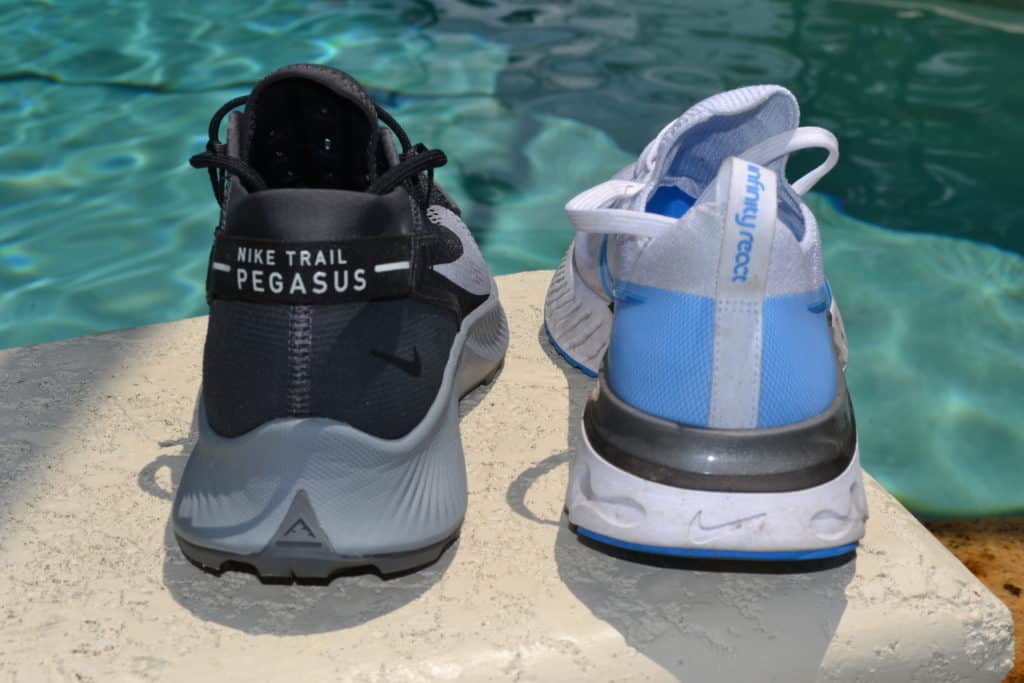 But remember, this is React foam, so you get good response out of it too – the shoe feels energetic and springy.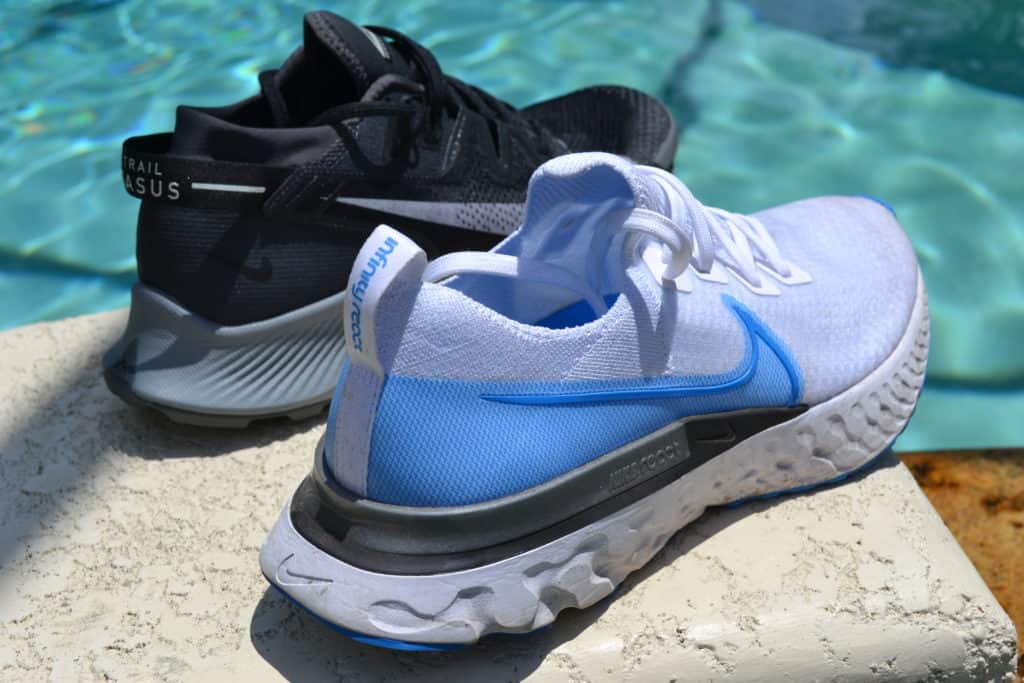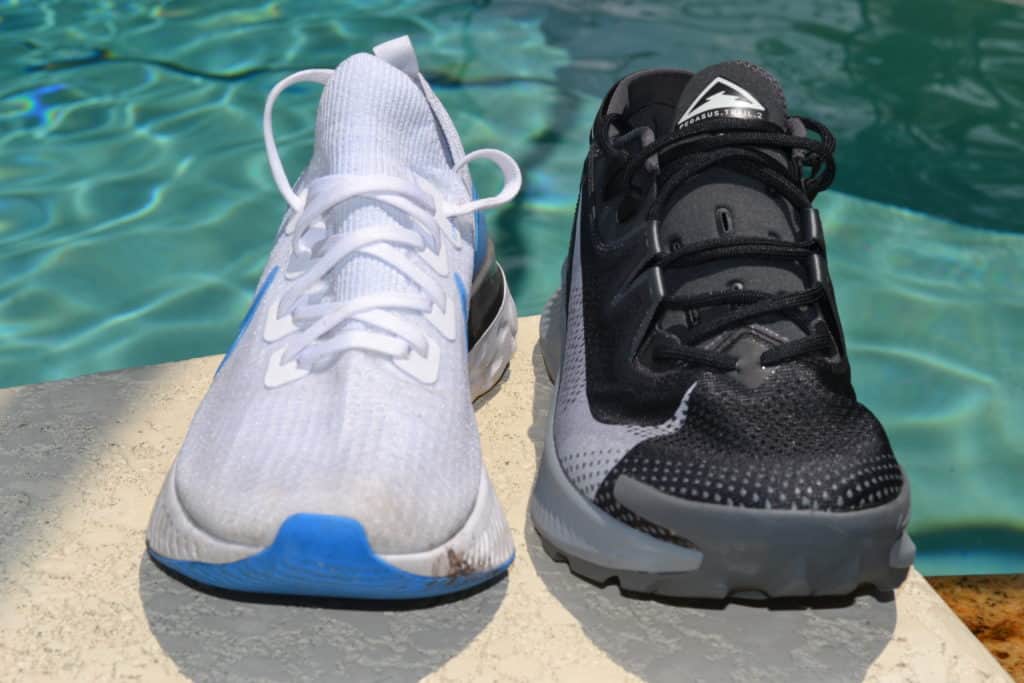 Pegaus Trail 2 Running Shoes – Good For Rucking?
I tested these shoes on the ruck march too.
What's rucking? It's walking or hiking with a heavily loaded backpack.
It's great low-intensity, low-impact exercise and having 30 lbs of weight in your rucksack (aka backpack) makes it an upper body workout as well.
Trail running shoes can be a good option for rucking.
But, not these shoes. There's simply too much cushion and the heel isn't stable.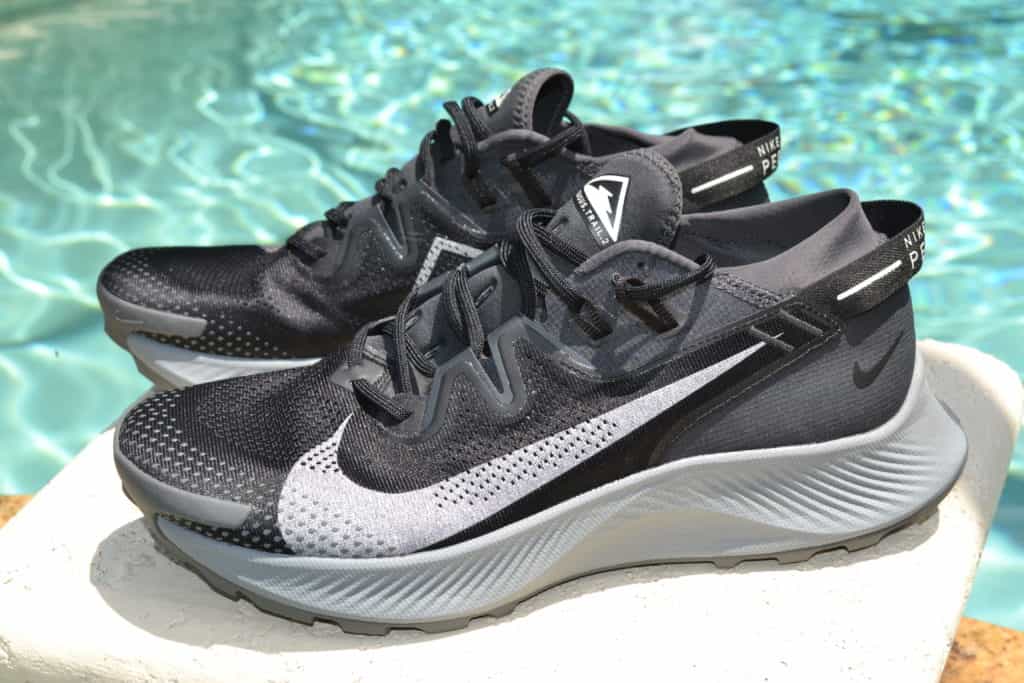 They are OK for running, but the squish of the foam is too much when you have 30 extra pounds on your back.
(That's one area where GORUCK nailed the cushioning in their GORUCK MACV-1 Rucking boot – the cushion is superb for distance, but not too soft at the same time.)
So, my advice is look to a less cushioned shoe for rucking (like that Pegasus Trail 36 we looked at earlier.)
Nike Pegasus Trail 2 Review – In Summary
The Nike Pegasus Trail 2 is a React foam based trail running shoe from Nike, new for 2020.
This is the trail running shoe you want if you want LOTS of cushion.
There is a lot of React foam here, and it delivers an authentic React foam running experience.
Just keep in mind, that'a s lot of stack height – and it's soft foam – so the lateral stability is definitely less in this shoe – as compared to others in this lineup.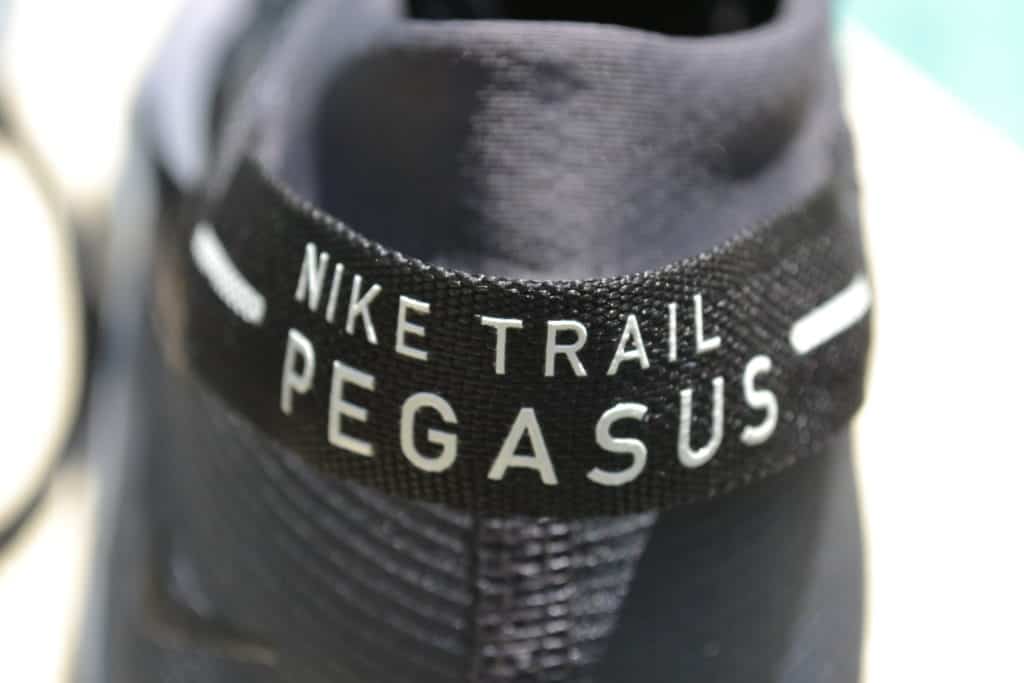 Photo Credits
Some product photos on this page are property of Nike, Inc.
This website is not affiliated or associated with CrossFit, Inc. CrossFit is a registered trademark of CrossFit, Inc.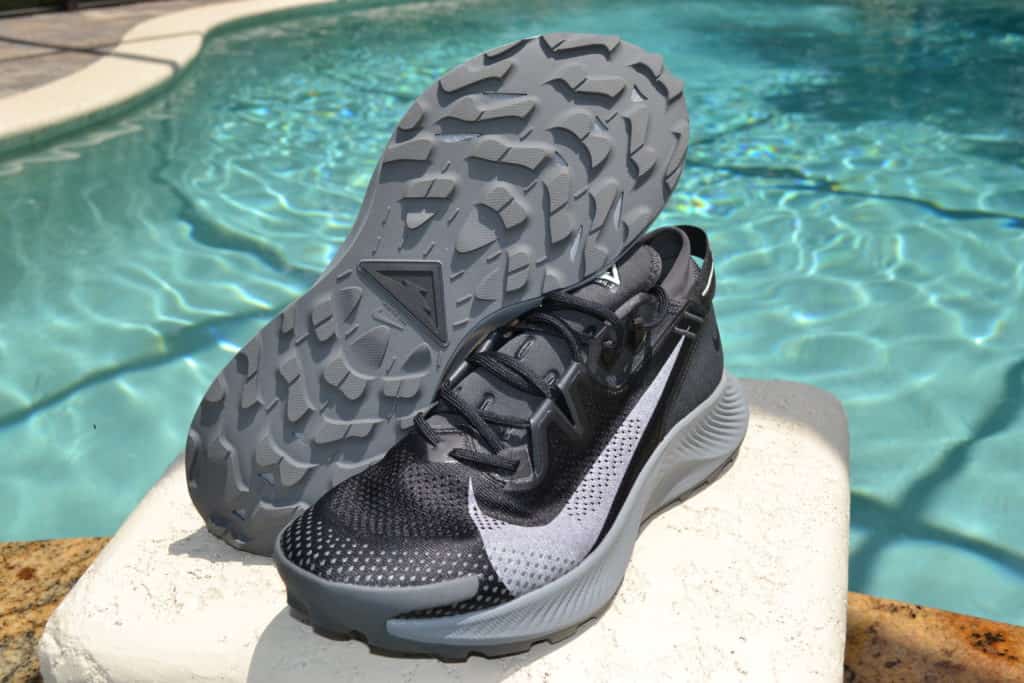 Affiliate Disclaimer
We are an affiliate of Road Runner Sports. If you buy shoes after clicking the links in this article, we receive a small commission at no extra cost to you. This helps us to bring you in-depth information and content on these training shoes.