Let's take a look at Raptor AirBike.
Air bikes are a great option if you are looking for a full-body workout. If you are also looking for a quick workout that increases your heart rate quickly, air bikes work well too. With air bikes, you generate more resistance when you pedal faster, and they can make you sweat and burn fat in 10 to 20 minutes.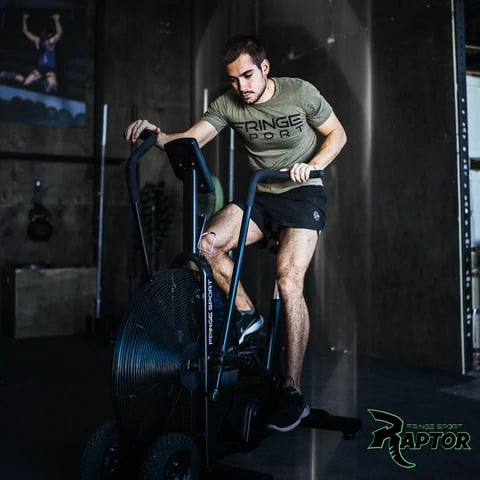 Here's some of the styles we are going to look at:
Raptor AirBike – Overview
The Raptor AirBike is over-designed and over-built for a fitness-crushing performance with extreme durability and lifespan. This air bike is very comfortable to ride in with its ten adjustable seat height positions, and you can go forward and backward to fit the bike to your wingspan. It is belt-driven, which means it has no chain, giving you a lifetime of maintenance-free performance.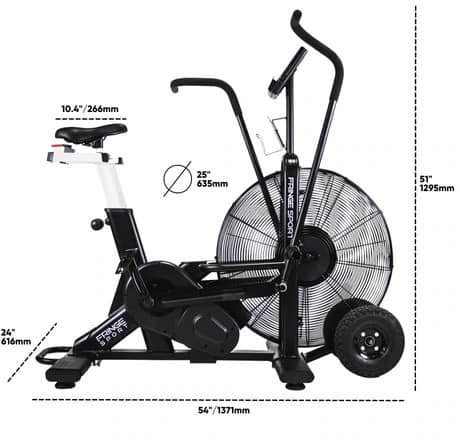 Have a smooth and quiet ride while listening to your favorite music and podcast or watch your favorite movie. It has a large monitor that is fast, accurate, and easy to use with Bluetooth capabilities that function with almost all trackers. It tracks your goal time, distance, calories, watts, and RPM.
This air bike also has a comfortable seat giving you an easy ride, and has a water bottle holder to hydrate yourself with cold water or hot drink. It has metal pedals that will last for a long time and metal handles for easy mobility on rough concrete, gravel, dirt, and even soft grass. The Raptor Airbike comes with a three-year warranty and top-notch customer service.
Raptor AirBike – In Summary
That's our close-up look at Raptor AirBike.
If you are looking for a bike that will make you sweat and work as hard as you should, the Raptor AirBike will not fail you. It is overbuilt and overdesigned and provides an easy ride and a great workout. It gives you a great cardio workout, makes you lose weight, and pushes you to new heights in your strength journey.
Looking for more options? Check out these other great products:
Here's an overview of various Assault Bikes (and similar) that are available.
American Barbell also recently launched their own air bike: Eagle Bike from American Barbell .
Assault Fitness didn't invent the air bike, but they certainly have the most popular model: Assault Fitness AirBike Pro Versus AirBike Elite .
Lastly, you can't go wrong with the Rogue Echo Bike – it's solid, affordable, and gets the job done (brutally). Check out the Rogue Echo Bike for an excellent CrossFit-style workout.
More products from Fringe Sport.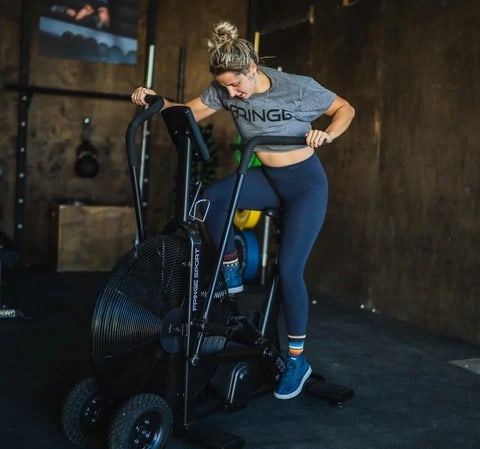 Photo Credits
Product photos on this page are property of Fringe Sport.
This website is not affiliated or associated with CrossFit, Inc. CrossFit is a registered trademark of CrossFit, Inc.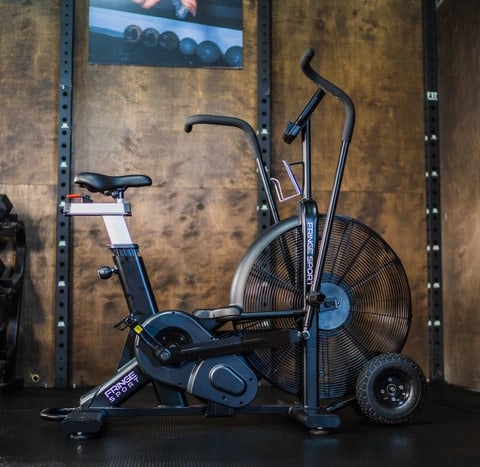 Affiliate Disclaimer
We are an affiliate of Fringe Sport and others that sell this training gear. If you buy clothing or other training gear after clicking the links in this article, we receive a small commission at no extra cost to you. This helps us to bring you in-depth information and content on these great training products.