Let's review Air Bikes from Assault Fitness.
The Airbike is a piece of workout equipment that is easy, simple, convenient and is a better way to make the best out of your workout routine. It works not only the lower body but also the upper body so you can get a full-body workout. Having an AirBike at home saves you the hassle of going out during the pandemic and gives you the opportunity to workout anytime with security.
Here are some of the styles we are going to look at: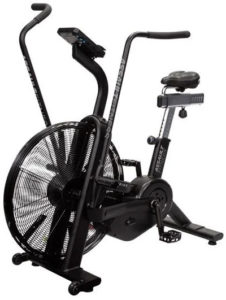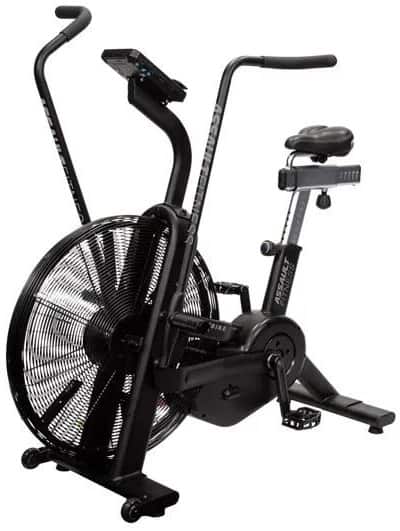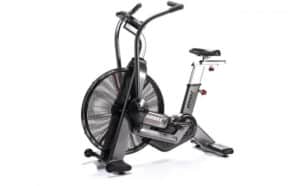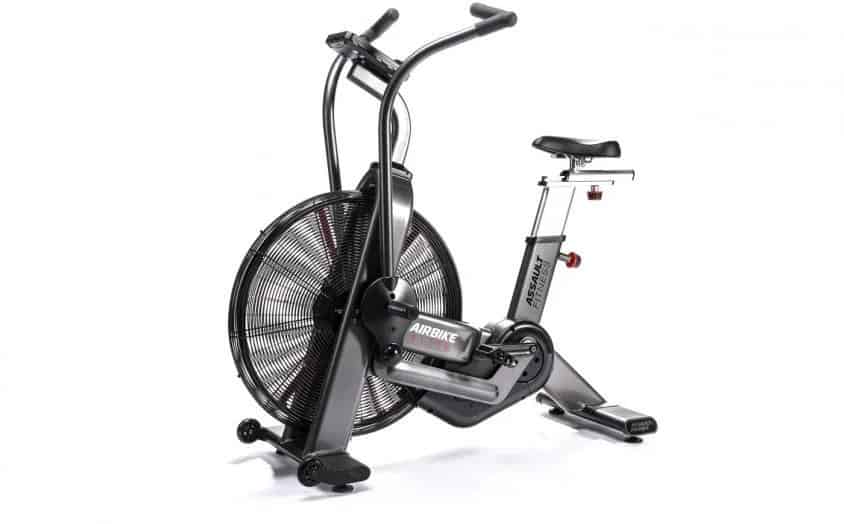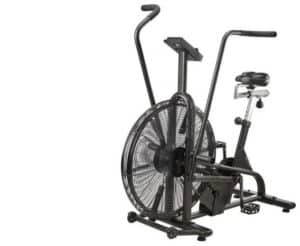 Air Bikes from Assault Fitness – Overview
Besides being a safer choice than road cycling, AirBikes can tone and strengthen your leg, heart, abdominal, and arm muscles and provide several other benefits. Using AirBikes can boost your cardio health even if you use them for only 30 minutes. It also strengthens your lower body and legs and grows your hamstrings, quadriceps, and calves. Using them is also an excellent way to burn calories quickly.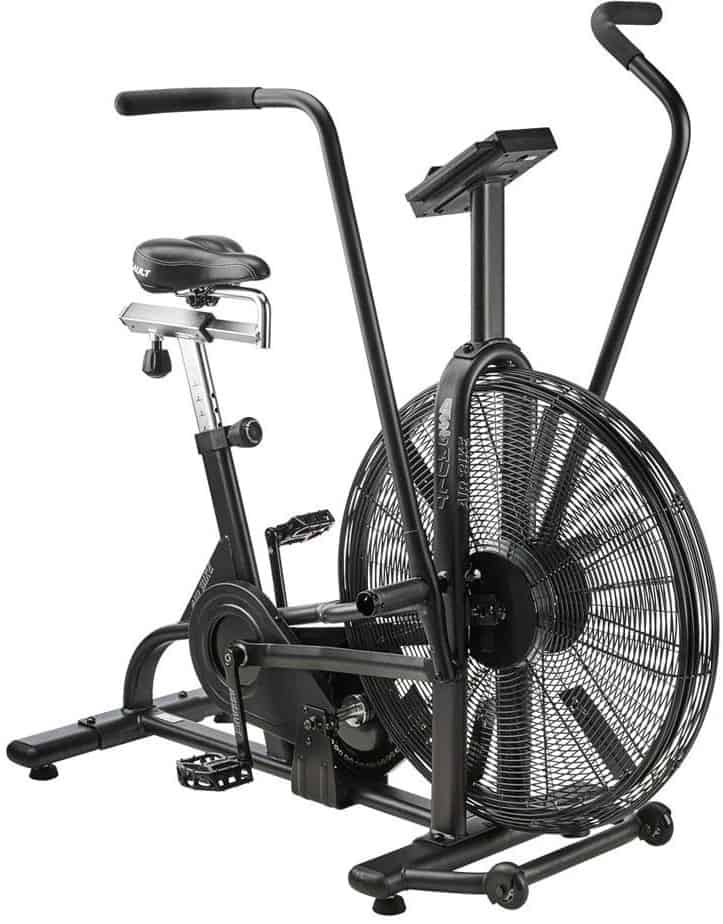 Assault Fitness manufactures elite fitness equipment from treadmills to rowers and bikes. AirBikes from Assault Fitness are made from a heavy-duty steel frame with many other features and specifications useful for your training. They support different strength levels and provide total body training all-in-one piece of equipment in the safety and convenience of your home.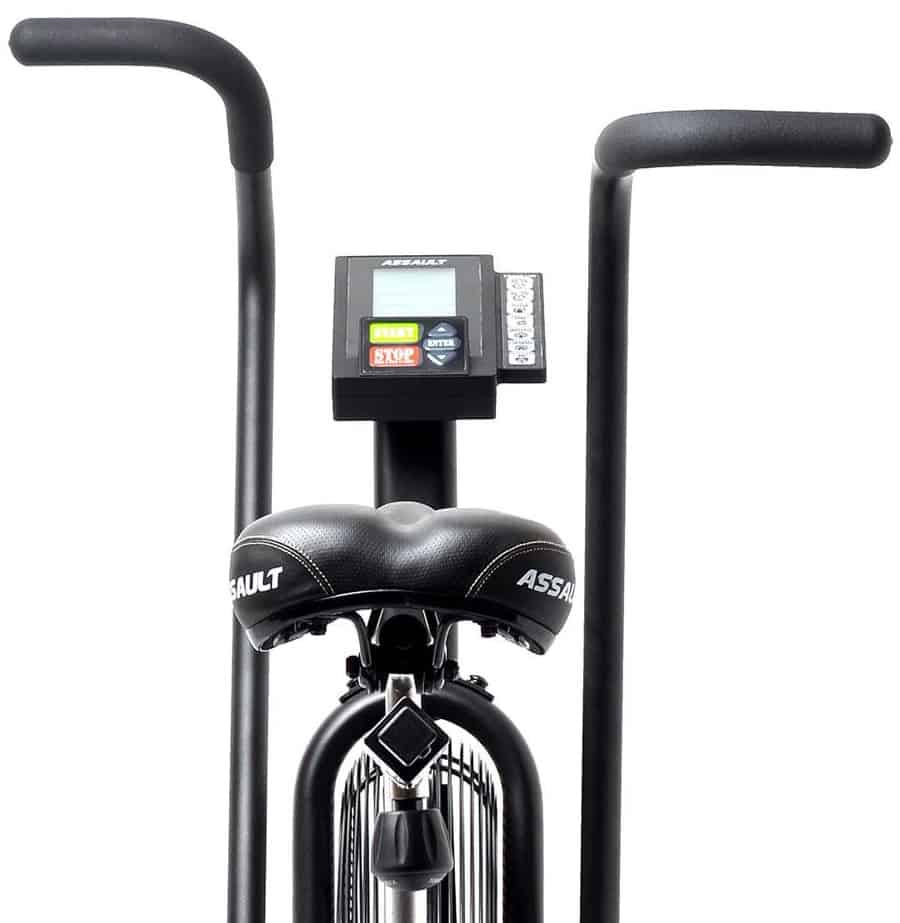 AssaultBike Pro
The AssaultBike Pro is a new hybrid fan bike developed for low-maintenance durability. It is the result of the innovative design of the original Assault AirBike and the high-level, amplified innovations of the Elite model. It uses air resistance and advanced engineering to custom-scale automatically to how tough you want to go. It has a heavy-duty steel frame that supplies all the support and durability you need, while its comfortable padded seat, conveniently placed footpegs, and supportive handlebar grips create a user-friendly ride. Compared to the Elite (55" x 26" x 55"), the Pro has a more compact design at 50" x 24" x 51" and in the middle of the Classic (96 lbs) and the Elite (139 lbs) when it comes to its weight. The heavy-duty steel frame gives firm support and balance, further assisted by its reinforced steel pedals. Every pivot has 20 sealed cartridge bearings, while a sealed bottom bracket is also in place to protect against dirt, sweat, etc. It also has four adjustable stabilizing feet for extra support.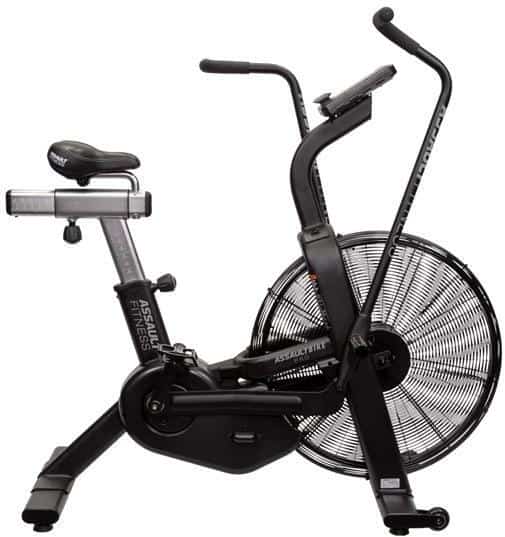 The key to using the AirBike is to set your own pace, and then it will automatically adapt to your own output. No matter your sport, body type, or goal, the AssaultBike Pro can be used by a beginner, a rehabbing athlete, or a seasoned pro training at the highest levels of competition. There are 11 height settings and six front-to-back settings included if you want more customization. It also has an Elite-style console with Bluetooth and ANT connectivity + 7 onboard programming settings and a competition mode. It shows instant, multi-faceted monitor feedback with more custom programming choices through its high-contrast LCD and convenient Bluetooth and ANT connectivity. You can concurrently track your speed, heart rate, time, RPM, distance, and calories burned. You can also set up stimulating new HIIT interval training programs.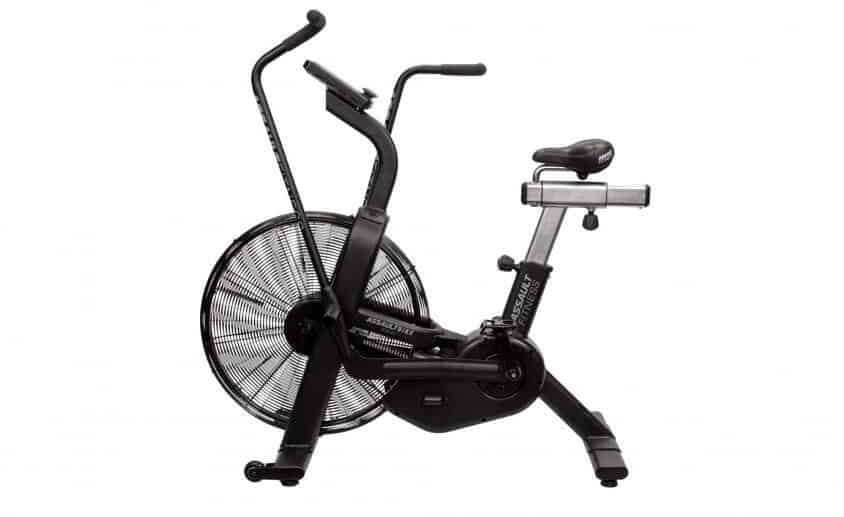 Assault AirBike Elite
Same as the Assault AirBike Classic, the Elite model highlights an all-steel construction. It is upgraded to a bulkier frame (139 lbs vs. 96 lbs), solid steel cranks, new aluminum seat post/slider, bigger ergonomic seat (max. user weight: 350 lbs), and a state-of-the-art ISIS splined system for the drivetrain. It has a sealed cartridge bearings in every pivot, from the flywheels and pedals to the bottom bracket and linkage arms, making it reliable and zero wobble and maintenance. It also has an industrial powder-coat finish and integrated windscreen.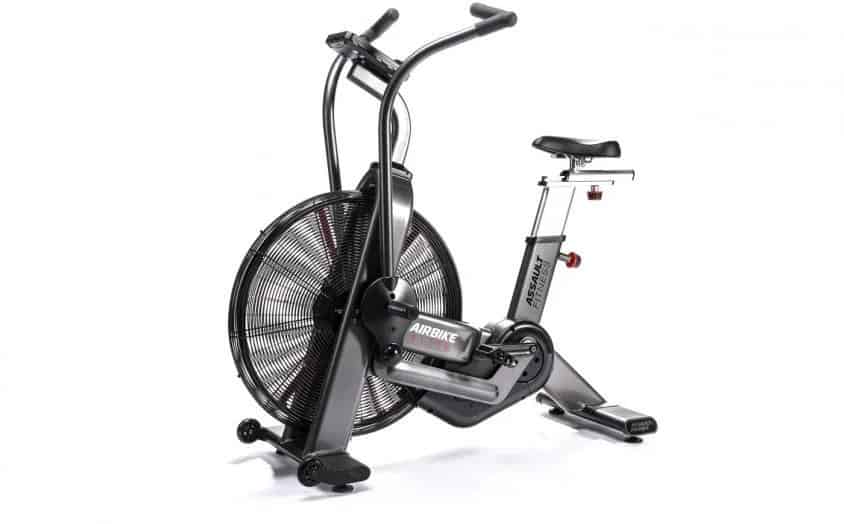 It has the same console as the Pro, so you won't just feel the results of a good workout; you'll also be able to understand the science behind it in real-time. The Air Bike Elite was built to put weight on high-intensity interval training for its time efficiency and confirmed effectiveness in establishing lasting speed and endurance. With the Elite, you have an option for upper and lower body engagement or isolation, as well as the skill to pedal forward or backward.
Assault AirBike
The Assault AirBike reinvents and retools almost every element of the regular fan bike, from the frame structure to the crank, pedals, monitor, and more. Its fan wheel supports very fluid motion and can meet anyone's energy level. You can do unlimited workout sessions with this Airbike with its high-quality pedals and other solid components. It also has an adjustable seat to suit anyone, and you can adjust the angle to give you comfort.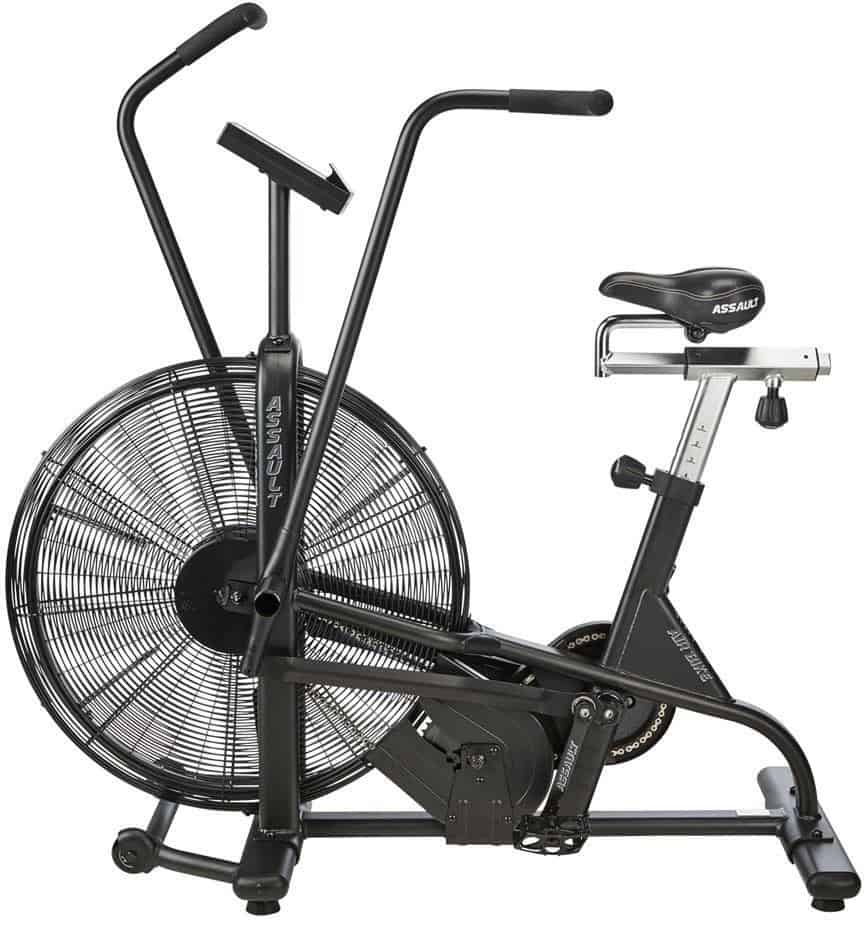 Another feature of the Airbike is its moving armbars made from thick steel tubing, which can sustain even your most challenging training sessions. It also has an LCD console that is easy to navigate and gives you unlimited customization options. You can check your heart rate, time, speed, calories burned, RPM, and more. It also has a 20-horsepower electric motor and delicately calibrated torque measurement meter to monitor watts with accuracy.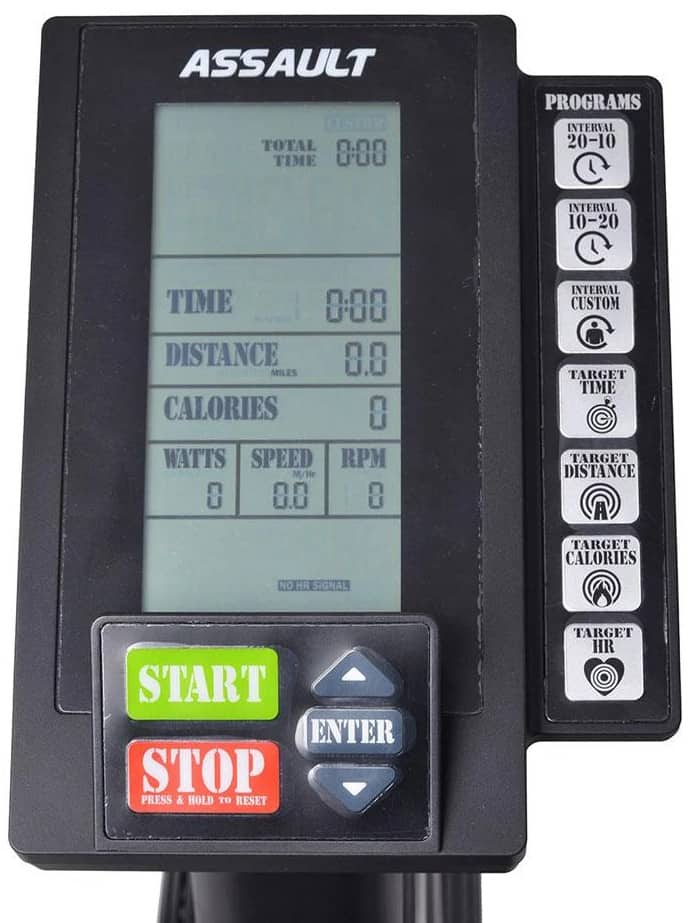 Air Bikes from Assault Fitness Review – In Summary
That's our review of Air Bikes from Assault Fitness.
Air Bikes from Assault Fitness can work for anyone no matter their sport, body type, or goal. Just establish your own pace, and the resistance adjusts to your output. They provide quiet ride and versatility and are made from a heavy-duty steel frame with advanced technology and LCD. You don't need electricity to use them – it's just you and the AirBike.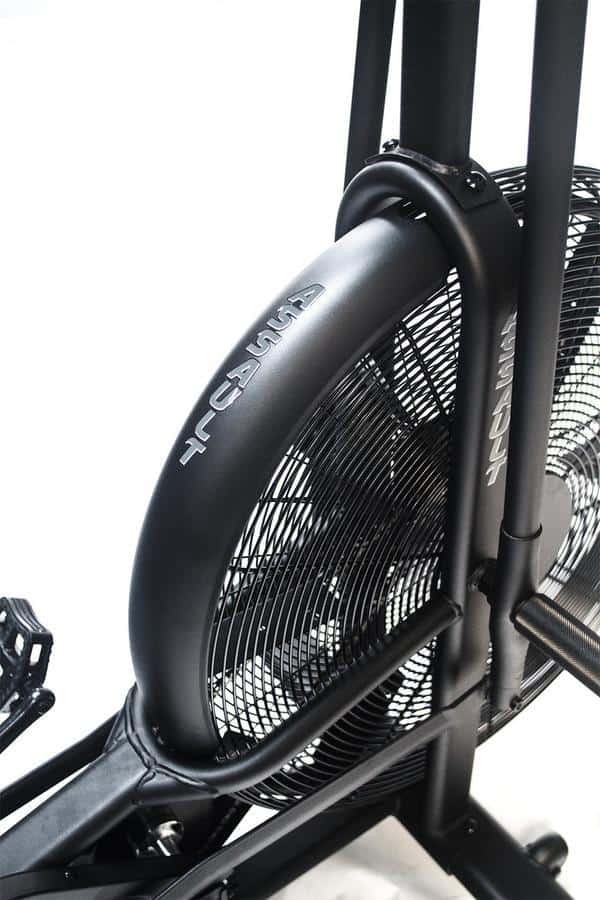 Photo Credits
Product photos on this page are property of Assault Fitness.
This website is not affiliated or associated with CrossFit, Inc. CrossFit is a registered trademark of CrossFit, Inc.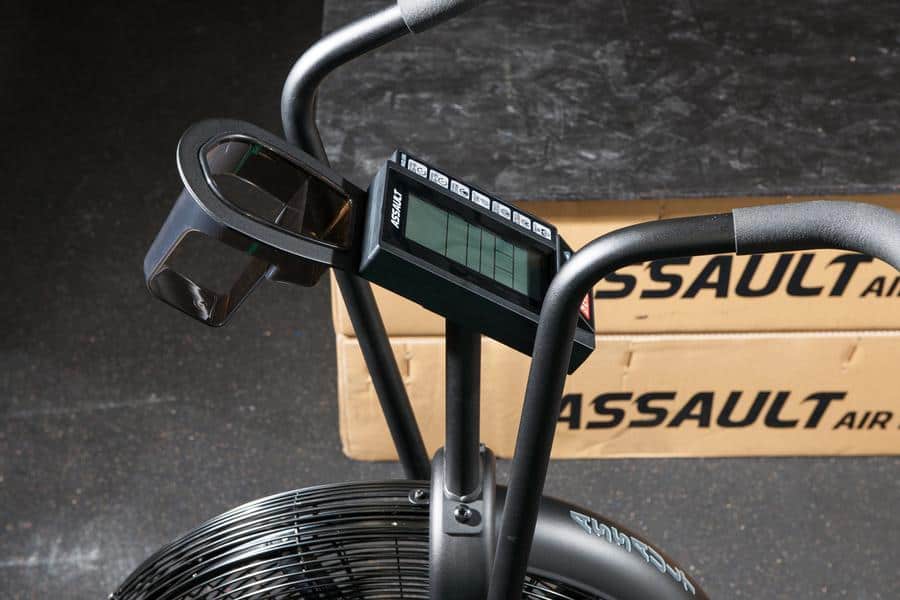 Affiliate Disclaimer
We are an affiliate of Rogue and others that sell this training gear. If you buy clothing or other training gear after clicking the links in this article, we receive a small commission at no extra cost to you. This helps us to bring you in-depth information and content on these great training products.