Let's celebrate the launch of a new color combo of the Nike Free x Metcon 2 in Valerian Blue/Photon Dust/Black/Vivid Purple.
This is a women's variation of this great cross trainer.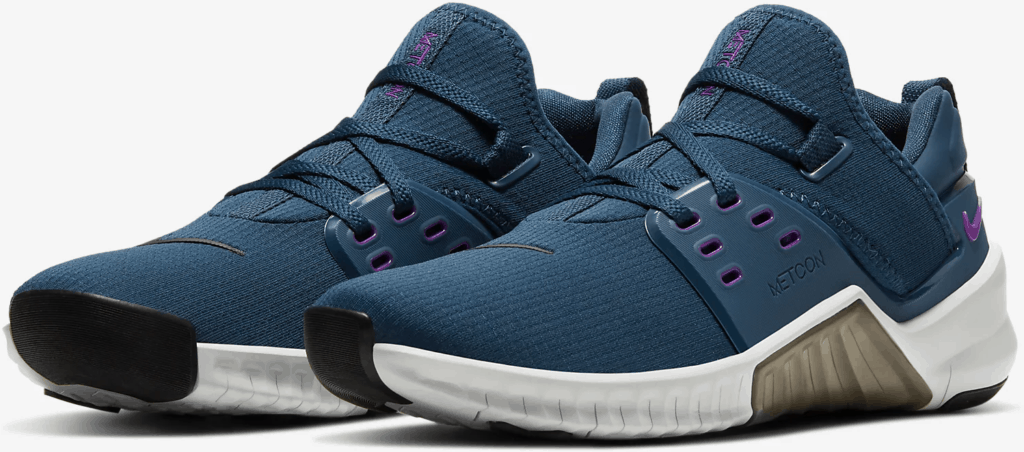 Why do we love the Free x Metcon 2?
That's what we'll talk about here – while we show you the great looks of this new shoe.
The Nike Free x Metcon 2 is good for boot camps and strength training.
Why is that?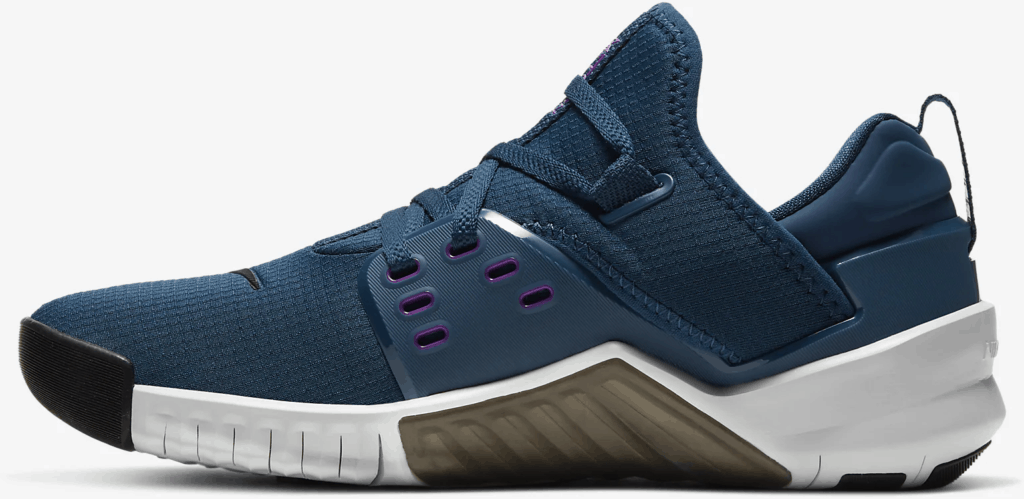 It's a crossover between the Metcon line and the Free running line from Nike.
You get a great midsole and outsole for running.
The "Free" line is meant to better replicate the bare foot running experience.
And it does that by providing a lightweight, cushioned sole – but not with too much cushion – as your bare foot running isn't like running on a pillow!
Here's the "outsole" – or more simply – the sole.

See those hexagonal (6-sided) foam blocks?
Those mean that the sole can flex along it's width AND length.
Just like your foot will do while running.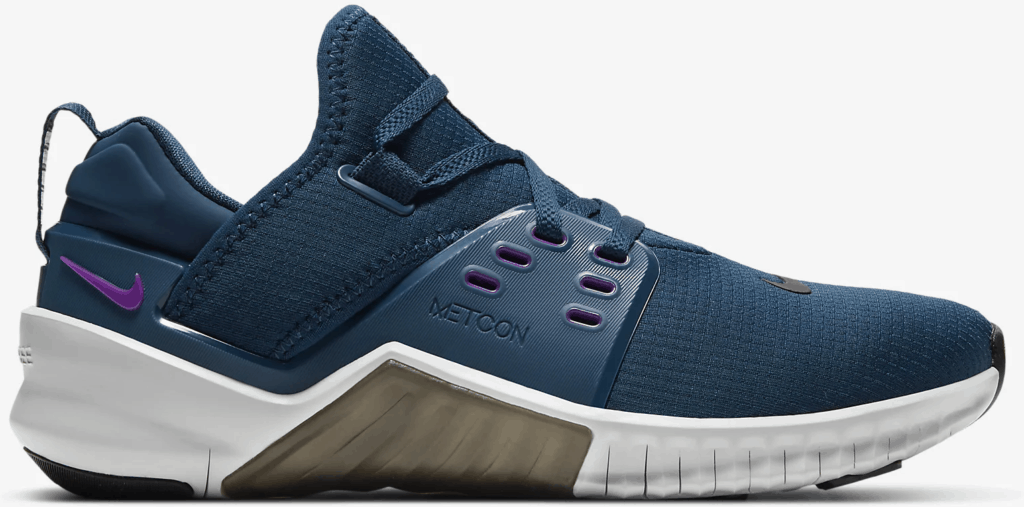 Secondly the "siping" is deep – and that means maximum flexibility everywhere in this shoe.
Combine that with a nice wide fit and feel – check out the width of that toexbox!
Your foot needs to splay out like it would do in a barefoot situation – and the Nike Free x Metcon 2 doesn't inhibit that natural tendency.
You can also see the durable TPU strap near the mid-foot.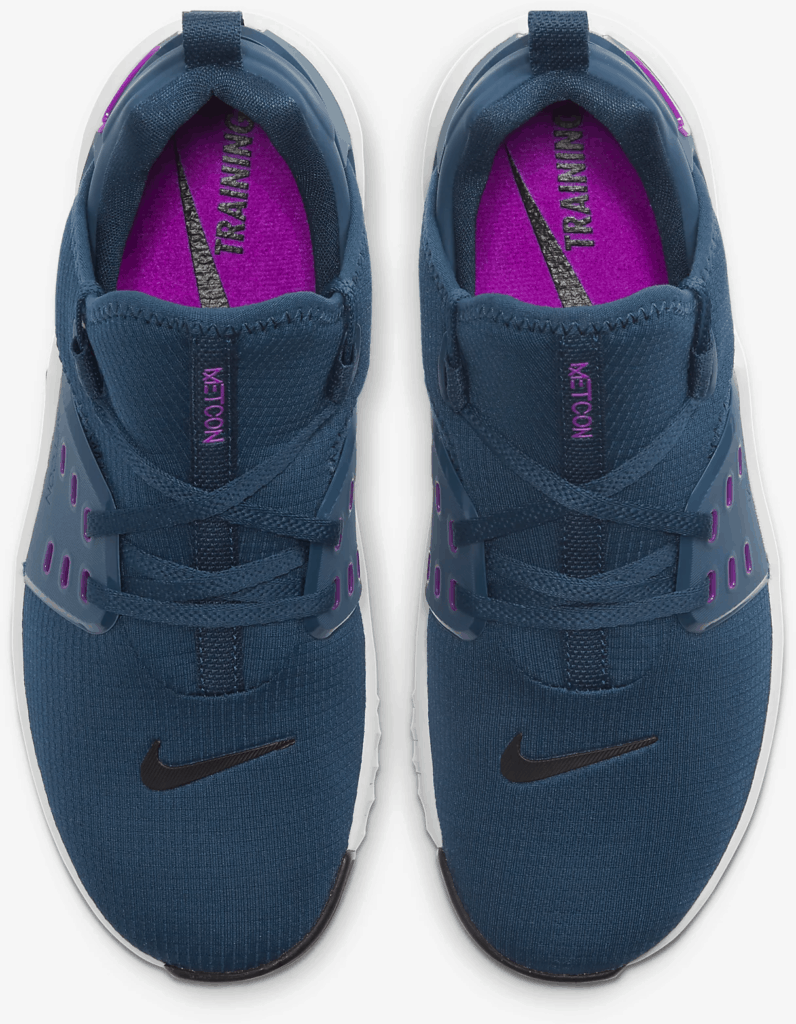 It is integrated with the laces so that when you tighten them up – the whole fit and feel of the shoe is locked in.
And let me tell you – these are VERY comfortable shoes.
It should be noted they tend to be a little on the noisy side though.
The drop-in insole tends to rub on the midsole and make sound.
But these aren't shoes made for sitting around in a quiet library – these are meant for use in the CrossFit box, in the gym, or at the running track.
So a little noise isn't a problem – if we get the performance we need.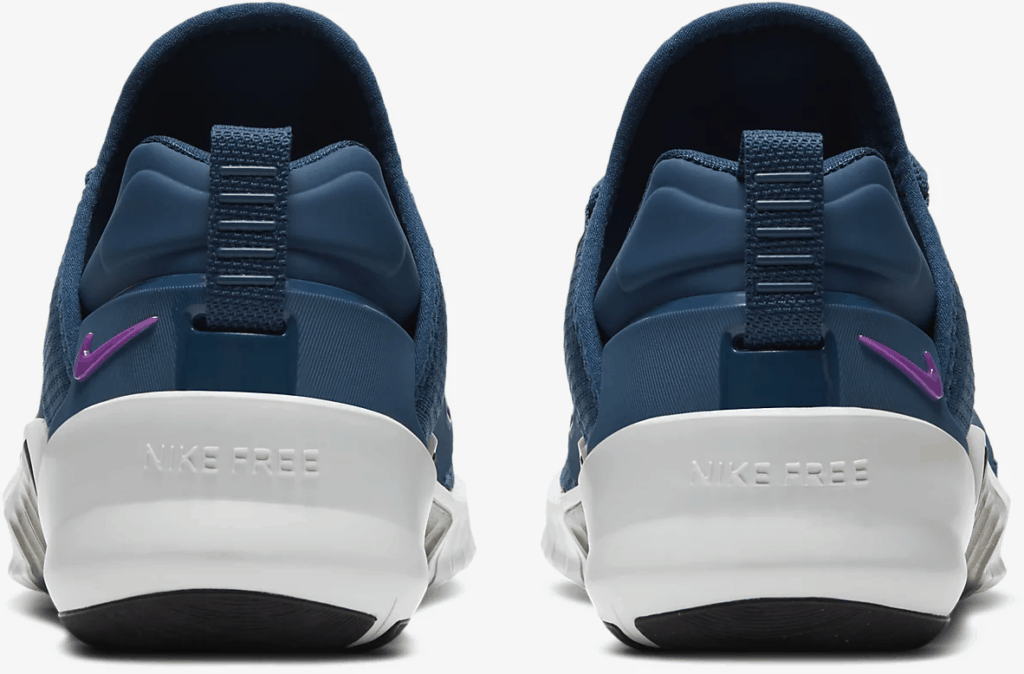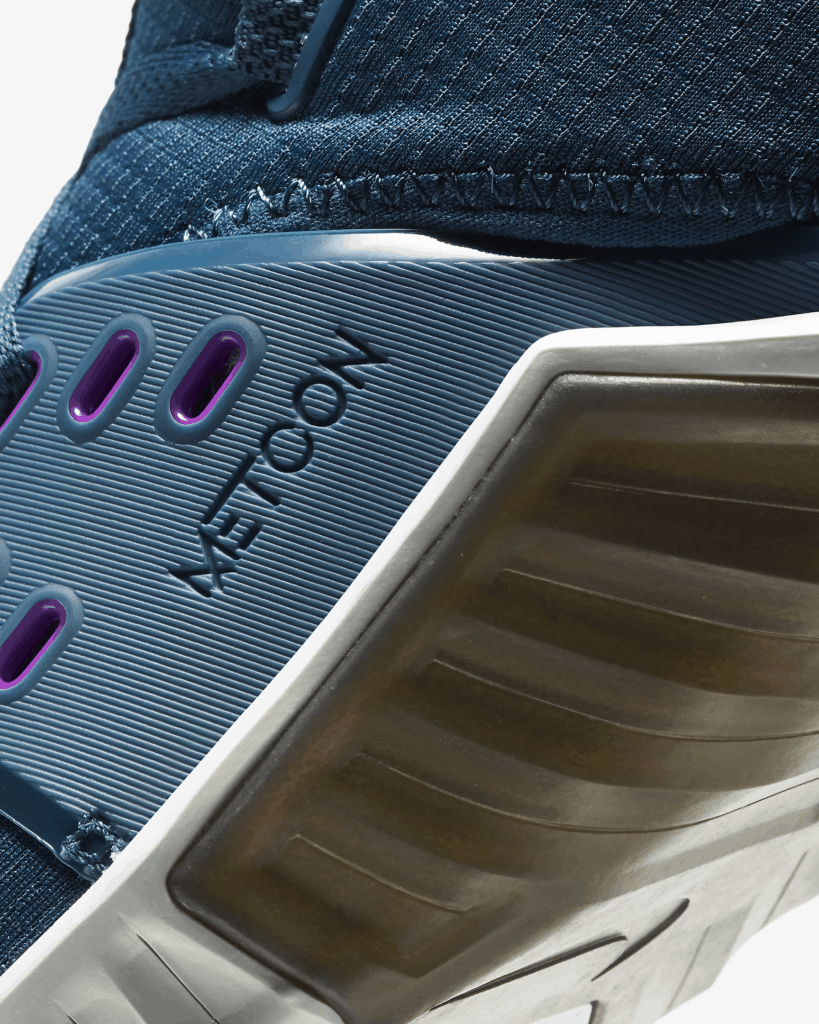 Highlights:
Lightweight construction is flexible and breathable.
Inner sleeve creates a snug, sock-like fit.
Durable strap integrates with the laces to wrap your heel and midfoot for support.
Rubber wraps up the sides of the midfoot for extra grip during rope climbs.
Foam sole with deep grooves flexes and expands for cushioning and natural movement.
Rubber tread in high-wear areas gives you durable traction.
Shown: Valerian Blue/Photon Dust/Black/Vivid Purple
Style: CD8526-446