Force USA: Use code
FAM5
to get 5% off any purchase over $1,500.
Let's review Functional Trainers from Force USA.
Functional Trainers are the union of several diverse, independent equipment. They look like an enormous cage full of different weights, pulleys, bars, and cables. It can work out different parts of the body and work a significant number of movements and activities. Functional training is centered on movement patterns that have a goal, and one of those goals is to become better at everyday activities.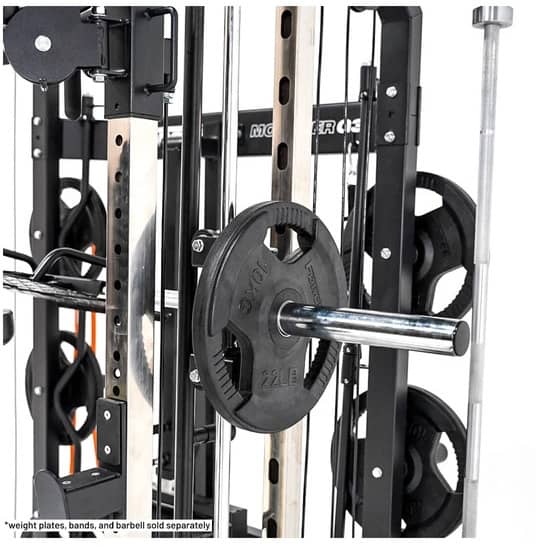 Here are some of the styles we are going to look at:
Functional Trainers from Force USA – Overview
Functional Trainers can replicate functional movements in your day-to-day life and you can make body movements through various levels. Aside from saving space and being cost-effective, functional trainers have many other benefits and advantages. They are very safe to use, making them perfect for rehabilitation purposes. You can simply adjust the weight pile, and the pressure will provide full rehab ability. They also enhance coordination, stability, and body awareness, making them perfect not only for young people but also for the elderly.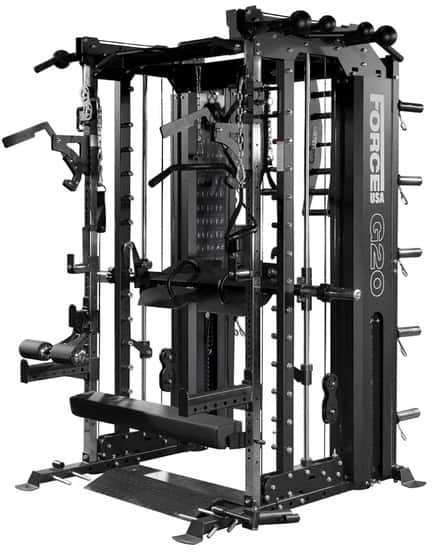 Force USA, manufacturer of best value strength equipment for home and light commercial use, has Functional Trainers that combine up to eleven strength training machines. They offer so much more than the average functional trainer; that's why they are also called "All-in-One Gyms". You can do several kinds of exercises with just one of these functional trainers.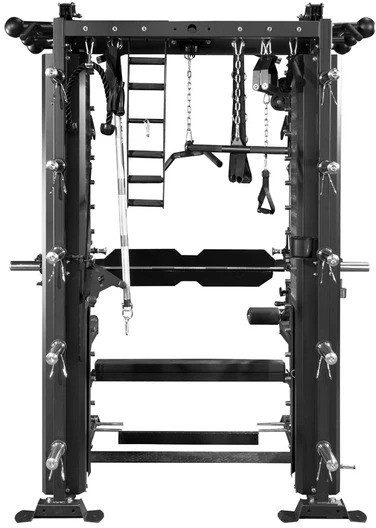 Force USA G3 All-In-One Trainer
If you have limited space and you want a complete all-in-one solution, the Force USA G3 All-In-One Trainer's got you. It incorporates a smith machine, power rack, and a cable pulley system into an all-in-one compact strength-training machine. It has a pulley ratio of 2:1 which means that if you have 100 lbs weight, the resistance is 50 lbs. The Smith machine is angled for normal body movement to present a solid and secure workout. It holds safe-lock, and release mechanisms with safety catches so you can go extreme with your training load without needing a spotter.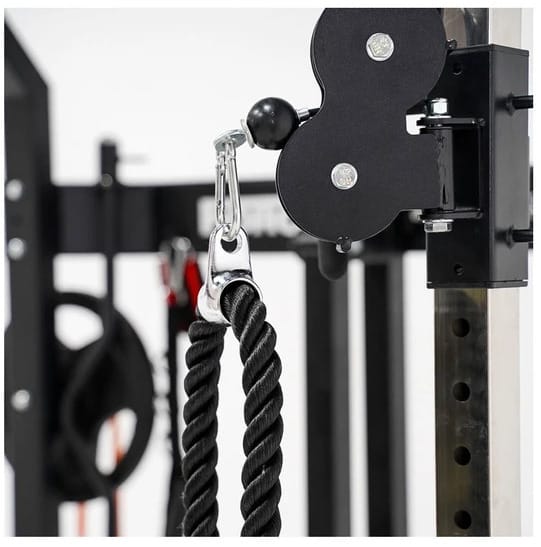 It highlights adjustable height positions to do shoulder, chest, arms, core, back, and leg exercises. To give you a safe workout, 6.2mm nylon coated mil-spec aircraft quality cables are tested to 2,000lb. The Westside hole spacing enables the J-Hooks to be customized into 50 distinct numbered adjustment points to flawlessly position any user for bench press, squats, and more. The knurling grips are placed for hammer grip, classic grip, narrow grip, wide grip, pronated grip, overhand, underhand, and other movements.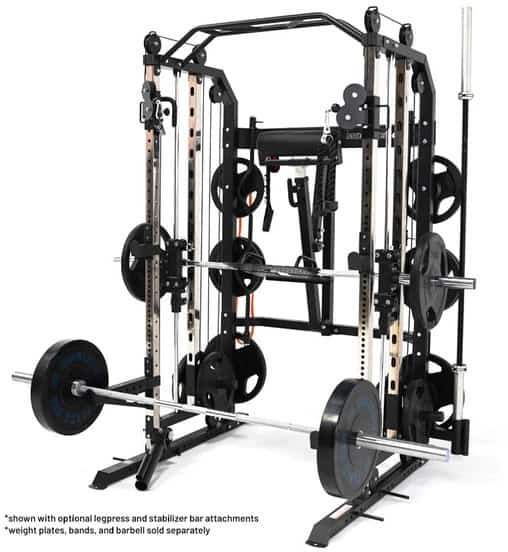 Force USA G6 All-In-One Trainer
The Force USA G6 All-In-One Trainer is versatile, convenient, and compact, and you can do more than 150 exercises with it. Unlike the G3, the G6 has a Dip Station to give you various grip positions to target several upper body muscle groups. The height is adjustable on the power rack giving you the added flexibility of using weight belts or resistance bands to boost your workout. The Power Rack is made of heavy-duty gauged rolled steel tubing that is powder coated and clear coated for extra sturdiness and longevity.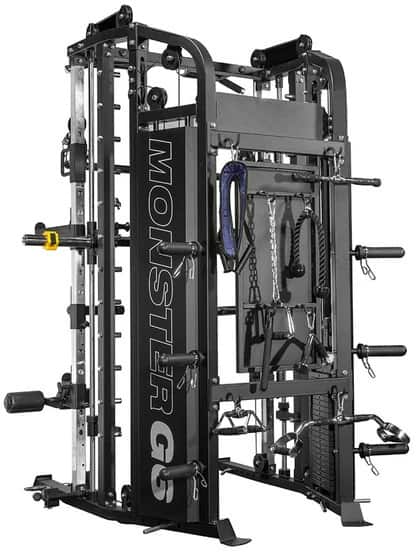 The knurled grip positions include wide-grip, underhand, close grip, overhand, and a mixture of other various movements. The leg press attachment comes with conducive handles for fastening and removing, and a slip-prevention checker plate for added hold. The G6 includes a fastened landmine station suited for all kinds of rotational torso training and grants a full range of upper body training when using an optional barbell.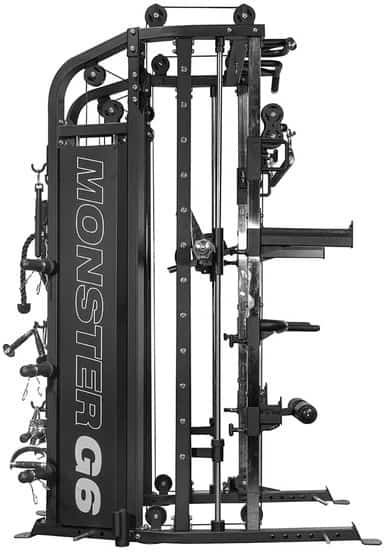 Force USA G12 All-In-One Trainer
If you want access to a commercial gym at home and do more than 300 exercises in one space-saving system, Force USA G12 All-In-One Trainer is what you need. It combines a functional trainer, power rack, dip station, smith machine, core trainer, chin-up station, leg press, suspension trainer, and low row in the footprint of a sole power rack. With G12, you can smoothly shift from circuit training, split training, supersets WOD variations, to endurance training in seconds.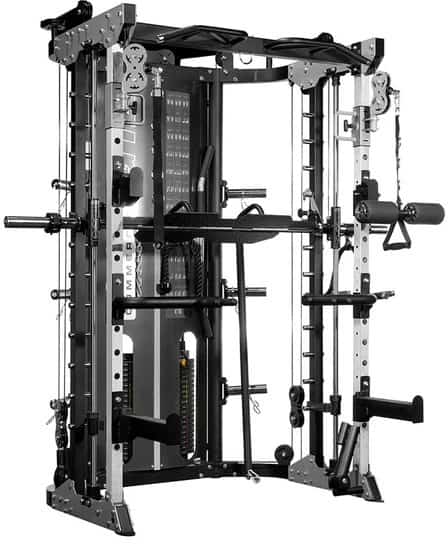 The Functional Trainer and cable crossovers enable you to do more than 75 different exercises. It includes six functional trainer attachments and 2 x 200lb integrated weight stacks found at the back of the unit. The Power Rack base has commercial-grade J-Hooks and Safeties that you can adjust to any height position you want. It also has a leg press attachment that you can use on a bench or the floor.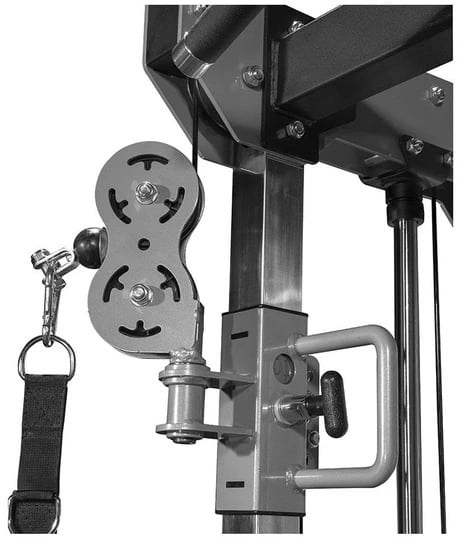 Force USA G20 All-In-One Trainer
With excellence and style, Force USA G20 All-In-One Trainer will make you want to work out more and more. It is composed of 11 gauge structured rolled SteelForce Tubing and packed with 29 different varieties of attachments. It includes handles, training bars, chains, a leg plate, spring collars, J-Hooks, core trainer rotating holder, band pegs, and more. G20 is the only All-In-One Trainer that grants an optional Lat Row Station Upgrade combining three stations in one attachment.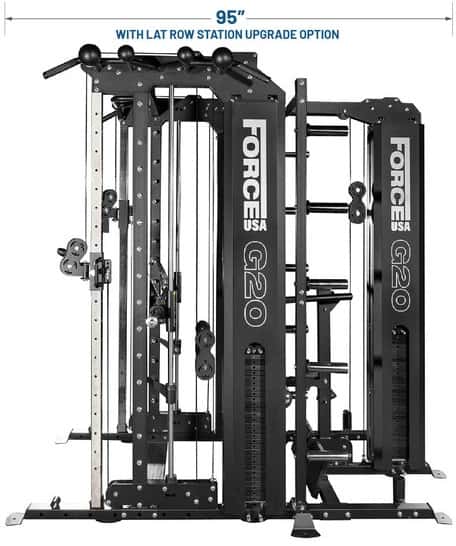 It has dual integrated 289 lb weight stacks attached to 2,000 lb rated cables with 1:1 cable ratios for straightforward and fluid motion. The handy, heavy-duty storage hooks keep your attachments within range when you need them and up and off the floor when you don't. It has a built-in commercial-grade roller J-Hooks that make centering your bar easy while shielding it from damage. To easily lock in the precise weight you need, magnetic selector pins for each weight stack are in place.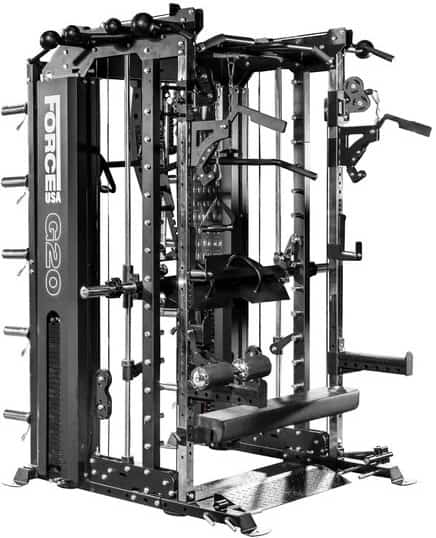 Force USA F50 Multi-Functional Trainer
The Force USA F50 Multi-Functional Trainer is a compact home gym full of potentialities having a broad range of 11 attachments for ultimate training versatility. It has a built-in exercise chart that involves 36 illustrations to maximize your functional trainer workout routine. The high-grade commercial sealed bearing pulleys on the functional trainer give you a quiet and smooth operation.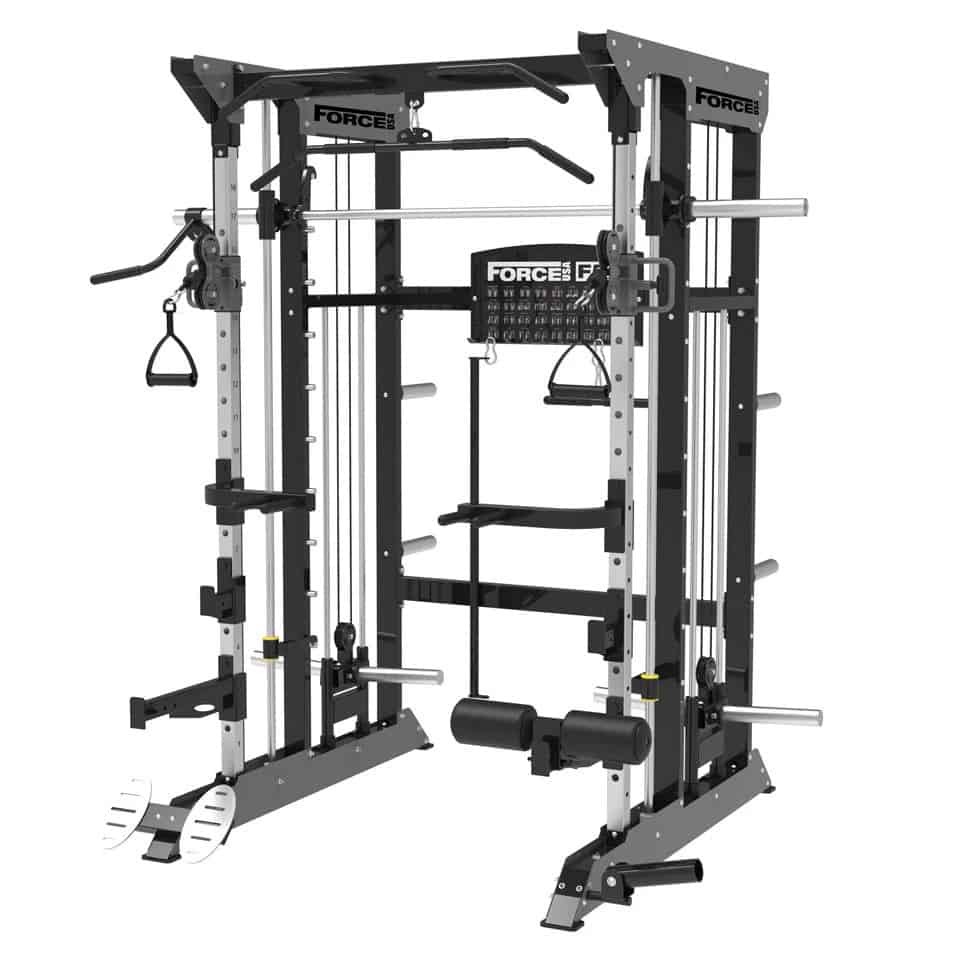 It combines a smith machine, functional trainer, core trainer, power rack, chin up, low row station, dip, and suspension trainer into one functional trainer. It highlights a 2:1 pulley ratio with 19 locking locations and cables, offering a weight rating of up to 2,000lb. The plate-loaded pulley system has a loading capacity of 240 lb on each side, allowing you to do a wide array of cable exercises in various directions with the ideal amount of resistance. The low-row footplate and the cable pulley system deliver a full-body workout, while the dip handle attachments take weight belts or resistance bands for more resistance possibilities.
Force USA F100 Multi-Functional Trainer
You can draw on a greater range of movement and a wider variety of action patterns inside the Force USA F100 Multi-Functional Trainer. You can perform exercises including lat pulldowns, rows, squats, shrugs, presses, fly's, curls, and other exercises with its 4 ft interior workout space. The chin up and pull up station has a max weight capacity of 661 lb and contains numerous grips, including hammer, classic, narrow, wide, and pronated.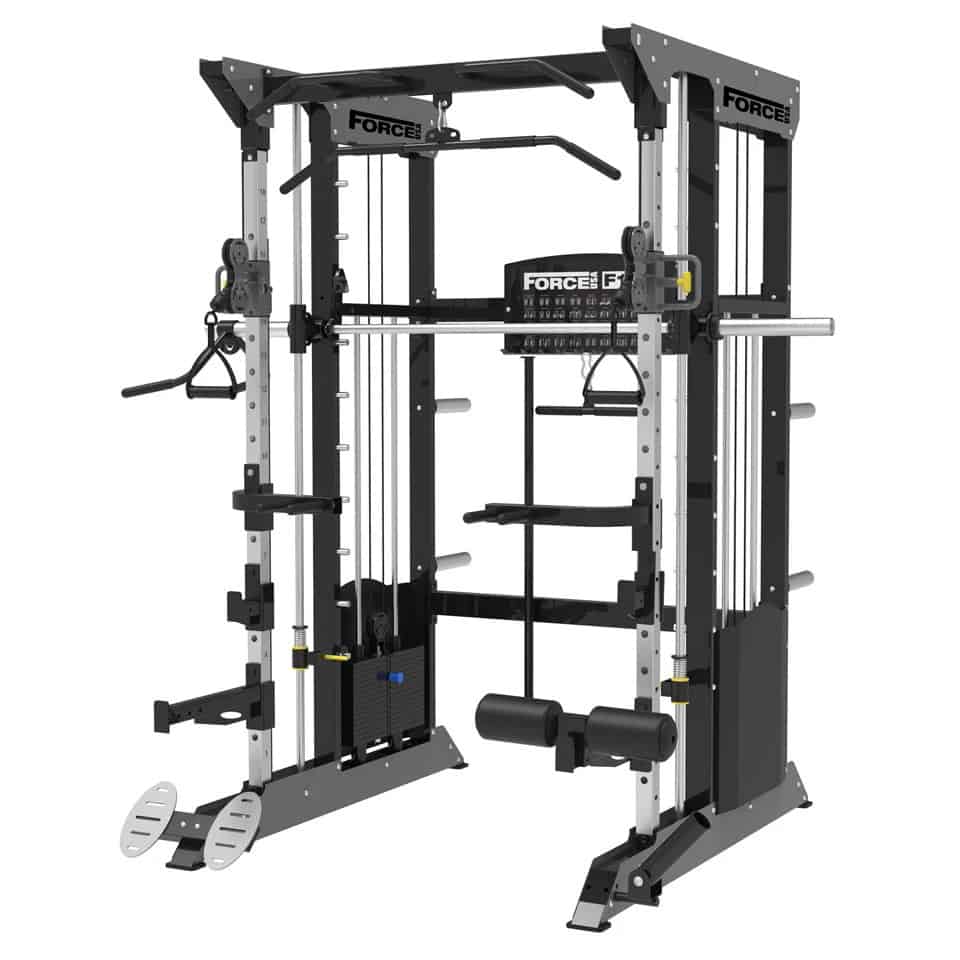 It has front safeties, lat pulldown bar, j-hooks, adjustable nylon "D" handles, tricep rope, dip handles, landmine, bicep/tricep pushdown bar, foam knee support, 8-link chainset, and low row footplate. The pin-loaded pulley system uses dual 220lb weight stacks and includes 4x Olympic weight plate holders on the rack's rear for secure storage and weight changes.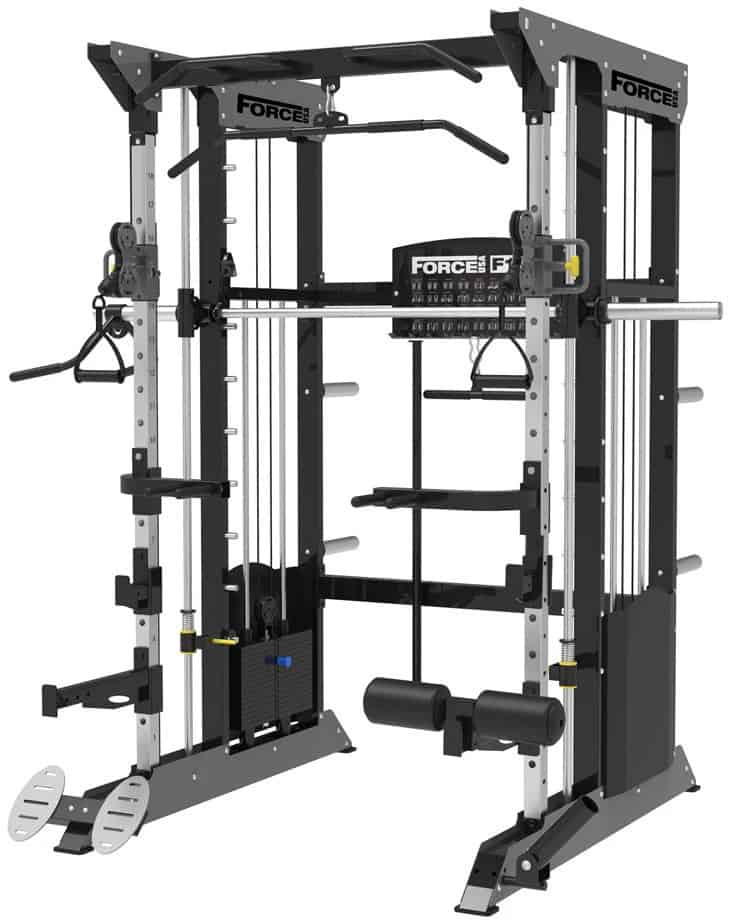 Functional Trainers from Force USA Review – In Summary
That's our review of Functional Trainers from Force USA.
Instead of purchasing different strength training machines separately, save thousands of dollars and hundreds of square feet with Functional Trainers from Force USA. They provide several exercises in one strength training system with versatility, durability, and convenience. With these functional trainers, you can do various workout options commonly found in a commercial gym in the footprint of a sole power rack that can fit in a single room of your home.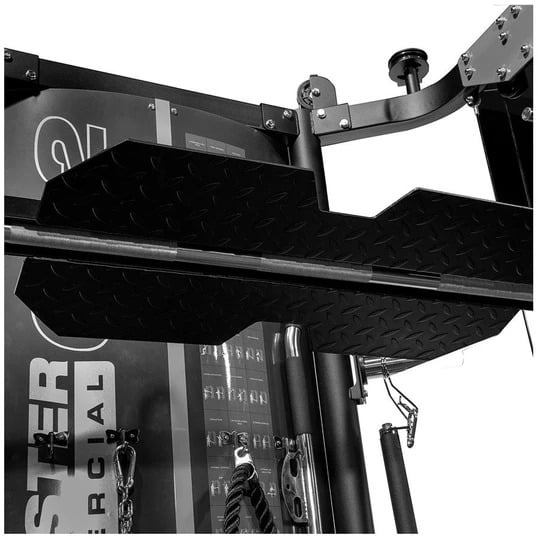 Photo Credits
Product photos on this page are property of Force USA.
This website is not affiliated or associated with CrossFit, Inc. CrossFit is a registered trademark of CrossFit, Inc.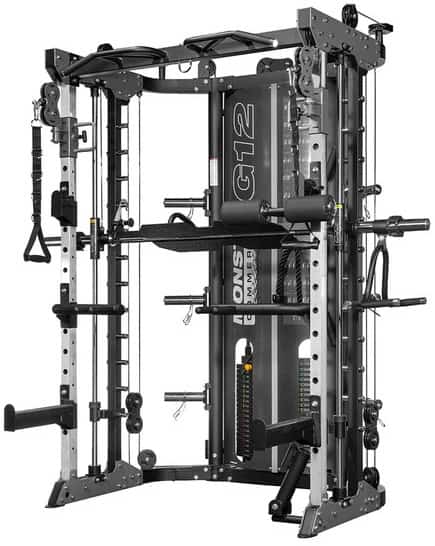 Affiliate Disclaimer
We are an affiliate of Force USA and others that sell this training gear. If you buy clothing or other training gear after clicking the links in this article, we receive a small commission at no extra cost to you. This helps us to bring you in-depth information and content on these great training products.